173 simple and tasty brunch ideas
The brunch is totally trendy! For those who do not know what is brunch, let's just explain it. Brunch is a mix between "breakfast" and "lunch", in other words – a late breakfast. A brunch buffet is available in some cafes. But if you feel like it, you can also prepare a rich brunch table at home. In our post we give you more than 160 brunch ideas for inspiration !
Our brunch ideas are very diverse and are very delicious! Rolls, eggs, bacon – which resembles an English breakfast can certainly replace lunch. If you are looking for something healthy, we have great suggestions with yogurt and lots of fruit. Cupcakes, cakes, pancakes – everything can go with brunch! Take a look at the fantastic suggestions below.
Brunch ideas: Carrot cake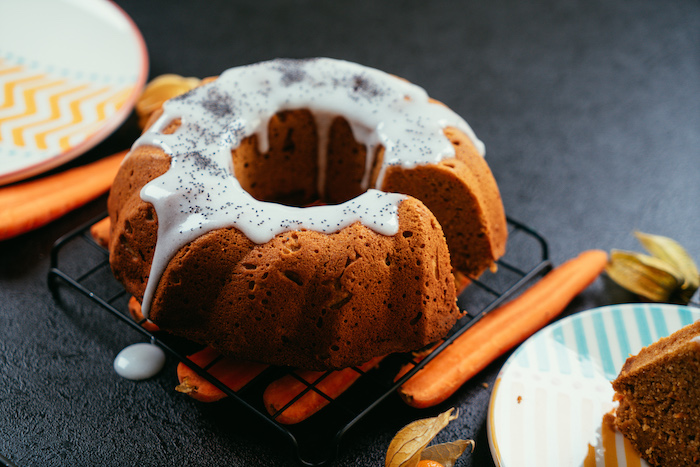 Brunch ideas – carrot cake
Ingredients:
Wet ingredients:
3 eggs
100ml maple syrup
1/4 teacup apple puree
1/4 teacup Greek yogurt
1/4 teacup coconut oil
Dry ingredients:
2 teacups almond flour
1 teacup quinoa flower
1 packet baking powder
1 tsp cinnamon
1 tsp ginger powder
1 teacup shredded carrots
1/2 teacup crushed walnuts
poppy seeds
milk glaze
These are the ingredients you are going to need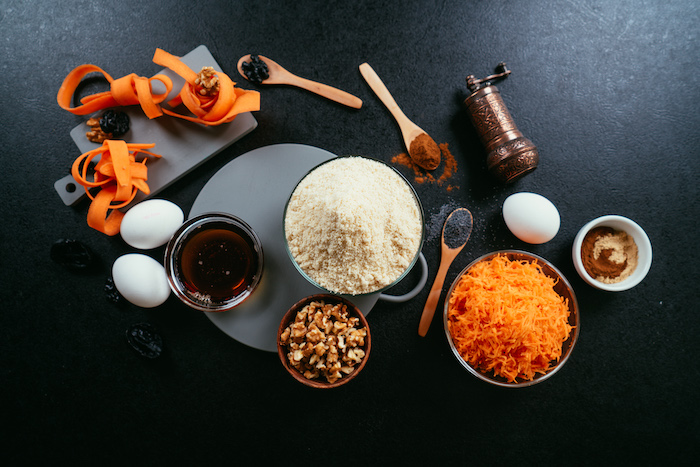 Instructions:
In a bowl whisk the eggs, then add the rest of the dry ingredients.
In another bowl mix the dry ingredients.
Add the wet ingredients to the dry ones and stir until fully combined.
Then, add the carrots and walnuts and stir until fully incorporated.
Grease a bundt cake pan and transfer the mixture to the pan. Bake for 35/40 minutes at 180 degrees.
Decorate with the milk glaze and poppy seeds.
Mix the wet ingredients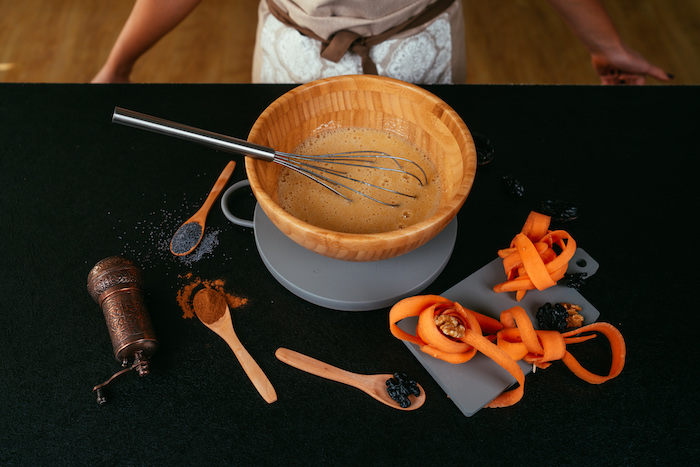 Do the same with dry ingredients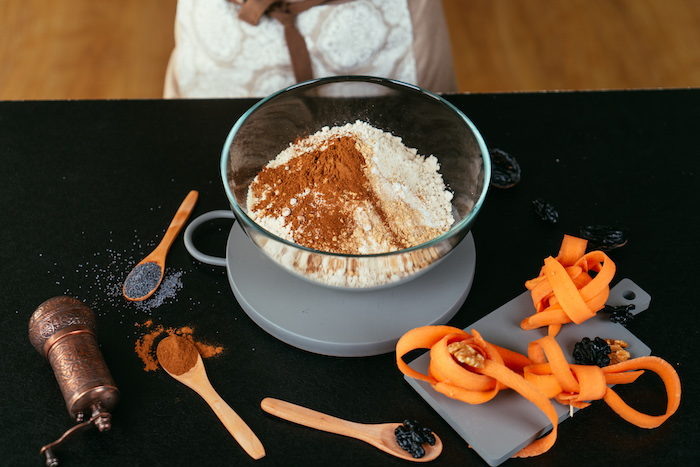 Combine both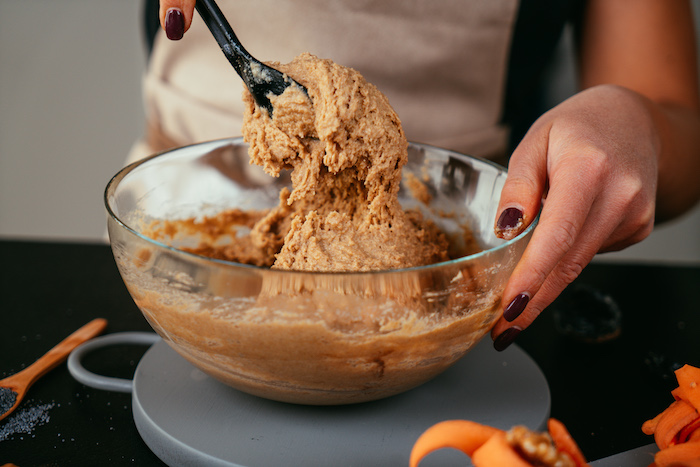 Add in the carrots and walnuts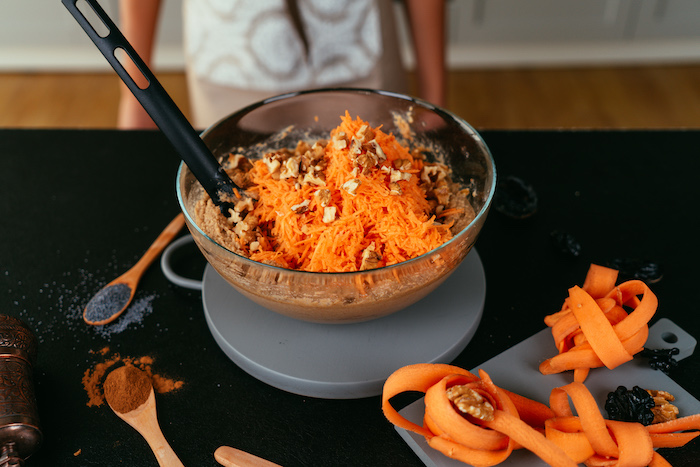 Transfer to a bundt cake pan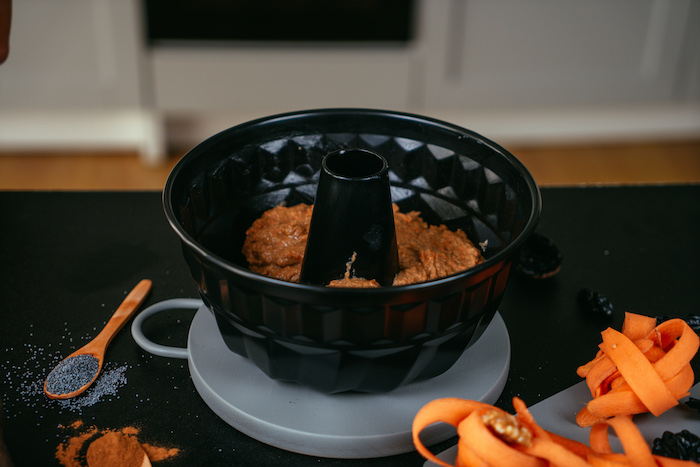 Delicious and sweet results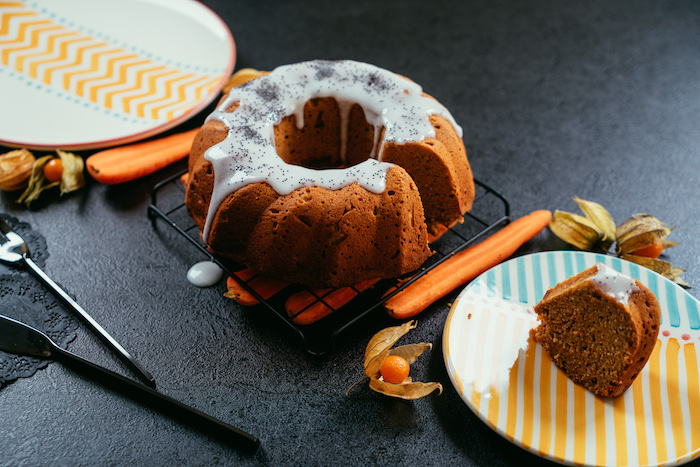 Apple pie recipe
Try this easy recipe yourself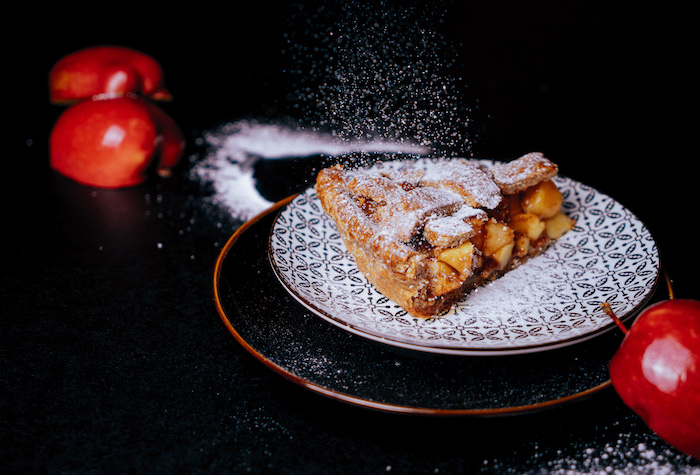 Apple pie recipe
Ingredients:
For the crust:
350gr whole-wheat flour
salt
225gr chilled butter
8/9 tbsp cold water
For the filling:
8 apples
juice from 1/2 lemon
2 tbsp cornstarch
100gr coconut sugar
1 tbsp cinnamon
1 tbsp vanilla extract
caramel
powdered sugar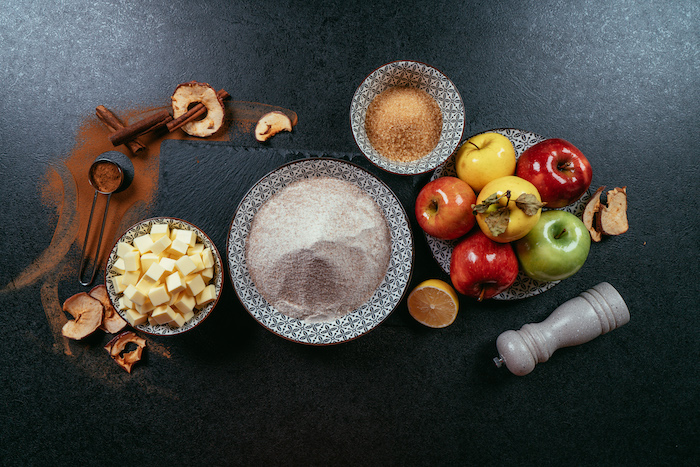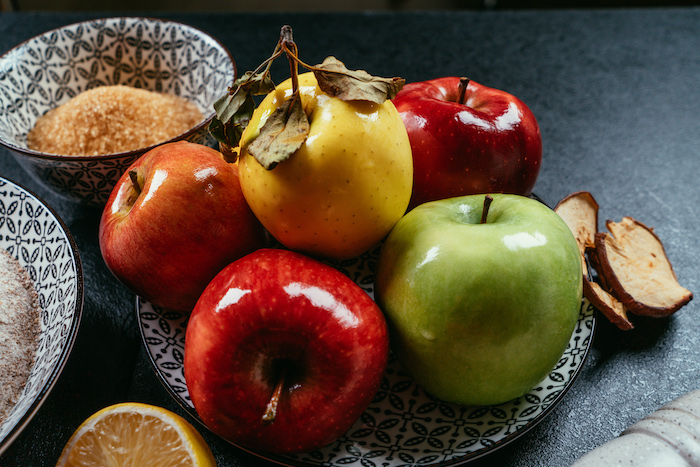 Instructions:
In a bowl mix the flour and salt together, then add the butter and mix well. Gradually add the water while kneading the dough. Refrigerate for 1 hour.
In another bowl mix the apples, lemon juice, cornstarch, coconut sugar, cinnamon and vanilla extract. Let sit for 1 hour.
On a lightly floured surface roll out half of the dough. Transfer it to a baking pan and press it down and to the sides.
Drain the apples from any excess juice and place them over the crust.
Pour the caramel over them.
Use the rest of the dough to create the top crust as shown in the photos. Bake at 200 degrees for 50/60 minutes.
Dust with powdered sugar.
Prepare the dough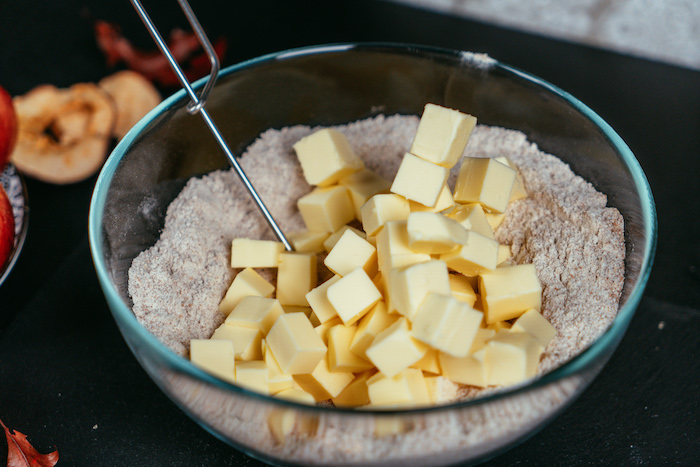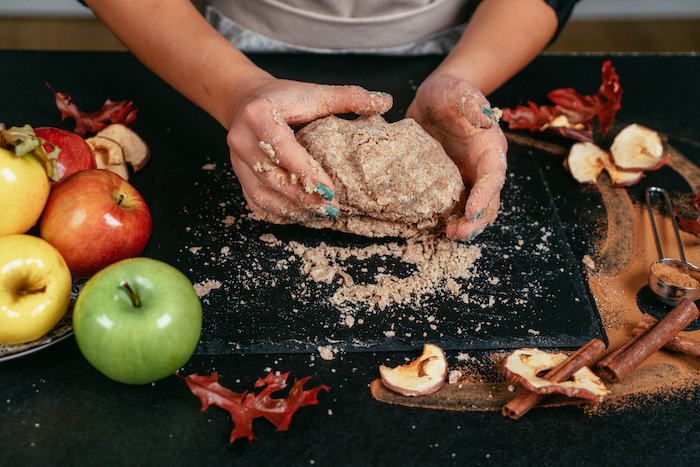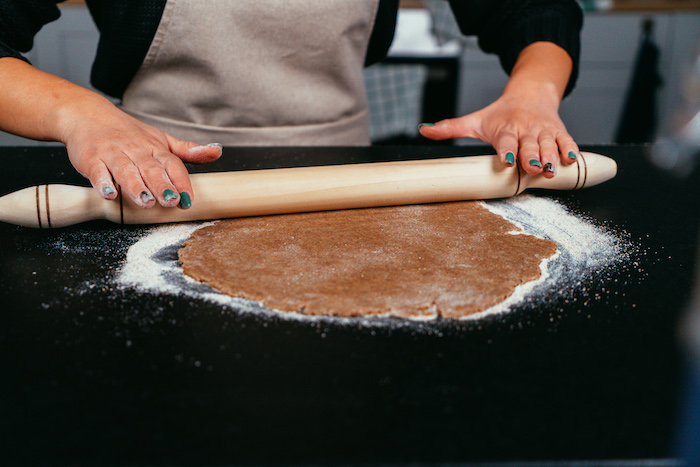 Let the apple mix sit for about an hour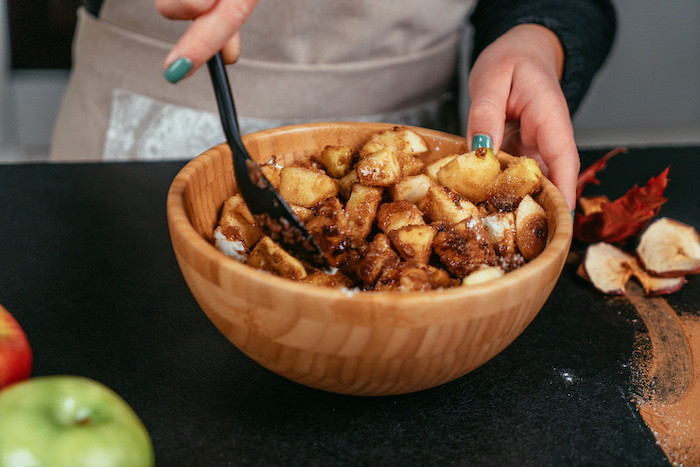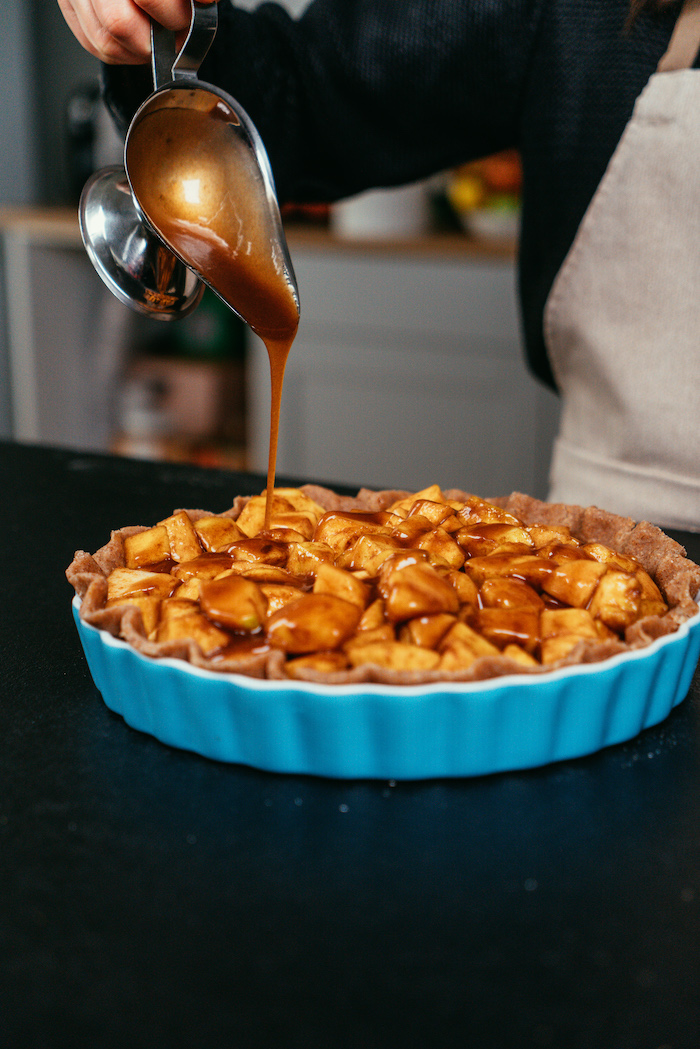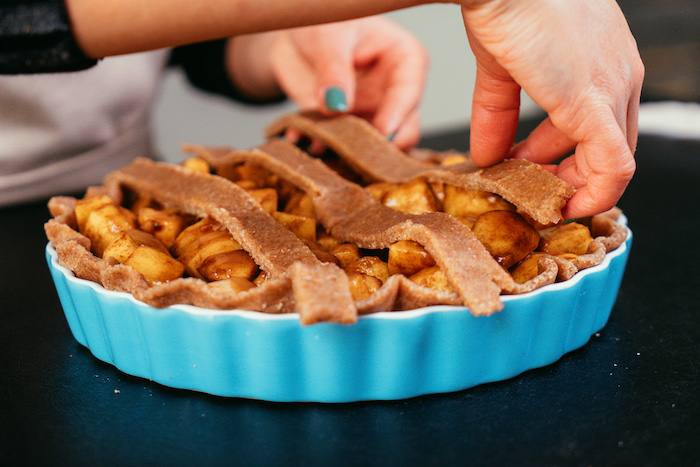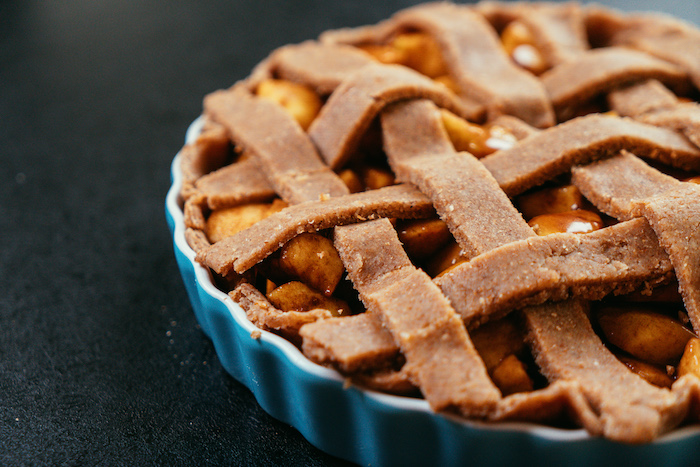 Scrumptious apple pie recipe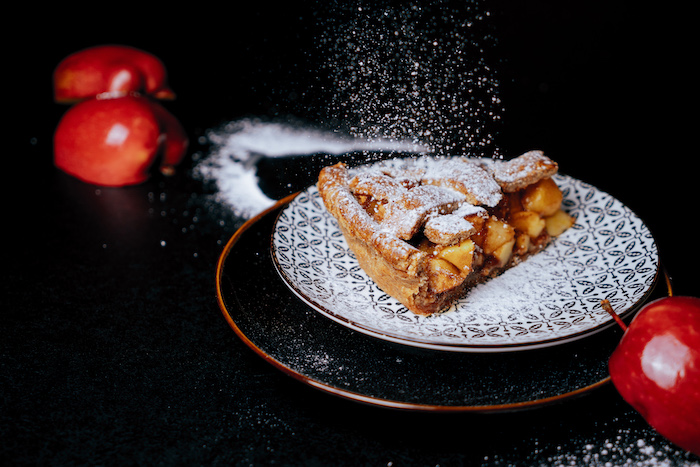 What is brunch without a delicious coffe – mix things up with this Dalgona coffee recipe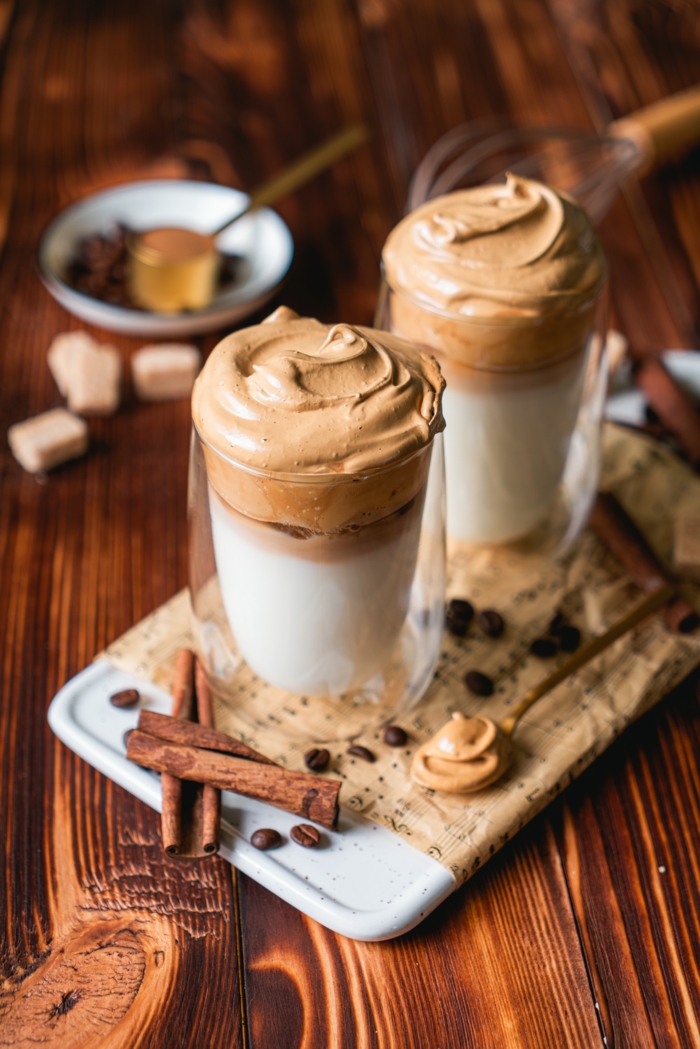 Brunch ideas – Dalgona coffee recipe
Ingredients:
4 tbsp instant coffee
4 tbsp brown sugar
4 tbsp water
ice
milk
In a bowl mix the instant coffee and brown sugar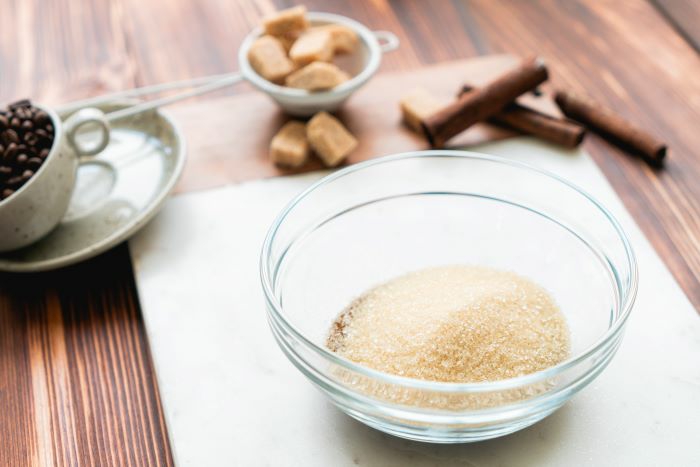 Add the water and whisk together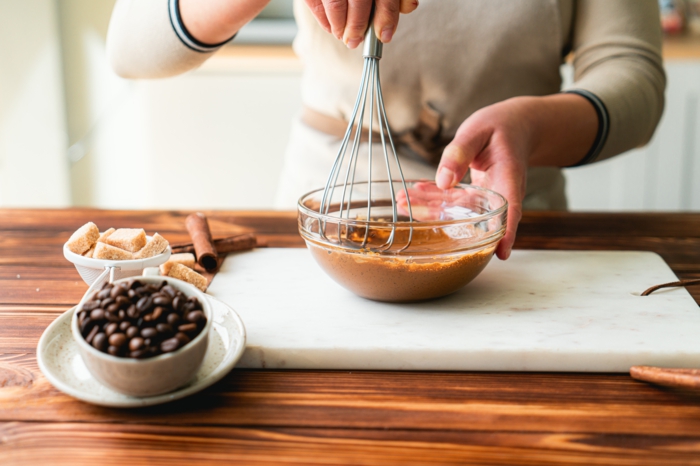 Use a hand mixer to whisk all ingredients together well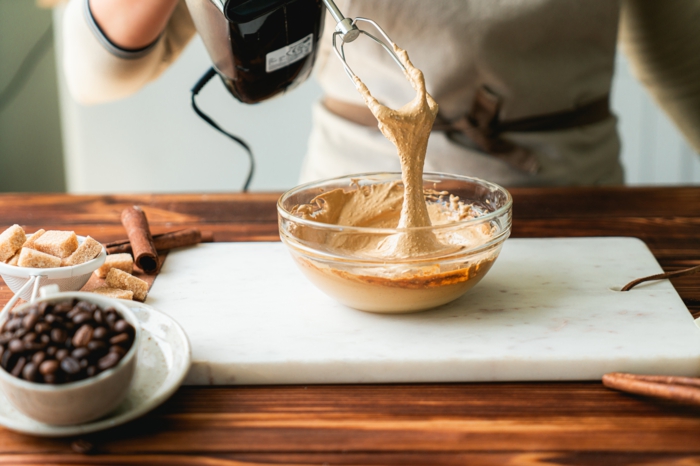 Whisk until thick foam is achieved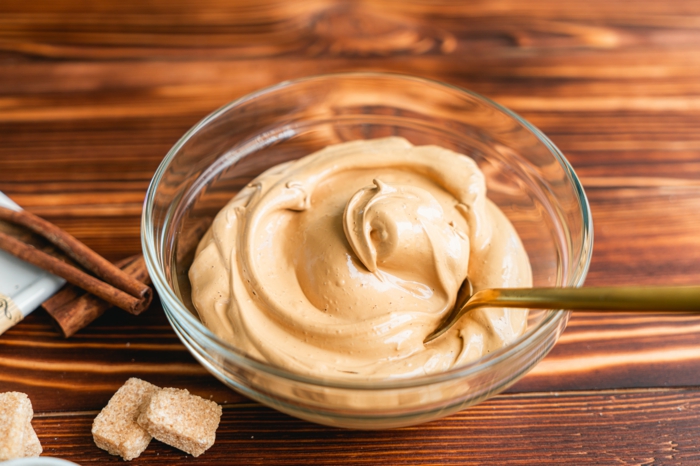 In a glass put the ice first, then add the milk and finally add the whipped coffee on top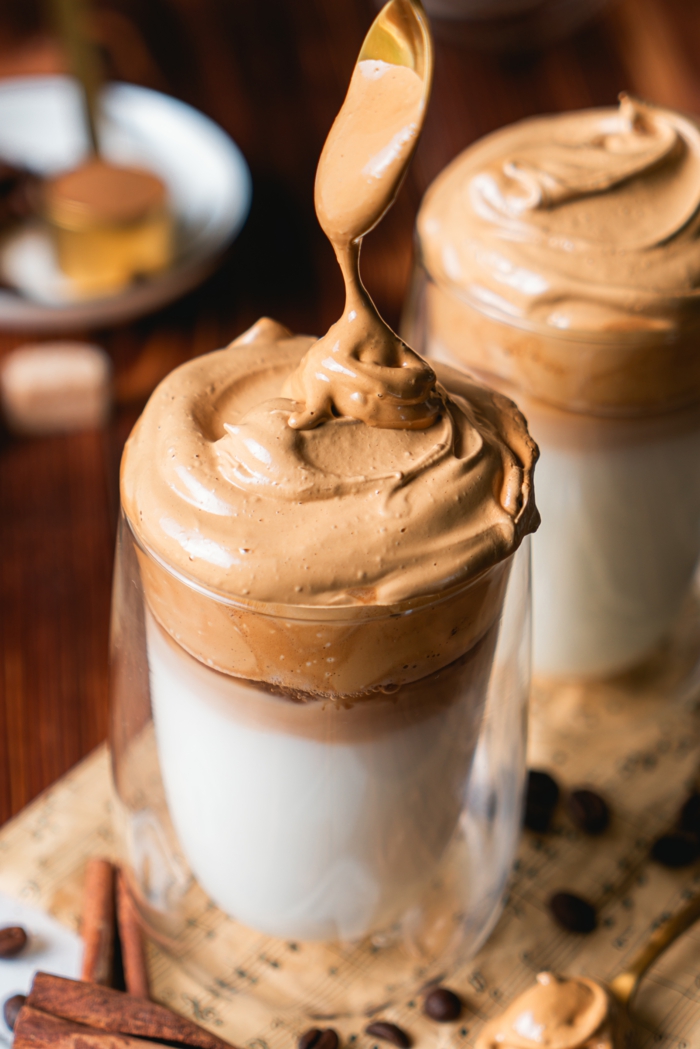 Super tasty and creamy cloud coffee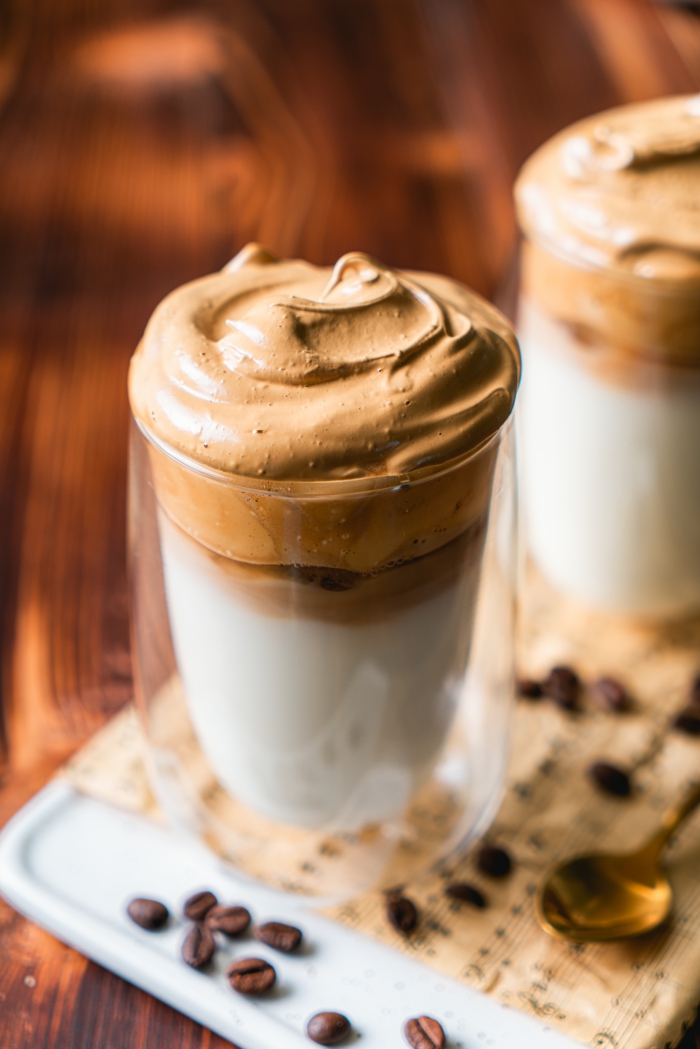 Brunch ideas: Toasts with avocado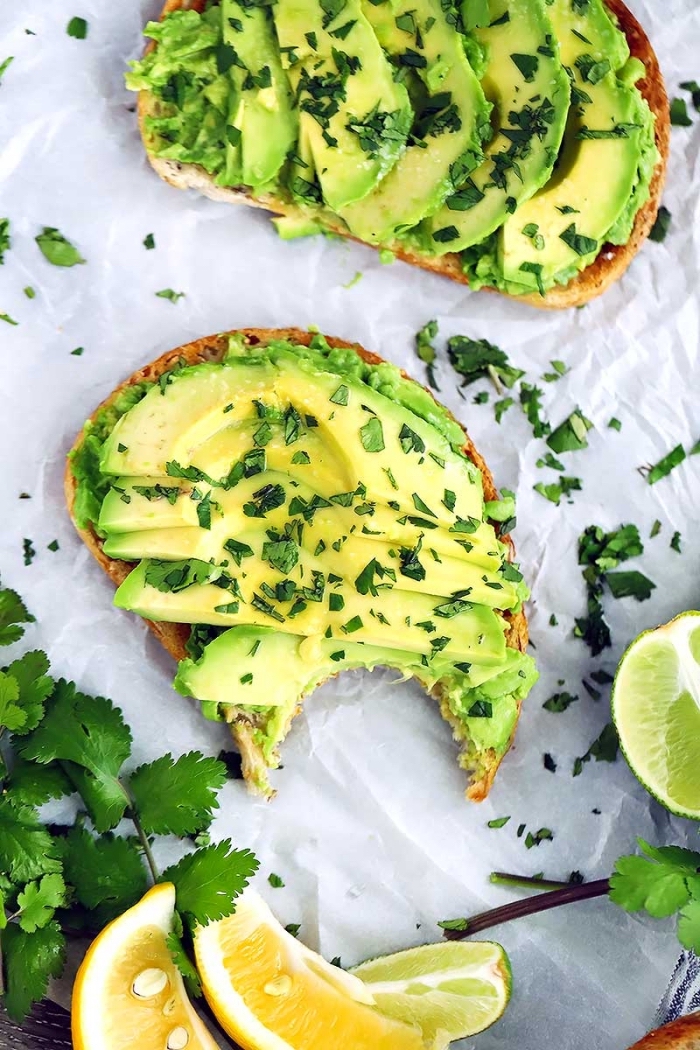 Brunch ideas: Toasts with avocado
Ingredients:
2 bread slices
2 tablespoons extra virgin olive oil
1 garlic clove, cut in half
1 big avocado
2 limes
Kosher salt or sea salt
fresh coriander, hooked (optional)
Preparation:
Toast the slices of bread in the toaster.
While the bread is still warm, brush the slices with a little olive oil and rub garlic on top.
Peel the avocado and cut it in half. Remove the core.
Spoon out 1/4 of the avocado meat and puree it.
Slice the remaining avocado.
Spread avocado puree on each slice of bread and spread avocado slices on top.
Sprinkle the slices of bread with a little salt and rub the edges with lime.
(Optional) Garnish with fresh coriander.
Brunch ideas: Classic shakshuka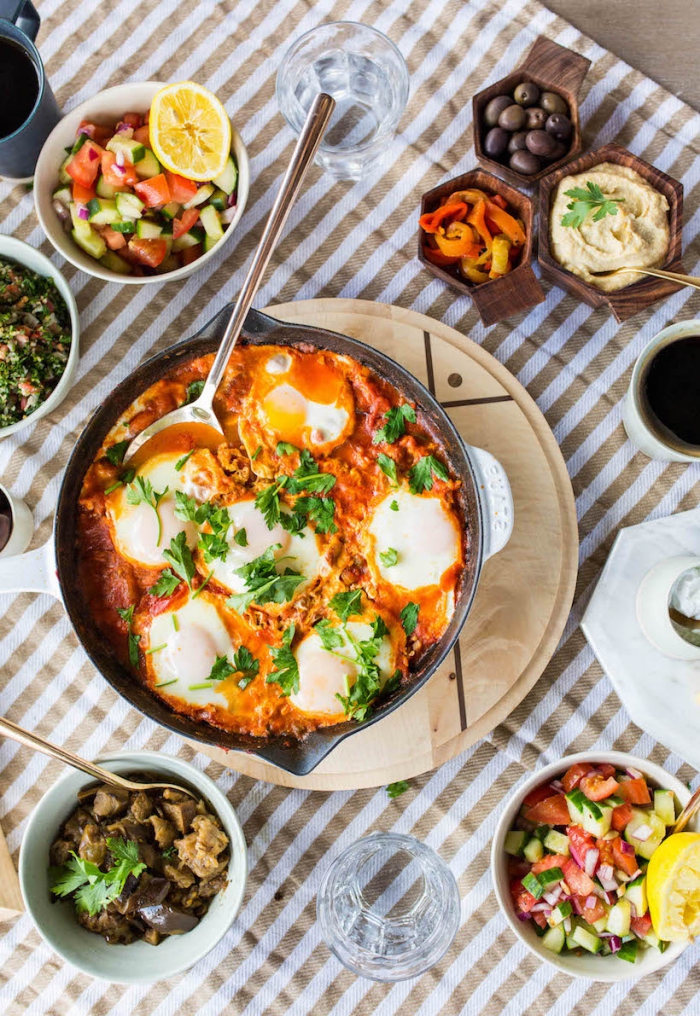 Shakshuka recipe
Ingredients:
2 tablespoons olive oil
6 garlic cloves, peeled
1 jalapeño, cut
8 medium-sized tomatoes, peeled
cumin
paprika
1 tablespoon of tomato paste
6 eggs
fresh parsley, chopped
Preparation:
Heat the olive oil in a deep pan. Let the garlic and jalapeño fry.
When the garlic turns gold, add the tomatoes.
Stir in the cumin, paprika and tomato paste.
When you begin to simmer mixture, reduce the temperature and let the mixture for 20-30 minutes, until the sauce becomes denser.
Add the eggs. Let the shakshuka cook for another 8 minutes.
Remove the pan from the heat and season the shakshuka with salt, pepper and chopped parsley.
Egg Muffins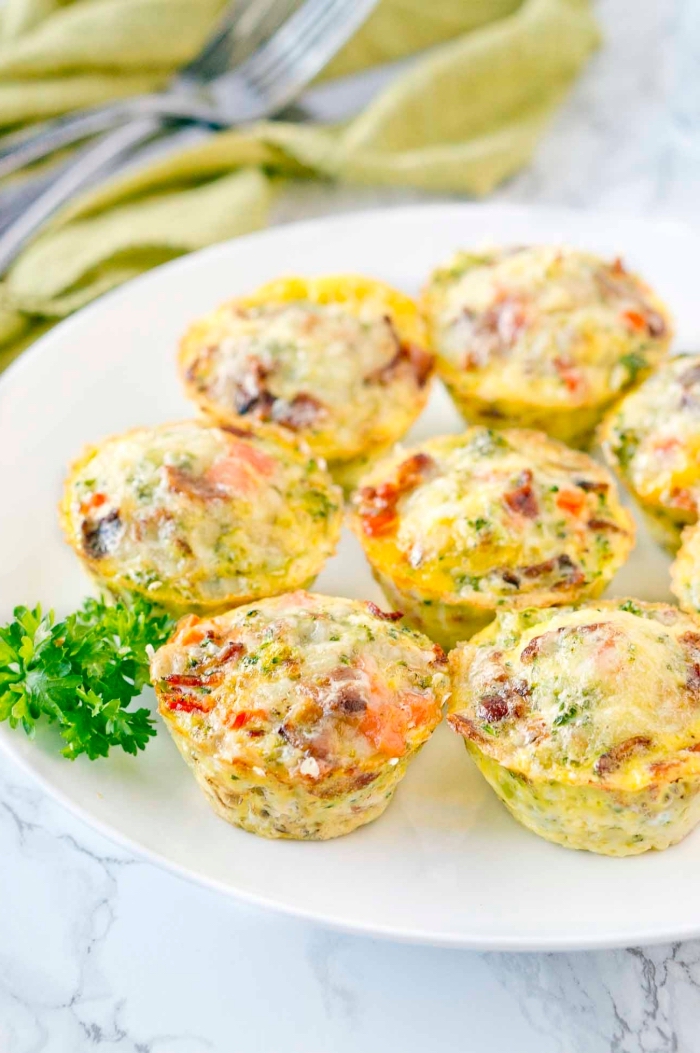 Egg muffins
Ingredients:
1 red pepper, cut
1 cup of broccoli, cut
8 big eggs
1 medium carrot, peeled and grated
1/2 medium onion
salt and pepper
3/4 cup cheese, grated
6 slices of bacon, fried
Preparation:
Preheat the oven to 190 degrees. Spread muffin cups onto the hollows of a muffin tray.
Mix the paprika, carrot, broccoli, onion and bacon in a bowl. Fill each muffin dish up to 3/4 with this mixture.
Beat the eggs in a bowl. Add a little salt and some pepper. Put about 3 spoons in each muffin tin and add some cheese on top.
Let the muffins bake for about 20 minutes.
French toast with creme brûlée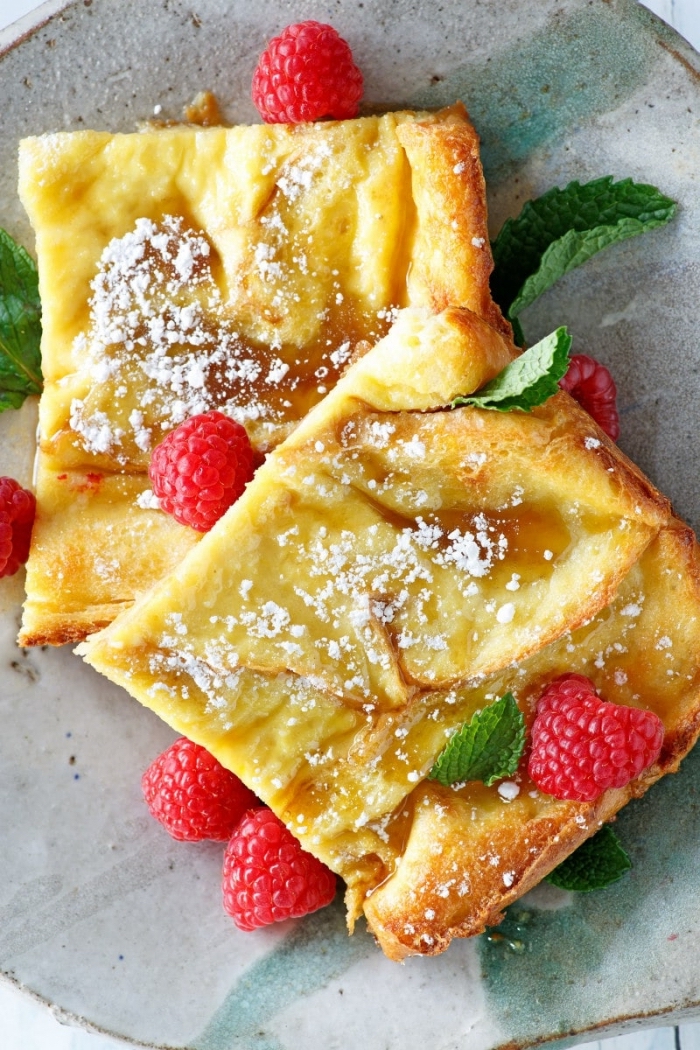 French toast with creme brûlée – brunch ideas
Ingredients:
1 cup of brown sugar
1/2 cup unsalted butter, soft
2 tablespoons of corn syrup
6-8 slices of bread
1 1/2 cups of cooking cream 15%
5 big eggs
1 teaspoon of vanilla extract
1 teaspoon of liqueur Grand Marnier
1/4 teaspoon salt
Powdered sugar and fresh raspberries for serving
Preparation:
In a medium sized pan, heat the brown sugar, the butter, the corn syrup and stir well. Spread the syrup on a 23 x 33 cm baking tray and place the slices of bread on top.
Beat the cooking cream, the eggs, the vanilla extract and the liqueur in a bowl. Spread the mixture on the slices of bread.
Cover the baking sheet with plastic wrap and leave it in the refrigerator for 8-24 hours.
Preheat the oven to 180 degrees.
Bake the French toasts for 35-40 minutes until the corners turn golden brown.
Serve the toasts with powdered sugar and fresh raspberries.
Healthy muffins with oatmeal and carrots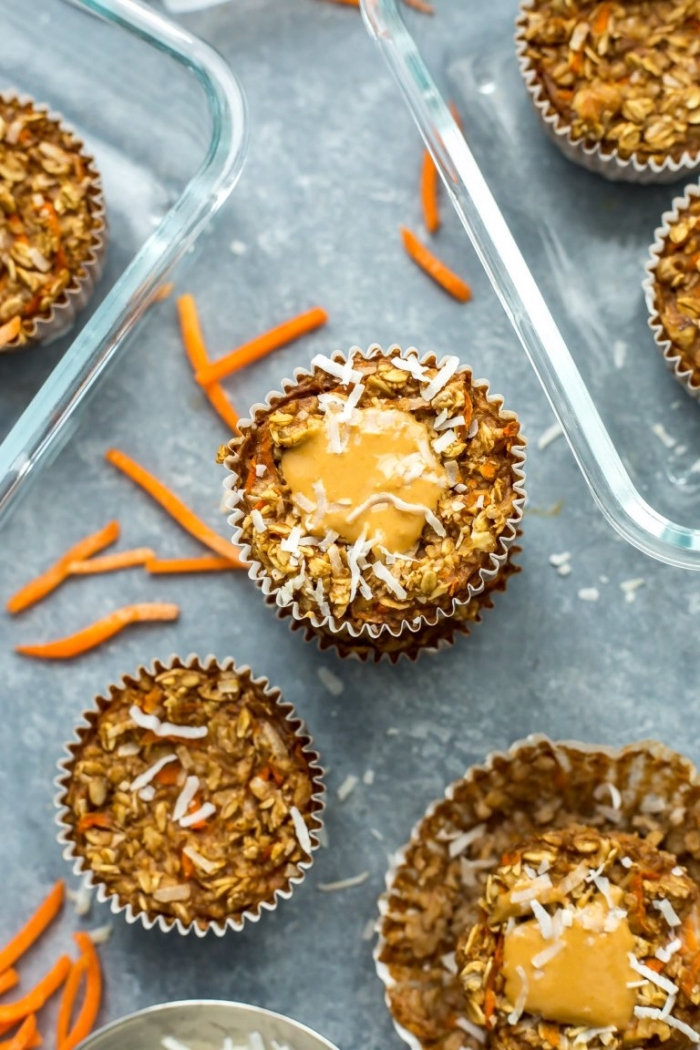 Ingredients:
2 cups almond milk
2 eggs
1/3 cup maple syrup
2 cups of oatmeal
1 teaspoon of vanilla extract
1/2 cup coconut flakes
1 carrot, grated
1/4 cup walnuts, chopped
2 teaspoons cinnamon
1 teaspoon nutmeg
Preparation:
Preheat the oven to 180 degrees.
In a large bowl, mix the almond milk, eggs, maple syrup and vanilla extract.
In another bowl mix the oatmeal, the coconut flakes, the carrot, the walnuts, the cinnamon and the nutmeg.
Stir in the mixture of almond milk into the mixture of oatmeal.
Spread muffin cups into the hollows of a muffin tray.
Put some dough in each tray and bake the muffins for about 30-32 minutes.
Avocado halves with shrimps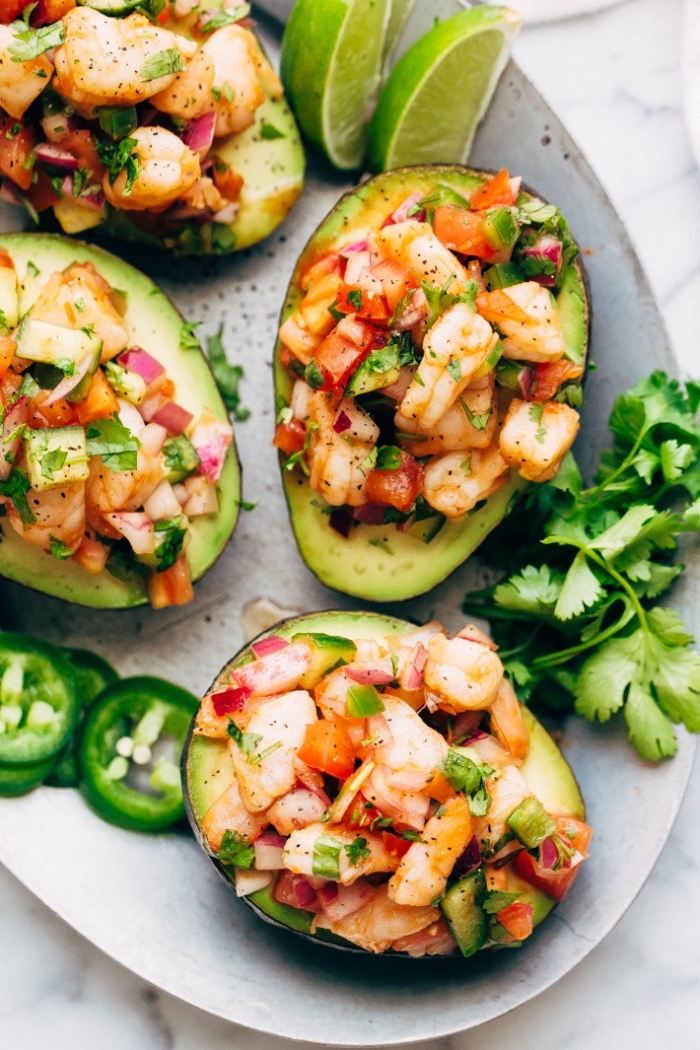 Avocado halves with shrimp
Ingredients:
450 g shrimp, cooked and cut
1 cup of tomatoes, hooked
1/2 cup of cucumbers cut into cubes
1/2 cup red onion, cut
5-6 avocados
1-2 jalapeño, cut
1/4 cup cilantro, chopped
3 tablespoons shrimp sauce
3 tablespoons of Louisiana or Cholula sauce
2-3 tablespoons of lime juice
1/4 teaspoon cayenne pepper
salt and pepper
Preparation:
Put the shrimp, tomatoes, cucumbers, onions and shrimp sauce in a bowl. Add the jalapeños, the Louisiana or Cholula sauce, the lime juice, the cayenne pepper, a little salt and black pepper. Stir well.
Cover the bowl with plastic wrap and leave it in the fridge for about 30 minutes.
Cut the avocados in half and core them. Spoon out 1/4 of the avocado meat and place a few spoons of shrimp filling in it.
Raspberry lemon cake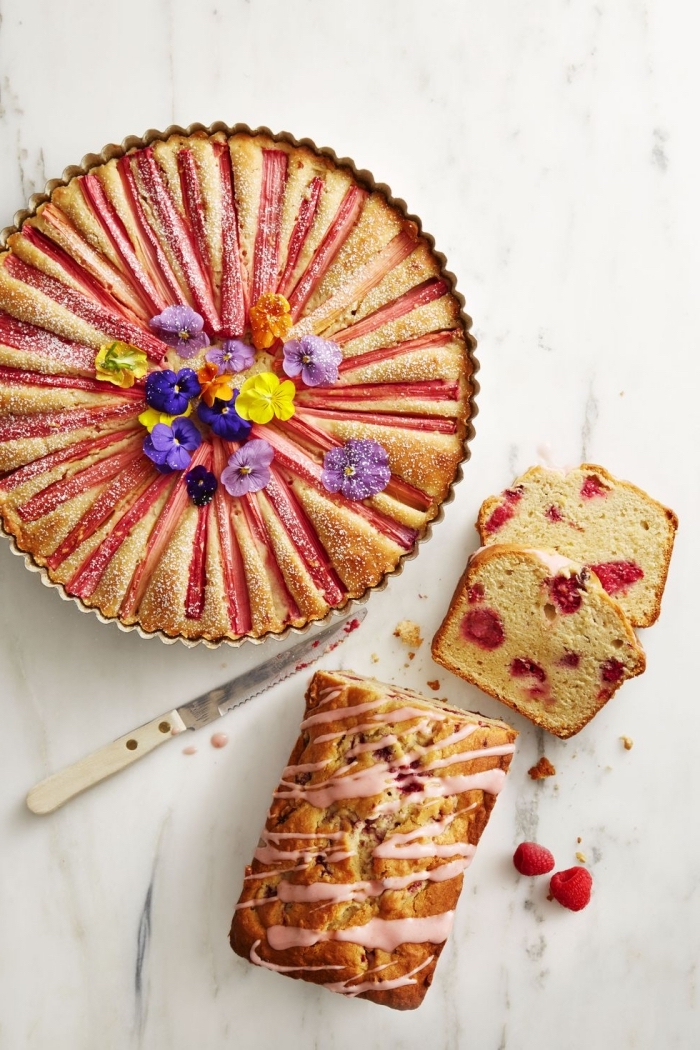 Brunch ideas – raspberry lemon cake
Ingredients for the cake:
1 1/2 cup of flour
1/4 teaspoon of baking soda
about 170 g fresh raspberries
1/4 teaspoon salt
1 cup of sugar
about 1/2 cup butter, soft
115 g cream cheese, soft
1 teaspoon of lemon juice
3 large eggs (room temperature)
2 teaspoons of vanilla extract
Ingredients for glaze:
1/2 cup powdered sugar
5 tablespoons creme double
1 tablespoon of raspberry jam without seeds
Preparation:
Preheat the oven to 180 degrees.
Grease a 25 x 11 cm tray.
In a large bowl, mix the flour, the baking soda and the salt. In another bowl, beat the sugar, butter, cream cheese, and lemon juice. Stir in the eggs one at a time and the vanilla extract. Stir this mixture into the mixture of flour. Add the raspberries and stir well with a spatula.
Distribute the mixture into the mould. Bake the cake for about 1 hour and 5 minutes.
Let the finished cake cool well.
Meanwhile, prepare the glaze: Puree all ingredients in a blender. Garnish the cake with the glaze.
Toast with Mexican beans and avocado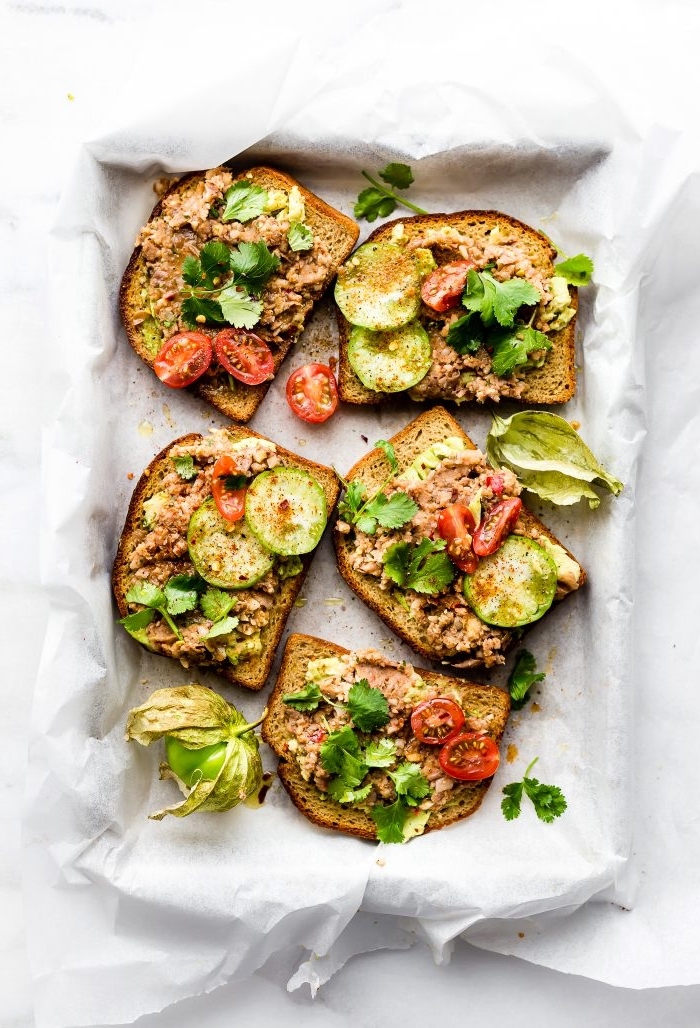 Avocado toast recipe
Ingredients:
2 cloves of garlic
2 cups of cooked pinto beans
1 red chillies or jalapeños
1/2 teaspoon salt and pepper
1/2 cup onion, chopped
1 teaspoon of paprika
6 bread slices
1 teaspoon of oil
1 avocado
Coriander for garnish
1 tomatillo, finely chopped
1/3 cup of cherry tomatoes
olive oil
Preparation:
Puree the first 6 ingredients. Try the mixture and if necessary add some salt and pepper.
Toast the slices of bread in the toaster (you can also roast slices of bread in the oven.) To this end, brush each slice with 1 teaspoon of oil and bake for 10 minutes at 180 degrees).
Spread each slice of bread with 1-2 teaspoons of avocado and 2-3 teaspoons of bean mixture.
Add tomatillo and cherry tomatoes and garnish with fresh cilantro.
Hefezopf-French Toast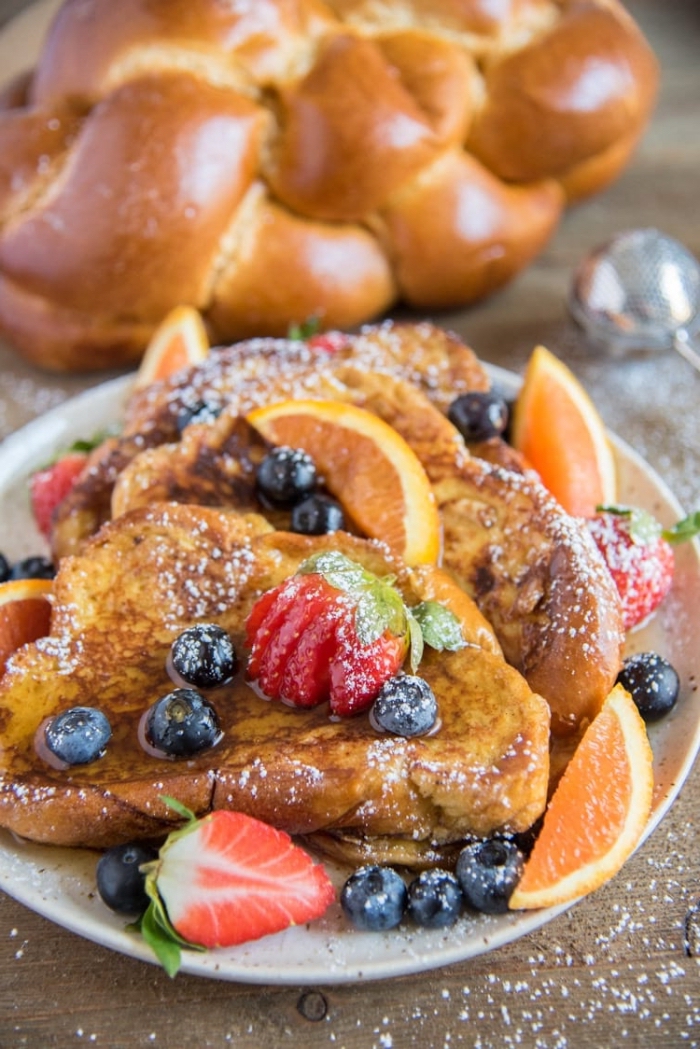 French toast recipe
Ingredients:
1 yeast cake
6 eggs
1/2 cup of milk
2 teaspoons cinnamon sugar
1 teaspoon of vanilla
1 tablespoon butter
Preparation:
Cut the yeast cake into thin slices.
Beat the eggs, milk, vanilla and cinnamon sugar together.
Heat some oil in a pan.
Dip the slices in the mixture of eggs and fry them.
Serve the toasts with honey, powdered sugar and / or fresh fruit.
Avocado filled with tomato salsa and served with fried egg and green salad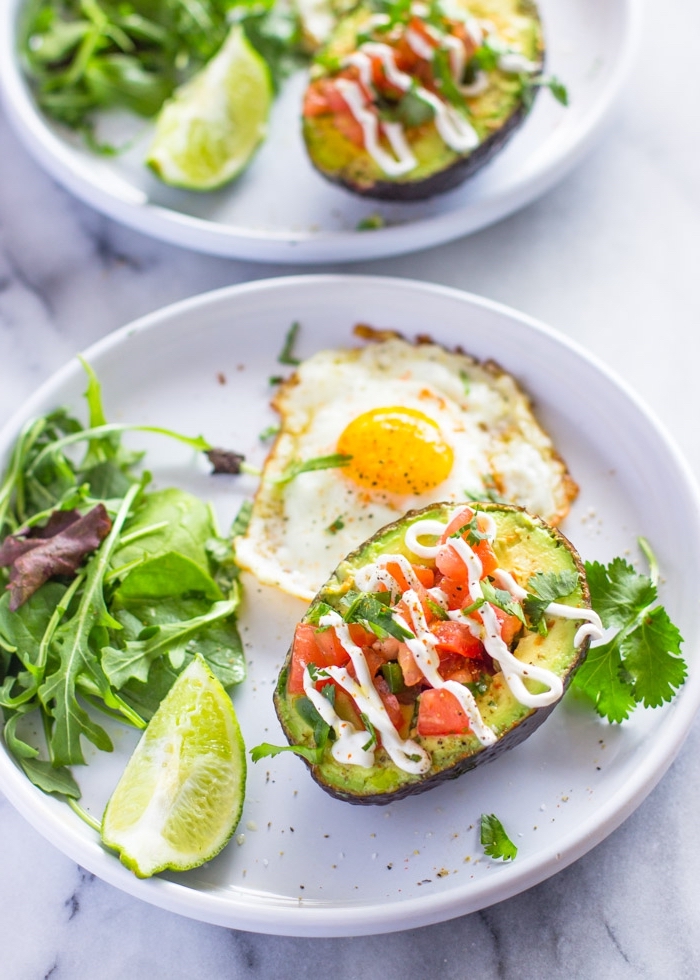 Delicious and easy brunch ideas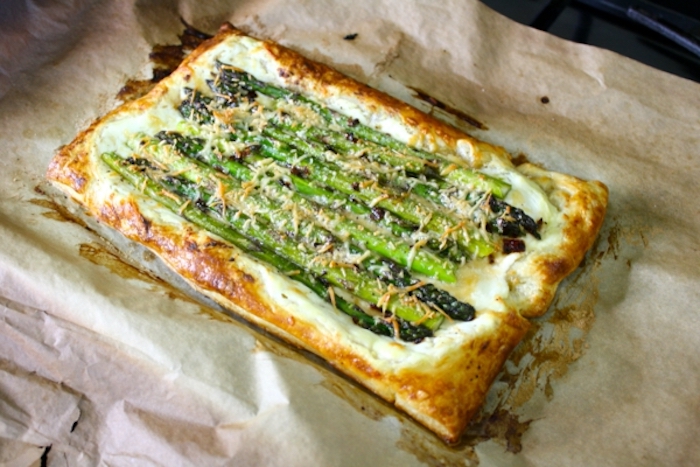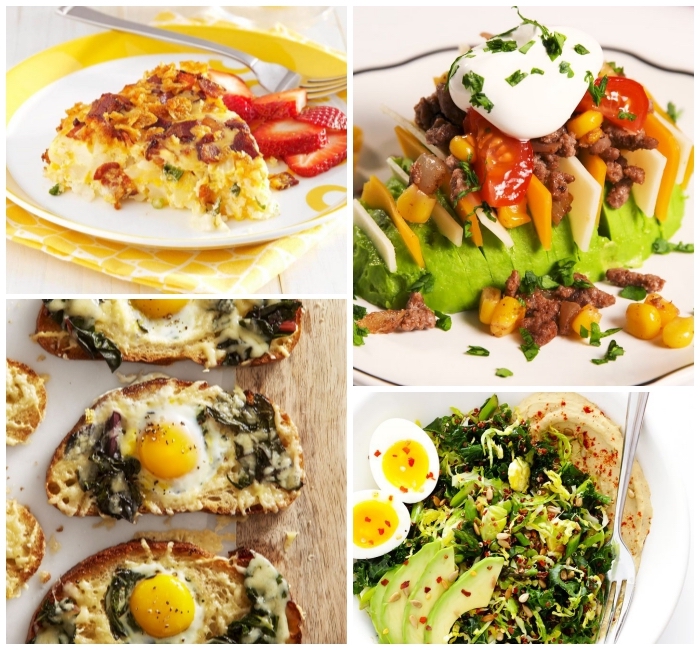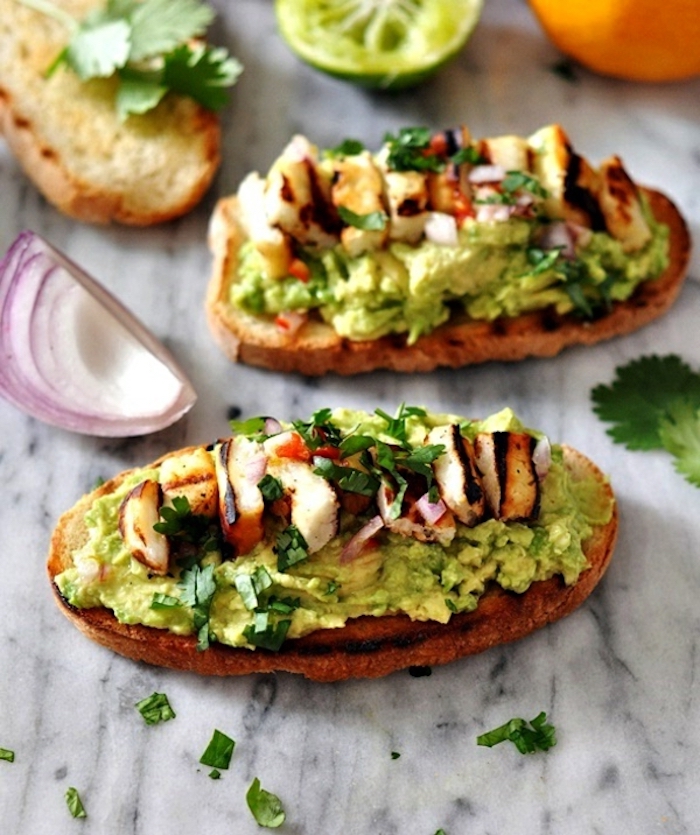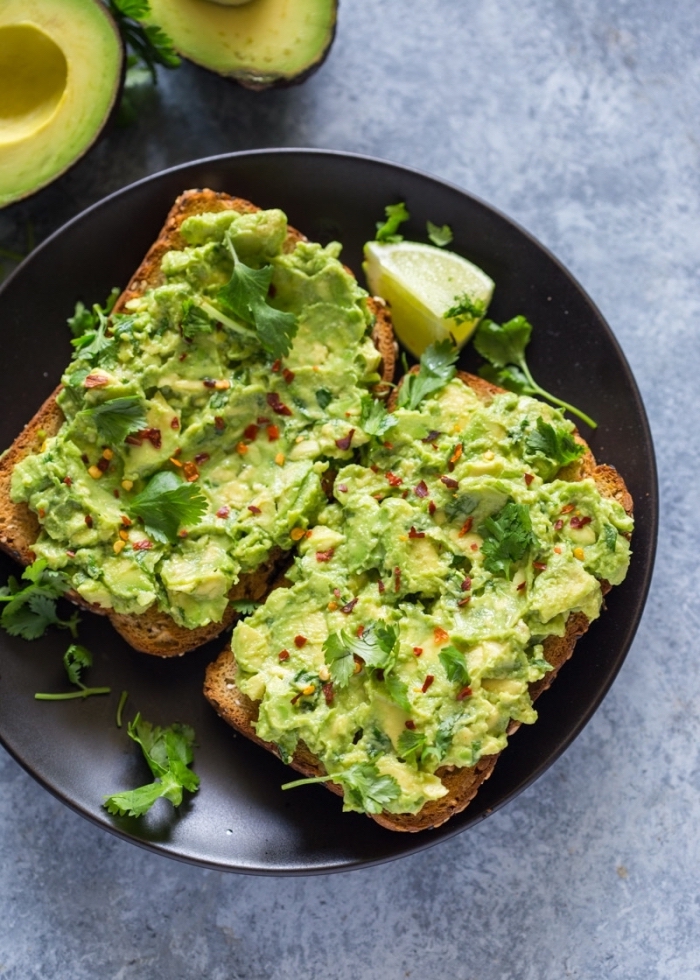 Brunch ideas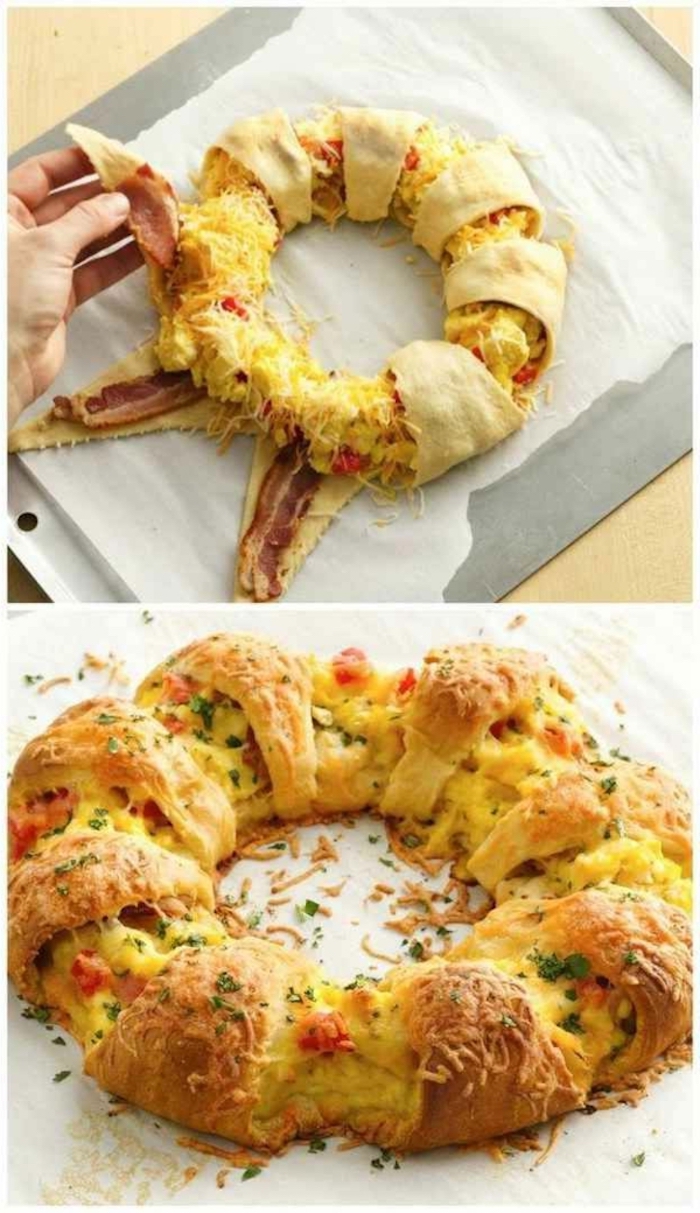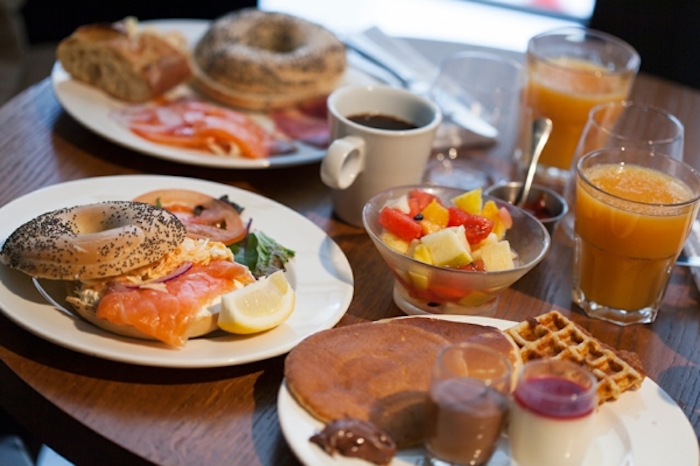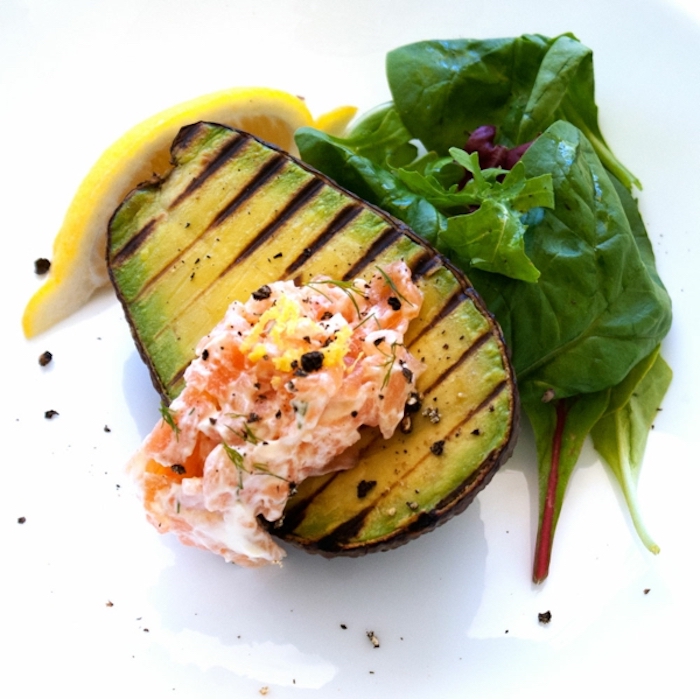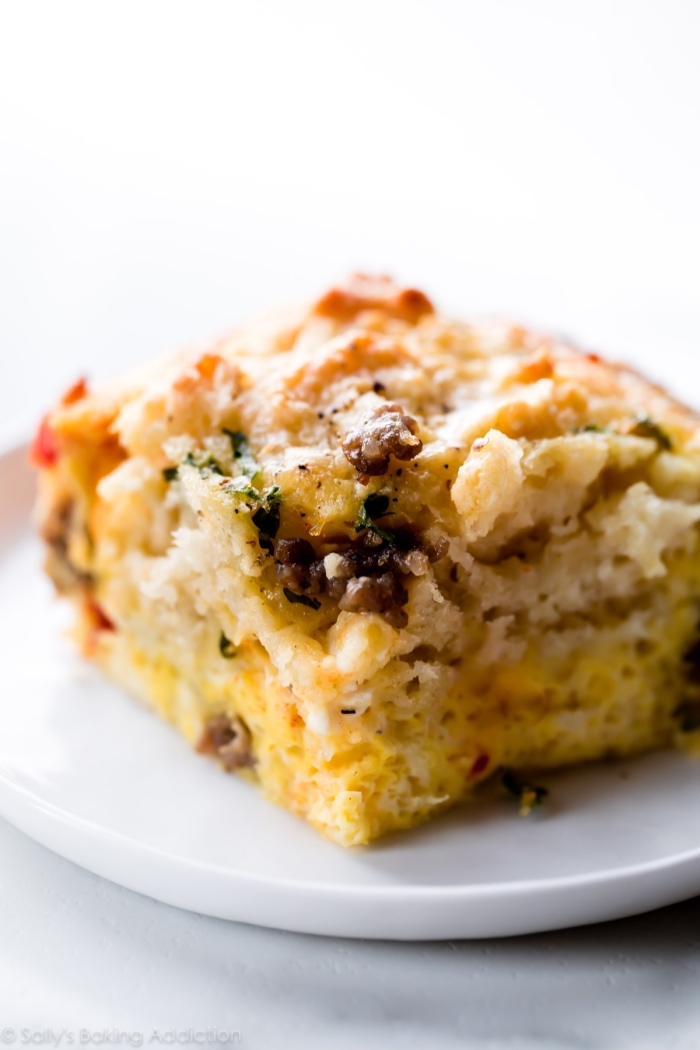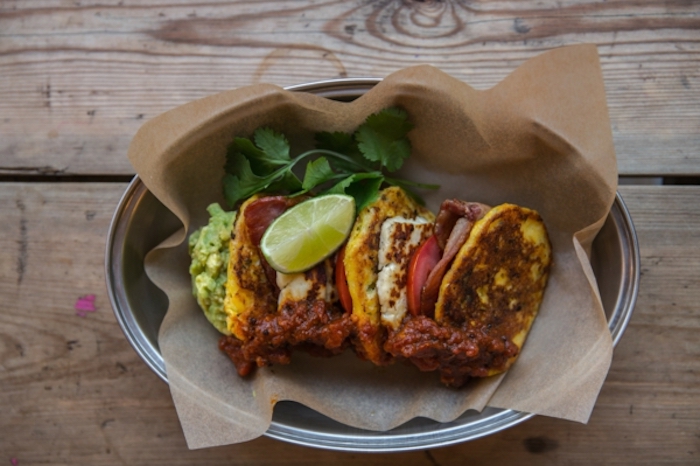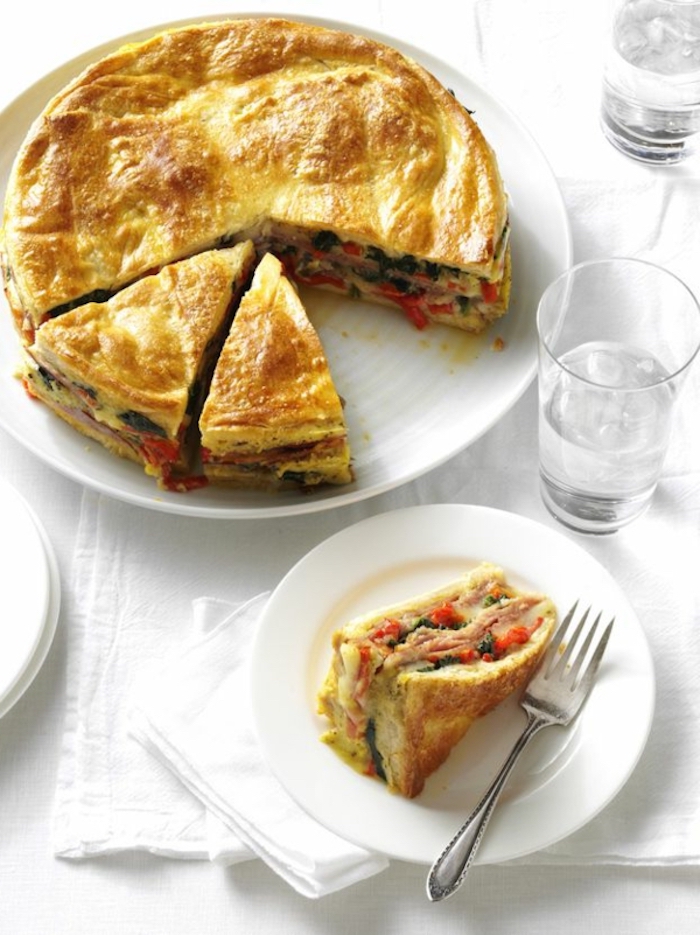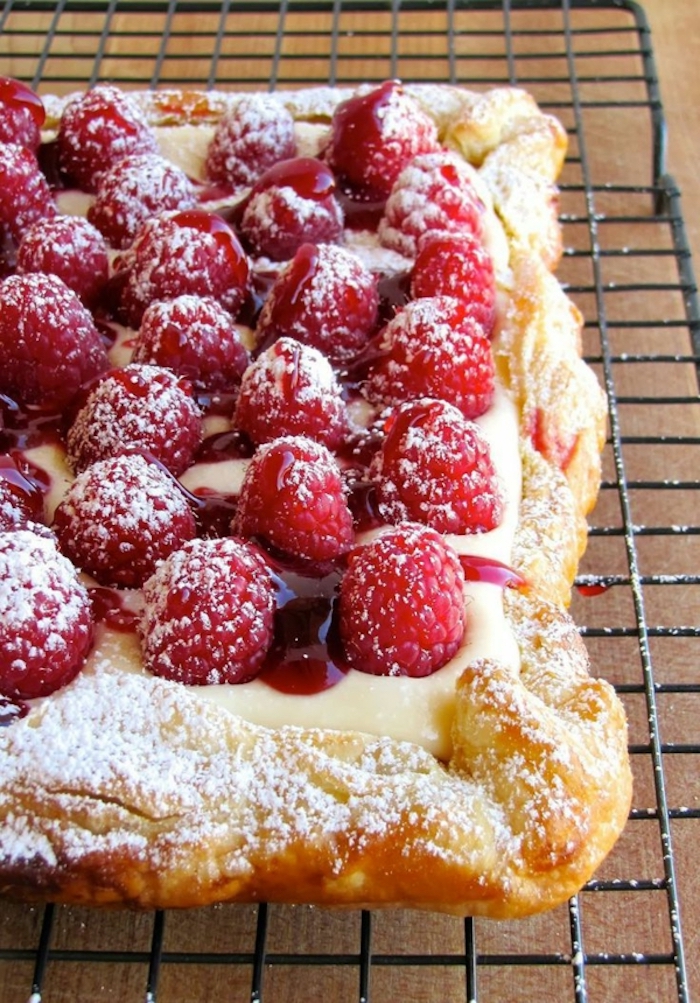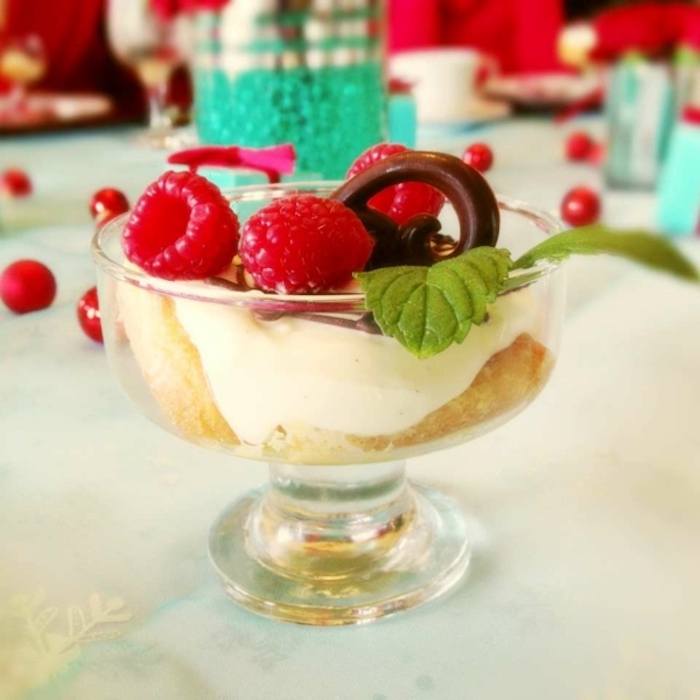 Breakfast recipes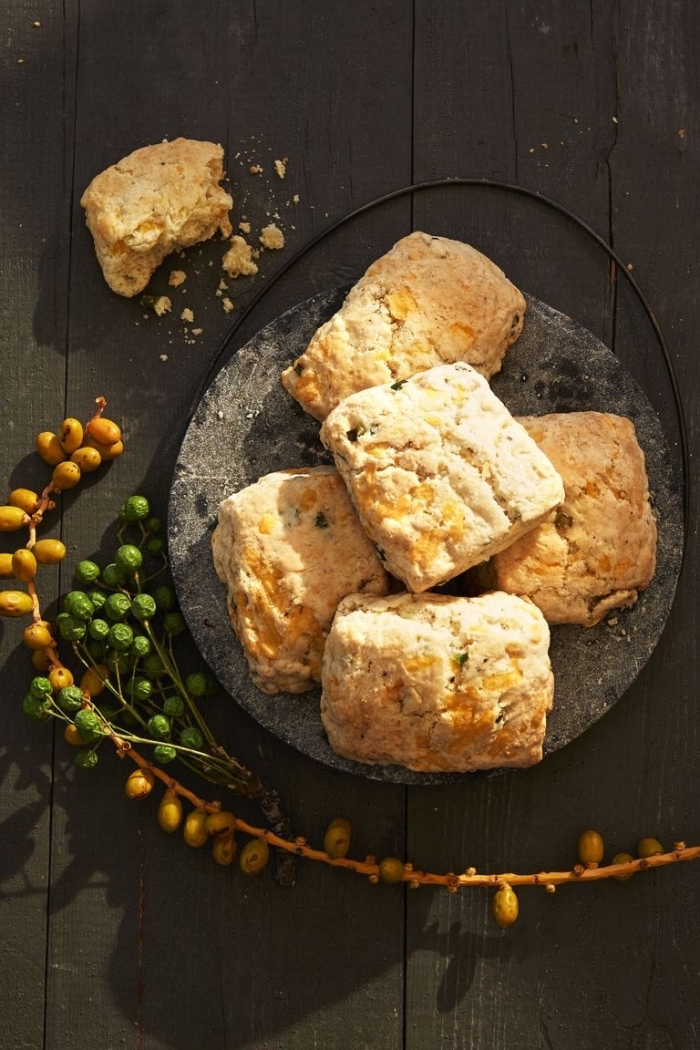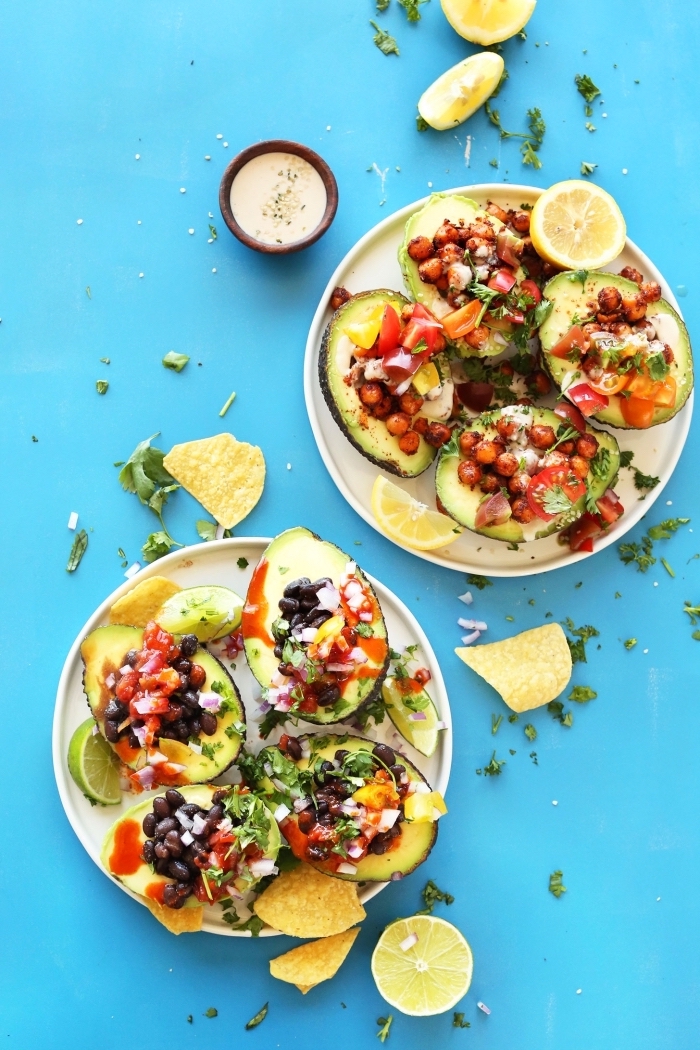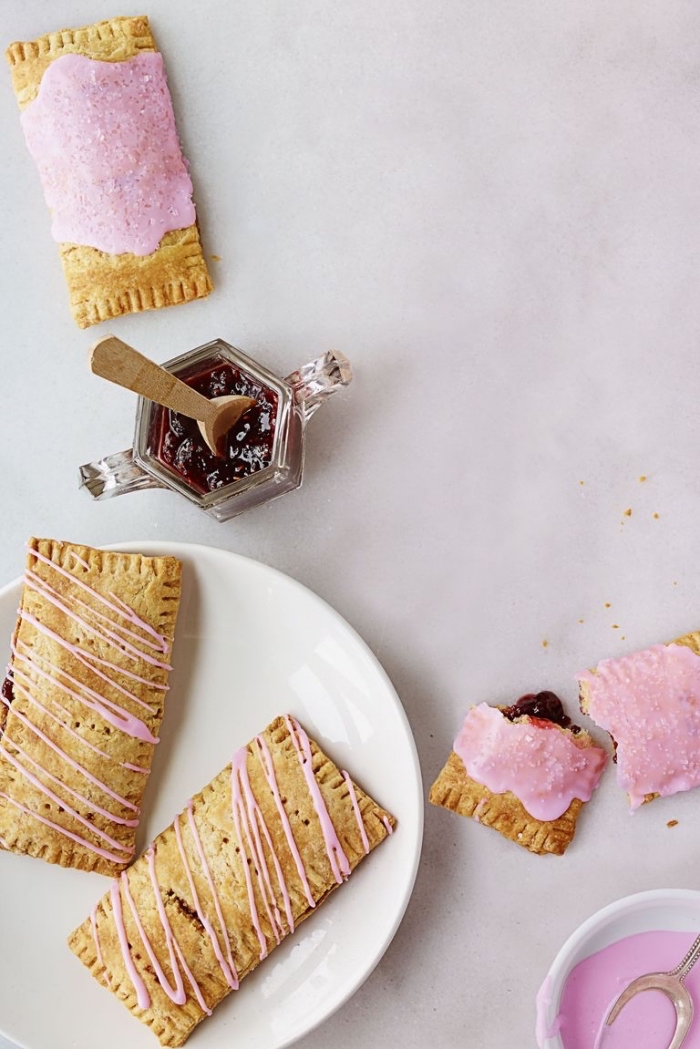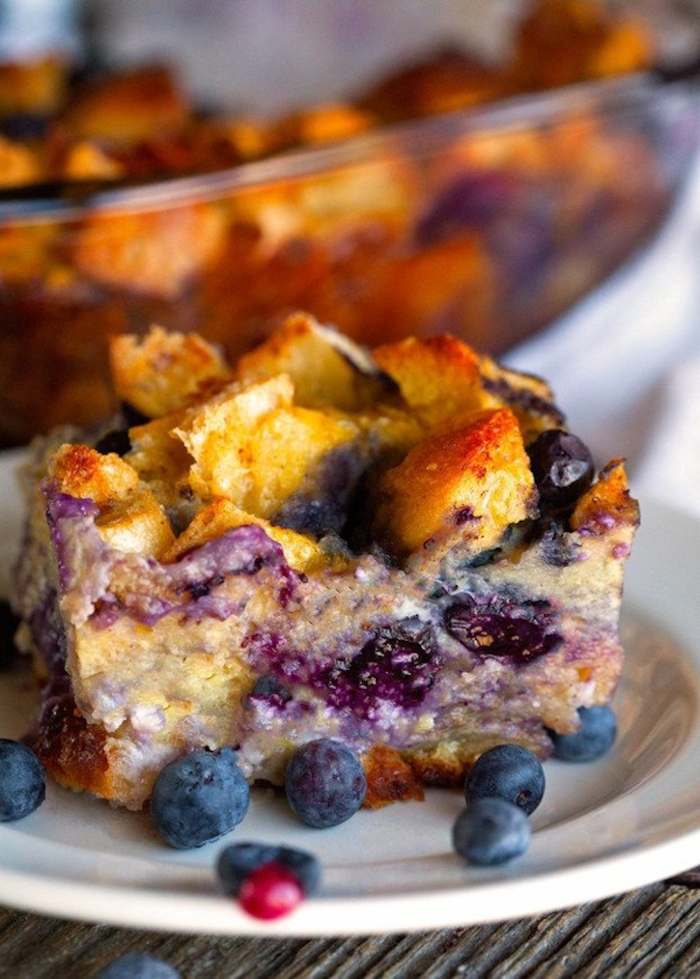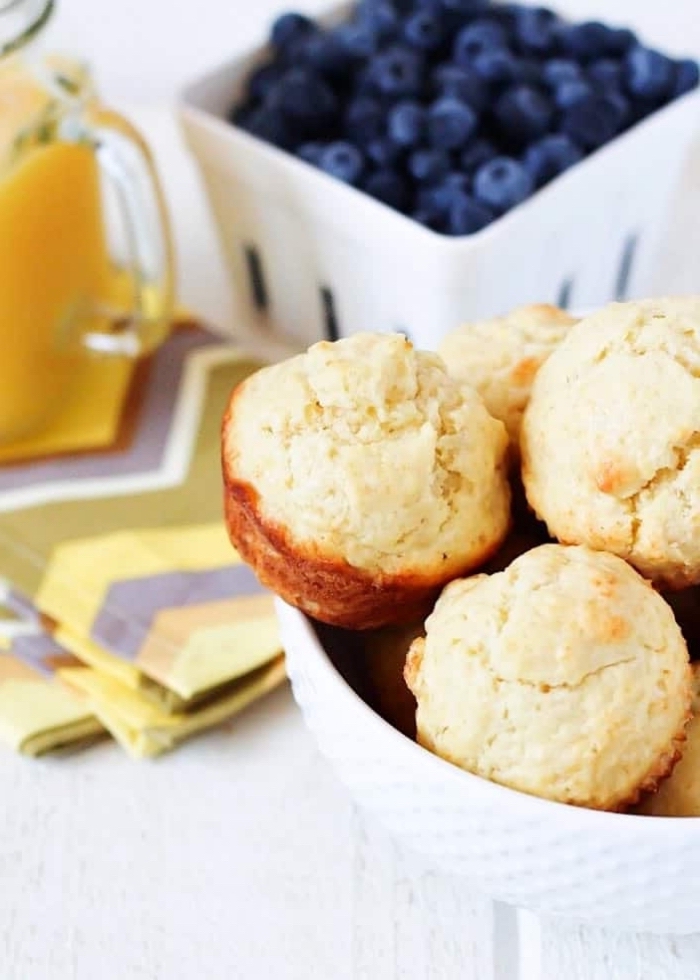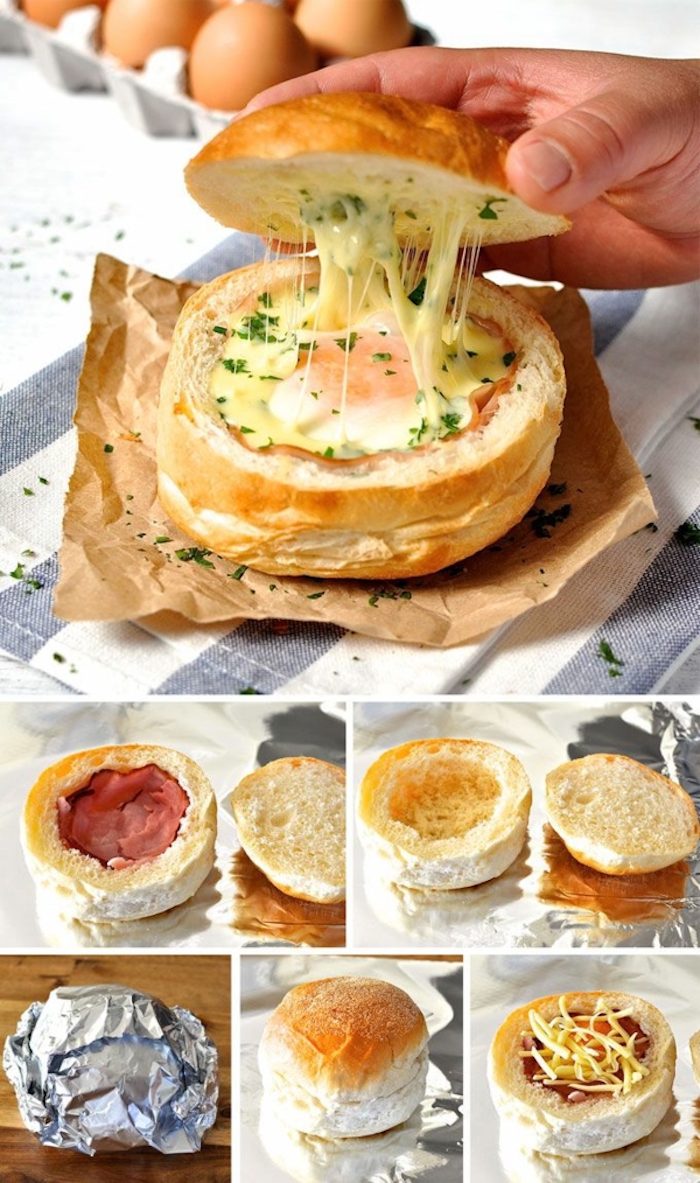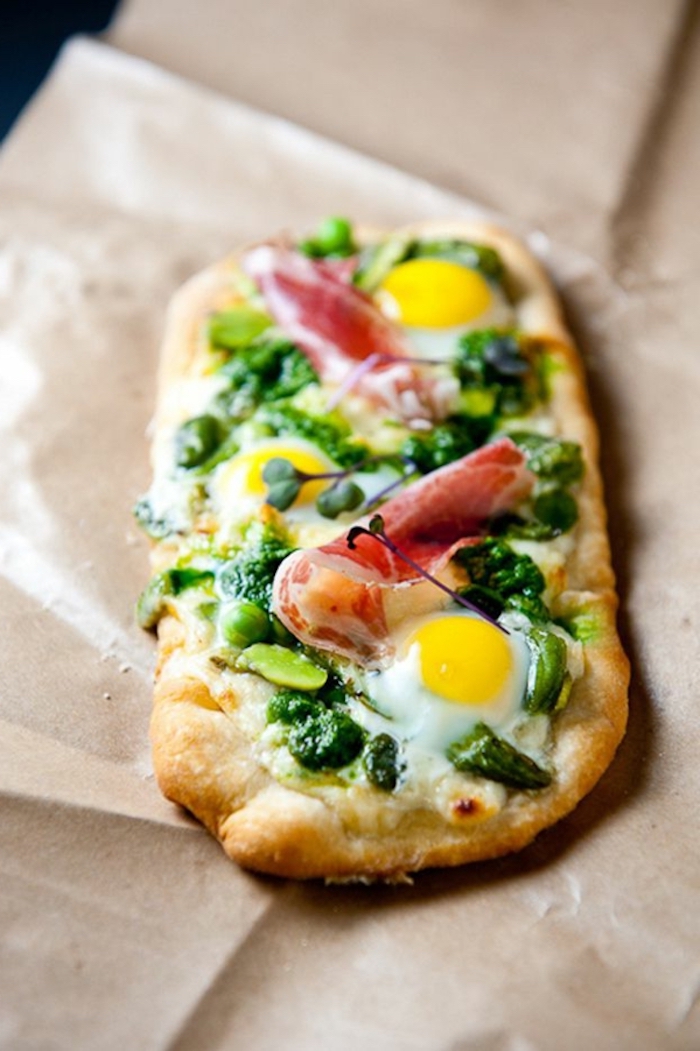 Brunch recipes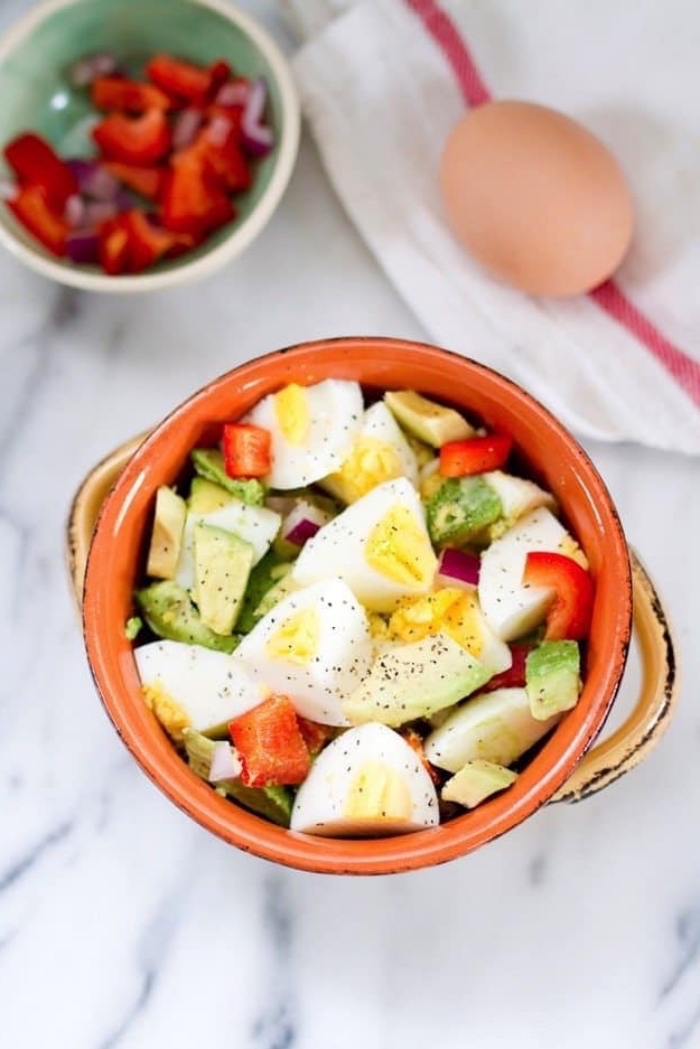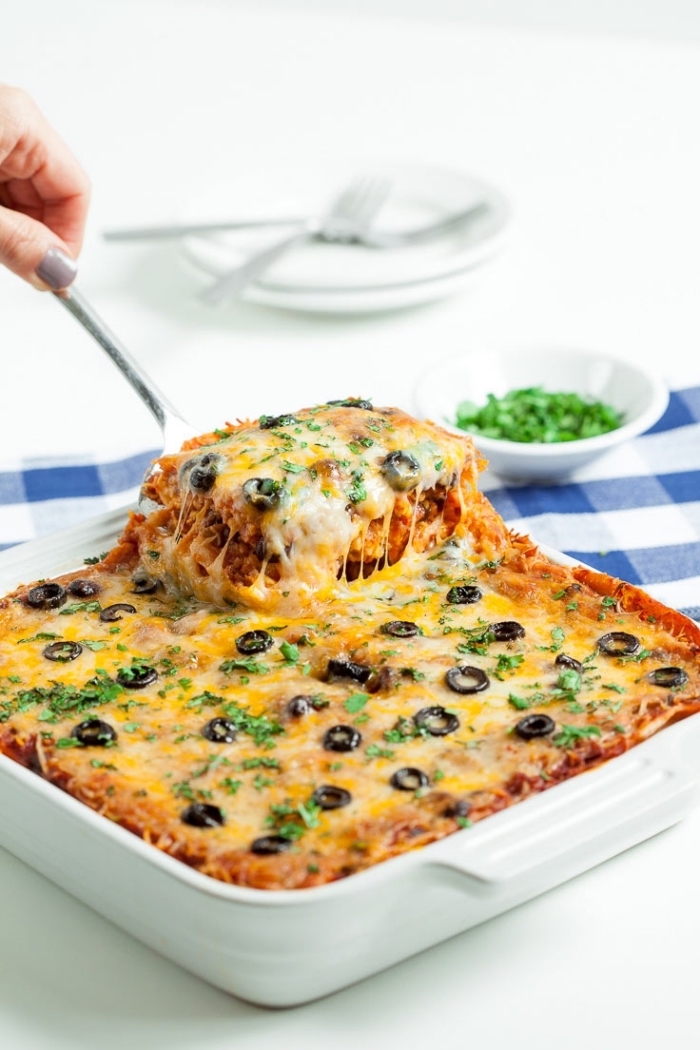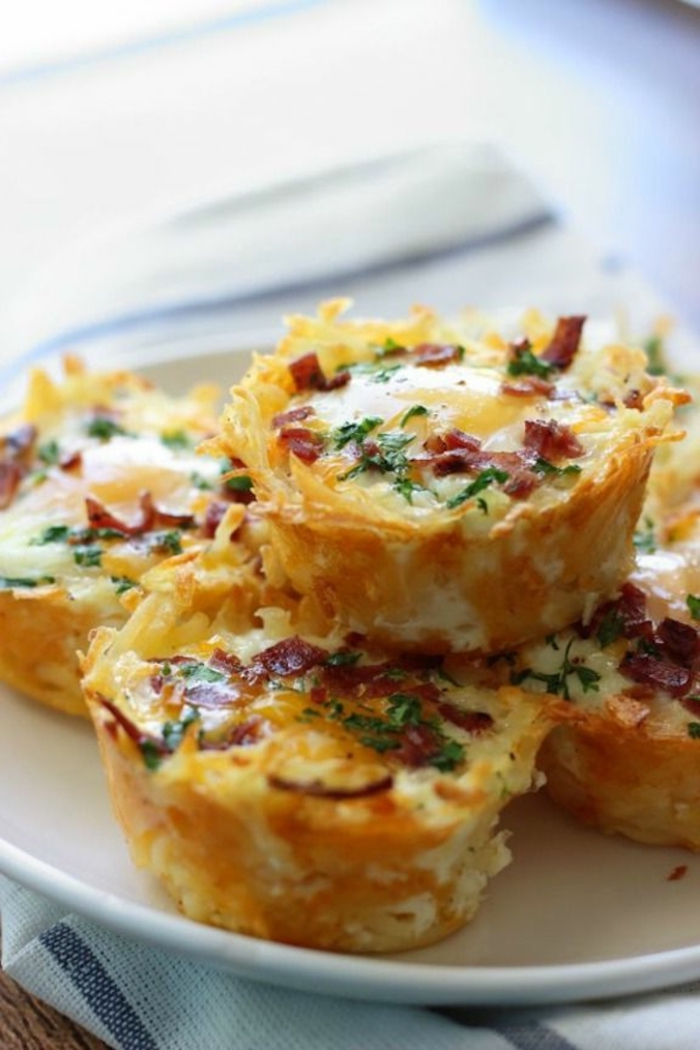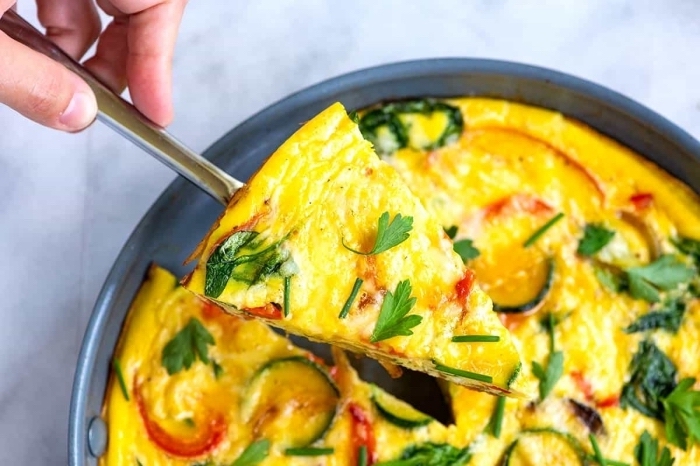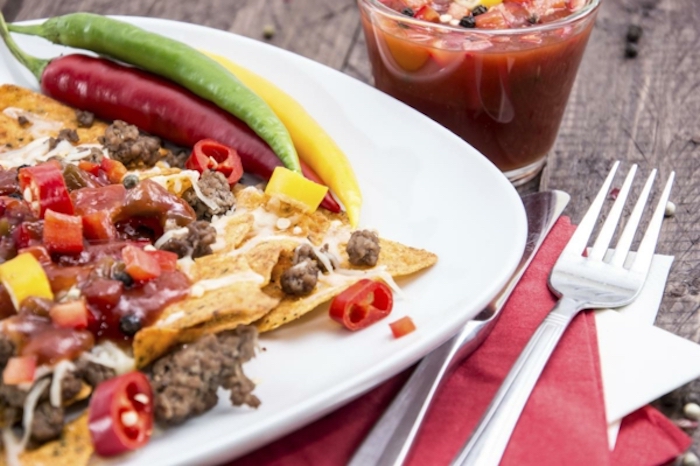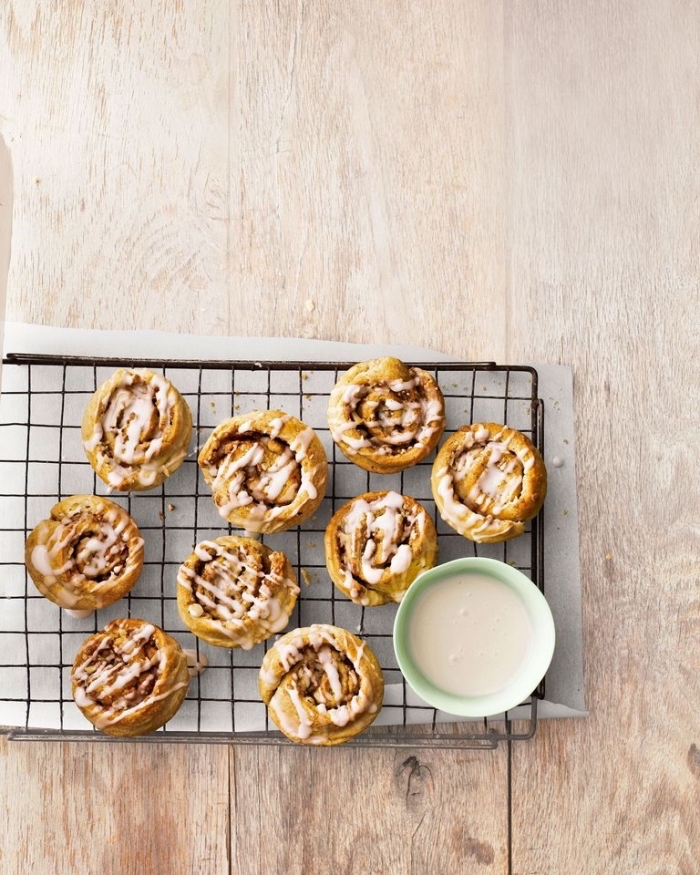 Brunch menu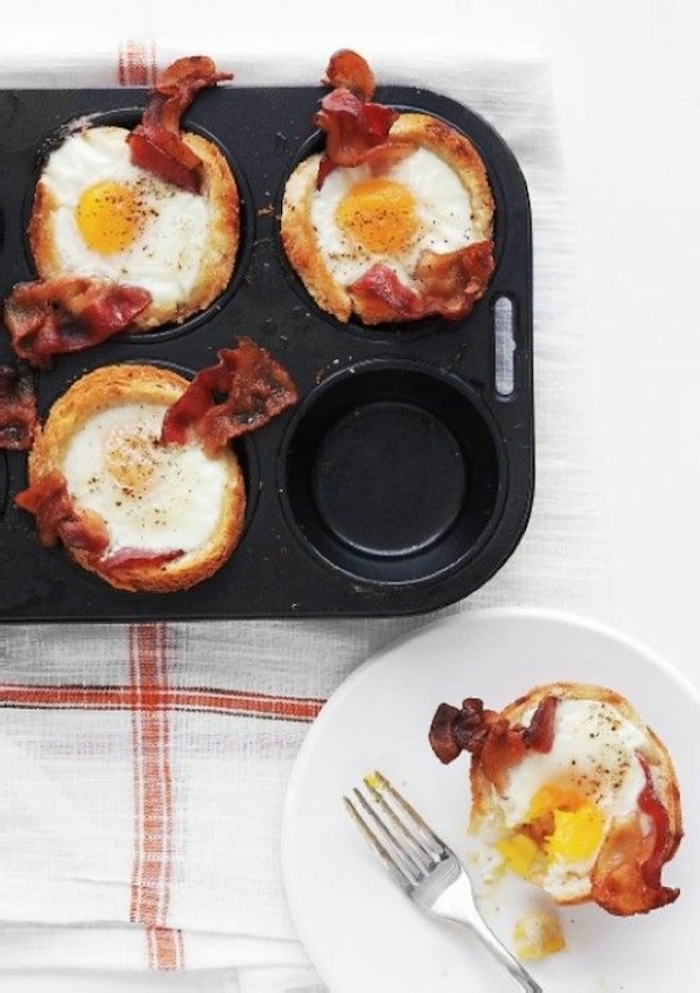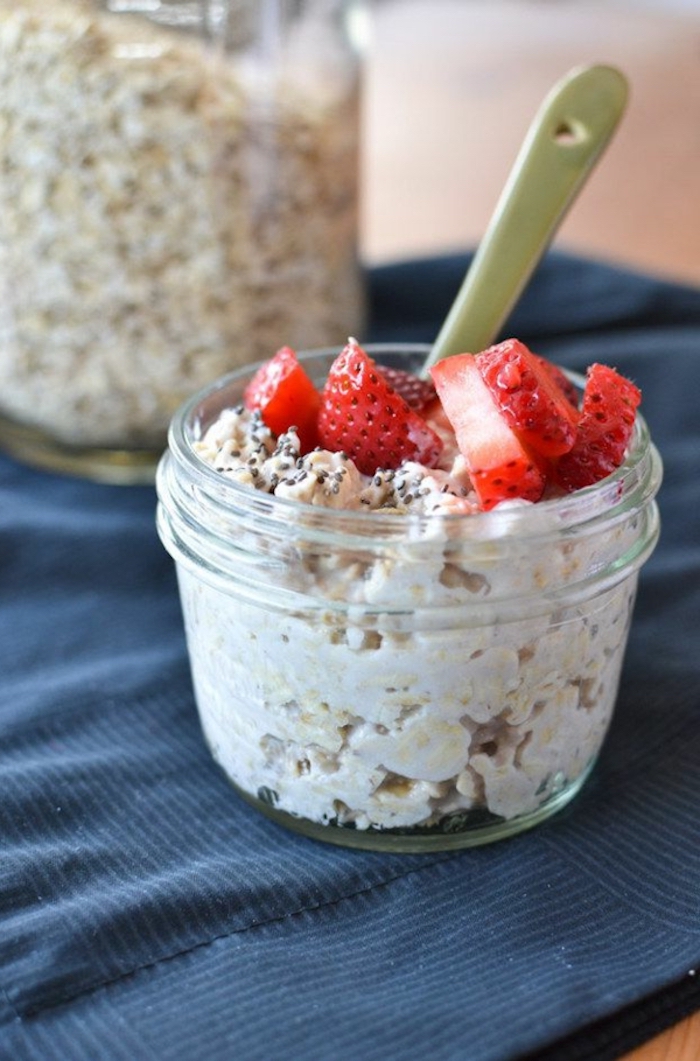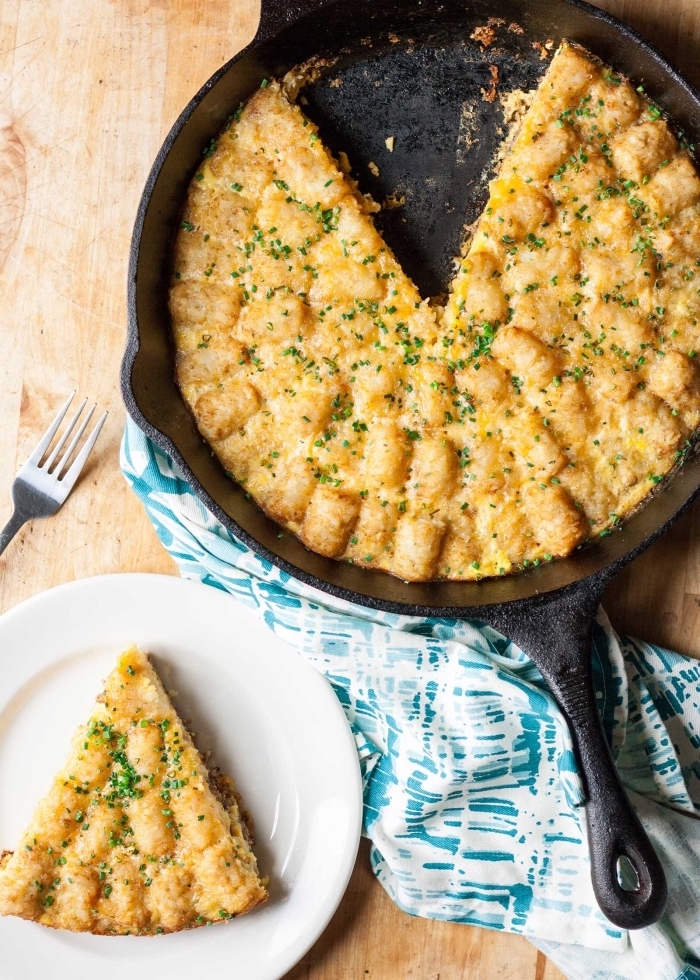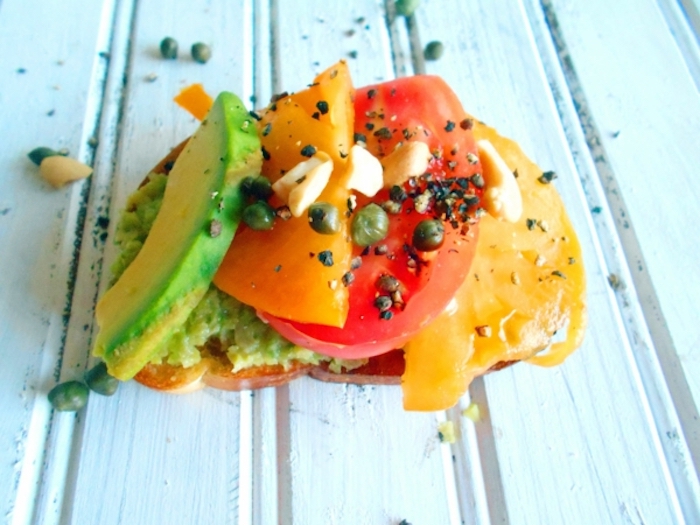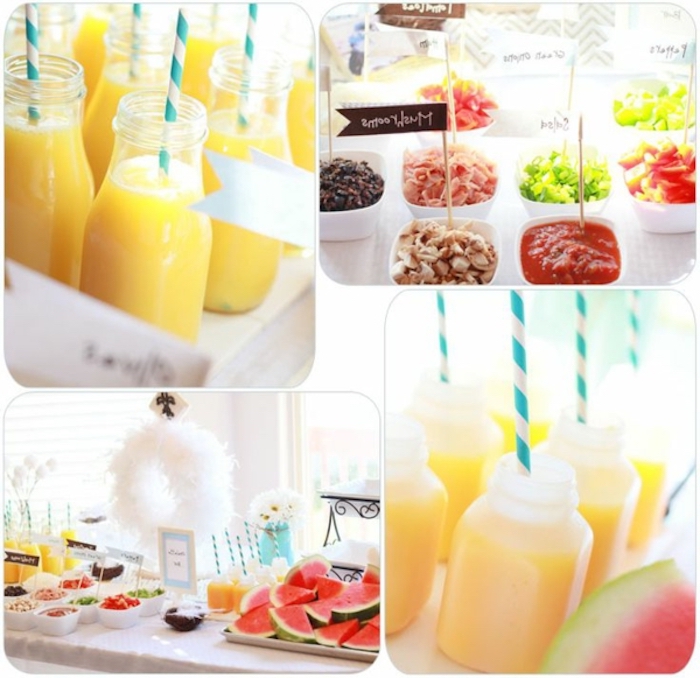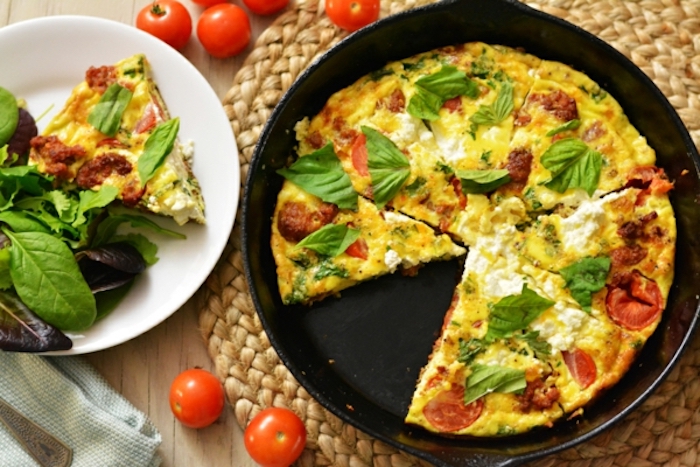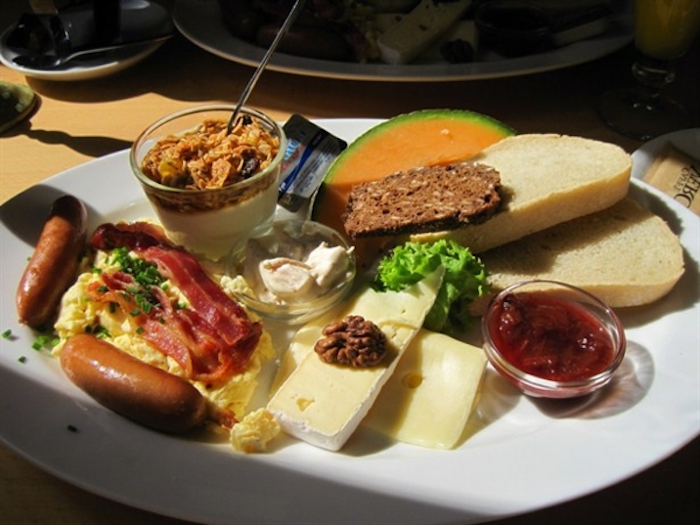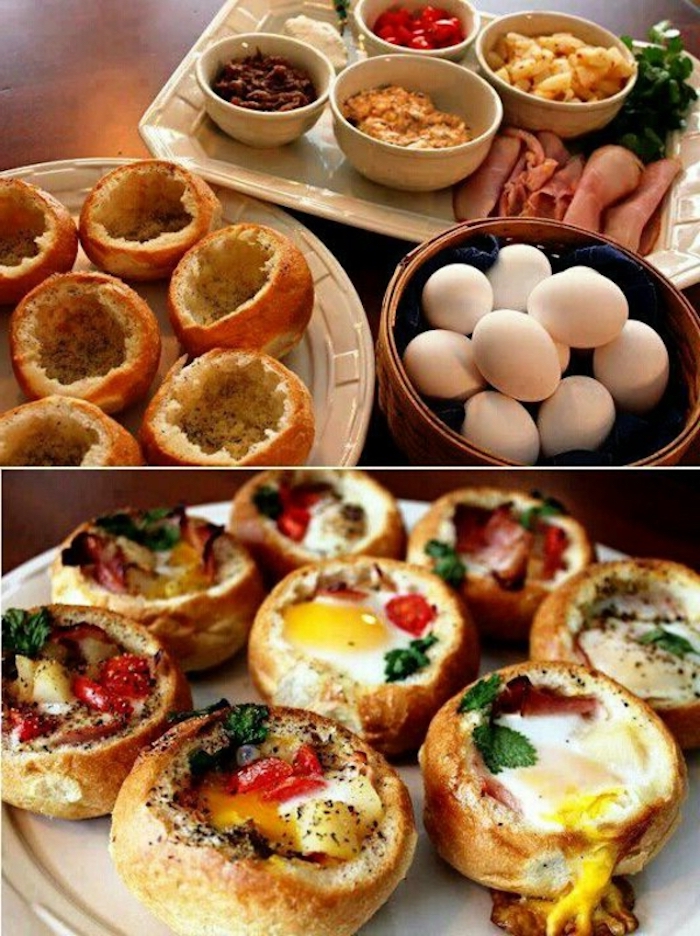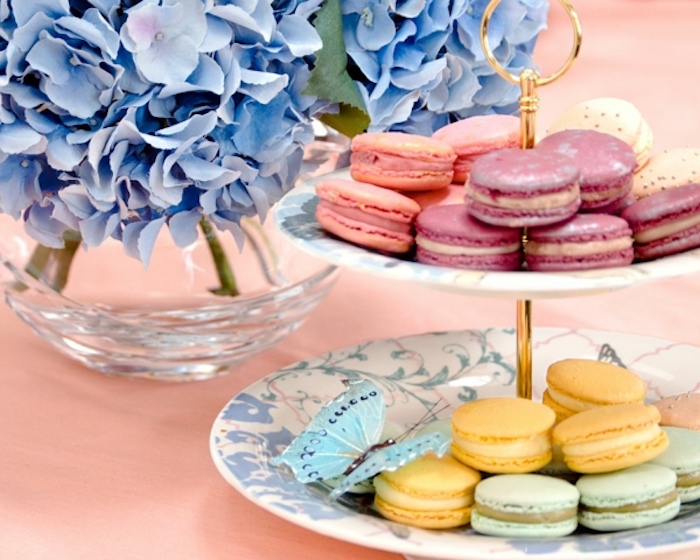 Good breakfast ideas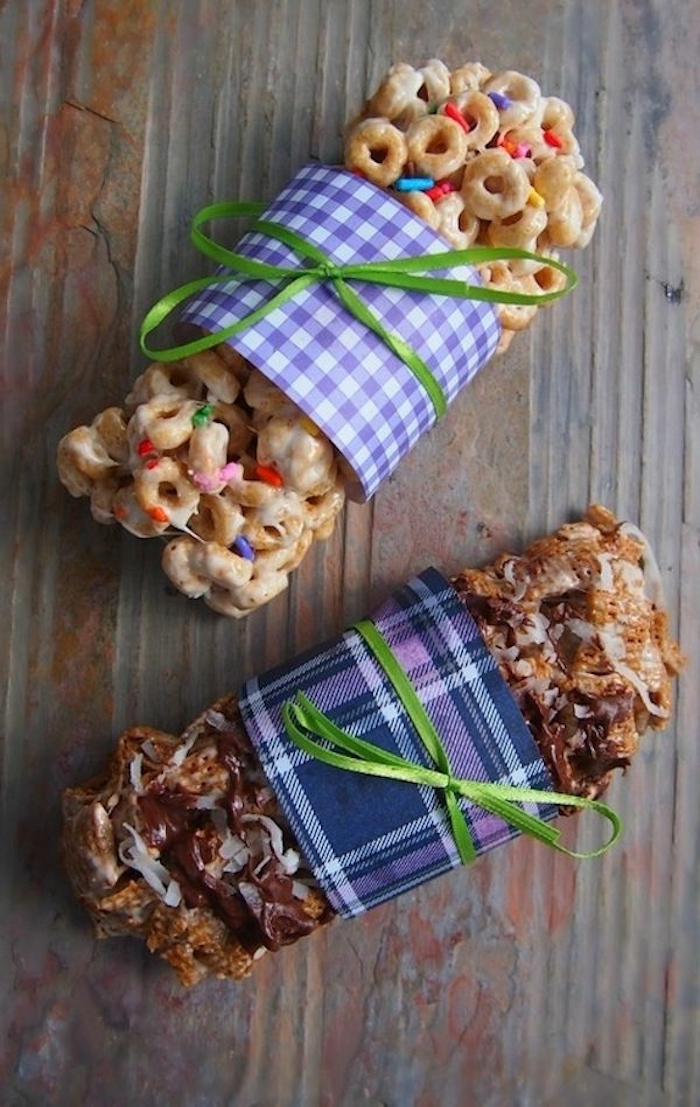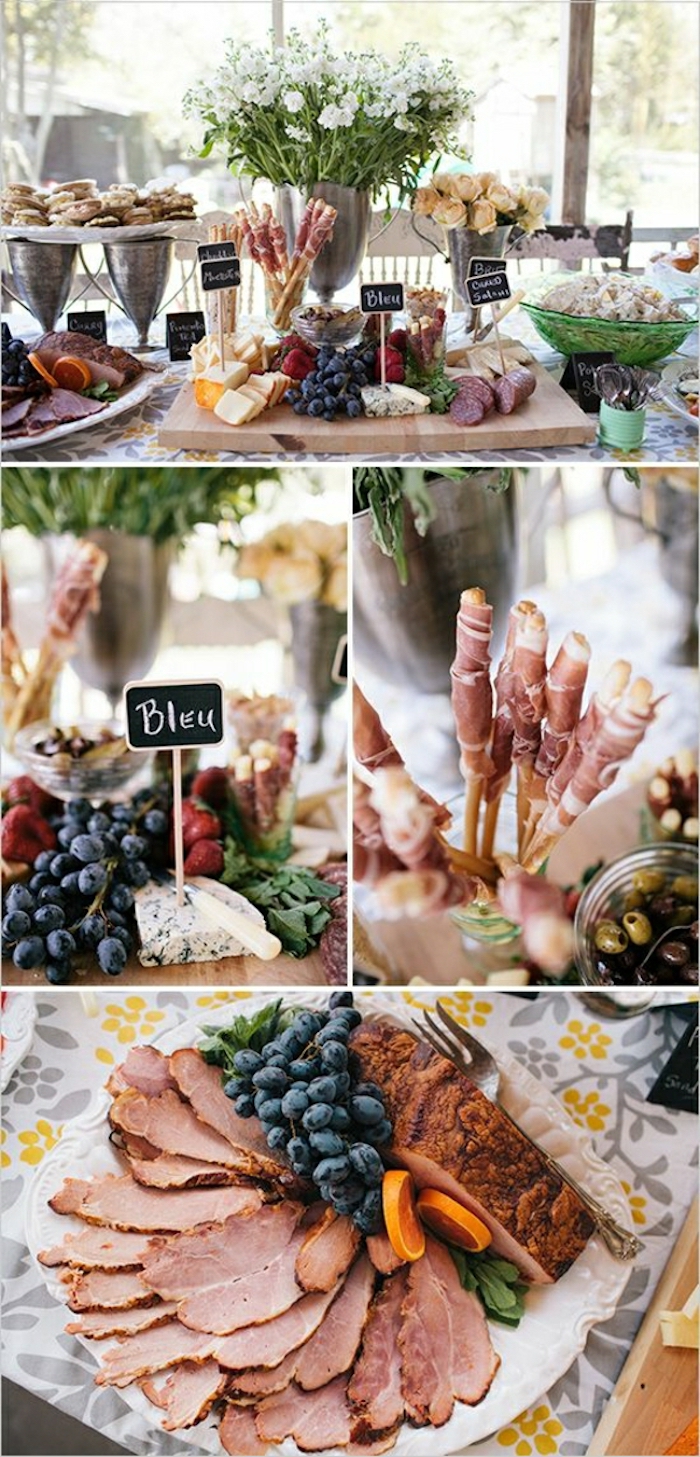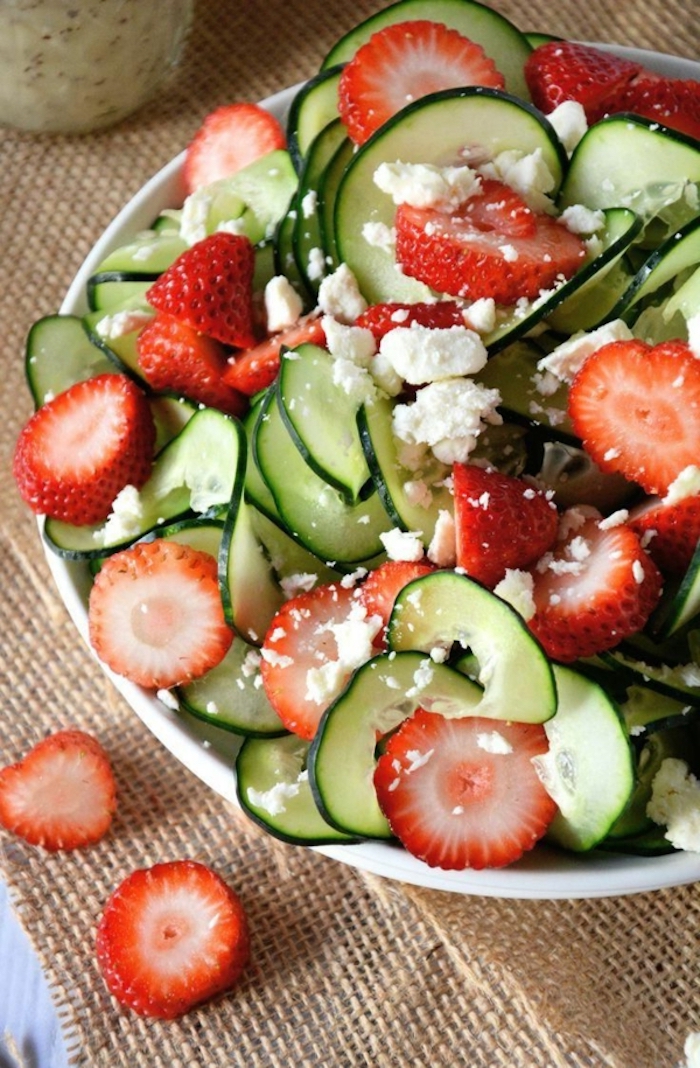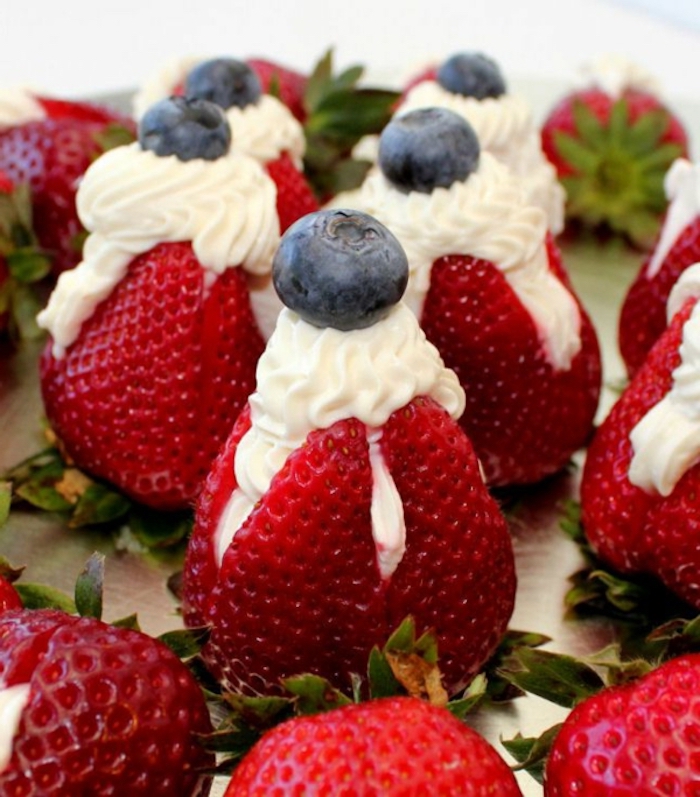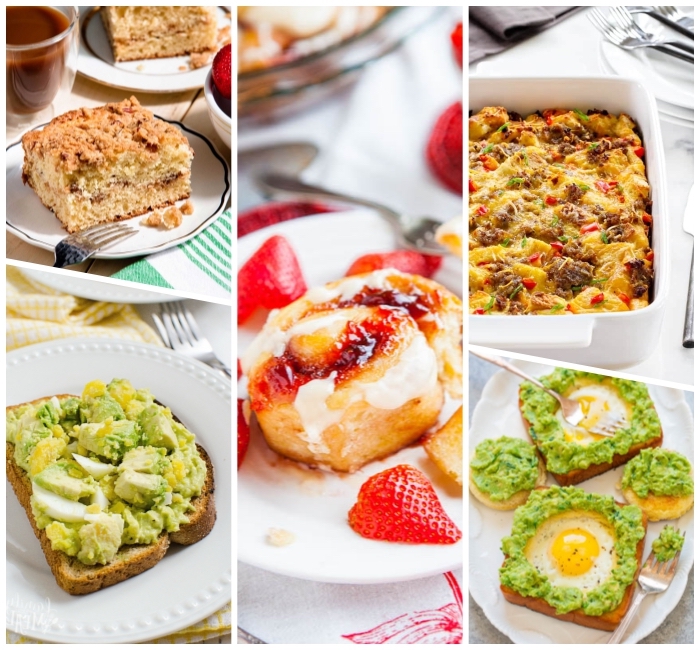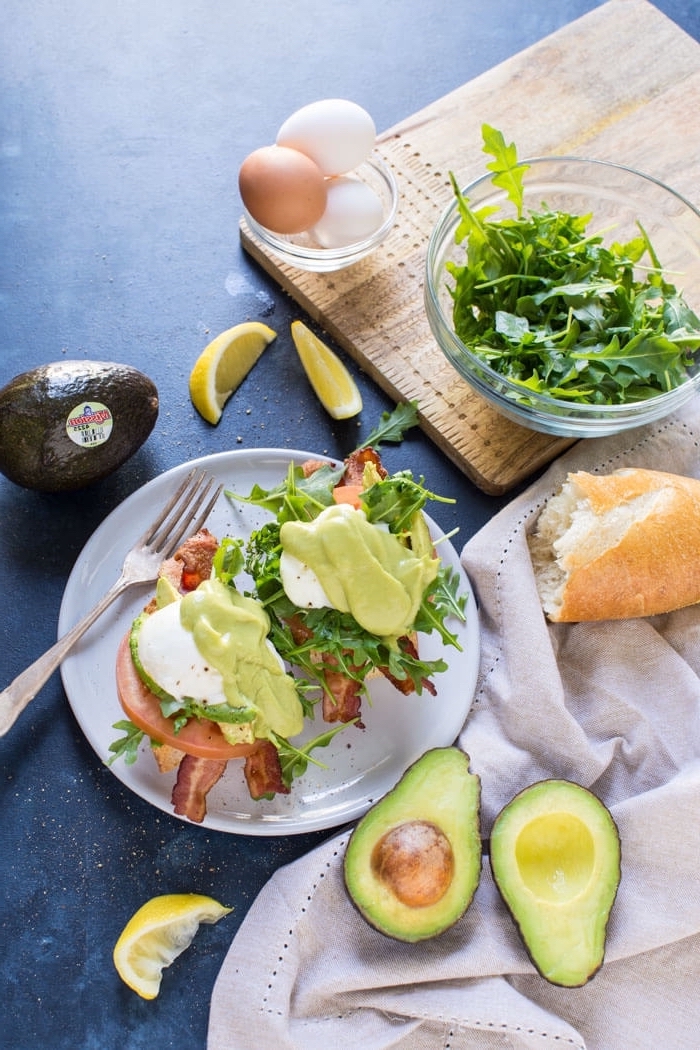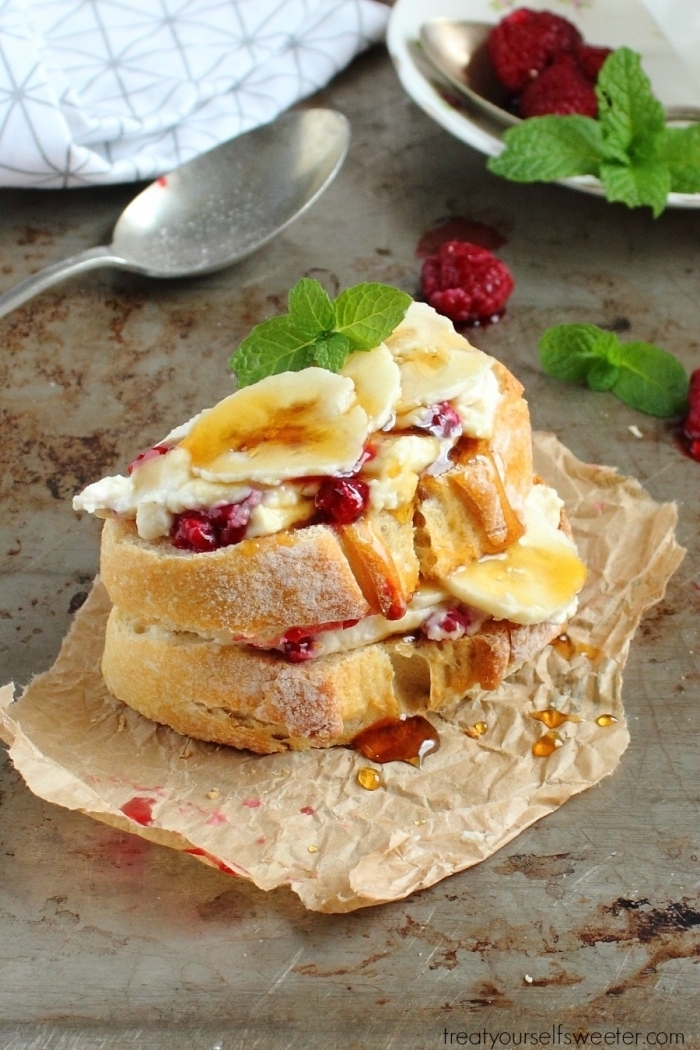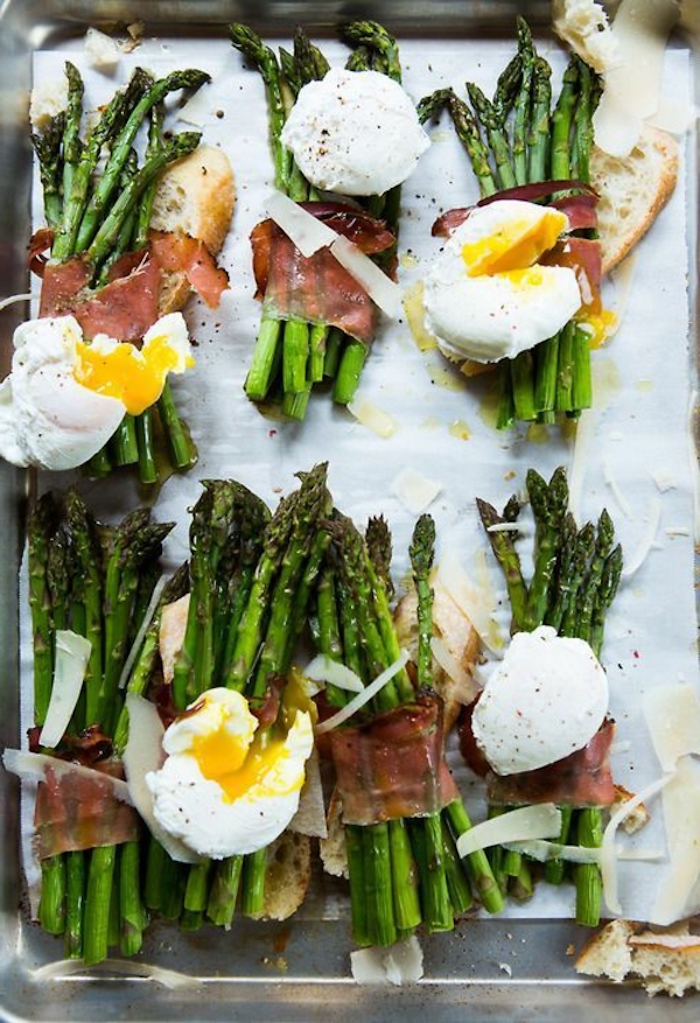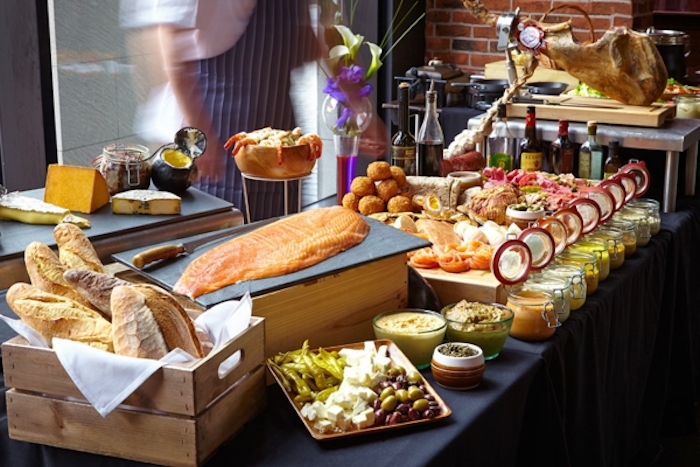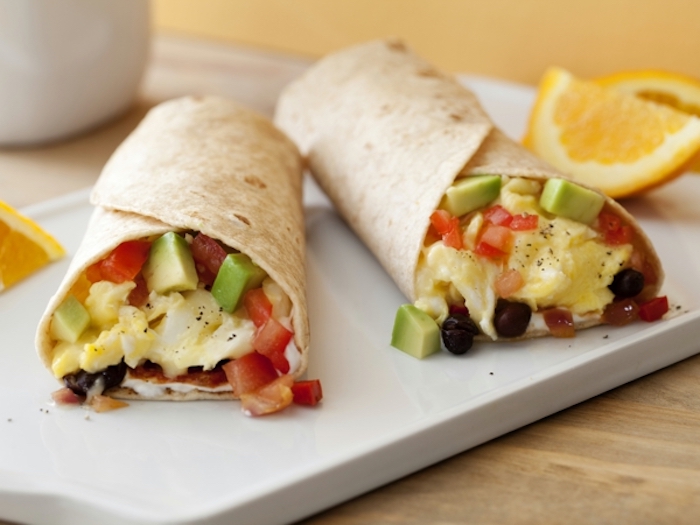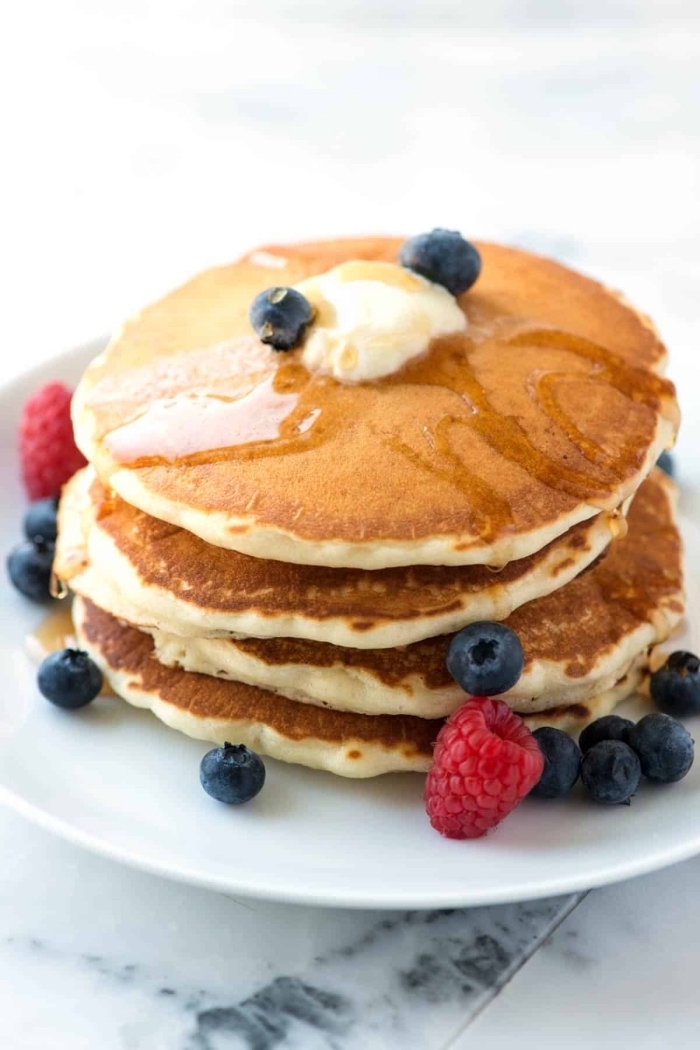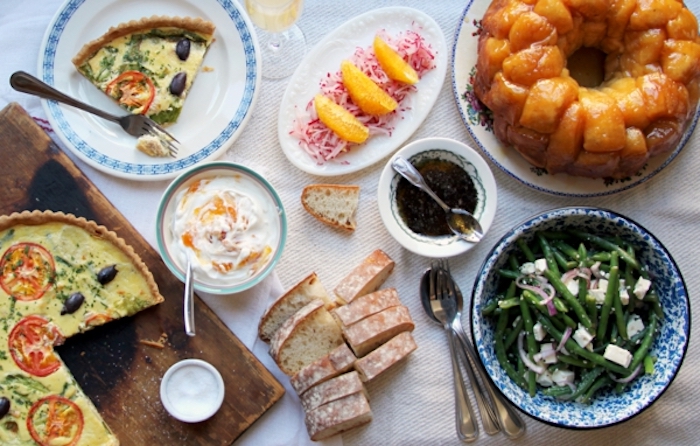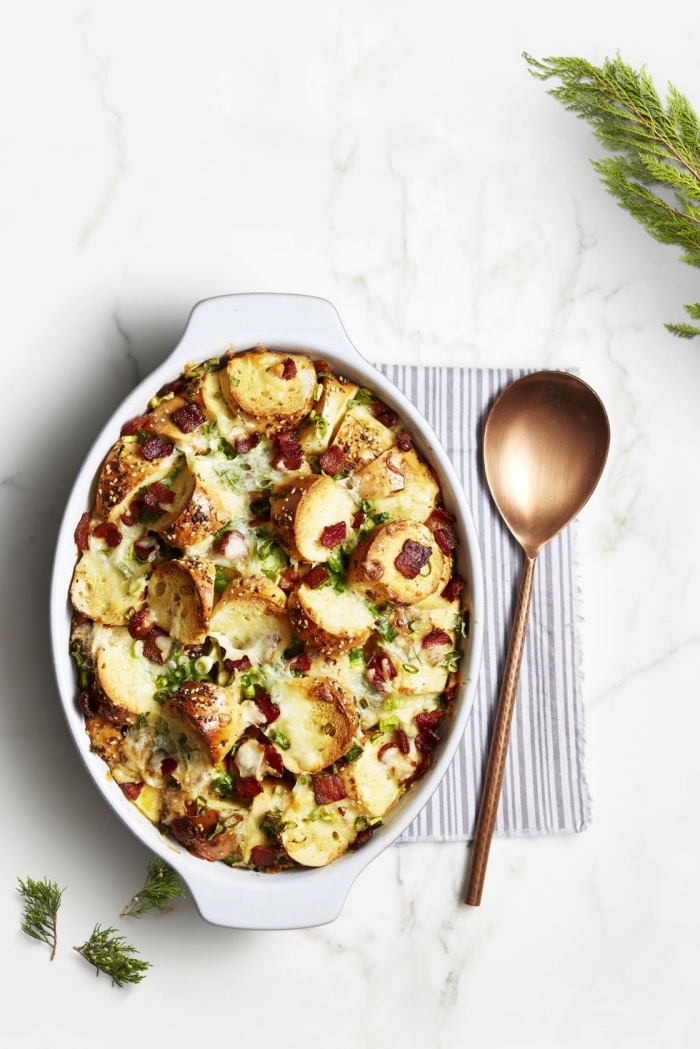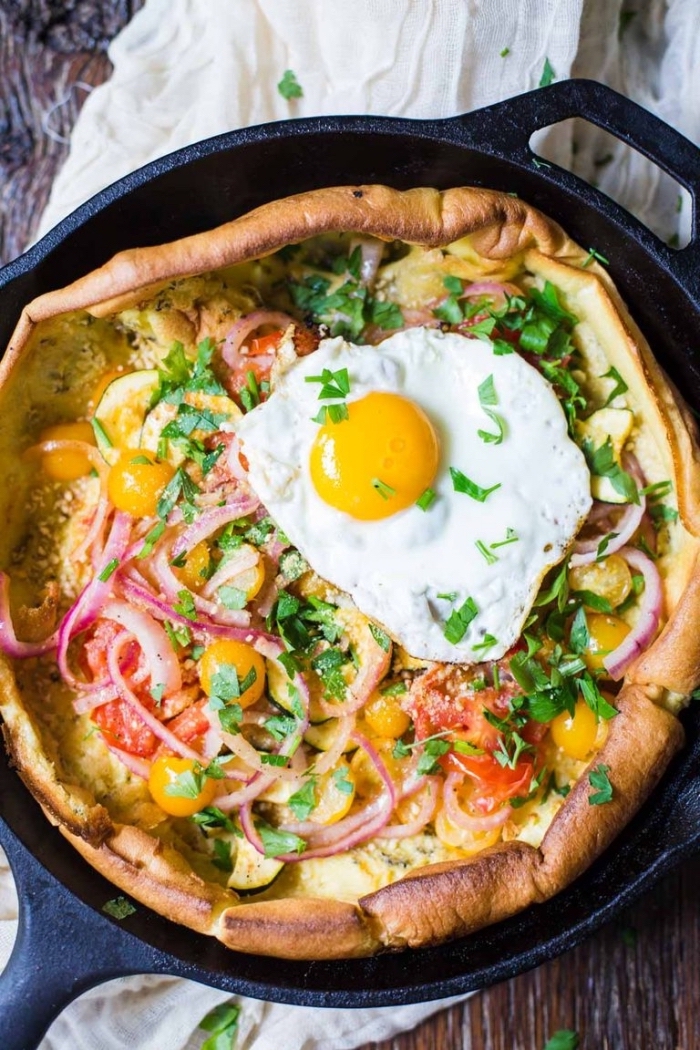 Breakfast food ideas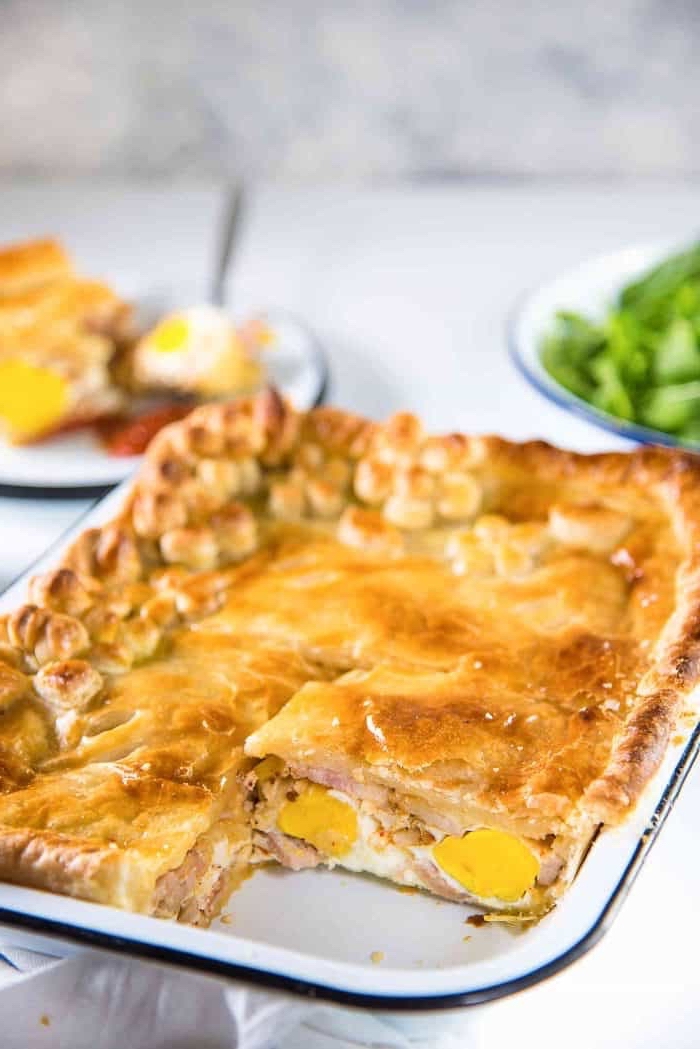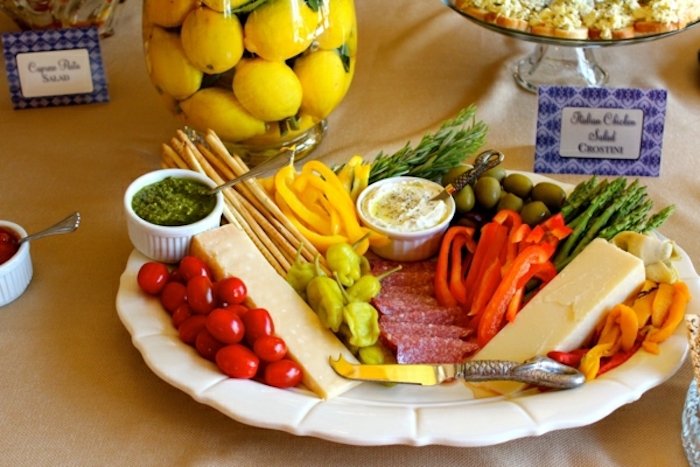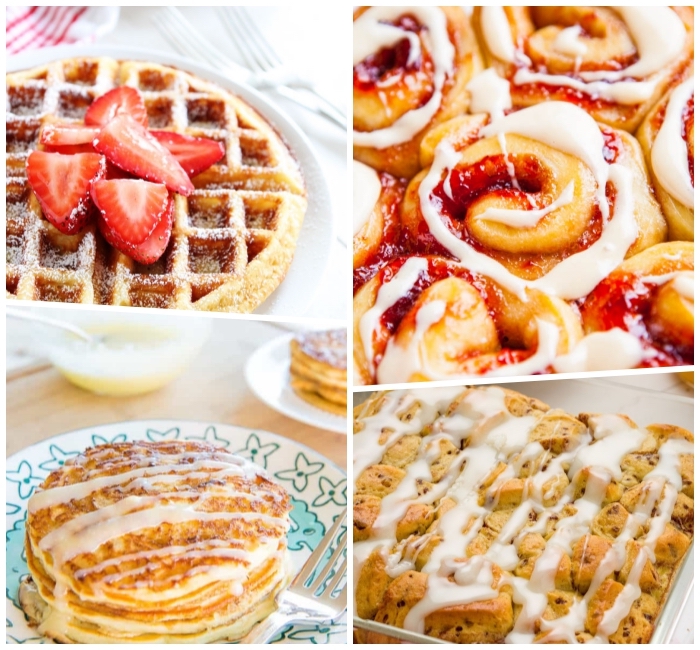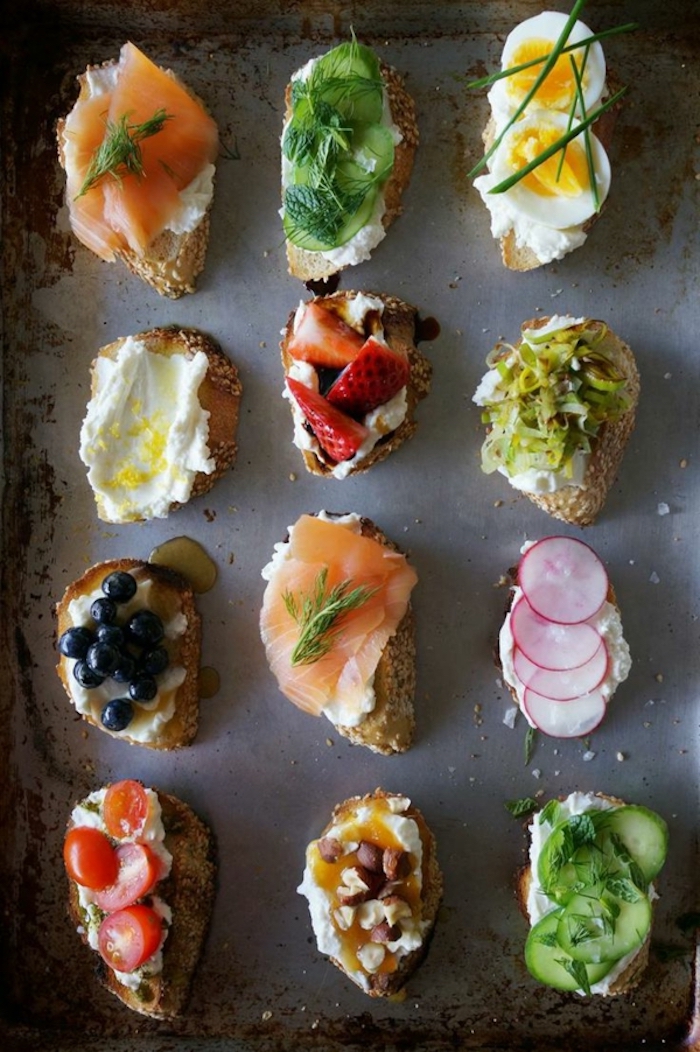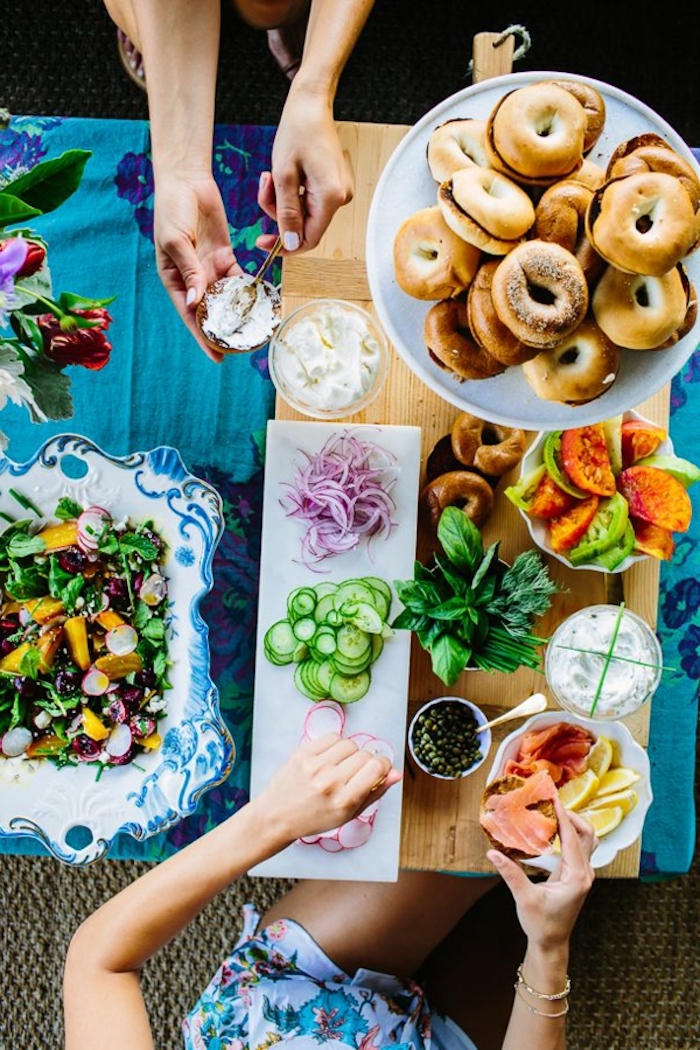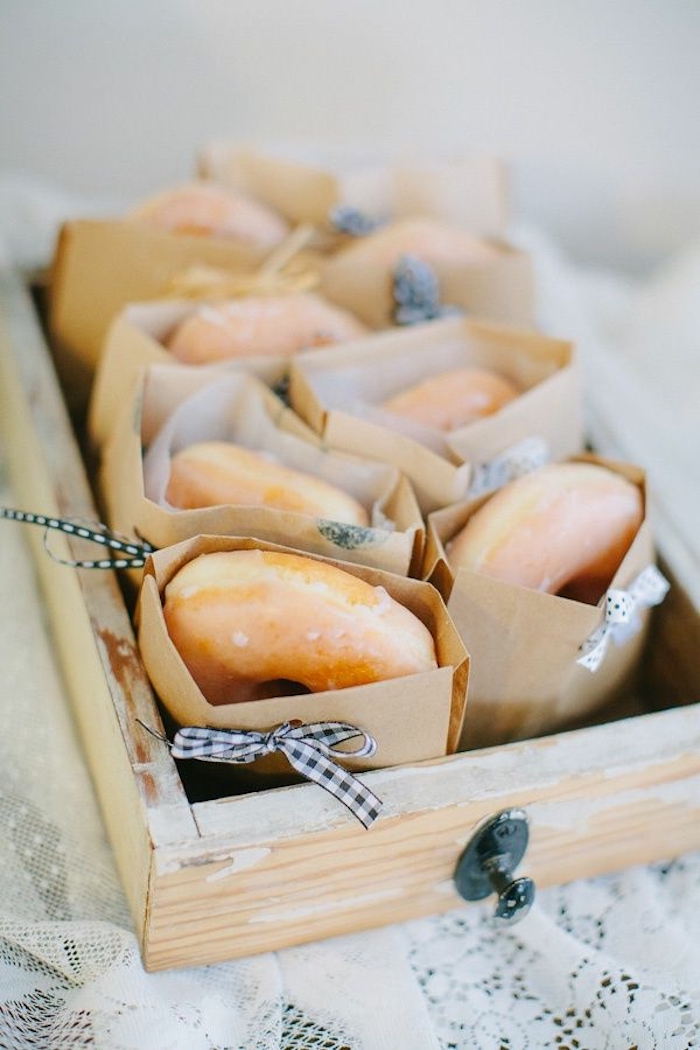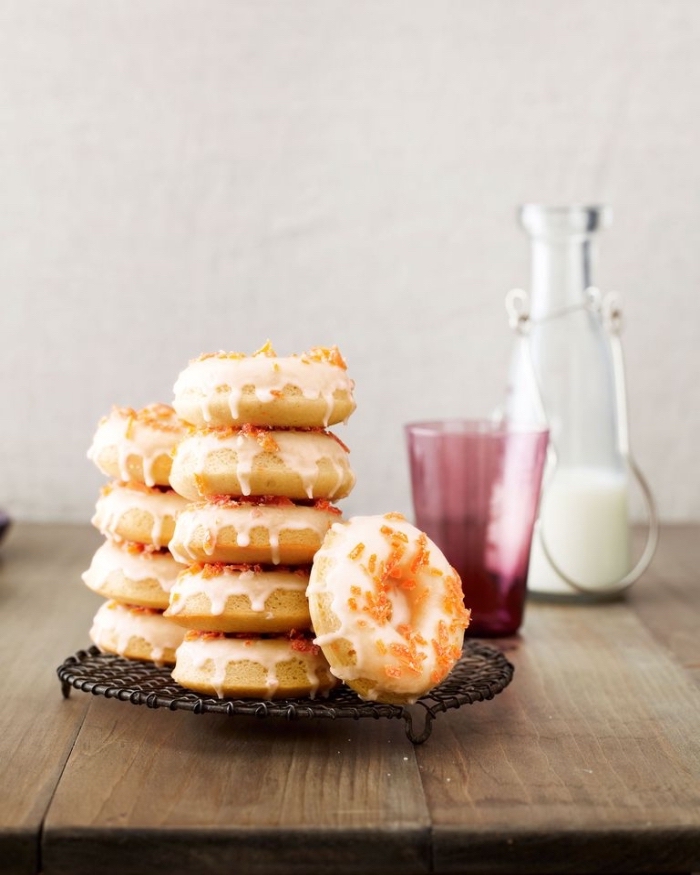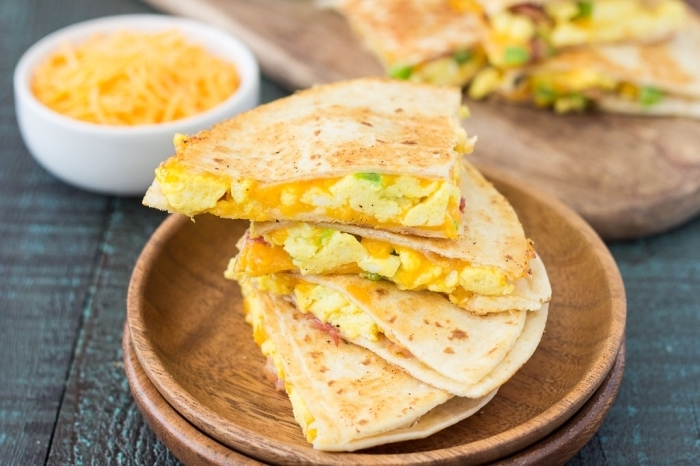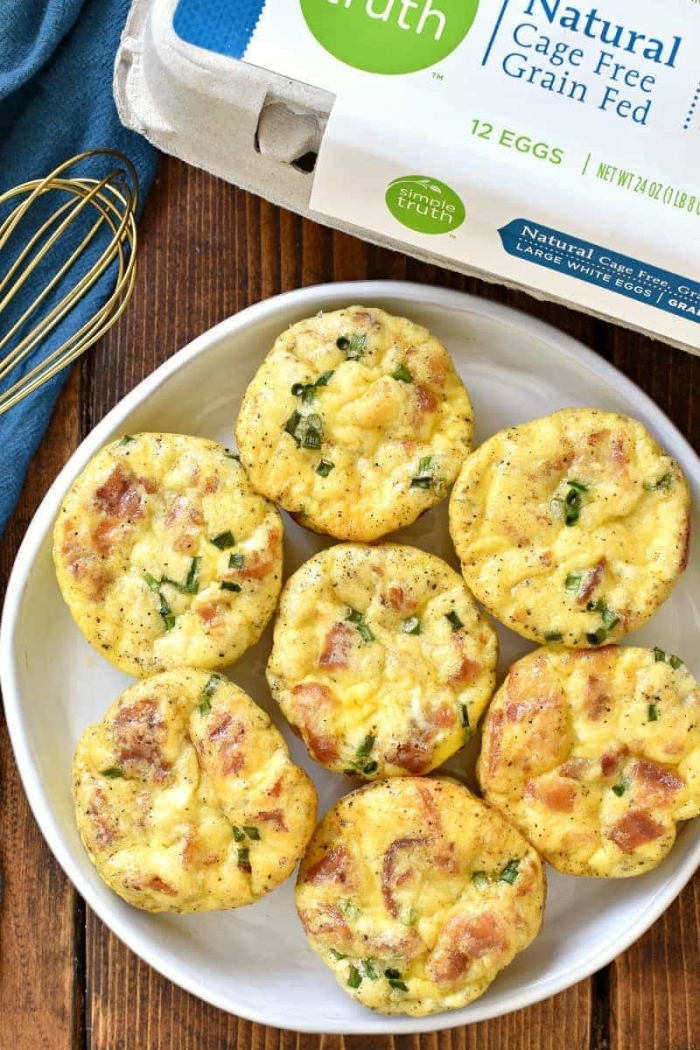 Best breakfast recipes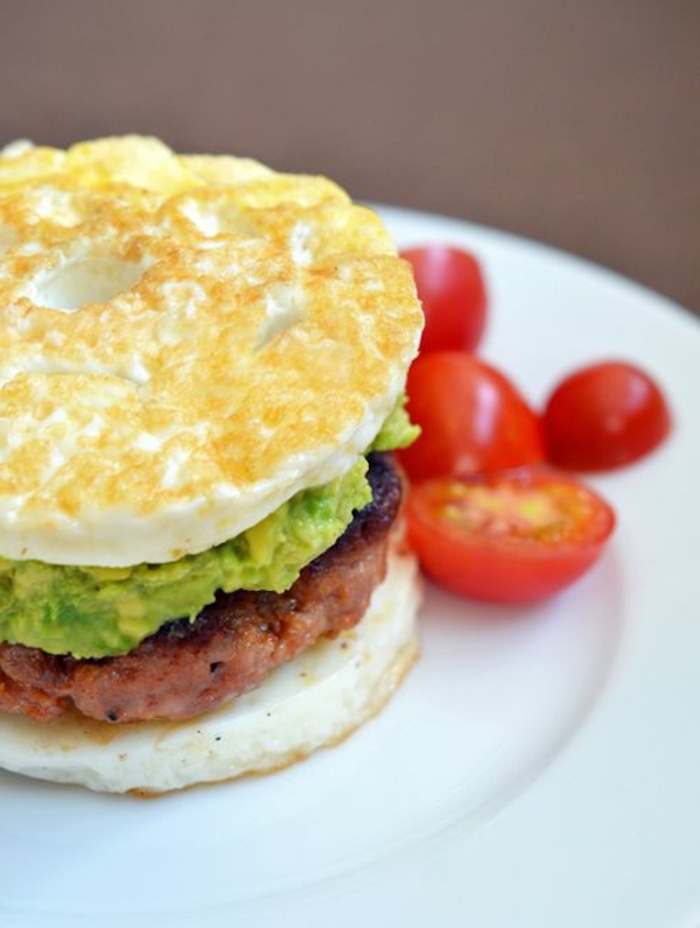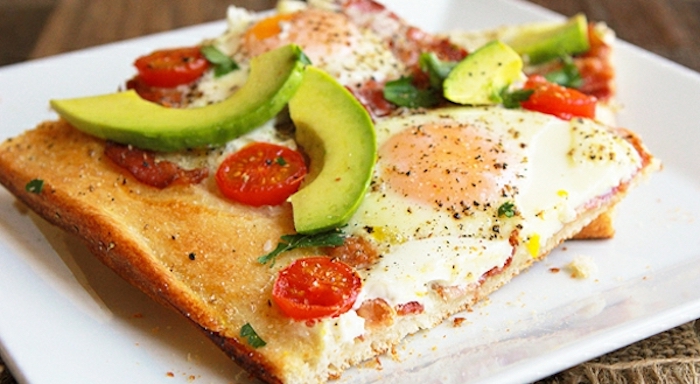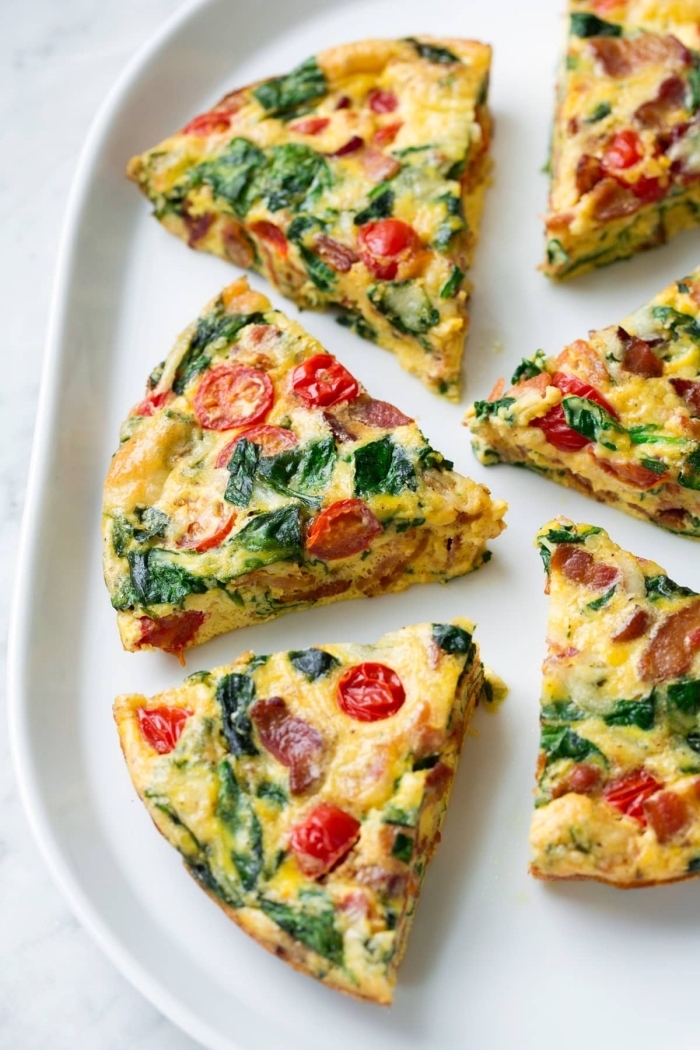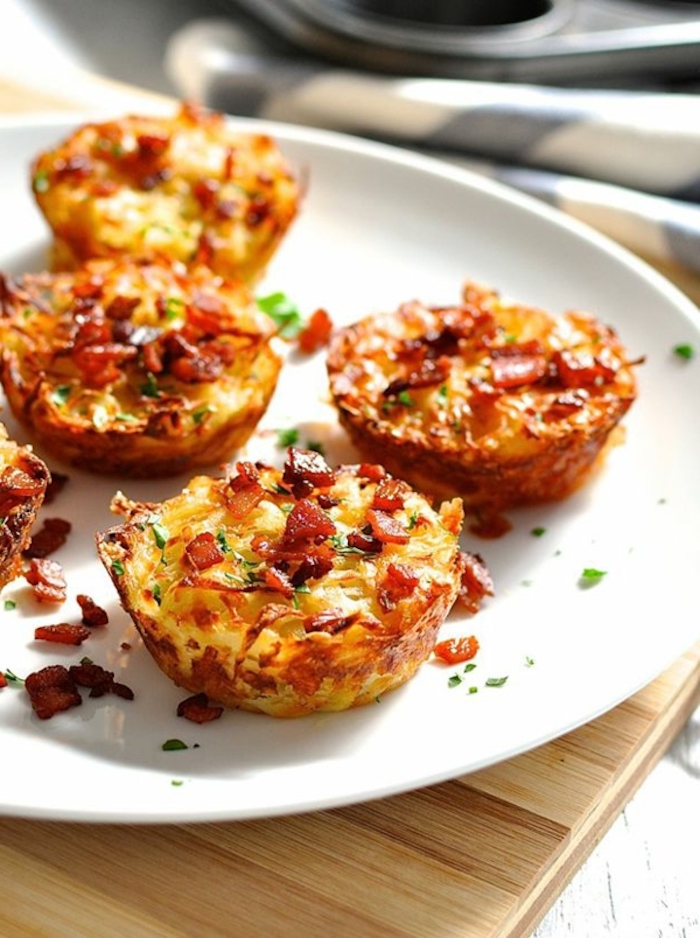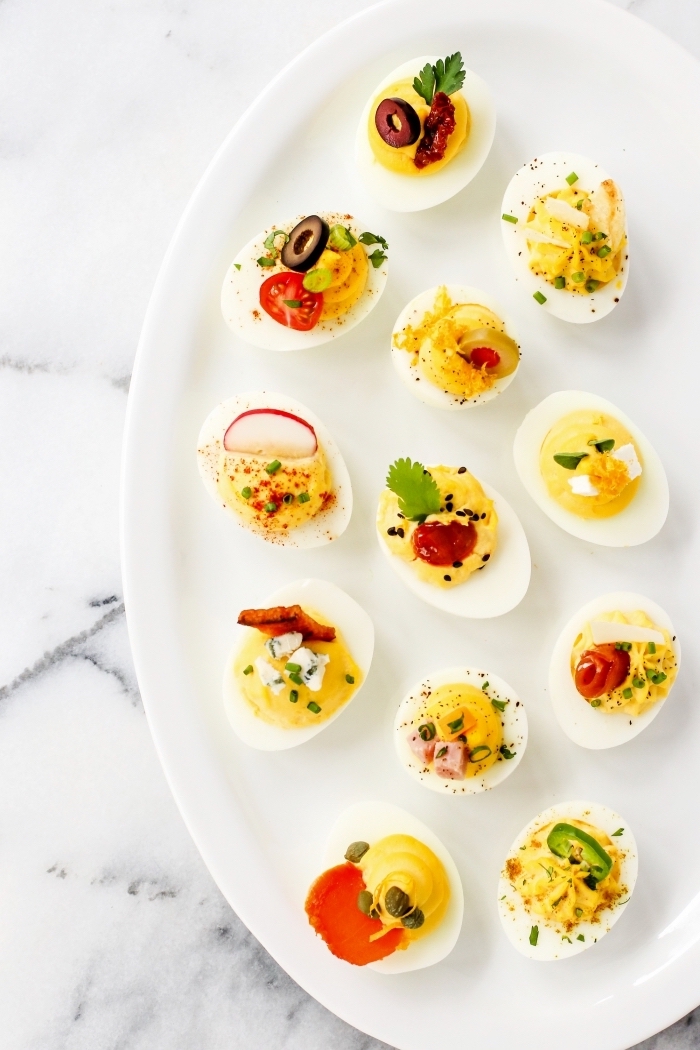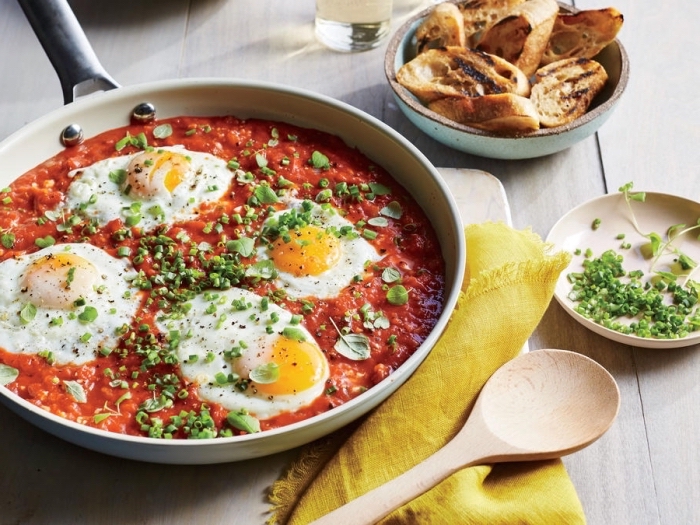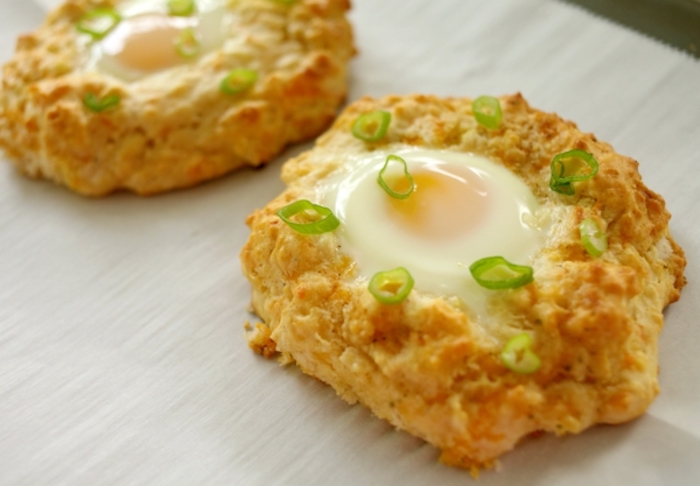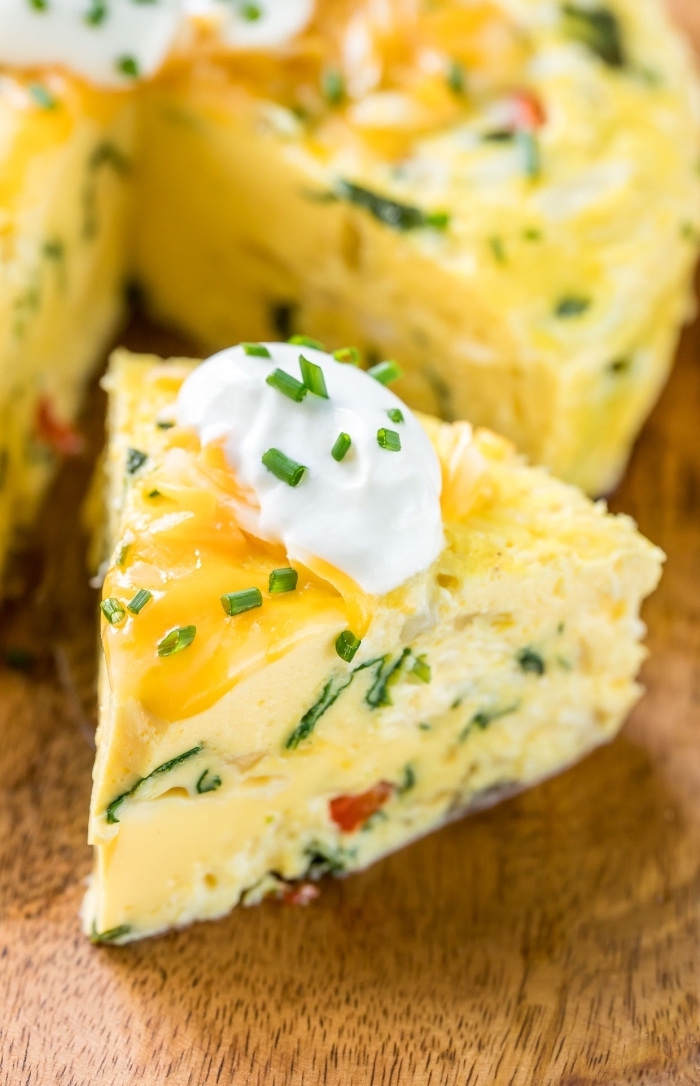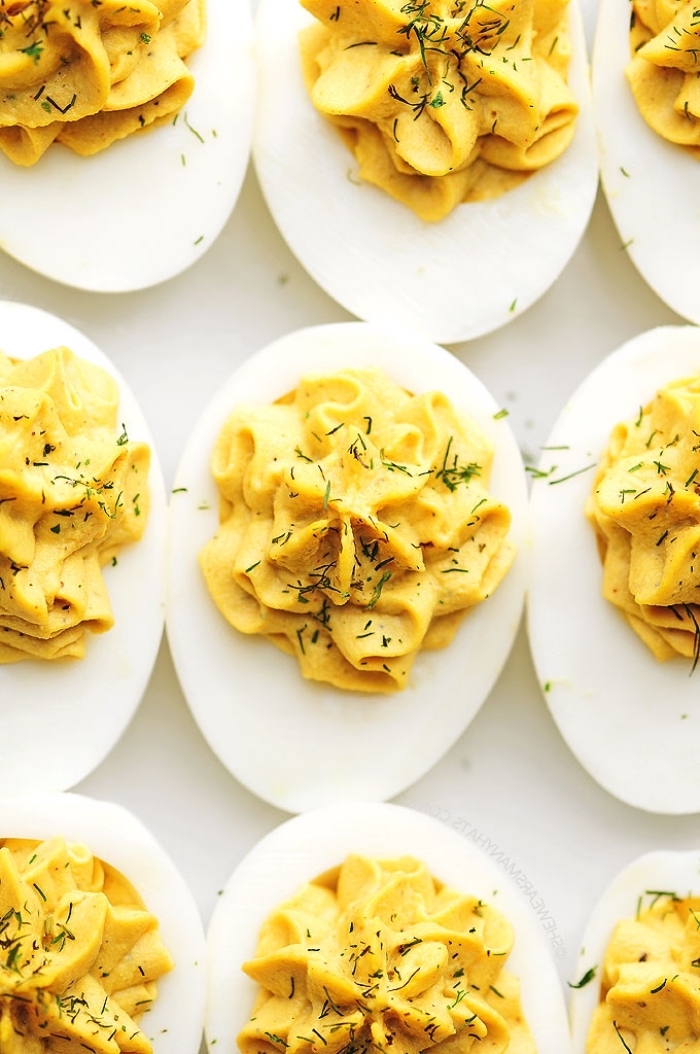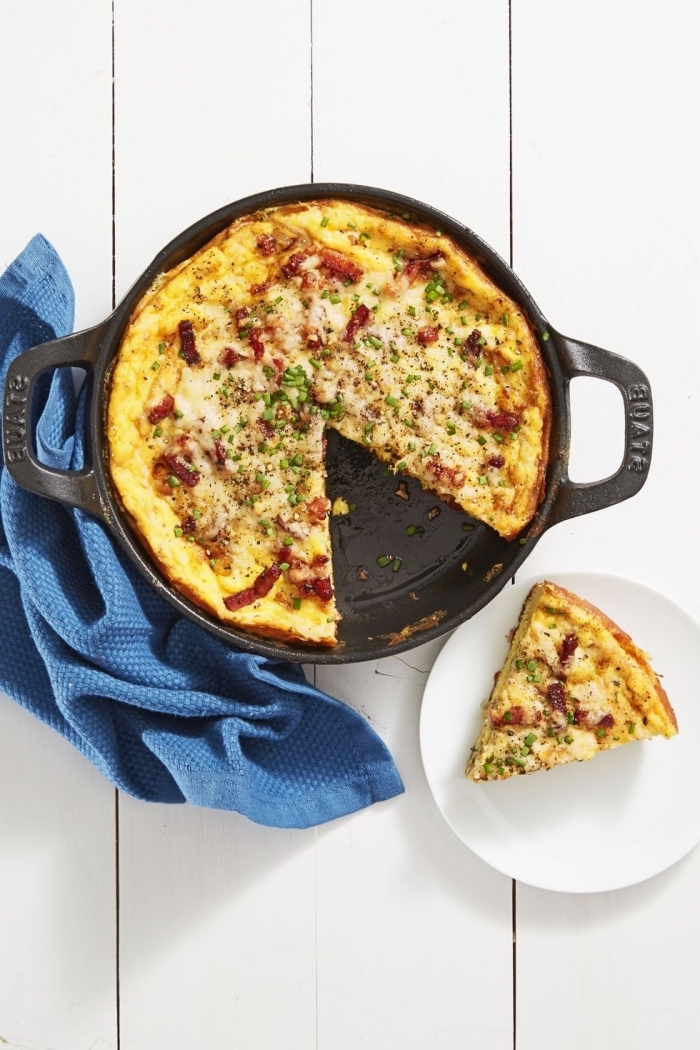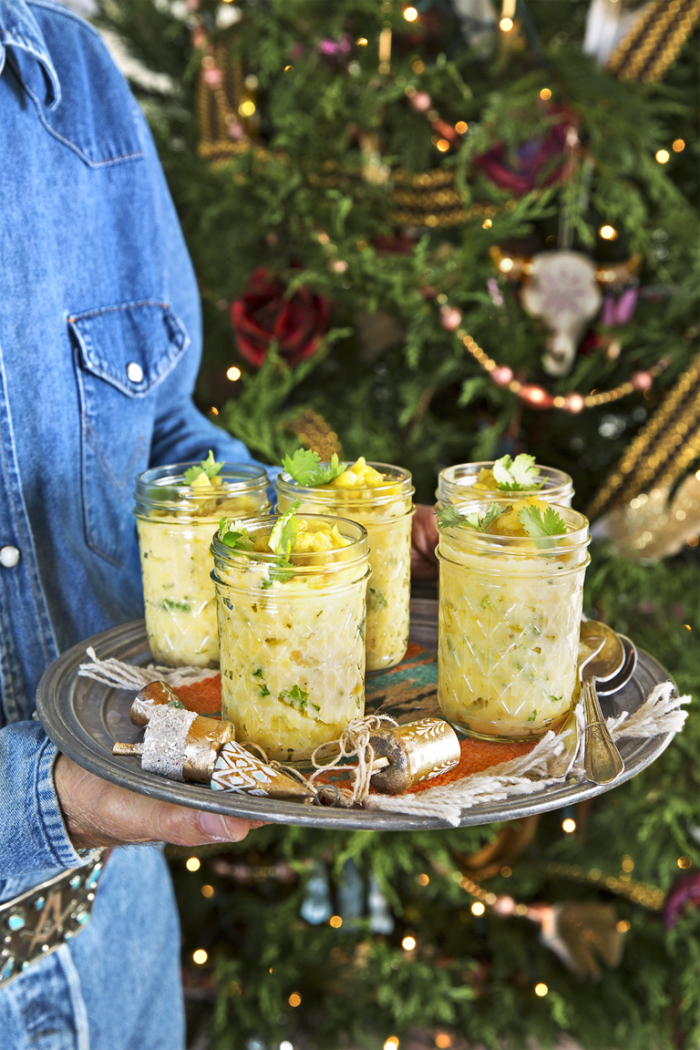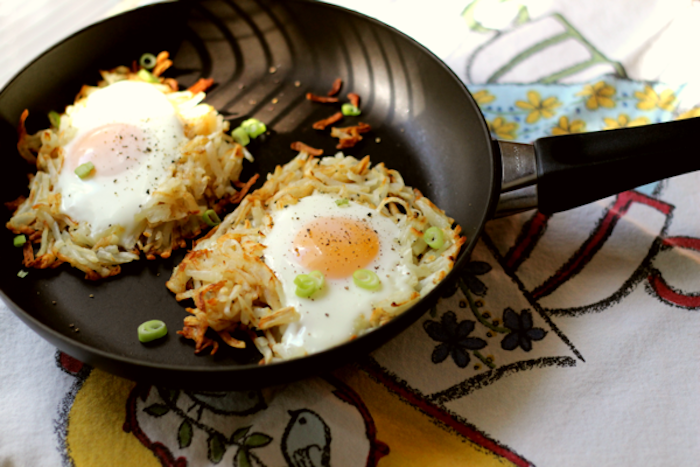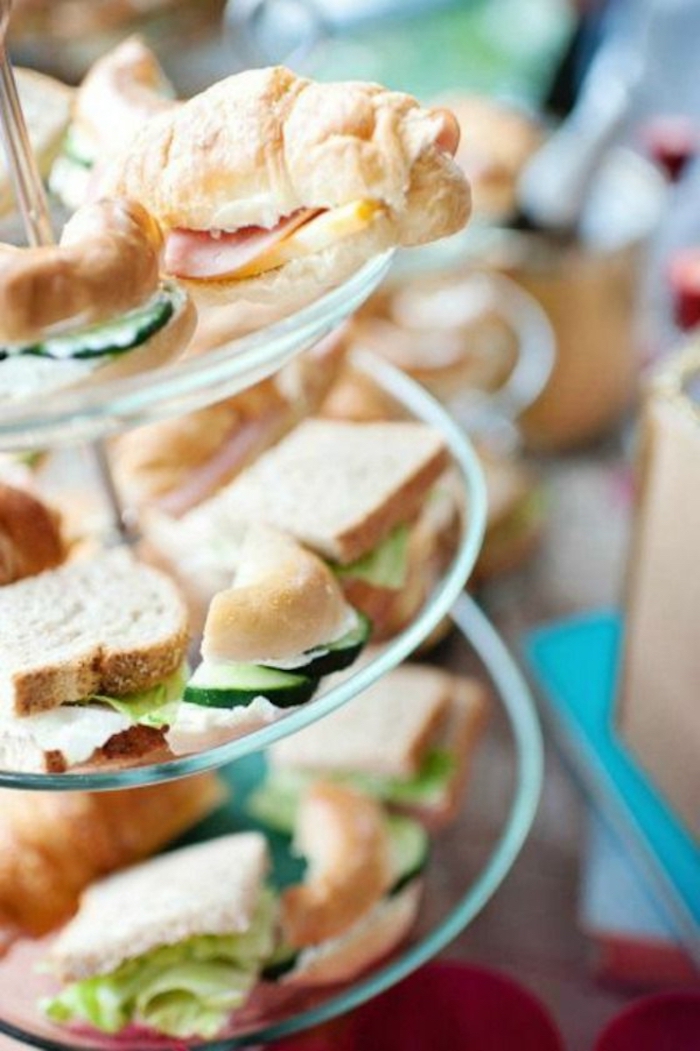 Breakfast meals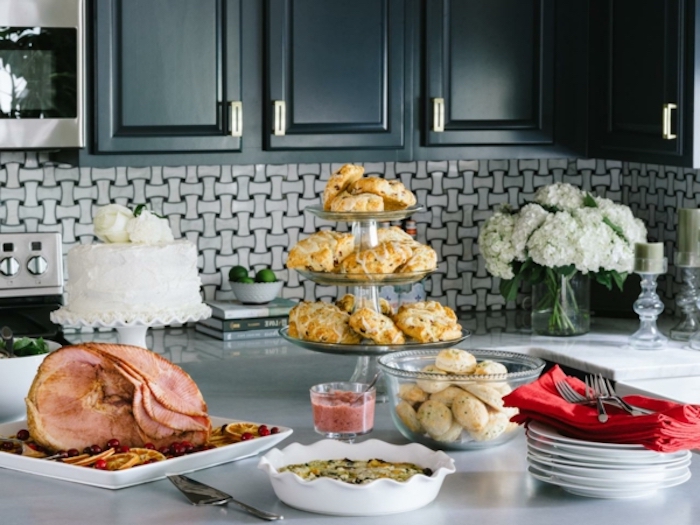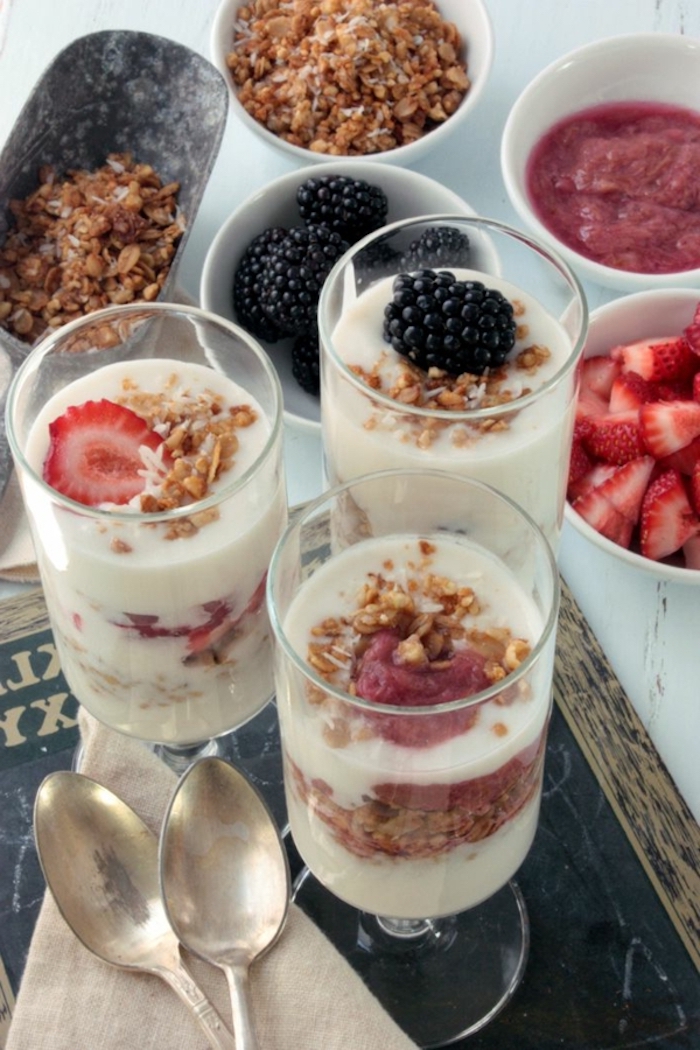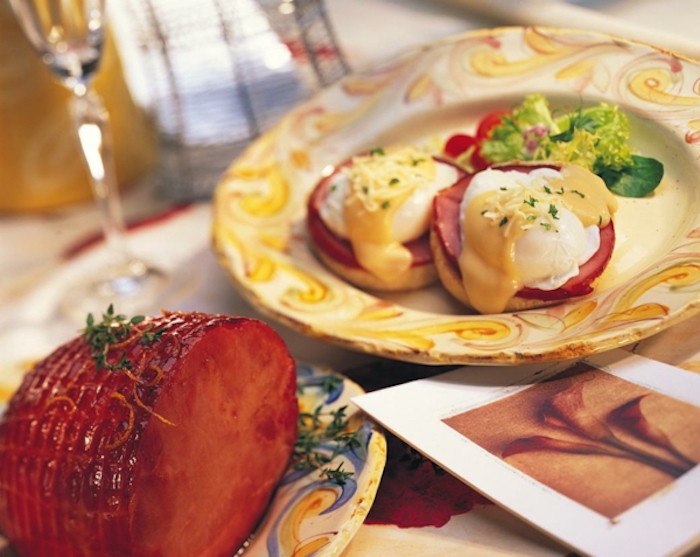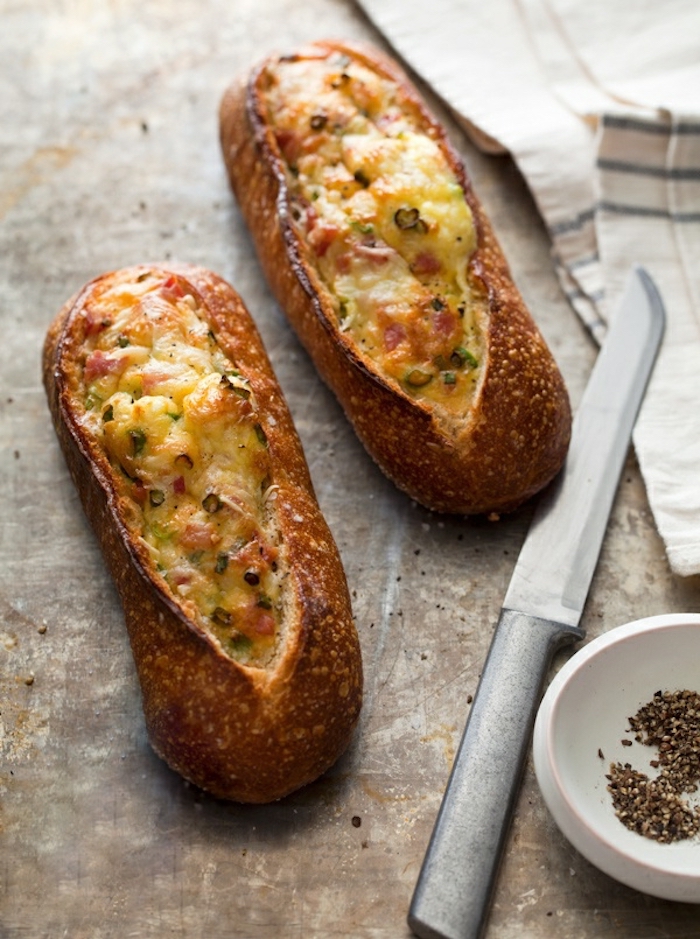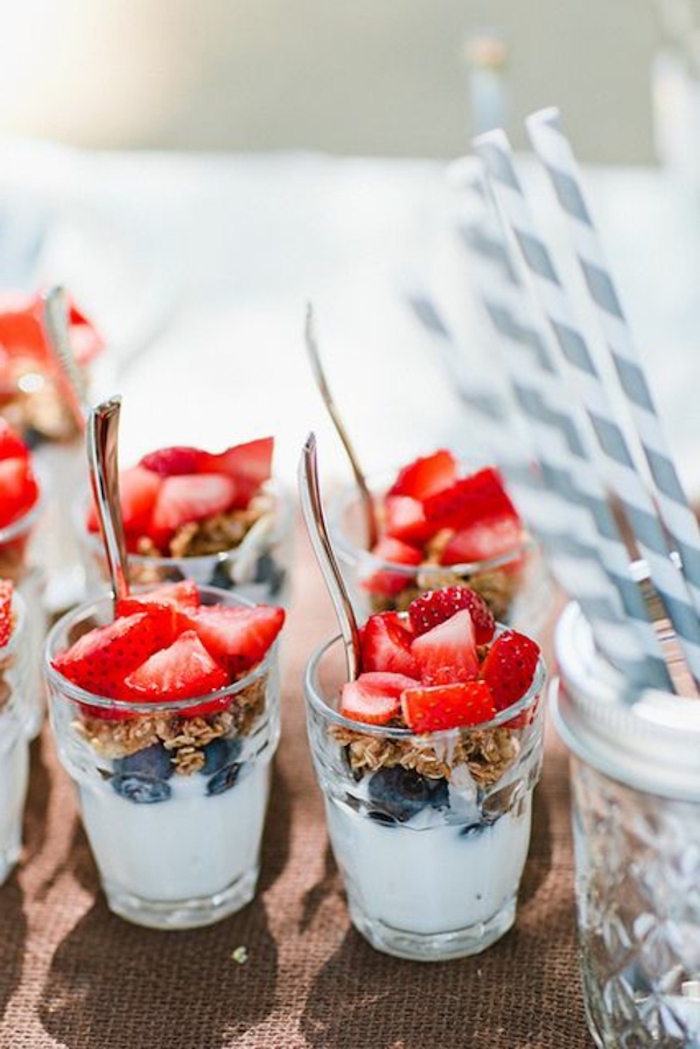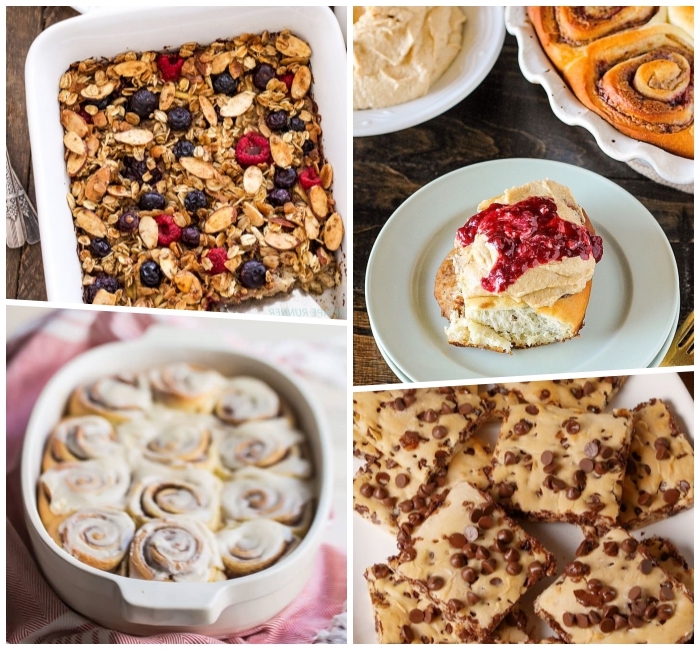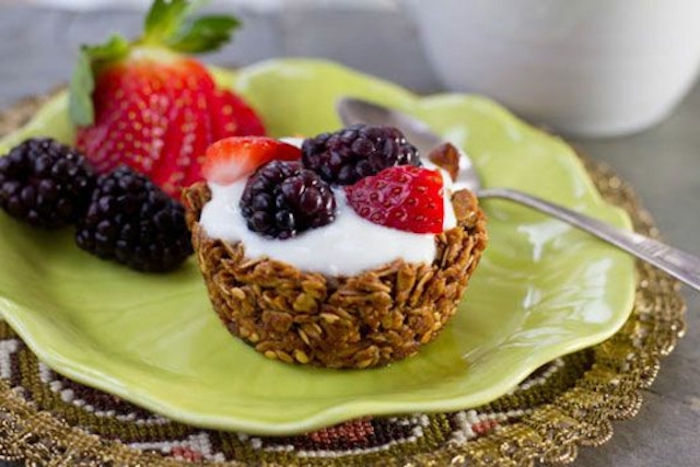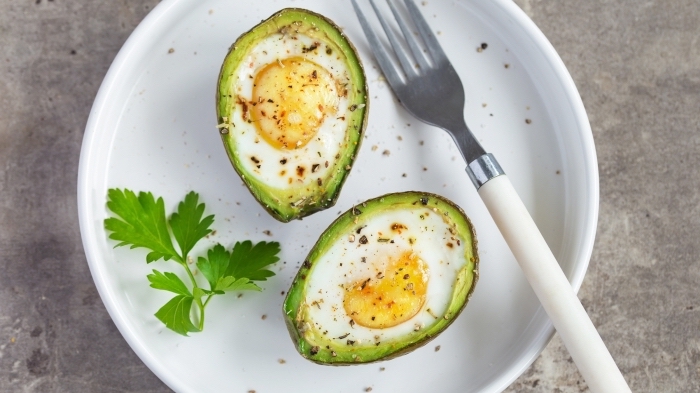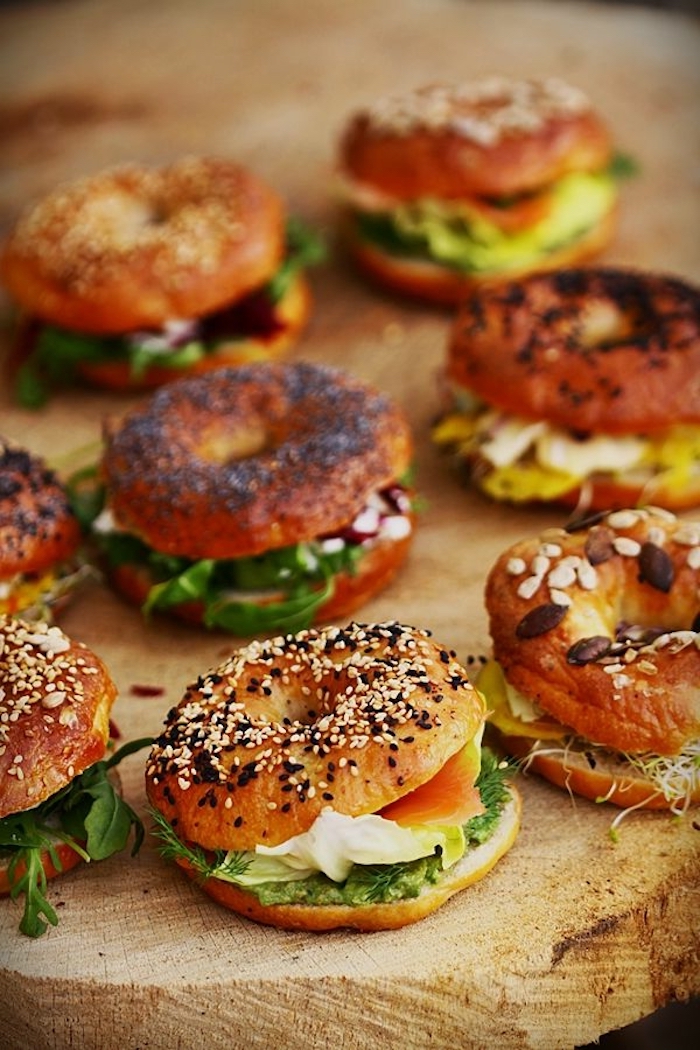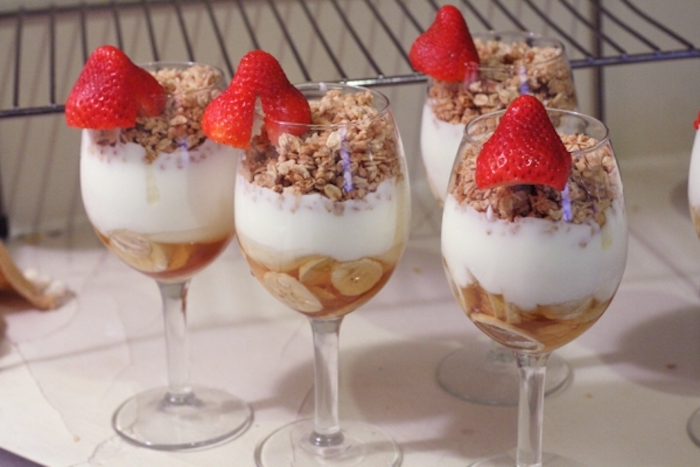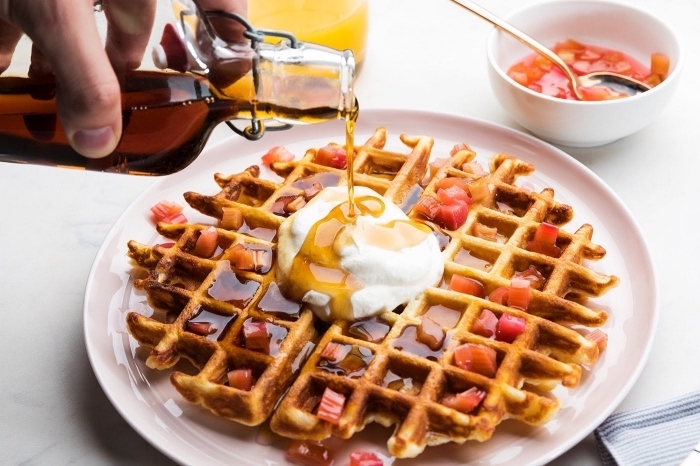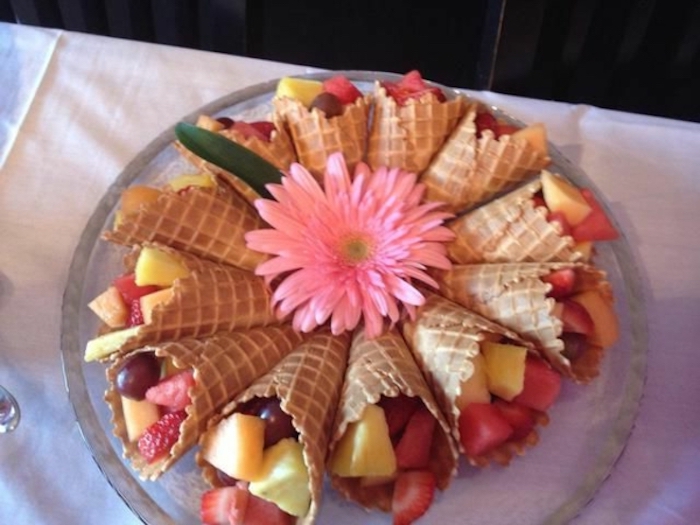 Brunch food ideas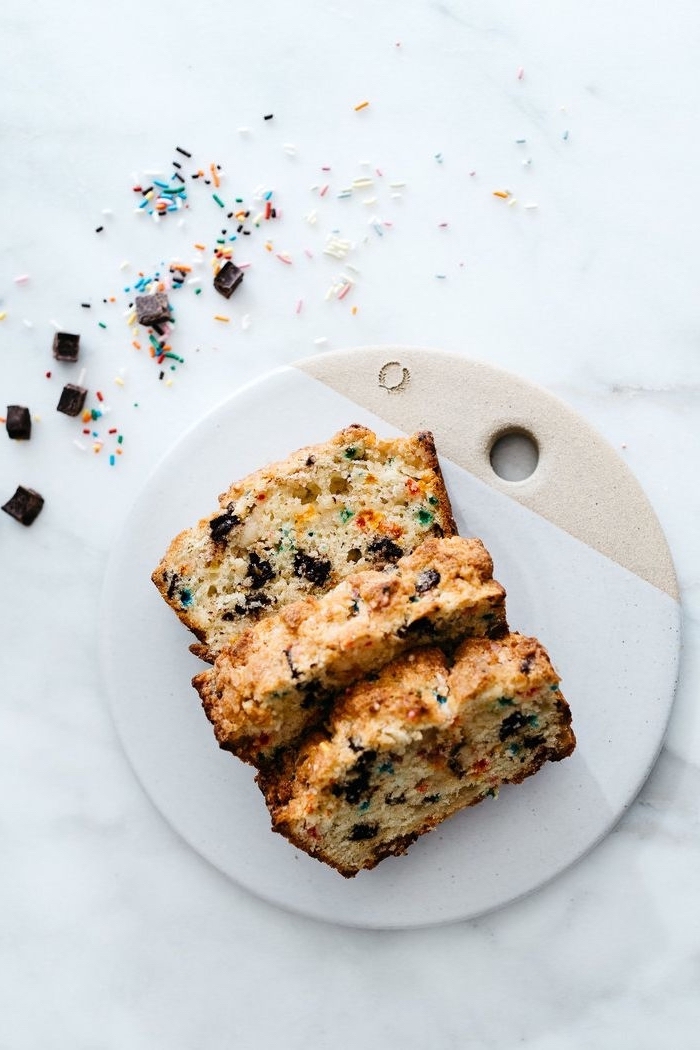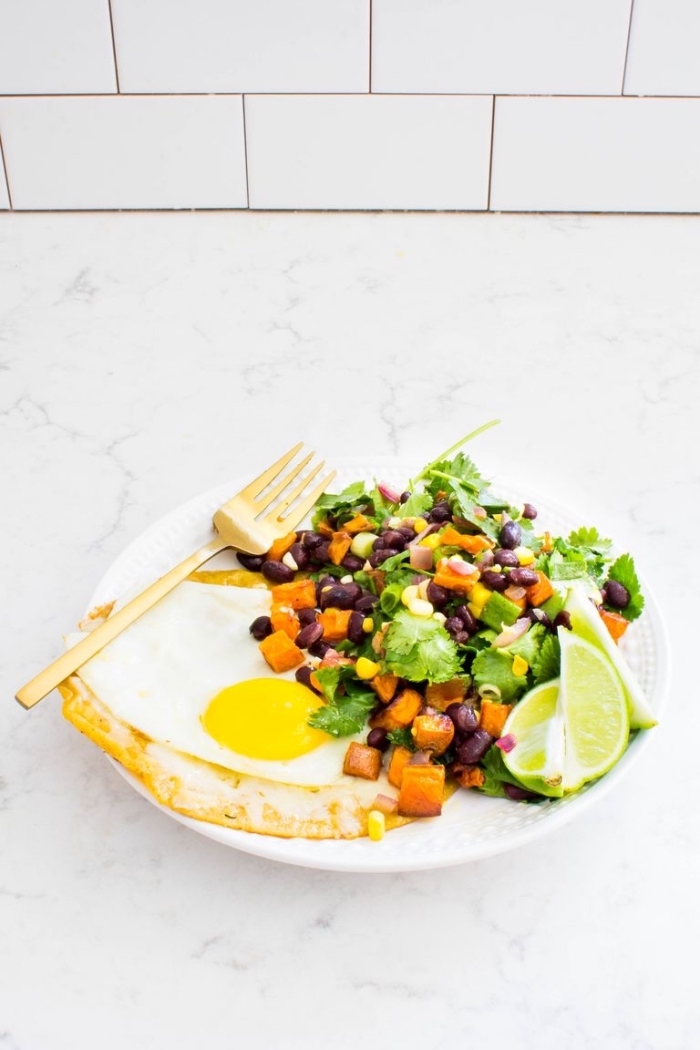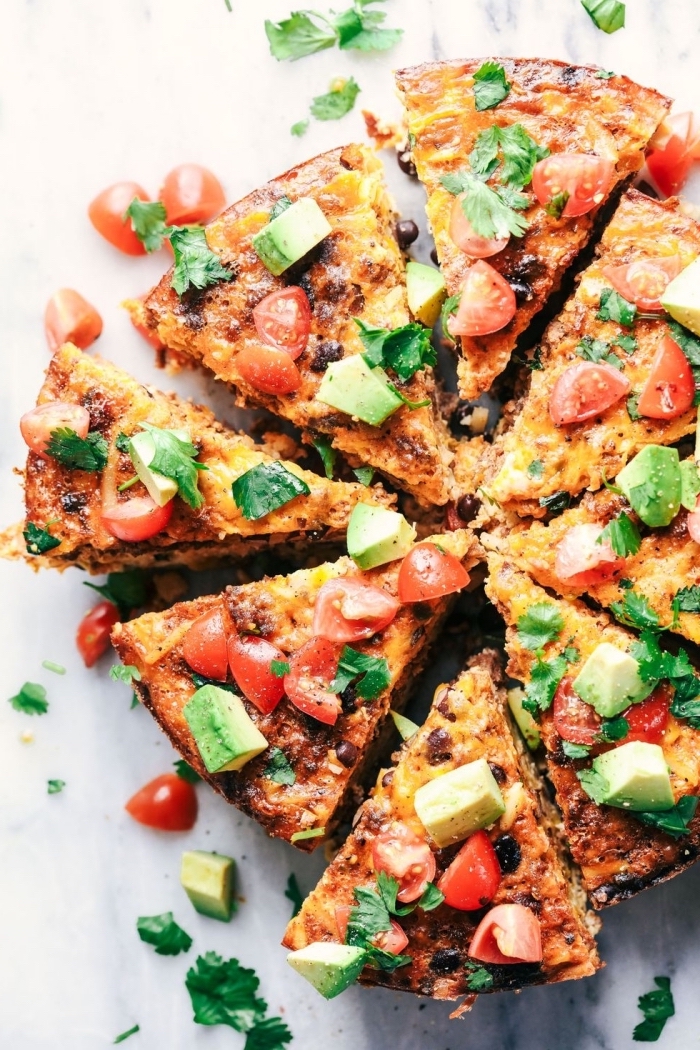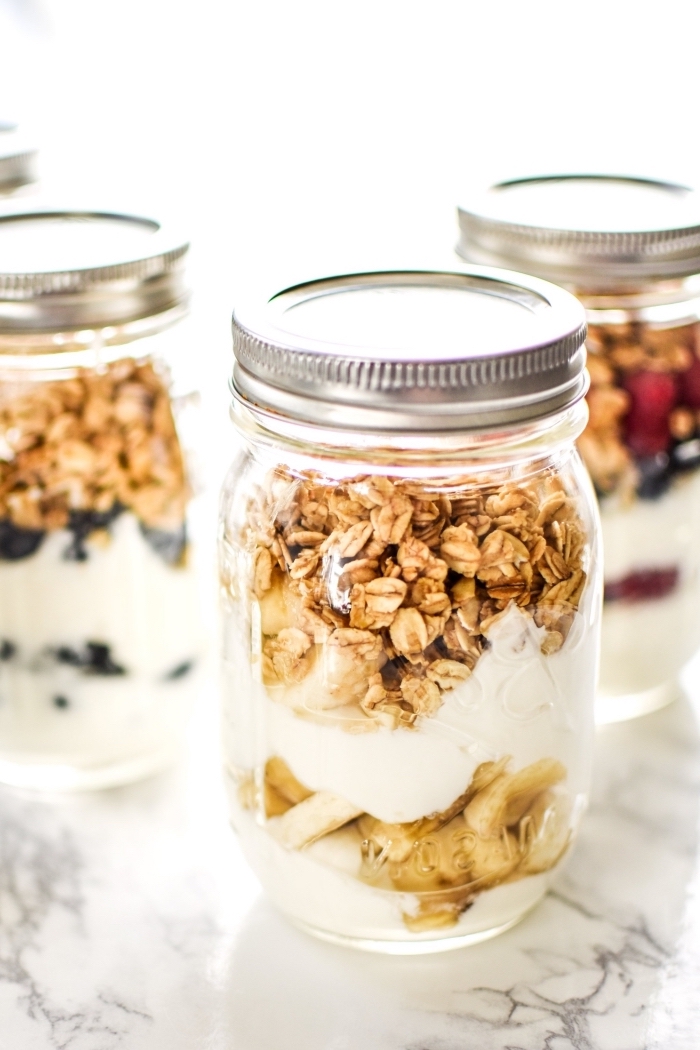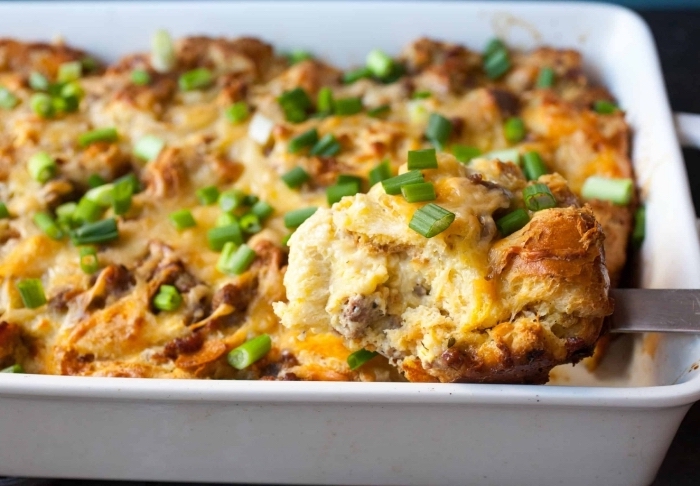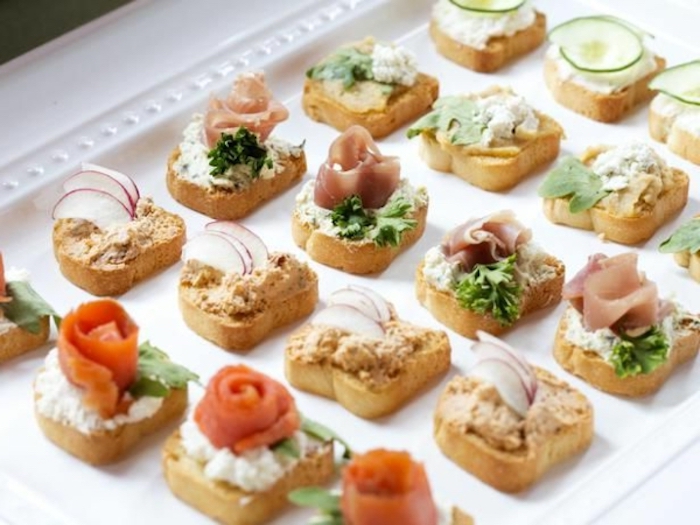 What is brunch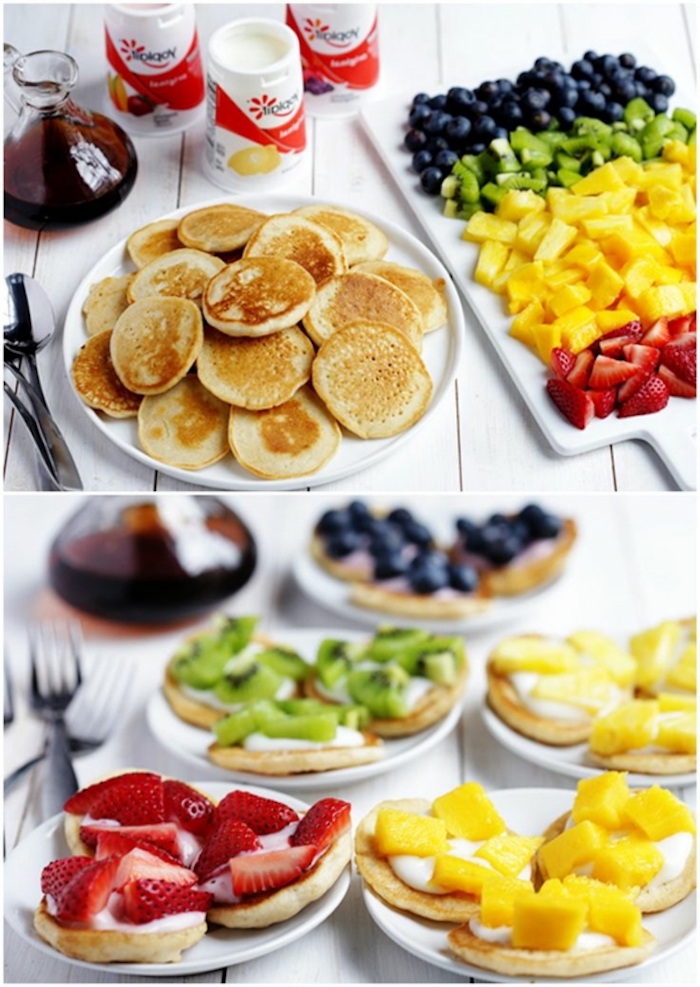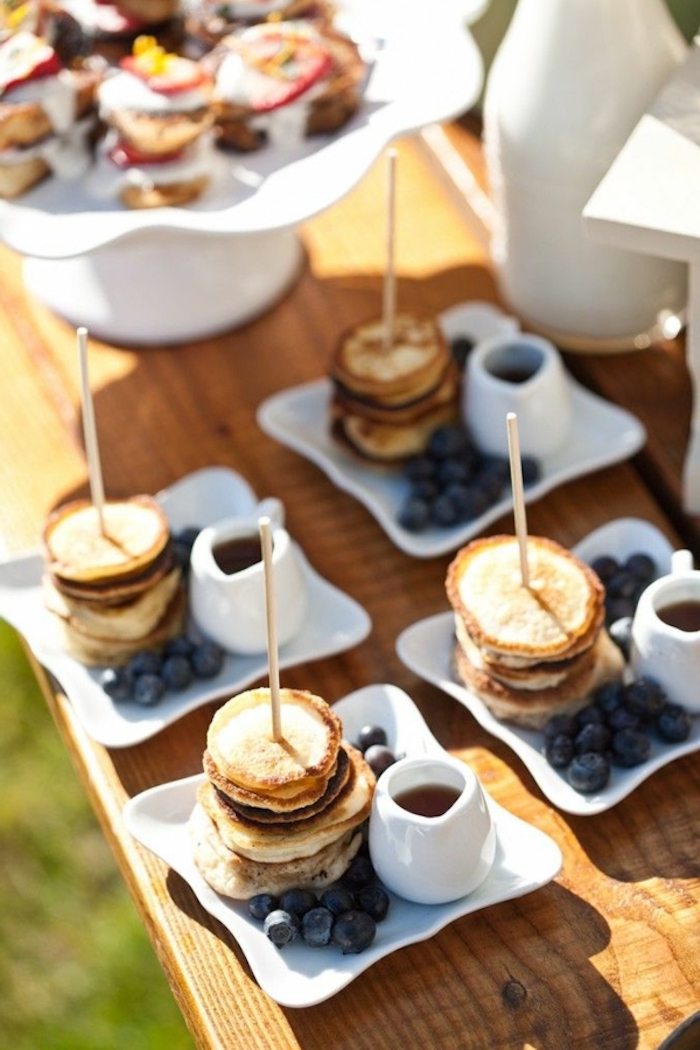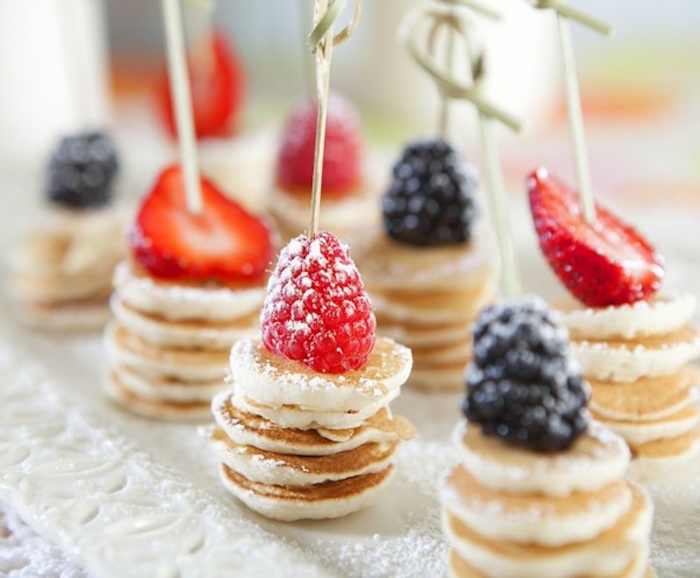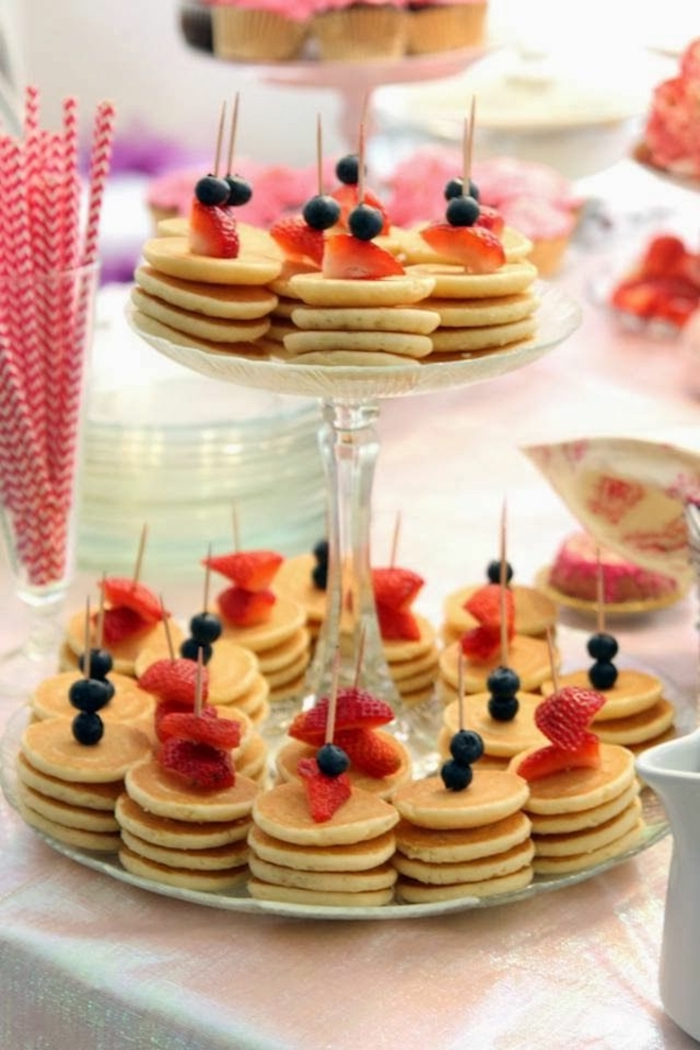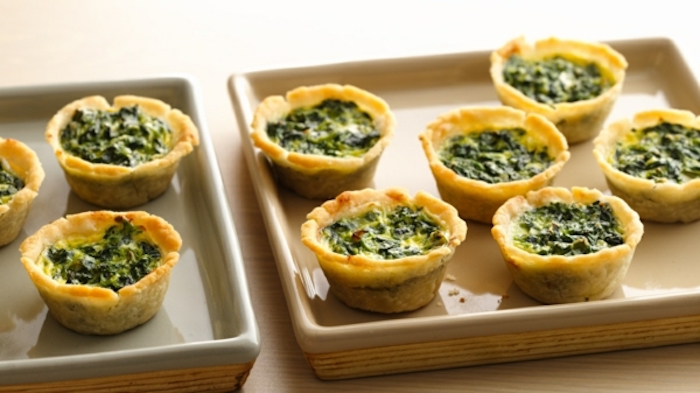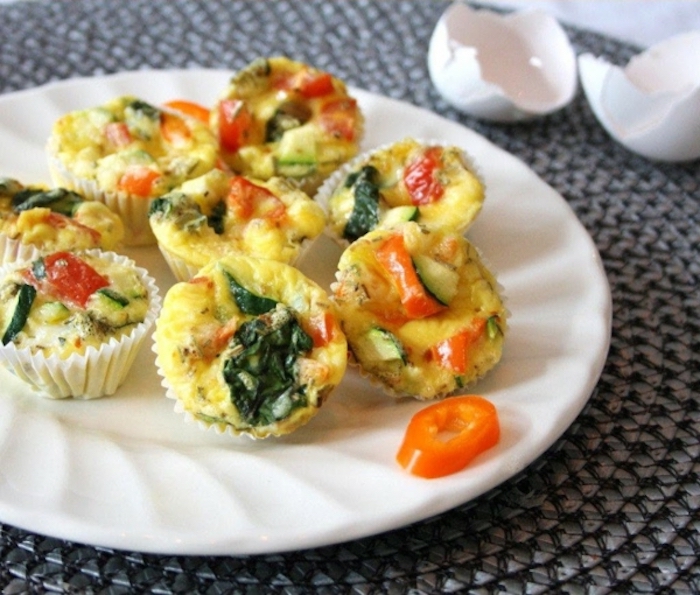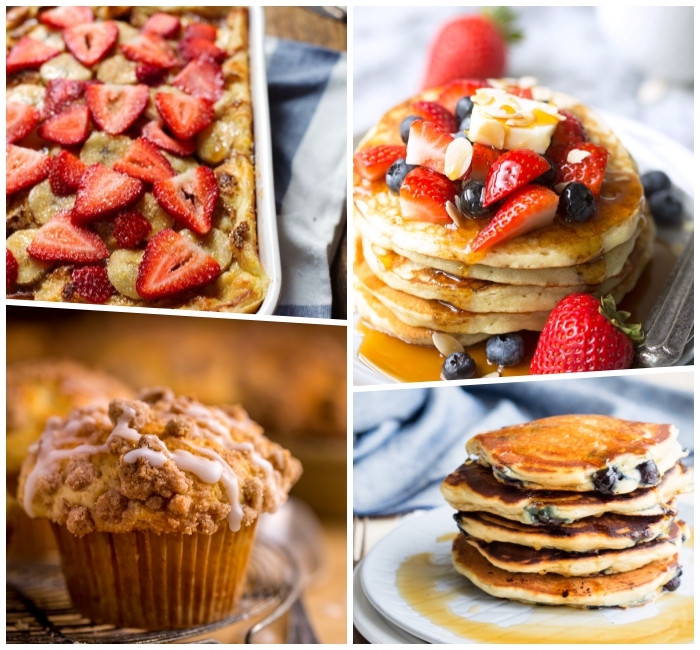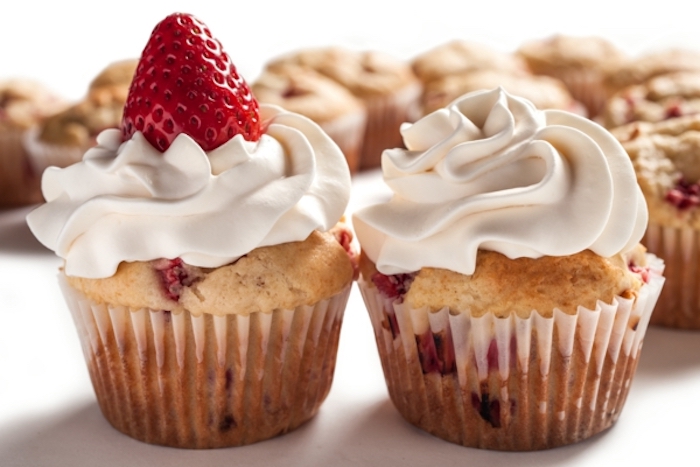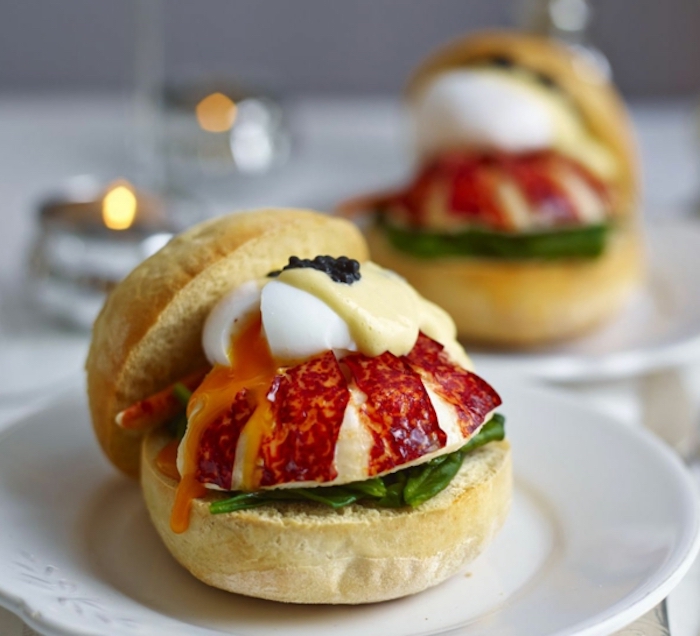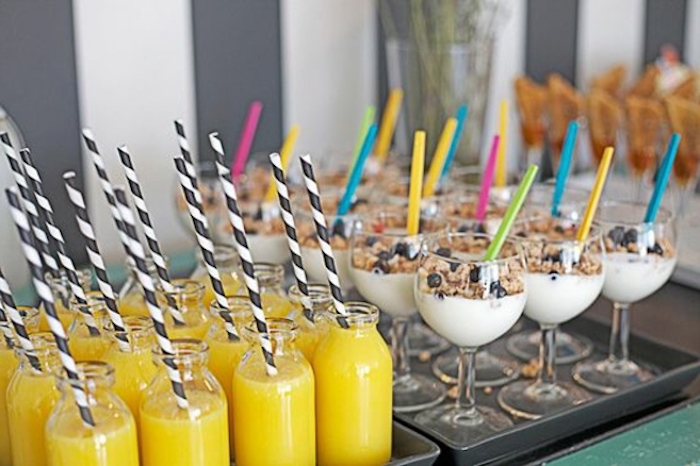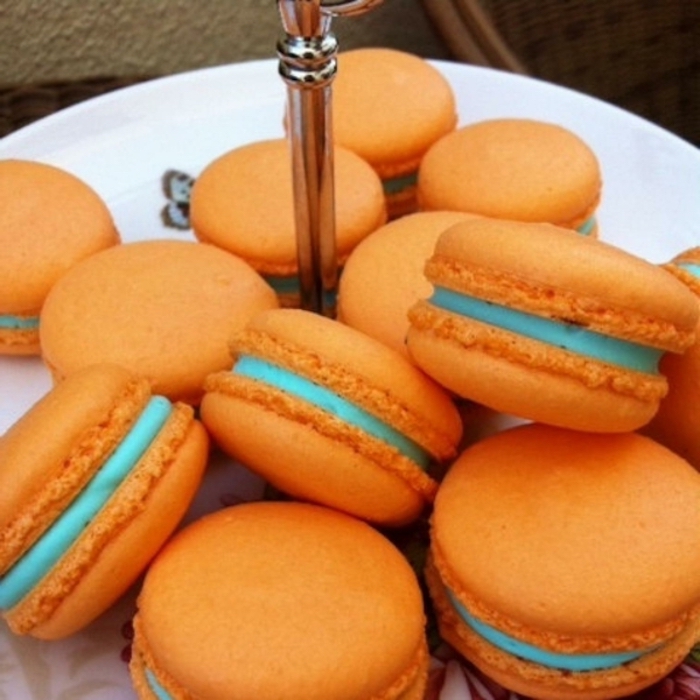 Breakfast dishes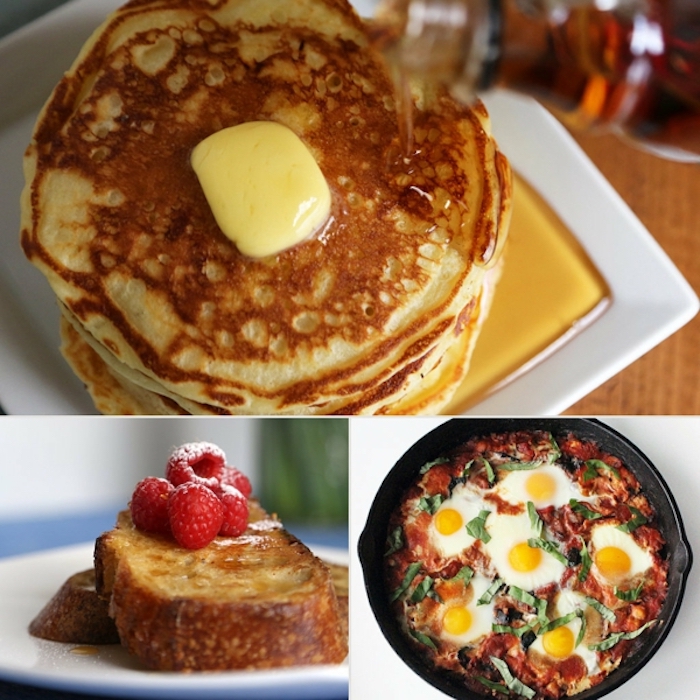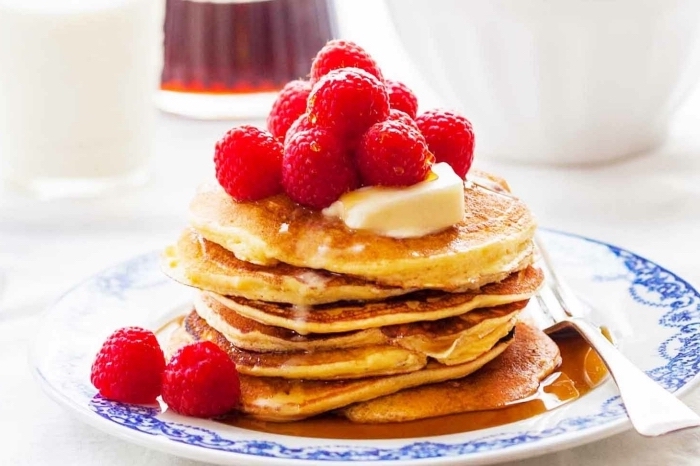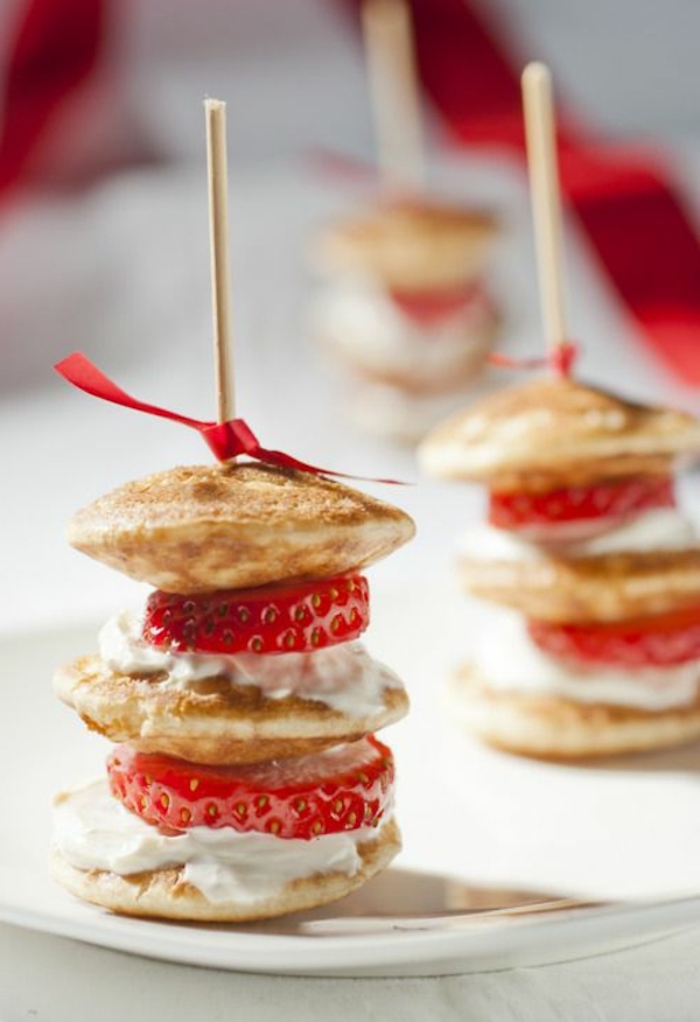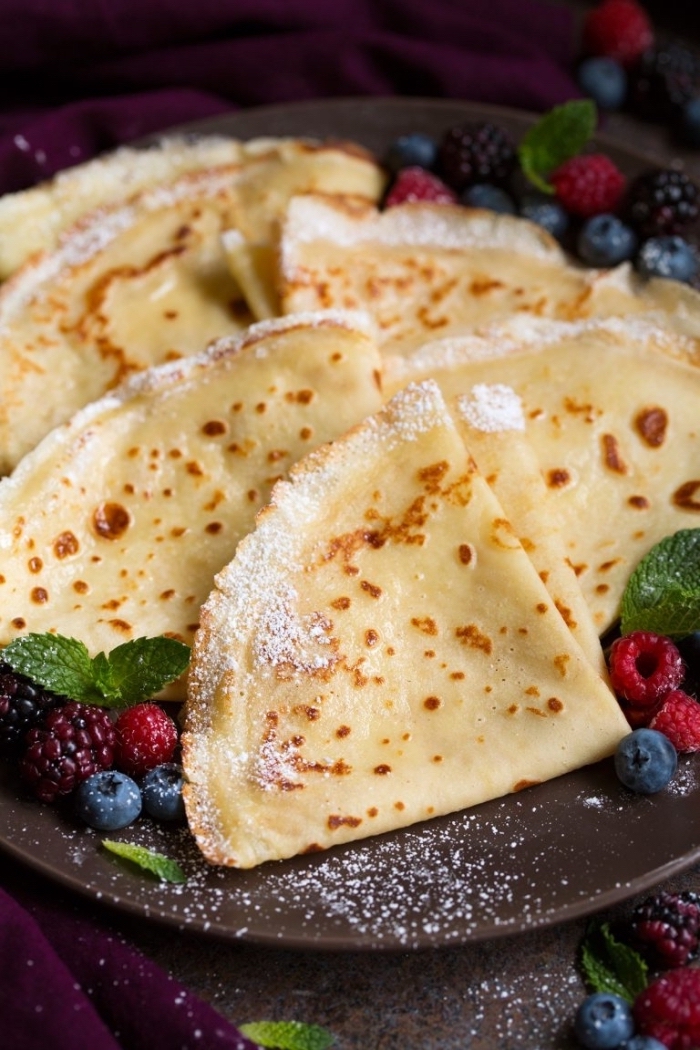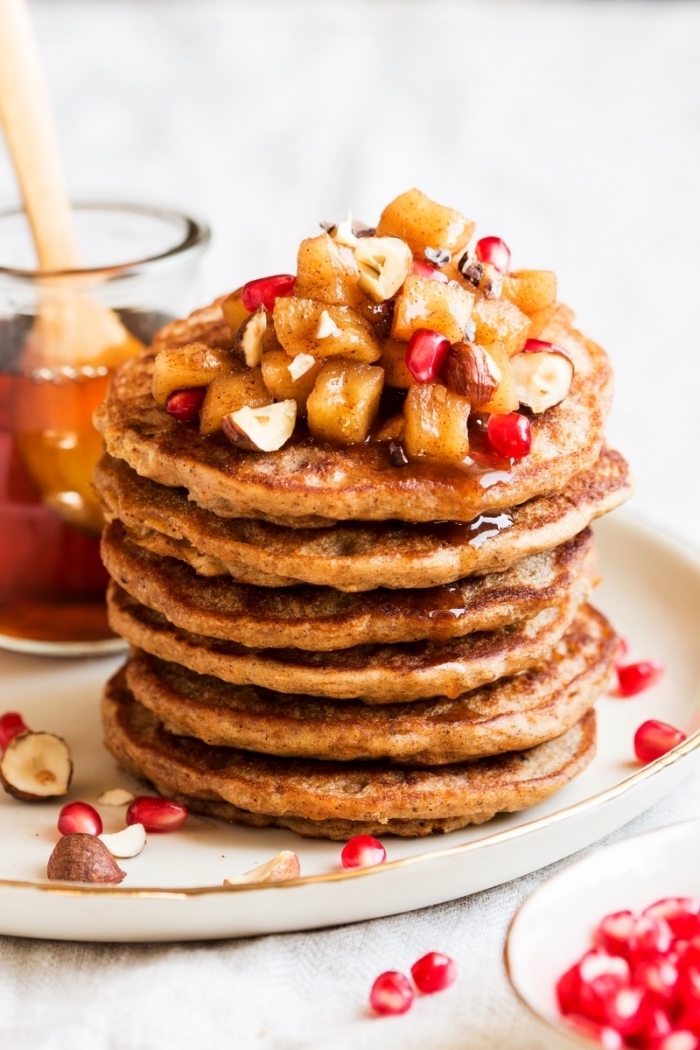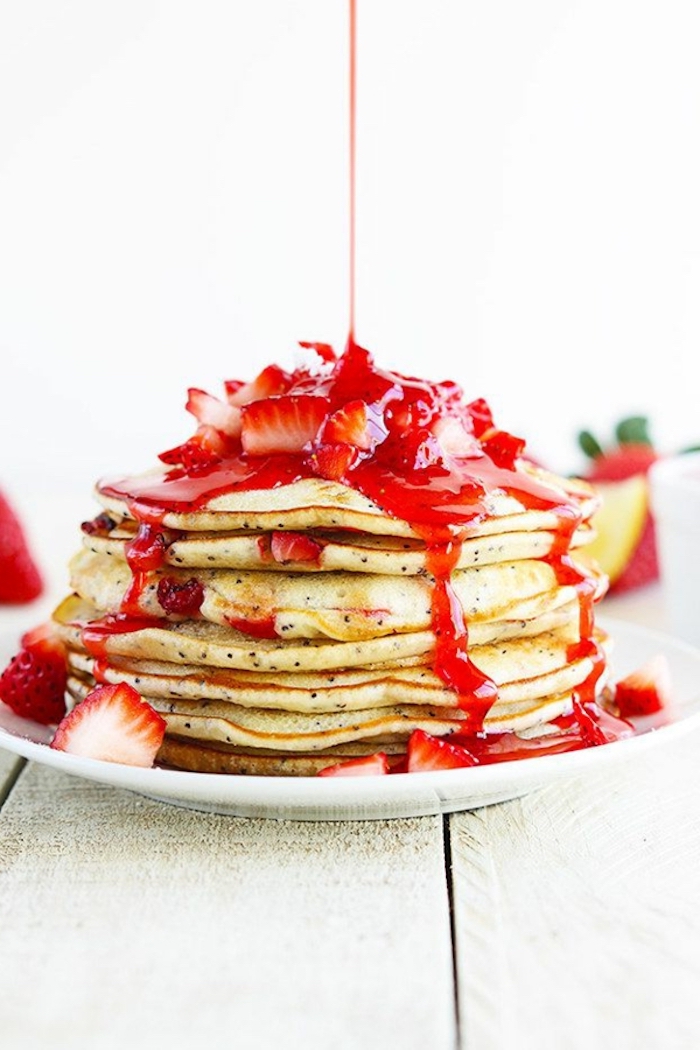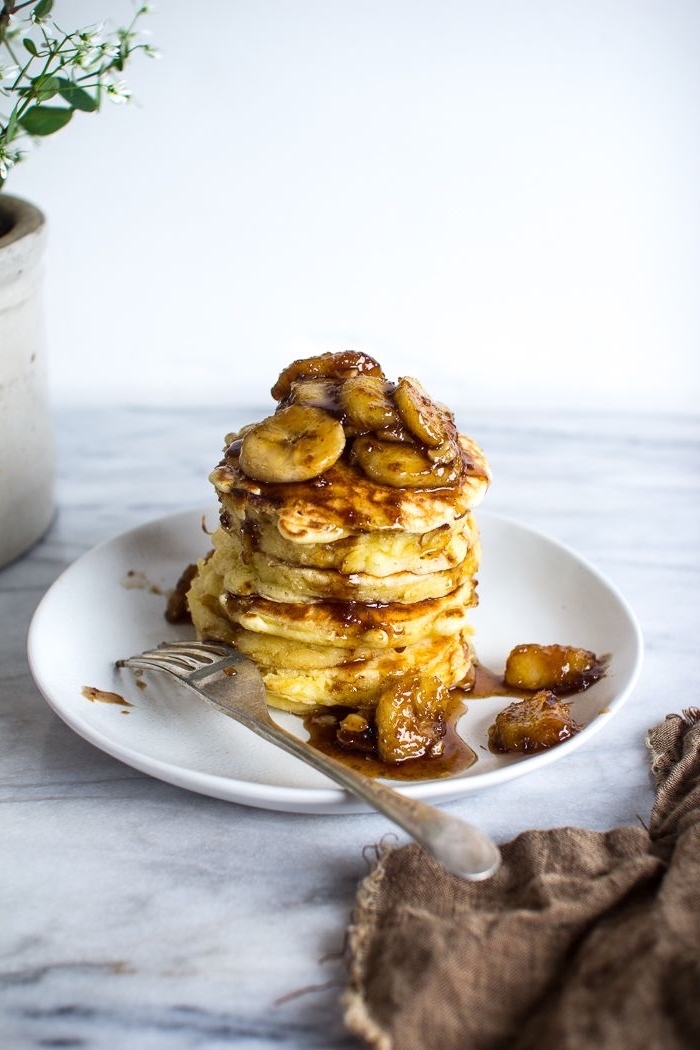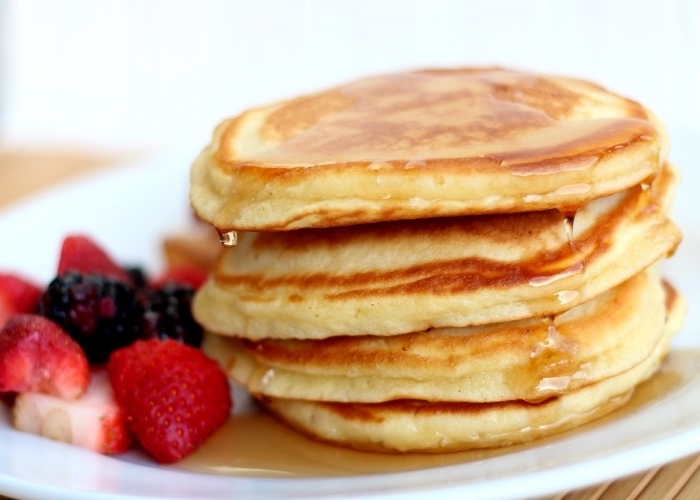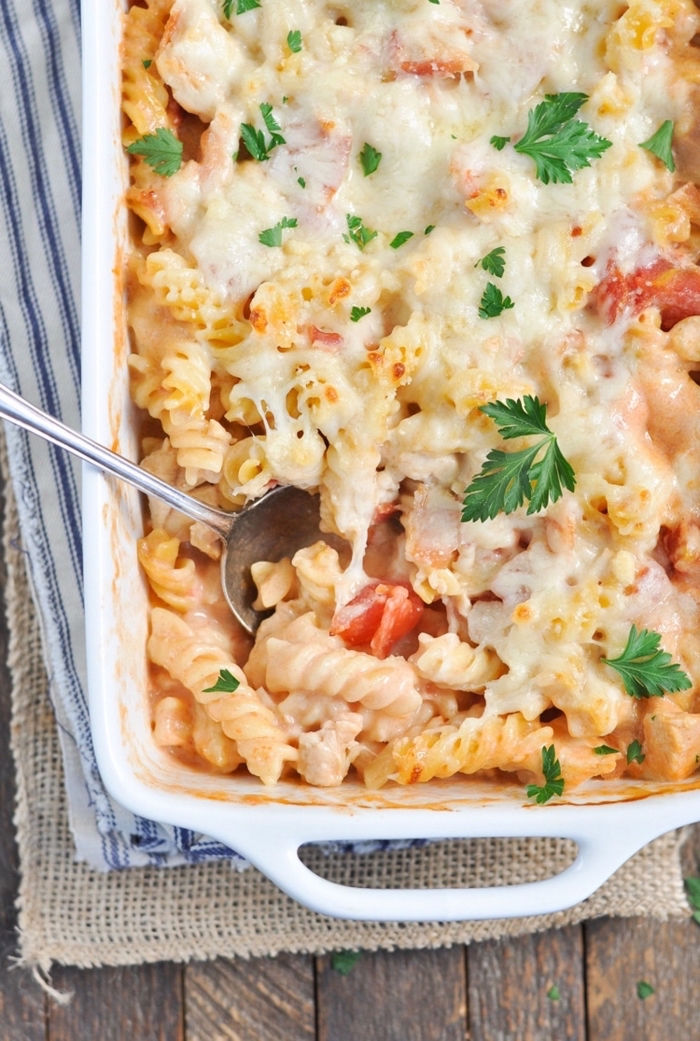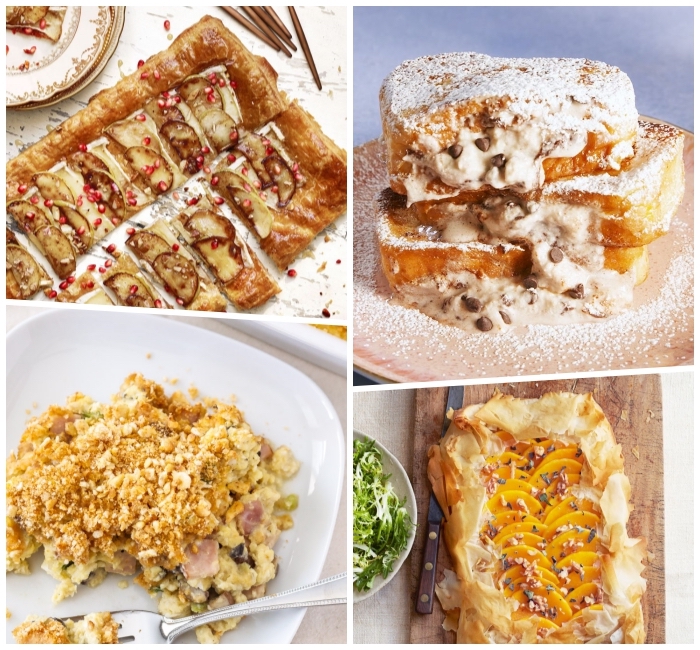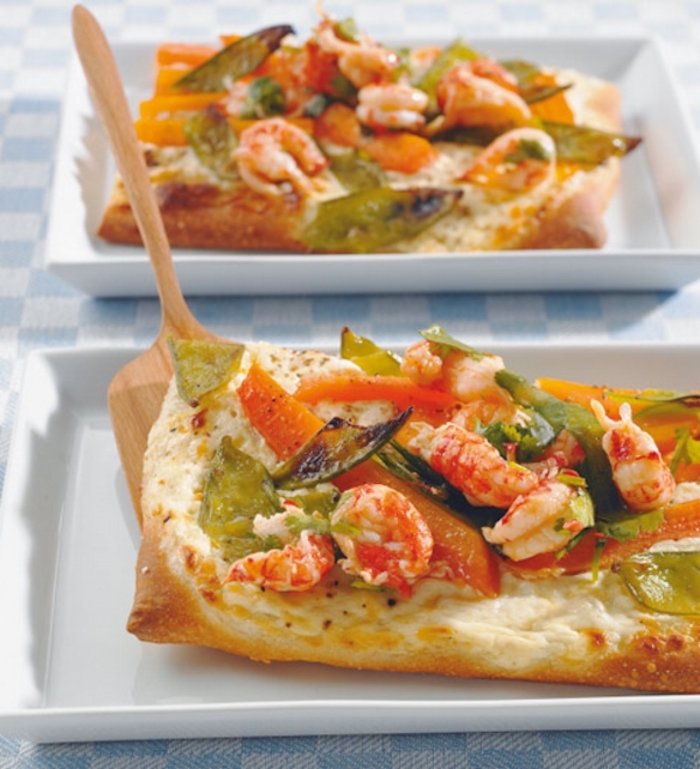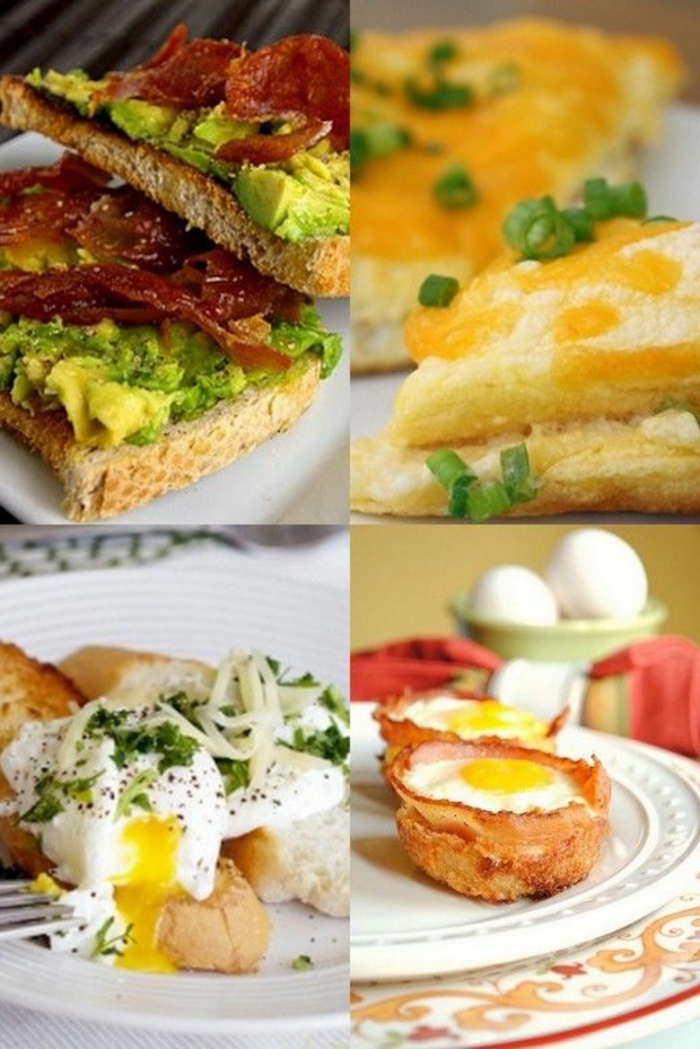 Brunch menu ideas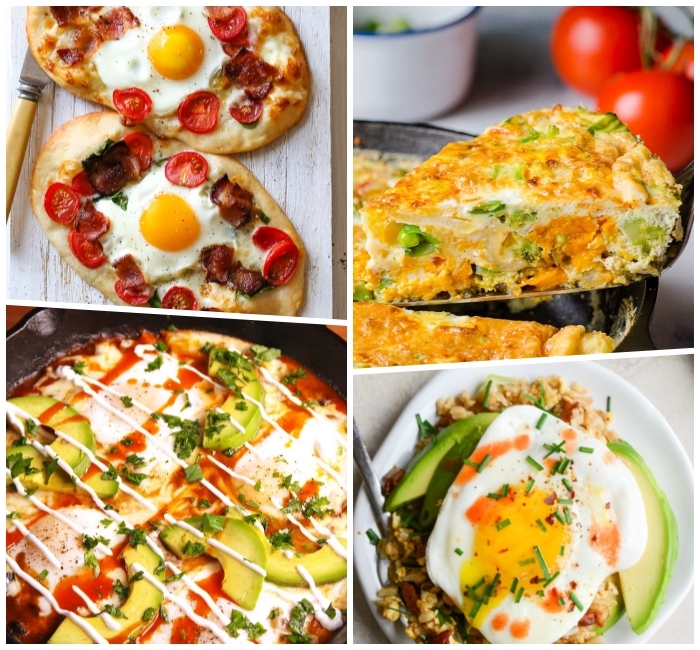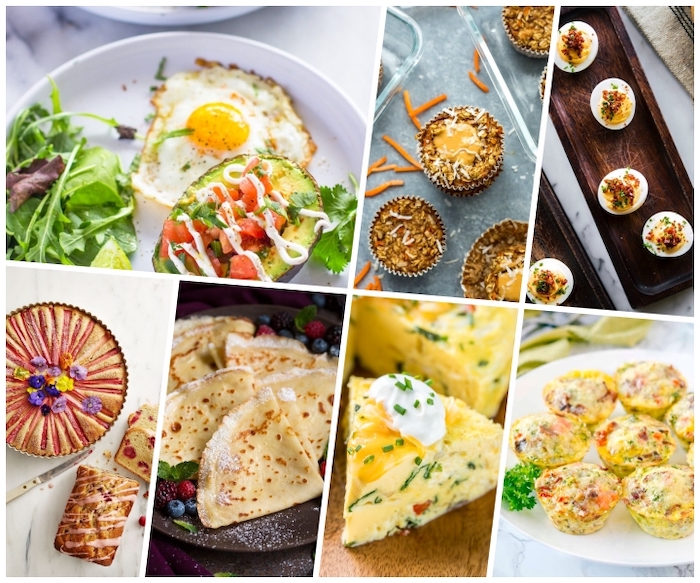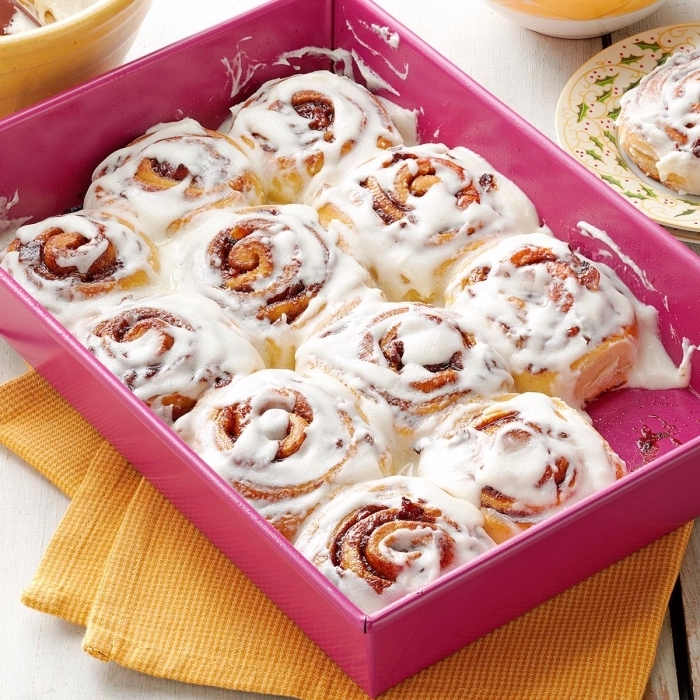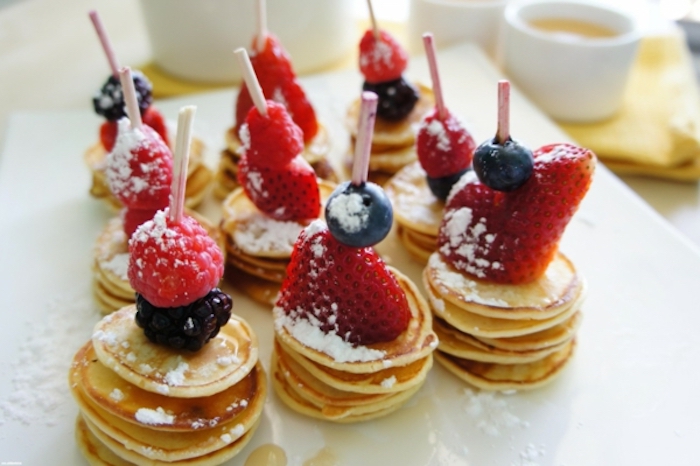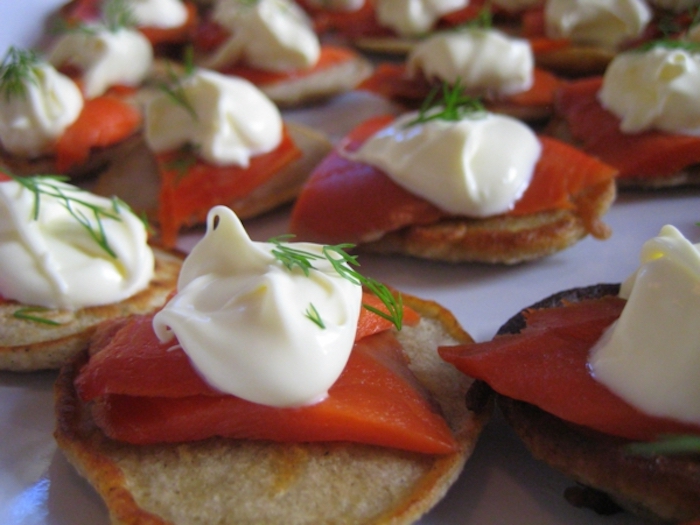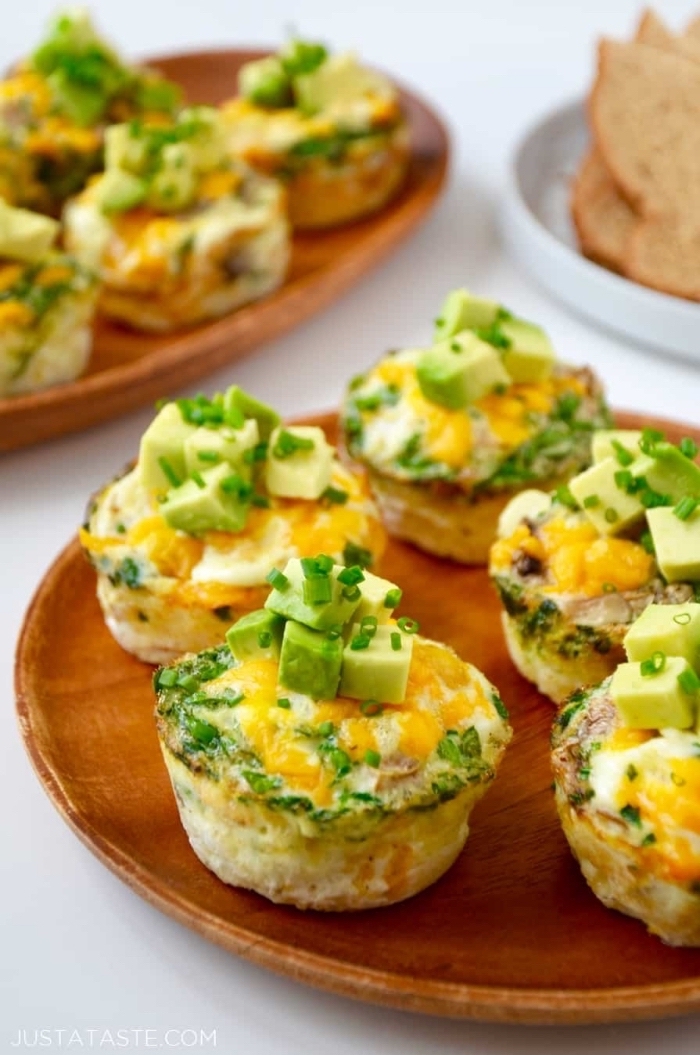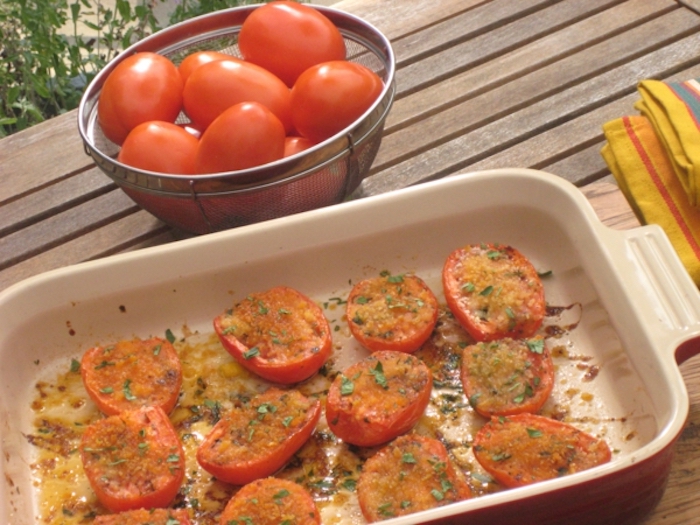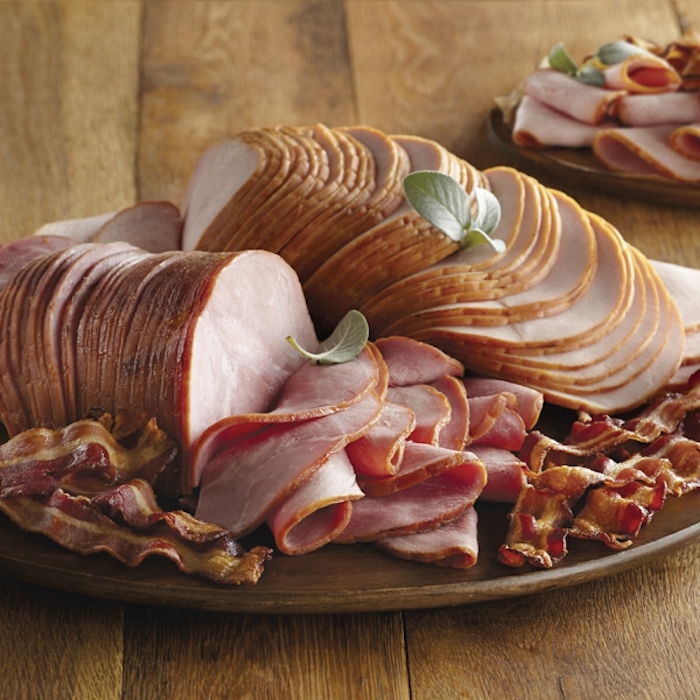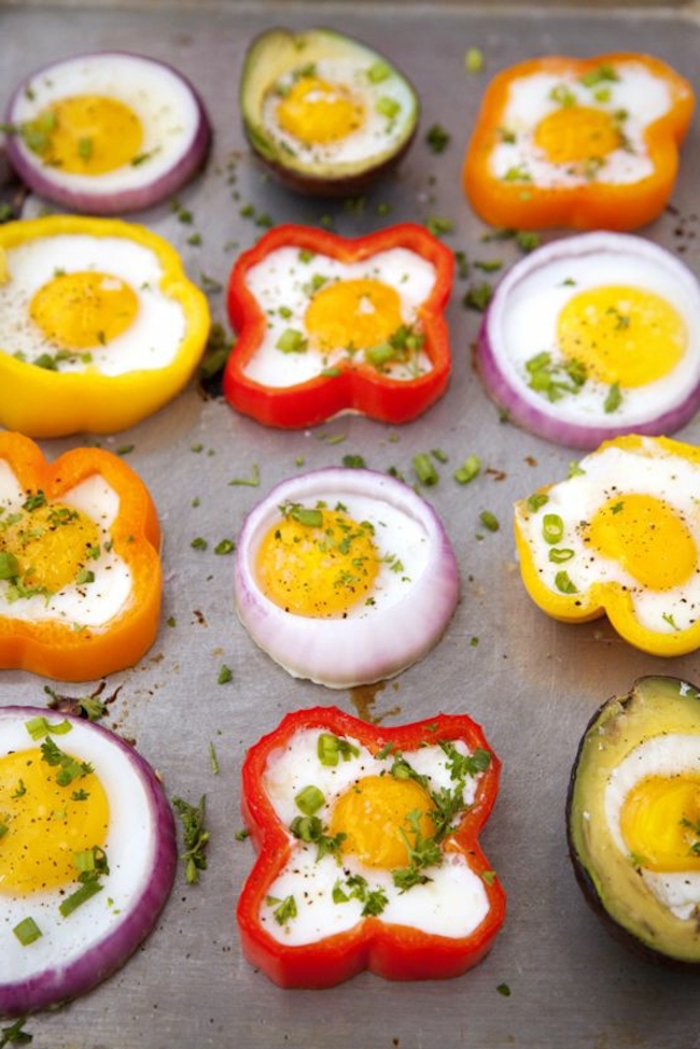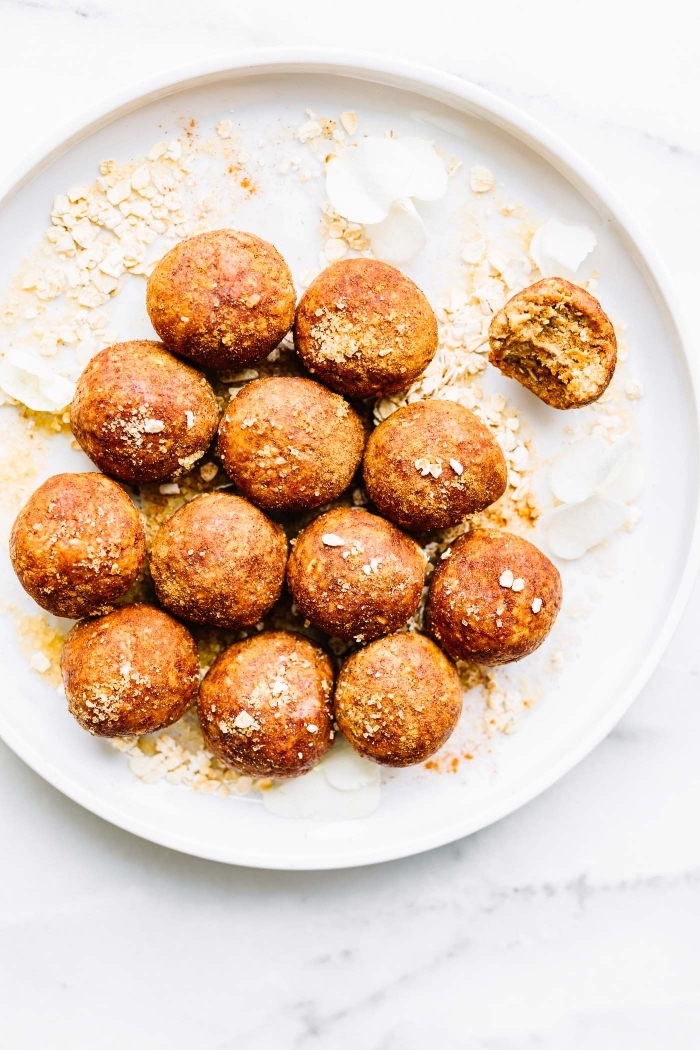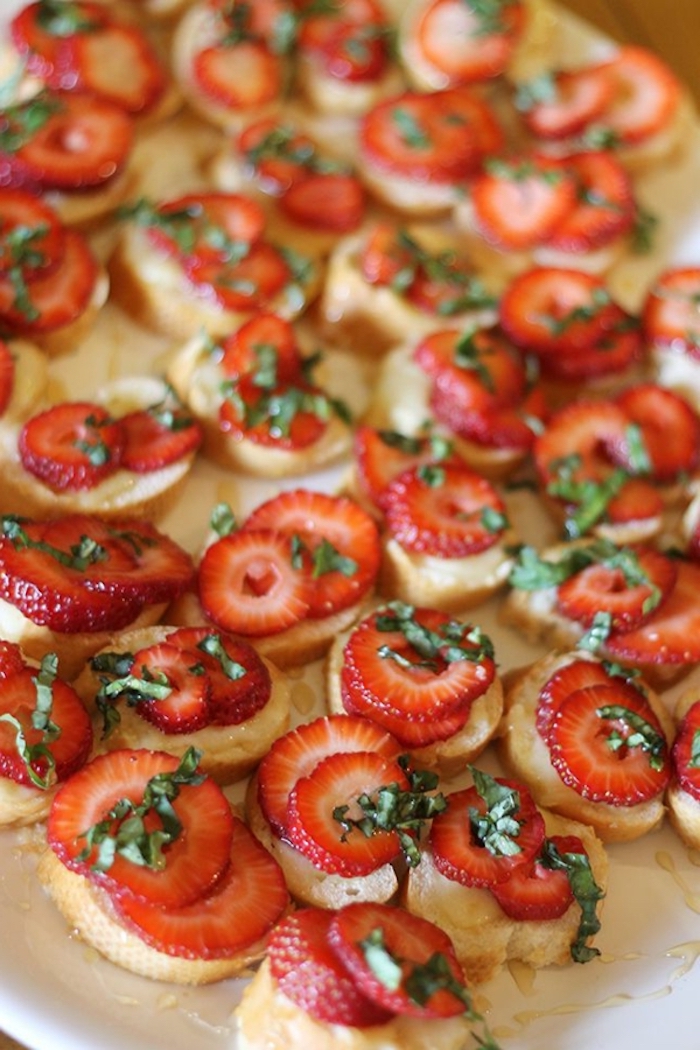 Easy brunch recipes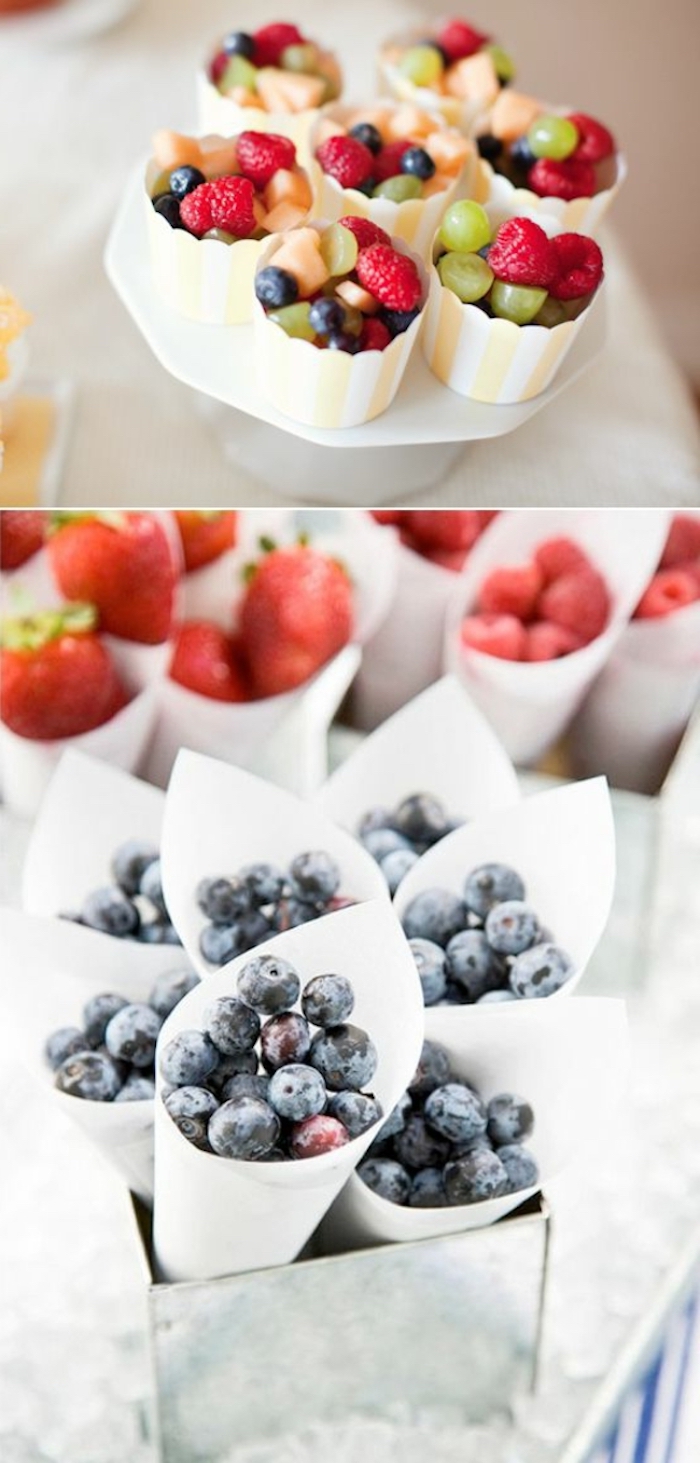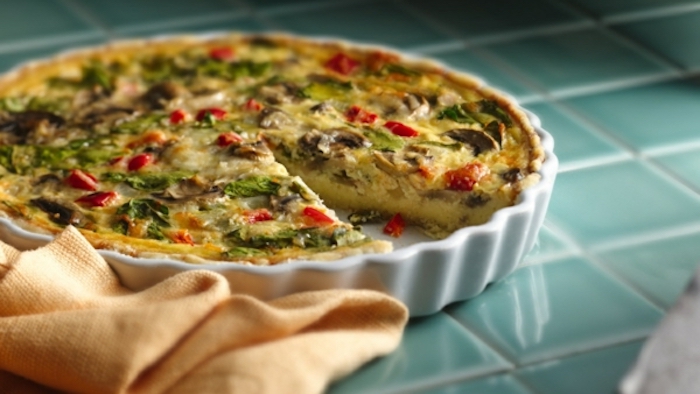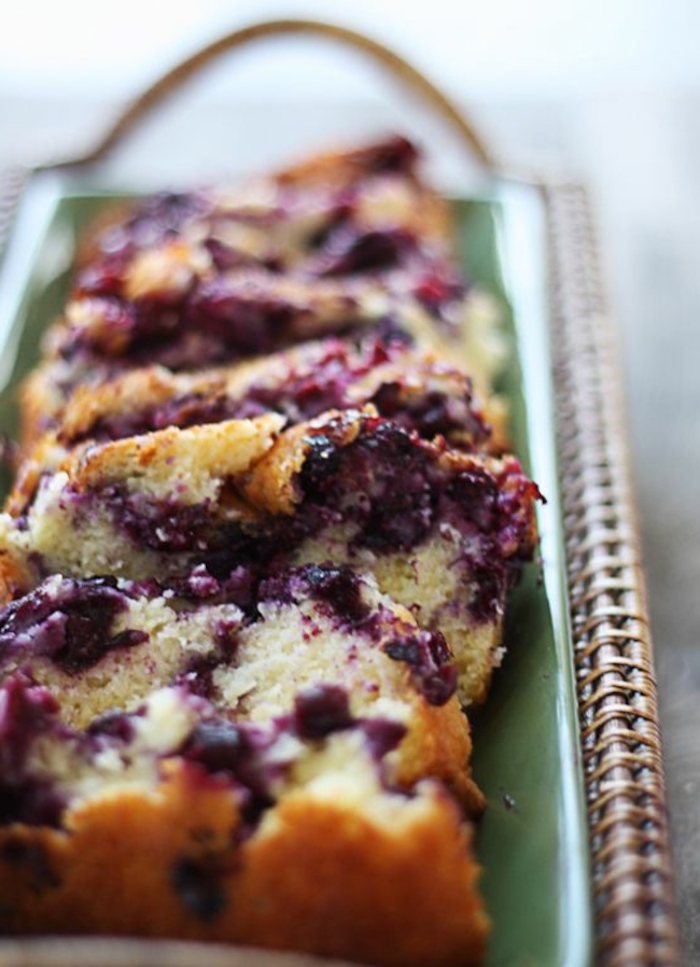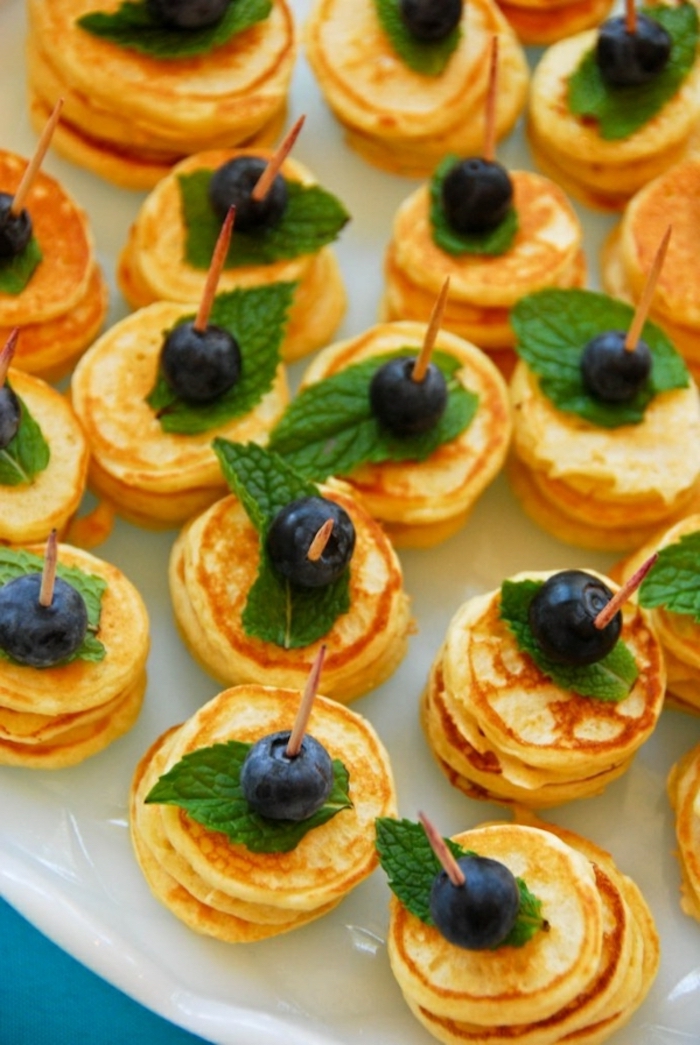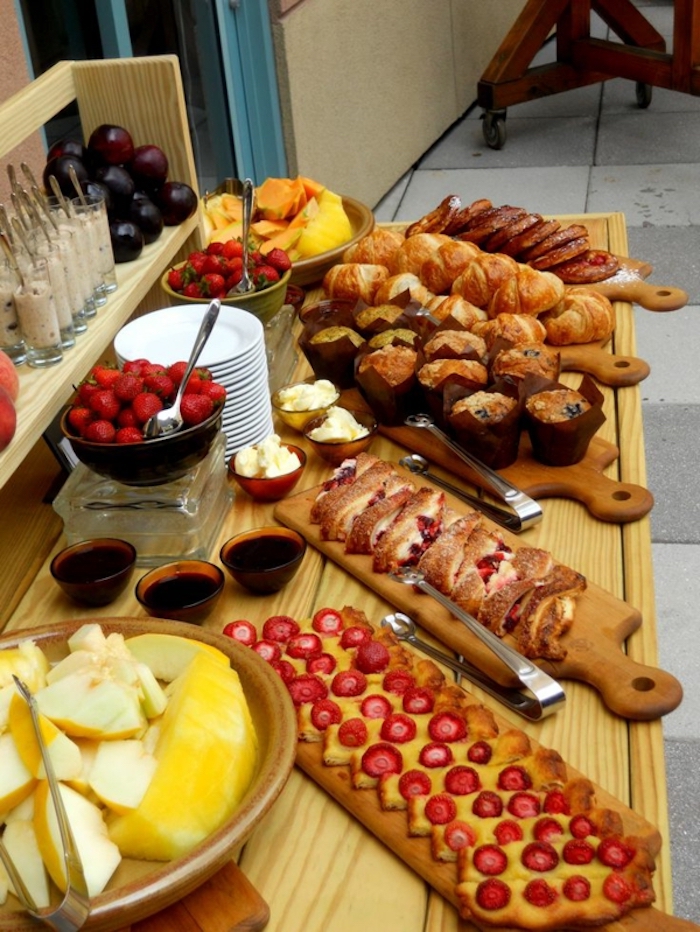 Great breakfast ideas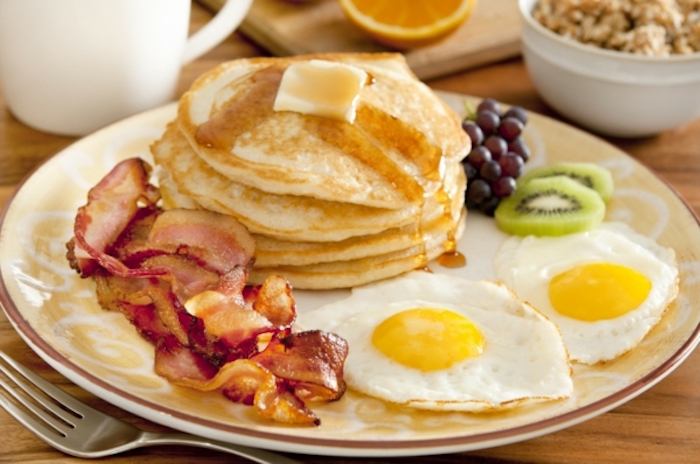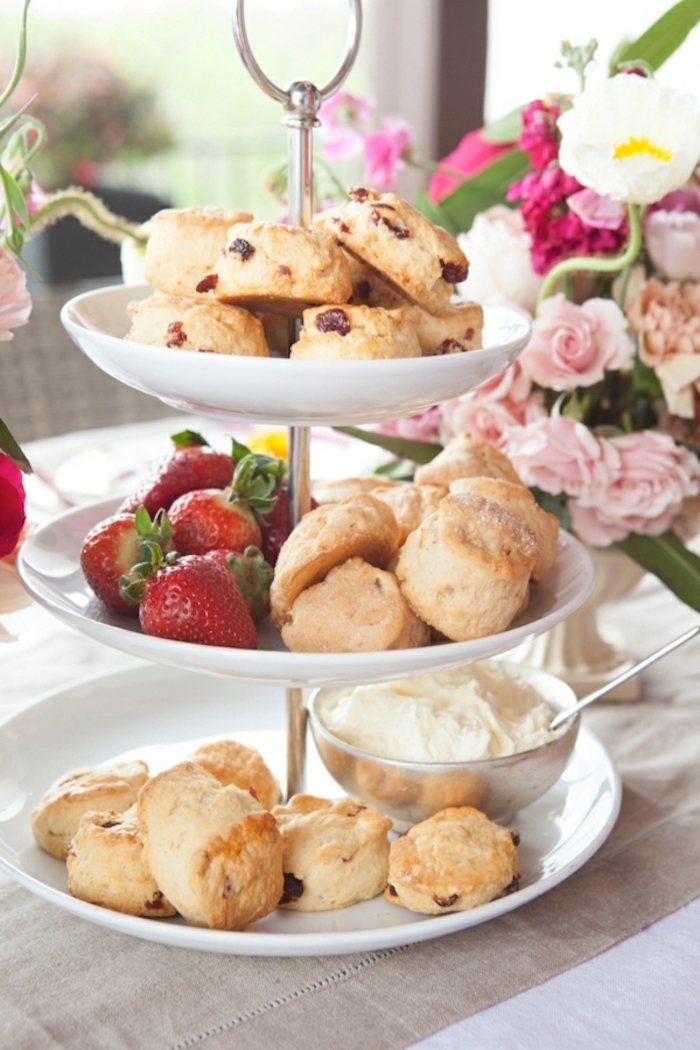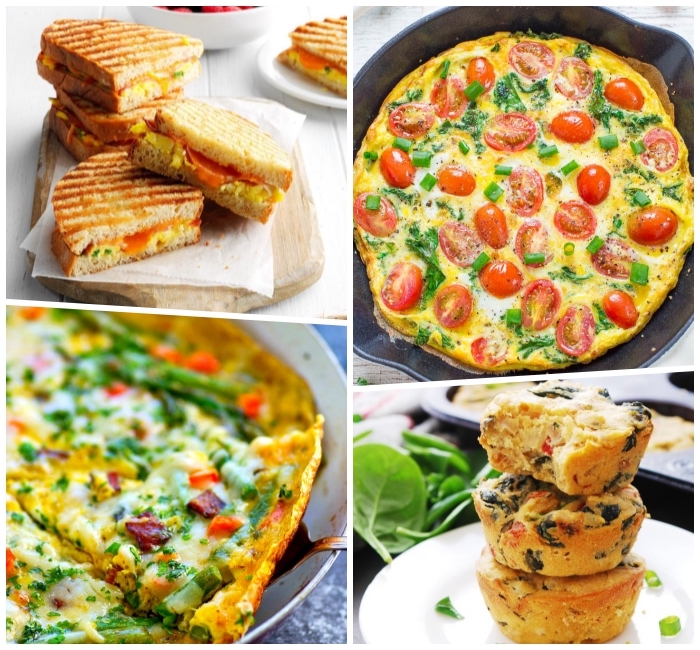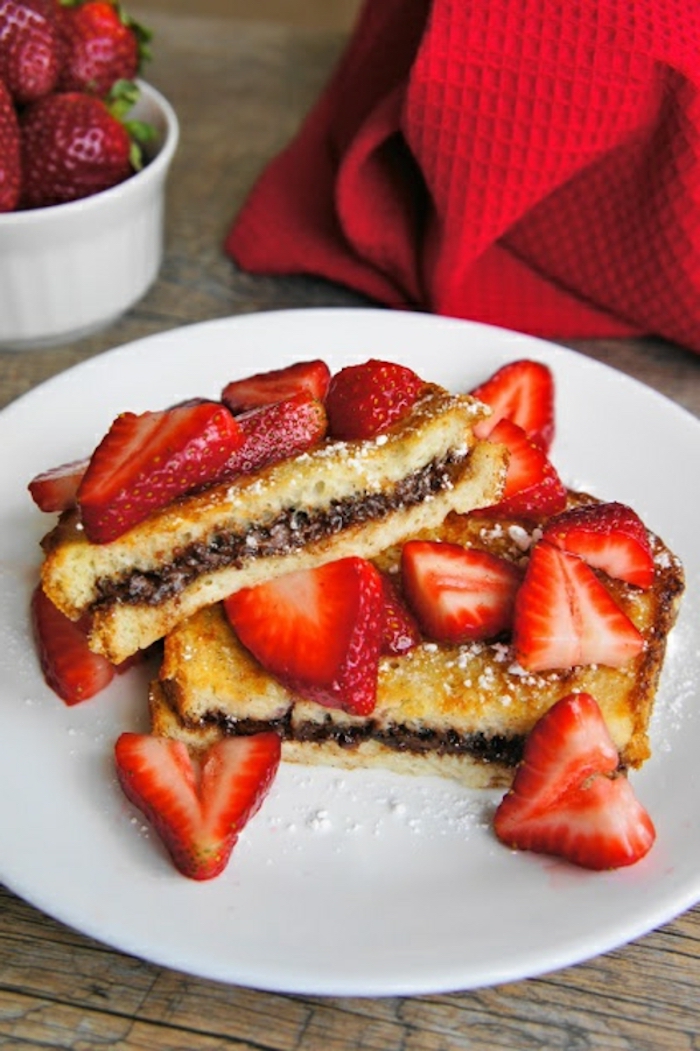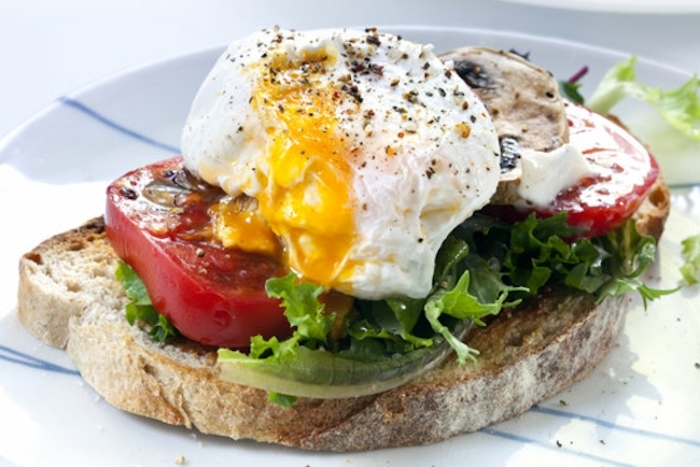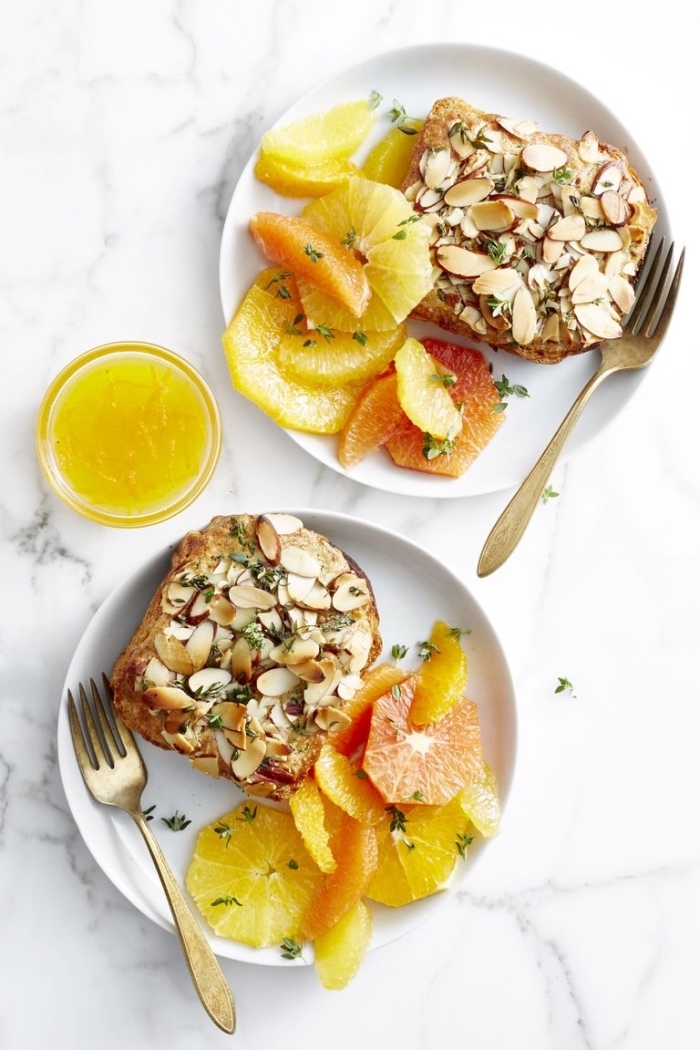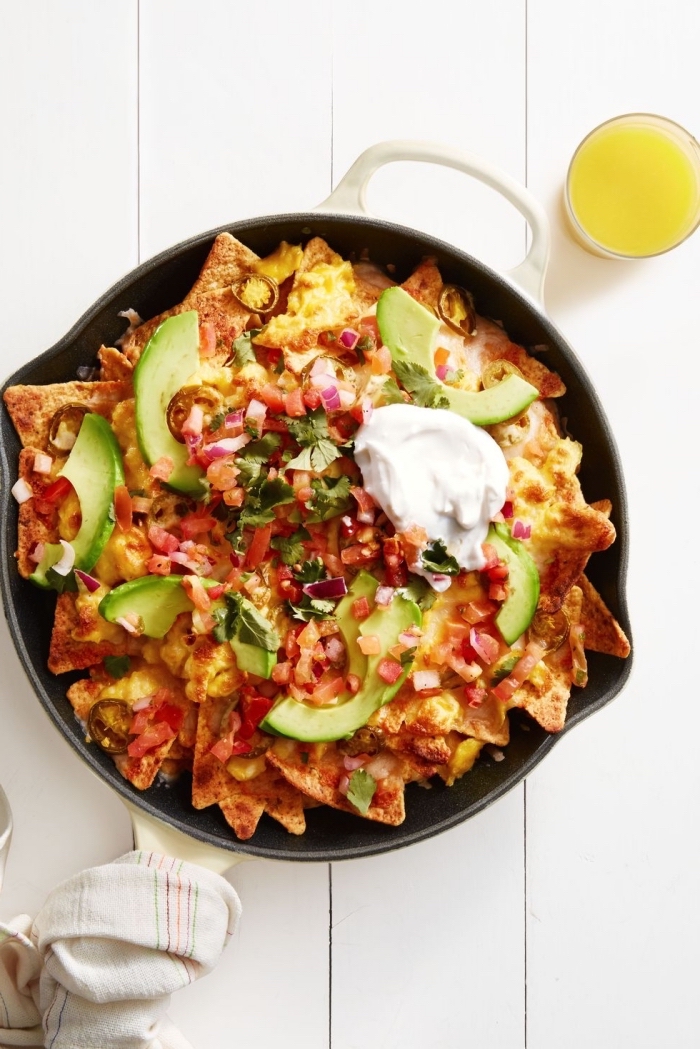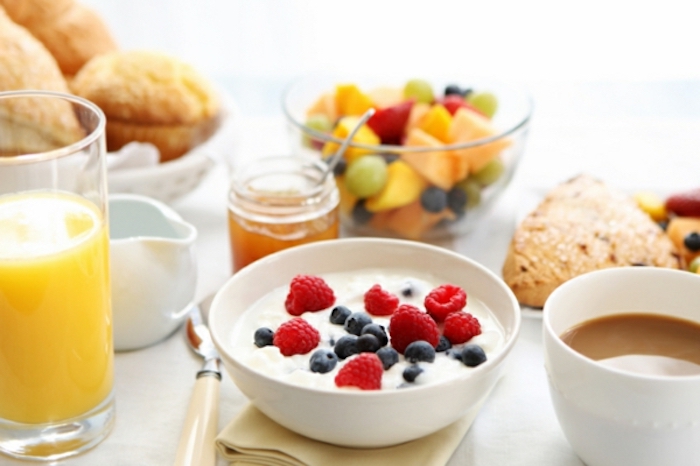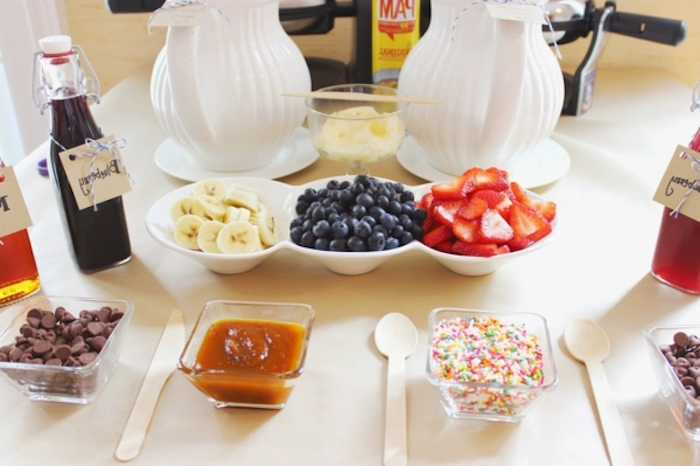 Breakfast menu ideas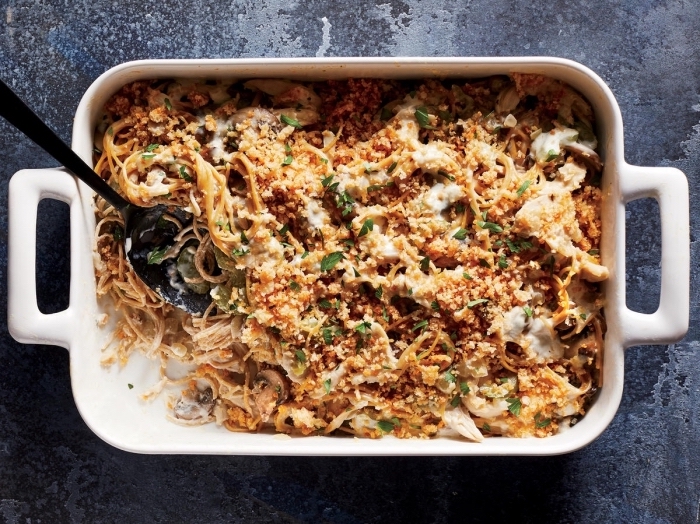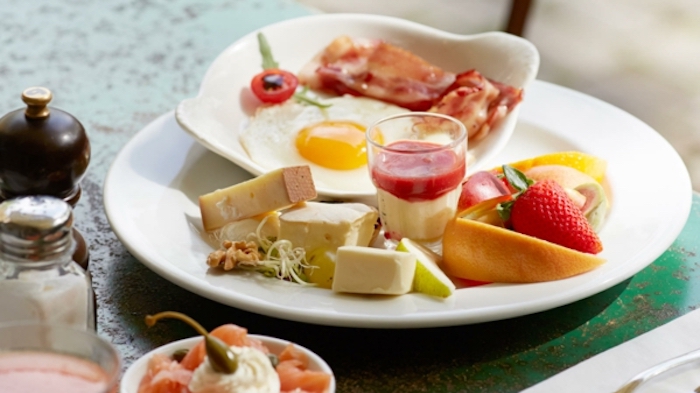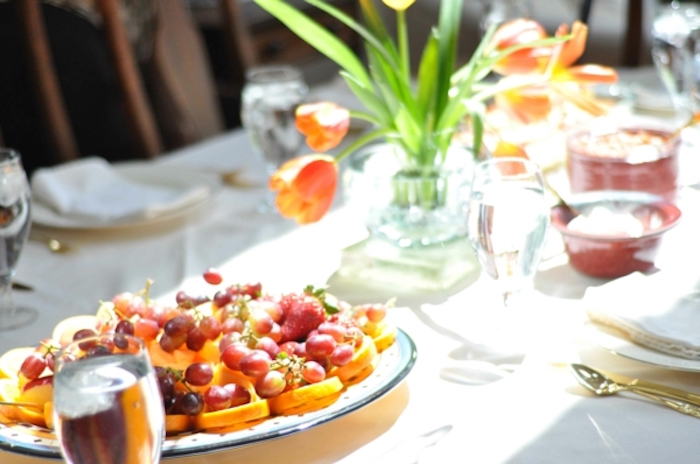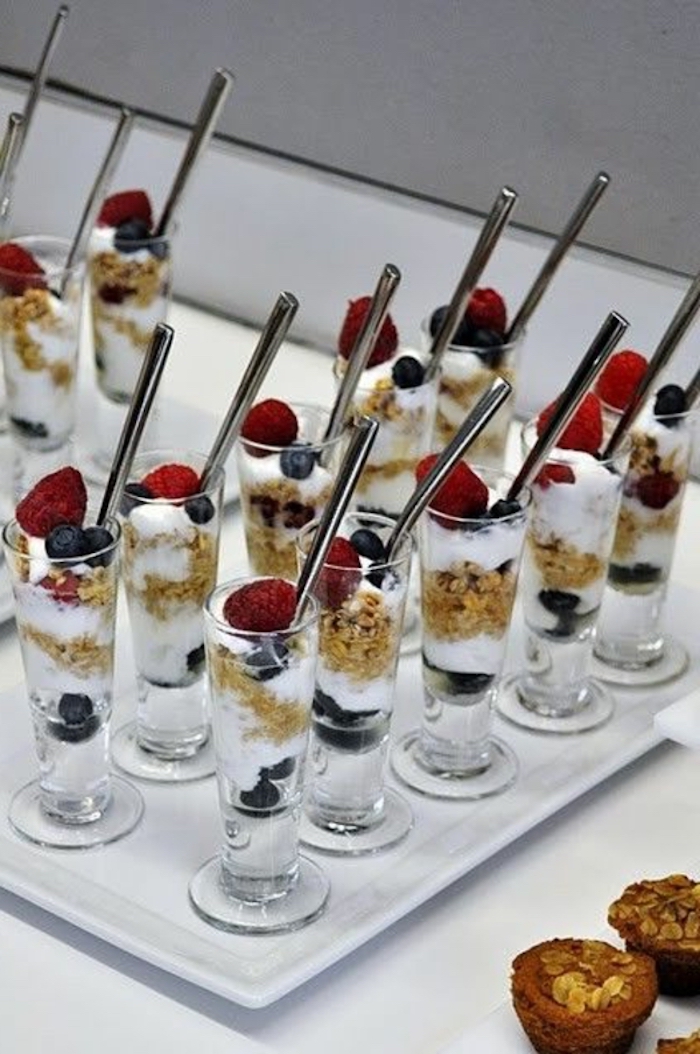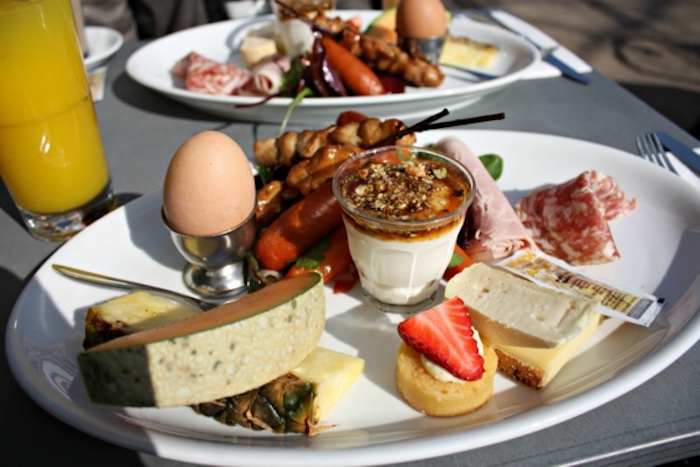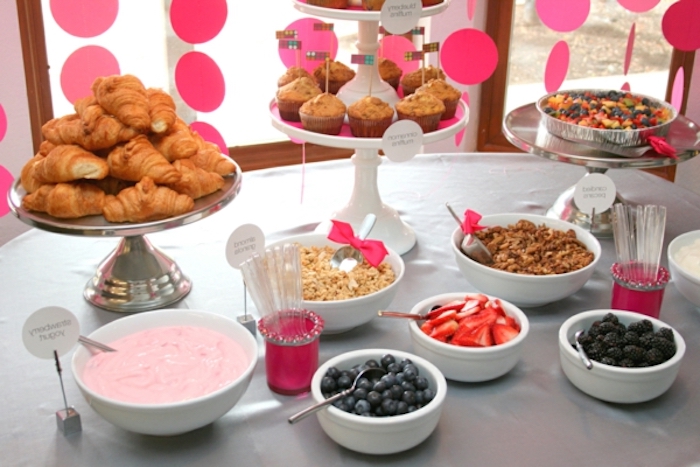 What to serve for brunch