Cute Nail Designs: The Biggest Trends for 2022
Getting your nails done is one of the best forms of self-care. You can do it yourself on a quiet Sunday at home. Or visit your favorite nail artist and chat for two hours while she is working on her magic. And, with nail designs, it feels as if the options are truly limitless. In 2022, nail designs are becoming more artistic and intricate. That is because a good nail artist can do amazing things to your nails. And people have been experimenting more and more in recent times. There are no nail styles and designs that are more trendy than others since it all depends on your personal style, preferences, and nails. But there are a couple of trends we have been seeing more and more of in 2022. So, in this article, we will show you the best trendy and cute nail designs to try out in 2022. Some of them are more suitable for long nails, others for short, but feel free to experiment and make up your own interpretations that will fit YOU!
Let's see what 2022 has in store for your nails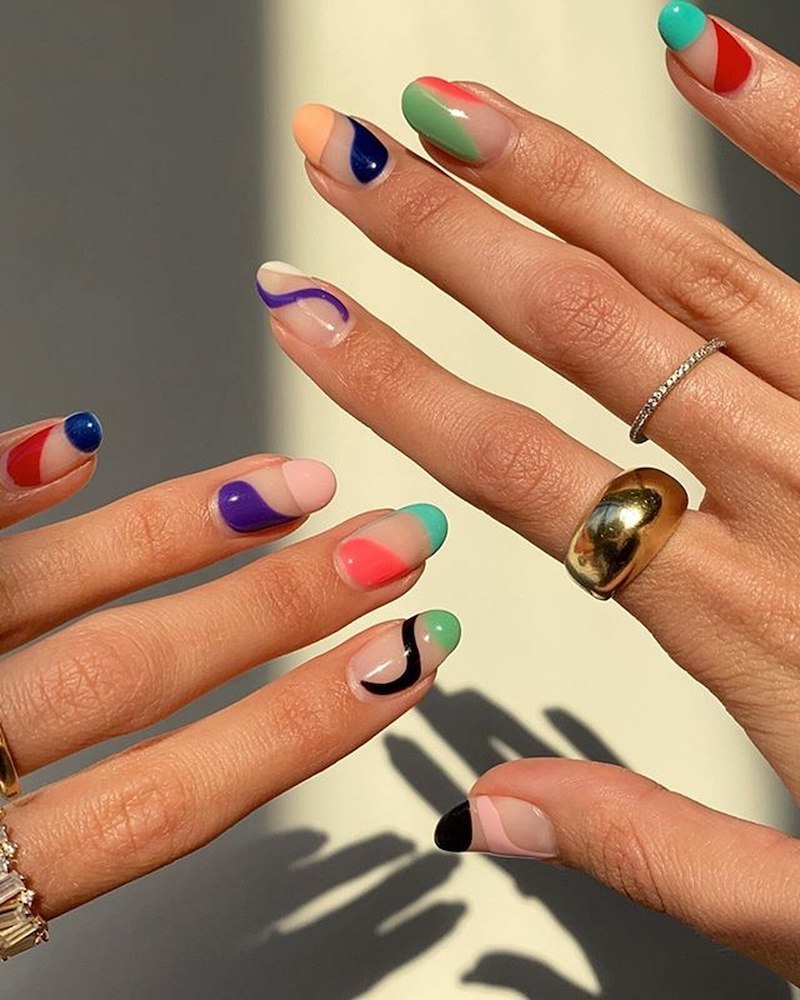 Yes, metallic is making a comeback! We have been seeing metallic details on nails, and we are here for them! With metallic nail designs, you do not want to overdo it. Our advice is to opt for a colorful metallic French manicure. You can add pearls and crystals to further elevate your nail design. The trick about metallic shades is to know where to put them. Using them as an accent is way more fun than just doing a solid metallic color all over. Another option is a design that combines a silver metallic color and a bright pink, red, or orange. The metallic nails trend is perfect for shorter nails. A fiery and bold nail design for the new 2022!
Metallic purple details, and a pink metallic top coat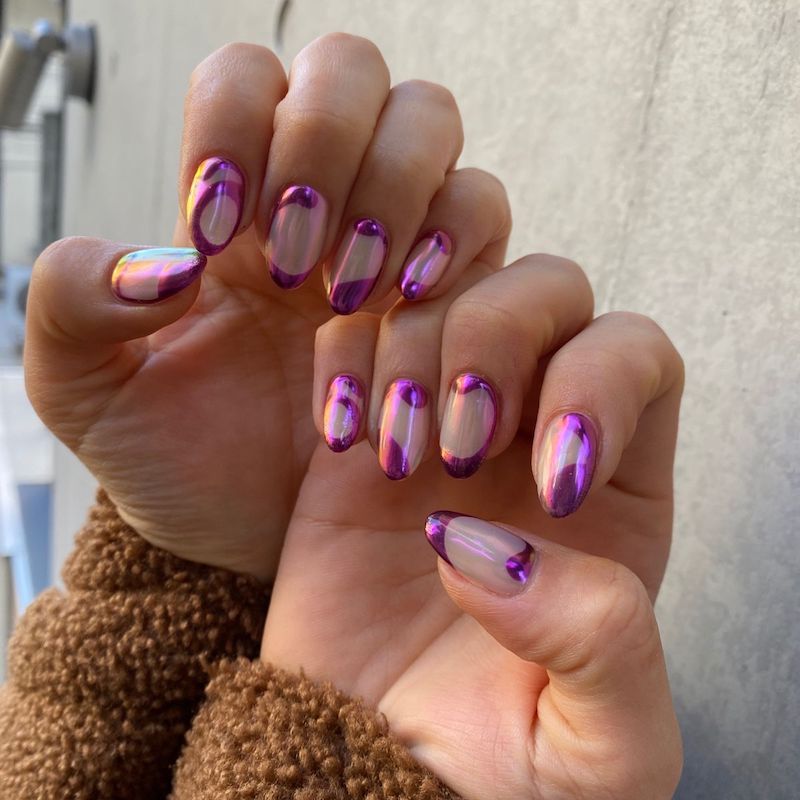 This is a highly-reflective style that is perfect for parties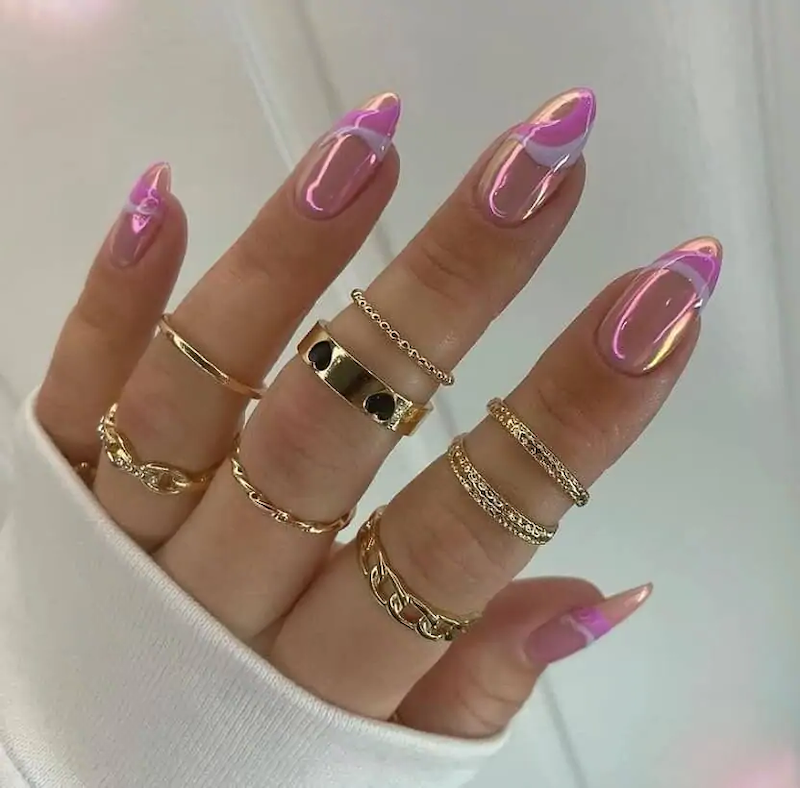 A colored metallic top coat can completely transform your nail design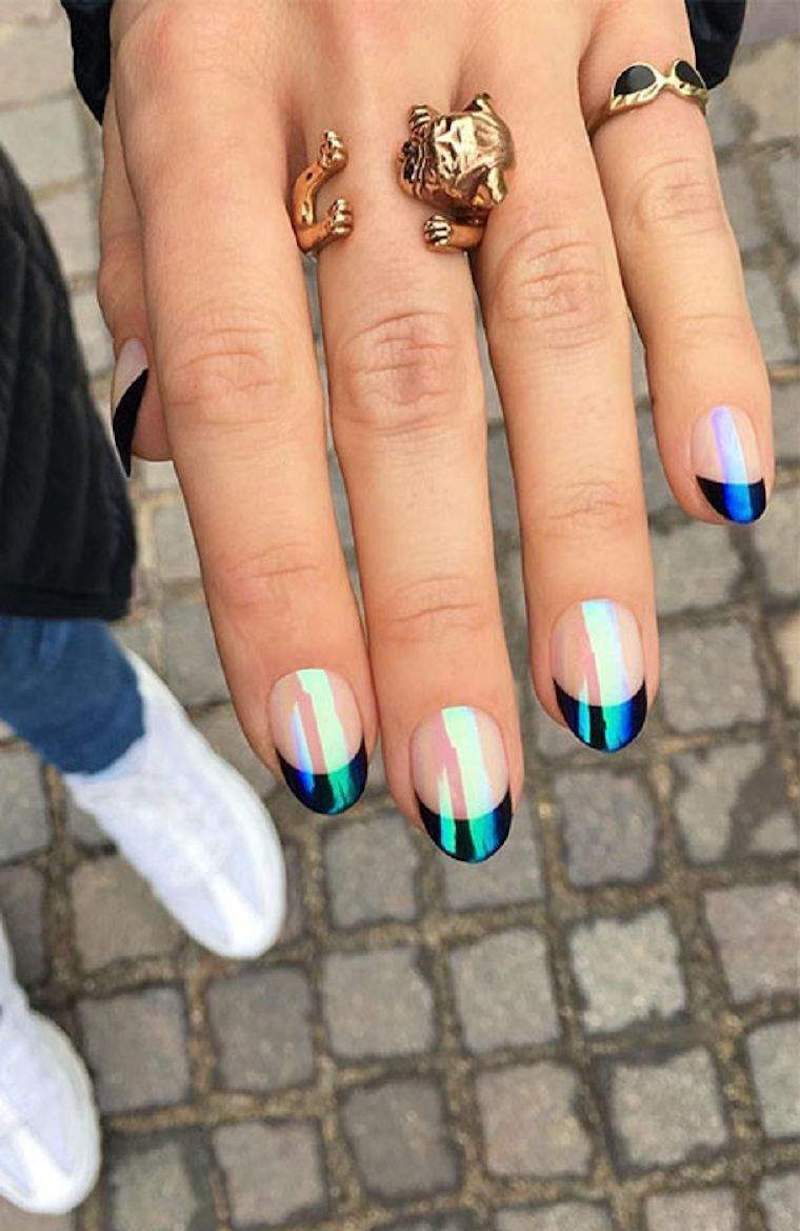 Colorful Swirls
The colorful swirls nail trend started in 2021, and it is still going strong! Nail artists are getting more and more creative with it, and the color combinations. The most common way of doing the swirl design is to choose two colors that are close to one another on the color wheel-like pink and purple or green and blue. Then use the two colors to add different swirls to each nail. Another option is to use the swirls to make a distorted French tip. You can even use different colored swirls on each nail if you want to be super bold with your nails! Swirl nails are extremely easy to make yourself, so don't be afraid to DIY this nail trend at home!
Pink and purple swirls have become a classic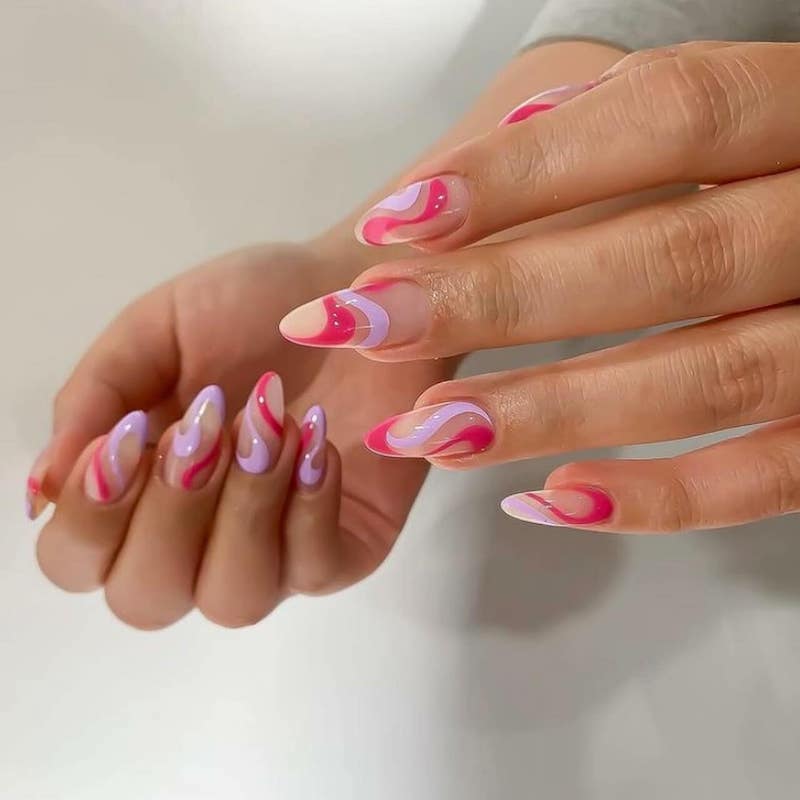 Keep the base transparent or neutral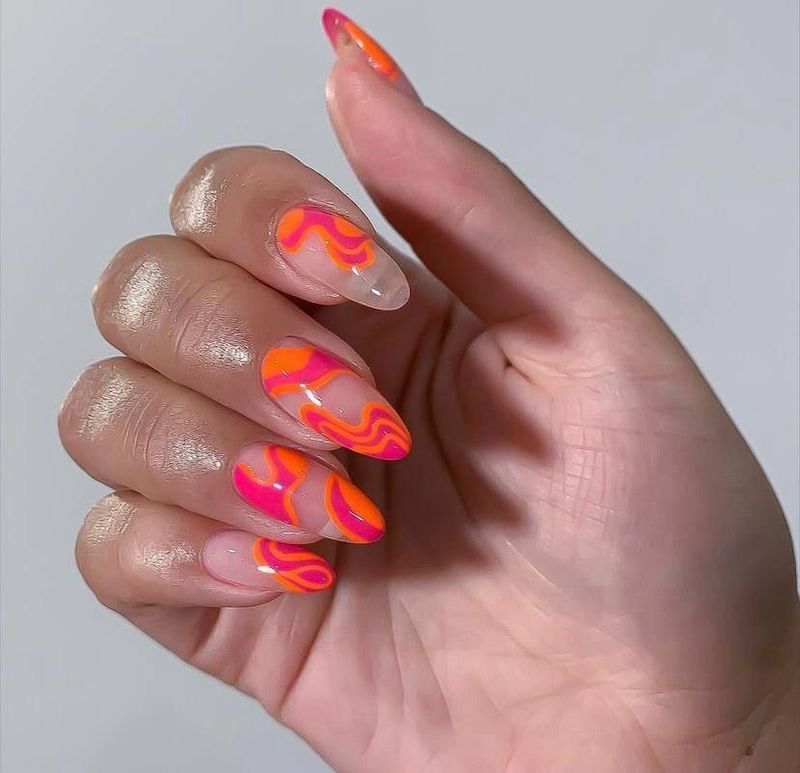 Experiment with different positions and thickness of the swirls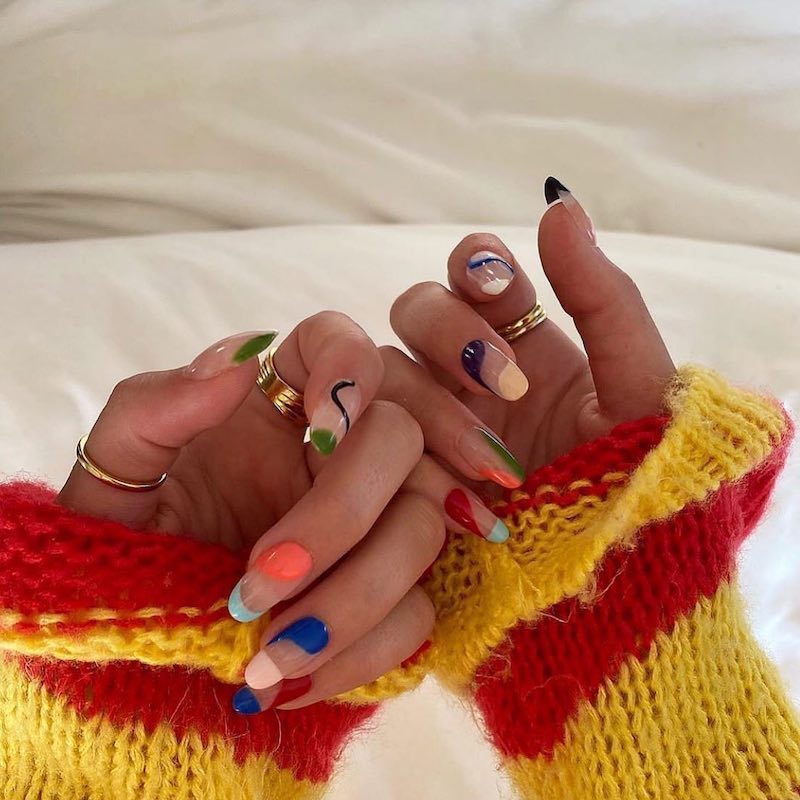 Swirls can create a truly unique French tip manicure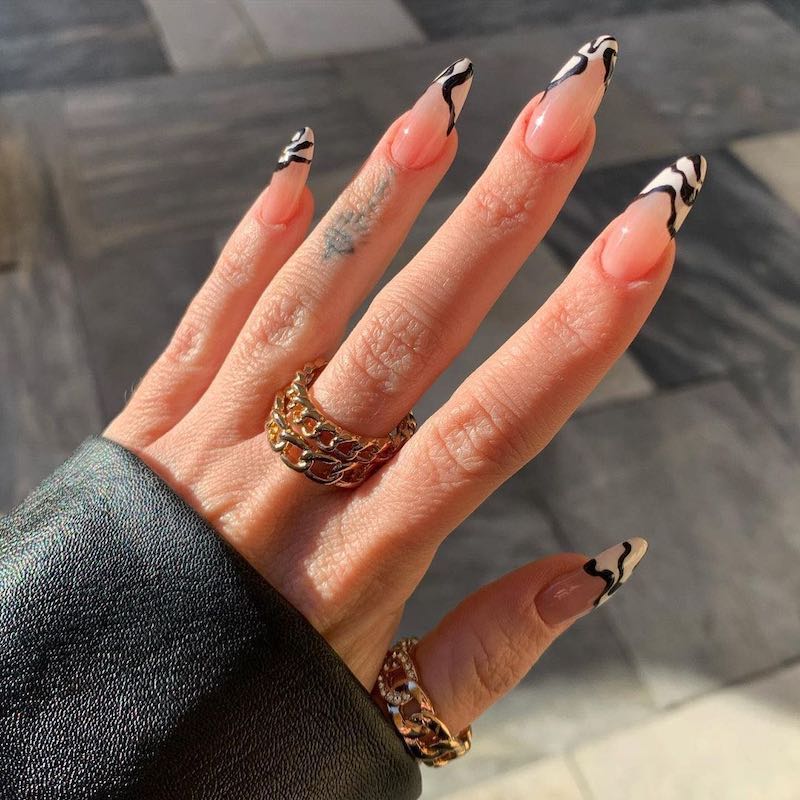 This style is perfect for both square and almond-shaped nails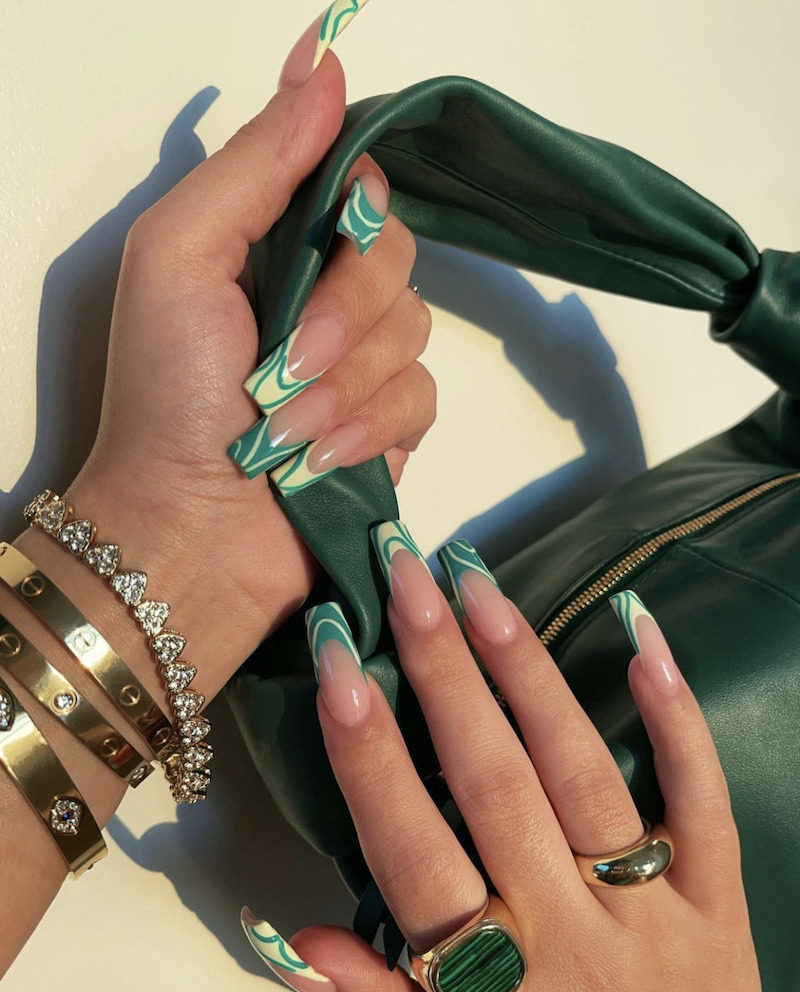 Mixed Patterns
Mixed, clashing patterns have been one of the biggest trends in home decor and fashion! So, it only makes sense for the nails to follow. Doing mixed patterns is time-consuming and harder to do than other nail designs, so we suggest leaving this to your nail artist. The idea is to go as crazy as you possibly can! You can do a different pattern on each nail, and make crazy unique designs. Our advice is to browse good old Pinterest and look for inspiration. Think of a design that will be worth all the time you will spend in the nail salon!
The more colorful, the better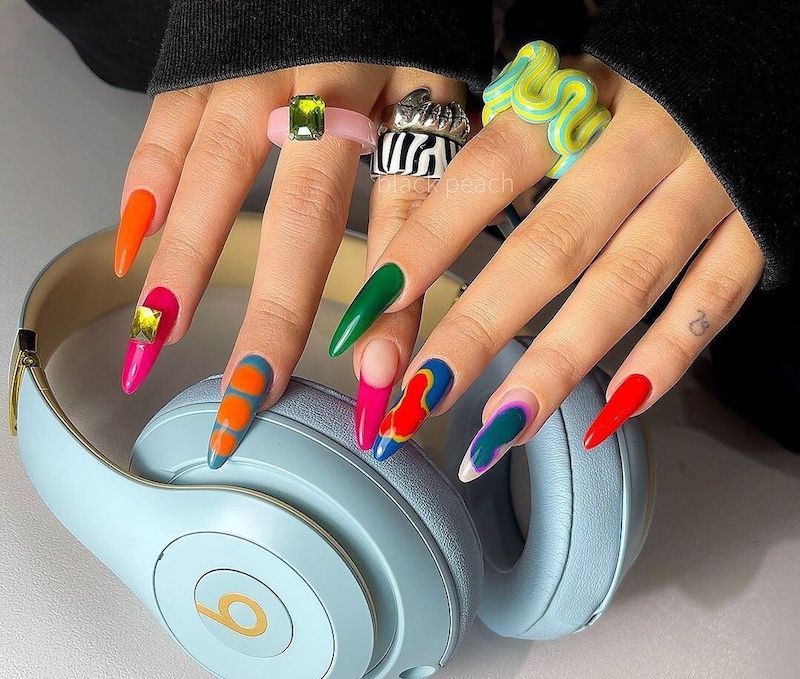 You can go as crazy as you would like with the pattern combinations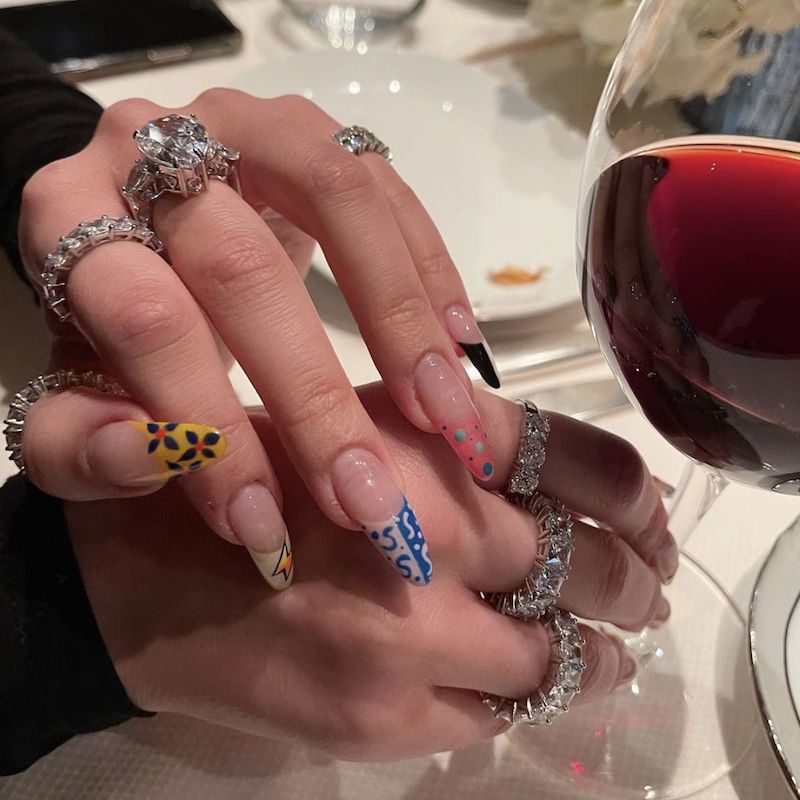 Pastels are great for a more toned-down version of this look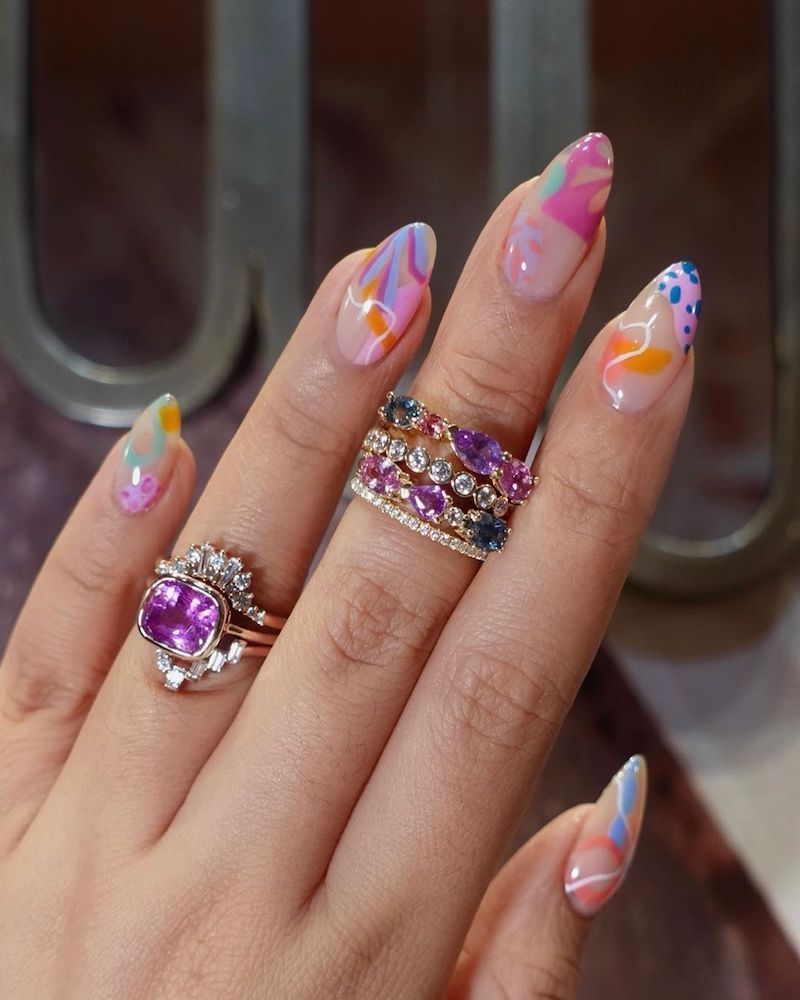 Pearls and Crystals
Adding pearls and crystals to nails has become increasingly popular in 2022. There are two ways you can do this. The first one is to keep the base of your nails neutral – milky white, transparent, or your skin tone. Then, add different colored crystals on top. You can sprinkle them on your nails or use them to create a shape of your liking such as a cross, heart, flower, etc. The other option is to do one of the cute nail designs we mention in this article, and just add some pears or crystals on top, and seal with a top coat. We suggest going to a nail artist for this one, so you can make sure that your pears and crystals will stick to your nails and last longer!
Crystals add so much bling to your fingers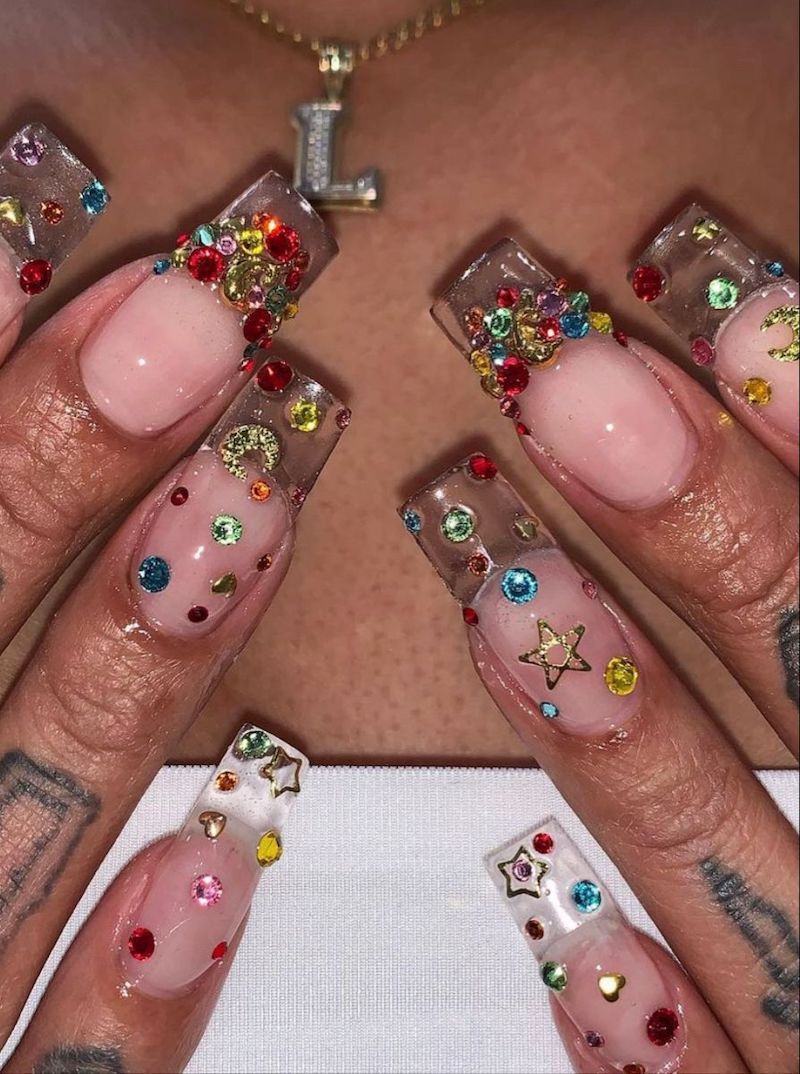 A thick French tip and some silver crystals are a perfect design for 2022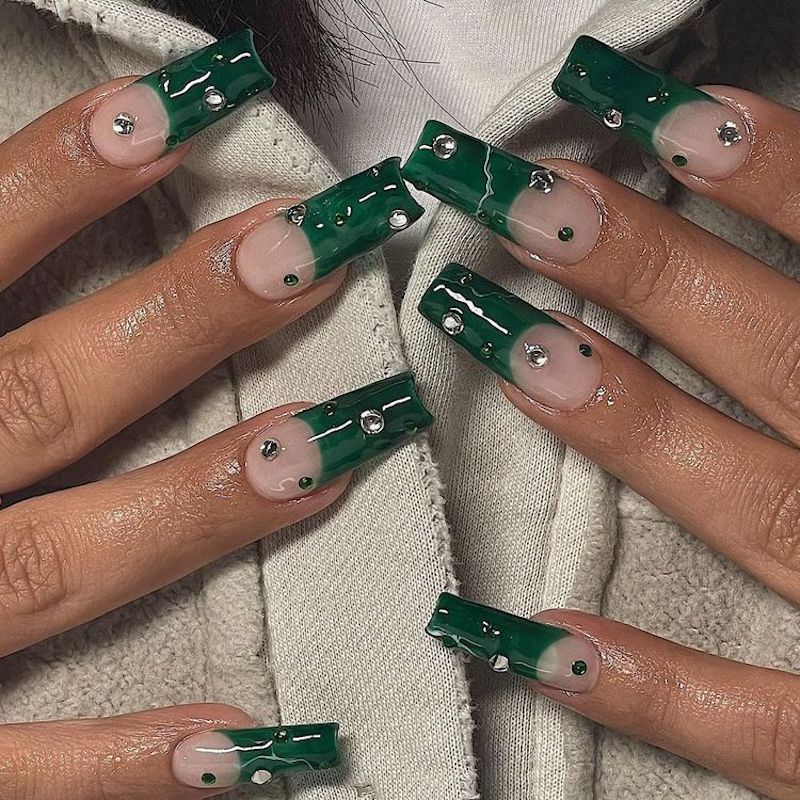 Experiment with different sizes and colors of the crystals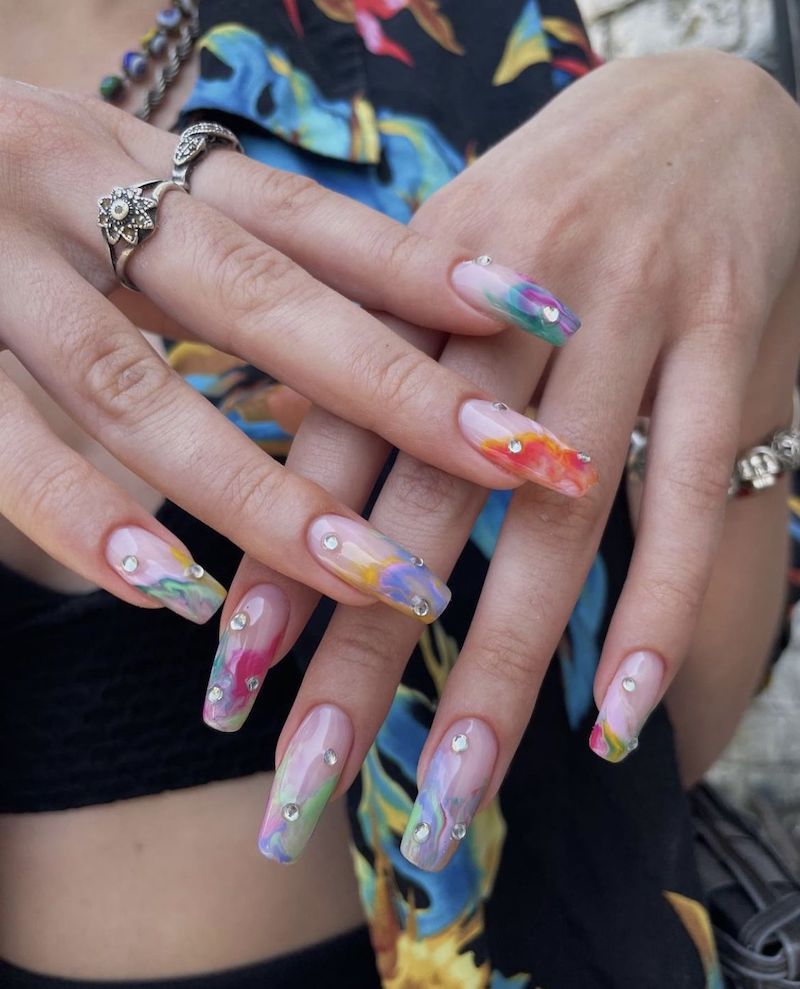 Animal Print Nails
Animal print has been going strong for quite some time now! What's more, this is a popular trend in both fashion and home decor. While zebra and cheetah prints have been popular for a couple of years now, there is a new animal pattern on the rise to stardom. And that is the snake/crocodile skin print. People have been going crazy for multi-colored snake print nails. You can opt for neutral colors like brown and nude or a bold combination like black, green, and blue. Moreover, you can do a different color print on each nail for a more dramatic statement look.
The snake/crocodile skin effect is all the rage in 2022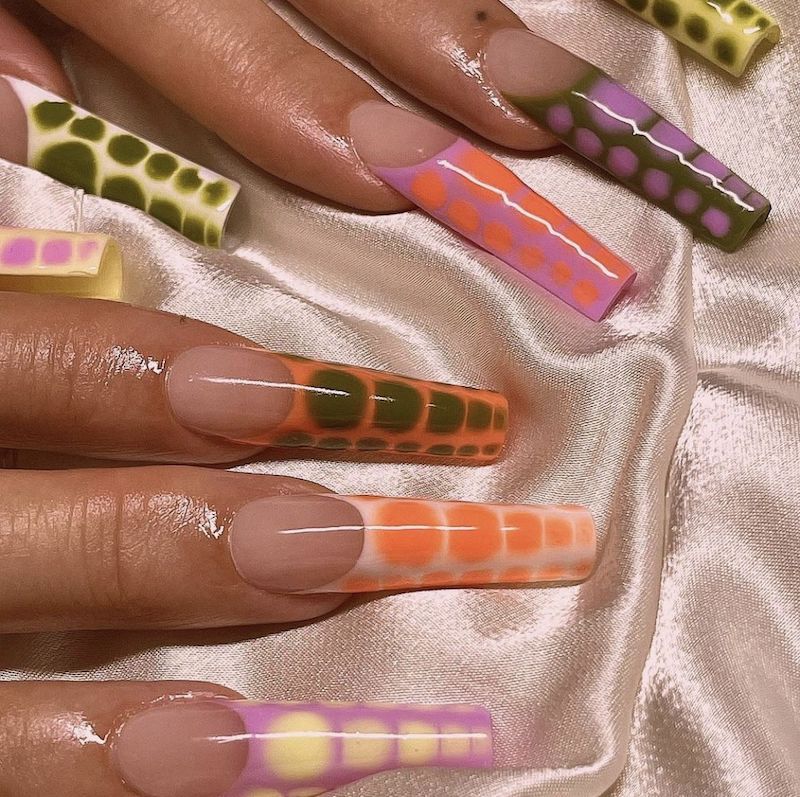 You can create different color palettes that compliment your skin tone and wardrobe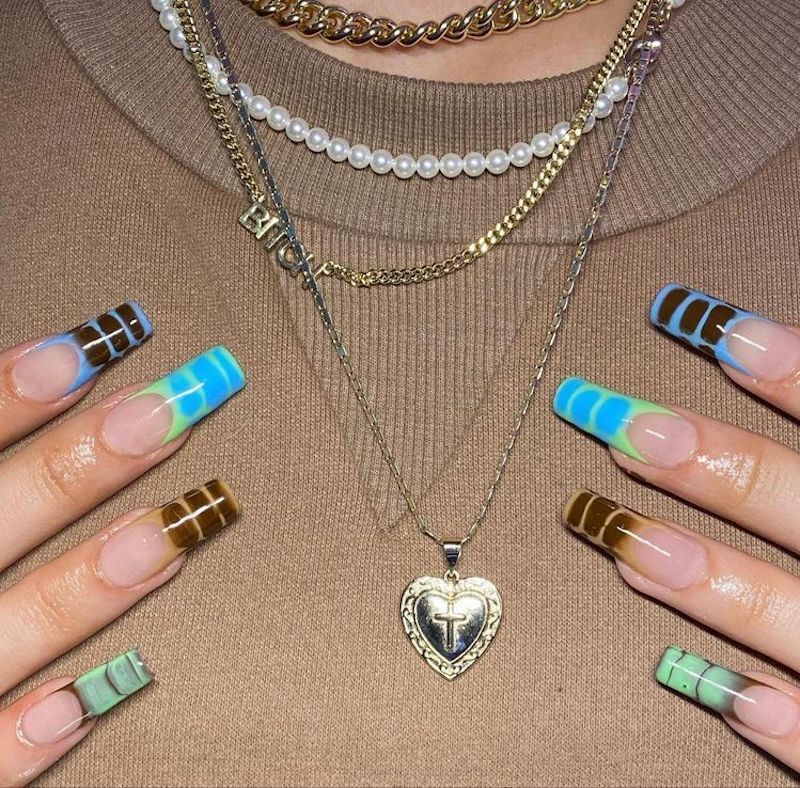 Use the snake pattern on your tips or all over the nails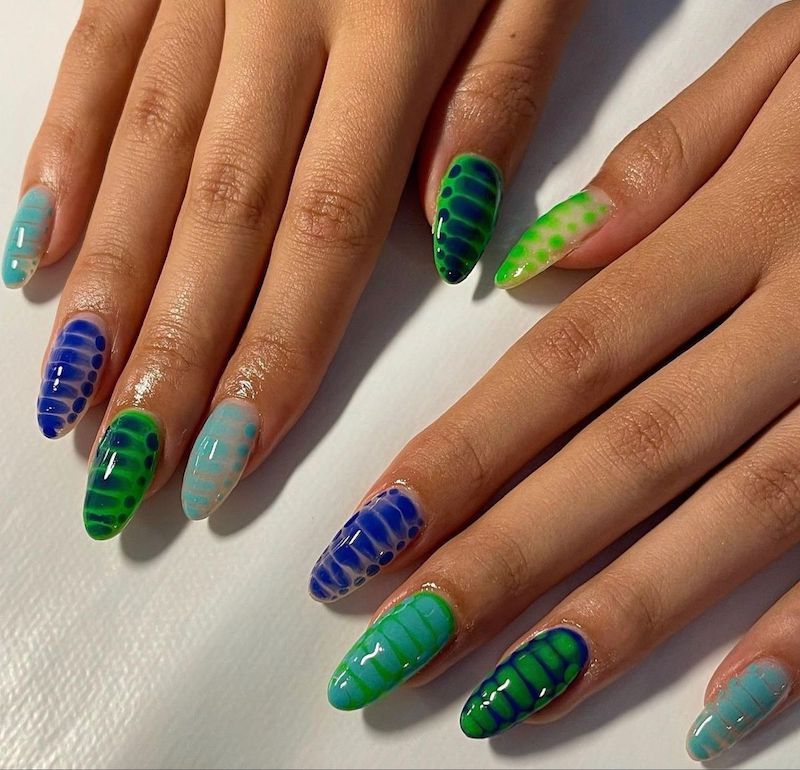 Fun French Variations
The classic French tip manicure is nothing new in the nail world. Women have been counting on this feminine and minimalistic look for decades! However, we have been seeing more and more unique variations of this classic manicure style. You can add more colors to your French tips, add a fun pattern, and create unique combinations. The French tip is great for both long and short nails. What's more, women love this nail design style because it helps elongate the nails and the fingers!
A minimalistic but unique nail design idea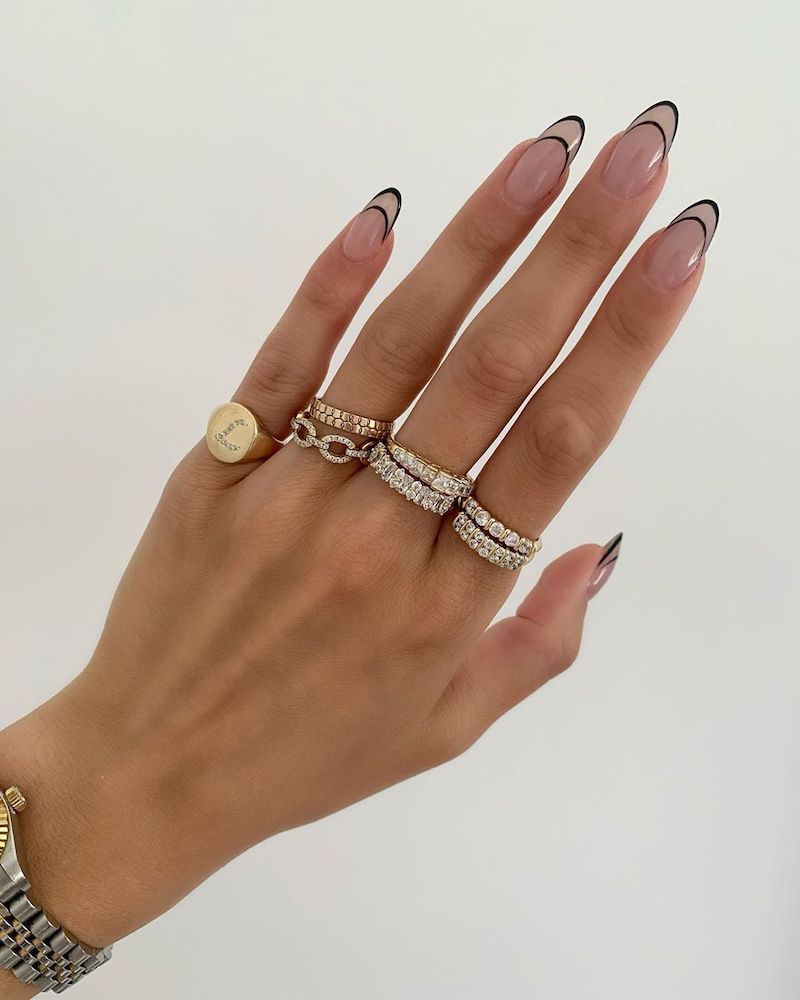 Combining the colorful French trend with some swirls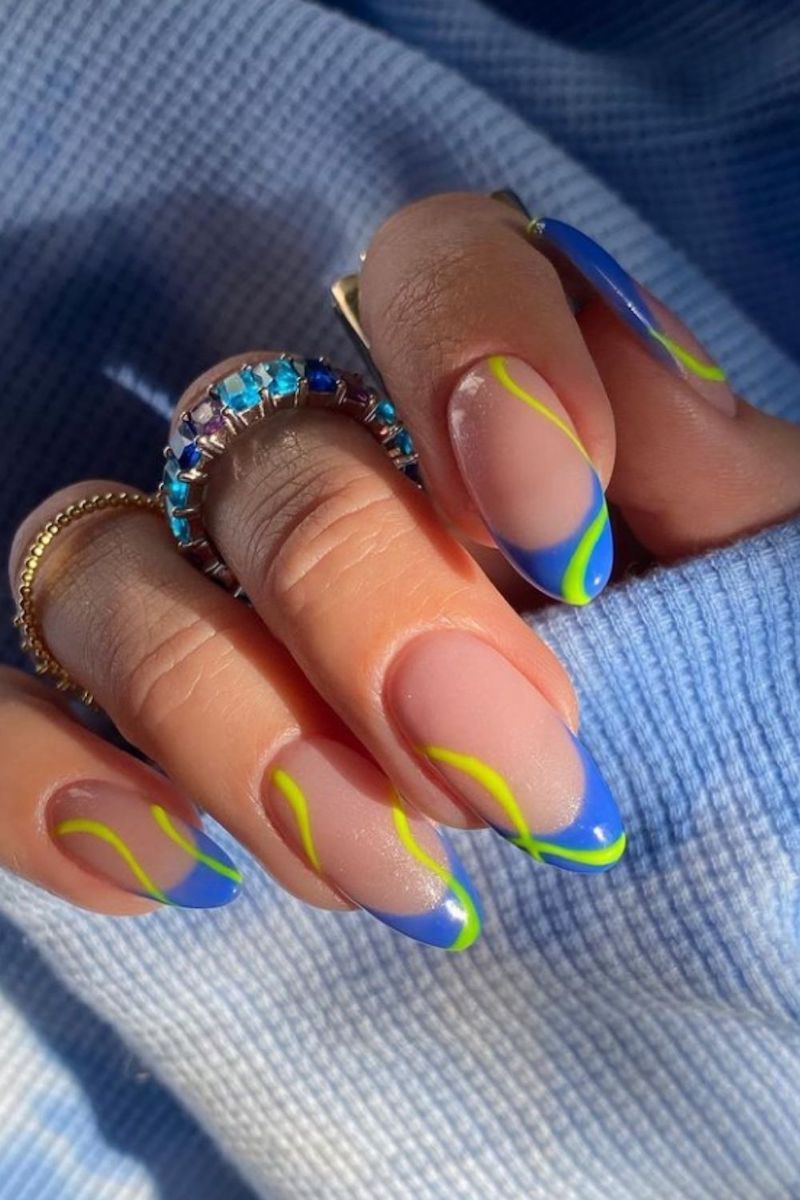 Get out of your comfort zone and do some bold checkered nails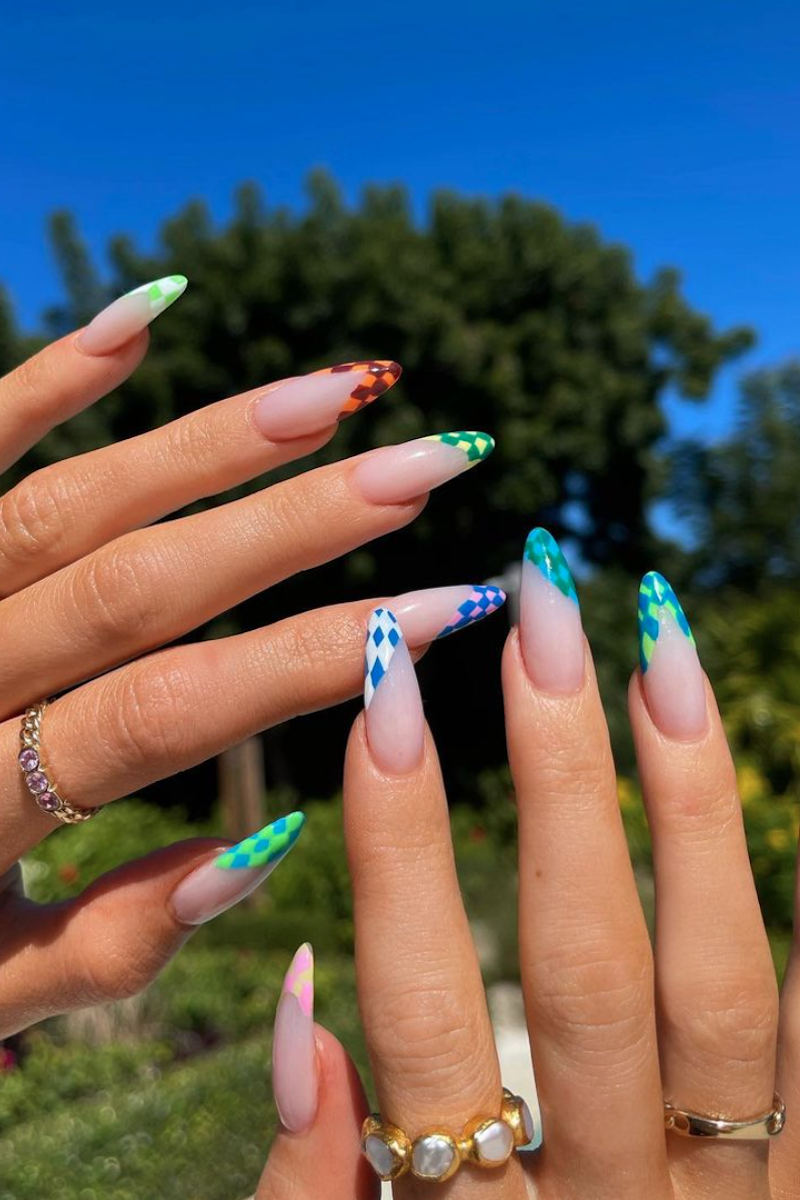 A trendy colorful French tip design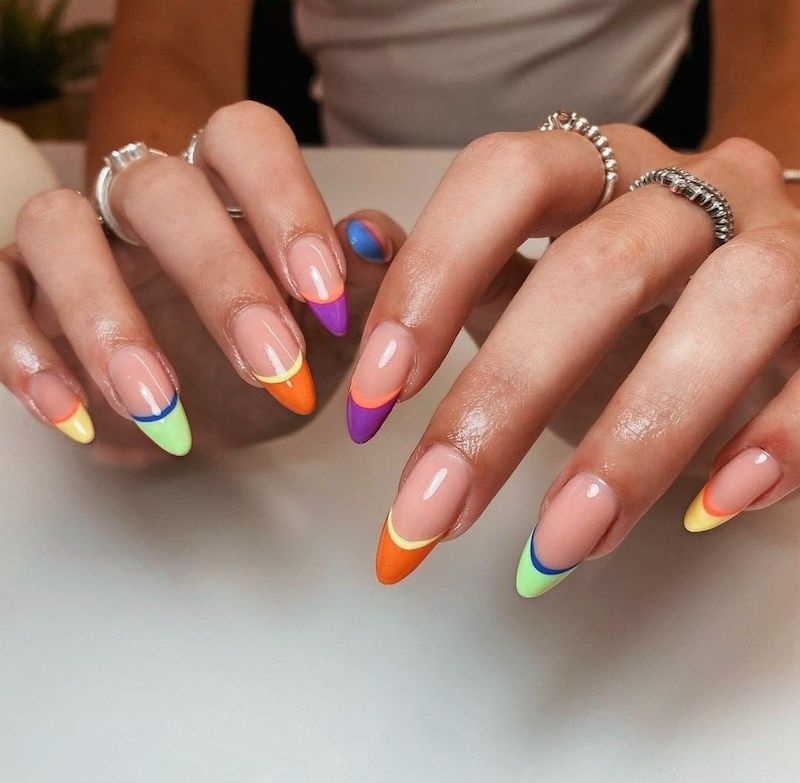 A matte option for short nails