Cute nail ideas to try during your next manicure appointment
Each year fashion trends change so much. When it comes to clothing, shoes and accessories, there are so many trends out there. Especially after the rise of influencer culture, it seems like it is all about who wears what. Fashion, however, has been a part of the culture for a very long time. Nowadays, however, there seems to be a rise in beauty trends – make up, hairstyles and nail art. There are so many YouTube channels out there who can show you how to do the perfect make up. Today, though, we are going to focus on cute nail ideas, because manicure has become just as important to your outfit as your jacket, for example. So, read on to find many ideas and examples of gorgeous manicures you can try during your next visit to the nail salon.
Such a gorgeous mixture of colors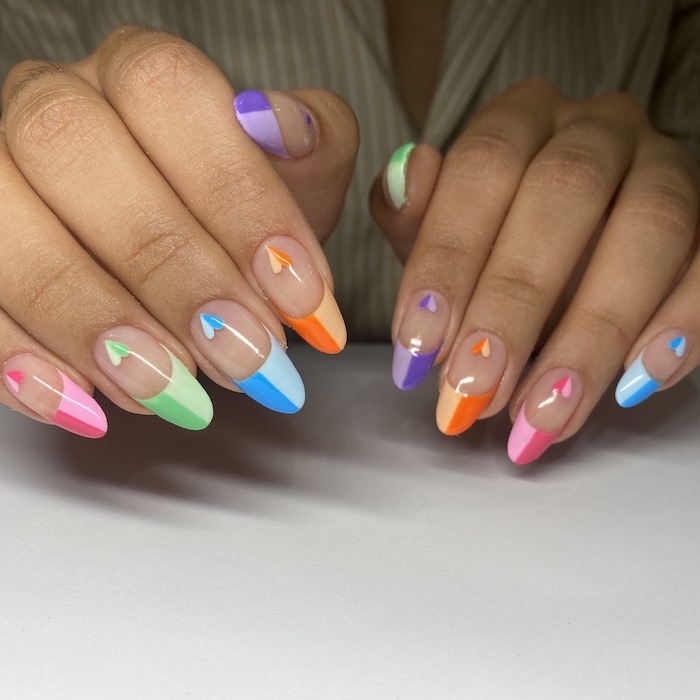 What is the popular nail color for 2020?
Pantone announced that the color of 2020 will be blue. Therefore, it comes as no surprise, that the most popular nail colors for 2020 is blue in all of its shades. For a summer manicure you can try lighter or even neon shades of blue, for the winter it doesn't get any better than navy blue. The good news is that blue looks good on any nail shape and can be complimentary to almost any outfit you decide to wear.
These nails are absolutely stunning – a true piece of art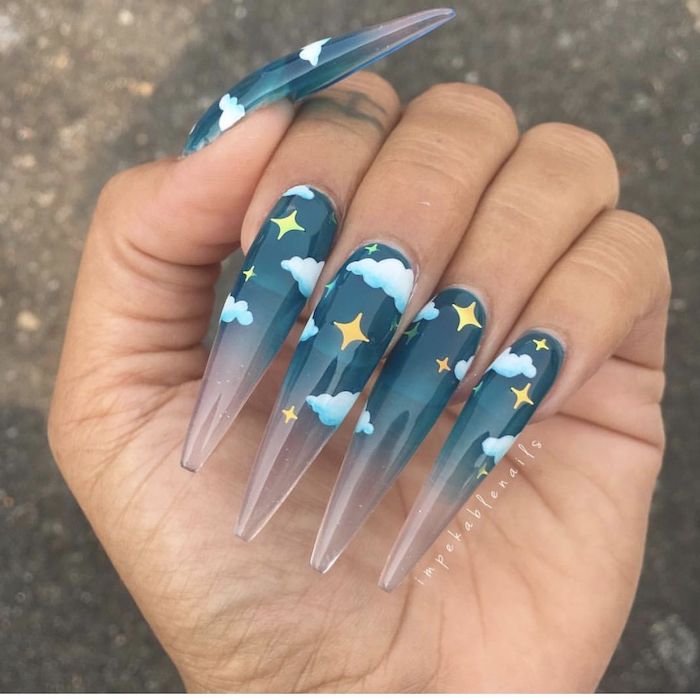 What nail shape is in style for 2021?
Coffin nails are taking the top spot once again. It seems like ever since they came around, coffin nails have been the preferred nail shape. If, however, they are not exactly your thing, you can try the beautiful almond nail shape. It is perfect for anyone who is looking for something a bit more understated, but classy and elegant at the same time. What's more, more tapered almond shape will be preferred in 2021. Which means you can combine the elegance of the almond nails with the risky stiletto nails by making them a bit more narrow than regular almond shape.
Tapered almond nails might even be more beautiful than coffin nails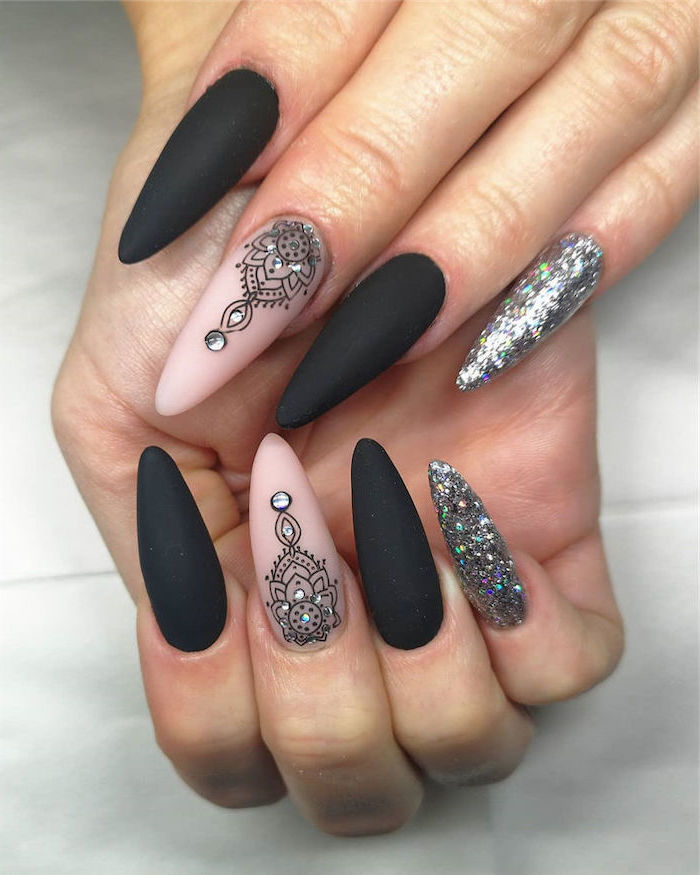 What is the most popular nail style?
2021 sees the return of more classic and understated manicure. For anyone who loves nude colors and simple designs, this might be the year for you. Clean lines, geometrical designs, french manicure – all of these are in for next year. Darker colors are also taking center stage in the beginning of the year. On the other hand, of course, as soon as summer arrives we need to make way for bolder, more vivid colors. That, however, is the case for any summer nail art design. For now, though, read on to find a few great ideas for your next visit to the nail salon.
Understated, yet super trendy with a little bit of flash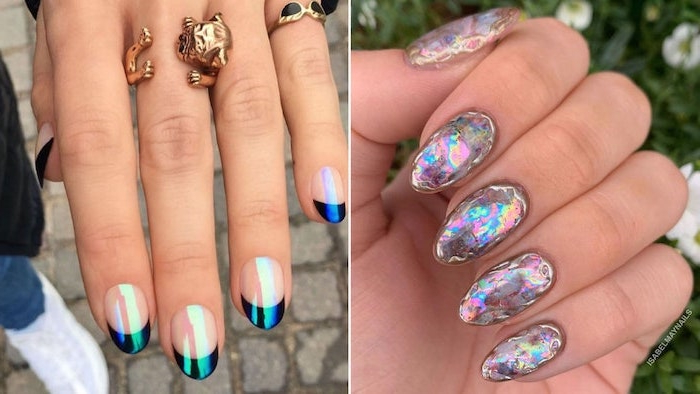 Cute nail ideas with marble
Marble nails have been on the rise for awhile now and it doesn't seem like they are going away. Not that that is a bad thing. Marble is extremely stylish and gorgeous. What's more, it can be made with any color you like. Pair it with some glitter or a few rhinestones, while keeping the rest of the nails the same color and you will have the perfect 2021 nail design.
Black will never go out of style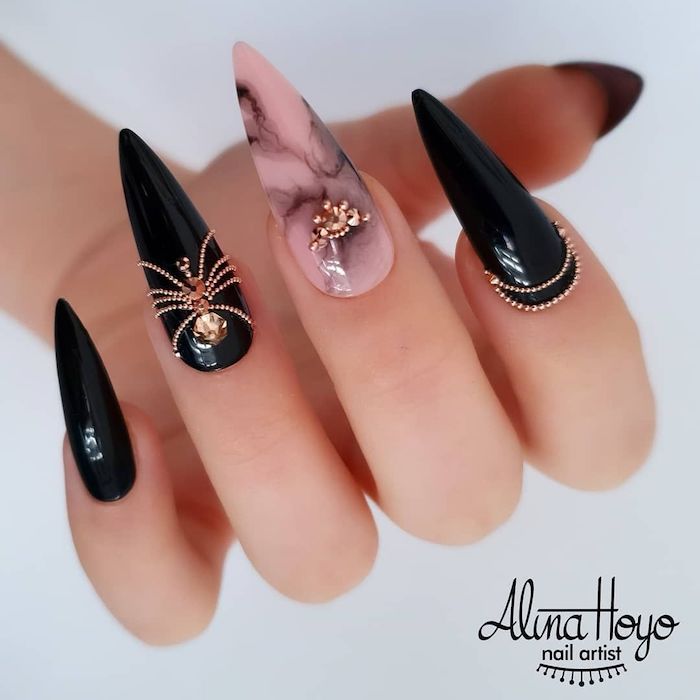 Add a bit of shine with a hint of glitter
Glitter is not for everyone. Many people denounce the use of glitter on their nails, because they think it is too much. That may be true if you decide to use it on every nail. There are other ways, however, to use glitter and still have elegant nails. Use a neutral colors on your nails and add hints of glitter on your decorations to add a wow factor. Trust us, the result will be outstanding. If you don't believe us, just look at the photo below.
Adding some flashiness to your nails is not a bad thing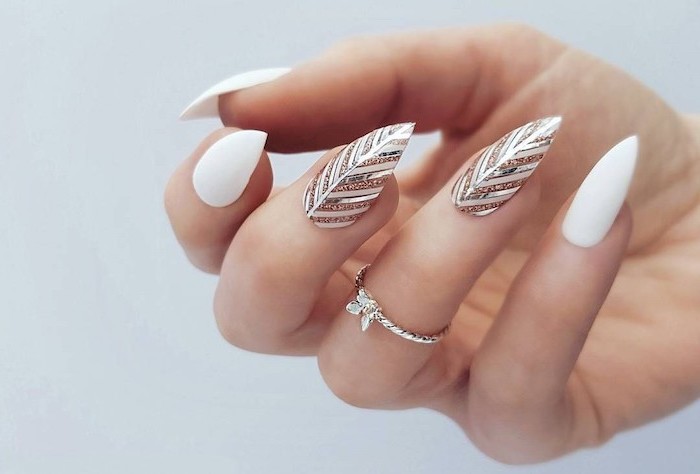 French manicure will always be stylish
French manicure has been making a come back as of late. This incredibly stylish, elegant and classic trend has taken a life of its own. While once upon a time french manicure looked the same with a curved white line at the top of the nail, nowadays that is no longer the case. Now you can find super creative french manicure nail designs. The more creative they are,  the better. 2021 is the year to experiment and try this trend in all of its different variations.
French manicure in all of its glory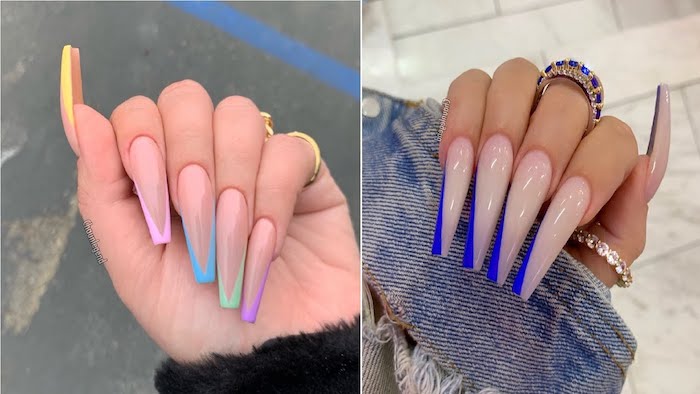 Cute nail ideas in rainbow colors
If you love to experiment with colors then 2021 is the year to do it. Rainbow nail art in all of its shapes and forms will be trending especially in the summer of 2021. Whether you choose something more understated using a matte finish, or you decide to go all in with the colors, rainbow nail art will still look amazing.
Nails in all the colors of the rainbow
And who says rainbow nail art is just for your hands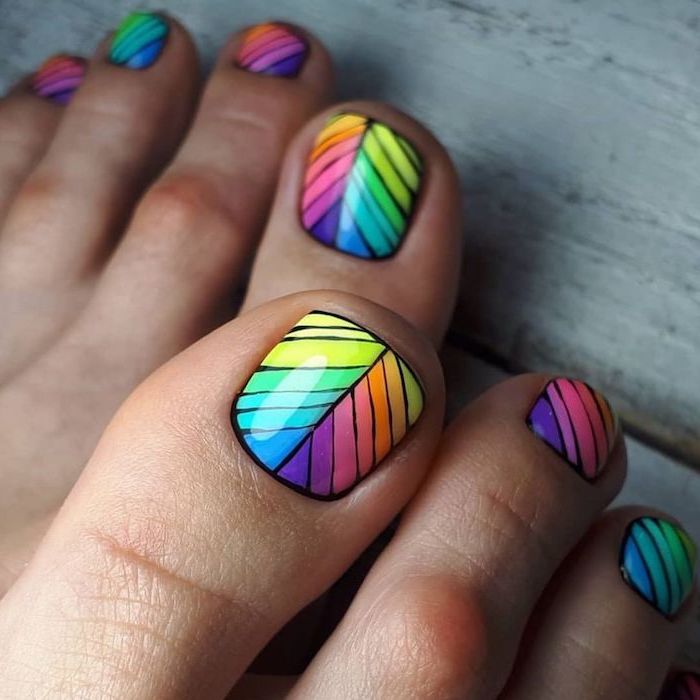 Geometric nail art
Clean lines, understated colors and lots of creativity. That is all you need to create a gorgeous geometric nail design. Furthermore, it will be in style for next year. So, if you are looking for something more understated, but just as effective then don't be afraid to try this trend.
Beautiful nail art design with a splash of colors and matte finish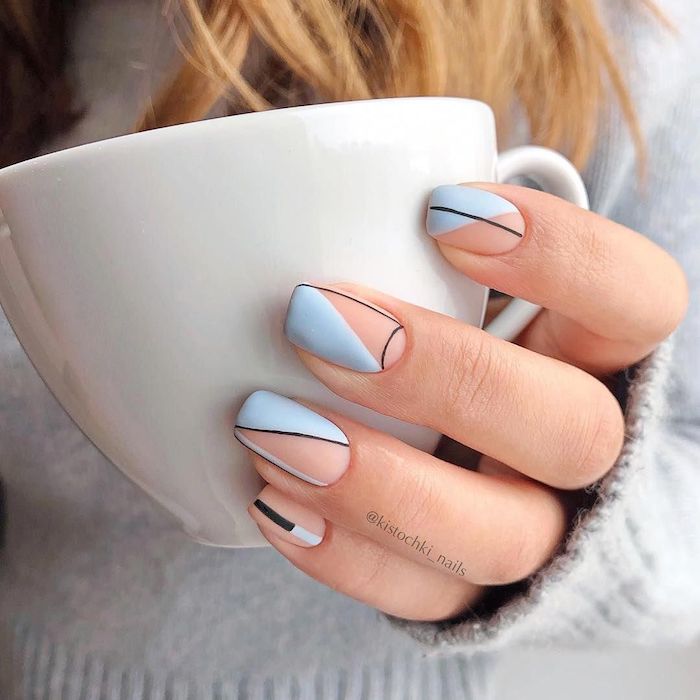 Cute nail ideas with rhinestones
Rhinestones have been a part of nail art for ages. And, while nowadays it may be frowned upon to cover all of your nails with rhinestones, using a few is considered perfection. Adding a few rhinestones to your nails can provide the finished look that your manicure deserves. If you don't overdo it, rhinestones can be very pretty and stylish, so don't be afraid to incorporate them into your nail art ideas.
This manicure is so gorgeous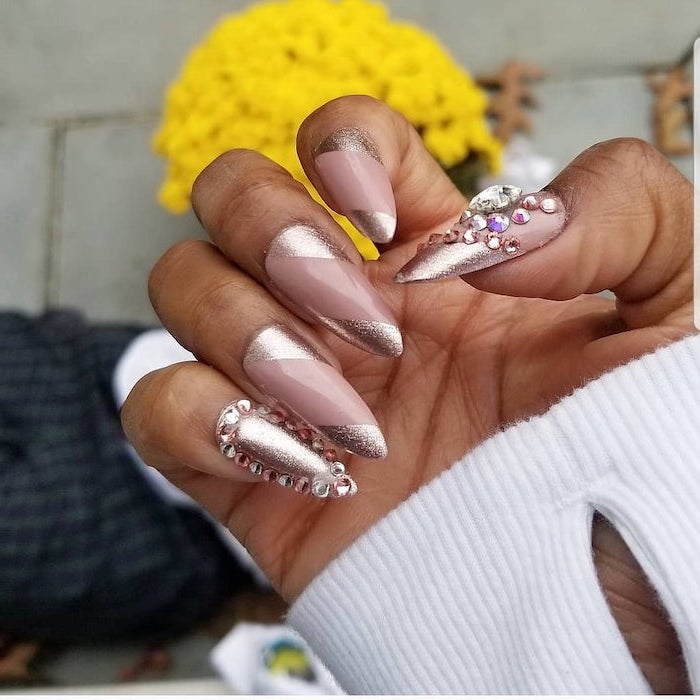 Understated decorations
For next year, decorations need to be a bit more understated. That, however, doesn't mean that they won't be as pretty. On the contrary, you can create something so gorgeous with less. And, if you browse through our gallery you will definitely find plenty of examples.
Simple, yet effective decorations make for a great, eye catching manicure
Step by step tutorial to create a gorgeous summer nail design

Another gorgeous and fun example of how you can combine rainbow and geometric nail design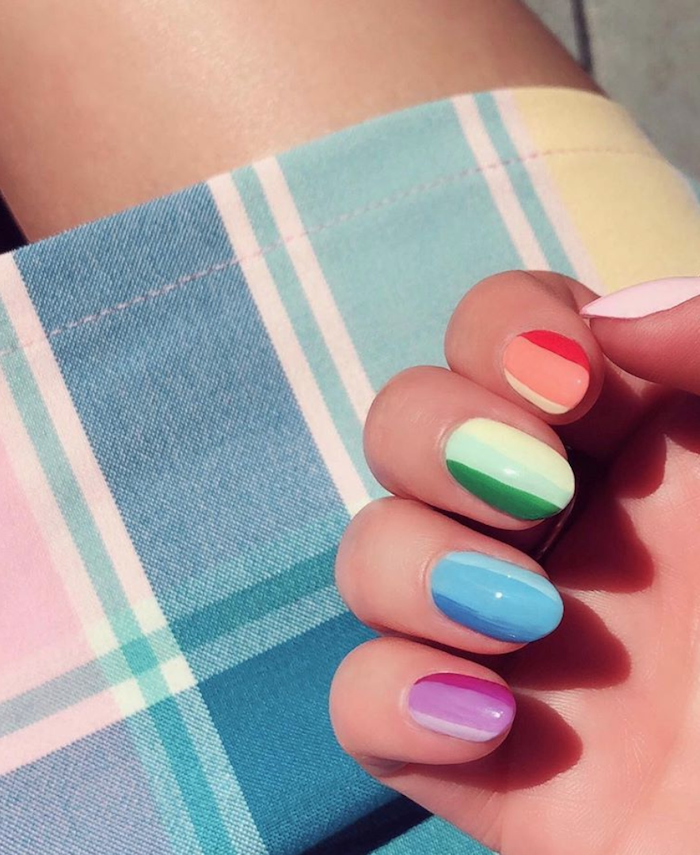 Step by step tutorial to create a chic nail design dedicated to the city of love, Paris
The perfect fall nail design doesn't exi…
The perfect Halloween nail design
Such a simple french manicure, yet so beautiful
Add a few flowers for a super feminine and beautiful manicure
Geometric and floral – step by step tutorial for the perfect nail art