Nail Designs 2021 – What Are The Trends of The Year?
Trends change monthly, sometimes even weekly. All it takes is a famous influencer or celebrity to show off something on their Instagram page and then it is all over the world. That is exactly why, we should always try to be aware of what the trends are and how to follow them. In today's article we are going to talk about something that is often overlooked, but is a very important part of your overall look – the manicure. So here are a few nail designs 2021 to update your knowledge of this year's nail trends. So, browse through our photos, read all about the different looks and book your appointment at the nail salon as soon as possible.
What are the nail trends of 2021?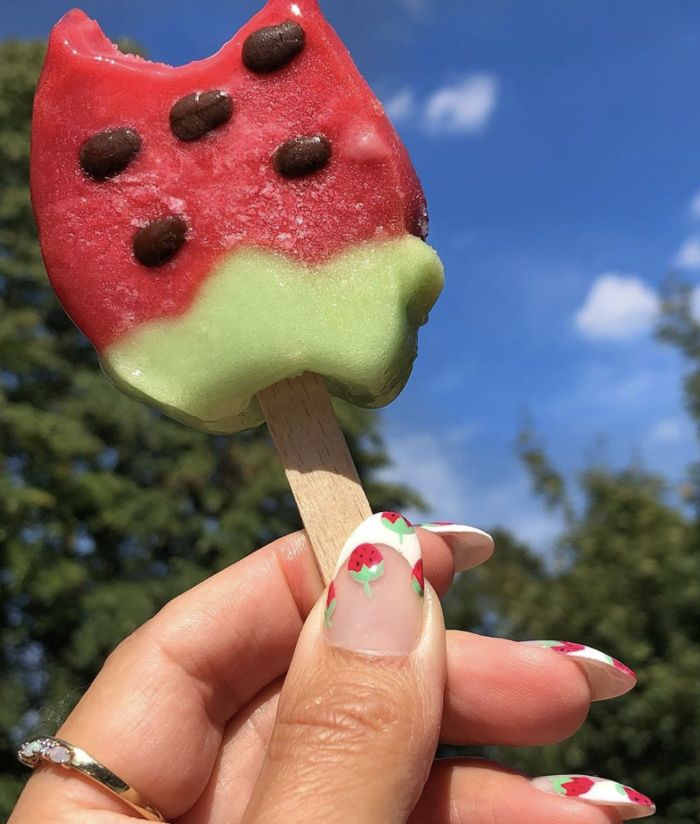 After spending more than a year at home we are all eager to come back to our regular lives. That, of course, includes getting our hair and nails done. Booking an appointment in a nail salon can also be a relaxing, stress free experience and a great way to treat yourself. So, what designs to choose to rock this year? Well, it seems like the pandemic has made us appreciate the fact that less is more. Minimalistic designs with little to no decorations are in. Small details with interesting prints are also in for the year. Another thing making a comeback this year – the French manicure. Simple, elegant with an interesting twist and small eye catching details, that will be what 2021 nail designs are all about.
A manicure you can make yourself at home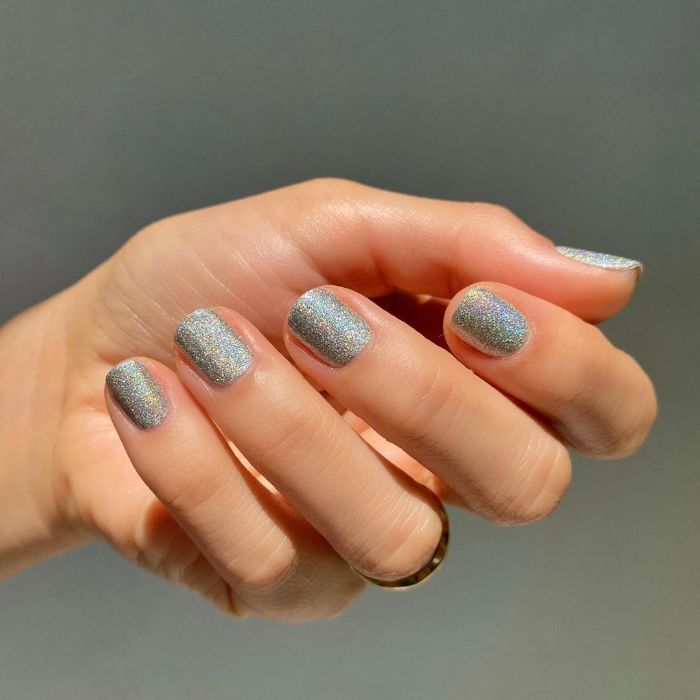 Keep it simple with holographic nails
Holographic nails are just so beautiful and sparkly. But at the same time, in a way, they are very simple and minimalistic. What's more, the best thing about them is the fact that all you need is a good holographic nail polish and you don't even have to visit the nail salon. Simply go to the drug store, pick out a color you like and apply it at home yourself. You can paint all of your nails, or keep it inetersting and even more simplistic by painting just one or two nails on each hand and painting the rest in a simple color that goes well with the holographic one.
French manicure in all shapes and colors is here to stay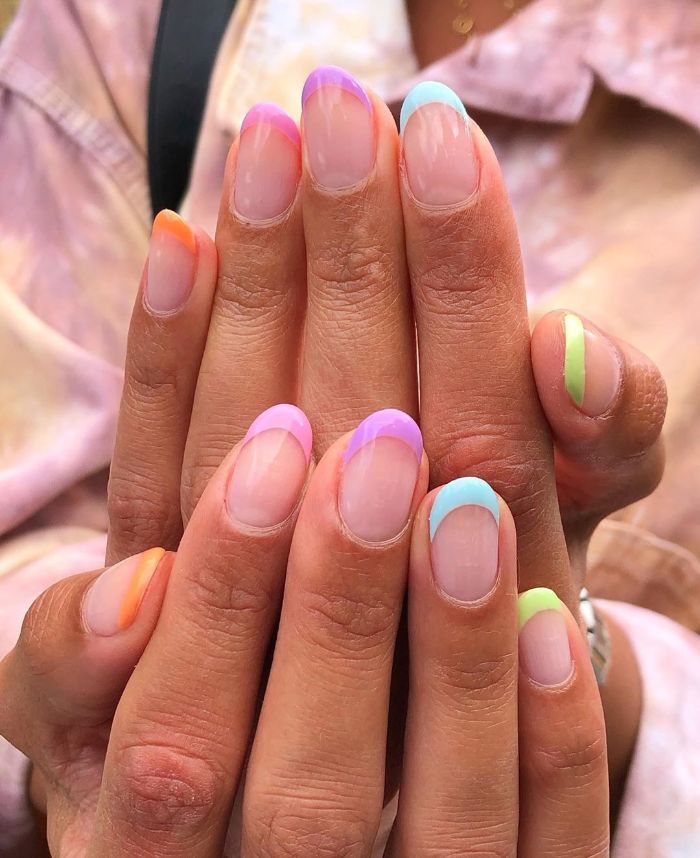 Rainbow French manicure
French manicure in general is here to stay. For the summer, however, you can spice things up. Make it more interesting by using a rainbow French manicure. Whether you choose a different color for each nail, or even create and ombre effect with two or more colors on the tips of your nails, your manicure will still be trendy. This fun twist on the classic French is perfect for the summer because it is just so much fun. What's more, it is colorful and can be complimentary for any outfit you choose to wear.
Mix and match different nail art designs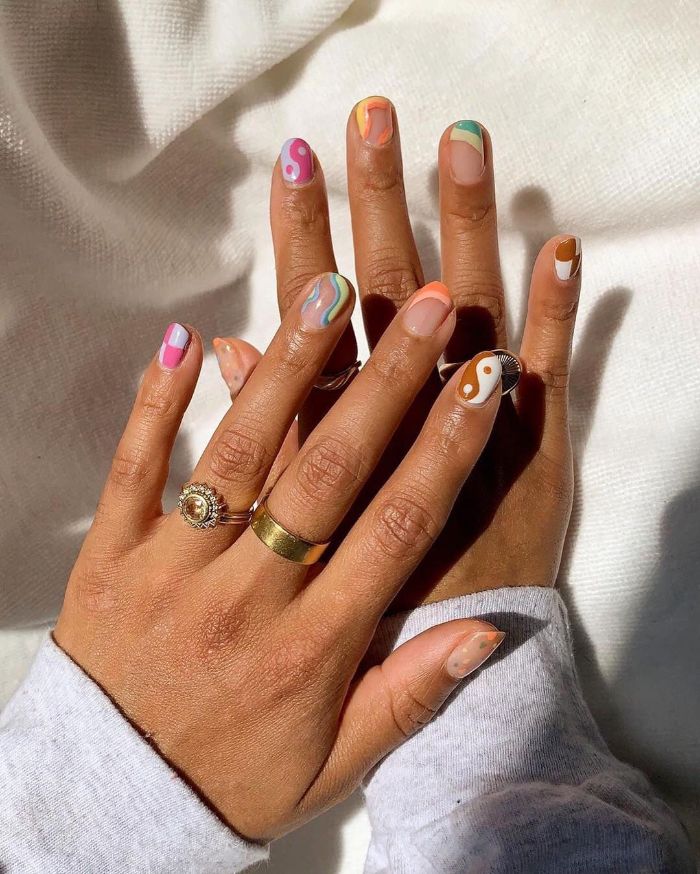 Go artsy
Listen, we are talking about separate trends, but no one said you have to choose just one. The good news is that this year's trends are minimalistic and simple, so why not mix them together and create an out of this world, gorgeous manicure. Negative space, checkered print and different takes on the French can all be applied onto your nails. The result is a colorful and interesting manicure which will make everyone ask where you got it from. This manicure will also make you a real star on Instagram, because of its trendiness.
Black and gold will always be a top notch combination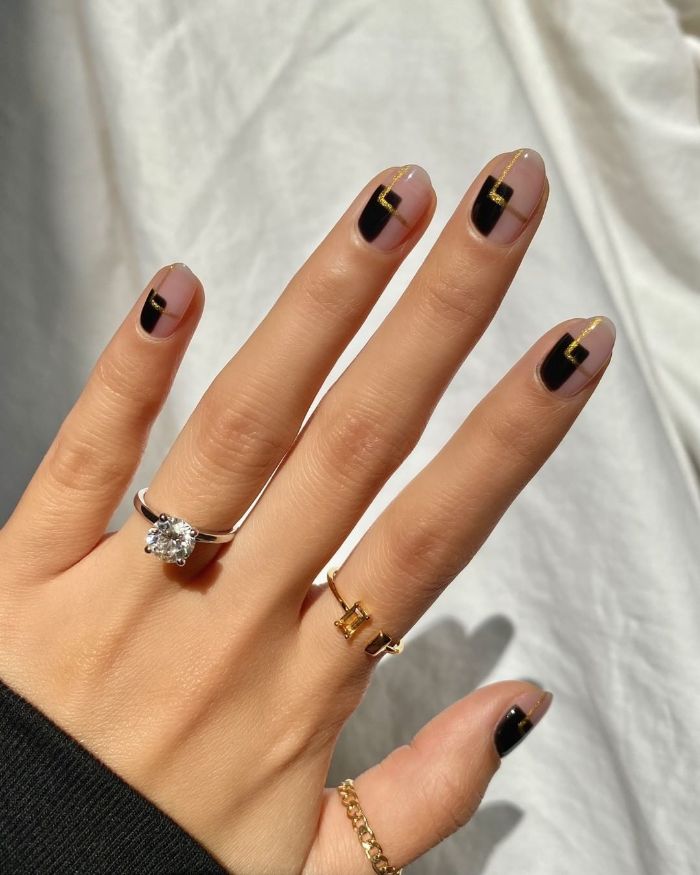 Nail designs 2021 – negative space manicure
Negative space has been making the rounds since last year, but it here to stay this year as well. Negative space nail design in all colors and shapes is absolutely welcomed. Although it can be a very simple design, it is also super eye catching and interesting. Mix and match colors, use geometric designs, swirls and lines. This will insure your manicure is up to date and super trendy.
Keep things classic with a black and white combination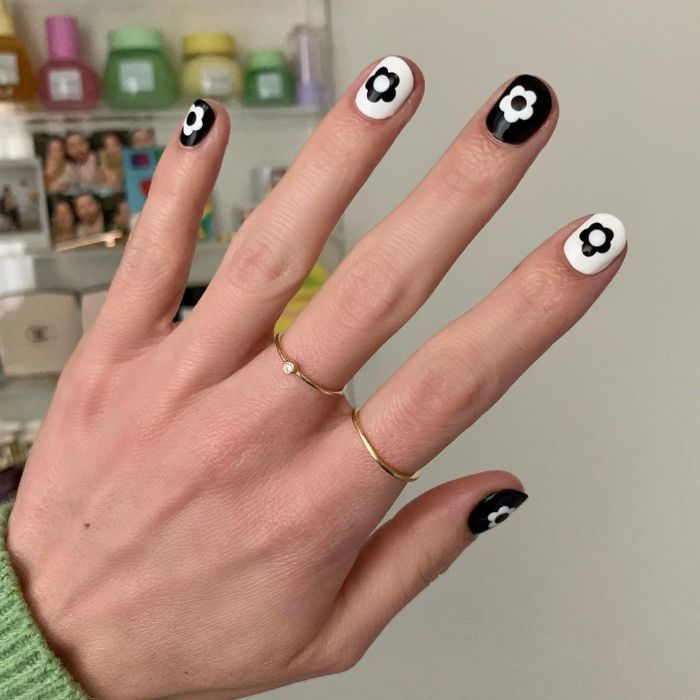 Black and white will never go out of style
We have been talking about all kinds of trends containing fun colors and designs. Well, there is no way not to mention a much simpler color combination. After all, not everyone likes lots of colors on their nails. That is why, we have to mention that the black and white classical combination will not be going anywhere. Use it wisely! Whether you choose a floral design or negative space, your nails will still look trendy. What's more, you can even go for a simple white French manicure as the ultimate throwback.
Go for an ultra colorful ombre nail design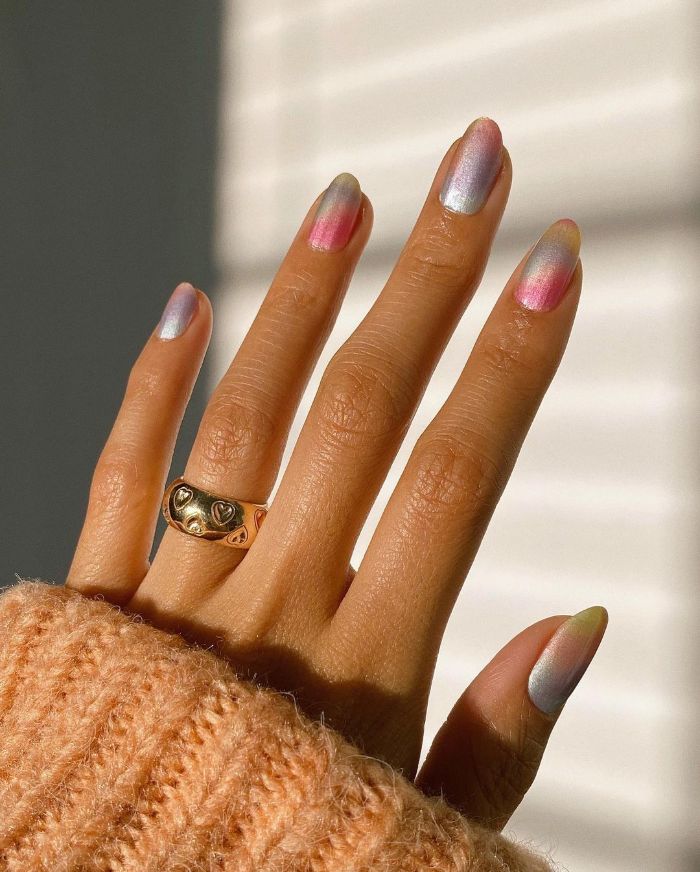 Ombre nails are a part of the nail designs of 2021
Ombre nails are yet another trend which has been on the rise in the last couple of years and it looks like it will not be going away any time soon. That, however, is understandable. Ombre nails are just so beautiful, colorful and fun to look at. Choose pastel colors for spring, glitter ombre for summer, earthy tones for fall and icy colors for winter and your manicure will always be on point. The good news is that ombre comes in many shapes and forms. Lots of colors on one nail, or having each nail painted in different colors are just two of the options. Another option is to have to colors on each nail as a gradient.
Mix prints and designs for an abstrsact manicure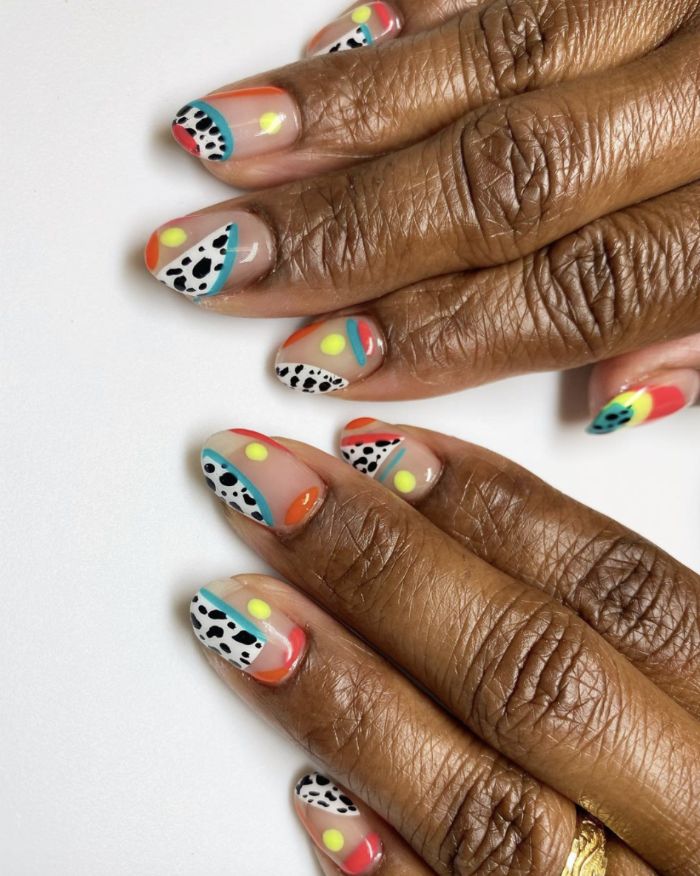 Go abstract
Undefined lines, shapes and different prints make the abstract manicure so artsy and super eye catching. It is also a great way to mix different colors, designs and decorations together without feeling like it is too much. Abstract nails with some negative space creates a minimalistic looking, yet super interesting manicure which is going to make you feel super elegant and trendy, but will be fun and eye catching nonetheless.
Mismatched nails are so much fun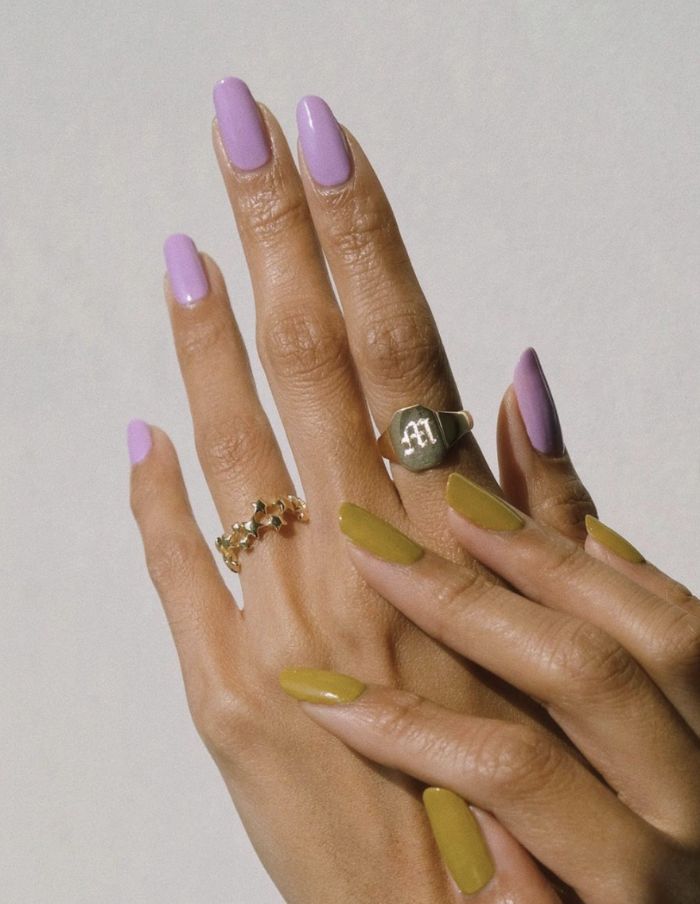 Go for the mismatch and play with different colors
This is yet another manicure you can recreate at home by yourself. Pick two colors which compliment each other well, paint the nails on one of your hands in one of the colors and the other hand with the other color. This mismatched nail design is super trendy and interesting, but also very simplistic and easy.
Now that you know what the biggest trends are, it is time to start browsing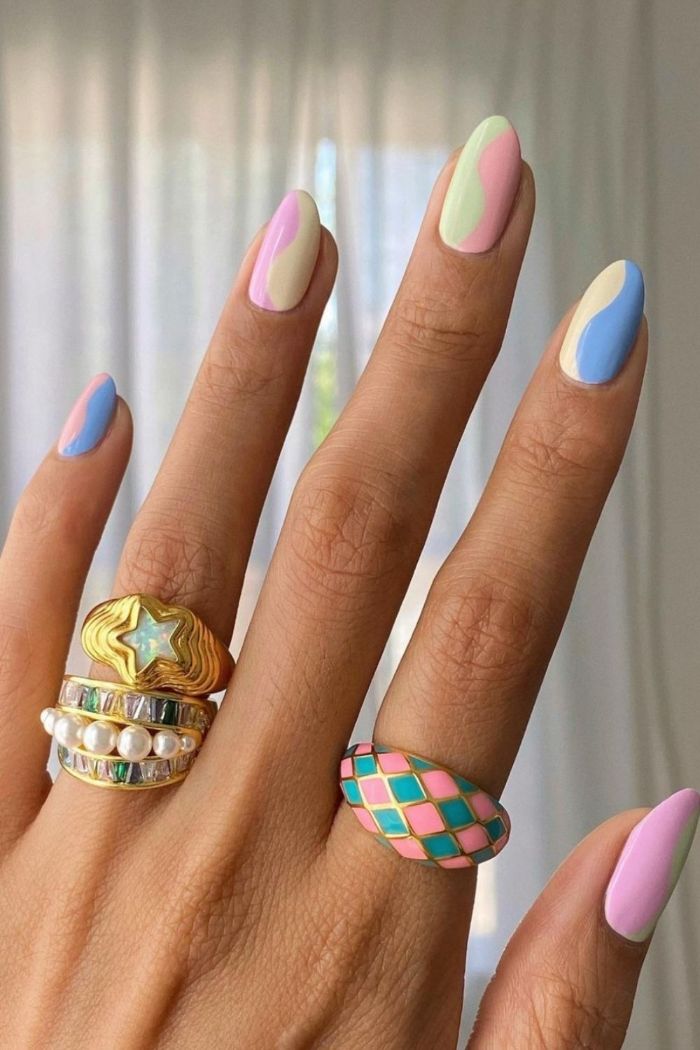 Our gallery is full of so many trendy nail designs 2021
Butterfly French – romantic, classic and just absolutely stunning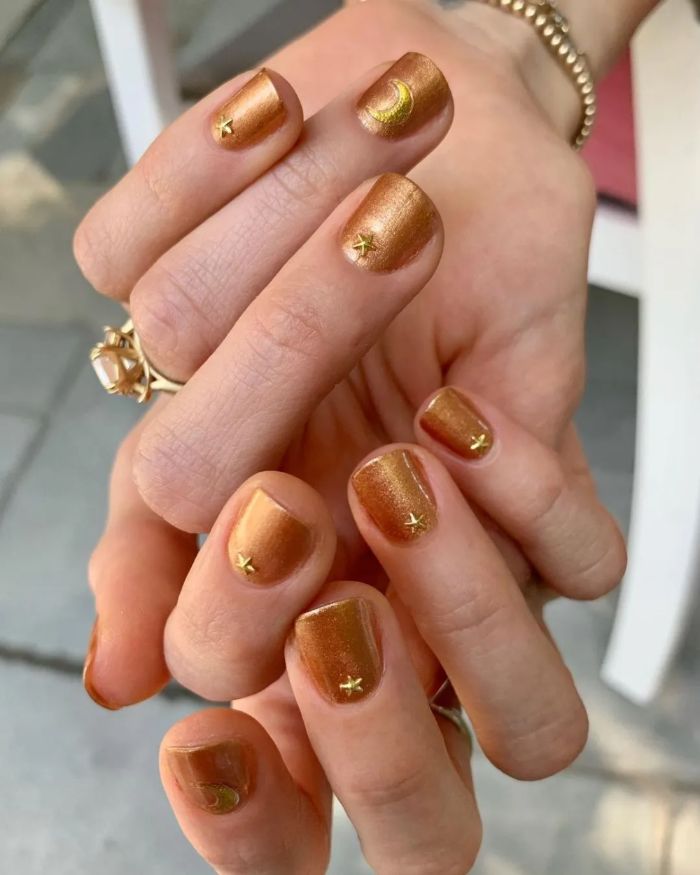 Animal prints and especially cow prints are in for 2021
The floral designs will always be trendy
Super simple and intersting ombre French
You can't go wrong with a neon nail polish for the summer
Talking about a gorgeous and fun ombre effect
Glitter Fench manicure – the perfect 2021 nail design