Ideas for Cute Summer Nail Designs to Try in 2021
If you can't wait until winter is gone, we feel you! All of this cold weather definitely isn't helping anyone's good mood. Especially when we are in the middle of a global pandemic and are quarantined at home. Summer, however, always brings good vibes along with lots of sunshine. Which is exactly why we can't wait til summer arrives. So, in order for you to be prepared, we are going to share some beauty secrets with you. In particular, today we are going to talk about Summer nail designs you need to try in 2021. What's more we are going to give you some tips on the colors to rock this Summer. And just because we are incredible, we are going to throw a couple of DIY tutorials in there, just for you!
Welcome Summer with these awesome nail designs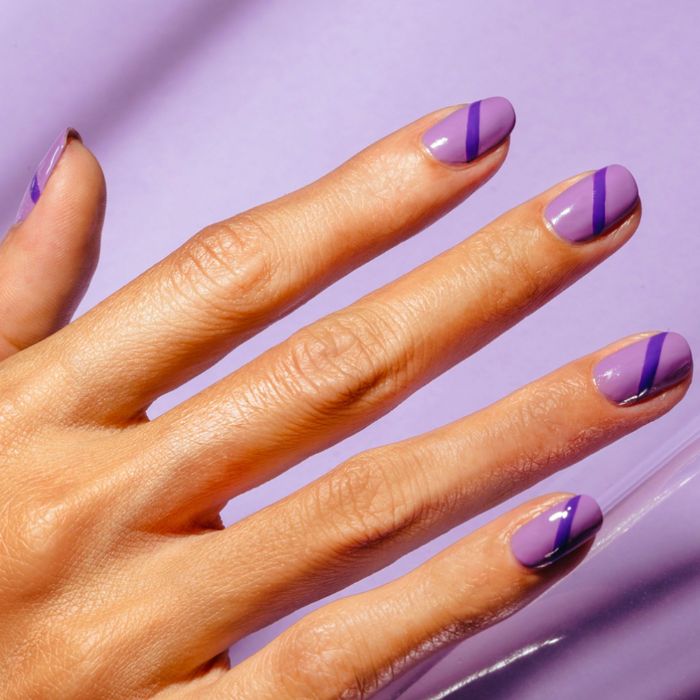 What is the nail color for Summer 2021?
Summer is a season of so many colors. With the flowers and trees blooming and everything slowly turning green, we are treated to a plethora of colors. Which is exactly why your nails can be just as colorful as the season. In general all pastel colors are a must have for spring – blue, pink, green and yellow are all welcome on our nails. What's more, any earth colors can also be a great addition to your nail design – brown, orange and green. When it comes to pairing of colors you can be as colorful as you want to be. Floral decorations as well as abstract lines and French manucure are in for 2021.
The nail trends for 2021 are as creative as ever
What nails are in style right now?
It seems like minimalism is in right now. The more understated your nail design, the better. That, however doesn't mean boring. Pastel colors for example, can be used as a rainbow design or even in gradient ombre nails. On the other hand, if you decide to go for a simple French manicure, you can try the negative space French manicure or you can add a decoration to one of your nails. Rhinestones can be used scarcely as small accents your overall nail design. To sum up, you can still use the regular decorations and colors for your nails, but this year it will be all about how to use them creatively in a minimalistic way. Fun, abstract nails will be all the rage throughout the entire year, not just during Summer.
Floral designs will always be trendy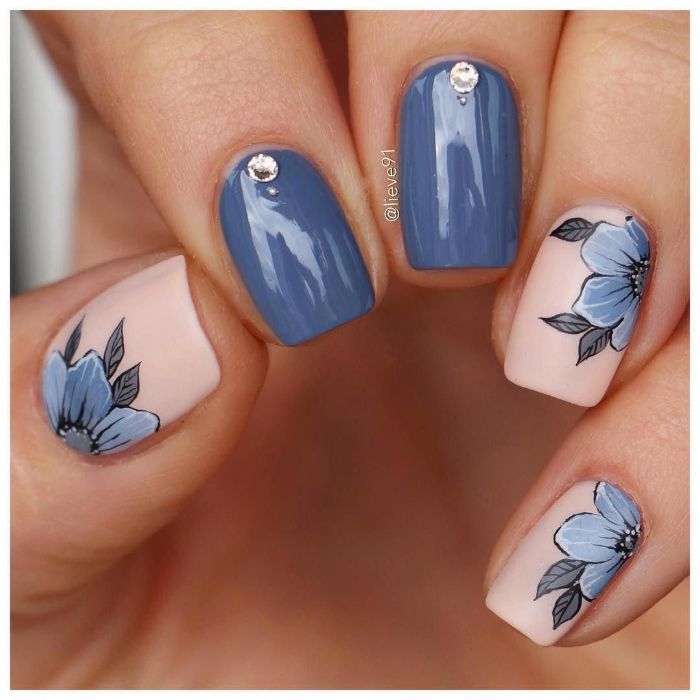 Summer nail designs to try in 2021
Now it is time to look through a few designs which you can definitely try this Summer.
Rainbow pastel
The key to these nails is the order of the colors. Arrange the nail polish bottles in the order of the rainbow colors, just so you can have an idea of what your nails are going to look like. Apply your base coat, then start applying the nail polish to each nail. Finish with top coat and you have yourself the perfect DIY Summer nail design.
Pastel rainbow is in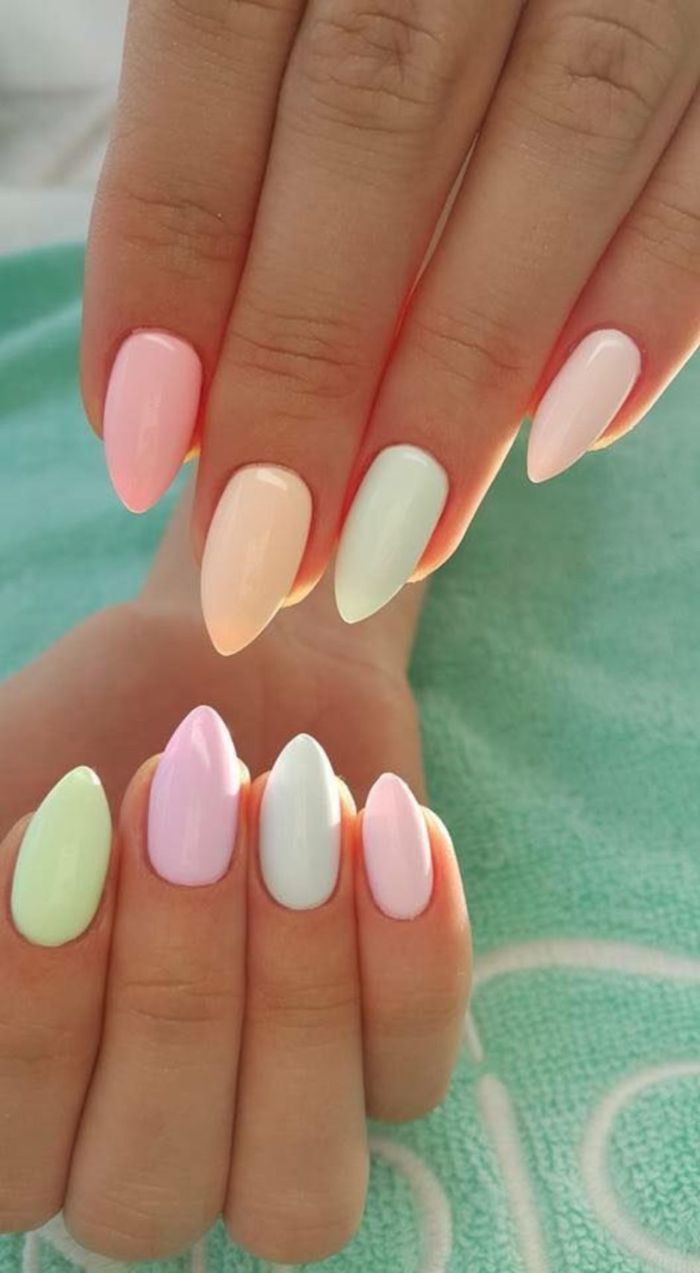 Summer minimalism
To recreate the look in the photo below all you need is white and yellow nail polish and a thin brush. Start by applying the base coat first. Then use either the thin brush or a dotting tool if you have one and the yellow nail polish to create the dots. Make sure they are placed in different areas on each nail. Using the white nail polish and the thin brush, draw the petals of the daisies around the yellow dots. Finally, apply top coat and your nails are done!
These gorgeous daisies are so simple, yet so beautiful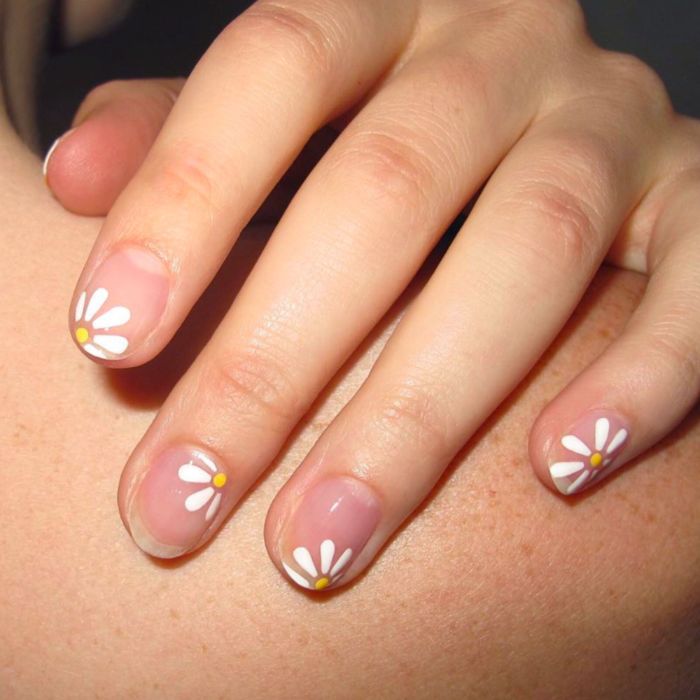 Go abstract with your Summer nail designs
For this next manicure you might have to use a professional if you are not very good at doing your own nails. If you want to try, however, you just need a bit of striping tape and lots of different nail polish colors. Start by applying the base coat. The apply pastel blue nail polish, leaving the nails where you choose to have your decoration without polish. Then use the striping tape to create the decorations. Here, you can be as creative as you want. You can make it one shape at a time or you can just cover your nail with striping tape and fill in between with different colors. If you go down that route you will have the space between the figures. It is entirely up to you, try different things and see which one you like the most.
So cute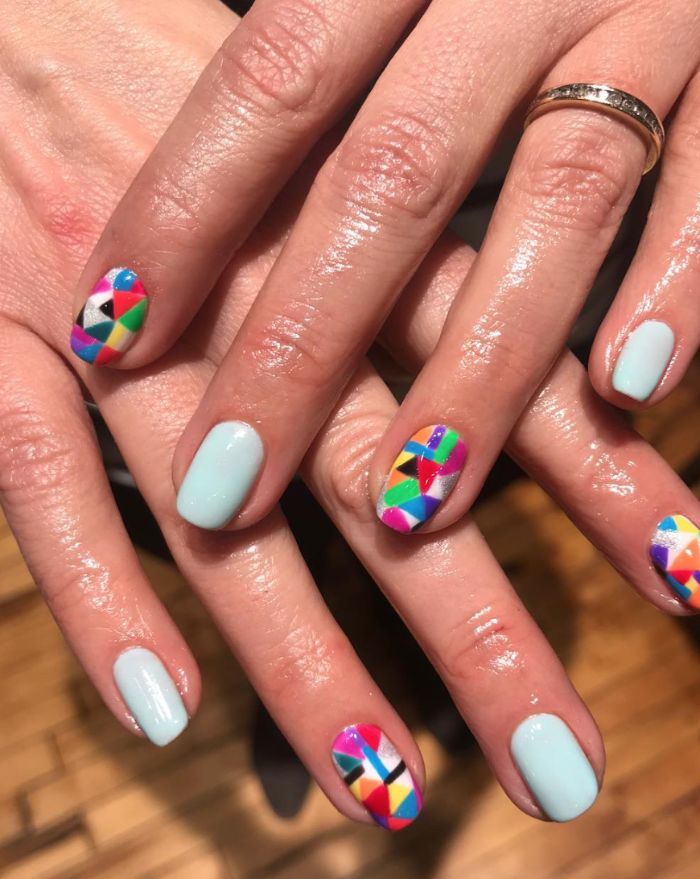 Go floral
Summer is the season when all flowers start to bloom. Needless to say, having floral decorations incorporated into your nail design is a must. Apply your base coat. Choose which nails you want to have the decorations on and paint them in white, paint the rest in blue (of course you can choose and other color). Then, using a thin brush paint the flowers. Once again, if you are not very good at drawing you might want to visit a professional. Finish with top coat and you are all set.
Flowers for the win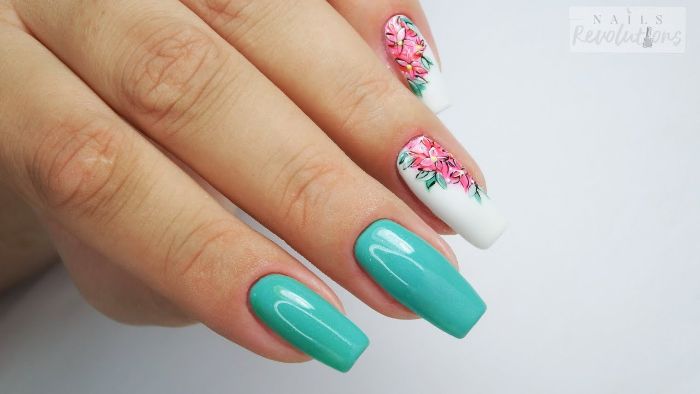 Go nude
If you want to keep things minimalistic and understated, then nude is the way to go. Don't settle, though. Add some detail to your nude nails for that extra wow factor. Whether you are going to add some geometric lines, lace decorations, or even a few dots, this will definitely make your nails more modern. So, don't be afraid to try the nude trend. What's more, when you have nude nails, they will always look great no matter what colors you are wearing.
Nude nails are not boring when you add some eye catching detail to them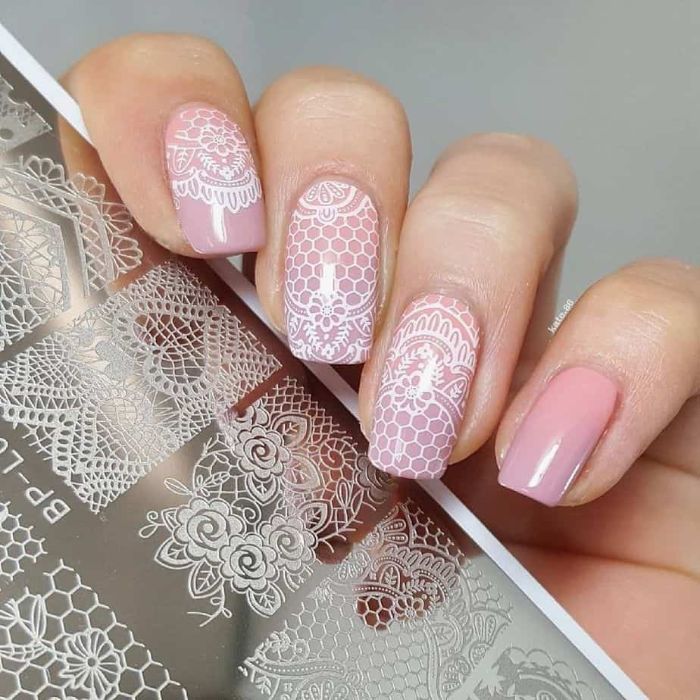 Now it is time to scroll down through our gallery to find even more Summer nail designs for 2021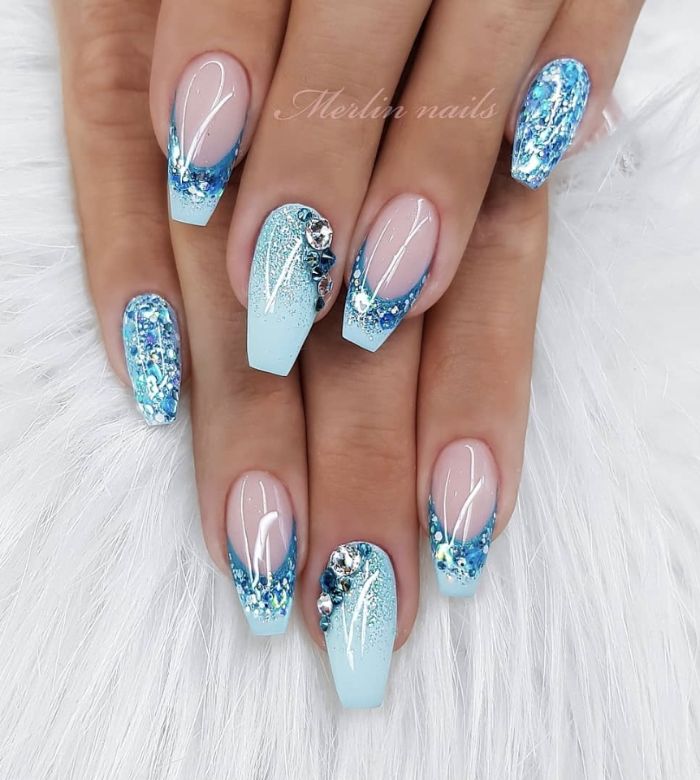 These nail are definitely very trendy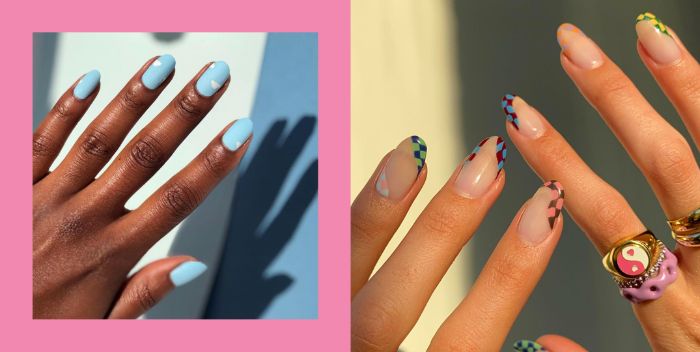 Daisies just look incredibly cute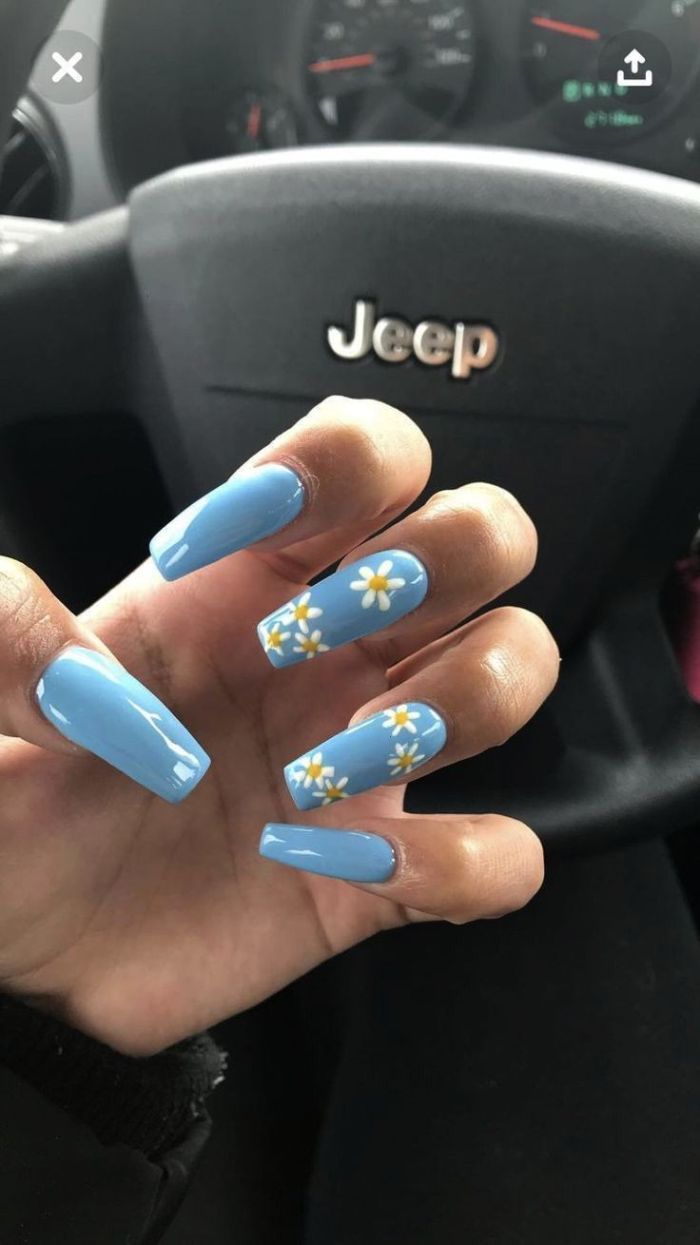 Well, you can never go wrong with some glitter
Some cute nail designs just in time for Easter 2021
This flower design is absolutely breathtaking
Spring nail designs with tropical vibes to get you ready for the summer
Pastel + daisies + geometrical decorations + matte finish – absolute perfection
This nail design is just so cute
Simple spring nail designs with flowers