What hairstyle is best for overweight women
Let's start by saying that we all come into this world looking different. And that is one of the best things about humans- uniqueness. Nowadays, the world is consumed by unrealistic standards for beauty, way of living, wealth, and many more. You shouldn't spend your valuable time on this earth trying to fit into those shallow and questionable standards because they are not real. Instead, focus on yourself and who and what you love. Make your life special! Nevertheless, the right hairstyle can strengthen anyone's confidence. That is why in this article we will discuss what hairstyle is best for overweight women. Knowing what looks most flattering on you specifically is a giant confidence boost. So let's dive into our list of the most flattering hairstyles for chubby girls:
It is important that all women embrace and celebrate their uniqueness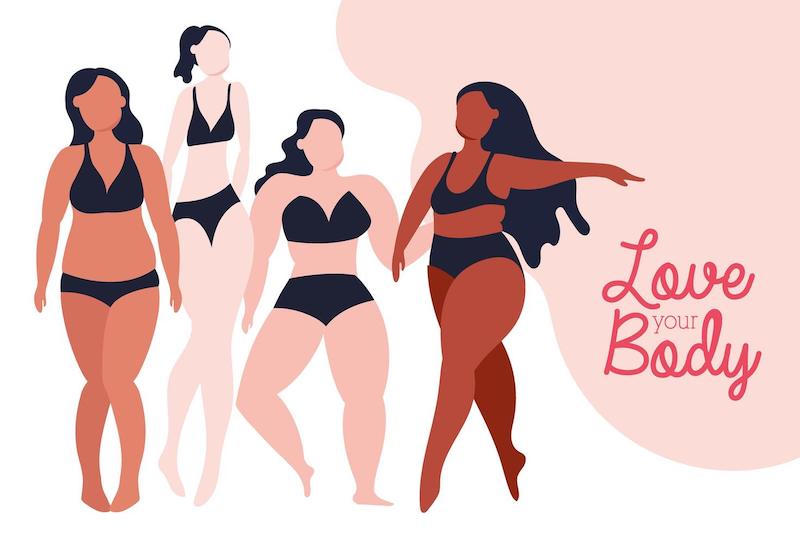 Every woman is different, and your size shouldn't determine what you can and can't do with your hair! Nevertheless, knowing your personal style and face shape will help you choose a hairstyle that you will feel and look great in. Think about what you want to enhance and what you might want to achieve with your hairstyle. It is a process of trial and error, but in the end, it is all worth it. Generally, chubby women tend to have a rounder facial shape, so choosing the best haircut for that facial structure is a great start. A hairstyle has to be favorable yet fashionable and most importantly something that you love. There is no particular method to recognize exactly which haircut will look best on you. Attempting different hairstyles and experimenting is going to lead you to the one that is perfect for YOU!
How do I choose a hairstyle for my face?
As we mentioned above, our advice is to understand your facial shape and determine what you want to achieve with your hairstyle- a more symmetrical face or a slimmer facial shape, for example. Maybe you want to experiment with your hair length or color. Ultimately, the decision is uniquely yours, and that's exactly what makes it so exciting!
Rihanna is the ultimate hair chameleon- she has done it all when It comes to her hair and looks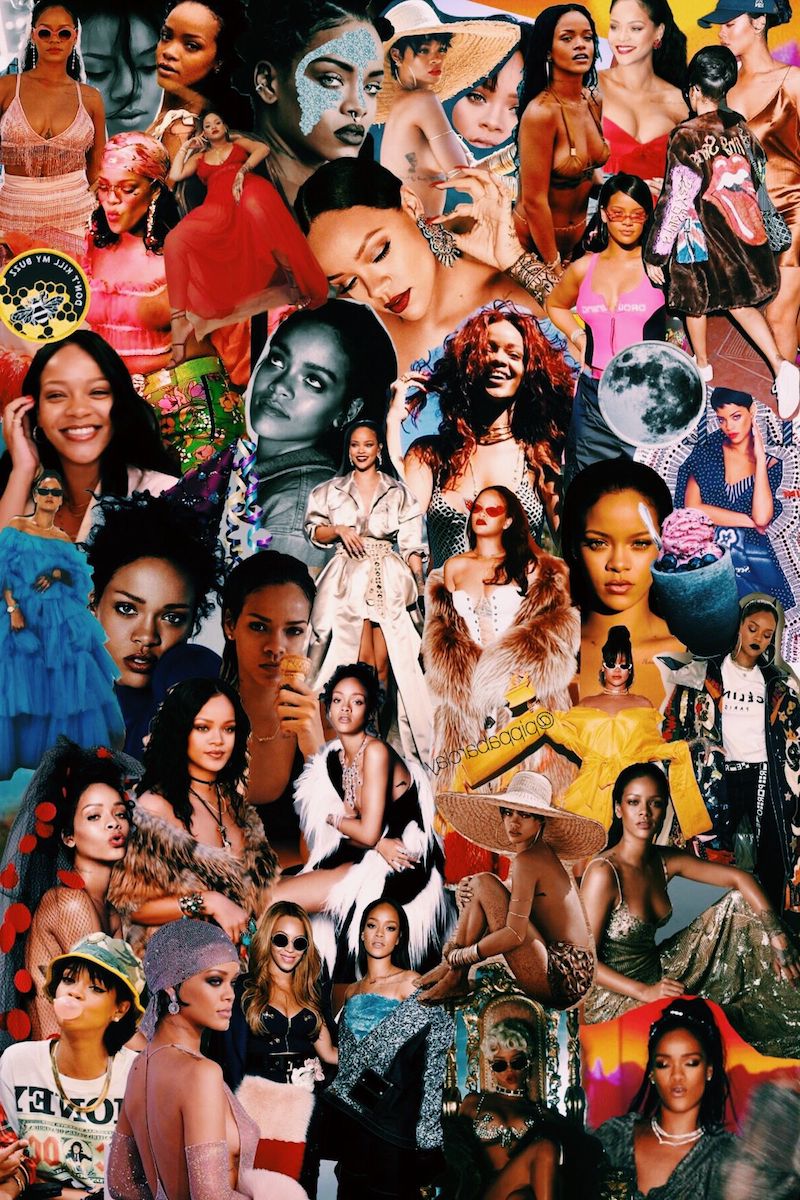 What are the most flattering plus-size hairstyles?
There are many flattering plus-size hairstyles for you to choose from! In this article, we are going to go over the three different hair lengths (short, medium, and long) and we will turn to celebrities for a dose of trendy hairstyle inspiration perfect for overweight women.
Can you have short hair if you are overweight?
Of course, you can! Overweight ladies can look amazing rocking short hairstyles. A pixie cut with peek-a-boo side-swept bangs is one of the most slimming hairstyles. Messier hair on top provides height and lengthens your face beautifully. Shorter hair gives you a lot of perks and opportunities, like playing with bold colors and shaved styles. Changing a hair color on long hair can be a big commitment not many are willing to take on. Unlike what many might think, with short hair, the sky is your limit! Women who pick shorter hairstyles are bold, free-spirited, curious, and not afraid to experiment and express themselves. Many women say that every woman should cut her hair short at least once in her life. Shorter hair is lower maintenance, and easier to style, wash and dry. Lots of perks, right! Let's take a look at some different short hairstyles for inspiration:
A longer pixie cut with a deep-side part and side-swept bangs is perfect for girls with rounder facial shapes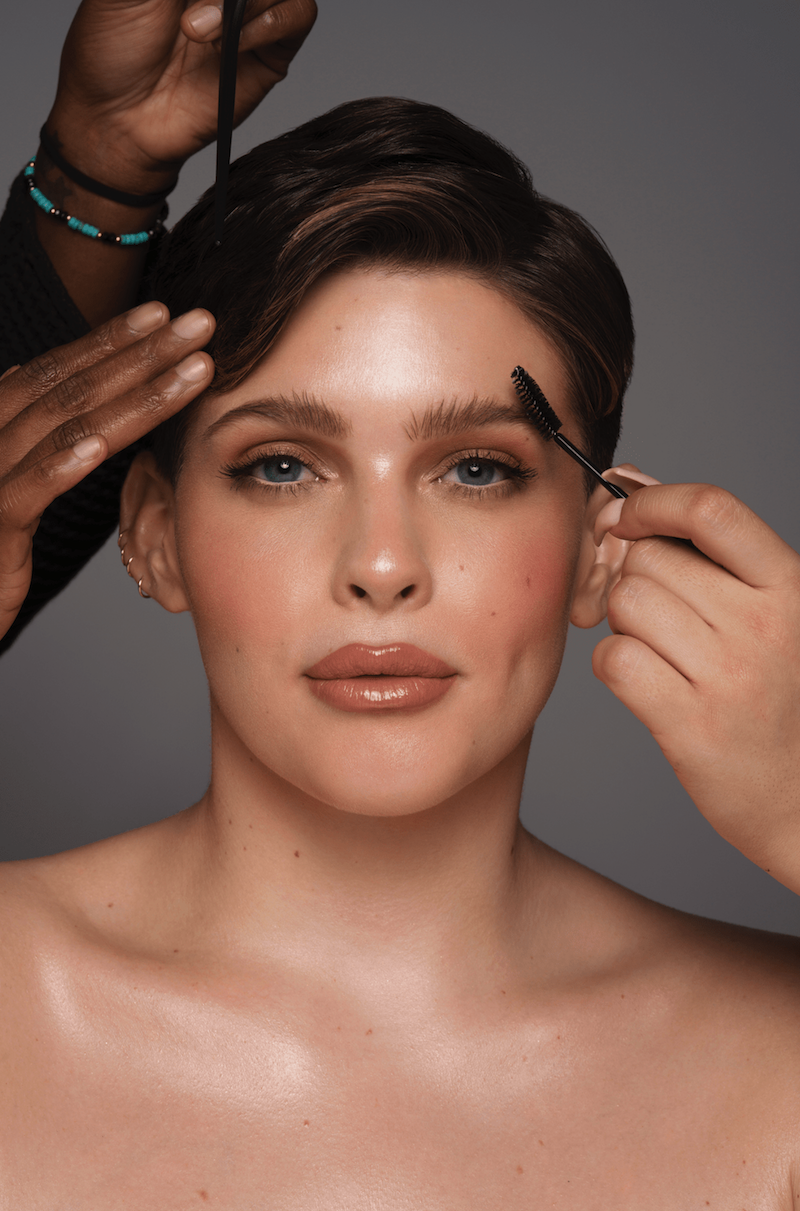 A colorful pixie with bangs is a statement hairstyle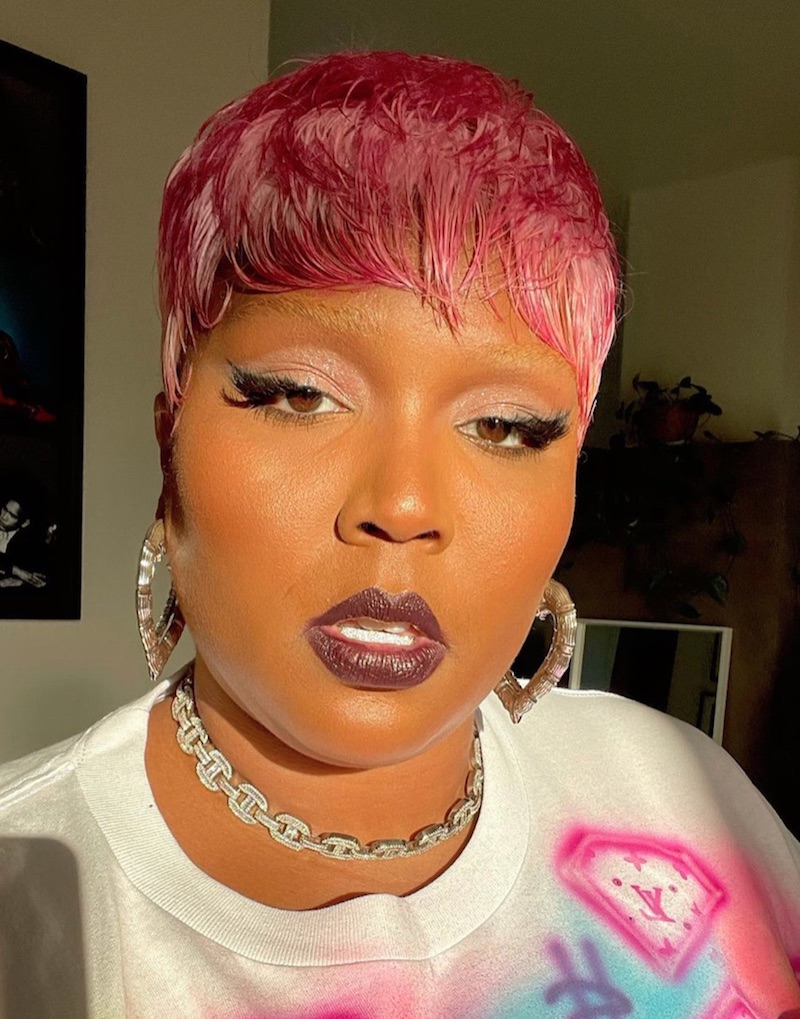 Long pixie hairstyles give cute fairy vibes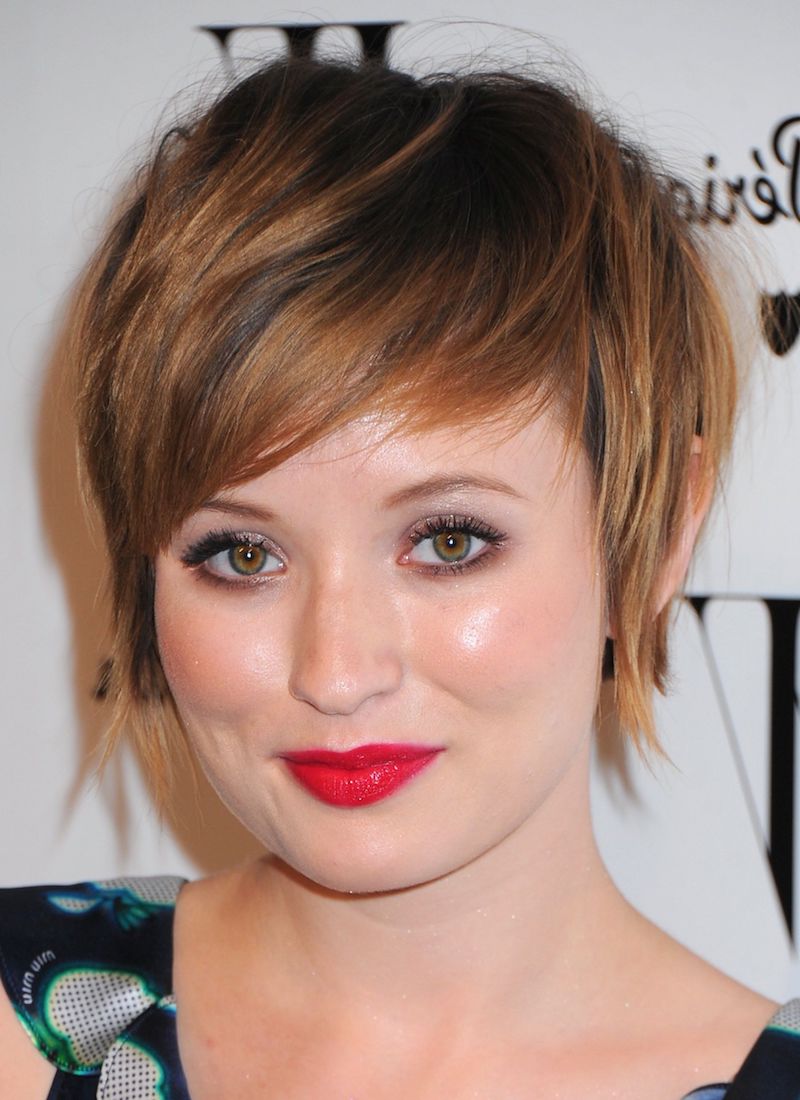 Curly pixie hair with slayed edges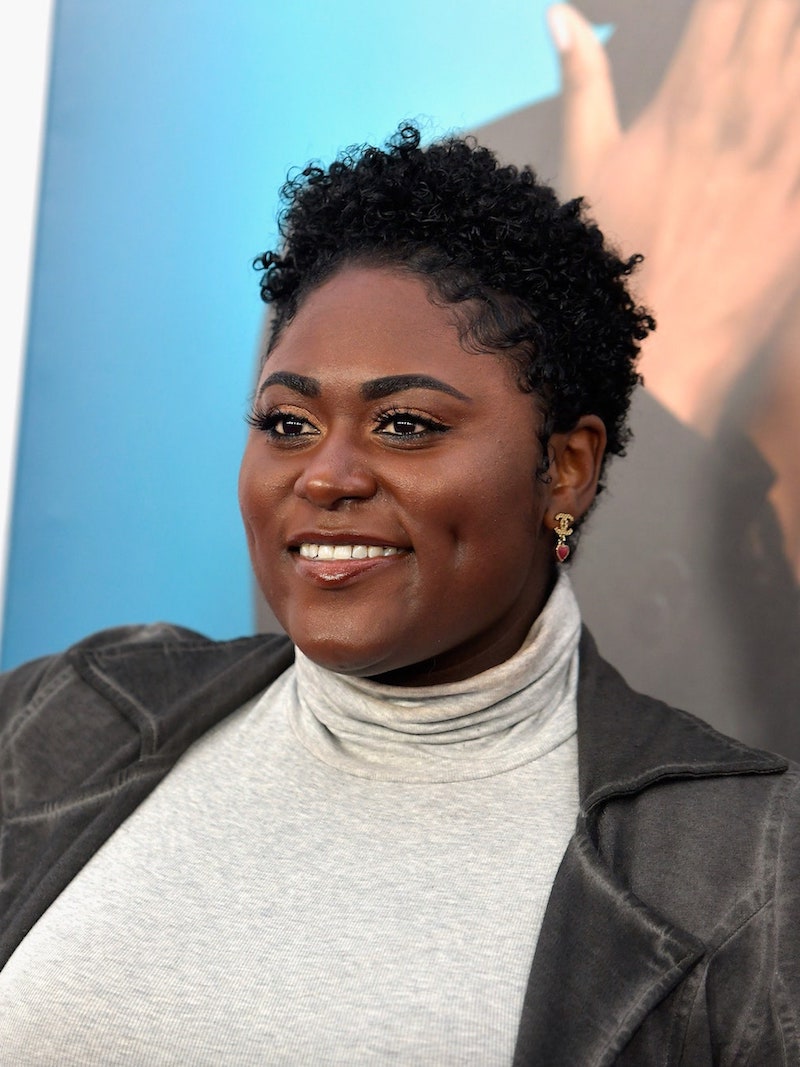 Buzzed hair on the sides, longer colorful hair on top is perfect for elongating the face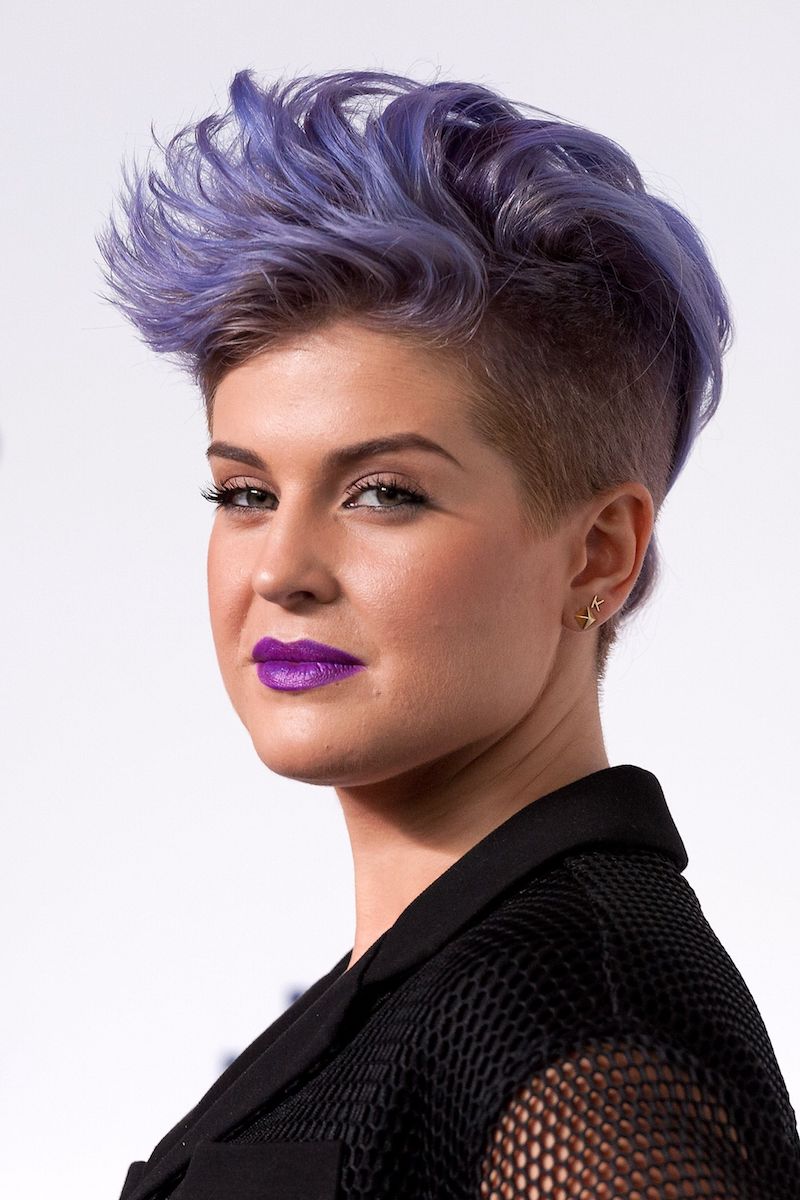 Short on the sides and curly on top, a unique and slimming hairstyle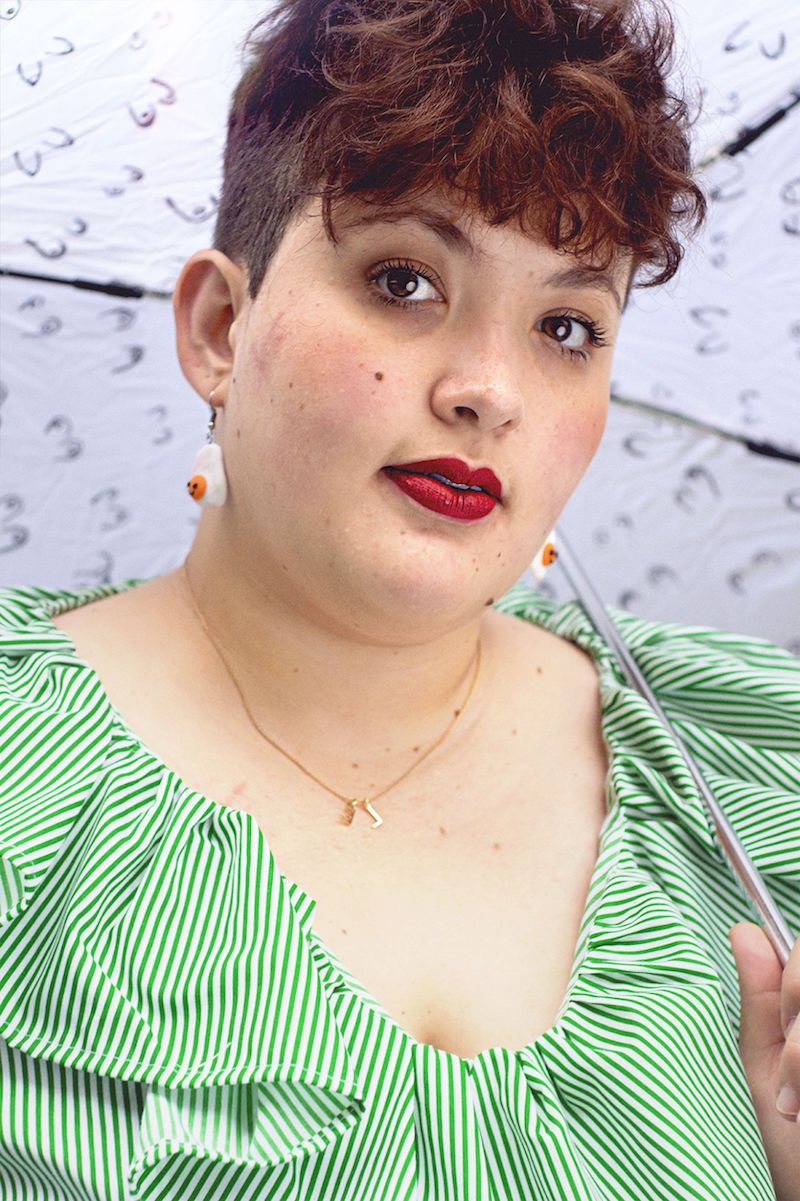 A side buzz with long side-swept bangs is a statement hairstyle 
Shorter in the back, longer in the front- a lovely hairstyle for chubbier women over 40 and 50 years-old
Does medium-length hair suit a chubby face?
Yes! Some women consider medium-length hair to be the so-called "awkward phase". Your hair is neither short nor long. But we disagree! Medium-length hair has a lot of cool perks- it shapes and elongates your face, makes it look more symmetrical, and draws attention to the jawline. These are all extremely beneficial for chubby women. What's more, medium-length hair is versatile, easy to manage, allows you to use way less from a hair product than long hair, and looks good on both younger and older women!
All in all, mid-length hair is the best of both worlds: no too long, not too short, shampoos and conditioners last longer, you don't have to worry about your hair flying all over the place, and no possibility of it getting stuck in jacket zippers. If you don't like drastic and dramatic hair changes, but you like having healthy-looking hair that is easy to manage, then those medium-length hairstyles might be exactly what you are looking for:
A short or long bob is the perfect hairstyle for chubby girls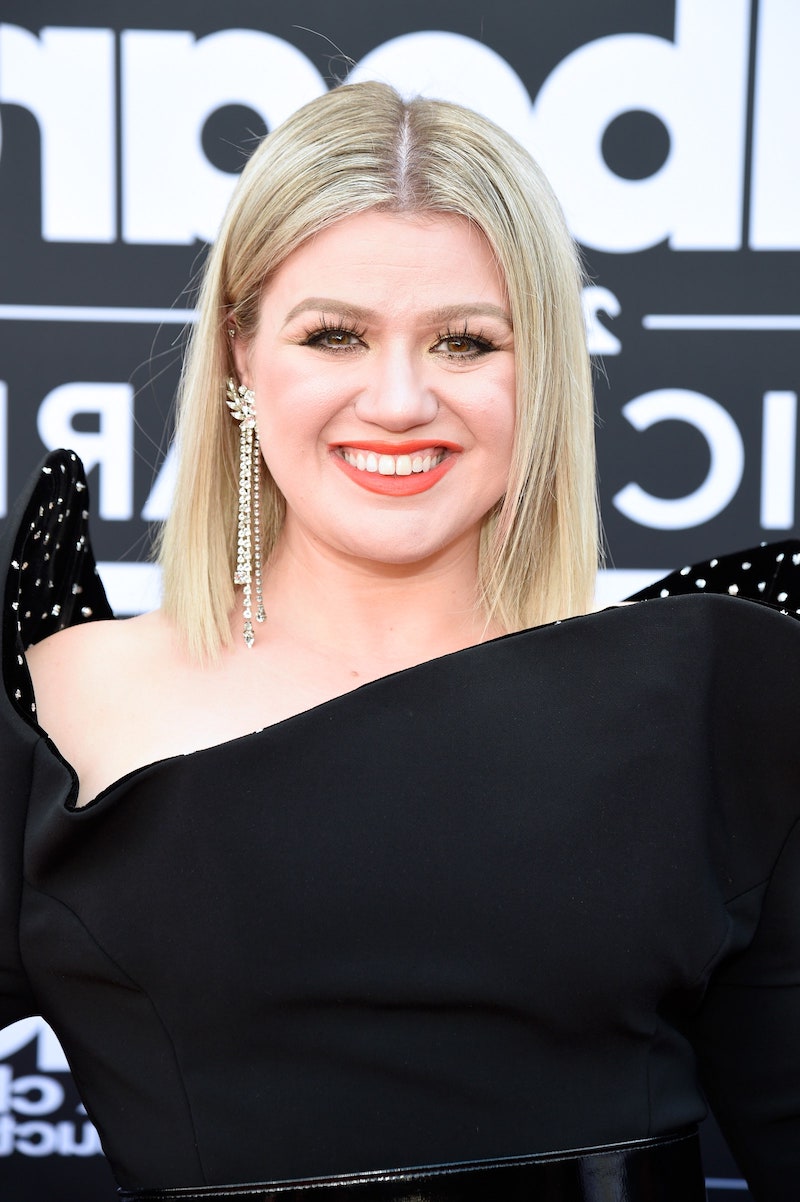 A deep side part and old-Hollywood waves elevate the long bob hairstyle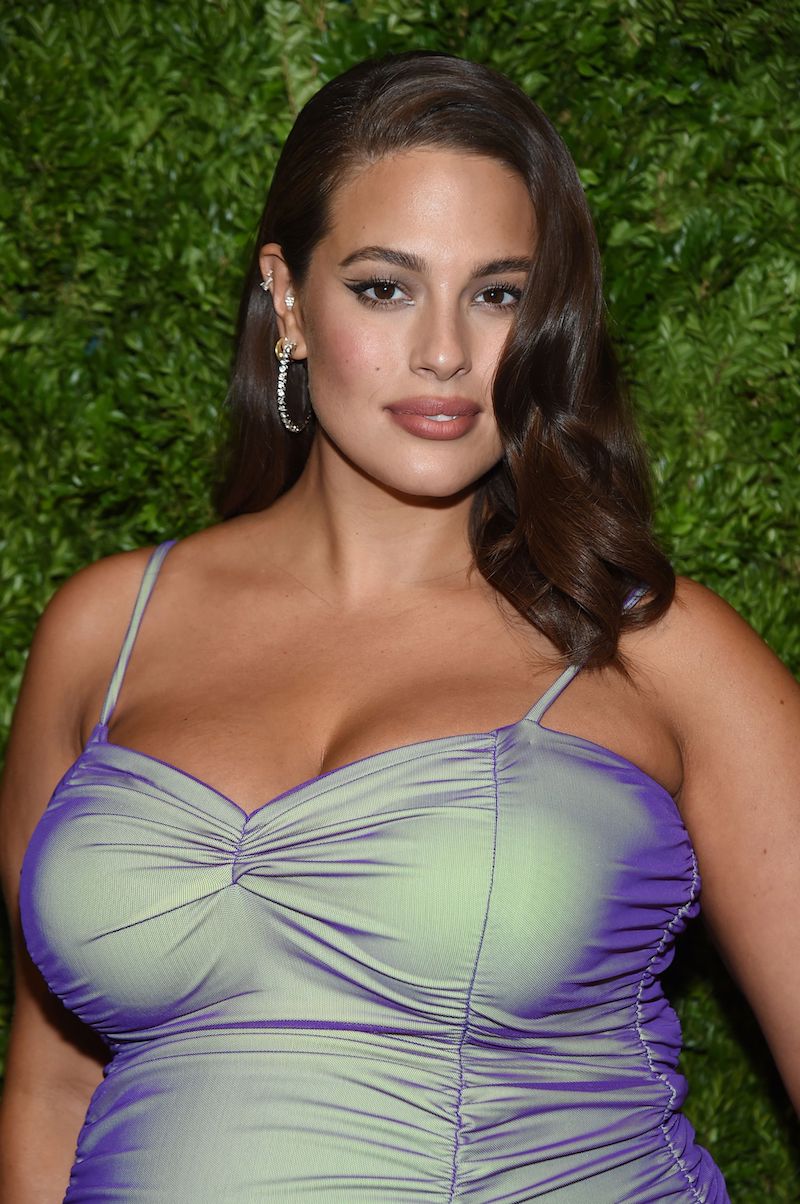 A messy tousled long bob variation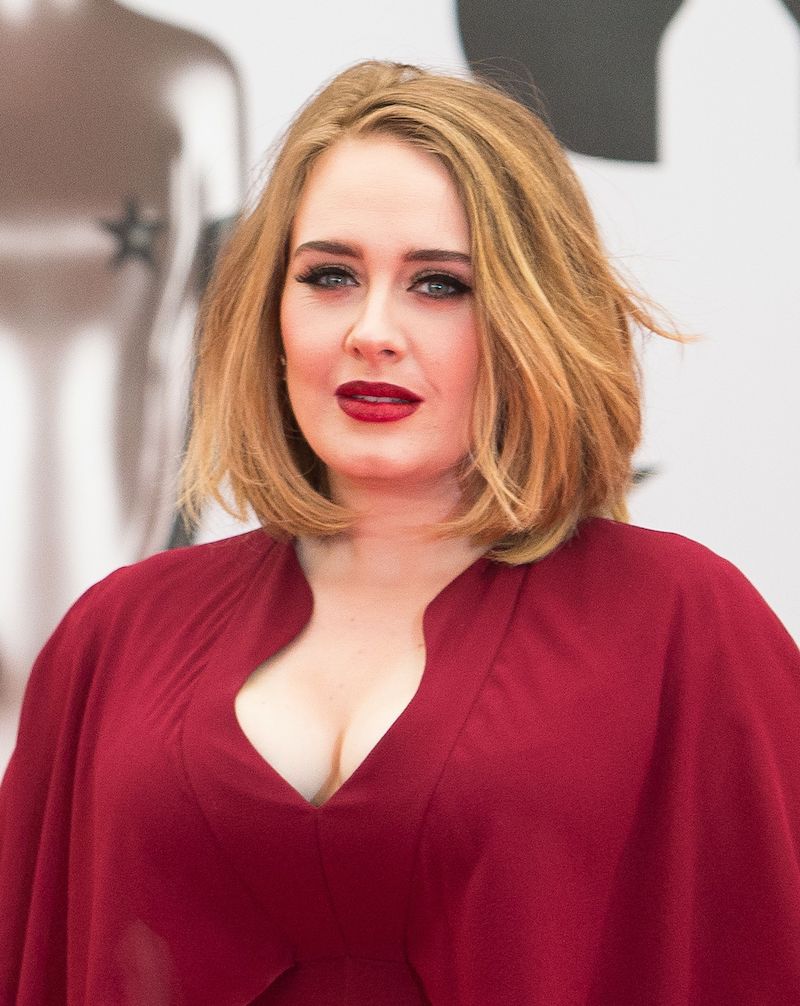 The long bob is a perfect hairstyle for older overweight women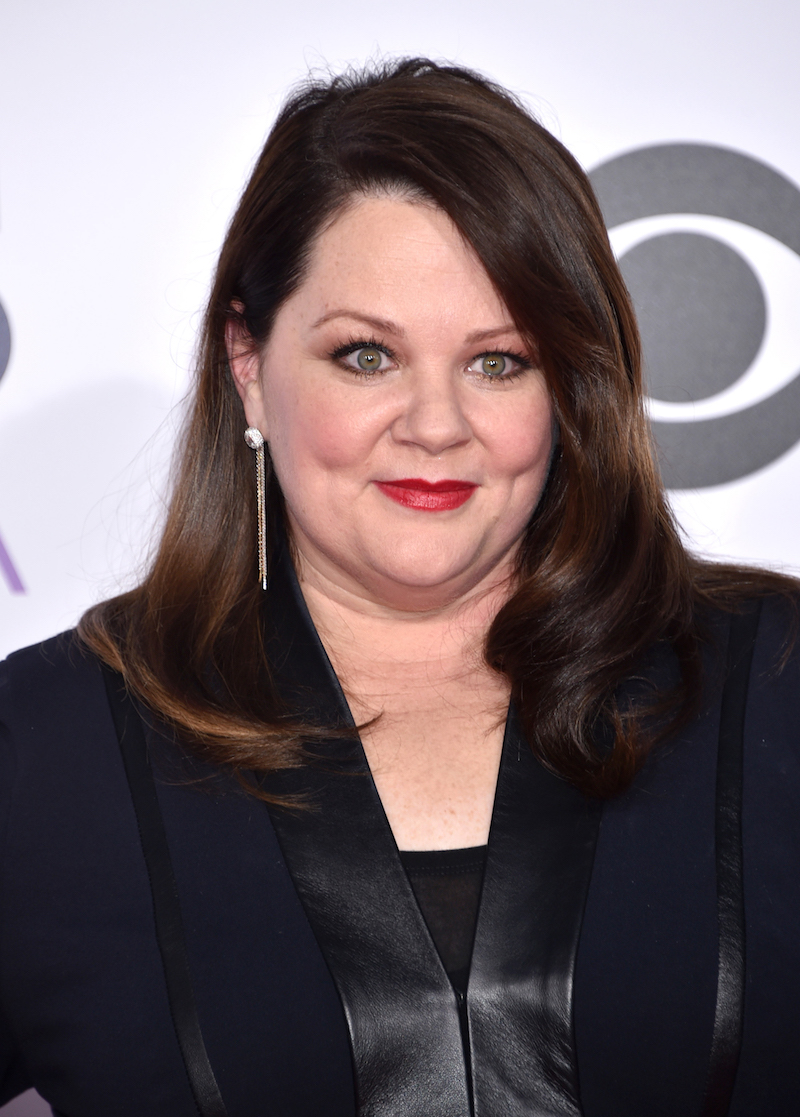 Classic but modern at the same time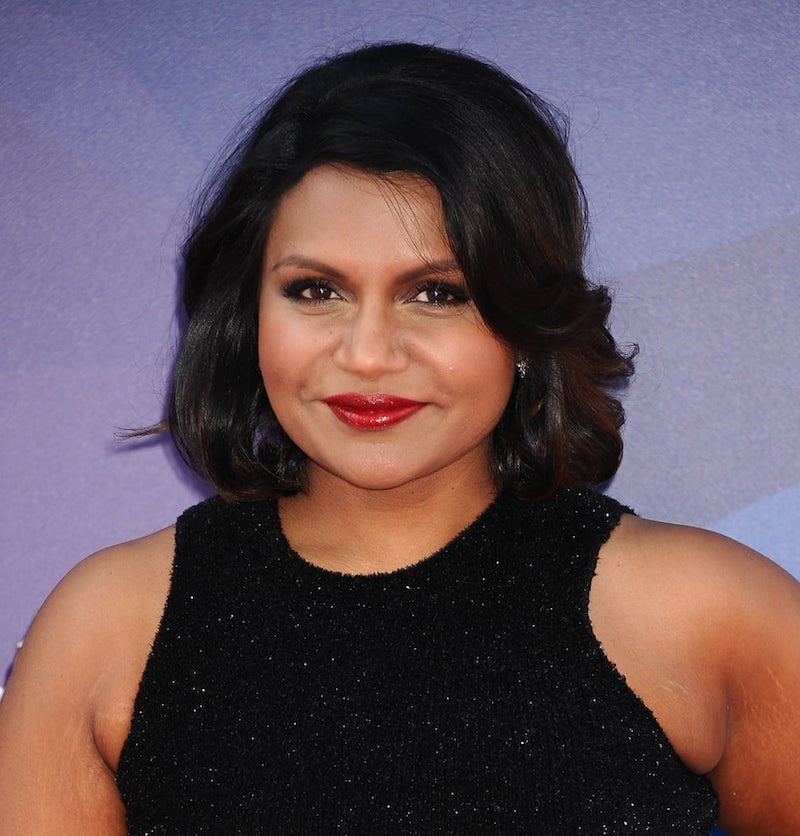 A middle part with messy beachy waves is a youthful hairstyle that works great for chubby women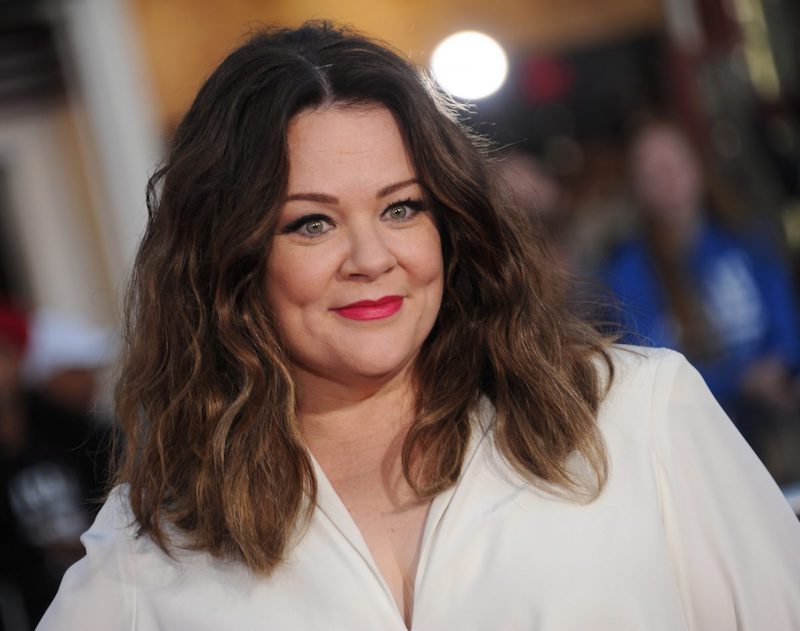 Sleek and elegant- silky straight hair with a deep side parting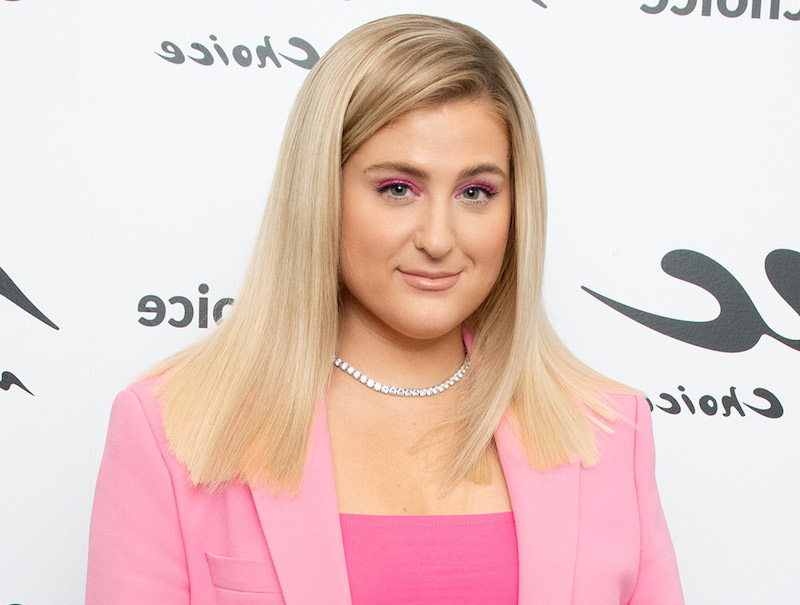 One of the most preferred hairstyles for a red carpet appearance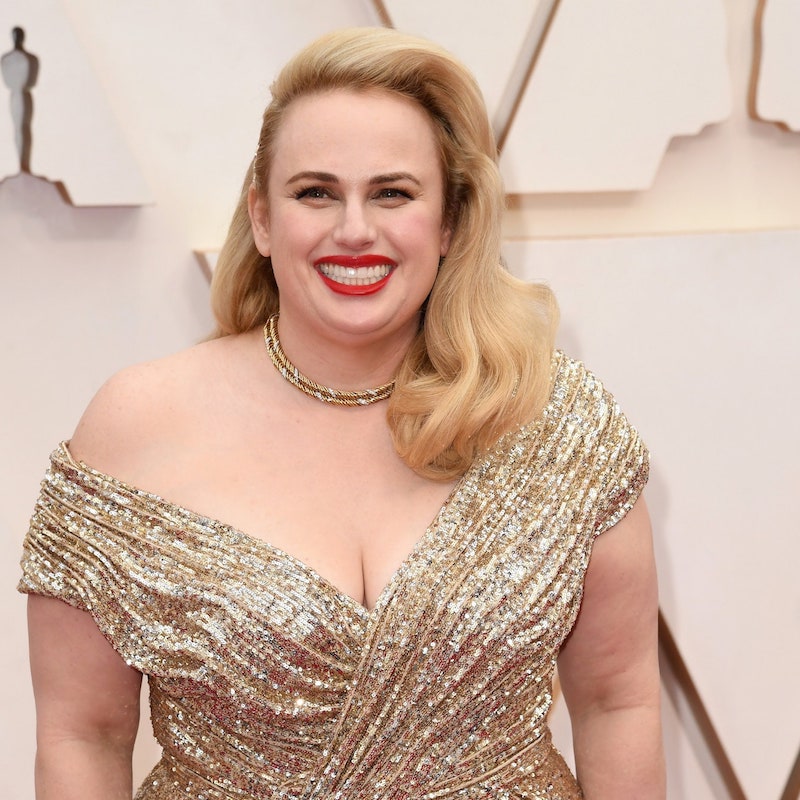 A shorter bob with longer strands at the front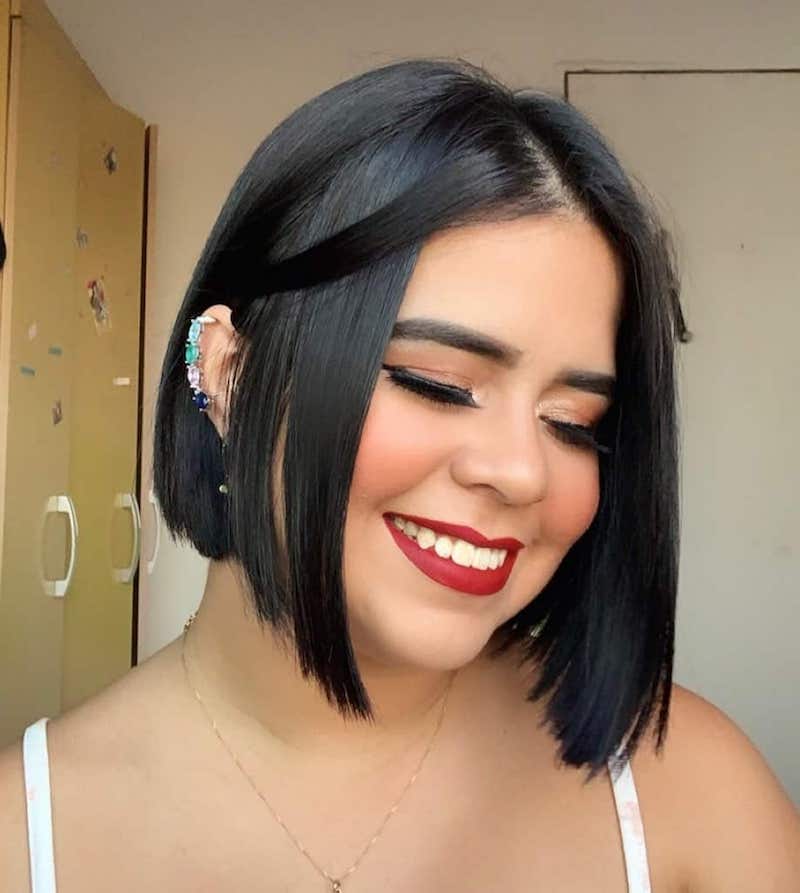 Does longer hair make your face appear slimmer?
Yes! Styled correctly, long hair can give you some face slimming advantages. Longer hair has been a staple for younger women for decades- from the women of the Renaissance to the glamorous pin-up girls of old Hollywood. So, what is it about long hair? Well, healthy-looking long hair is hard to achieve and maintain, so it is always an impressive sight to behold. What's more, long hair is youthful, there are a million different ways to style it, and it is always in style! However, long hair is not for everyone. It takes a lot of time to wash and dry, it should be conditioned more regularly, it always gets stuck somewhere in your clothes or jewelry, and it needs a lot more hair products to be washed and styled. Nevertheless, long hair hairstyles are great for chubby women. You can always spice it up and experiment with trendy curtain bangs or unique space buns. Let's see some cool options that you can try:
A gorgeous look for you to try- big curls and a half-up high ponytail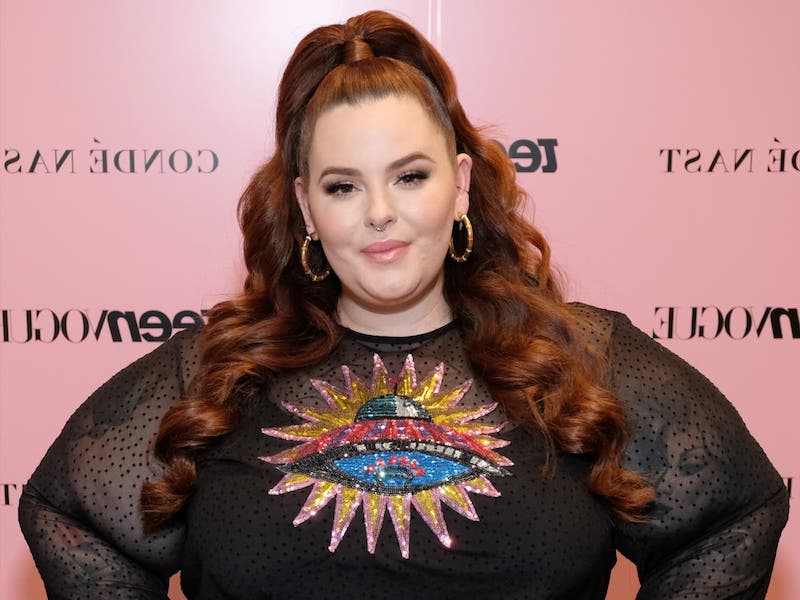 Big, voluminous and messy is always in style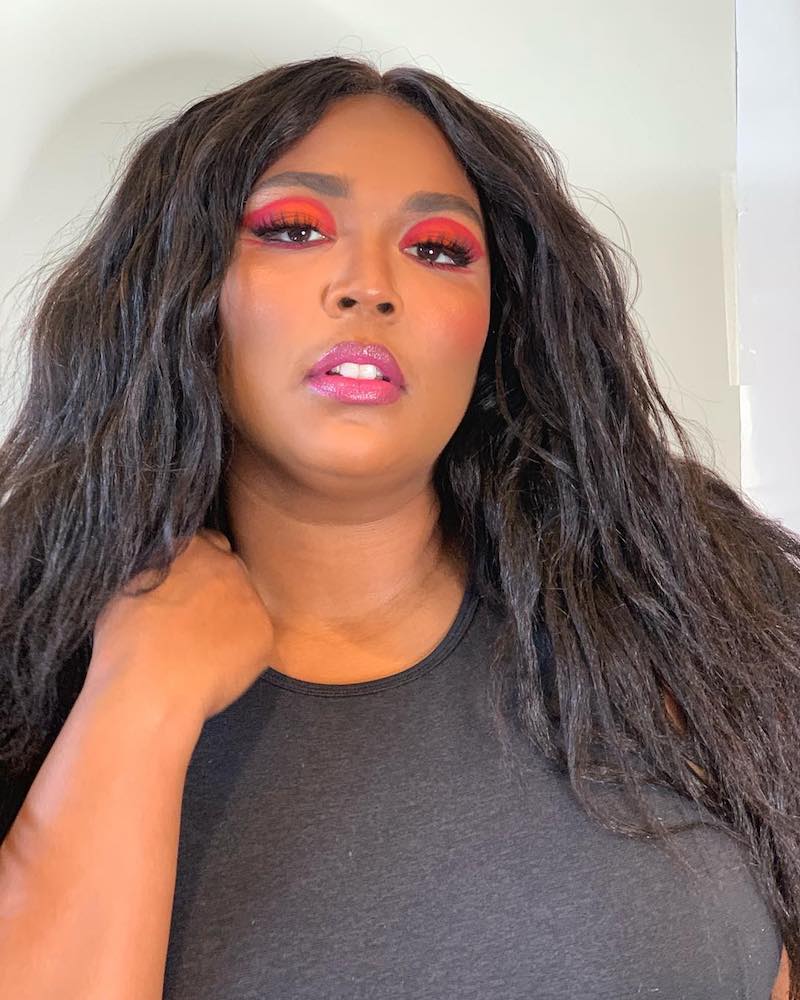 A deep side-part and big curls are perfect for an old-Hollywood inspired look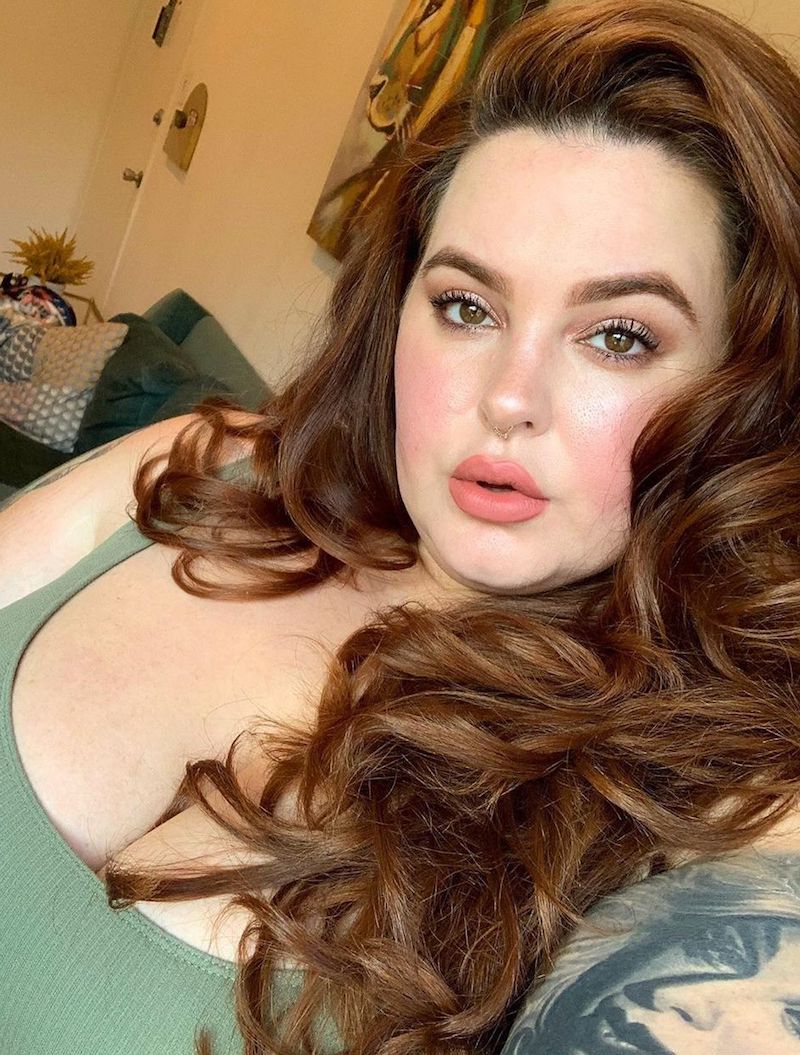 A trendy half-up, half-down pony hairstyle elongates the face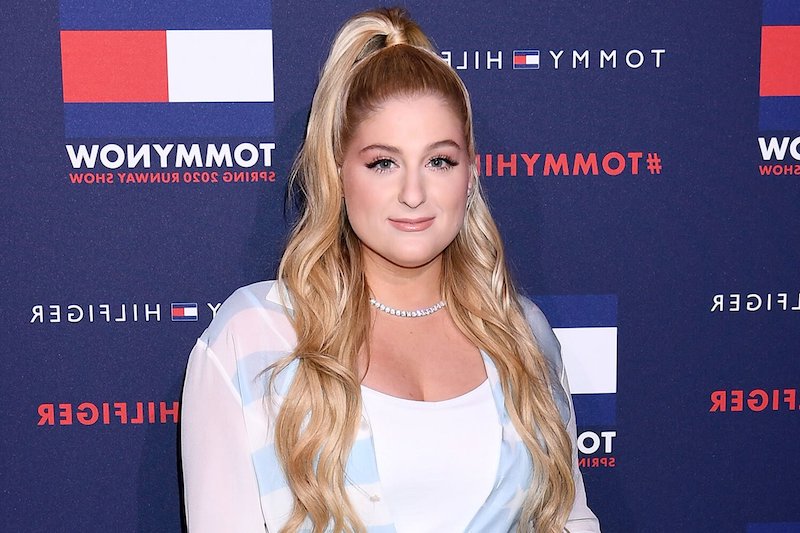 The classic old-Hollywood waves are a very suitable hairstyle for overweight women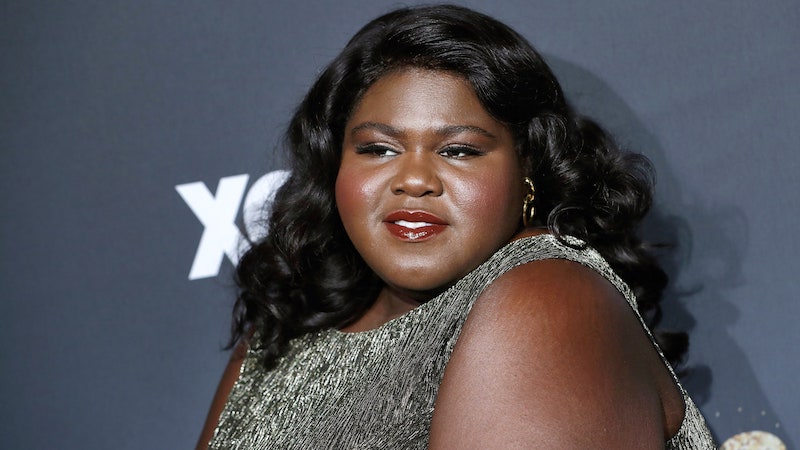 Curtain bangs are the trend that took 2021 by storm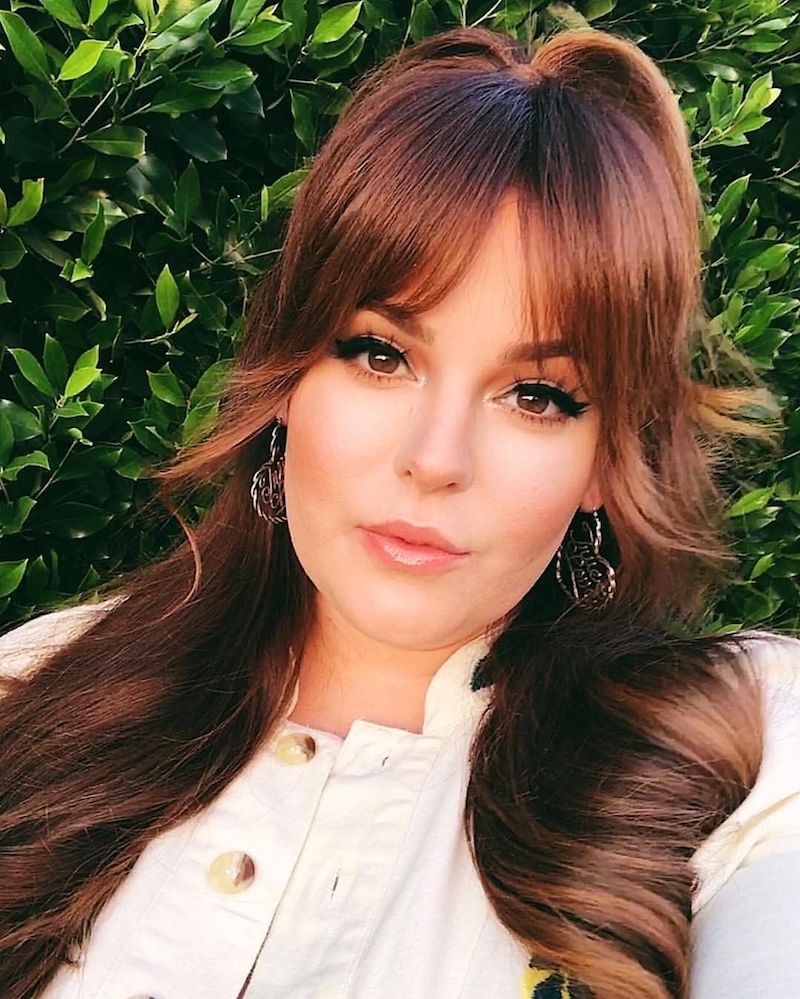 Half-up, half-down hairstyles work great on sleek, straight hair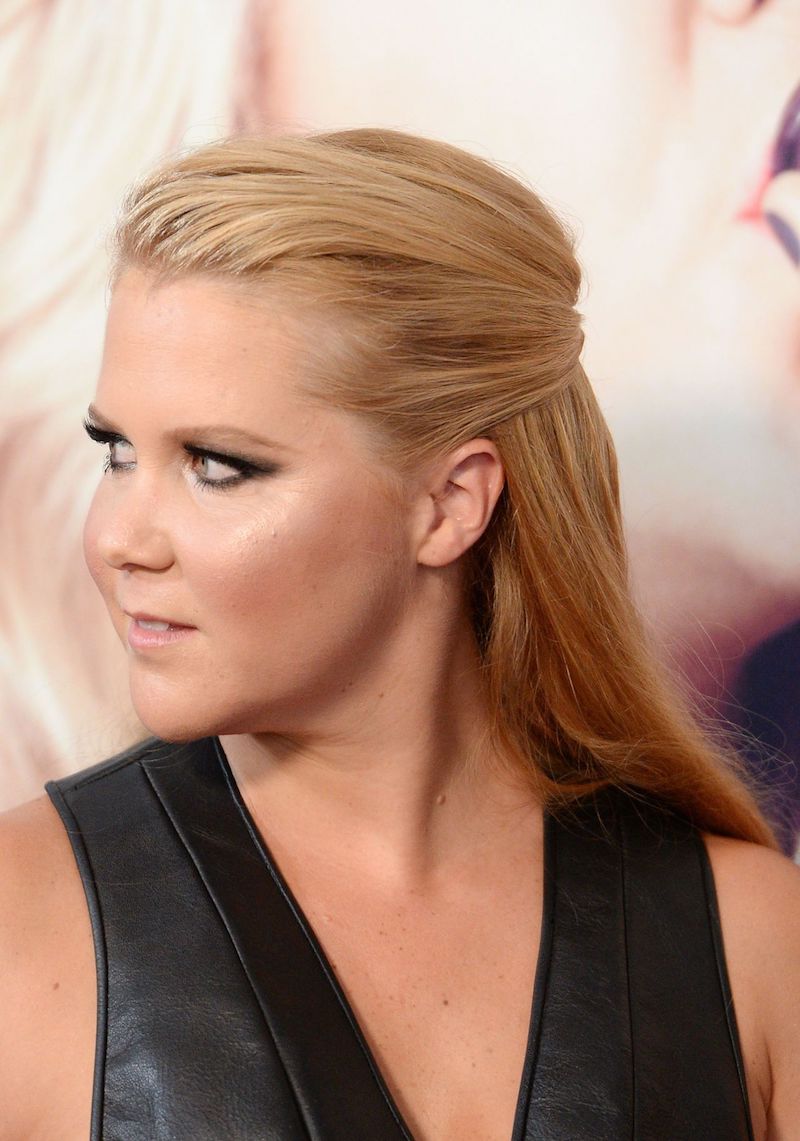 Space buns are playful and different- try them out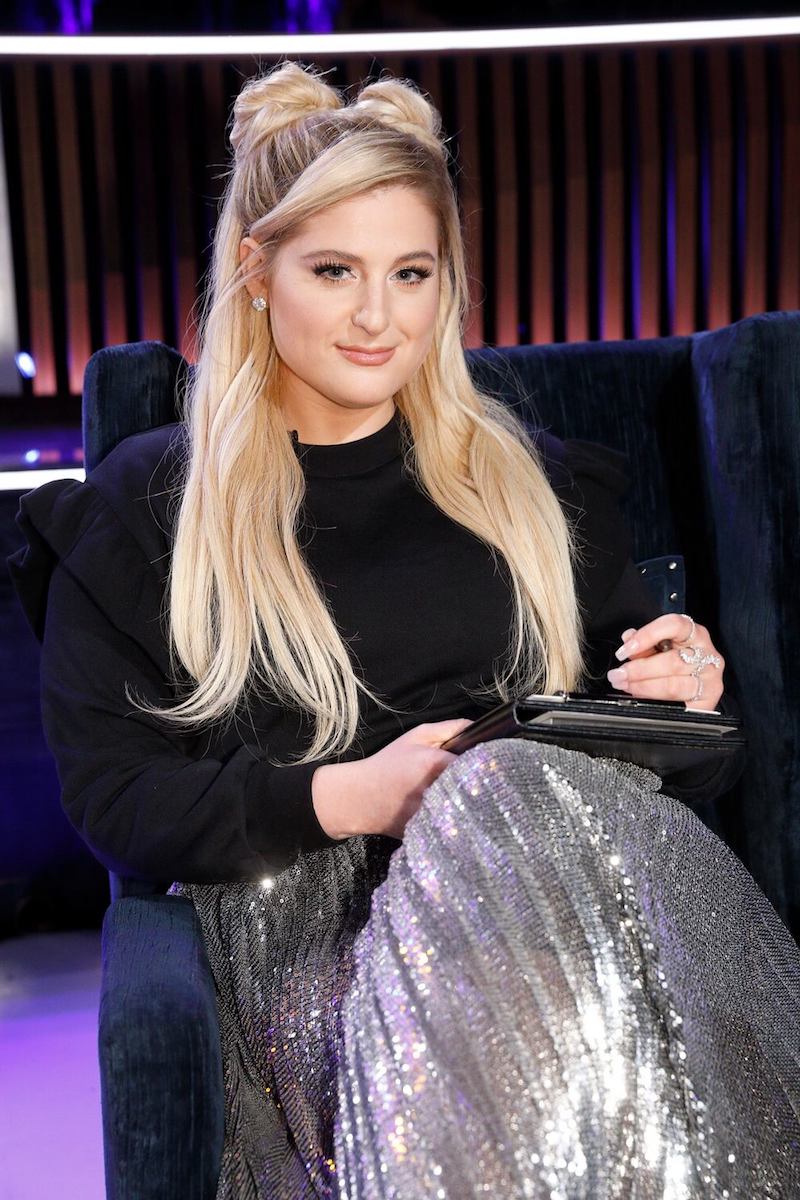 A classic middle part and lightly wavy hair is an effortless hairstyle to rock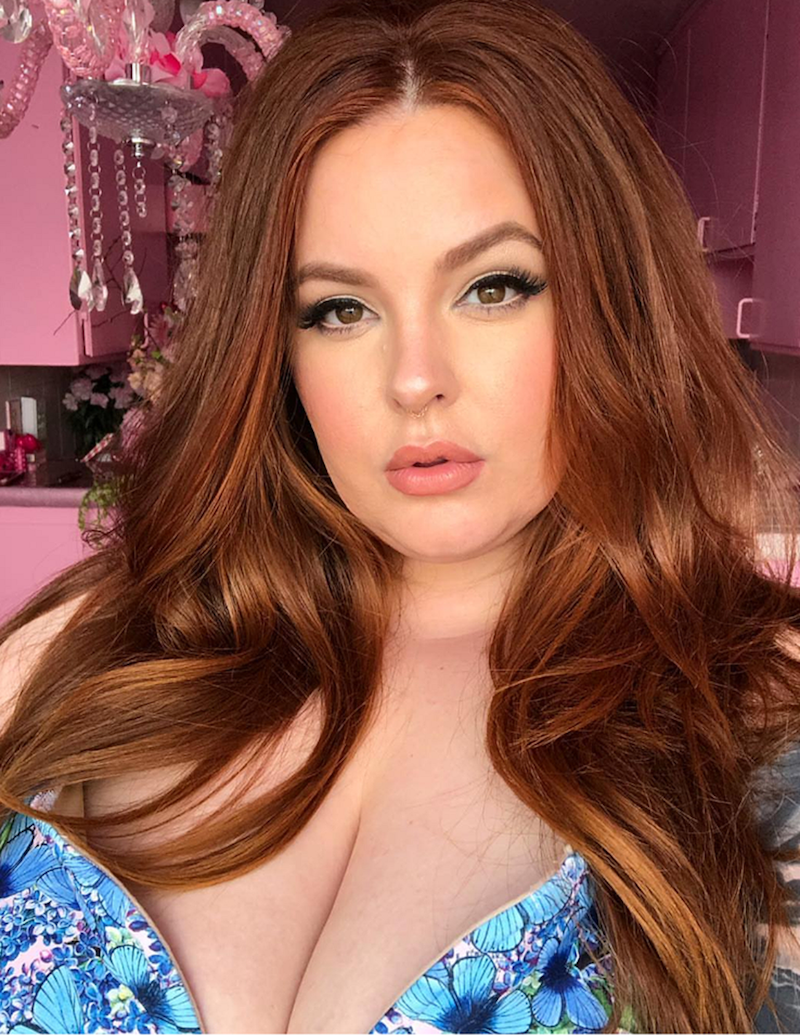 Are updos a flattering hairstyle for overweight women?
Yes! Updo hairstyles are great for overweight women, and especially useful for the warmer months when long hair becomes your biggest enemy. A good trick is to let out the front pieces of your hair to fall freely so that they frame and slim your face. The rest is up to you! Experiment with the parting of the hair, the height of the bun, and include accessories like headscarves. Updos are great for more formal events where you need to be classy and put together, as well as, lazy and chill days spend on the beach with nothing important to do. They also come in handy for the windy days when you don't want your hair stuck to your face at all times. The best part? You have a wide variety of unique updo styles to explore, and they happen to work for shorter and longer hair, as well! So, let's see some inspiration photos:
Longer side-swept bangs and purple locks are a surprisingly cool combination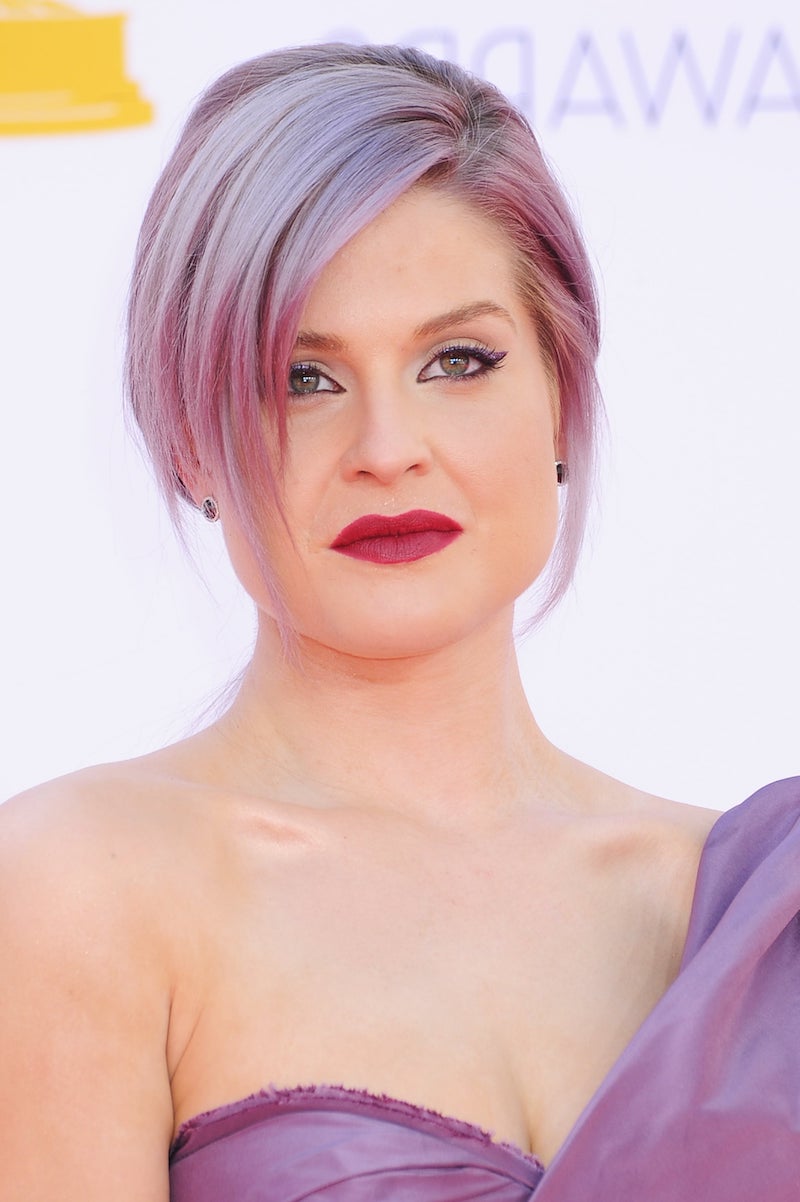 This updo variation incorporates gorgeous Dutch braids and a low bun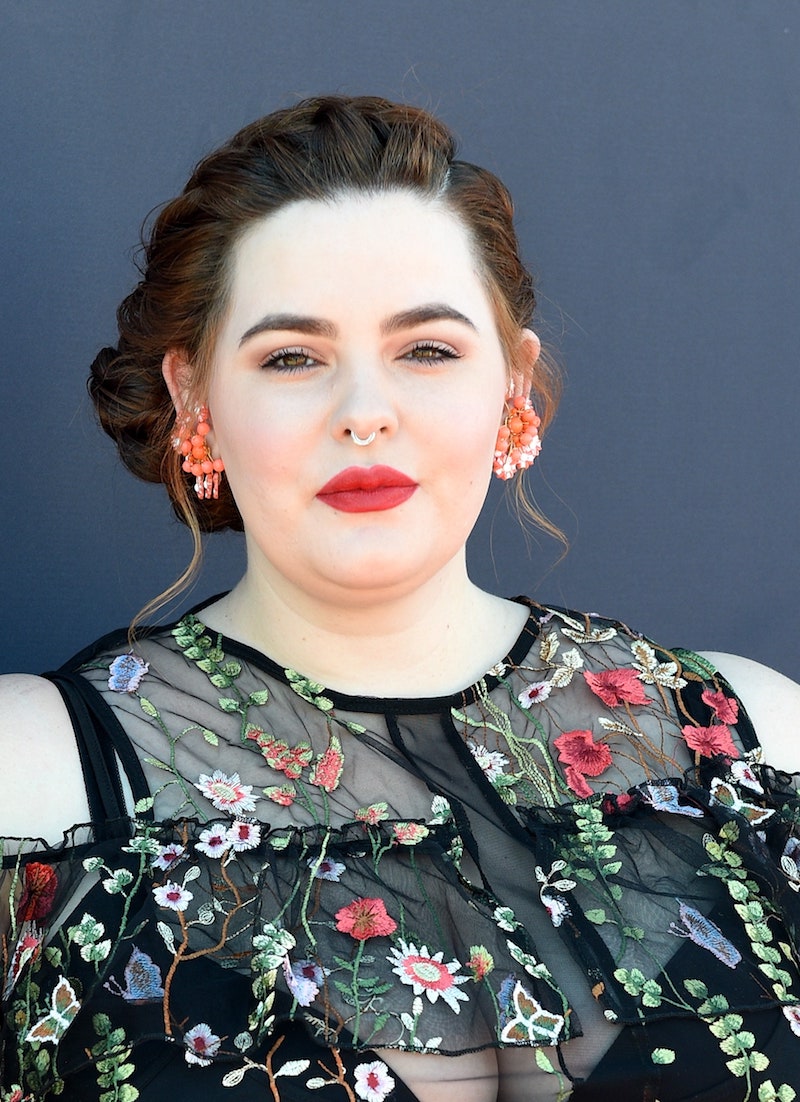 Feathery bangs and a big high bun add height to all the right places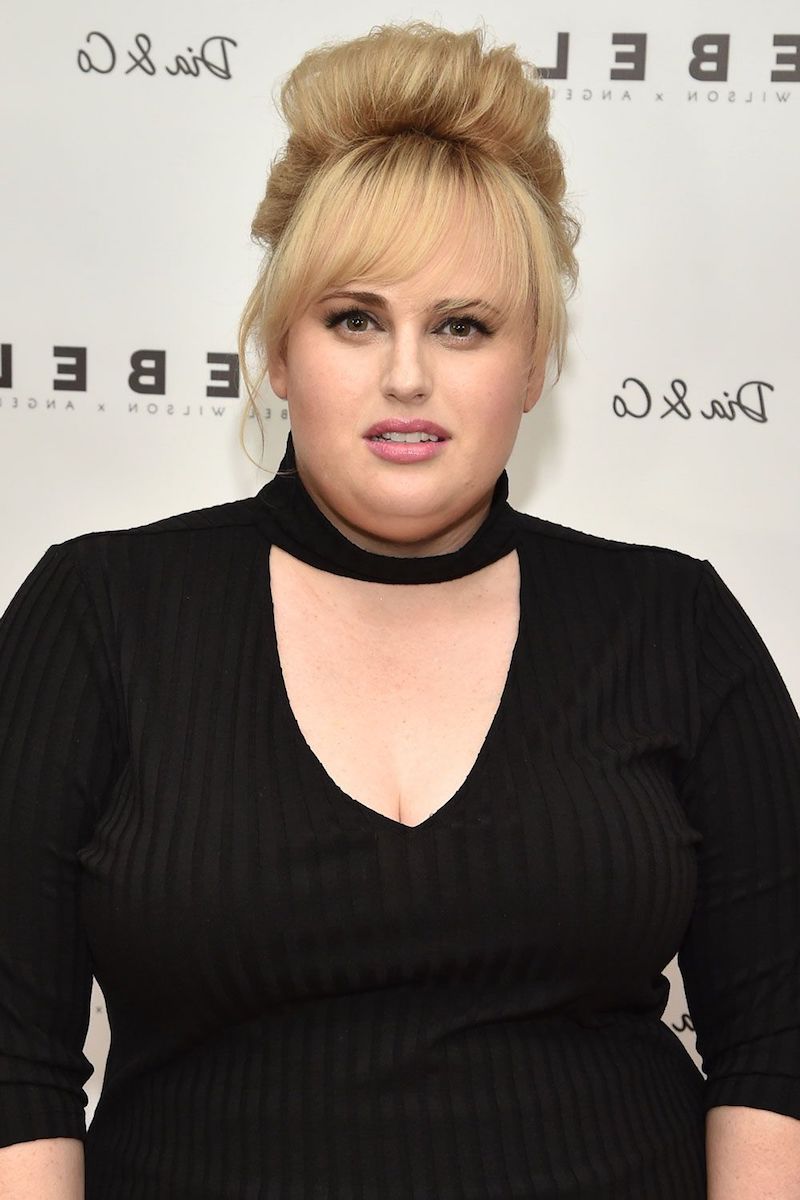 Headscarves are a versatile accessory, perfect for the summer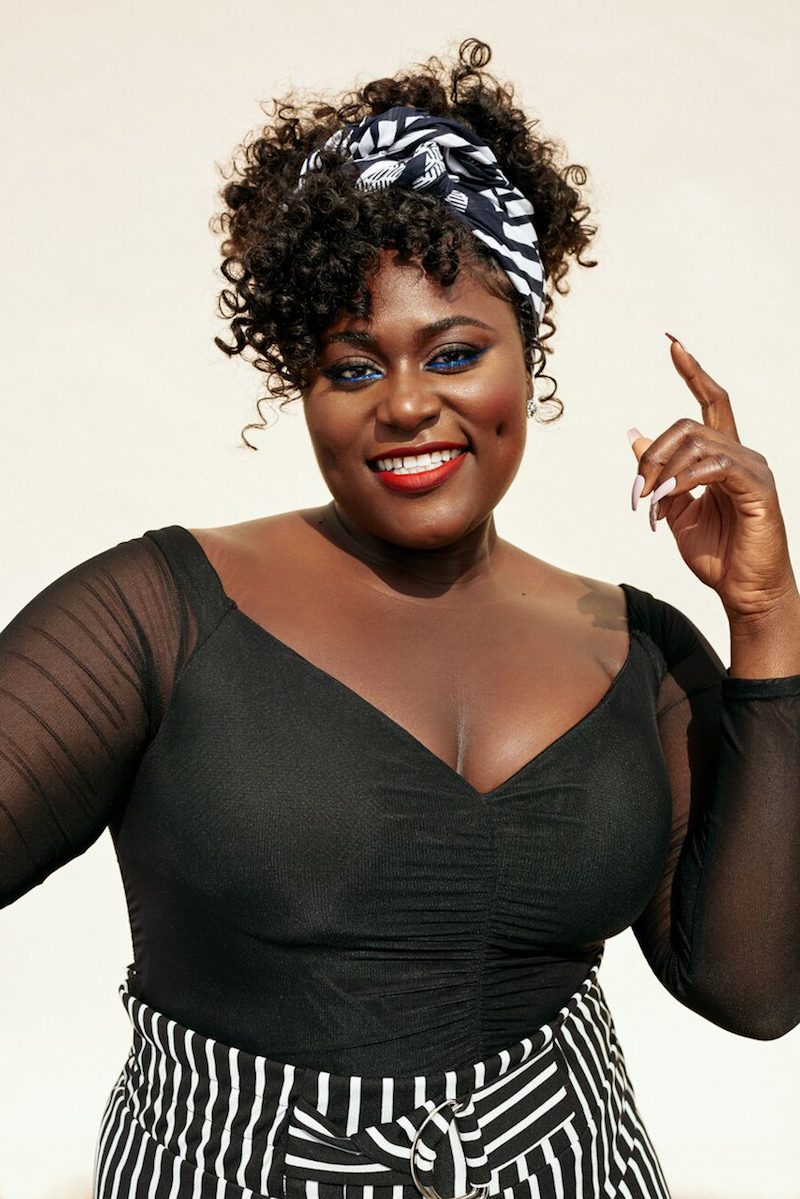 Updos look carefree and extremely elegant at the same time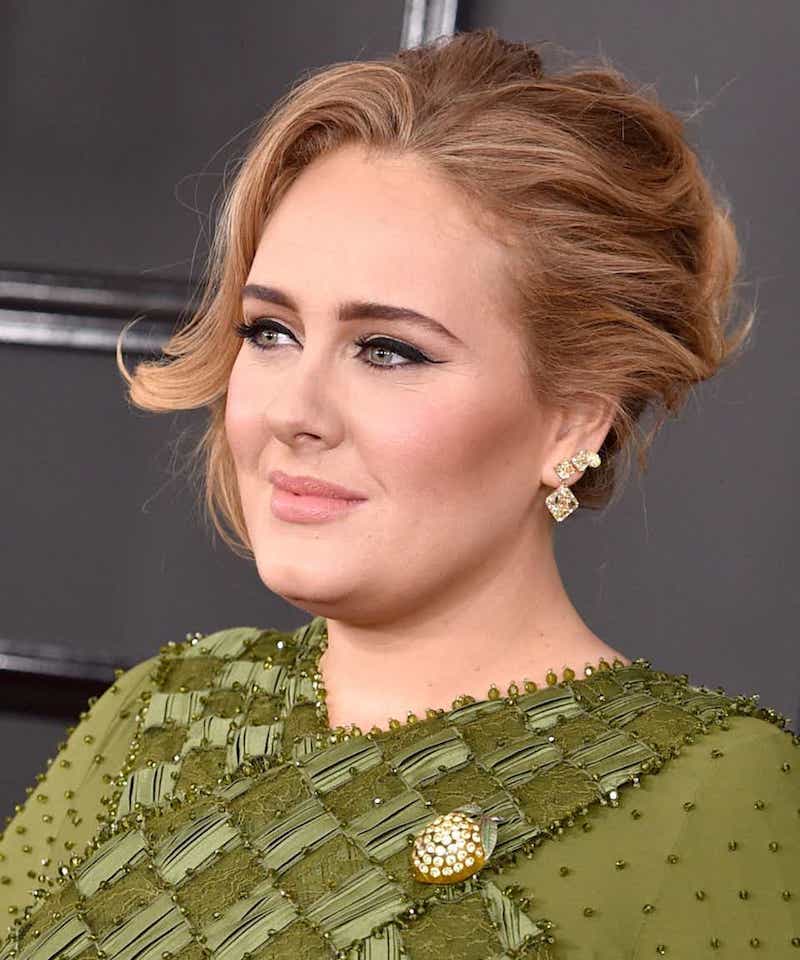 Conclusion
As you can see, there is not only one hairstyle that is best for overweight women. Luckily, there is a wide variety of different cool styles for you to try until you find the one that suits YOU most! You just have to be patient and remember and apply all the tips and tricks mentioned above. They will help enhance all your best features and boost your confidence. Have fun and remember that the only thing that matters at the end is you and your happiness!