5 easy 50s hairstyles to rock in 2021
The thing about vintage and retro hairdos is that they will probably never go out of style. And why should they? Famous Hollywood starlets such as Elizabeth Taylor, Grace Kelly, Jayne Mansfield, Audrey Hepburn, Brigitte Bardot, Marilyn Monroe, and so many more became all the rage thanks to their trademark 1950s looks. In this article, we will show you 5 easy 50s hairstyles that you can rock today. Disclaimer: you will probably make a lot of heads turn. In a good way. So, let's dive deep into some old-Hollywood glamour:
Brigitte Bardot and her iconic 50s hair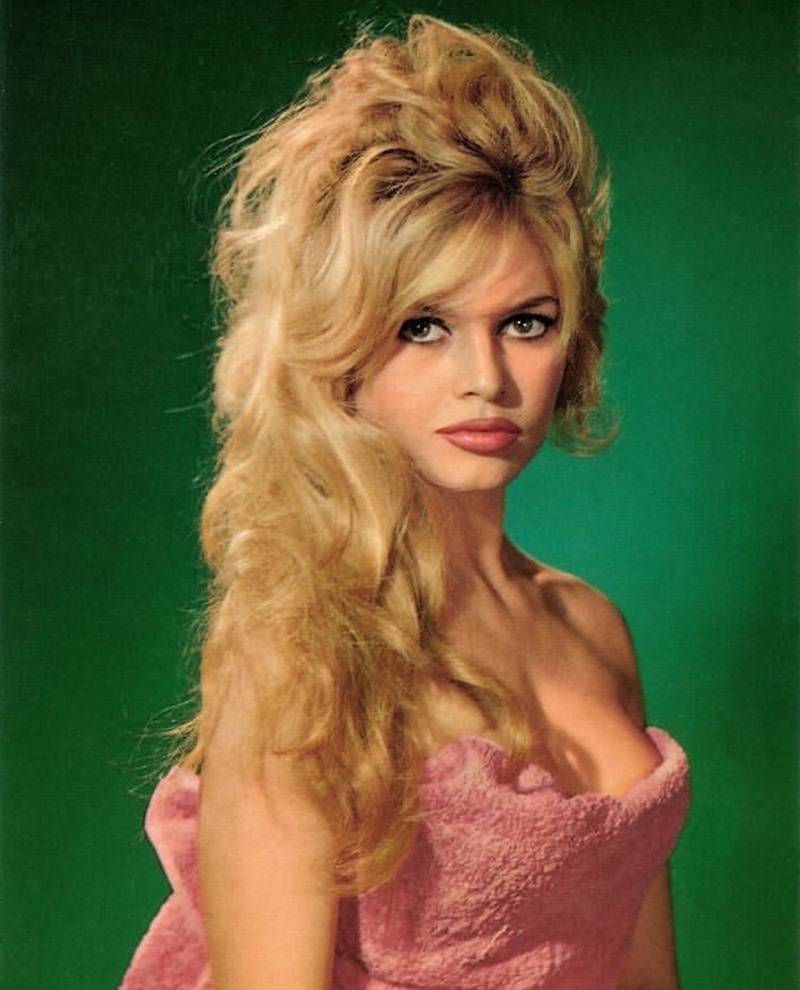 The 1950s hairstyles for women were shorter, looser, and required less work than the decades before- low maintenance short poodle cuts were very popular among women back then. Nevertheless, women still made sure to visit beauty salons for their weekly styling. Women's 1950s hairstyles came in short, medium, and long lengths.
Short fluffy hair was one of the most popular 1950s hairstyles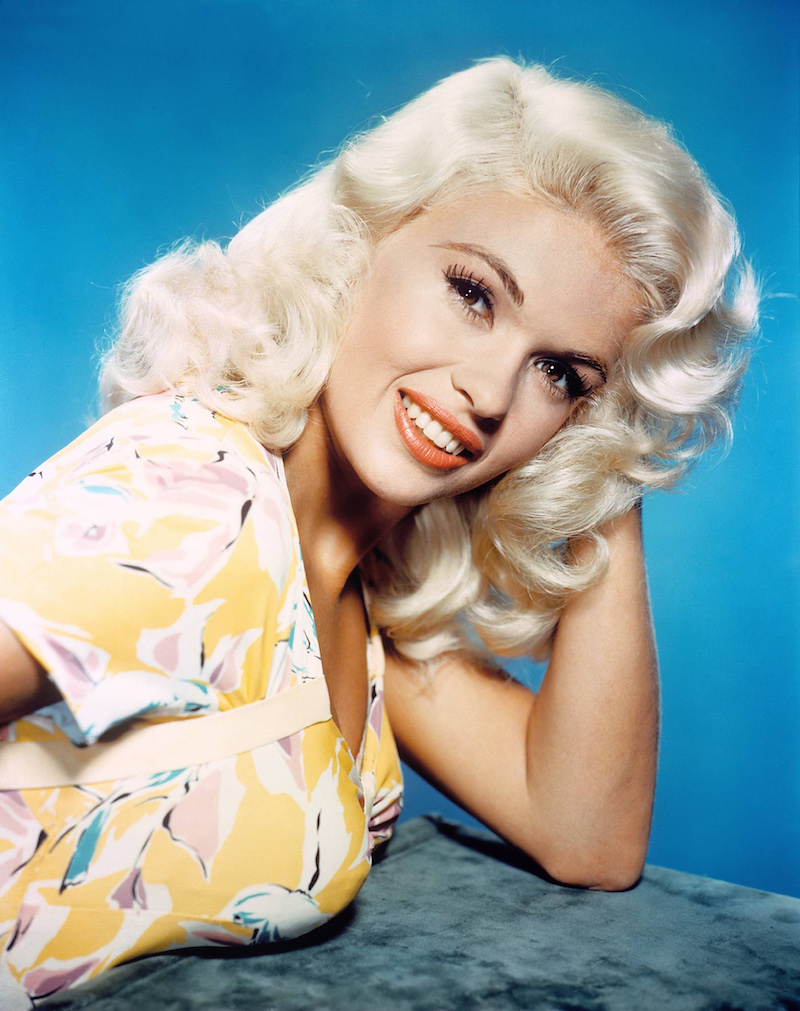 Generally, short fluffy hair was a go-to look for typical housewives, medium styles were mostly worn by the young, and long luscious hair was perfect for the glamorous Hollywood pin-ups. As we explore the most popular hairstyles worn in the 50s below, keep in mind that women back then had a very specific haircut, perfect for those hairstyles. Of course, women nowadays don't cut their hair the same way, so it's harder to achieve this exact result. That is why we picked easy and achievable hairstyles for you to try at home!
Some of the most popular 50s hairstyles back in the day were:
the poodle hairstyle
the bubble haircut
the Italian cut
the pixie cut
the pageboy hairstyle
the bouffant hairstyle
the pompadour (rocked by both men & women)
The pageboy hairstyle in all its glory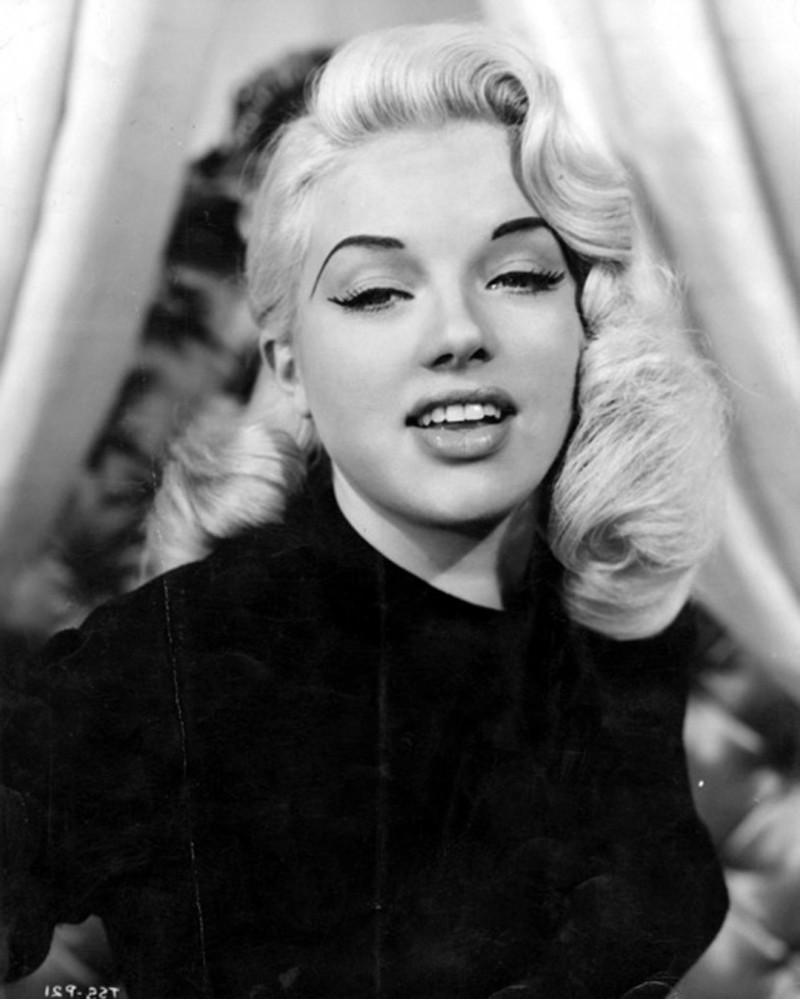 Pin curls: a classic 50s hairstyle
We are starting our list of easy vintage hairstyles with pin curls. This style is perfect for hair of all lengths, although long-haired girls will need some extra patience and time. A pin curl is a strand of hair that you roll around in a loop from the tip to the roots, in rings that lie inside one another. The ends of the strands are tucked into the center so that they stay in place. After that, the curl is pinned into place with hairpins. (also called bobby pins) You start this hairstyle with damp hair, and you remove the hairpins once the hair is completely dry. In the end, you just unravel the magical pin curls. See the exact steps below:
A modern twist on one of the most popular vintage hairstyles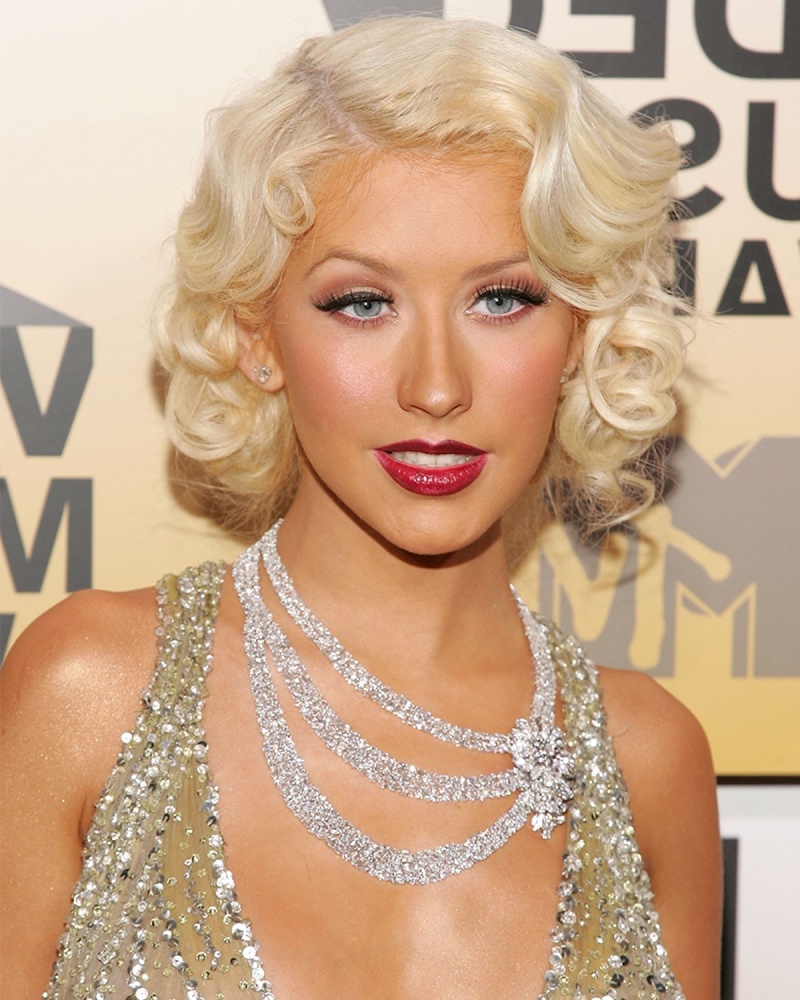 What you will need:
bobby pins (lots of them!)
hair setting spray
curl cream (optional)
blow-dryer (optional)
wide comb
Method:
Starting with towel-dried slightly damp hair, create a parting on the side.
After that, clip away sections you are not working on so that it is easier for you.
Next, section some hair, comb through it, and apply a fine mist of hair setting spray or a small amount of curl cream. (this will make your curls form quicker and last longer)
Comb through the section of hair again to make sure that the styling products are distributed evenly.
Then wrap the section of hair around two fingers and roll the hair up to the root. (use 1 finger if you want a smaller curl and 3 fingers if you want a larger curl)
Make sure that the loops are wrapped inside one another. (do not twist the hair,  you might end up with frizzy curls)
Tuck the ends of the hair into the curl and secure tightly with a bobby pin.
Repeat the process until all your hair is done.
After that, allow the hair to dry naturally. (pro-tip: you can apply heat to the curls with a blow-dryer, but make sure the hair is completely cooled down before removing the bobby pins)
Next, style your pin curls however you like. You can use a wide comb to gently comb through the hair for a more natural look.
Finally, apply more hairspray, and you are done!
This is how your hair should look like after all the pins are in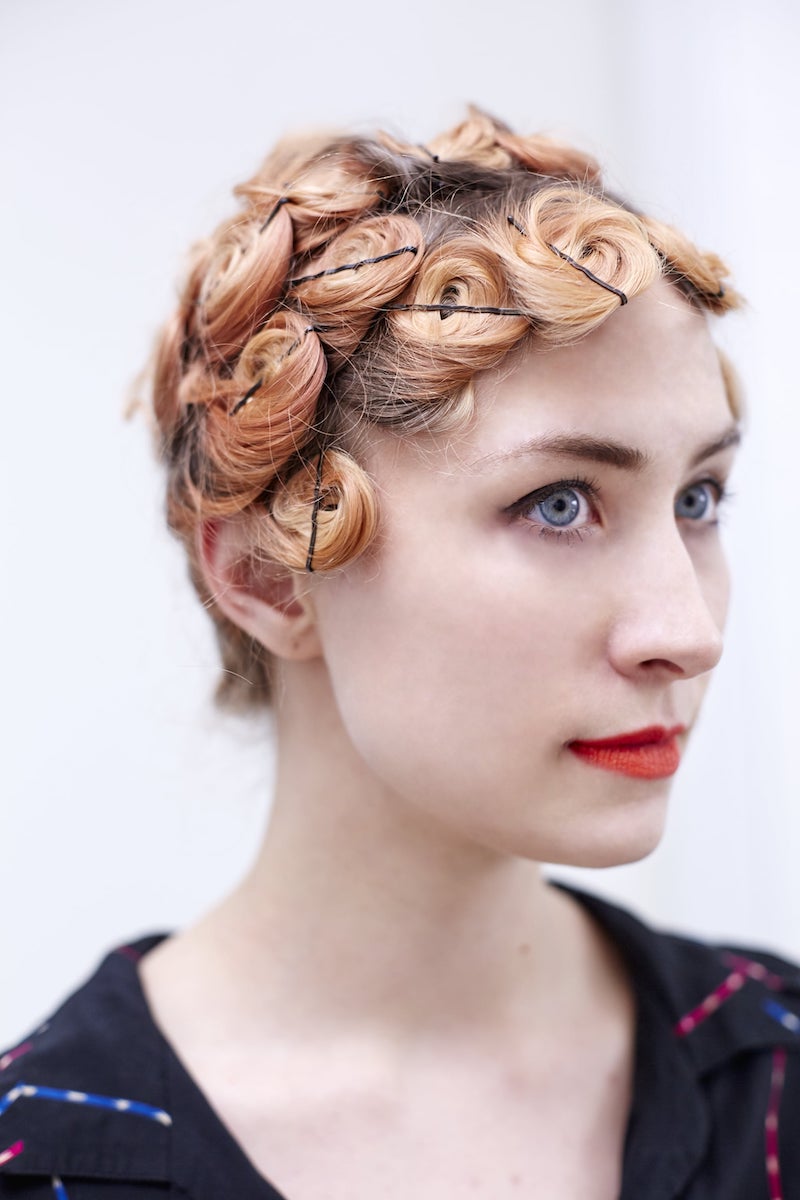 Take out the curls carefully, so they remain structured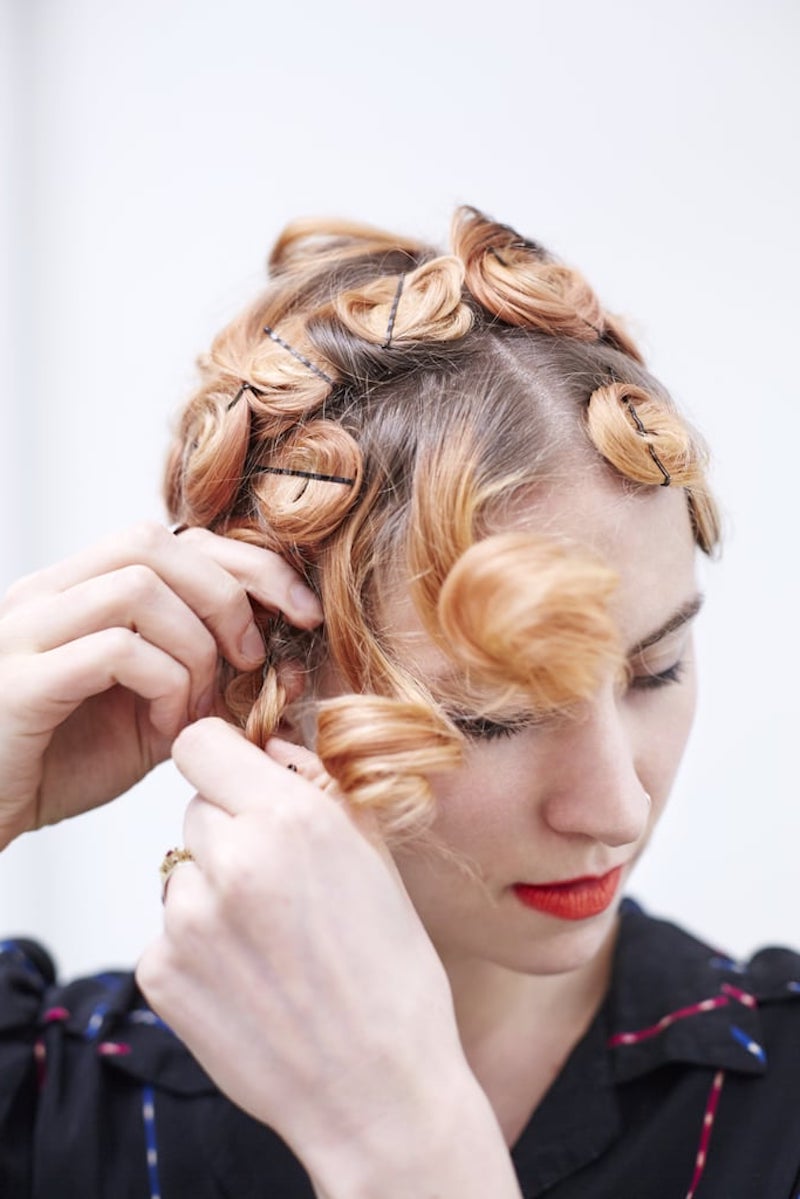 Carefully shake the curls and enjoy your bouncy 50s hair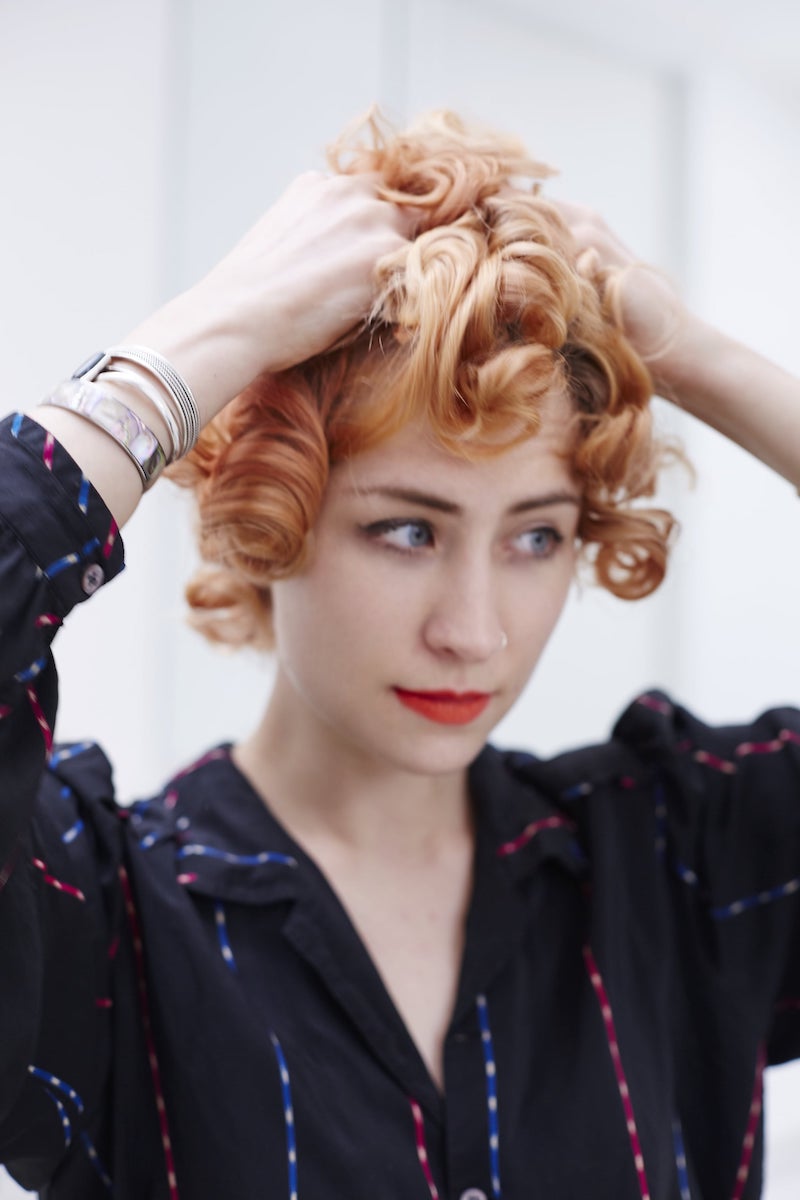 Old-Hollywood waves: Timeless and sleek
This old-Hollywood hairstyle will probably never go out of style. Why?  It is so sleek and elegant, and it looks good on everyone! What's more, we regularly see celebrities rocking this timeless hairstyle on the red carpet.
The old-Hollywood waves are one of the best pin up hairstyles for long hair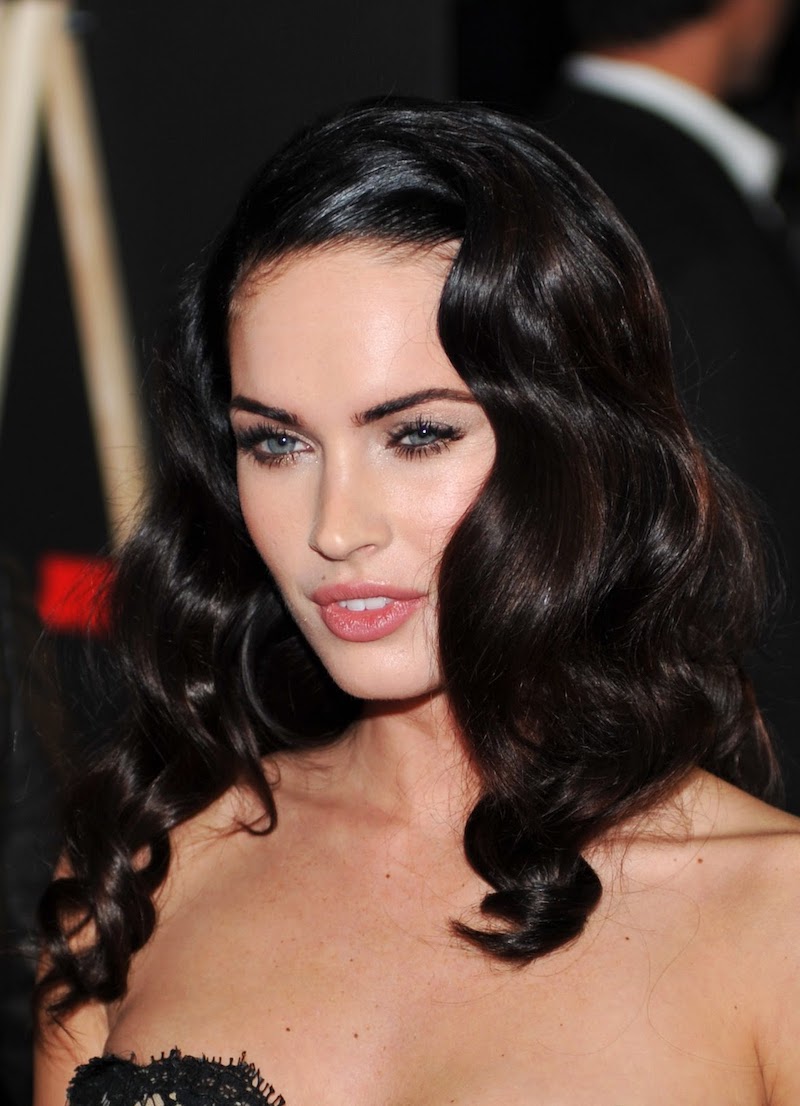 Celebrities love vintage hairstyles for a glamorous red carpet look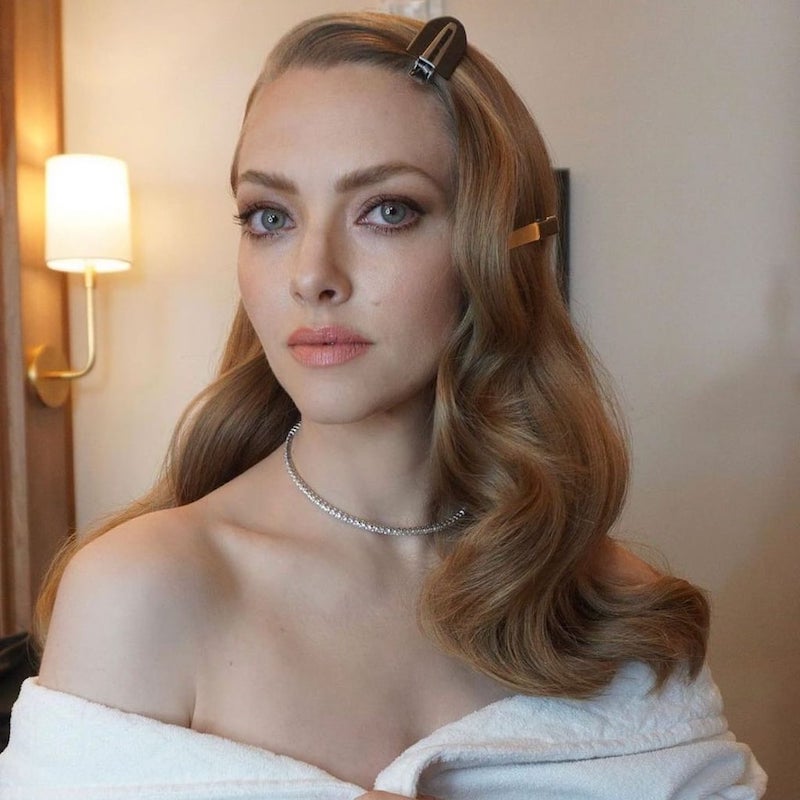 What you will need:
heat protectant spray
hair setting spray
curling wand
clips
hairdryer
rat tail comb
hairbrush
lots of patience
Method:
First, apply your heat protectant spray and prep your hair by blowing it out with a hairdryer.
After that, part your hair-you can do a classic side part or a center part.
Now it's time to section the hair. Leave the hair close to the back of your neck down, the rest you can clip away at the top of your head.
Begin curling the hair in small 1-inch sections. Place the iron vertically, with the tip pointed down, and begin wrapping the hair around the iron.
After a couple of seconds, release the curl and hold it in your hand to cool down.
After releasing each section, wrap the curls gently back into place and clip them using your hair clips.
Repeat this for the rest of your hair.
After all the curls are done, remove the clips and let the curls down.
Next, brush through the curls. A lot.
After that, use your hair clips to clip the newly formed curves into waves.
Use your rat tail comb to gently comb up under the waves until they have more definition.
Finally, apply some hair spray, and you are done!
Step-by-step instructions for glam vintage hair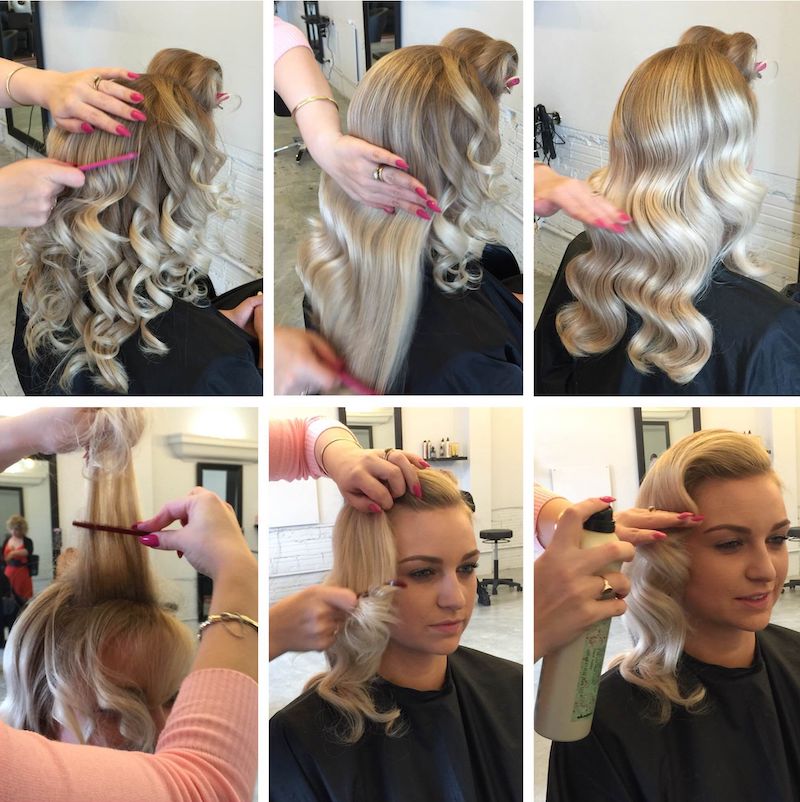 Add the hair clips to help the waves form better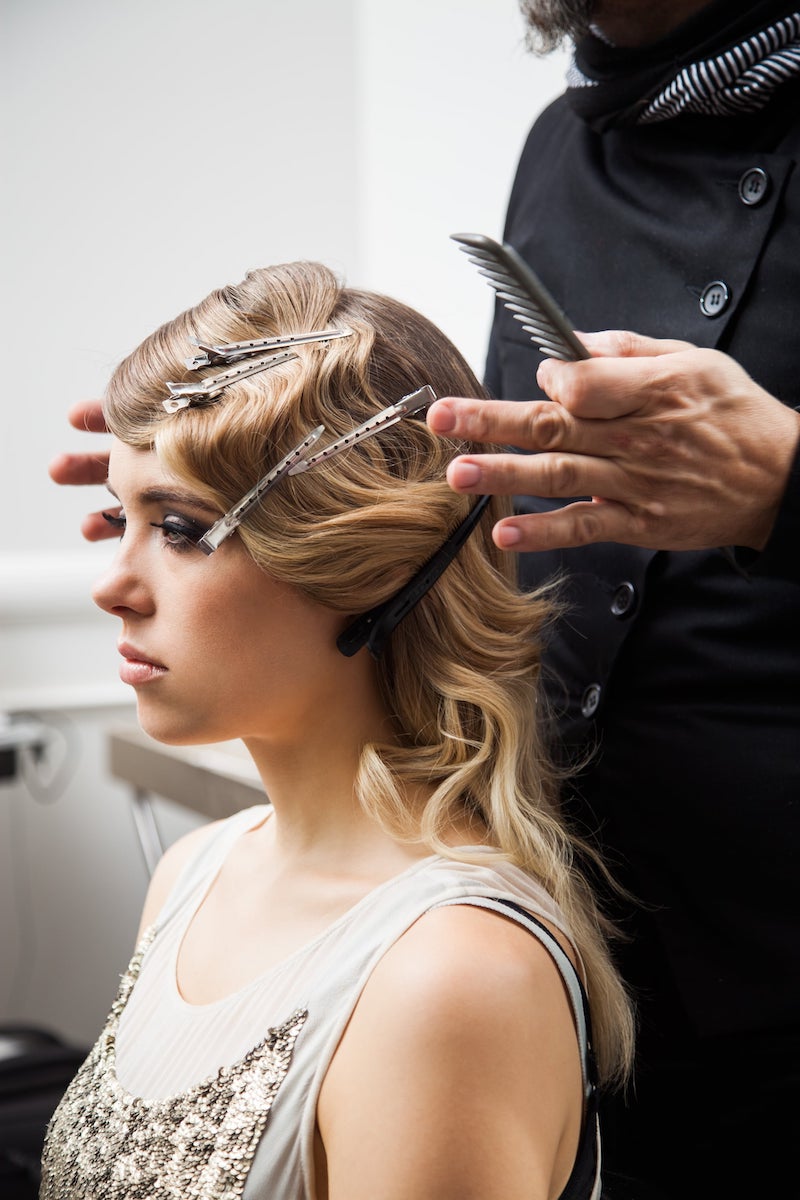 Victory rolls: the boldest of the 50s hairstyles
You have probably seen beautiful pin-up girls rocking victory rolls in vintage magazines. This hairstyle is definitely a statement that is not for everyday wear. However, it can be a great Hollywood costume! The victory rolls are created by voluminous curls, which are pinned up to frame the face and add height.
Victory rolls are the perfect updo hairstyle for long hair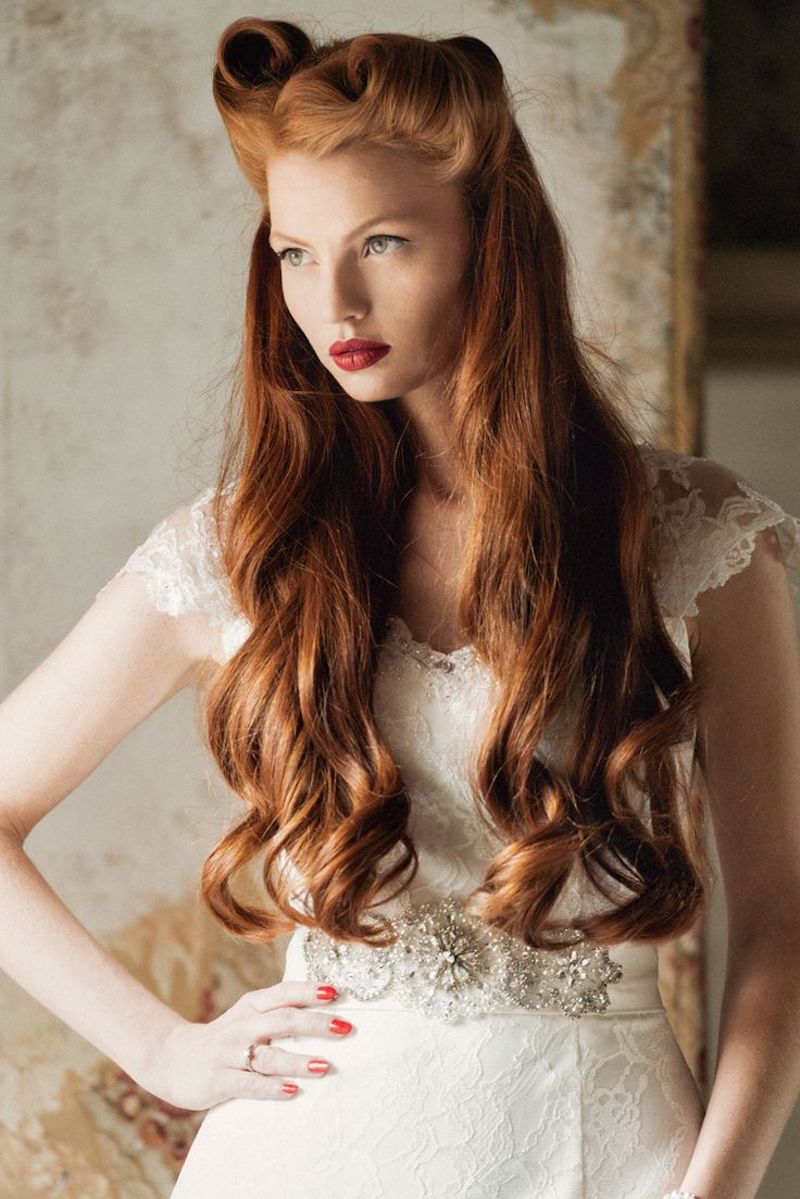 What you will need:
hot rollers
hair setting spray
brush
bobby pins
hair tie
Method:
Start by brushing your hair.
After that, part your hair in the middle or to one side.
Section off a decent-sized strip of hair from the front of your head and use a hair tie to tie a ponytail to keep the rest of your hair together.
Use your hot rollers to curl the front section.
Release the curl once cool and brush out.
After that, wrap your hair around your finger at the desired height of your victory roll.
Next, slide your finger out carefully without disrupting the roll, and pin it into place with bobby pins.
Repeat for the other roll.
Curl the rest of your hair in your preferred method. (optional)
Finally, add some hair spray to hold everything together, and you are done!
The flirty ponytail: Vintage turned modern
This is one of the easiest 50s hairstyles you could ask for. What's more, recently we have seen a lot of celebrities rocking this retro ponytail. Probably because it takes almost no time, and it always ends up looking amazing.
Red carpet ready: a modern twist on this retro 50s hair
What you will need:
bristle brush
hair tie
curing wand
hair setting spray
heat protectant spray
Method:
First, brush your hair to remove any knots.
Then use the bristle brush to tease the hair close to the roots. This will add the 50s volume.
After that, smooth the top of your hair and gather all the hair back into a ponytail. Make sure there aren't any bumps.
Tie your hair into a ponytail and add some heat protectant spray.
Then use your curling wand to curl the ends of your ponytail.
Finally, spray some hair setting spray.
You are done!
Bristle brushes easily add volume and fullness to thin hair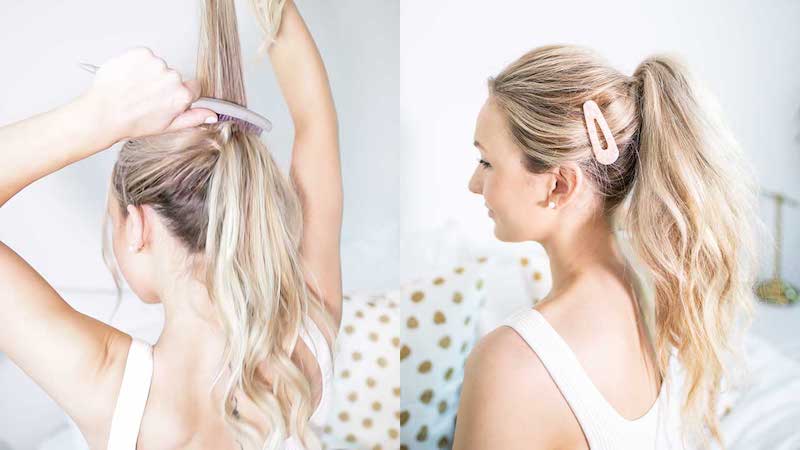 The Greaser look: the best of the 50s hairstyles for men
Who do you think of first when someone mentions 1950s guys? James Dean, right? Same. More specifically, James Dean in his 1955 movie Rebel Without a Cause. This is the iconic men's hairstyle we are going to show you last- the Greaser look.
James Dean made the Greaser look one of the most iconic 50s hairstyles for men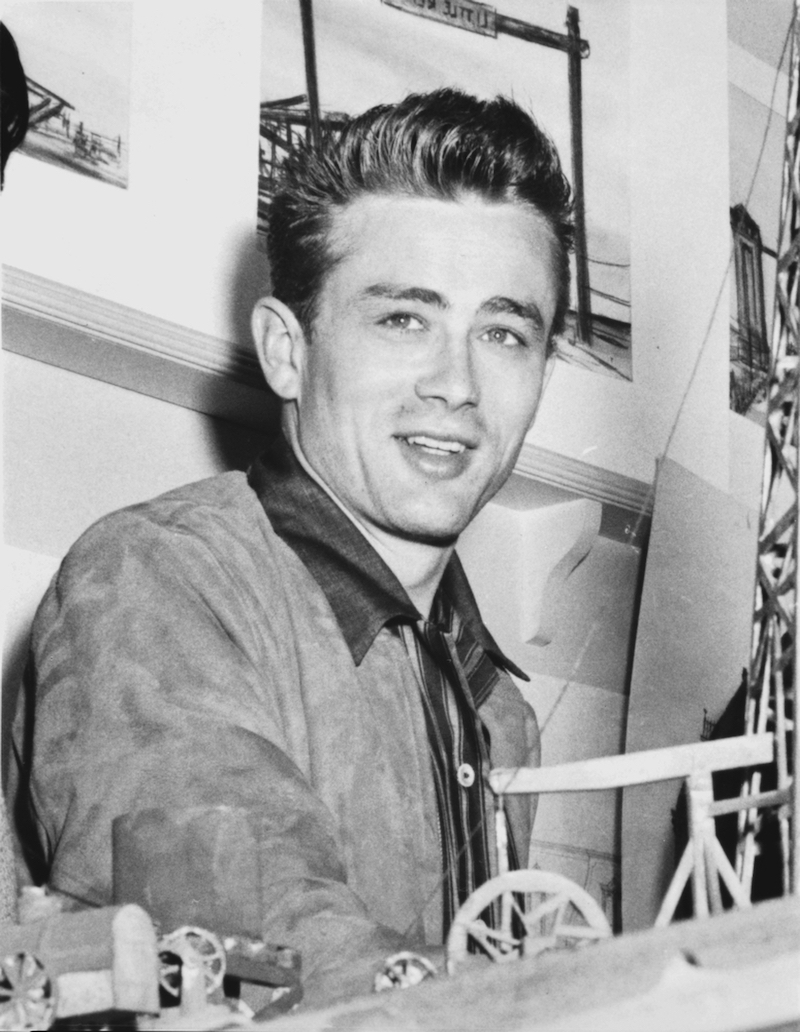 You can spot a Greaser boy from a mile away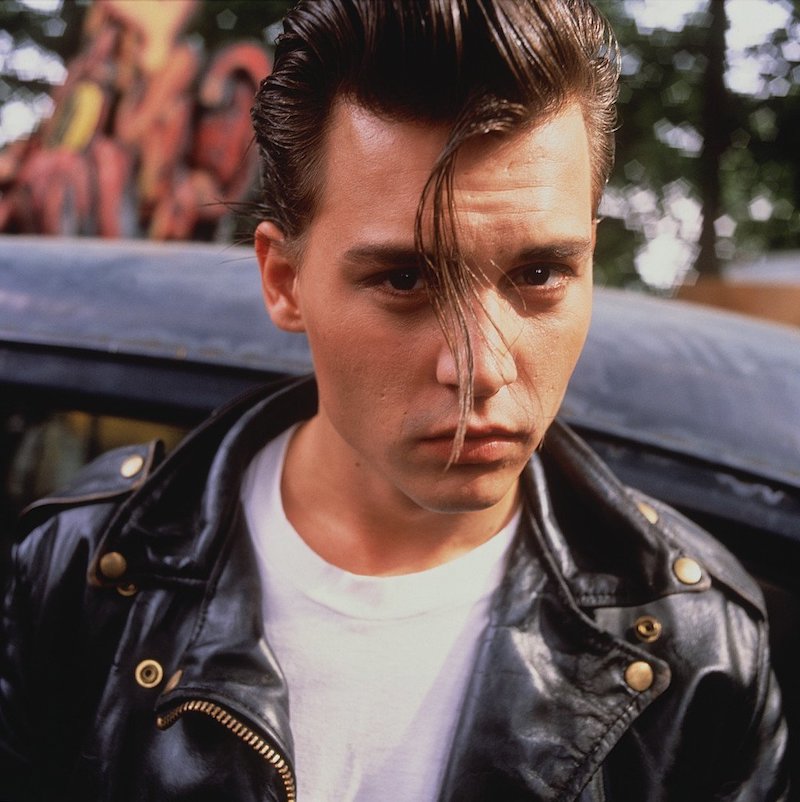 What you will need:
comb
hair pomade (extra hold)
Method: