Sunflower tattoo ideas for the summer of 2021
Tattoos will never go out of style. There is just such a large variety of different types of tattoos out there. With the modern tools that we possess, tattoos have become an outlet of creativeness and imagination. One of the reasons why tattoos are so popular is because people get to express themselves through this type of body art. Naturally, every tattoo has a special meaning to its owner. Some types of body art, however are just beautiful. Even if there is no special hidden message behind them, their beauty is undeniable. Today we are going to give you a few ideas for a gorgeous sunflower tattoo. This summer flower is extremely beautiful. That is exactly why, it can be the perfect addition to your tattoo collection.
Choose a sunflower tattoo for summer 2021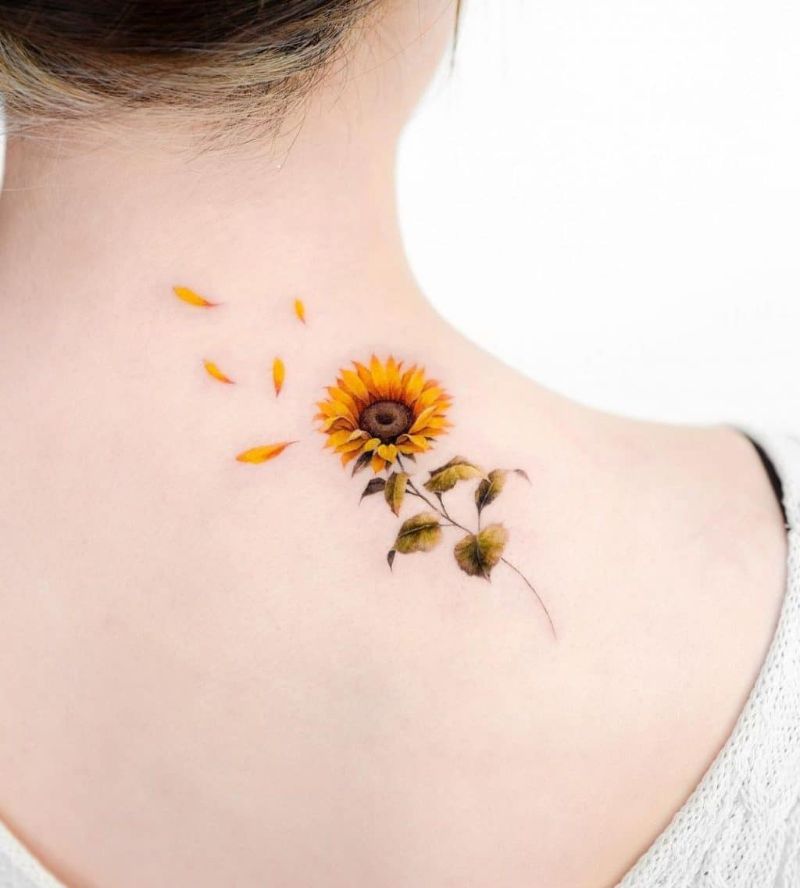 What does a sunflower tattoo symbolize?
As every other flower, the sunflower also has a deep meaning. As we all know, and the name of the flower symbolizes itself, the sunflower is a flower which loves the sun. While it grows during the day, it is known that the sunflower always turns to the sun. So, the most obvious meaning would be the love for the sun. If you are a sun lover yourself maybe this tattoo is just the right fit for you. Here are a few more meanings:
Happiness. The sunflower is bright, yellow and follows the sun. That is why it is closely associated with happiness, joy and just positive vibes all around.
Intelligence. In China it was believed that sunflowers seeds are to be consumed for more intelligence. That is why nowadays you can get a sunflower tattoo to symbolize intellect.
Love. According to Greek myths, a nymph was in love with Helios – the God of the Sun, but her love wasn't reciprocated. So, she turned into a sunflower to follow the sun all day long and, in turn, the love of her life – Helios.
Friendship. Yellow flowers in general symbolize friendship. The sunflower isn't an exception, so if you want to declare your love for your best friend, get a sunflower tattoo. What's more, you can get matching tattoos.
The sunflower has a few different meanings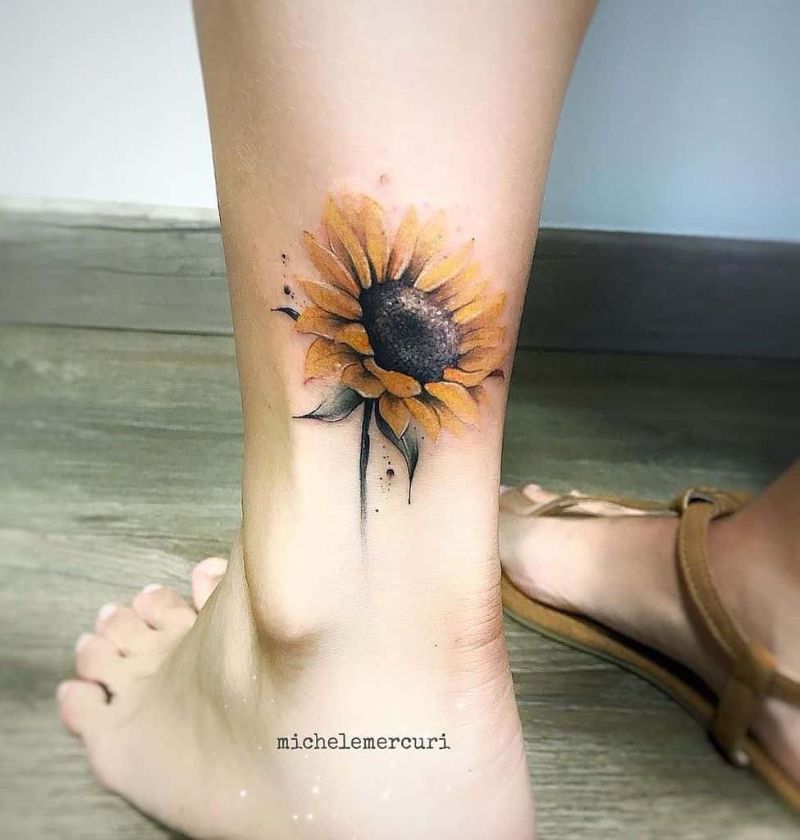 Black and white sunflower tattoo
If you want to keep things simple and are not a fan of the colorful, eye catching design than this classic and elegant black and white design is just for you. Even though this flower tattoo is black and white, the sunflower has such a distinctive look that everyone would recognize this flower right away. Because of that, you can always opt for this minimalistic black and white design.
Keep things minimalistic with a simple black and white design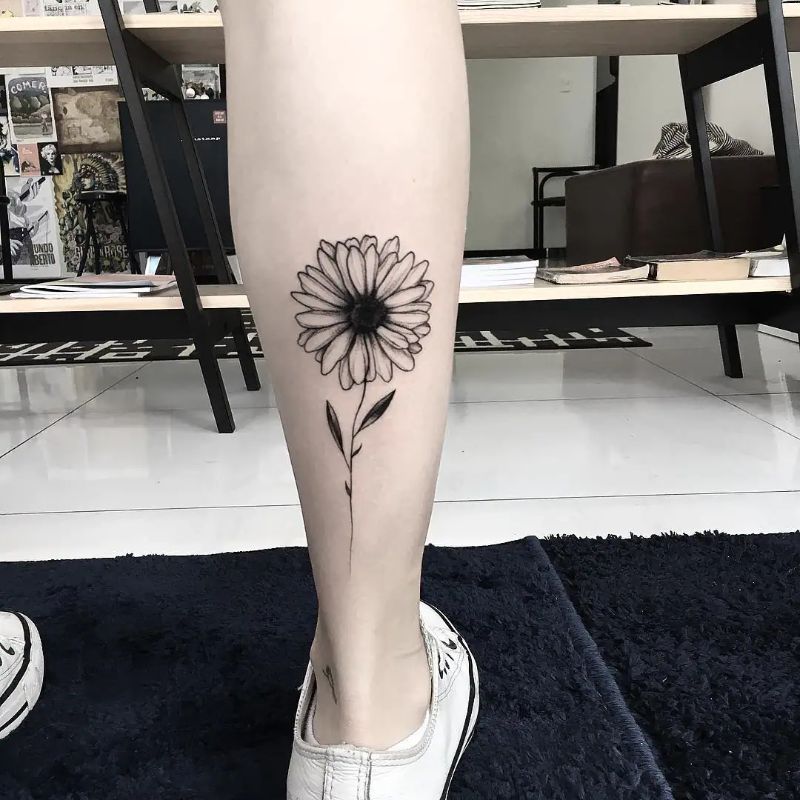 Mandala tattoo
Mandala tattoos are a symbol of balance and harmony. That is exactly why, they are so popular. For anyone who likes to find balance in their life mandala tattoos are the perfect option. Mandala is the sanskrit word for "circle". These tattoos are easily recognized by their circular, even shapes. The combination of a sunflower mandala tattoo is an extremely gorgeous and eye catching design.
Just look at this gorgeous design and tell us you don't want one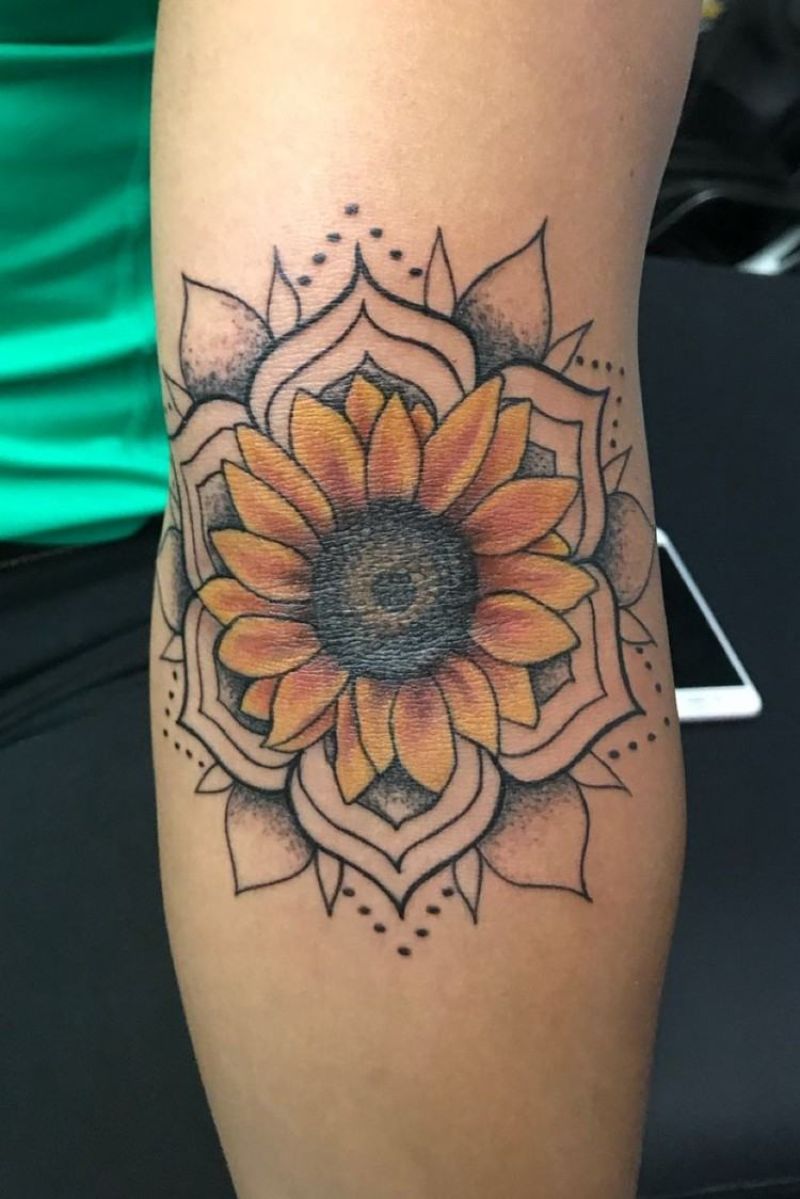 Watercolor sunflower tattoo
As we have already mentioned tattoos are a work of art. As such, there is space for exploration, creativity and imagination. One way to do that is to try a watercolor tattoo. Watercolor is a special kind of art. It is fun, vibrant and the fusion of color is absolutely unmatched. What's more, incorporating watercolor into your sunflower tattoo will make it the center of attention. The design is simply breathtaking.
Watercolor tattoos are a real work of art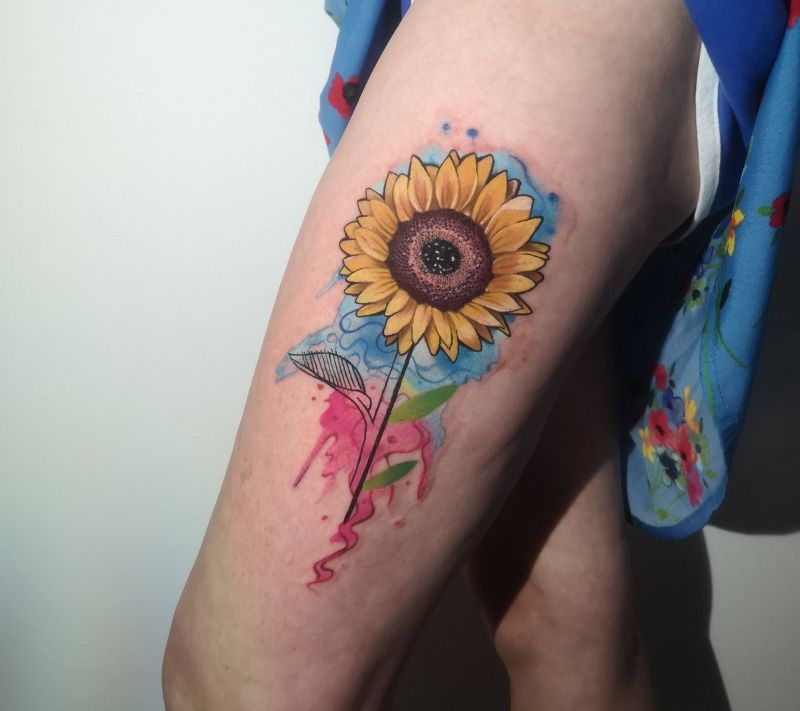 Abstract sunflowers
Since we are on the subject of works of art, there is no way not to mention the abstract body art. Abstract art is considered one of the most interesting style, because it is free to interpretation. That is why, it is one of the most interesting types of art. Having an abstract sunflower tattoo means that everyone who looks at it will be free to interpret it in a different way. That, in turn, will make your tattoo unique and super creative. So, if you are the type of person who's imagination is constantly running wild, express that side of you with an abstract tattoo.
Let your imagination run wild with an abstract tattoo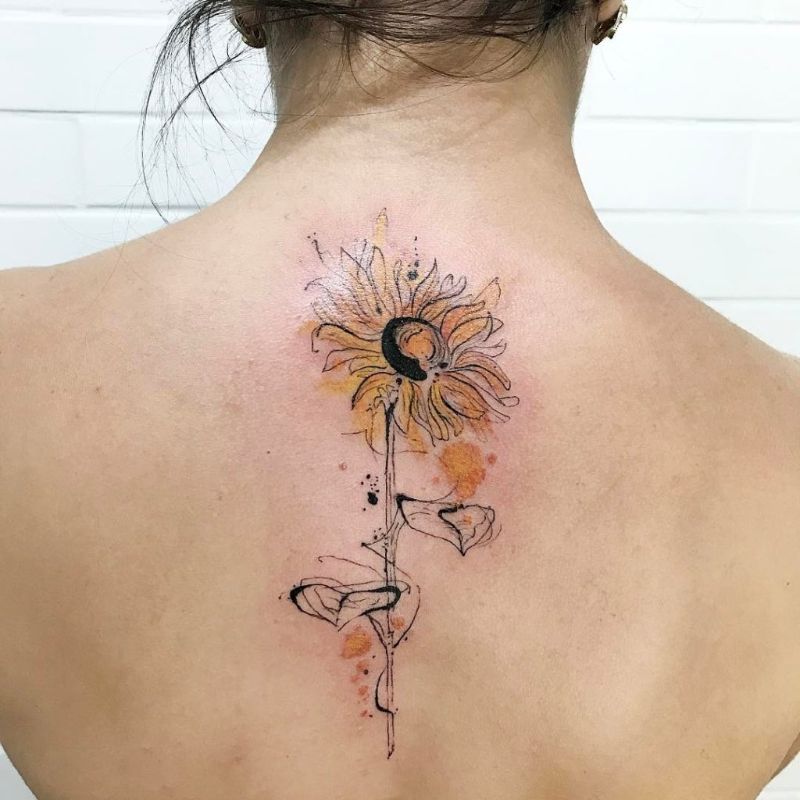 Small sunflower tattoo
If you want something that is discreet, yet super stylish and gorgeous, of course, go with a small sunflower tattoo. Infuse some yellow color and you will have a beautiful, minimalistic tattoo, which is still very creative and interesting. Small tattoos in general are very elegant and even though they are lowkey, they can still catch people's eye. Especially, with a little bit of bright, sunshine yellow. This is the perfect option for everyone who is not ready to commit to a big tattoo, but still needs something special on their body.
Go discreet with a small sunflower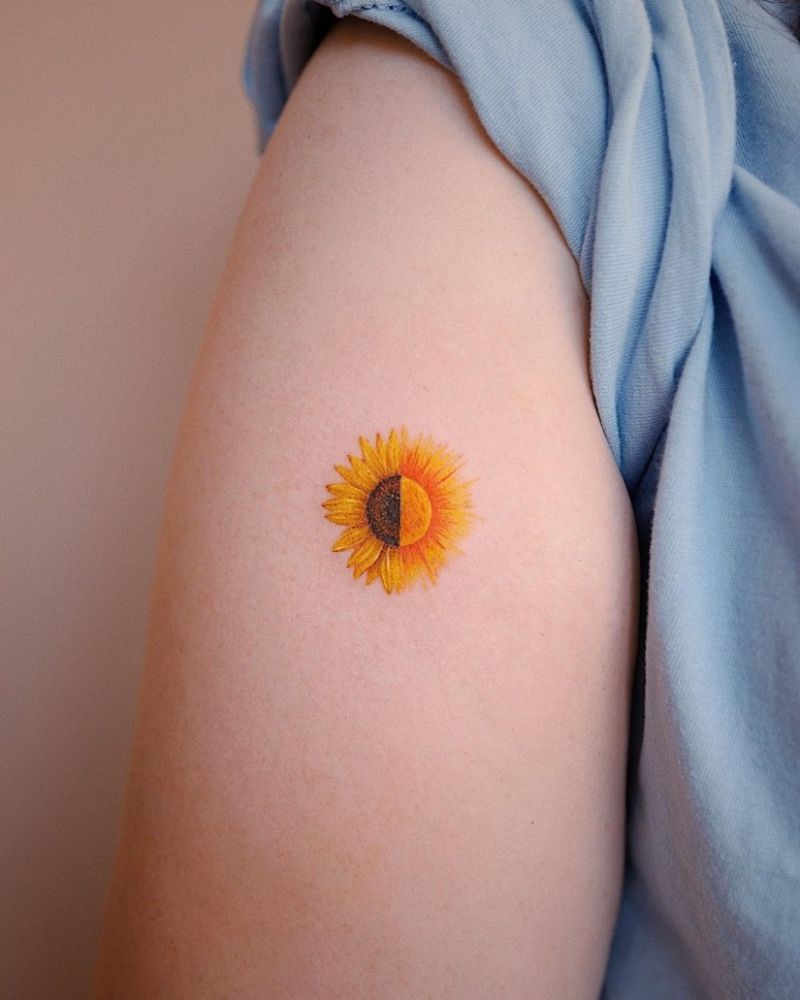 Now you can browse a few more photos and choose your favorite design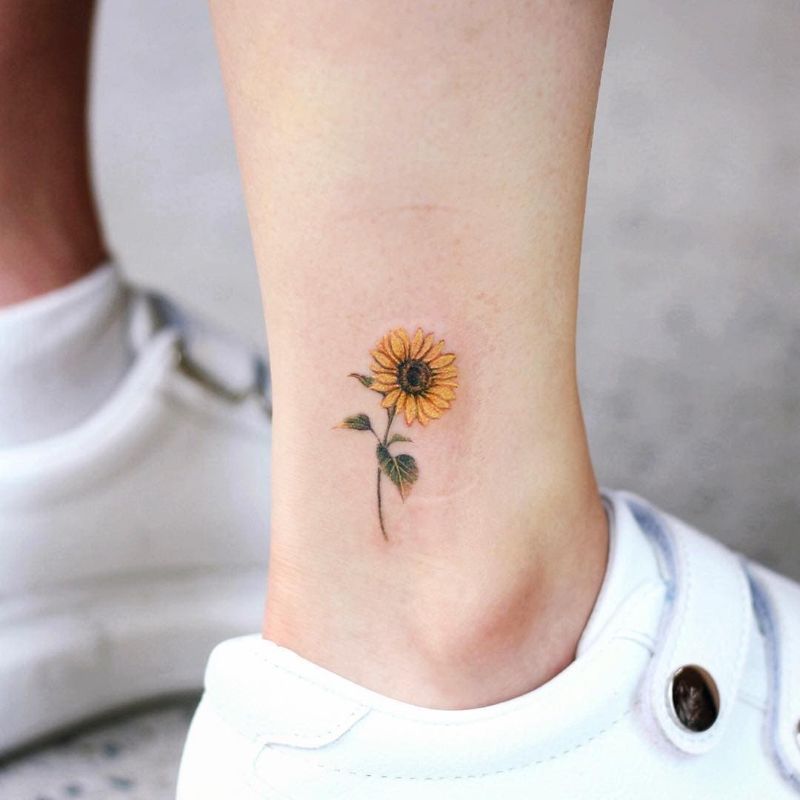 Black and white geometric sunflower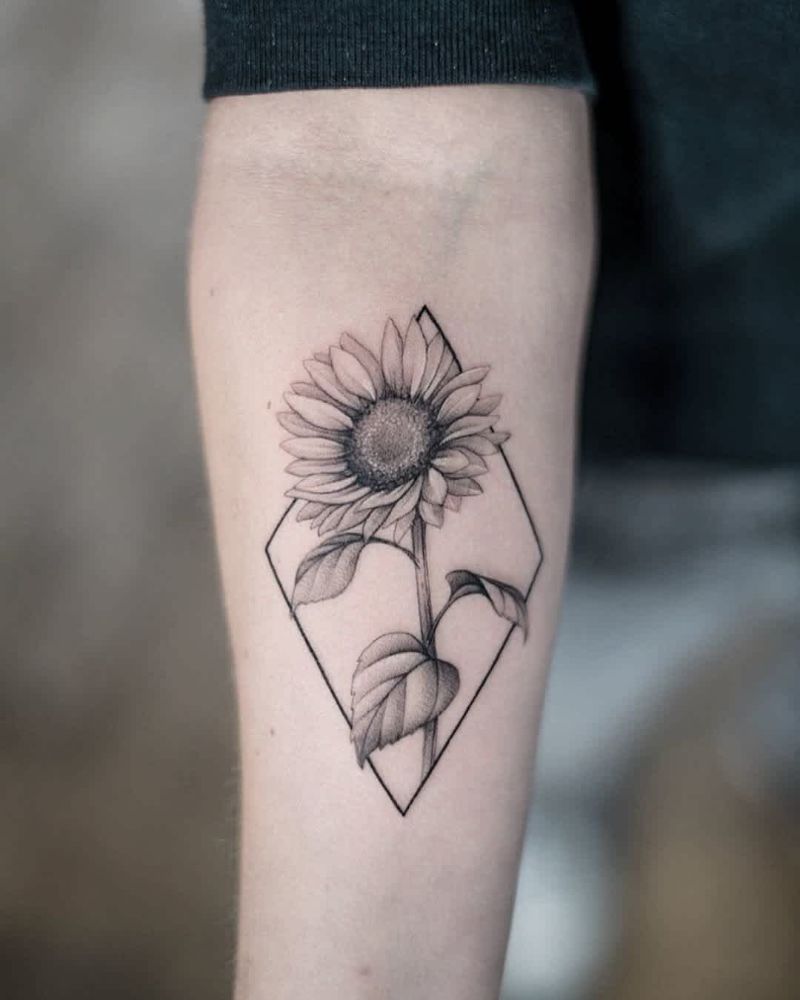 This thigh tattoo is absolutely stunning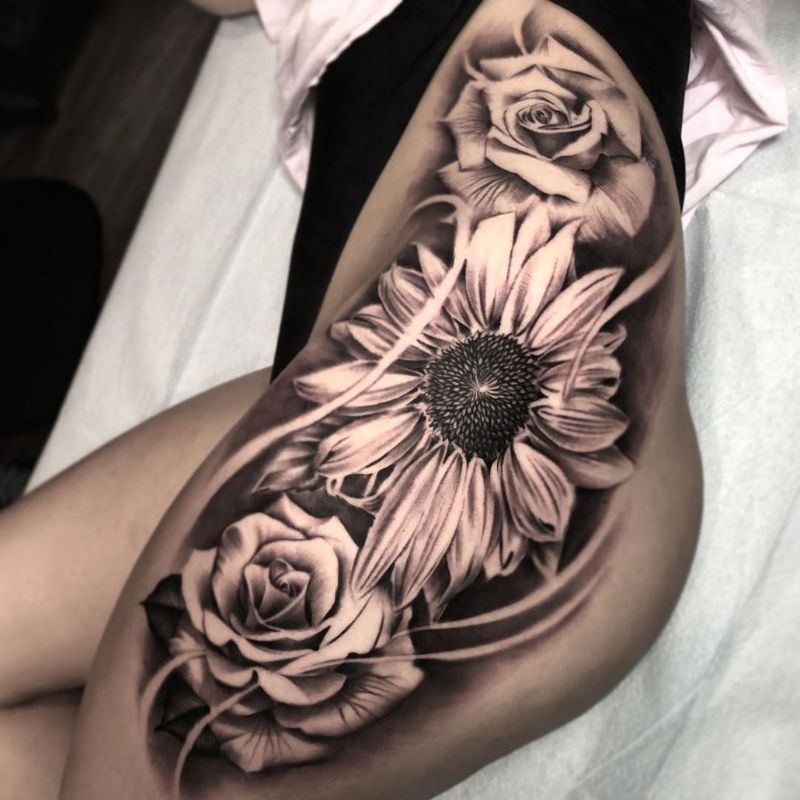 So realistic!
Geometric tattoos are very popular and trendy