---
The month of love is upon us! Everyone knows that February has the most special holiday out of them all – the holiday that celebrates love. And, don't get us wrong, you should showcase your love everyday, but the 14th of February is that one day of the year where our romantic emotions are on full display for everyone to see. So, if you have a special man in your life and you are looking forward to surprising him, this article is just for you. In it you can find special and creative DIY tutorials and ideas for St. Valentine's Day gifts for men, which are definitely going to put a smile on their face. After all, is there a better gift than one you have poured your heart and time into?
Show him your love with special messages in a bottle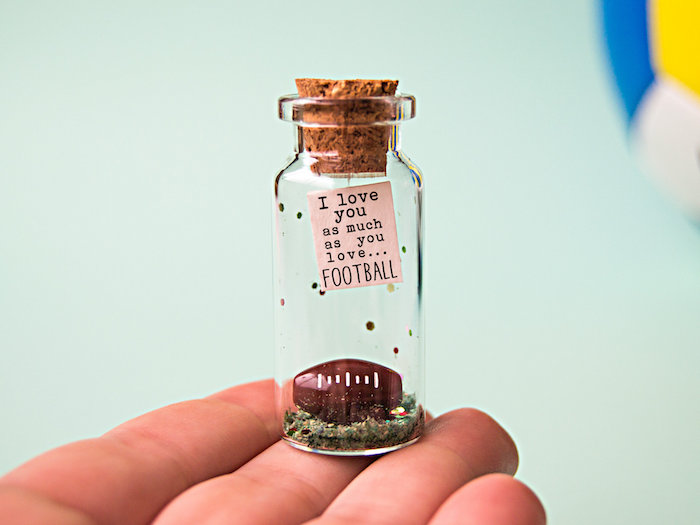 ---
So, let's start off with something super easy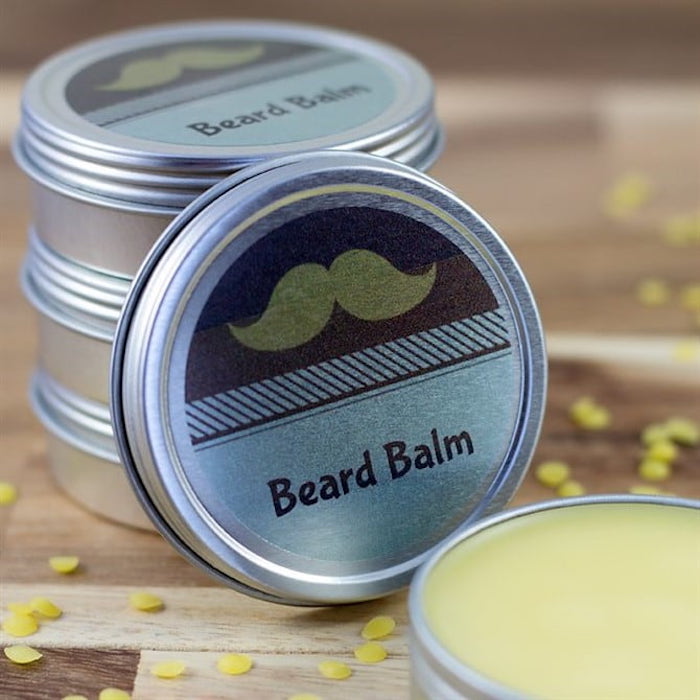 St. Valentine's Day gifts for men with a beard
Beard balm ingredients and supplies:
2 2-oz tins
4 tbsp beeswax pastilles
4 tbsp jojoba oil
2 tbsp shea butter
2 tbsp argan oil
10 drops of vitamin E oil
50 drops of cedar wood essential oil
wooden toothpick
Instructions:
Melt the beeswax pastilles along with the other ingredients except the cedar wood essential oil.
Remove from heat and then add the essential oil, mix with the toothpick.
Transfer the hot mixture into the tins and let sit for about 2 hours. You can add fun stickers on top if you wish.
This is so easy to make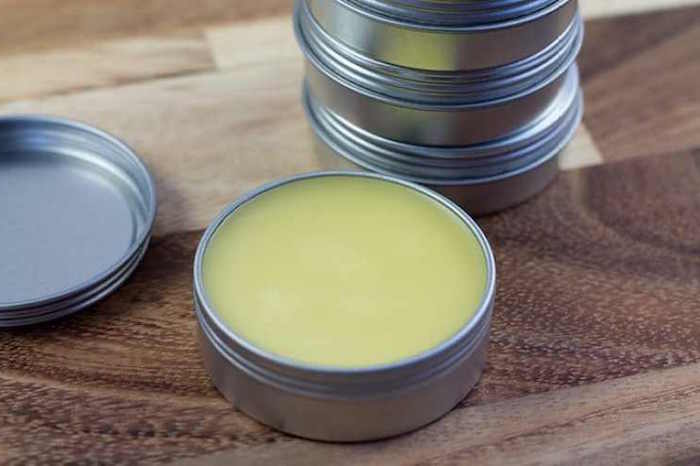 Source: Fireflies and Mudpies
Cool DIY gift for the beer lover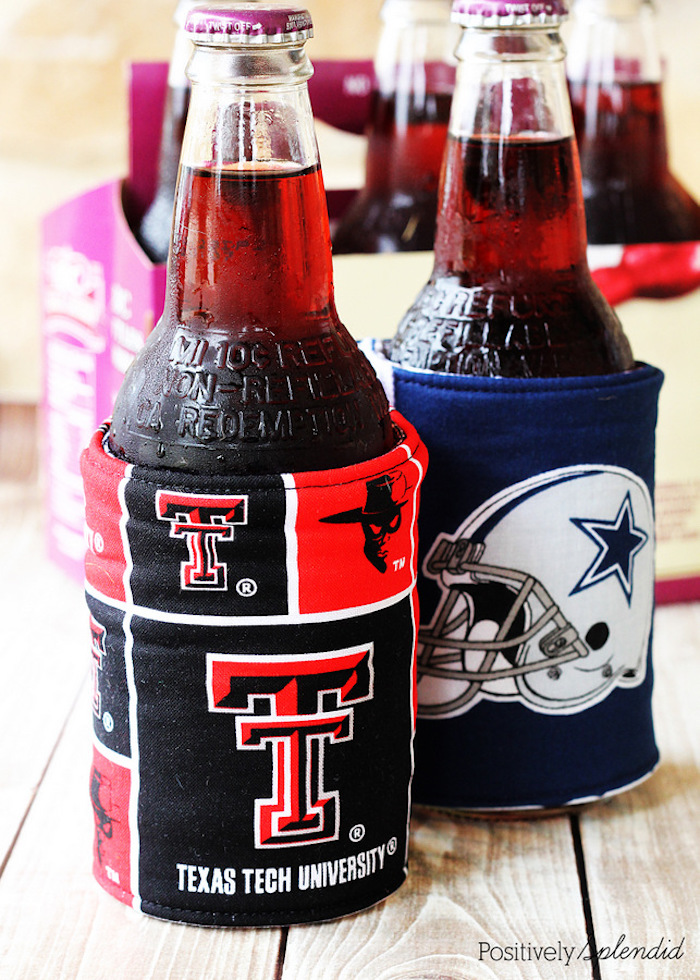 ---
Valentine's gifts for him
Supplies:
1 11×5-inch piece quilting cotton (for the outer body)
1 11×5-inch piece quilting cotton (for the body lining)
2 11×5-inch pieces fusible fleece
1 11×5-inch piece insulbright
1 4.25-inch piece of 1.5-inch velcro
coordinating thread
point turning tool
denim sewing needle
sewing supplies
Step by step tutorial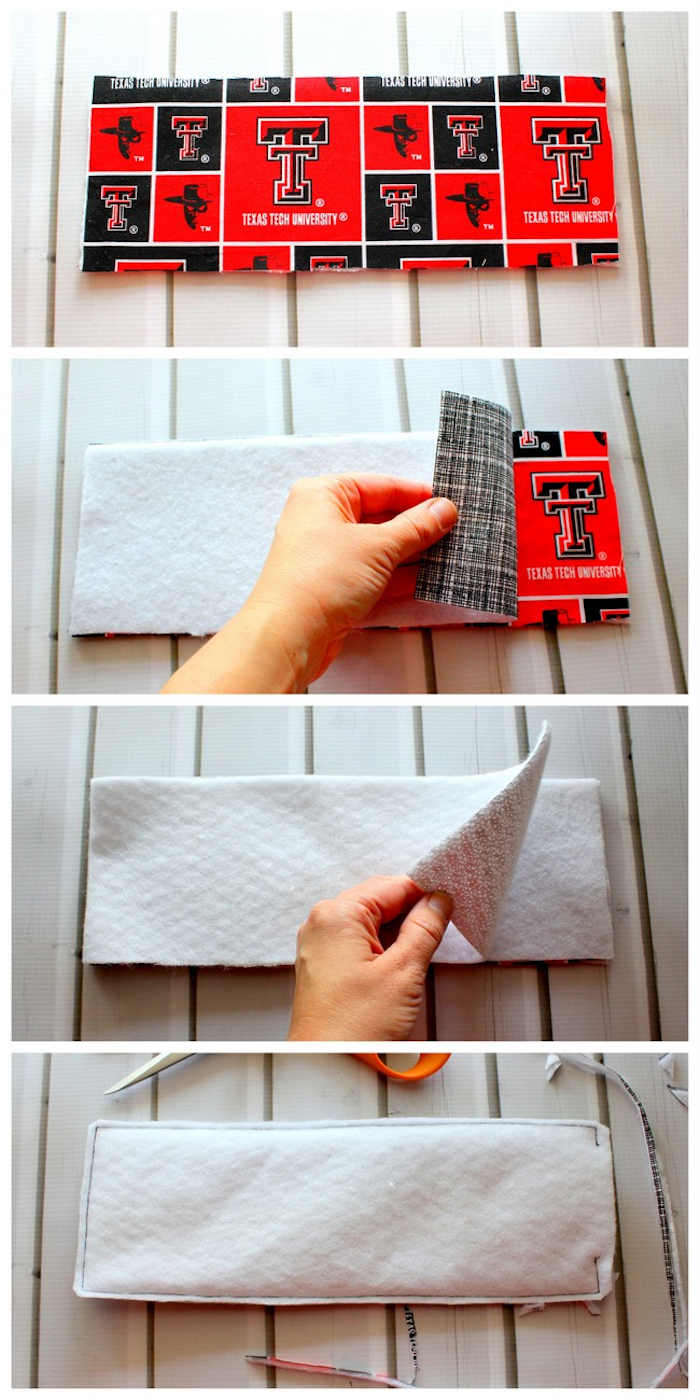 Instructions:
Start by fusing a fleece piece to the wrong sides of the two quilting cotton pieces.
Place the outer body piece on your work surface facing up and then the body lining piece facing down on top of the other piece. Add the insulbright piece on top.
Fit your machine with the denim sewing needle and using a 1/4-inch seem allowance, stitch the perimeter. Leave a 3-inch opening at one of the ends. Trim the seam to 1/8-inch after clipping the corners, but leave the short end where the opening is.
Turn right side out through the opening, using the corner turning tool. Edgestitch around the whole perimeter.
Finally, stitch the velcro to each of the ends of the piece.
Add the velcro as shown in the photo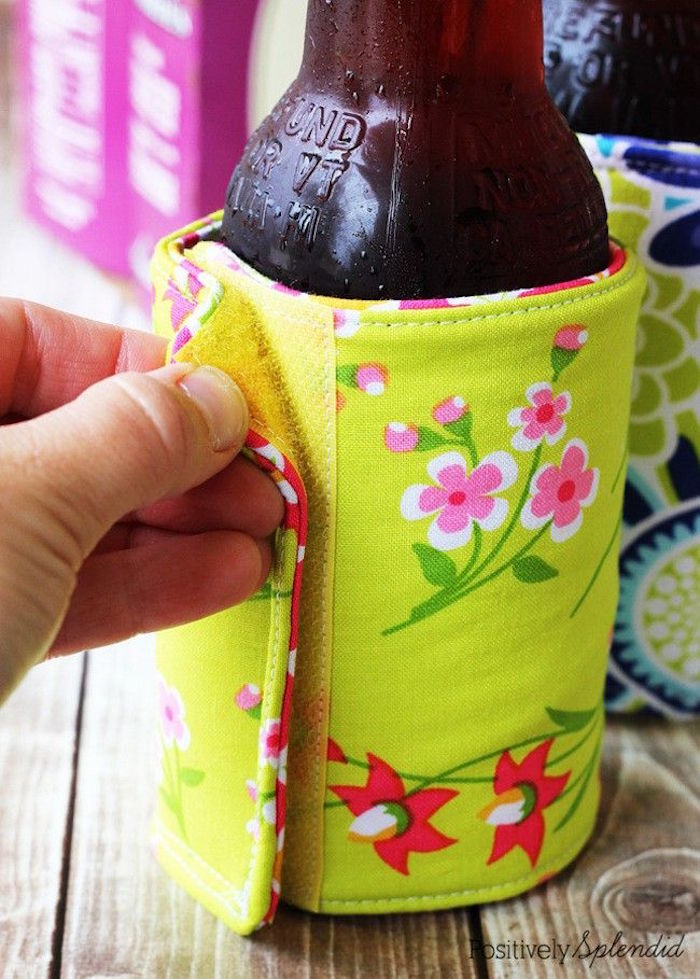 You are all set with a cute gift that is going to keep his beer cool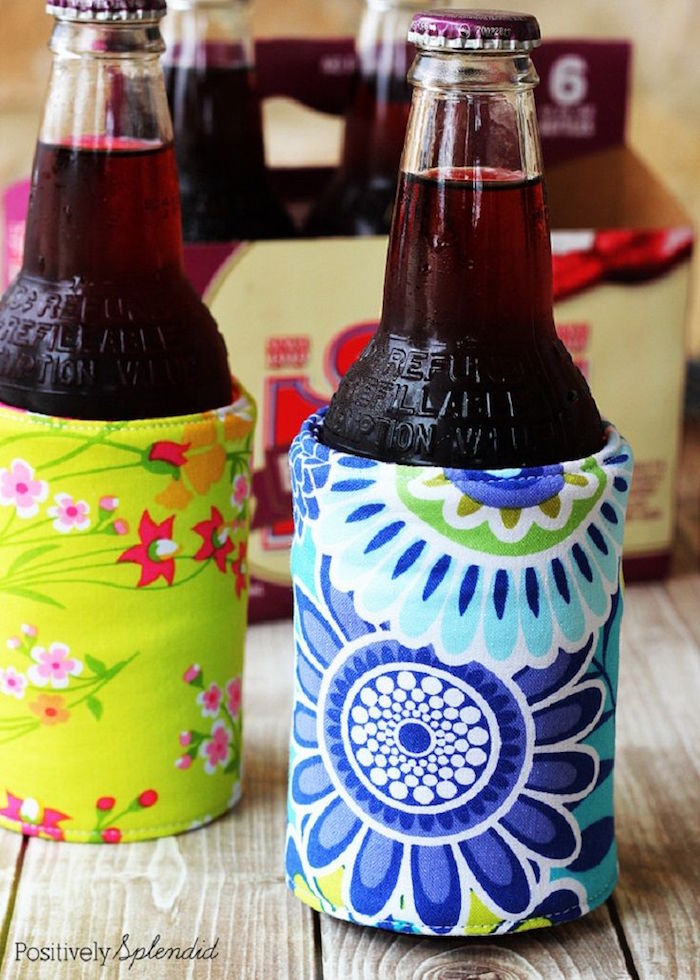 Source: Positively Splendid
Show him your creative side with cute crayon art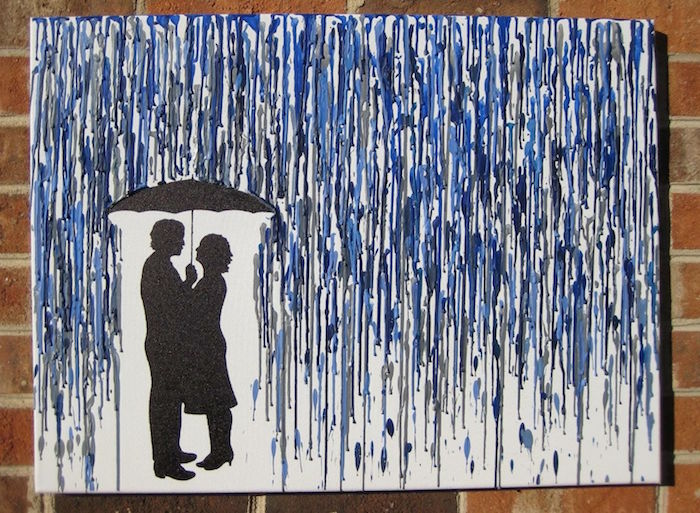 Valentine's Day gifts for boyfriend
Supplies:
crayons in the colors you desire
blank canvas
glue gun
heat gun or a hair dryer
You can create so many different paintings to express your love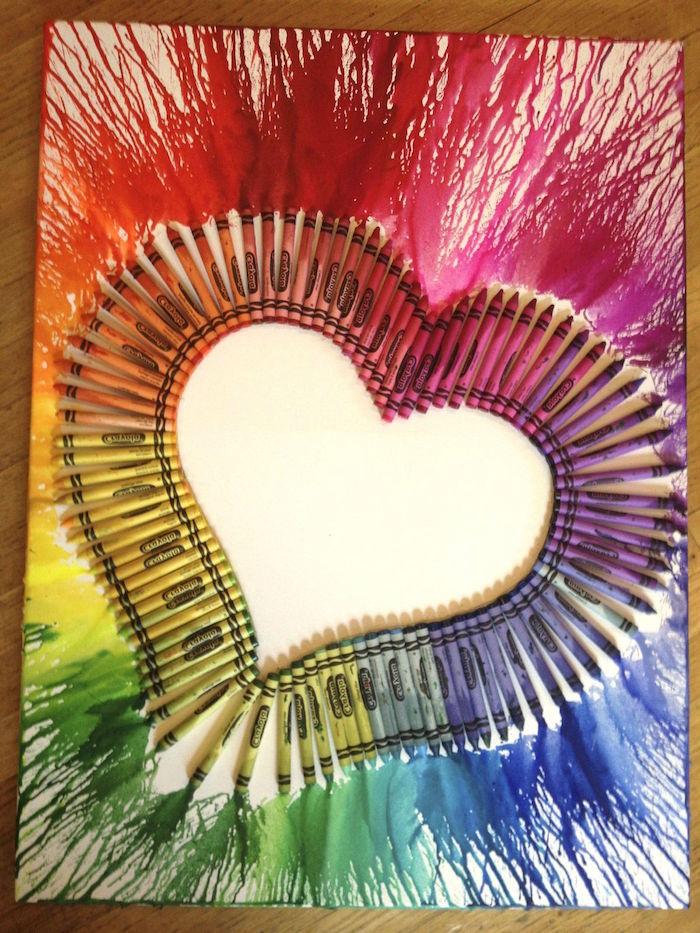 Instructions:
Lay out your crayons and arrange them in the desired shape.
Glue them down so they don't move when you blow dry them.
Prop the canvas up diagonally so that the melted crayons trickle down.
Using a heat gun or a hair dryer start melting the crayons. Let them cool.
You can also use masking tape to trace out a certain shape you like. You can also carefully remove the crayons if you wish.
This is probably the most romantic movie scene ever and it has been turned into art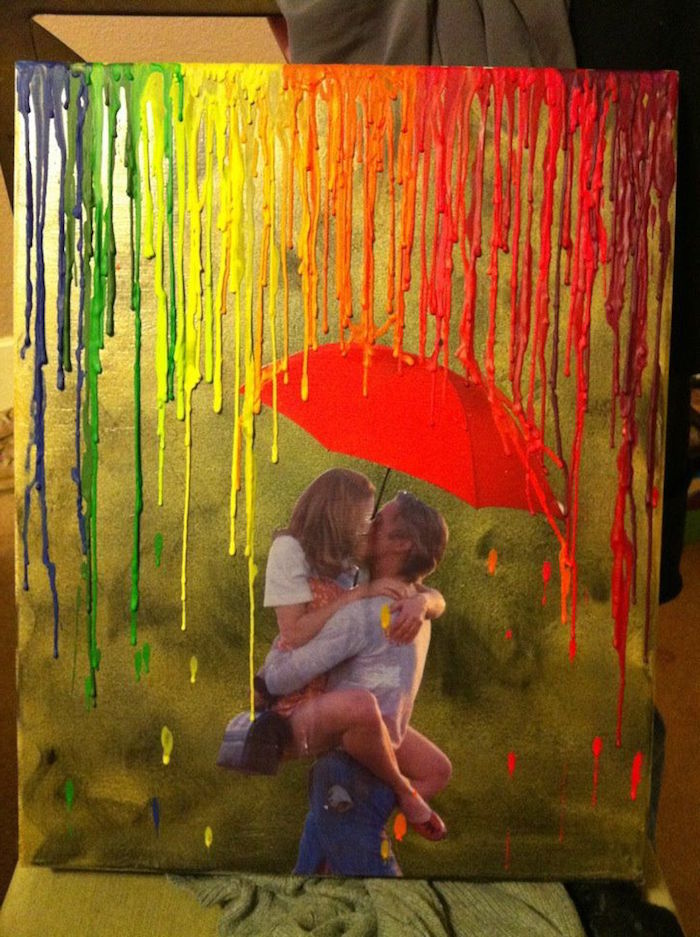 Source: The Spruce Crafts
Cool picture frame with changing photos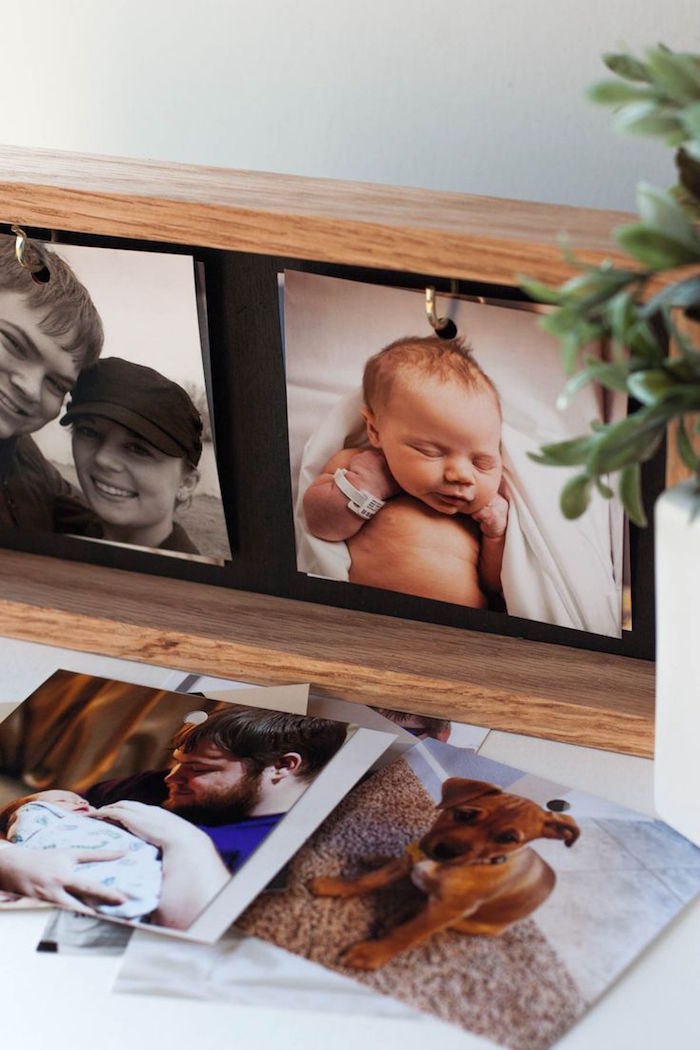 Valentine's Day ideas for him
Supplies:
1×2 pine board
thin project board
wood stain
black acrylic paint
wood screw hooks
4×4-inch photos
hole puncher
saw
hammer and small nails
sand paper
rag for stain
paint brush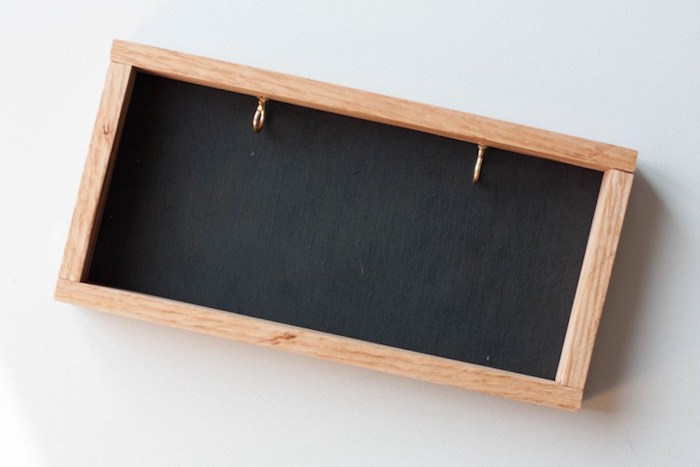 Instructions:
Use two 10-inch and two 5-inch boards to assemble the frame. Sand them and stain them. Let them dry completely and hammer in a few small nails to keep the frame together.
Screw in the hooks 2.5-inches away from the inner edges.
Measure out the project board, sand it, paint it in black and attach it to the back of your frame.
Punch small holes at the top of your photos and hang them onto the hooks in two stacks.
Having this photo frame allows for changing your pictures every day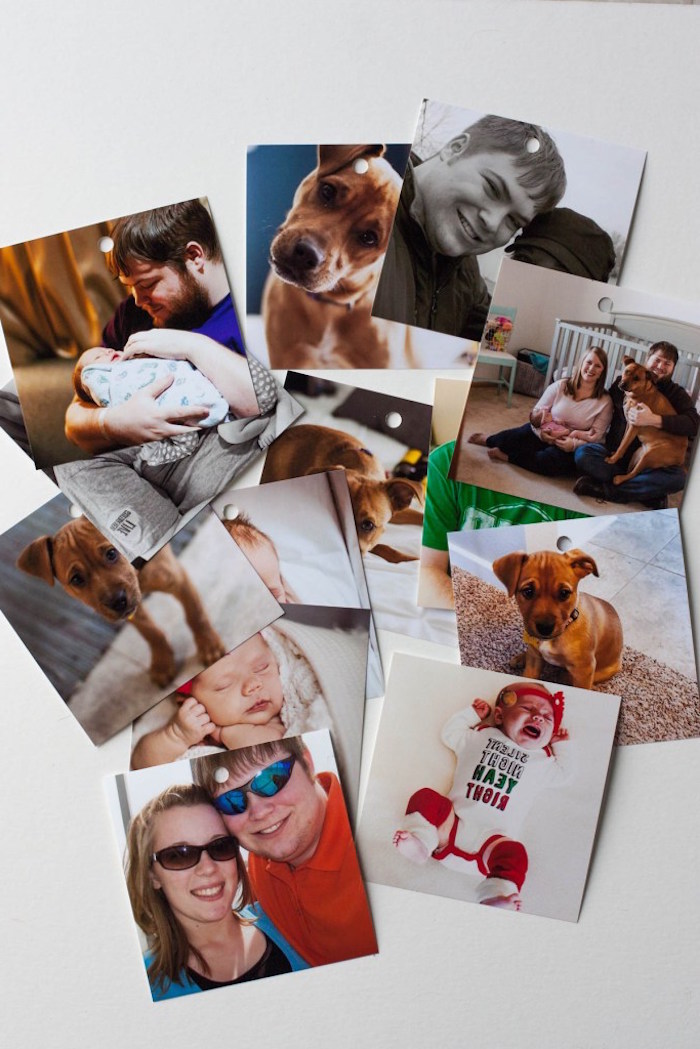 Source: Small Stuff Counts
Sentimental pop up photo box DIY tutorial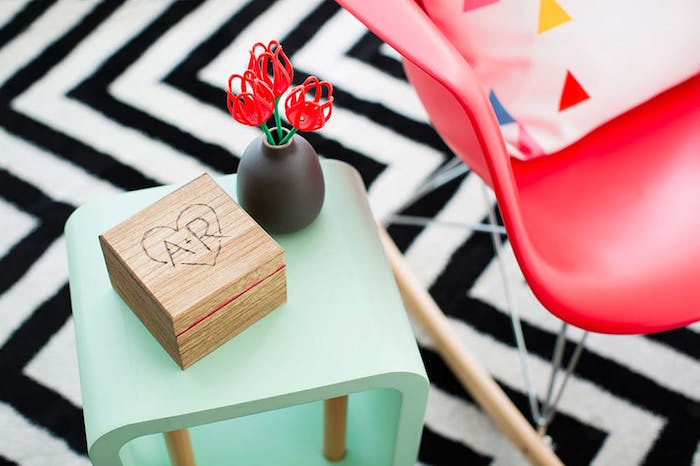 What to get a guy for Valentine's Day?
Supplies:
wood craft box
wood stain
paint
ribbon
photos
black cardstock
ruler
exacto knife
wood burner
paint brush
pencil
double sided tape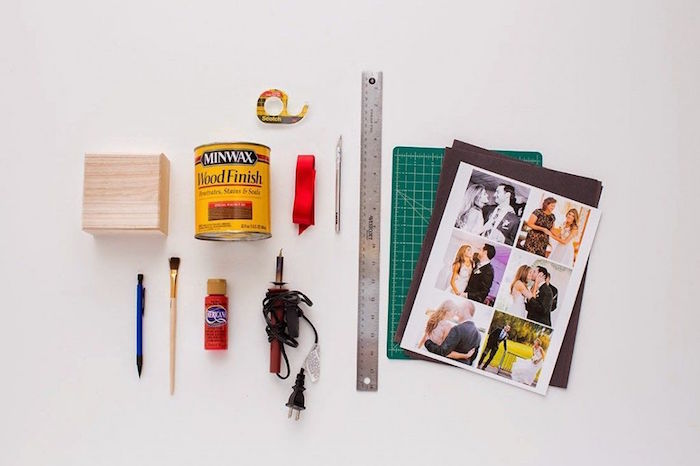 Instructions:
Stain your wooden bog and let it dry.
Use the wood burner to etch your initials on the top.
Cut your card stock into strips with 3.5-inches width and fold them as an accordion.
Attach the photos to each square of the cardstock with the tape.
Make a loop with the ribbon and attach it with tape, then use black cardstock to tape on top to hide it.
Tape the photos to the bottom of the box.
You can paint the inside of the box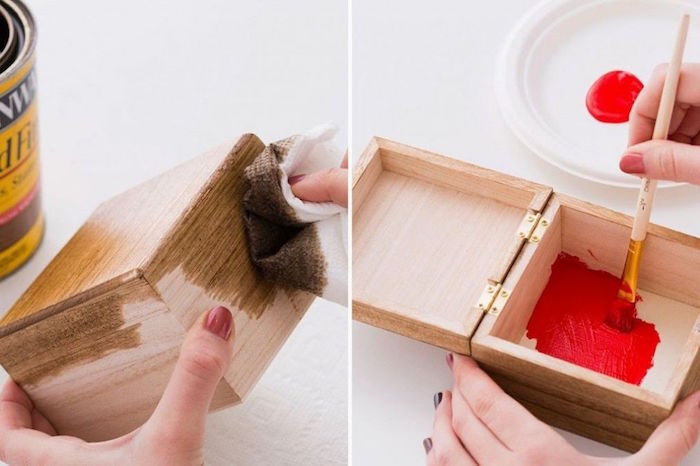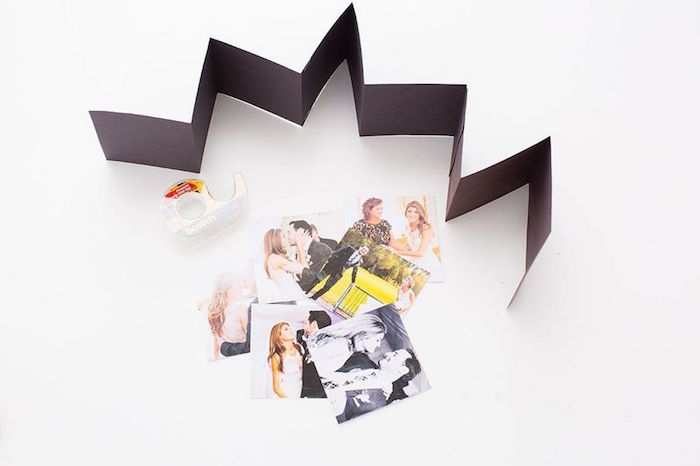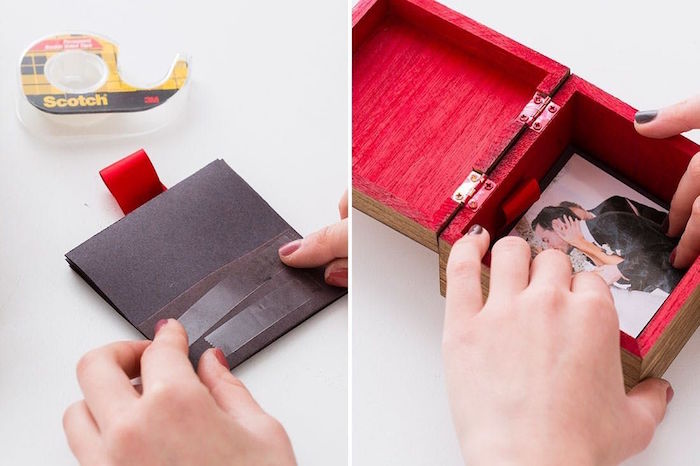 This is so reminiscent of school love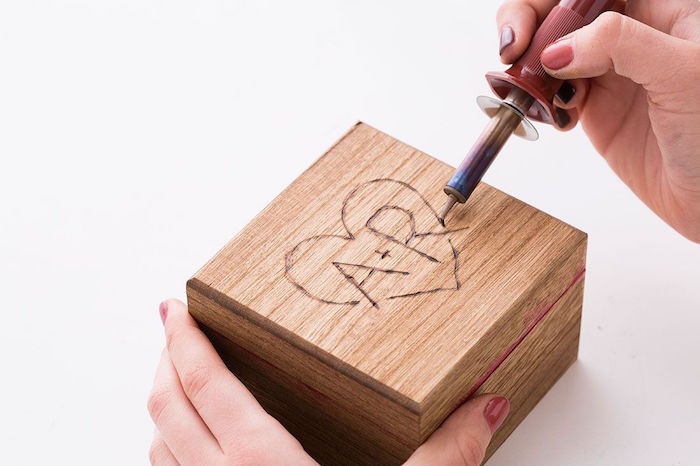 You can decorate your box in different ways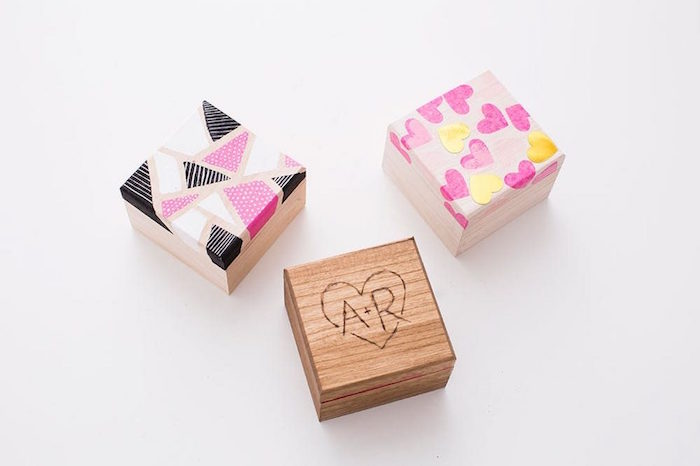 Source: Brit + Co
Cool wall art idea with black and white photos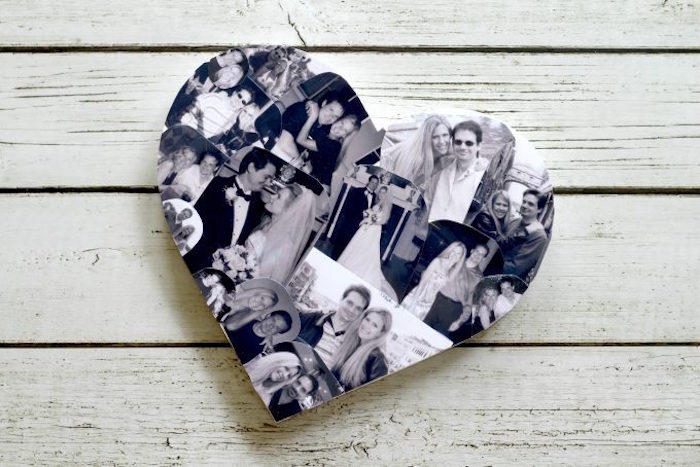 St. Valentine's Day gifts for him
Supplies:
wooden heart shaped block
white acrylic paint
paint brush
mod podge
photos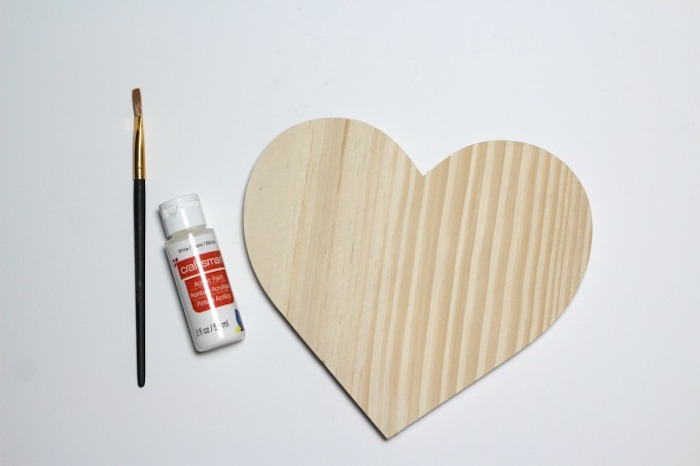 Instructions:
Paint the heart in white and let dry completely.
Print out your photos in black and white and cut them in different shapes.
Arrange the photos on the heart to see how they would look best. Use the mod podge to glue them to the heart. Let dry.
Cut off any excess edges of the photos around the shape of the heart.
For extra protection you can cover the photos with mod podge and let them dry. Be aware, however, that this might change their color a little bit.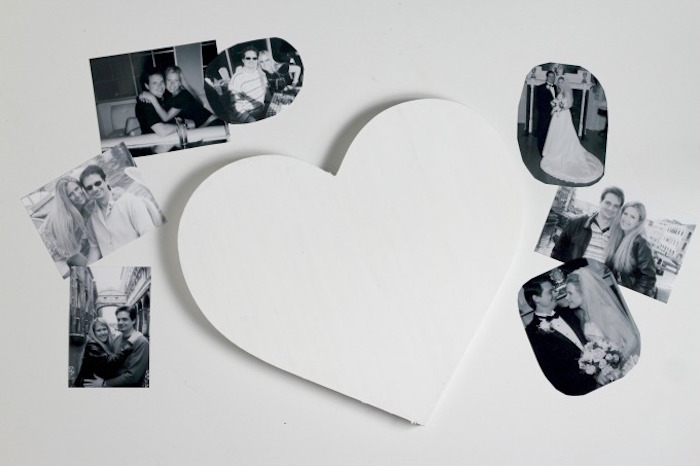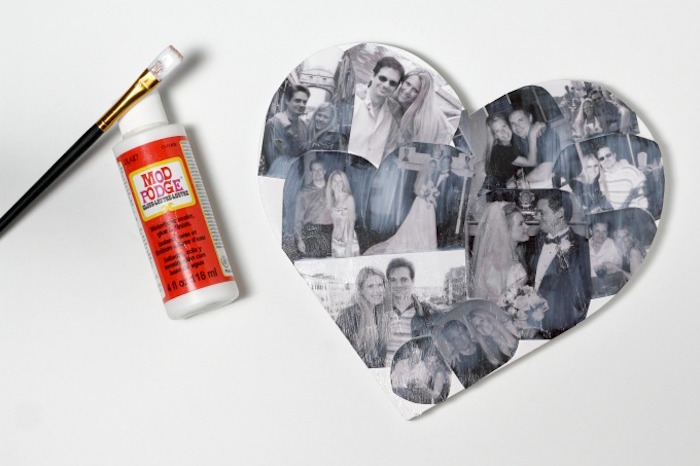 Source: Fun Money Mom
No here are some more ideas for personalized St. Valentine's day gifts for men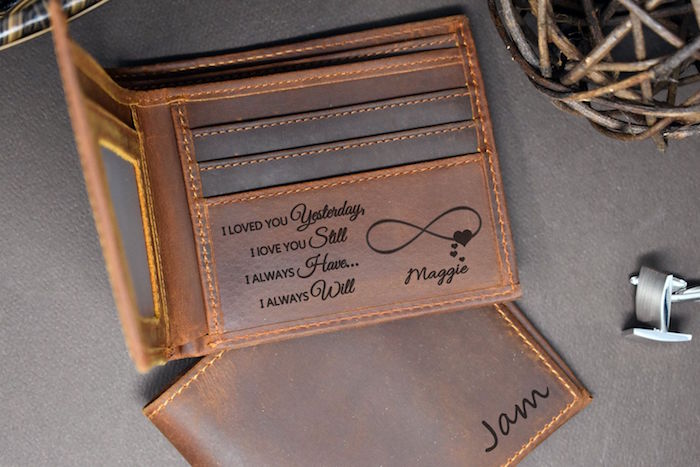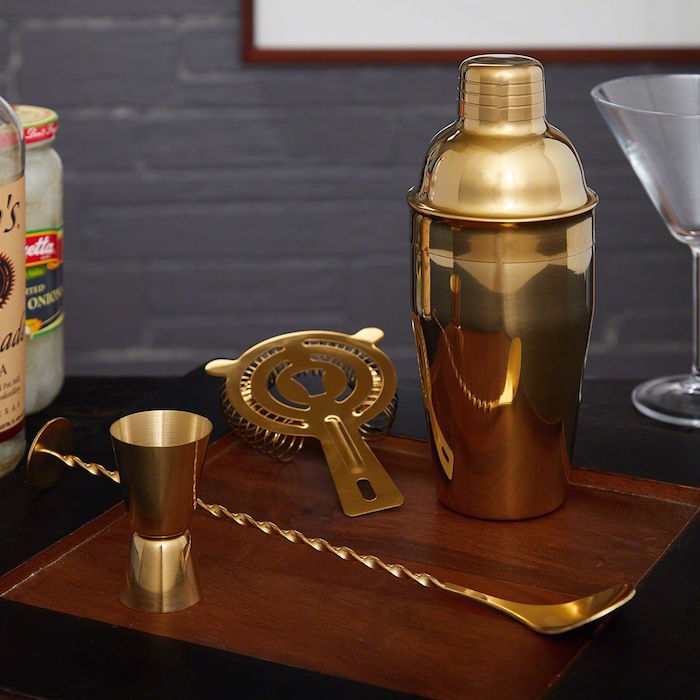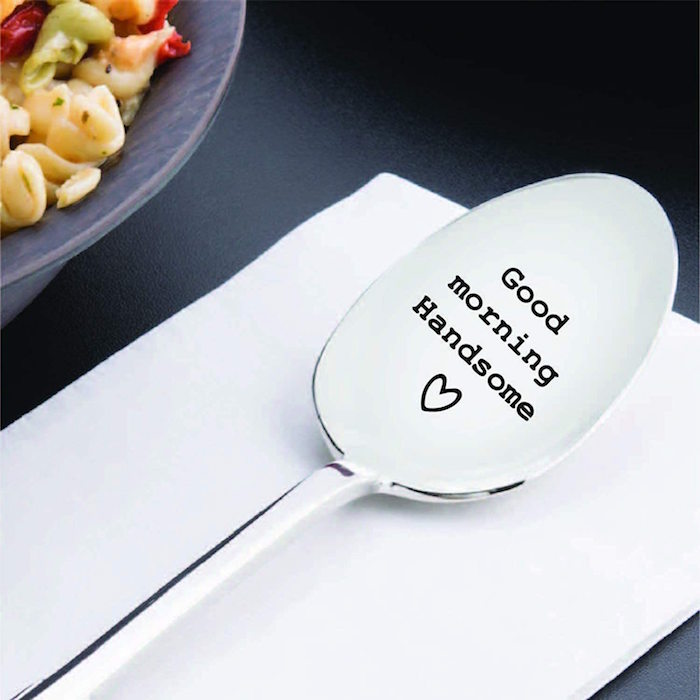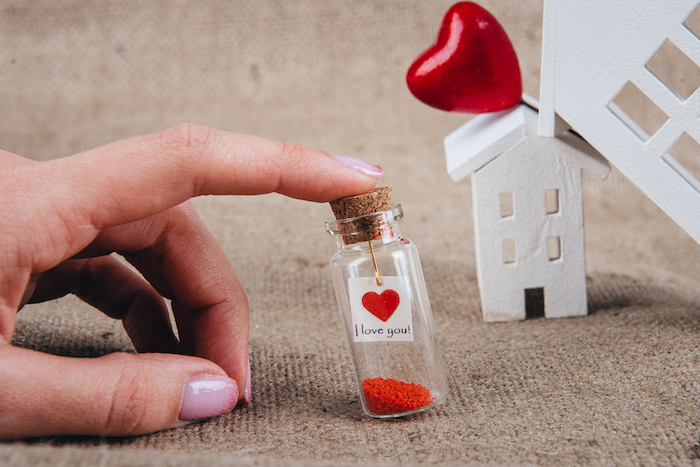 I think you are tea-riffic – funny mug for the tea lover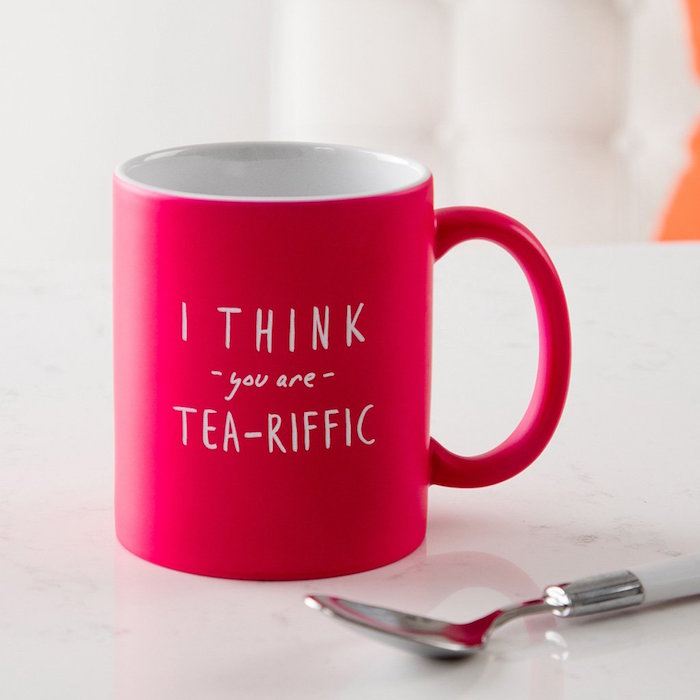 An at-home exercising kit just in time for quarantine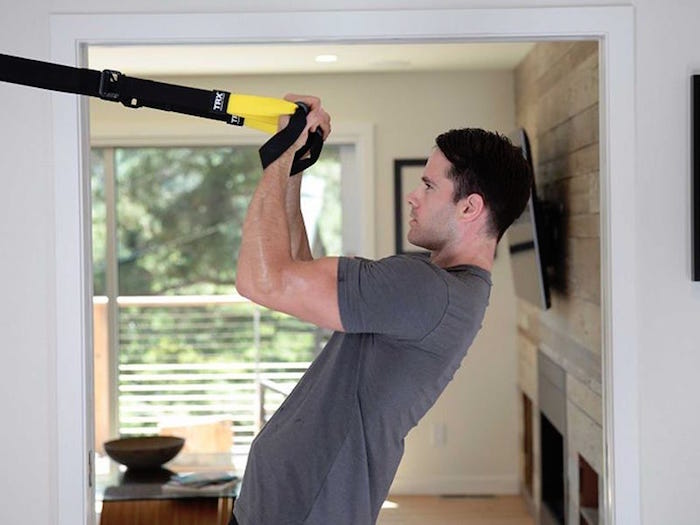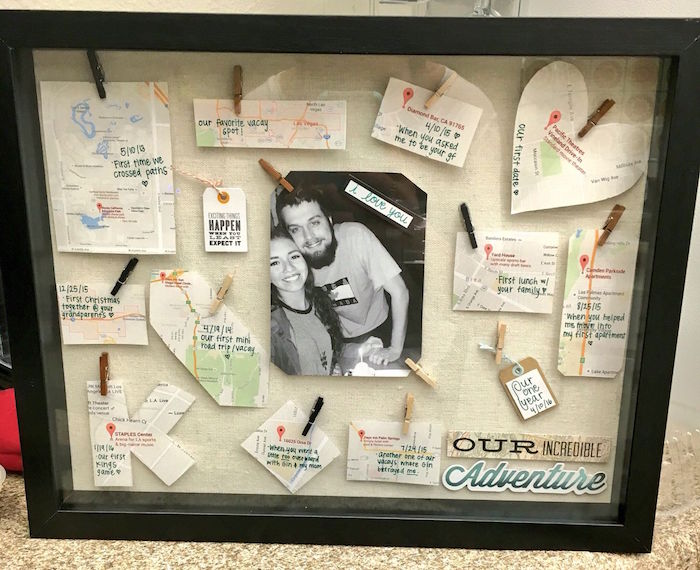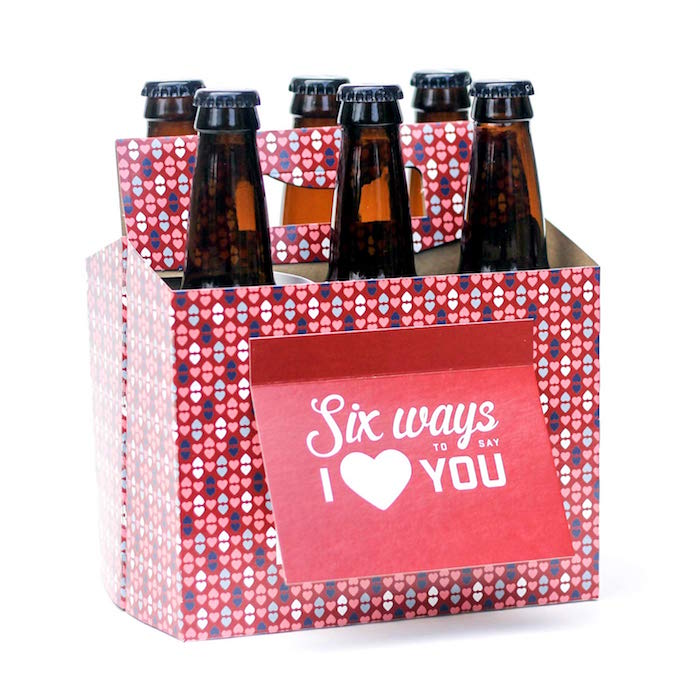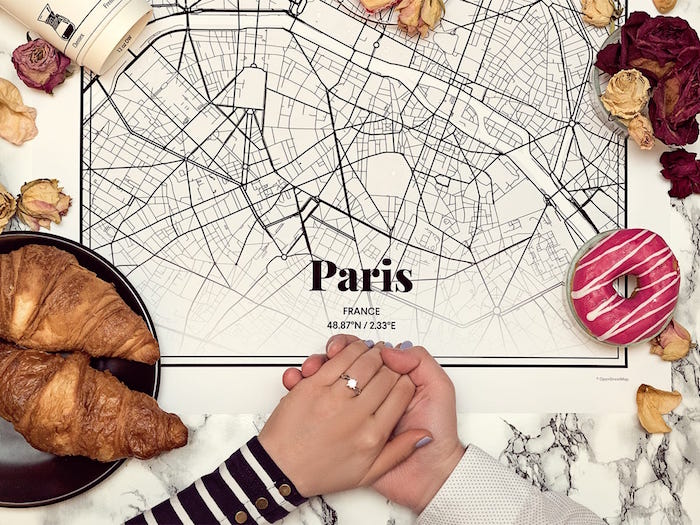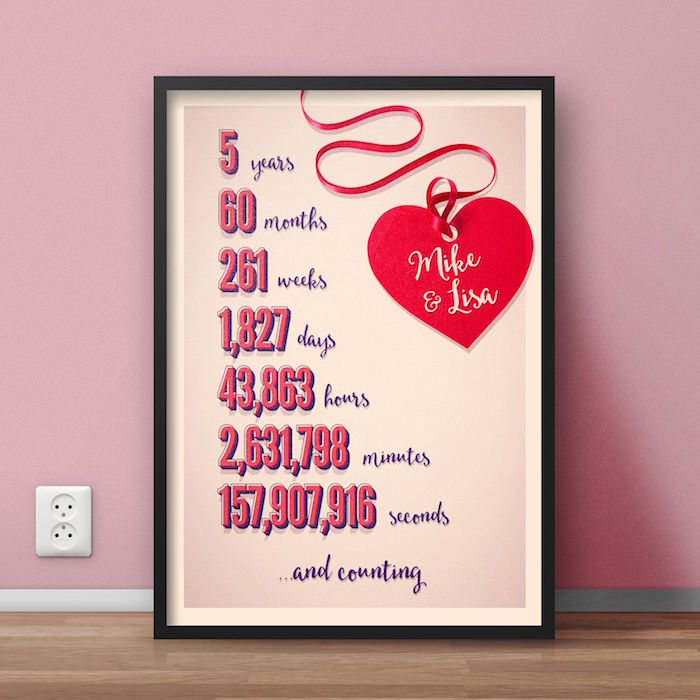 Does he have his own seating spot? Well, now he has his own pillow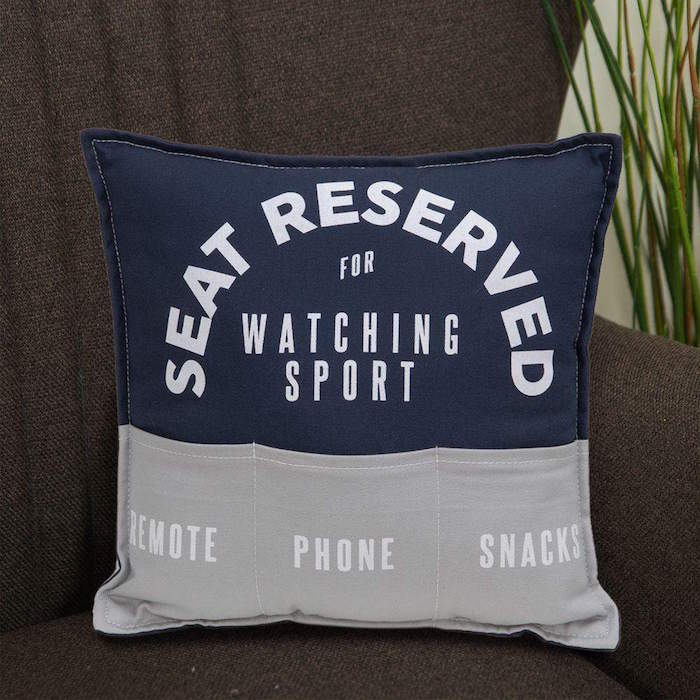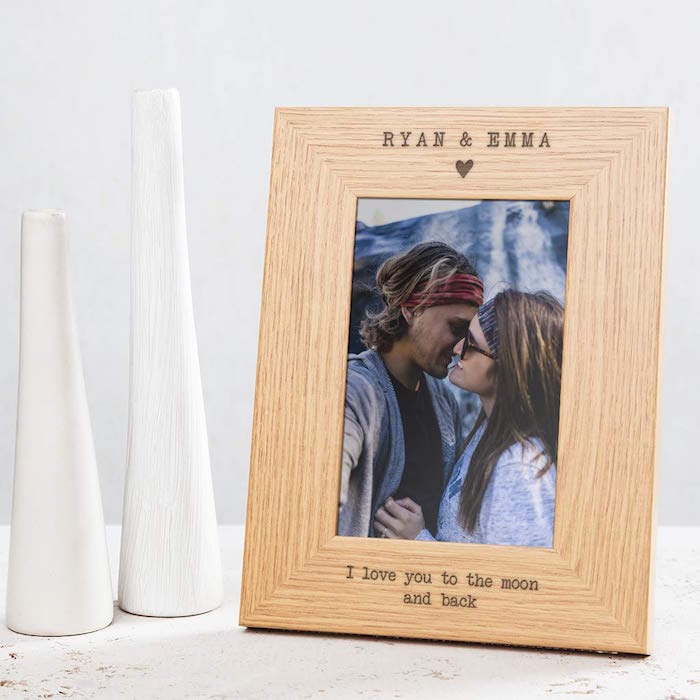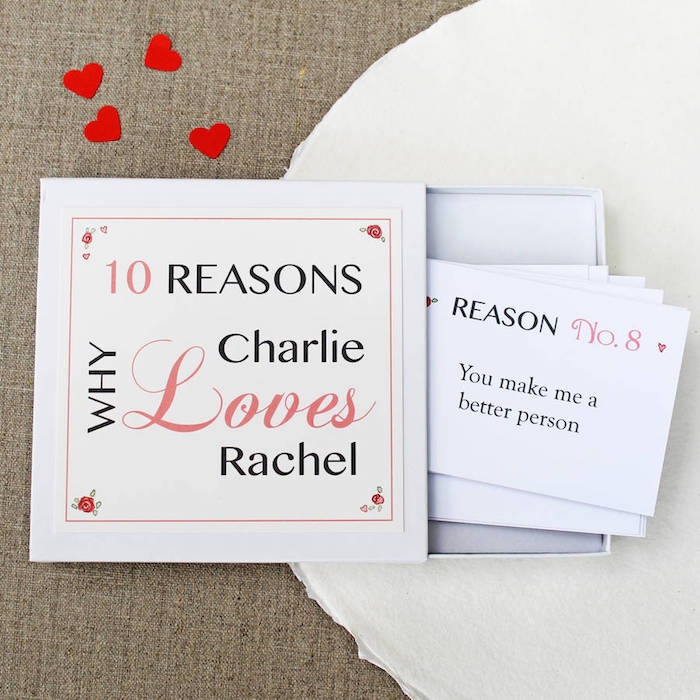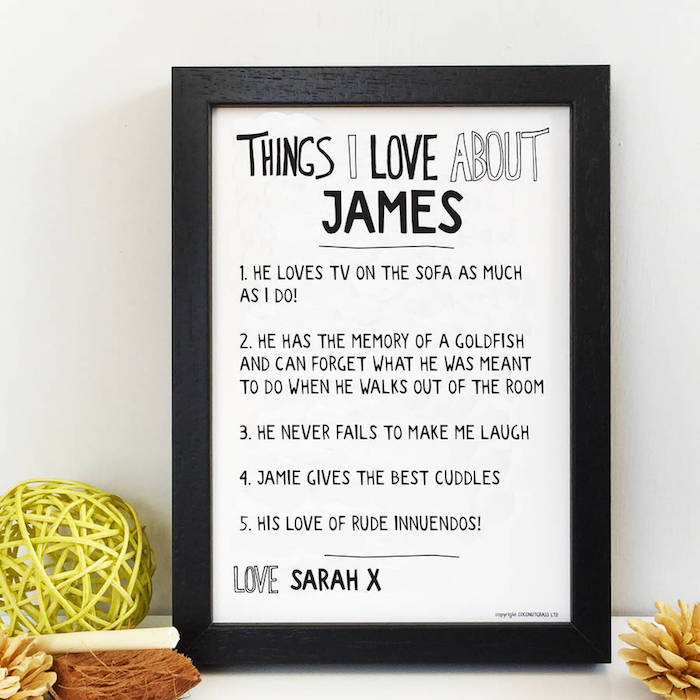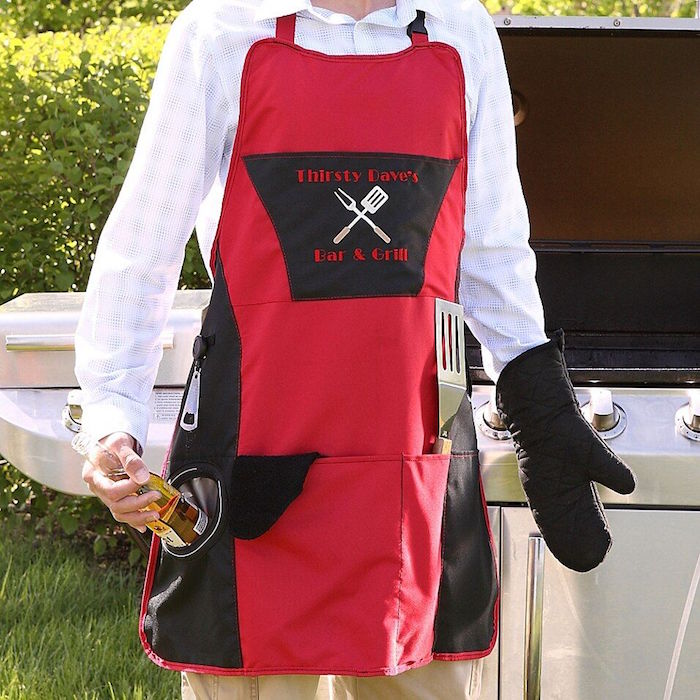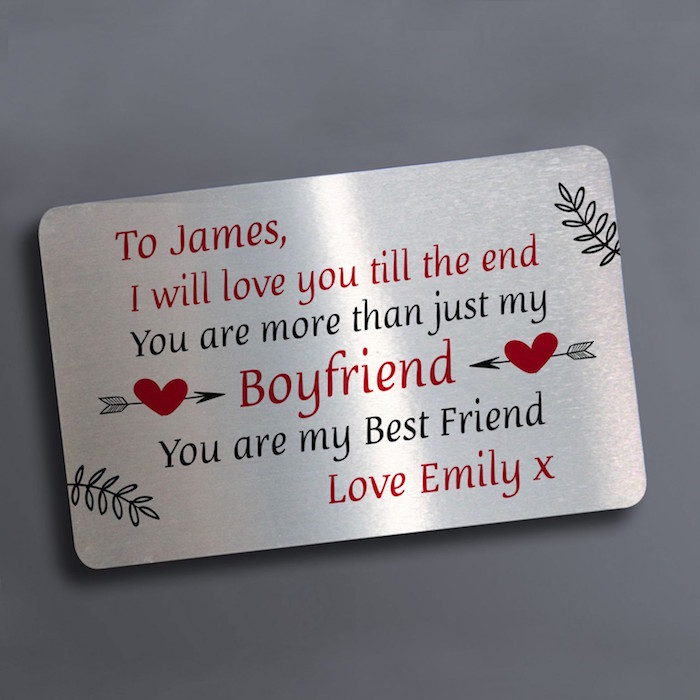 If you are feeling generous, why not get him personalized wireless headphones