Are you preparing a surprise for your SO? Here are 70 Valentine's Day decor ideas to try
Valentine's Day is almost here. And with it, comes the pressure of surpassing your significant other's expectations and surprising them in the best way possible. Some people argue that February 14th shouldn't be the only day on which you have to express your love. And, although we agree, we think that since it has been universally accepted as the holiday of love, you should definitely make your partner feel extra special on this particular day. That is why, today we are going to help you impress your significant other with some of the best Valentine's Day decor ideas you can try.
Valentine's Day decor ideas to help you prepare the best surprise for your partner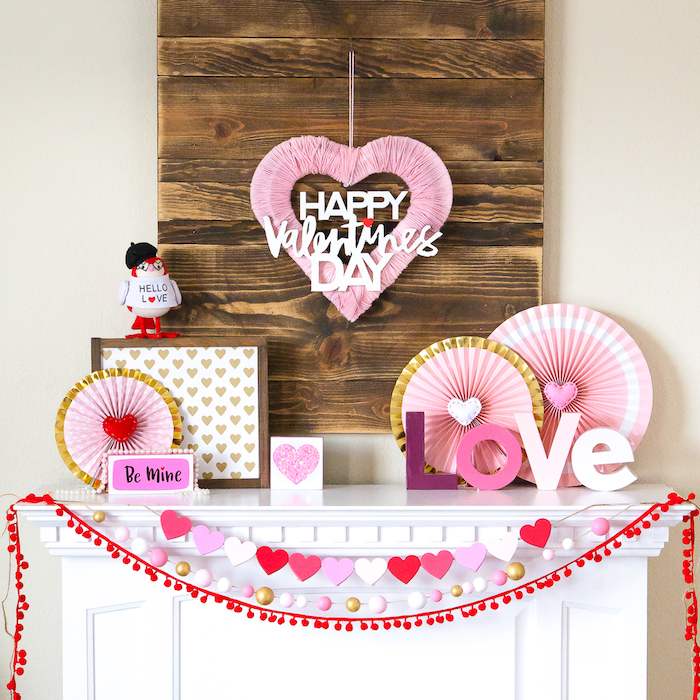 Where does Valentine's Day come from?
It originated as a Christian holiday celebrating one of the early saints called Valentinus. One of the stories associated with this holiday tells the story of Saint Valentine from Rome and his imprisonment. He was imprisoned for officiating weddings for soldiers who weren't allowed to get married. The legend says that the Saint restored the eyesight of his judge's daughter. After which he wrote her a farewell letter before his execution, signing it "Your Valentine". Hence, the often used phrase.
When it comes to the traditions of the holiday, it is believed that they originated in the 18-century England. That is the time when men started courting their objects of affection. They started presenting them with flowers, love letters and greeting cards, now known as valentines. Which is why, the holiday implies all the same things to be done for your special someone.
Valentine's Day is definitely the most romantic holiday of the year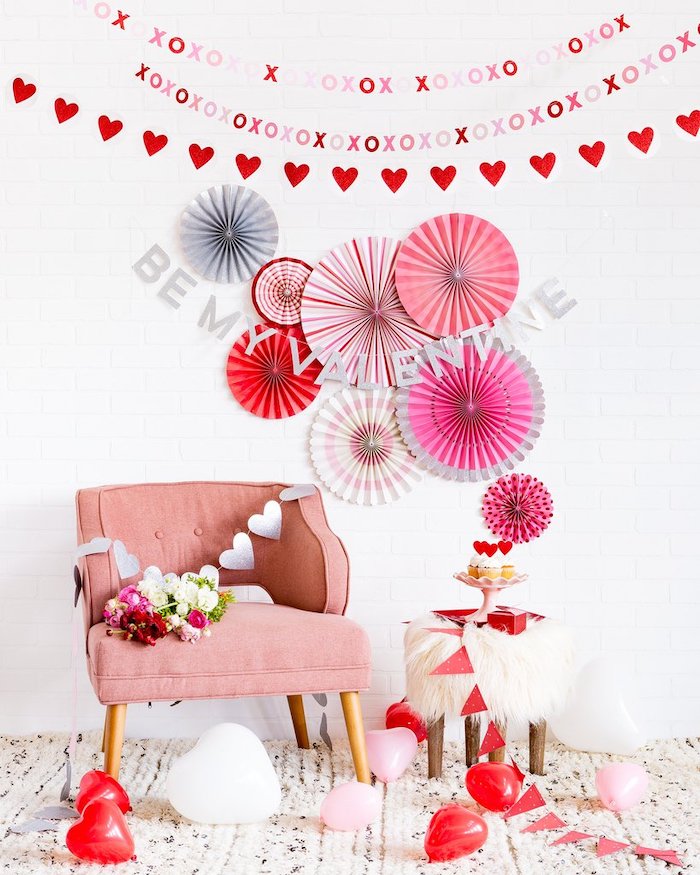 It is often associated with the consumption of lots of candy, representing the sweetness of love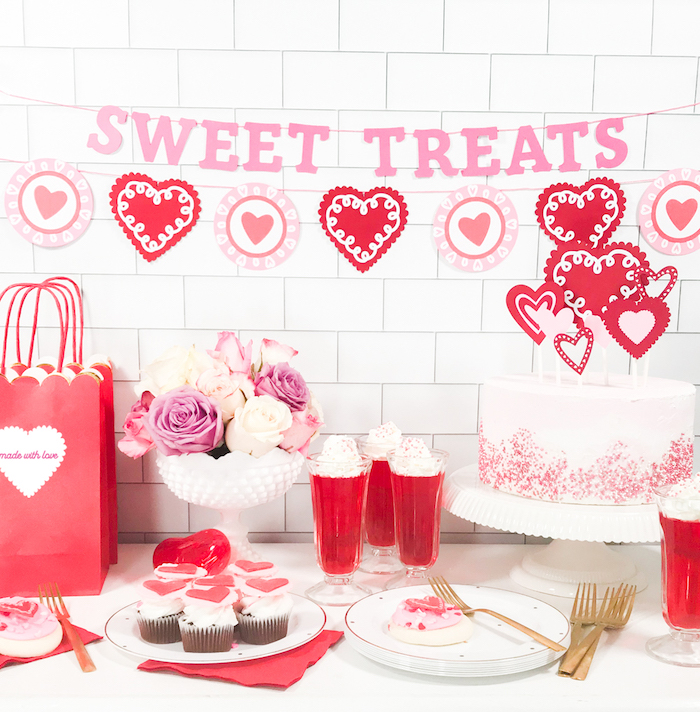 Lovely idea for a Valentine's Day decor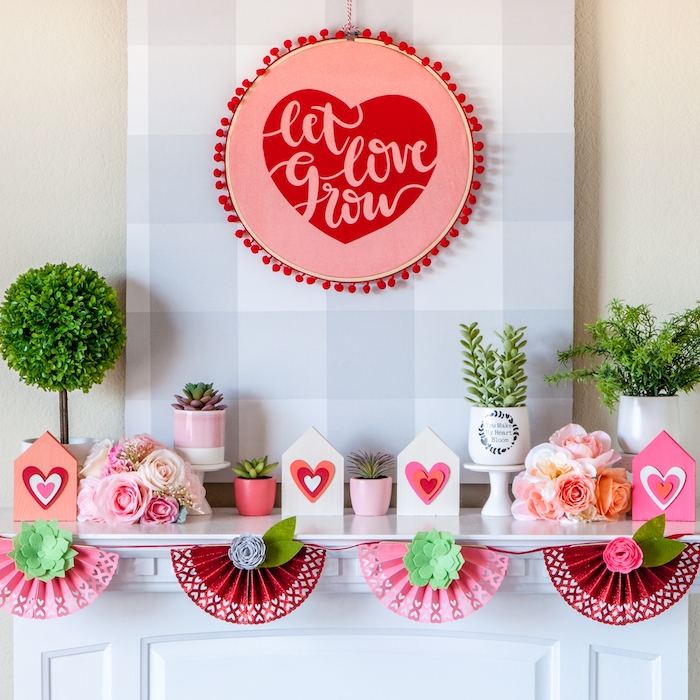 Preparing a nice brunch for your partner is a nice way to start the day
Plus side of the timing of the holiday is the cold weather, because who wouldn't want to cuddle up next to someone they love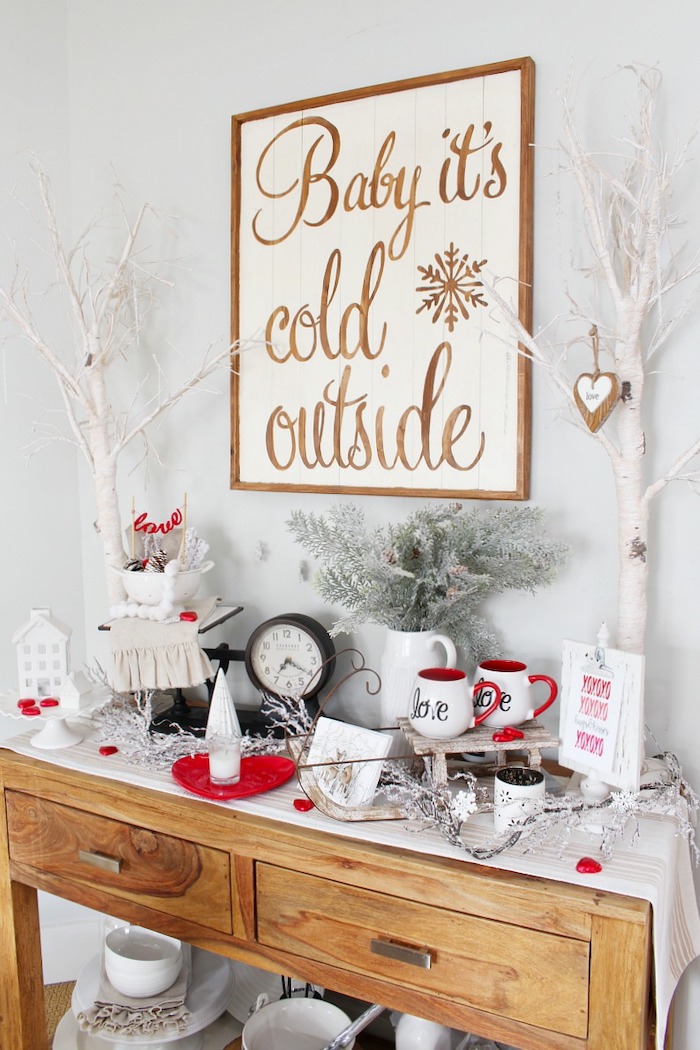 Candies are an inseparable part of the traditions
Easy DIY tutorial for gorgeous Valentine decorations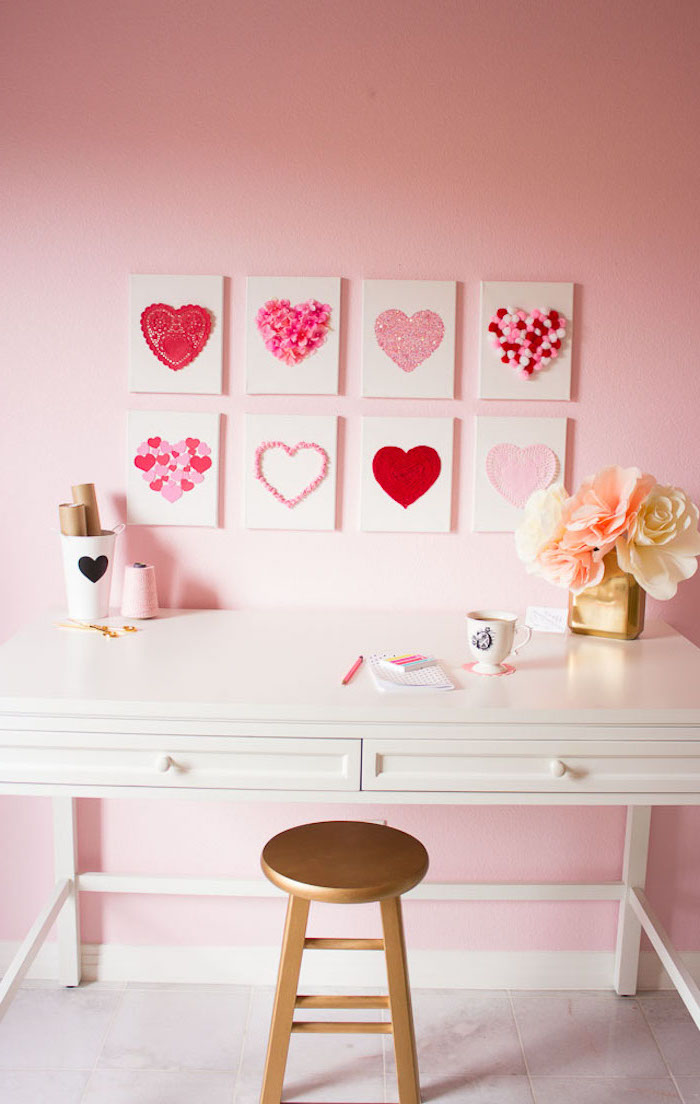 Supplies:
small canvases
glue gun or mod podge
scissors
pencil
heart template to trace
pom poms
silk flowers
glitter
heart doilies
foam heart stickers
yarn
tissue paper streamers
You can decorate the canvases with everything you have on hand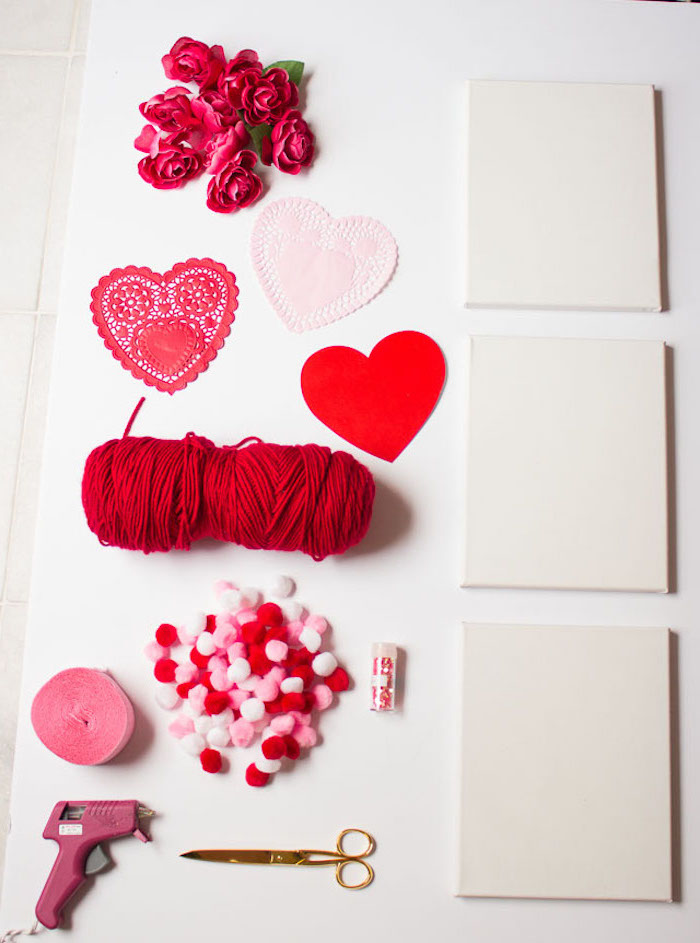 Trace the heart shape onto the canvas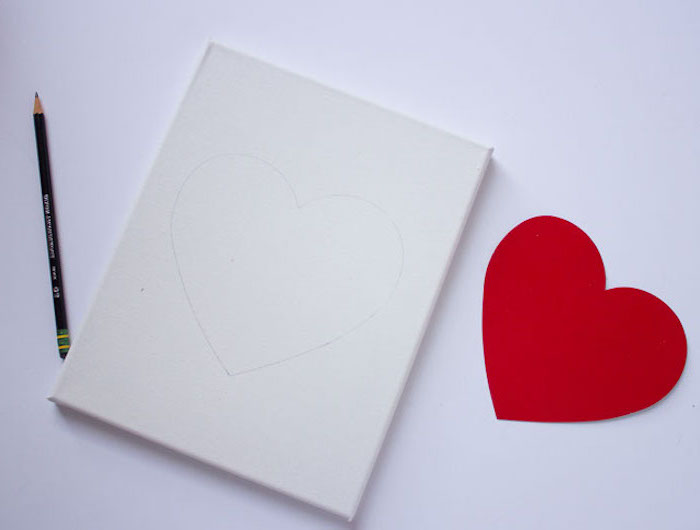 Using you supplies and glue decorate the different hearts on the canvases
The end results are so gorgeous, honestly, I don't know if I should leave them up until the next Valentine's Day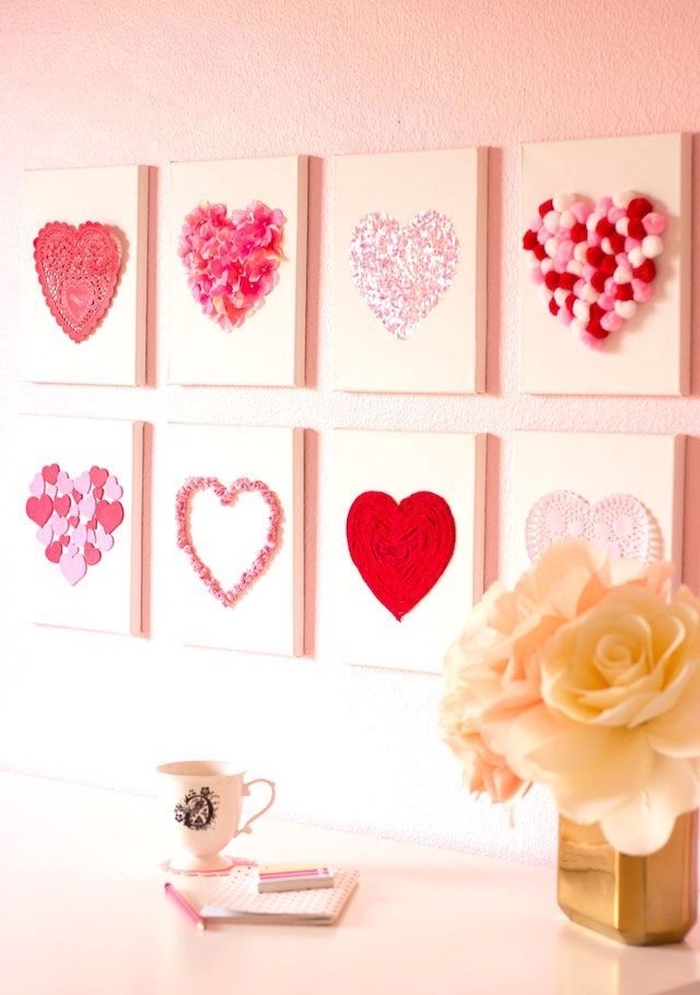 Source: designimprovised. com
Surprise your partner in bed with personalised presents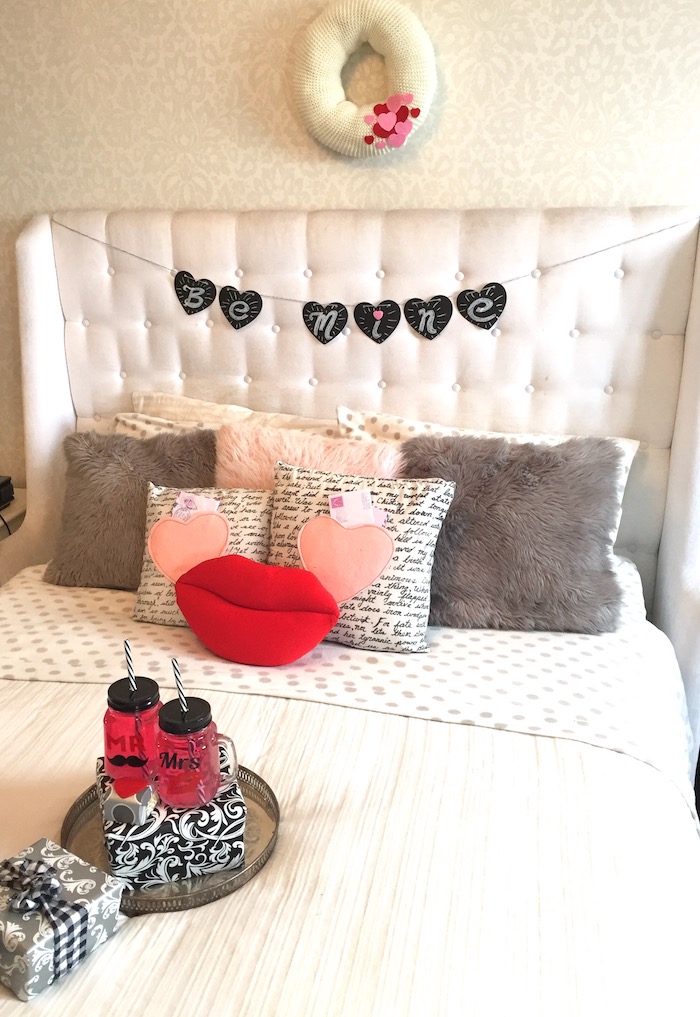 "Be mine" is one of the most common phrases used on Valentine's Day banners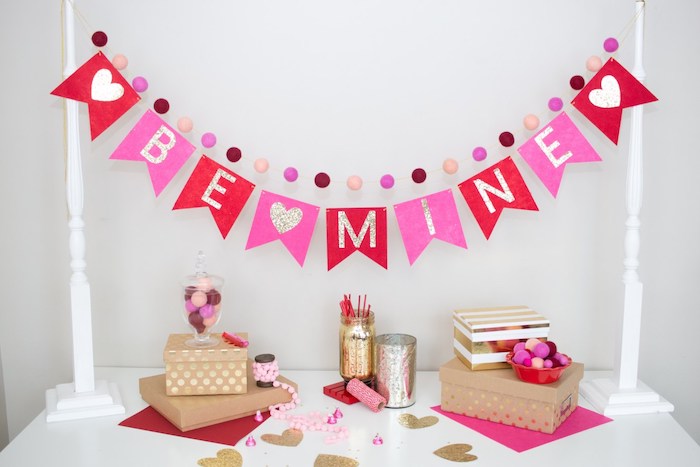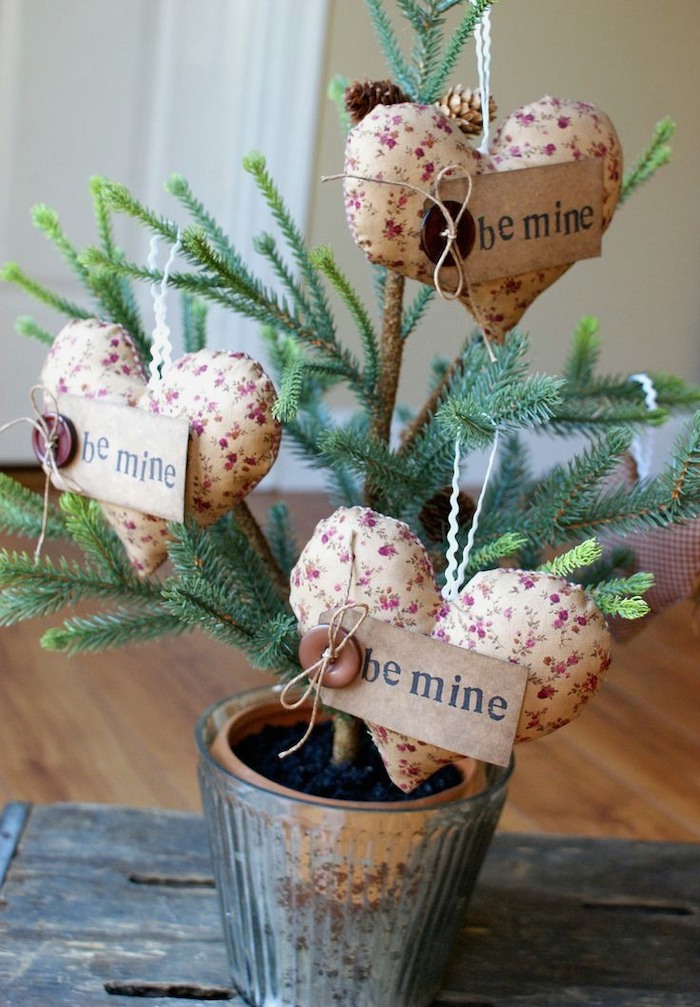 DIY wreath to hang over your dinner table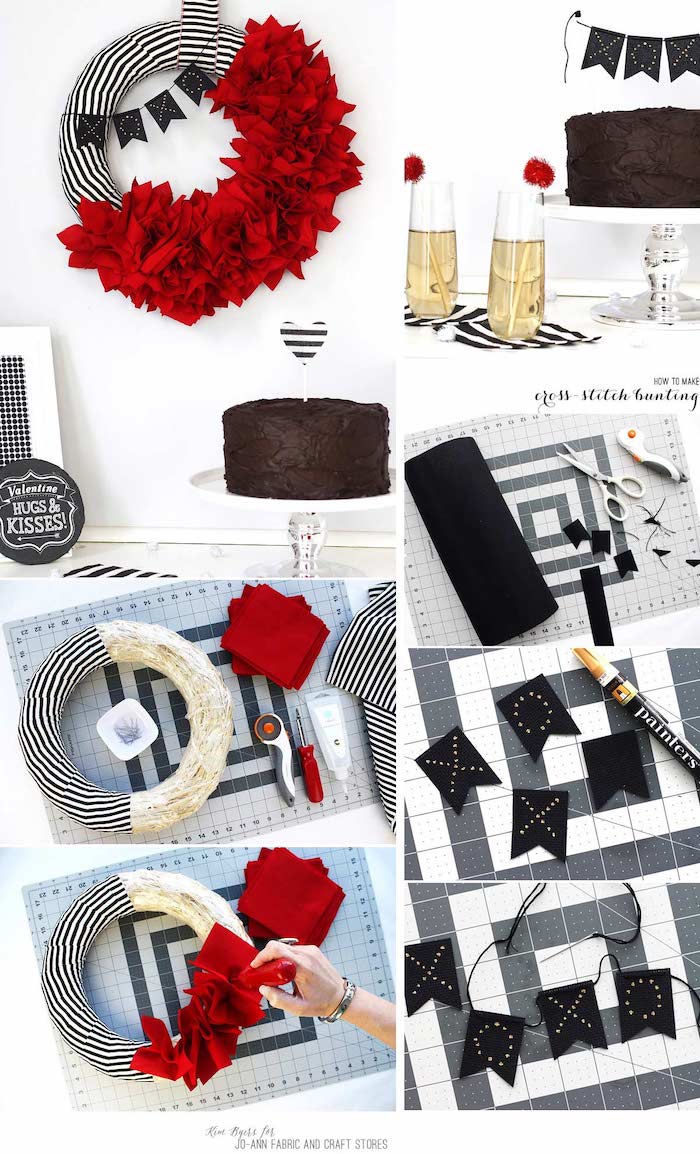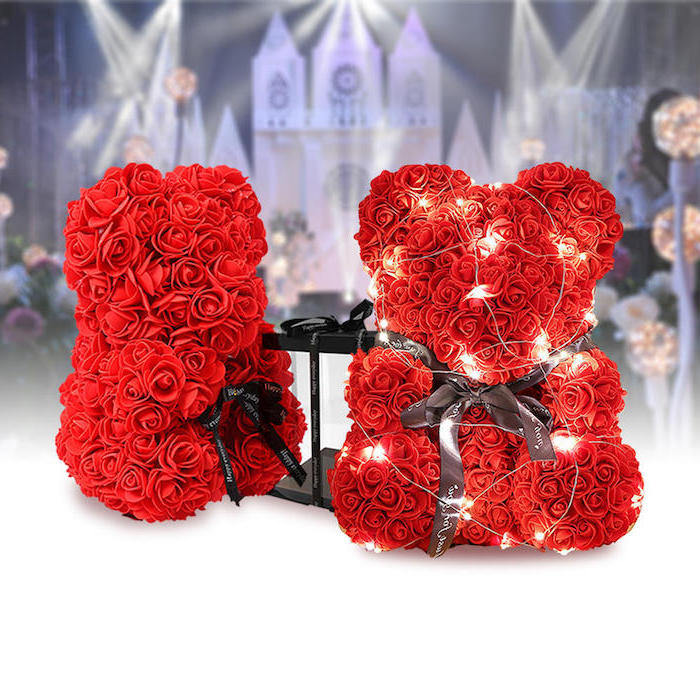 You can easily recreate this door decoration yourself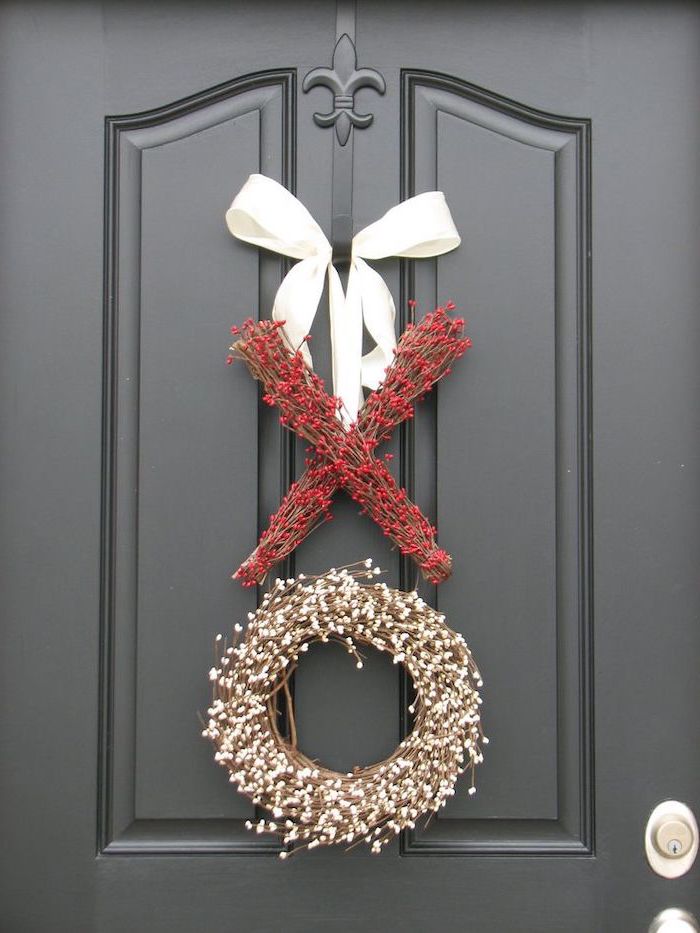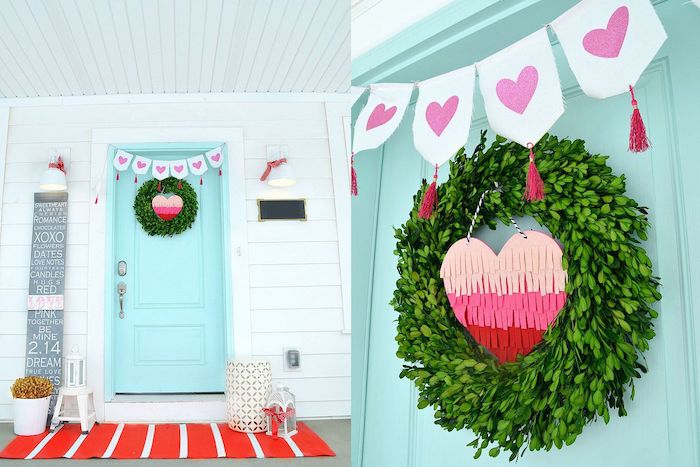 Valentine's Day table decorations for the couple's party of your dreams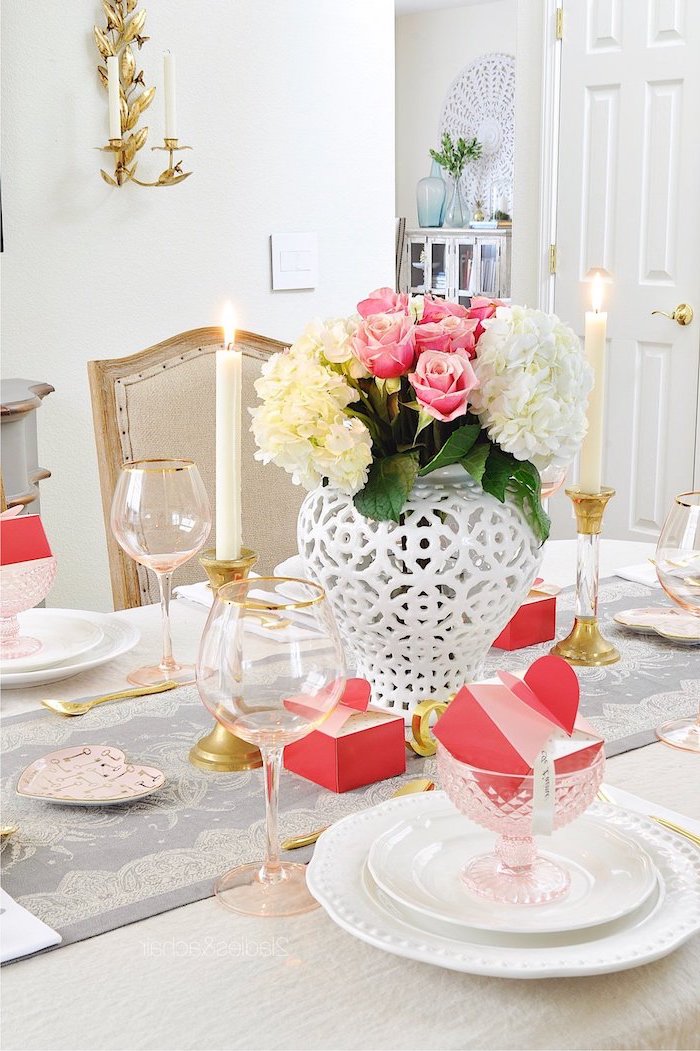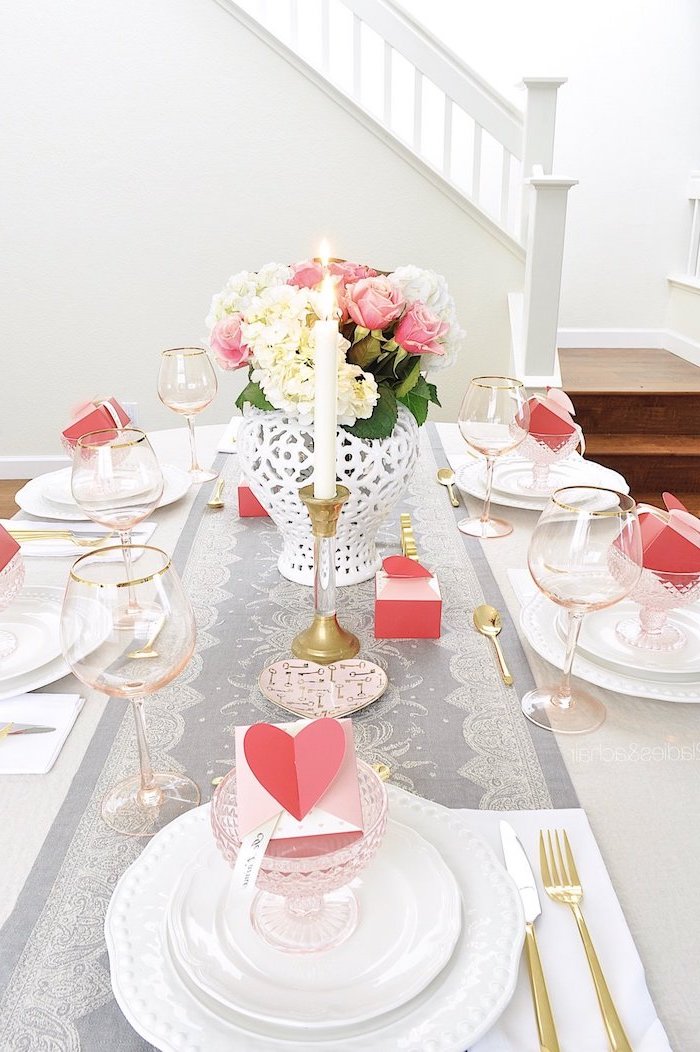 DIY outdoor Valentine decorations for your door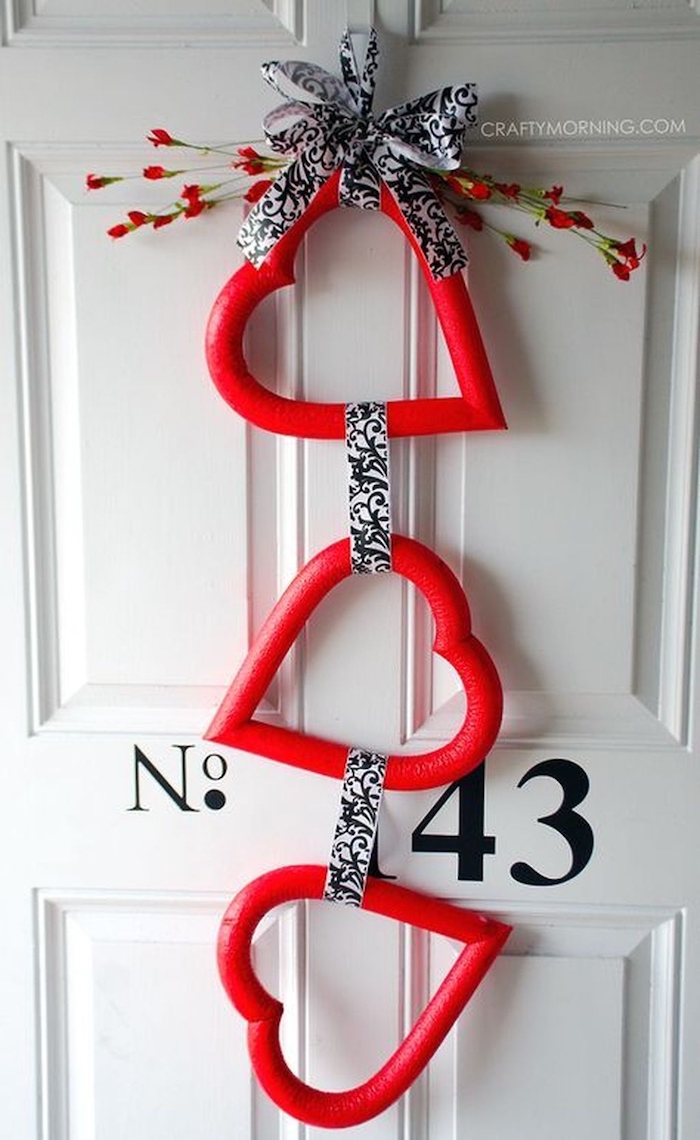 Supplies:
3 foam hearts
foam brush
ribbon
glue gun
flowers
red acrylic paint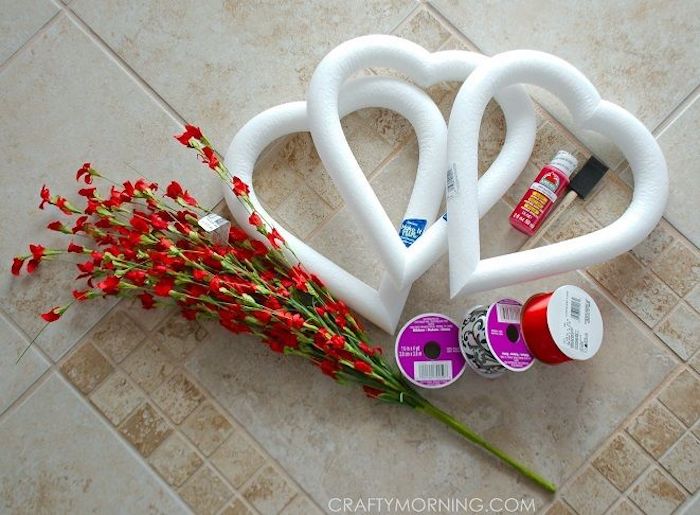 Instructions:
Paint the foam hearts red with the acrylic paint and let them dry.
Measure out the ribbon according to how high your door is and how long you want your triple wreath to be.
Cut three pieces of ribbon, which are going to hold the foam hearts together and glue them onto to the heart. Add a bow to the top.
Finally, tuck the faux flowers (you can also glue them for extra stability).
Glue the ribbon on one heart, wrap it around the other and glue them together where they overlap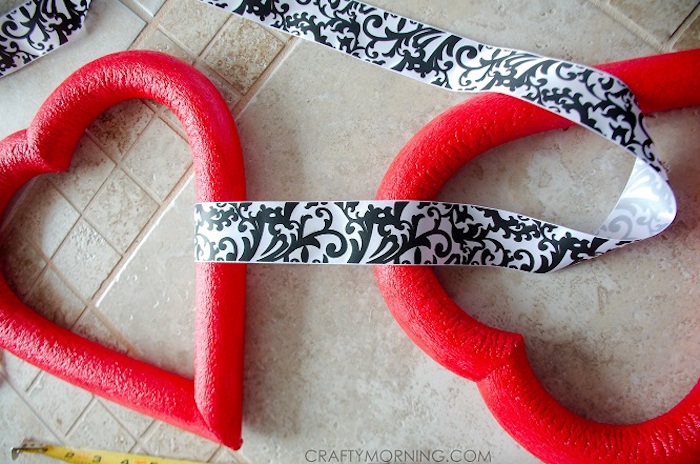 The bow at the end is a nice addition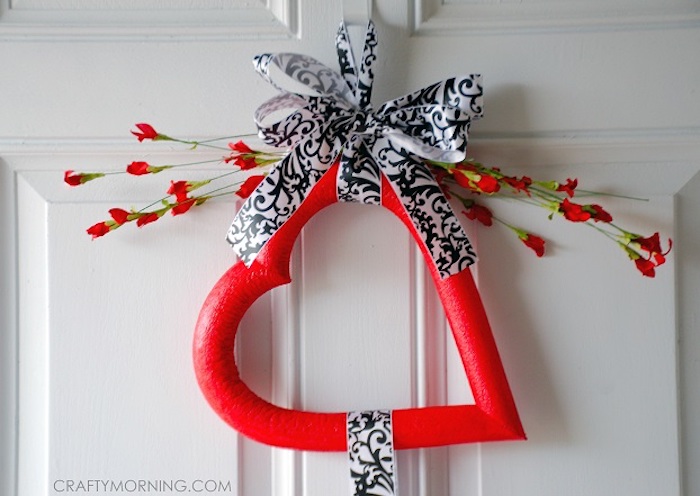 Source: craftymorning. com
Valentine's Day decor ideas for every taste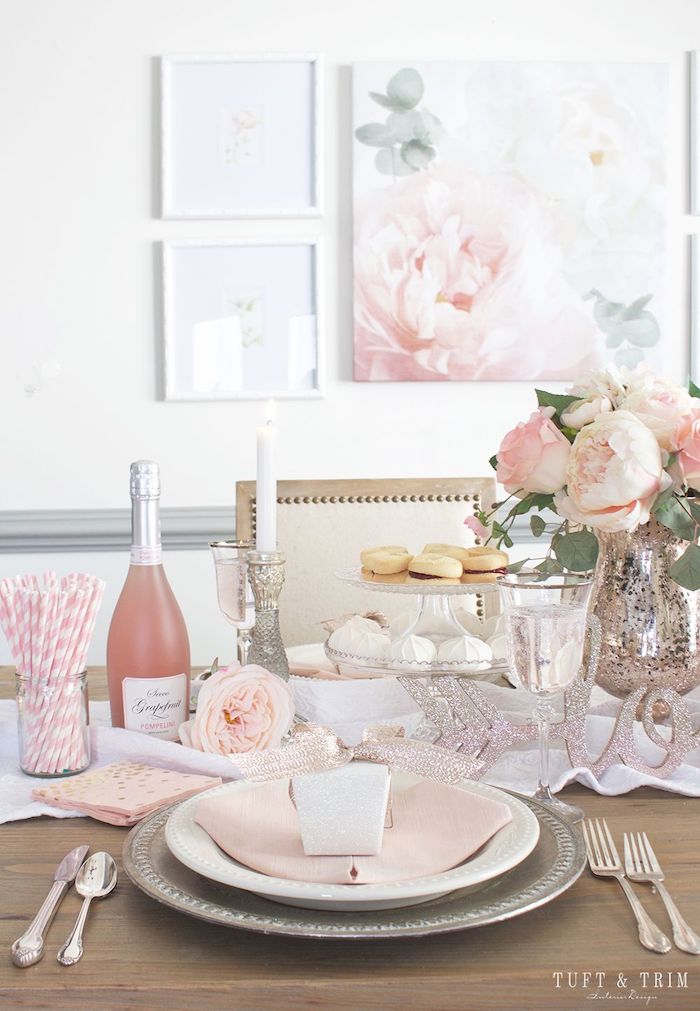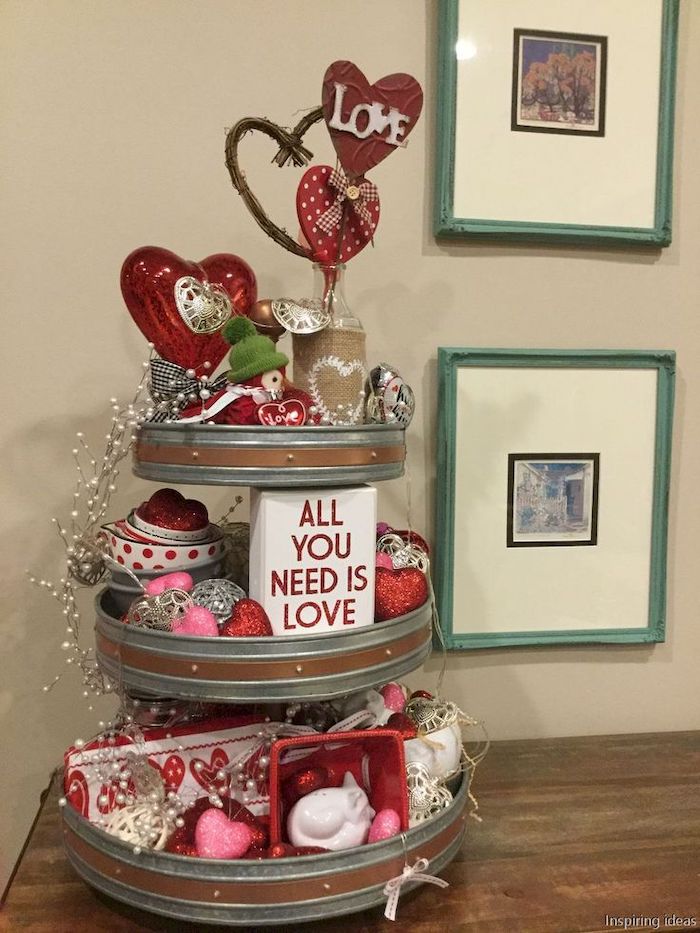 You can never go wrong with a romantic dinner for two, especially if you have prepared the food yourself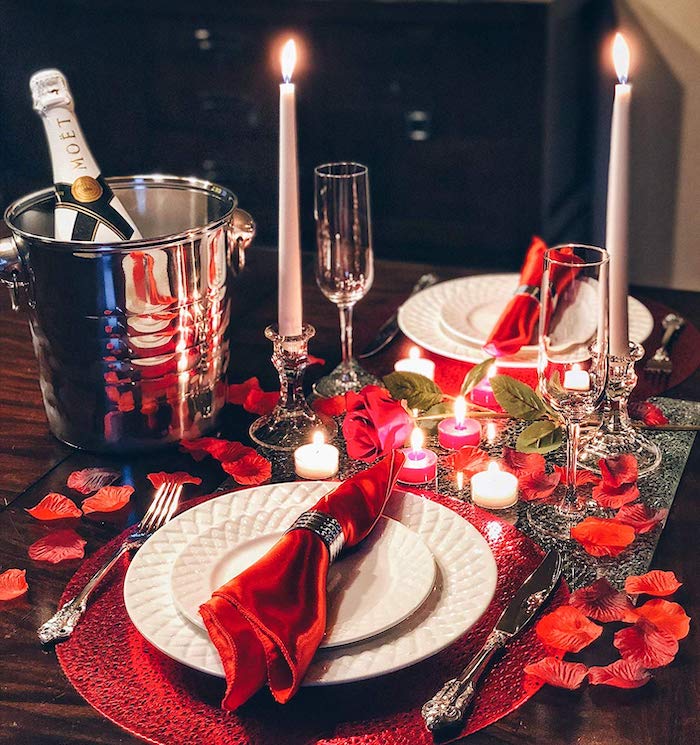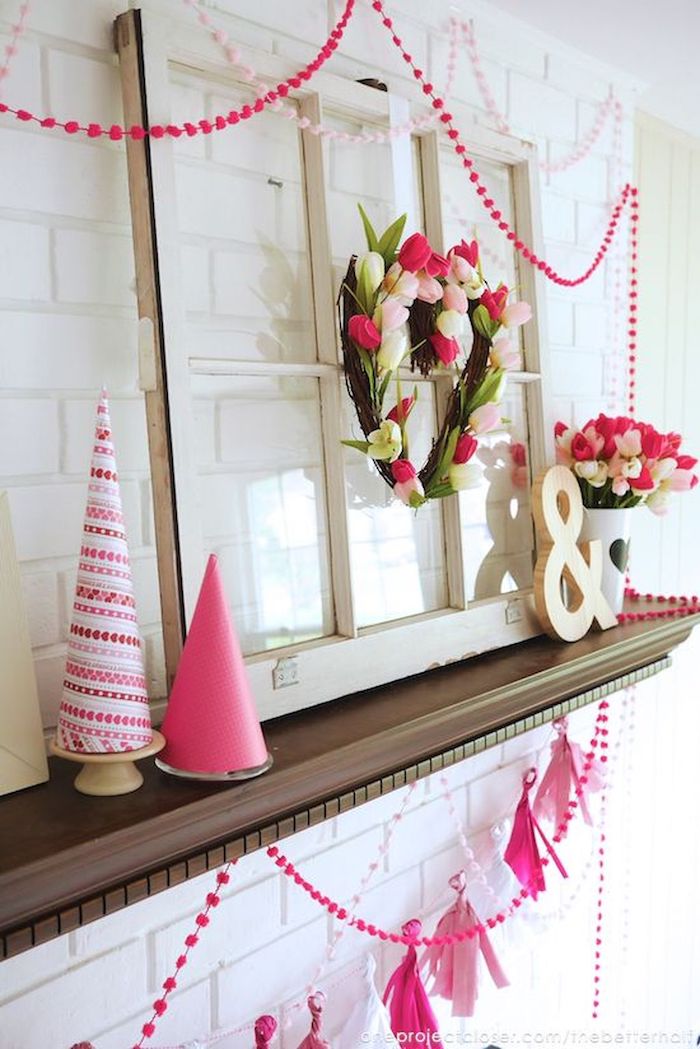 Another DIY you can try – simply paint four wine bottles red, spell the word "love" on them and use them as vases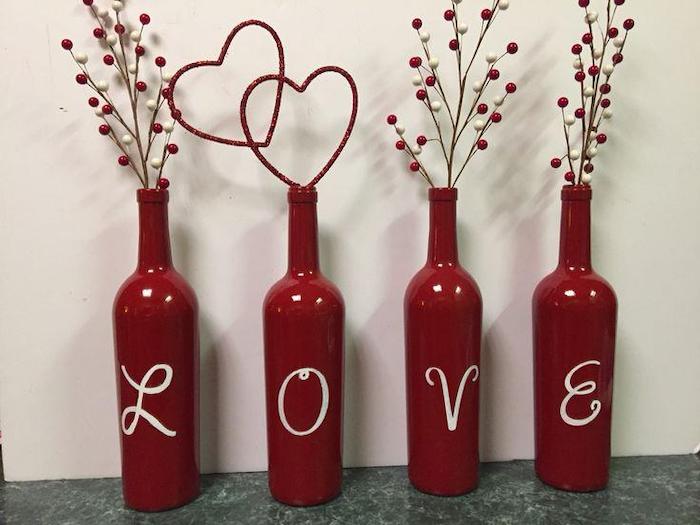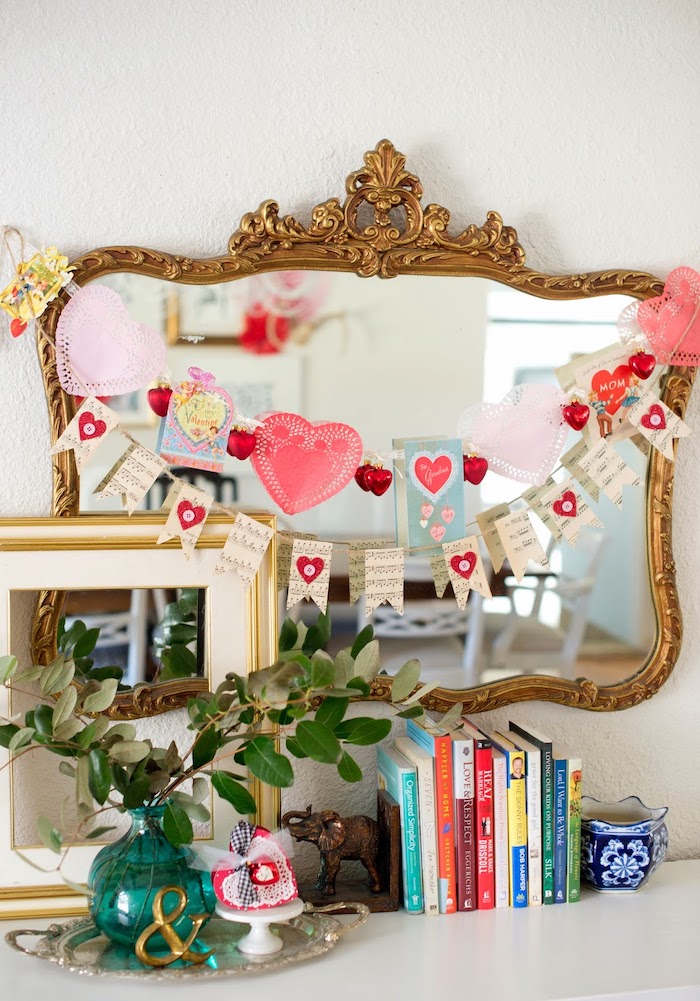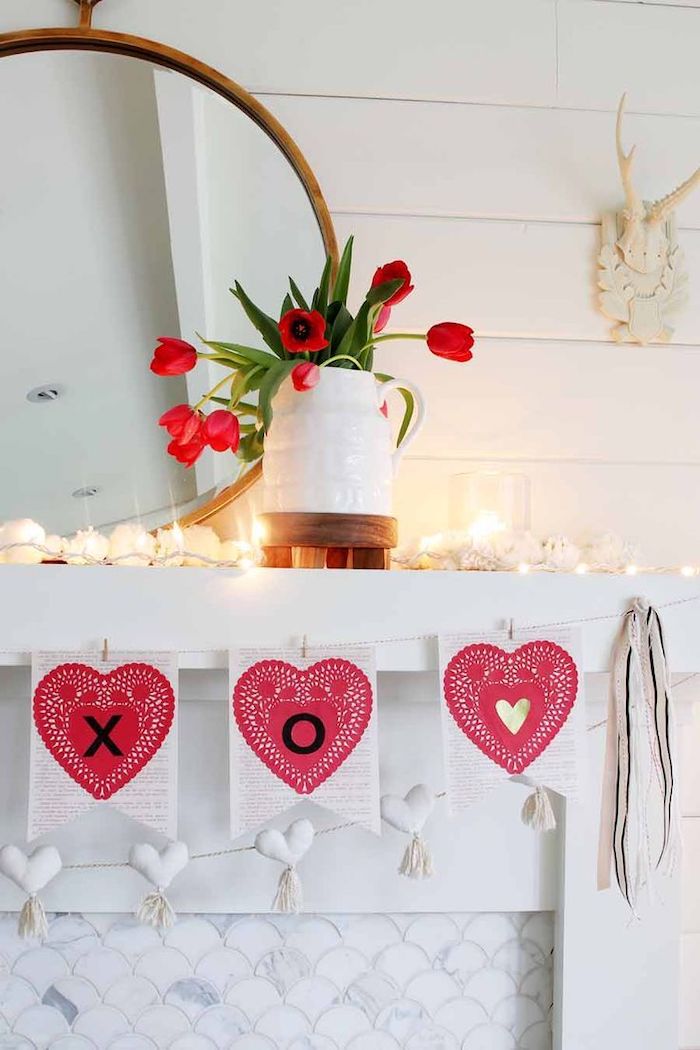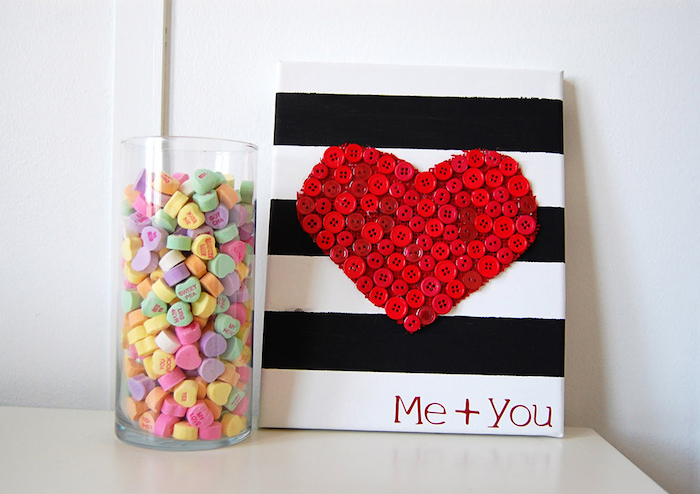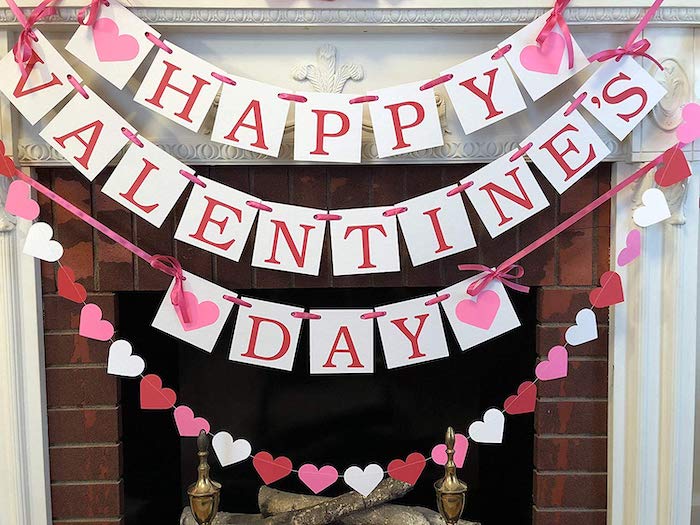 Valentine decorations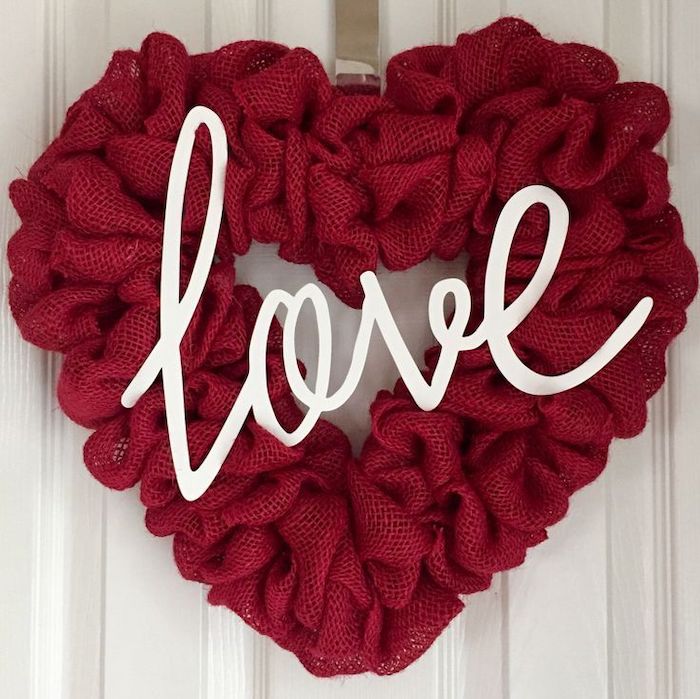 Simple, yet beautiful DIY Valentine wreath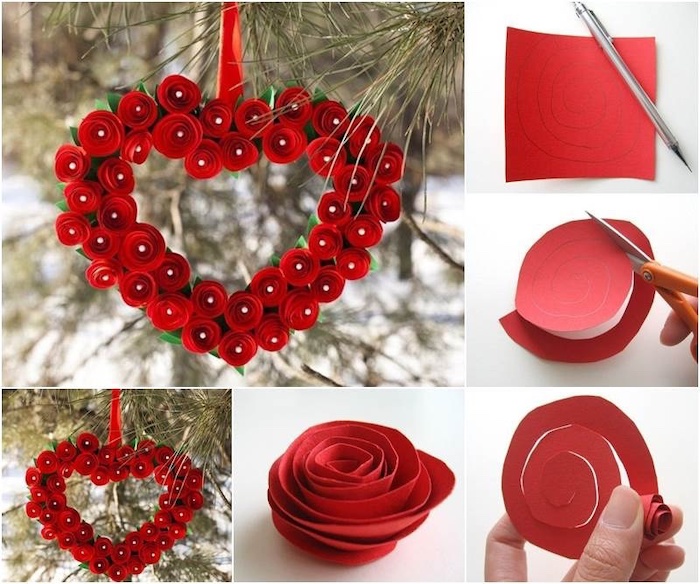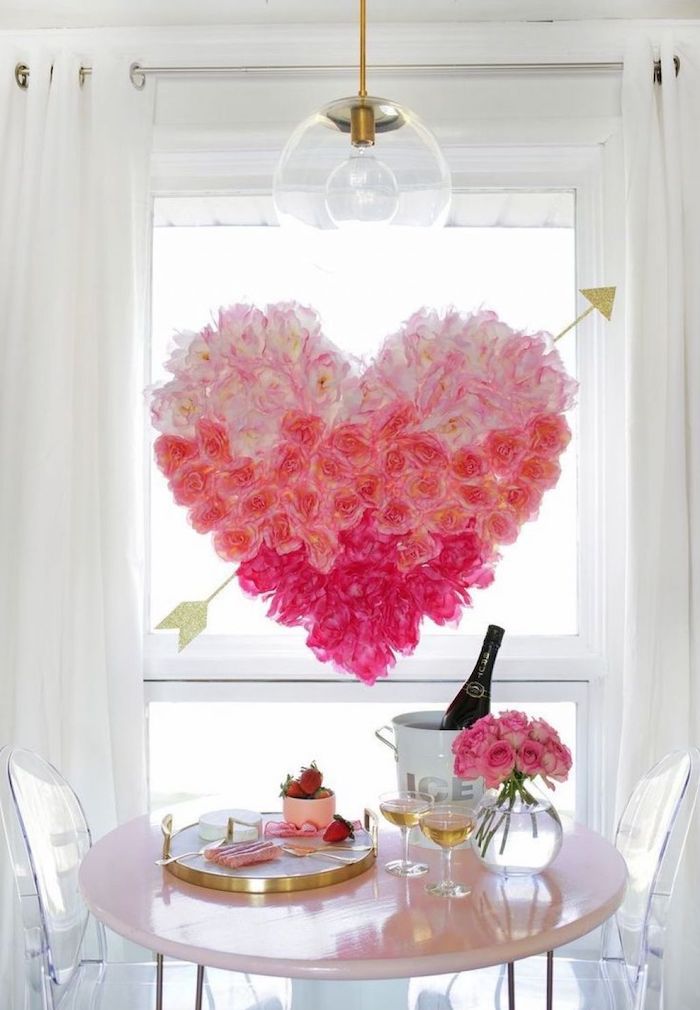 Here's another idea – leave your Christmas tree up until February and replace the ornaments with hearts and flowers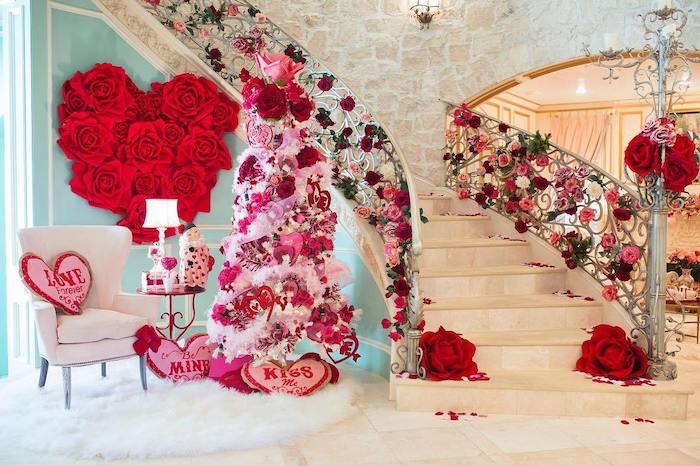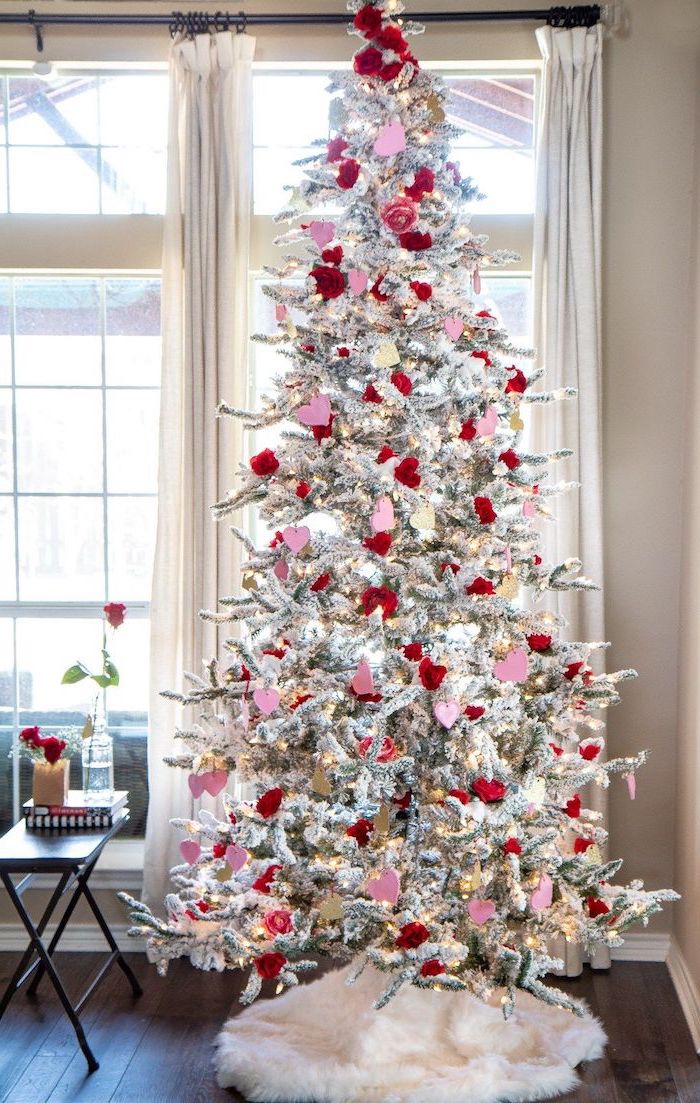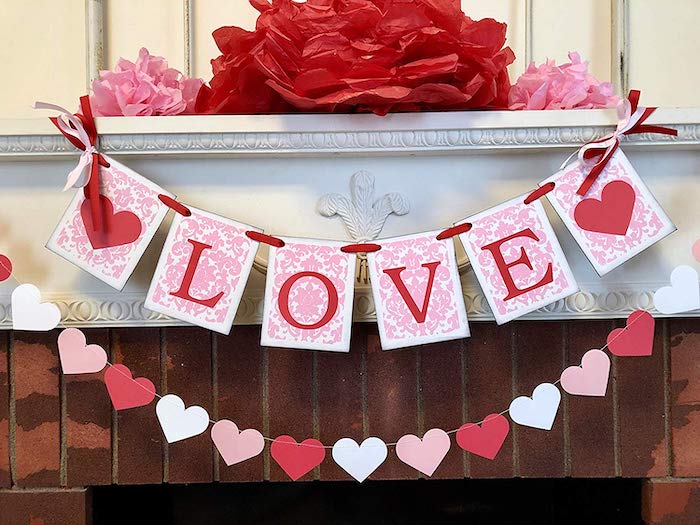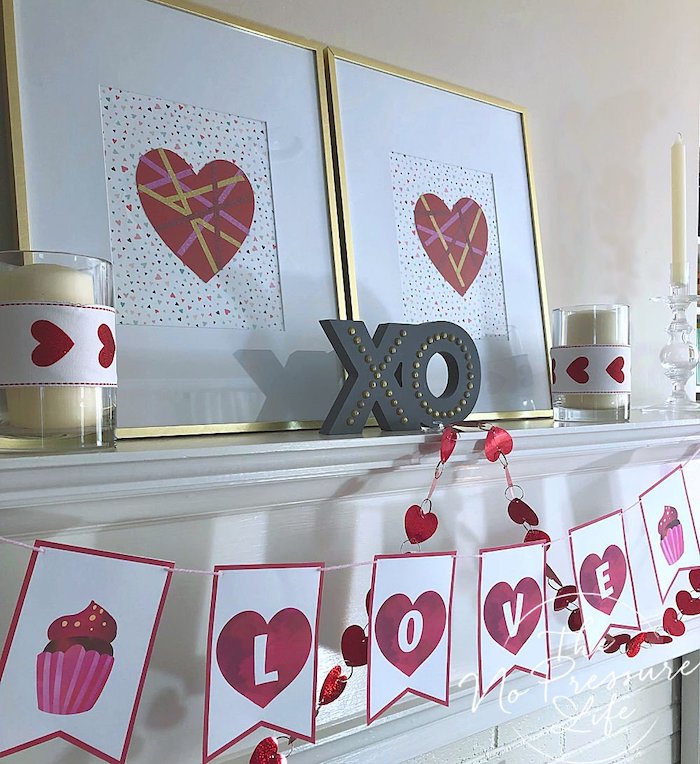 Yet another DIY to try – cut out the letters L, O, V and E and wrap them with pink yarn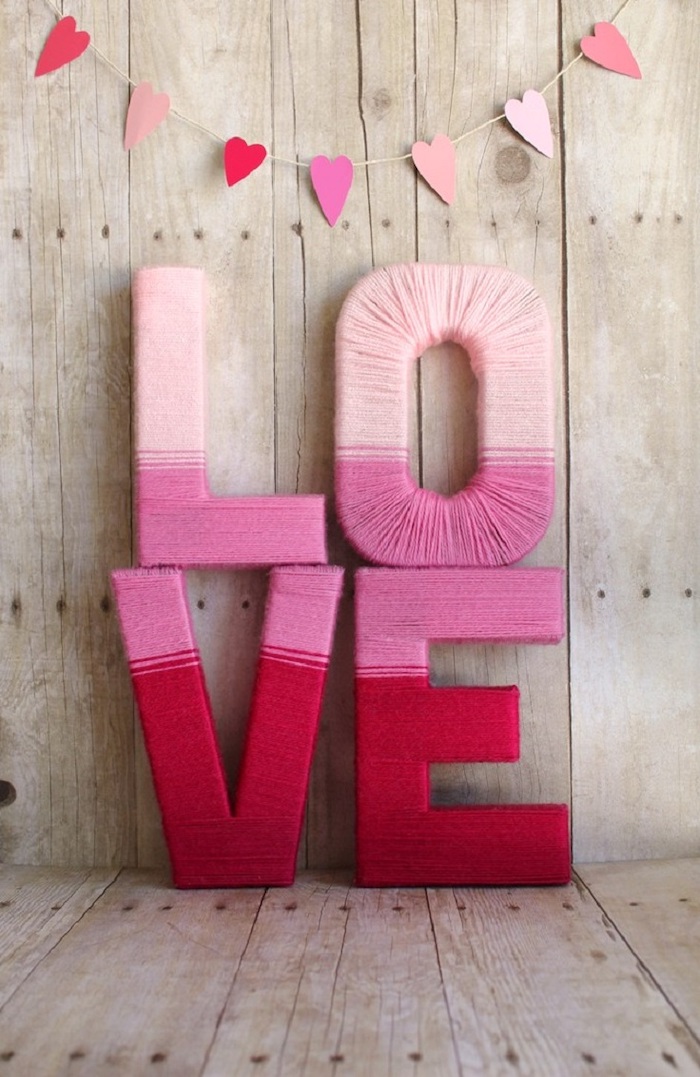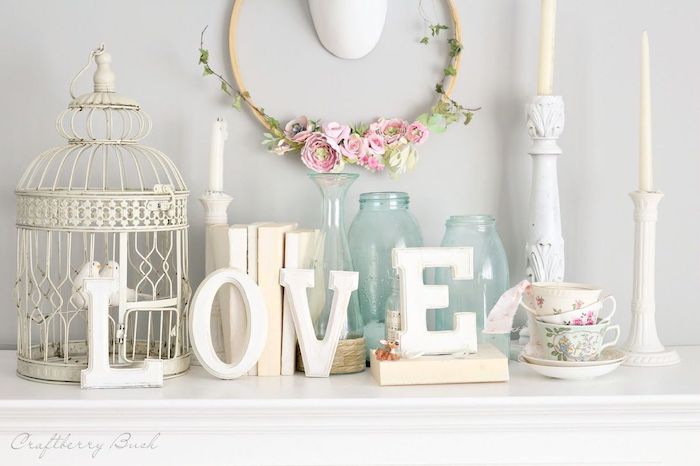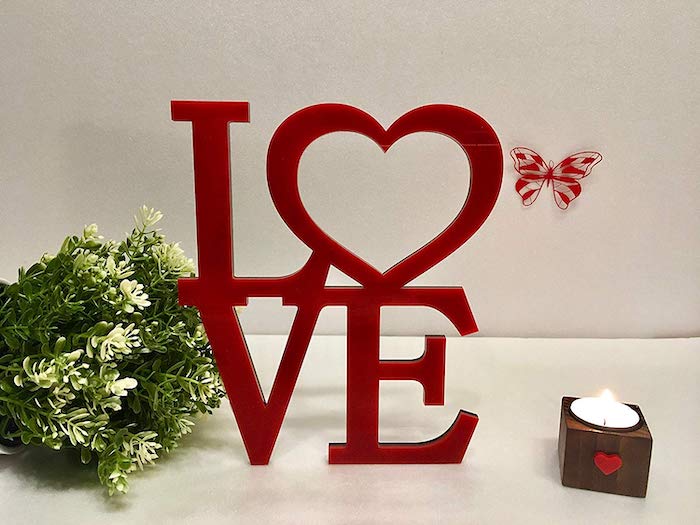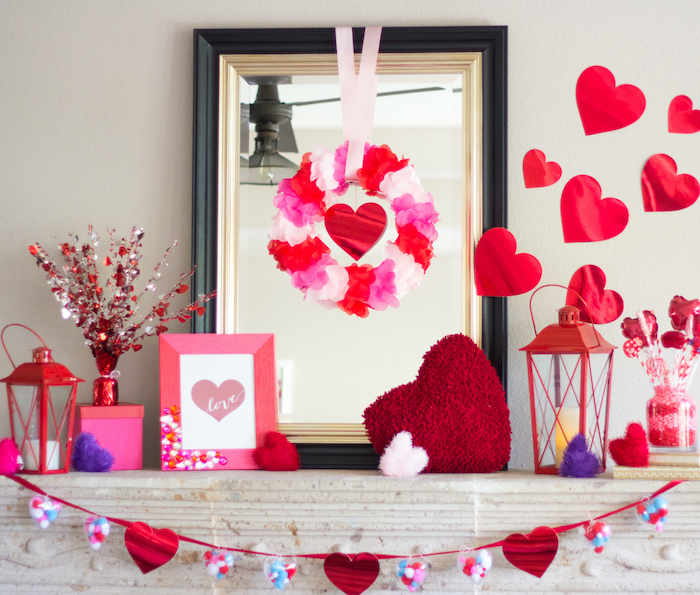 Valentine decorations ideas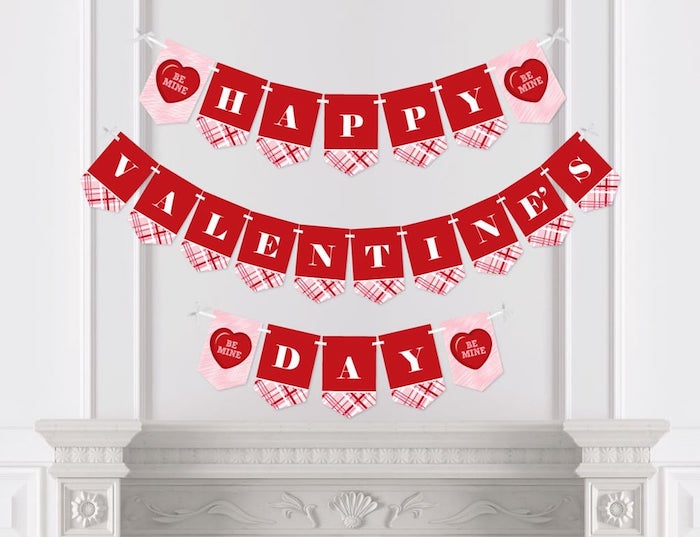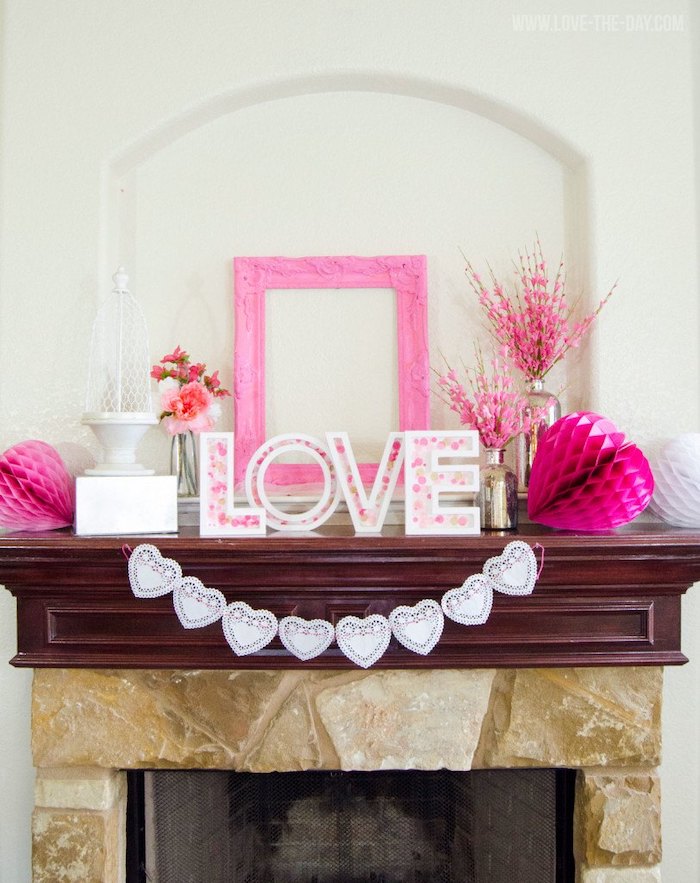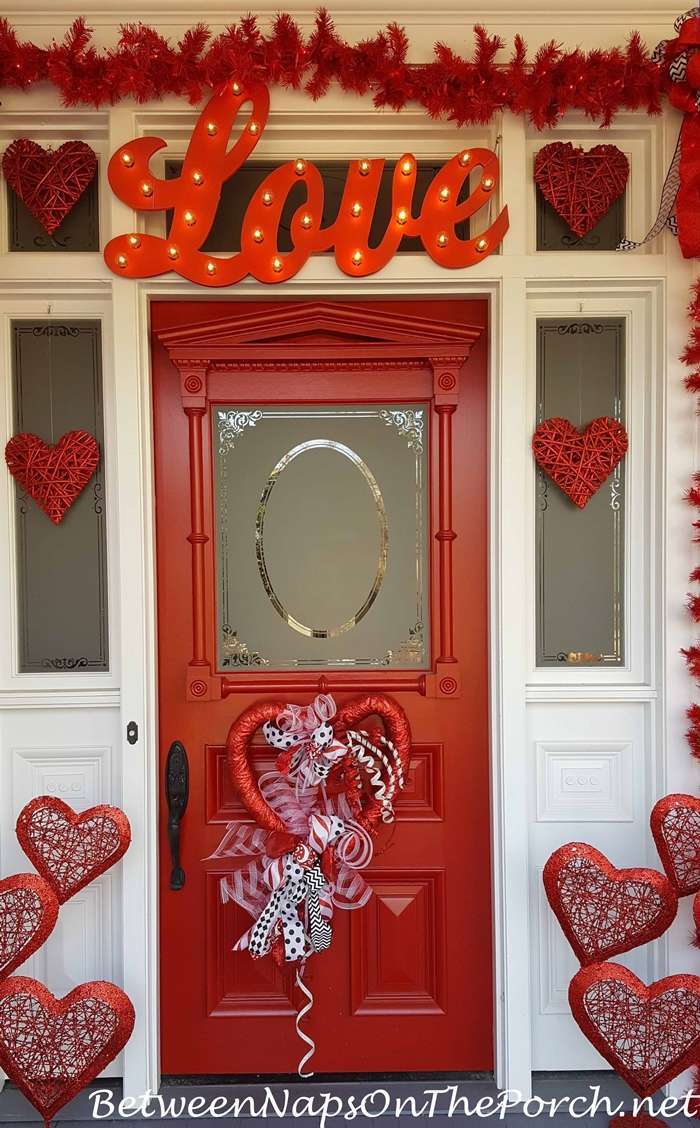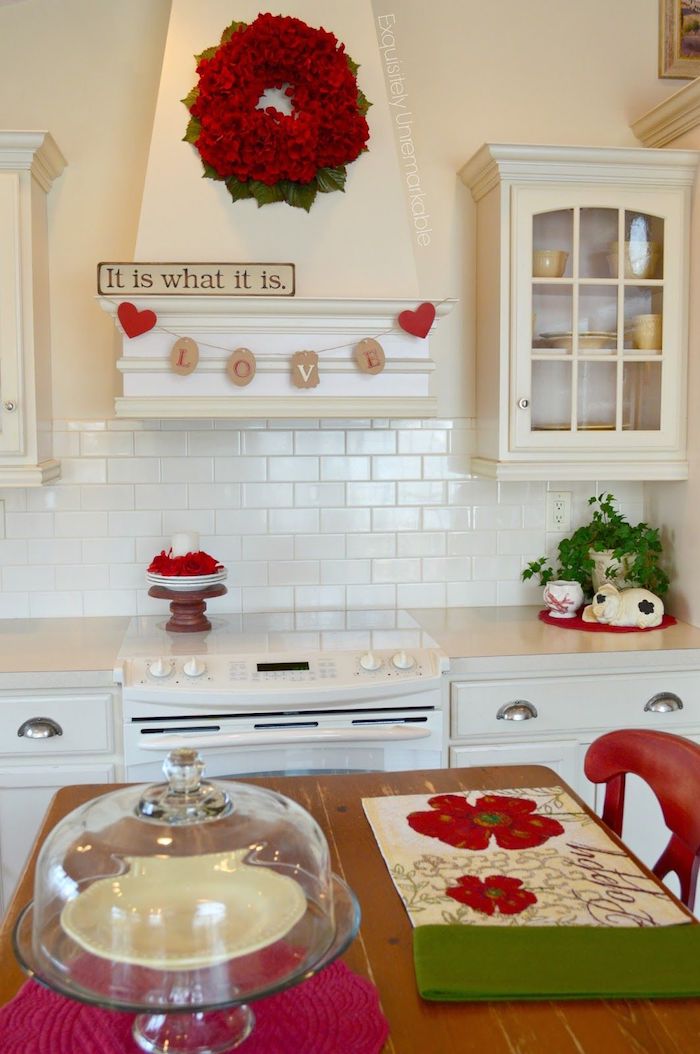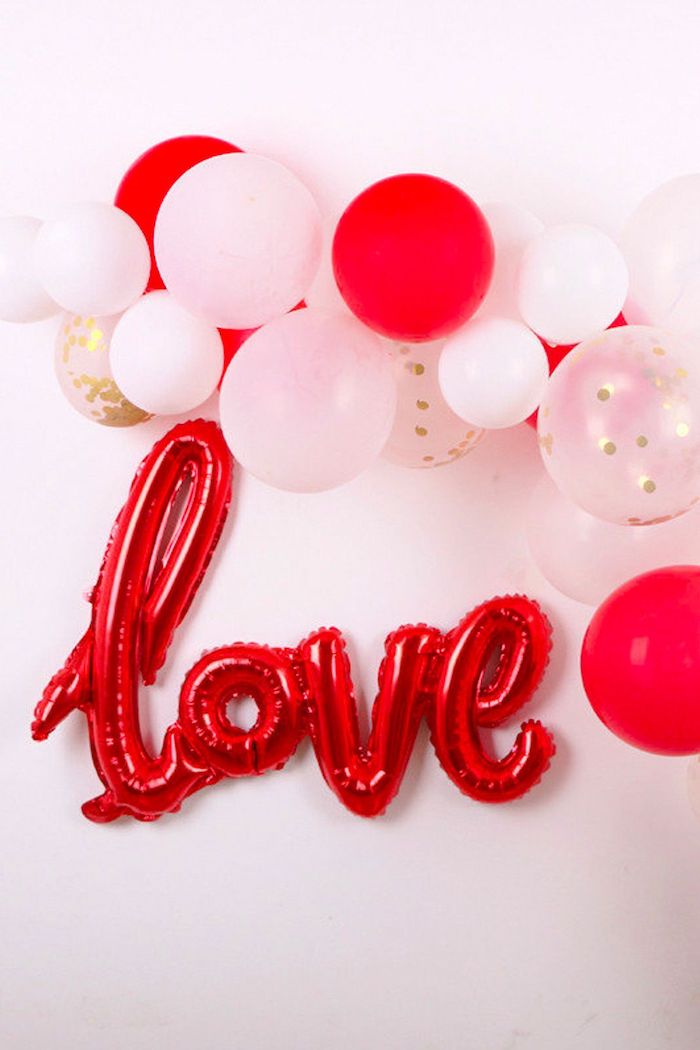 Cute Valentines decoration ideas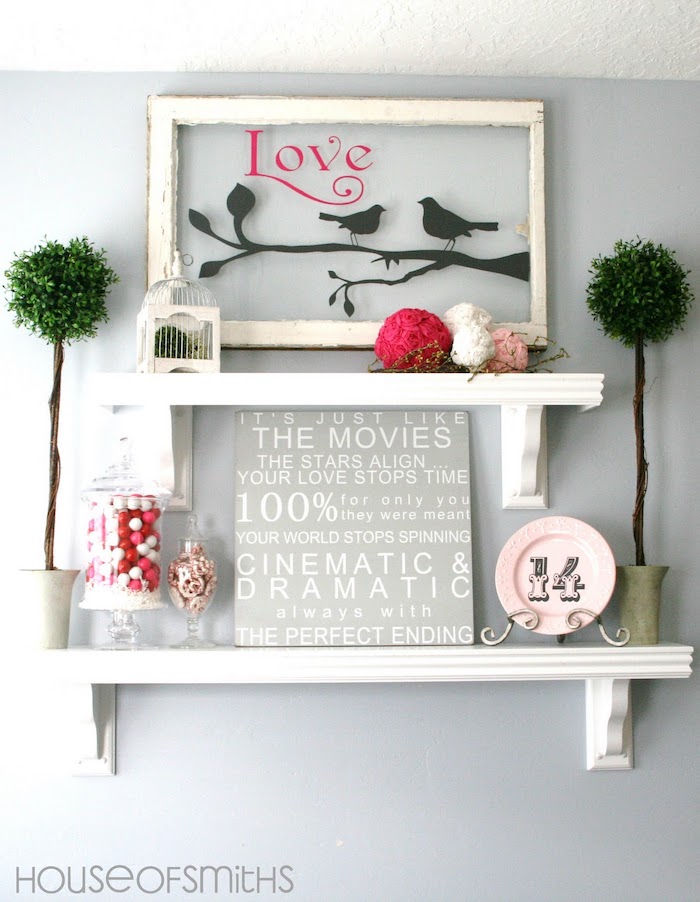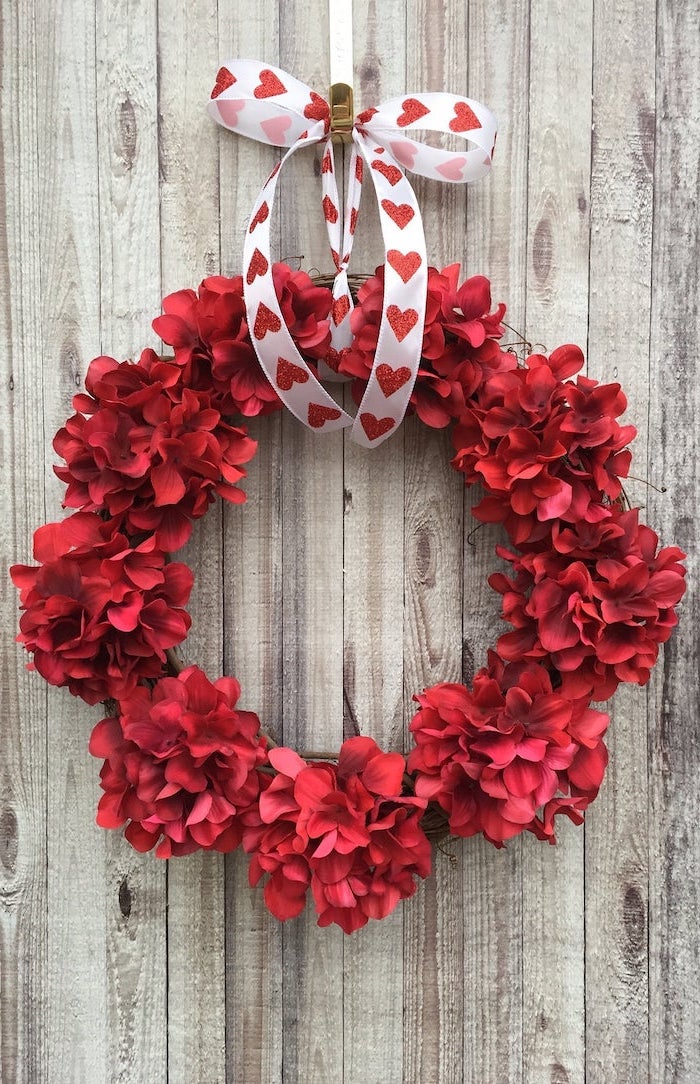 Cut a heart shape out of a carton and wrap it with red yarn – easy, yet effective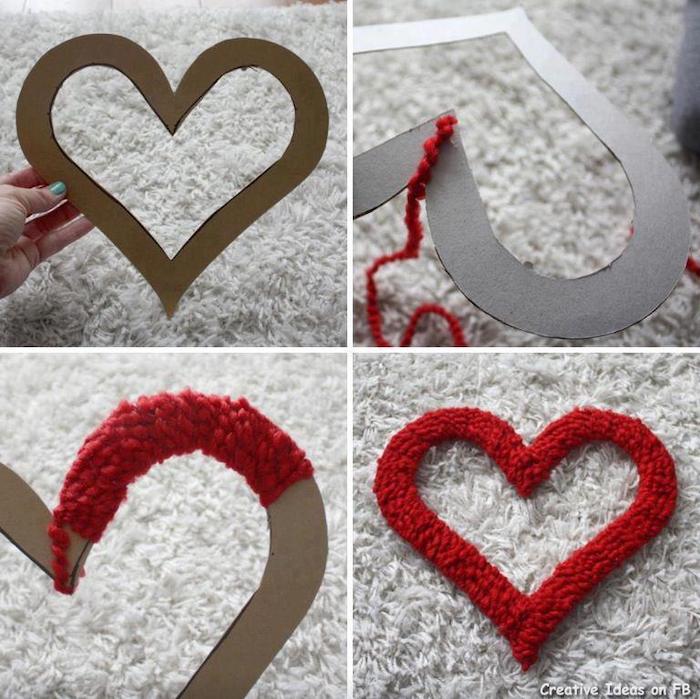 Valentine table decorations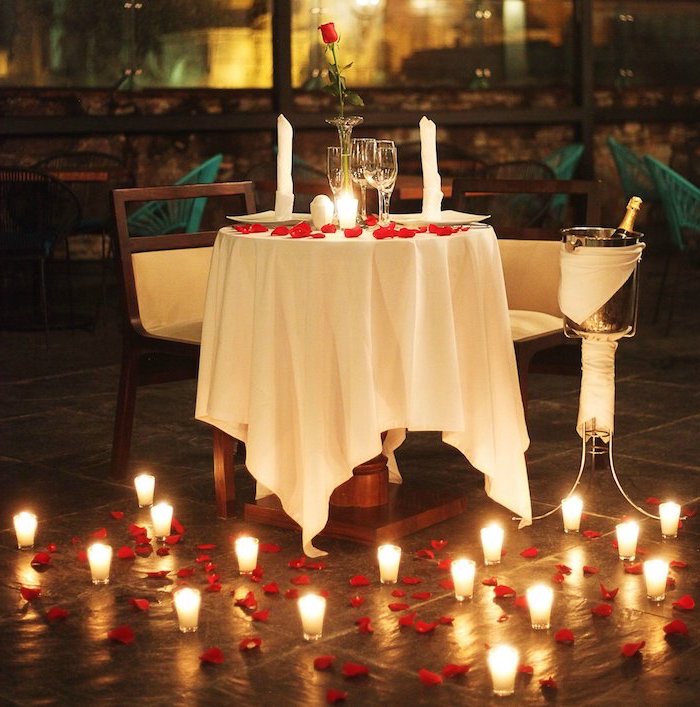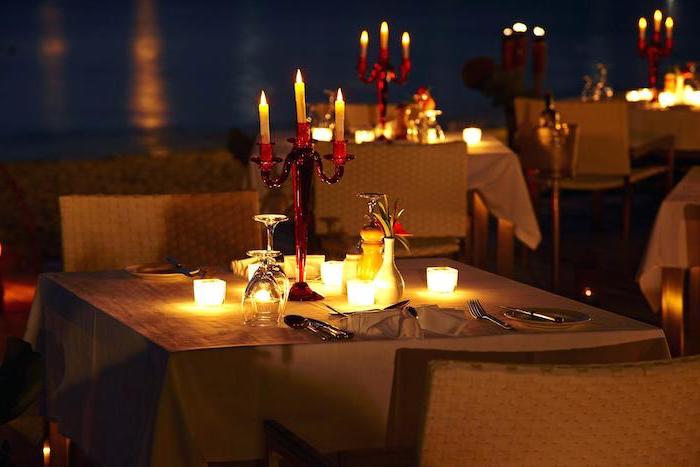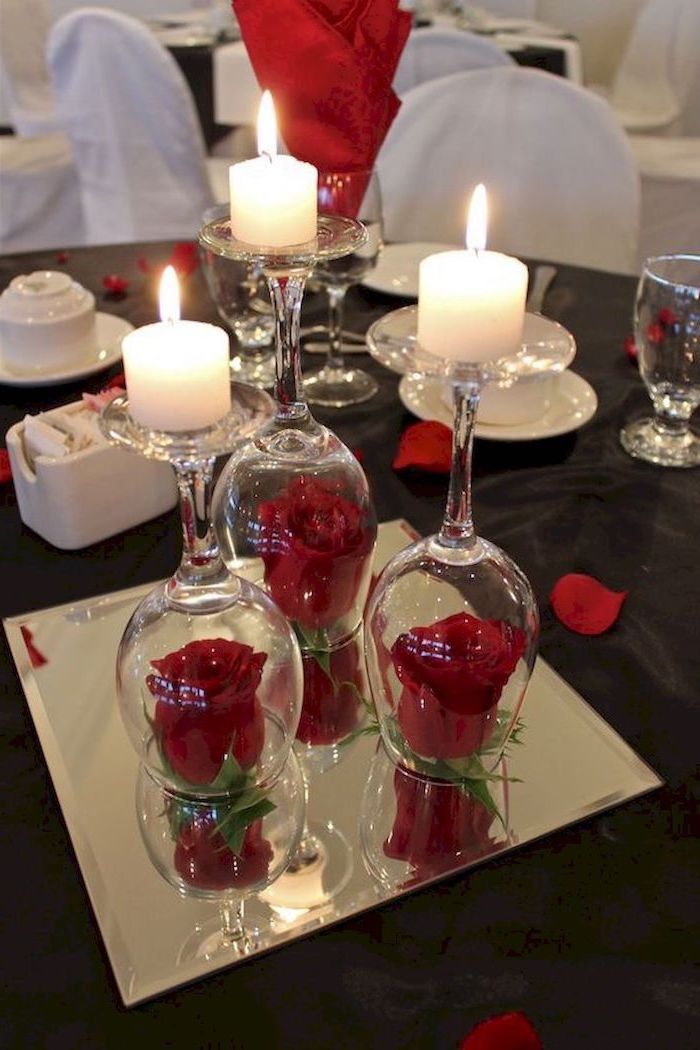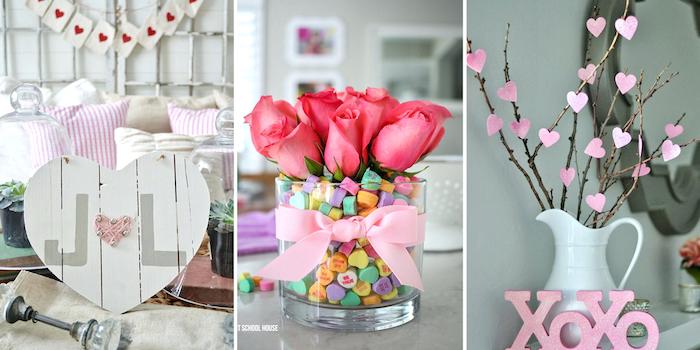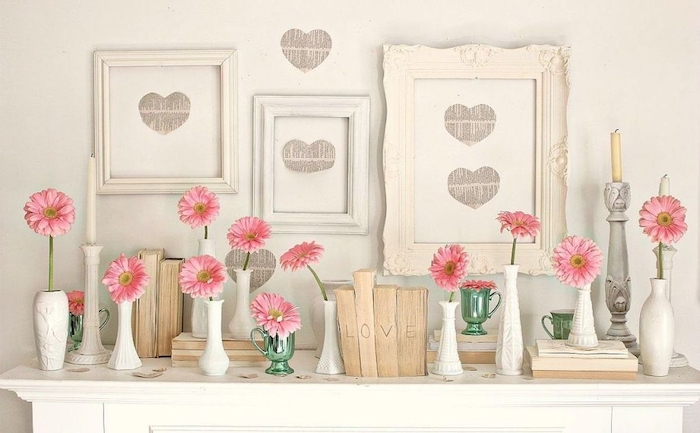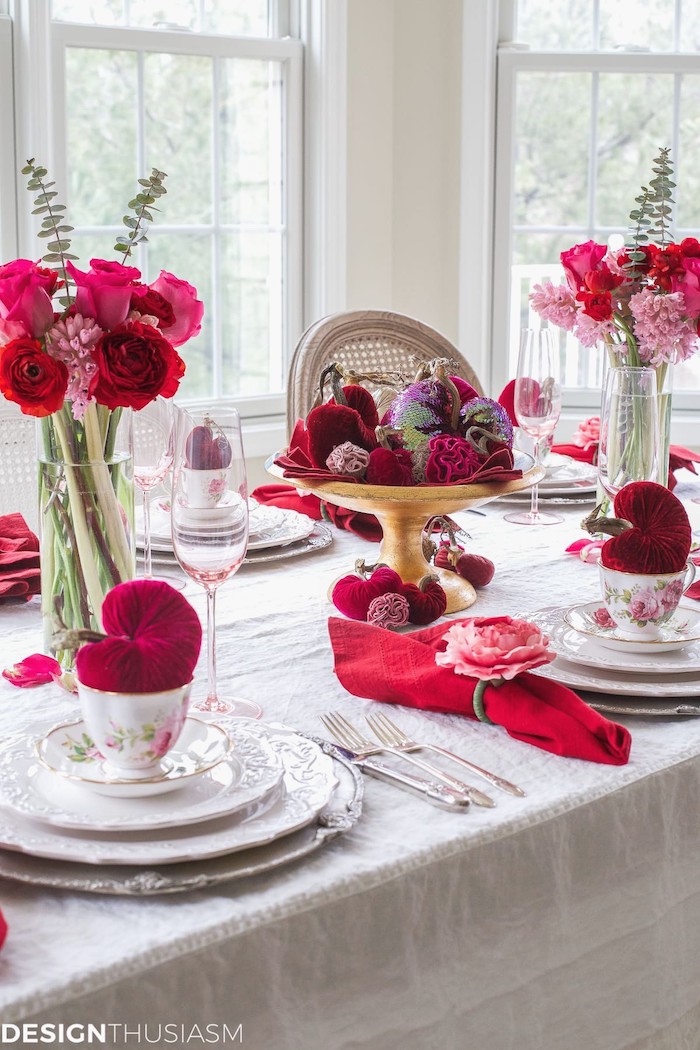 DIY Valentine decorations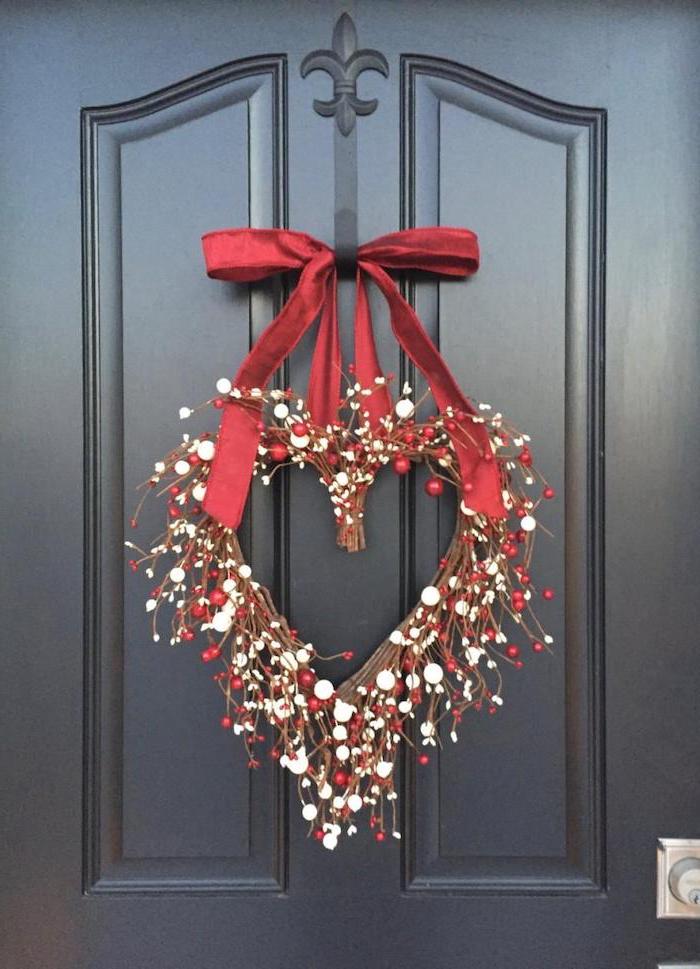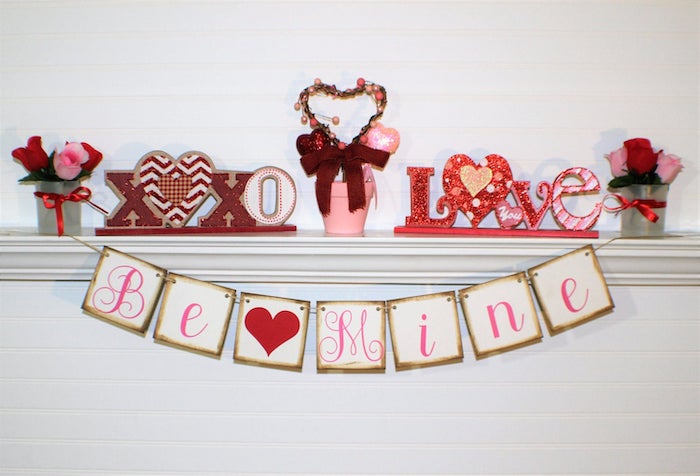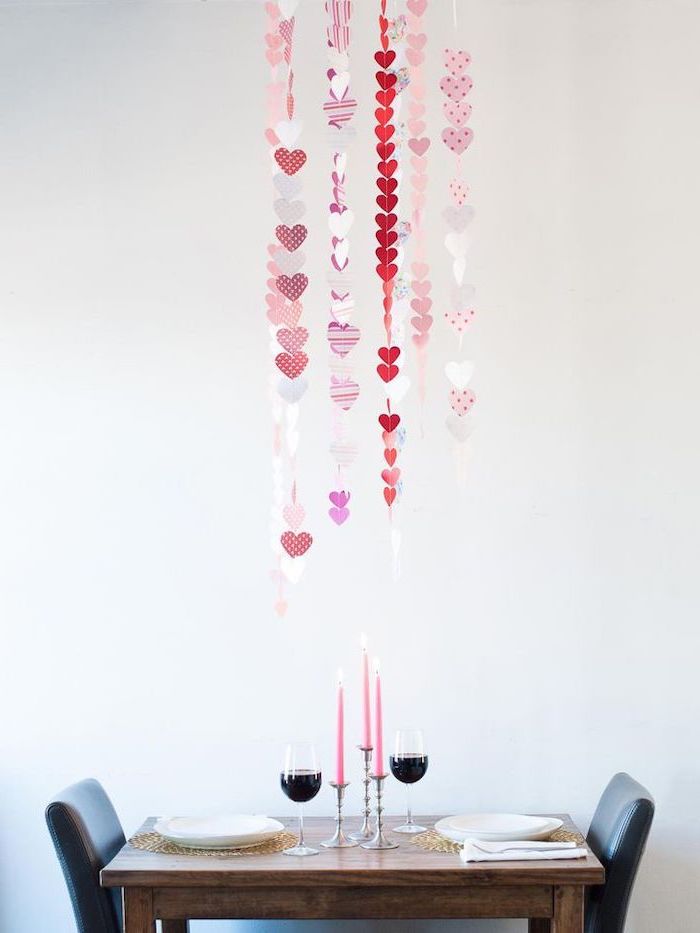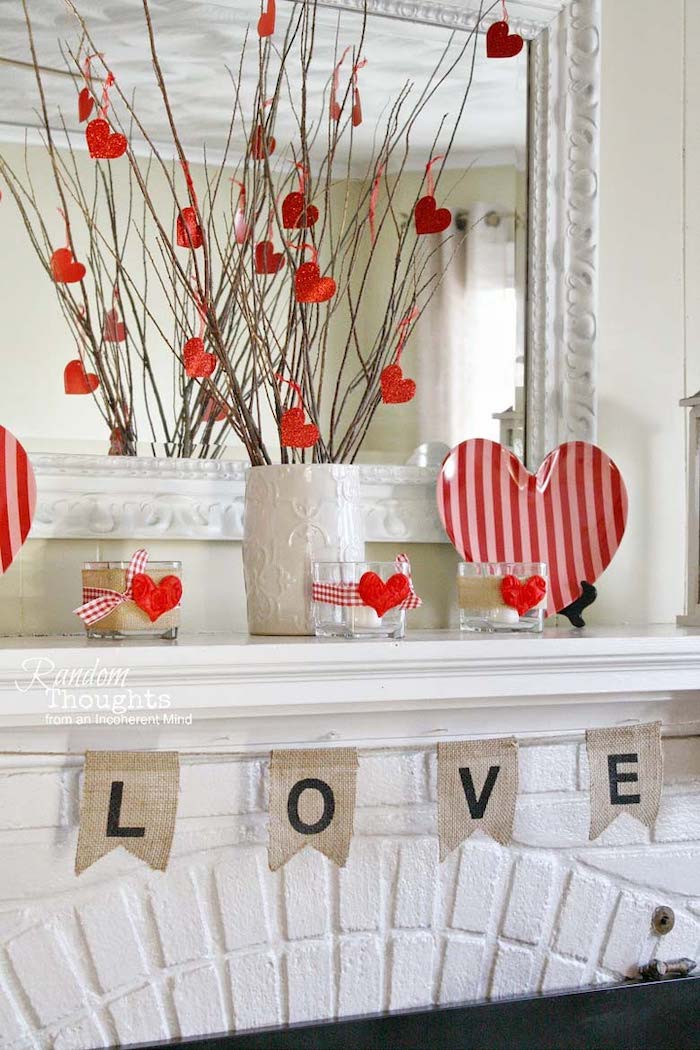 Valentine's Day home decor