How to Choose The Optimal Closet Solution for Your Home
Closets are an essential part of every home and, as such, have been subjected to countless interpretations over the years. Nowadays you can find countless varieties, ranging from classical ornate wardrobes, to slick and modern space-saving models. This can make choosing the right closet for your home a confusing and time-consuming affair. Therefore, we have decided to devote today's article on some of the most popular storage options at the moment, highlighting their advantages and pointing out their weak spots. Our tips will make choosing the right closet for your home as easy as pie!
The Classical Wardrobe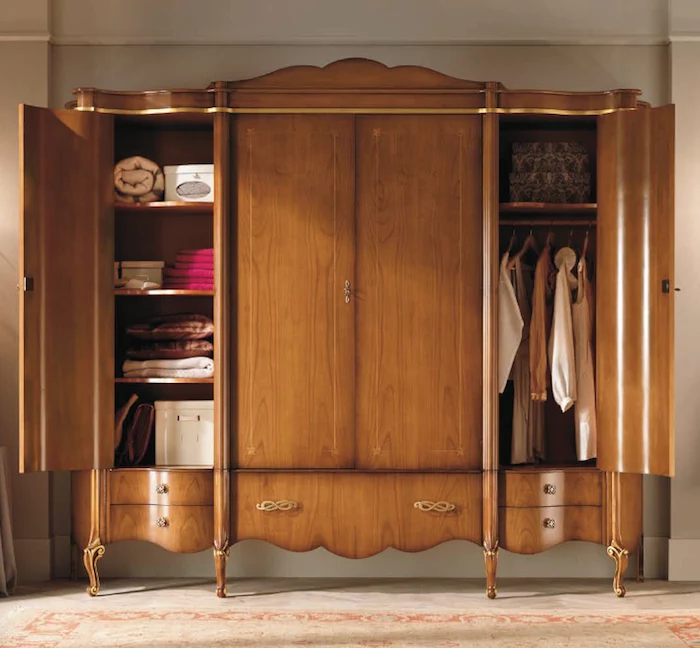 A furniture item that has truly stood the test of time, the classical wardrobe is one of the most beloved storage options on the market. Its designs are usually very stylish and sophisticated, and it lends a touch of vintage charm to any room. In addition, this regal and versatile piece can be combined with most other styles of furniture fairly easily, so you don't have to worry that it will look out of place near your modern bed or minimalist sofa. If you find vintage closets a tad boring, you can opt for a refreshing shabby chic design, or even buy an old piece and repaint it yourself.
Aside from looking slightly conservative, classical wardrobes have another disadvantage that you should be aware of. Namely, their weight and size. Unlike modern plywood, plastic or metal closets, which are fairly light and can be easily assembled at home, vintage wardrobes are usually made from high quality, thick wooden material. Although this is definitely a good thing, as it makes them more durable, it also has its downside – they are very, very heavy! This makes transporting them quite a challenge. In addition, depending on where you are located, your wooden wardrobe might be in danger of a termite infestation.
The Modern Sliding Doors Closet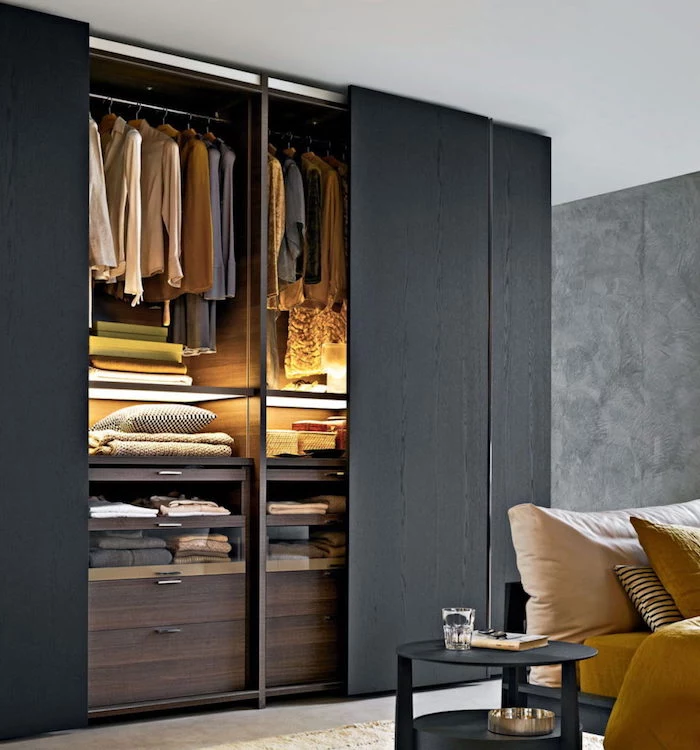 Fans of minimalism, who favor contemporary furniture, will undoubtedly prefer modern and slick closets. Models with sliding doors are particularly popular, as they have a simple and smooth design, devoid of handles and furnishings. Thus, clothes and other items, which are not being used at the moment, can be stored out of sight fairly quickly, creating a less cluttered and more orderly living space in a matter of seconds. Plus, due to their inconspicuous look, closets of this type are incredibly versatile. They can be used in virtually every room of your house without clashing with other furniture.
When it comes to their disadvantages, one can argue that closest with sliding lack character. Their simple design is very functional but they don't add anything to the overall interior. You should carefully consider whether you won't get bored of looking at something so understated every day. Perhaps you might be better off with a statement piece?
The Nifty Space Saving Closet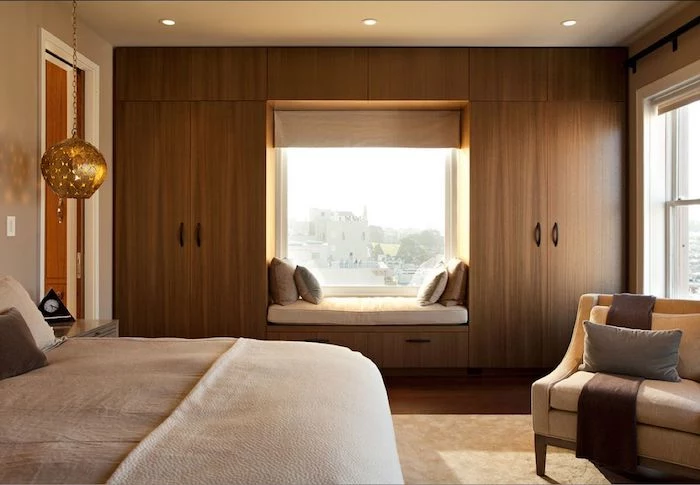 The lack of space in modern homes has led to the increased popularity of smart, multifunctional closet designs. They come in a lot of different styles, and can even be custom made, to perfectly suit your individual needs. Many furniture stores offer space saving solutions and closets for even the tiniest of living areas. However, if you decide to order online, remember to carefully measure the dimensions of the room where you plan on placing the closet. It might seem obvious, but you'd be surprised how often people forget to properly calculate the space available, and end up obstructing windows and doors! Another point worth remembering is that many shops offer furniture dimensions only in centimeters, so it's handy to have an inches to cm converter.
Perhaps the only downside to space saving closets is that tend to be very specific. The "one size fits all" approach will simply not work here. Also, they tend to be a bit more expensive than standard furniture pieces.
The Mirrored Closet – An Ideal Solution for Small Spaces!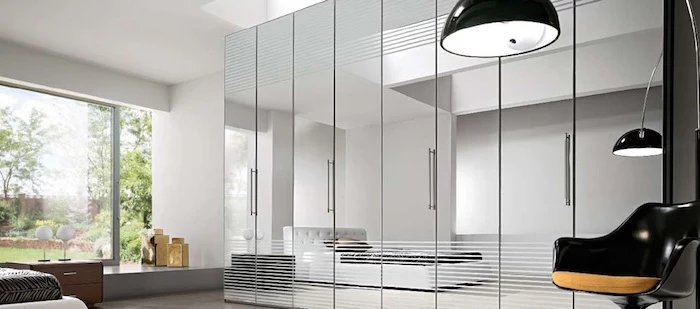 Closets with mirrored doors are an excellent choice for small rooms. Not only are they super functional and double up as dressing mirrors, but they also make small spaces seem up to two time bigger. The lighter the color scheme of a room is, the stronger their effect. So, if your sleeping area feels dark and cramped, consider repainting it in a bright, neutral color and adding a mirrored closet!
Closets with mirrors have one major disadvantage – they are not a good choice for rooms with east-facing windows! You can probably guess why – their smooth and shiny surface reflects the harsh rays of the morning sun right in your face, making lazy Weekend sleep-ins virtually impossible.
The Humble Clothes Rack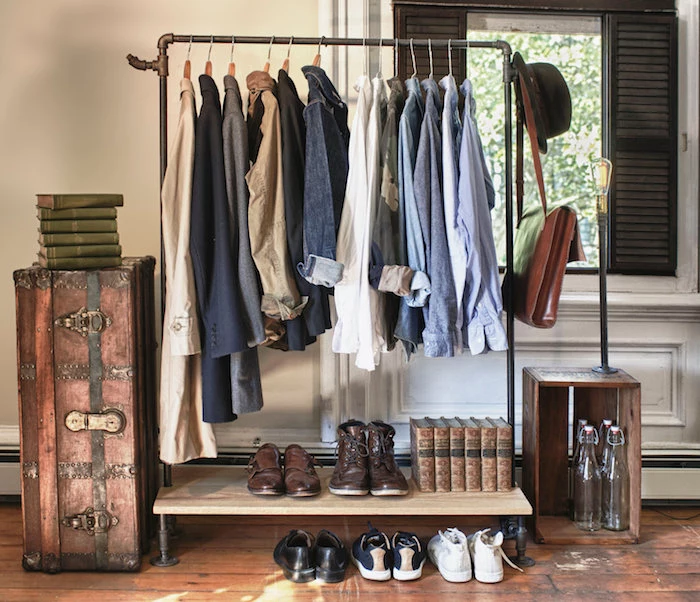 Clothes racks' popularity has skyrocketed lately. Why, you may ask? Well, it might have something to do with their simple and attractive, minimalist design! After all, why clutter your bedroom with unnecessary furniture, when you can have a simple, fuss-free solution? Not to mention that they are easy to clean and virtually effortless to move. However, clothes racks' biggest asset is undoubtedly the joy of having your clothes neatly ordered in plain sight! This makes choosing your daily outfit a breeze.
That being said, having your clothes in the open can be a curse, as well as a blessing. Racks can make your room look cluttered and messy. If you opt for one, make sure to only use matching hangers and to keep the area surrounding it tidy at all times.
Well, there you have it, folks! We hope that our tips have been useful and informative, and will help you choose the right cupboard for your home!