The beauty of farmhouse dining room decor: Ideas with a modern twist
Rustic, farmhouse, and mid-century modern decor have been on the rise! Although, some people might say that they are outdated. That, however, is definitely not the case. All of these types of interior decor have been modernized and updated to fit the current times. And they are absolutely gorgeous. This decor gives your home a homey, warm feeling that is unmatched. That is why today we decided to talk about the farmhouse dining room – the space in your home where everyone gathers together for a meal. It is very important to make it feel cozy and comfortable. So, without further ado, here are some ideas on how to decorate your dining area in a farmhouse style.
All of these dining room ideas will make your space feel cozy and comfortable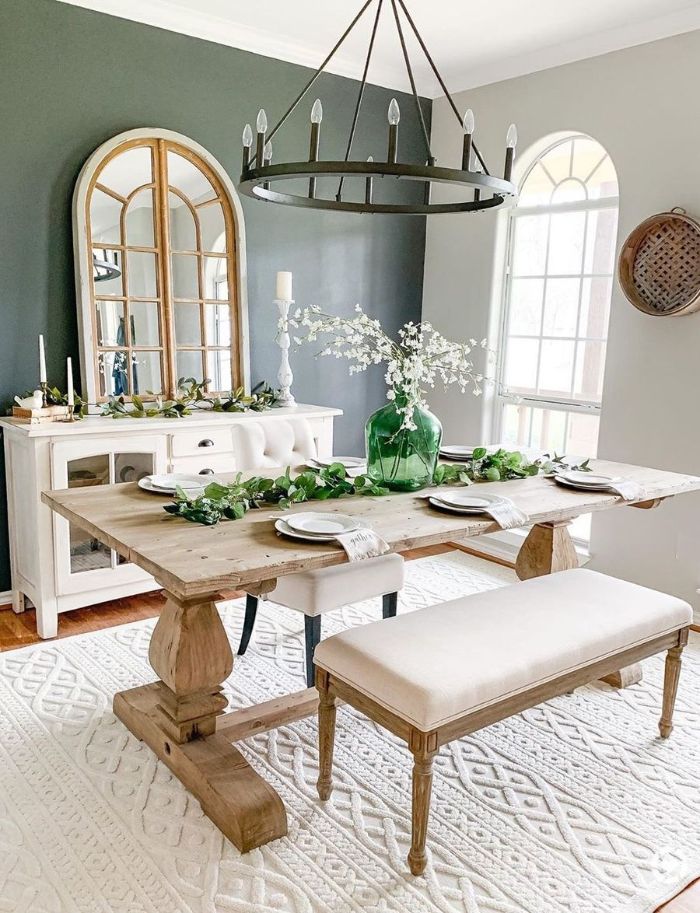 As with every other interior design, the farmhouse style has distinctive features. It is defined by its use of raw, natural materials and clean and airy spaces. Furthermore, the use of antique pieces and weathered furniture gives the style a unique and charming look. In general, the lighter colors with lots of natural lights is a must if you want to recreate this interior style in your own home.
The farmhouse design is defined by airy spaces, light colors, and lots of natural light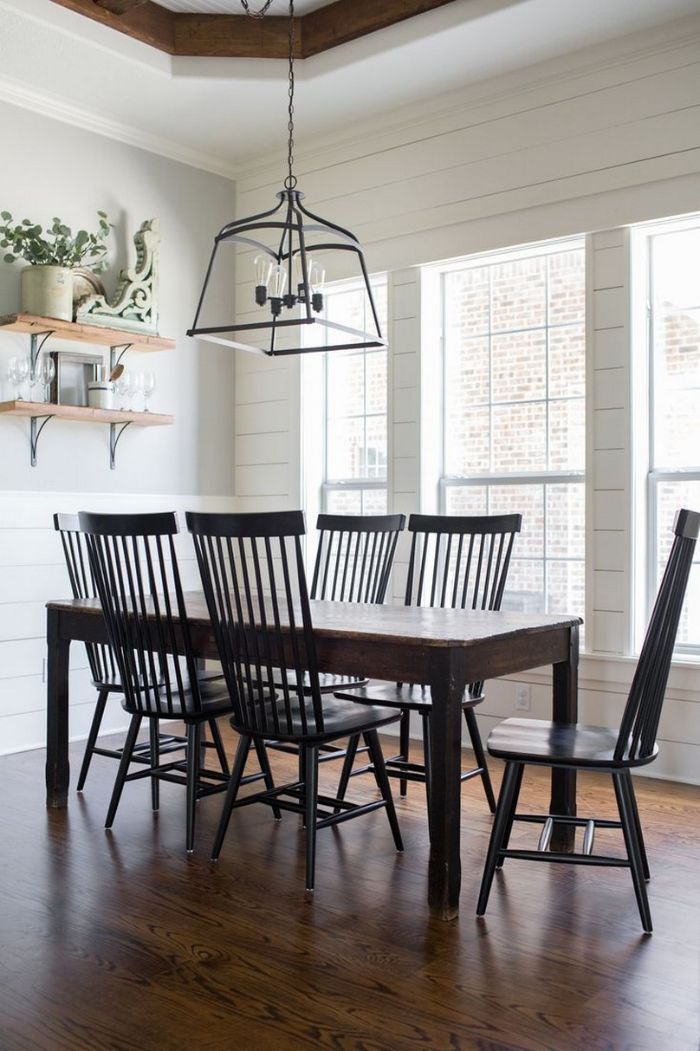 Weathered furniture is so beautiful
The first thing you should consider when furnishing your dining room in a farmhouse style is weathered furniture. The more you can see the signs of aging of the wood, the better. Although nowadays, these types of dining room sets are extremely popular, and you can find them almost in every store, you can also go thrift shopping. Thrift shops are the perfect spot for any farmhouse enthusiast. In there, you can find lots of gems, such as tables, chairs, cupboards, and even vintage vases, plates, and everything else your farmhouse kitchen may need. What's more and even better news is that this type of interior also encourages mismatches. So, even if you can't find a whole dining room set, mismatched chairs in the same style will still do the work and will make the room even more interesting.
Weathered furniture and mismatched chairs make your dining room unique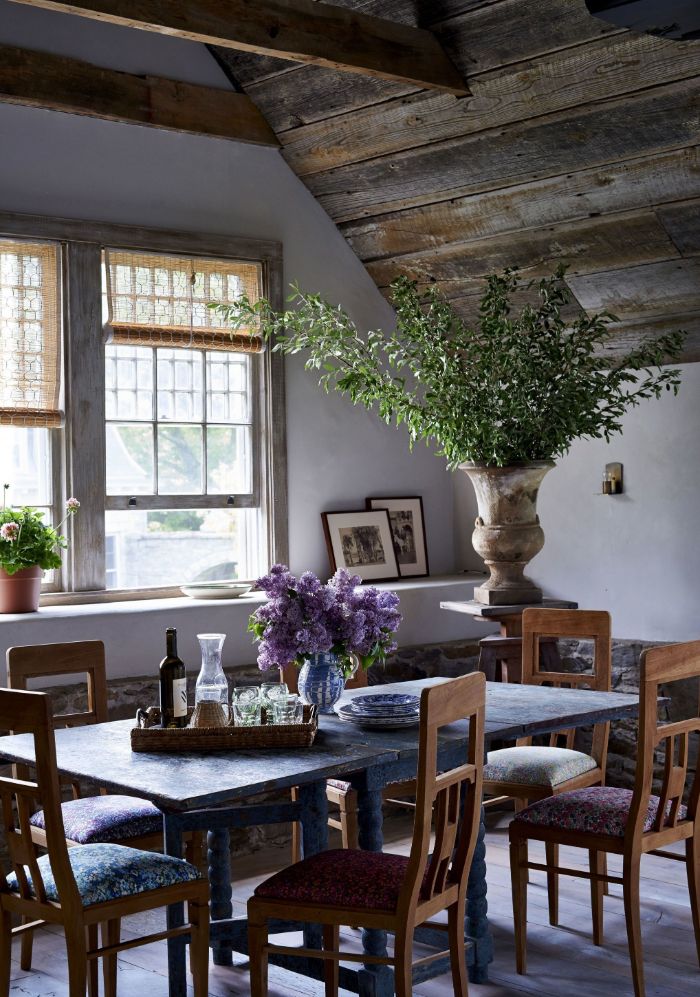 Vintage cabinets
Yet another piece of furniture you can find in thrift shops – cabinets. Vintage cabinets are the perfect place to store your china, pitchers, and serving platters. Exposing your expensive china is another decorative technique used in the farmhouse style. So, a vintage cabinet plus exposed china will give your dining room a rustic makeover right away. Vintage pieces bring in the old-timey feeling. What's more every time you set the table everything will be right there, ready to use.
Vintage cabinets are the perfect spot to show off your expensive china sets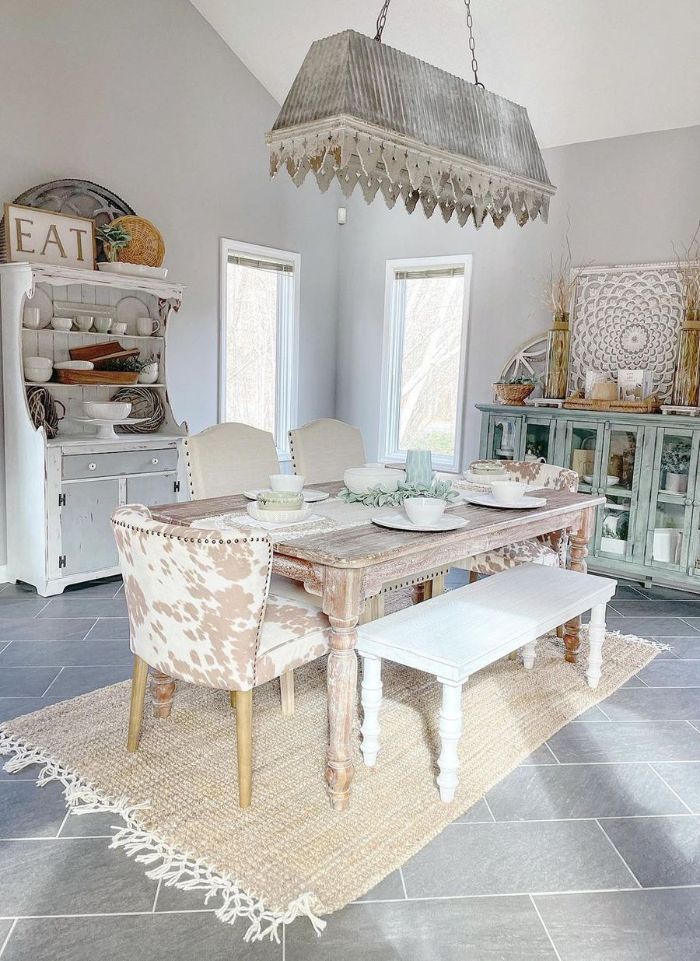 Step up your lighting game
Large vintage chandeliers hanging above the dining table are a must. As we have already mentioned lighting is very important when it comes to farmhouse decor. In general, it is preferred to have as much natural light as you possibly can. In the evening, though, it is important to step up your lighting game. And what better way to do just that than by using a vintage chandelier. Chandeliers are a very classy, elegant, and luxurious item. They are also a great addition to any home. They will definitely draw all the attention as soon as your guests enter your dining room.
Step up your lighting game with a beautiful chandelier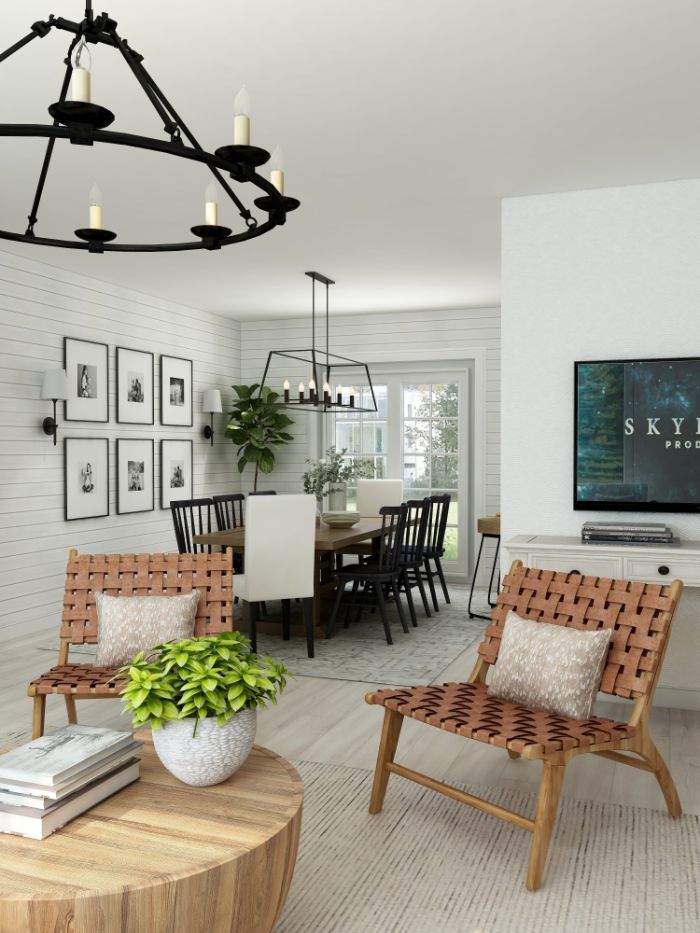 How to decorate a farmhouse dining room?
Furniture are not the only important thing to pay attention to when you decorate a dining room in a farmhouse interior style. Furniture just give you the final touches that you need. Before that, however, there are a few rules you need to follow if you want your farmhouse kitchen to be up to date.
There are some basic rules to follow when decorating a dining room in a farmhouse style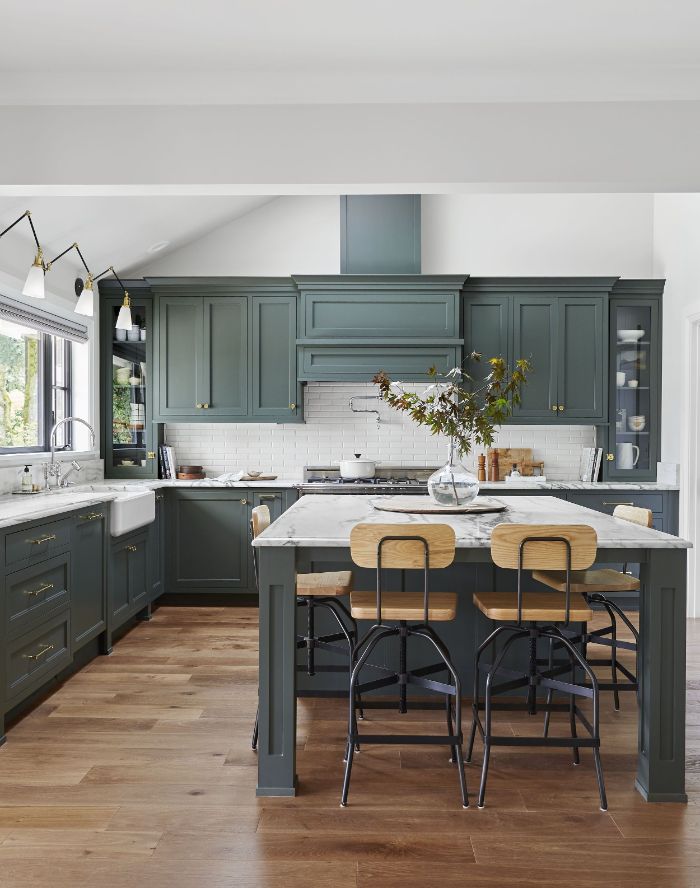 Natural light
Natural light is associated with a few interior design styles. It is extremely important for the farmhouse interior, however. Because the whole farmhouse interior design is about feeling cozy and homey, the natural light is of extreme importance. First of all, situate your kitchen next to the tallest, biggest windows. Everything else will flow easily after that. Having lots of natural light will make the whole kitchen feel airy and spacious.
Bet on lots of natural light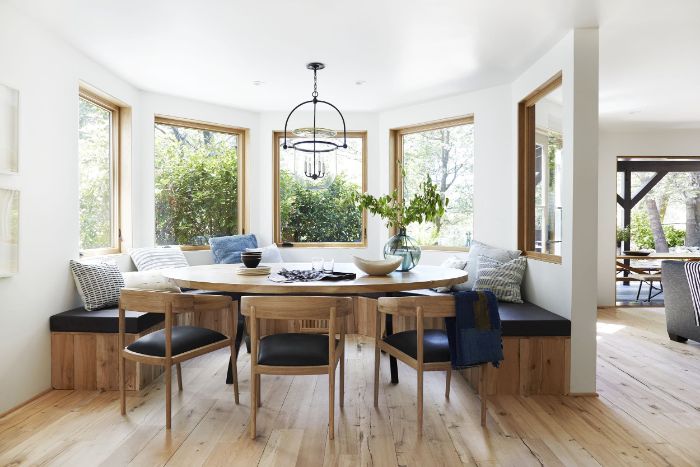 Light pastel colors
Not that you can't go with dark colors for your farmhouse kitchen, but light colors are much more popular. Pastel colors in particular. As we have already mentioned the natural light is important because it provides an airy, spacious feeling. Well, the same can be said for light colors. The lighter the colors, the more spacious the room will look and the cozier it will feel. In general, if you want to use darker colors, you are only allowed to do so if you have an abundance of natural light. Otherwise the room will feel claustrophobic and dark.
Use lighter colors to make the room feel even more spacious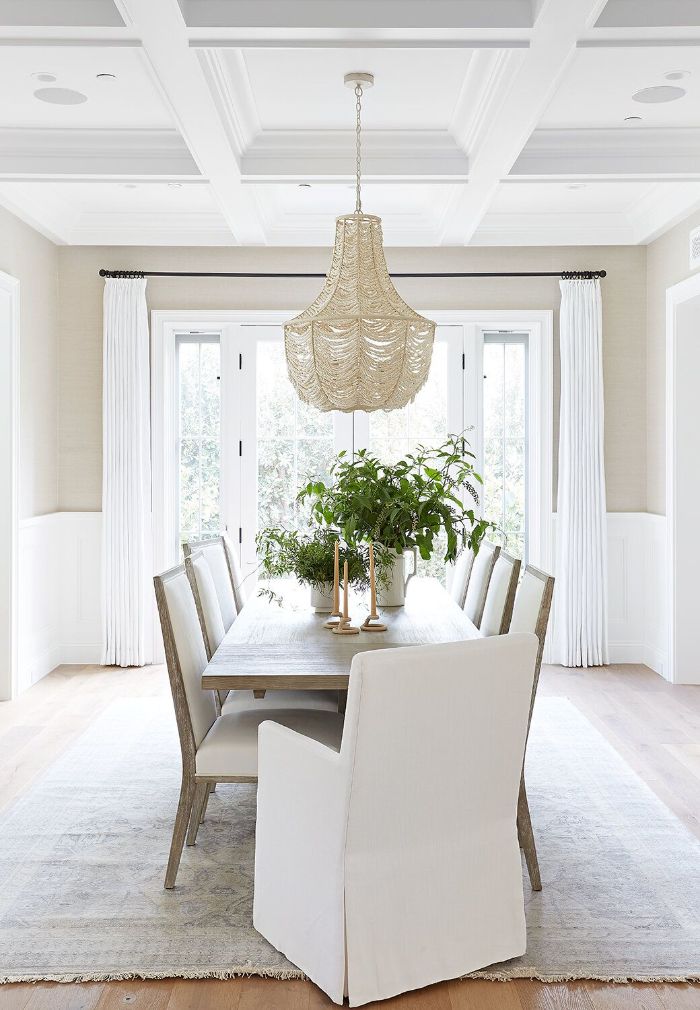 Mix and match natural materials
The farmhouse interior is all about the natural materials. That is why you are encouraged to use lots of wood. It is definitely the dominant material in all types of rustic decor. Exposed wood beams on the ceiling are such a charming and interesting detail of the farmhouse design. They, of course, can be complimented by a weathered dining table, for example. And here comes the mismatch. If you want a more interesting and eye catching design use textiled chairs to create the mix and match effect. If, however you have your eyes set on wooden chairs, you can use throw pillows or cushions to add some textile to the dining room set. Either way, your room will get the farmhouse makeover.
Mix and match natural materials for an eye catching look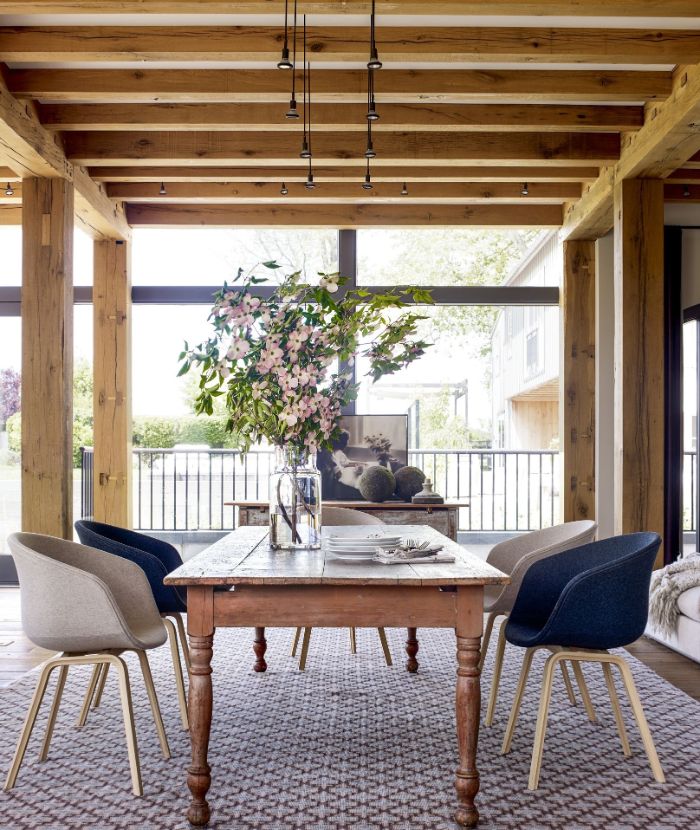 Add some greenery
As we have already stated the all natural look of the farmhouse decor is what attracts people to it. That is exactly why, it is very important to add some greenery to your dining room. It will compliment the wood and the other natural materials so well. Plus it will provide some clean, fresh air to the room, as well as your guests.
Add some greenery to compliment the wooden pieces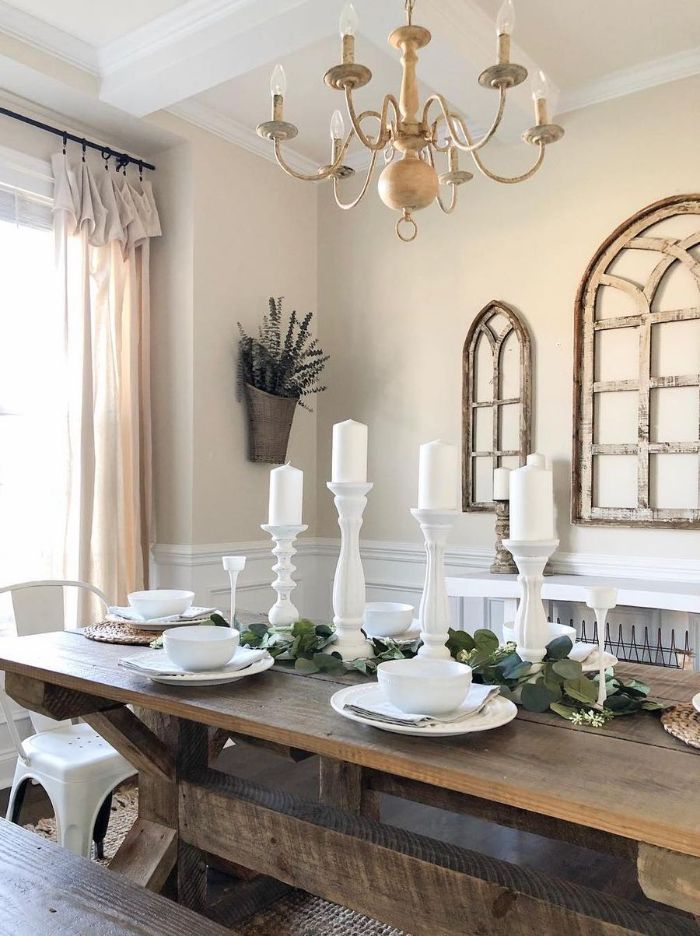 Use shiplap
Shiplap is another piece of decoration which is often overlooked, but is very popular in the rustic decor. Just like subway tiles, this decor is considered a farmhouse staple. Add shiplap to your dining room for a more interesting look. Whether you choose to have all the walls covered in shiplap or you want to just cover them partially and have it as a detail, it will still bring a modern look to your rustic interior.
Shiplap is highly regarded in the farmhouse interior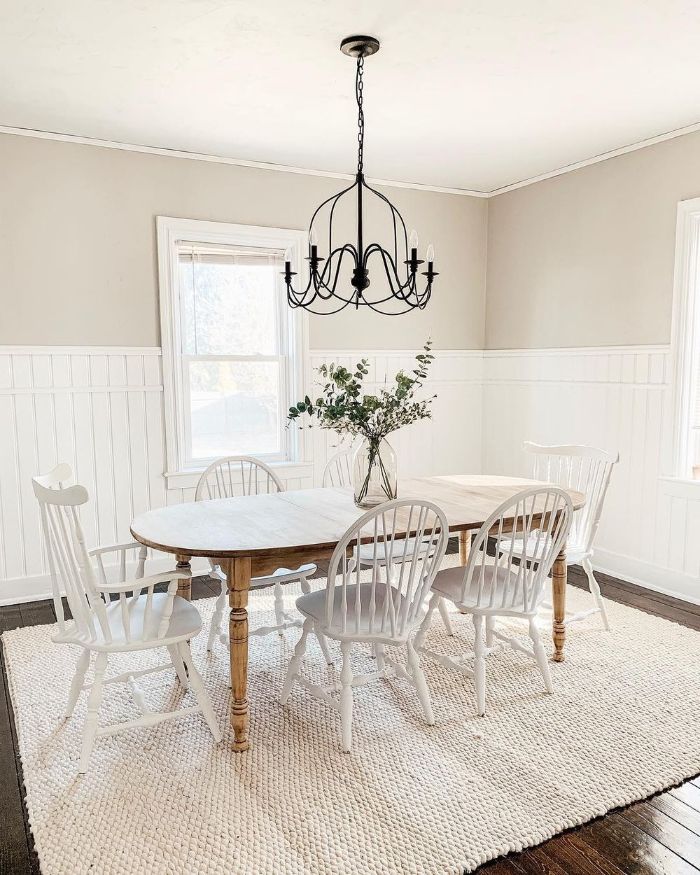 Now that you have all the tips and tricks, it is time to look at a few ideas
Use open shelving to define your rustic interior
Sliding barn doors are such and interesting piece of decoration
Keep things simple, light and airy
Go to the thrift shop and grab as many pieces of furniture as you can
Mix and match materials – wood, textiles, glass and colorful tiles
You can never have enough greenery