The Medium-Length Updo: 9 Trending Hairstyle Options for 2024
In the world of hairstyling, where trends come and go like summer flings, there's a classic that's always in vogue—the medium-length updo. It's like that vintage record that never loses its charm, spinning its magic across generations. So, whether you're a trendsetter, a connoisseur, or someone seeking that touch of timeless elegance, this hairstyle is the one for you! So, today, we will unravel the captivating story of medium-length updos. We will start with the basics like who is this hairstyle great for and who should maybe stay away from it. Then we will proceed with maintenance and styling tips, as well as the sultriest variations of this trending hairstyle!
Let's dive into the world of the medium-length updo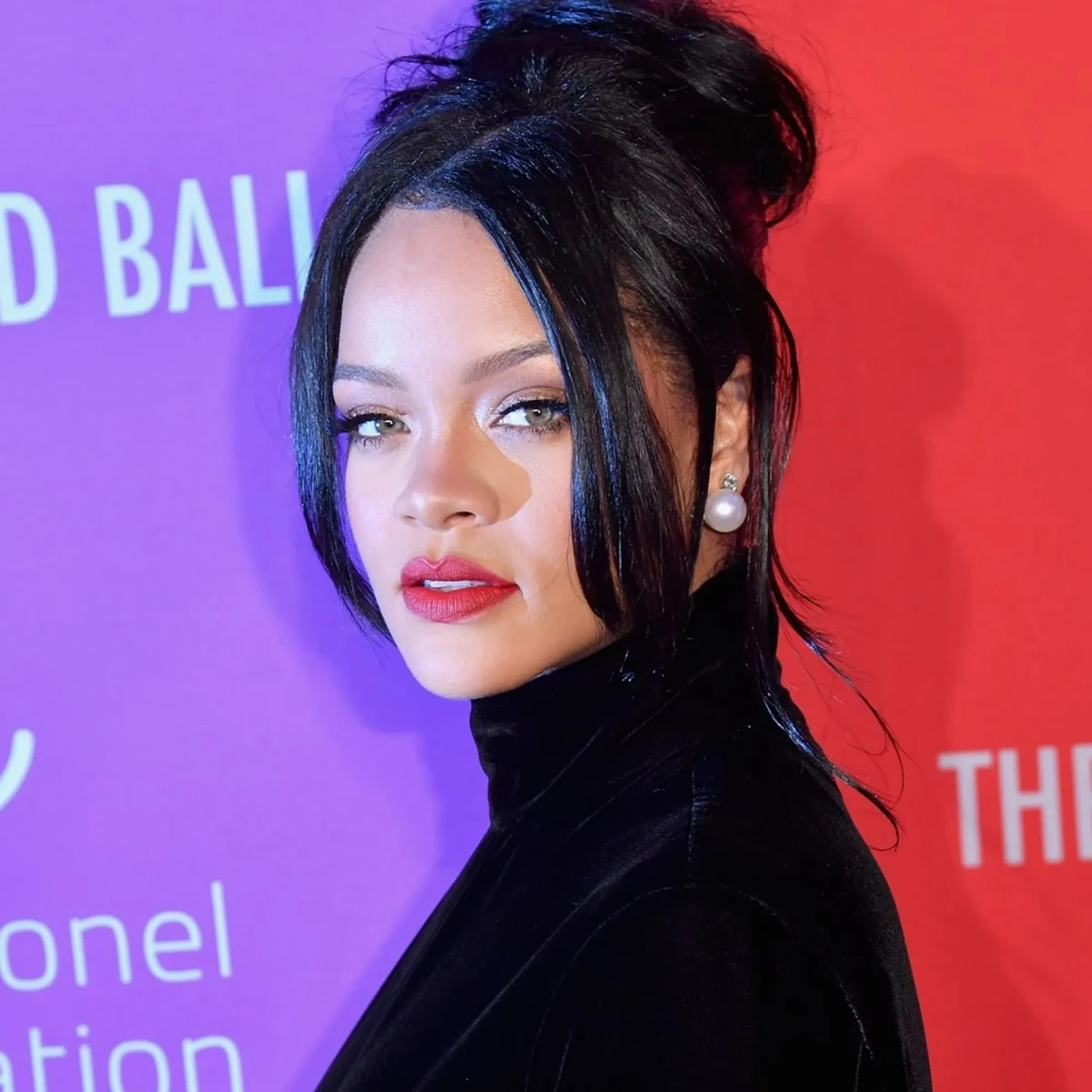 What is the Medium-Length Updo?
The medium-length updo is the Mona Lisa of hairstyling—an artistic masterpiece that transcends time and trends. It's about sculpting your locks into a captivating ensemble, a harmonious blend of grace and glamour. These updos are the chameleons of hairstyles, effortlessly transitioning from sleek sophistication to playful tousles. So, there is really something for everyone when it comes to medium-length updos.
Medium-length updos are versatile and extremely flattering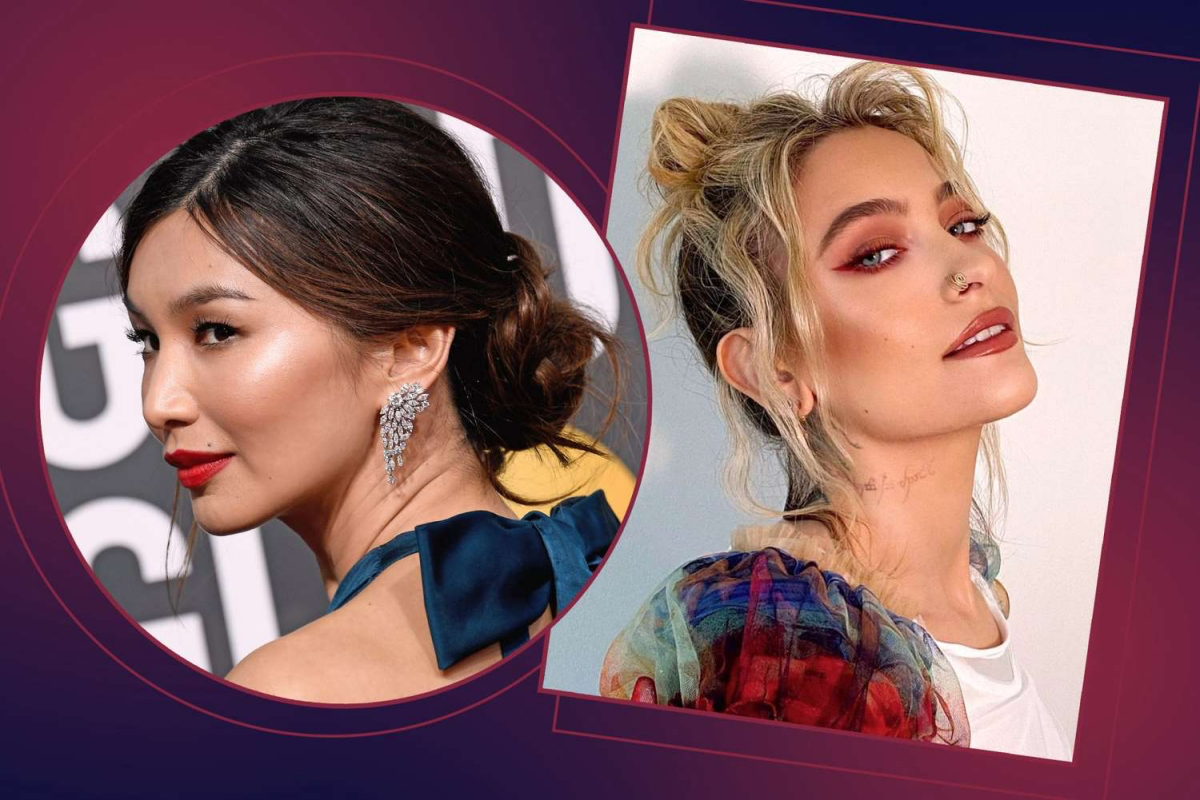 Who should get the Medium-Length Updo?
Now, picture this: You're a creative soul with an appreciation for aesthetics. You're not confined by age; you're bound by an affinity for elegance. The medium-length updo belongs to you, offering its versatile canvas to paint your personal style masterpiece. If you have an oval, round, or heart-shaped facial shape, this hairstyle will fit you perfectly. In addition, medium-length updos fit every age, and they are not super hard to style and maintain!
The medium-length updo fits round, oval, and heart-shaped faces the most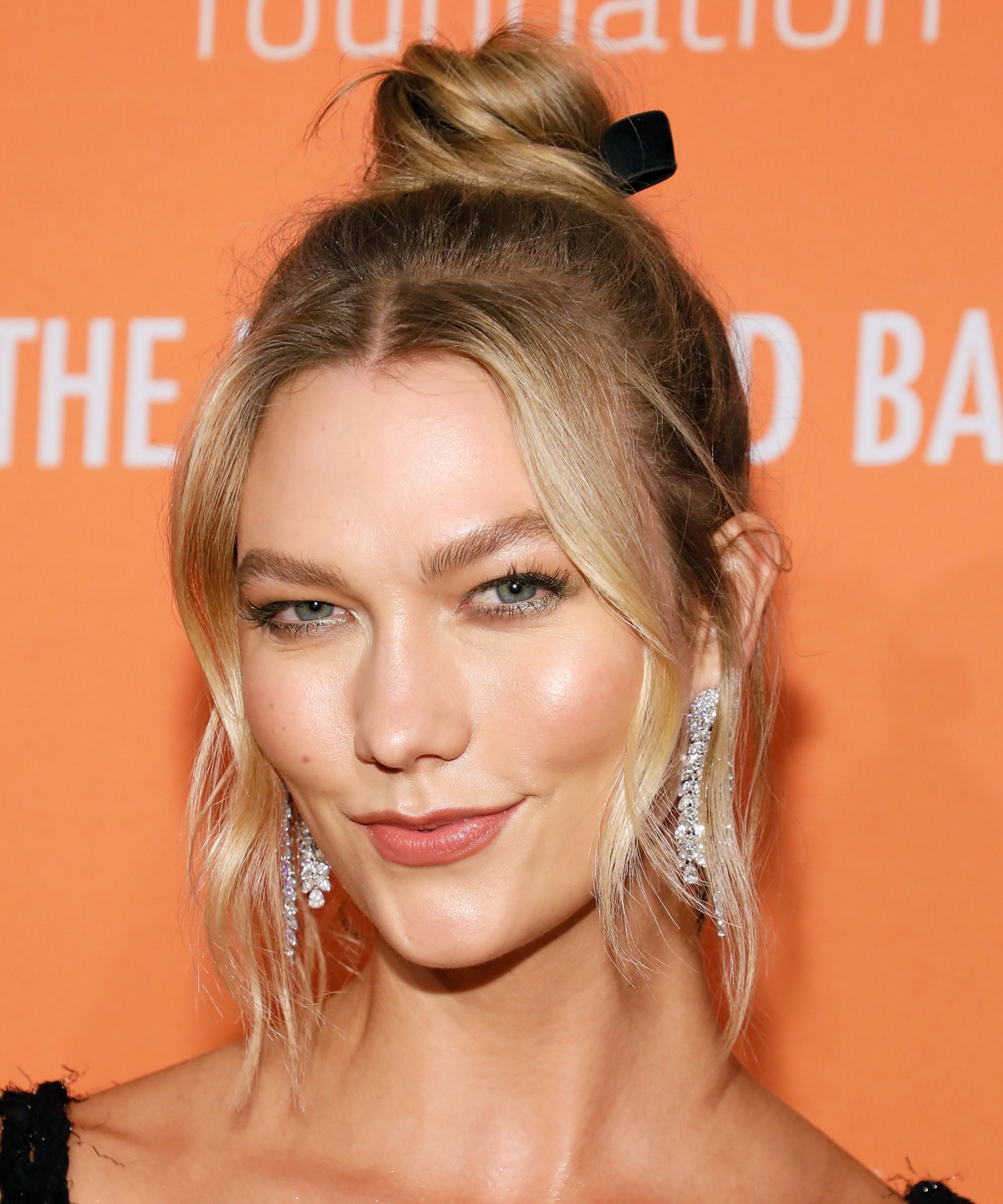 Who should Avoid the Medium-Length Updo and Why?
Of course, not everyone is ready to embrace the charm of the medium-length updo. For example, if you're fiercely loyal to your pixie cut, the idea of growing into a medium-length updo might feel as improbable as convincing a cat to audition for a dog show. Moreover, some of us relish the simplicity of a low-maintenance hairstyle. The medium-length updo, while stunning, demands a touch of styling finesse. It's like trading your cozy hoodie for a tailored blazer on a lazy Sunday. Also, for those in a never-ending battle against humidity, medium-length updos can be a lifesaver.
The medium-length updo requires some maintenance and styling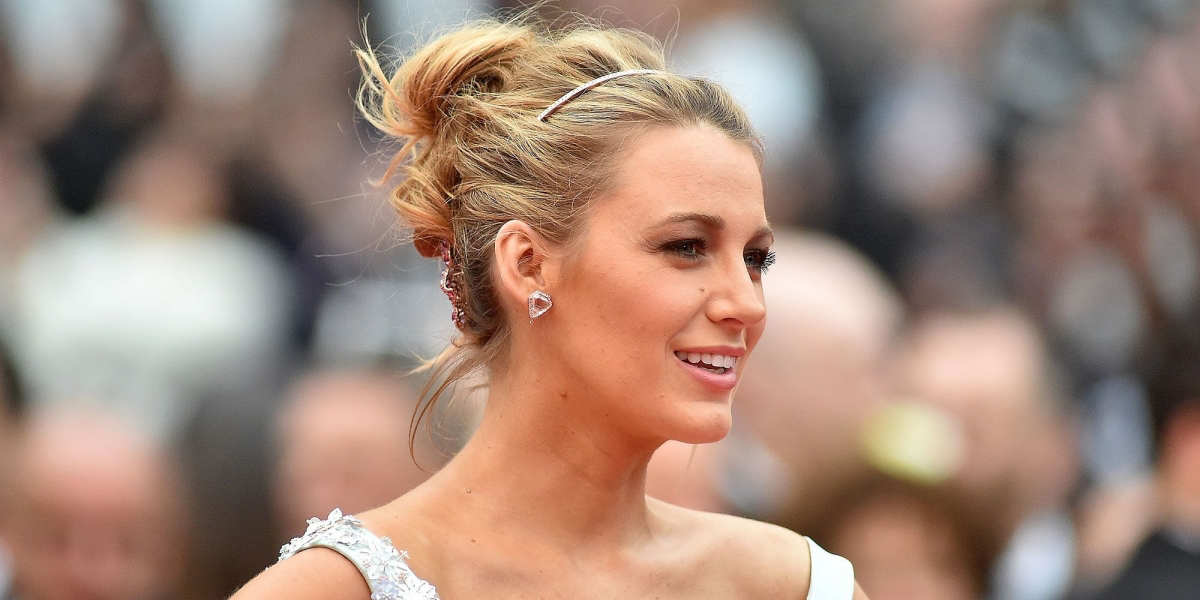 How to Maintain and Style the Medium-Length Updo
Let's dive into the nuts and bolts of keeping your medium-length updo fabulous. For one, your hairstyling journey deserves quality products tailored to your hair type, be it straight, wavy, or curly. These products are your secret weapons, like a superhero's trusty gadgets. In addition, frequent trims every 6–8 weeks keep your updo's shape fresh, much like regular workouts keep you in tip-top shape. If you want to keep things moving and original, think about accessorizing your updo with pins, combs, or scarves adds that personal flair. Think of it as putting the cherry on the sundae.
Accessorizing your updo is the key to keeping things fresh and exciting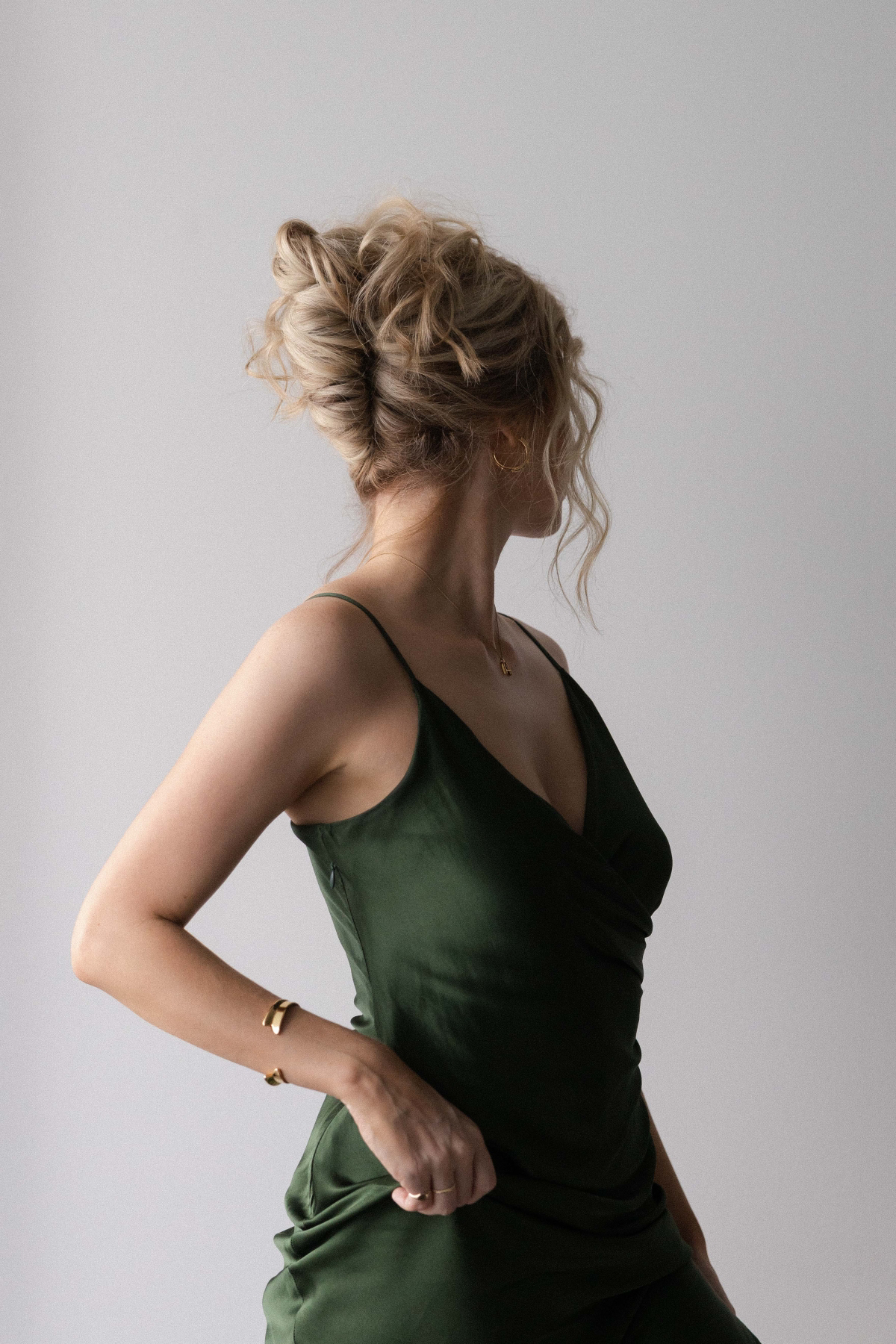 The Medium-Length Updo Inspiration
Now, let's explore some inspiring variations of the medium-length updos to help you find your perfect match:
The Braided Medium-Length Updo
Intricate braids weave a tapestry of elegance, turning your hair into a captivating story. Just braid your hair, and use pins to secure the braids up for that elegant, yet playful look.
The braided updo can be messy and playful, yet elegant and polished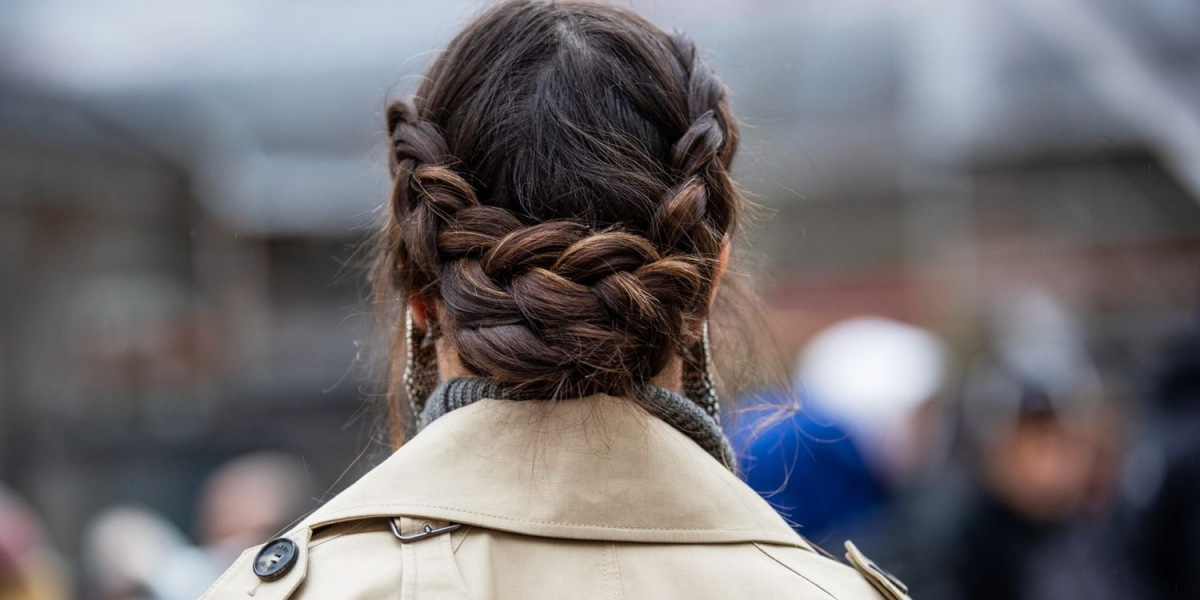 The Medium-Length Ponytail
Elevate the classic ponytail to new heights of chic, giving you that polished look for any occasion. Reese Witherspoon rocks a voluminous, medium-length ponytail on the red carpet paired with green crystal earrings.
Reese Witherspoon is all about the volume with this medium-length ponytail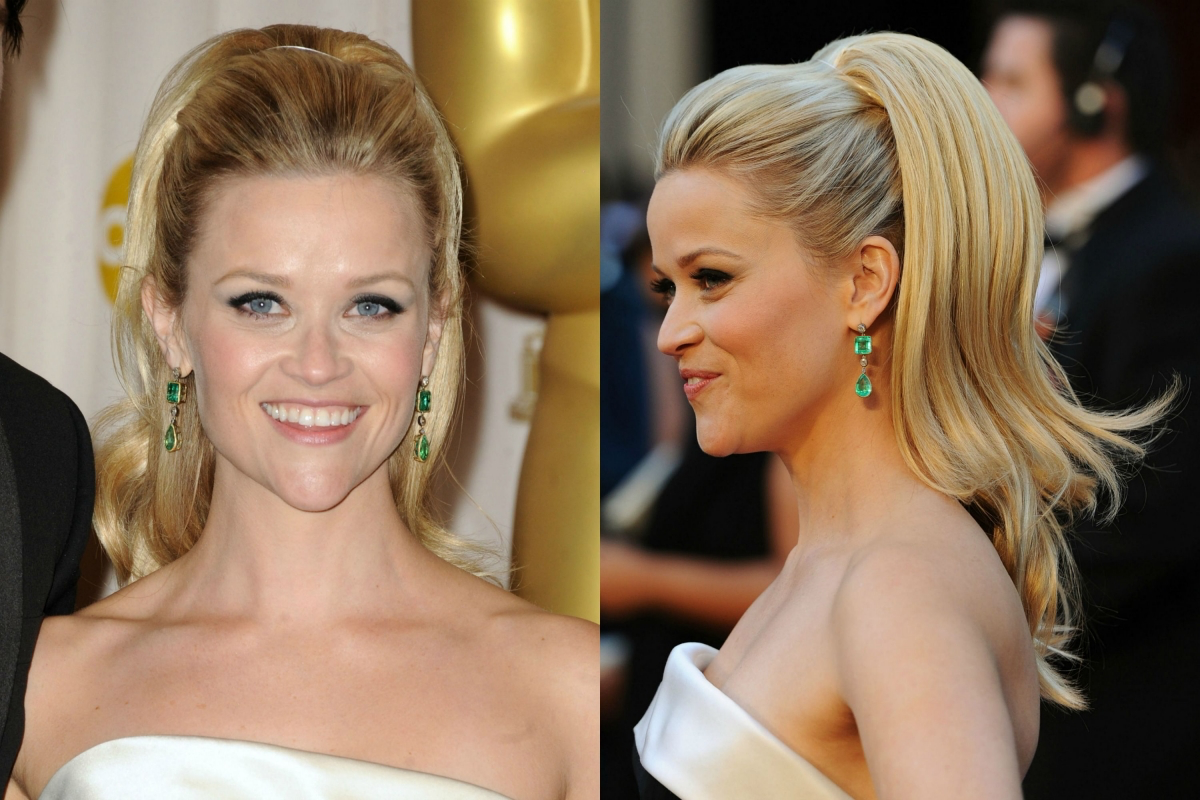 The Pamela Anderson Medium-Length Updo
A nod to the '90s icon, this voluminous and glamorous updo is a tribute to timeless allure. The Pamela Anderson updo was all the rage in 2023, and we do not think the trend is going anywhere in 2024. And, remember the messier and sultrier, the better.
The Pamela Anderson updo is the ultimate hair trend of 2023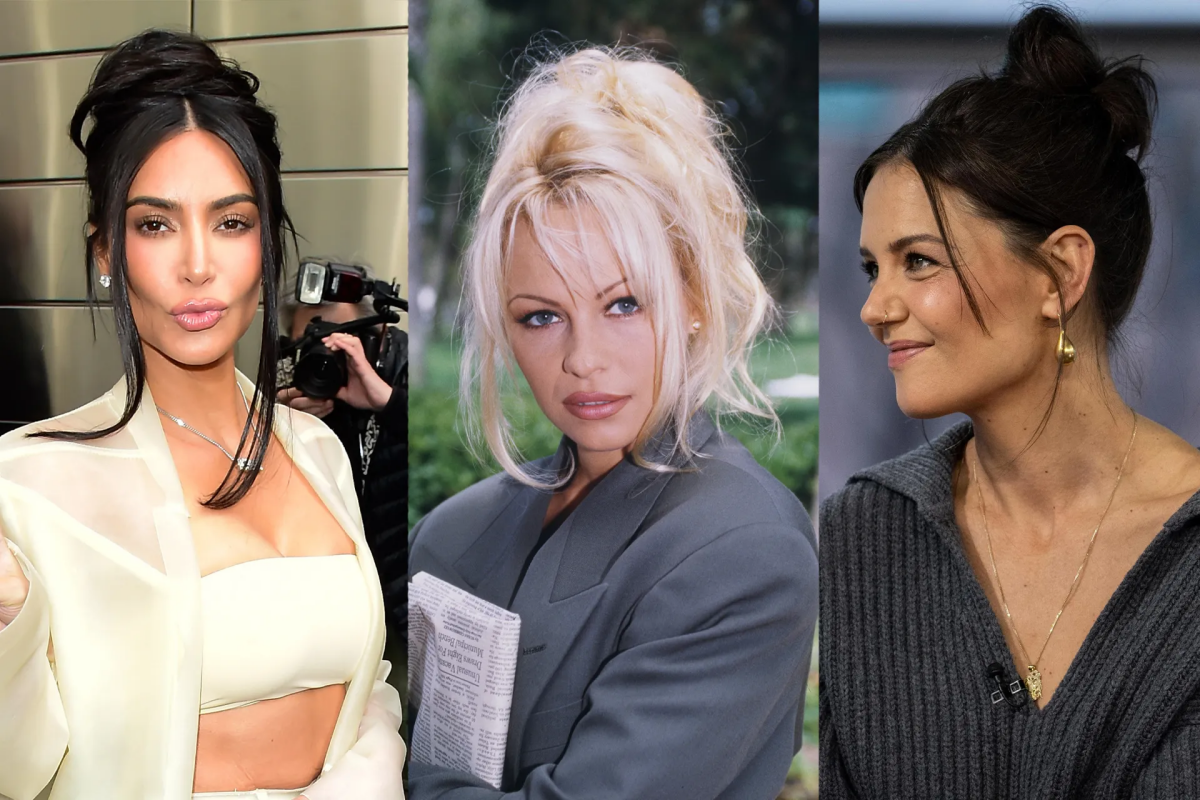 The Messy Medium-Length Updo
Embrace imperfection with a tousled, carefree updo that oozes effortless cool. Zendaya styles her hair in a messy bun updo that is paired with natural makeup and small crystal earrings. Remember to take out a few pieces of hair to help frame your face.
Zendaya rocking a messy updo on the red carpet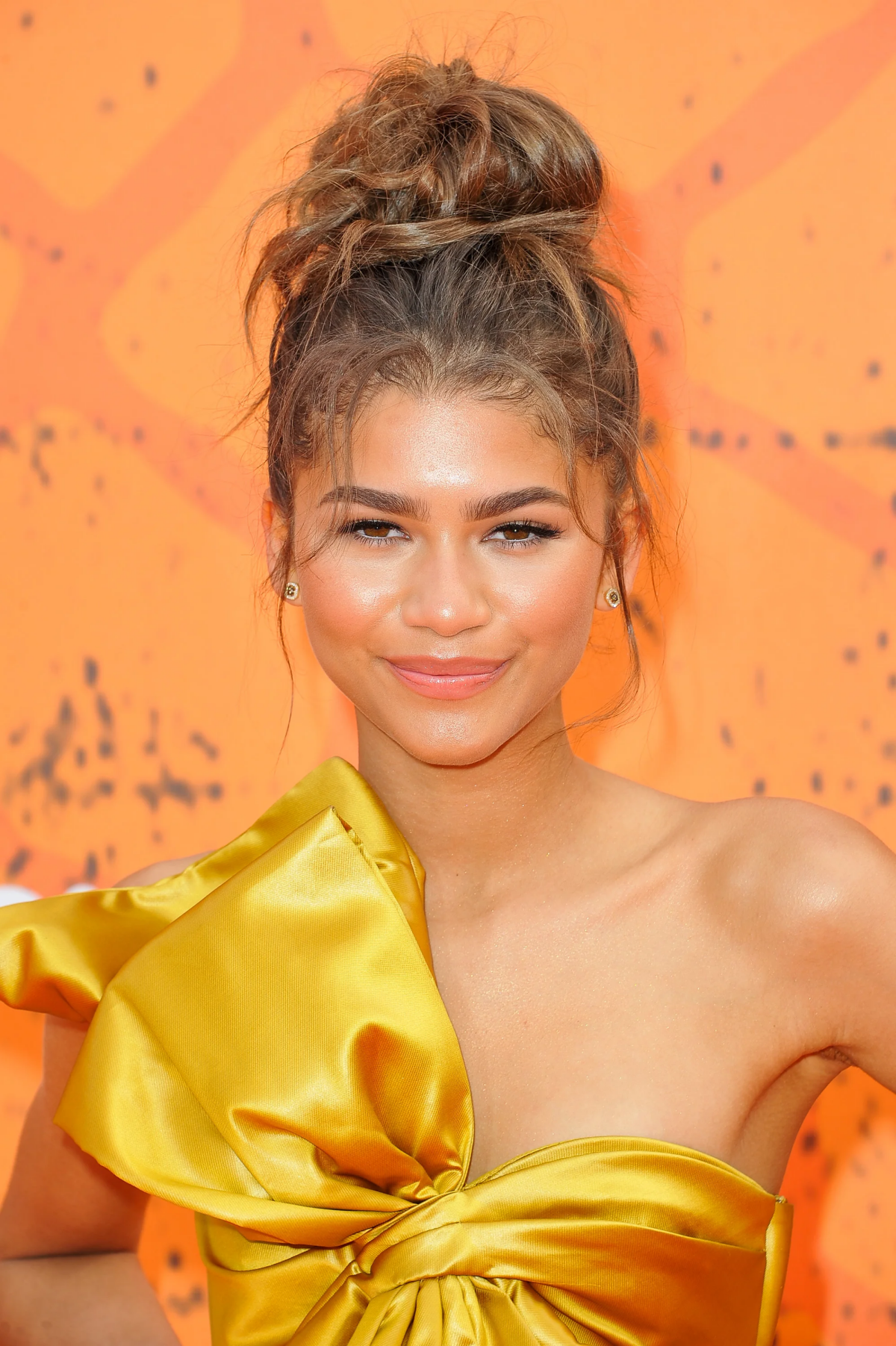 The Sleek Medium-Length Updo
Command attention with a sleek and modern style that highlights your facial features. Just like Bella Hadid, you can enhance your facial structure by slicking it all back. Add a fun twist with the shape of your updo for the ultimate trend setting look.
Bella Hadid with a slicked back medium-length updo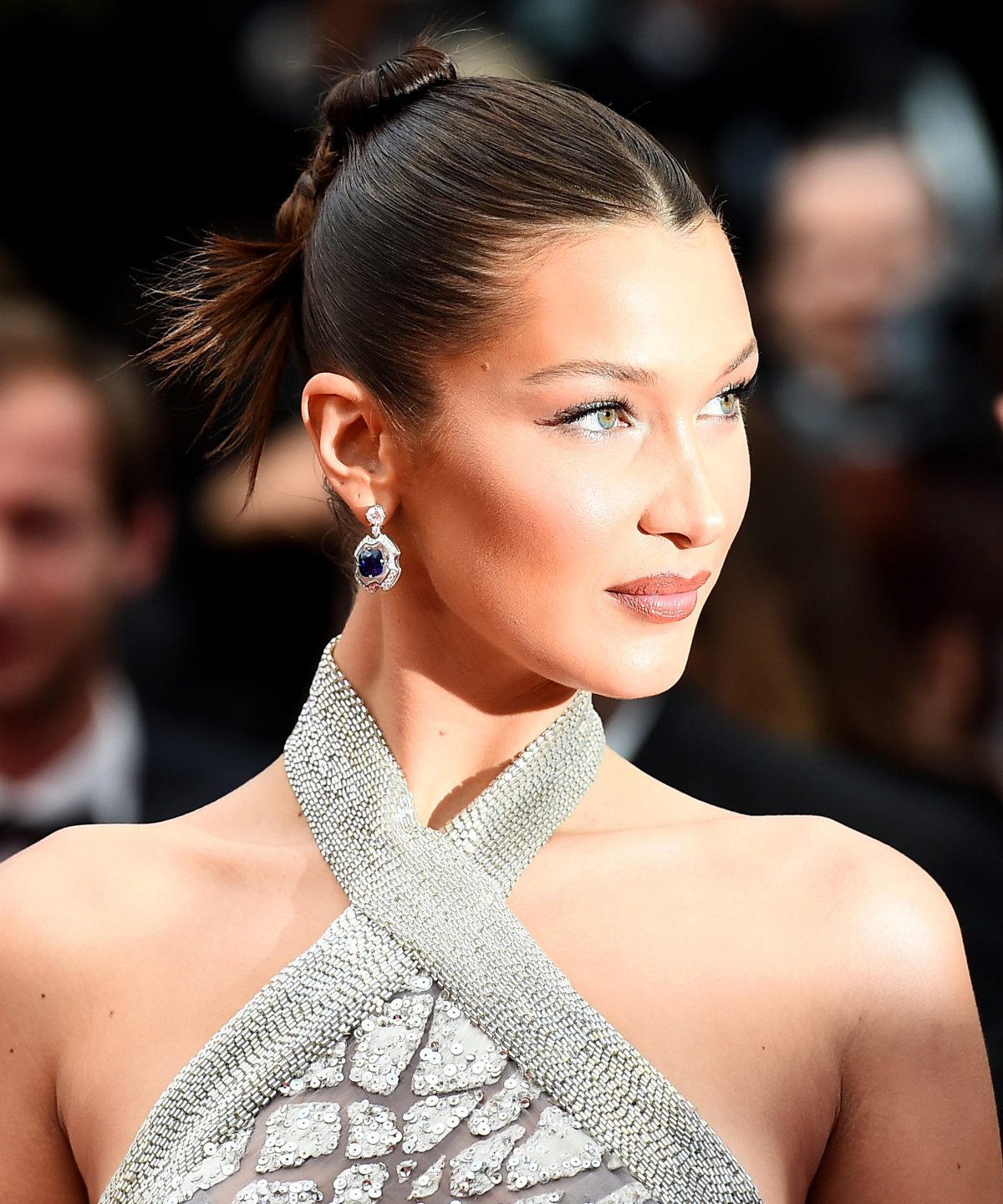 The Bun Medium-Length Updo
Stick with the classics—a timeless bun that exudes effortless elegance. Vanessa Hudgens rocks a high and voluminous messy bun paired with smoky eyes and a glossy nude lip.
Vanessa Hudgens styles her hair in a voluminous bun updo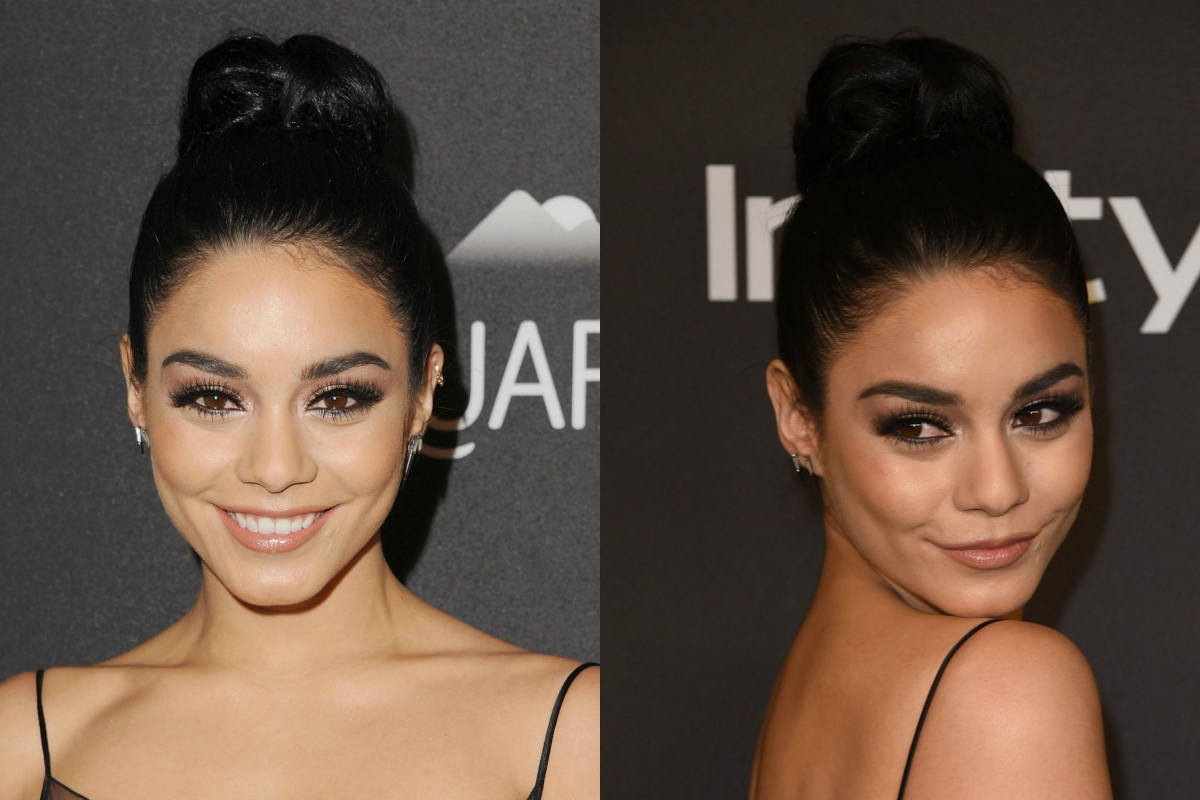 Medium-Length Updo with Bangs
Frame your face with bangs that add personality and style to your updo. Rihanna rocks a messy and voluminous bun with fake blunt bangs. This hairstyle uses the ends of the hair to recreate the appearance of bangs. This is a great option for those of you who cannot commit to the blunt bangs look!
Rihanna styles her hair in a messy bun with blunt side swept bangs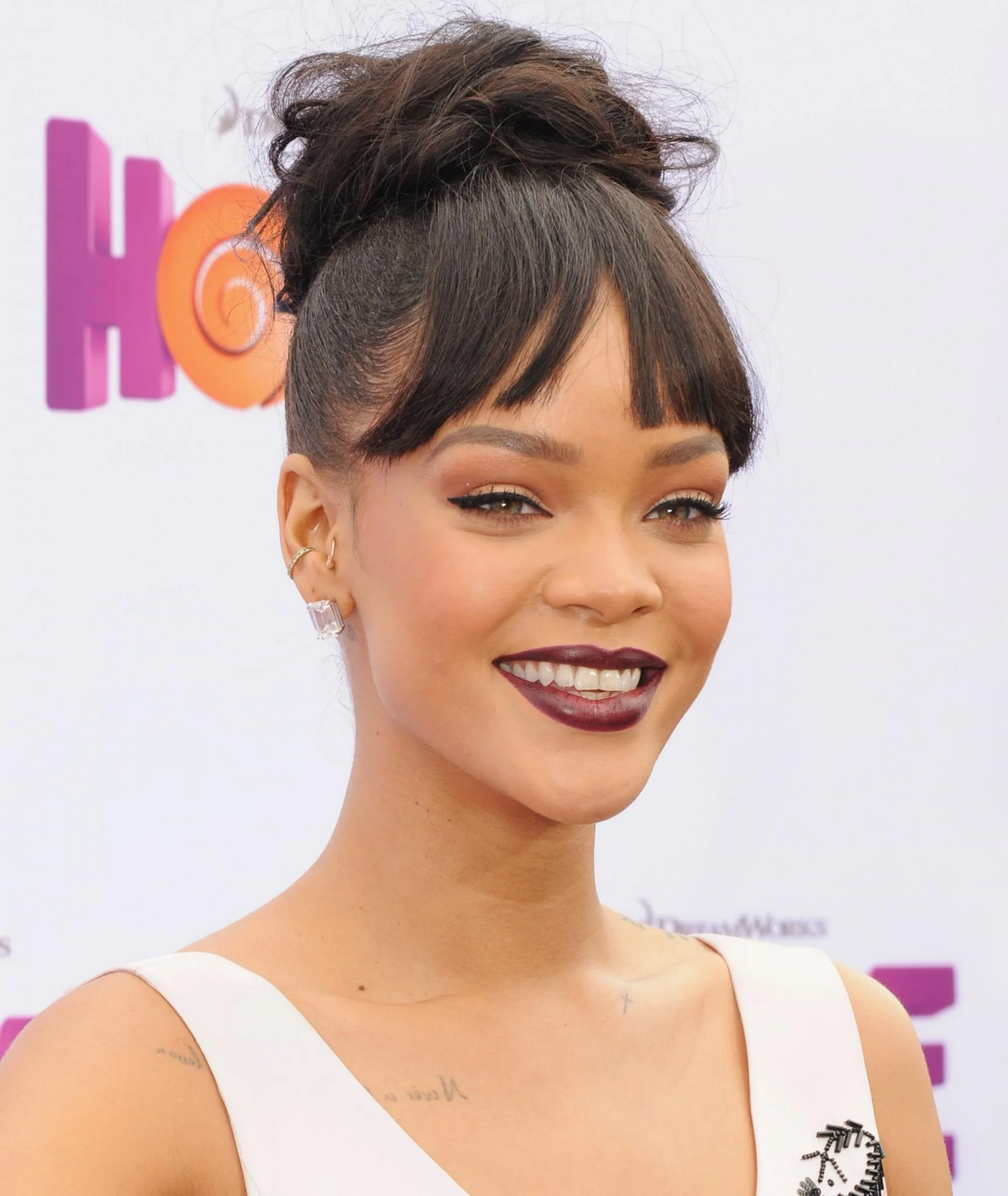 The Bow Updo
Make a statement with an updo featuring a charming bow, adding whimsy to your look. There are many ways you can go about this hairstyle, both messy and polished and sleeked to perfection. No matter what you choose, everyone will be left speechless with this bold hairstyle.
Medium-length hair is perfect for recreating this bow updo look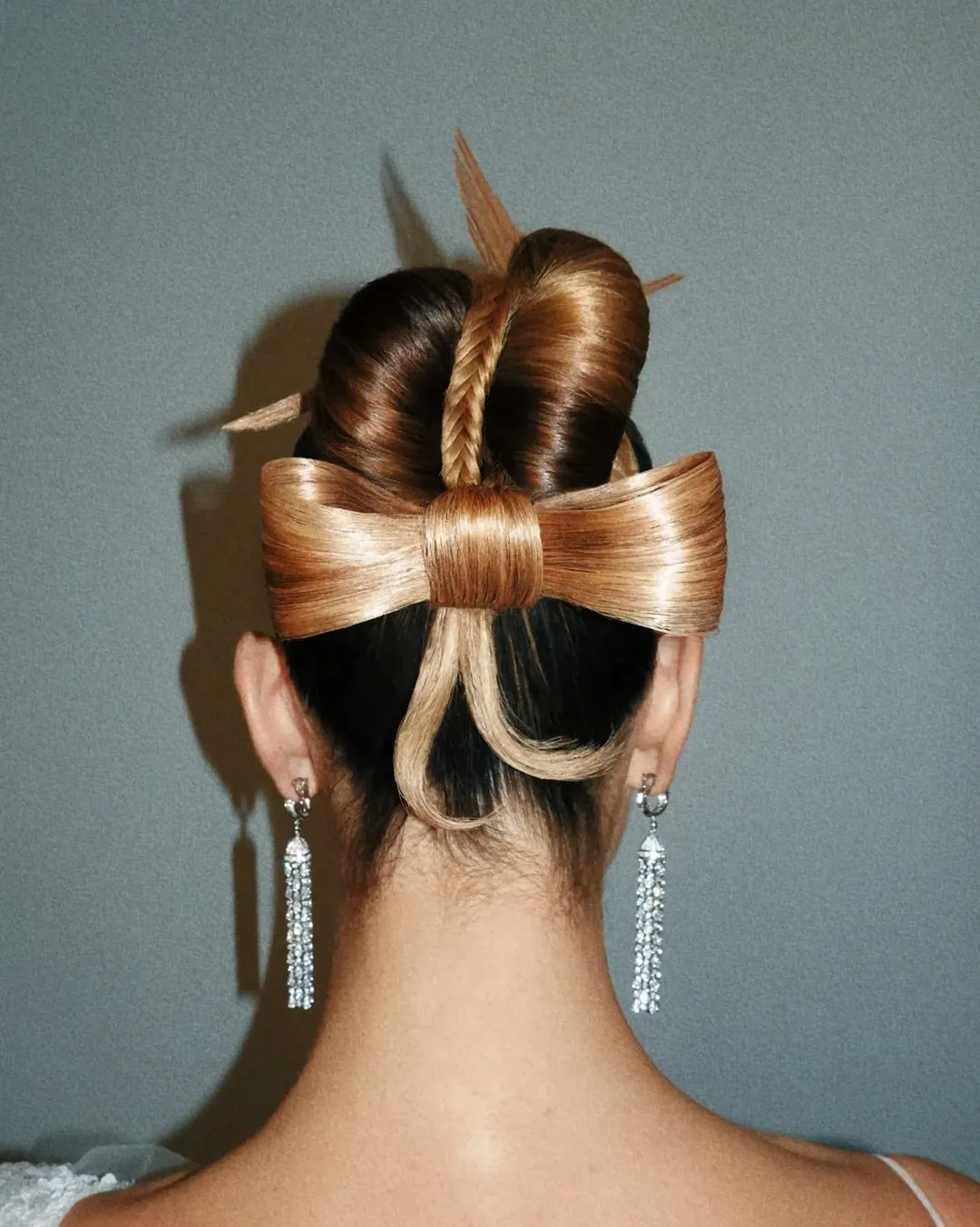 Face Framing Medium-Length Updo
Create an updo that beautifully frames your face, accentuating your features and radiating confidence. All you need is a messy bun and two framing strands of hair on the front. You can use a curling wand or even your straightener to add some definition and movement.
This face-framing hairstyle is perfect for medium-length hair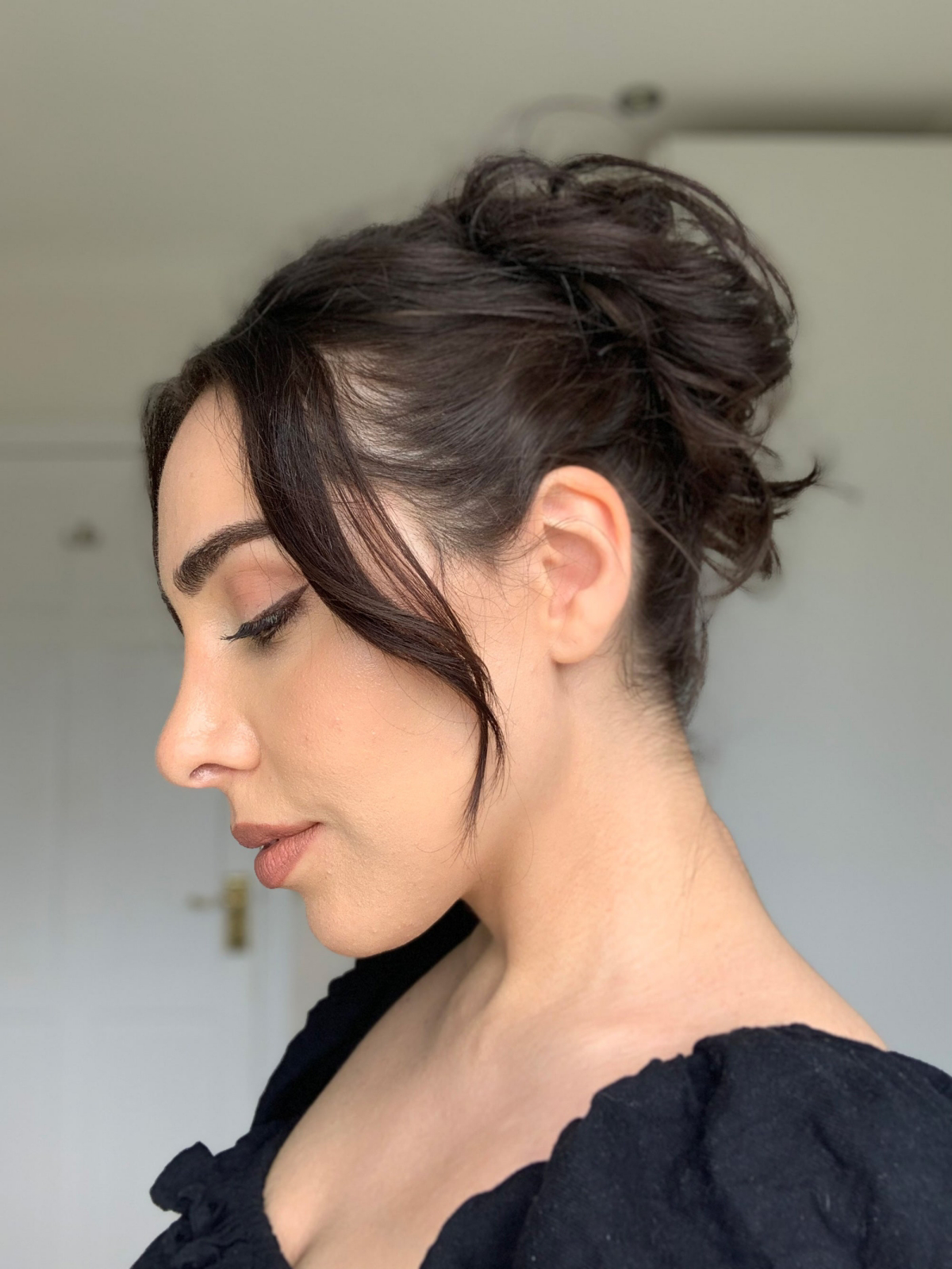 We hope you enjoyed this article, and you got some inspiration for your next visit to the hairdresser. Remember that every hairstyle can be tailored to fit your personality, face shape, facial features, and lifestyle. In addition, if you feel like a hairstyle might not work for you, just consult with a hairdresser! Don't be afraid to experiment and try our new hairstyle variations! We are sure that no matter which hairstyle you choose, you will look amazing! So, have fun on your hair journey!
Now you know why medium-length hair is so perfect for updos!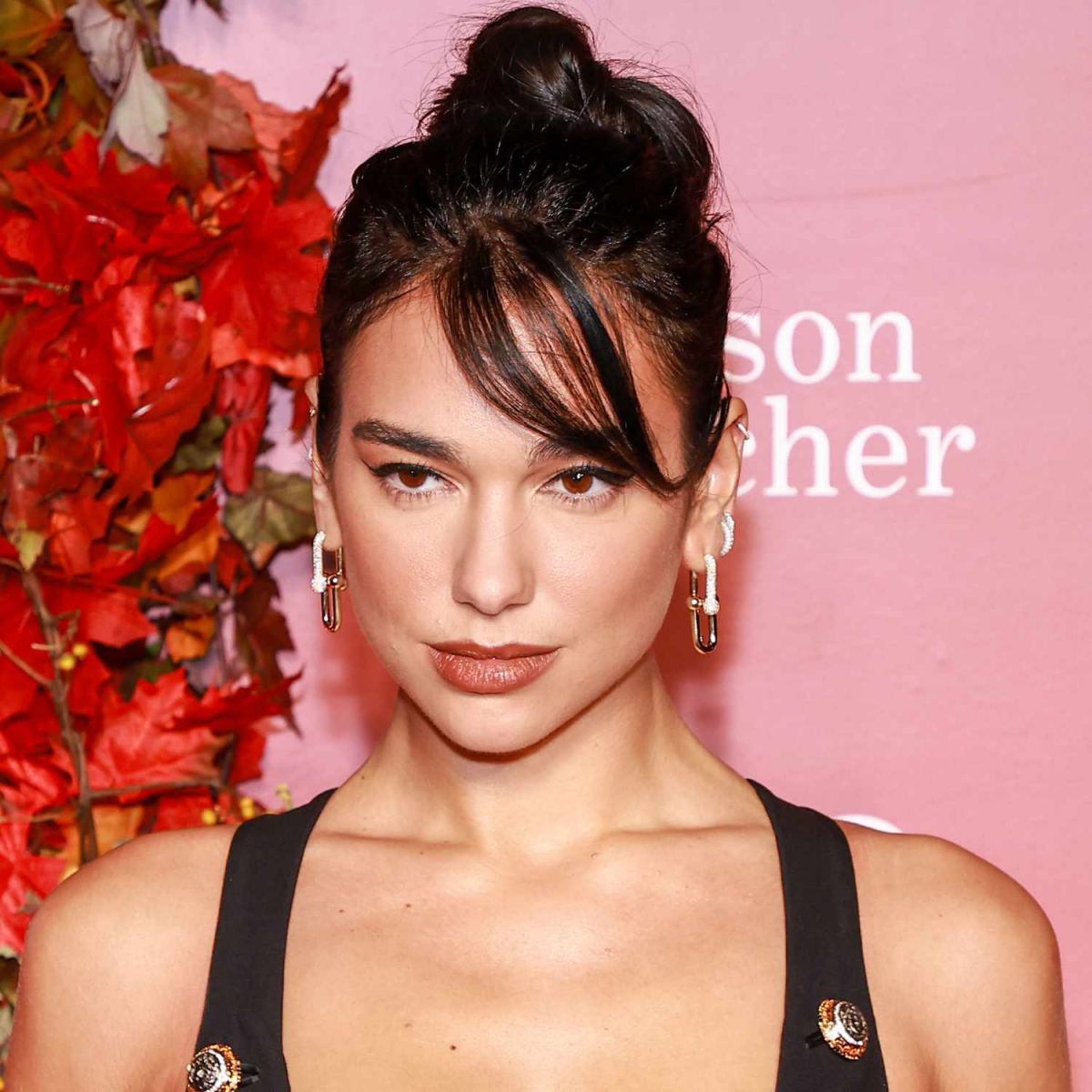 More Articles You Might Like