How To Make Jello Shots: An Easy Guide
Shots, shots, shots! With warmer weather approaching and fun activities such as spring break to look forward to, it's time to learn how to make a real party classic. Yep, that's right, today we are going to teach you all about jello shots. This includes how to make, with what to make and how to store them. Even though making jello shots isn't too hard, it's good to know the basics. They are fun, easy, versatile and a great treat for any time of the year. So, if you want to learn how to prepare cool looking, delicious jello shots, you have come to the right place. Just make sure to make enough, because they go fast. Here is our ultimate guide on how to make jello shots for all seasons and holidays!
Jello shots are fun, easy, versatile and a great treat for any time of the year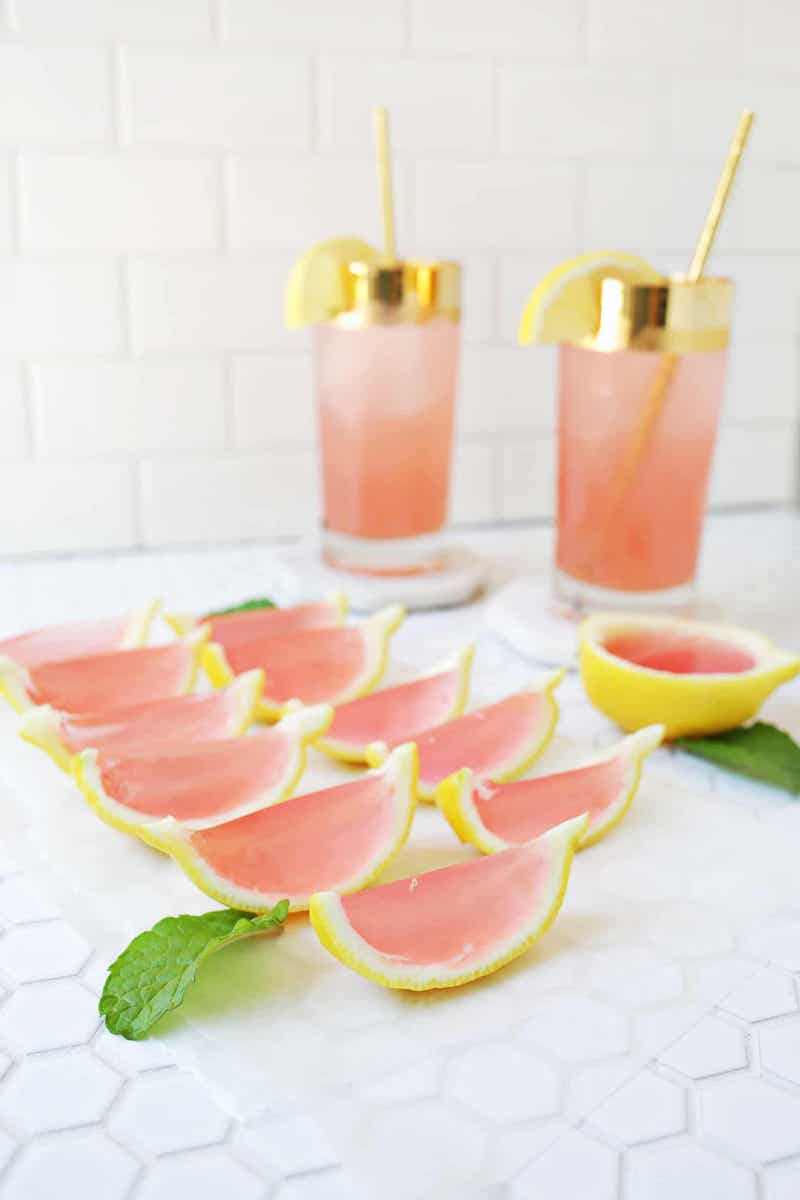 To make the shots themselves you don't really need more than ten to fifteen minutes. However, it's the settling in the fridge or freezer that's going to keep you waiting and take up the time. On the bright side, since you don't really need to do anything other than wait, you will have plenty of time to prepare everything else you need to or just sit back, relax, maybe read a book!
Making the shots themselves doesn't take more than ten to fifteen minutes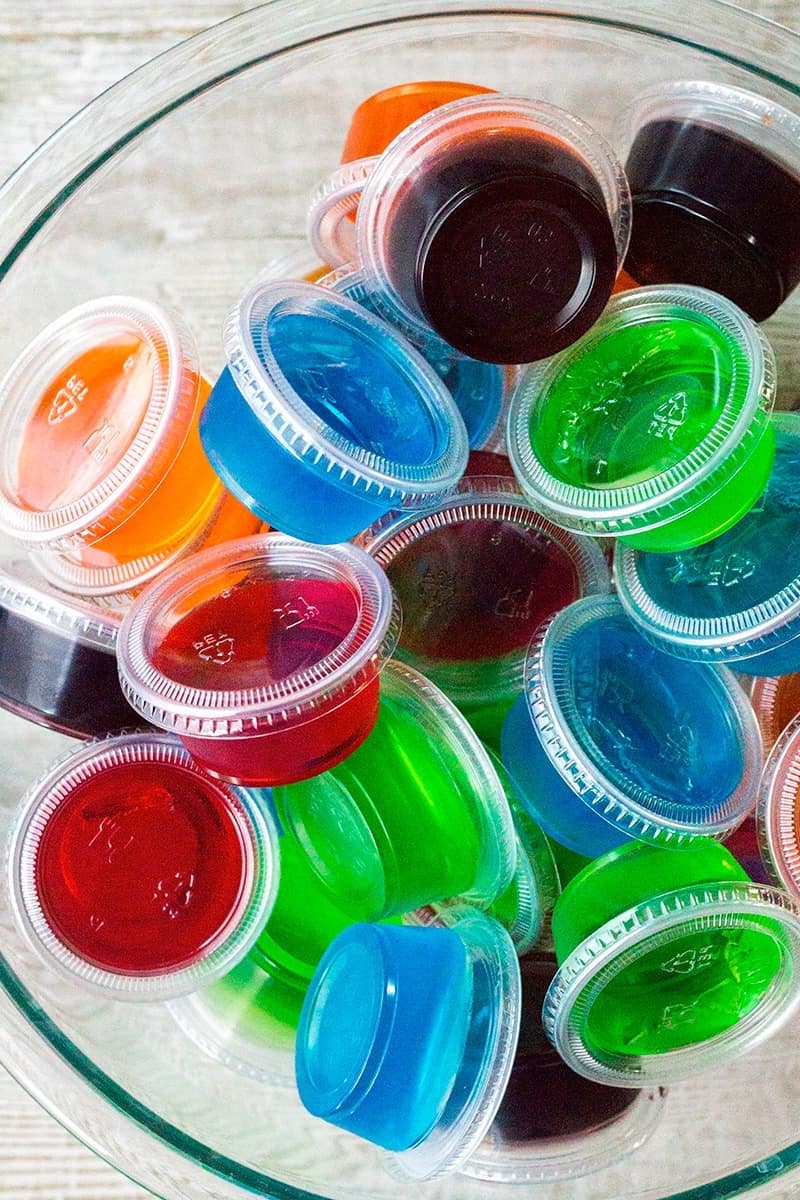 How Long Do Jello Shots Take To Set?
If you're wondering how long it will take for your jello shots to set, it all depends on which type you decide to make. However, a general rule is that it takes from around two to four hours. A basic jello shot recipe should be allowed to set in the fridge for at least two hours. Four hours are better. After all, no one likes a runny jello shot. Better to plan ahead and give yourself enough time to prepare everything and give them the needed rest period.
It takes from around two to four hours for jello to set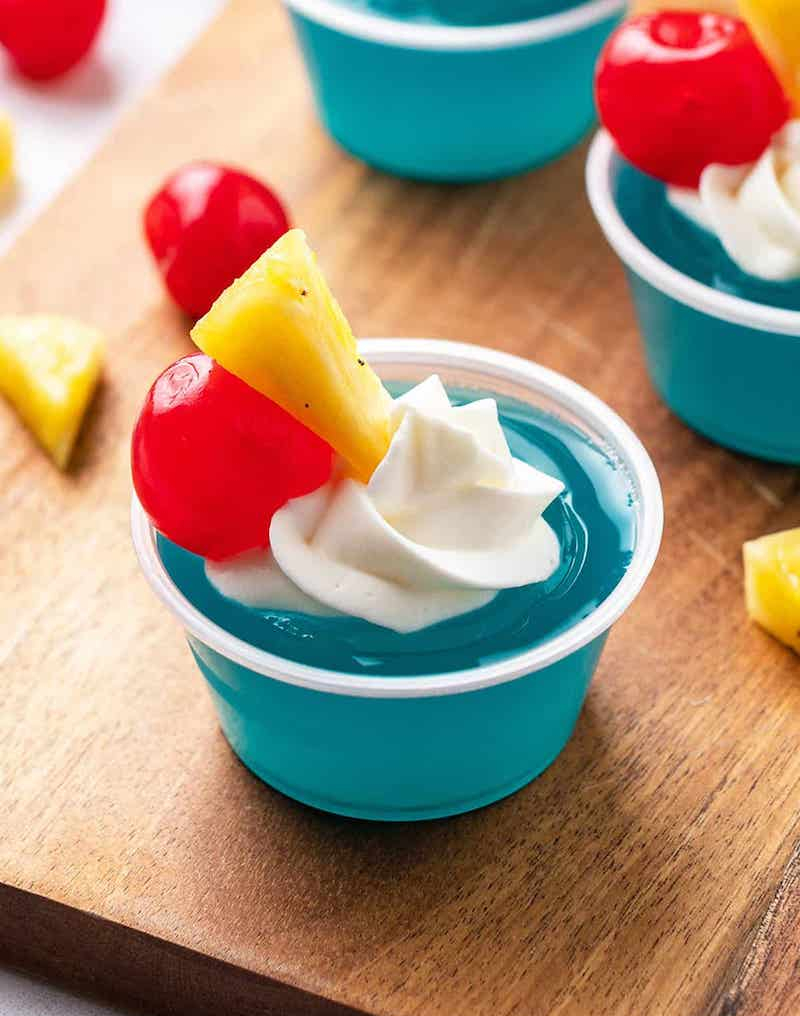 How Long Are Jello Shots Good For?
Are you planning on making some jello shots ahead of time, but don't know how long they can last? Don't worry! Jello shots can last for three to five days if they are properly refrigerated. The truth is they can last even longer than that. However, if you want them at their best peak, you should consume them within a couple of days from when you made them. While there is little that can go bad in them, it's still not recommended exceeding the five-day mark.
Halloween themed, candy corn jello shots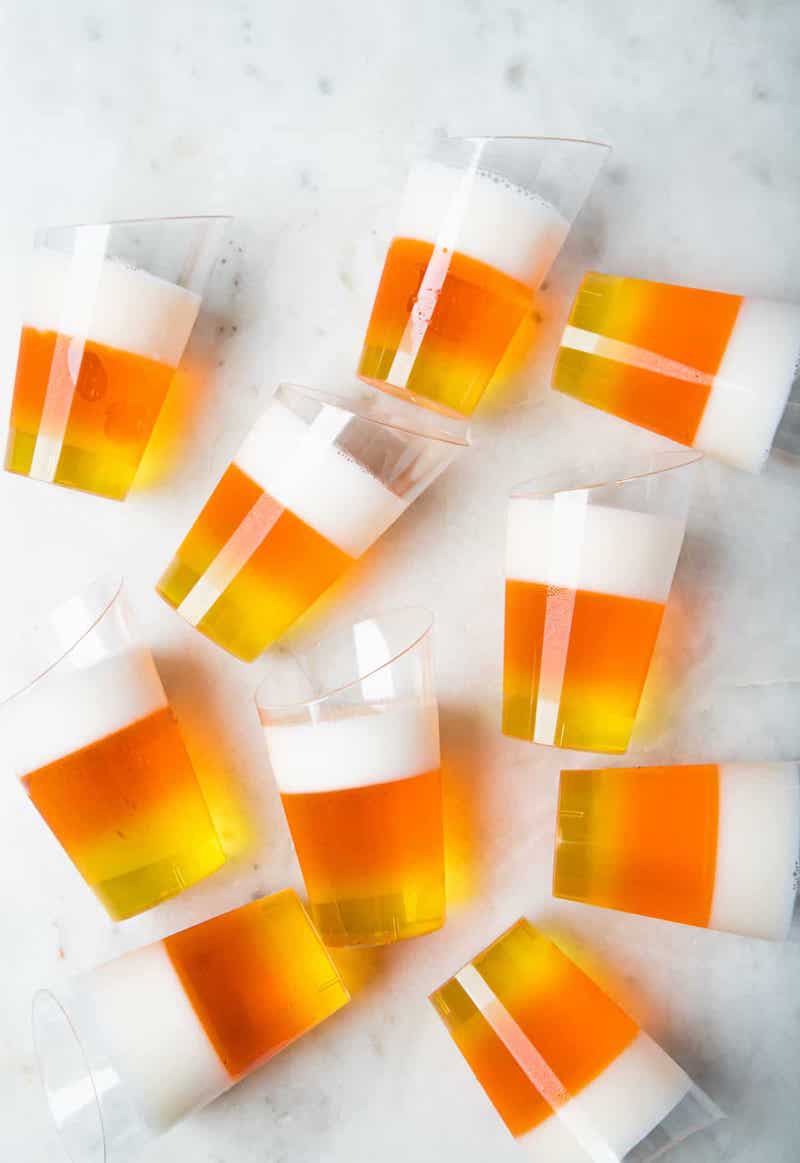 Can You Freeze Jello Shots?
Of course, you can! If you don't have four hours to wait for them to set, you can always speed up the process by placing them in the freezer. However, keep in mind that you should keep checking on them to make sure they don't freeze too much. It won't take more than twenty minutes. Since jello shots contain alcohol, they won't really freeze completely no matter how long you keep them in the freezer, but their texture will change. The process of freezing changes the chemical surface of the gelatin and causes it to crystallize and expand. This results in more of a slushy shot than a jello one. In order to minimize the chances of that happening, it's best to keep them in the refrigerator and not the freezer.
The process of freezing changes the chemical surface of the gelatin and causes it to crystallize and expand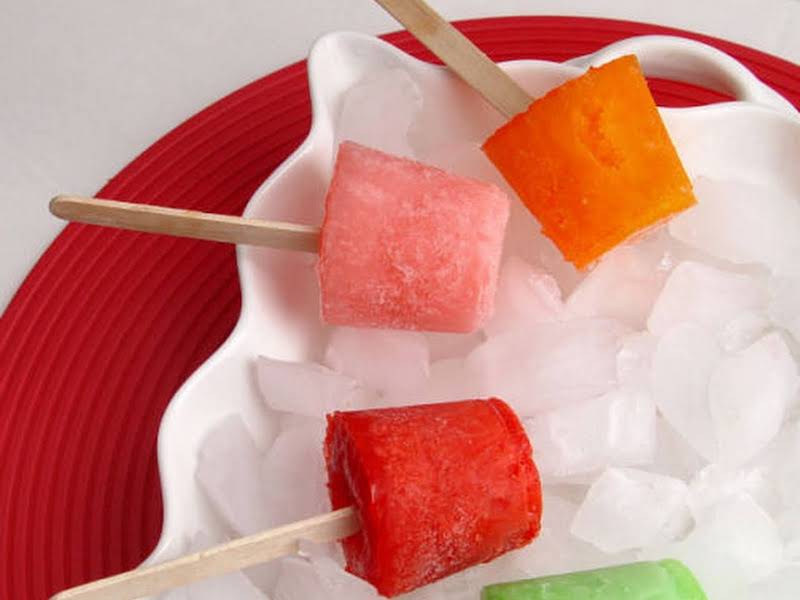 How To Make Jello Shots Without Cups?
Have you run out of cups, or are you looking to form the jello shots in a more interesting way? Either way, there are plenty of things you can use instead of cups. After all, who said these flavorful gelatin yummies are just for cups? The beauty of jello shots is that you can choose a variety of colors and containers. You can use for example an ice cube tray and make cube shots, or use any types of molds you have lying around. If you are making these for a themed party like Halloween, you can also use syringes. The possibilities are endless, so make use of anything you have in your home, even use regular shot glasses.
You can use any types of molds you have lying around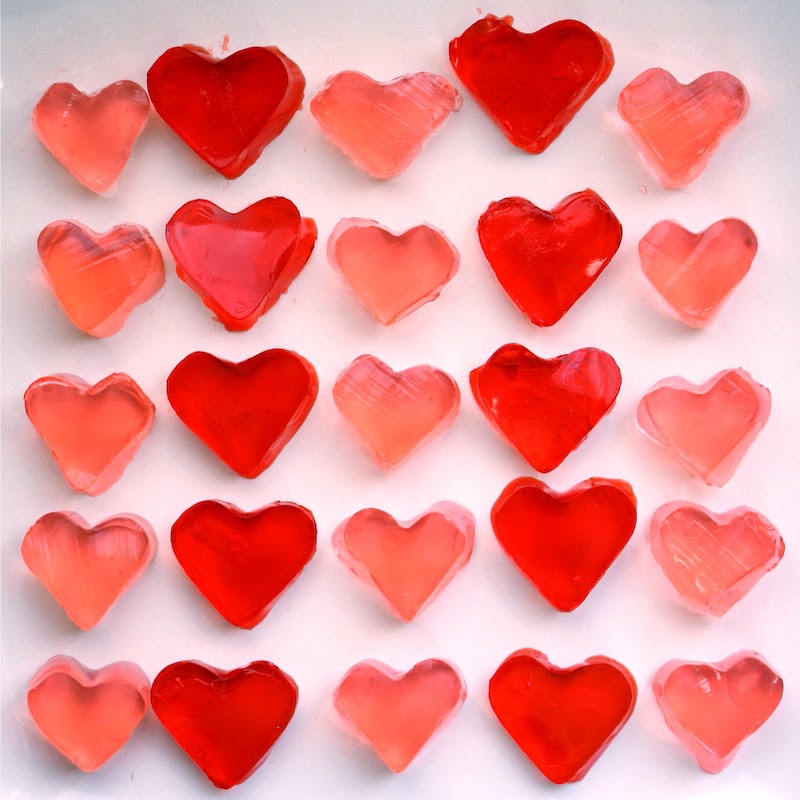 How To Make Jello?
Okay, so we know all the tips and tricks, but now we need to learn the basics of making jello. Here is all you need to know on how to make basic jello, before we can start doing some crazy, fun jello shot ideas. It's super simple and easy to do, so don't worry.
Ingredients: 
3 ounce Box Instant Jello Mix
1 cup Boiling Water
1 cup Cold Water
Method:
Pour the powdered gelatin from the box into a medium-sized mixing bowl.
Add the boiling water to the gelatin mix.
Stir for 2 minutes until it's completely dissolved.
Stir in the cold water.
Refrigerate for at least two hours, or until the gelatin is firm and doesn't stick to your fingers.
A classic jello treat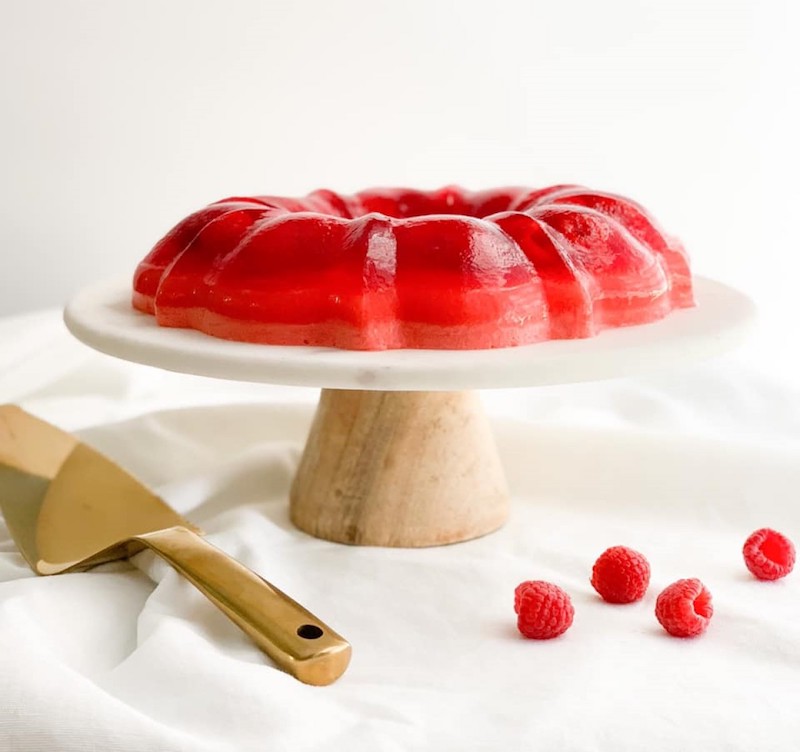 Easy Shots
Now let the fun begin! The easiest and simple jello shots you can make will only take two ingredients – vodka and jello! Here is a simple recipe on how to make these delicious gelatin treats. Play around with the mold, if you want something cooler looking, or spice it up by using flavored vodka!
Play around with colors and create rainbow shots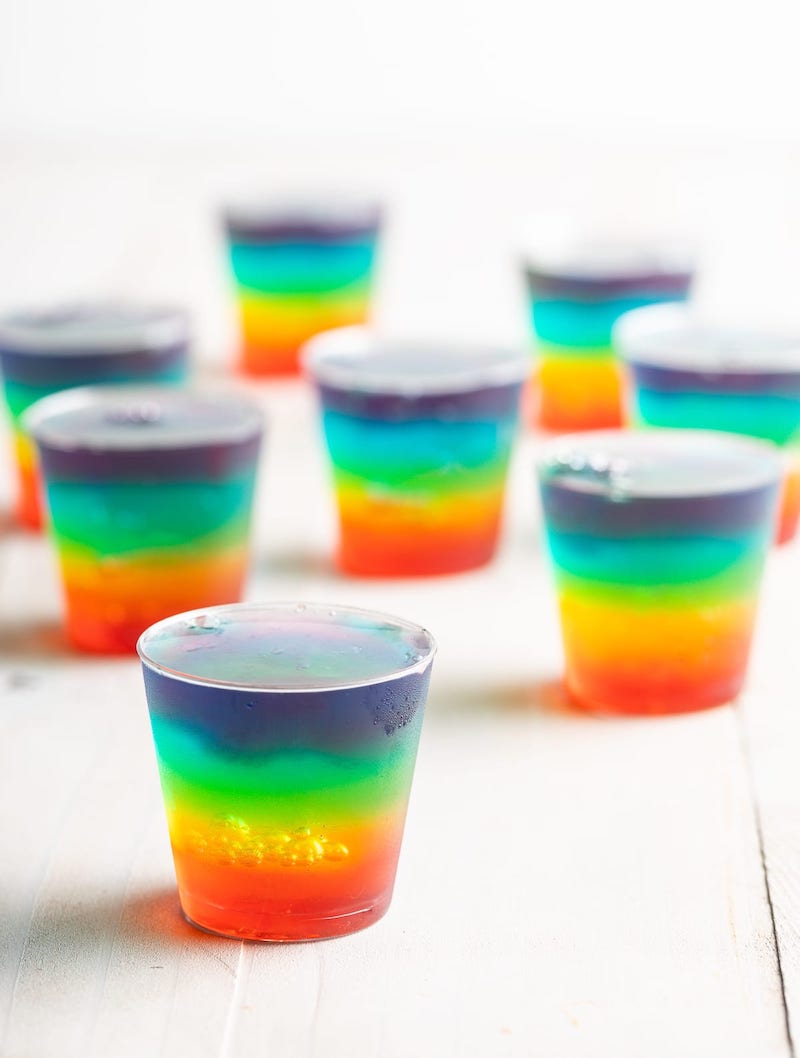 Ingredients:
3 ounce Package Jello Gelatin
1 cup Boiling Water
1⁄2 cup Cold Water
1⁄2 cup Vodka (or Flavored Vodka)
Method:
Boil a cup of water.
Empty the jello powder into a large mixing bowl and add the boiling water.
Continue stirring for two minutes or until the jello has completely dissolved.
Add in the 1/2 cup of cold water and 1/2 cup of vodka.
Stir until mixed and pour into 2oz. jello cups filled 1/2 to 3/4 of the way.
Put in refrigerator.
Use flavored vodka to spice it up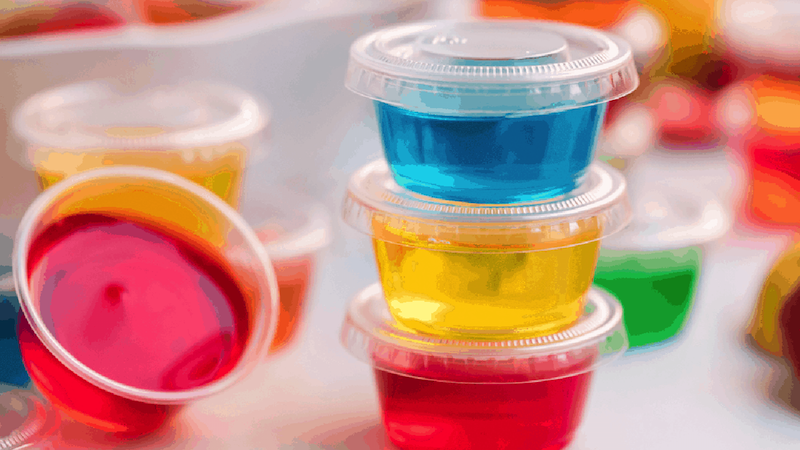 Fun Shots
If you want to do something more creative and fun with your jello shots, here are some great ideas for inspiration. The great thing about these types of shots is how creative you can get, so don't hold back. Customize them to your liking and occasion. Fun shots for a fun game night!
Get creative with your shots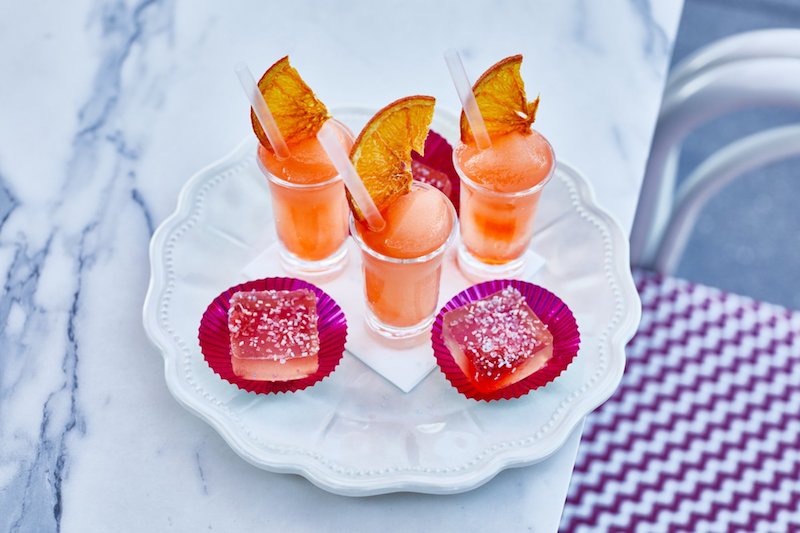 Piña Colada Shots
Do you enjoy a good piña colada cocktail? If the answer is yes, then why not turn them your jello shots into a cuter and smaller version of this iconic cocktail?! Here is how you can do it.
Delicous piña colada cocktail shots 
Santa Jello
These jello shots will be the talk of the party. While they are simple to make, they are presented in a super creative way, that's on point with the Christmas theme.
Ingredients: 
1 1/4 cups Water
3/4 cups Vodka
3 ounce package Strawberry Jell-O
1 container Cool Whip, Thawed
1 pint Strawberries, Hulled
Method:
Pour the water into a saucepan and bring to a boil.
Once boiling, remove from heat and add Jell-O packet.
Stir until it has dissolved.
Add the vodka.
Pour into plastic shot glasses and refrigerate until set. From two to four hours.
Top with a dollop of Cool Whip, then place a strawberry on top, pointed-end up.
Top with a small dot of whipped cream, to resemble Santa's hat. Enjoy!
Who said you can't have shots at Christmas?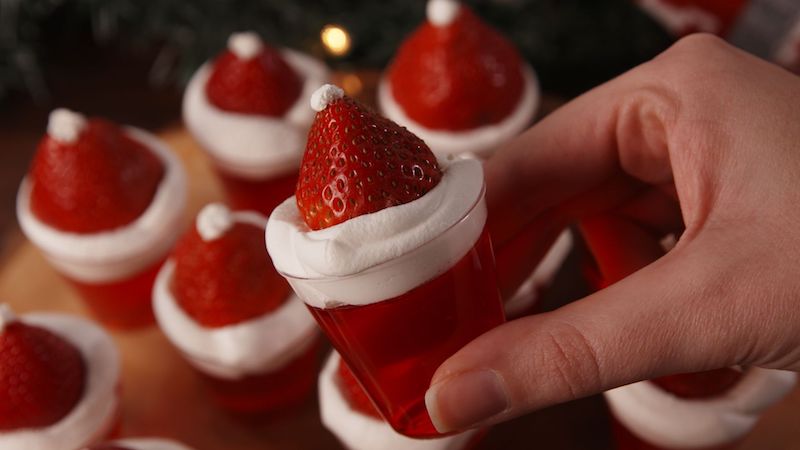 Watermelon Shots
Watermelon is a summer classic. But so are jello shots! So, let's mix the two together to get a delicious, cool treat that everybody can enjoy under the scorching sun.
A perfect combination for summertime 
Cherry Jello Shots
If you are a fan of cherries and a fan of fireball, then you'll love this recipe! The sweetness of the cherry-flavored jello helps to balance out the cinnamon taste from the Fireball whiskey. This creates a winning combination that tastes just like Red Hots candies.
Ingredients:
1 cup Boiling Water
3 ounce Cherry Jello Box
⅔ cup Fireball or Any Cinnamon Whiskey
⅓ cup Cold Water
Method:
In a mixing bowl, stir 1 cup of boiling water with the Cherry Jello crystals until the jello has dissolved.
Add 2/3 cup of Fireball whiskey and 1/3 cup cold water.
Mix again.
Pour into the jello shot cups, filling them about 3/4 full.
Chill in the refrigerator until set. From two to four hours.
You can use any type of cinnamon whiskey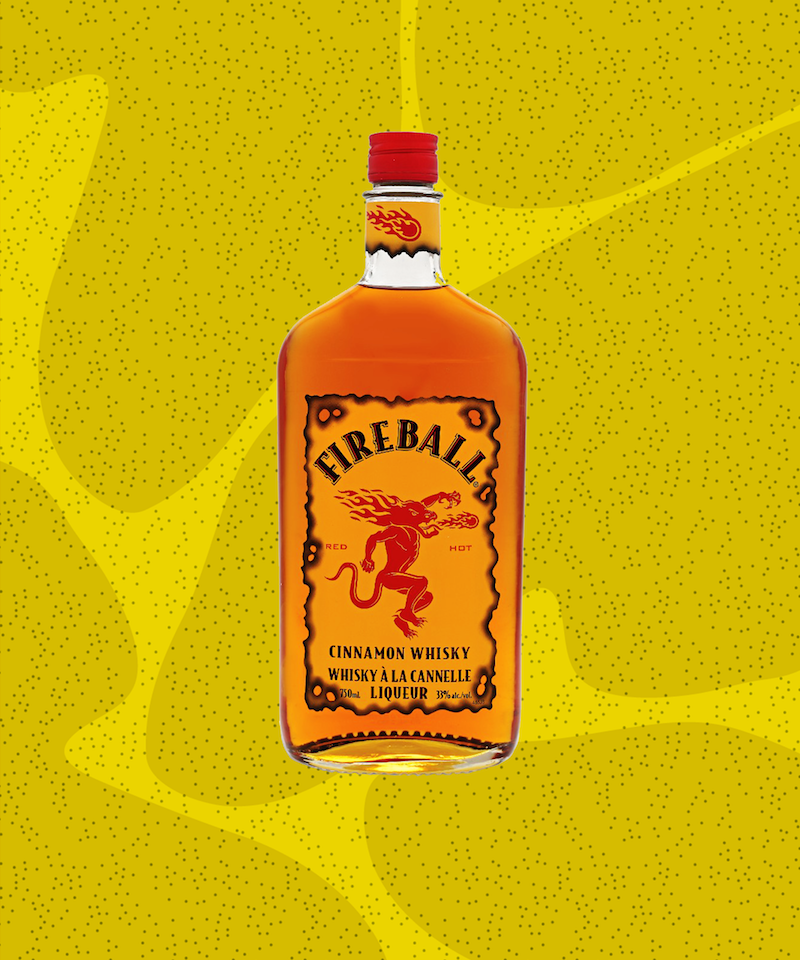 Jello Shots With Rum And More
Who said you only have to use vodka? If you don't enjoy the taste of vodka, try making jello shots with rum, or tequila, or gin! Choose what you like and what goes well with the jello! Go for smooth alcohol, it can really add a lot to a simple shot! Here are some ideas, you can try out to spice up your shots.
Cool, skull-shaped shots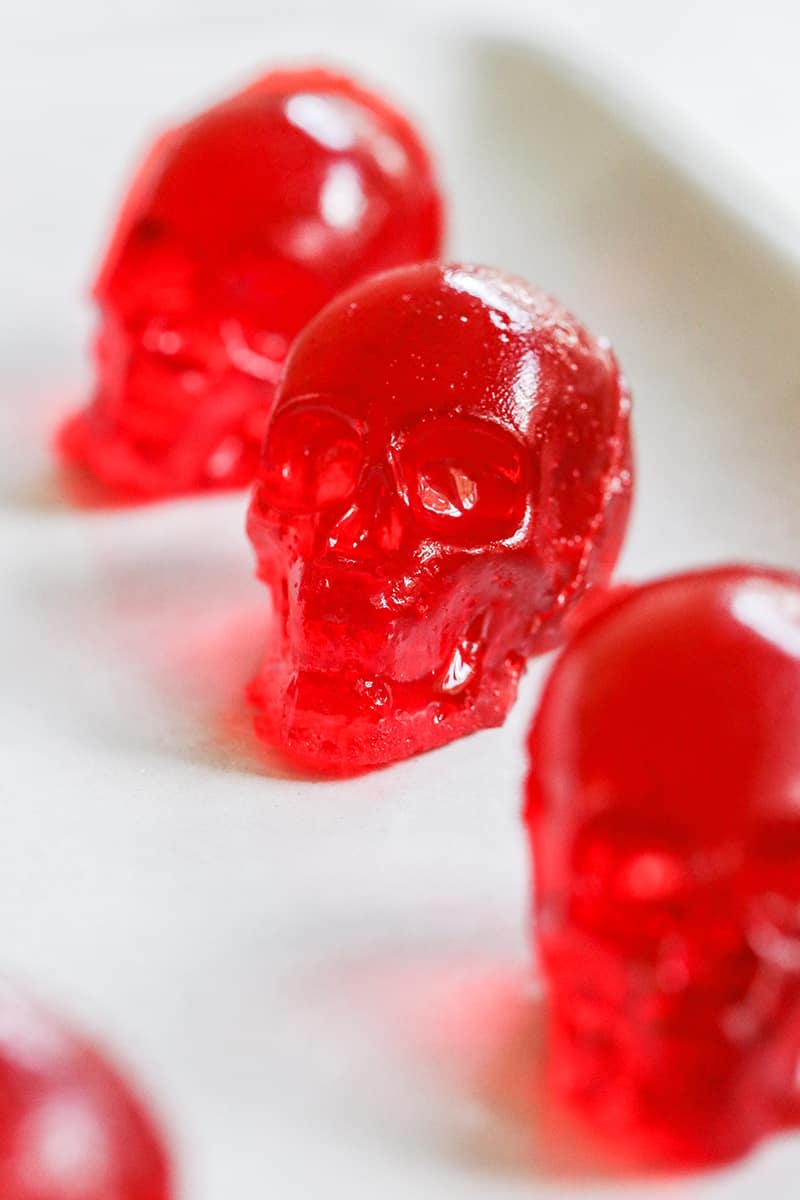 Strawberry Rum Daiquiri
This is a super creative way to present your shots, and it's delicious! If you are a fan of the daiquiri cocktail, then you should definitely try this recipe out!
Ingredients:
25 Large Strawberries
3 ounce Box Strawberry Jell-o
1 cup Boiled Water
1 cup Rum
3 Limes, Juiced
Sugar
Method:
Slice off the tops and tips of strawberries, making sure to not create a hole in the bottom.
Use a small melon baller, and gently scoop out the insides of the strawberry. This way you will be creating a shot glass.
In a large bowl, whisk together the Jell-o and water until completely dissolved.
Add in the rum and lime juice and whisk to combine.
Carefully pour Jell-o mixture into strawberries.
Refrigerate until firm. From three to four hours.
Dip tops of strawberries in sugar. Serve.
A creative and yummy way to serve jello shots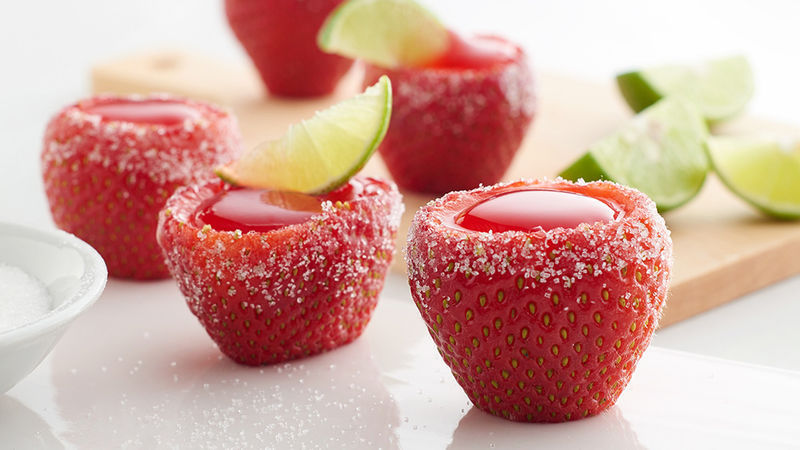 Bacon Bourbon
Ah, bacon, one of life's finer pleasures. And what better to go with bacon than bourbon? Try out this unexpectedly great combination for a jello shot and enjoy!
Ingredients:
2

Packages of Jello

1 cup B

ourbon

1 cup A

pple Juice

4 S

trips Bacon, cooked and dried from patting

1/4 cup G

ranulated Sugar
Method:
Get a large bowl, or a large cup. Sprinkle the gelain all over the bourbon. Give at least five minutes until it blooms.
Prepare a small saucepan and put it over medium heat. Pour in the apple juice and the sugar. Bring it to a boil.
After the juice has boiled, whisk it into the gelatin.
Cut up the bacon into slices of thirds and put on into each shot glass. After that pour in the jello.
Refigerate them until they have properly set.
Bacon and bourbon are a match made in heaven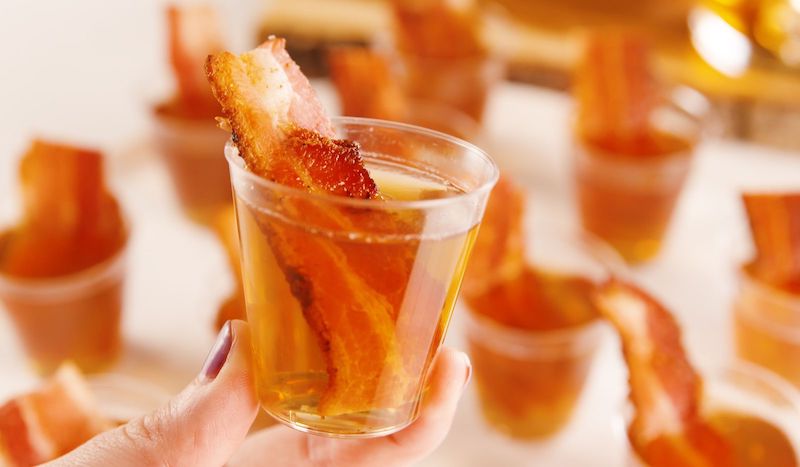 Gin and Tonic
Gin and tonic is a great choice for a fun, summer, jello shot. Here is a creative way to serve up these delicious gelatin treats. This recipe creates 24 shots!
Ingredients:
5 Lemons
6 Limes
4 Leaves Gelatin Leaf
1 ¾ cups Tonic
½ cup Gin
2 tbsp Sugar
Method:
Cut the lemons and limes in half and hollow them out. Leave aside.
Soften the gelatin leaves in tepid water for around five to ten minutes. Remove and wring out.
Boil the gelatin in ½ cup of the tonic until dissolved, then add sugar and stir.
Remove from the heat.
Add the remainder of the cold tonic water.
Zest some lemon and lime into the mixture and stir.
Then add the gin and stir.
Pour the mixture into the hollowed out lemon and lime halves.
Refrigerate for about three to four hours until set.
Flip the lemons and limes over so that the rind is facing skyward, then cut in half.
Cute and creative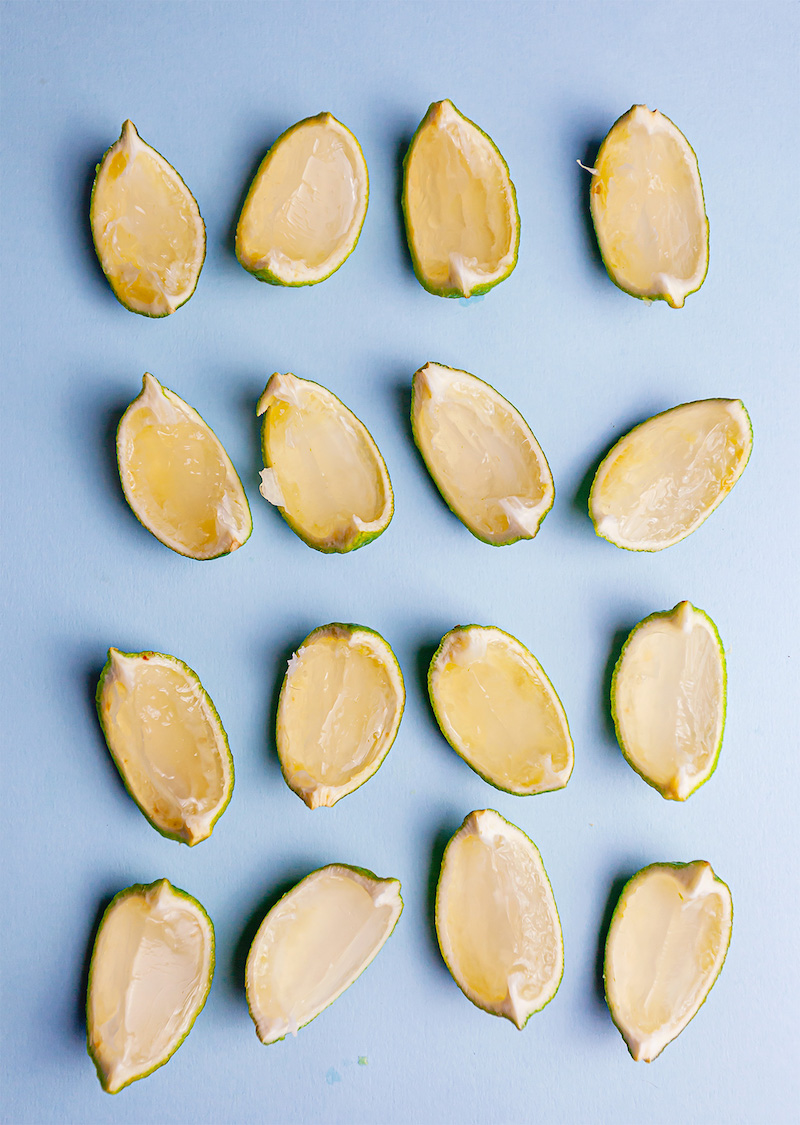 Tequila Jello Shots
Use some tequila to create amazing Margarita jello shots! Make this fun combo for any type of gathering. It's easy, chill, and absolutly yummy!
Ingredients:
1 pack Gelatin Powder, unflavored
1/4 cup Cold Water
2 tbsp Sugar
Boiling Water, half a cup
1/4 cup Sweet and Sour mix
1 tbsp Lime Juice, fresh
Lime Slices
Tequila, half a cup
Method: 
Get a small mixing bowl. Over the cold water spinkle the gelatin. Let it sit for two minutes to bloom.
Whisk well. Pour in the boiling water into the gelatin and stir well. You can add in sugar and whisk again.
Add in the lime juice, tequila, and sweet and sour mix and stir until they are combined.
Into cups, pour 3/4 of the plastic cups.
Transfer them in the refrigirater and top them with 1/4 of a lime slice.
Let them cool and serve.
Amazing Margarita jello shots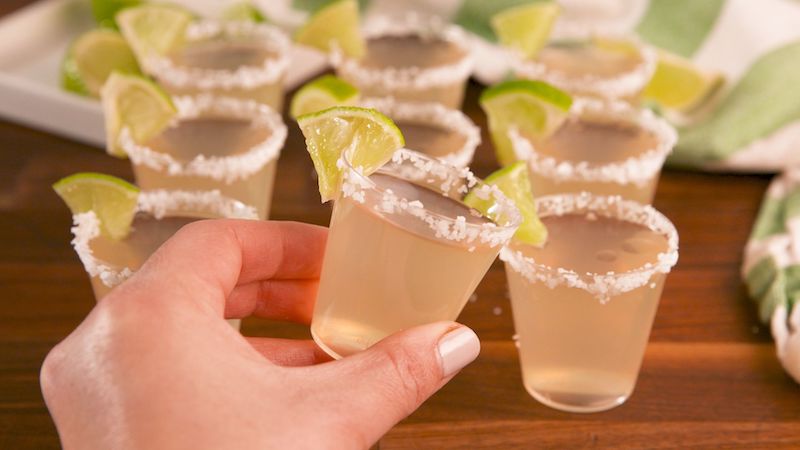 These were all the cool tips and tricks we have on how to make jello shots. We hope you found all the inspiration and ideas to make the best shots at the gathering. This cocktail shot is a real party-pleaser!
We hope you enjoyed these jello shot ideas