90s Party Outfit Ideas: Inspiration From The Past
The 90s- what a time to be alive! Looking back, the 90s feel like a truly golden era. Think about it! The Spice Girls were THE girl band, scrunchies were the best accessory, crimped hair was so in, supermodels were on the rise, and mobile phones were not a thing! It truly was a glorious time for fashion. Celebrities and supermodels were dictating the latest fashion trends, and everyone soon followed! In this article, we will take a look back at the biggest fashion trends of the 90s. No matter if you are going to a theme party and looking for the best 90s party outfit or just gaining some inspiration for a modern 2022 twist, continue reading to find out what fashion was back then:
In the 90s, dressing like you don't care that much was the biggest fashion statement – just ask Lenny Kravitz and Lisa Bonet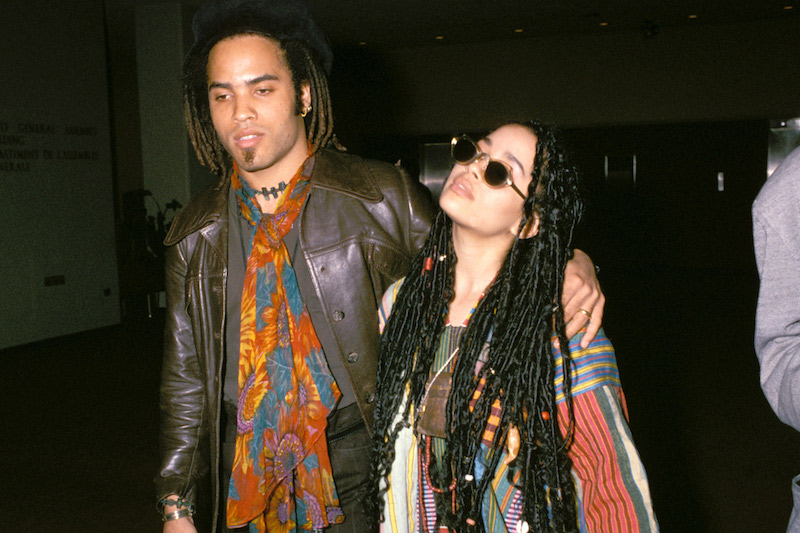 Are you headed out to a 90s theme party, but you are unsure what to wear? Don't worry, we are here to help! This decade's fashion trends were heavily influenced by female artists like Britney Spears, The Spice Girls, Destiny's Child, and many more. The styles ranged from preppy schoolgirl to grunge and hip-hop to gothic. In the 90s everything was in! Fashion was rebellious and out of the ordinary, it was about unconformity to everything traditional and everyone was free to express themselves! People were making use of different fabrics and materials, unique and bold prints, dazzling metallics, vinyl fabrics, denim and so much more! Continue reading to find out what needs to be present in a perfect 90s party outfit:
No one does a 90s party outfit like Kate Moss and Naomi Campbell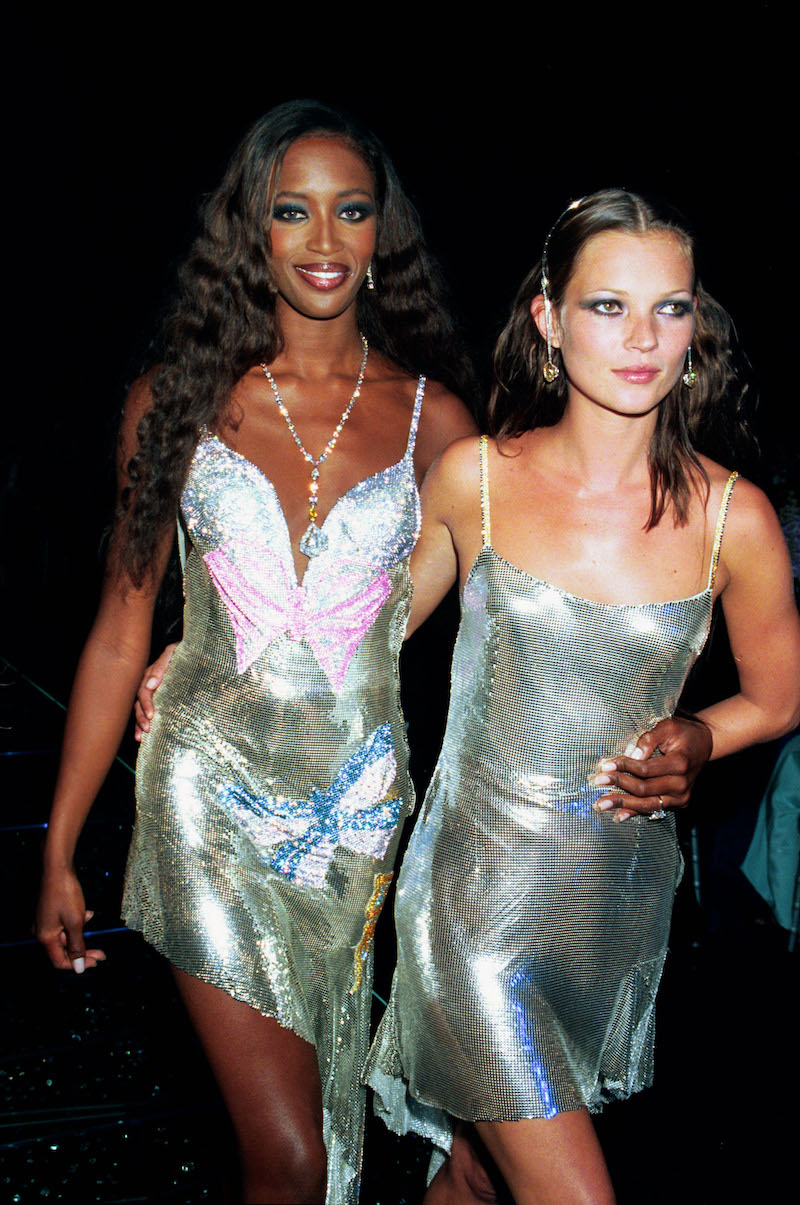 What is 90s fashion?
Fashion in the 1990s was vibrant and adventurous. In the 1990s, fashion sparked a young movement by embracing carefree looks with a hint of rebellion. The decade's main trends were grunge, minimalism, hip-hop and "sexy schoolgirl" fashion. Fashion became more accessible to everyone as a result of technological developments made during the decade. Style and beauty shows provided individuals with fashion information as well as style inspiration. All this became available to anybody with a television or, later in the 1990s, a personal computer. Popular fashion in the 1990s reflected both old and new concepts, just like fashion trends in any decade. Mod sunglasses and plaid clothing were popular in the 1990s, and they were reminiscent of the 1960s. Other trends, such as patent leather and nylon clothing, represented a futuristic outlook and a look ahead to what the year 2000, the new millennium, was expected to bring. Grunge was pioneered by designers like Marc Jacobs and Alexander McQueen, who drew inspiration and ideas from the streets. Everyone aspired to be like Kate Moss and her popular "too cool to care" attitude, and fashion reflected this. Music and fashion went hand in hand as always, with fans who adopted their musical favorites' unique styles.
Get inspired by one of the coolest artists from the 90s- Aaliyah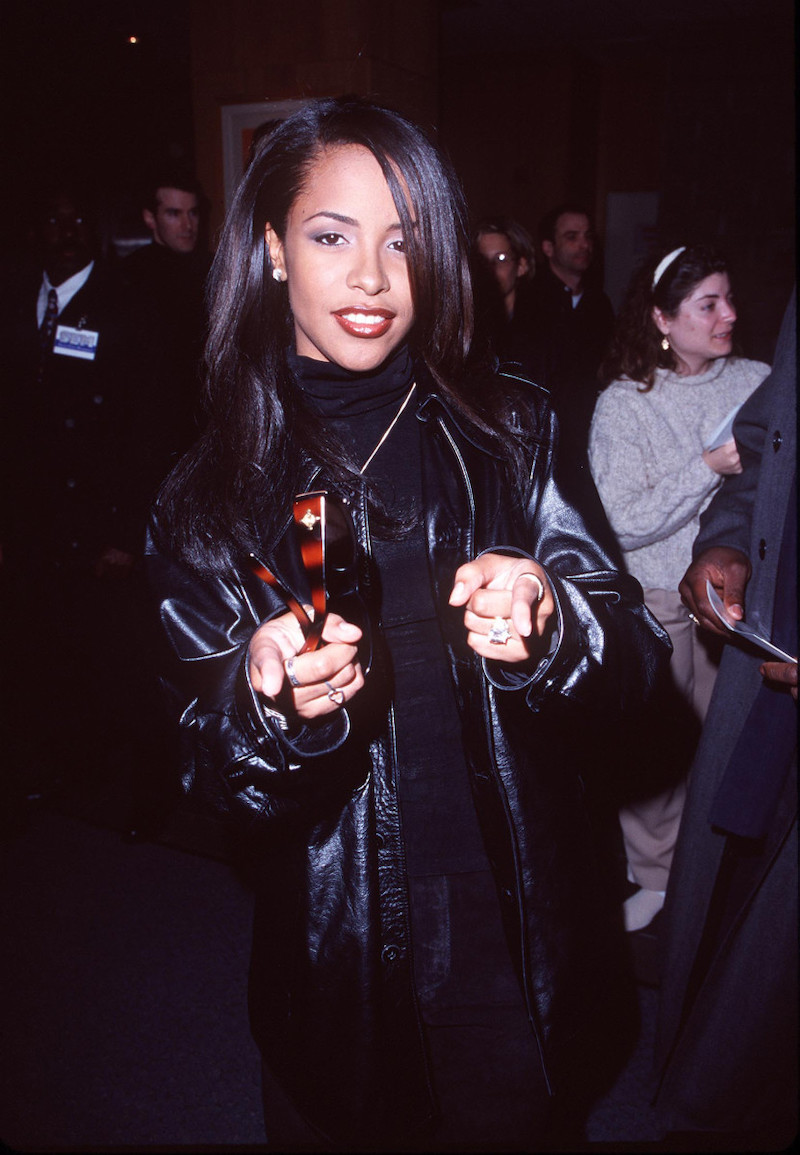 Rachel from Friends was definitely the most iconic character of the 90s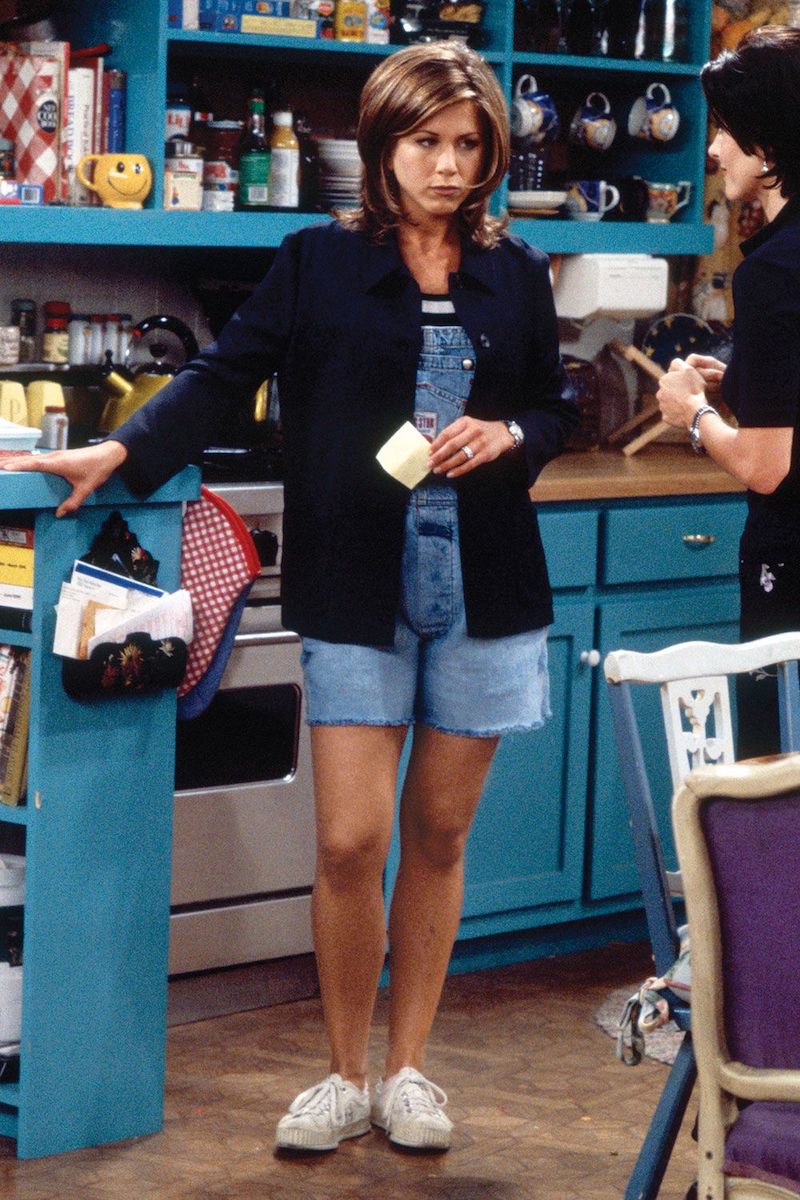 What was most popular in the 90s?
Plaid Flannel Shirts
Plaid flannel shirts are the epitome of the grunge style of the 1990s. Artist's like Nirvana's  Kurt Cobain were known for wearing plaid flannels slung over their shoulders or wrapped around their waists. The angst-ridden teenagers and 20-somethings across America all began thrifting in hopes to find their own versions of this lumberjack staple. This all happened after the Seattle rock scene's trend of dirty, grungy style dressing went mainstream once MTV caught on. Remember, flannel shirts were never buttoned in the 1990s!
Kurt Cobain from Nirvana rocked plaid flannel shirts like no other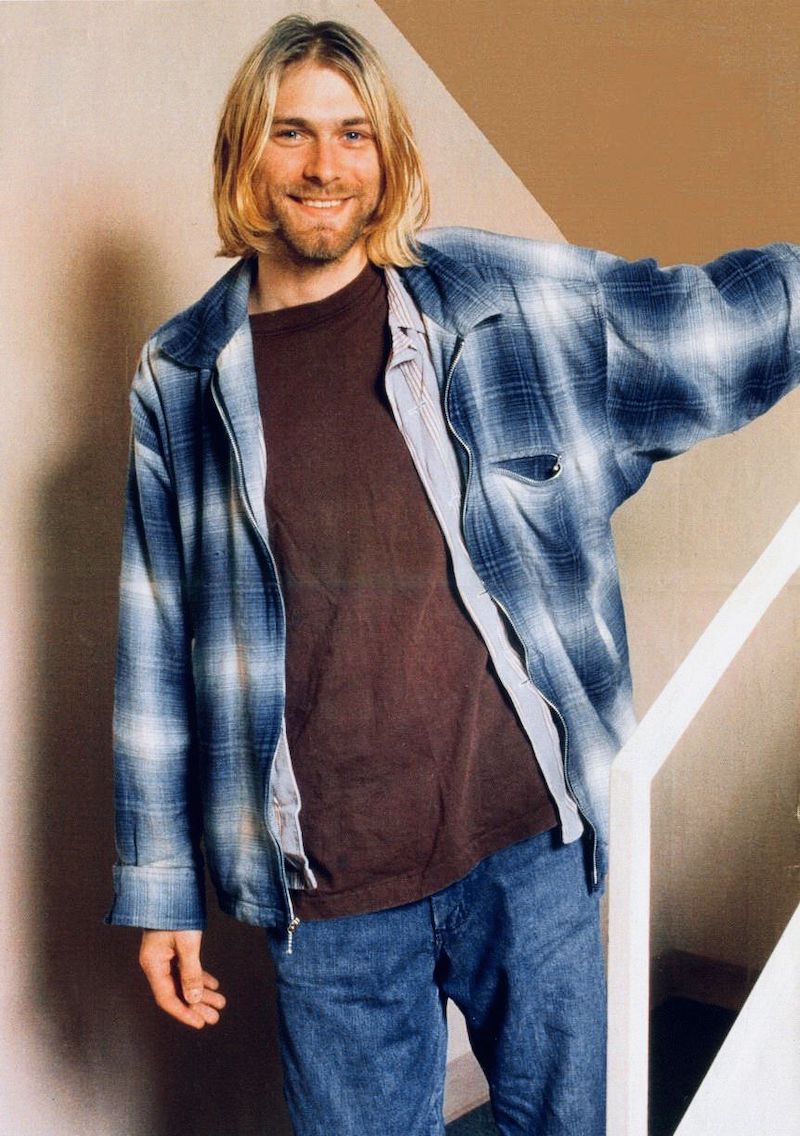 Slip Dresses
Slip dresses will always be trendy, but there's something about them in the 90s. In the 1990s, supermodels like Naomi Campbell and Kate Moss elevated the slip dress to new heights of fame. Kate Moss has long been a supporter of the minimalist aesthetic, but she was a particularly strong advocate for it in the 1990s. It's no secret that the last ten years of the twentieth century were all about minimalism in every way. This '90s fashion trend, on the other hand, demonstrated how far minimal style could go. Slip dresses hugged every curve and left little to the imagination.
Kate Moss made slip dresses one of the biggest trends – the perfect 90s party outfit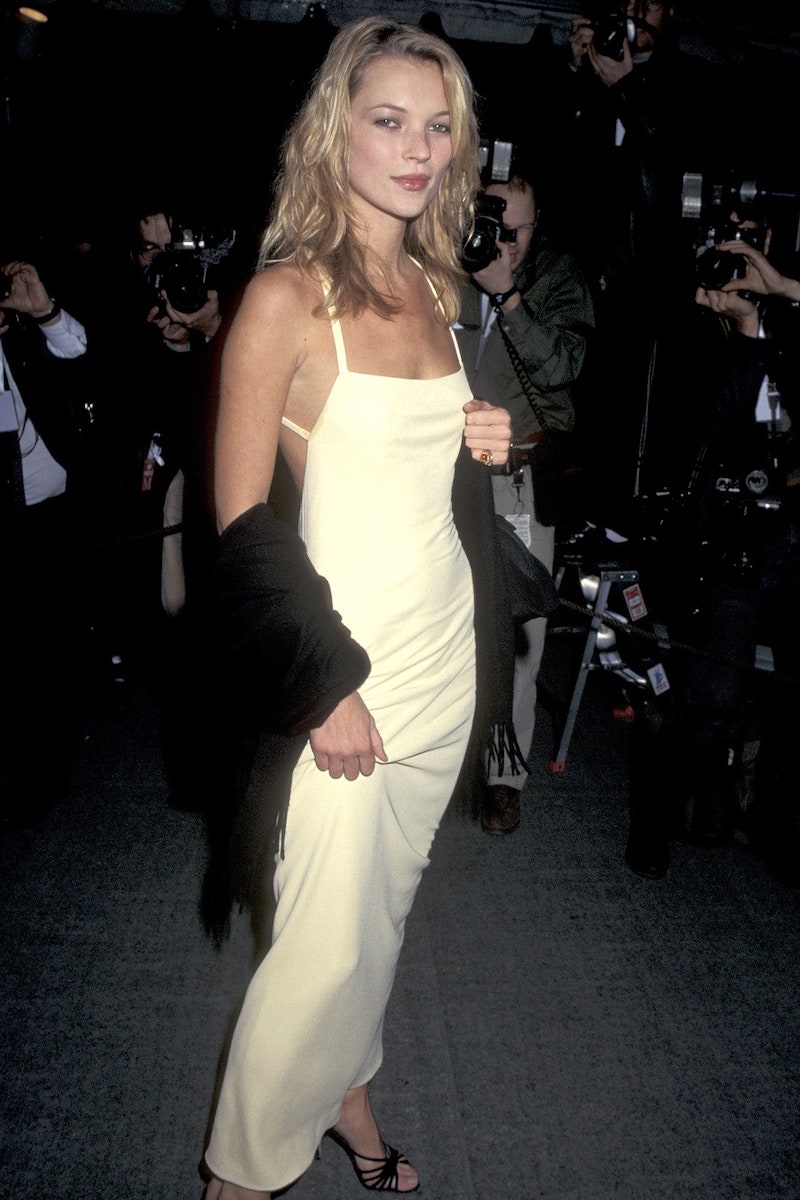 Supermodel Carla Bruni rocking a blue slip dress and wispy bangs on the Versace High Fashion Show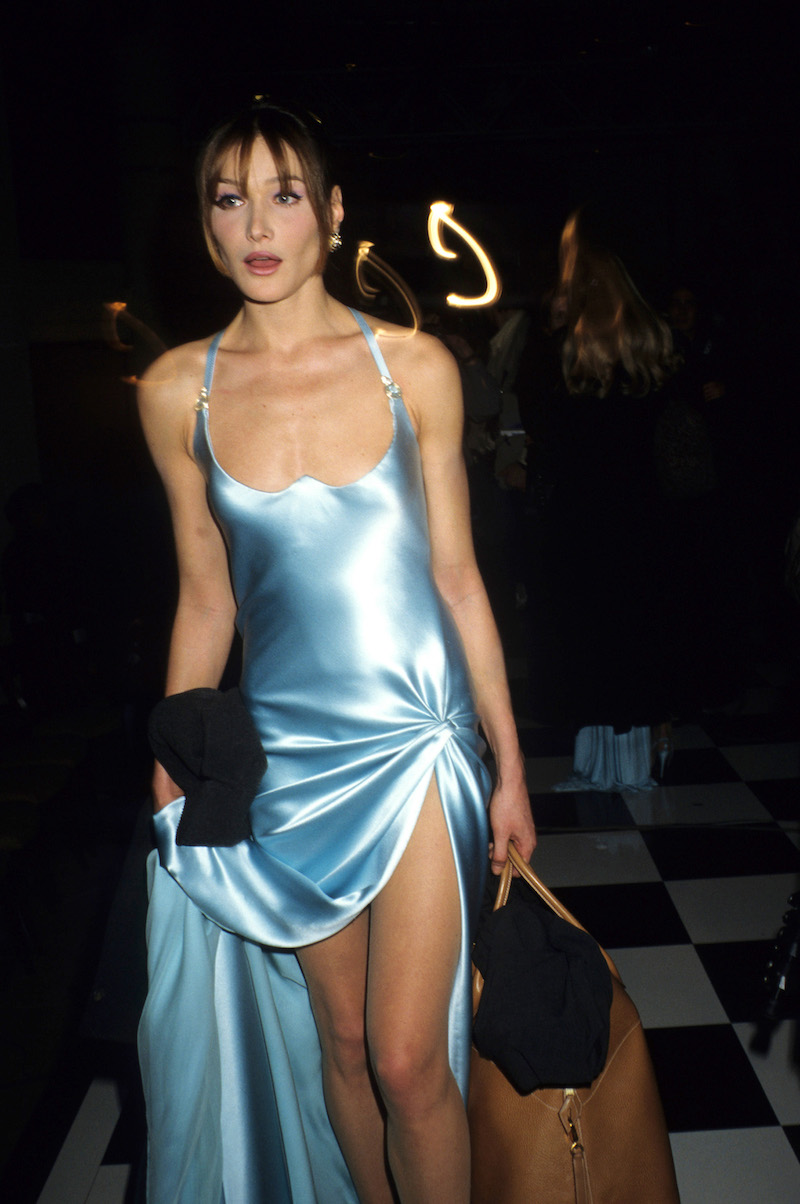 Baby Tees
The rise of the crop top in fashion culture demonstrates how, in the 1990s, the concept of "appropriate" day fashion was changing in favor of a less-is-more attitude. These midriff-baring tops were a must-have fashion item for women in the 1990s. You may thank celebrities like Jennifer Aniston for starting this trend, which embraced the minimalism trend that dominated the 1990s fashion scene. Baby tees served as a forerunner to the crop tops that became popular in the early 2000s. So, be sure to include a baby tee in our 90s party outfit.
No one rocks a baby tee like Britney Spears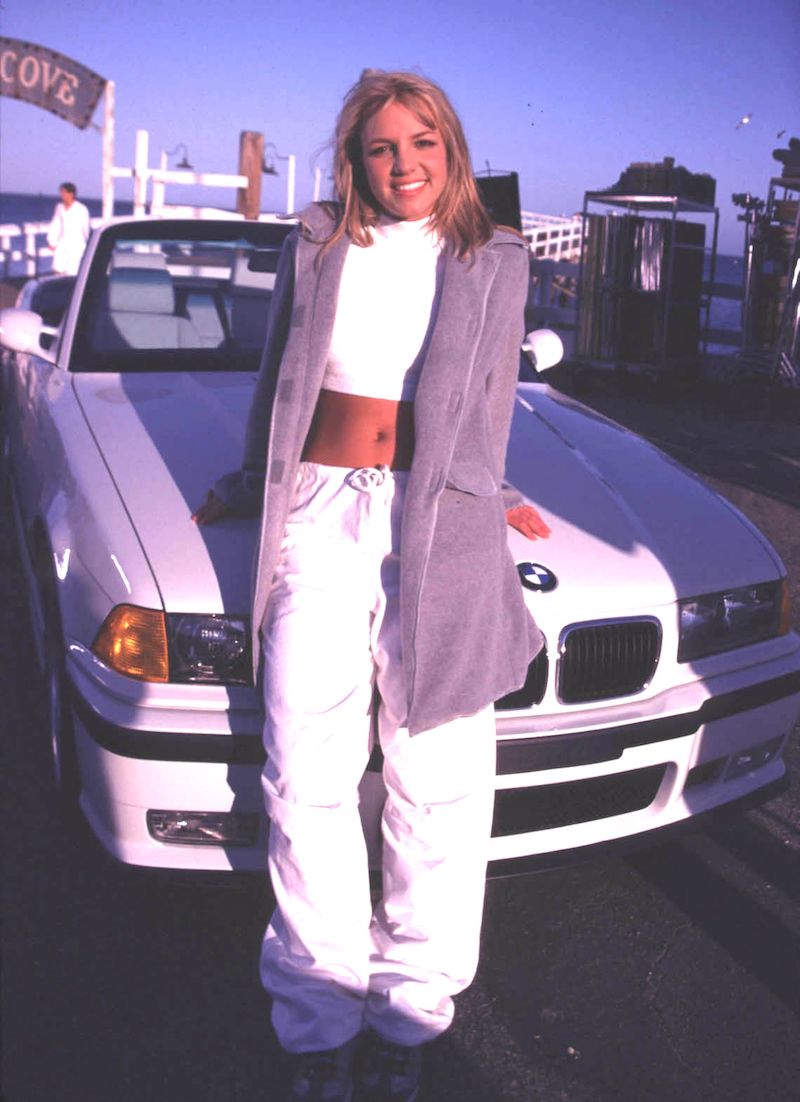 Platform Sneakers
After members of the Spice Girls sported chunky sneakers in the "Wannabe" music video and on red carpet events, it was not long before they became an essential 90s shoe trend. These chunky shoes have been gaining more and more comeback popularity recently. So make the best of both worlds and wear your platforms for a unique 90s party outfit!
The Spice Girls made platform sneakers the trend they are today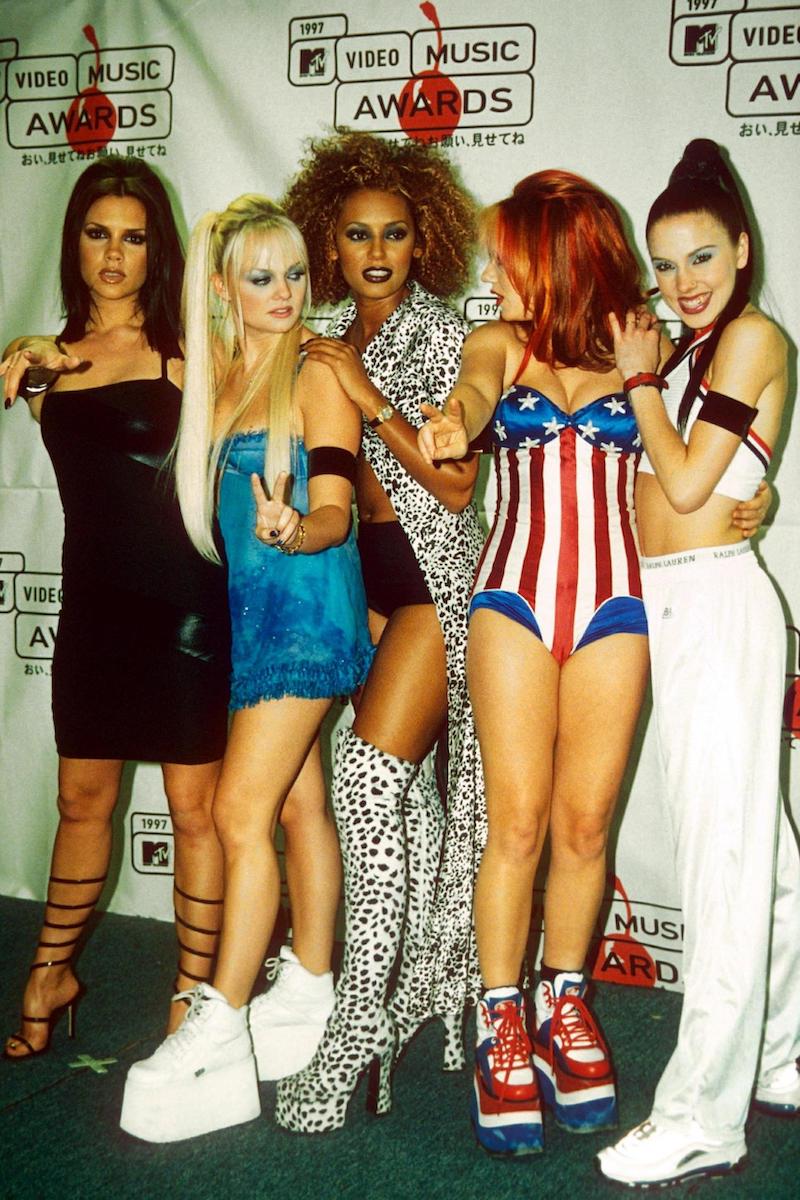 Overalls
Overalls became a must-have fashion trend for both men and women in the 1990s. There was no incorrect way to wear overalls in the 1990s, whether they were long, short, patterned, or plain. Overalls were no longer simply for farmers, and by the 1990s, they had become a casual and comfy wardrobe staple. Pair a pair of classic blue overalls with a crop top and sneakers to recreate this look in true '90s style. However, if you really wanted to show off your coolness, you'd leave one side undone.
Jennifer Aniston rocking her iconic black overalls and baseball cap look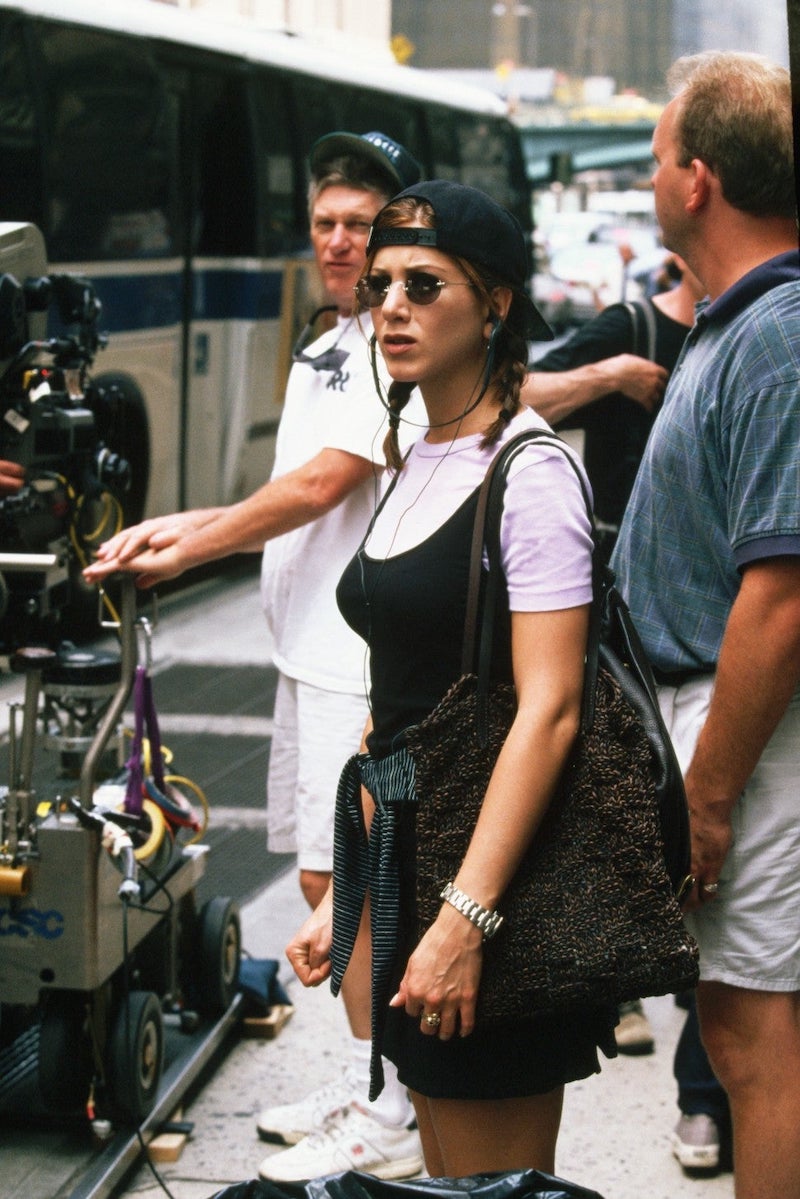 Tupac Shakur in denim overalls with a pager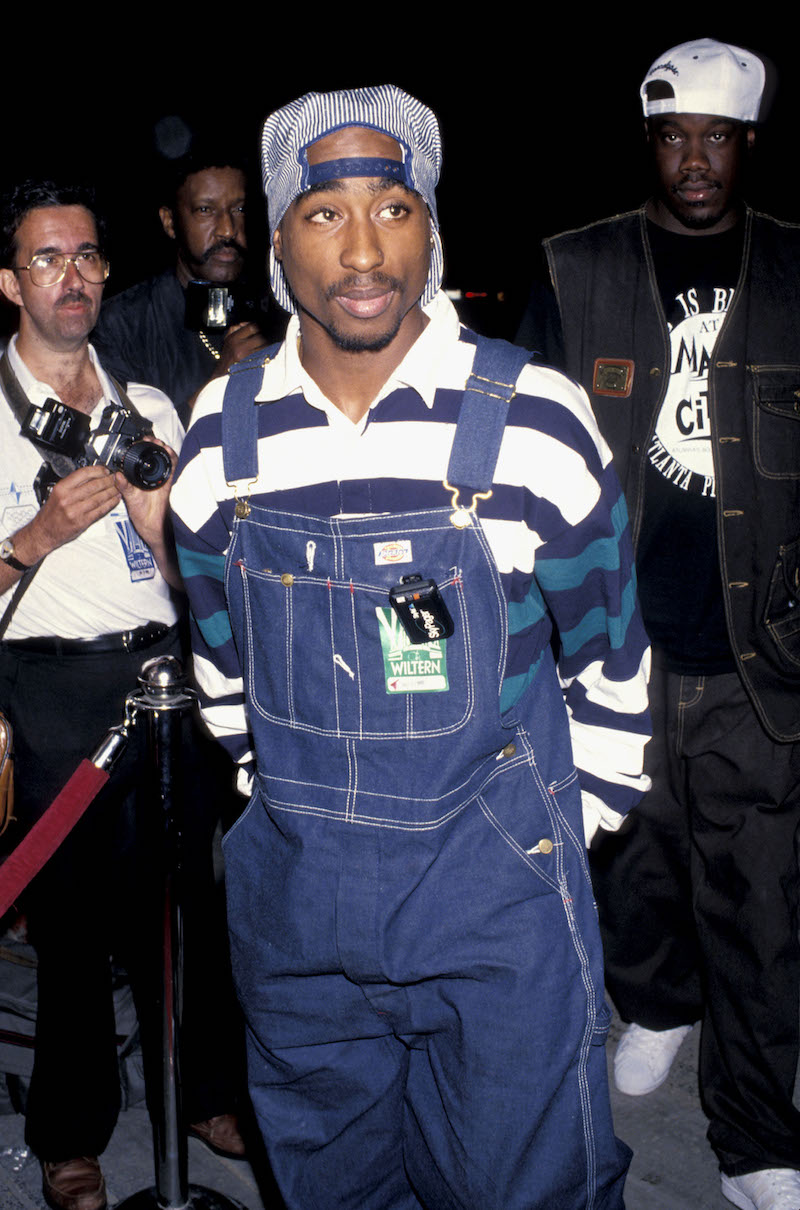 Track Pants
No matter if worn with a sports bra like Britney Spears and Aaliyah or with a matching jacket for the full tracksuit look, the track pants definitely dominated the '90s!
Nothing says 1990s quite like Britney Spears in "Hit me baby one more time"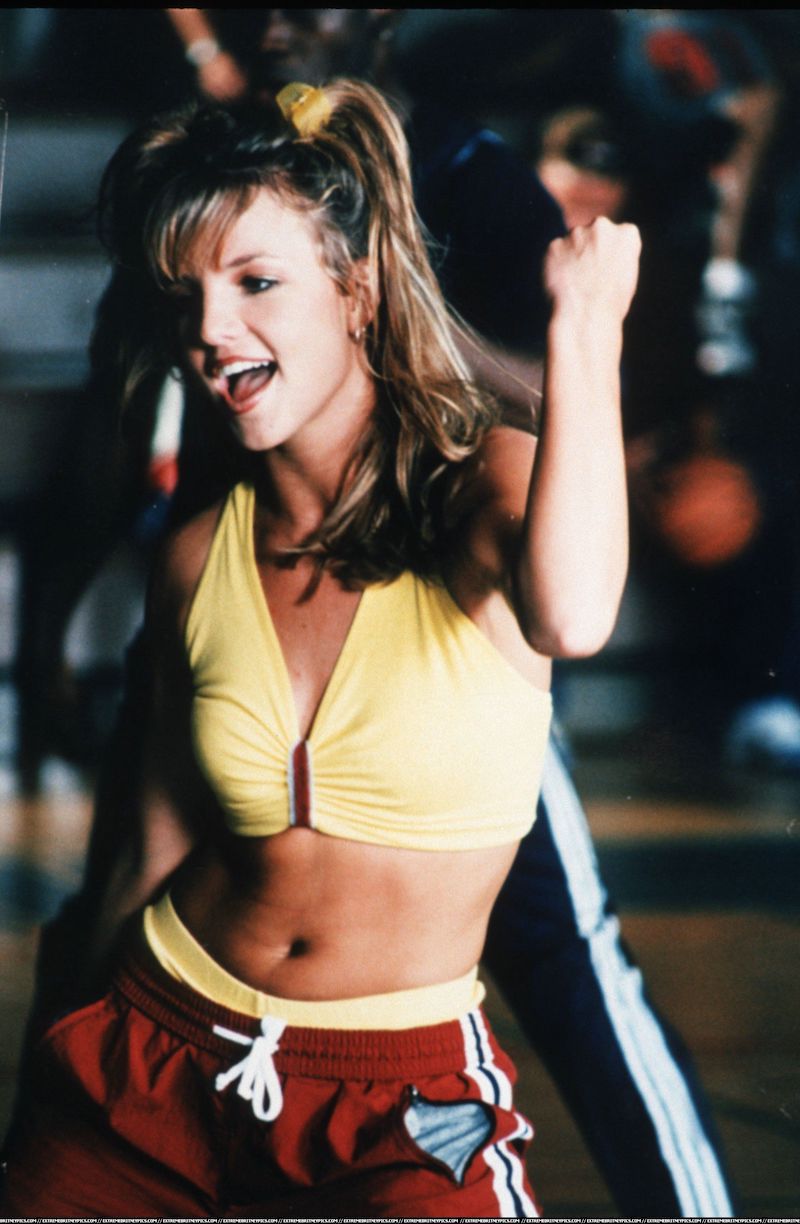 Sheer Fabrics
In the 90s, sheer was all the rage! Helena Bonham Carter loved to rock a gothic sheer look on the red carpet. Kate Moss and No Doubt's Gwen Stefani were also fans of the sheer trend.
Kate Moss was a big advocate for sheer dresses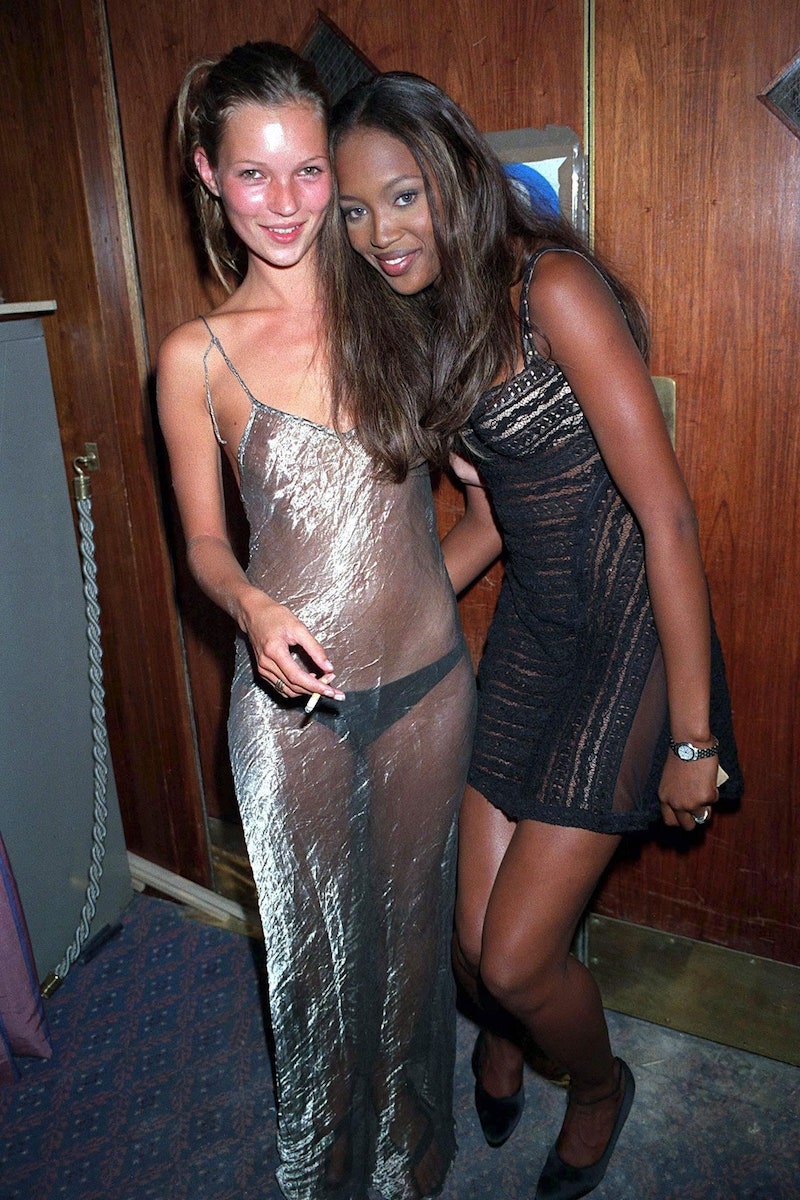 No Doubt's Gwen Stefani is another key figure of the 90s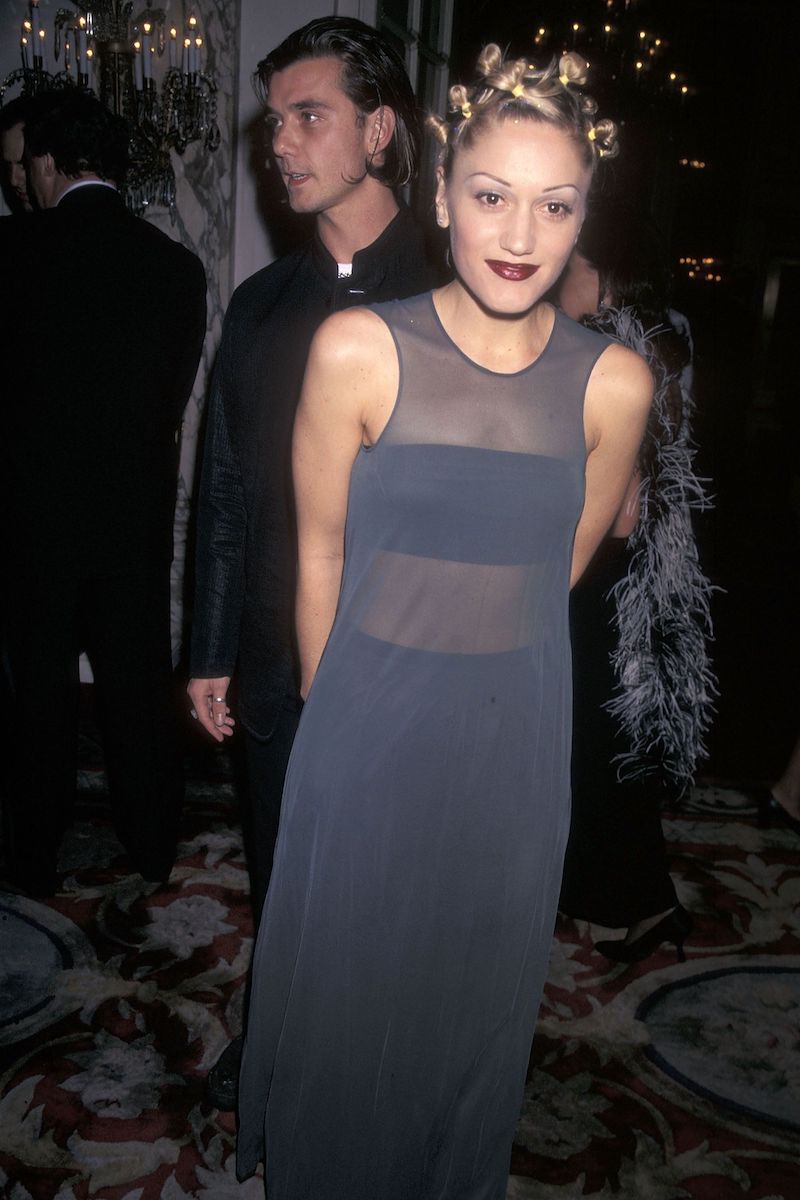 Johnny Depp makes a bold fashion statement, while Winona Ryder rocks the sheer trend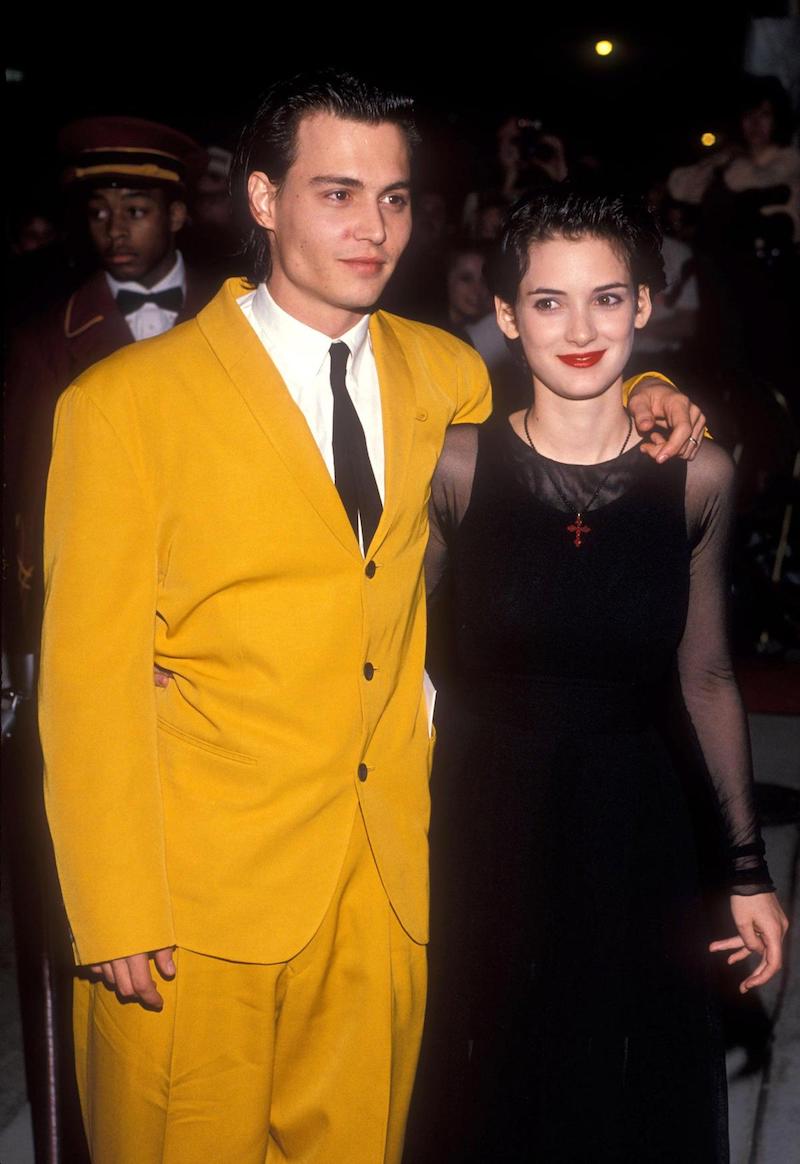 Biker Shorts
Cycling shorts became a fashion statement, with celebrities such as Madonna, Sarah Jessica Parker, and Princess Diana often rocking them. Princess Diana wore cycling shorts a lot, usually paired with a sweater and a thick sneaker. Her simple yet stylish outfits have definitely impacted today's fashion, with models often wearing looks similar to this one. Bike shorts have made their way onto the runways and into the streets, appearing in high-end collections as well as on the racks of high-street retailers.
No one does street fashion and biker shorts like Princess Diana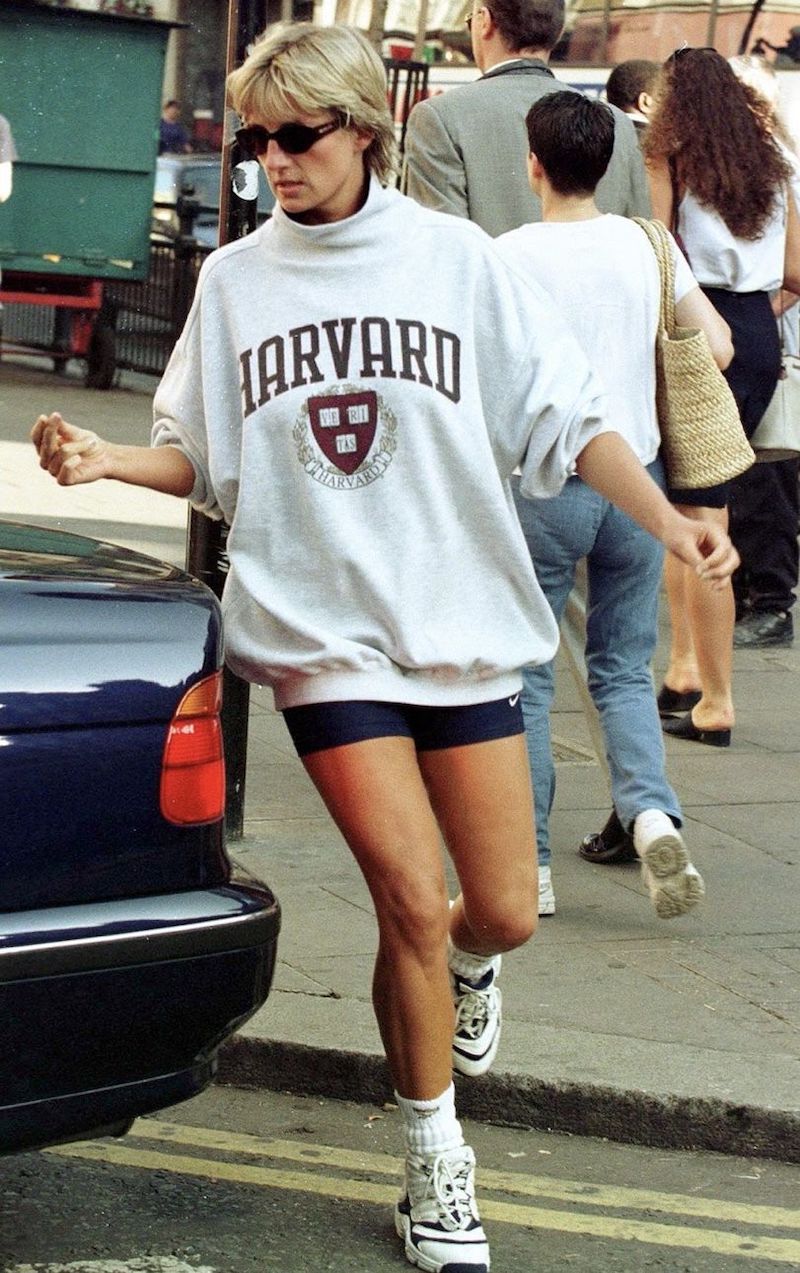 If you are going to a 90s theme party, consider the Princess Diana look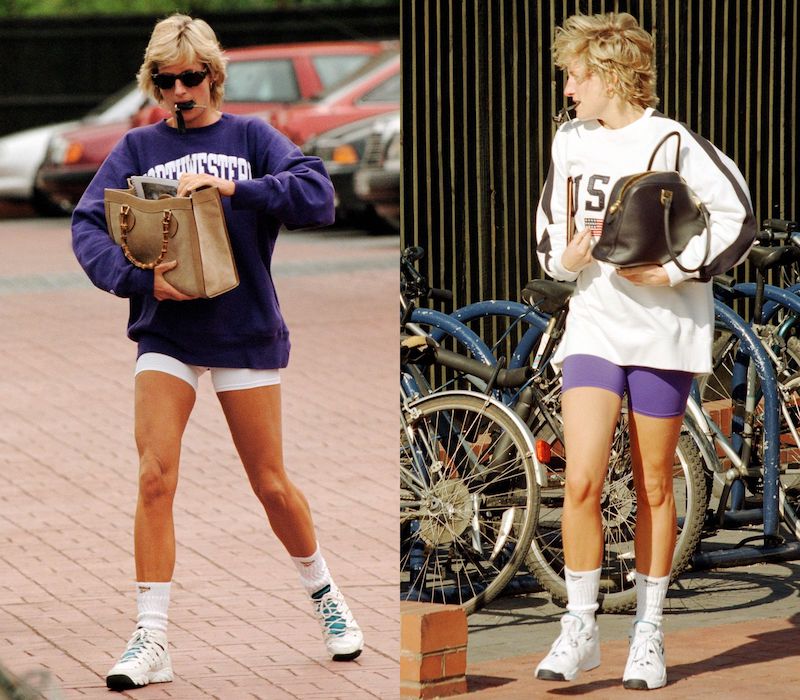 Leather Blazers
The fact that The Matrix was such a great blockbuster likely contributed to this item's popularity—everyone wanted to wear Neo's long leather coat or something similar at least. However, because the maxi silhouette is not very practical, it has evolved into this shorter version, which was a popular choice for Winona Ryder and Kate Moss in the 1990s.
Winona Ryder was known for her grungy style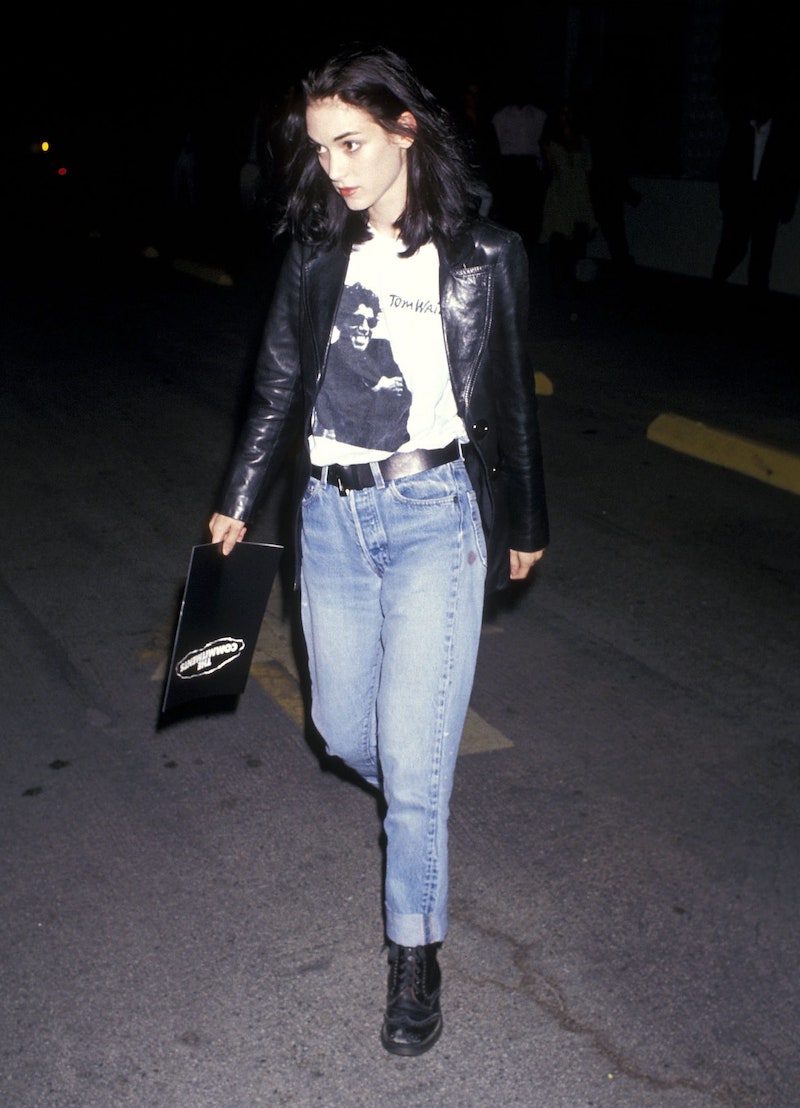 Aaliyah rocks a leather blazer and cargo pants – what is more 90s than this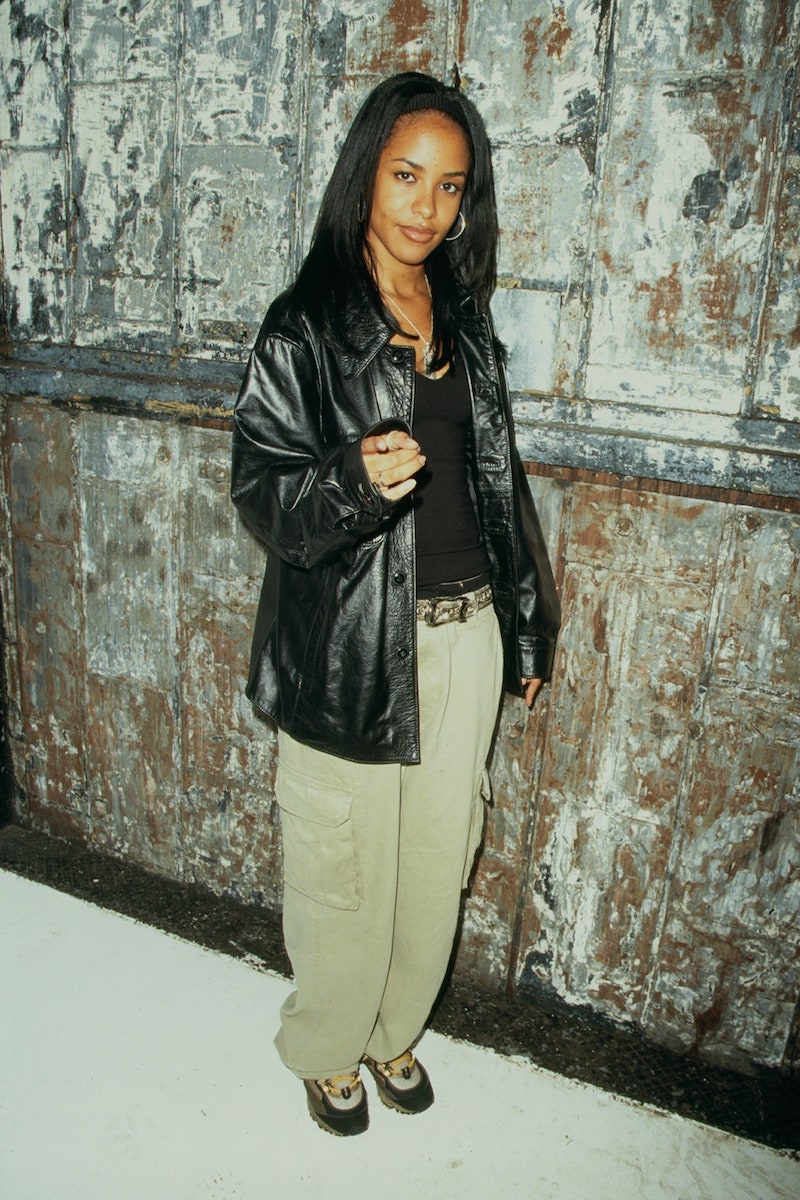 The Black Dress
In the 1990s, the basic "little black dress" was a very popular fashion statement. Throughout the 1990s, style superstars like Naomi Campbell, Kate Moss, and Jennifer Aniston all rocked this simple yet chic look. Sure, the little black dress is still around and still popular, but in the 90s it was all about the super-short and sassy variation. And there is no doubt that  Rachel from Friends, played by the beloved Jennifer Aniston, was the best at it.
Jennifer Aniston and her little black dress interpretation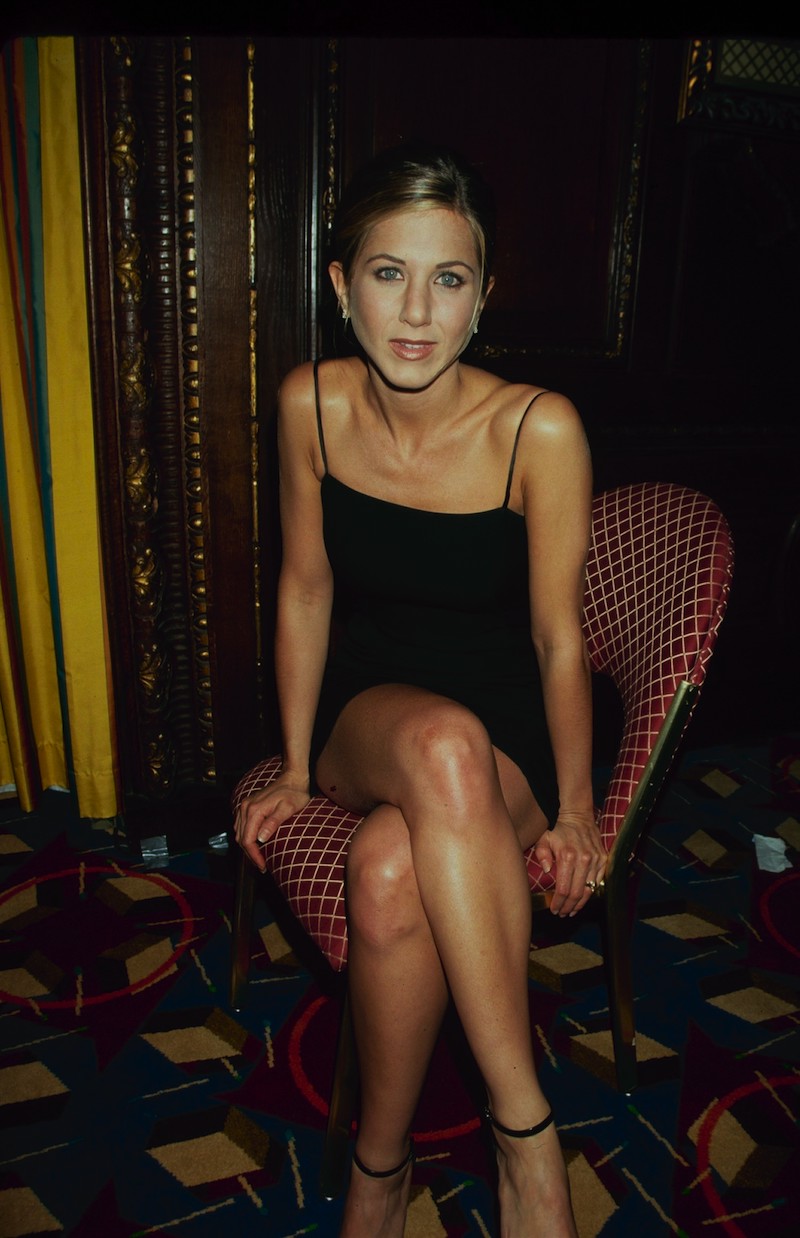 Naomi Campbell rocks an iconic 90s supermodel makeup look  and a long black dress