25+ Charades Ideas for a Fun Game Night
Who doesn't love a good game night? Whether you're having a family game night, you're wondering what to play with friends or you're organizing a kids party – charades is a classic. It's fun, it's creative, and it can really bring out people's competitive sides. What's else is great about it? It's that it's super versatile. There are hundreds of categories you can play, there are even some holiday specials. It's a classic choice as it can get super silly quite fast and laughter constantly fills the room. So, if you want to join in on the fun, here are some fun charades ideas and themes to try out at your next gathering!
Fill the room with laughter with some silly charades ideas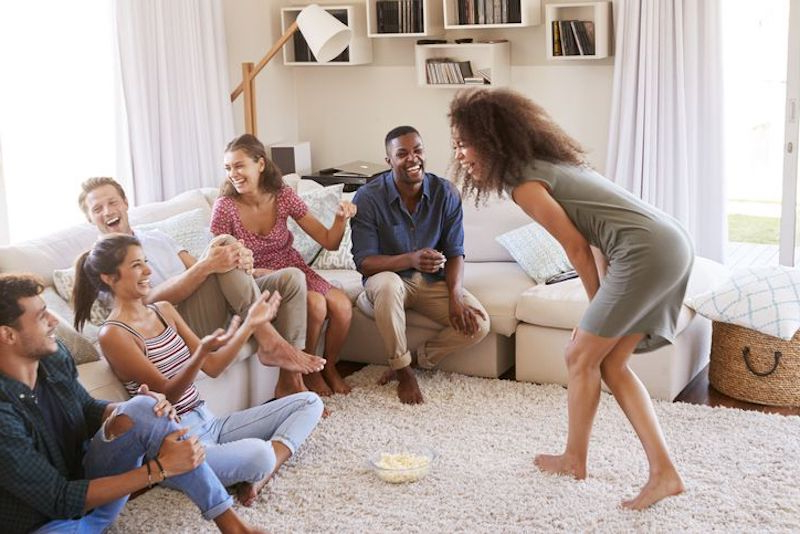 Rules
So, in order to play, we first need to learn the rules. Don't worry though, there aren't too many, this game's rules are super simple and easy to remember.
Items: 
Notepad
Pen
Charade Ideas
Stopwatch
Rules:
Choose a player to start. The player comes up with or draws a word, movie title, song, phrase, or other. Make sure to pick something the other players are familiar with.
The player then acts out the word or phrase.
The first person to guess what's being acted out, receives a point.
Whoever gets the most points at the end – wins!
You can also play in teams. It's the same concept. A player from the team acts out a certain word or phrase, and the first team to guess, gets a point.
And that's all the basic rules you really need to know in order to play. Charades is, as we mentioned, super simple in terms of rules, however that doesn't mean it can't be a blast. The more lengthy the words or phrases the harder it becomes.
Charades is a fun game for the whole family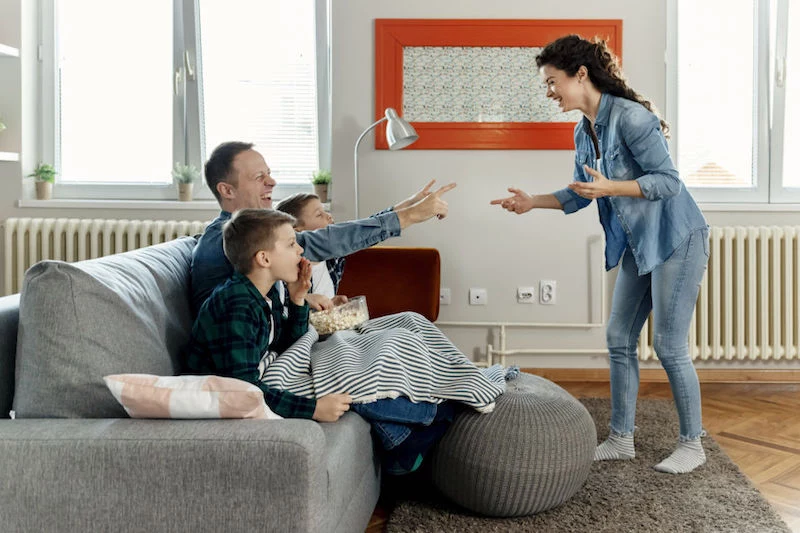 Common Clues
Here are some common clues used in charades to help players guess easier, make communication greater and give you a better chance of winning.
For multiple words, indicate how many there are by holding up the same number with your fingers. Then hold up on finger to indicate you are acting out the first word, two for the second one and so on.
To indicate a movie, pretend to crank up an old movie camera.
If you want to indicate a book – pretend to read, for a song – pretend to sing.
To pantomime a word that rhymes with the word you want people to guess, tug on your ear to indicate it "sounds like."
Now that we've got the basics down on how to play, the only thing that's left is charades ideas! Check out some of these categories perfect for any party!
There are some common clues in charades to make communication easier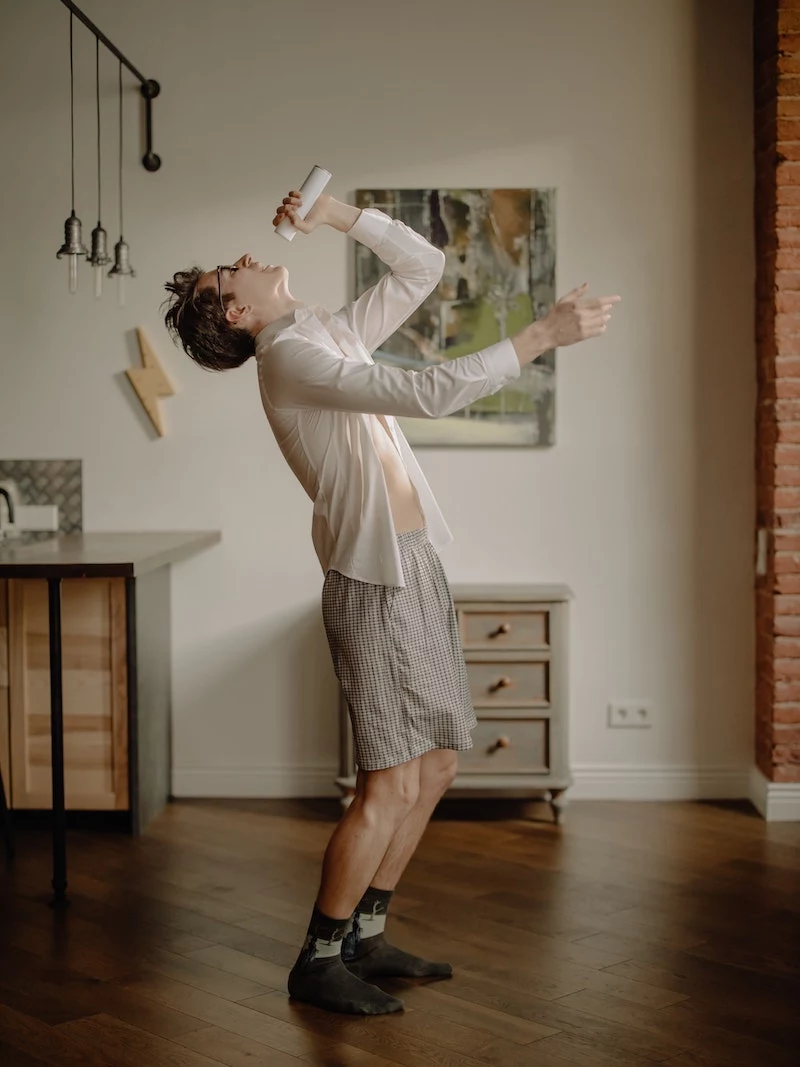 Charades Ideas for Kids
Not only grown-ups should have all the fun. There are plenty of kids charades ideas that are easy and fun to play out. If your kids are not in the mood for online children's games, show them how to play charades! The best part is even adults can use these prompts as well!
Easy Charades Ideas
Even the simplest of ideas can be super fun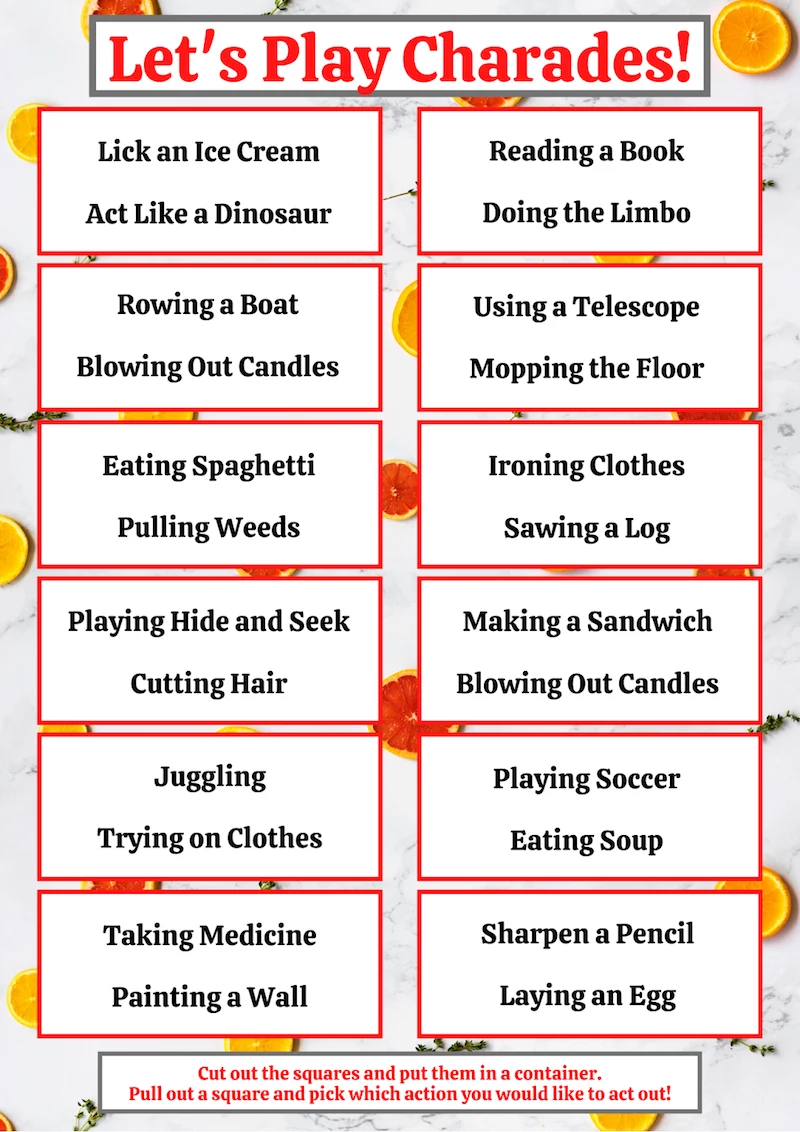 Animals Charades Ideas for Kids
Chicken
Cow
Horse
Dog
Kangaroo
Rabbit
Cat
Elephant
Bird
Pig
Turtle
Frog
Monkey
T-Rex
Snake
Easy Camping Ideas
Why not have an activity themed charades, like camping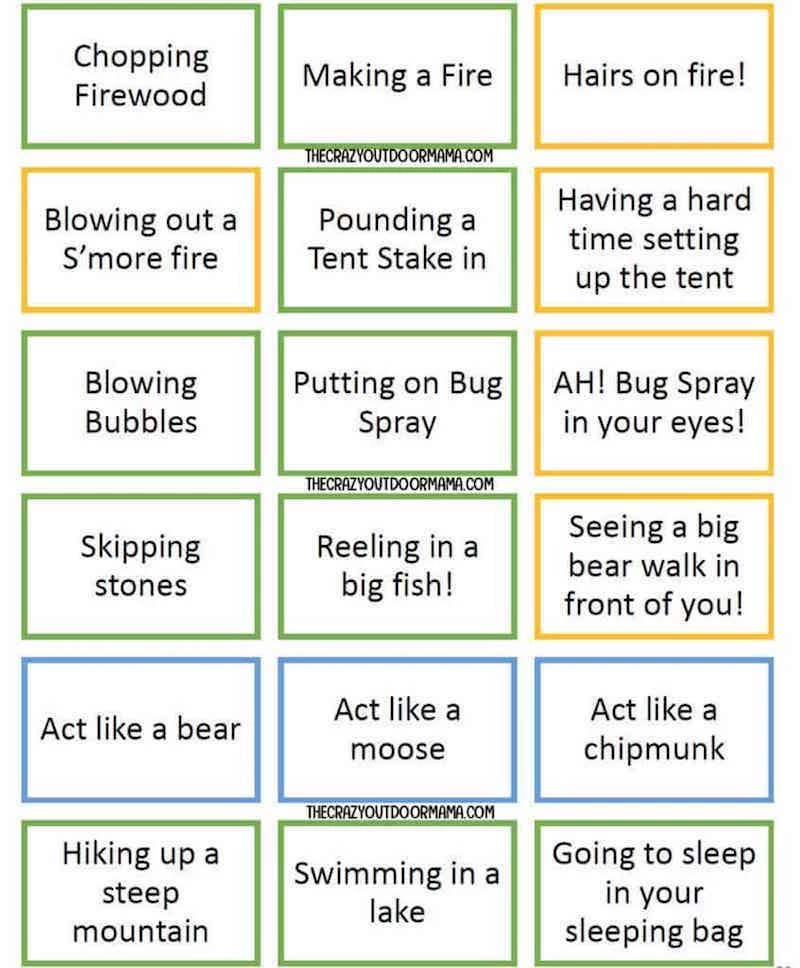 @thecrazyoutdoormama.com
Emotions Charades Ideas
Surprised
Happy
Angry
Scared
Sad
Embarrassed
Bored
Random Word Easy Ideas
Even the easiest of words can be fun to act out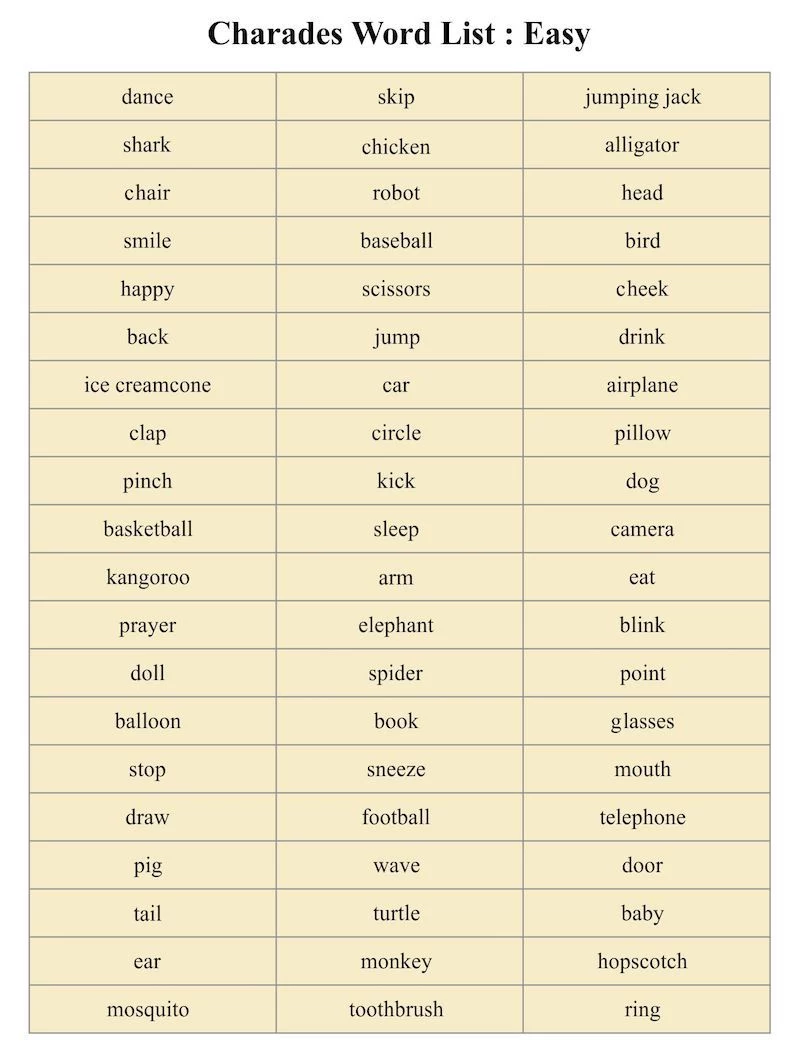 Movies and Character Charades
Harry Potter
A Zombie
Frozen
Cars
Batman
Finding Nemo
Dora the Explorer
Mickey Mouse
Hello Kitty
The Lion King
Cookie Monster
The Cat in the Hat
Pinocchio
Cinderella
Shrek
Disney Charades
Check out some of these cute Disney movies to act out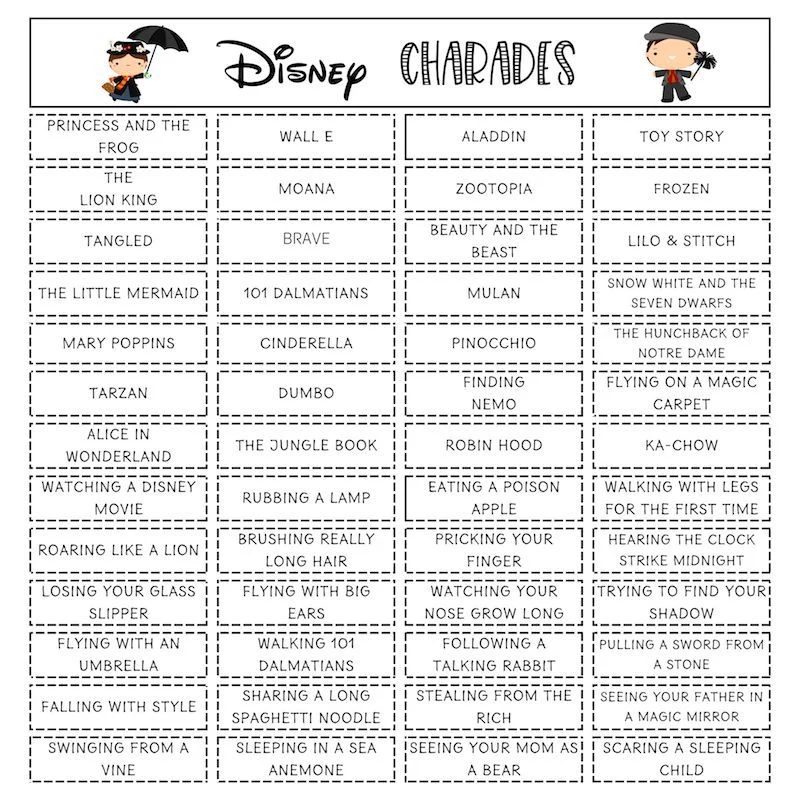 Charades Ideas Movies
If you're a movie buff, or you're in need of some birthday party charades ideas, check out some of these cool movies to act out.
Comedy Movies
Superbad
Zoolander
Ghostbusters
Game Night
Thor: Ragnarök
Knives Out
Jojo Rabbit
The Nice Guys
The 40-Year-Old Virgin
Hustlers
Good Boys
Free Guy
Tag
Step Brothers
Dumb and Dumber
Actor Charades
If you want to dive in even more in the movie theme, try acting out actors and their most famous roles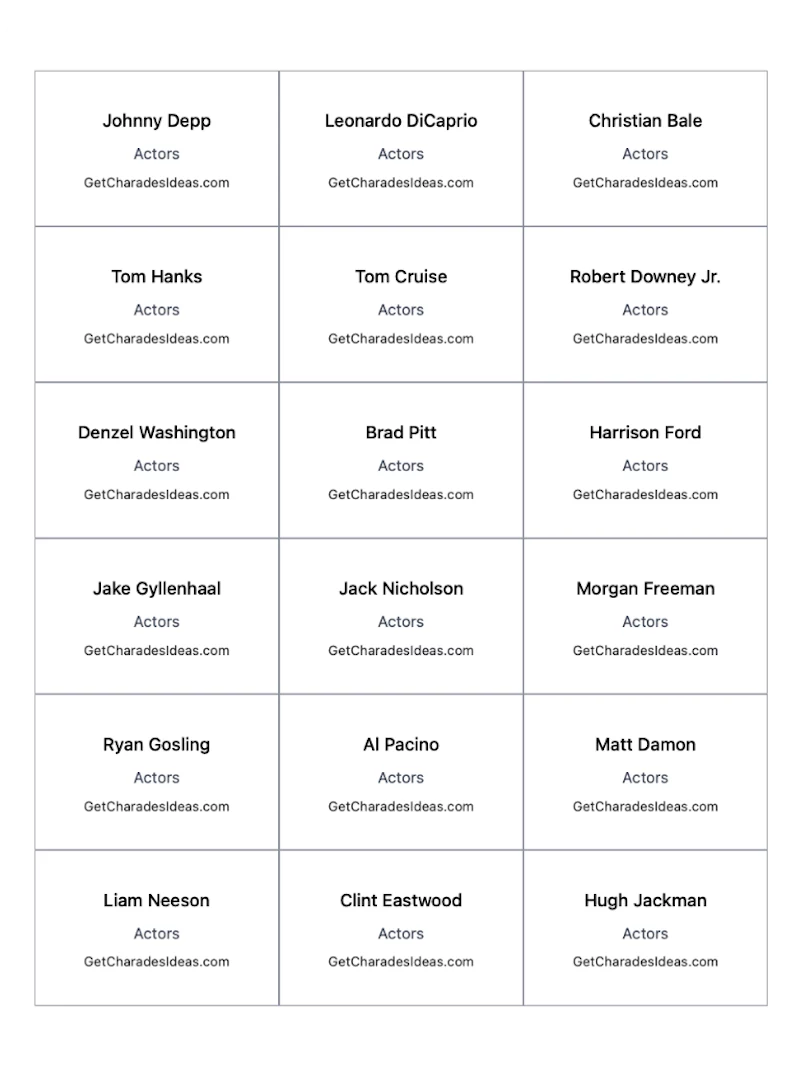 @GetCharadesIdeas.com
Romantic Movies
10 Things I Hate About You
Pretty Woman
When Harry Met Sally
Trainwreck
Crazy, Stupid, Love
500 Days of Summer
Forgetting Sarah Marshall
The Notebook
There's Something About Mary
Bridesmaids
Notting Hill
Wedding Crashers
Love Actually
50 First Dates
Crazy Rich Asians
Random Movie Ideas
Act out your favorite movie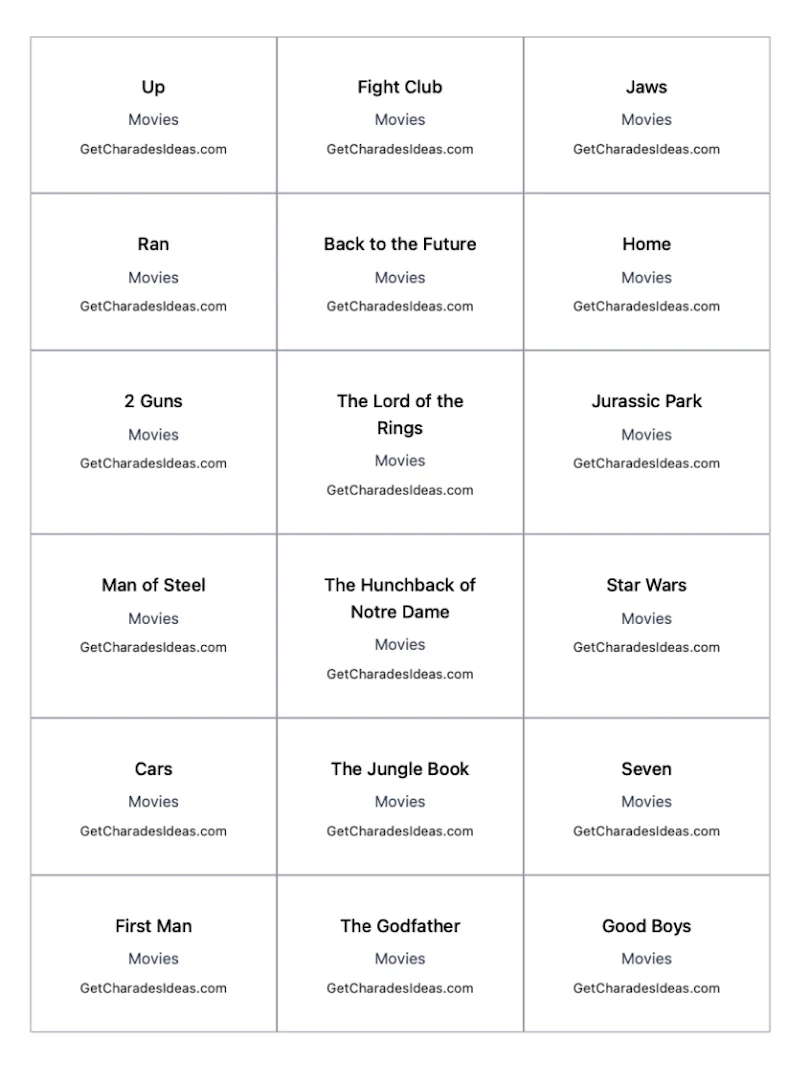 @GetCharadesIdeas.com
Horror Movies
The Shining
Scream
The Conjuring
28 Days Later
The Silence of the Lambs
Ring
Get Out
Us
Halloween
Paranormal Activity
Don't Breathe
It
A Quiet Place
Jaws
Split
Movies and Books
You can add books into the mix to make it even more fun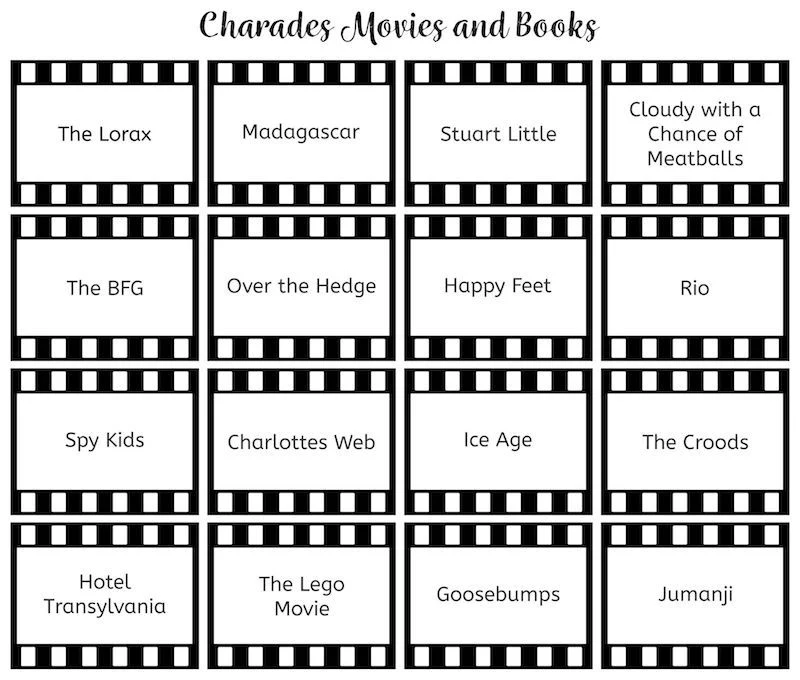 Funny Charades Ideas
Why not get extra silly with some of these funny charades ideas. Act them out as good as you can!
Medium Level Charades Words
Get silly with these random words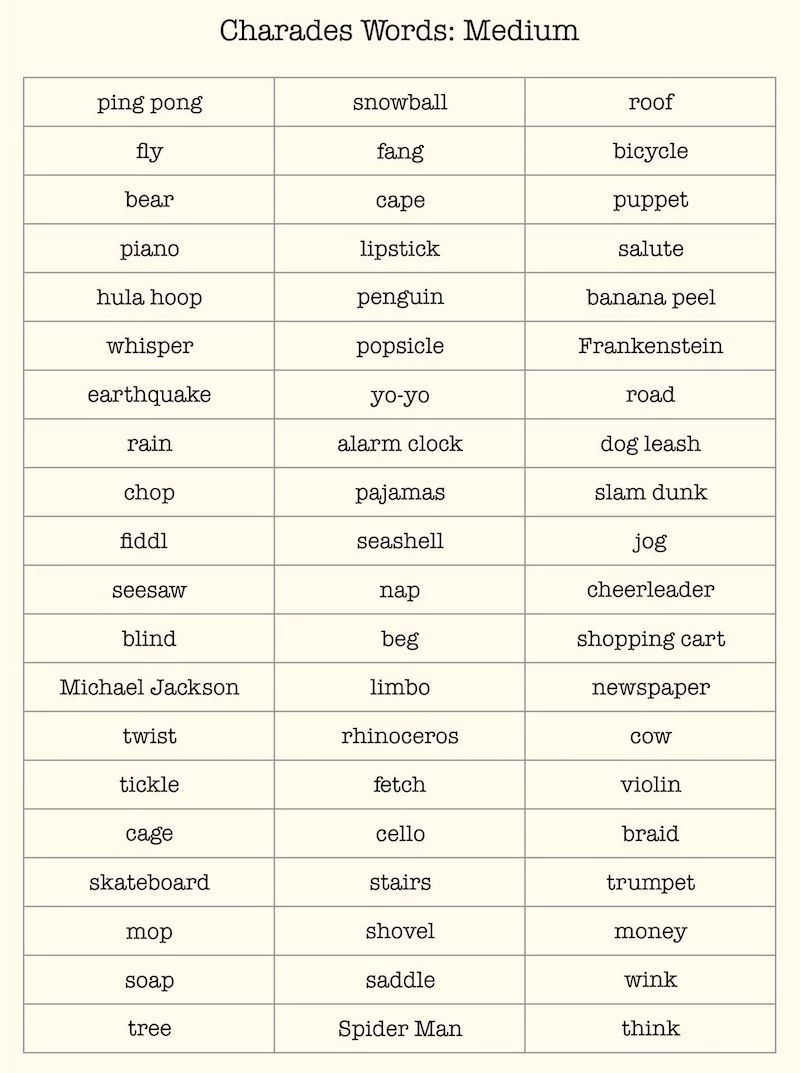 Silly Ideas
Pass Out
Cringe
Vlogger
Parking Ticket
Gamer
Cow
Jell-O
Superhero
Minecraft
Workaholic
Bullfighter
Stage Fright
Fanboy/Fangirl
Deodorant
Bouncer
You'll definitely get some laughs out of these ideas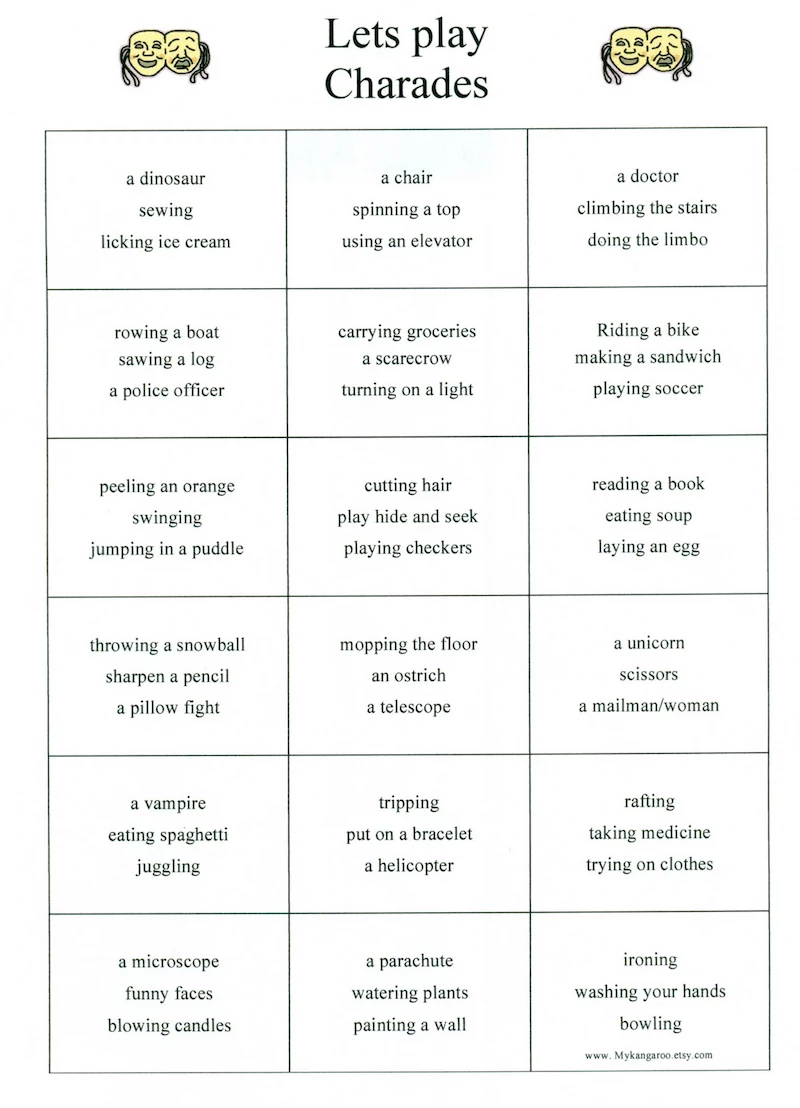 Animal Charades
If you love wildlife of any kind, you'll love these ideas. Whether you love them having them in your house or you love to draw animals, you'll have a blast acting out these.
Pets and Farmyard
Cat
Dog
Mouse
Cow
Chicken
Rabbit
Goose
Sheep
Guinea Pig
Pony
Rabbit
Pig
Parrot
Hamster
Turkey
Wild Animals
Swing your arm in front of your nose to show an elephant's trunk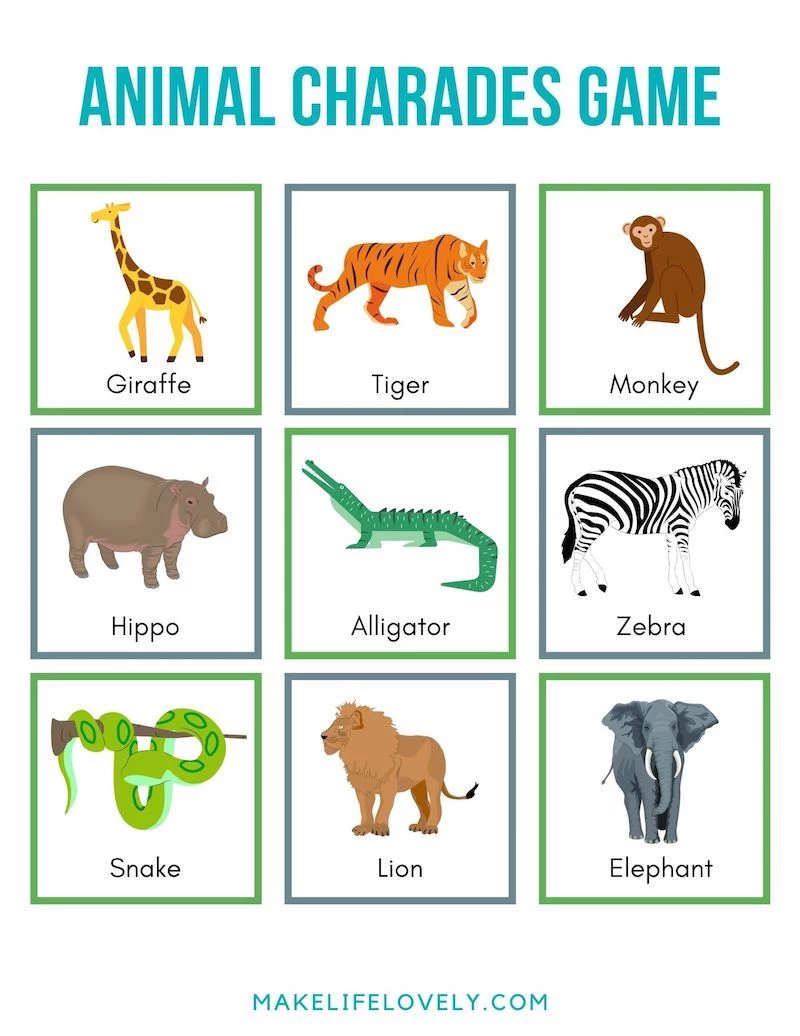 Reptile
Snake
Turtle
Lizard
Crocodile
King Cobra
Dinosaur
Gecko
Rattlesnake
Chameleon
Komodo Dragon
Alligator
Tortoise
Python
Viper
Iguana
Random Animal Ideas
Pick your favorite animal to act out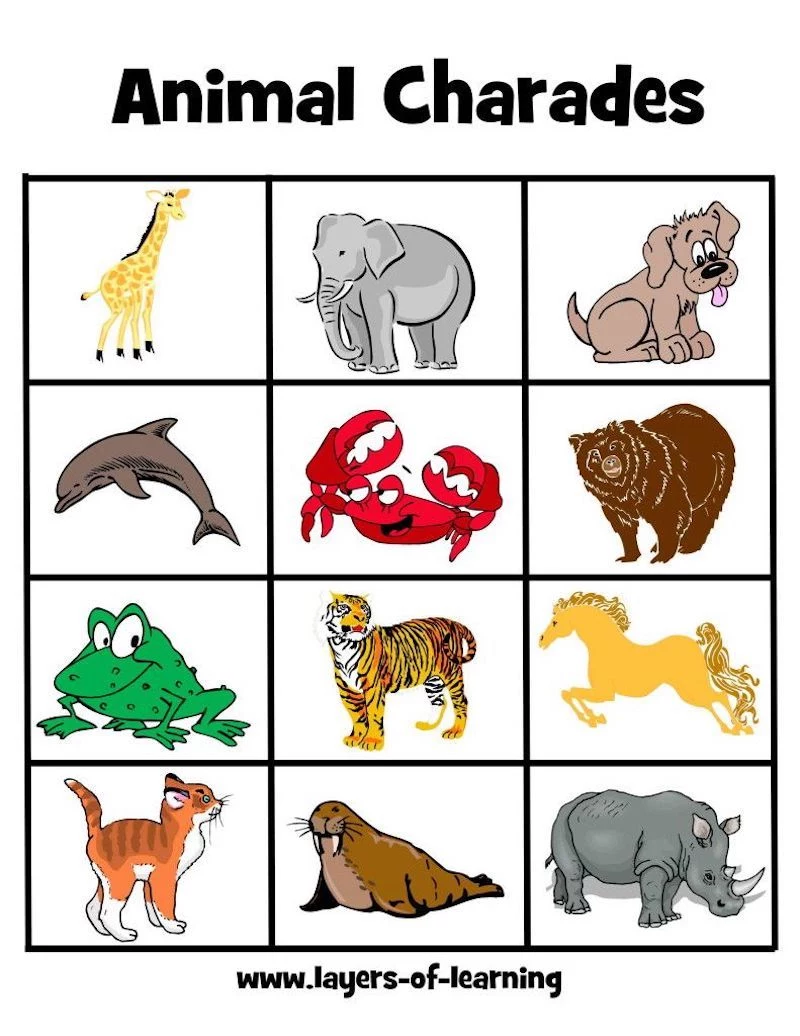 Mammals
Lion
Panda
Moose
Giraffe
Whale
Skunk
Kangaroo
Fox
Tiger
Monkey
Zebra
Llama
Bear
Elephant
Seal
Family Charades Ideas
Charades is a game for people of all ages to enjoy. So, why not have a family game night? And if you're playing during the holidays, here are some fun themed ideas. After all is there a better way to get the family together than after some thanksgiving dessert to sit down and spend time playing charades?
Christmas
Try acting out some classic Christmas songs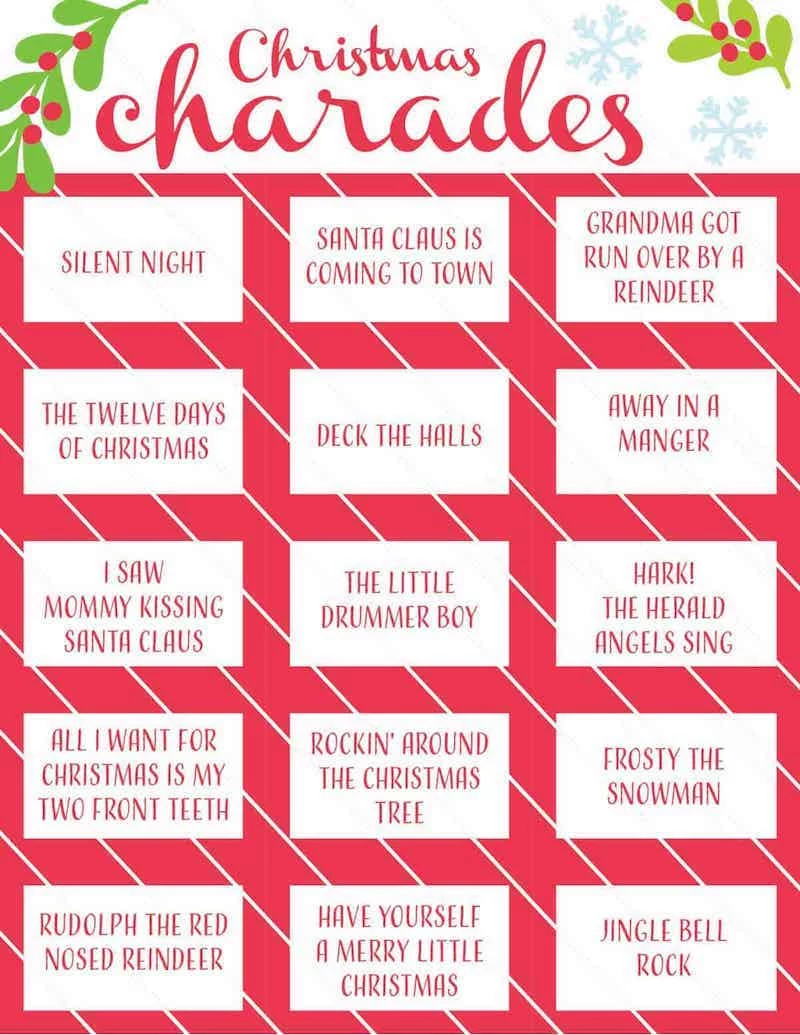 Thanksgiving
If you're wondering what to play at thanksgiving, charades is a great choice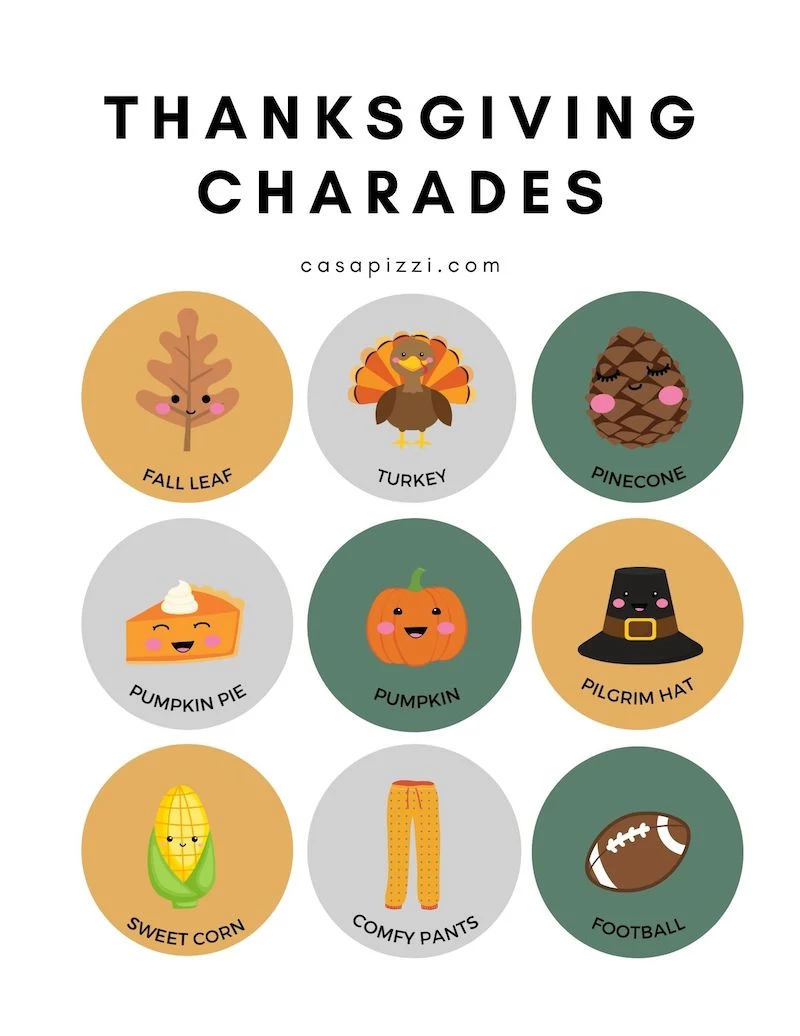 @casapizzi.com
Halloween
Try acting these out in costume to make the game even funnier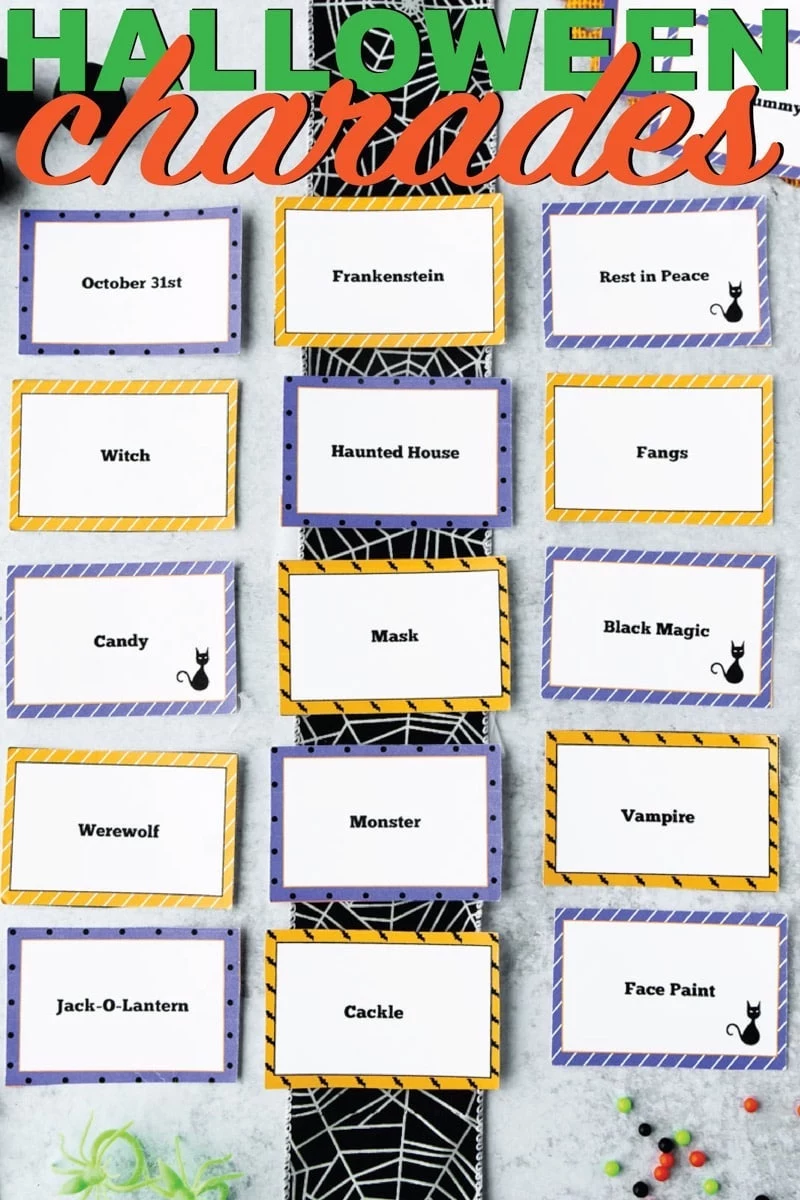 Summer
Summer is a great time to get together and play fun games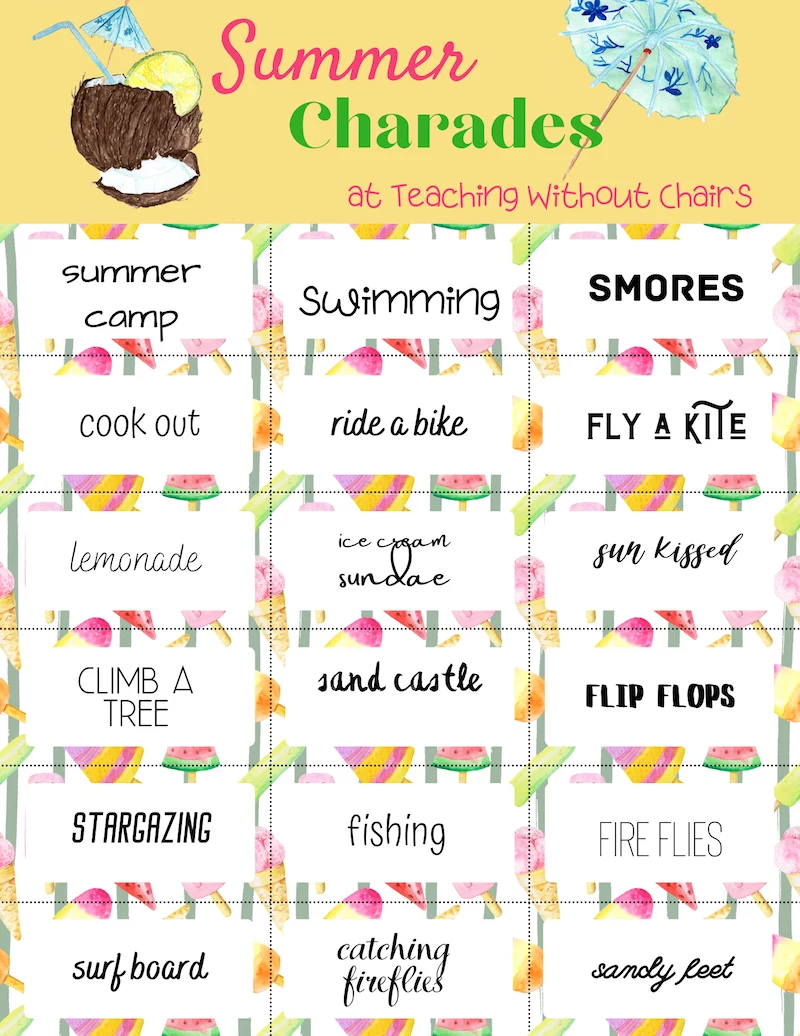 Camping
Are you bored at camp? Here are some great charades ideas.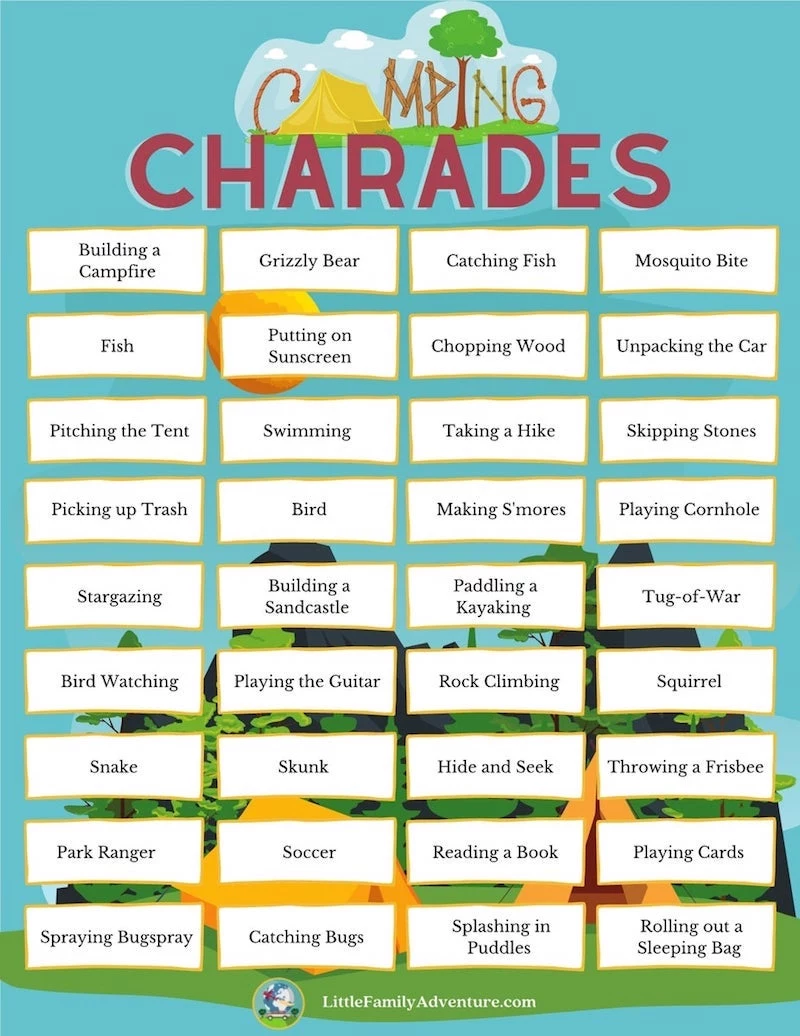 Winter
If you are cooped up at home during the winter, charades is a great way to stay entertained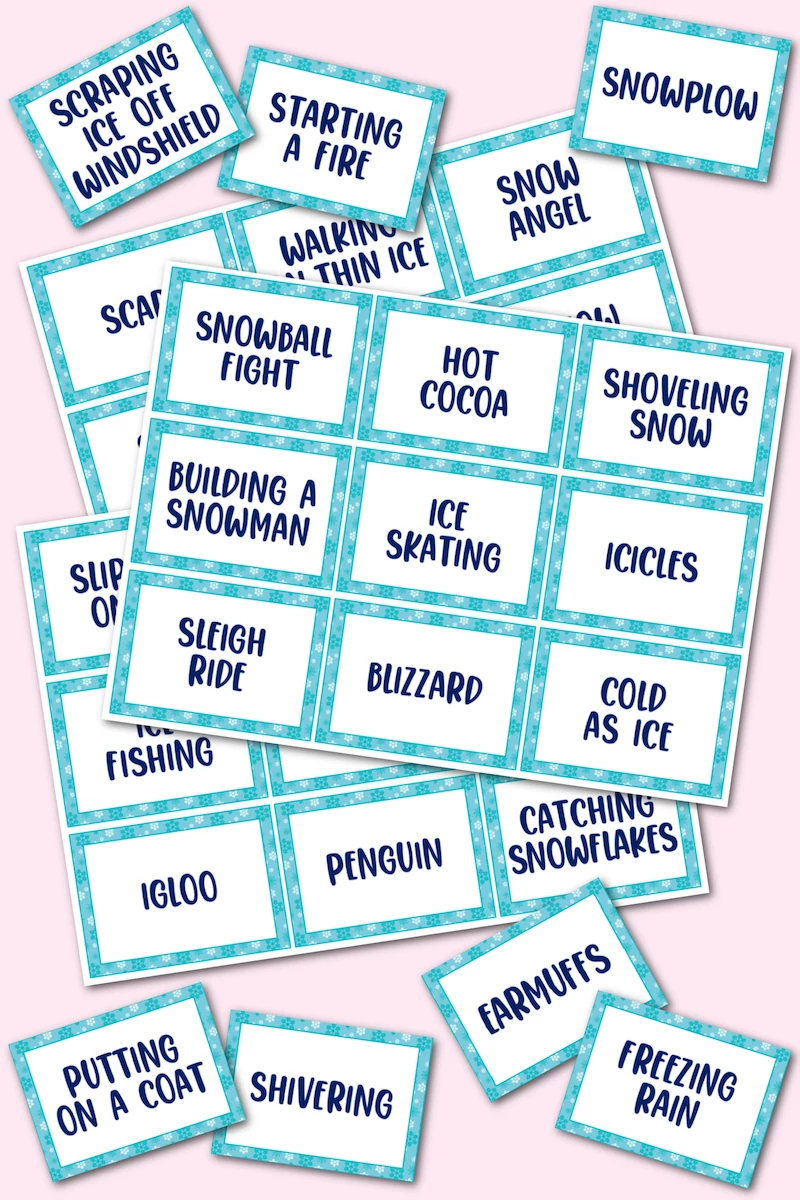 We hope you enjoy some of these fun charades ideas and try them out at your next party or gathering! Charades is a game night classic, and it's easy to see why!