70 ideas for Halloween nails so spooky, you'd definitely want them
When it comes to Halloween every little detail is important. If you are a true Halloween fan, then you will definitely take your time with the organisation of a party and picking a costume. From decorations indoors and outdoors, to drinks and food, everything is important. Most importantly, however, pick your costume carefully. Nowadays the pressure is on when it comes to scary costumes. A great addition to your outfit is another little thing that often gets overlooked. Today, we are focusing specifically on it, though. Here are 70 ideas for spooky Halloween nails, which are going to be great additions to your overall theme.
Halloween nails so spooky, you'd definitely want to try them out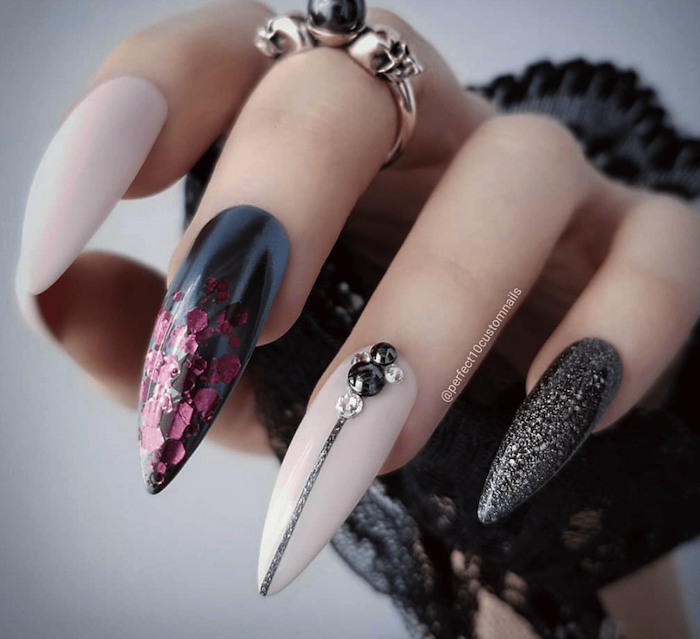 Spooky Halloween nails
First off, let's discuss the type of nails, which make any spooky idea more complete. The winner, when it comes to nail shape for Halloween, is definitely the stiletto nail shape. It is long, pointy and leaves plenty of room for a truly scary artwork. Coffin nails come second. The same thing goes for them, as well, long and with enough space for drawing and decorations. What's more, they are literally called coffin nails, because they follow the shape of a coffin. Does it get any scarier than that?
Awesome design in black and gray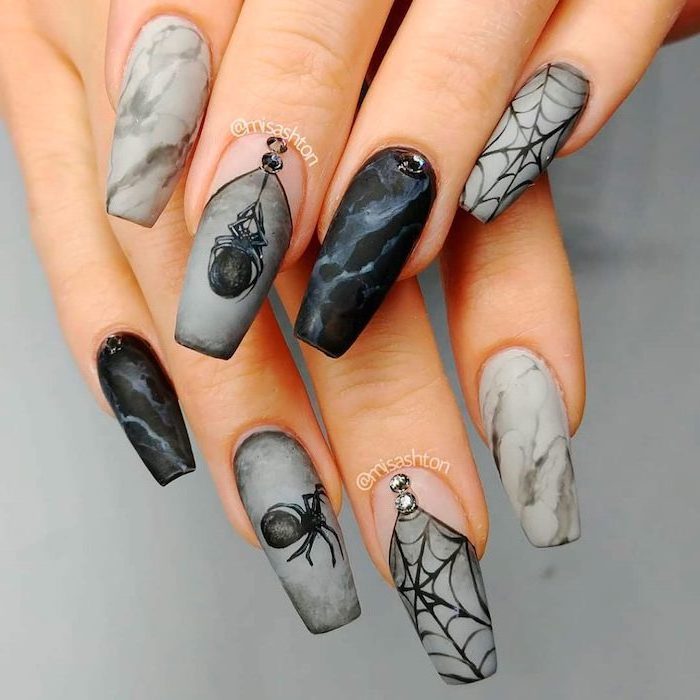 What are the most popular Halloween nail designs
Now, it is time to discuss the most popular Halloween nail designs. First of all, there are a few colors, which seem to dominate the designs.
Black
It goes without saying that black is the most popular Halloween nail color. Why? Well, it is considered the color of satanism and is always the symbol of bad, darkness, etc. Therefore, making it perfect for your Halloween nails.
Red
The color of blood. Red is another color, which is considered to be the color of the Devil, himself. Need we say more?
Orange
After all, the most famous Halloween symbol is the pumpkin. That is why, orange is one of the most popular colors for your holiday nails.
Green
Green is a color, which is often associated with witches and their potions. What's more, one of the most famous monsters – Frankenstein, was all green. That is why, this color is so popular.
Browse our gallery to find the scariest Halloween nails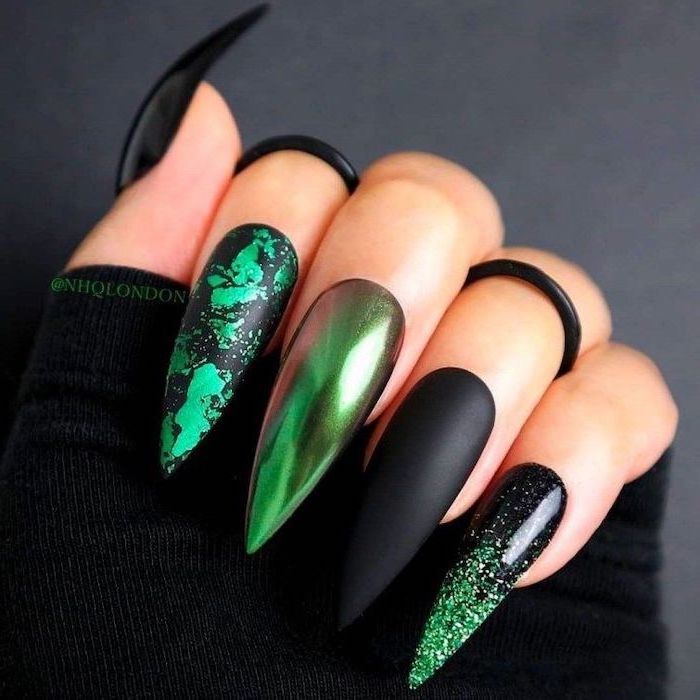 Nail decorations for Halloween nails
And, finally, let's discuss the most famous nail decorations for Halloween.
Pumpkins
As we already said, the symbol of Halloween is the most widespread decoration for the holiday.
Monsters / Supernatural beings
Famous monsters from every legend and tale imaginable are your go-to nail decorations. Ghosts, spiders, webs, vampires, werewolves, you name it. It all goes on Halloween.
Blood / Body parts
Probably the goriest nail decoration of them all, dripping red blood or different body parts are often used. What's more, they actually make for a pretty breathtaking nail design. So, don't be afraid to get gross and use it.
Cemeteries / Haunted houses
Since Halloween is the day, on which we honor the dead and their spirits, naturally, the cemetery is a go-to decoration idea. So, why not incorporate it into your nail design. Same goes for haunted houses. They are an inseparable part of Halloween.
Famous horror movie characters
Pennywise, Freddy Krueger, Jason Voorhees, etc. are some of the most popular characters. Nightmare Before Christmas seems to be the film, which inspires many Halloween nail ideas.
Matte nails and rhinestones, what more could you possibly want
This is truly a work of art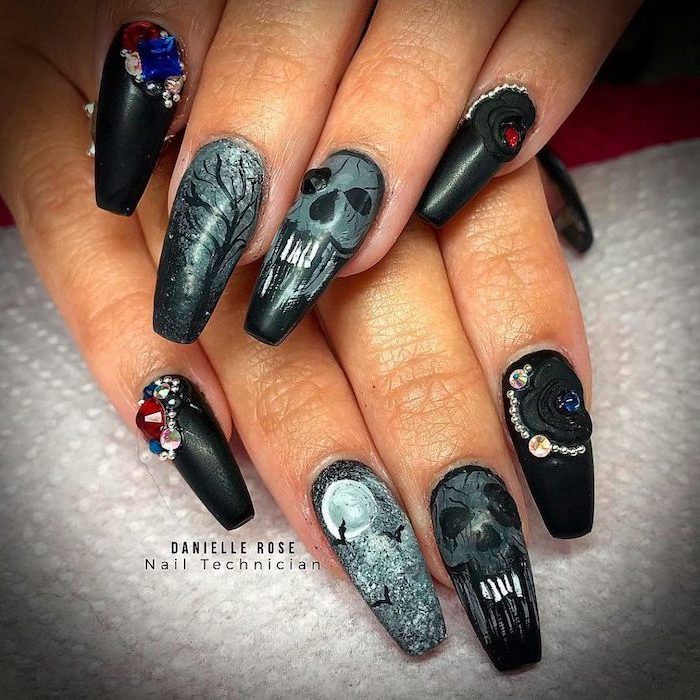 Spooky and gory – the perfect Halloween combination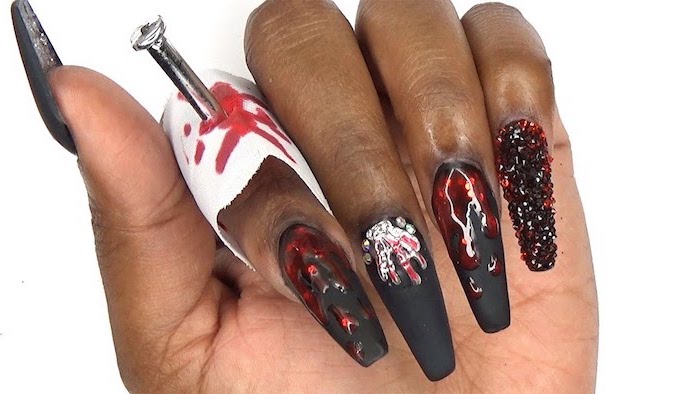 Beautiful black design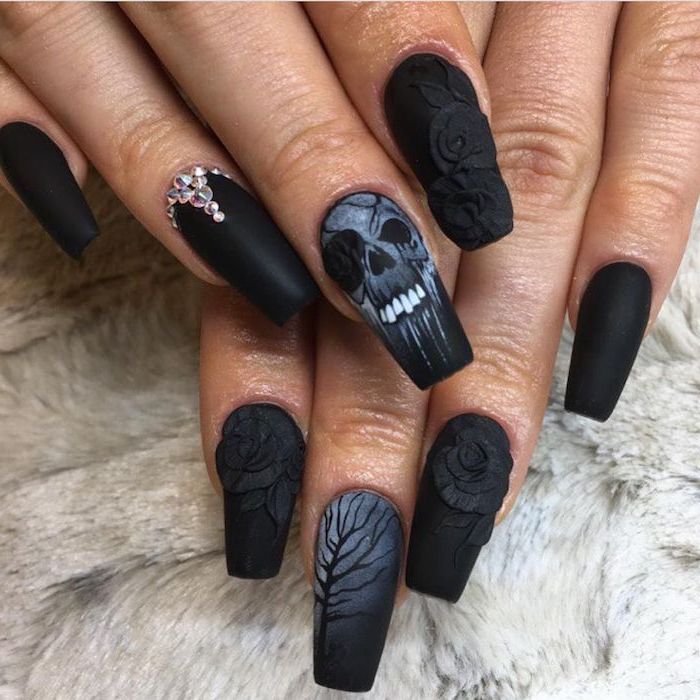 Spooky forests are a famous Halloween theme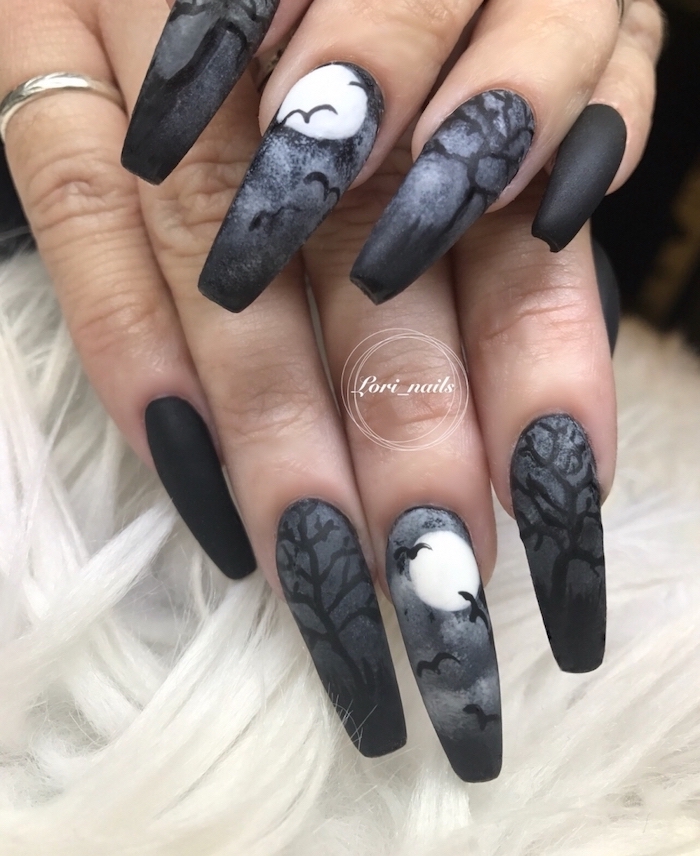 Beautiful nails and candy – my idea of a perfect Halloween party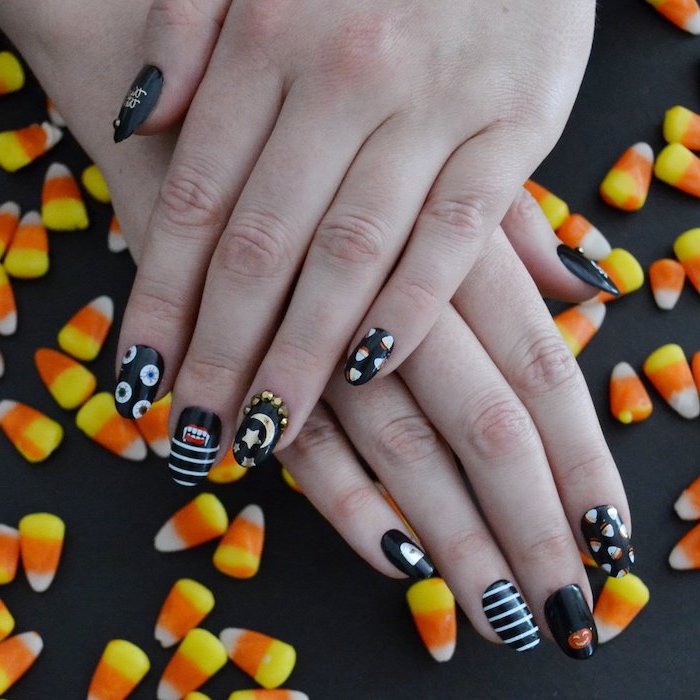 Orange, black and witches – stir well and you get a perfect Halloween manicure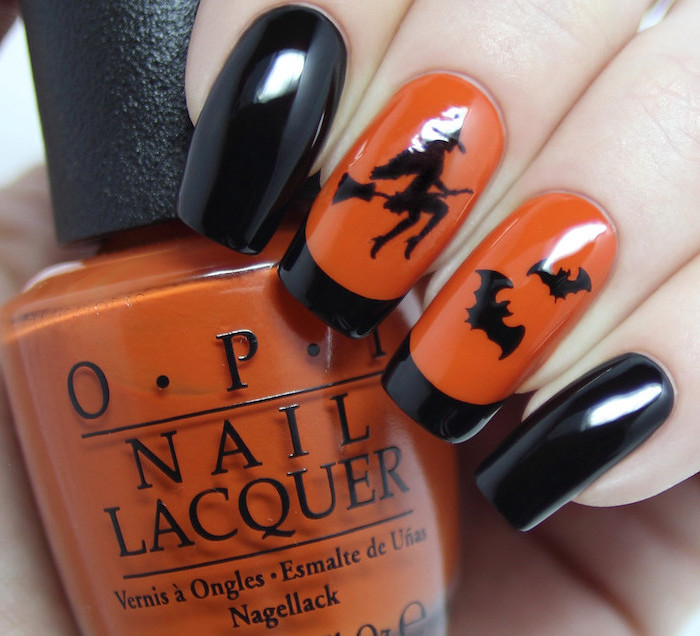 Now this is a breathtaking nail design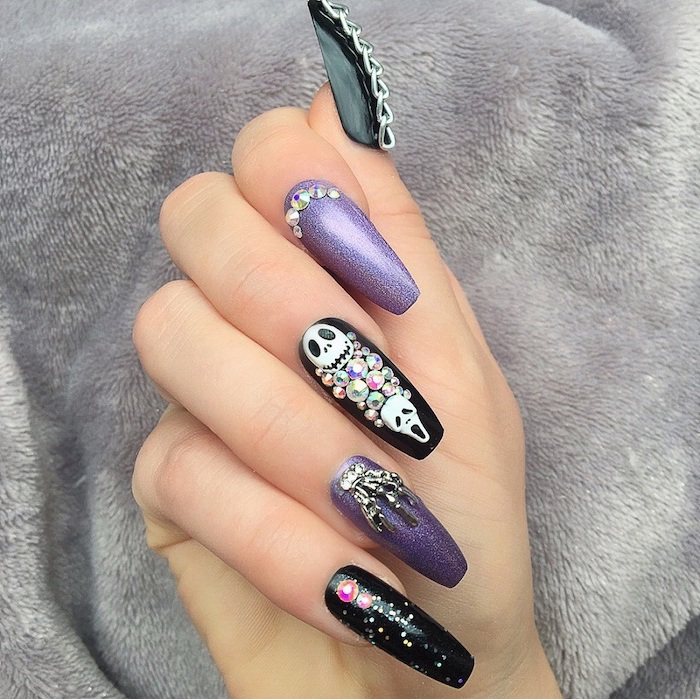 You can never go wrong with bloody nails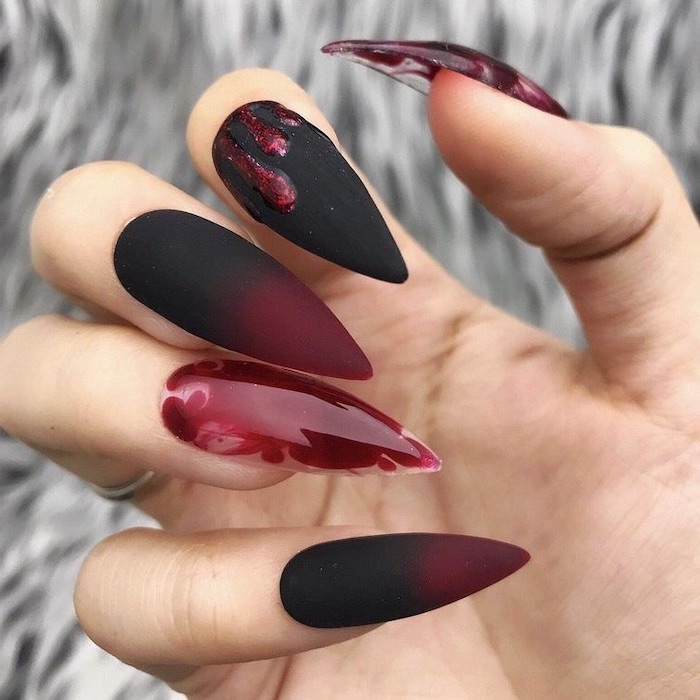 The goriest Friday the 13th nails I have ever seen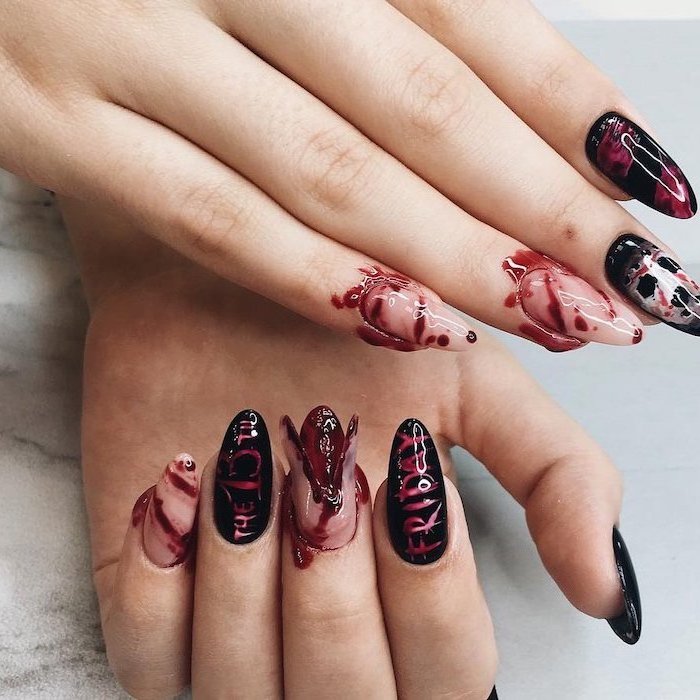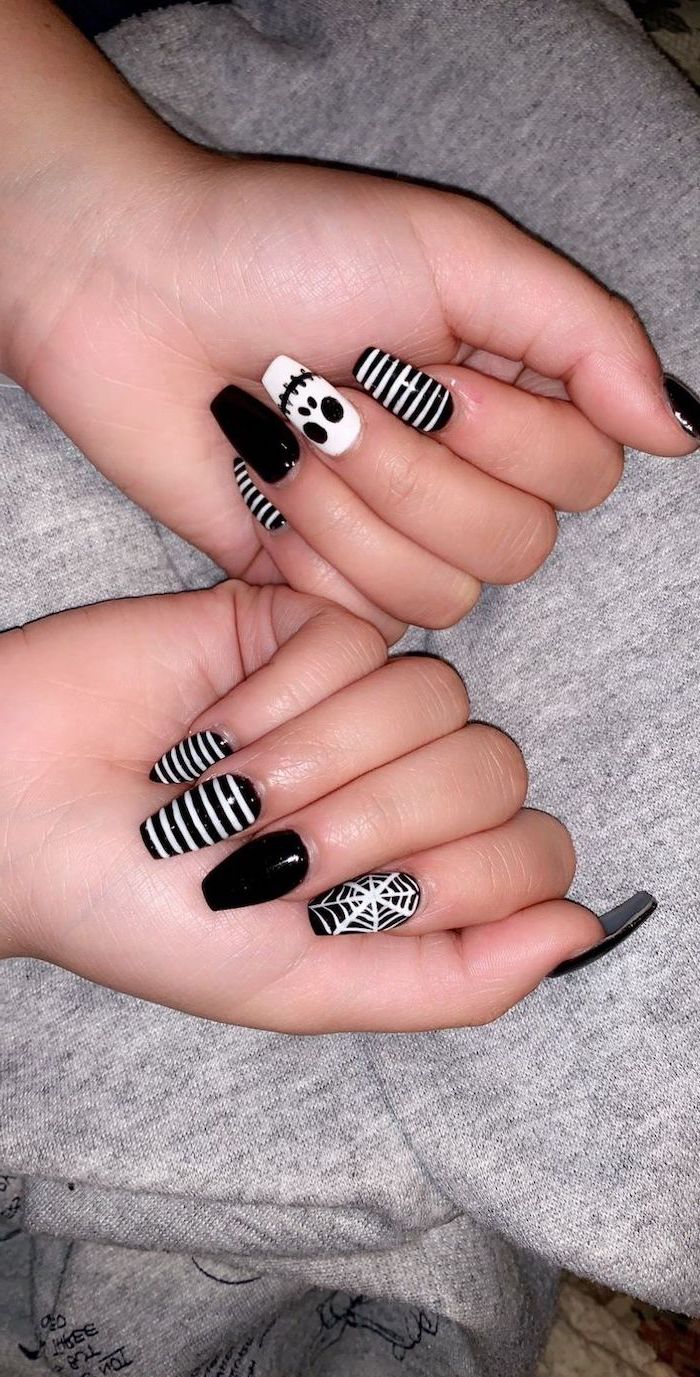 You can also try these nail designs yourself
Another version of the bloody nails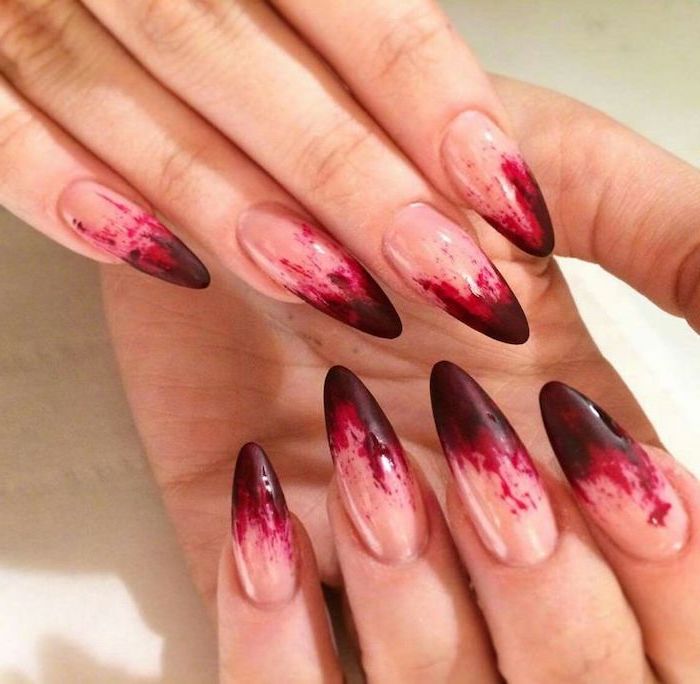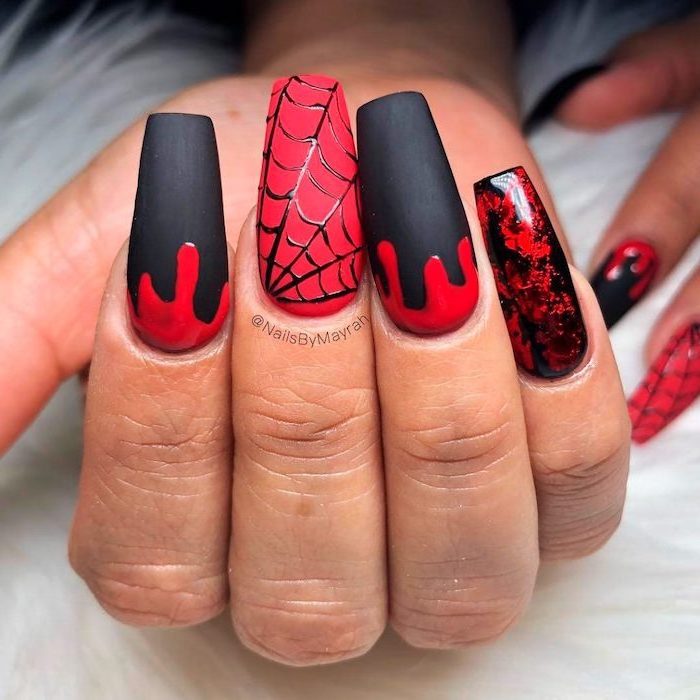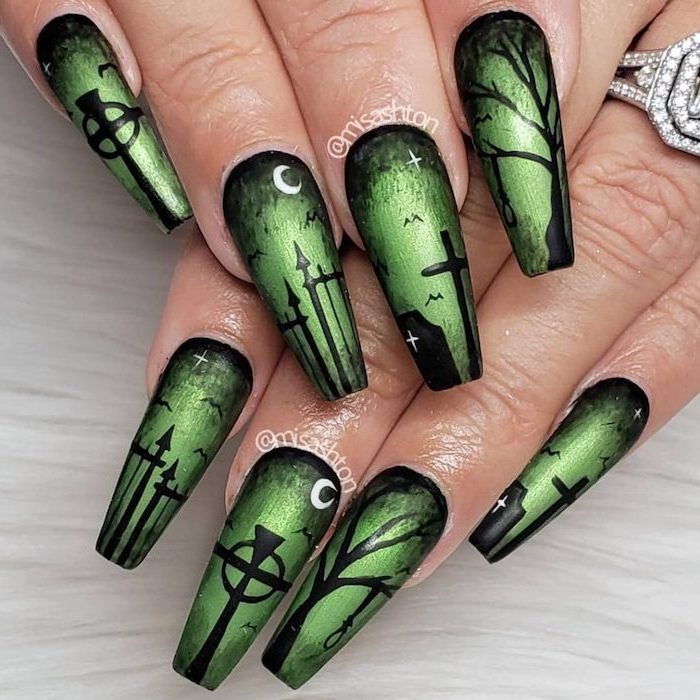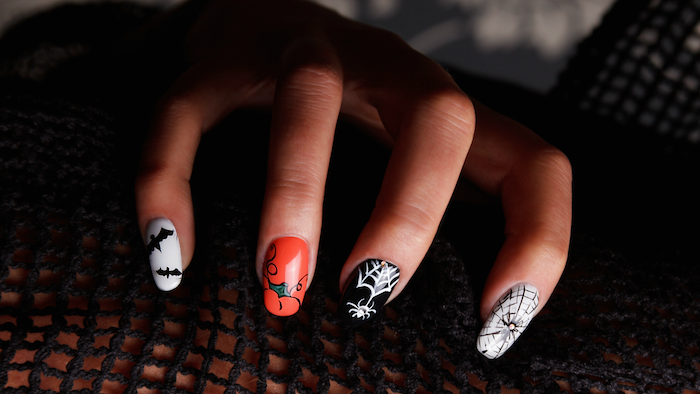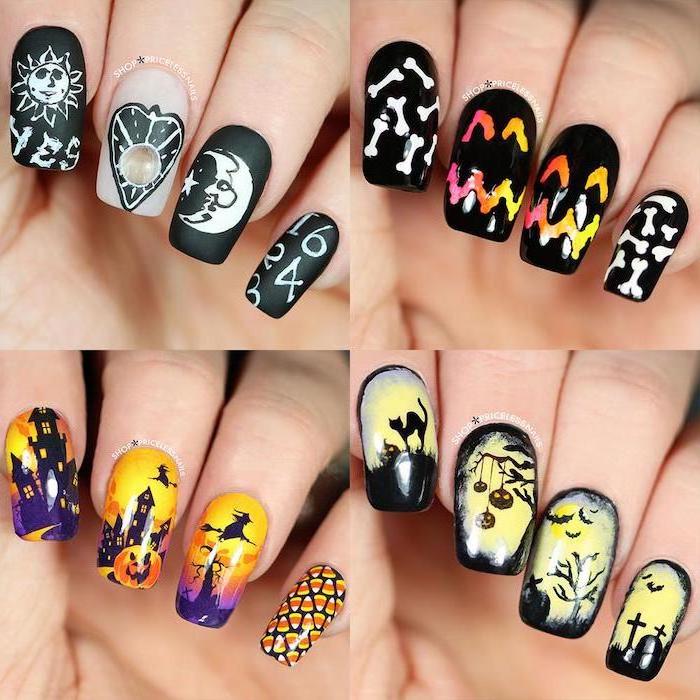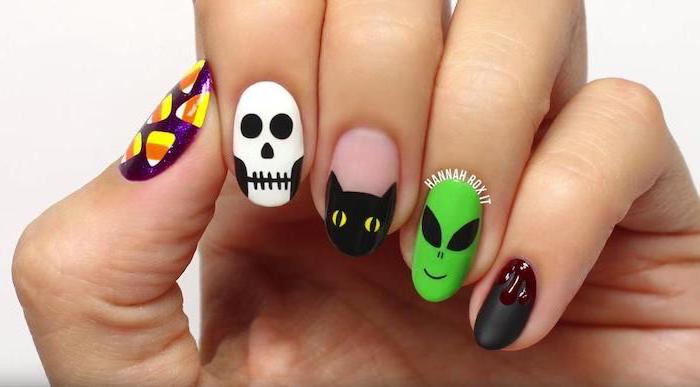 Absolutely stunning nail design – just look at all the details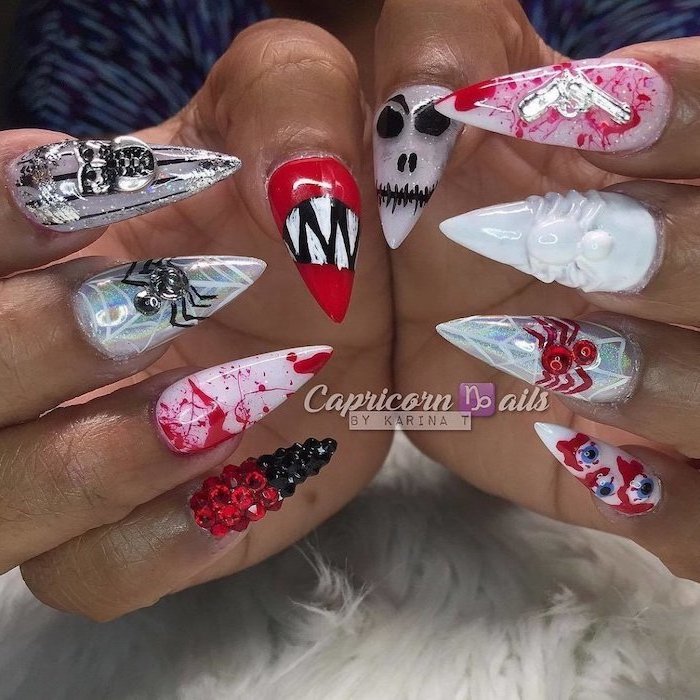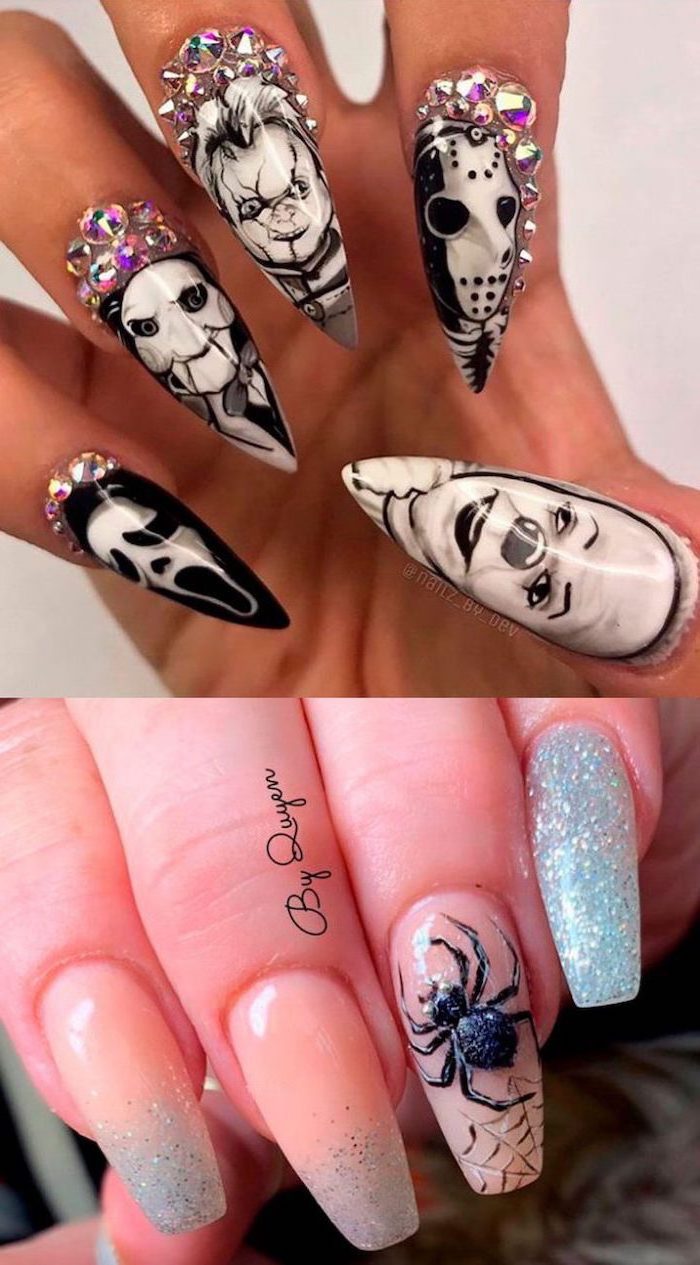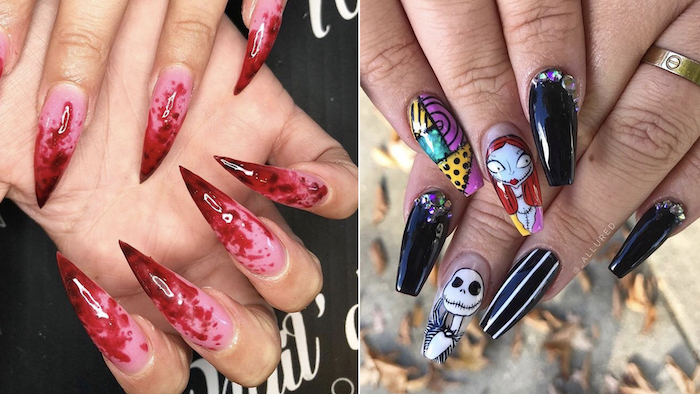 The Nightmare Before Christmas inspired nail art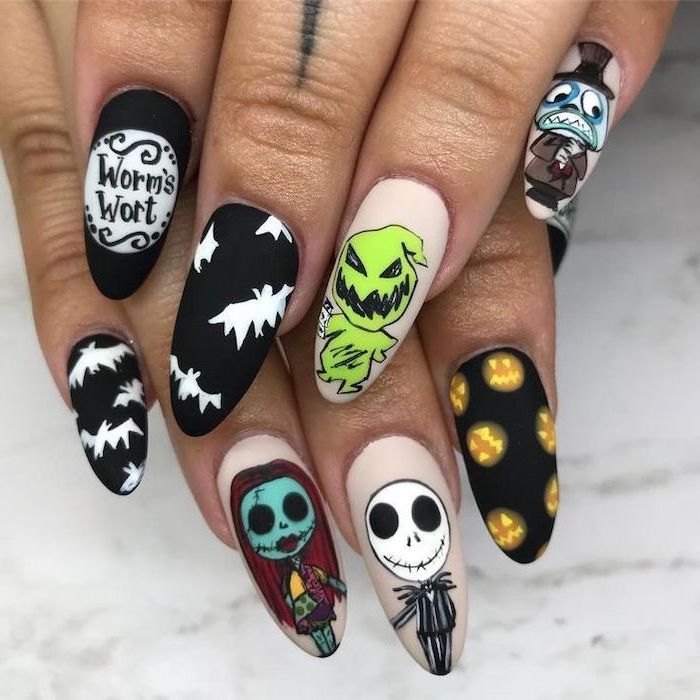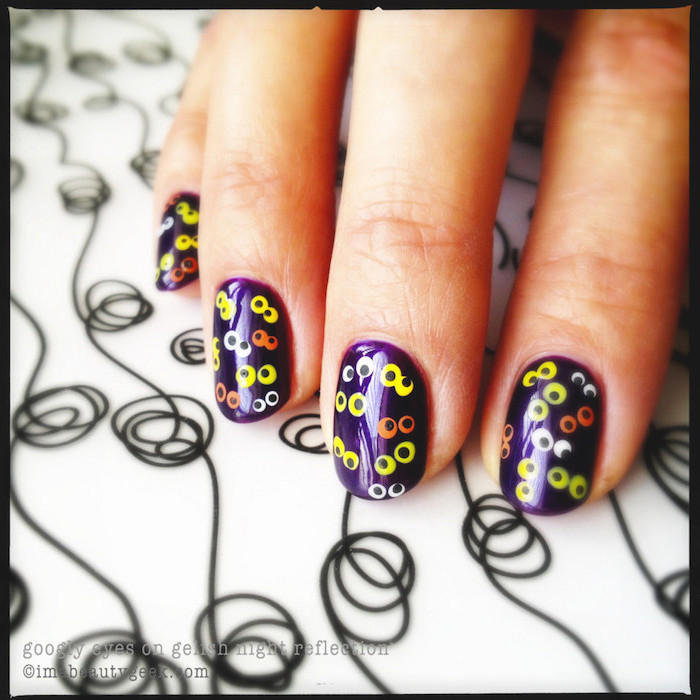 Try these scary bloody Halloween nails yourself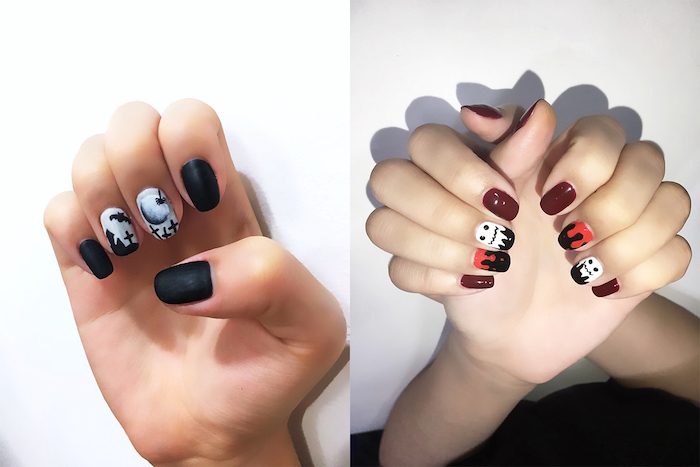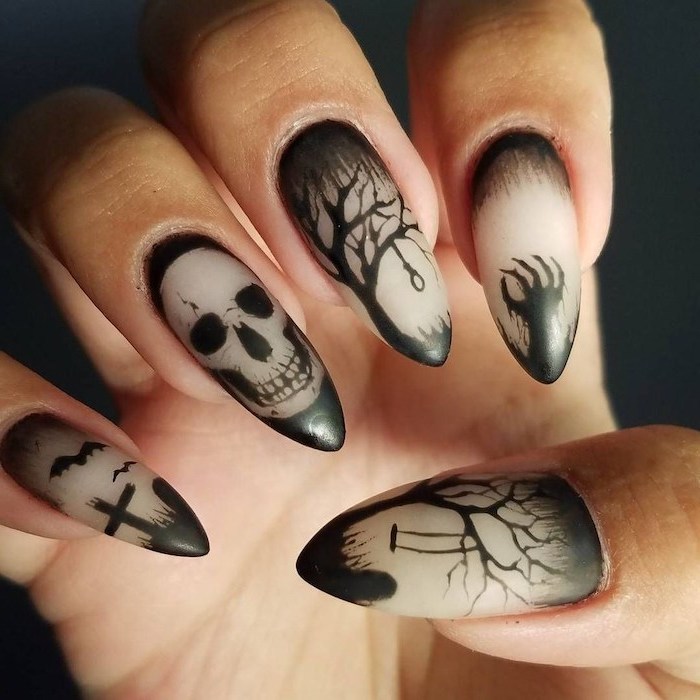 Oh my god, I honestly don't know what my manicurist will say if I showed her these and asked her to do them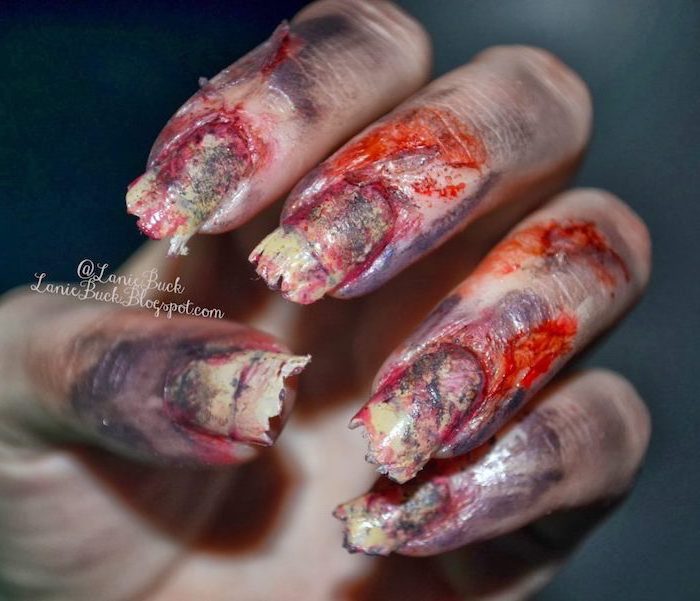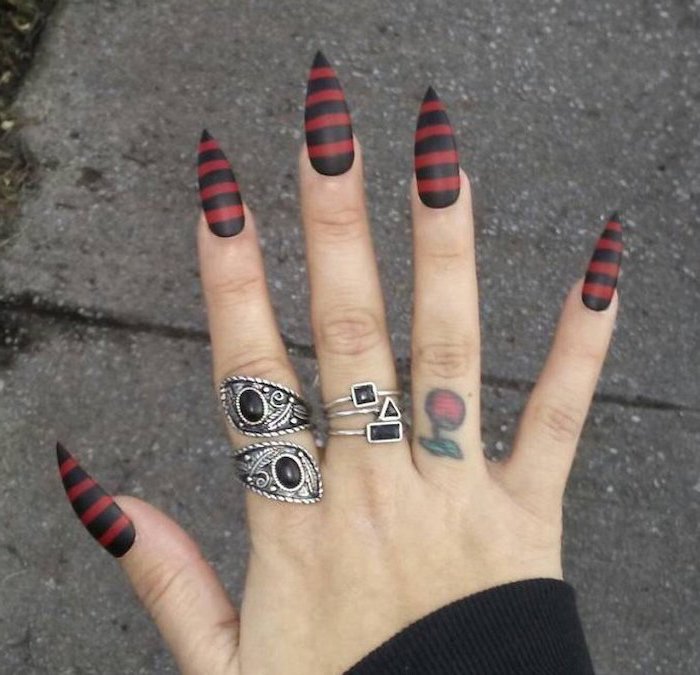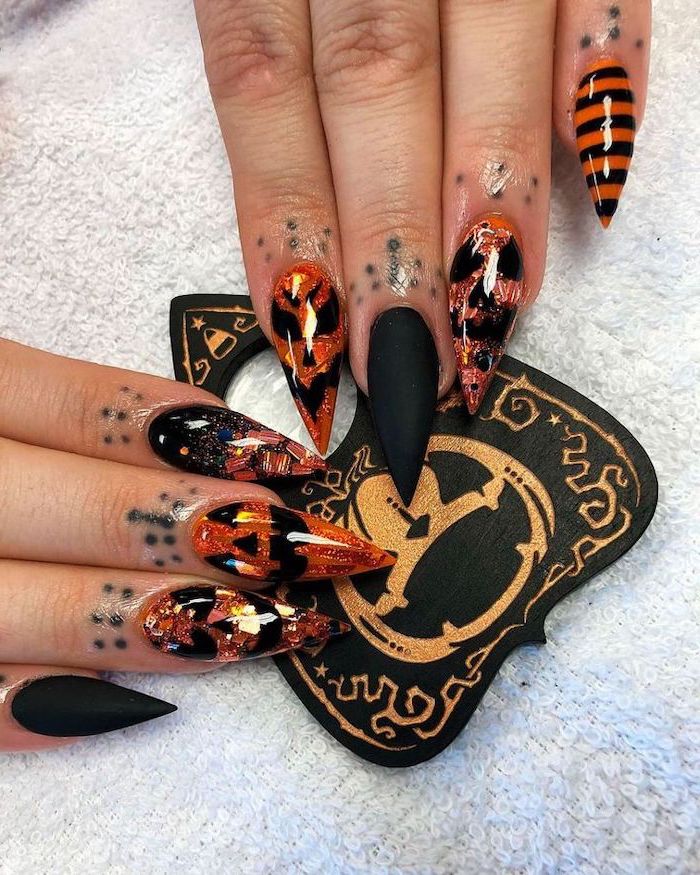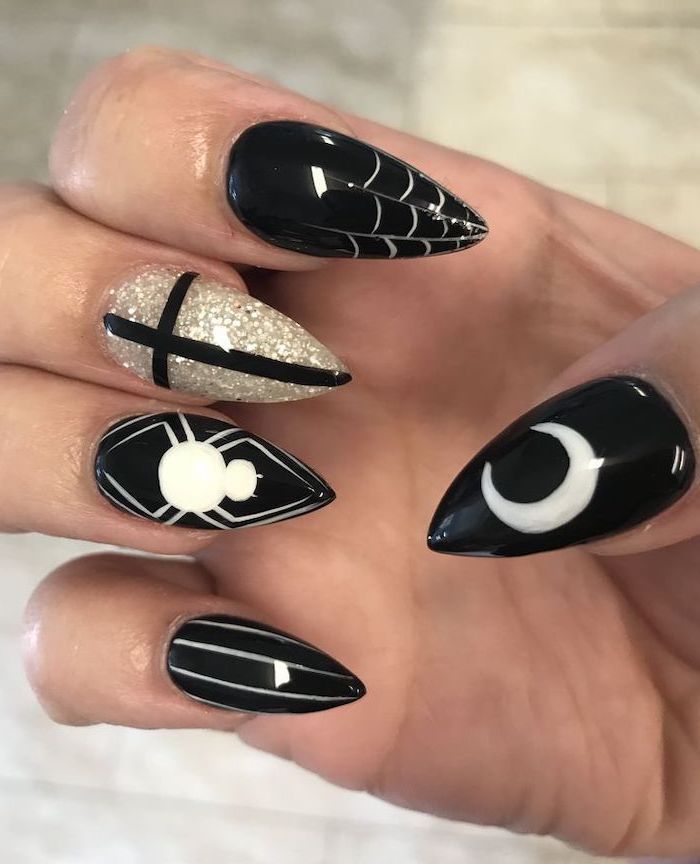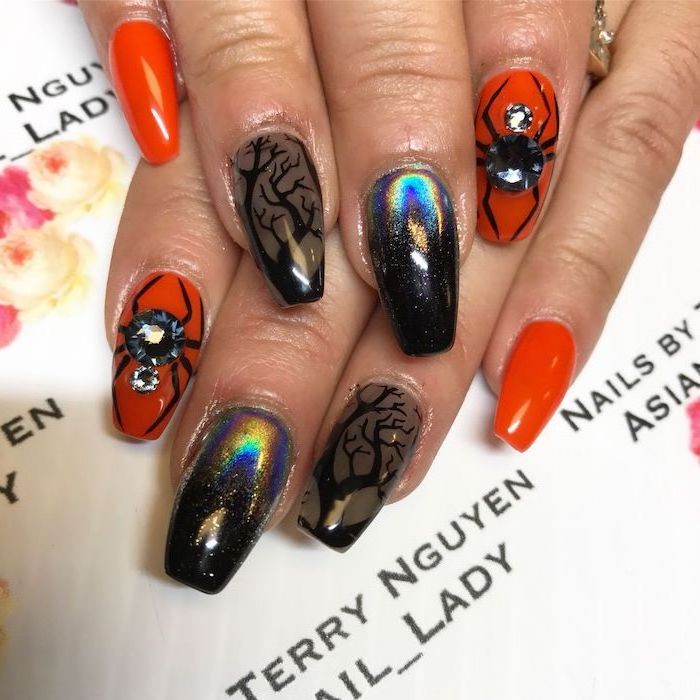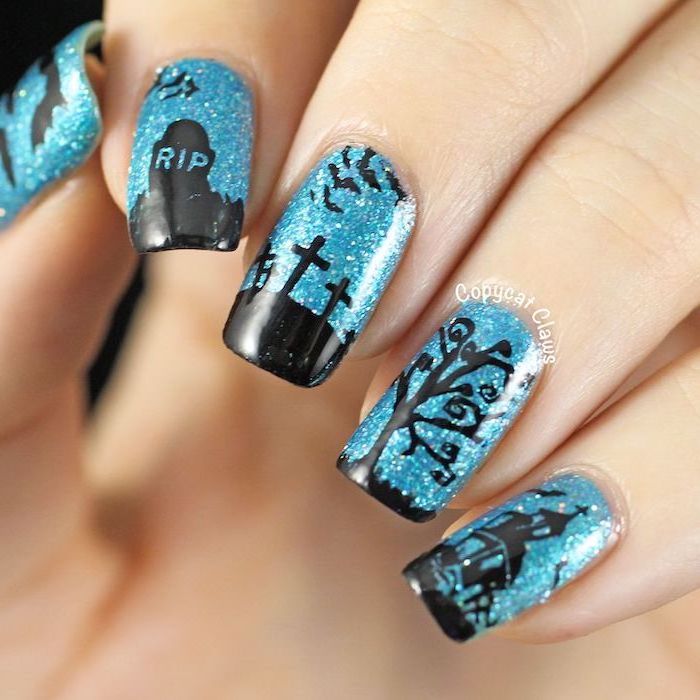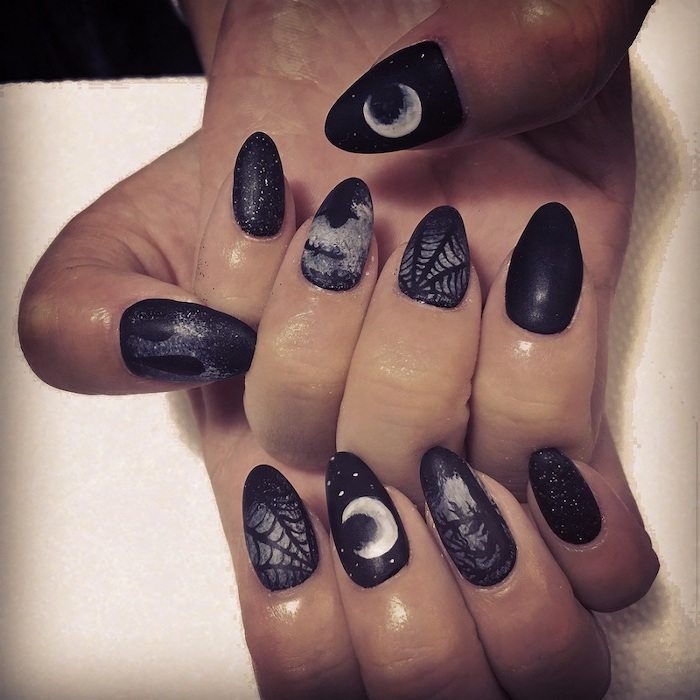 Gorgeous neon green nail ideas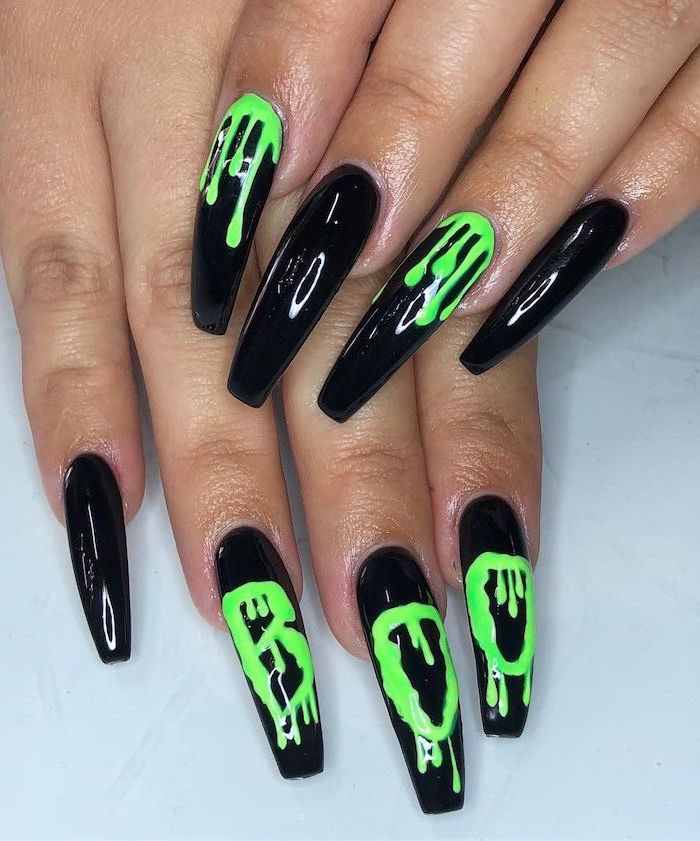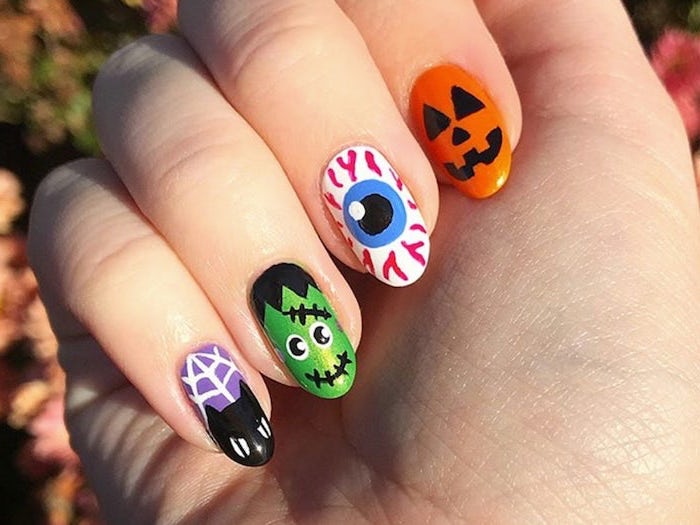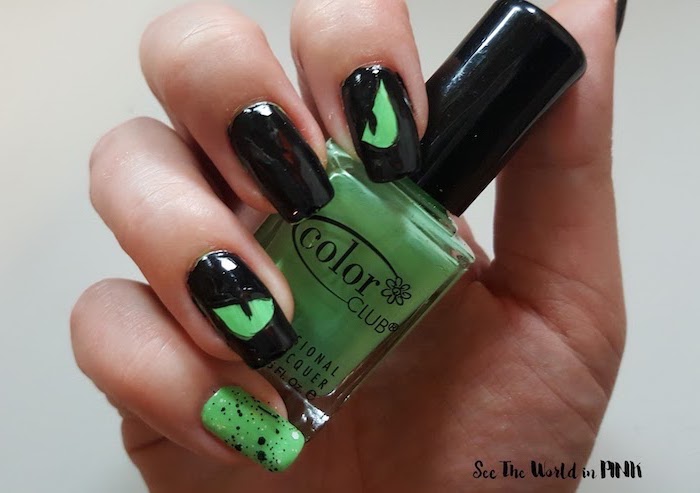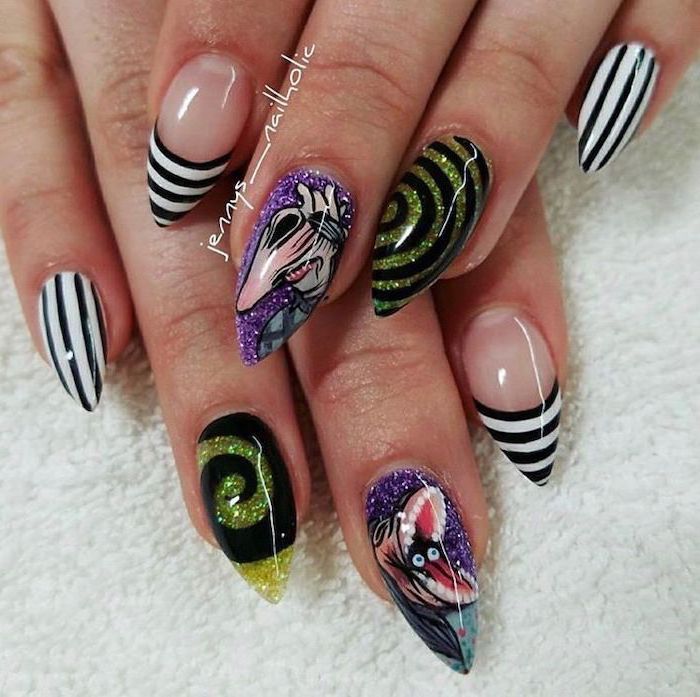 Halloween nail designs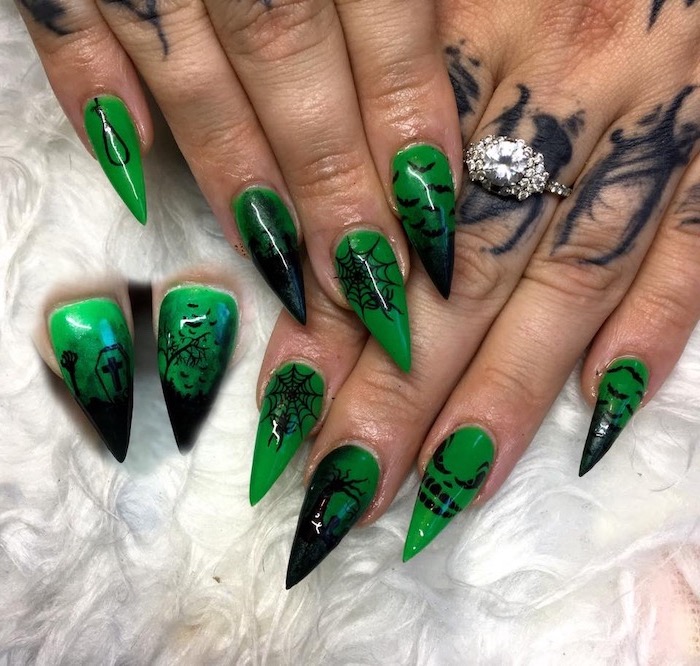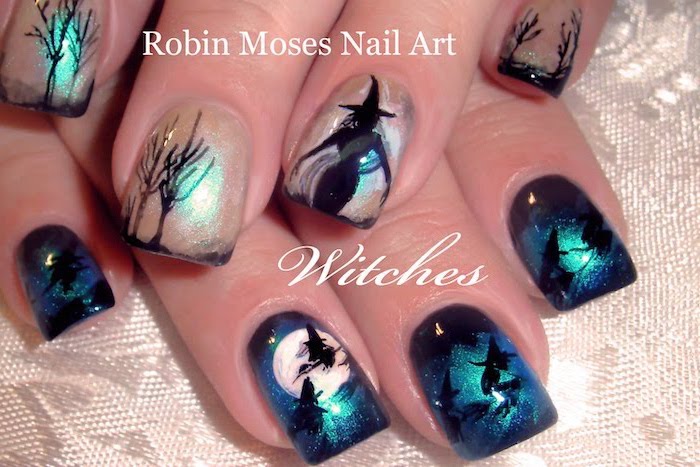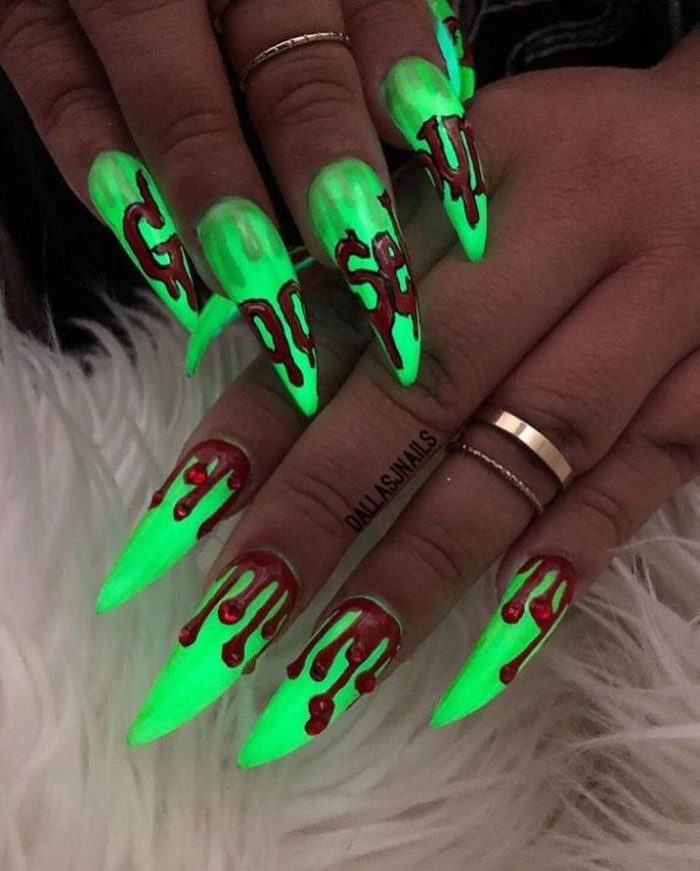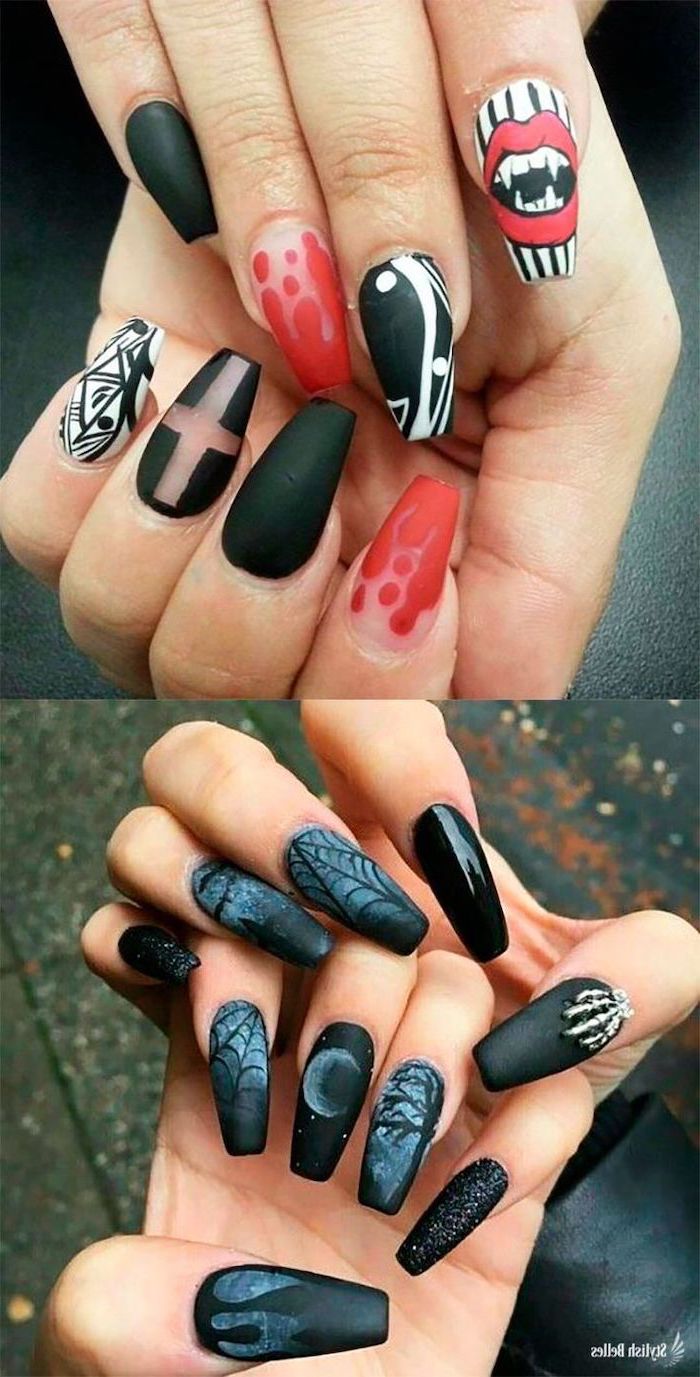 Halloween nail ideas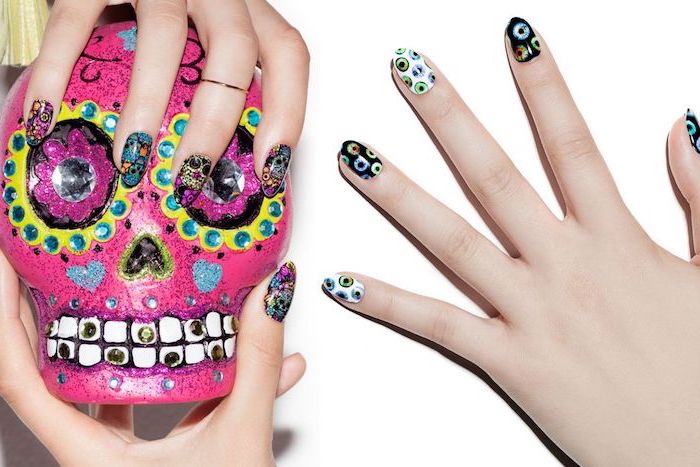 Hocus Pocus Halloween acrylic nails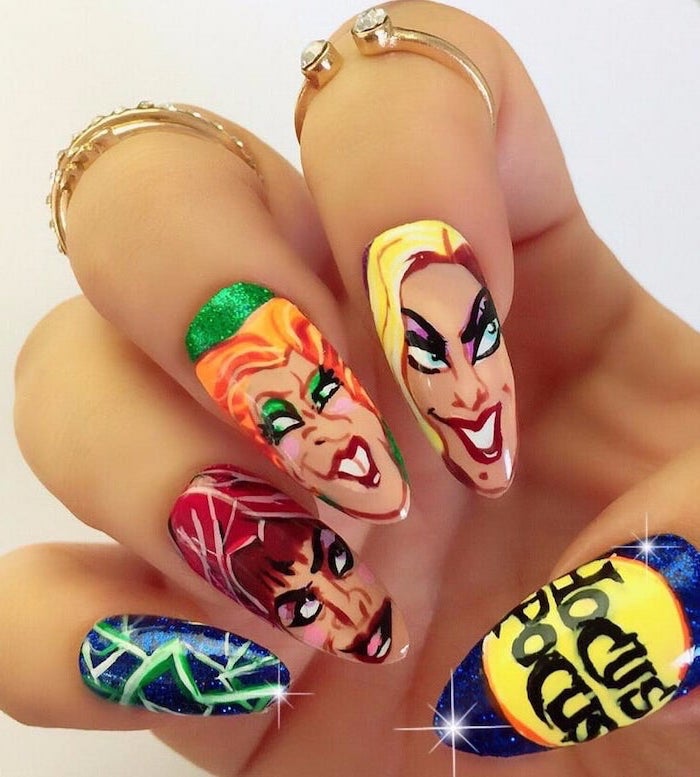 It movie inspired nails – you can't go wrong with the scary Pennywise, try them out and you'll float too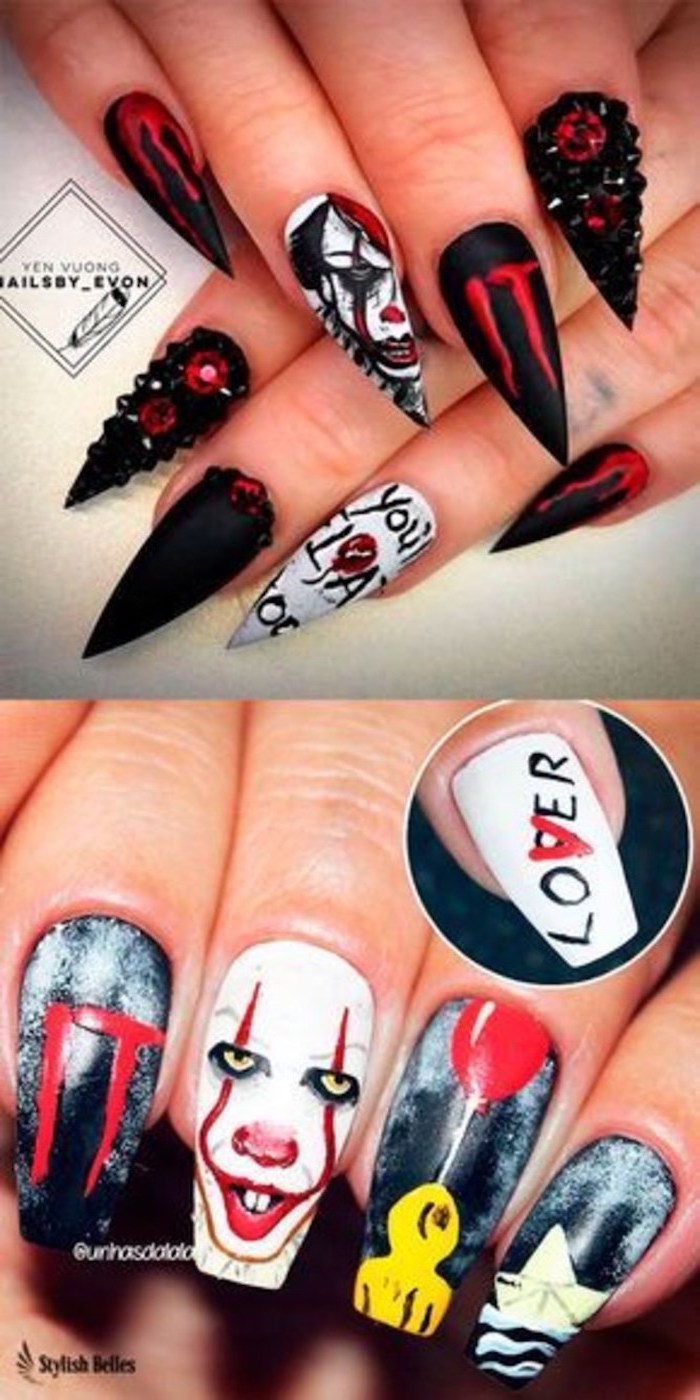 You can also try and recreate this look with this step by step video tutorial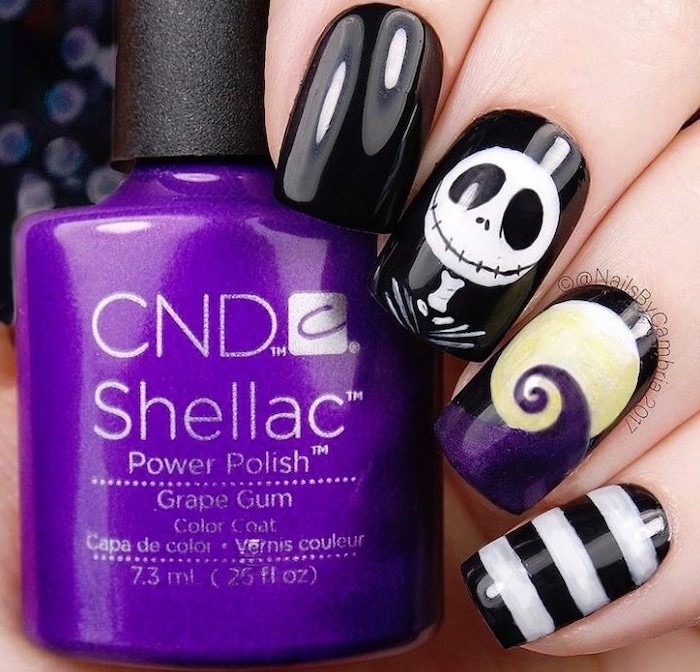 Bloody Jason Voorhees nails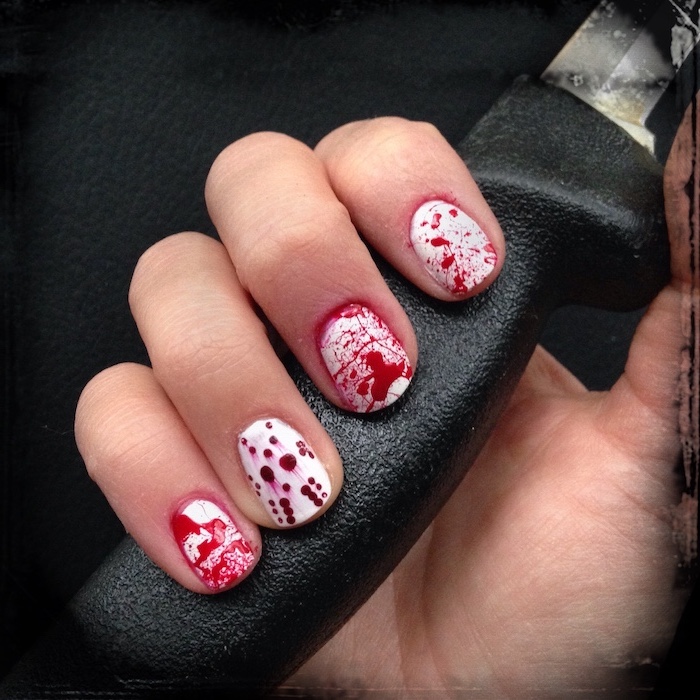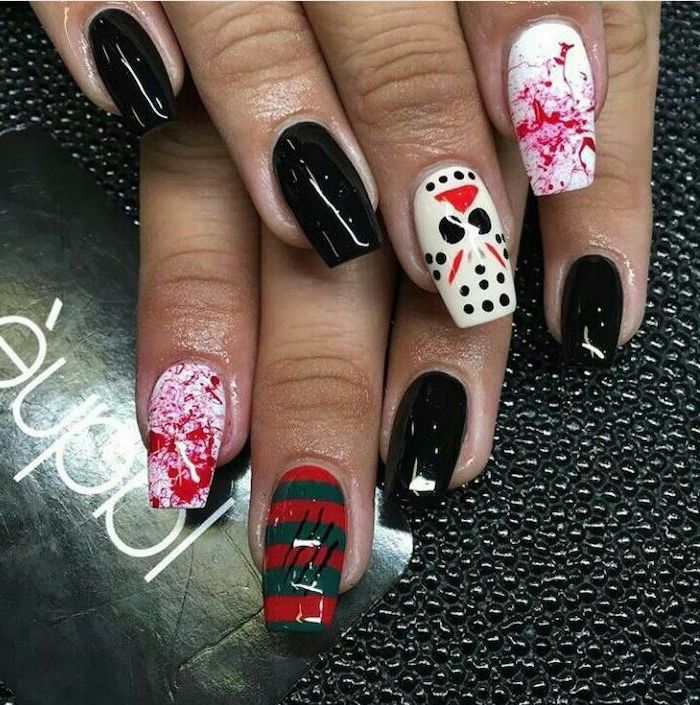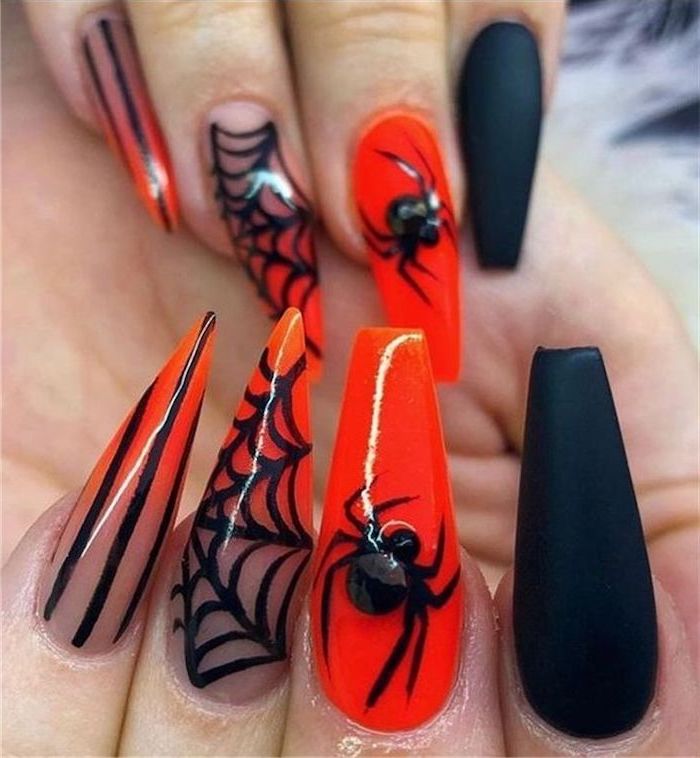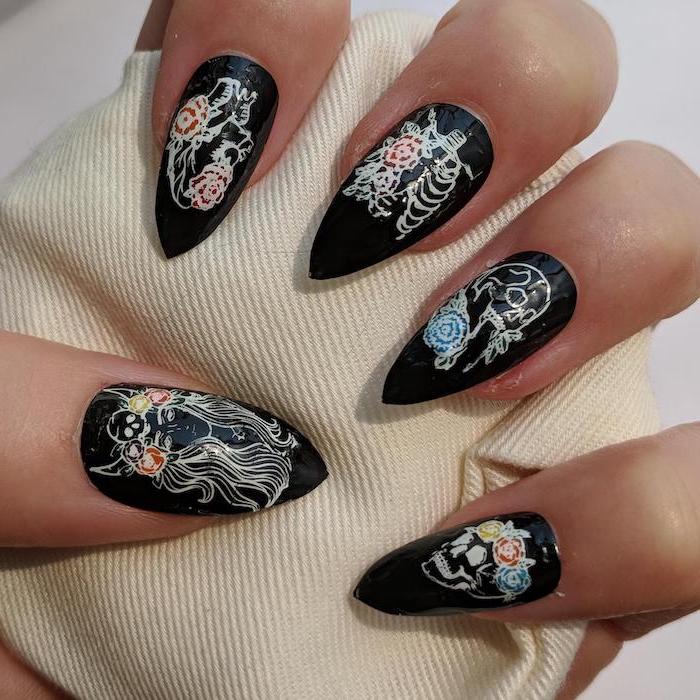 Orange is definitely the color of Halloween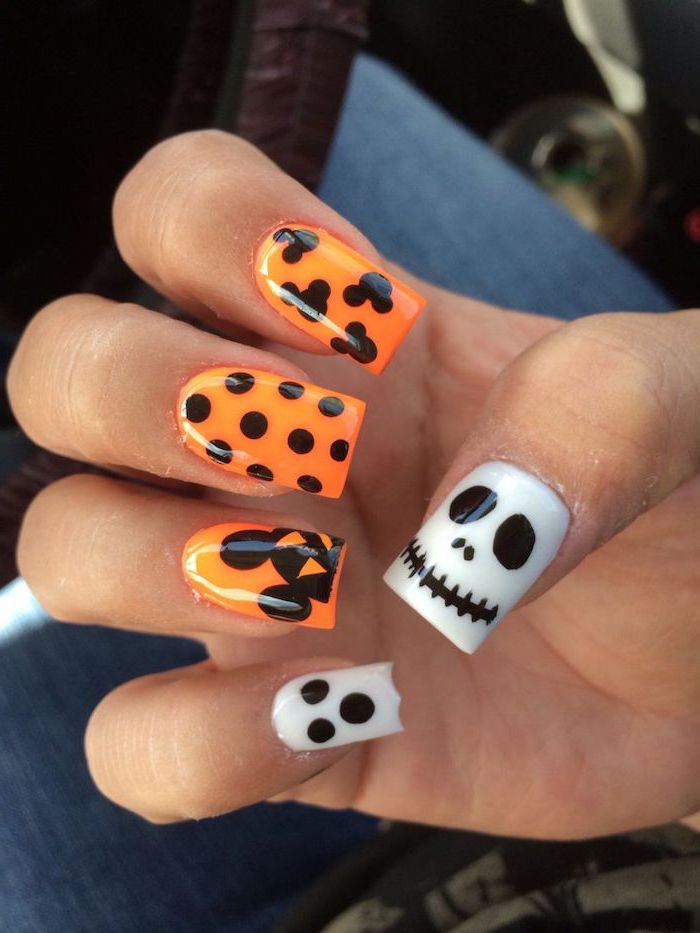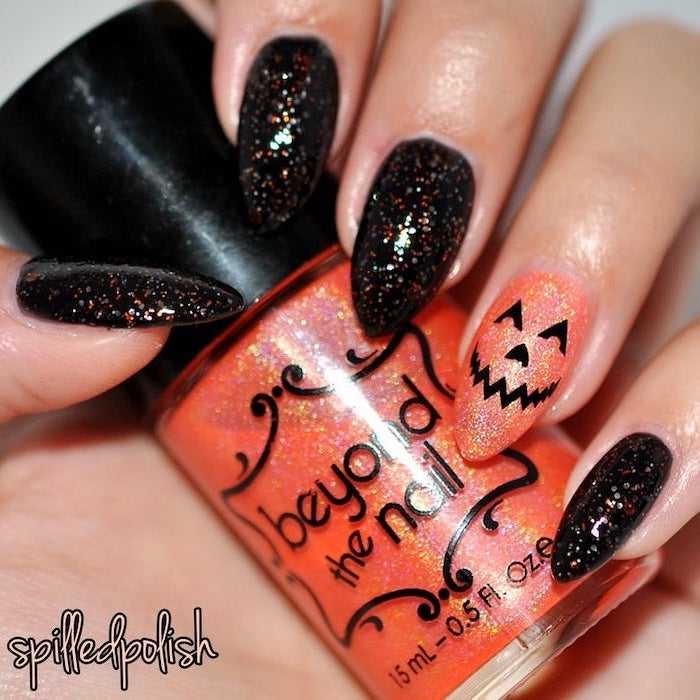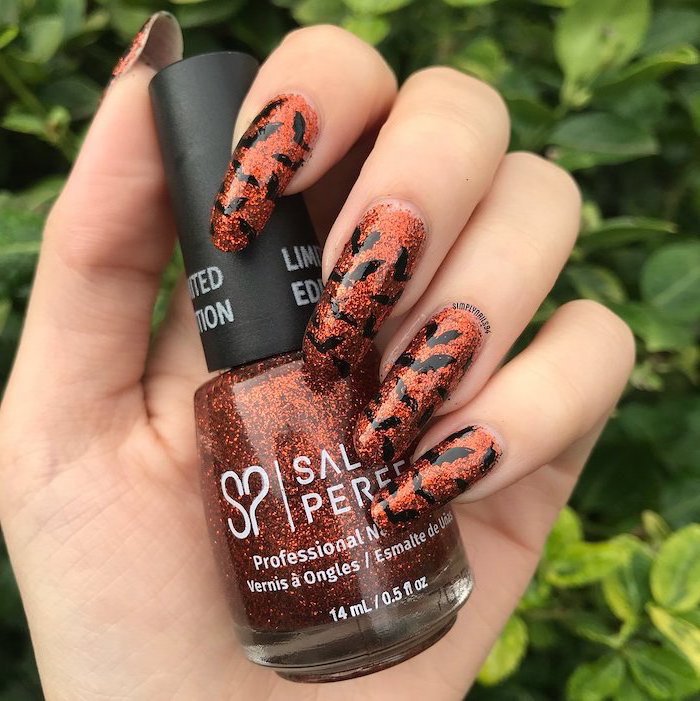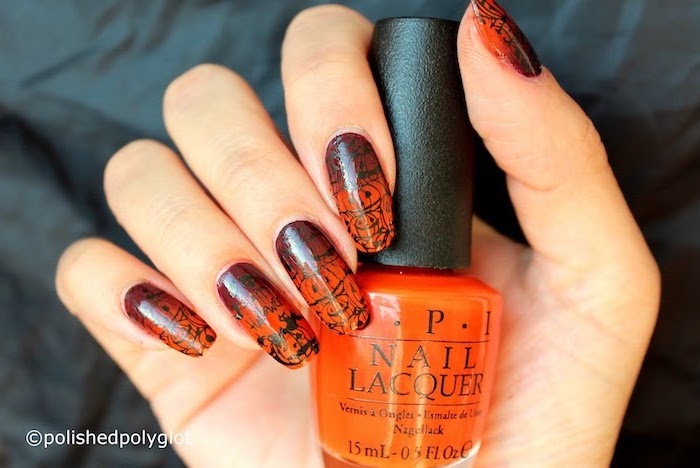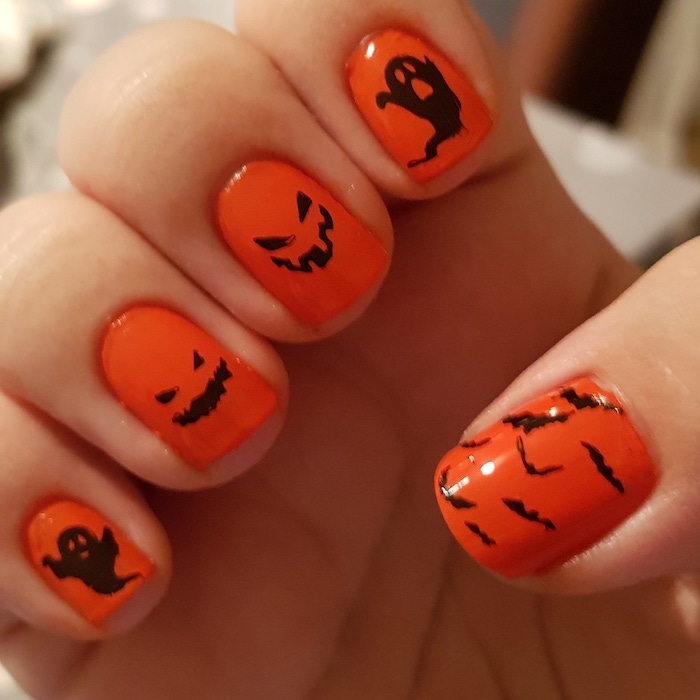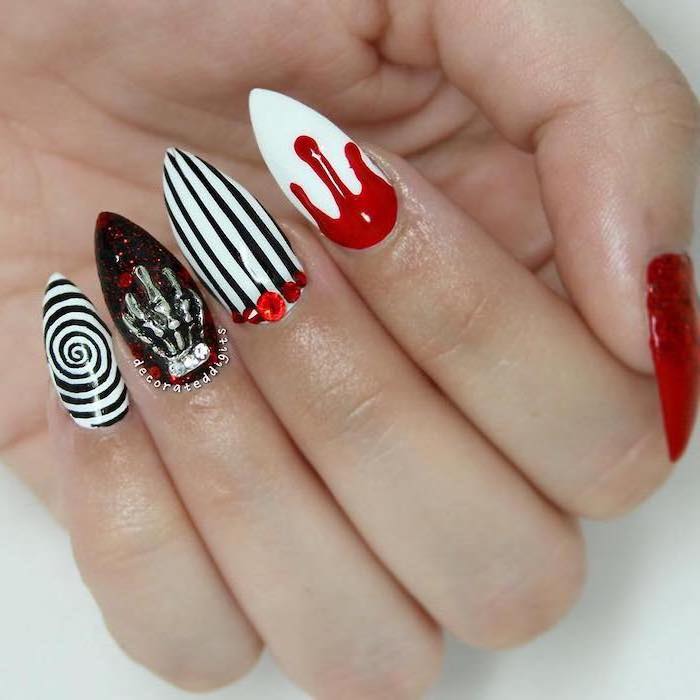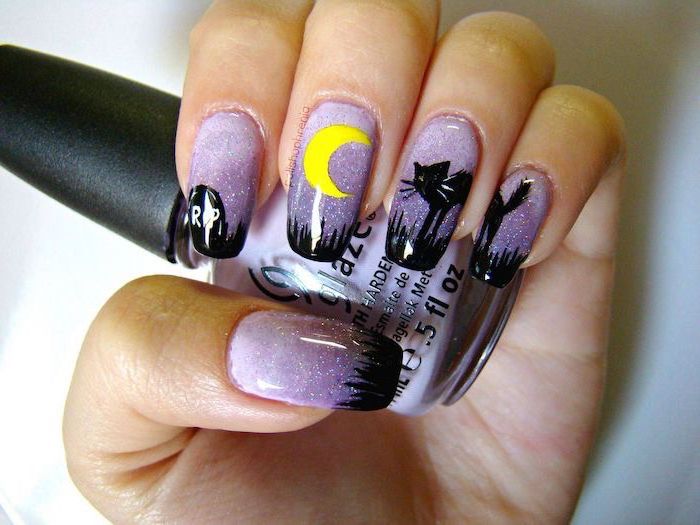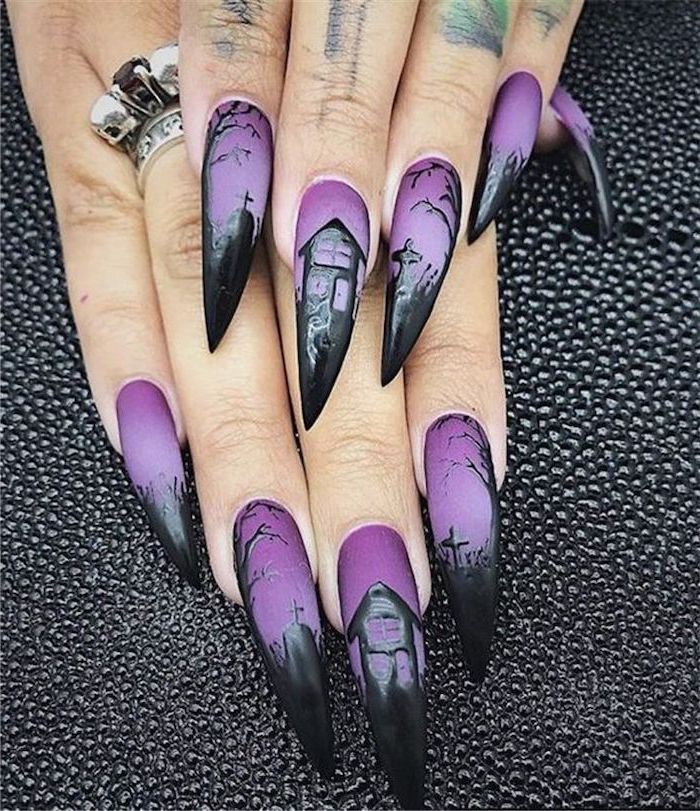 Nail design idea inspired by Scream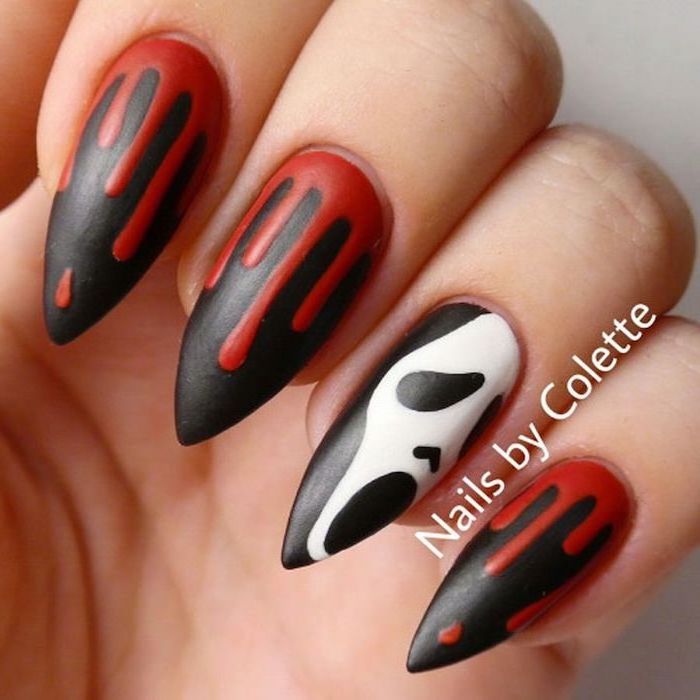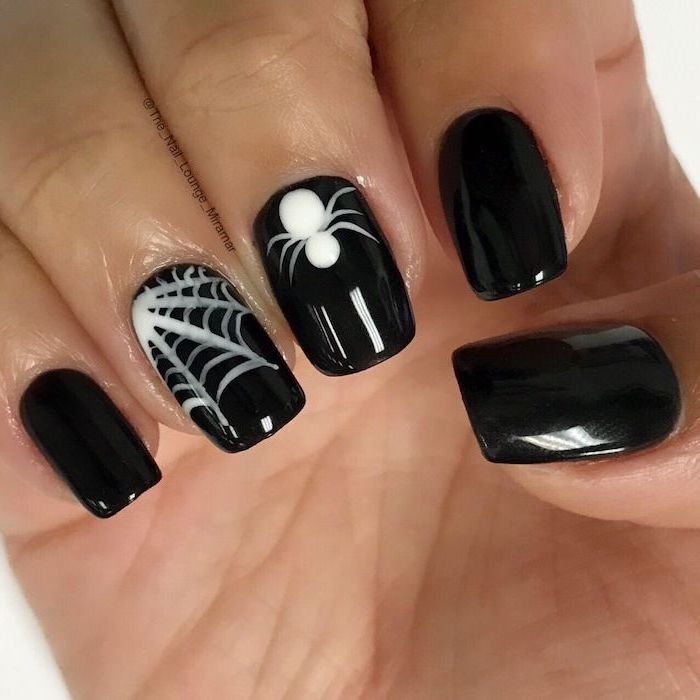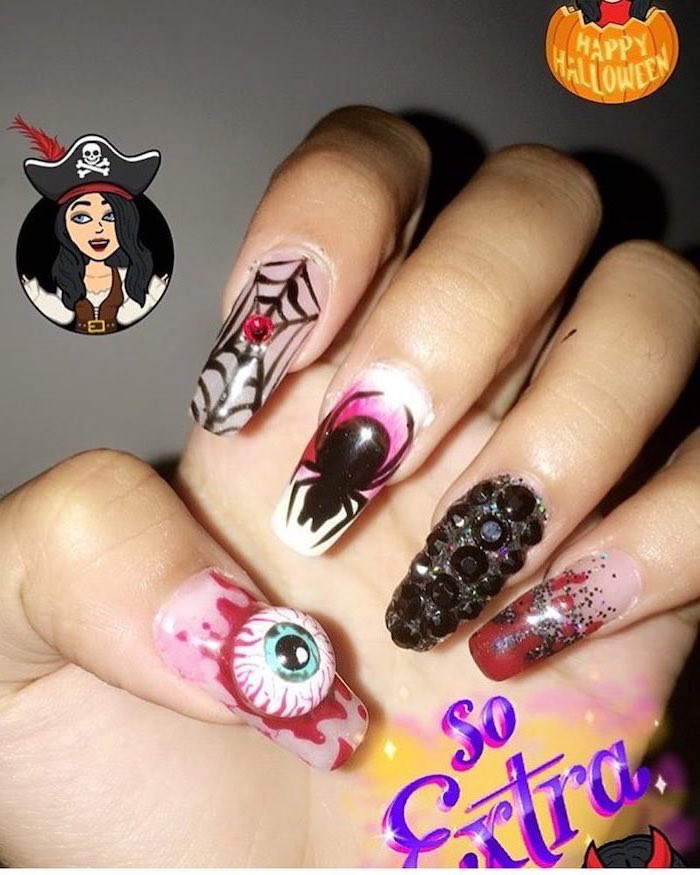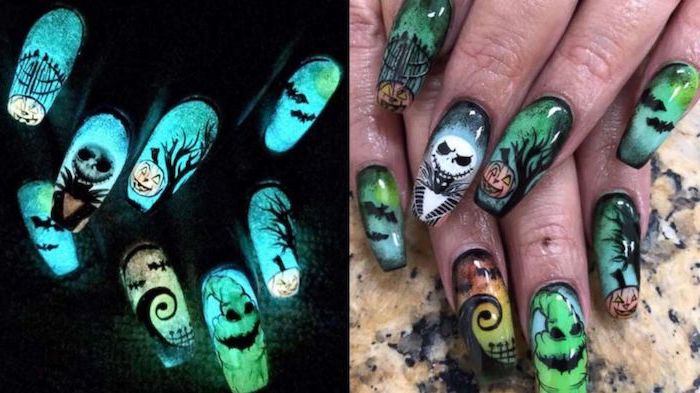 Orange ombre nails