10 Glamorous Halloween Looks From 1 Makeup Artist (2022 Trends)
Maria Konou
---
If you still haven't figured out your Halloween costume this year, we have a special treat for you. In this article, we have gathered the most glamorous and trendy makeup looks for the year 2022. In this list, you will find everything – from the Pamela Anderson beat to the gothic vamp glam! The best part is that all these Halloween looks are done by the same Instagram makeup artist! These unique makeup looks are somewhat easy to accomplish, and there is a lot of creative freedom involved. For the costumes, you will need things like some of your mom's old vintage pieces or that amazing corset you just bought. If you love glamorous looks and unique Halloween costumes, then these high-fashion Halloween looks are just the thing for you!
These 10 glamorous Halloween looks are done by 1 makeup artist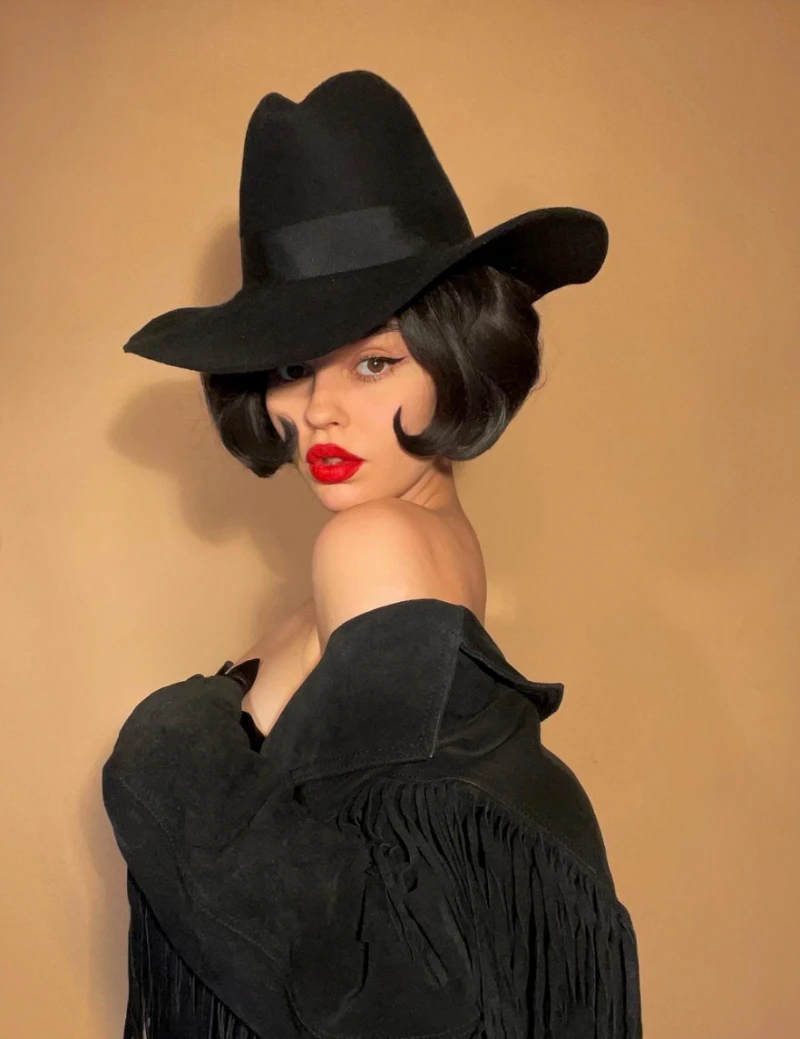 ---
#The Purple Alien
There is nothing easier and cooler than a glam makeup look with a crazy face paint color. With solid face paint, you can transform your favorite dark makeup look into an alien fantasy. So, how about a glamorous purple alien to kick things off? This look can be further enhanced with some purple shadow that can act as a contour and eyeshadow. This will make your purple alien look a lot more realistic. A vintage 50s hairstyle perfectly complements this futuristic yet vintage Halloween makeup look.
A glamorous makeup look and purple skin makes for a glamorous purple alien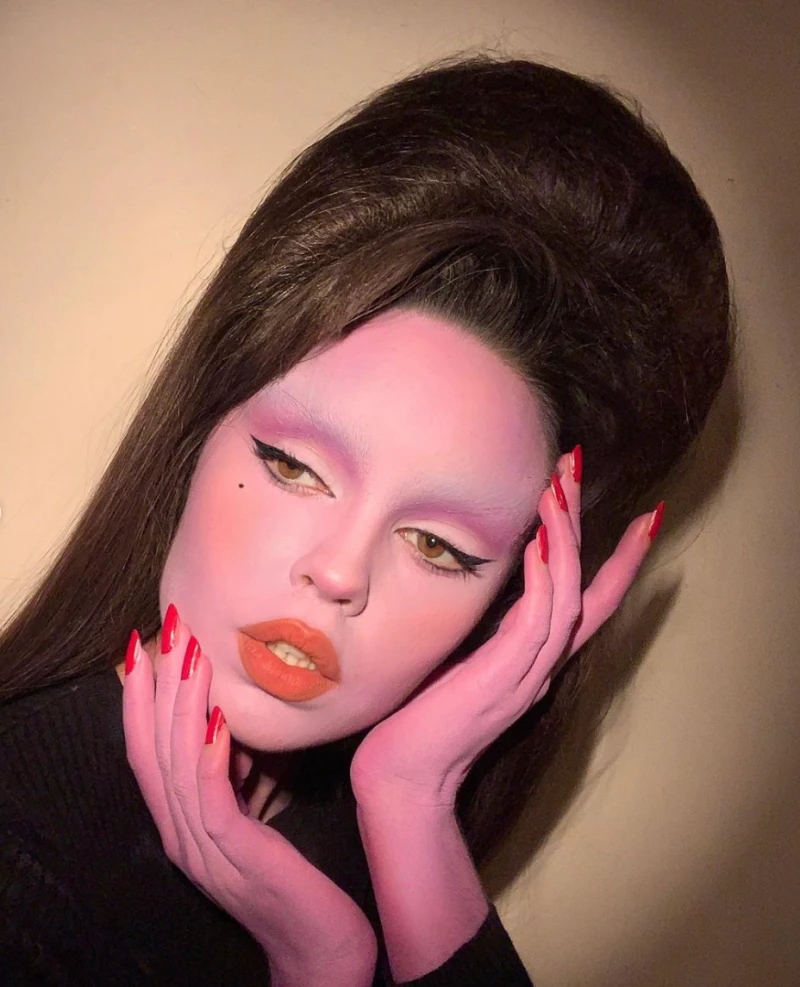 #The 1700s Lady of The Court (Marie Antoinette)
A last-minute Marie Antoinette is a surprisingly easy Halloween makeup look to pull off. You need a lighter shade of foundation, rosy cheeks, a beauty mark, a fluffy feather in the hair, and messy, voluminous hair. Voilà! You are now a 1700s lady of the court.
The Marie Antoinette beat is extremely easy to pull off as a last-minute Halloween look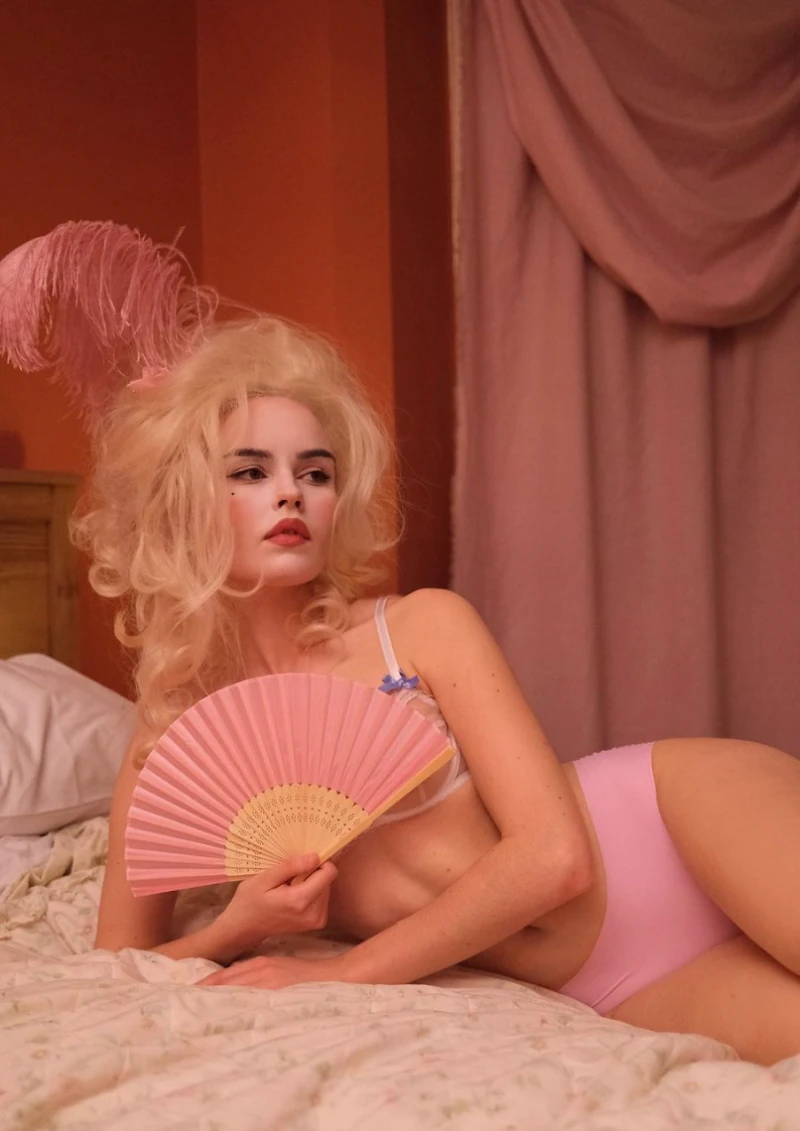 #The 90s Bombshell (Pamela Anderson)
Nothing says 2022 like a 90s Pamela Anderson makeup look. With the airing of Pam and Tommy, the Pamela Anderson bun became an overnight sensation on Instagram and TikTok. And, then followed her iconic makeup look – skinny brows, lips lined with dark brown eyeliner, and sultry eyes. All you need to finish off this look is your best little black dress and a boss attitude.
#The Flight Attendant
Flight attendants are always on trend, especially ones with glamorous makeup. To make this look even more high-fashion, opt for the bleached brows look, followed with a bold blue eyeshadow. Then finish things off with a classic red lip, that will contrast the blue eyes like no other. Be creative and experiment to find the makeup look that fits your features most.
This bombshell flight attendant look makes a bold statement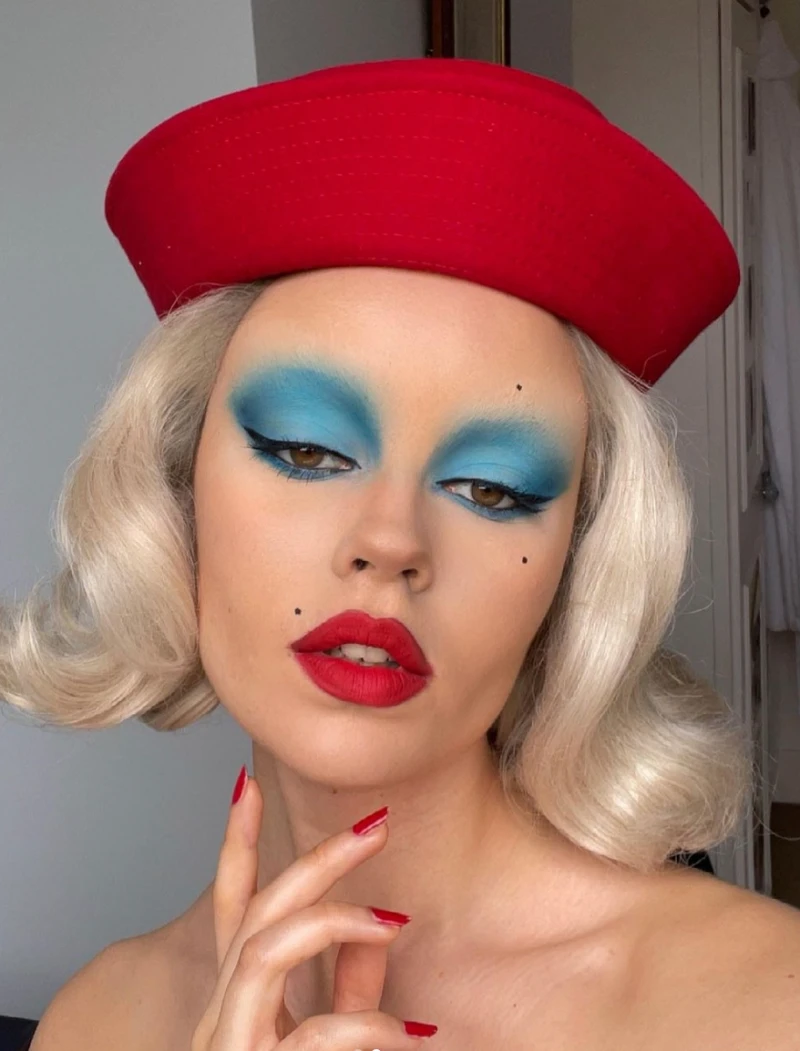 ---
#The Angelic Painting
If you love a classic angel costume for Halloween, you will absolutely love this variation. This painting-like angelic look, requires some pastels, a light base, and beautiful hair. Then for the final touch, make some fake "candle wax" tears with a hot glue gun. Just make the desired shape on a piece of paper, wait for it to dry, and then place it below your eyes with the help of some eyelash glue.
#That 70s Cool Girl
Nothing is as easy as a last-minute Halloween costume than a 70s hippie. Just throw on some brown leather, a fringed statement jacket, and some groovy sunglasses. When it comes to hippies and flower children, you need to keep the makeup natural, but go crazy with the groovy hair and outfit.
#The Vamp Glam
Traditionally, Halloween is all about the dark, the mysterious, and the gothic. If you are not afraid of a little eyeliner and a sultry dark lip, then this look is perfect for you! Then all you need to do is to find the blackest clothing items in your closet, and make them into a glamorous vampy outfit.
The black and red vampy lip screams Halloween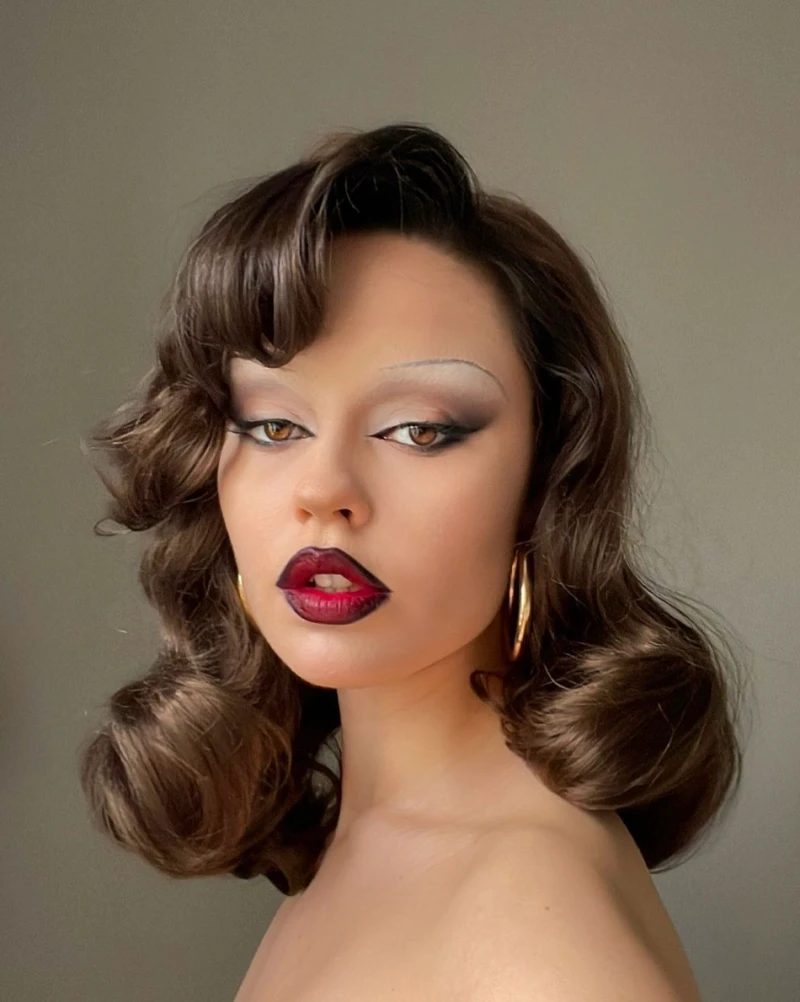 #The Cowgirl
You probably didn't know this, but a vintage fluffy hairdo, a cowboy hat, and some boots can go a loong way this Halloween. The cowgirl look is a sultry take on America's love for westerns. Just use some hot rollers or a hot air brush to fluff up the hair, apply some red lipstick, and rock your favorite leather look. This glam cowgirl Halloween look might be your new favorite thing.
This glamorous vintage cowgirl look is ready to rock Halloween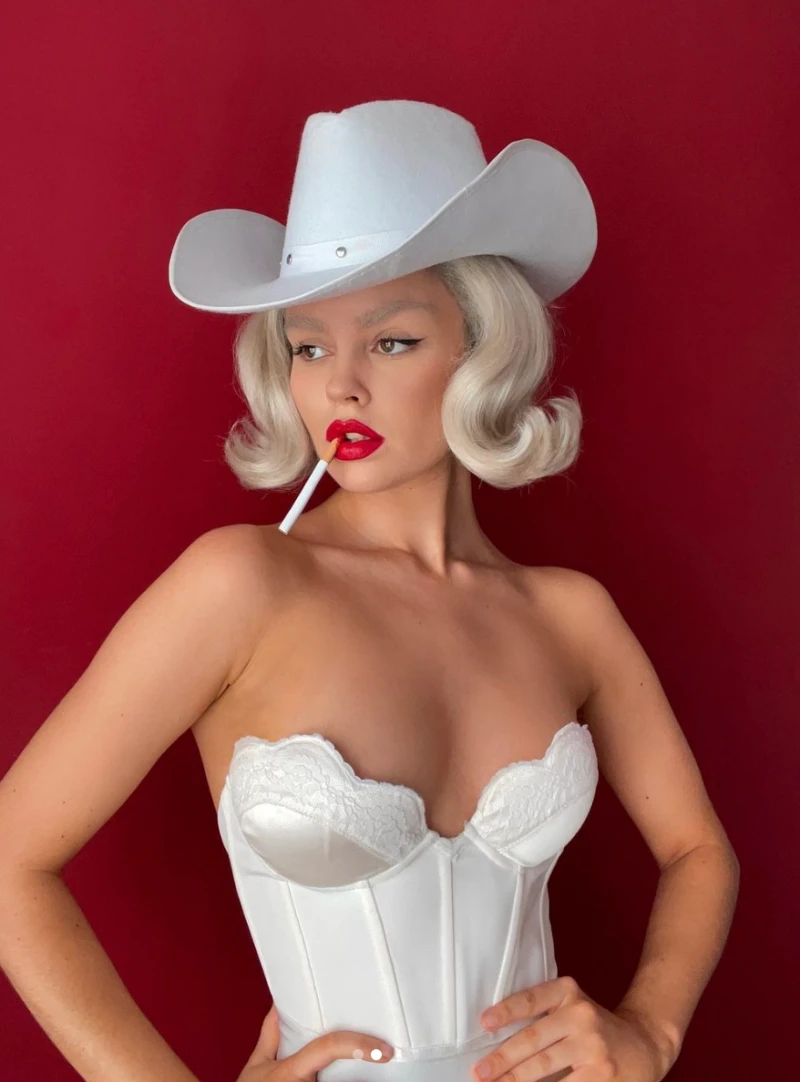 View this post on Instagram
#The Kill Bill Beat
Ah, the Kill Bill Beat is here to add some cinematic drama. If you love good films and cosplaying, then this is the look for you. This Daryl Hannah Halloween look needs nothing more than a suit and an eye patch. The perfect costume for cinema lovers.
#The Glamorous Housewife
The glamorous housewife Halloween look is a chance for you to use a lot of hot rollers, wear a nightgown, and carry a drink all night long. All you need to do is to choose a decade. Are you going for the classic 50s housewife, or maybe a desperate and bored suburban one, or you could go for a recently widowed glamorous housewife stuck in her mansion? The sky is the limit with this look, so make the best of it!
All you need for this Halloween look are some big roller curls, a nightgown, and a drink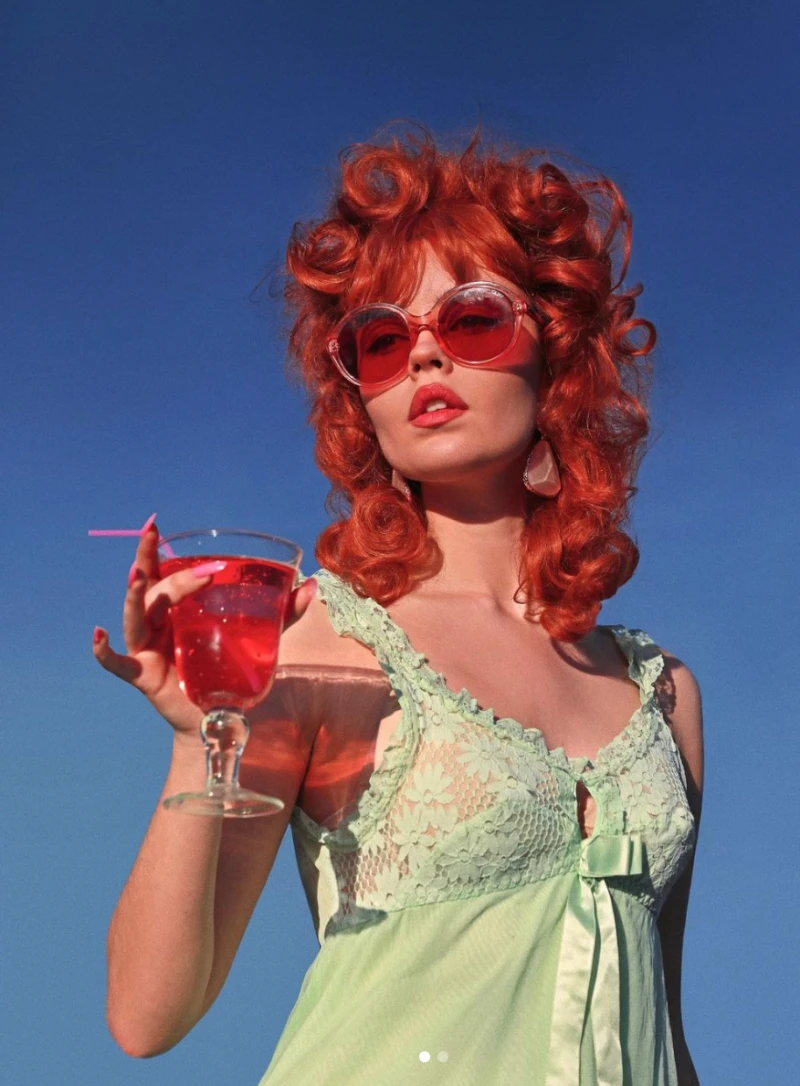 Related Content
Sources 
All Images by @beautyspock