Beautiful Easter table decorations – photos + easy and simple DIYs
Easter is just around the corner – the holiday, celebrating the resurrection of Jesus Christ. Nowadays, there are many interesting traditions surrounding this holiday. The most famous custom probably being dyeing eggs. People seem to get very excited about Easter. What's more, they have come up with many beautiful ways to decorate their homes for this amazing holiday. So, today, we have gathered the most beautiful Easter table decorations, as well as some DIYs, which are pretty simple and easy. We are focusing specifically on Easter table decorations today, but keep an eye out for our post on how to dye eggs, which is coming soon.
The good news is that you can get very creative when decorating for this lovely holiday. The more colour you incorporate into your decorations, the better. It is a spring holiday, so you can use all of the glamorous and fresh colours that the spring season brings along.
So, what are the most common easter decorating ideas?
Bunnies – whether ceramic or chocolate, bunnies seem to have become a staple of the Easter holiday.
Flowers – Easter is in spring, after all, so flower bouquets and beautiful flower arrangements, serving as a centerpiece, are an absolute must.
Dyed eggs – bowls full of eggs, or eggs scattered across the table are a pretty fun way to decorate your table.
Colourful napkins and table runners – spring colours are preferred and bring a lot of style to your Easter table.
Easter table decorations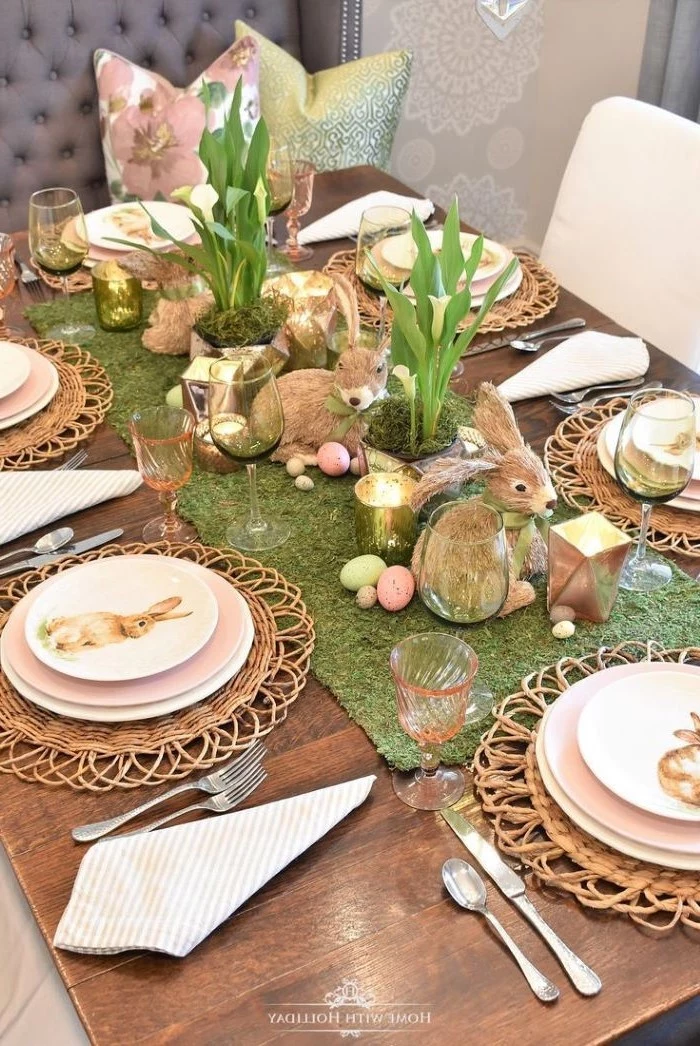 I know we promised you some DIYs, so here they go. Napkin folding is an art in its own right. People create so many beautiful shapes and figures with napkins, so we are going to show you some pretty amazing napkin folding ideas you can make yourself. So, what are you going to need for the first one?
Cotton or linen napkins
Black strand
An egg (smiley face drawn on it is optional)
Fold the napkin the way it is shown on the pictures. Put the egg in the middle and tie it with the strand. You get a napkin in the shape of a bunny.
Easy DIY napkin folding tutorial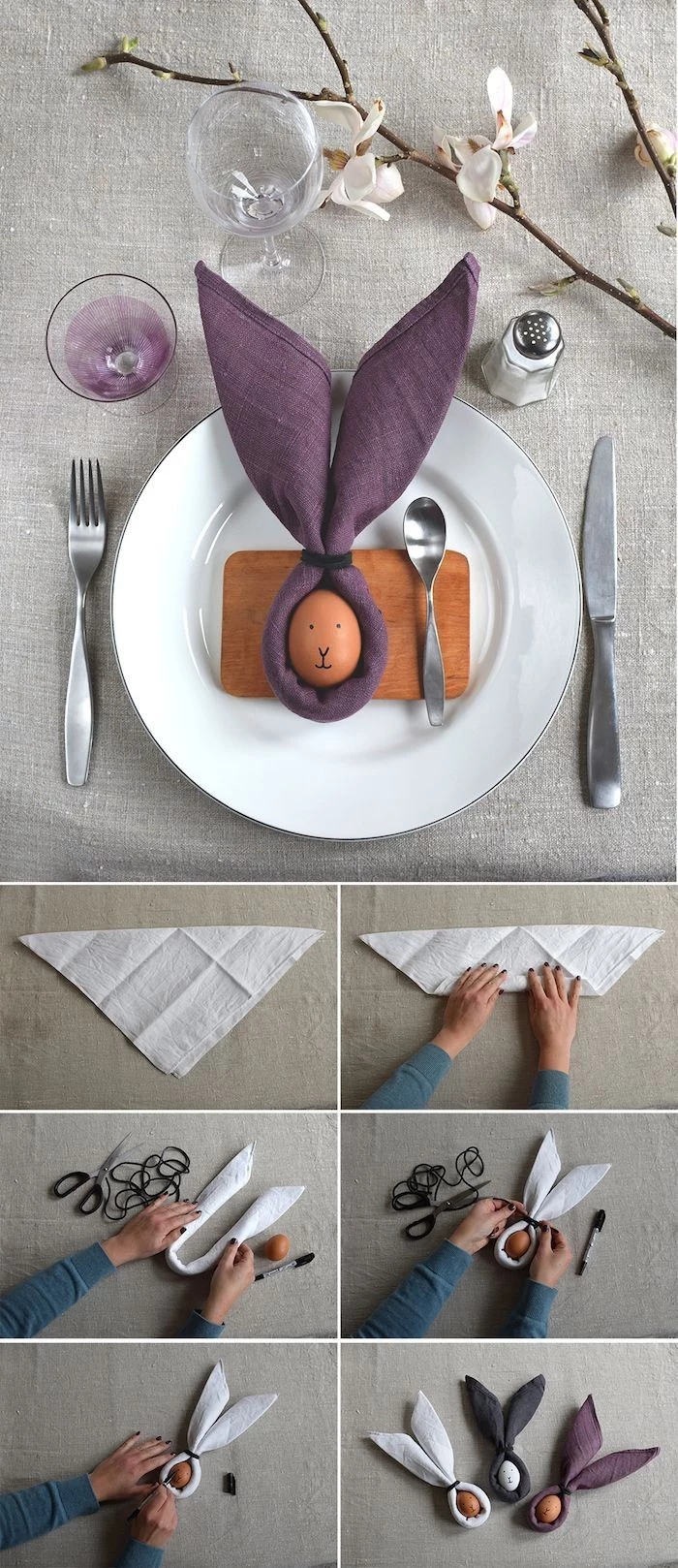 For this next one all you need is a napkin. While the folding might be a more intricate, but, trust me, it is worth it. The result is amazing.
Bunny ears napkin folding  – DIY Easter decorations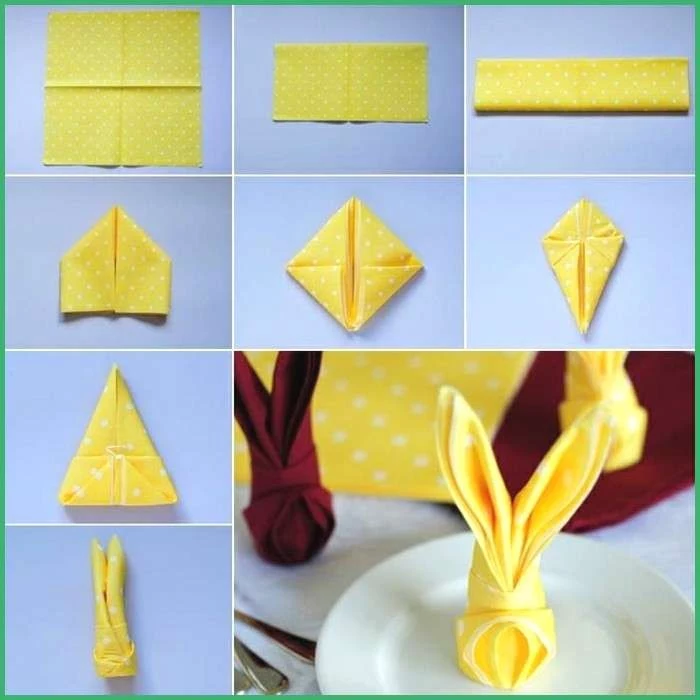 For the third napkin folding DIY you are going to need the following:
Napkin
A clothespin
A strand
Fold the napkin the way it is shown on the pictures. Use the peg to keep it together, while you tie the strand around it. There you have it, another interesting bunny napkin.
How to fold a bunny napkin

Easy Easter table centerpieces
Now, the next DIY we are going to show you is a bit more time consuming. The result, however is amazing and super interesting. What are you going to need?
Large cabbage
A bouquet of tulips
Wet foam
Scissors
Knife
Start by cutting out a hole inside the cabbage. Next, cut the wet foam, so it fits inside the cabbage. Cut the stems of the tulips in half and insert them into the foam. You can arrange them in any way you like. So, you have a beautiful centerpiece for your table.
Easy DIY tutorial for an interesting centerpiece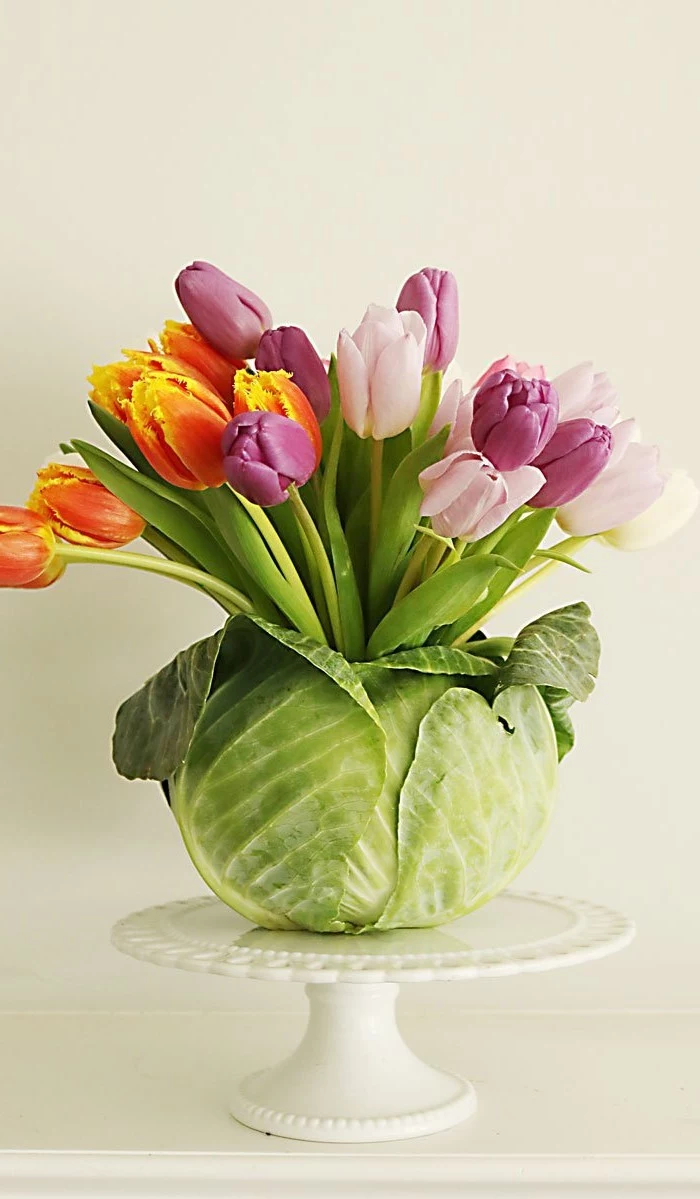 Cut out a hole in the center of the cabbage and insert a piece of wet foam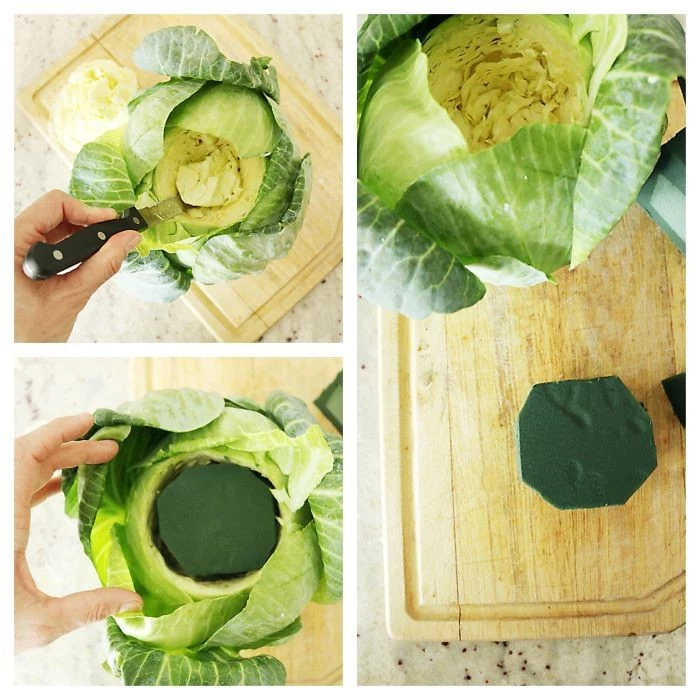 Cut the stems of the tulips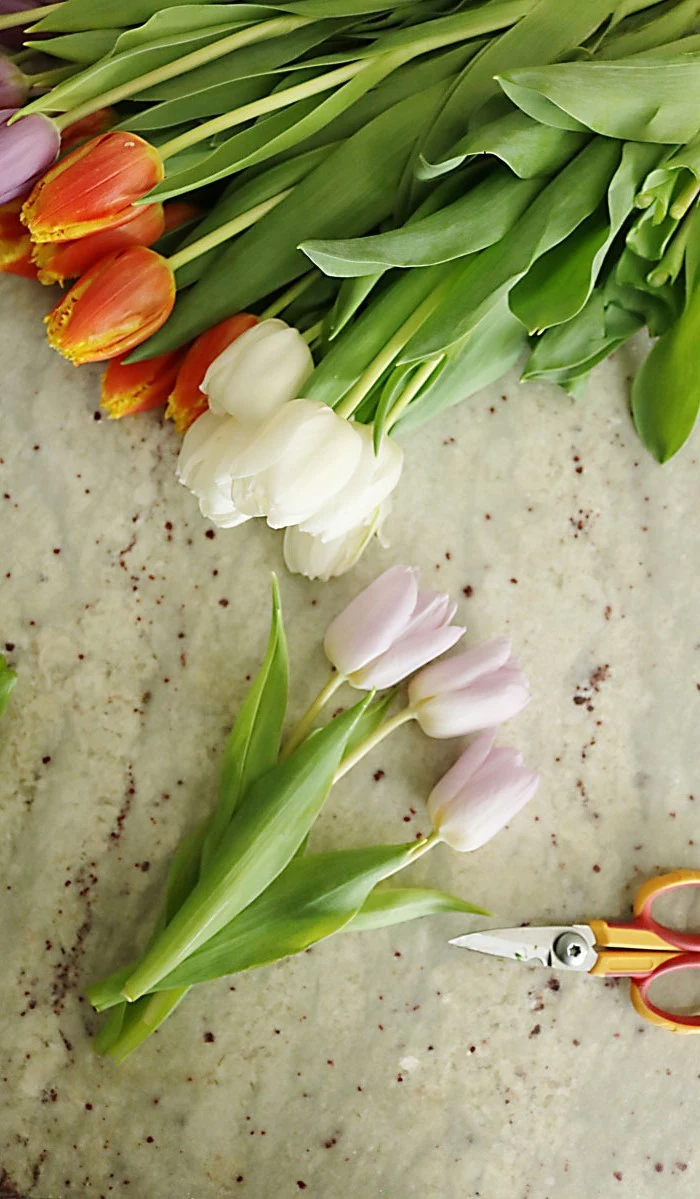 Insert the tulips into the foam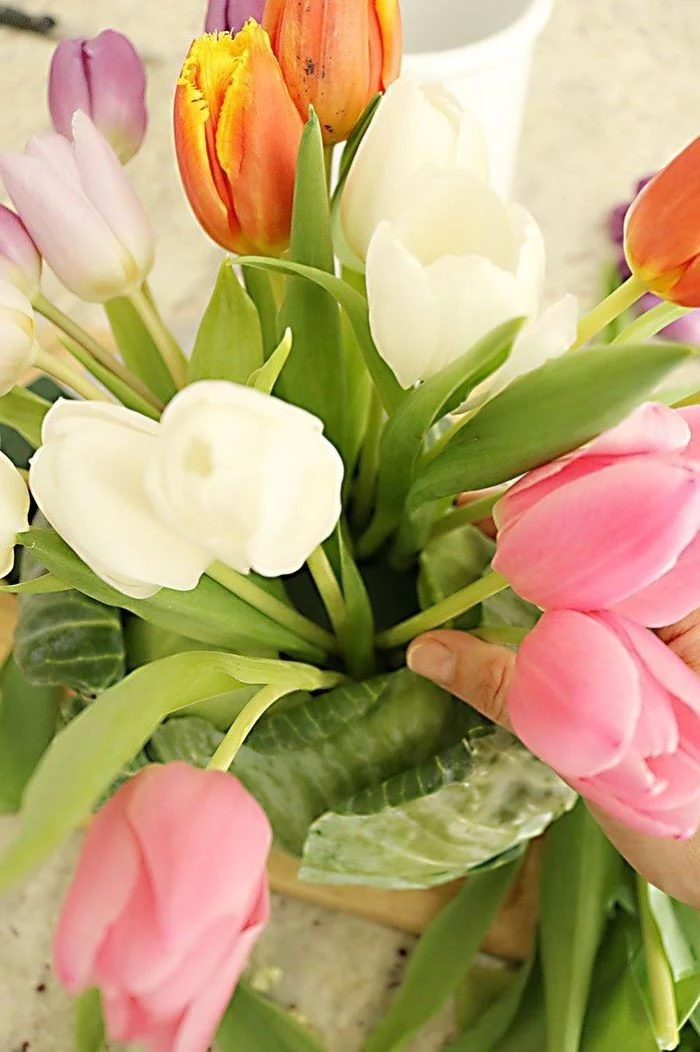 Beautiful tulip flower arrangement
Candles bring a lot of coziness to any table. So, for our next DIY, we are focusing on them. What are you going to need?
Empty egg shells
Wax
Dye
Wick
Egg carton
Get some empty egg shells and fill them with wax, mixed with some dye (you can use any color you want). Insert the wicks. Wait until the wax is solid and peel off the egg shells.
Easy DIY egg candles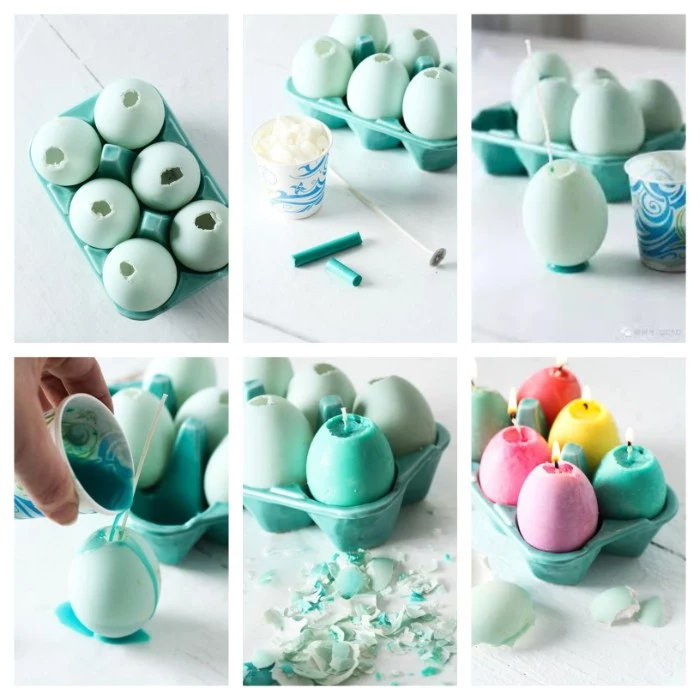 There are many different ways to arrange flowers. Now, we are going to show a very simple, yet beautiful flower arrangement. What are you going to need?
Two vases – they could be round or square, as long as one is small than the other and fits in it.
A bouquets of flowers
Paper straws or candy canes
A bow
Insert the smaller vase into the bigger one. Make sure you have enough space between them. Arrange the paper straws or candy canes in the small space between the vases. Put the flowers in the smaller vase. Finally, decorate with a bow.
Another interesting flower arrangement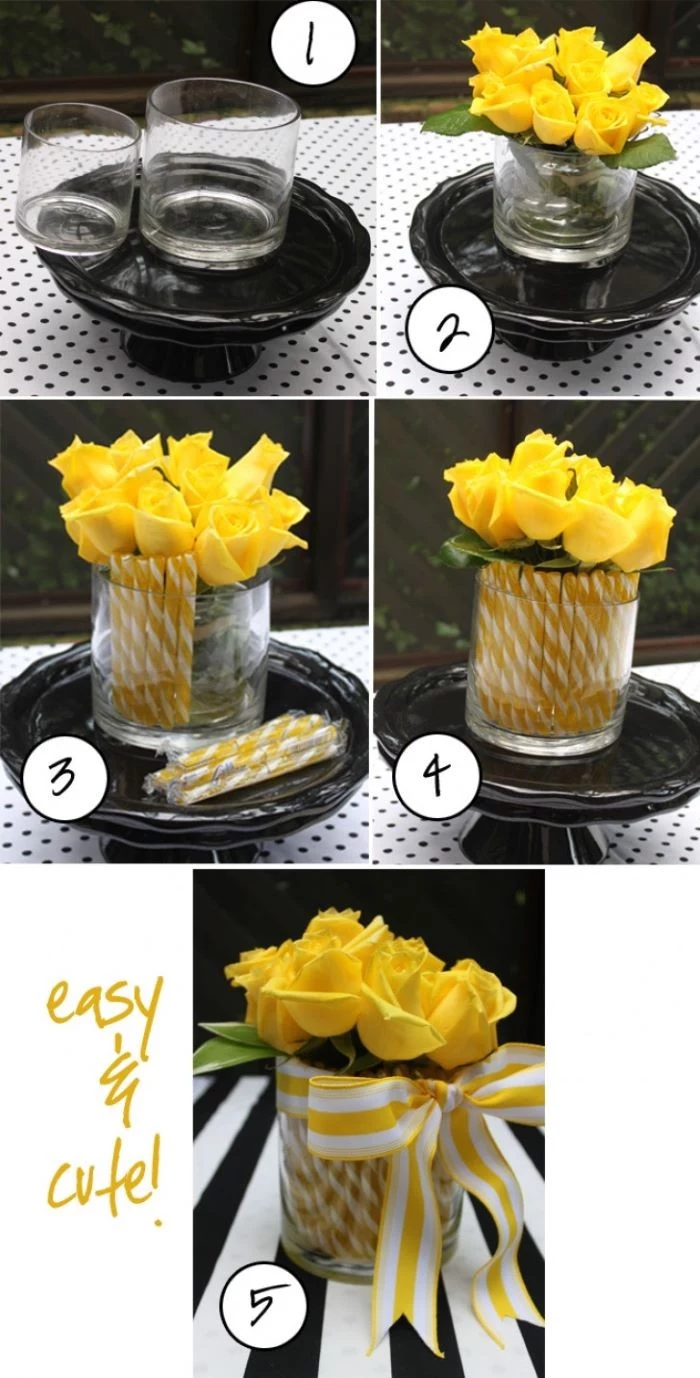 Easy DIY Easter table decor
Beautiful egg name tags DIY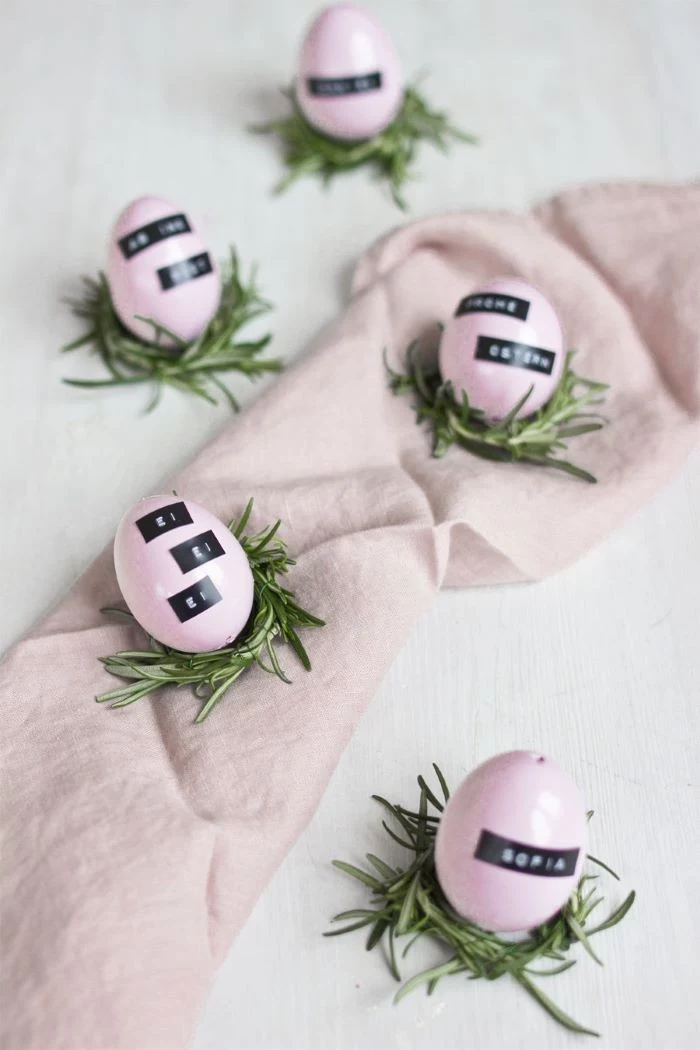 Your tools:
Empty egg shells
Rosemary branches
Wooden skewers
Label maker
Pink spray paint
Green string
The tools you need for this easy DIY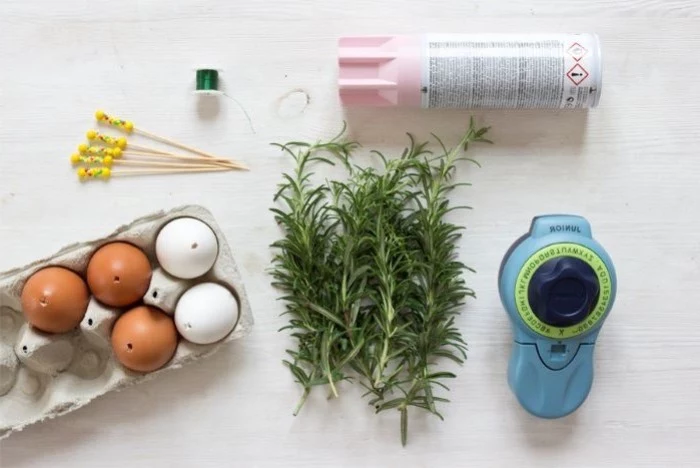 Paint your egg shells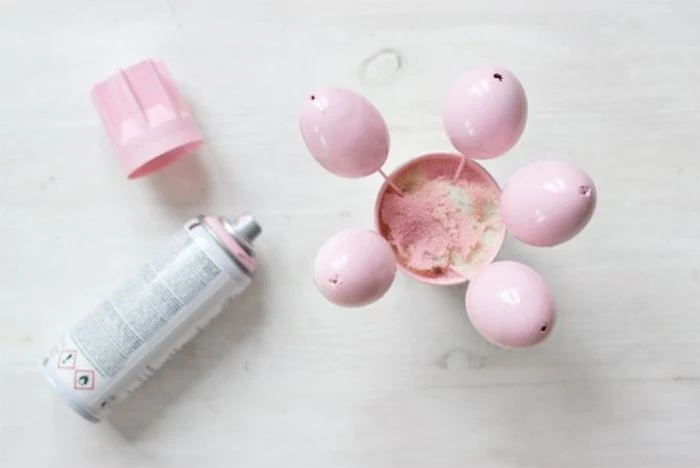 Use the label maker to print the name tags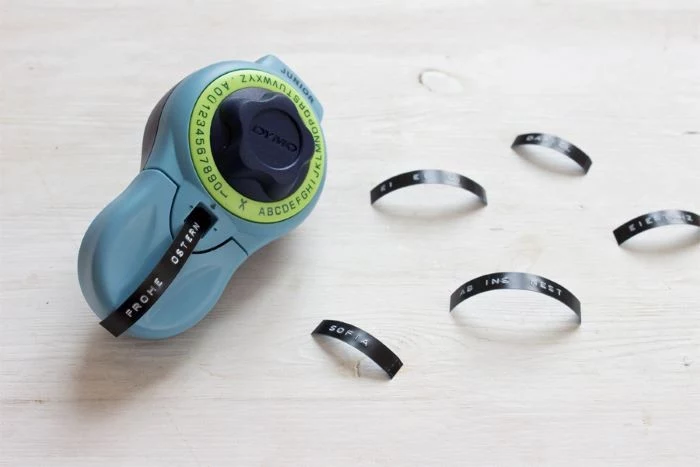 Use the string to create rosemary wreaths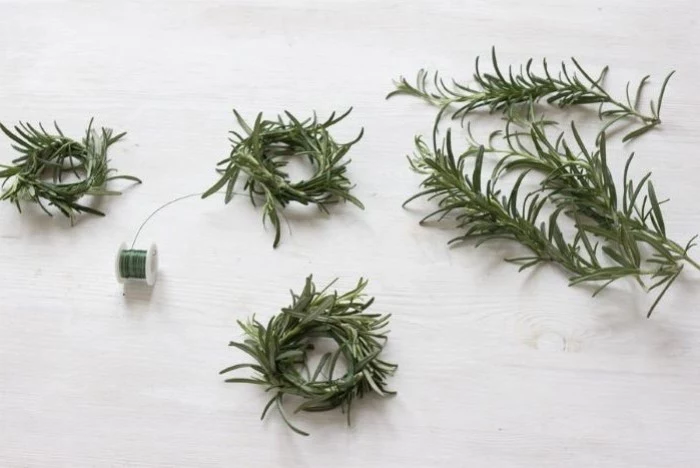 Here are the beautiful results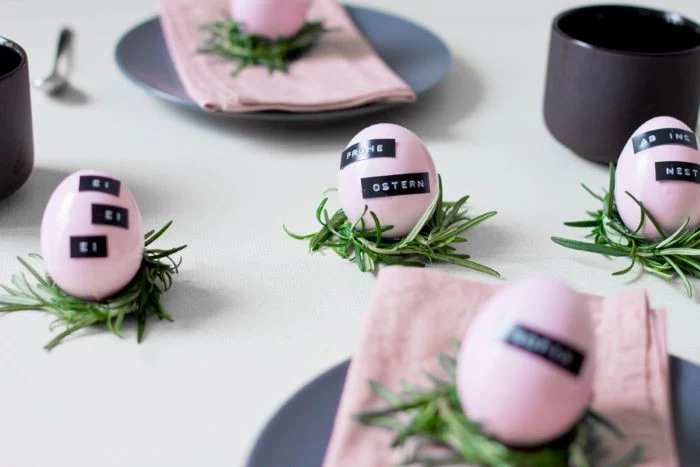 The next DIY is amazing, because it is very easy to make. What's more, it brings lots of freshness to your easter table decorations. You are going to need the following:
Large basket
Small pots of flowers
Easter moss
Dyed eggs
Foam
Ceramic or chocolate bunny figurines
Start by arranging the pots inside the basket. Fill the empty spaces with foam and put the moss on top of it and around the pots. Decorate further with the eggs and bunnies.
Fresh flower basket DIY

Easter table decorations ideas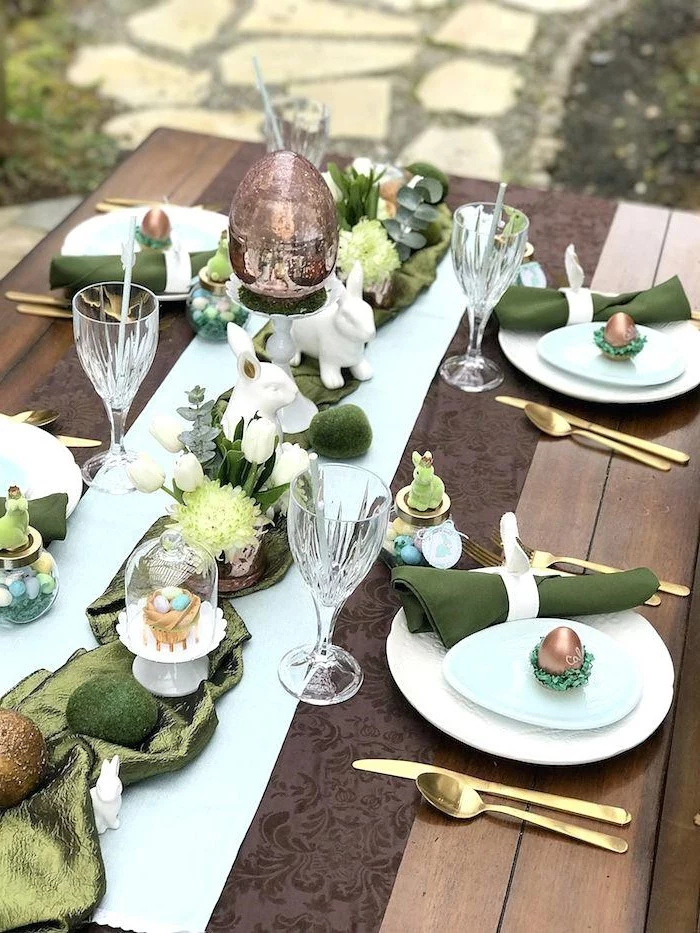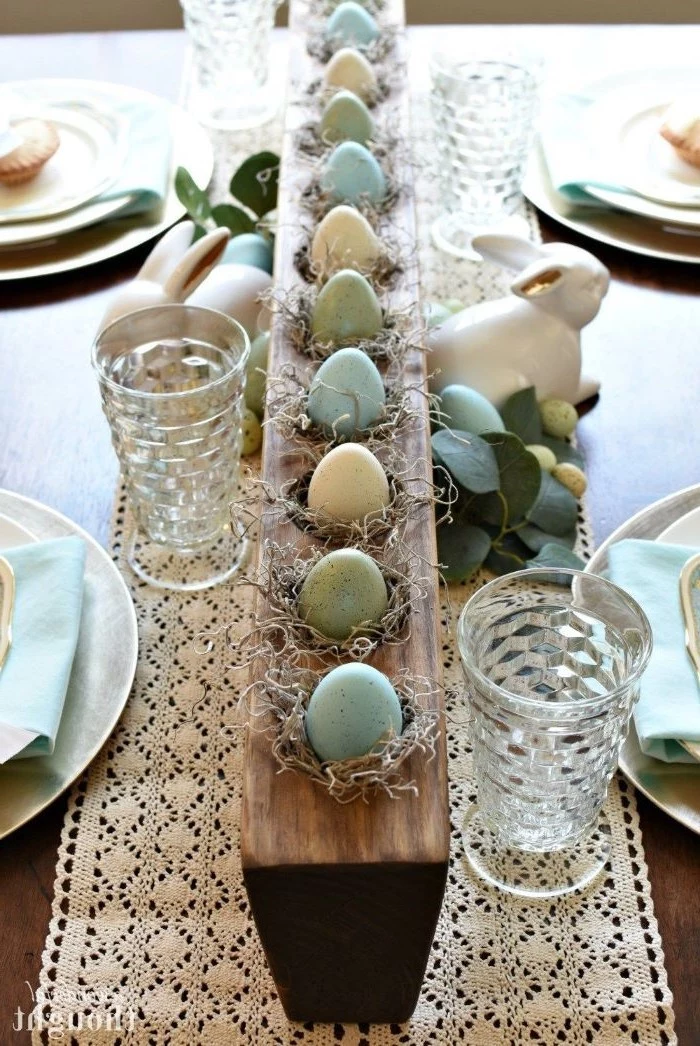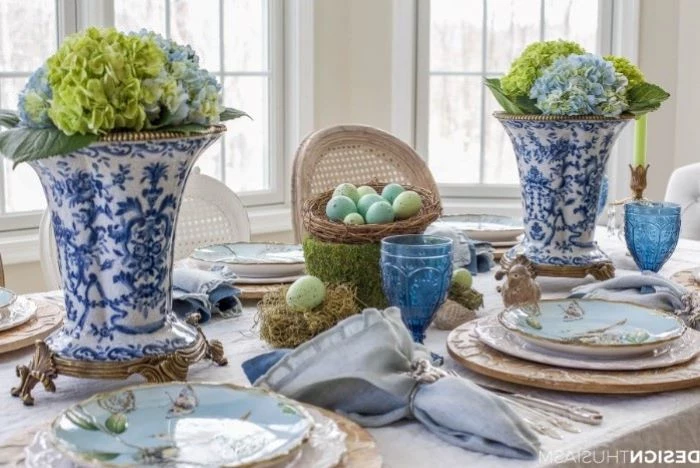 A fresh bouquet of daisies is sure to get you into the spirit of Easter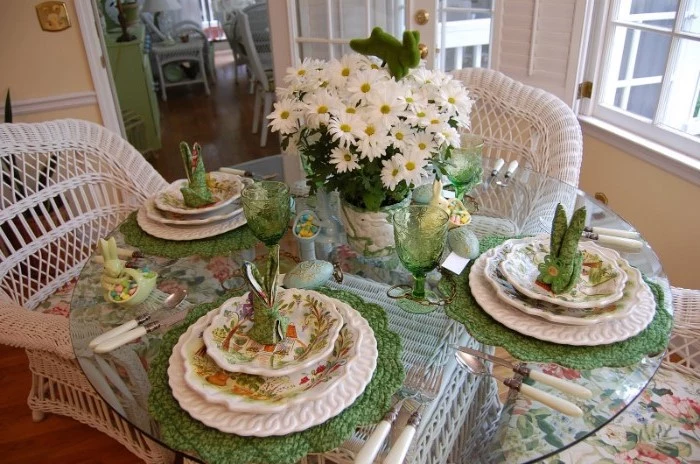 Beautiful Easter decorating ideas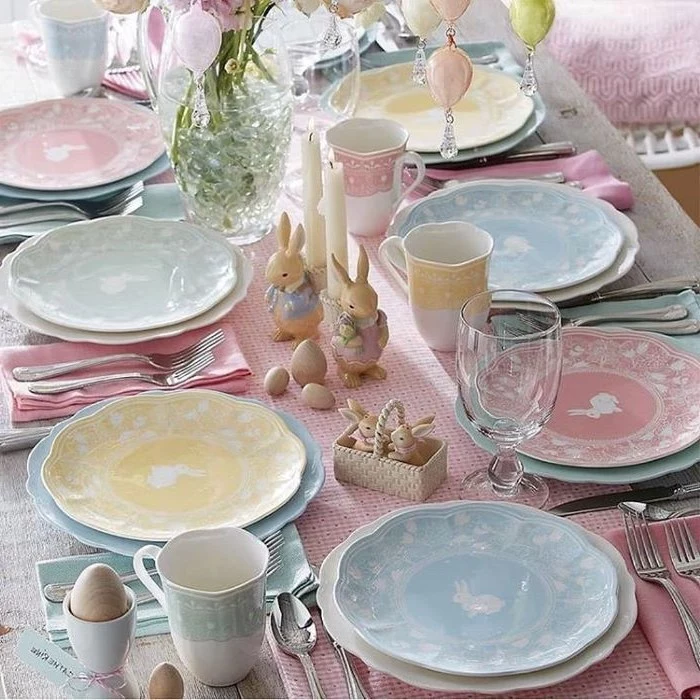 You can never go overboard with flowers – the more, the better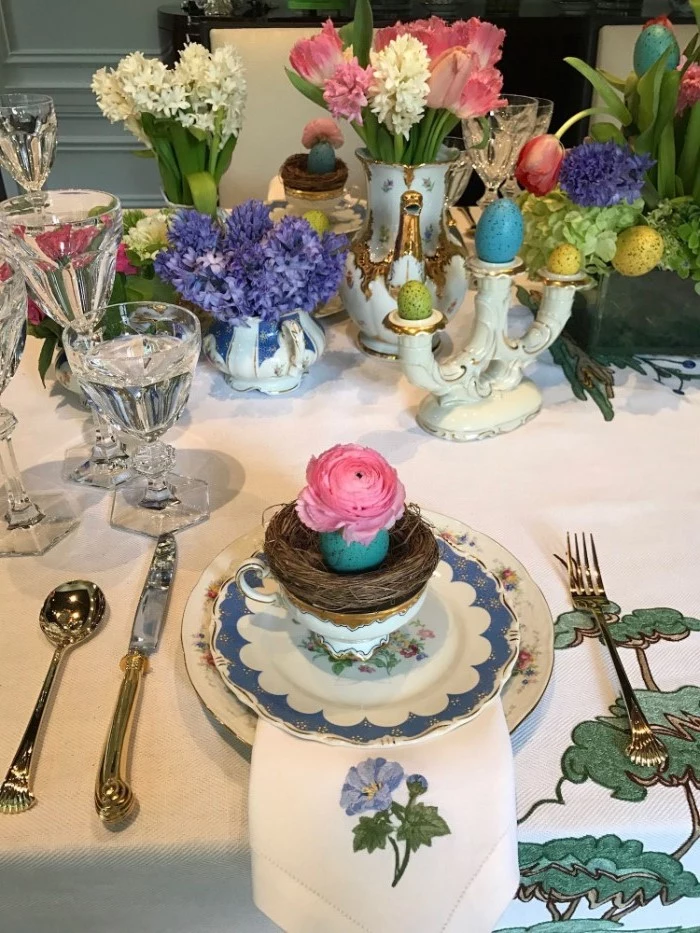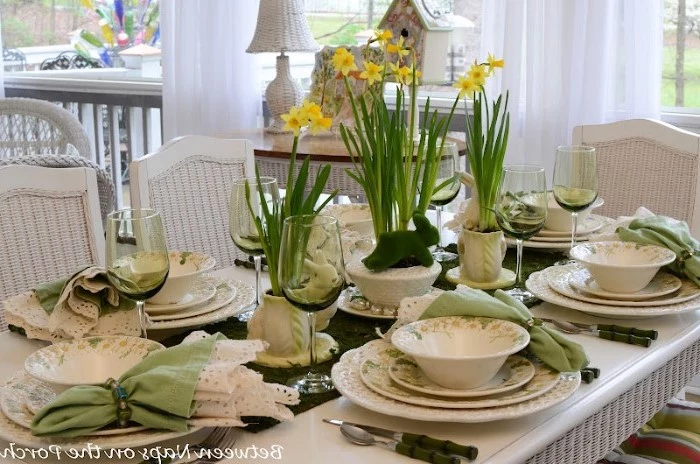 Elegant and minimalist Easter table decorations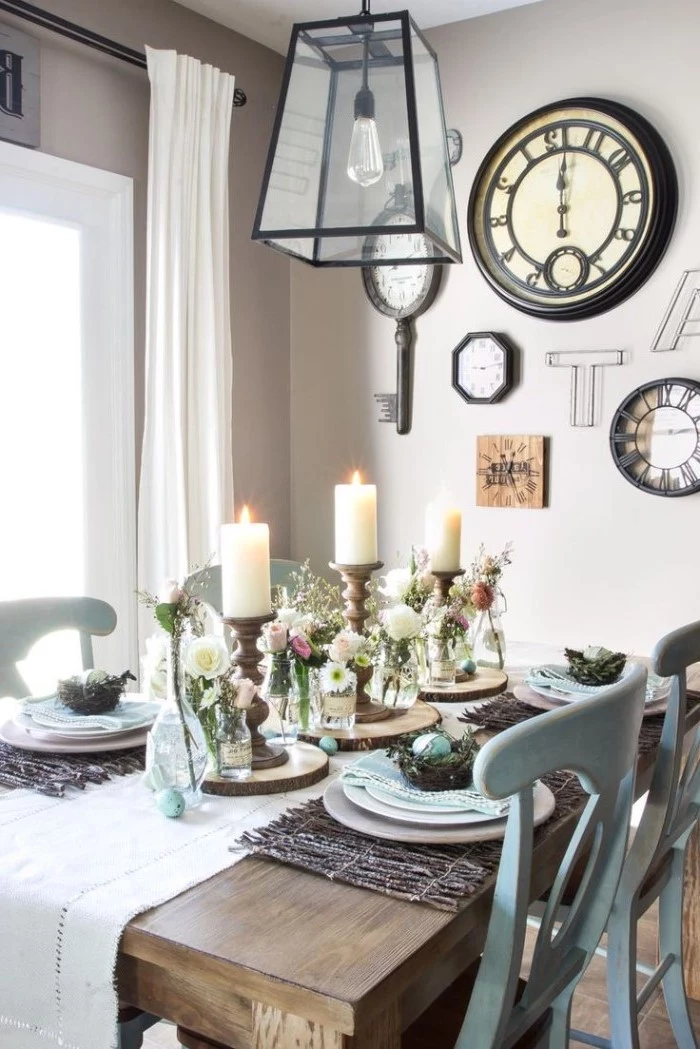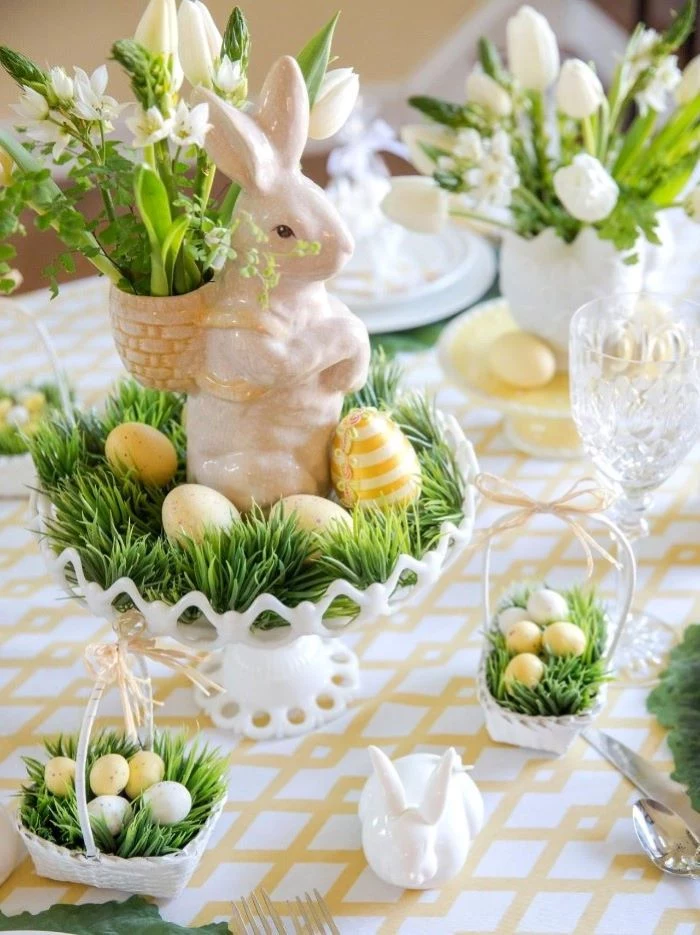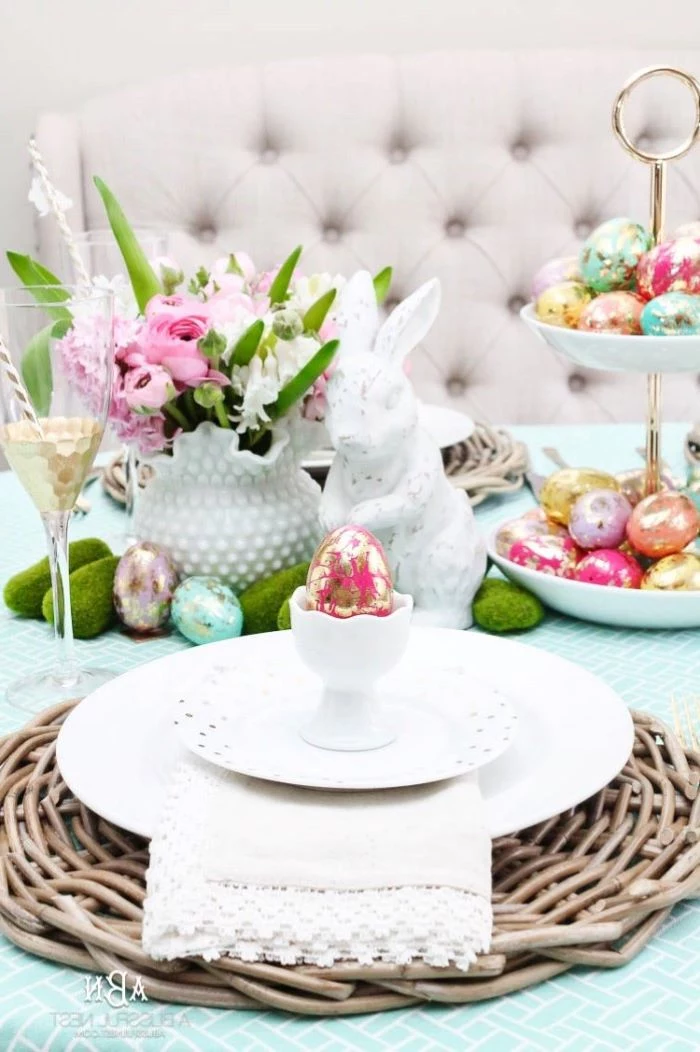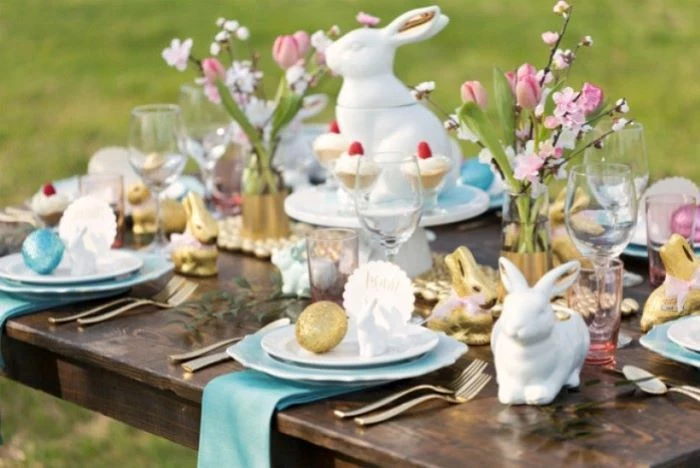 Floral centerpieces are a beautiful and elegant addition to any table setting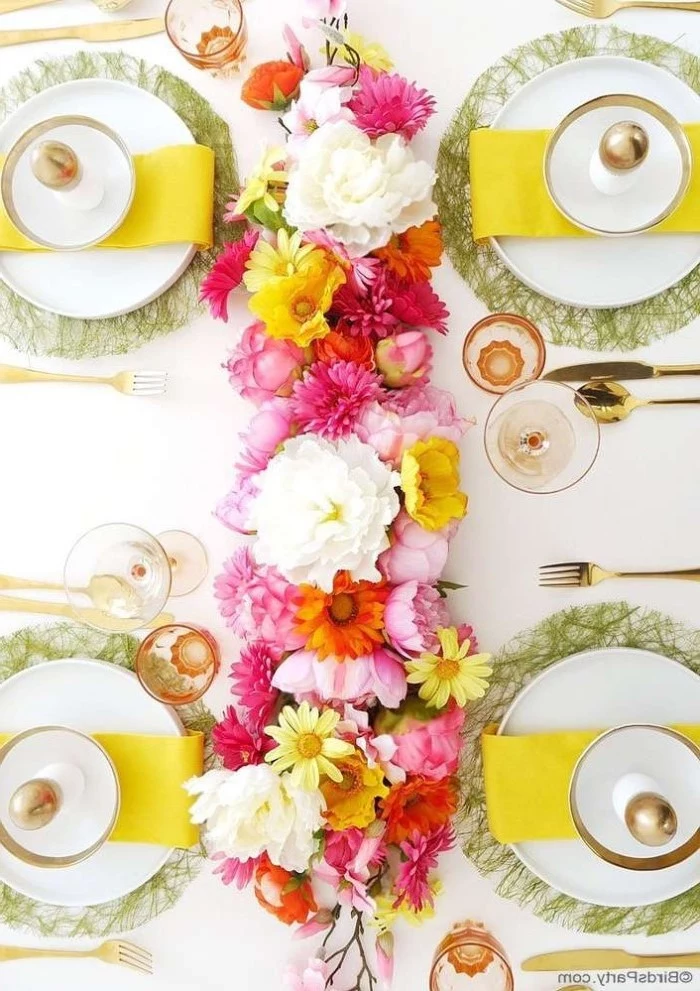 Rustic style Easter decorations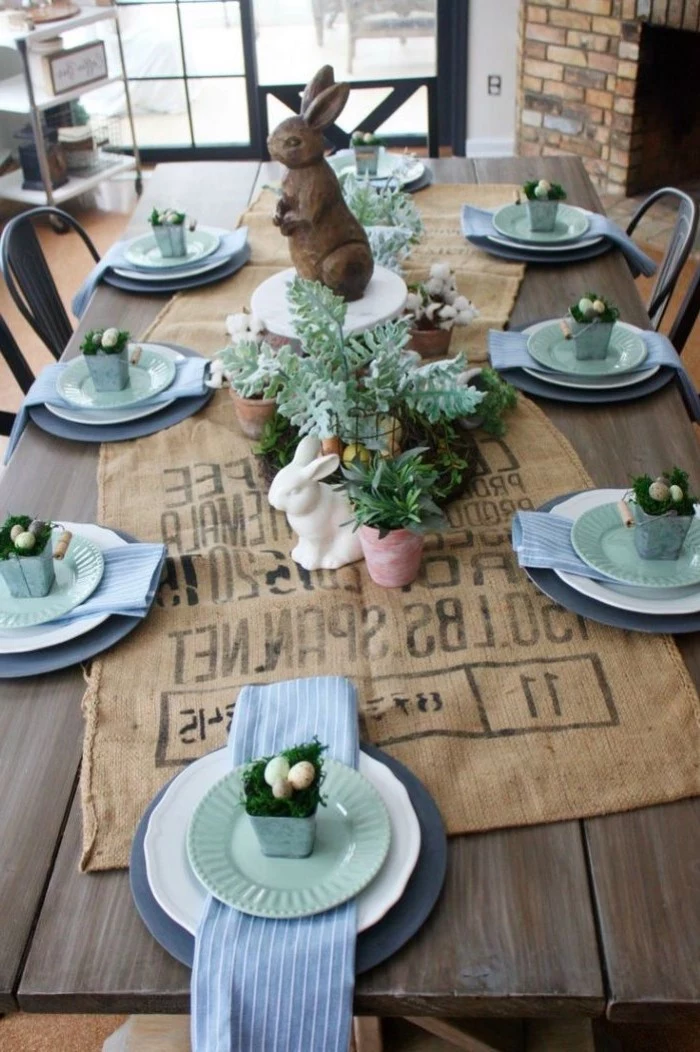 Add lots of greenery for a fresh take on the Easter home decor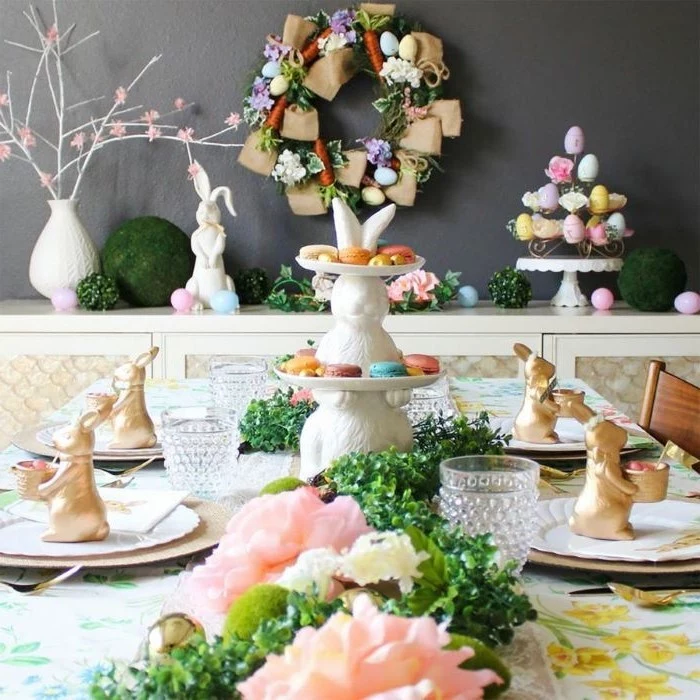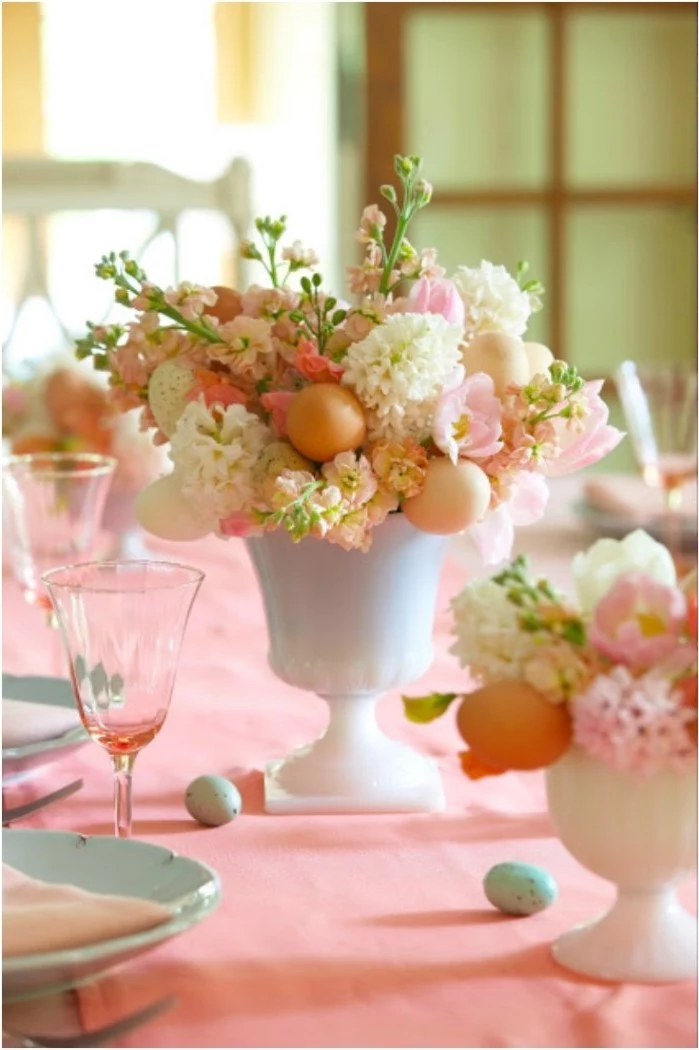 Glass jars, full of candy and eggs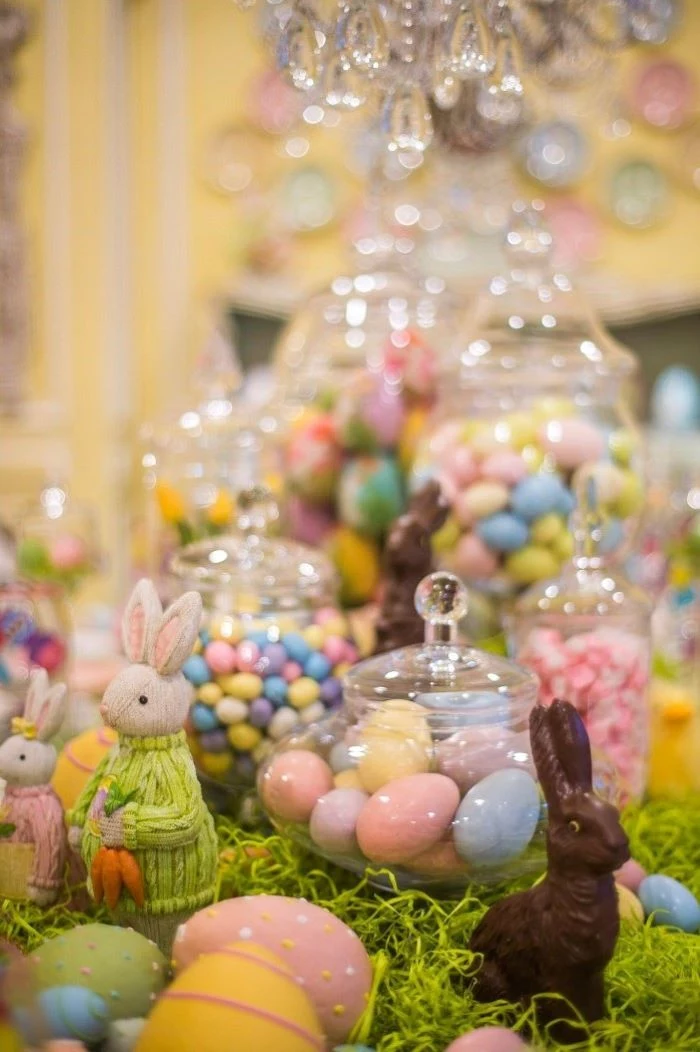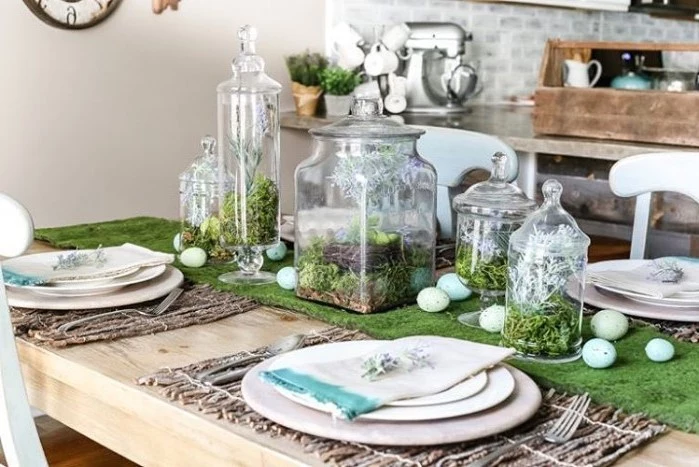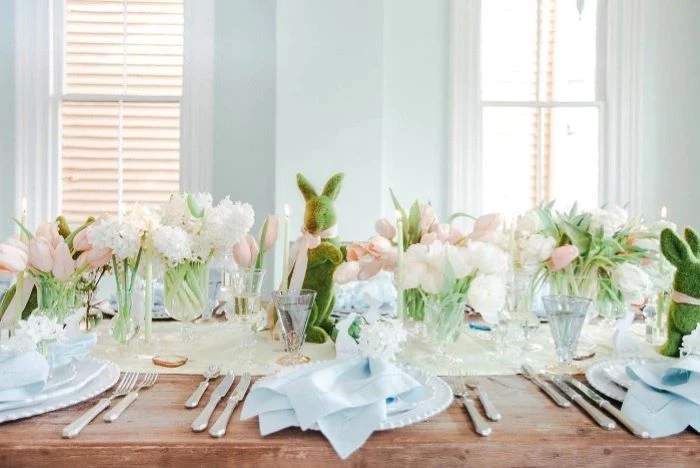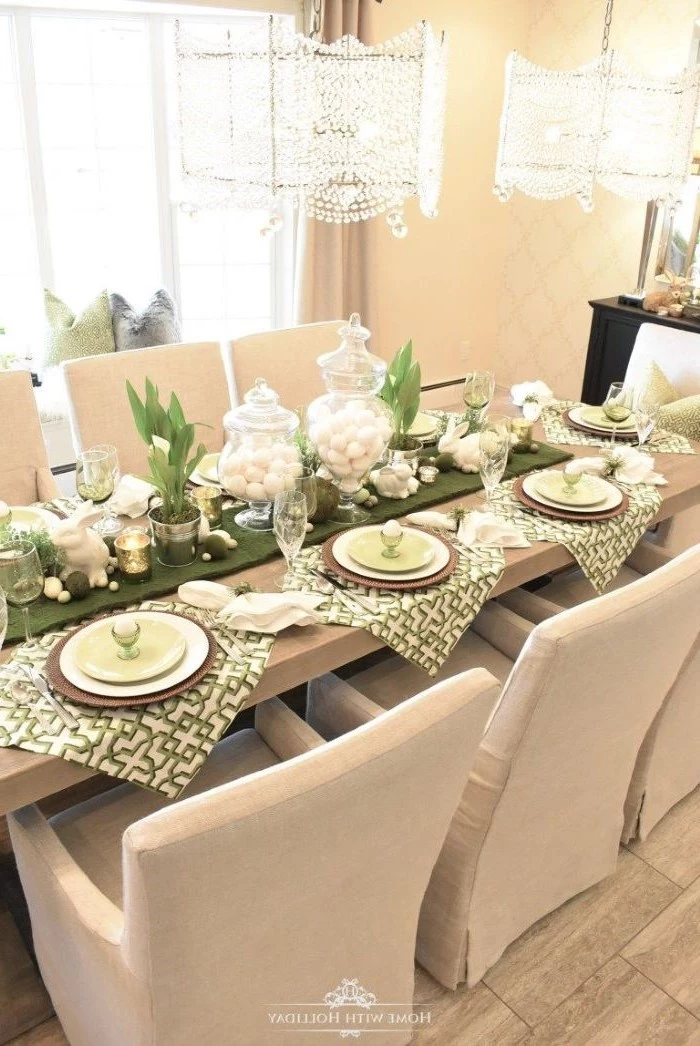 Happy Easter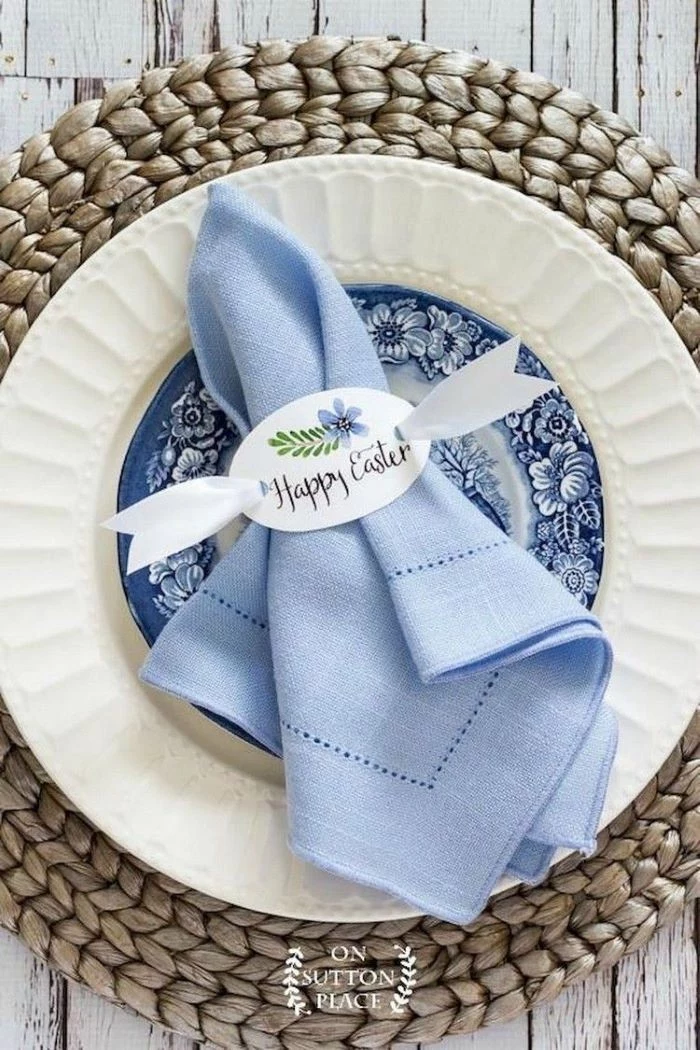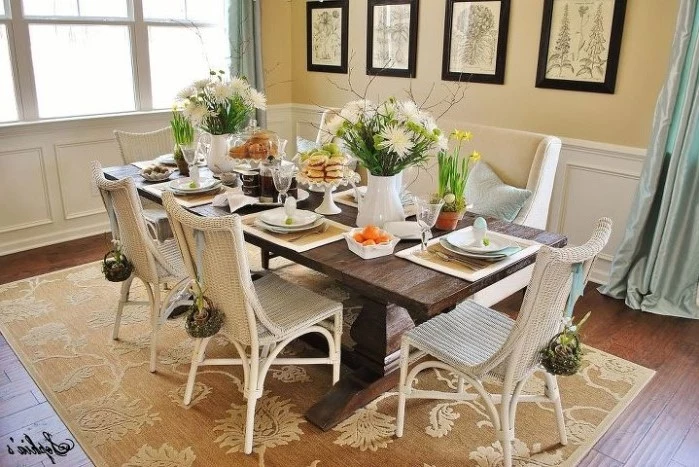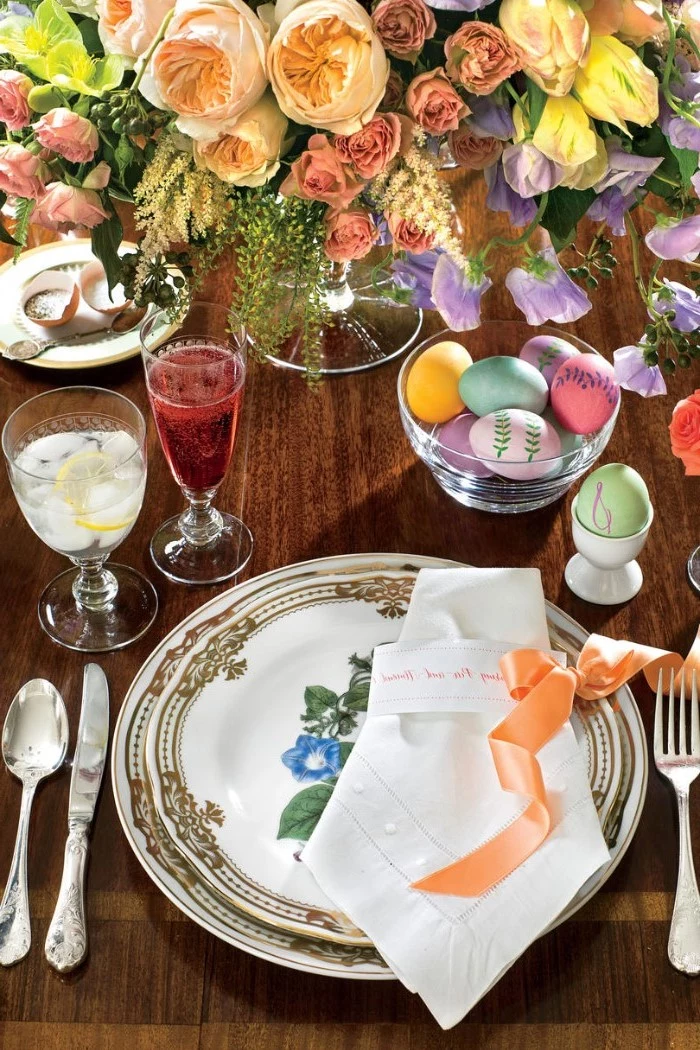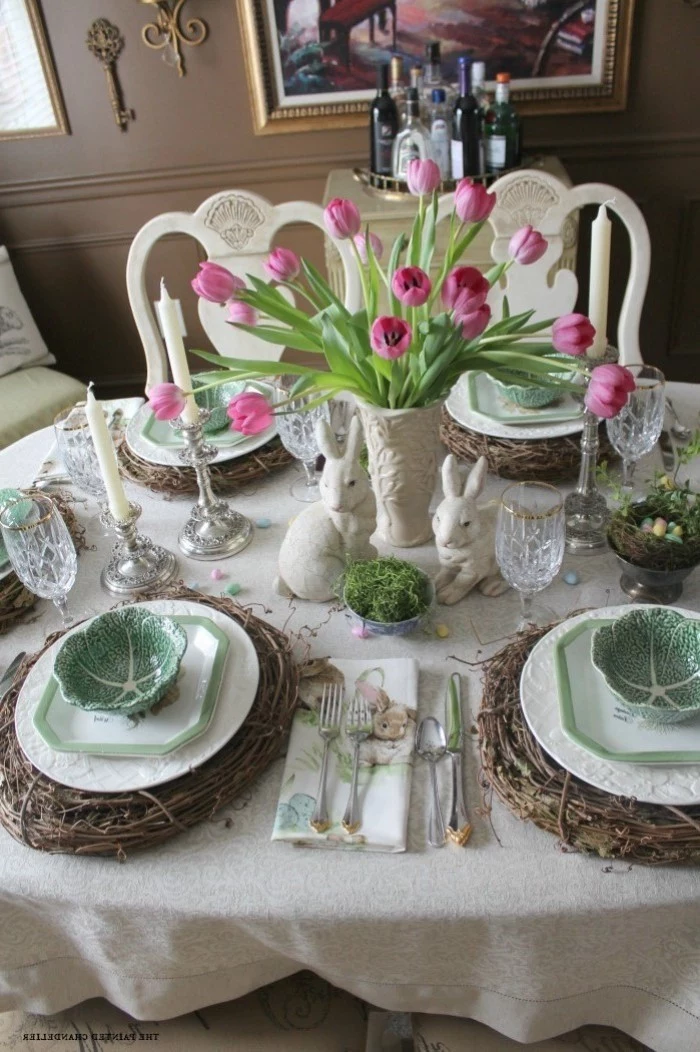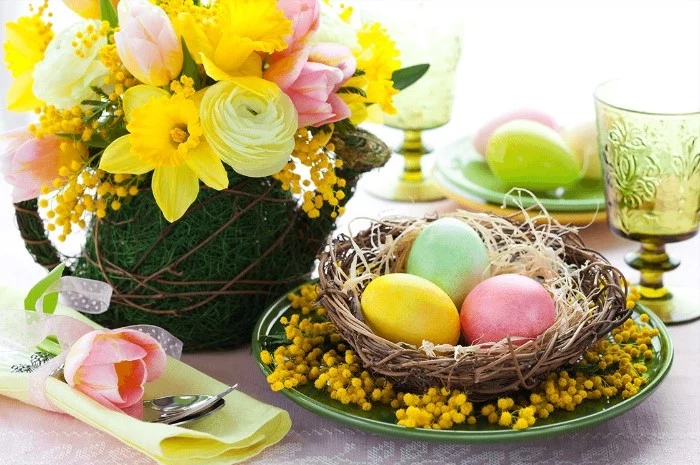 Dyed eggs and ceramic bunnies – a must amongst the Easter decorating ideas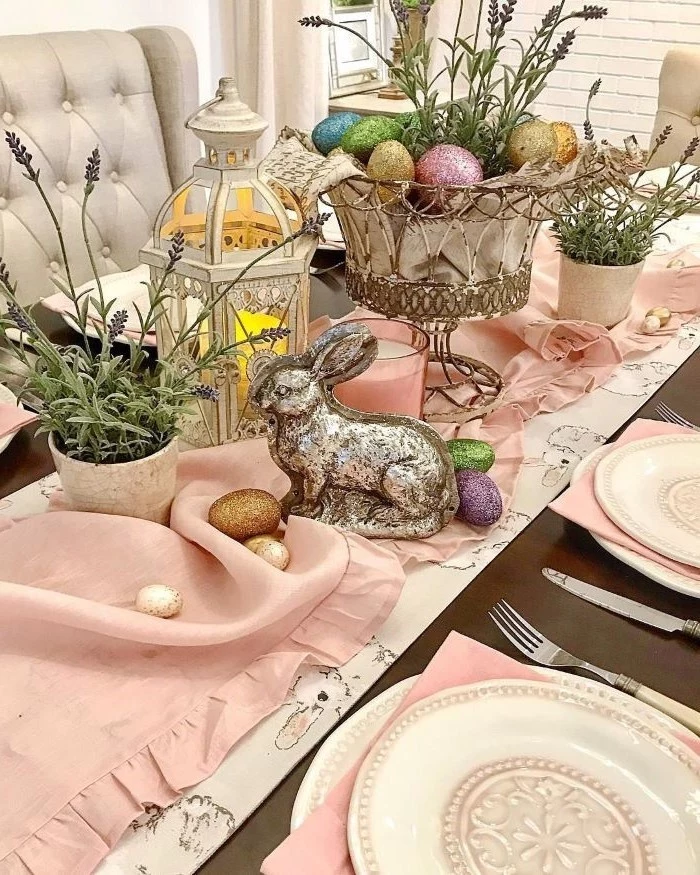 Blush, green and floral – perfect combination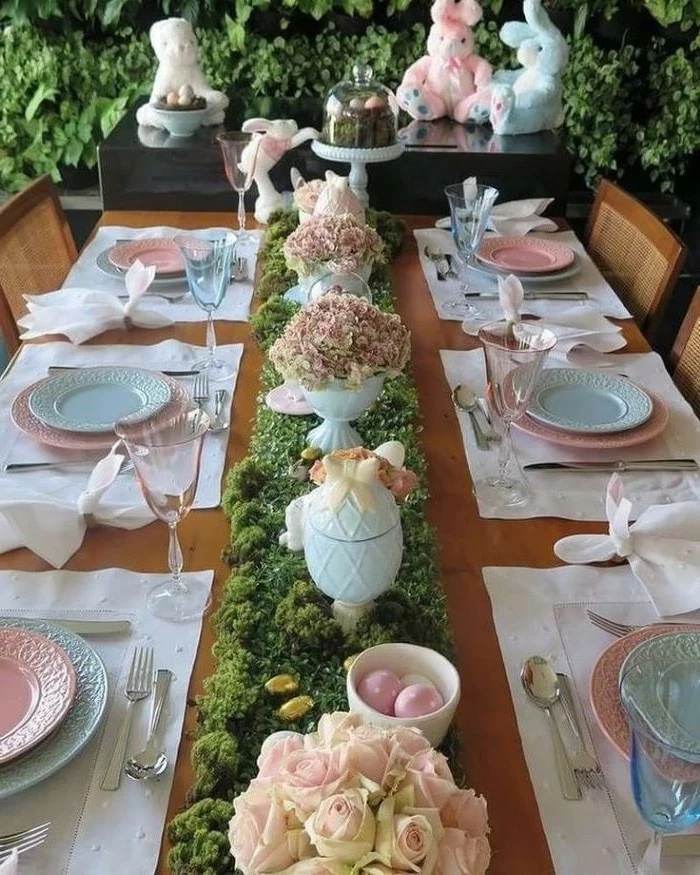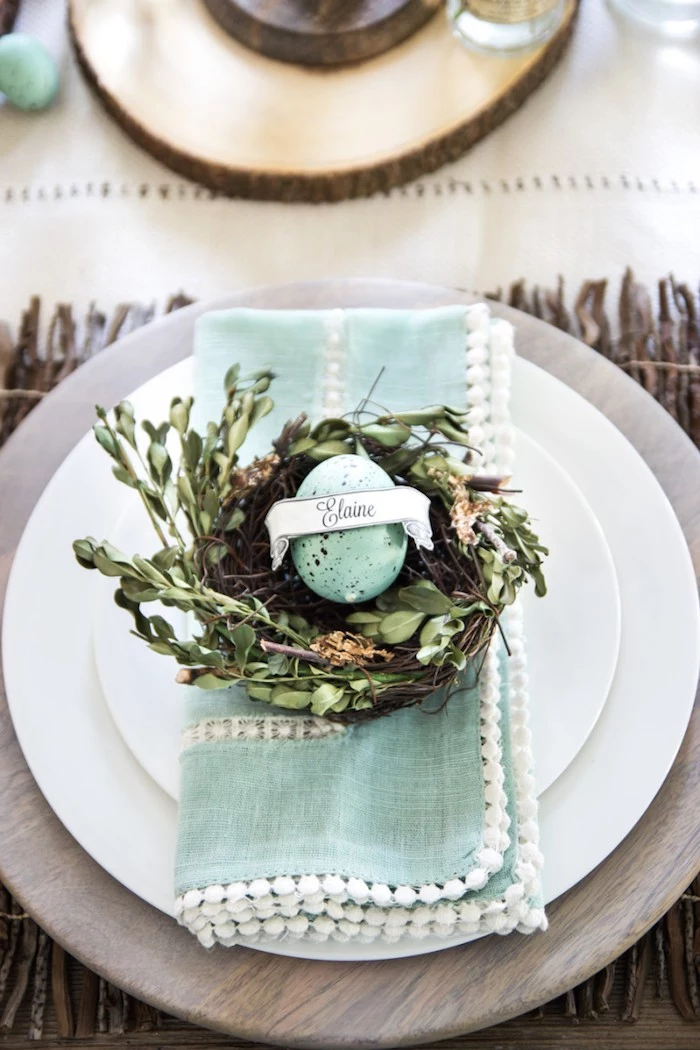 Empty egg shells, used for vases, full of flowers – interesting DIY idea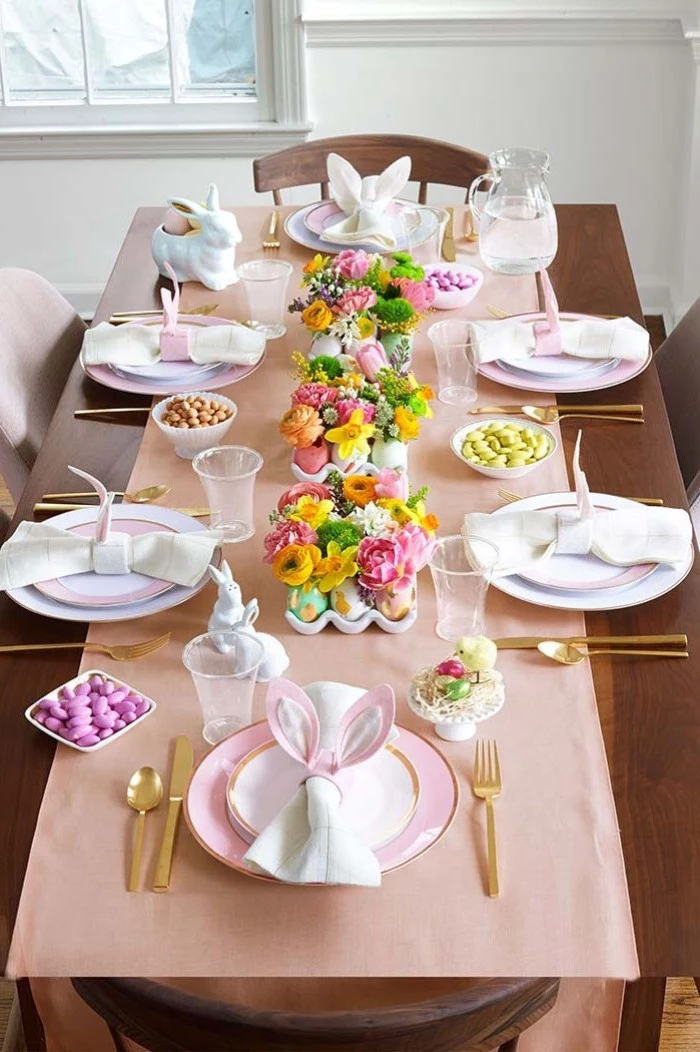 Hyacinth flowers – another symbol of spring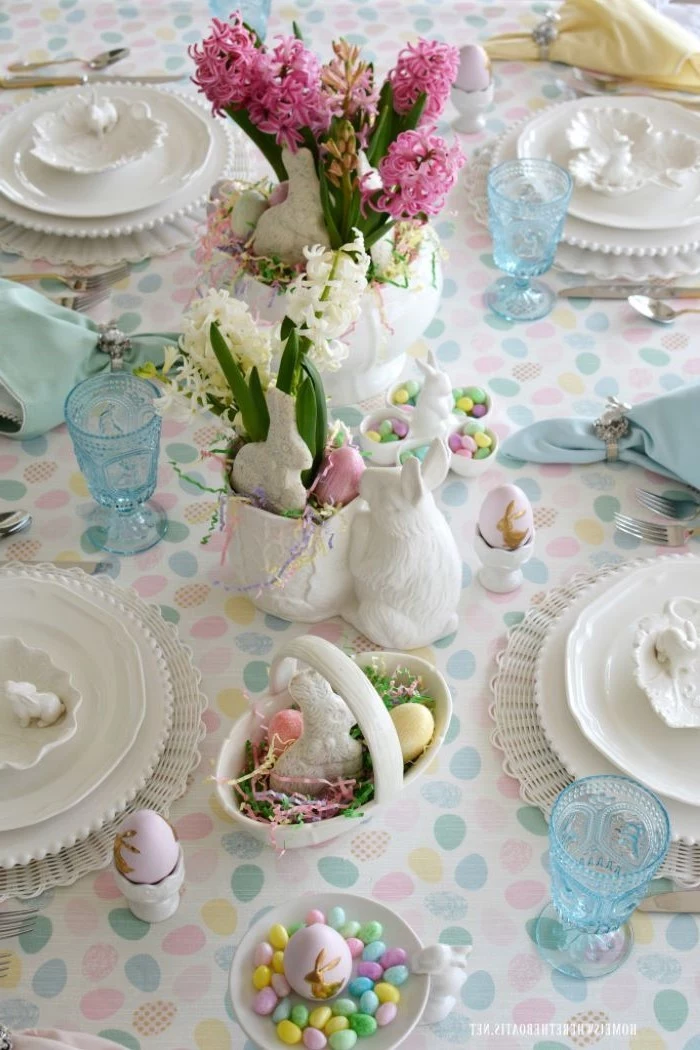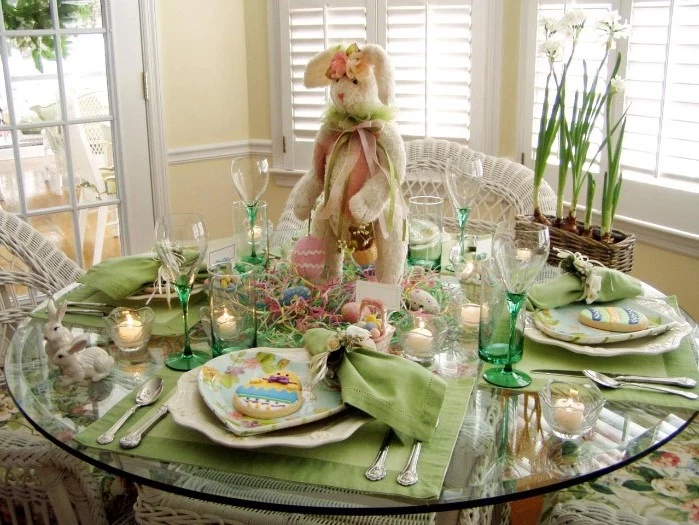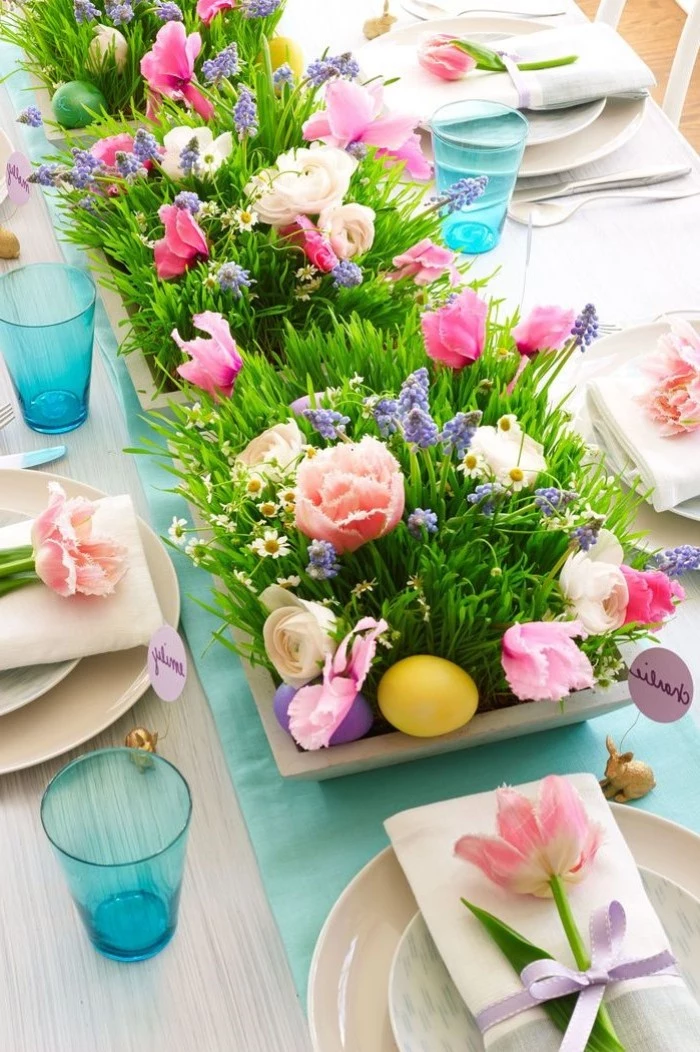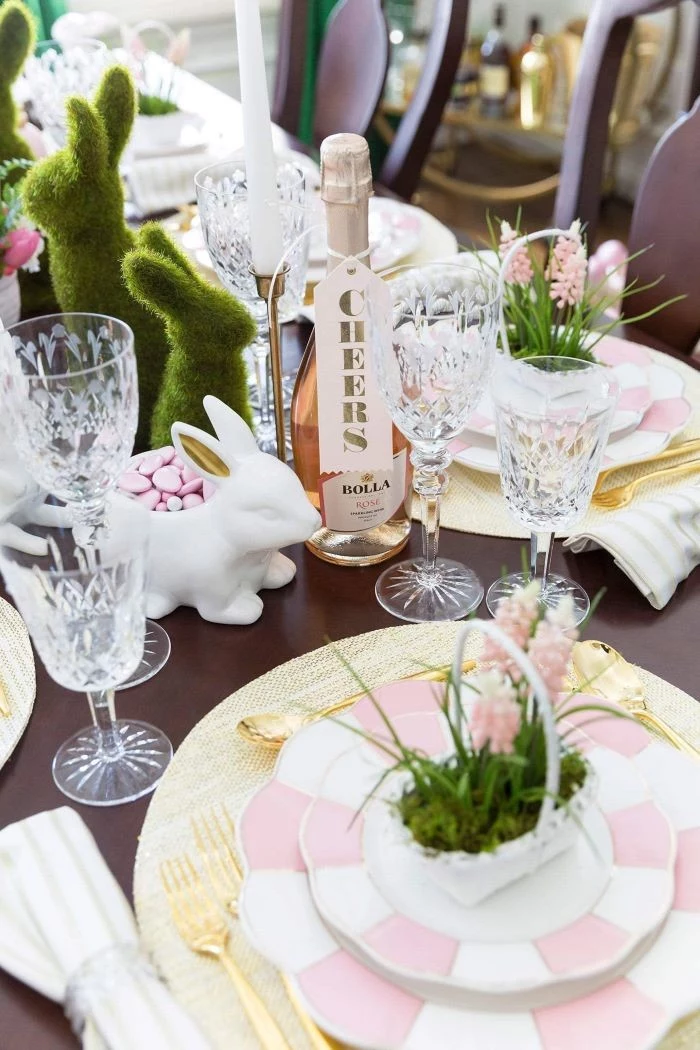 Minimalist, elegant Easter table setting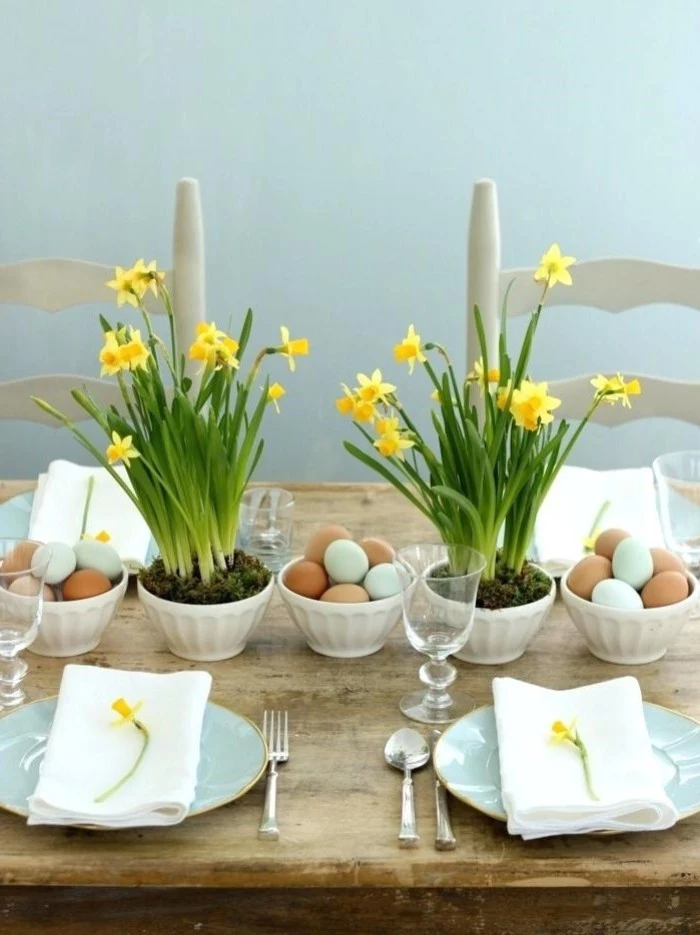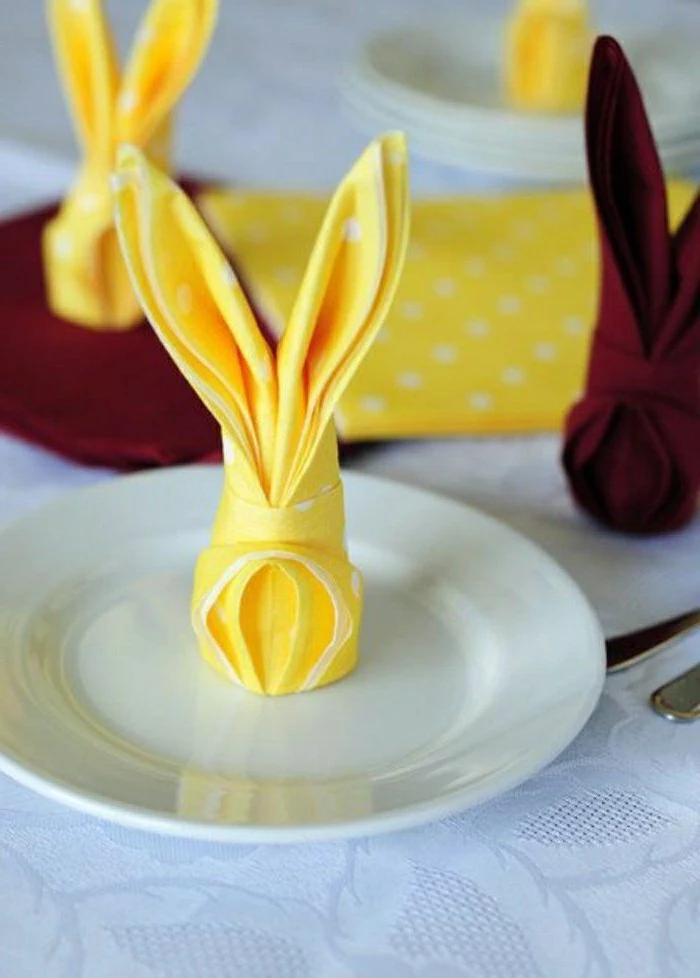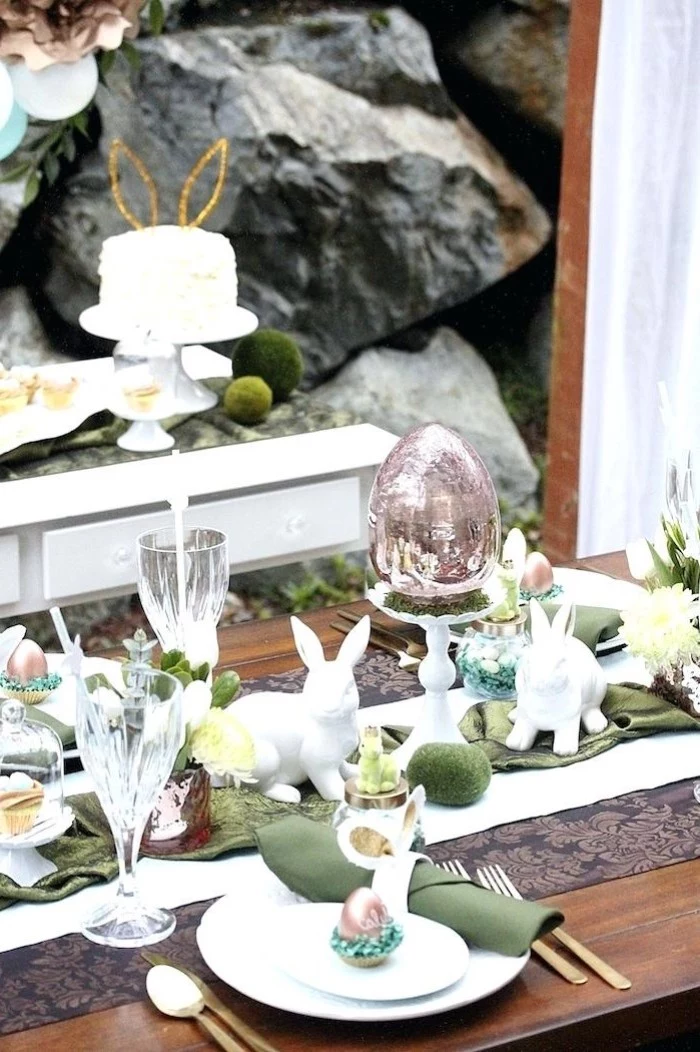 Super cute bunny plates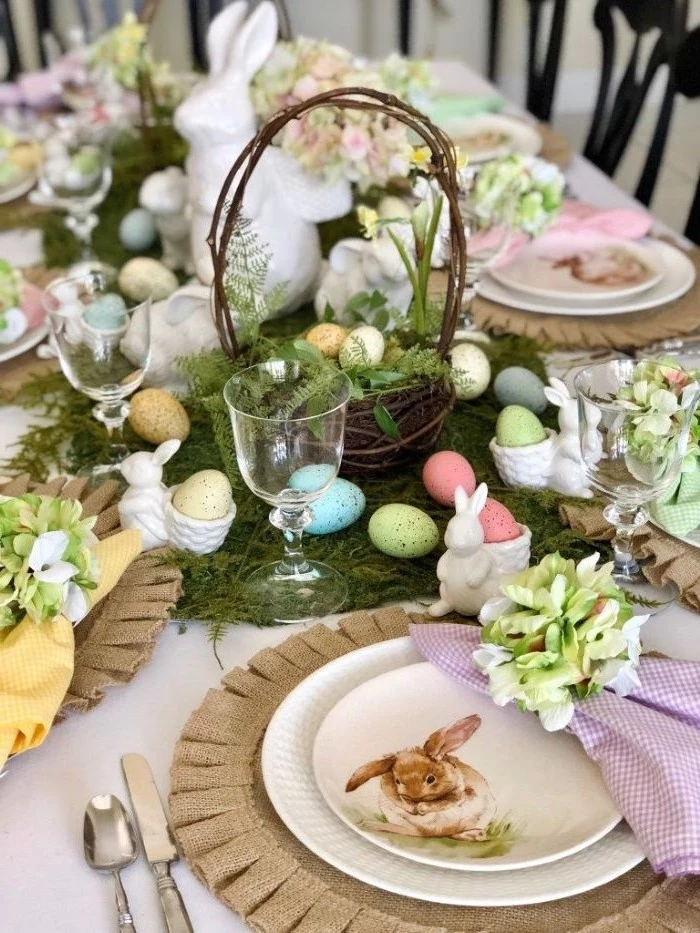 Easter table decorations for the kids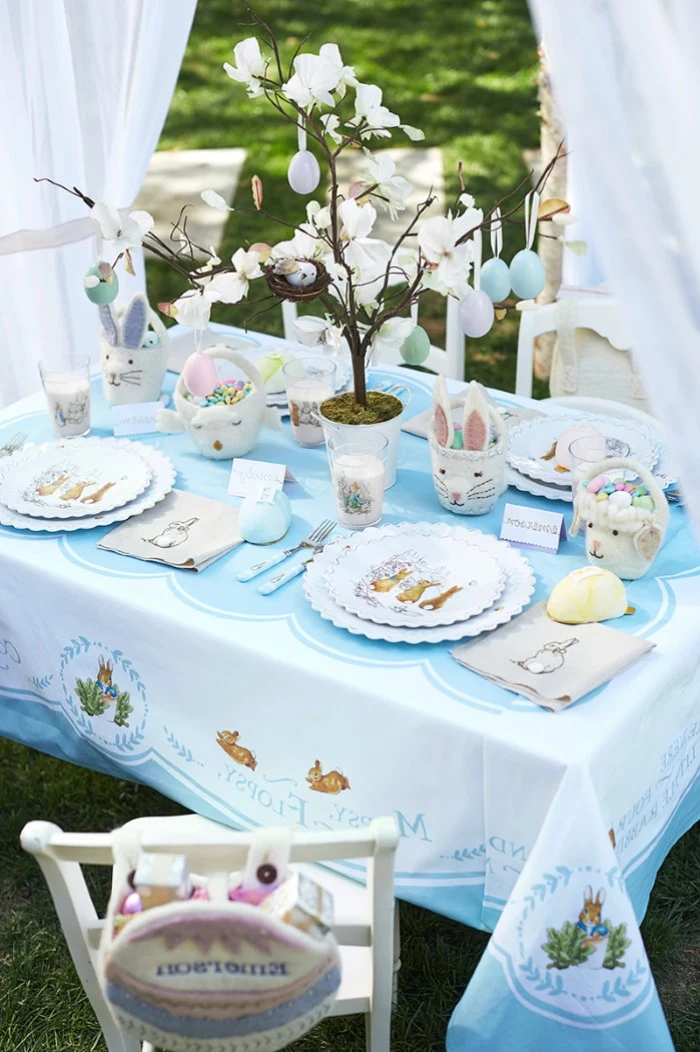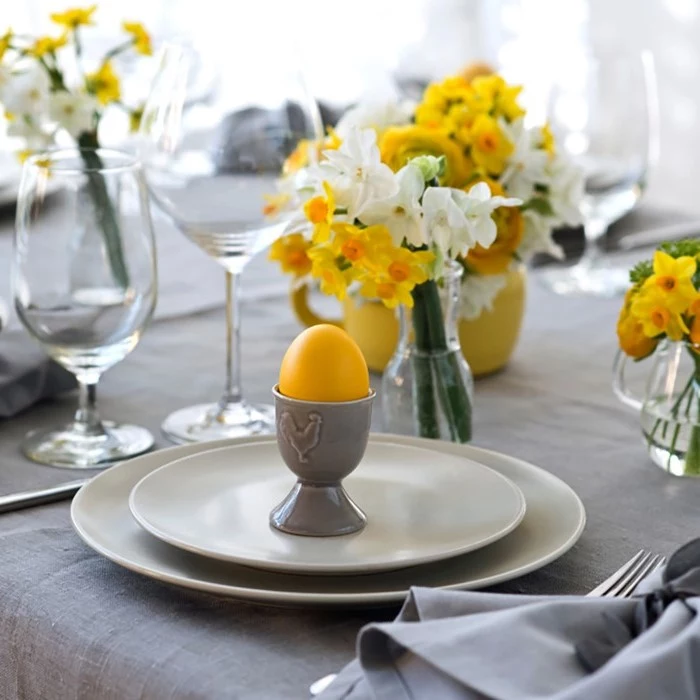 Tulips – the symbol of spring