Over 100 Amazing Easter Crafts for Kids and Parents
With three weeks left to Easter, now is the perfect time to start preparing for the spring festivities. As you know from our article about dying and decorating eggs, we simply adore this holiday! It's colorful, fun, and brings families together. To make this Easter even more special, we decided to share some of our favorite DIY projects. We have gathered tons of great Easter crafts for kids as well as parents – from simple and easy suggestions, ideal for tiny hands, to more complex projects, better suited for older children, moms and dads.
This adorable bunny garland is one of our favorite Easter crafts for kids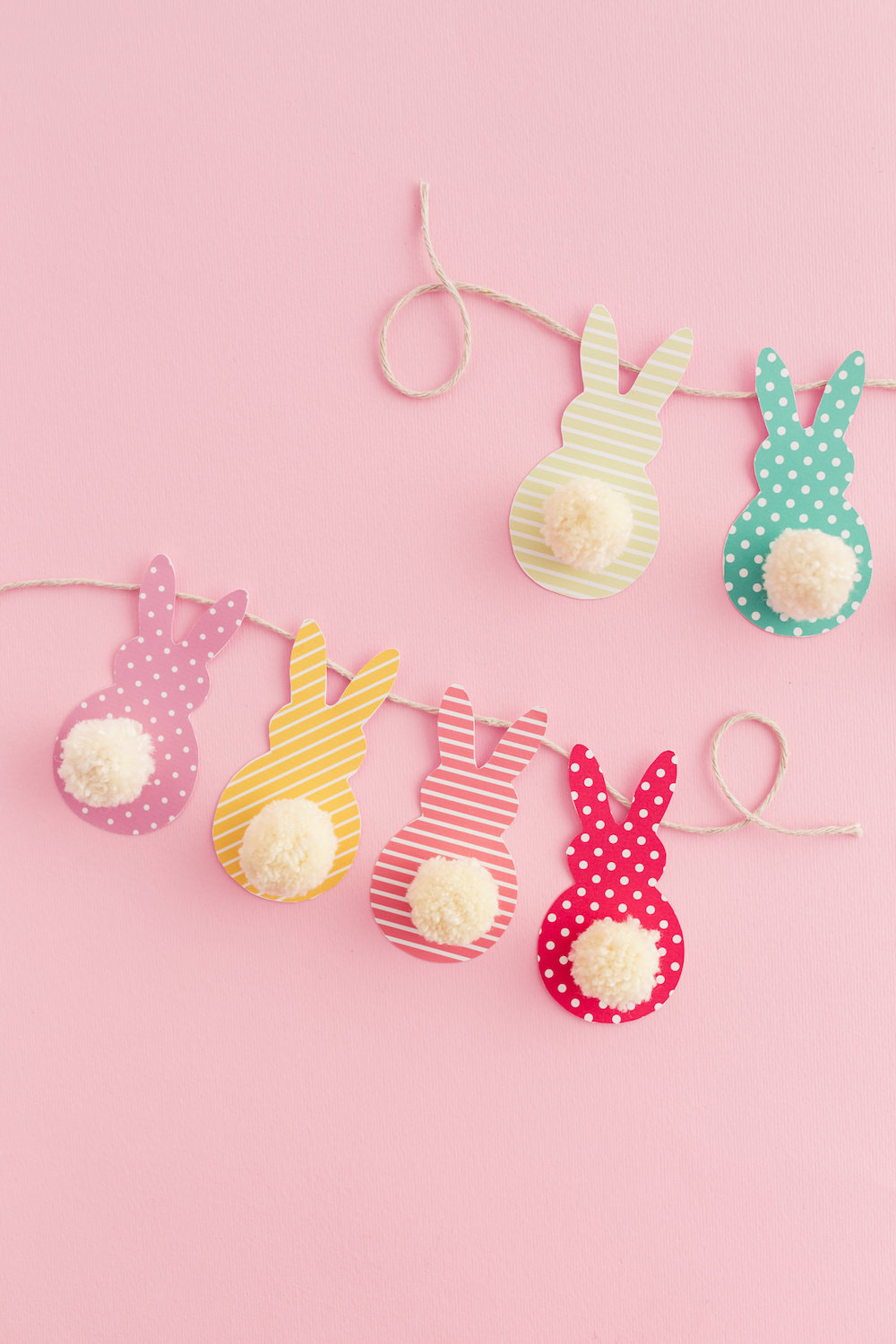 Older children and their parents can make more complex Easter decorations, like these cute embroidered sock bunnies:
This video tutorial contains 7 great ideas you can try:
Egg holders are another fun and easy suggestion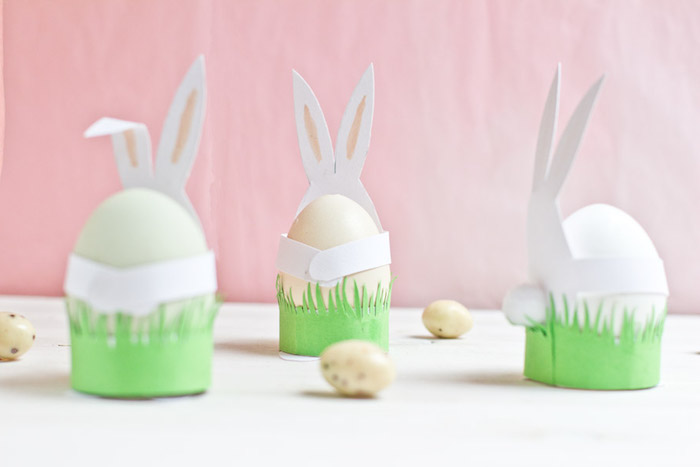 How about making little pompom chick ornaments?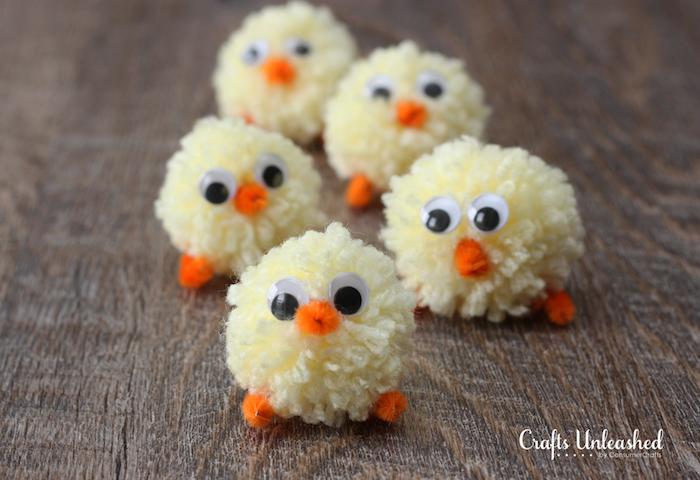 What you'll need:
pale yellow thread
orange fuzzy wire (pipe cleaners)
scissors
googly eye stickers
clear glue
Instructions:
First, use the yellow thread to make several little pompoms. If you haven't done it before, here is a great tutorial, explaining how.
Using the scissors, cut three small bits of orange fuzzy wire. They will be your chick's beak and legs.
Take one of the finished pompoms and stick the beak and legs on it with glue.
Finally, add the eye stickers.
Your pompom chick is complete! Now repeat the process as many times as necessary.
These little hand-crafted ornaments are not only adorable and great for decorative purposes, but they also make very good gifts, especially when combined with sweets or chocolate! It is worth noting that older kids can easily complete the project on their own, but youngsters under 6 should be supervised, especially while using scissors.
To make things even easier, here is a photo tutorial of the entire process: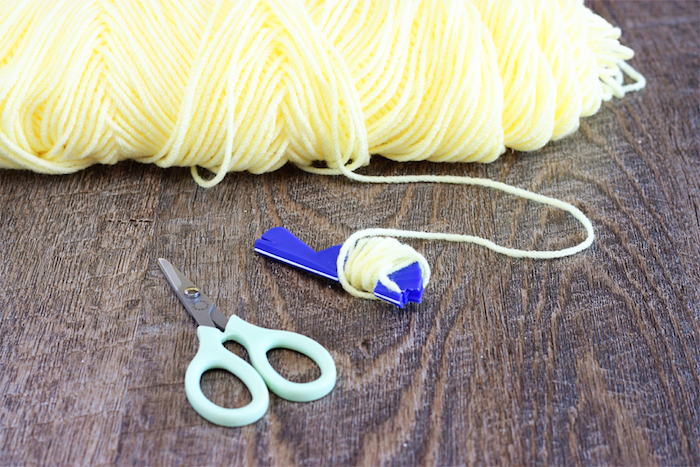 We stuck to yellow but if you prefer, you can use thread in different colors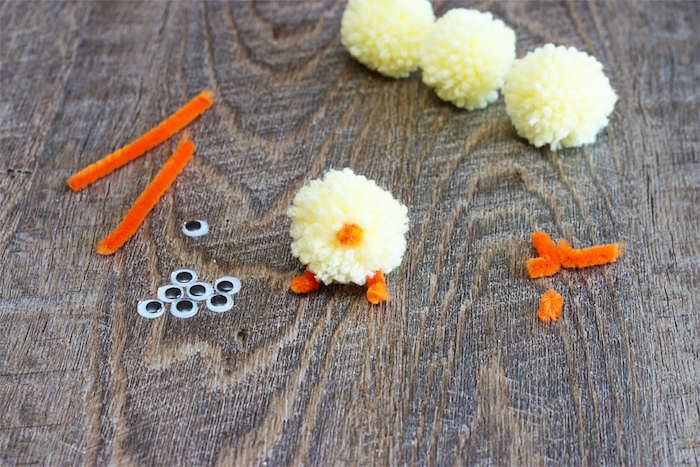 Ready in just a few easy steps!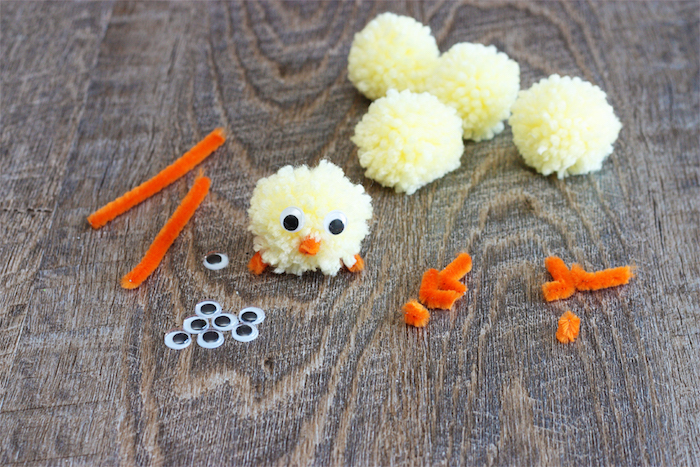 Aren't they cute? Your kids will love making them!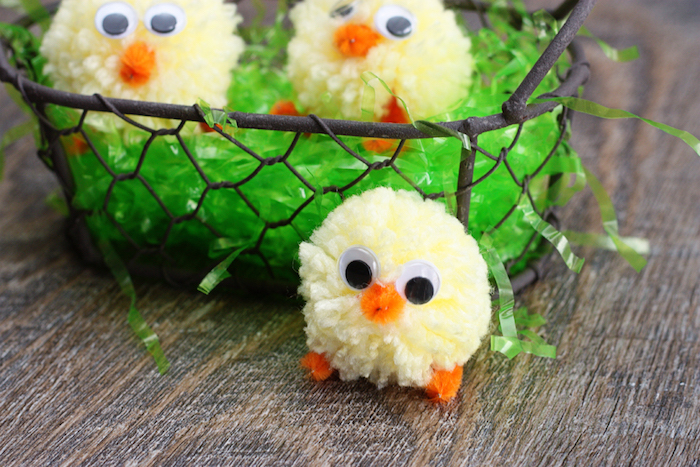 And since most children love nature, we decided to include another animal-related tutorial. Adorable, fun to make and easy as pie, this little lamb craft is perfect for youngsters over 6.
What you'll need:
a sheet of plain white card
a pack of white cotton buds
two plain wooden clothespins
glue
scissors
markers or colored pencils (for drawing the lamb's face)
small piece of thin ribbon (optional)
  Instructions:
Take the white card and cut out two shapes – a bigger, oval one, and a smaller, roundish one. These will be your lamb's body and head.
Now, take the pack of cotton buds (you will need quite a few), and carefully cut off all of their tips.
Take the larger card cutout and spread some glue on it. Then carefully stick the cotton bud tips on it, until you cover the entire surface.
Now it's time to make your lamb's head! Take the smaller cutout and draw a cute face on it.
Stick a cotton bud tip on each side of the head, to serve as the animal's ears. Then add five or six tips on top. If you like, decorate with a ribbon.
Next, stick the head onto the finished body.
Finally, stick the two clothespins – they will be your lamb's legs.
Voila! Your little lamb figurine is complete!
These photos will guide you through the process: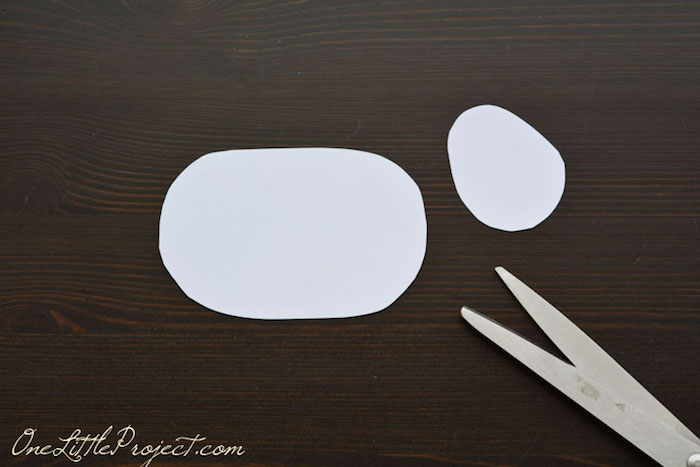 If your children are younger than six, cut out the shapes needed for the lamb's body, and prepare the cotton bud tips for them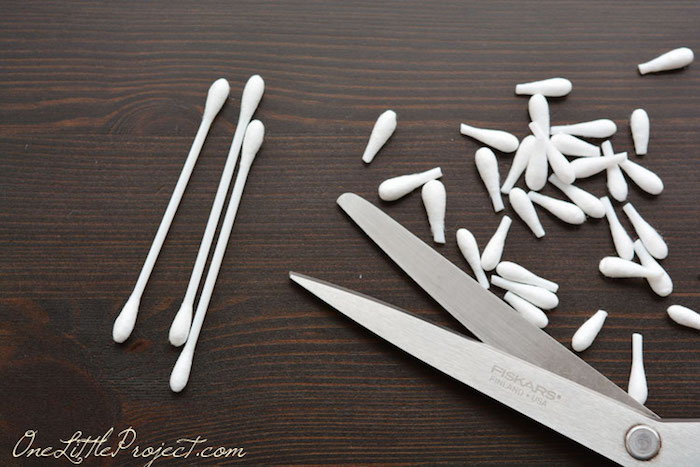 Be careful not to use too much glue!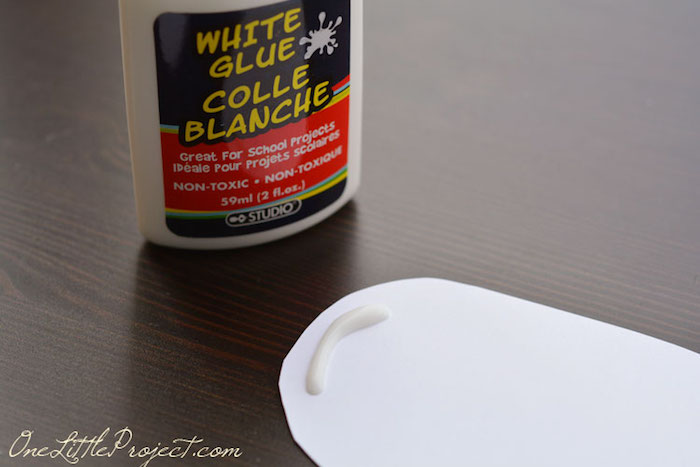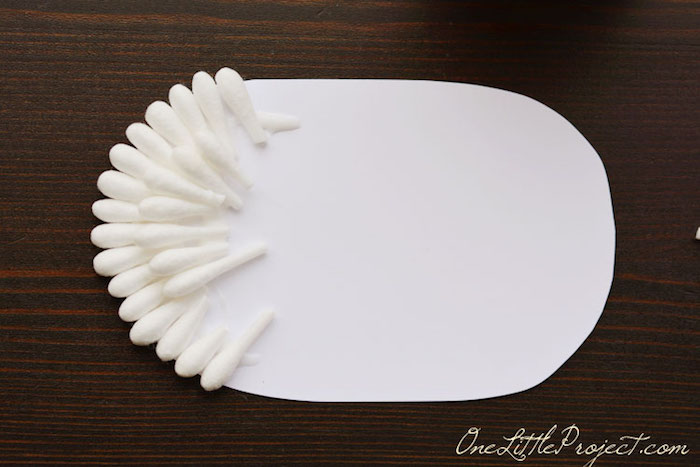 To get the best results, the entire surface of the lamb's body must be covered with cotton tips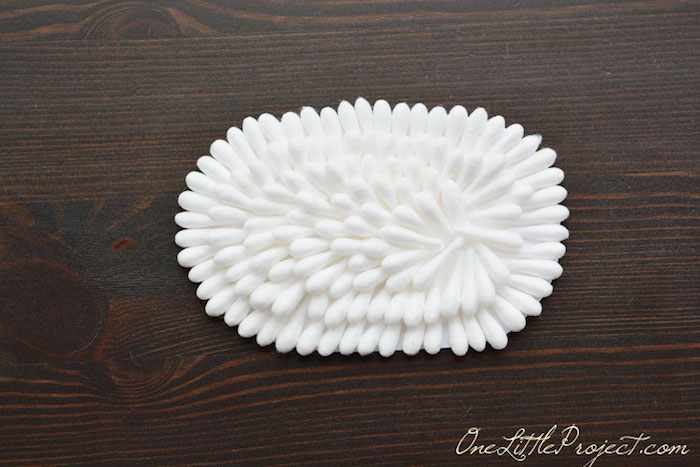 Draw a cute lamb's face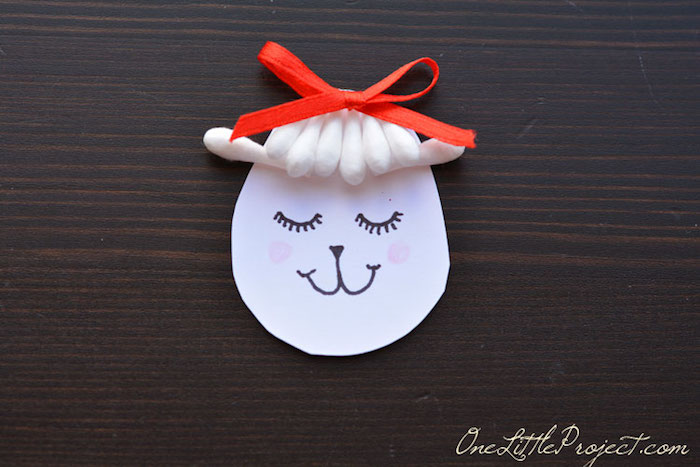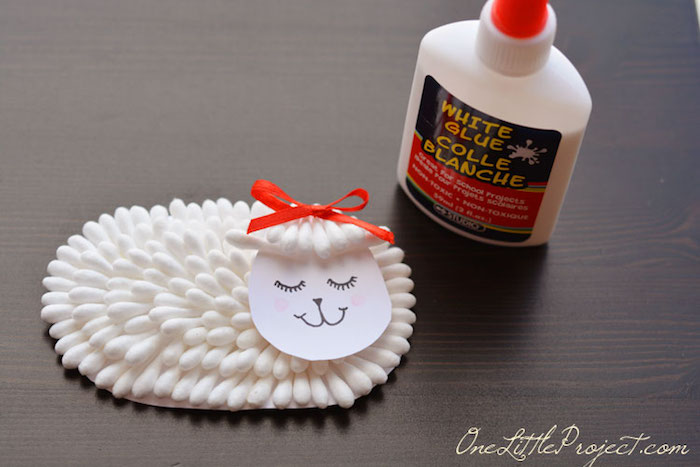 Clothespins make great legs for your lamb, and will also keep it in the upright position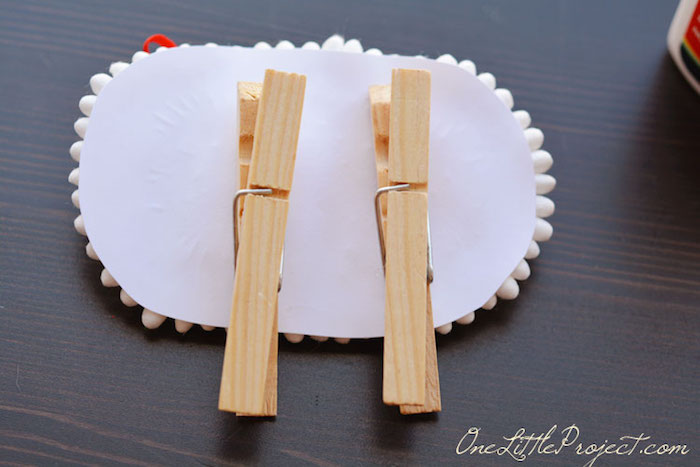 Your Easter lamb ornament is ready!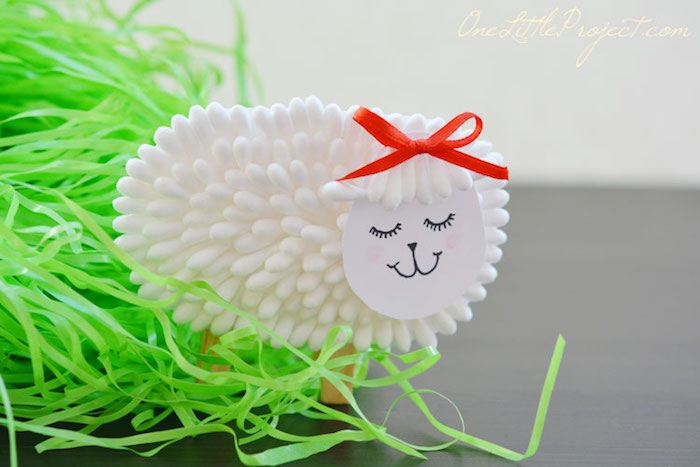 And, of course, no Easter party will be complete without the Easter bunny!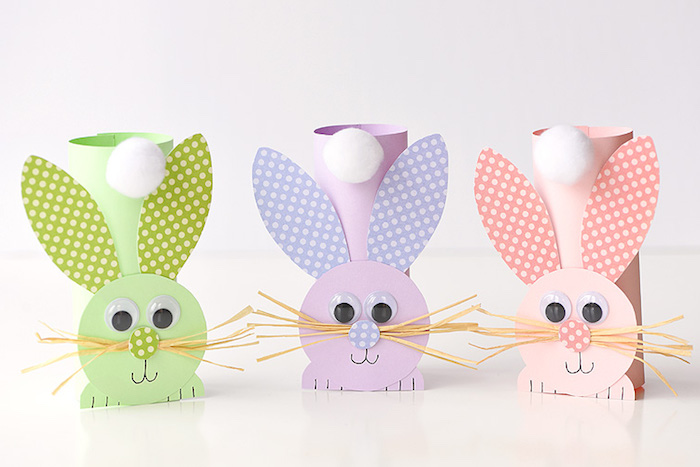 What you'll need:
Two sheets of paper (one plain, one patterned) in colors of your choice
Scissors
Sticky tape
Eye stickers
Black pen or pencil
Dry straw paper in yellow
Some cotton
Instructions:
Take the plain paper and cut three shapes out of it: one large round shape (your bunny's head) and two smaller half-circles (its paws)
Using the black pen or pencil, draw the bunny's mouth, and (if desired) add some details to its paws.
Take the sheet of patterned paper and cut out two bunny ears and one little round shape (for the nose).
Next, cut several equally long pieces of dry straw paper, and stick them together in a bunch, using sticky tape – they will be your bunny's whiskers.
Stick the whiskers above the bunny's mouth, then secure the little round nose on top. Add two eye stickers.
Then, stick the ears and paws to the bunny's head.
Now it's time to make the body. Cut a square piece of plain paper, roll it in a tube, and secure it with sticky tape.
Stick the bunny's head to the roll.
Finally, stick a small piece of cotton on the back of the tube, to serve as your bunny's tail!
Your easter bunny ornament is ready!
You don't need a lot of materials to recreate this cute bunny paper craft: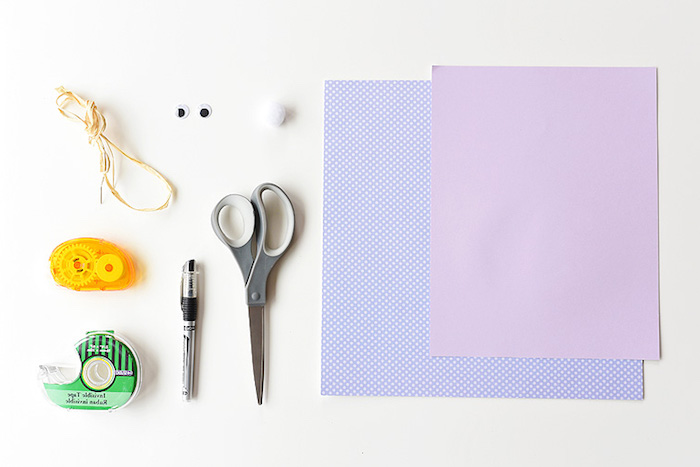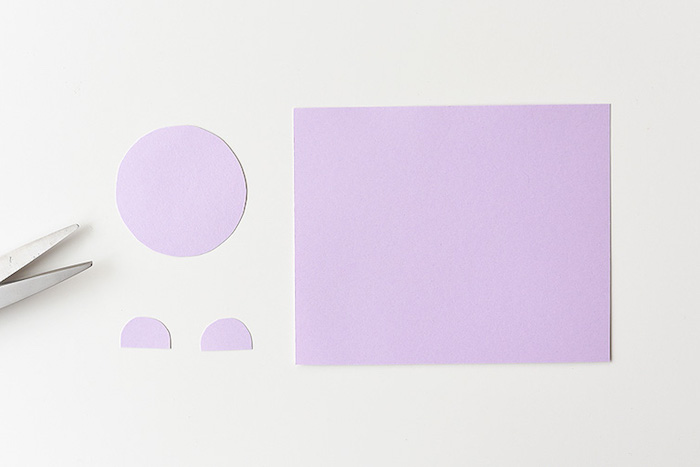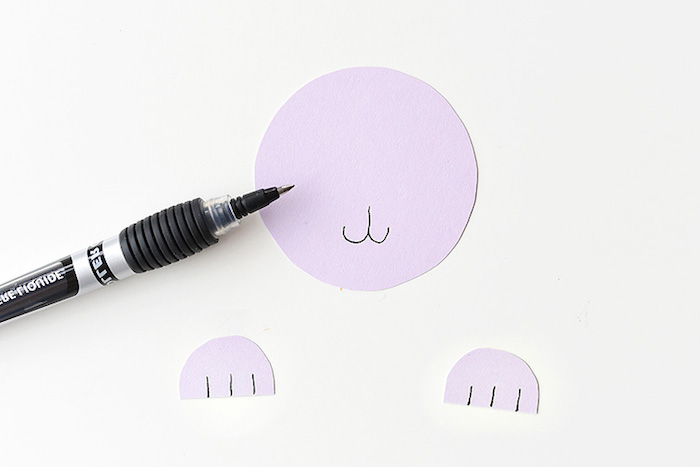 We used pale purple paper but you can choose any color you like!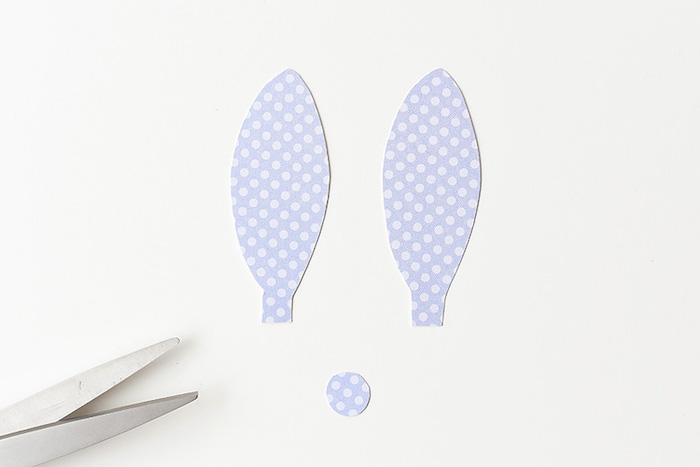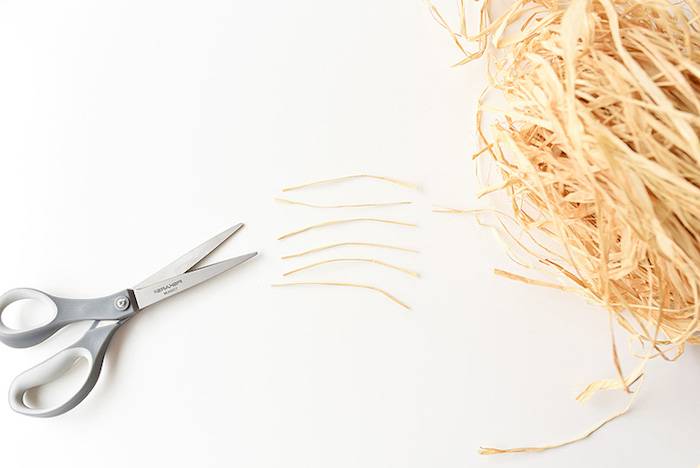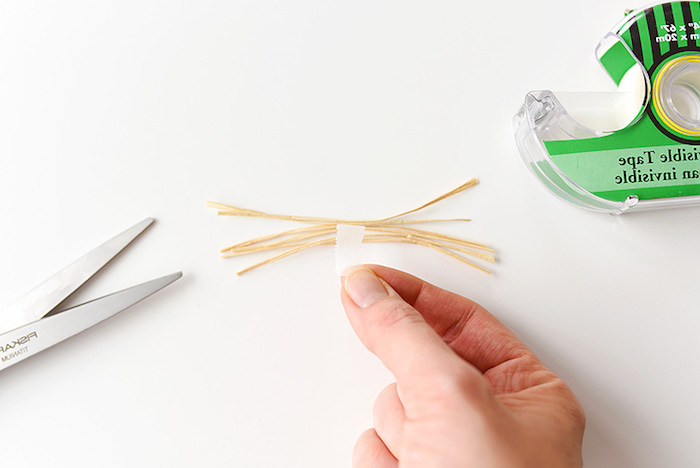 How cute is this face?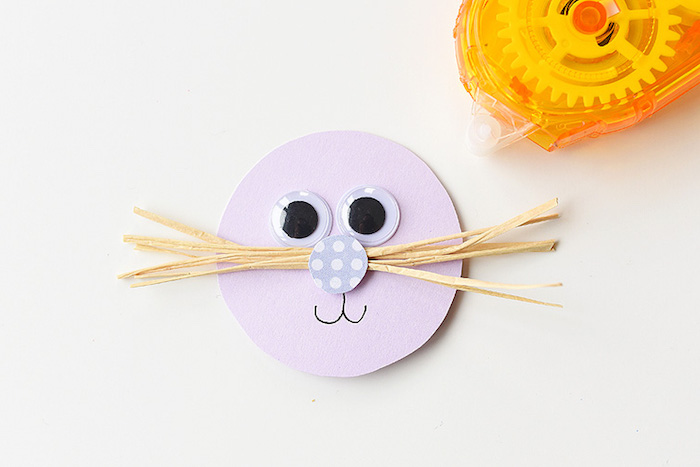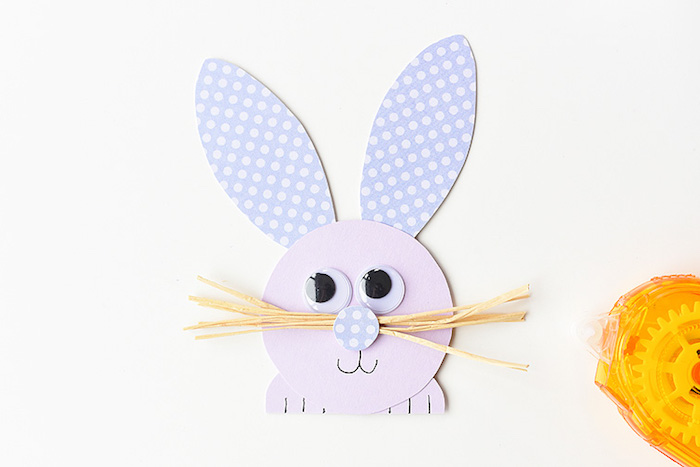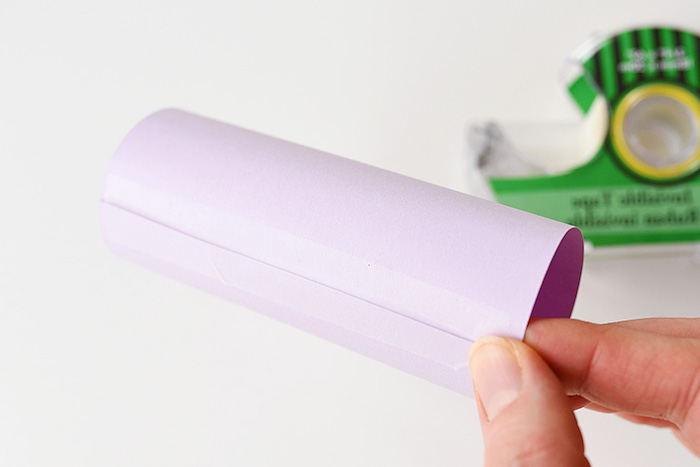 Every bunny needs a soft, fluffy tail!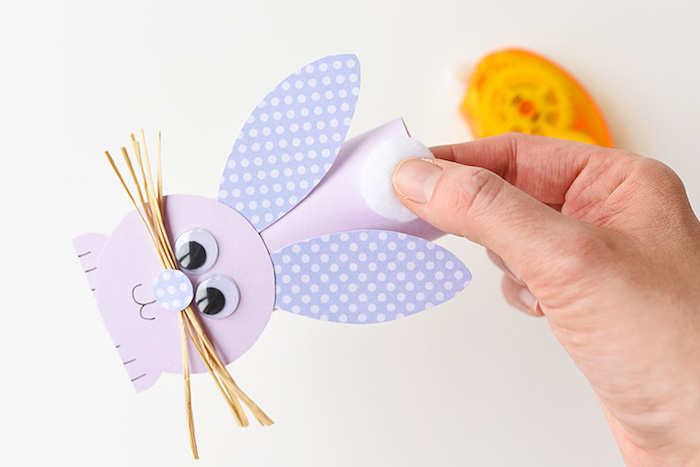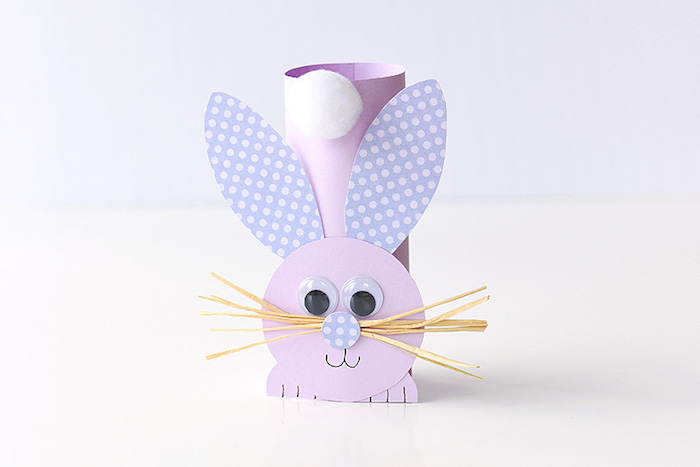 These paper lilies are a great project not only for Easter, but also for Mother's Day, and other spring festivities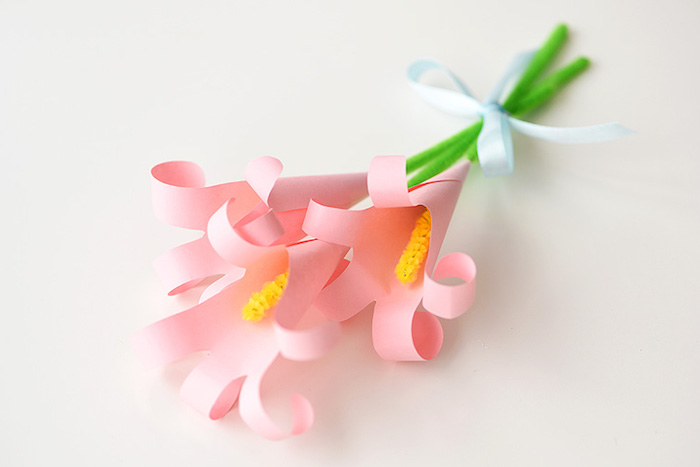 What you'll need:
A sheet of paper or card in a color of your choice (we used pink)
Scissors
Green and yellow fizzy wire (pipe cleaners)
Sticky tape
Black pen or pencil
Instructions:
Draw an outline of your hand on the piece of paper, using a pen or pencil.
Carefully cut it out.
Fold the hand-shaped cutout into a cone, and secure its ages with sticky tape. Once done, it should resemble a flower with the fingers being its petals.
Curl the paper petals outwards, using a pencil.
Cut a short piece of yellow fizzy wire, and a longer piece of green fizzy wire. The yellow fuzzy wire will serve as your lily's pistil, while the green one will be its stalk.
Attach the pistil to the stalk, and run it through the center of the flower.
Repeat the process as many times as necessary.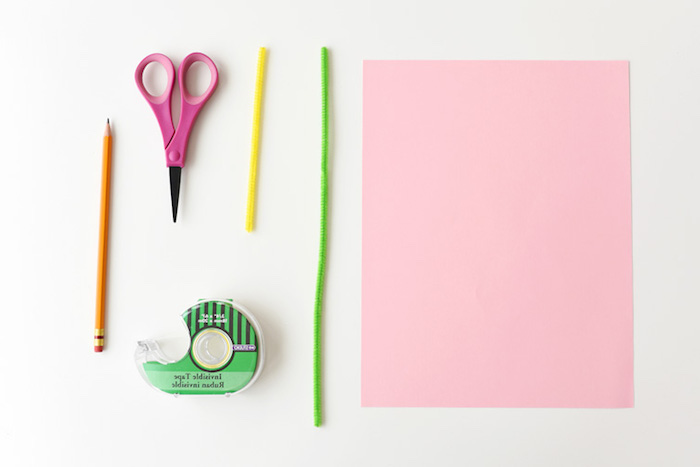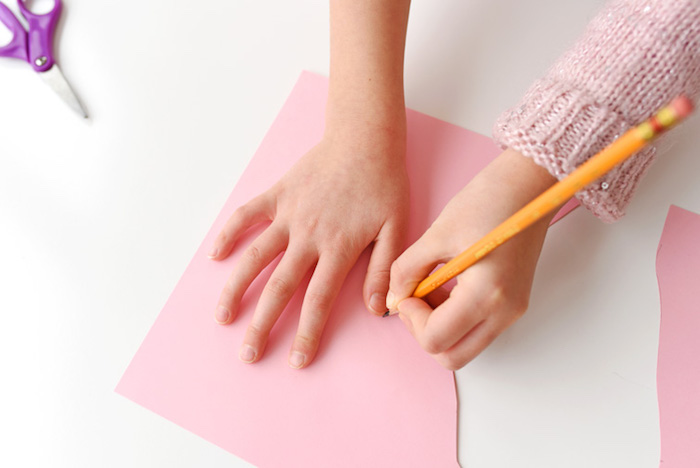 Be prepared to help your child with the cutting process, if needed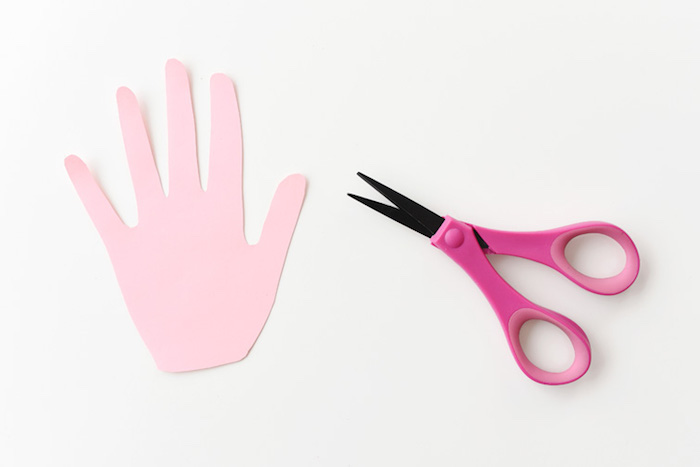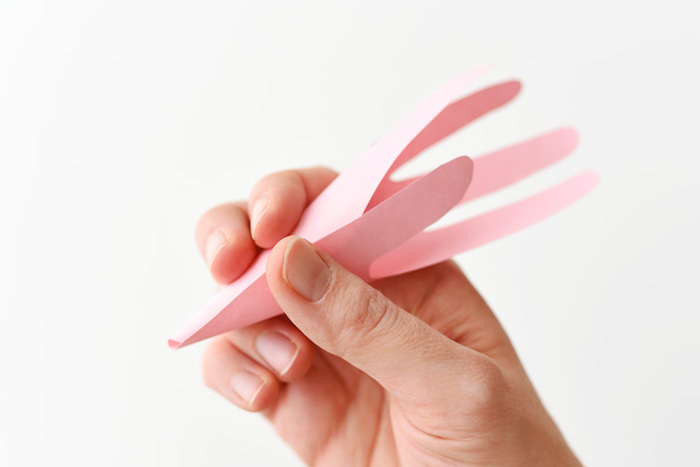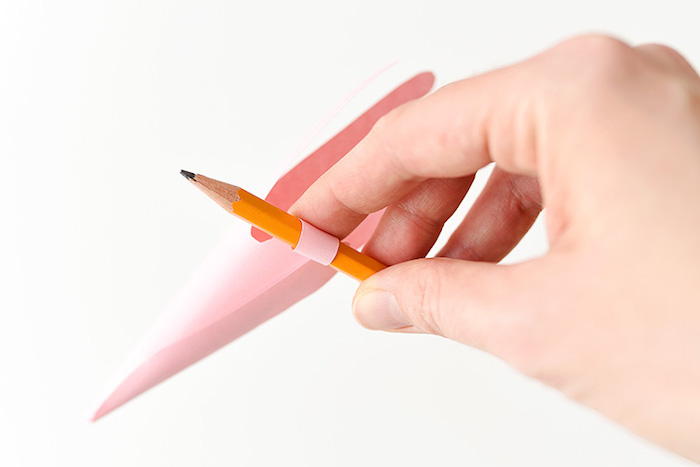 Simple, yet amazingly effective and realistic!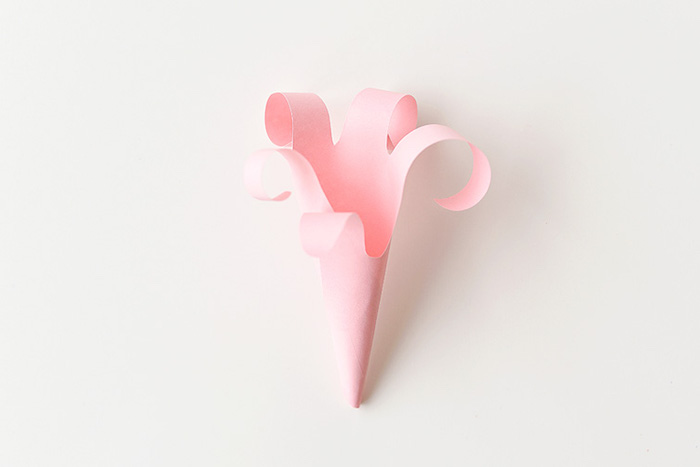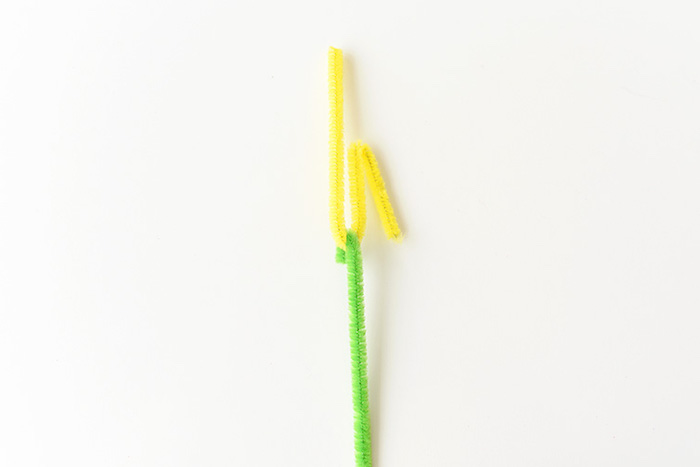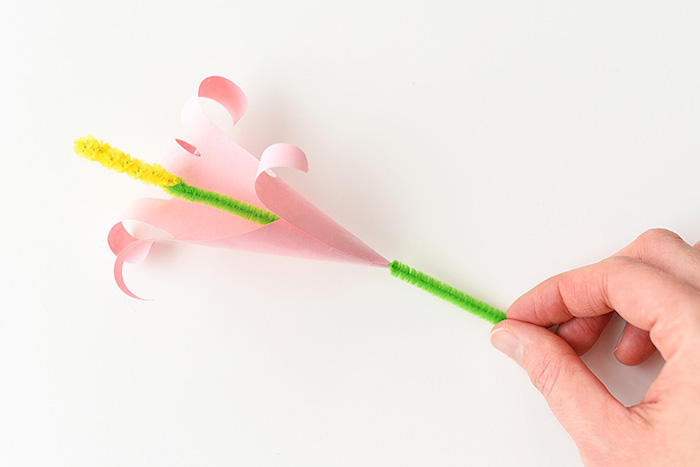 Eggs are Easter's best known symbol! You can make these nifty decorations with a handful of household items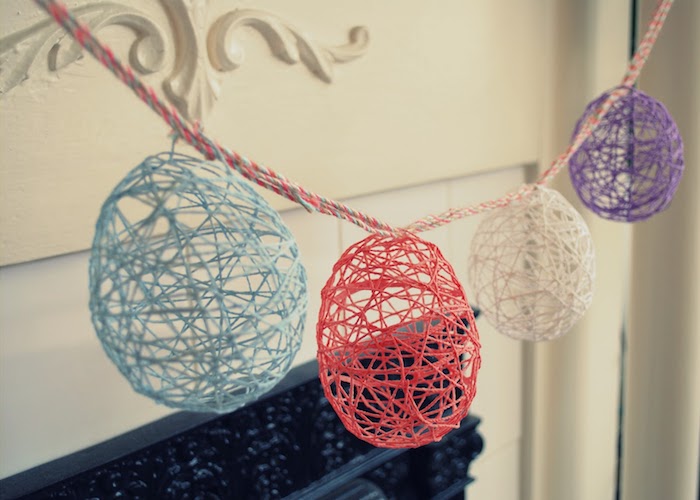 What you'll need:
Several balloons
Cotton thread in different colors
Pack of corn starch and water
Instructions:
Inflate the balloons halfway, so they keep their egg-like shape.
Mix a non-toxic home-made glue, using corn starch and water. You can find two great recipes here.
Dip the thread in the glue.
Take a balloon and wrap the glue-covered thread around it. Then, leave aside to dry.
Once ready, pop the balloon with a pin, and you will be left with a hollow, mesh-like egg-shaped ornament.
Repeat the process until you have as many eggs as you like.
You can make a garland by stringing the egg ornaments together, or just use them for Easter decorations around the house.
One of the easiest (and most fun) Easter crafts for kids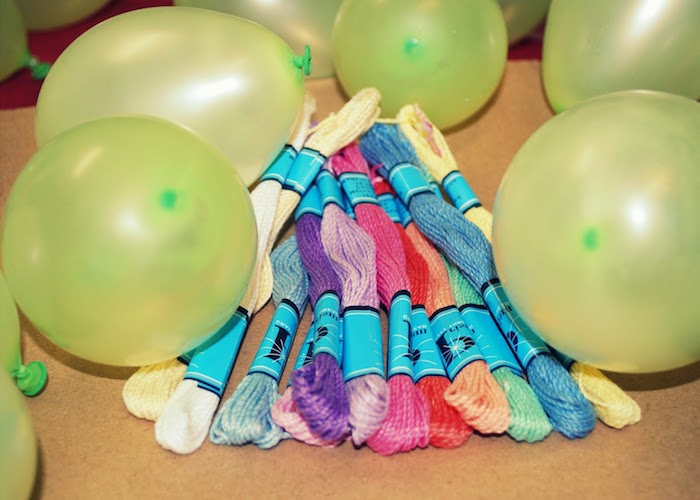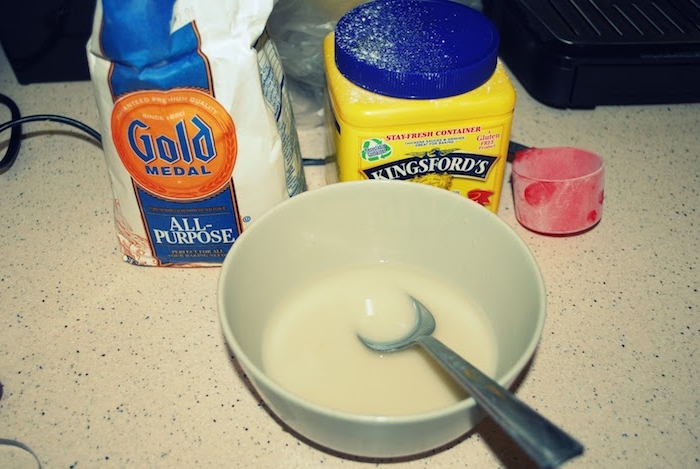 Experiment with different colors and patterns.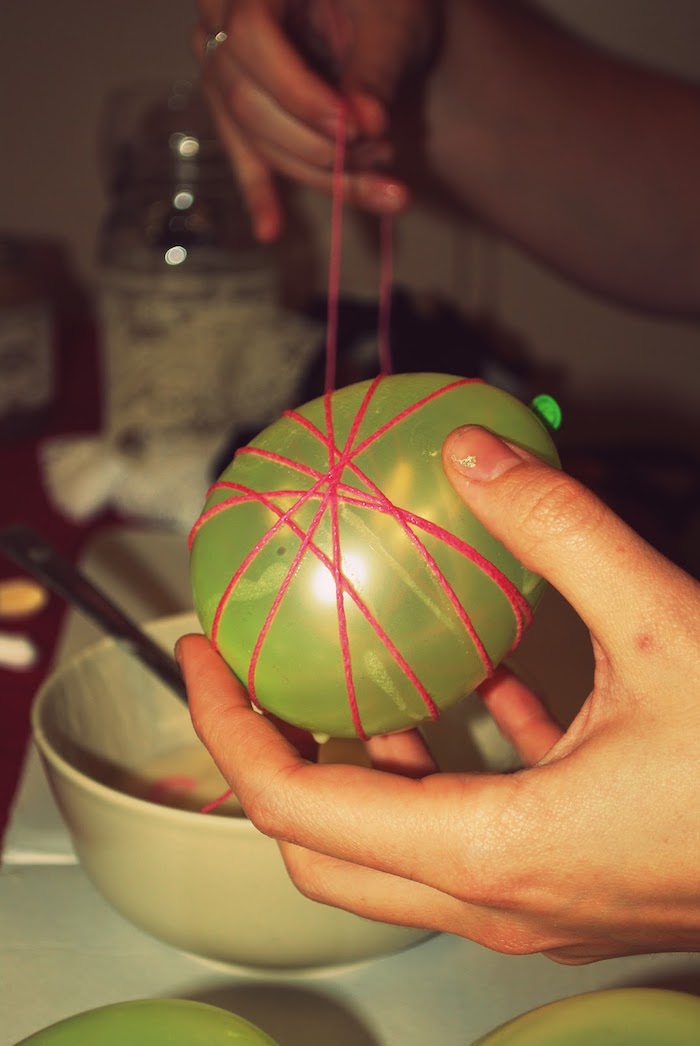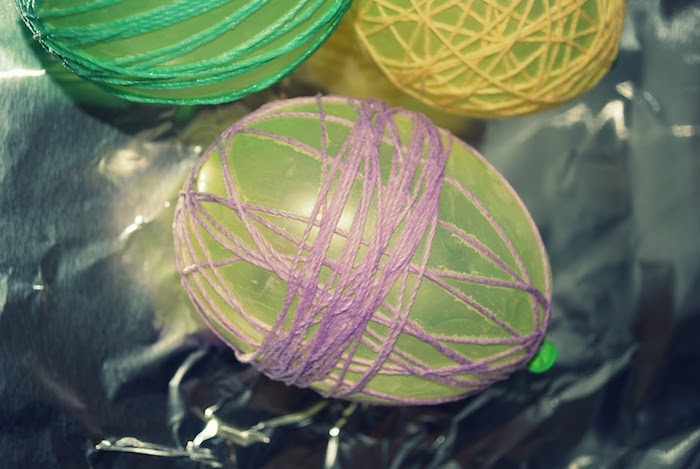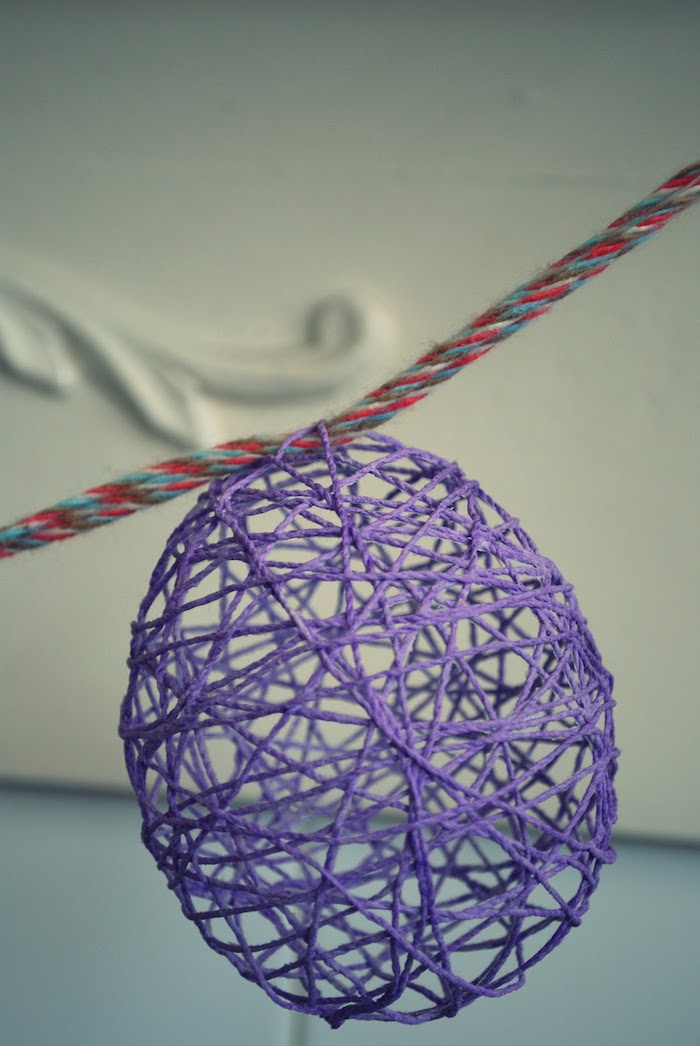 Here is a similar suggestion, with little chick figurines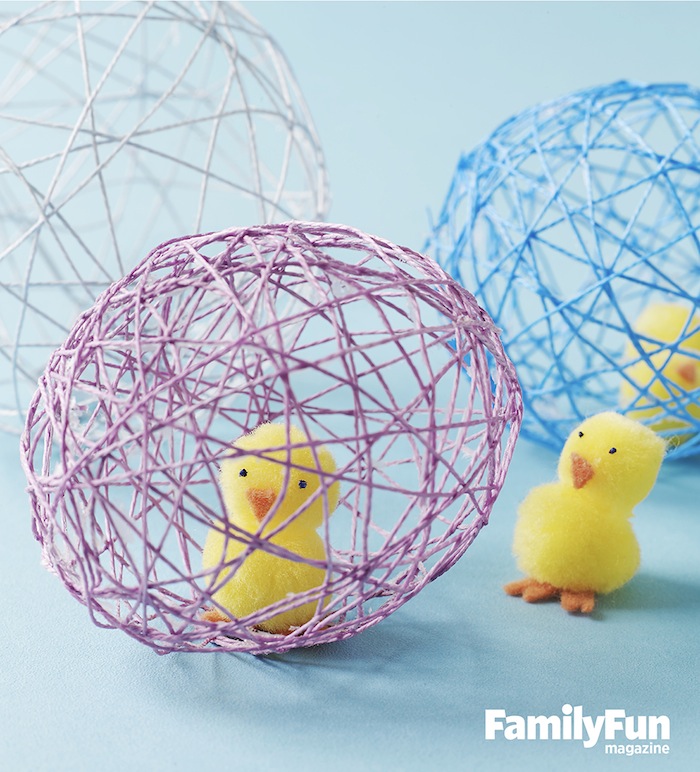 Kids will love this easy "hatching egg" crafts project!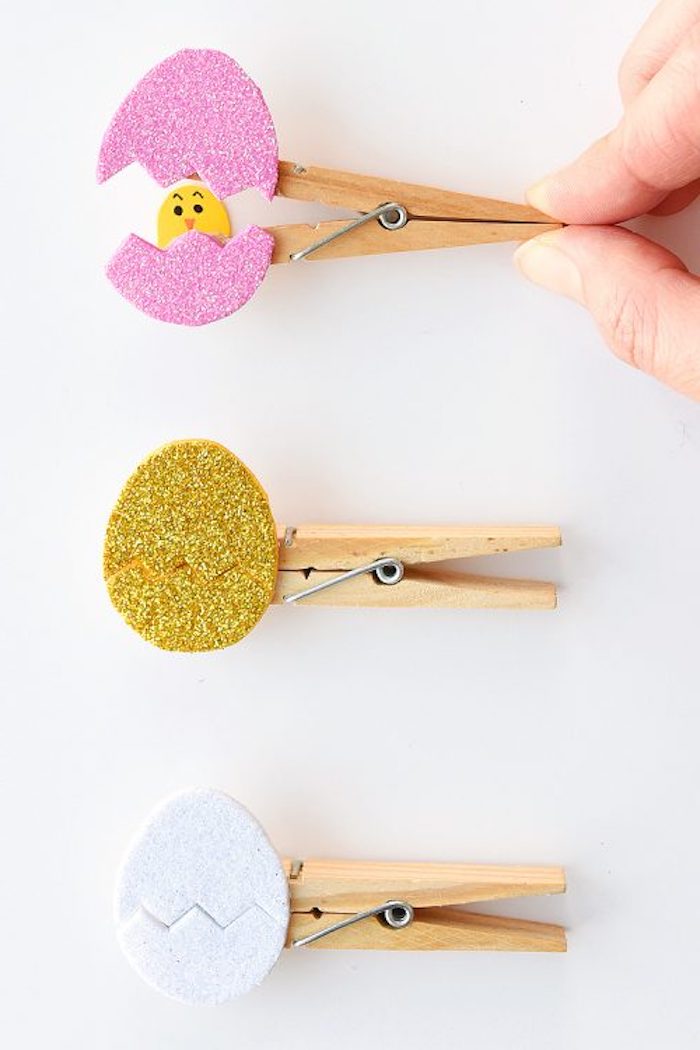 What you'll need:
A sheet of glittering card
Plain yellow paper
Clothespin
Pencil
Black and orange marker or pencils
Two-sided sticky tape
Instructions:
Cut an egg shape out from the card. Then, carefully cut it in half, in zigzag, so it looks like it's cracked.
Next, take the clothespin, and stick the two halves of the egg onto it, using the two-sided sticky tape.
Now it's time to make your chick! Cut a small shape from the yellow paper, and use the black and orange markers to draw the little bird's beak and eyes.
Stick the chick on the reverse side of the clothespin, once again using two-sided sticky tape.
Ta-dah! Your hatching egg is complete!
This project is easy-peasy, and we guarantee that younger children will love playing with the hatching egg!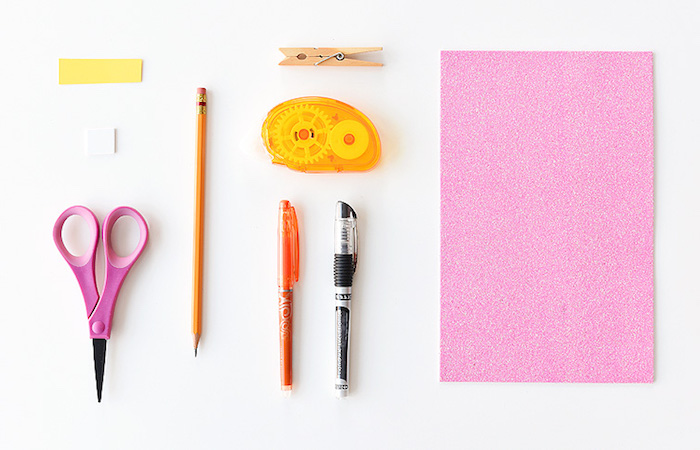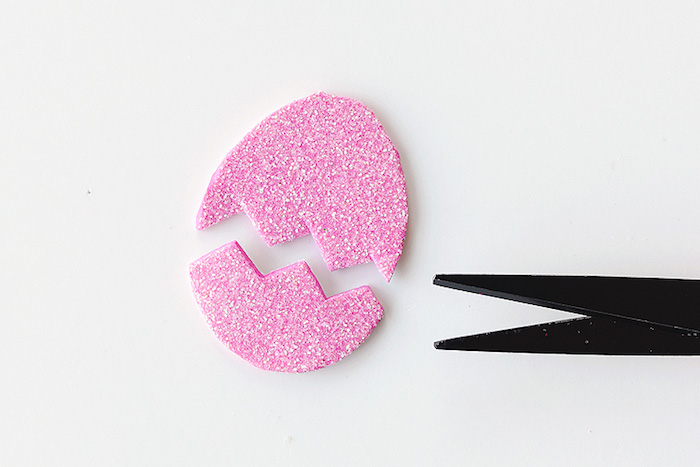 Make sure that the two halves of the egg align well with the clothespin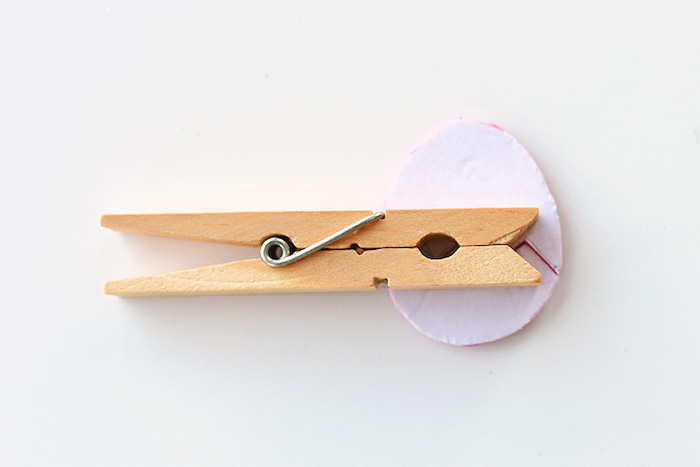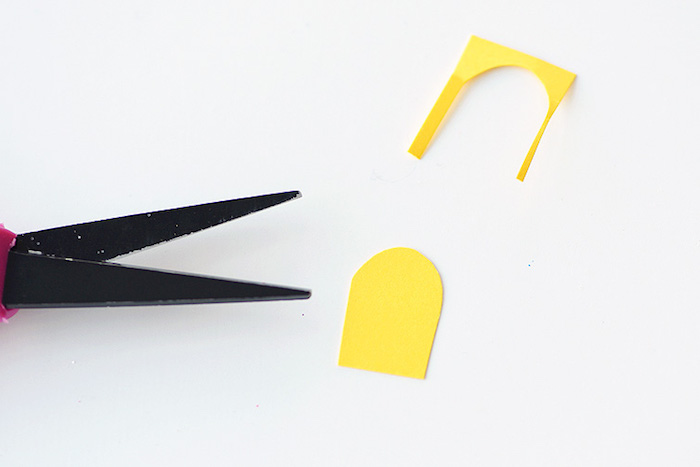 Try drawing funny faces on the chick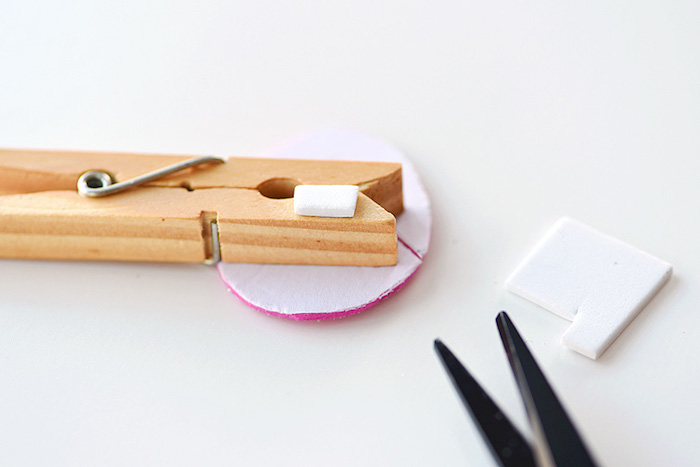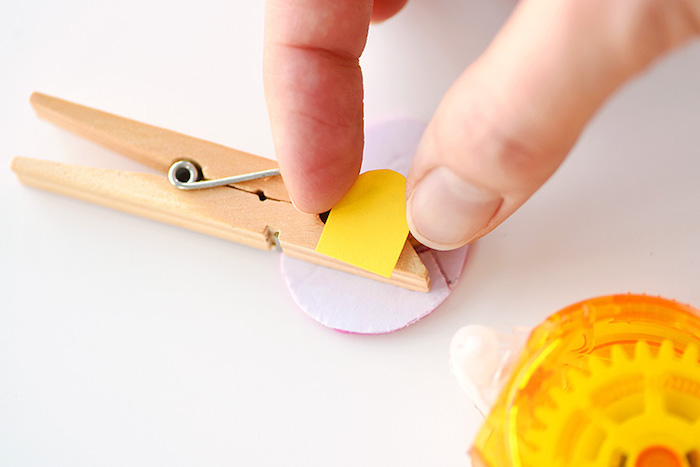 Cool easter crafts for kids – hatching egg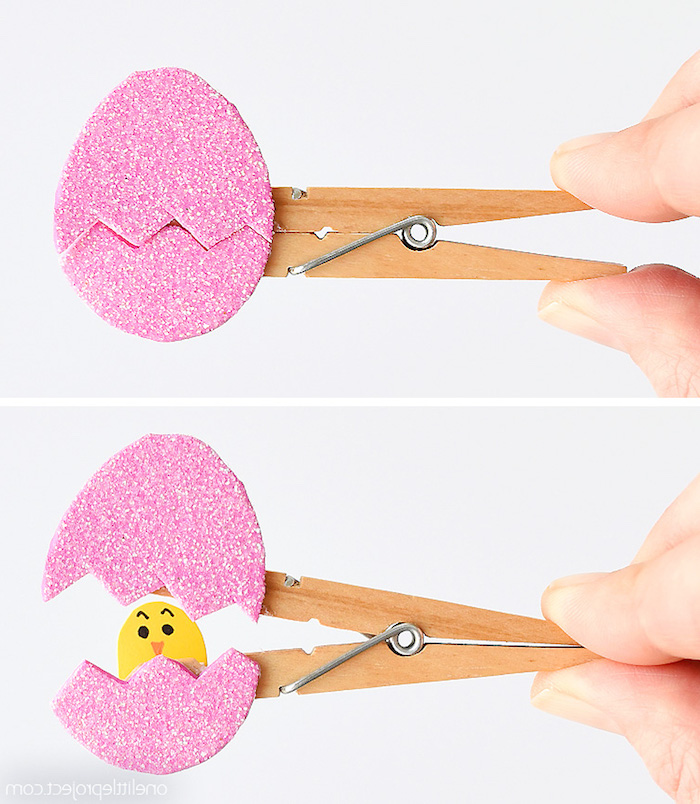 If your children want to make Easter presents for their friends, this mason jar is an excellent idea: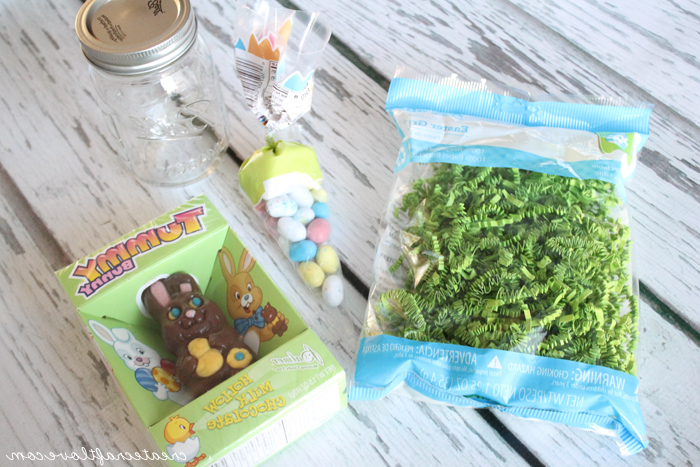 Just place some Easter glass inside…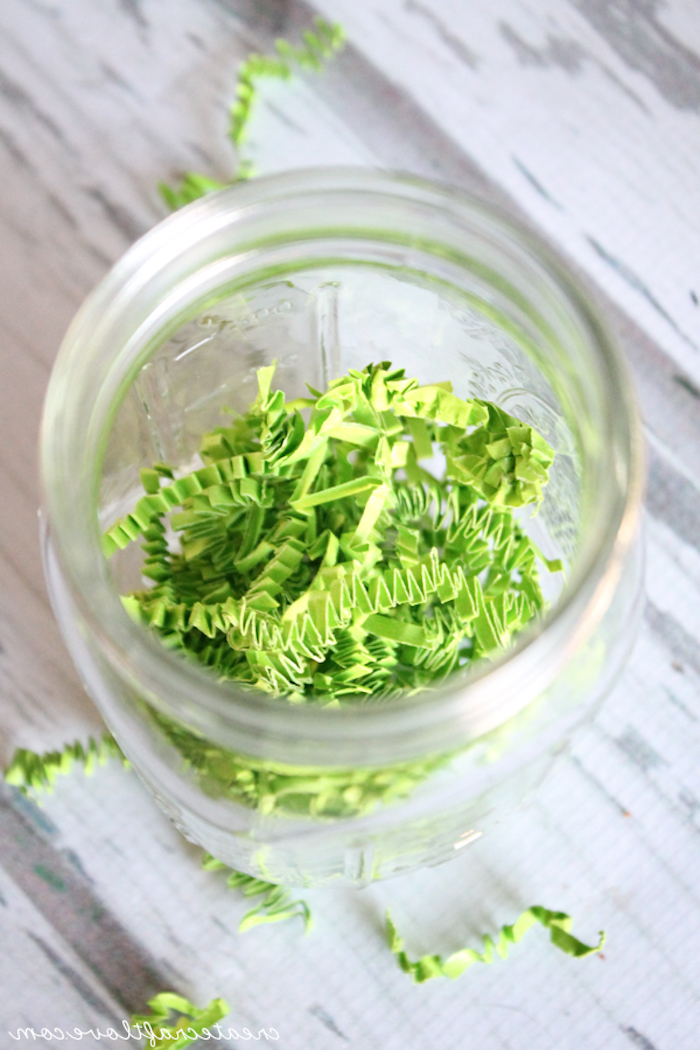 …add a chocolate bunny and some sweets…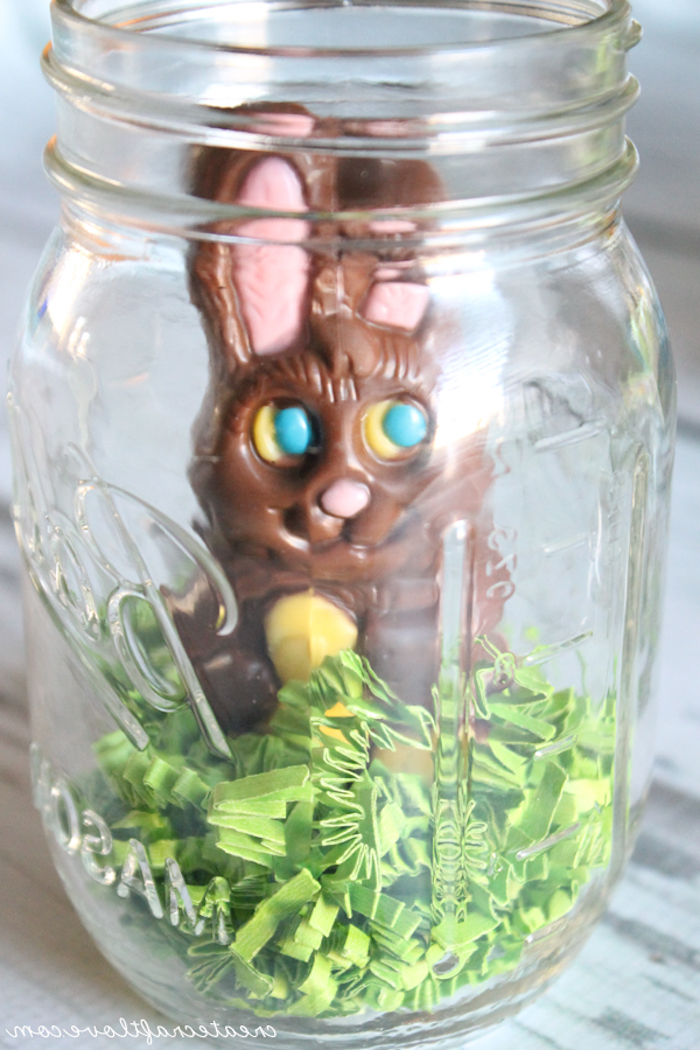 …close the lid, and and decorate it with a ribbon. Voila!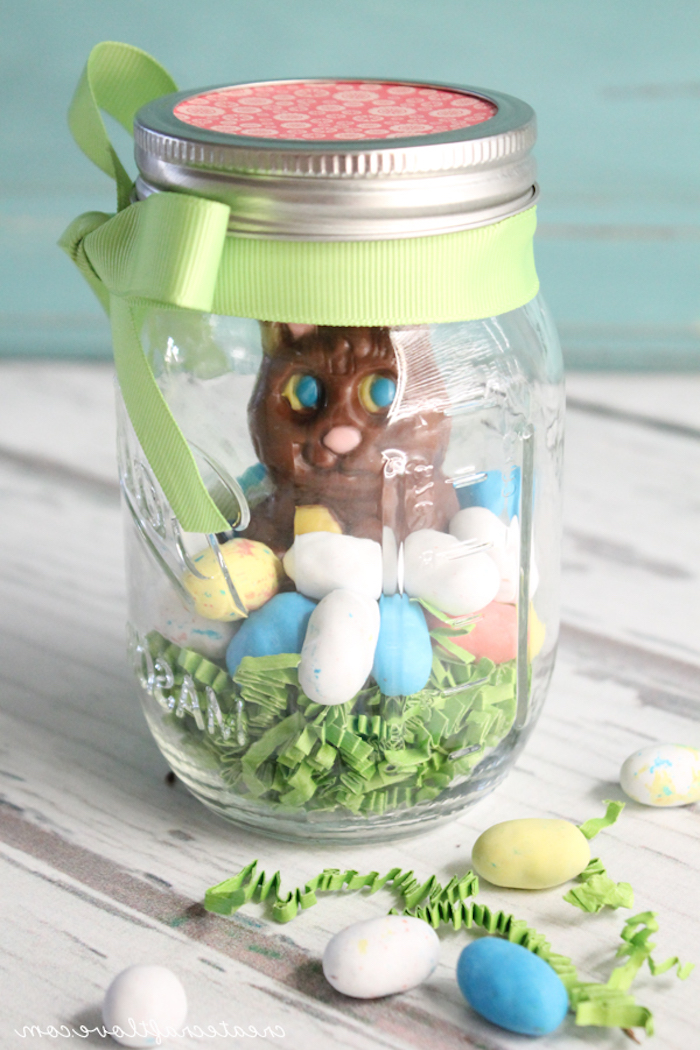 These no-mess easter bunny and moss terrariums are beautiful and easy to make: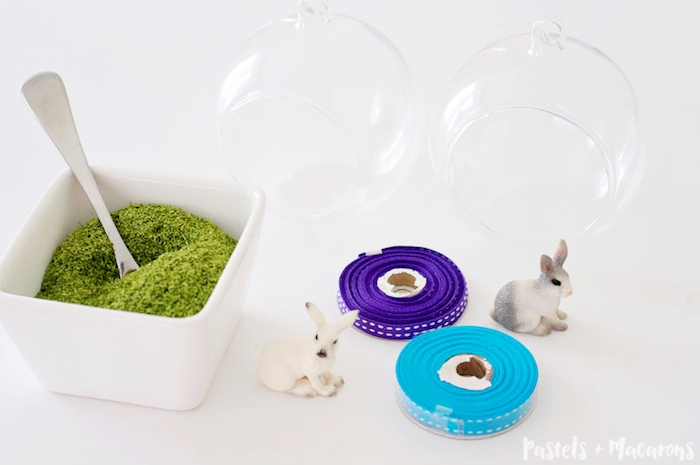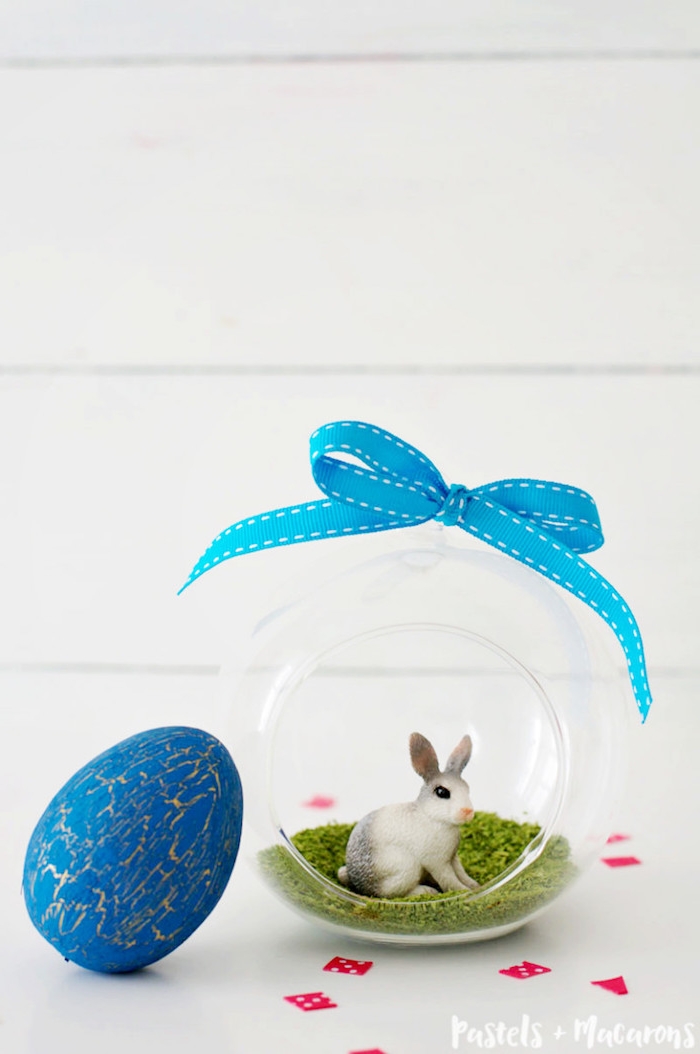 Smaller mason jars can be transformed into Easter decorations!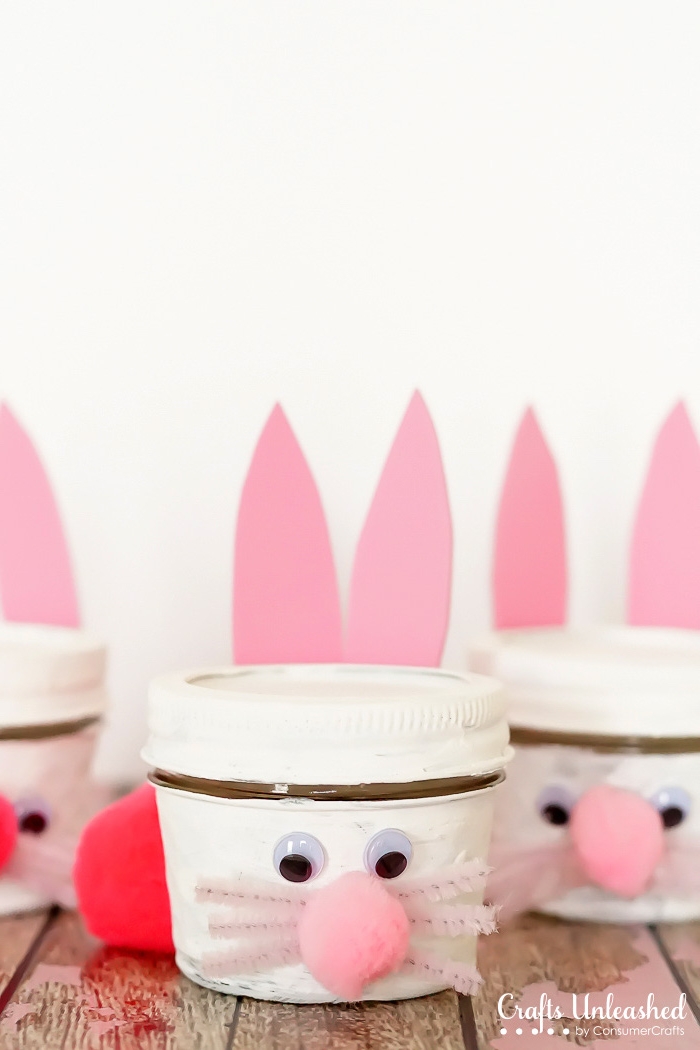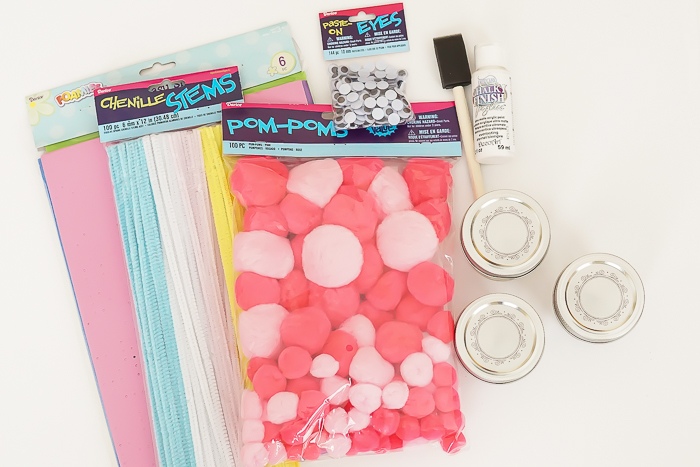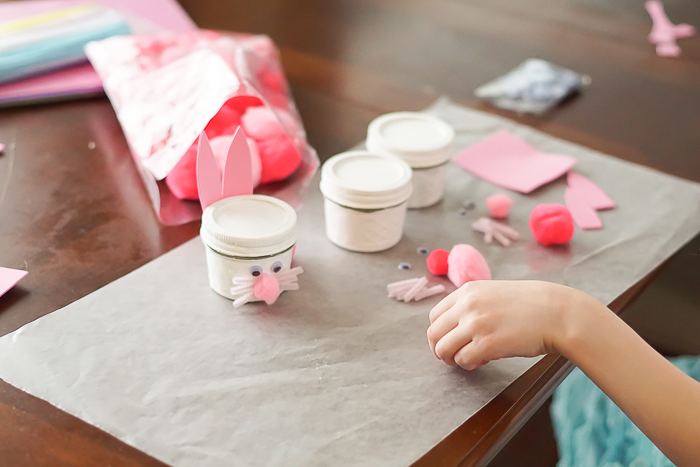 Here is another cool version of this idea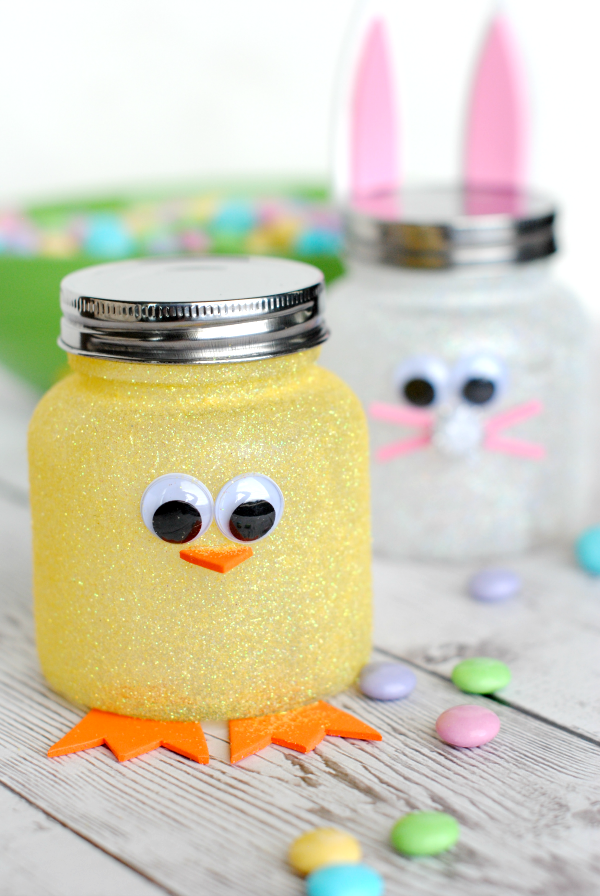 Easter crafts for kids – build your own peep sundae!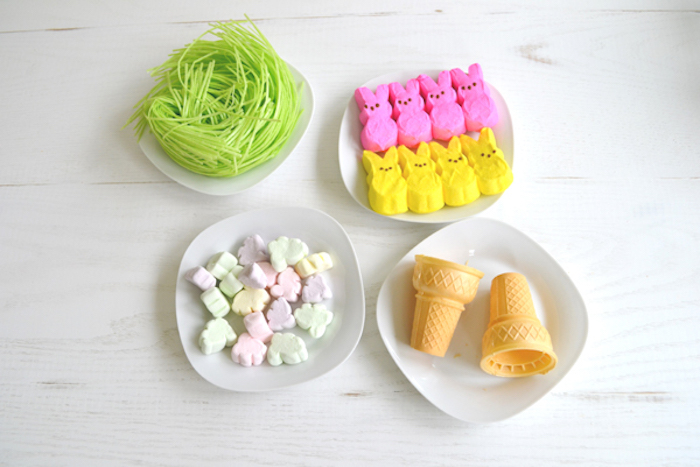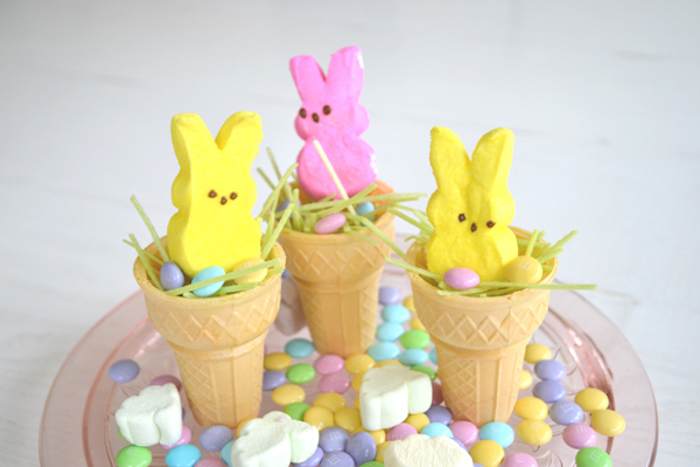 These cute bunny hats are a great addition to your Easter party: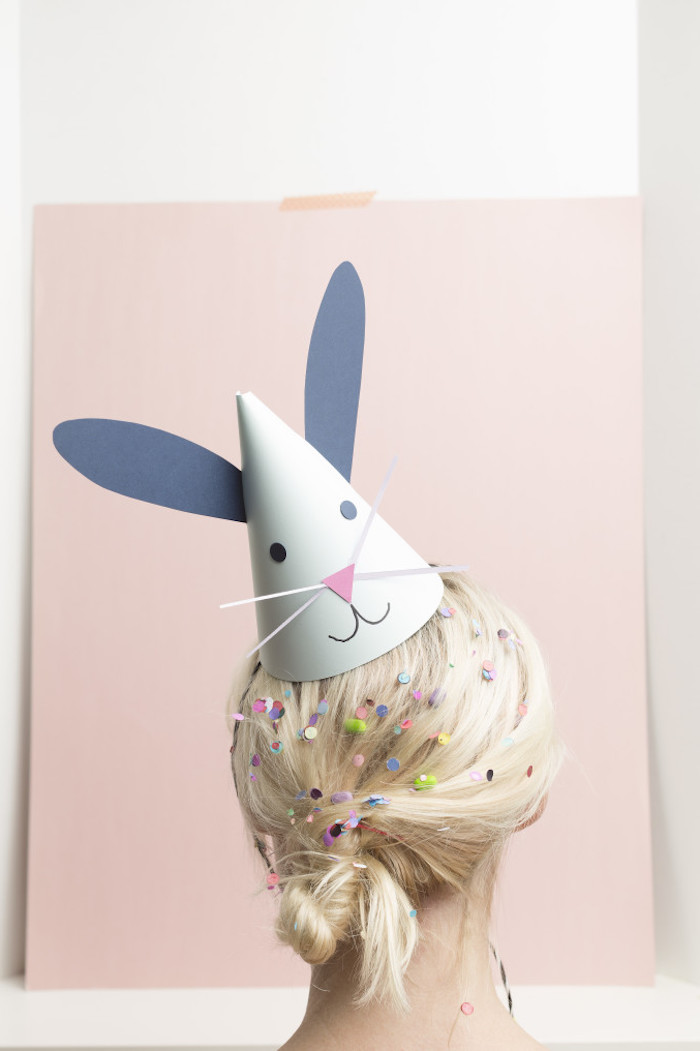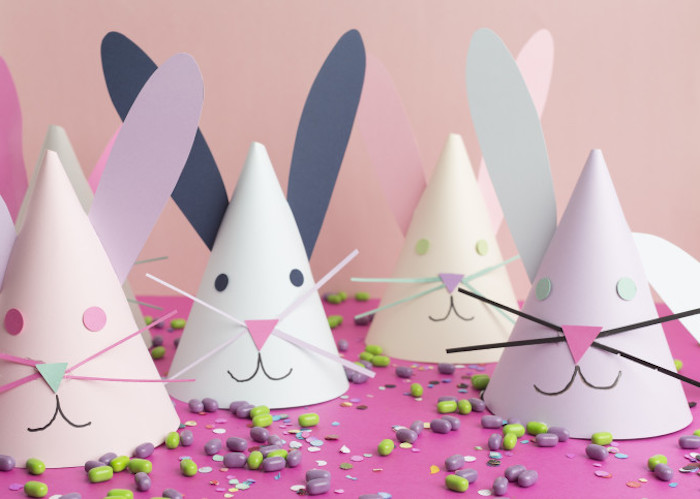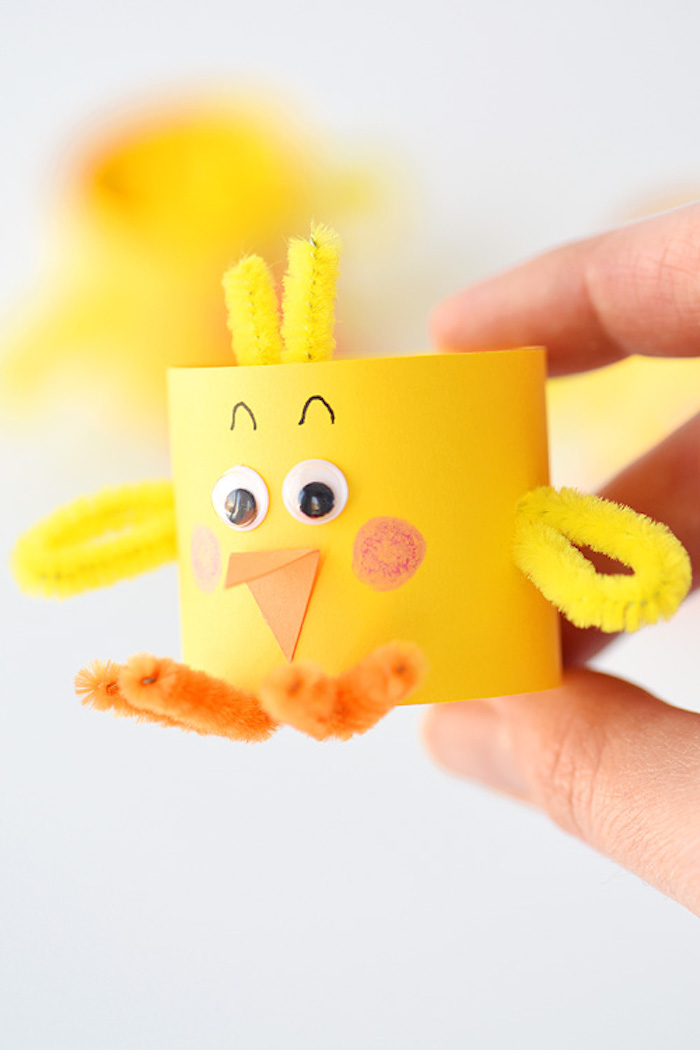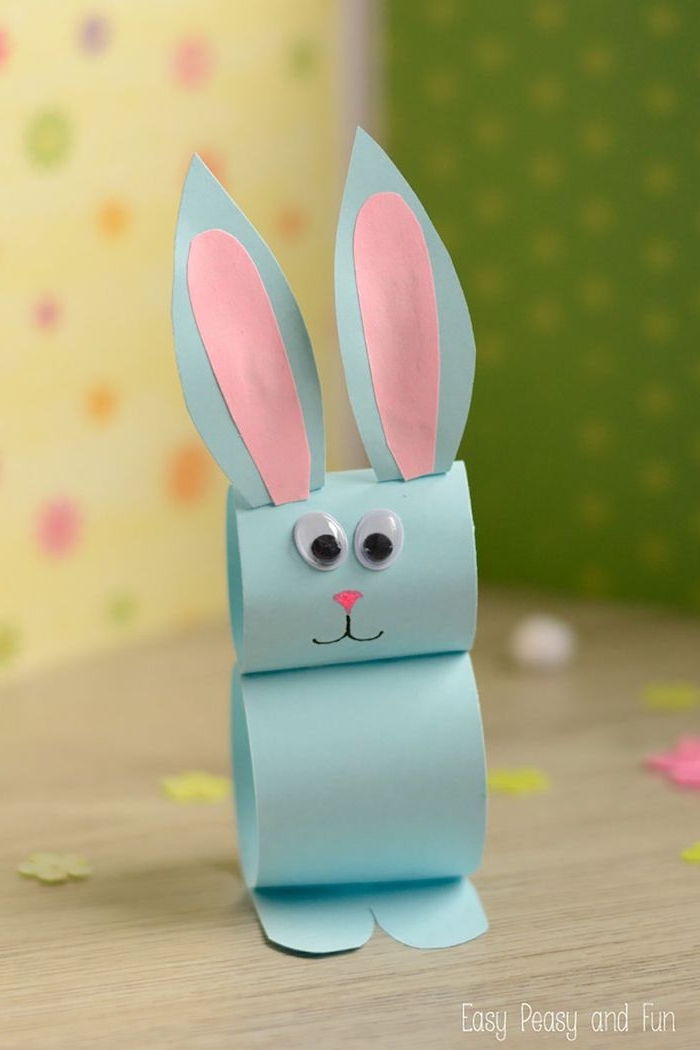 How cute is this pineapple egg? It's one of our most original easter crafts for kids!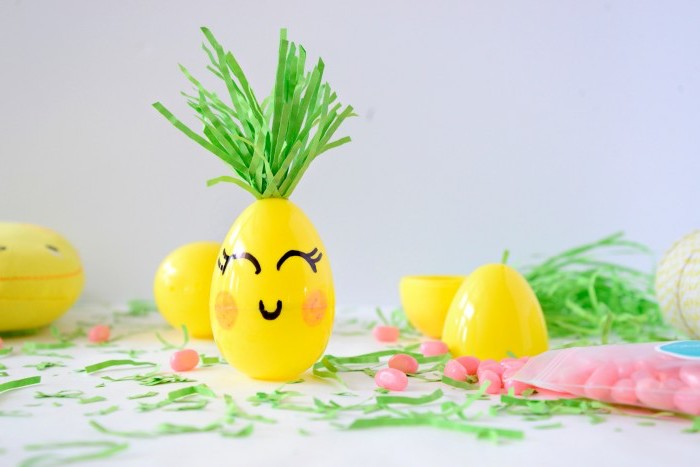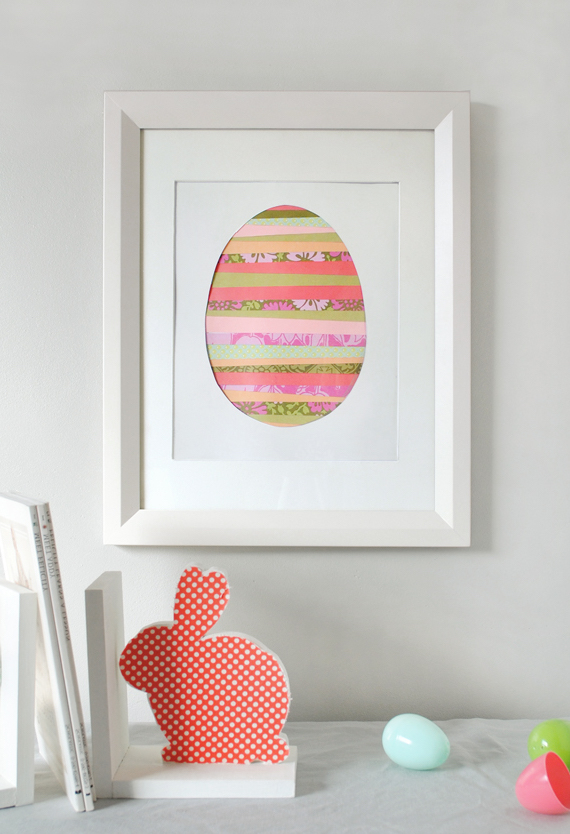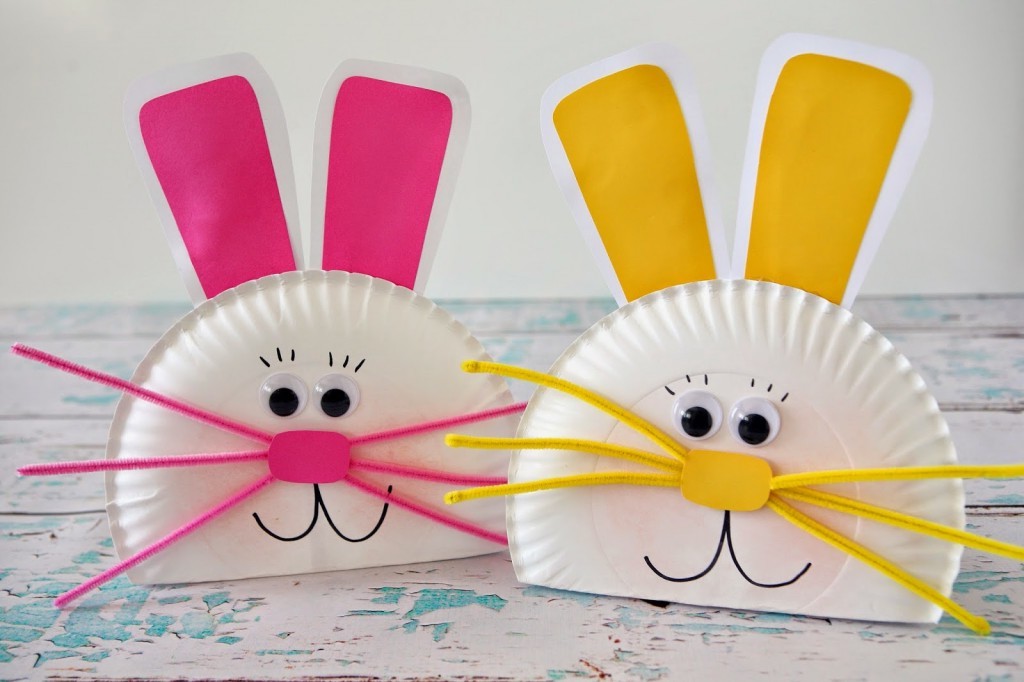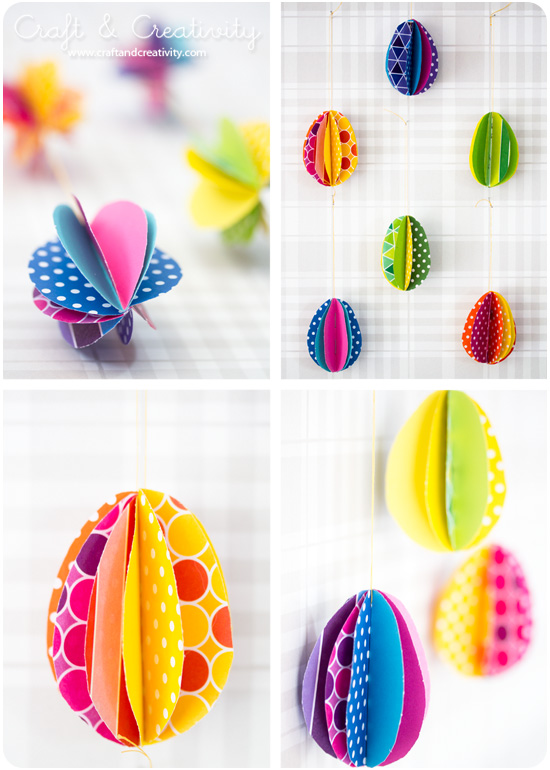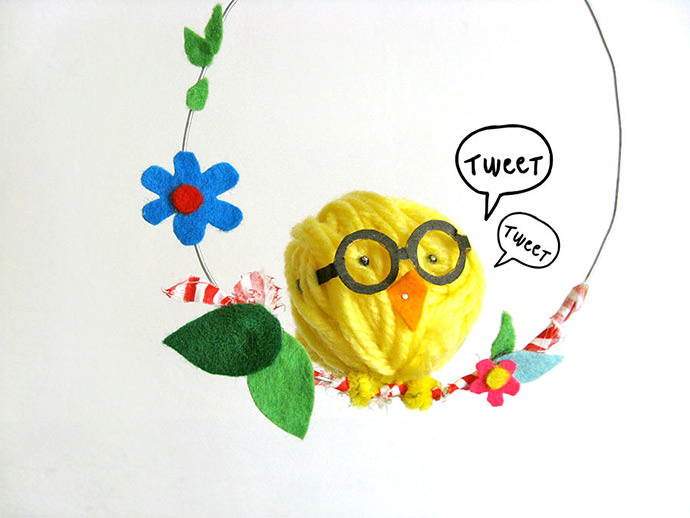 Your little ones' fingerprints can be transformed into Easter art!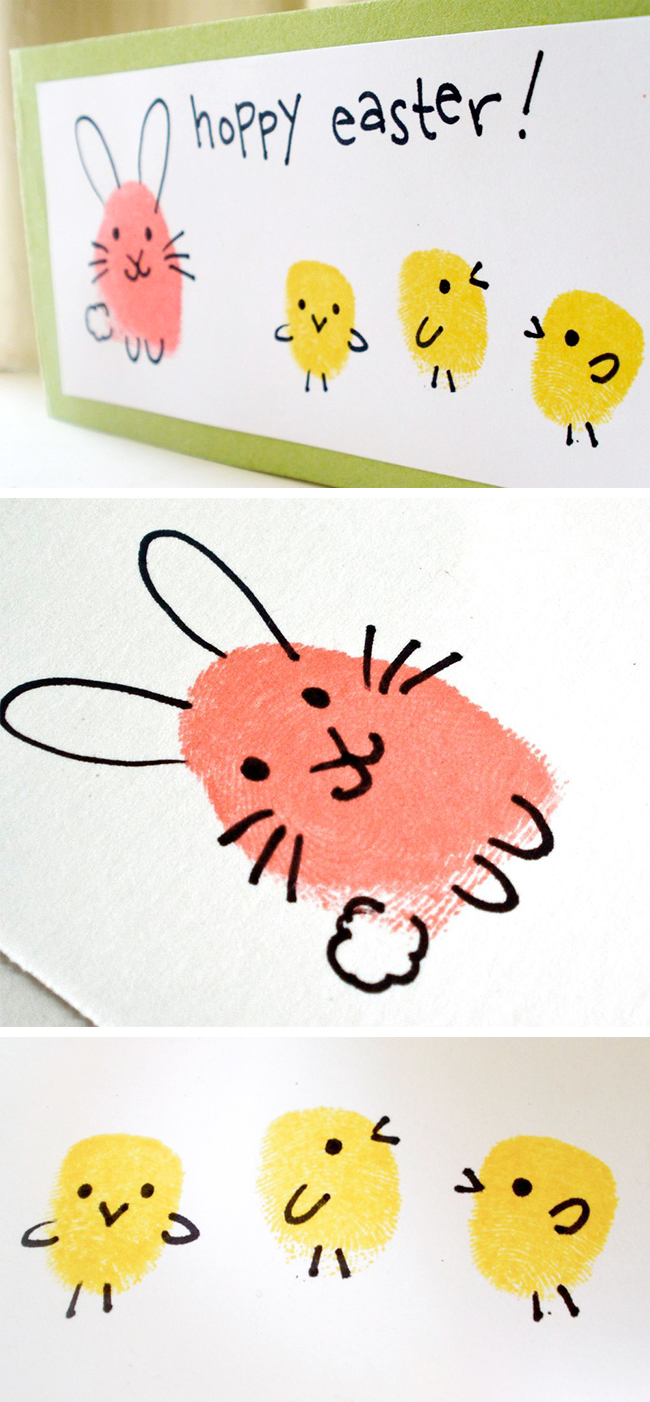 Simple and fun – one of our favorite easter crafts for kids. Its super easy and suitable even for toddlers!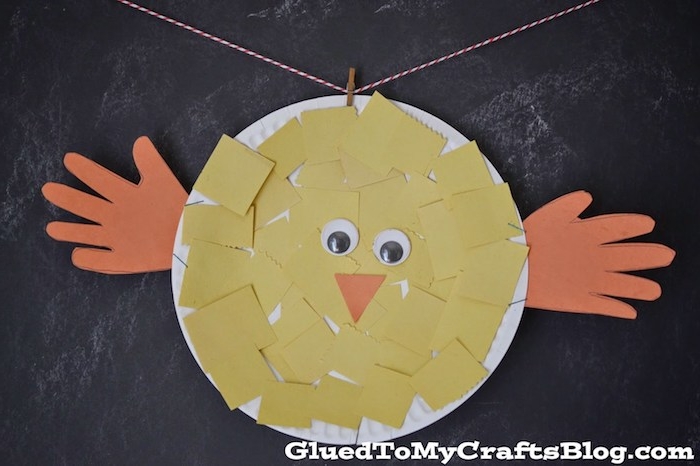 The materials you'll need are glue, scissors, eye stickers, a paper plate, and two sheets of colored card in yellow and orange: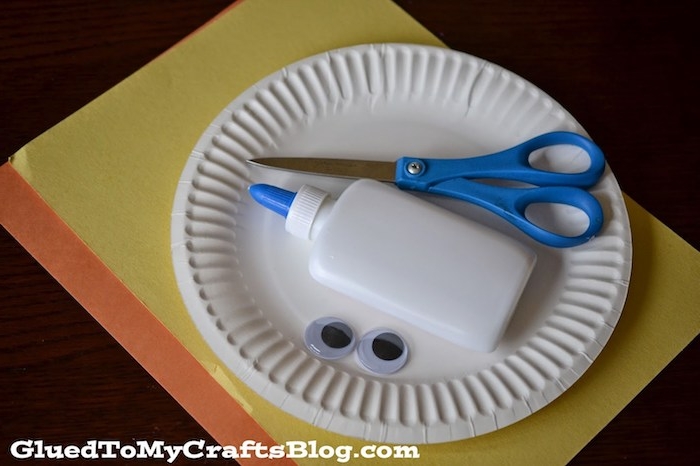 Generously cover the plate with glue and cut the yellow card in small chunks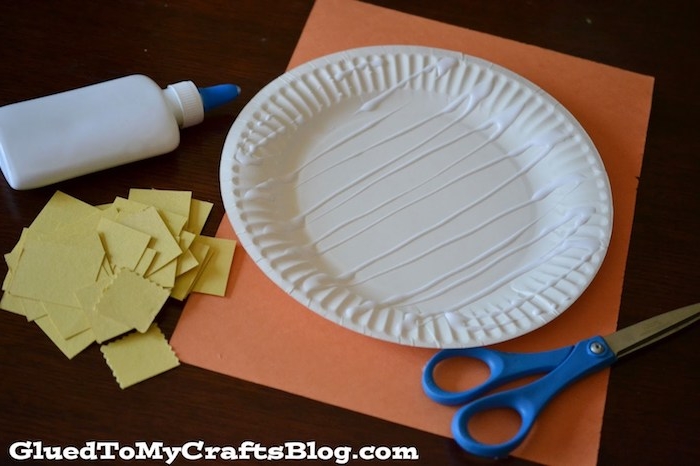 A fun and easy project, which your little ones are sure to love!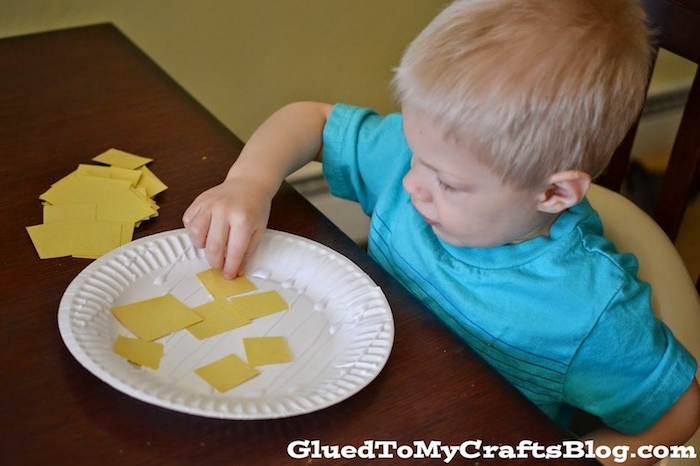 Paper plates can also be used to make cute masks: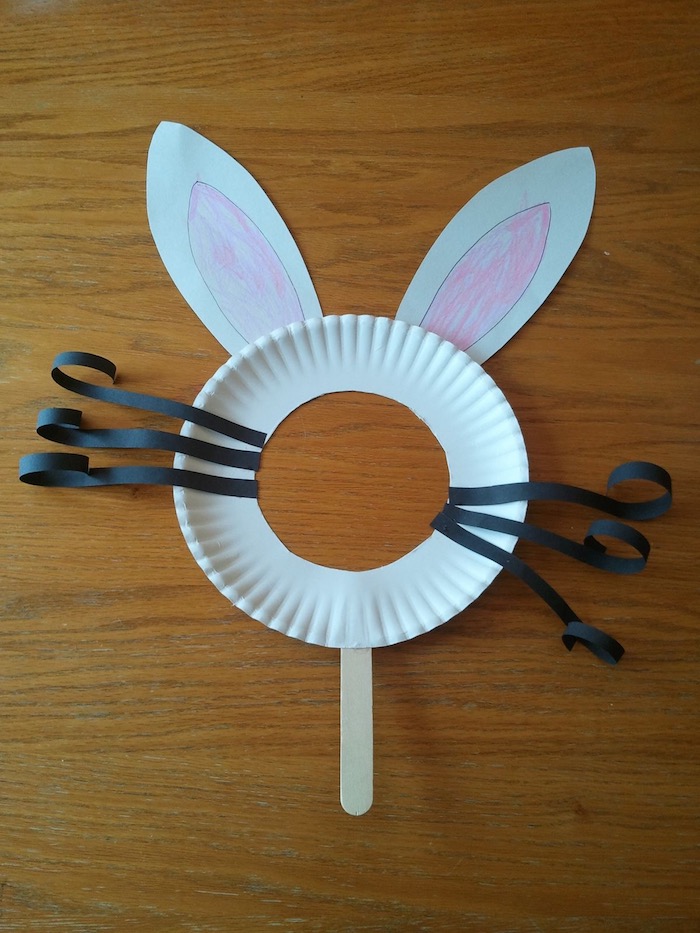 Let's not forget the many Easter crafts for kids involving eggs: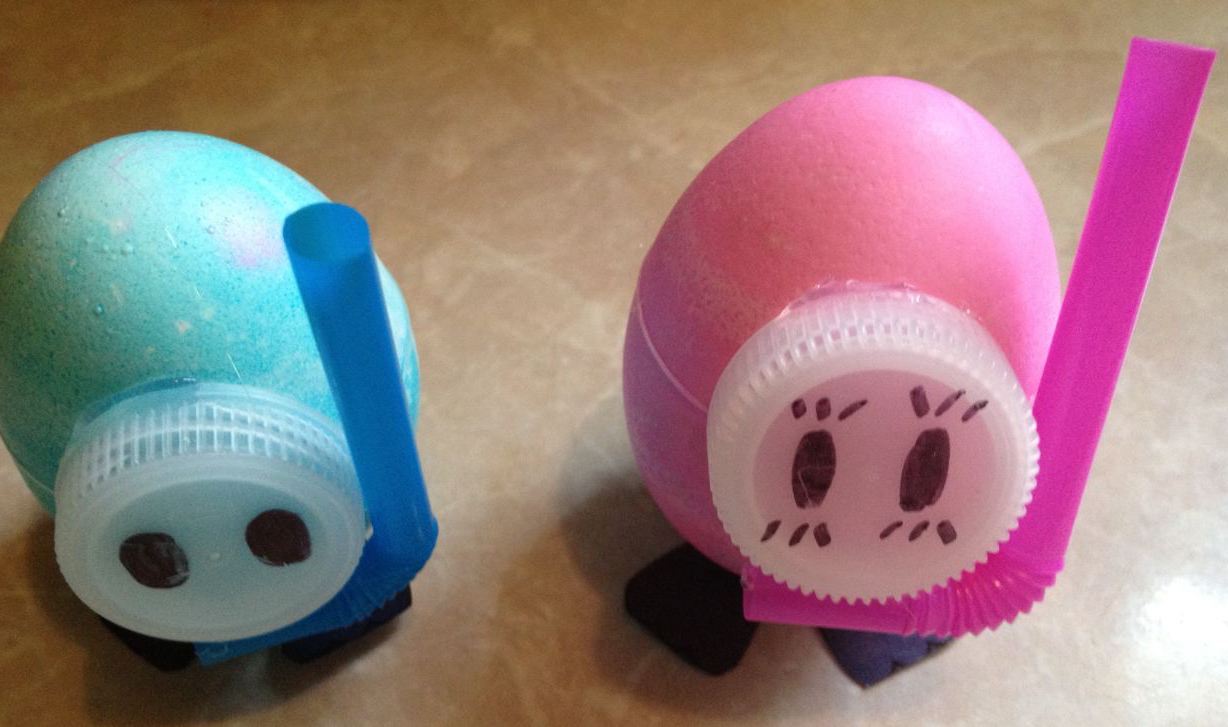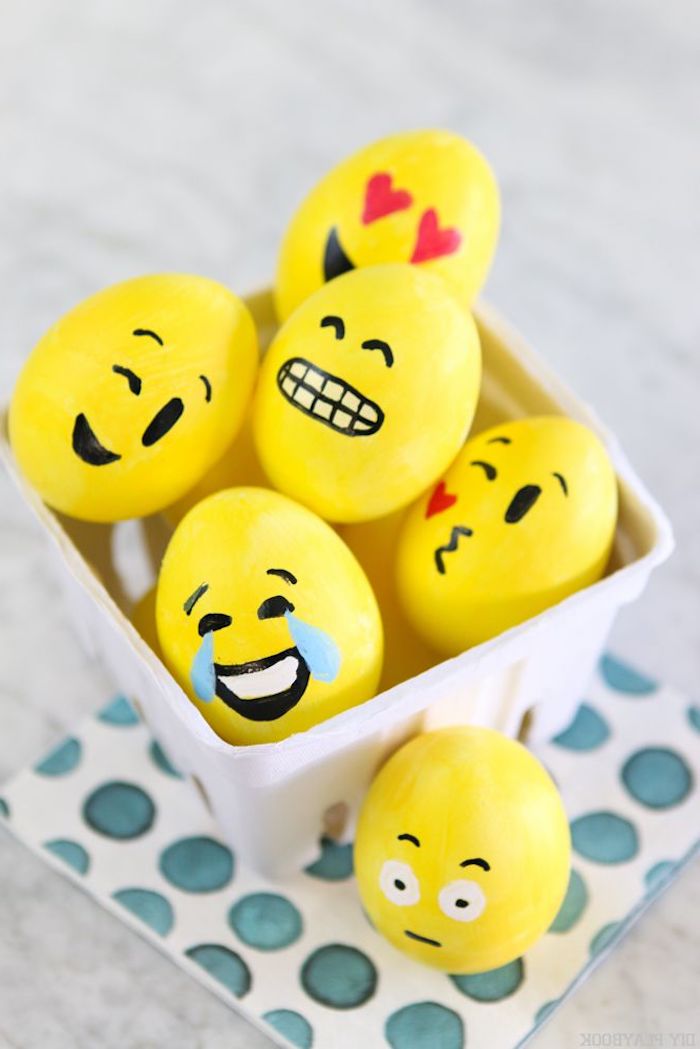 Isn't this bunny garland adorable?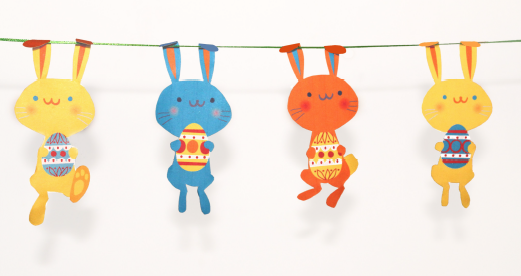 Potato egg-shaped stamps – easy Easter crafts for kids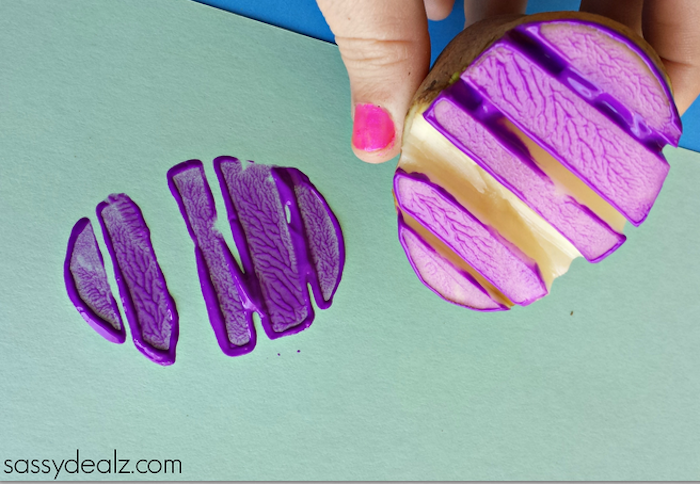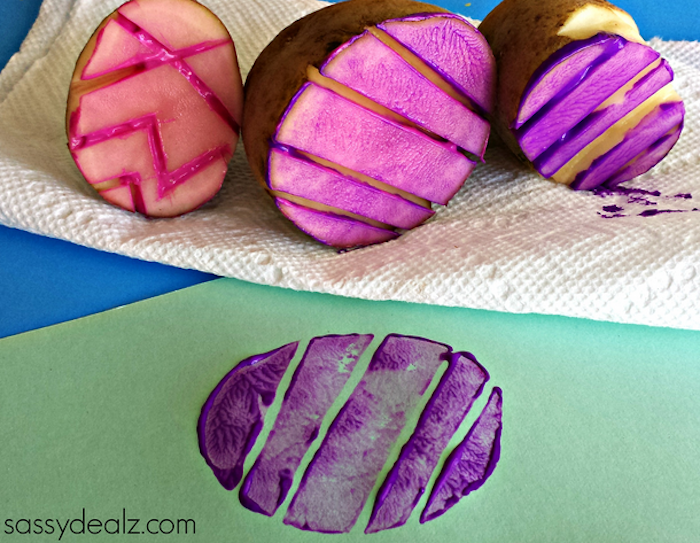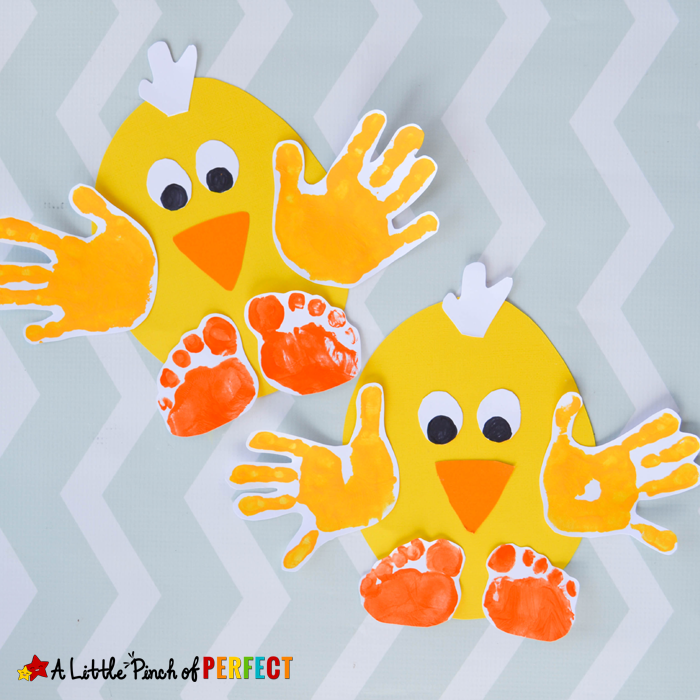 Decorate juice boxes with Easter motifs: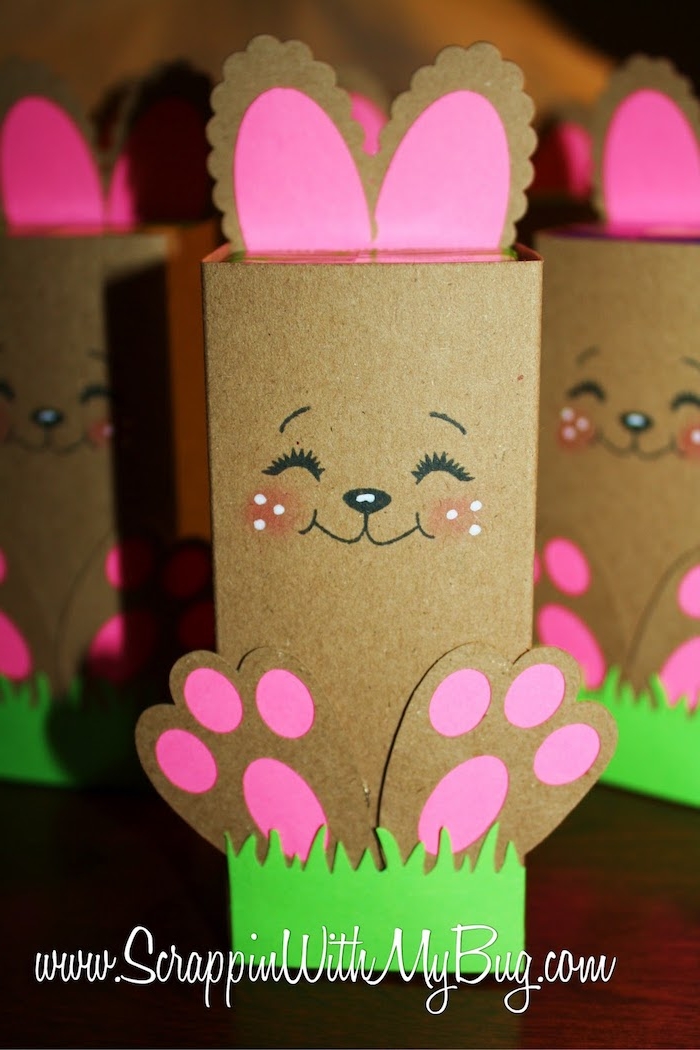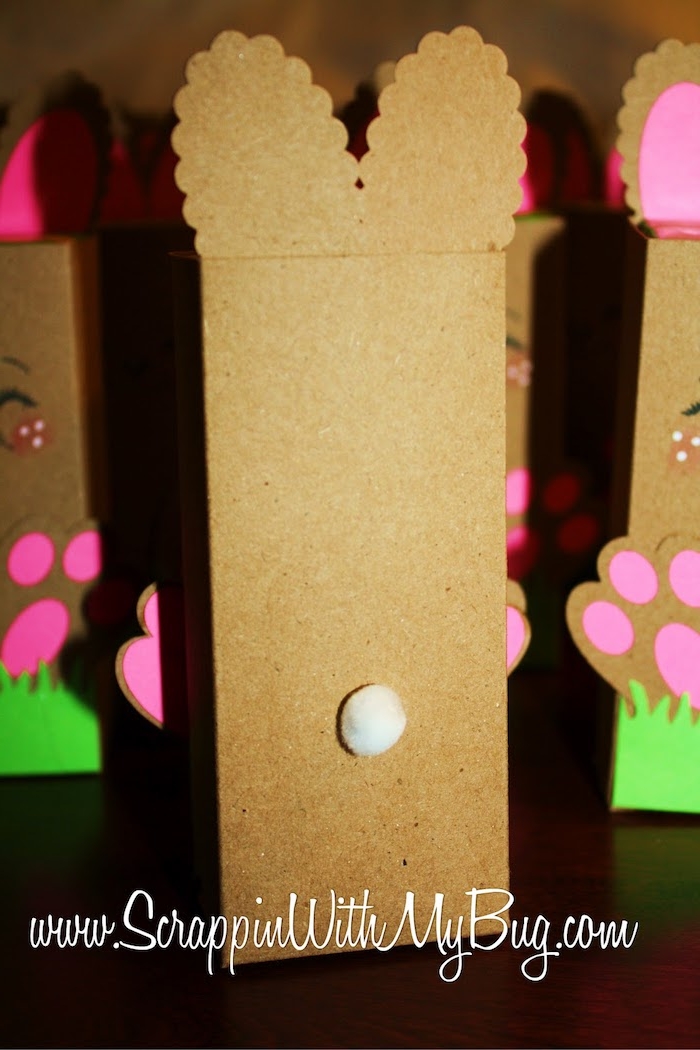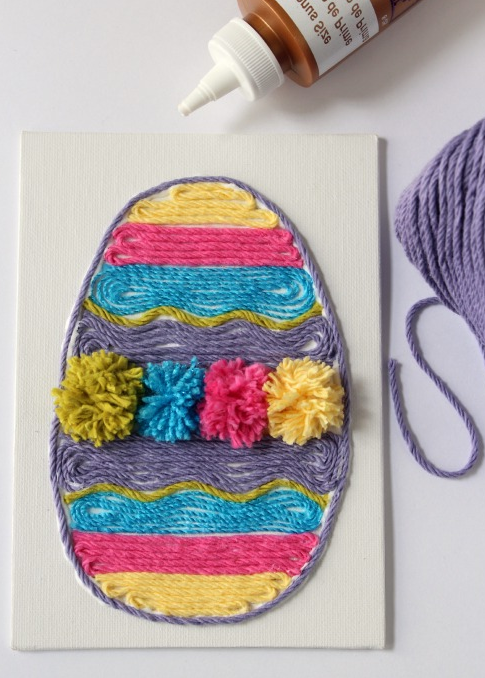 Non-toxic and nature friendly Easter crafts for kids: decorating eggs with seeds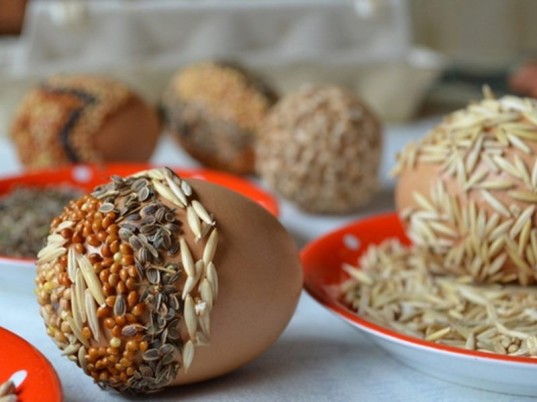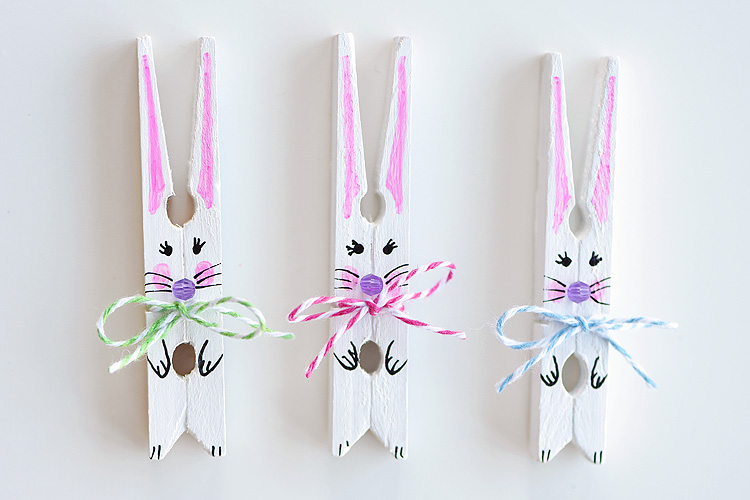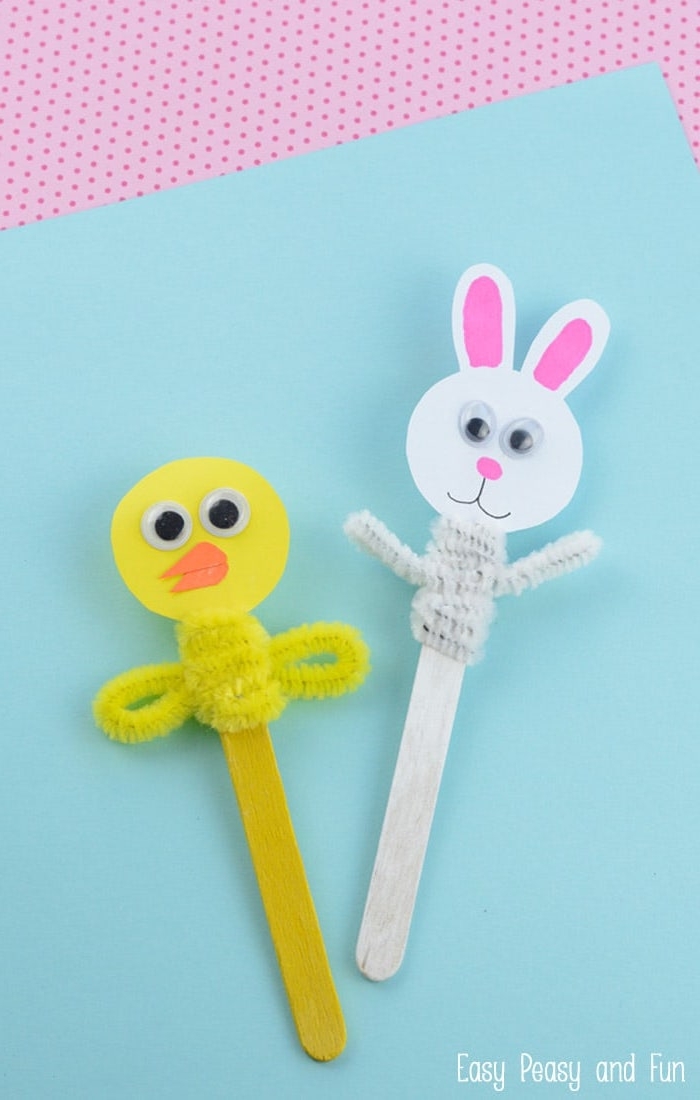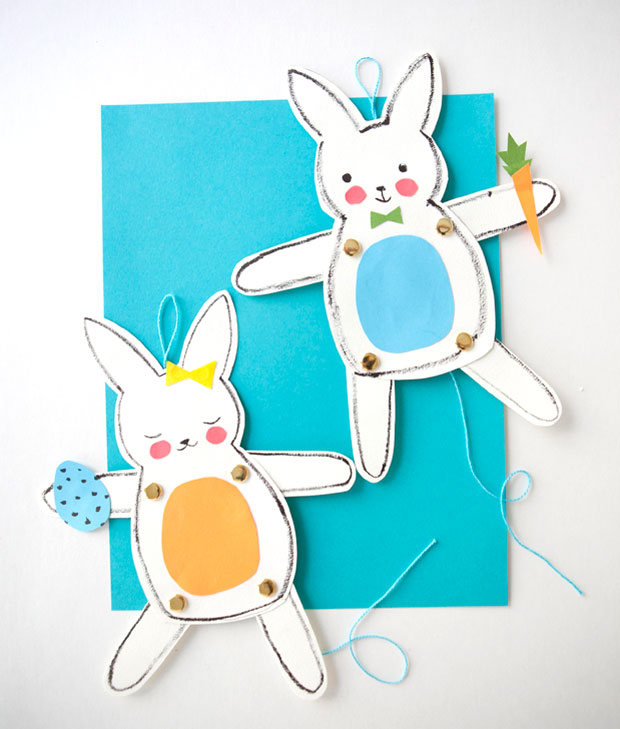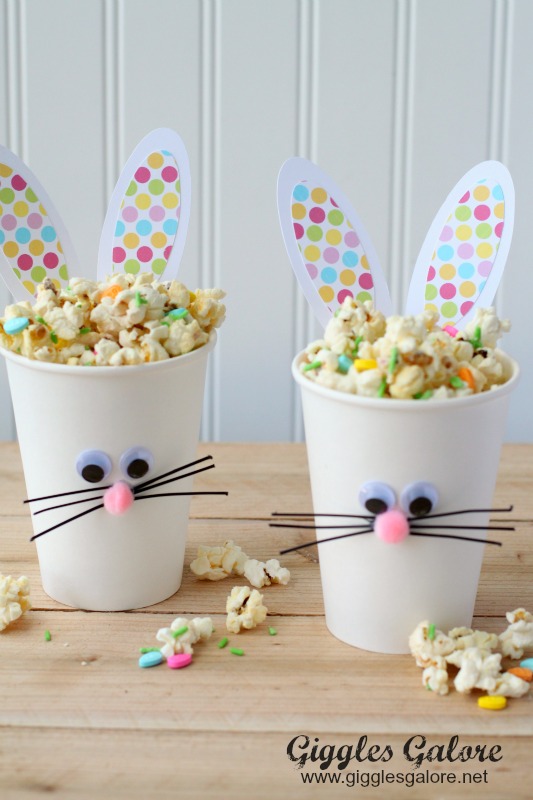 Easter tree? Why not! Children will love decorating it and making the ornaments!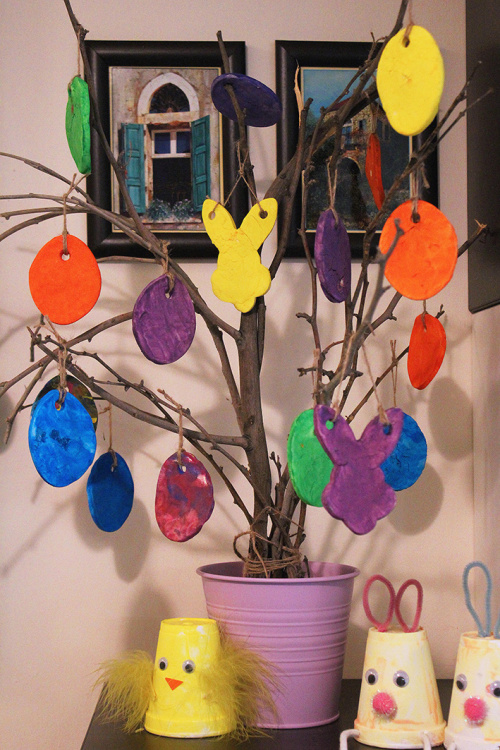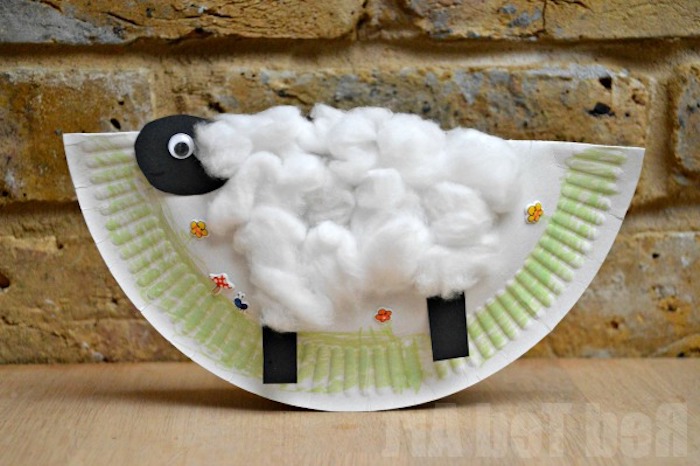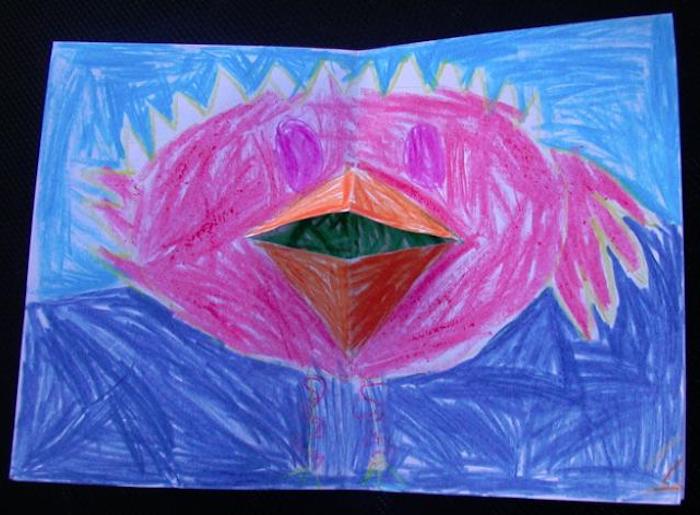 The perfect Easter gift for mom: