One & Co office by Cary Bernstein Architect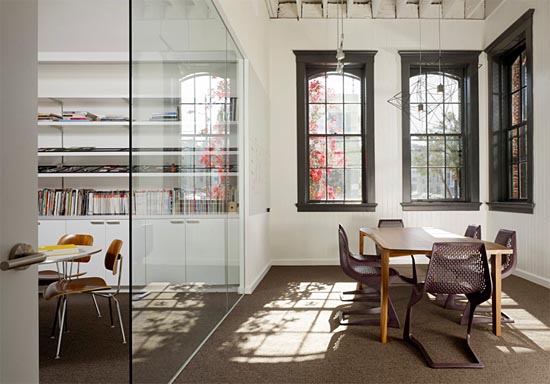 The clients from One & Co wanted to create a workspace that represented the culture of their collaborative studio. The interiors are clean, kind of minimalist and well lit with predominant white color.
From Cary Bernstein Architect:
One & Co. asked for an architectural identity to represent its industrial design studio while also expanding the space to serve its growing practice.   The office is located in a turn-of-the-century brick warehouse in the Mission.  The minimalist vocabulary of the new construction enhances the character of the older building and provides a range of visual and tactile experiences for the staff through essays on translucency, transparency, materiality, mass, texture, color and light.  The neutral palette is punctuated by hot pink surfaces on the walls, floor and furniture which enliven the perception of depth.  Products designed by One & Co. are integrated into the architecture and interior design including the new Crease tile (a collaboration with Heath Ceramics), the Periodic Table, Aura credenza and Chrysalis stool for Council, and just-a-bench for Orange22.
Project Area: 6500 sf (604 square meters)
Project Team: Brieanne Marshall, Tomas Rizo