Trendy combat boots outfit ideas – the biggest 2021/2022 trend
As we all know, fashion is an ever evolving industry. What was fashionable 30 years ago, for example, wouldn't be so trendy today. However there are some things, which every so often make a come back. Such is the case of the trend we are going to talk about today. Ever since the rise of Dr. Marten's, combat boots have been a part of every fashionista's closet. That is exactly why today, in this article, we've decided to share with yousome super modern combat boots outfit ideas. What's more, we are going to talk about the different ways you can style boots and how to wear them, so that you look like an A-list celebrity as soon as you step out. Furthermore, if you still don't have combat boots in your closet, what are you waiting for? Might as well get yourself a fresh new pair for Christmas or ask Santa to bring you a pair. So, keep reading to get some inspiration for your own outfits.
Combat boots are super trendy, comfortable and warm, so here's how to style them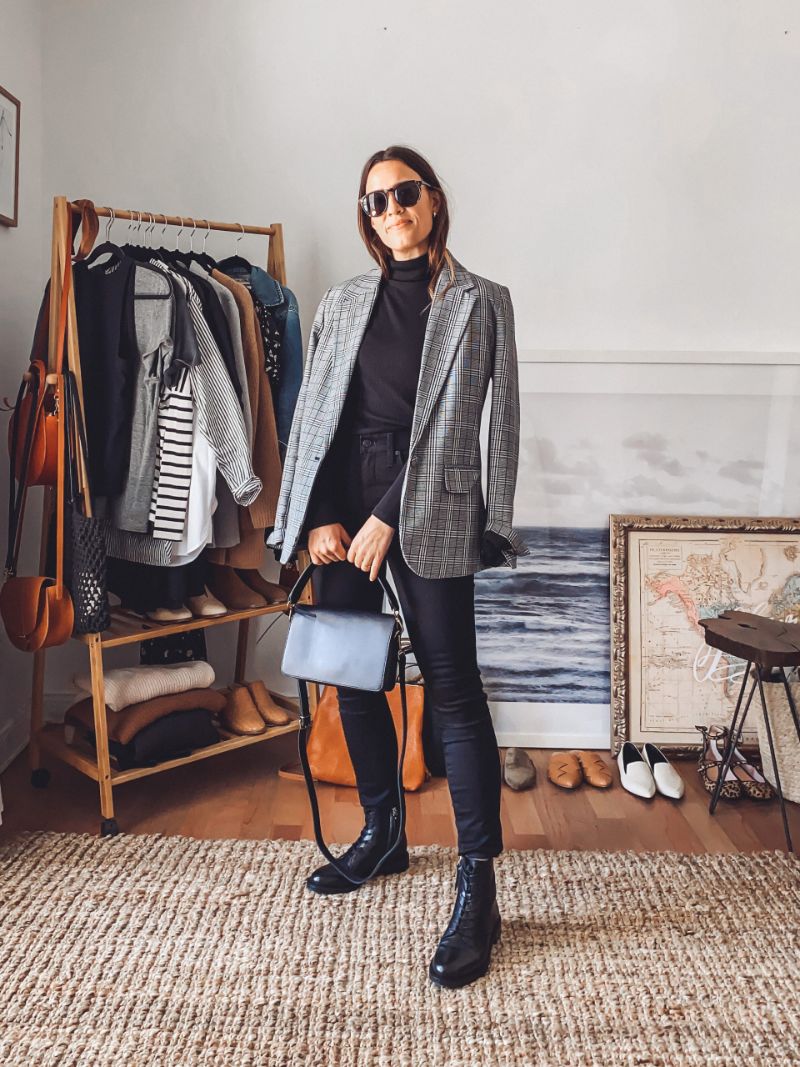 Simple combat boots outfit ideas
The first and probab;y easiest way to style combat boots is with a pair of black jeans. Black jeans are something every woman should have in her closet. Not only are they super versatile when it comes to color combinations, but they are also perfect for any type of weather. So, if you want to pair your combat boots with black jeans, the best way to do it is with the pants tucked into the boots. Apart from that, the rest of the outfit is entirely up to you. For a more business look, add a polo blouse and a nice blazer. For a more casual look, add either a hoodie or graphic t-shirt and top it with a leather jacket. And, finally, for a more modern, Instagram worthy look, pair your high waisted black jeans with a crop top or a bralette and finish off the outfit with a blazer or, once again, a leather jacket.
There are so many different way to style combat boots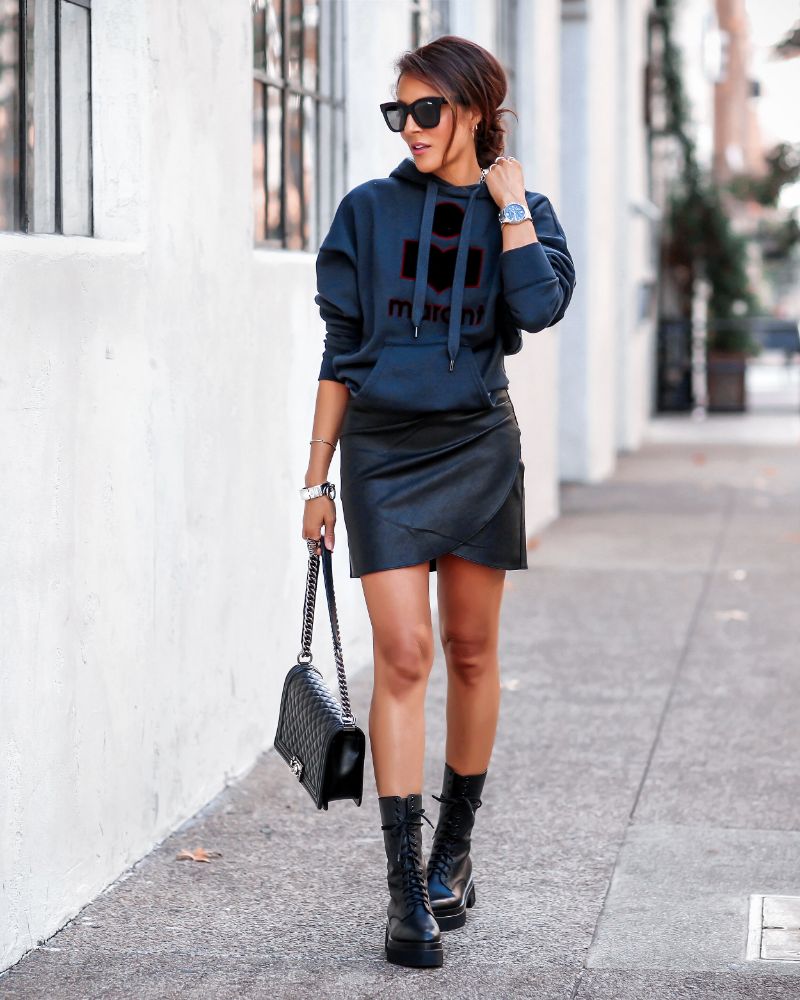 How to wear combat boots with a skirt?
Now when it comes to wearing combat boots with a skirt, once again, there are lots of possibilities. First of all, you need to determine the style of your look. Is it more streetwear casual or is it more business casual? If you are more on the streetwear casual side, pick out a leather skirt and pair it with a nice hoodie as the picture above suggests. On the other hand, if you want to be more business casual, then pair your skirt with a polo or a shirt and finish off the look with a nice coat or a blazer. What's more, you can even wear combat boots with midi skirts. Knitted skirts are super popular right now and they will look great paired with an oversized knitted sweater.
Here's a more business casual take on the combat boots and skirt combo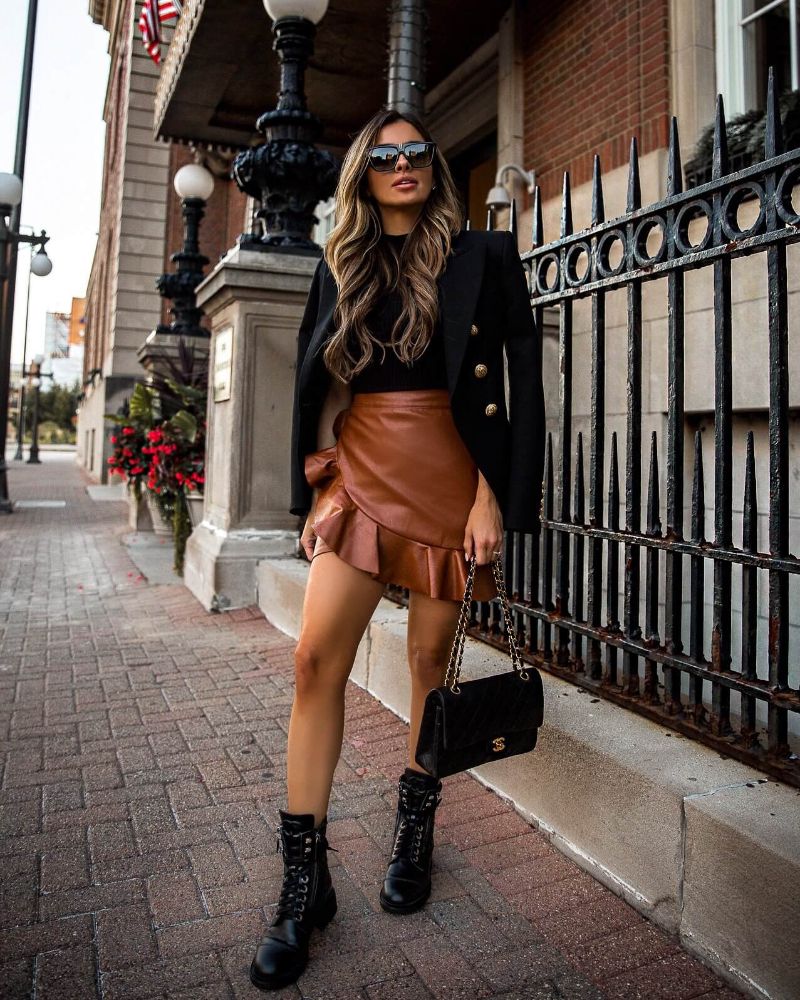 Now let's look at some different ways to style boots with a dress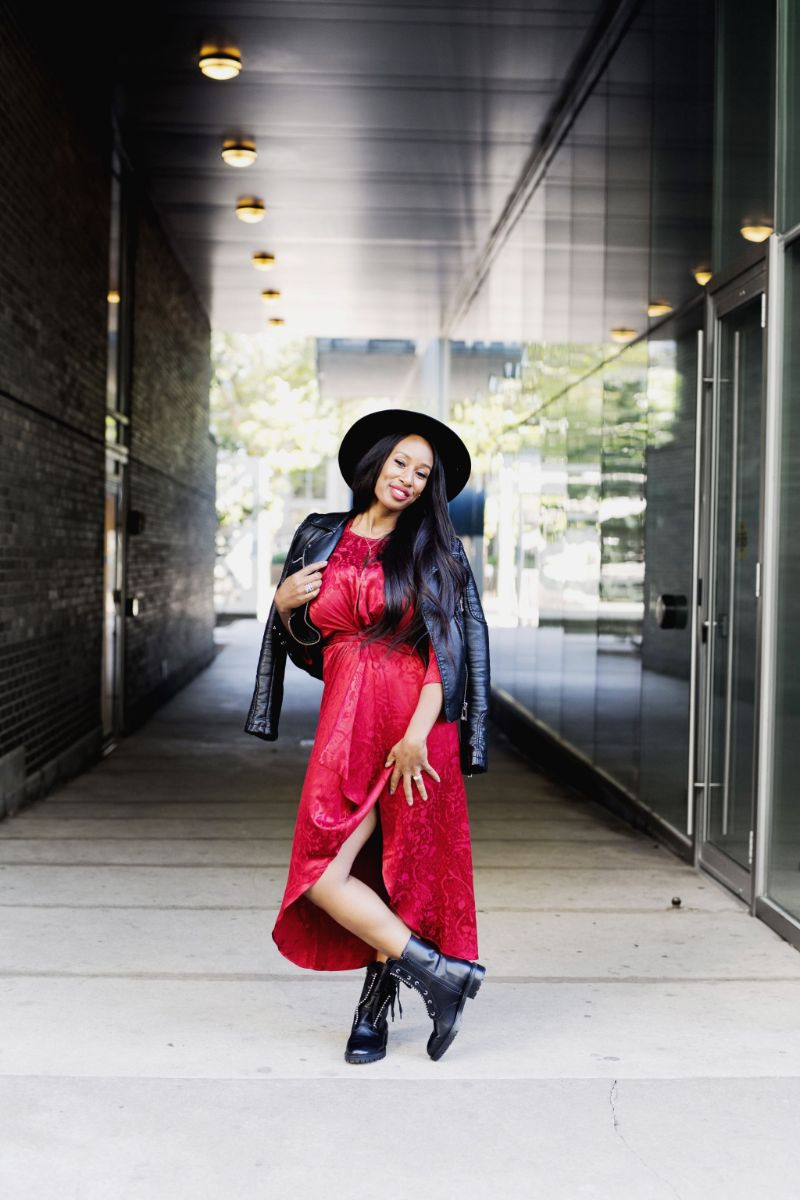 How to style combat boots with dress
The good thing about combat boots is that they can be styled with both long and short dresses. When it comes to styling them with long dresses, the important thing is to keep the length of the dress above the ankles. In general, the rule is to wear a free flowing skirt, which can partially cover the boots, but not fully. Naturally, a more casual dress looks best. However, you have a lot of options when it comes to colors and prints. For a darker shade, choose black boots, while for a more light colored dress, you can always choose white boots, which are also very trendy and popular. When it comes to short dresses, needless to say that they look absolutely gorgeous with combat boots. Both types can be worn with a leather jacket, coat or a blazer on top.
Take a page out of Kaia Gerber's book for ways to wear a short dress with combat boots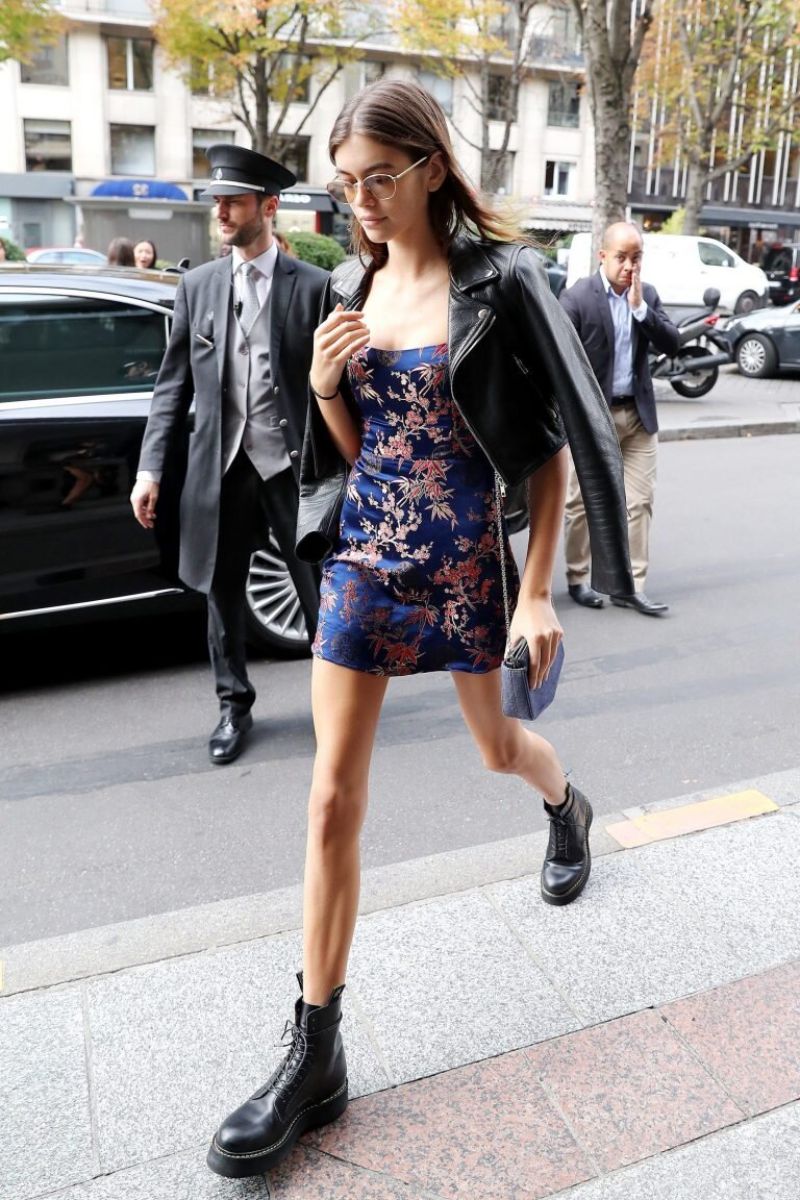 The same rules apply to lighter shade of jeans as black jeans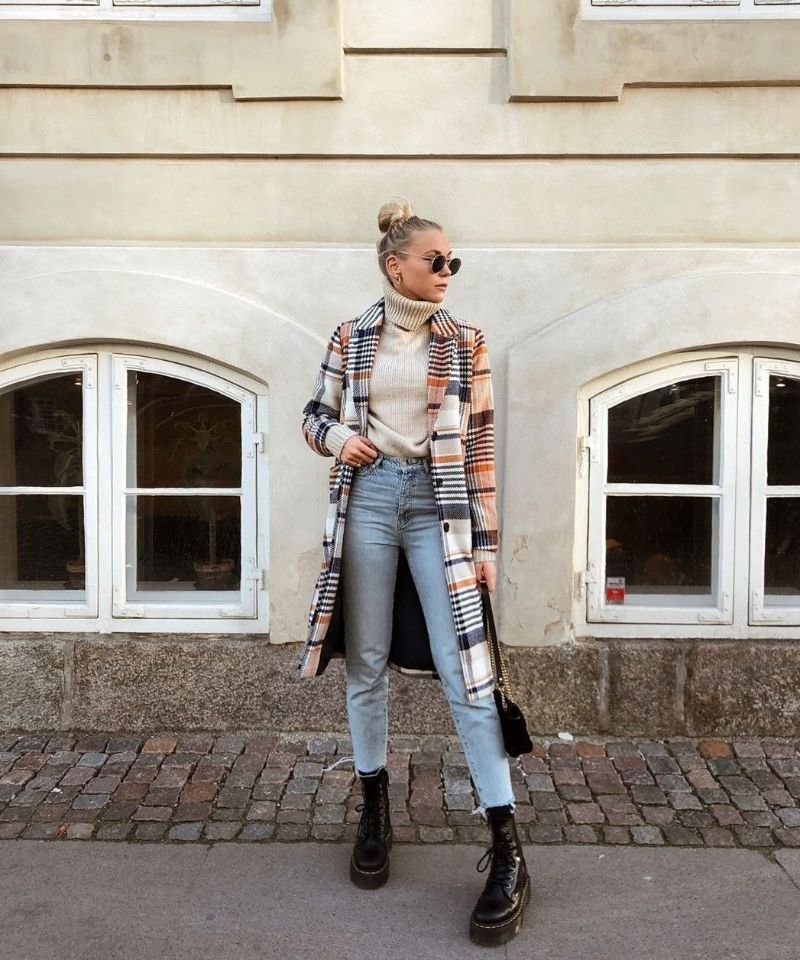 Jeans and combat boots outfit ideas
When it comes to jeans, the same rules apply as for the black jeans. Of course the type of pant leg matters a lot. For a wider fit, you can roll up the jeans so that they go just above the boots. For skinny jeans, you can either tuck them into the boots or buy ones, which go just above the boots. When it comes to pairings for your outfit, the possibilities are endless. Once again, for more casual looks, any type of hoodie, sweatshirt, t-shirt or blouse is fully acceptable. While, on the other hand, for a more polished look, you might need a shirt or a polo, topped with a nice blazer or coat. Either way, the combination of jeans and combat boots is one for the ages and it seems like it will never go out of style.
Kourtney Kardashian is a fashion icon for a reason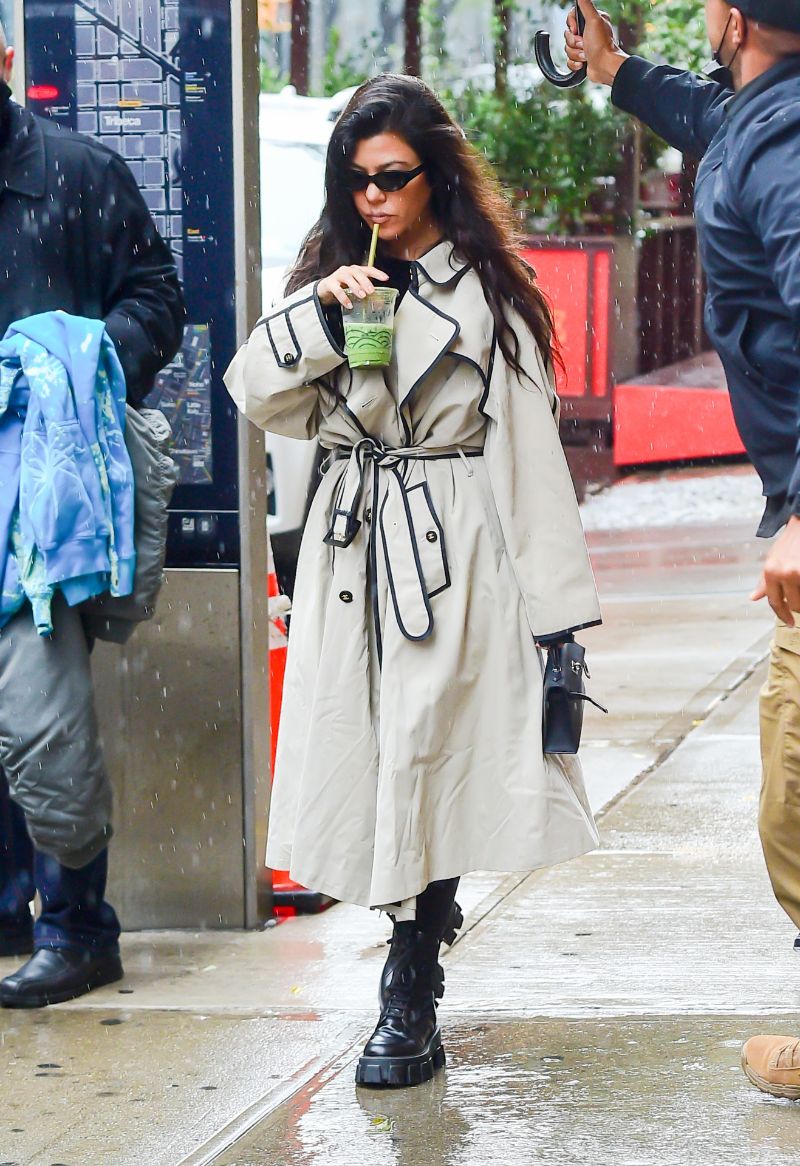 Style your boots with an oversized coat
Just look at Kourtney Kardashian who is undoubtedly one of the biggest fashion icons of the last 10 years. For rainy days, this combination is absolutely perfect. What's more, if you are going to the grocery store or just have some things to do outside, going out in combat boots and a long oversized coat can helo you keep even your pyjamas a secret. And, no, we are not saying that you should be going out in your pyjamas, however, anything you decide to wear underneath won't even matter. You can wear leggings and a hoodie or jeans with a blouse. Just choose the right oversized coat and you will still look absolutely stunning.
This might seem like a weird combination, but it looks so good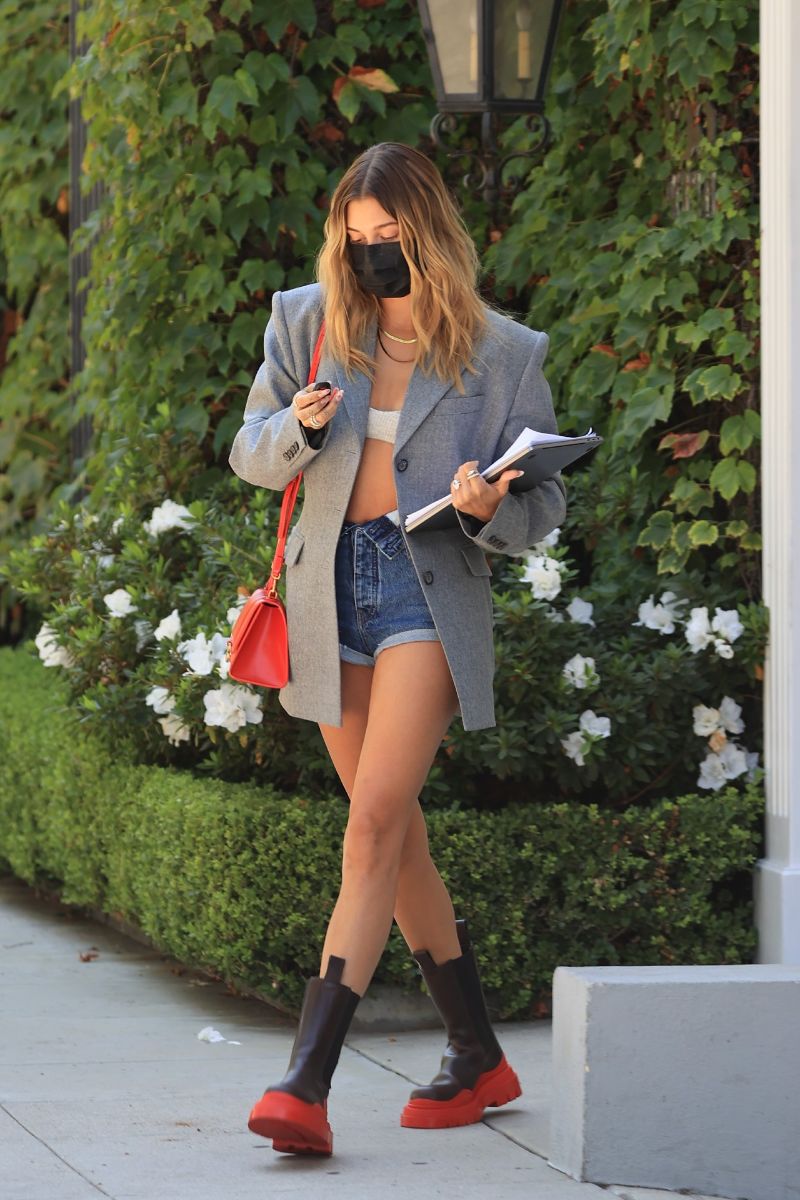 Mix the seasons with a boots and shorts combination
Although it might seem like a strange combinations, you can absolutely wear boots with shorts. What's more, it is extremely fashionable. Now, while we don't advise on doing it if the weather is extremely hot, some climates allow you to experiment more. Choose high top boots going above your ankles. Then, pair them with any type of shorts you want – leather and denim are the best. Finally, add a crop top, blouse or bralette. For colder climates, you can even choose a hoodie, jacket or blazer. And, voila, not only are you super comfortable, you are also super fashionable and your outfit is absolutely Instagram worthy.
Now keep scrolling through our photo gallery for even more ideas
White combat boots with a nice flowy, light colored dress are perfect together
There is nothing better for the colder temperatures than a knitted outfit
Such a cute, modern and trendy outfit idea