Streetwear outfits and looks you need to steal
Fashion is an ever changing concept. Fashion is also a form of expression. Which is exactly why different people understand fashion in different ways. There are, however, trends which seem to appeal to a wide audience. Trends, which people follow religiously and flood our social media with pictures of different trendy outfits. Today, we are going to talk about one of these trends – streetwear fashion. Actually to call it a trend would be disrespectful, because streetwear outfits represent an entire culture. Heavily influenced by skater culture and hip hop culture, this urban style has completely taken over the world. What's more, the style has made its way into more formal settings. So, today, we present to you a few looks that you would definitely want to steal, as well as some advicce as to how to wear this style.
Streetwear has made its way even into more formal settings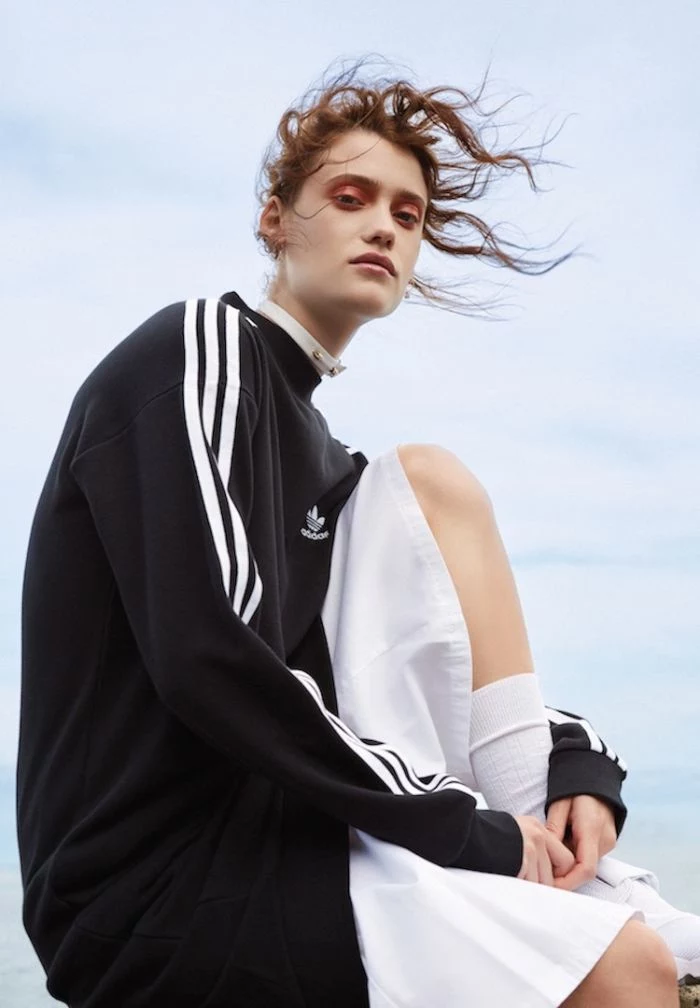 What exactly is streetwear?
Streetwear first started gaining momentum in the 1980s. Heavily influenced by skater culture and hip hop culture, this style quickly took over. Synonymous with Cali inspired fashion, streetwear can easily be recognized by its baggy pants, graphic tees, baseball caps and sneakers. This style is all about being comfortable. That, naturally, stems from the fact that it was influenced by the skater culture where freedom of movement was extremely important. Nowadays, streetwear has made its way onto the runway. Furthermore, there are brands out there who have made billions of dollars by selling this comfortable style. Everyone is wearing street fashion – from the people you walk by every day, to the A-list celebrities, to businessmen and runway models. Streetwear style has completely taken over the world.
Fashion that is all about being comfortable is bound to be popular, especially nowadays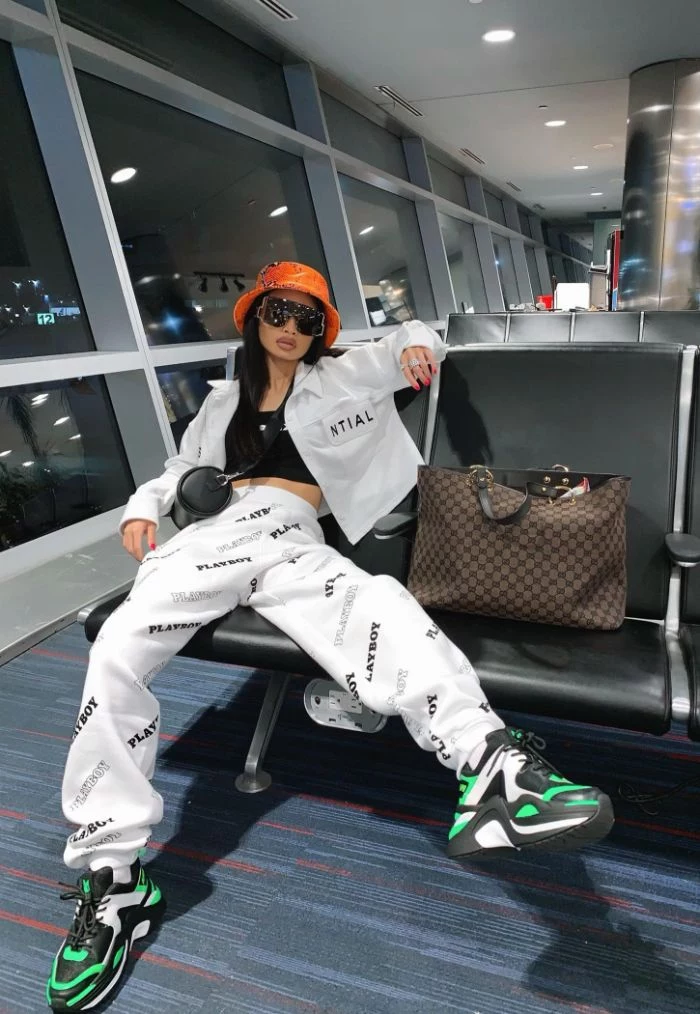 How to assemble streetwear outfits? How do you dress like streetwear?
Being a part of the streetwear culture is all about being yourself and being comfortable in your own skin and clothes. That is why, you shouldn't really follow any rules when it comes to street fashion. Don't be afraid to express yourself and be creative with your self-expression. As long as you follow the basics, your streetwear outfit should be absolute fire! So, what are the basics? Keep reading to find out.
Rihanna is the queen of streetwear fashion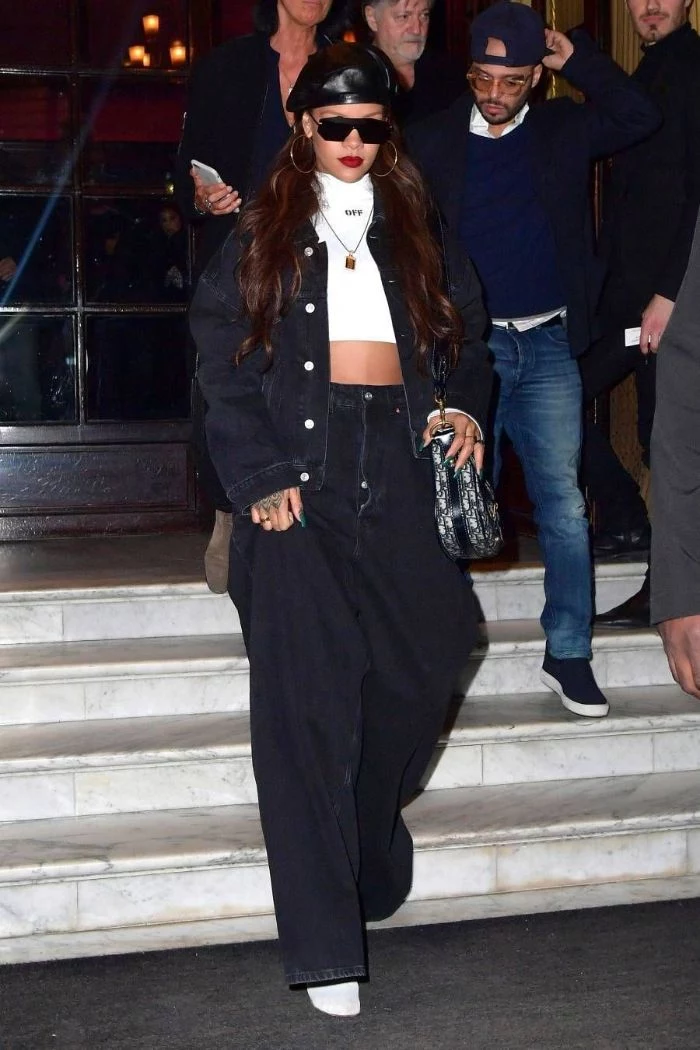 Get baggy with it
Proportions don't really mean anything in streetwear fashion. The baggier your clothes are, the more fashionable you are going to be. Baggy pants with an oversized hoodie – why not? Oversized coat matched with a baggy tracksuit – yes, please! Oversized everything is part of this style. You can mix and match in any way you want. If you want ot show off some curves, however, you can always mix the proportions with just an oversized coat or hoodie. Choice is yours! Like we already said, streetwear culture is all about expressing yourself in your own way.
It doesn't get more comfy than that – that is why streetwear is perfect for airport fashion and traveling in general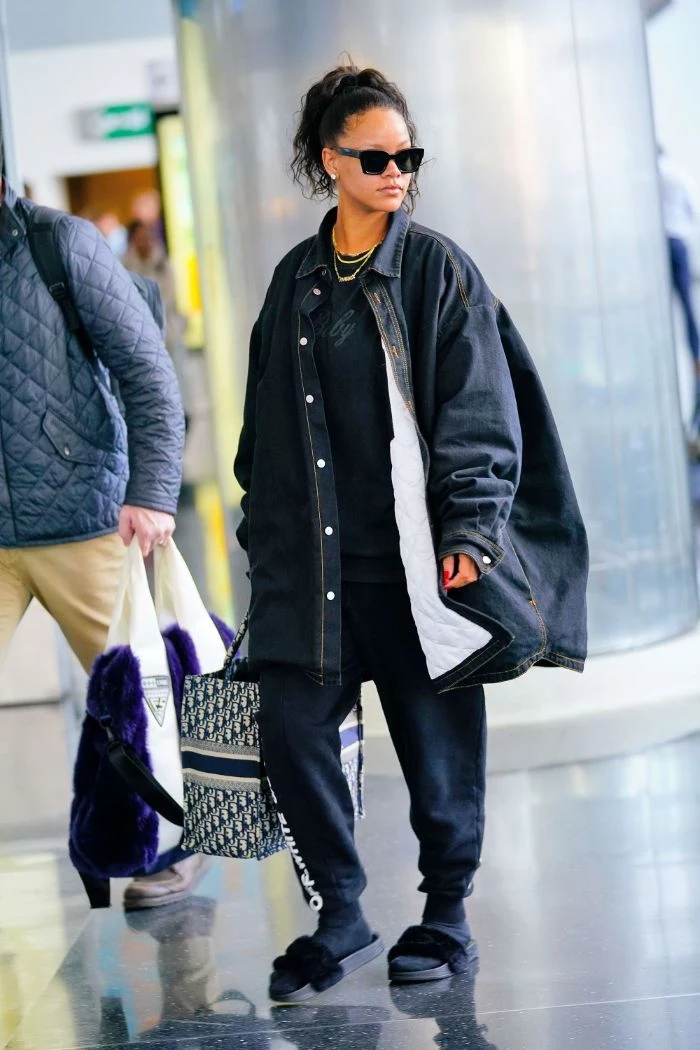 Invest in sneakers
Sneaker culture is a multi-billion dollar business. People spend thousands of dollars for limited edition sneakers. Some even collect sneakers. That is why, sneakers are a big part of good streetwear outfits. Nike, Jordan, Adidas, Converse, Vans, these are just a few of the many brands who have cashed out because of the sneaker culture. Some of these brands have had collaborations with celebrities or high-end fashion brands. The sneakers from these collaborative collections can be worth thousands of dollars and still sell out in a few days. Celebrities like Kanye West and Travis Scott have made waves with their separate collaborations. Yeezes, for example, have become a big part of Adidas' identity. And do we need to even mention Michael Jordan and the Jordan Brand? I mean, if you don't own Air Jordan Ones, are you even a part of the sneaker culture?
The Air Jordan One sneakers are a must have item in your wardrobe, just ask any celebrity, like Bella Hadid, for example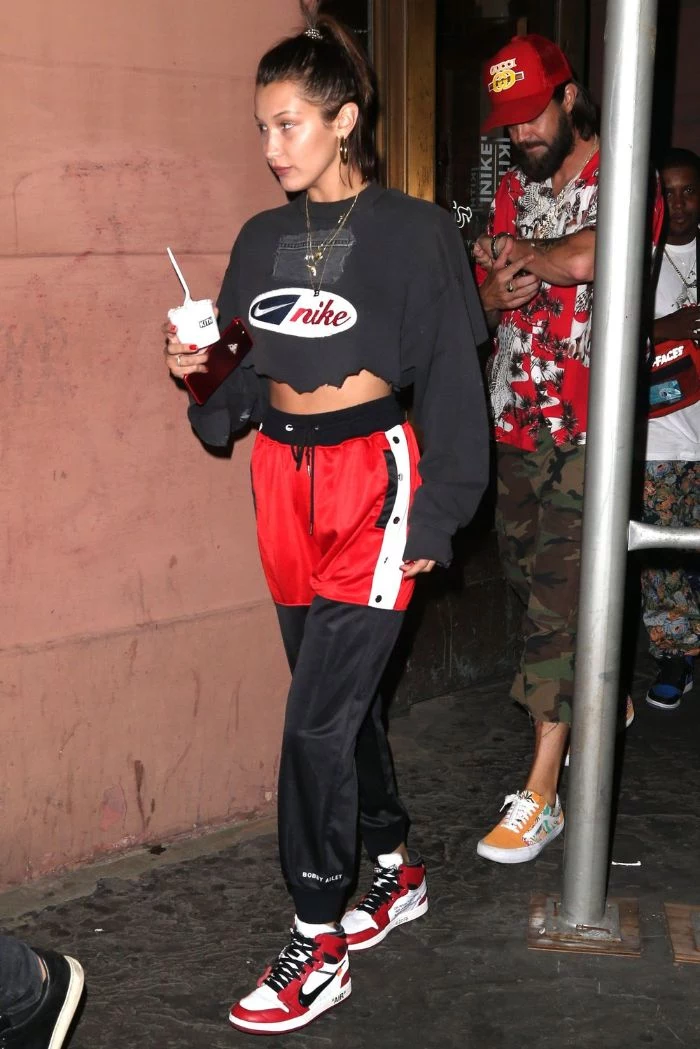 Accessorize your streetwear outfits
Layering is a big part of this style's identity. What's more accessories are very important. Baseball caps, beanies, cross body bags – these are all a part of the streetwear outfits. These accessories add character to your outfit. What's more, they can add some color, if for example you have decided to go all black with your outfit. A baseball cap in a bright color can add some depth to your style. Baseball caps are also a great way to express your love for a certain sports team or brand. And like we already stated self-expression is extremely important for the streetwear style.
Accessorize and add some character to your outfit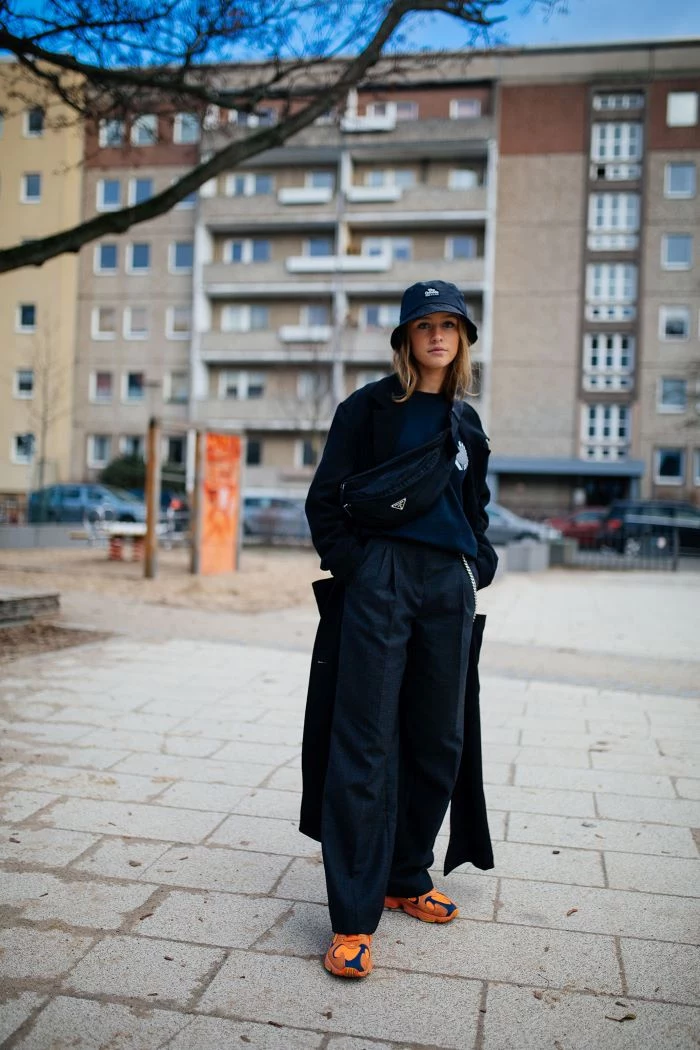 Streetwear outfits with logos
Brands are a big deal when it comes to streetwear culture. Most streetwear brands have cult followings. One of the reasons why is becase the style demands logos. Expressing your love for a certain brand is like expressing your own values. That is why, most streetwear brands include large logos on their clothes. That way, the wearer can proudly represent the brand. On the other hand, the brand itself can market their goods without even paying for it. Seeing a large logo on a nice hoodie, for example, can peak your interest and make you look up the brand. Which, in turn, will make you buy the brand. In general, proffessing your love for a brand and wearing their logo proudly is a big part of the streetwear fashion.
The logo madness and hype is real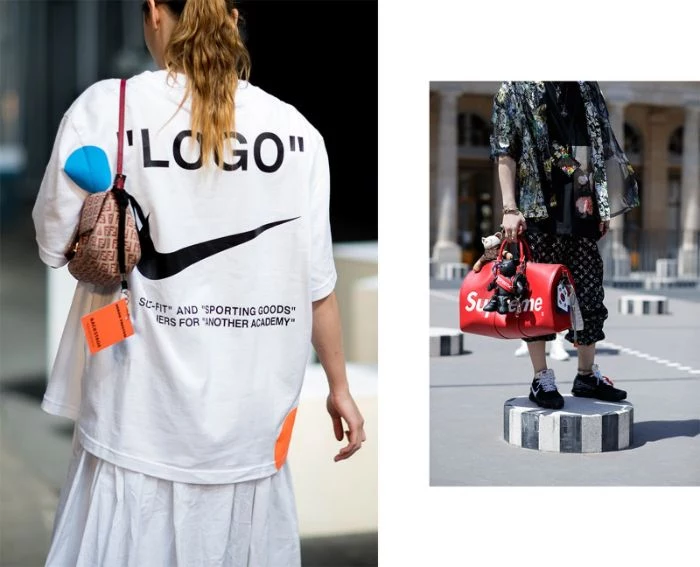 What are the most popular streetwear brands?
When it comes to brands there are a few, which really take center stage in streetwear culture. The most popular one is definitely Nike. Because of its range and inclusive price points, Nike has always been the most wearable brand out there. Especially, since the introduction of the Jordan Brand, they have absolutely cemented their legacy in streetwear culture. Adidas isn't that far behind either. On the other hand, though, there are those brands, who people have to break the bank to get their hands on, yet they still wear them. That is because of the hype around these brands. Not only do they have some of the most recognizable brands out there, they are also super exclusive. Supreme, Virgil Abloh's Off-White, Stussy, Obey, The Bathing Ape – these are just a few of the brands, which have taken their popularity to a whole different level.
Virgil Abloh's Off-White is definitely one of the most desired brands out there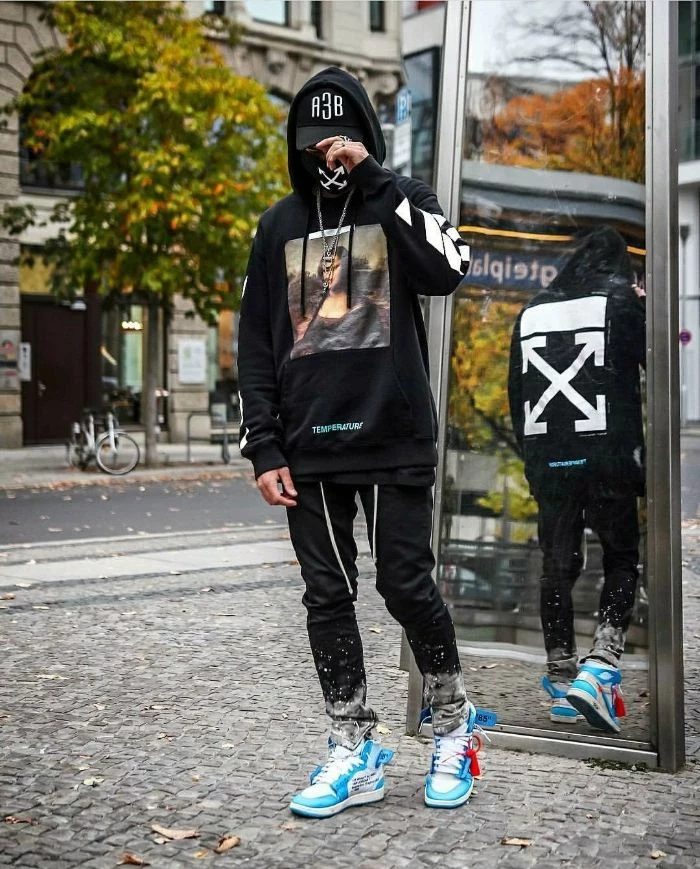 The hype around the simple red Supreme logo is real – just ask Kelly Oubre Jr. from the Golden State Warriors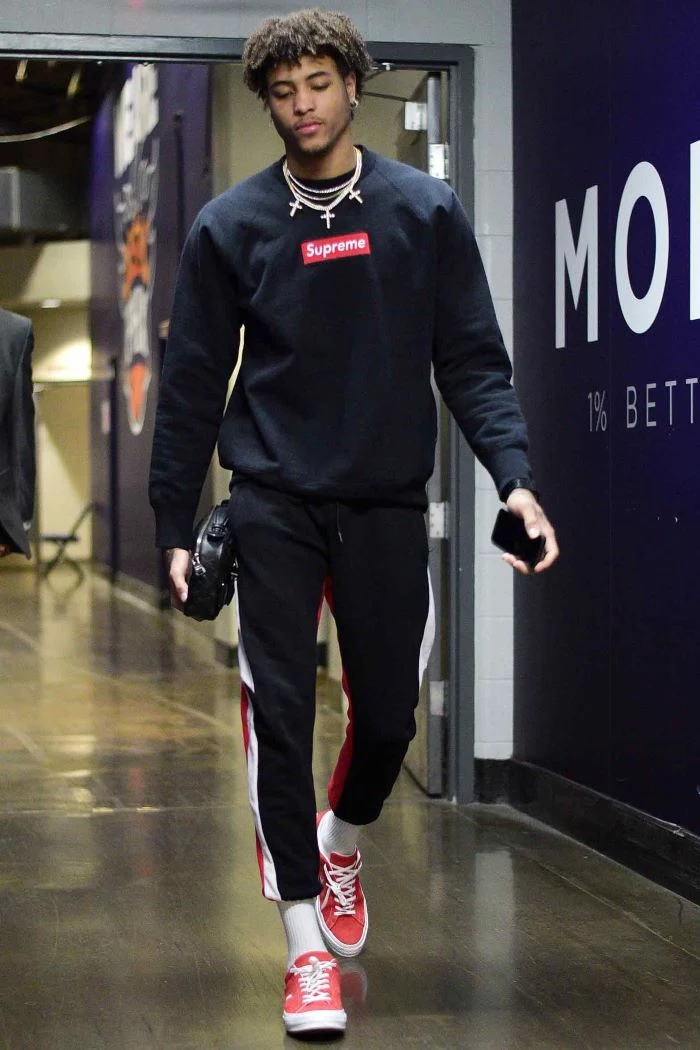 Fashion is such an evolving concept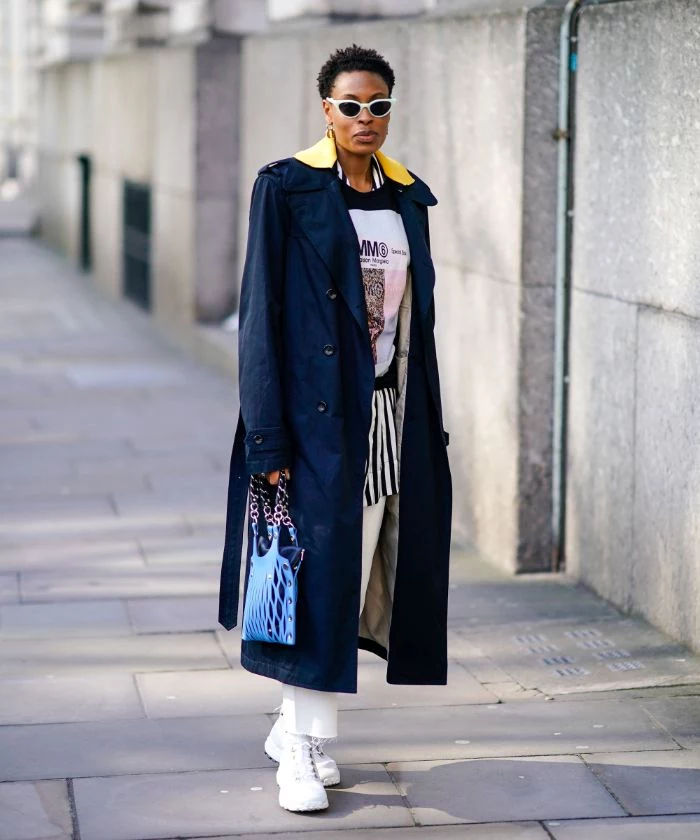 Kyrie Irving of the Brookly Nets is another lover of the streetwear style
Denim has also been incorporated in the street fashion
Ben Simmons of the Philadelphia 76ers is a streetwear fashion icon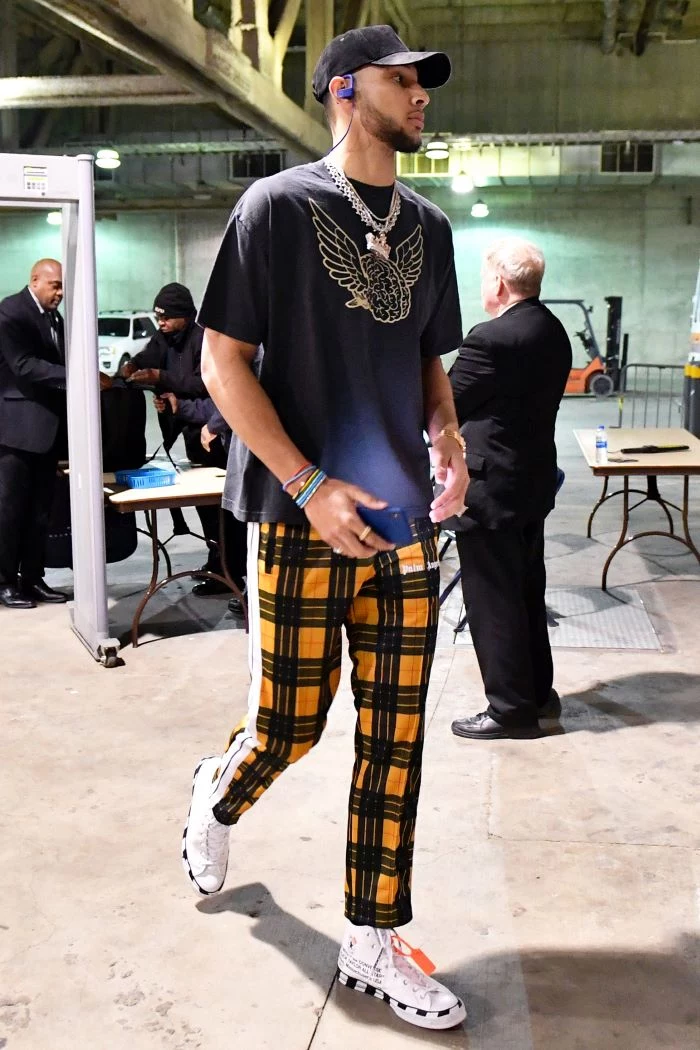 Dua Lipa also loves street fashion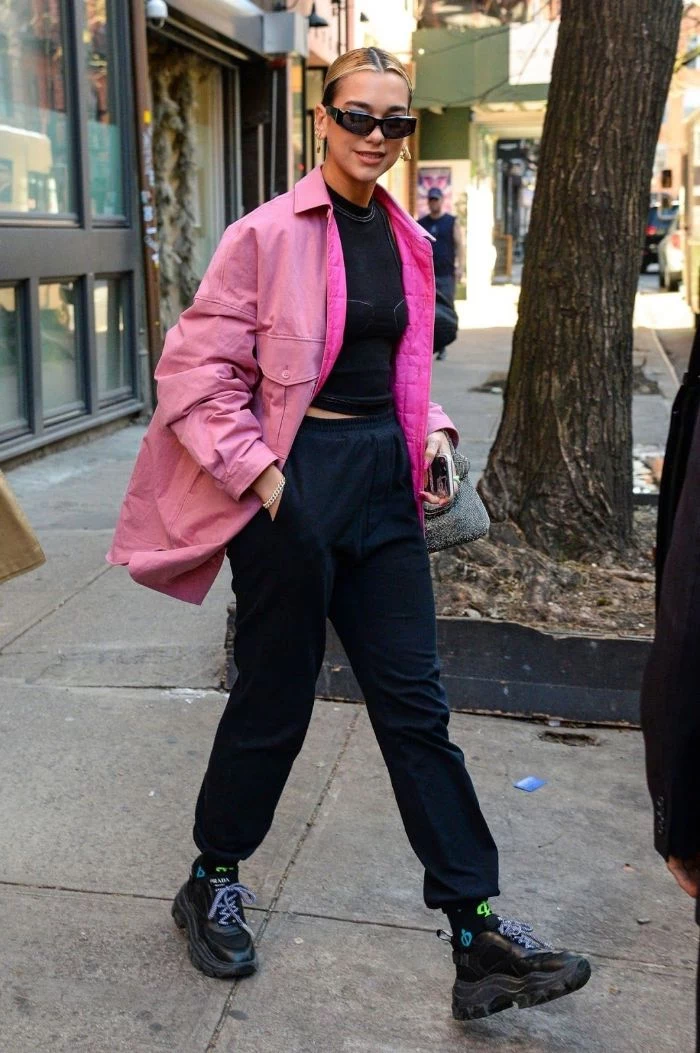 And so does Emily Ratajkowski
Billie Eilish and her brother Finneas are shaping the culture of a whole generation
Jaden Smith showing off his super cool Supreme accessory
Kelly Oubre Jr.'s streetwear outfits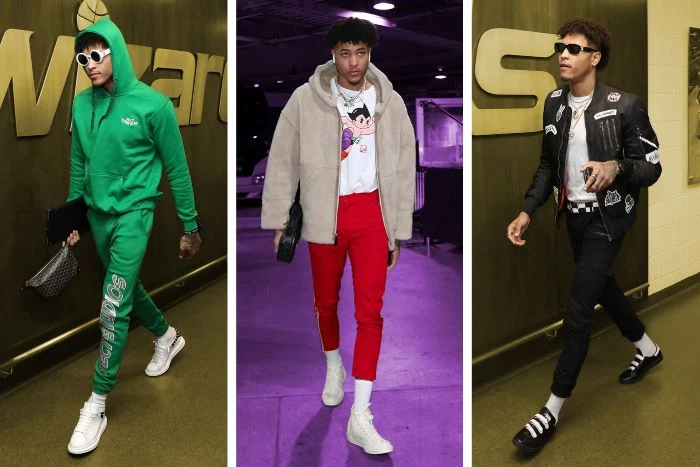 Streetwear style file – LeBron James, Jared Leto and Kanye West
This Off-White t-shirt is literally on fire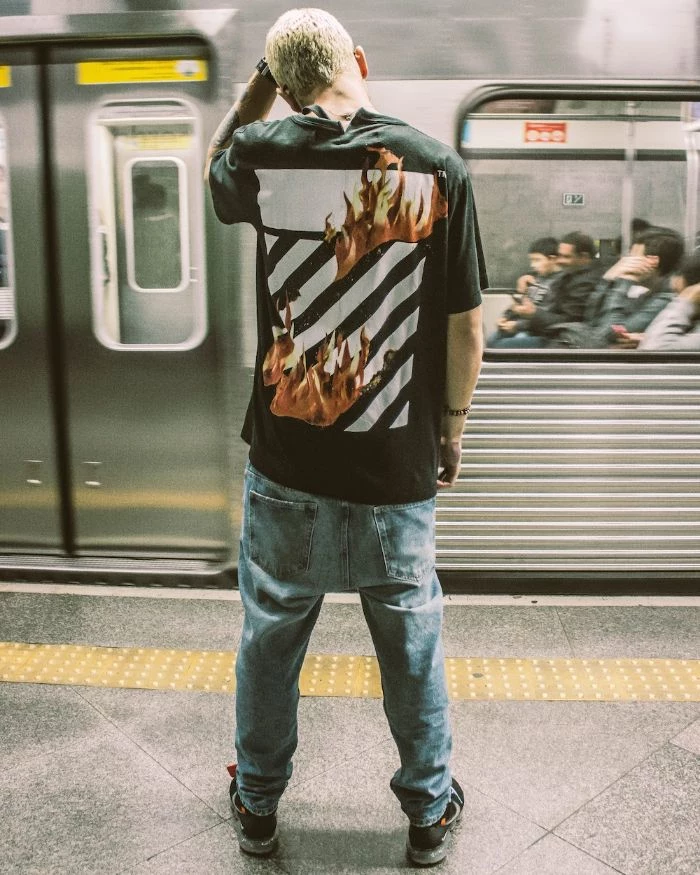 Bella Hadid showing us that nowadays it is acceptable to wear heels with a tracksuit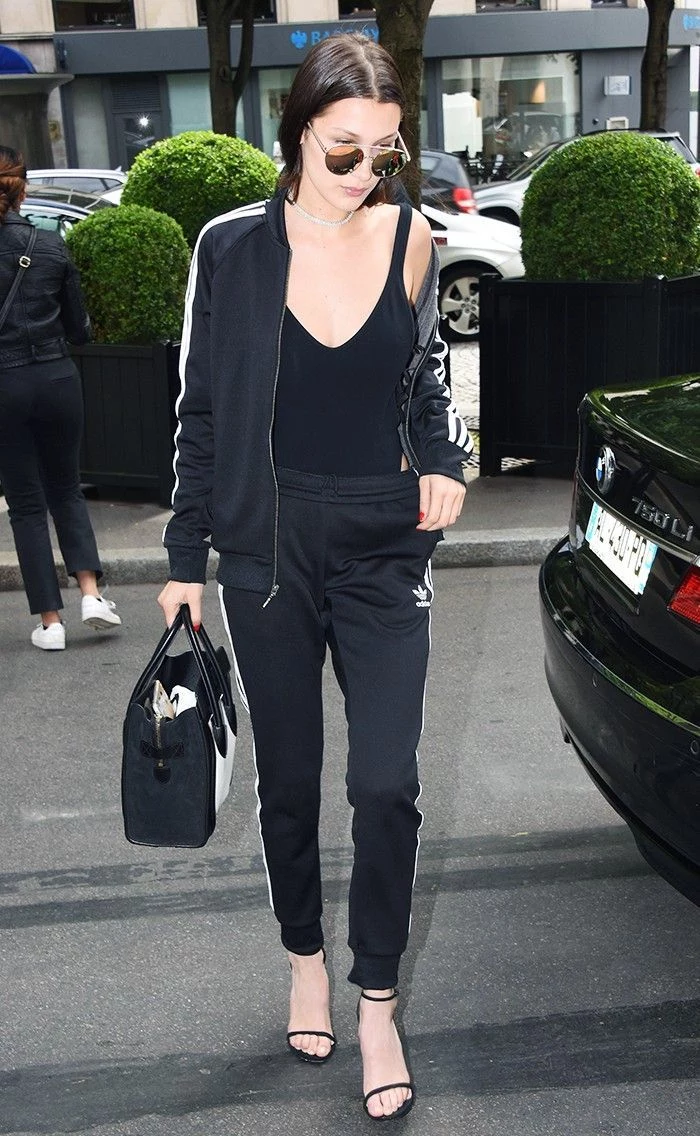 Billie Eilish is one of the biggest fans of the baggy clothes
Off-White from head to toe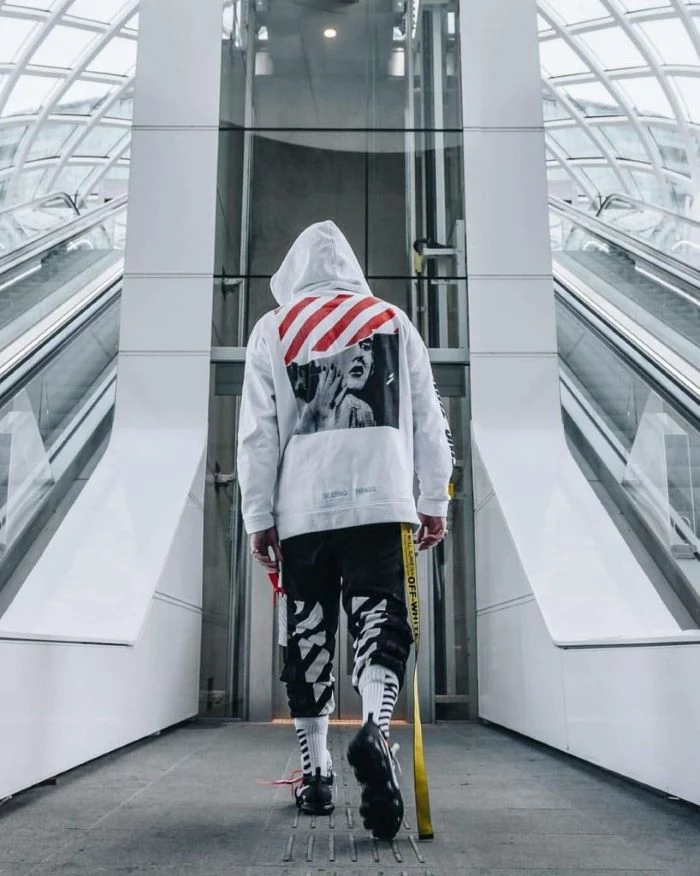 Big Sean's outfit is so creative and expressive
Teyana Taylor showing love to streetwear fashion with a Supreme cap, Essentials tracksuit and Jordan sneakers
Converse sneakers have always been popular among the skater culture