Make a statement with these high school cute baddie outfits to rock in 2022
Going through high school might be an awesome time for some people, while others don't really cherish it as much. However, we believe that everyone has a moment in their lives when they realize that high school was some of the best times of their lives. Nowadays, with the rise of scoial media and the Internet in general, school has turned into a completely different space. For a lot of teenagers, fashion is a way to express their individuality. And is there a better place to do just that than when you go to school. So, without further ado, today we've prepared a few ideas for high school cute baddie outfits you can rock in 2022. With them all eyes are going to be on you in the hallways. What's more, your Instagram pictures will be absolute fire!
How to dress in the best way possible and have all eyes on you in the hallways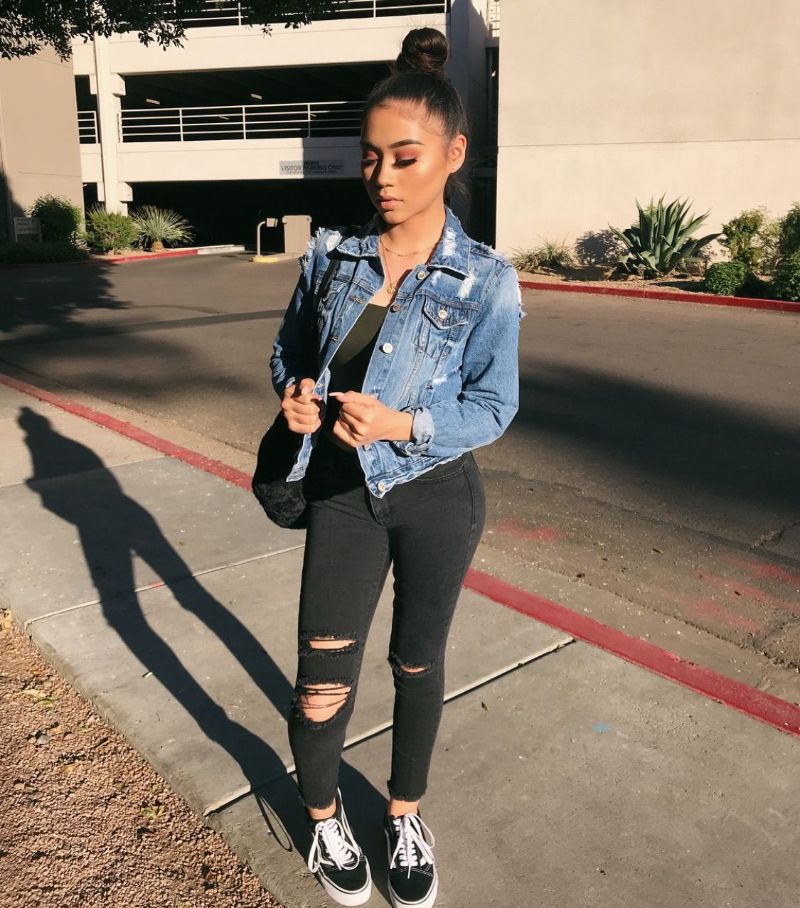 What is the definition of a baddie?
For some older people, the word baddie might mean a villain in a movie or a book. While for the younger generation the word has a whole different meaning. For teenagers the word baddie refers to a girl who is confident, has self-respect and takes care of herself. What's more, baddies are always super fashionable, follow their dreams and aren't afraid to share their opinions and stand their ground. In general, it is important for girls, especially in the world we live in nowadays, to have that self confidence, which helps them be more successful further in life from a young age. So, if that is what the word baddie represents, then by all means, girls, be baddies!
The meaning of the word baddie is important for the self confidence of young girls all over the world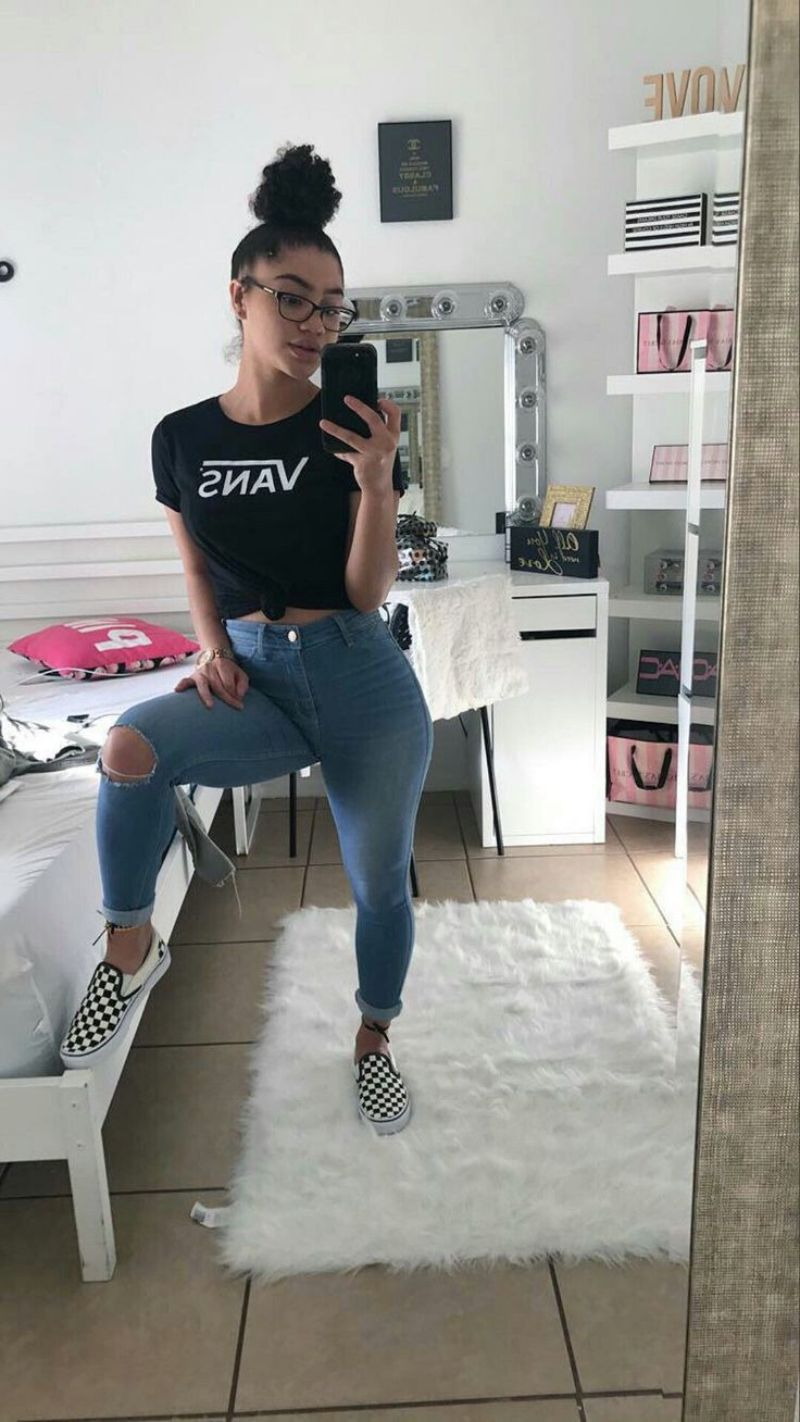 High school cute baddie outfits to rock in 2022
In general, because of the definition of the word baddie, we believe that every outfit that makes you feel good about yourself, is a proper baddie outfit. There are however, a few marks of what makes an outfit right for a baddie. In the following paragraphs, we are going to discuss certain combos and staples, which make up your outfit and make it Instagram worthy. But we would love to relay the following message: you are beautiful! No matter what you are wearing, if you are feeling good about yourself, have the necessary confidence and know your self worth, you are a baddie in every sense of the word!
So, let's begin with the cute outfits for school we've prepared for you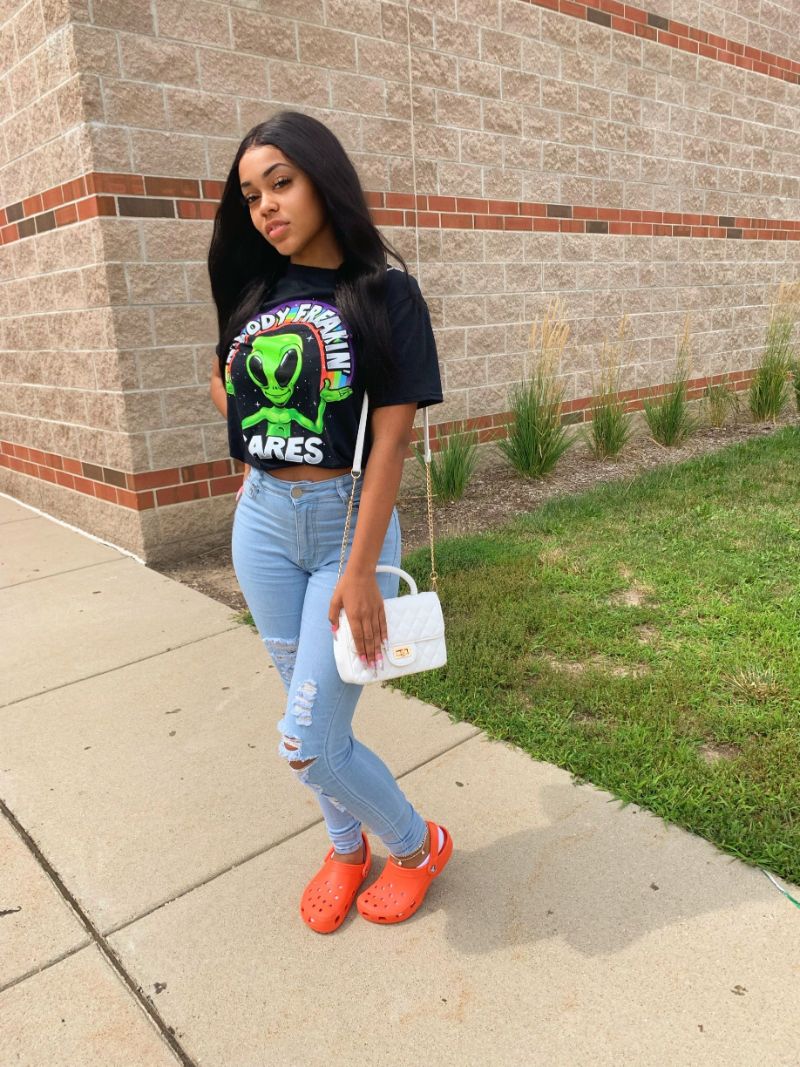 Graphic t-shirt with jeans
This might seem like the simplest combination, but it can say a lot about who a person is. Jeans are a worldwide phenomenon, worn by women and men, children and grown ups alike. Therefore, they are the perfect base for any outfit. Especially, for a school outfit for girls. Choose jeans with a few tears to add an extra wow effect to an otherwise simple outfit. Then, it is time to choose your t-shirt. When it comes to graphic t-shirts, they are a perfect way to express yourself. Whether it is a graphic tee of your favorite band, movie, artist or brand, they definitely make a statement. What's more, graphic tees with funny or cute quotes on them showcase your personality and let everyone know what you are about!
Beauty comes from within, but a cute outfit definitely helps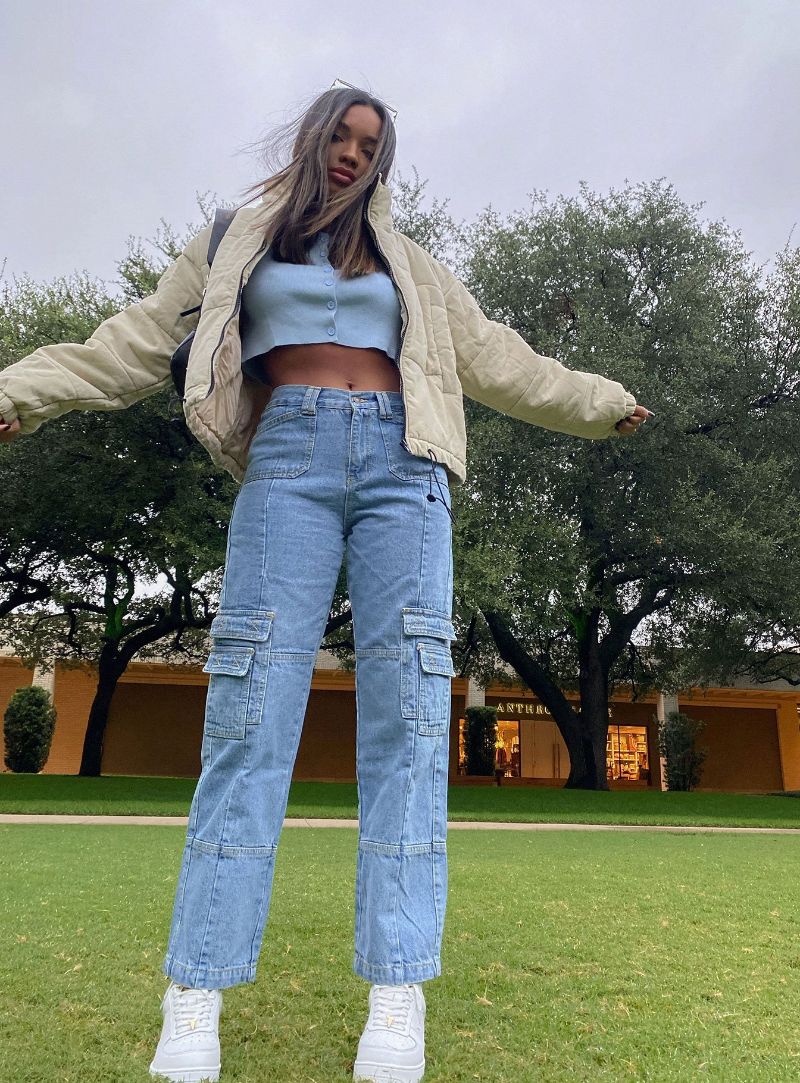 Modern and trendy high schoole cute baddie outfits
We've already discussed the appeal of jeans. However, here, it is important to note that because of their popularity, their are so many versions you can choose from. For example, nowadays teenage girls seem to have embraced the wide fit jeans milenials avoided like the plague. That is why the next outfit we are going to discuss is the pairing of wide fit jeans with a cute crop top. Now, when it comes to school, showing too much skin might be frowed upon. A nice crop top, showing just a little bit of skin is perfectly fine, though. Choose a top in a color which you can match to your sneakers and a nice denim or puffer jacket (depending on the weather) and your baddie outfit is ready!
Bet on comfort with this next baddie outfit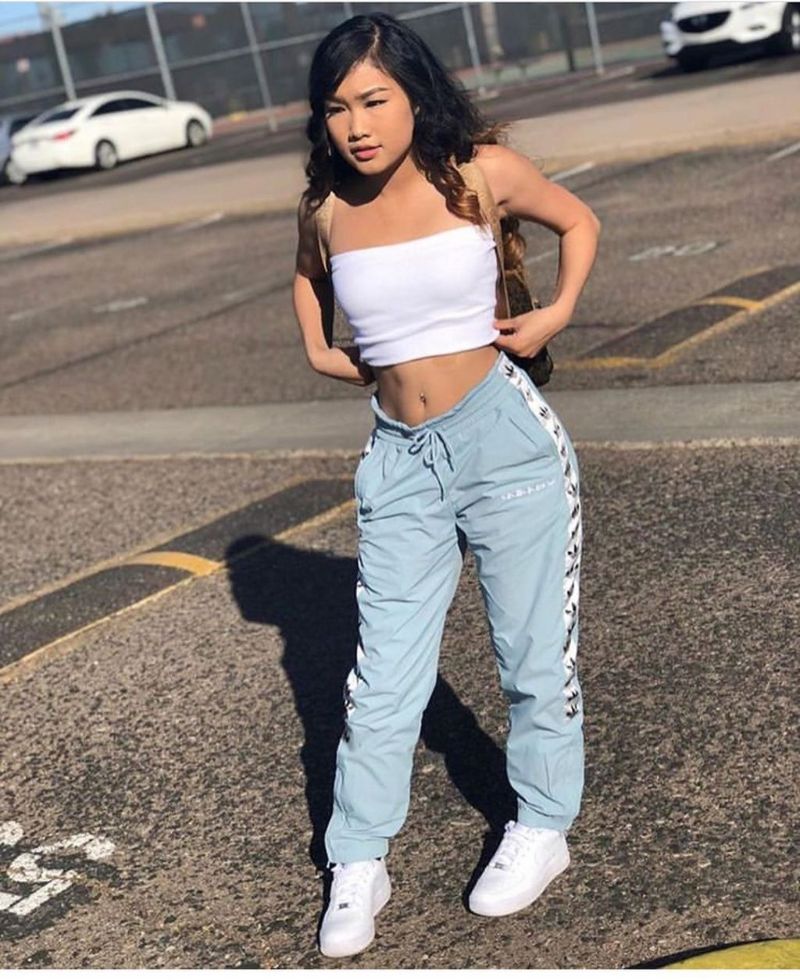 The joggers and crop top pairing everyone fell in love with
Joggers have become the newest craze. Especially in the past two years, everyone has been betting on comfort more than fashion. And understandably so. After all, we spent more of the time at home, rather than outside. Joggers became a real fashion statement and the streetwear style took the world by storm. So, why not translate the runway looks to your school outfits. Get a nice pair of jogger and pair them with a cute crop top. It doesn't really matter if it's a top or a cropped sweatshirt, the pairing always works. Finally, don't forget about your sneakers. After all, sneaker culture is another thing which is really trendy and important to teenagers nowadays.
Of course you can always experiment with something a little more different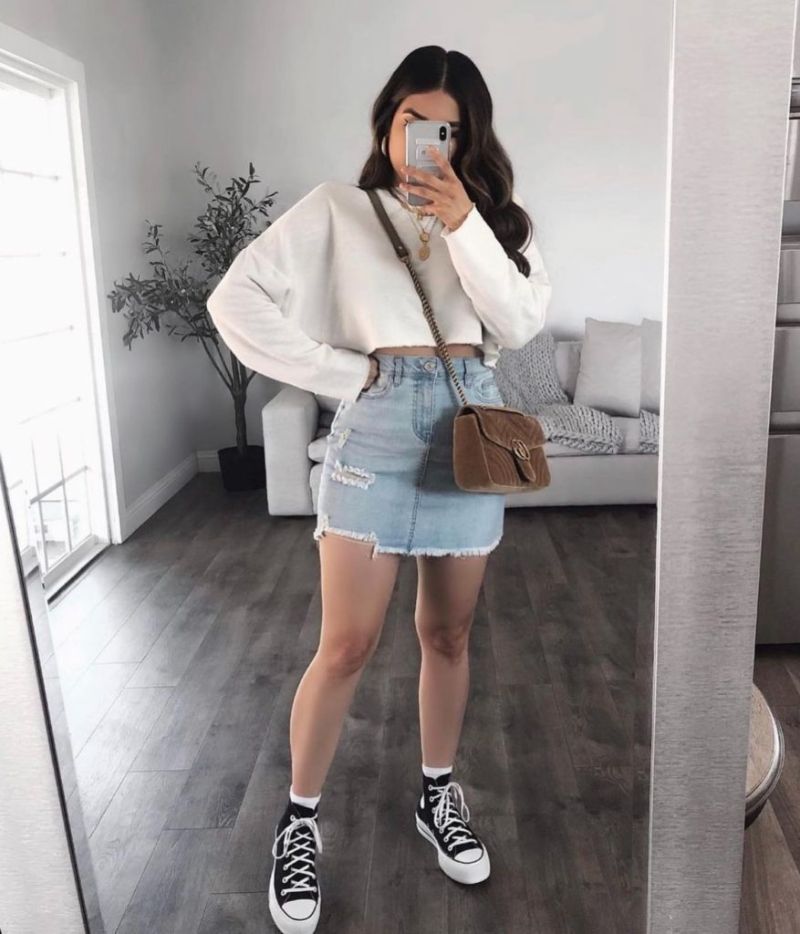 Skirts can be worn at school as long as they are the right length
You can absolutely wear skirt to school. They shouldn't be too short, however. As we've already discussed, showing too much skin at school might be frowned upon. But if your school is super inclusive, skirts of a proper length shouldn't be a problem. After all, as we've already said, fashion is a way to express yourself, so don't be afraid to do it. In the case of wearing a skirt, it might be best for your top to not be too revealing, as well. Instead, pair your skirt with an oversized sweater or a knitted blouse. Tuck the front into the skirt for the perfect Instagram worthy outfit. Finally, finish off the look with a pair of high top sneakers with even higher socks and you are all set!
Take a page out of Kylie Jenner's book – one of the most popular baddies on the planet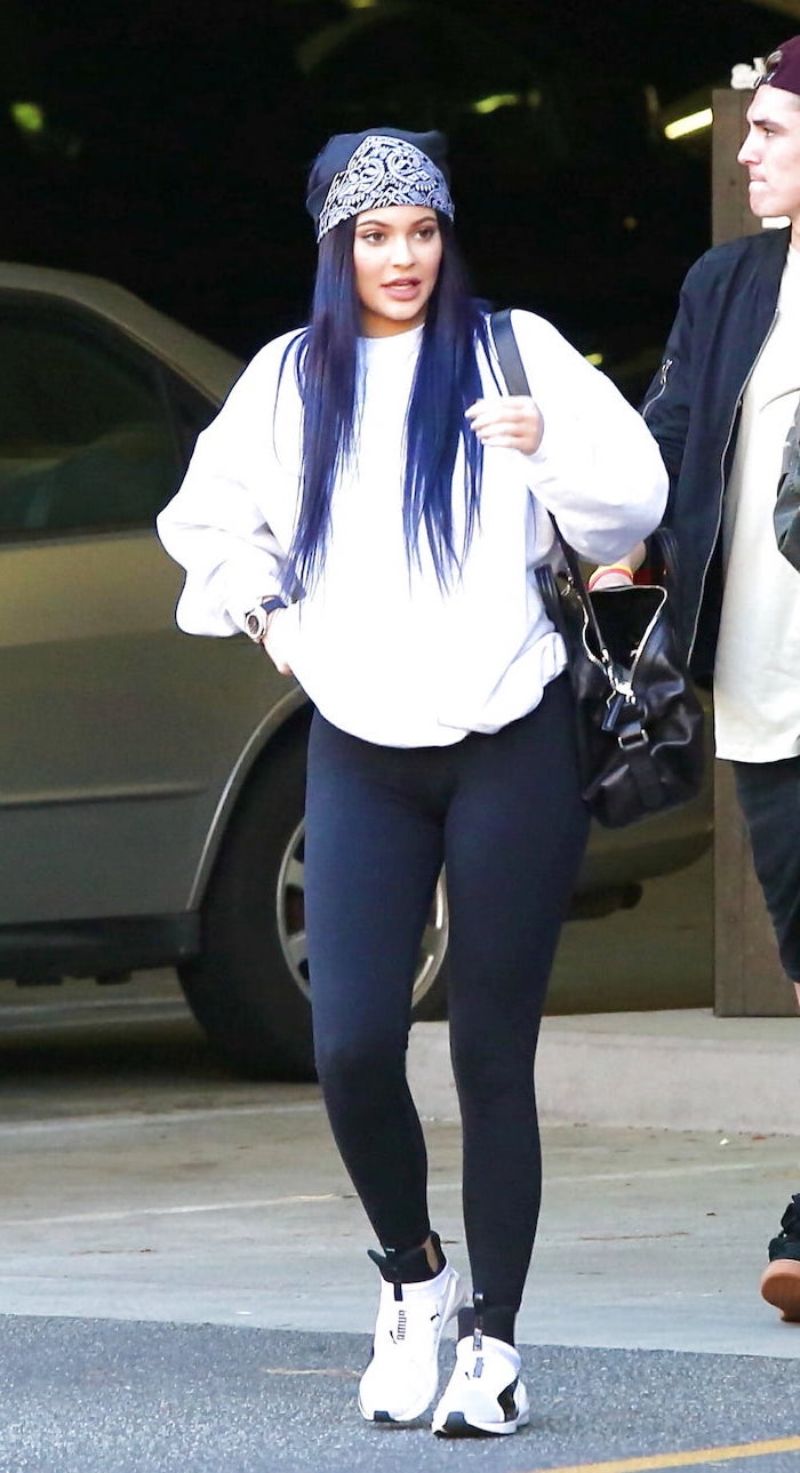 Leggings and an oversized sweatshirt – the perfect, most comfortable high school cute baddie outfits
This combination has definitely taken over the world. Not only is it the most comfortable one, it can also be quite fun to experiment with. Since the rise of the popularity of leggings, you can find pairs in different colors, as well as different prints. If you choose colorful leggings, pair them with a sweatshirt or hoodie in a basic color. On the other hand, you can choose simple black leggings and let your sweatshirt or hoodie do all the talking. What we've already said about graphic tees, can also be said about swetshirts and hoodies. You can find ones with lots of different messages or once again, hoodies with your favorite bands, artists or characters. That is exactly why this is probably one of the most popular combos. It gives you comfort, while also allowing you to express yourself!
You can find even more high school cute baddie outfits in our photo gallery below
Wide fit jeans with an oversized t-shirt, tucked in them is a great combination
The wonders a simple white t-shirt and jeans can make
Tuck your top into your jeans to recreate this awesome, simple, yet comfortable look