5 Coolest Nail Trends to Rock This Autumn (according to nail artists)
Maria Konou
---
Ah, the time of falling leaves, spooky movies, homemade cookies, and cozy knitwear. Autumn is a wonderful time of transformation, peace, and…pretty nail designs! In Fall, nails become longer, sharper, darker, and a lot more fun. You have a delicious palette of warm fall colors and deep dark shades to choose from. So, what is it going to be? Well, to make this choice easier for you, we asked nail artists for all the tea on nail trends for fall 2022. In this article, we will show you the top 5 coolest and most unique autumn nail trends you can rock this fall. Let's take a peek:
Time to see which are the biggest nail trends for autumn 2022
---
Credit: @nailsbyhanin
#Dark Aura Nails
Aura nails are the biggest nail trend for 2022 in general. Everyone adores it, it is super versatile and fun. But who says these angelic nails cannot turn a little bit more spooky just in time for fall? The aura nail trend actually looks just as unique when done with darker shades. If you love long, witchy nails, but kind of want to branch out at the same time, then this nail trend is perfect for you. Opt for deep mauve, burgundy, delicious reds, deep sea blue, moss green, and of course good old black.
This angelic nail trend goes spooky and dark for the fall season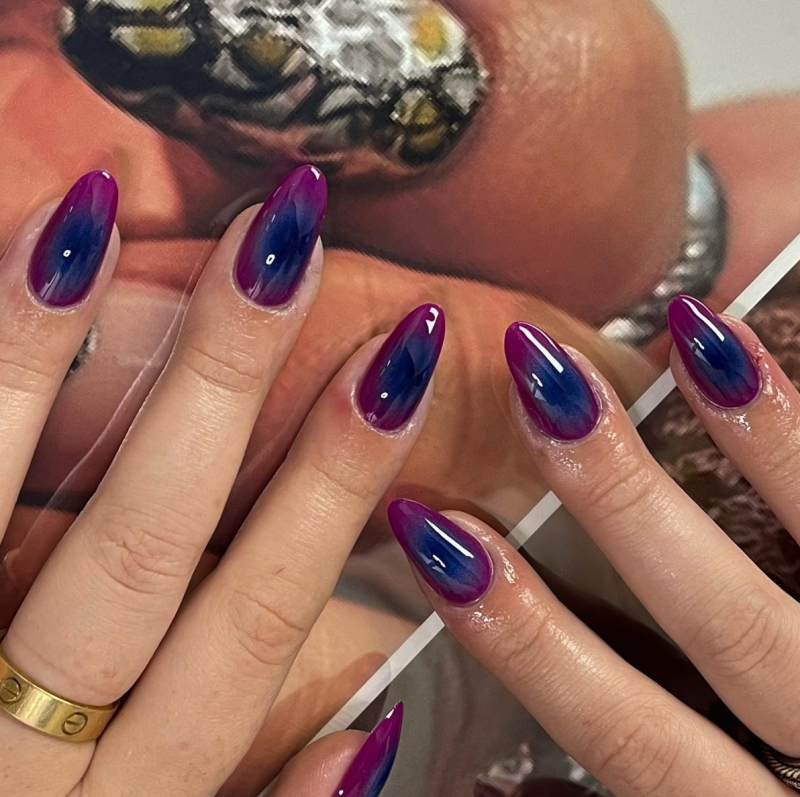 Credit: @nailsbyhanin
#Dark Donut-Glazed Nails
Everyone knows that Hailey Bieber is quick to set the new nail trends. And, she delivered once again, just in time for autumn. Take Hailey's favorite and now viral trend, a.k.a. donut-glazed nails, and make it…darker. Hailey shared a picture of her almond-shaped nails with a brownish coppery base that shines like no other. This look is extremely wearable, work-friendly, and easy to maintain. Just go for a chocolatey or coppery base, and finish off with a highly reflective nail powder. Trendy, sleek, and absolutely delicious!
Hailey Bieber is quick to set the new nail trends with her pretty and unique choices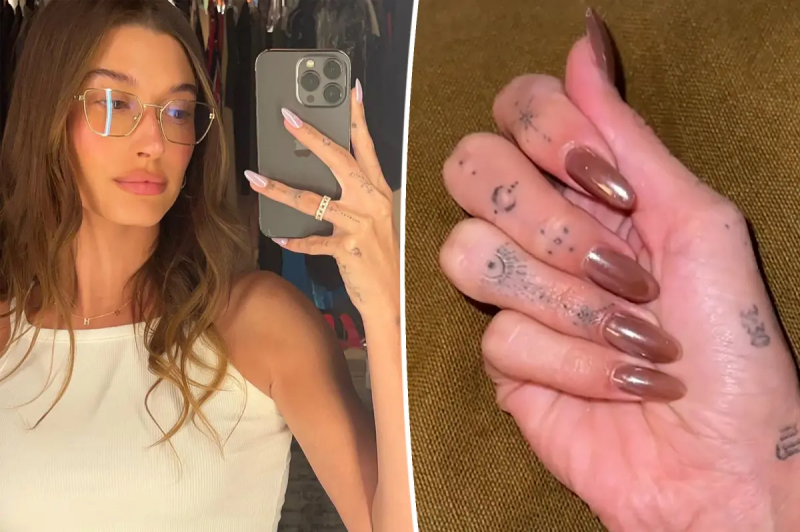 @haileybieber I know we're tired of my constant color switch up but… the chocolate glazed donut nails are really hitting for me for fall 🤤🤎🍩🍩🍩🍩🍩 @zolaganzorigt ♬ original sound – jex
View this post on Instagram
#Metallic Details
Metallic is fun, futuristic, and highly reflective. What more can you want? Metallic details, lines, and shapes can be seen everywhere on Instagram and Pinterest. The reason is that metallic nails elevate your manicure design like no other, they are high-fashion and super bold. And, when it comes to the designs, the sky really is your limit! If you are bold, not afraid of what people have to say, brave, and fun then this nail trend is the one you should go for this autumn!
Metallic nails bring the shine and the drama like no other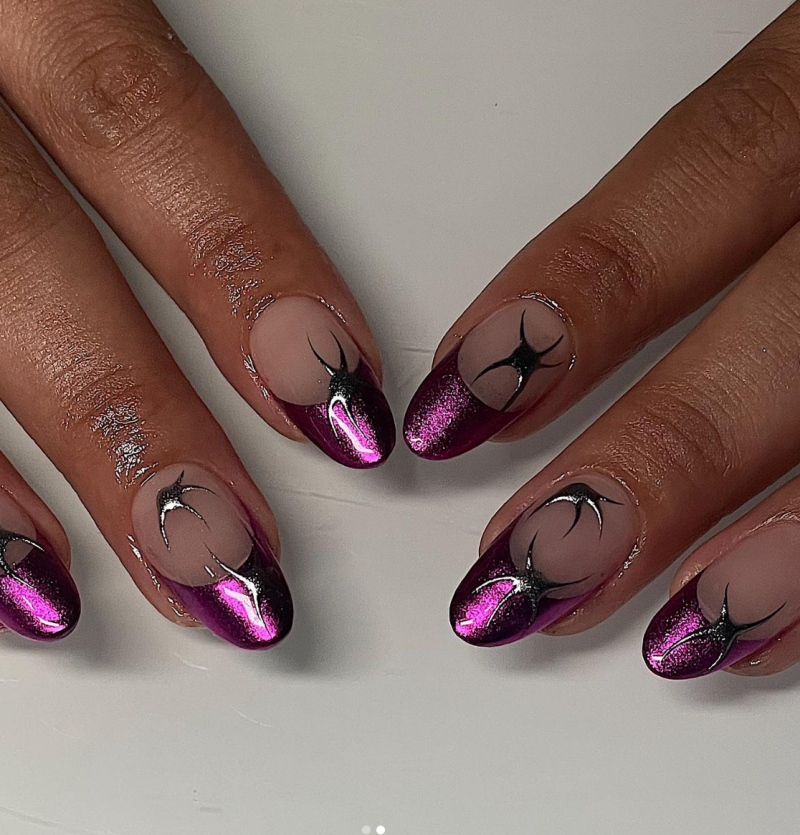 ---
Credit: @myprettyset
View this post on Instagram
#Warm Colors & Snakeskin Details
Nothing like animal prints and warm colors on a gloomy autumn day, right? Snakeskin is here to stay for the colder seasons. Combine that with a top-notch fall color palette, and some creativity, and you have got yourself a true showstopper. This autumn nail trend definitely looks best on long nails, as you can really take in all the drama. It is daring, unique, wild, and super feminine at the same time. So, if you are not afraid of some extra inches and snakes, go for it!
View this post on Instagram
#Optical Illusion French Manicure
Optical illusions are captivating, unique, alluring, and super fun! And, this nail trend for autumn is no different. Nail artists are putting their skills to the test with this captivating optical illusion French manicure. If you are not afraid of people staring at and admiring your manicure, then this nail trend is not a one to miss. You can make it glittery or keep it super glass-like, and shiny. Play with colors because everything looks good with this optical illusion trend.
If you want unique and shiny nails, it does not get better than the optical illusion French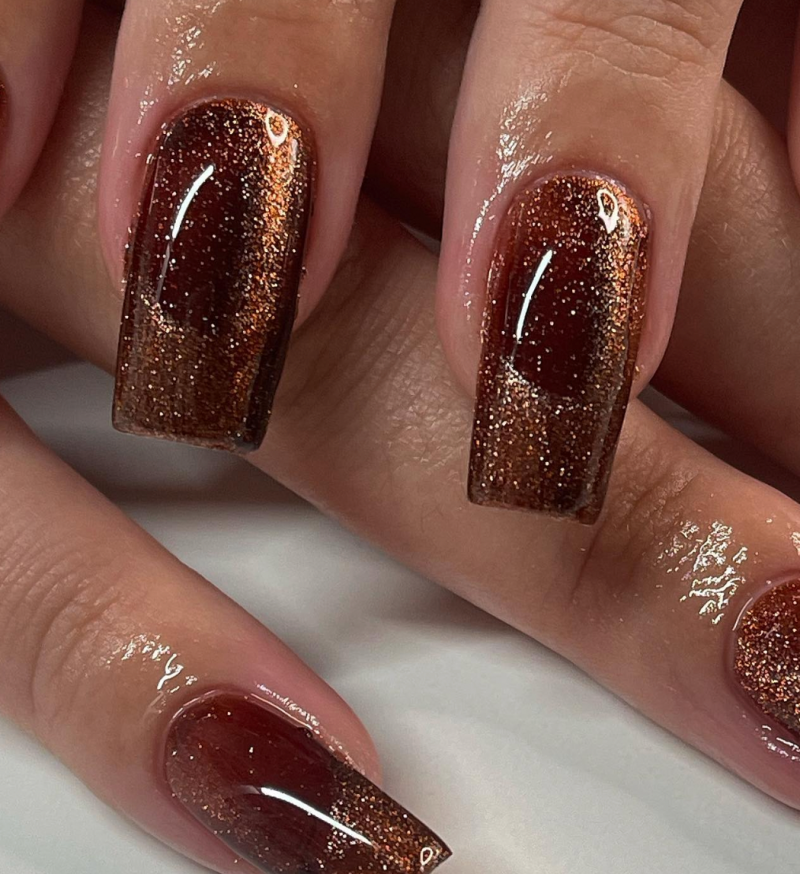 Credit: @nailsbyhanin
View this post on Instagram
Related Content
Sources
Cover Photo Credits
@yveningset