---
Regardless of what your plans are for Valentine's Day, everyone knows that the most exciting part about this day is getting ready! No matter if you are going on a date with a special someone or having drinks at a fancy restaurant with the girls, why not spice it up and try something different with your makeup look? You can opt for classic red lips, romantic pink eyes, or a bold eyeliner look! We have crafted a list of 5 trendy Valentine's Day makeup looks for you to experiment with. And don't worry! We have taken into account the best makeup trends for 2022, so you can be up-to-date with all the new possibilities. So, without further ado, grab your makeup brushes and red lipstick tubes, and let's dive into the makeup looks:
With Valentine's Day makeup, the options are truly endless. You can go for a number of fool-proof looks – the natural but romantic, the sultry glam, the classic red, and more. It all depends on your mood and what are you going for, of course! But, rather than reaching for your tried-and-true makeup techniques and walking away from the mirror with the same old look, you do every time, why not go to YouTube and learn a few new tricks? We have selected 5 Valentine's Day makeup tutorials that are first and foremost gorgeous and easy to follow! No matter if you are into glossy and luscious lips, smoky eye shadows, or big and wispy lashes, you will find a Valentine's look that speaks to you.  The secret to it all tho is to actually practice at home before the big day. That way, you will make sure that everything goes smoothly on the day itself!  So dust out your makeup brushes, check your internet connection, and get ready to put on your Valentine's face. And remember, you are the best Valentine's Day gift!
What are the best Valentine's Day makeup looks to try in 2022?
Pretty in Pink
"Pretty in Pink" is for those of you aiming for a more subtle and romantic look. Monochromatic pinks are one of the biggest makeup trends for 2022. And on Valentine's Day, what is better than a full face of rosy tones? For this look, you need to find your eyeshadow pallete of rosy shades, a pink blush to match, and some pinky lip colors. There is nothing complicated or new about this look, but surprisingly it is the amazing combination of pink shades that makes it all magical! Experiment and make your own twist on this romantic "Pretty in Pink" makeup look.
Add a touch of spice with a darker pink eyeshadow that you can use as an eyeliner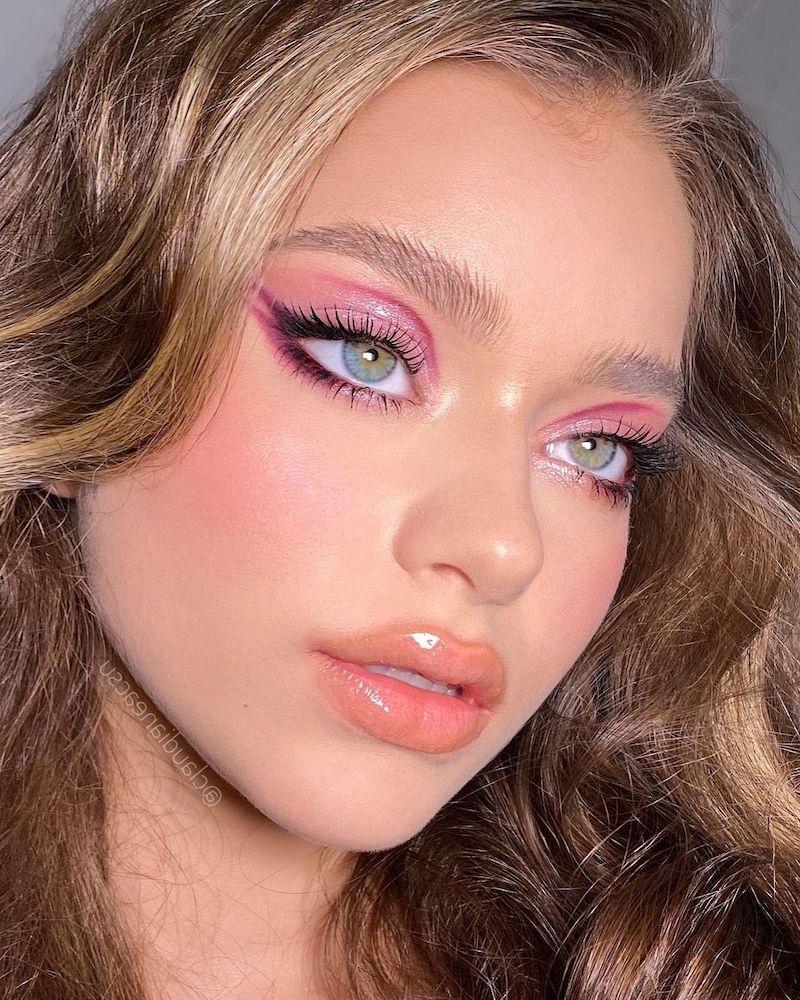 ---
For a more casual look, opt for more muted pink colors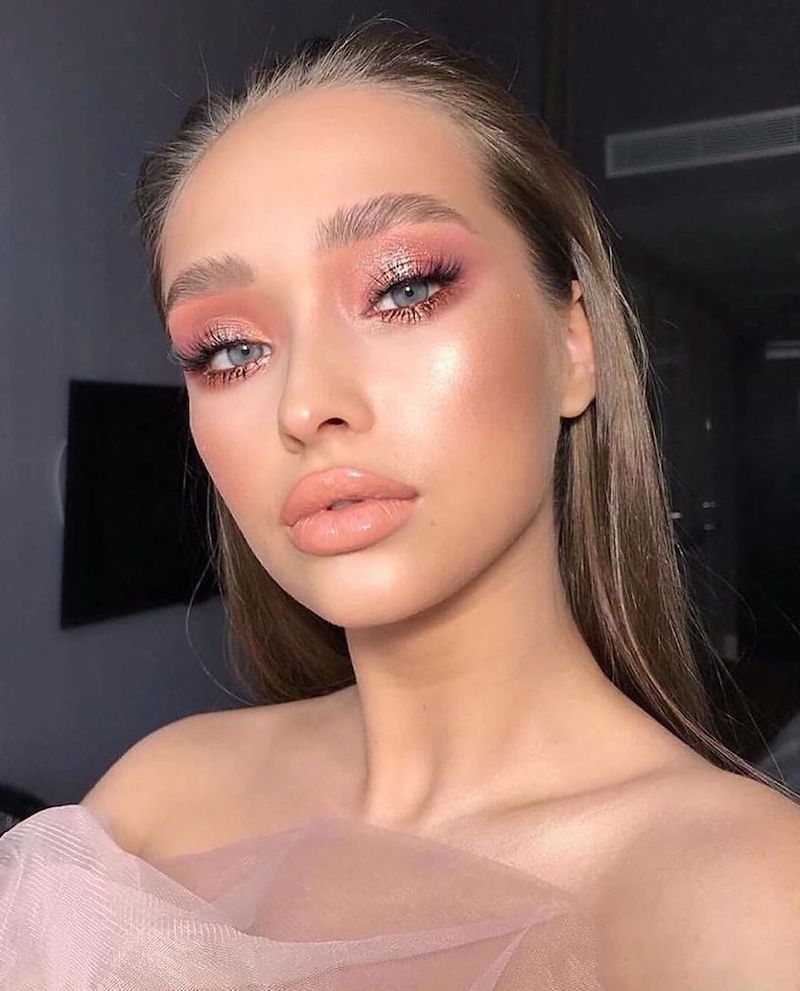 Experiment with matte pink shades to create a romantic 60s inspired look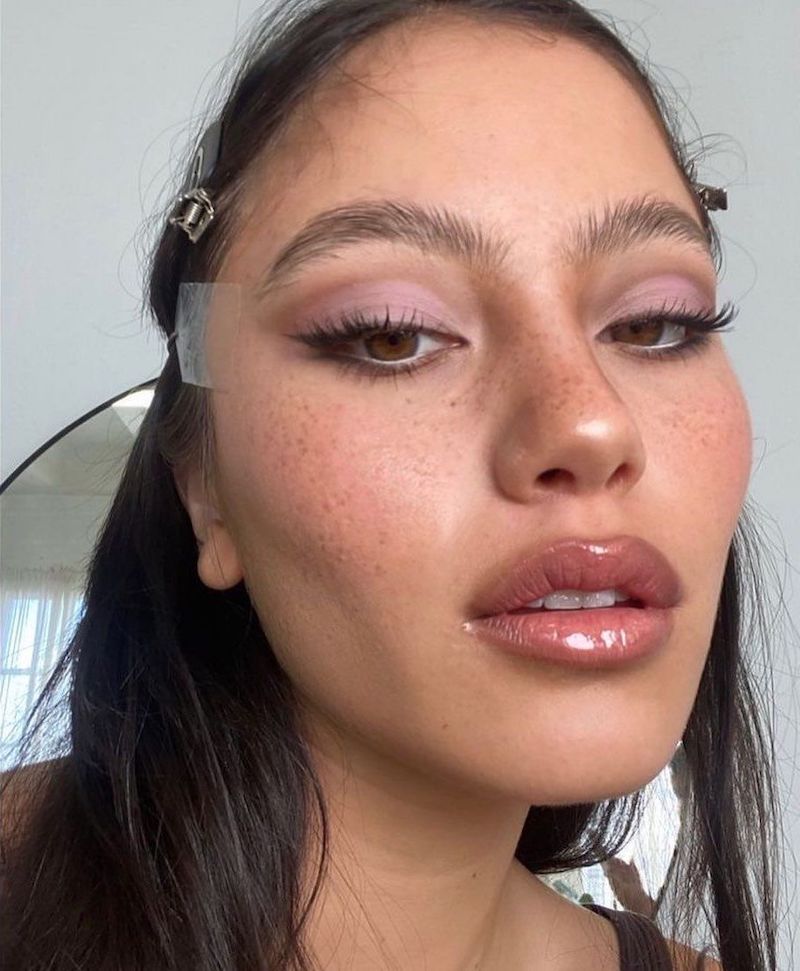 Brunettes can opt for more mauve or purplish toned pinks to enhance their eye and hair color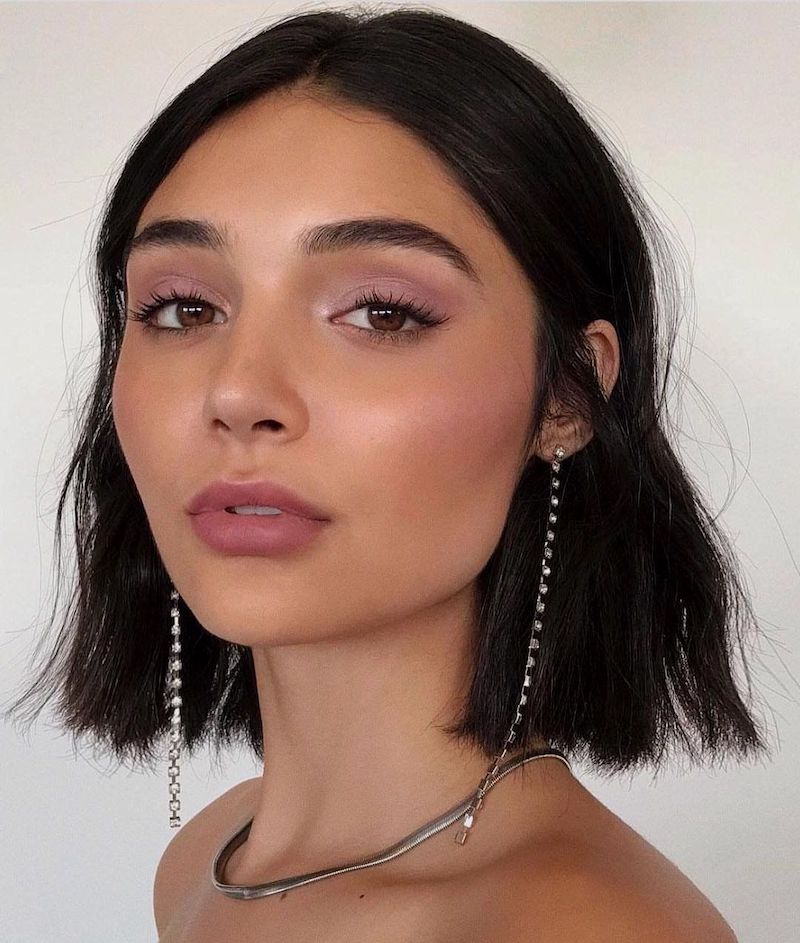 ---
If you are feeling brave, use rose gold shades combined with an iridescent purple shadow for a unique take on this romantic look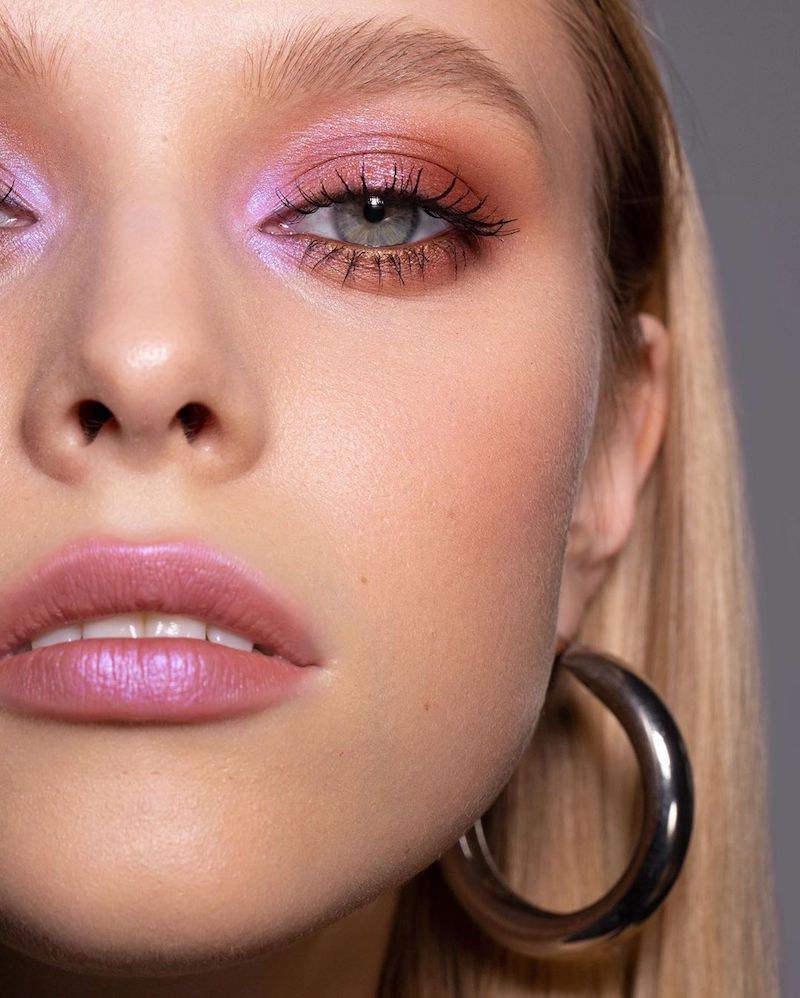 Add a pinkish shade below the eyes, on the cheeks and on the lips for a romantic model-off-duty look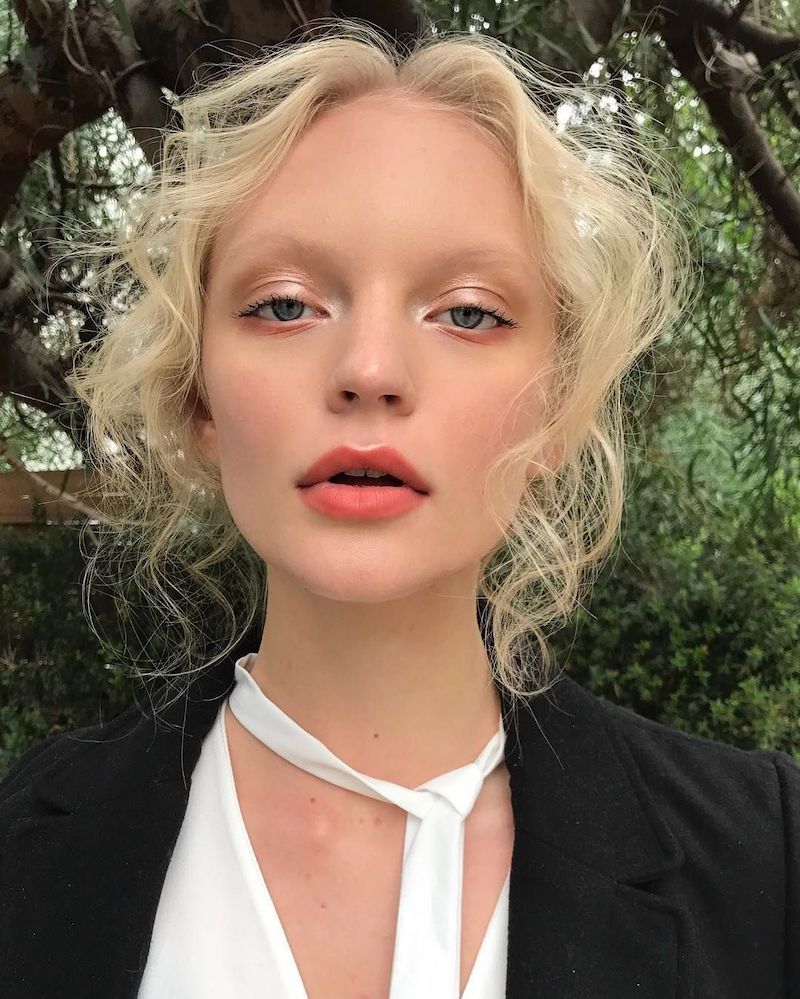 Check out this amazing Pink Monochromatic Valentine's Day makeup look:
Bold Eyeshadow
We adore a natural makeup look just as much as the next person, but seeing bold colors making a return in mainstream beauty trends is truly exciting. And the timing couldn't be better! We are in the middle of a new wave of COVID-19, and we are looking for simple ways to brighten up our days. And nothing does this as good as bright and fun colors! Color will continue to play a strong role in 2022, as celebs have been experimenting with bright outfits, hair, and makeup. So, what is more fitting than pulling off a bold eyeshadow look for Valentine's Day? It is exciting, surprising, and will definitely keep all eyes on you! Our advice? Opt for bold Valentine's Day-themed colors like pinks, purples, and reds. These colors are feminine yet high-fashion. One of our favorite looks is the pink eyeshadow & red lips combo! What's more, purple blush is actually one of the biggest makeup trends for 2022!
This iridescent ombre eyeshadow look screams Valentine's Day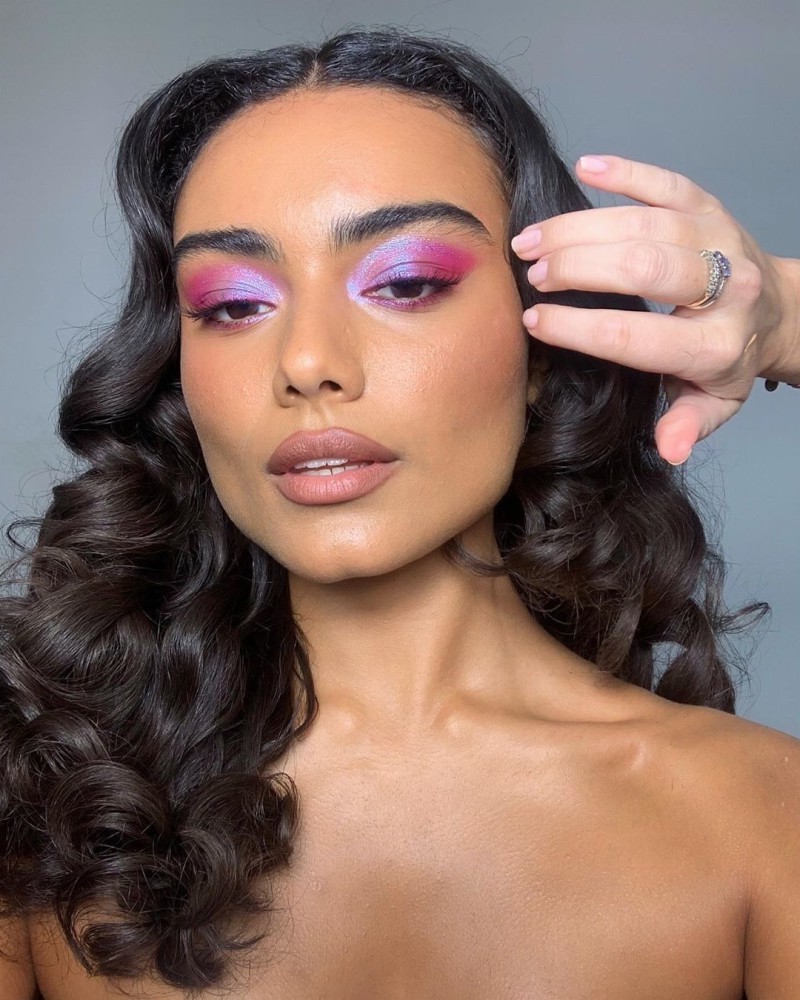 Add a bright color in the inner and outer corner of your eyes for a unique halo effect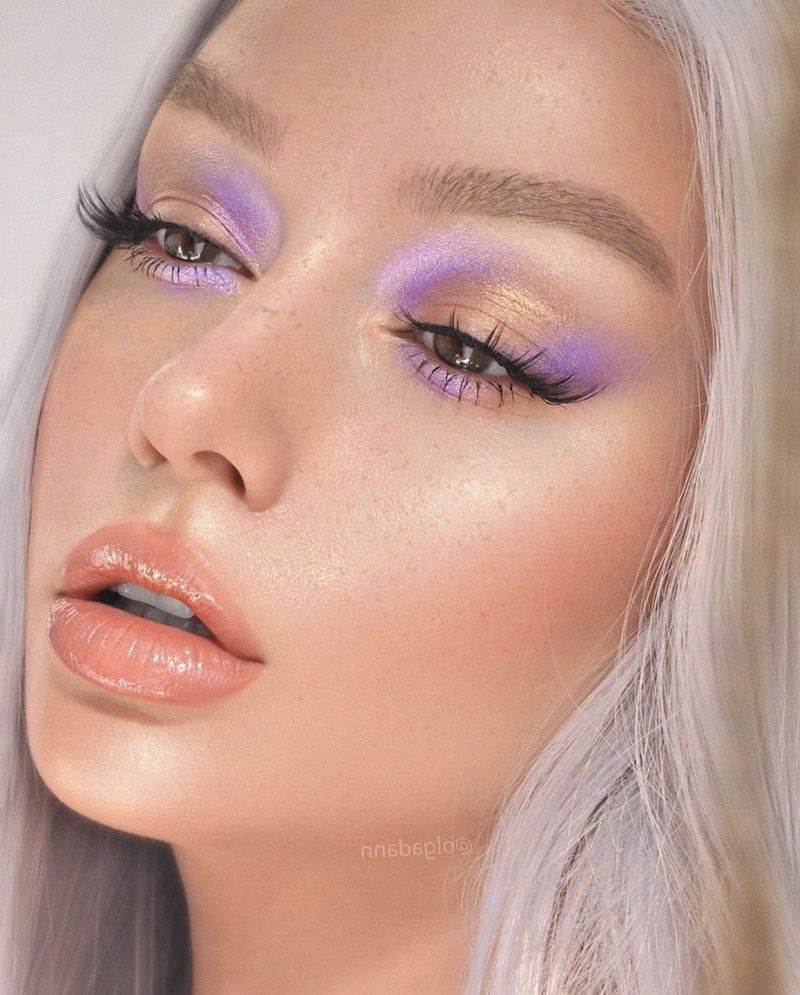 Dazzling your eyes with crystals is a huge trend in 2022, just thank the series Euphoria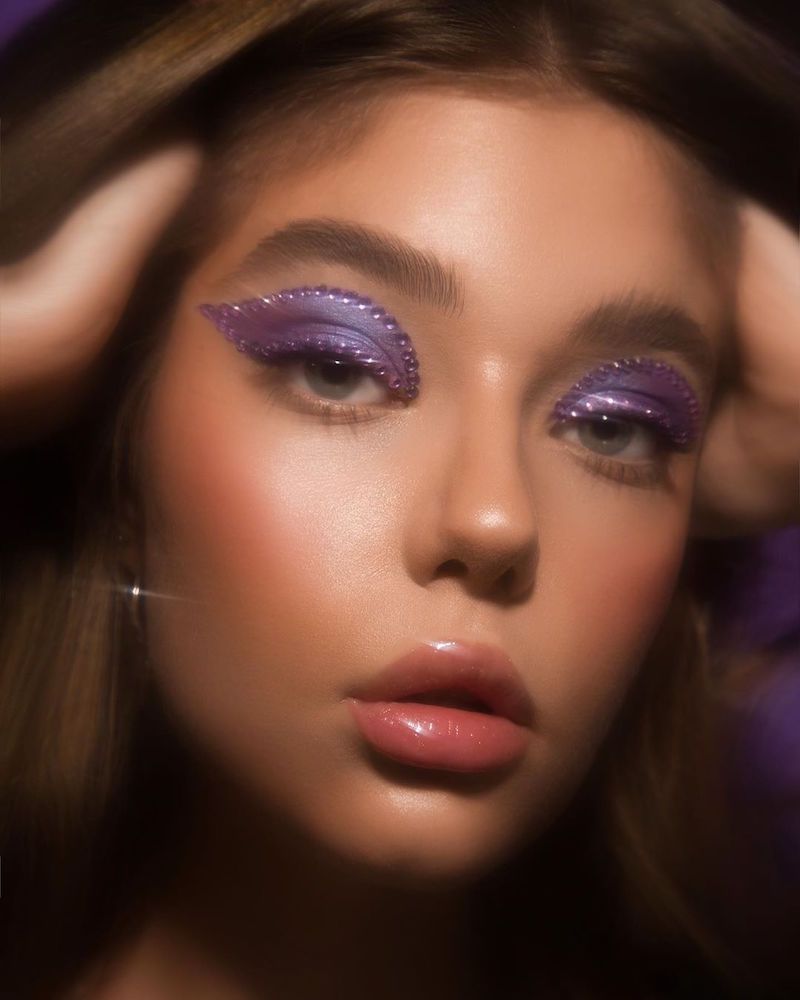 Pinks and purples blend so well together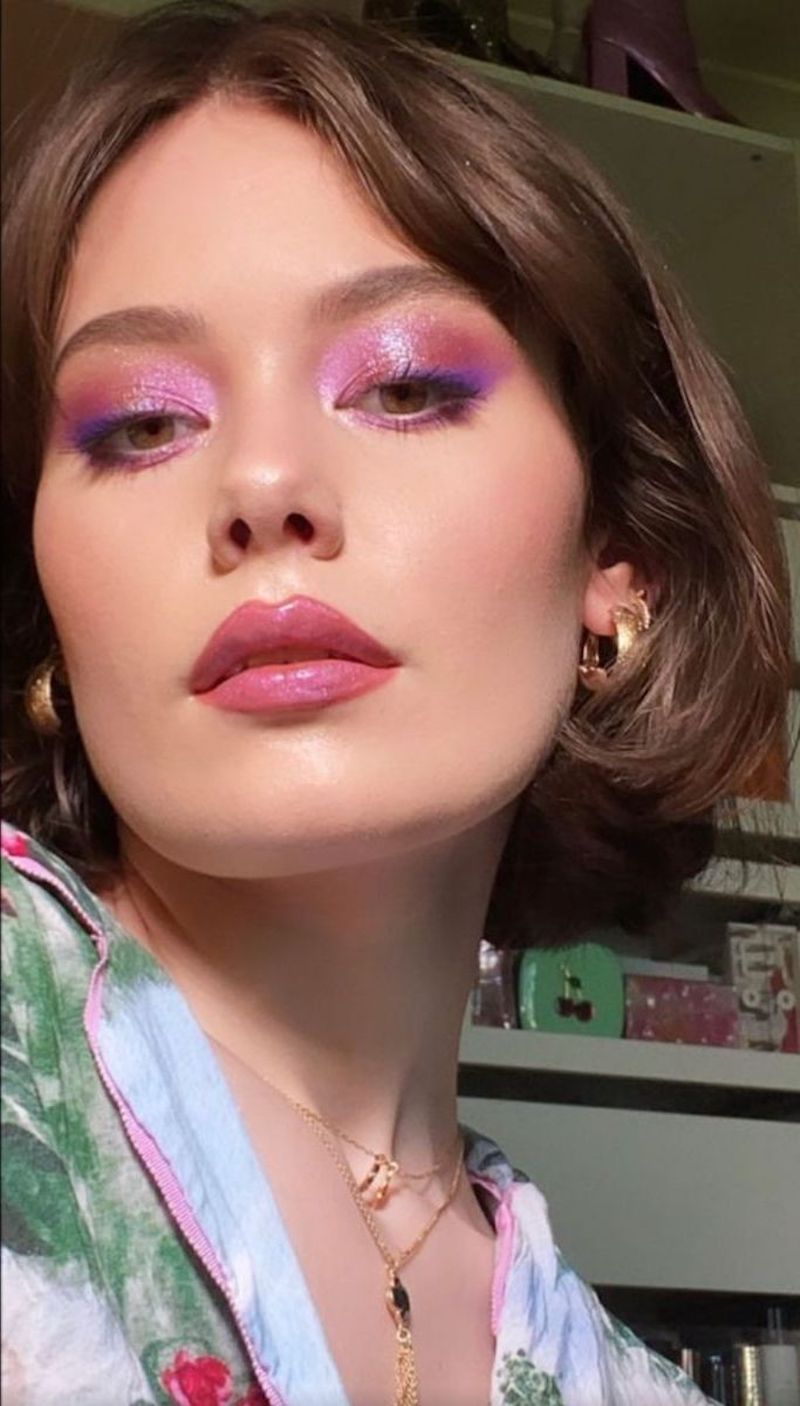 A sultry purple eye with glossy brown toned lips is the retro version of this look that everyone should try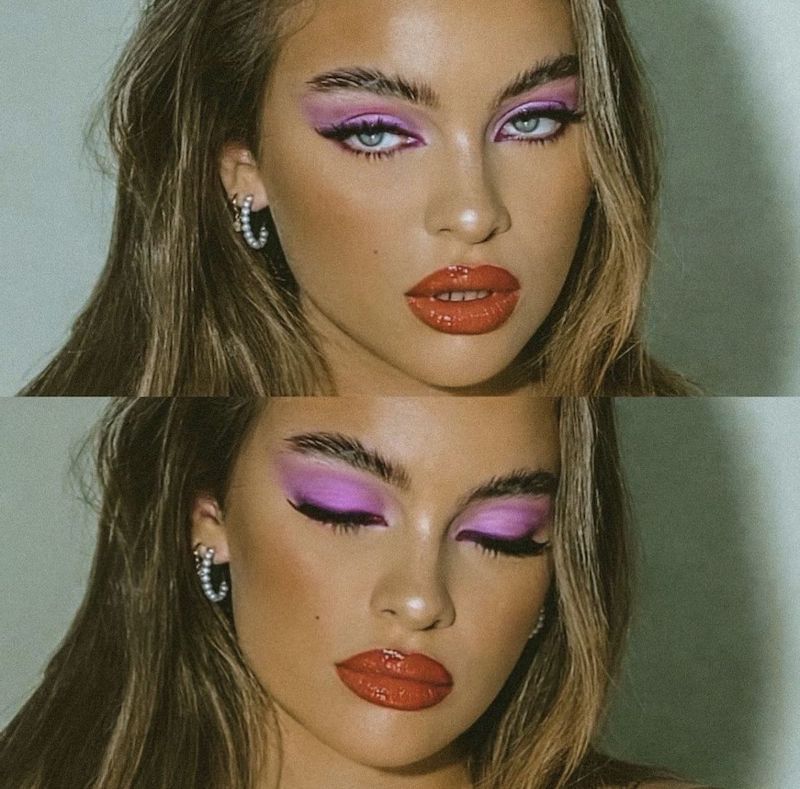 Check out this video for the perfect bright shadow Valentine's Day makeup look:
Dewy & Fresh
Dolphin skin is a makeup trend that refers to a gleaming, moisturized, 'just out of the water' look. A look that is super-luminous, dewy, and multidimensional, combining skincare and makeup techniques. It is the perfect natural makeup trend to rock this Valentine's Day! Why? It is super quick and easy to achieve and gives you a radiant and youthful glow that any woman would kill for. To achieve the look, try to incorporate hydrating products into your skin-care routine and use dewy makeup to get the dolphin skin effect. While this is mostly a makeup trend, what you do to your face before applying the makeup is vital in terms of setting the right tone. The secret to achieving this dewy, hyper-radiant look is to prep your natural skin. Before applying your glowing makeup elements, there are a few quick fixes you can try. Exfoliate your skin first to brighten your complexion and bring out your natural radiance. Try a five-minute nourishing and hydrating mask after exfoliating. Last but not least, prime your skin with a dry oil to deeply hydrate it without leaving it oily.
Dewy skin is best paired with glossy lips and wispy lashes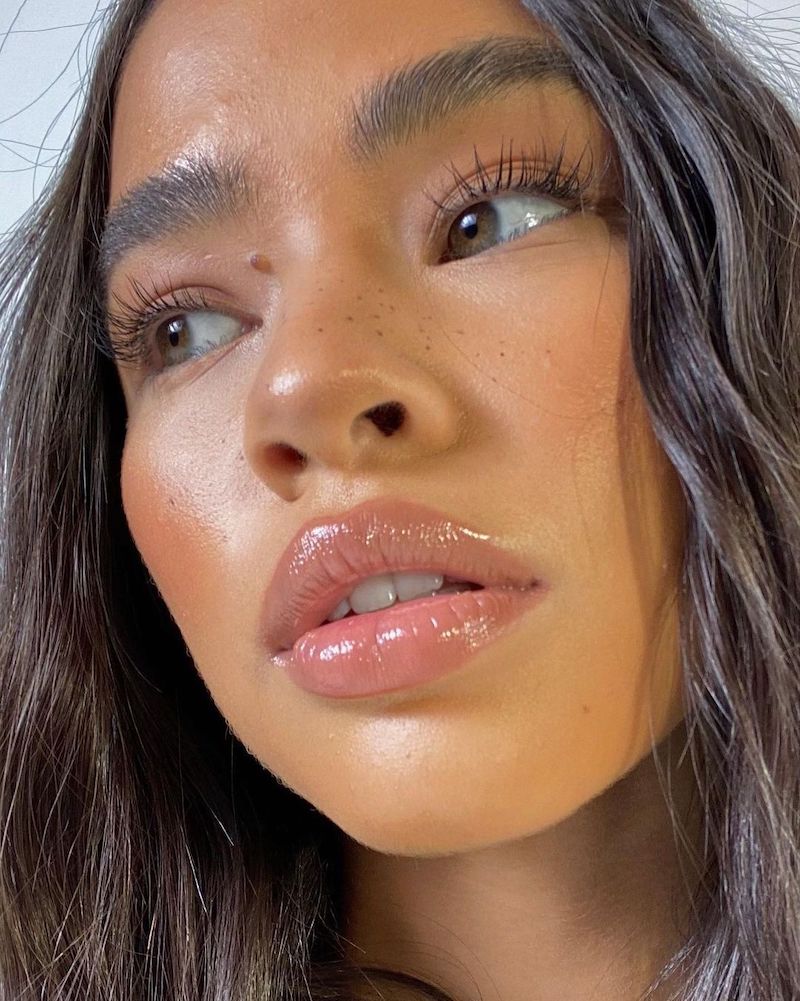 If your skin tends to get oily fast, make sure to leave some areas more matte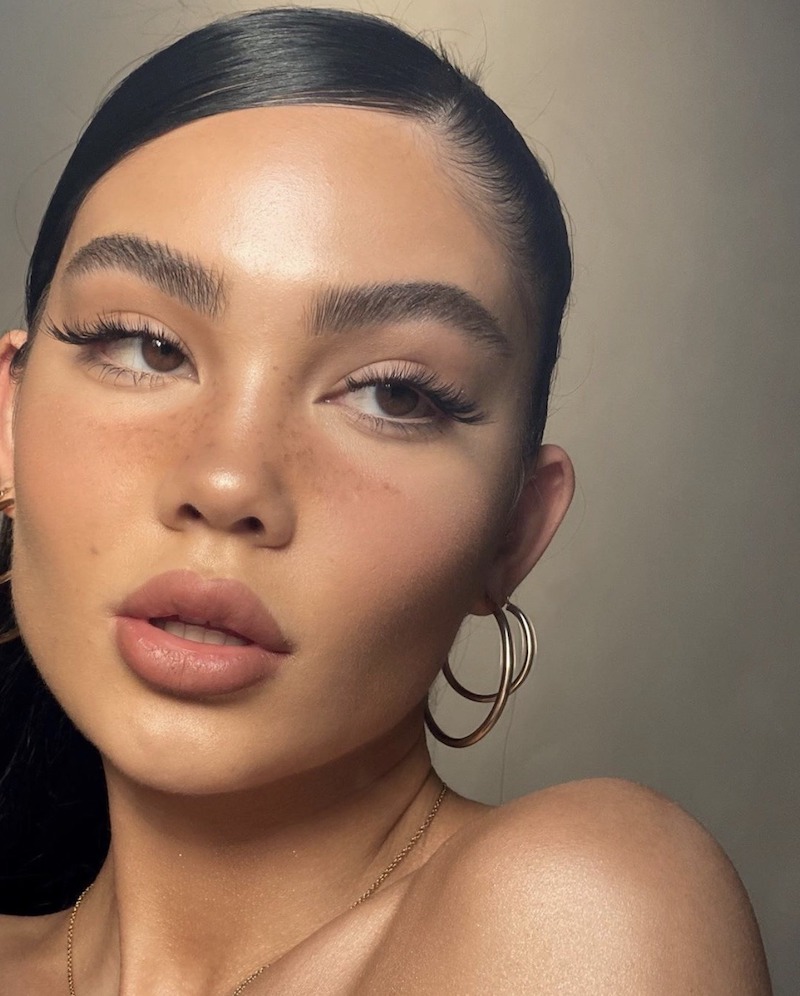 Soap brows is the trend that goes hand in hand with the dewy makeup look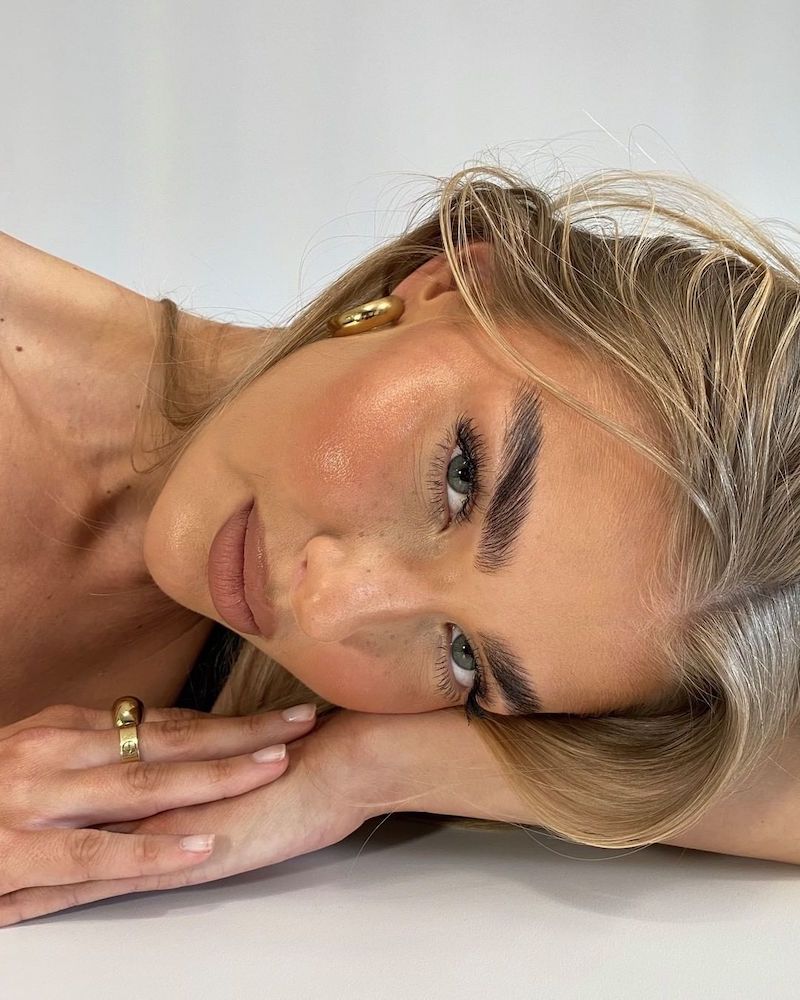 Add a reddish lipstick for a natural yet chic look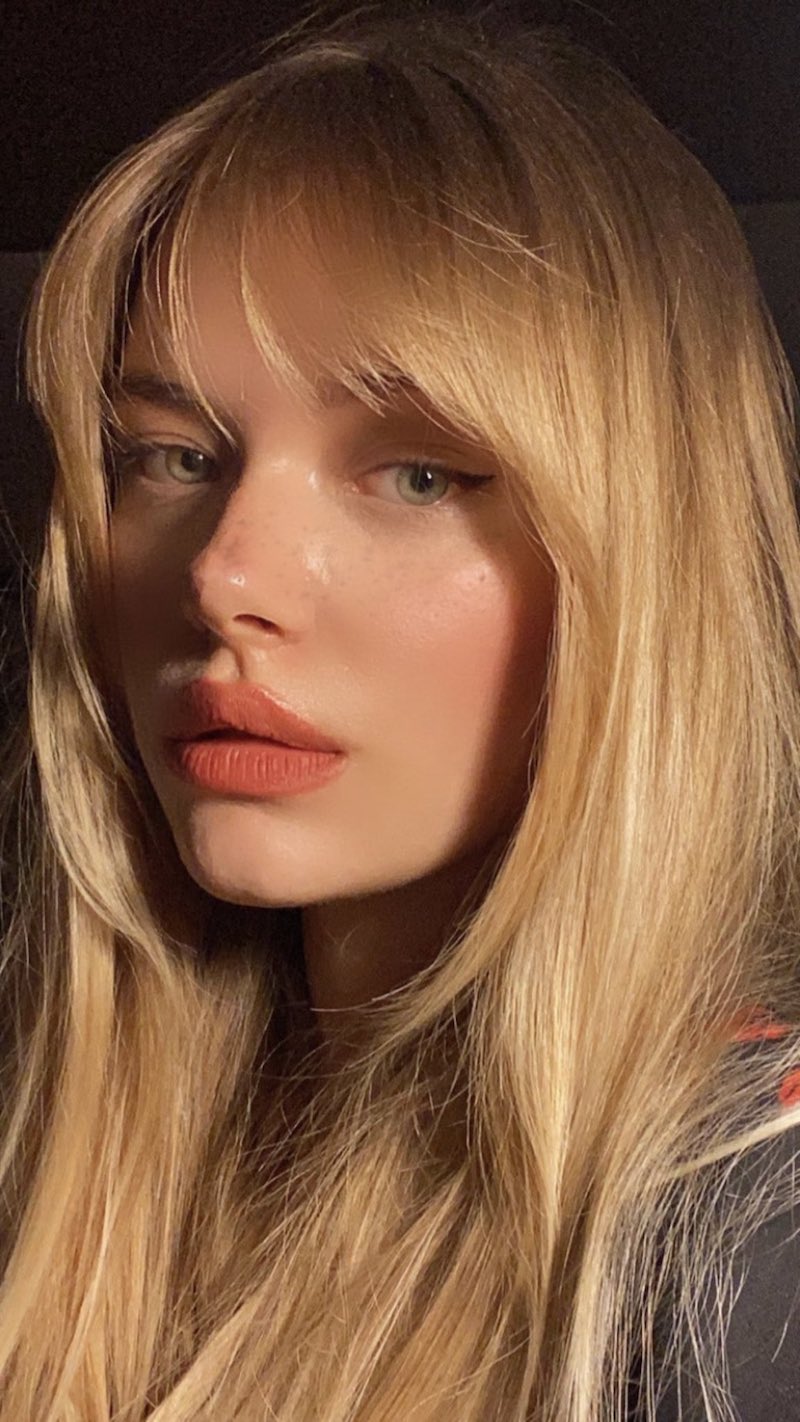 Make sure to add blush and a glowy highlighter on top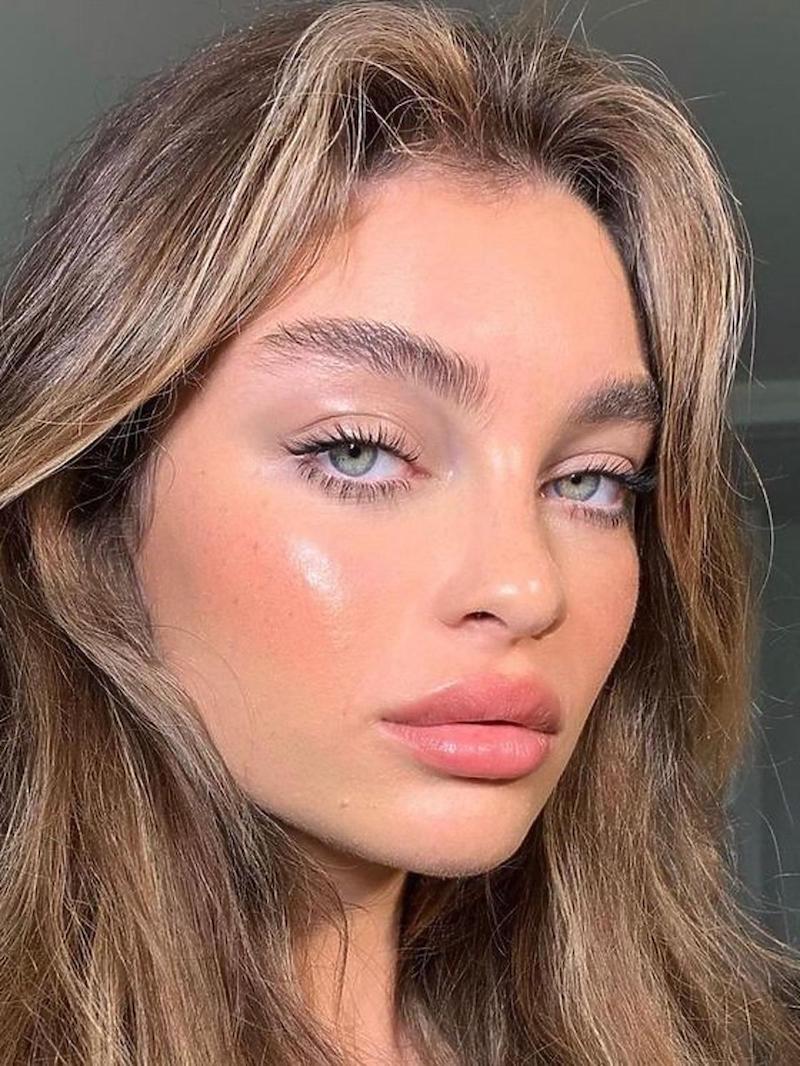 Glossy lids are another big makeup trend for 2022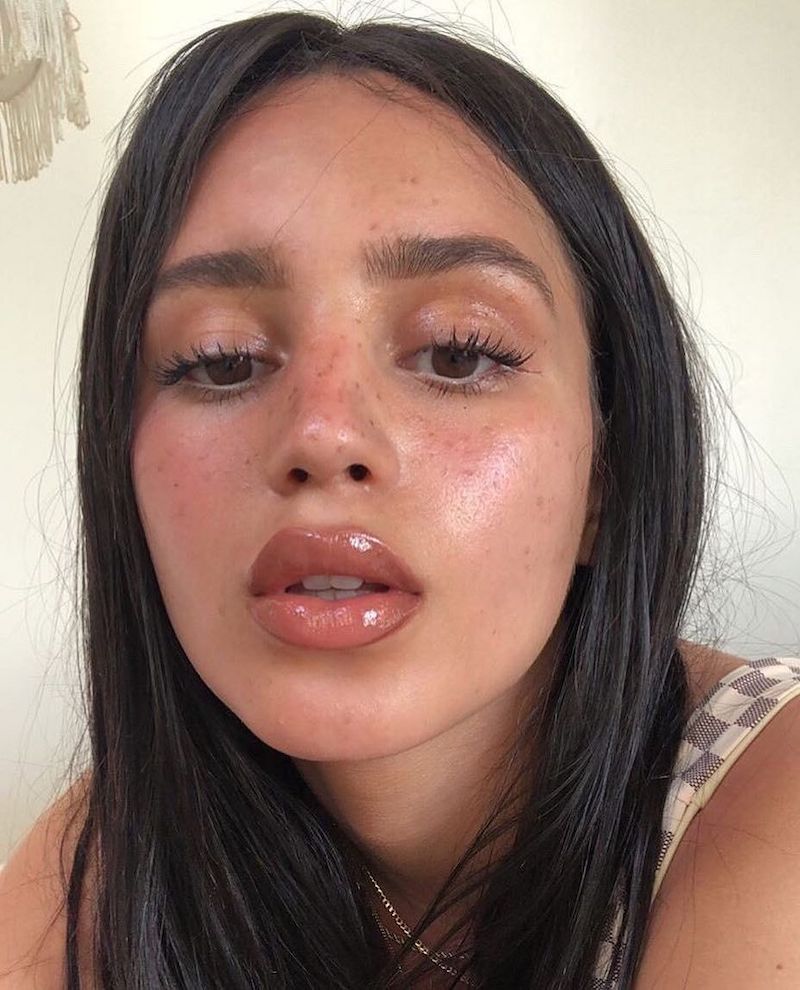 This look is natural yet fresh and romantic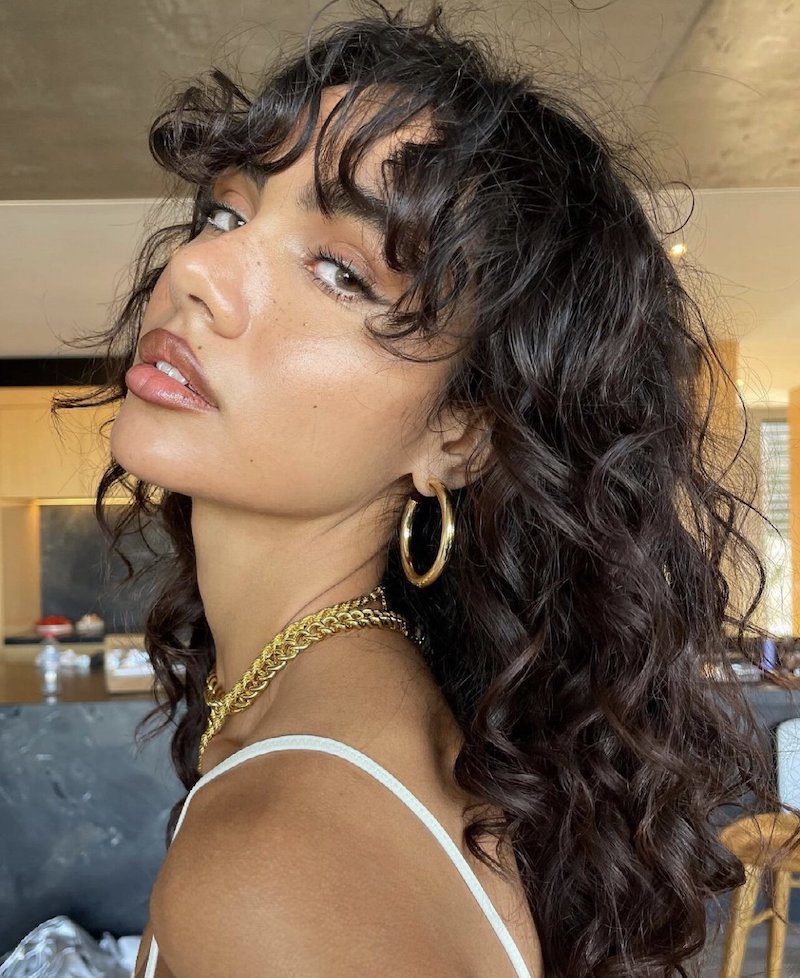 Take a look at this video for an in-depth glowy makeup look tutorial:
Iconic Red
There is no doubt that red is always in! Red lips have been every woman's biggest ally since the dawn of time – just ask Marilyn! Don't fear the bright and bold shades of red lipstick. Valentine's Day is the best day to wear them! This attention-grabbing lip color combines perfectly with a simple and natural eye look. Our advice? Go with a matte brown eyeshadow and long, wispy lashes. If you want to be extra brave and trendy, add a baby pink blush to the mix. And you get bonus points if your Valentine's Day manicure matches your red lips!
Natural eyes and bold red lips – name a better duo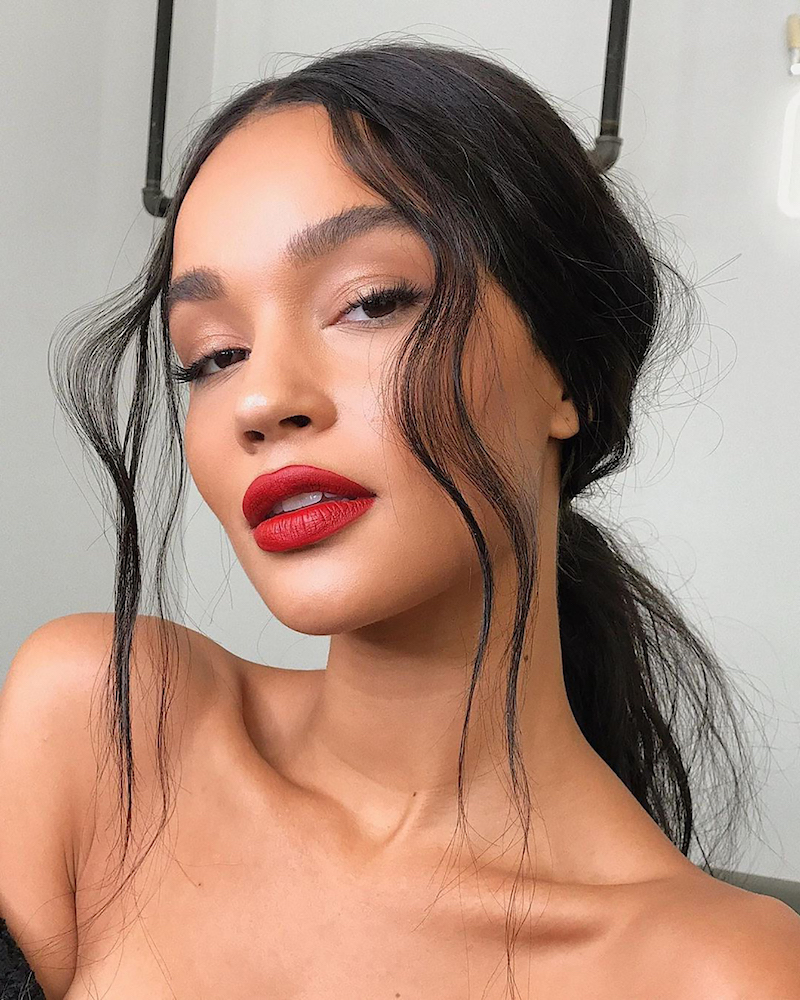 Opt for light feathery brows with some brow gel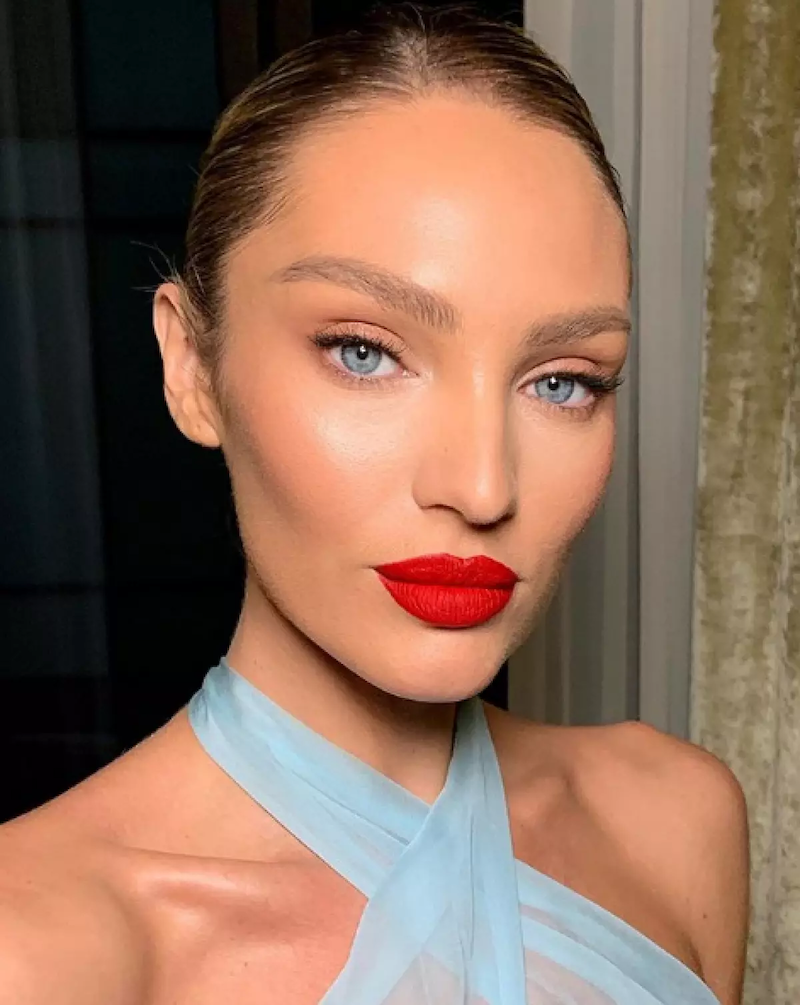 Juicy red lips scream Valentine's Day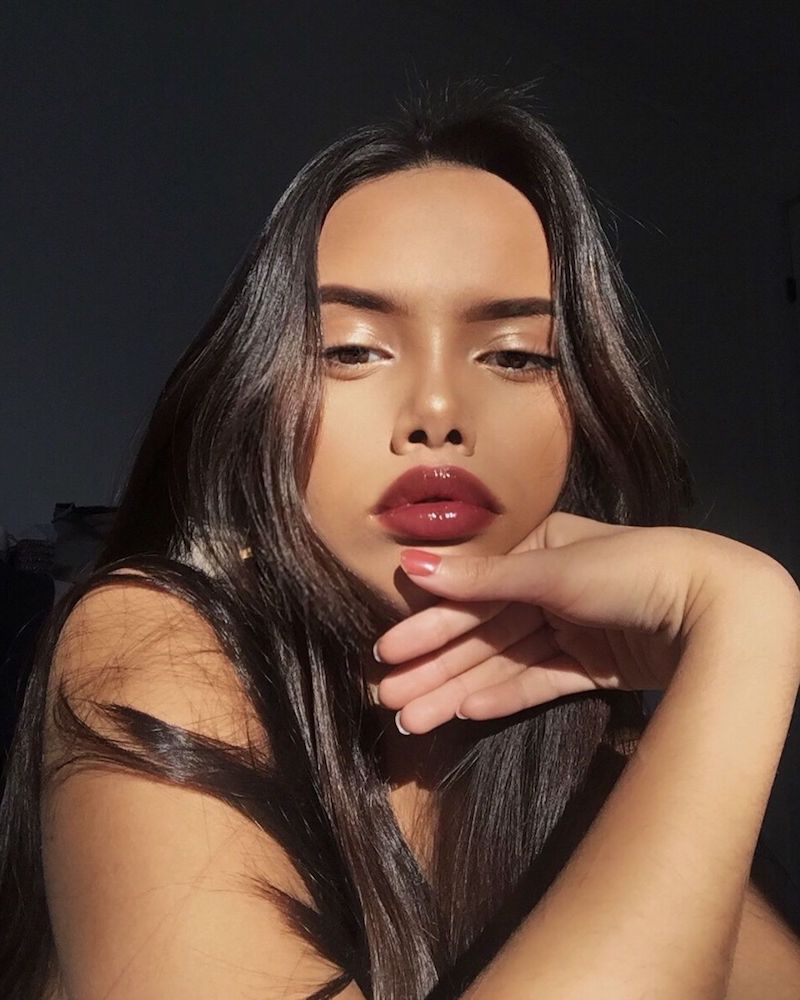 For a more brownish-red look, add a rusty eyeshadow color and a darker lip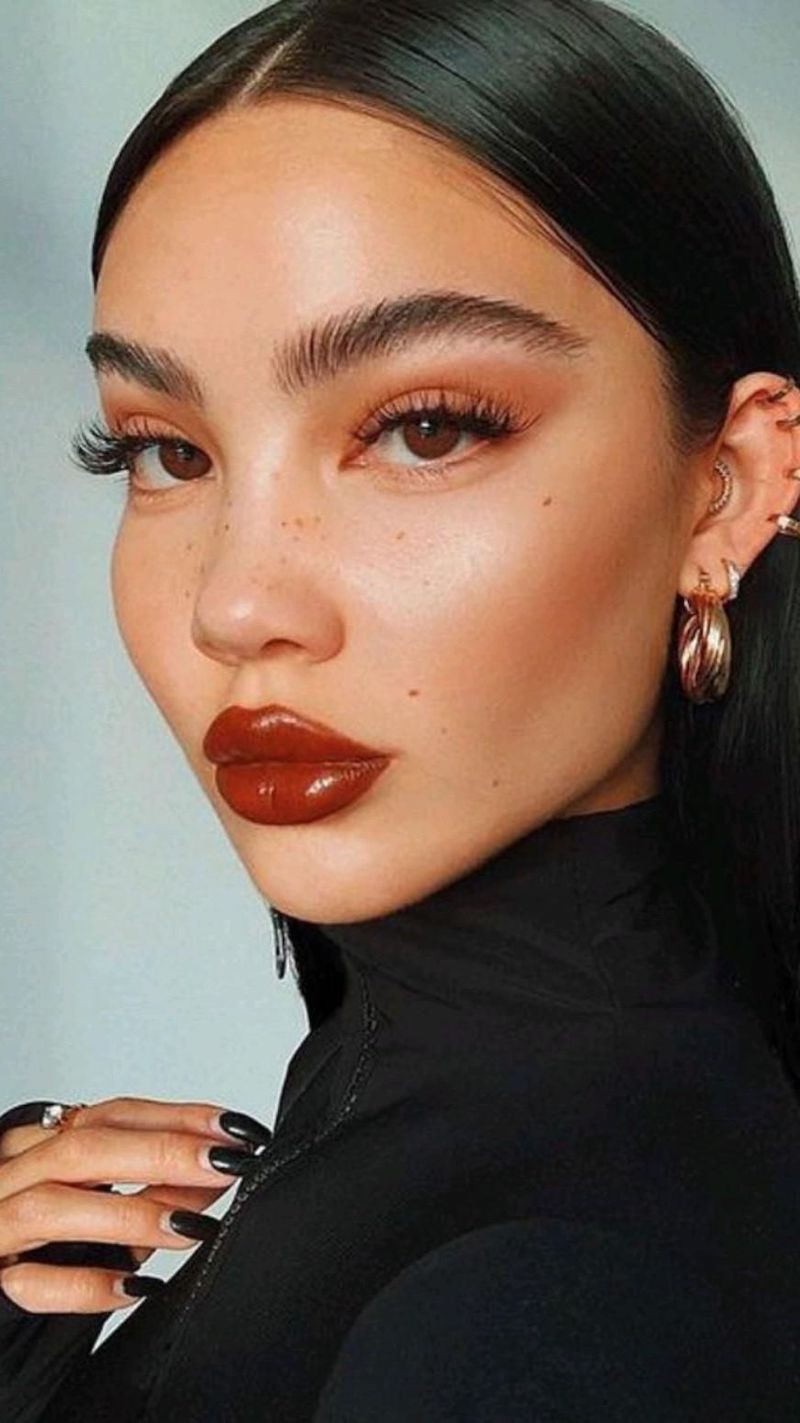 Watch this video to achieve the perfect Valentine's Day glam:
Lined & Defined
If you want to enhance your eyes, then this look is just for you! The eyes are the window to the soul, so why not line and define them for this Valentine's Day! Winged eyeliner never gets out of style- it is like the little black dress of makeup! The biggest eyeliner trends are the foxy eye look and the reverse cat-eye look. Fox-eye makeup tutorials demonstrate how to achieve a winged look by combining eye shadow, eyeliner, and fake eyelashes. And the reverse cat-eye look? It's got all the oomph and intensity of a typical winged liner, but it's inverted to draw emphasis to your bottom lash line. The result is a smoky, sensual under-eye with a sexy feline shape that wings out at the corner. Play with the eyeshadow colors and eyeliner intensity to spice up your eyes.
Nude lips and jet black eyeliner are a match made in heaven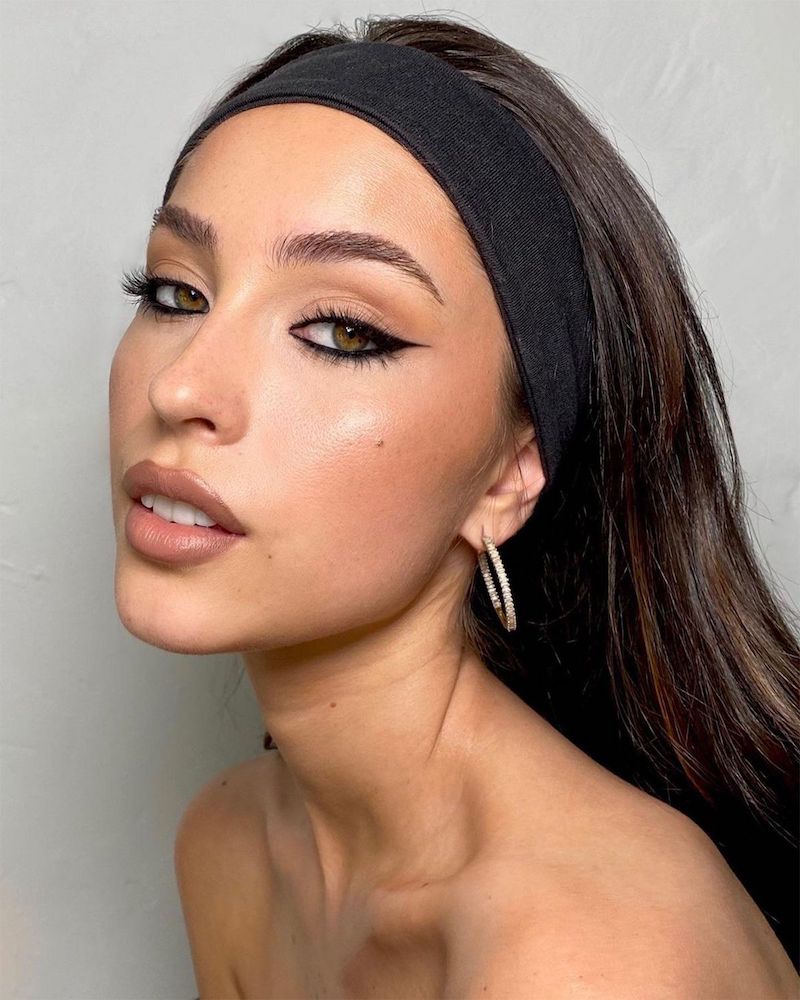 Use eyeshadow to create the illusion of the halo eye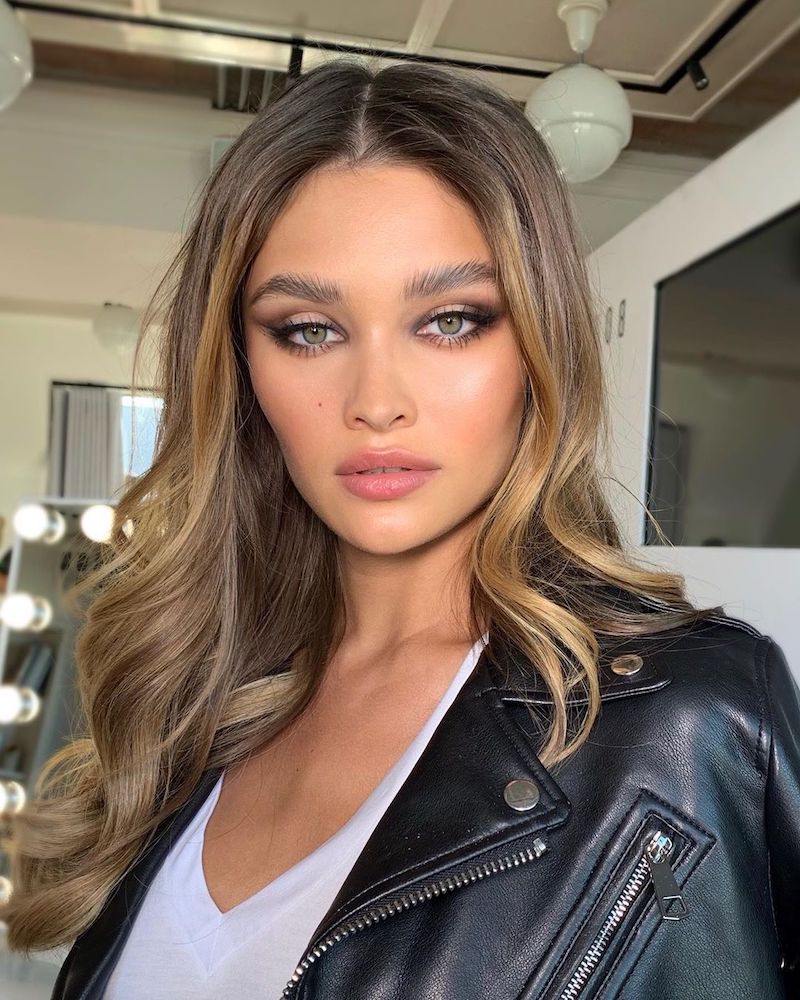 Add shimmering gold eyeshadow for even more drama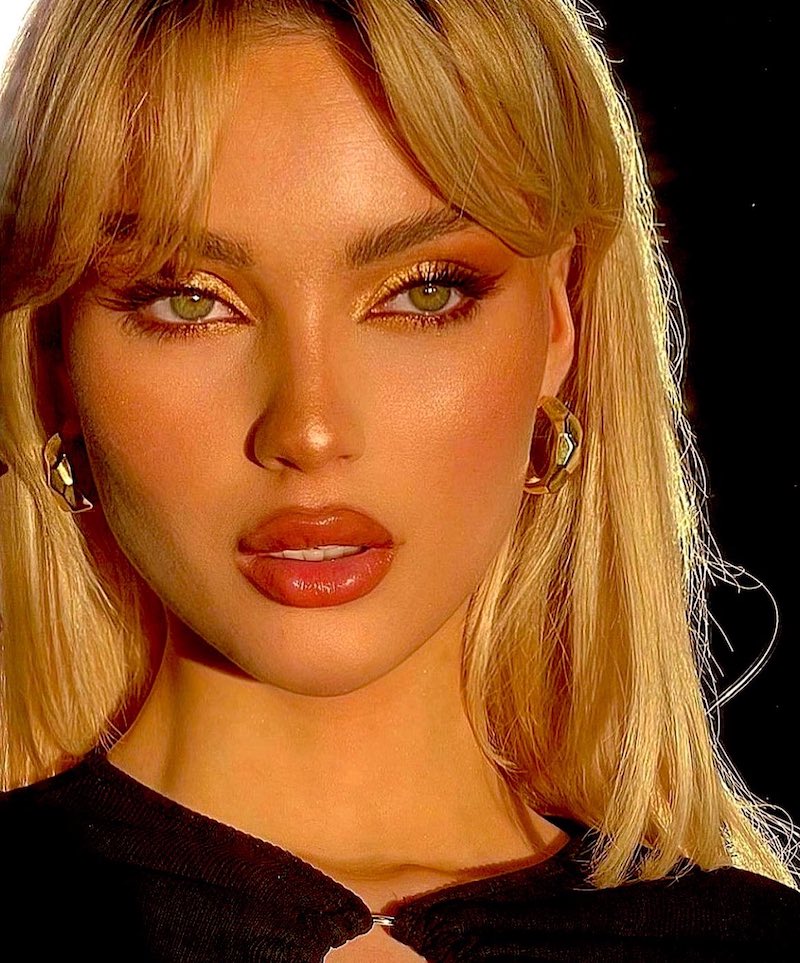 Watch this video for a soft foxy eye makeup tutorial: