How to do a cat eye makeup – tutorials + examples
Now that we have so much time on our hands, it is time to take up some new hobbies or learn new skills. For some people, for example, doing their own makeup has always been a challenge. If that is the case for you, we are here to help. Nowadays, it seems like even when we go out to go to the supermarket we are surrounded by women with perfect winged eyeliner, which makes their eyes look absolutely stunning. And that is exactly why today we are going to learn how to do a cat eye makeup. We've prepared plenty of examples to take inspiration from, as well as a few easy to follow tutorials even beginners are going to find super helpful.
Angelina Jolie loves the cat eye look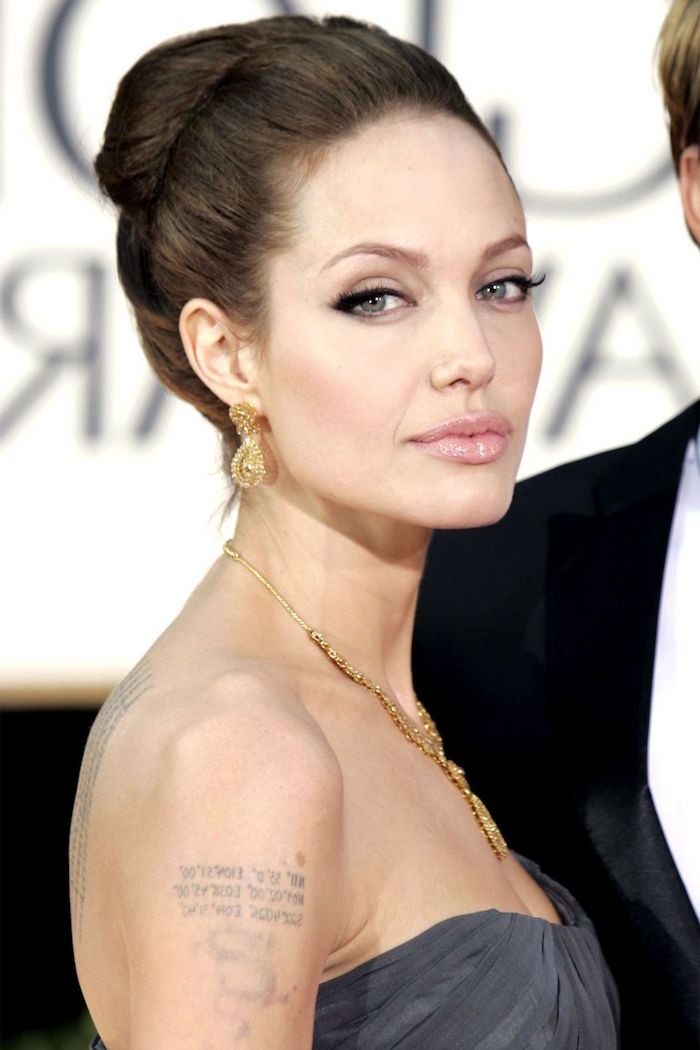 How to do winged eyeliner?
The good news is all you need to recreate this look is a mirror, black eyeliner or pencil and a make-up remover, just in case. The first thing you need to do is stand in front of a mirror and tilt your head backwards. That way your eye is partially closed, but you can still see what you are doing. Then, pull the corner of your eyelid with your finger. Now it is time to apply the eyeliner. Start from the middle of your eyelid and draw a line towards your finger, pulling your eyelid. Then start at the inner corner of the eye, working towards the middle where you are going to connect the lines. Another way is to put dots along your eyelid and then connect them with the line. This might work for beginners who are not sure whether they can keep the line straight. And, voila, you have yourself a winged eyeliner.
We can easily call Ariana Grande the queen of the winged eyeliner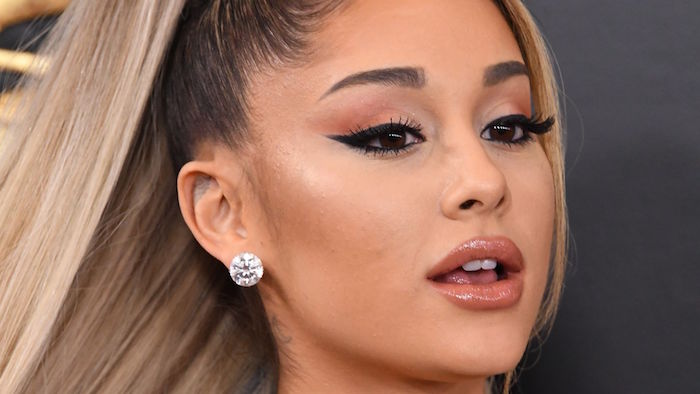 Is cat eye makeup for everyone?
Well, this is a question which is asked often and the good news is that the answer is yes. The interesting thing about applying eyeliner to our eyelids is that we can visually change their shape. And, trust us, when you change the shape of your eyes, your entire face seems different. For example, the winged eyeliner helps a lot for smaller or hooded eyes. By applying it, you can open your eyes up, and make them appear bigger. Below you can find an eye shape chart, which can help you figure out your eye shape type.
Check out this chart to help you determine your eye shape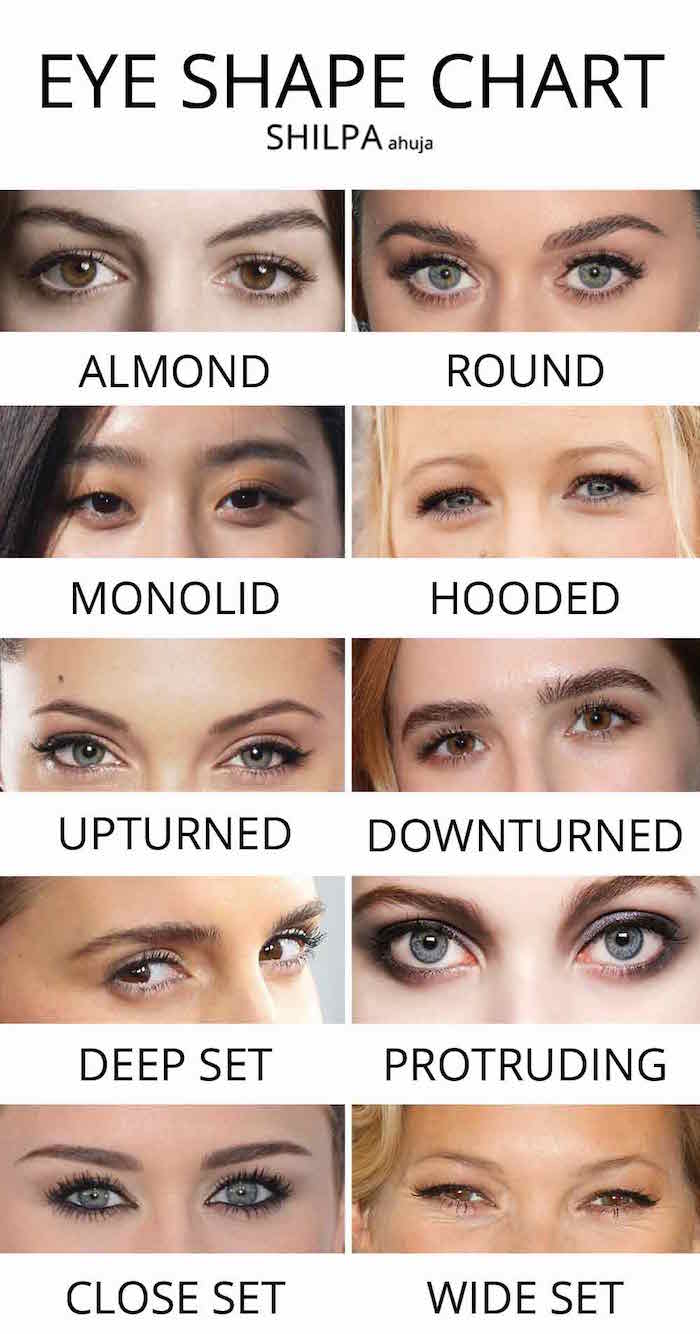 And here is another chart showing the different types of eyeliner application you can try and see which one works best for your eye shape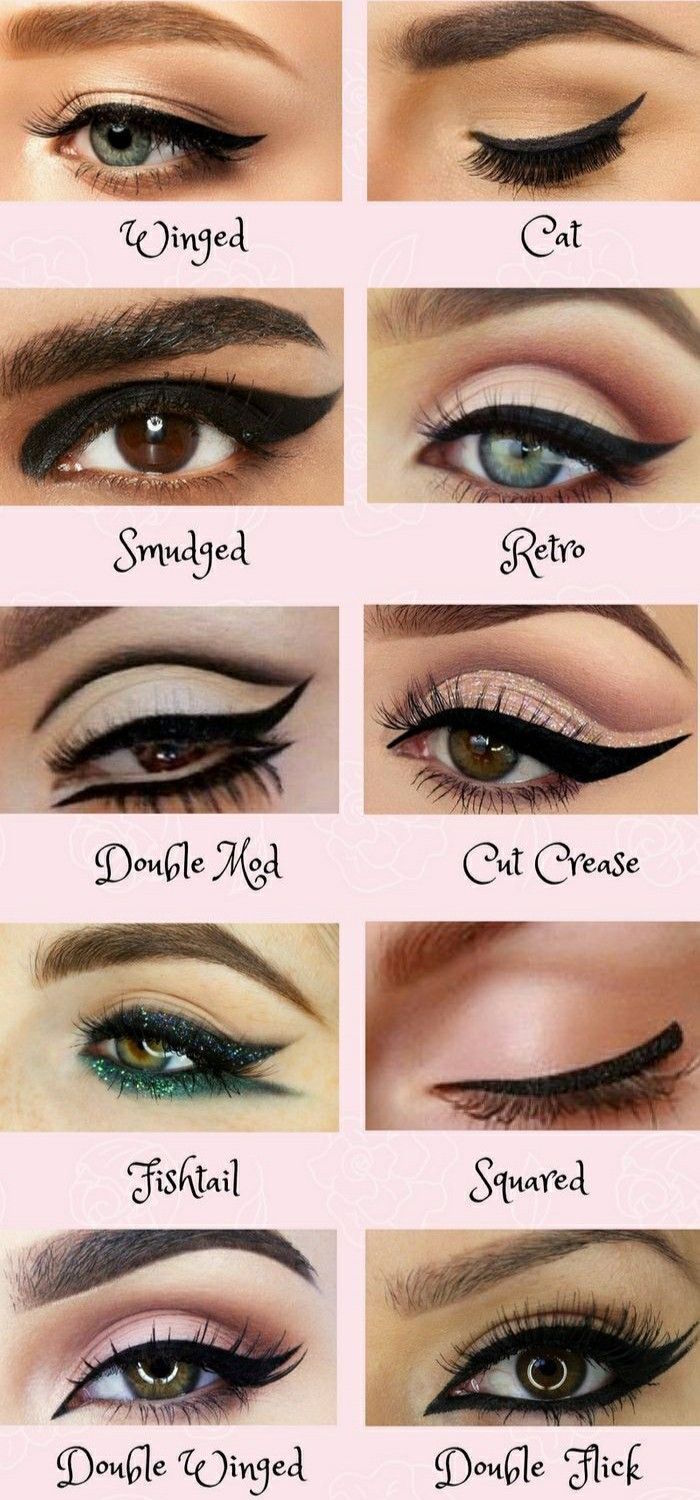 How do you do the perfect cat eye makeup?
Well, it is time for the tutorials. And the one below is pretty easy, especially when it comes with pictures. So, here is a step by step tutorial on how to recreate this look:
Start by applying eyeshadow in tan color to the outer part of your eyelid.
Apply darker brown eyeshadow just below the brow.
Then, choose a lighter shimmery nude eyeshadow and apply it at the inner corner of the eyelid and blend with the tan eyeshadow.
Use a mauve hue of eyeshadow on the lower lash line.
Create the cat eye look starting from the very corner of your eye with black liquid eyeliner.
Use a pencil the line the lower lash line and waterline.
Finally apply the mascara.
Gorgeous look in seven easy to follow steps

How to do a cat eye?
Now here is another tutorial, which can help you recreate this gorgeous smokey eye look in a few easy steps:
Use a black eye pencil to line the base of the lash line of your upper eyelid.
Apply a second line following your natural crease and connect the bottom line both at the outer and the inner part of your eye.
Fill the gap between the two lines with dark gray eyeshadow and blend well with the black pencil eyeliner.
Add the same gray eyeshadow to your lower lash line and smudge it a little bit.
Finally add your mascara.
Let's keep it going with another easy tutorial for a cool smokey eye look

What types of eyeliner are best?
Well, the most popular ones are liquid eyeliners and pencil eyeliners. There are, however, felt tip eyeliners and gel eyeliners as well. For beginner the most commonly used one is the pencil eyeliner. It provides a firm grip and it is much easier to draw a straight line with a pencil. Felt tip eyeliners are also a good option and while the pencil eyeliner gives more of a smudged, smokey eye look, the felt tip ones provide clean lines, just like the liquid eyeliners. If you feel like you have become a pro at making a cat eye, then try doing it with gel or liquid eyeliner. It definitely takes skill, but if you practice you can definitely recreate these looks every time you go out.
Practice makes perfect, just take a mirror and a pencil eyeliner and get to work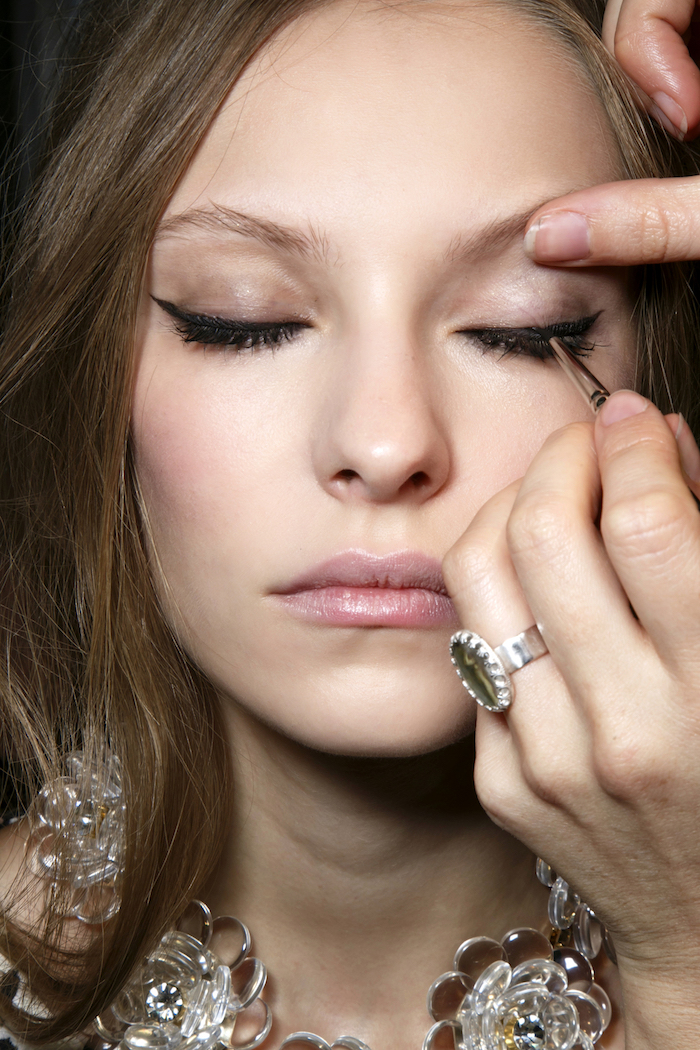 Why is winged eyeliner so popular?
As we have already stated, the cat eye can completely change the shape of your eye and, therefore, can change the way your whole face looks. Furthermore, if you have mastered the art of the winged eyeliner, you don't even need to put any other make up. Cat eye can look just as gorgeous without any additional eyeshadow. Just create that wing, apply some mascara and you are good to go. A makeup look that doesn't take more than five minutes? Sign us up, please!
The beauty of the cat eye makeup is in its simplicity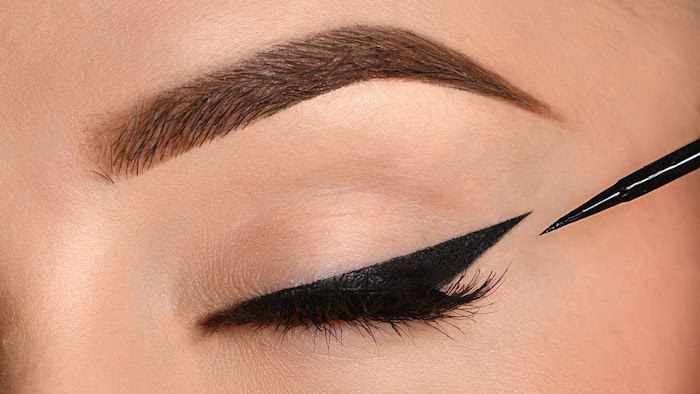 You can even experiment with different looks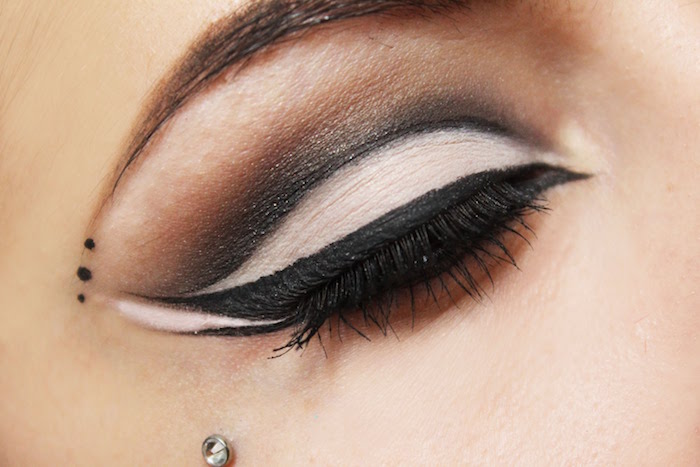 And now here is a tutorial for an actual "winged" eyeliner look
Olivia Wilde and many other A-list celebrities are fans of this trend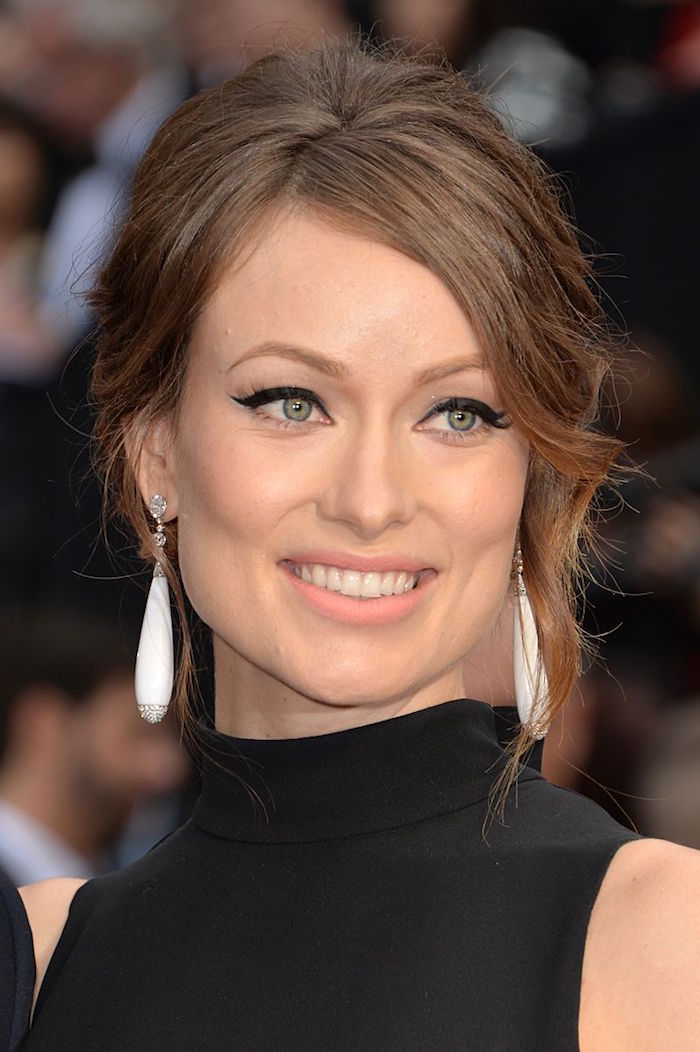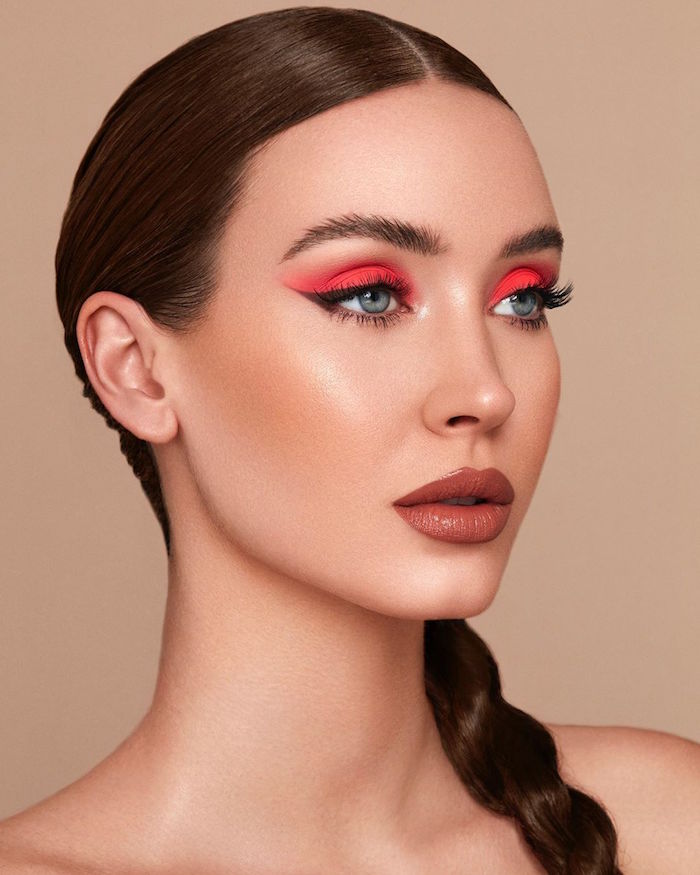 More tutorials which are going to help you on your way to becoming a cat eye pro
Even the simplest eyeshadow hue can look amazing when you add eyeliner to it
Zoe Kravitz always likes to experiment when it comes to fashion, but the results are always breathtaking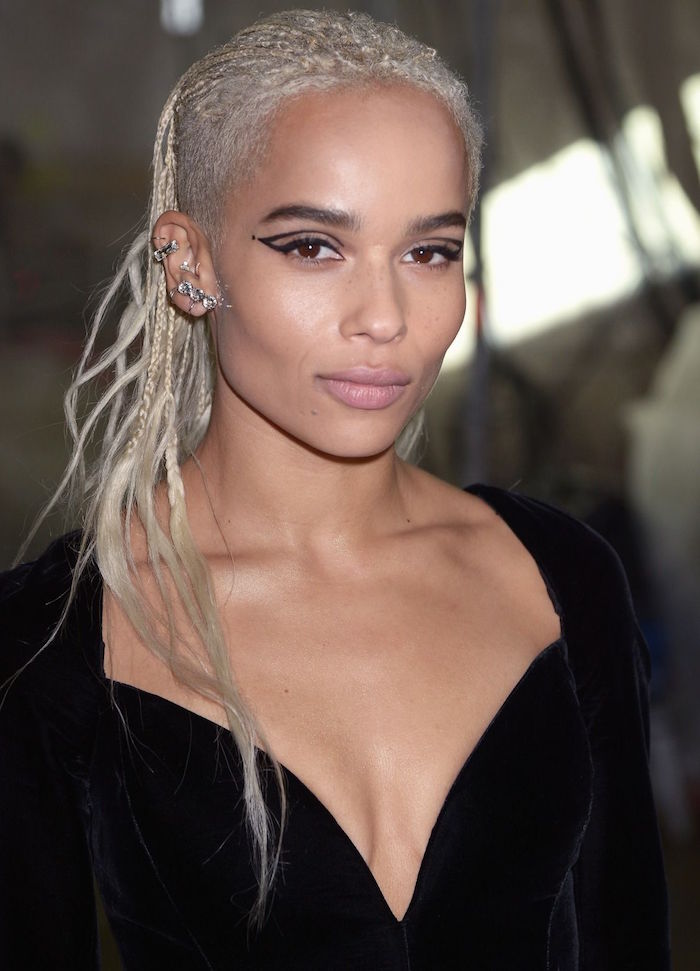 And understated look from Emma Watson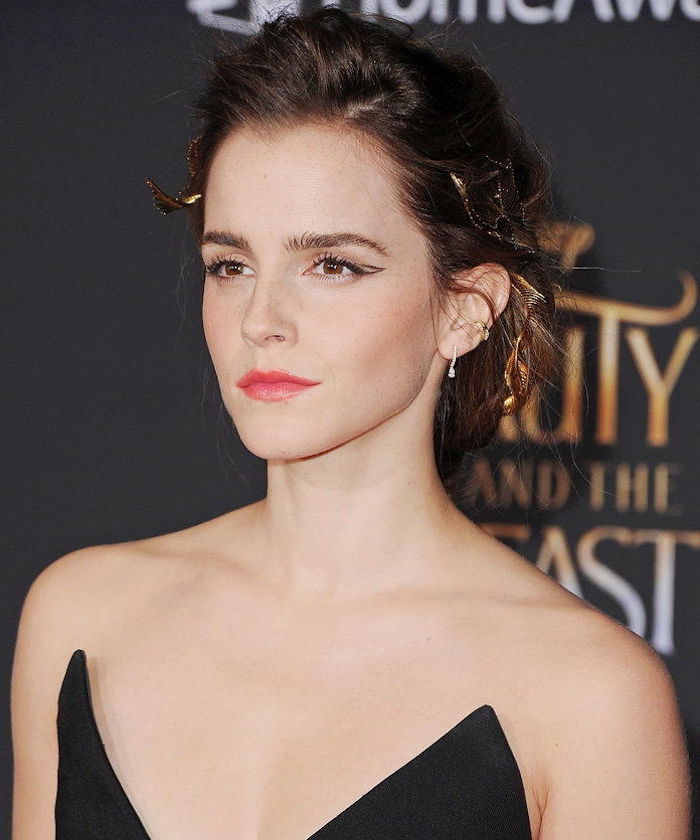 You can always experiment with colors when it comes to your eyeliner, don't just settle for black
Black and gold – the perfect New Year's Eve look
Emmy Rossum looks absolutely stunning with this gorgeous shade of blue
Now this is definitely an interesting way of using eyeliner, especially in this color