20+ Cute Valentine's Day Nail Ideas That You'll Love
While you may be tempted to get in a spring mood for your nails, keep in mind that the month of love is steadily approaching us, and with it St. Valentine's Day! Even if it isn't your favorite holiday, it is a great opportunity to get super cute nails! If you love all things Valentine's themed, this is a great time to experiment with your designs as well. There are plenty of cool ideas that you'll want to wear even past the holiday! Get some inspiration for your next salon appointment with these super cute Valentine's Day nail ideas!
February is known as the month of love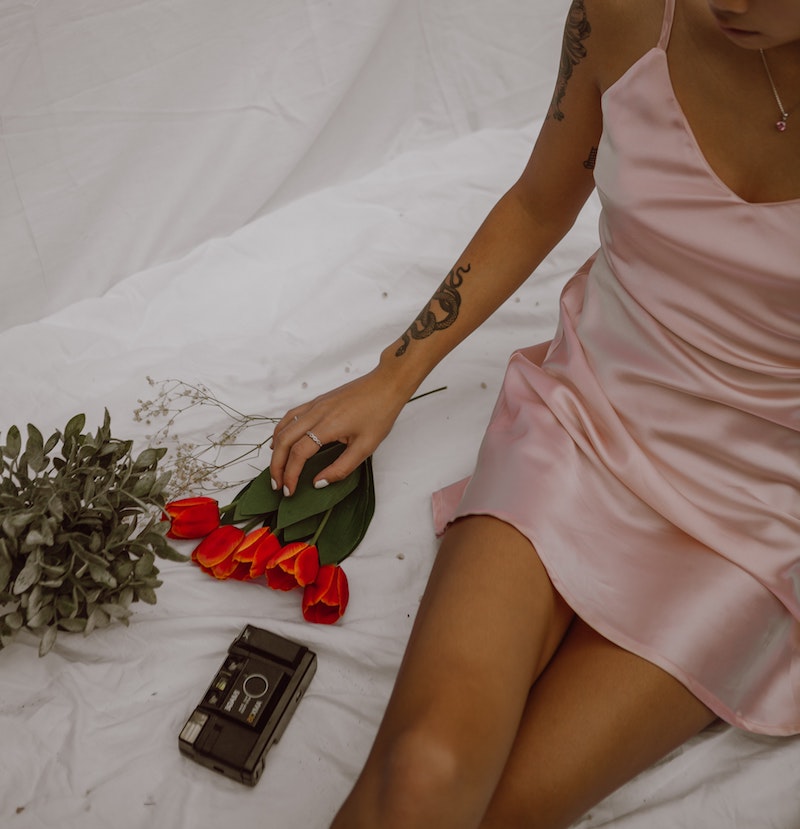 Well, this may not come as a surprise to you. The iconic colors of Valentine's Day are red, pink, and white. However, there is a meaning to why these colors are the trademark of the holiday. Red symbolizes intimate love, and often is associated with feelings of passion and intensity. The red rose was also the favorite flower of the Roman goddess of love – Venus. White typically carries the meaning of purity and innocence, as love should be. And of course, red and white makes pink! Pink, however, symbolizes a different type of love. The one reserved for friendships and close family. The best part is all of them are a perfect color pallet for some beautiful Valentine's nails.
Red, pink and white are the iconic colors of Valentine's Day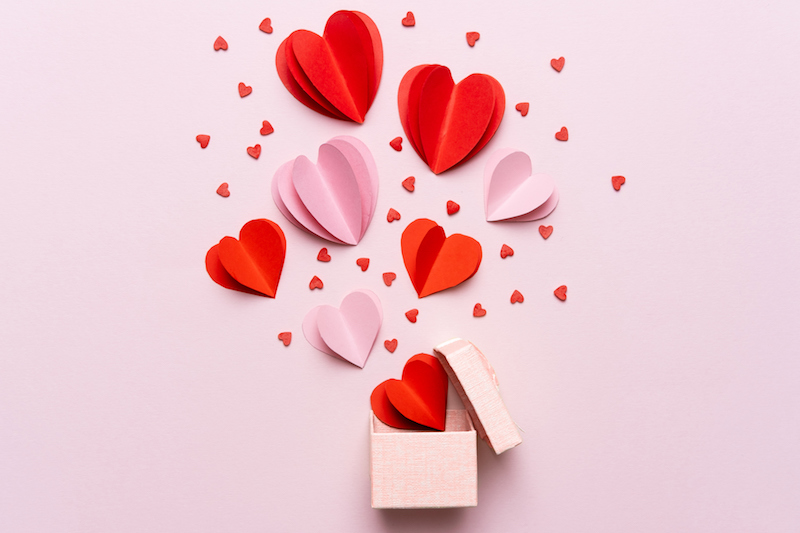 Simple Valentine's Day Nails
If you're looking for something less fancy, with minimal designs and that you can probably do at home before doing your makeup, check out these simple Valentine's Day nail ideas!
Mix and Match
If you want to get into the holiday spirit without making too much of a fuss about it, these type of nails are prefect. You can get super creative. Want all three colors? Cool! Do you want to alternate between two colors? Or maybe you want the tiniest of designs? You can do anything you like with the mix and match style.
More colors, more fun
Simple Heart Emoji
Not in the mood for color? That's okay, there are plenty of ways to incorporate the holiday of love without doing too much. This is a great example! Clear and shiny nail polish with just the simplest of designs – a small emoji red heart on each nail. It looks cute, simple, and it's very creative.
Super simple, yet very effective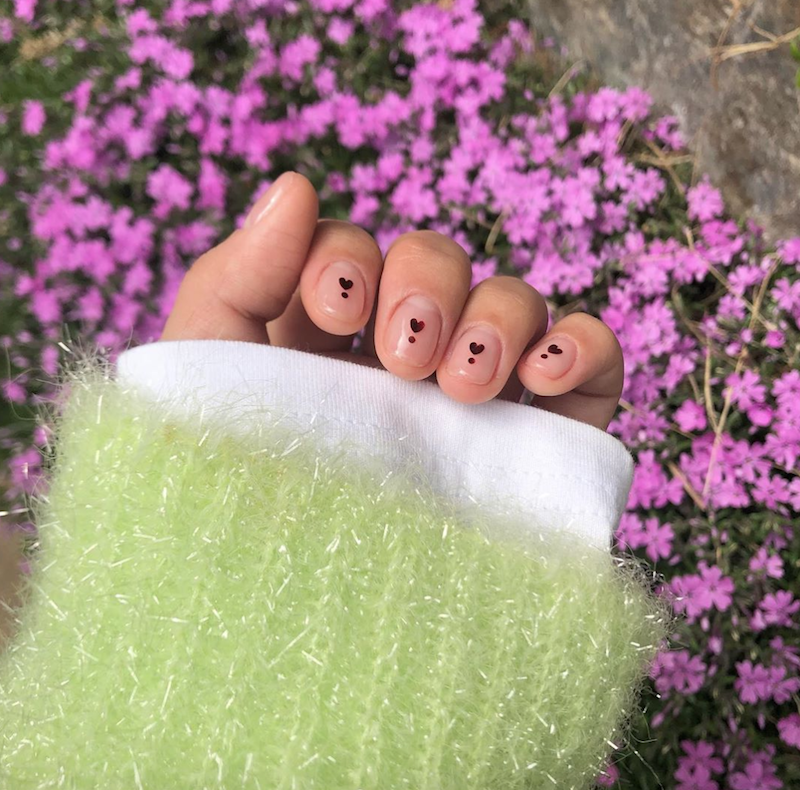 Accent Nail
If you don't feel like heading down to the salon, accent nails are a great way to get a cute design at home. All you need to do is choose one finger and what you want to accent it with. From there on, the possibilities are endless. You can select any color and accent design. This super delicate pink and white set is the perfect example!
A gentle design 
Heart Tips
A very creative way to implicate hearts into your nails design without it being too complicated and intricate. The heart tip can be done in any color and as big as you want them. There is a lot of wiggle room to this adorable design, so make it your own.
A creative way to implicate hearts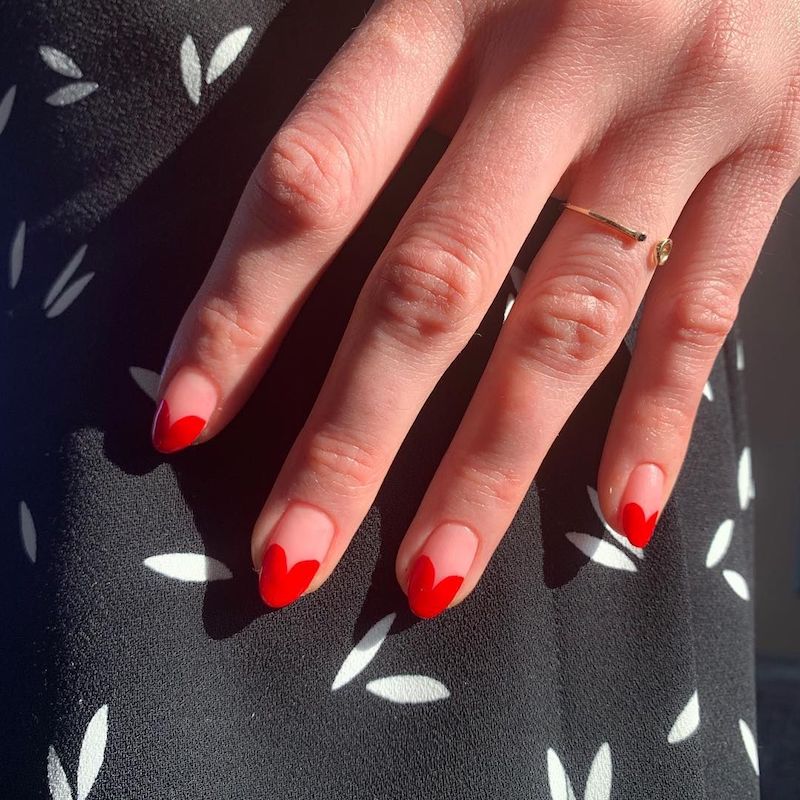 Lines
You don't really need to do a ton to have your nails look creative and in season. Lines are an imaginative way to incorporate a simple design that will still look stunning. You can do wiggle lines, straight lines, curved ones. The possibilities are endless.
Lines are super versatile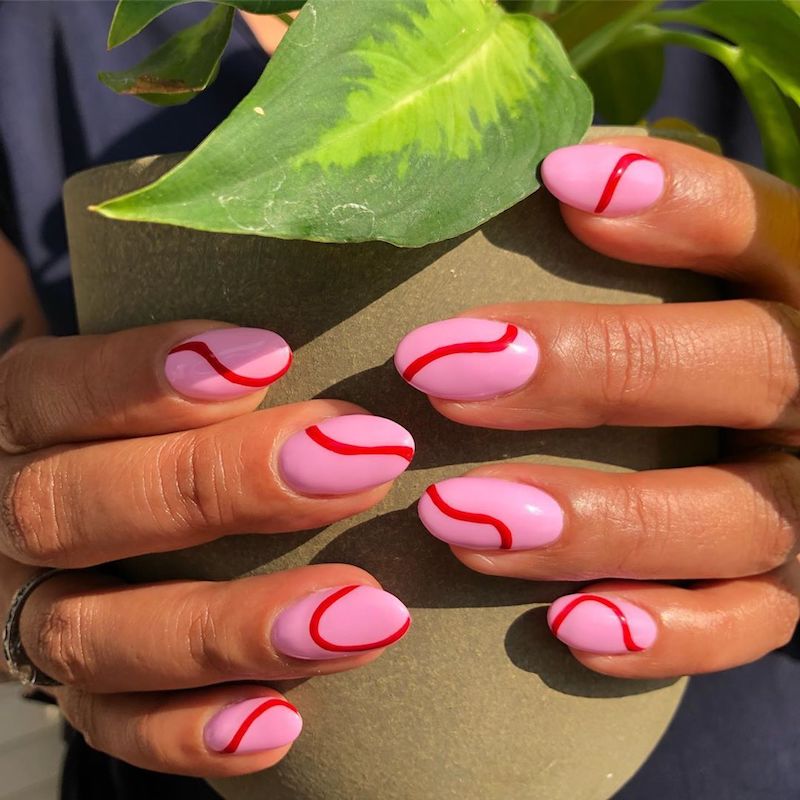 Nail Ideas with Initials
If you've got a special someone this Valentine's Day, why not make them feel extra loved by putting in some extra work. Maybe by surprising them with V-Day decor or getting their initials on your nails. It can be a fun nod to them, and you can make it subtle or loud and proud.
Initials
You really have a lot of freedom when it comes to this type of design. You can only get one initial, you can make a cute reference to the two of you, you can write their whole name and more.
A simple and meaningful design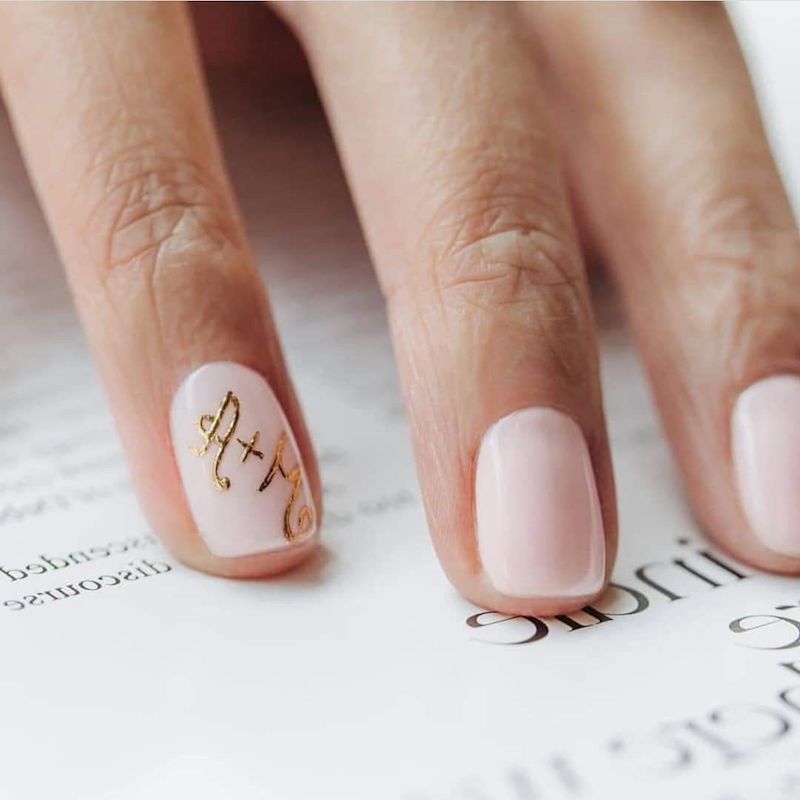 Inside Joke
If you don't want to make it too obvious, why not get a design of one of the inside jokes you and your partner share. For example, if you call them "honey", you can get a honeycomb. You can get their favorite animal, food, or cartoon character. If you love watching scary movies together, why not go all out with this frighteningly cute idea.
Making horror romantic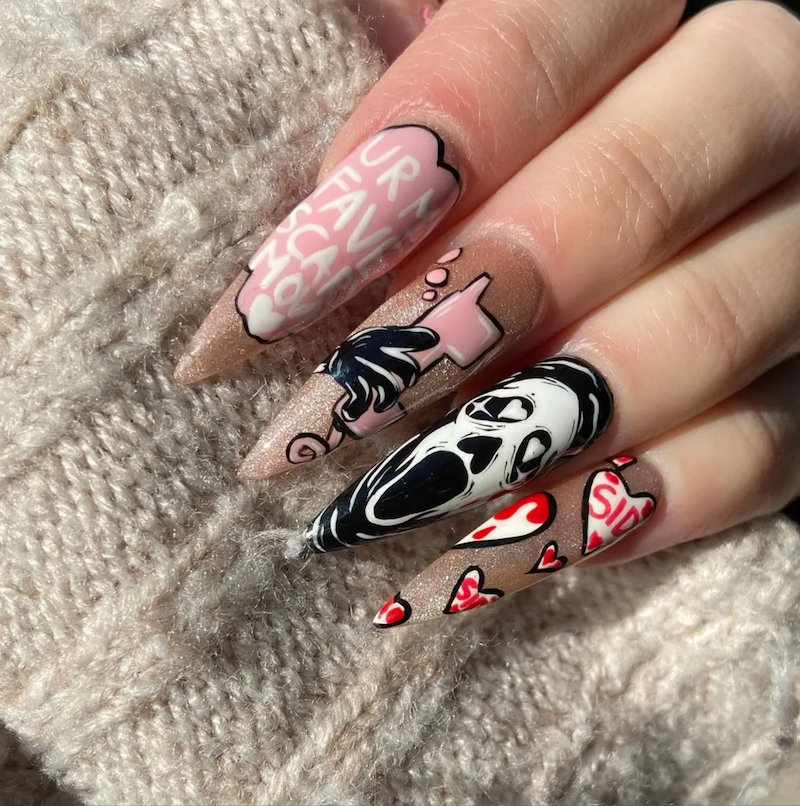 Spell Out Their Name
If an initial doesn't seem enough, you can go even bigger. Spell out your significant other's name onto your nails. Each nail can be a different letter or if the name is longer you can put two letters on each nail.
Use all three initials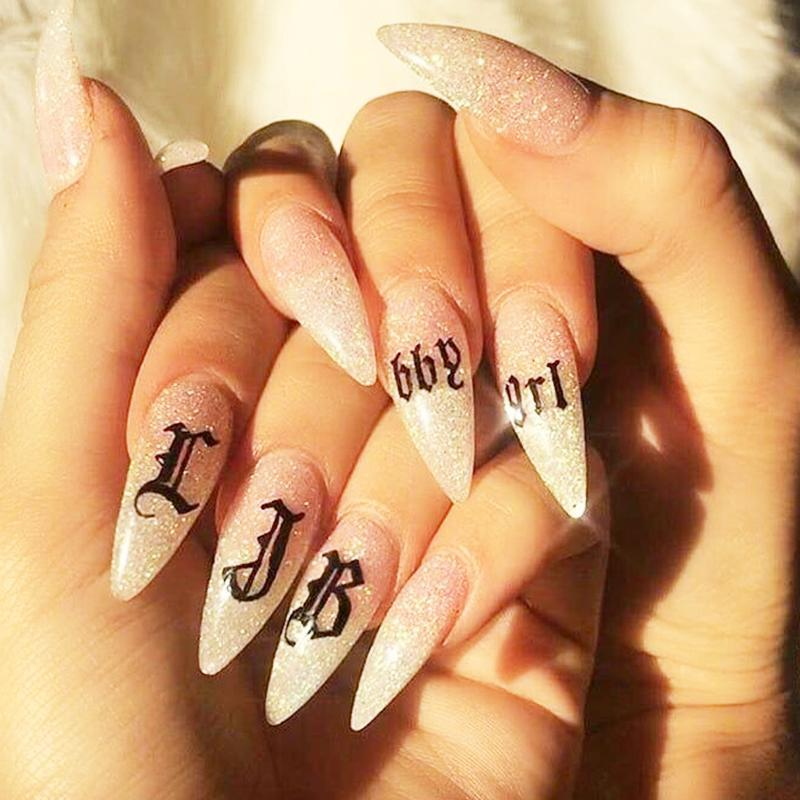 Years
Are you looking for something more subtle? An original idea you can do is to write the year your partner was born, or you can make it even more romantic by having the year you met, got engaged, married, etc. A year that is meaningful for you.
Choose a year you find sentimental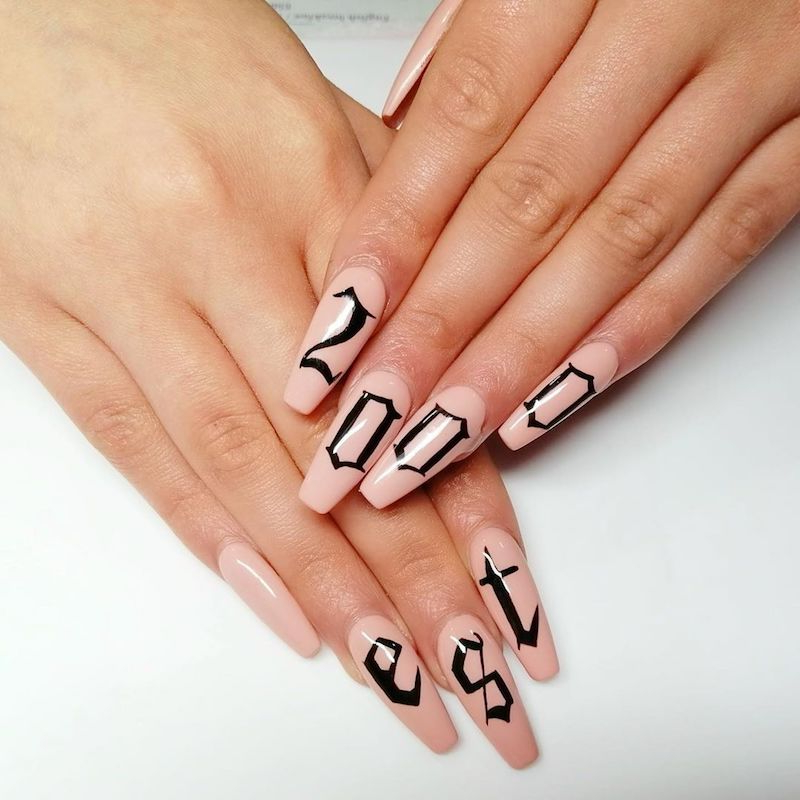 Scrabble Nails
If you are looking for a creative way to spell out your loved one's name, try out this original Scrabble design for nails!
Just change up the letters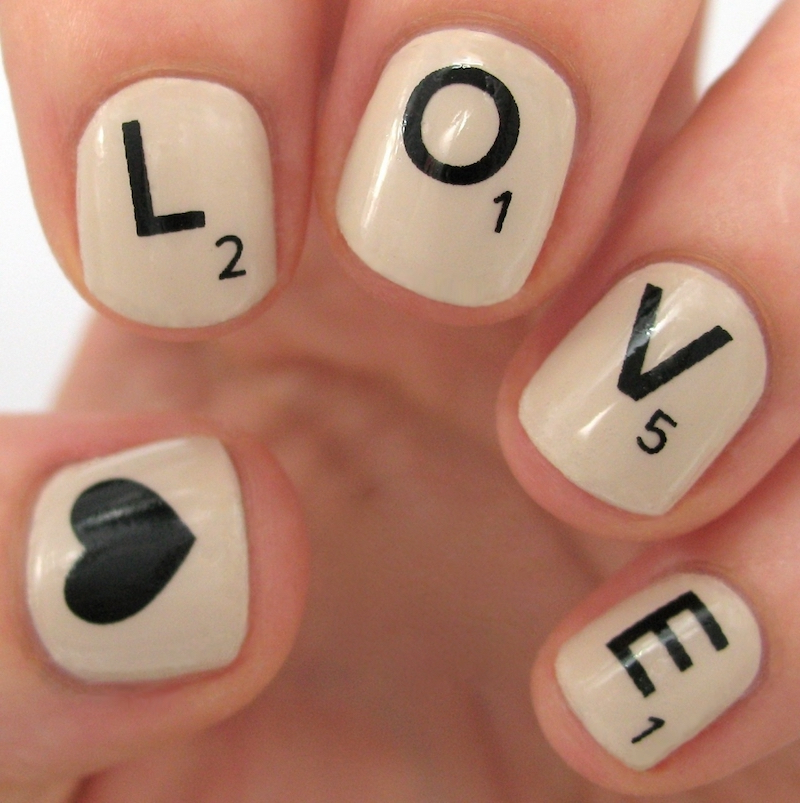 Red Valentine's Nails
Red is the most iconic of Valentine's Day colors, and it's an amazing color choice for some romantic nails.
Ace of Hearts
This nail design reminds us that finding love is all about the luck of the draw. It's design mimics a deck of cards and is in a classic Valentine's Day red. Beautiful, simple and creative.
Love is about the luck of the draw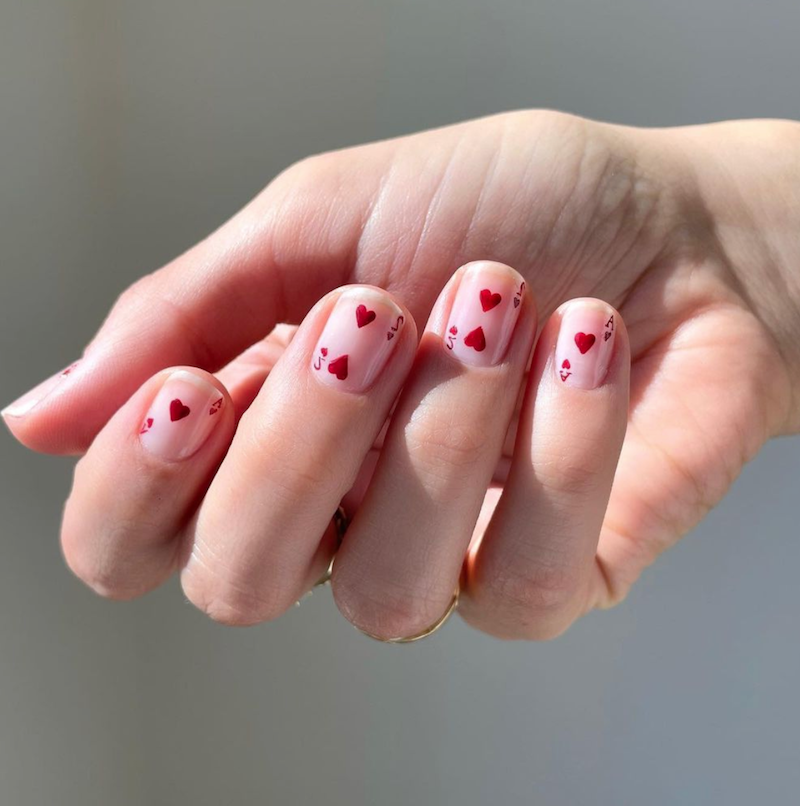 Bleeding Hearts
If you're not in the Valentine's mood but still want to do something for your nails, try out this bleeding hearts design. It's a tribute to broken hearts in the month of love. The stunning vivid red onto the soft pink really makes the color pop.
This one goes out to the bleeding hearts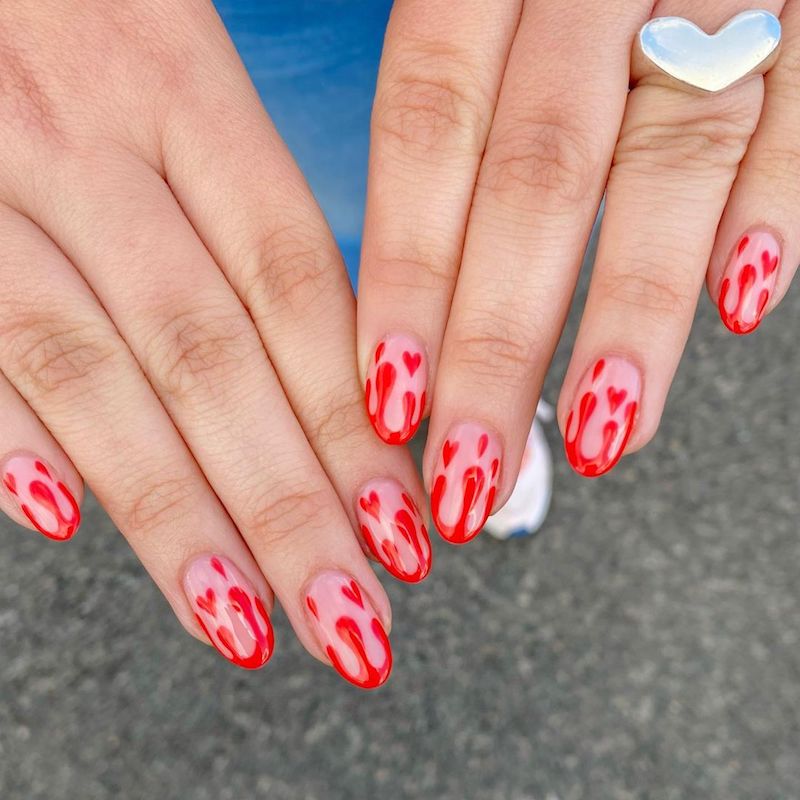 Red French Tip
The French tip never goes out of style. Change it up this season by using a luscious red instead of white. You can even add an accent nail if you feel like you want a little more pizzazz.
Change it up by switching the colors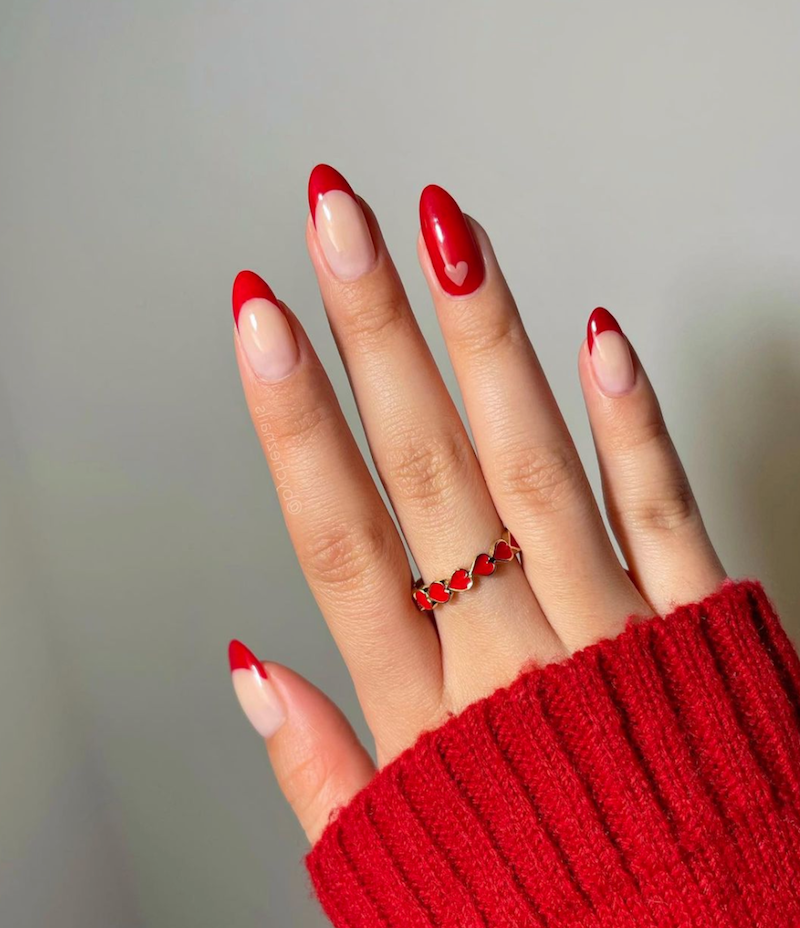 Full On
Do you love red? Then why not go full on. No designs or other colors to be seen. Pick your favorite shade of red and go for it. If you enjoy sparkles, you can do a red sparkly accent nail, or just paint all of them in it! This is also a great choice if you want a quick job done at home!
Red is a real classic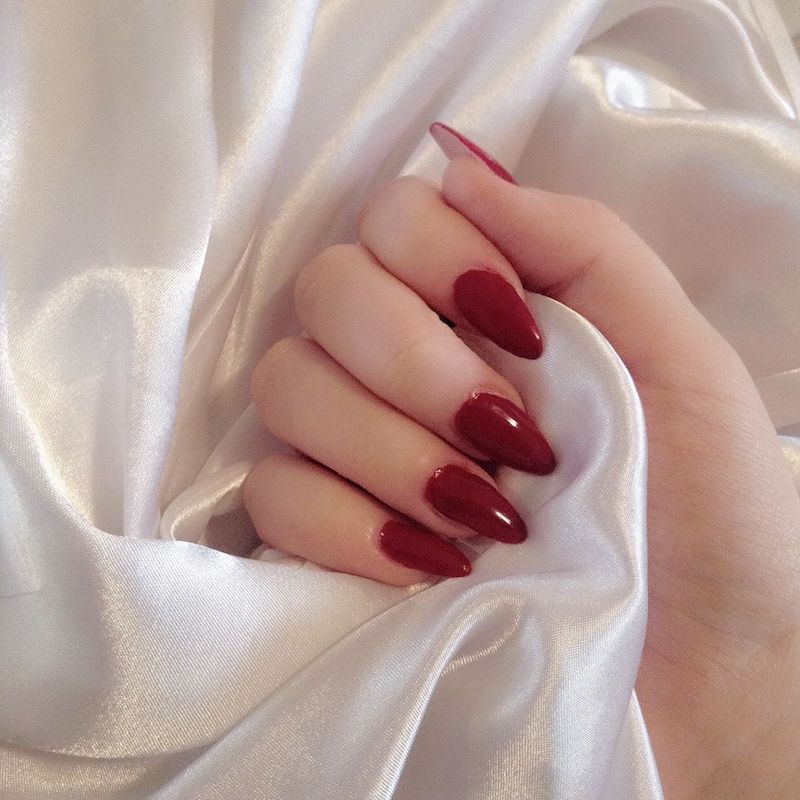 Crimson Half Moon
This design is super elegant and easy to recreate. It's also great if you want a subtle design for the holiday, which you can easily wear even when it's past. Pick out your favorite red polish and try it out!
An elegant and easy design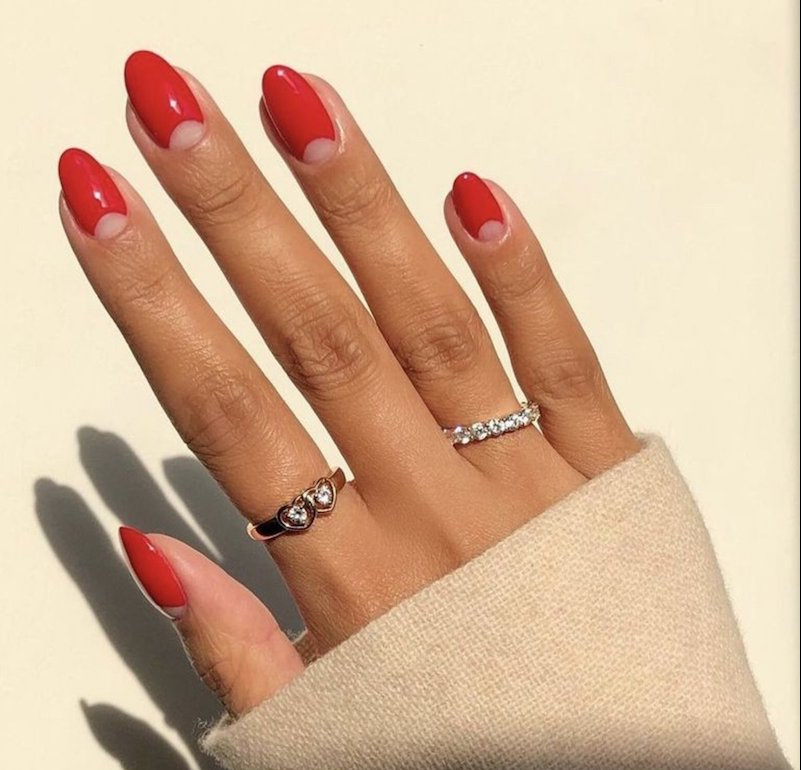 Valentine's Day Nails Coffin Shape
The coffin shape has a great increase in popularity, so why not try out this new nail shape for Valentine's Day to go with your cute new outfit. It's got more space for interesting designs, and you'll look super trendy with these Valentine's Day nail ideas.
Mix and Match Hearts
Remix your manicure by alternating some heart designs. Mix and match heart shapes, where to put them, which nails have designs and more. The possibilities are endless. If you love glitter, you can also sprinkle some on to finish off the design.
Remix them however you feel like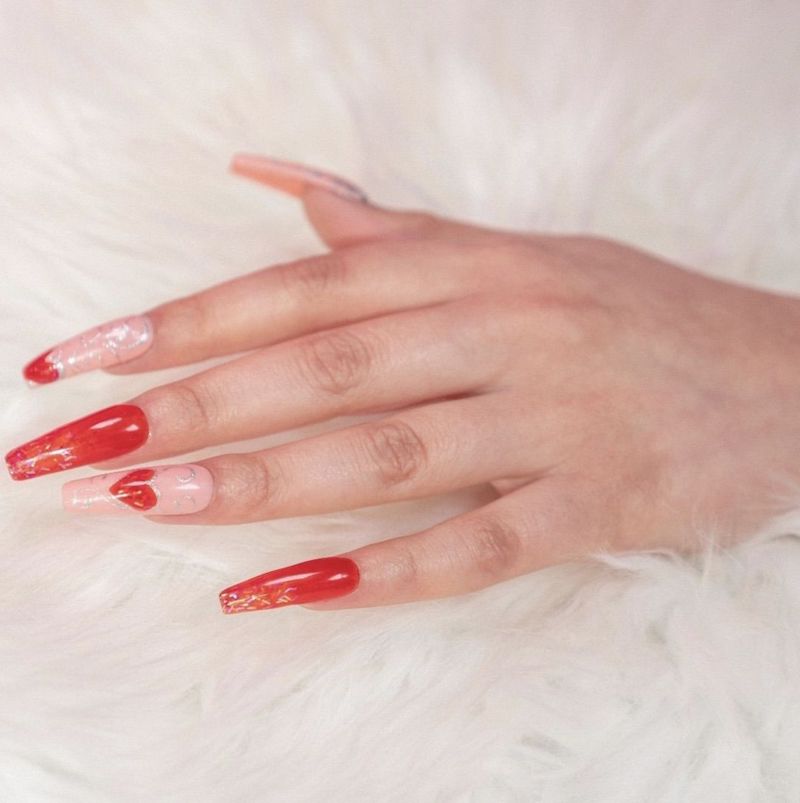 Cartoon Love
A fun throwback to some of your favorite on-screen characters. Why not pay tribute to some of the most iconic couples and crushes on our TV screens, like this Hey Arnold! design.
Helga and Arnold are a cartoon classic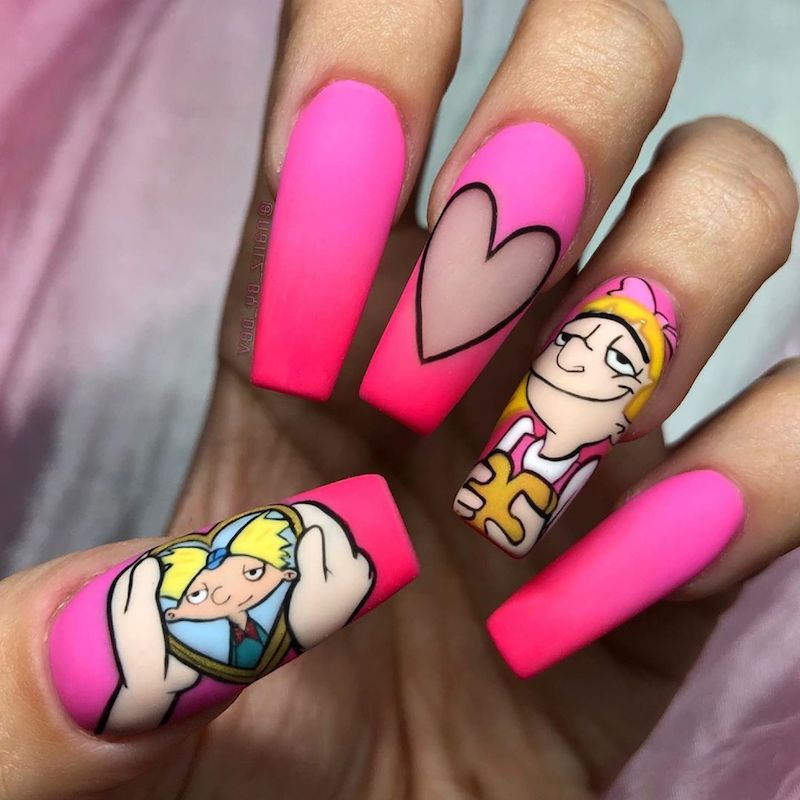 Pretty in Pink
These soft pink nails with cute little hearts are worth swooning over. They are simple, cute and perfectly match the romantic mood of February!
Pretty in pink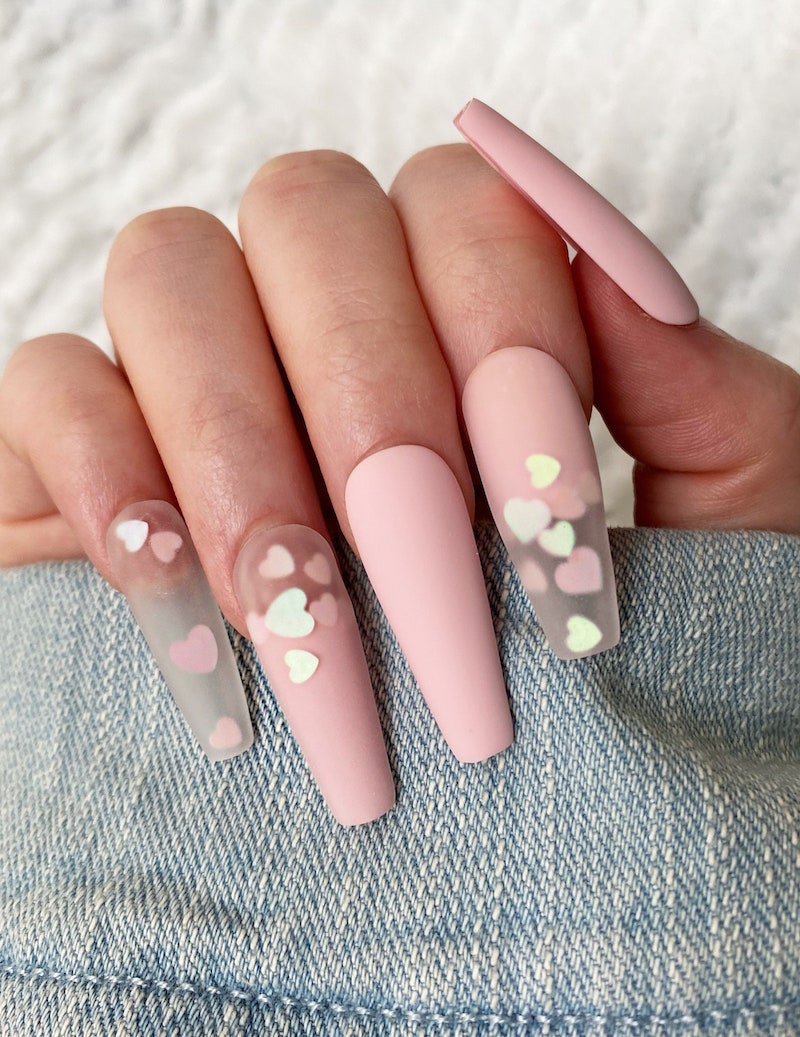 Crystal Hearts
If you like a bit of sparkle in your nails but don't want glitter, crystals are a great idea. Create a beautiful shiny heart on a soft pink color to make it pop off. You can add more crystals if you feel like it. The more, the better!
Stunning crystals for an interesting design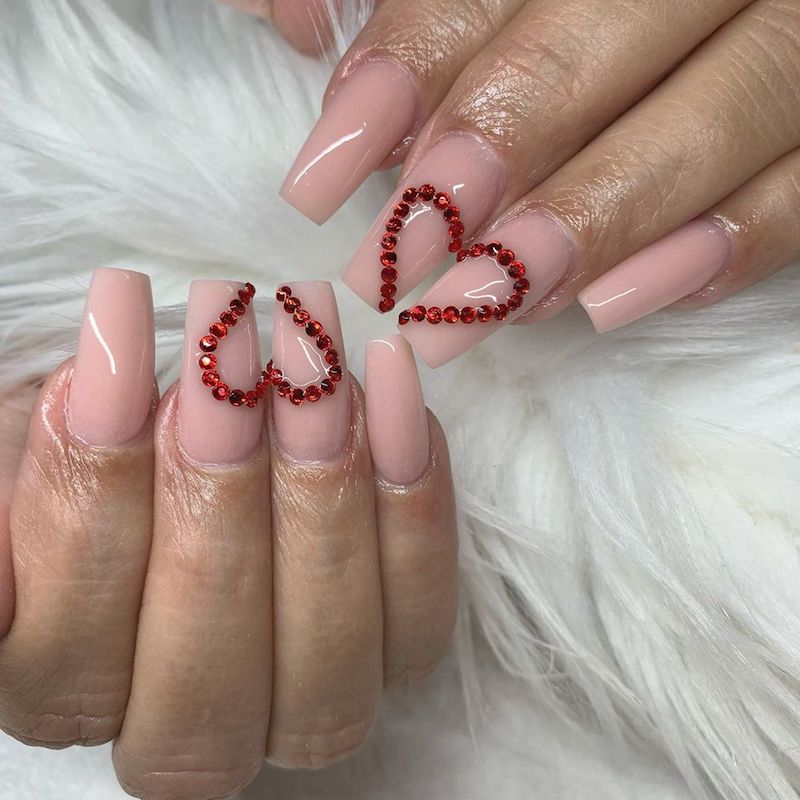 Red Jelly
Jelly looking nails are super if you are looking for something simple but fun. This see-through manicure is a real showstopper with its illusion and rich red color.
They really look like jelly!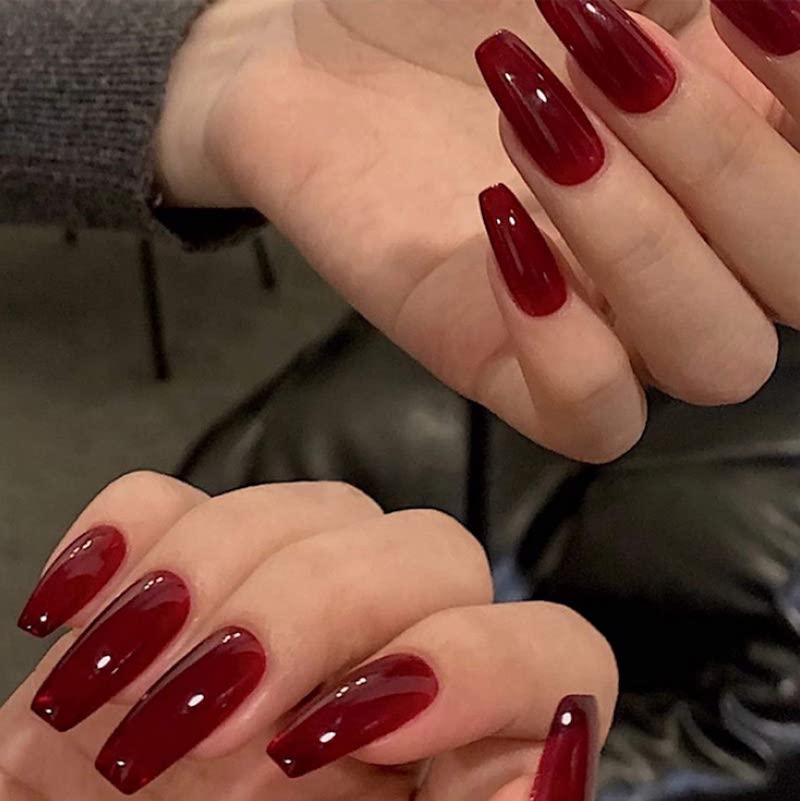 Whether you're super into Valentine's Day and all things romantic or you're more of the chill Netflix date on the couch type of person, that doesn't matter. These designs are for anyone who enjoys pretty nails and beautiful colors. We hope you managed to find what you were looking for in our Valentine's Day nail ideas! Now you've got the looks, the nails, the decor, and the gifts for a perfect holiday.
Happy Valentine's Day