110 beautiful sleeve tattoos for men and women
Tattoos, in general, are a big thing. Not only are they super modern and trendy, they are also quite the commitment. I mean, they are only for life, right? That is why, when choosing a tattoo we need to be very careful about our selection. What's more, we need to be sure that what we are getting tattooed on our bodies means something to us now, and will still be important to us for years to come. Choosing a small tattoo is easy. Choosing a sleeve tattoo, however, is a big deal. Sleeve tattoos are definitely for the brave. So if you want a real masterpiece on your arm, scroll through our gallery of 110 sleeve tattoos for both men and women and take your pick.
There are many different versions and options when it comes to sleeve tattoos. Because of the area they cover, they allow for a big tattoo with lots of intricate elements. That is why, your creativity could go through the roof. Keep in mind that it is very important to work with the tattooist on your sleeve tattoo. After all, he is the one who is going to be putting this intricate design on your body. Include him in the process of creating your design and keep in mind that you are probably going to spend a lot of time getting this tattooed on you. Some tattoo designs might be done in a few sections in the span of a few weeks. Therefore, your relationship with your tattooist is quite important. Getting a sleeve tattoo is no easy feat, so take it slow and trust your tattooist.
Beautiful sleeve tattoos for men and women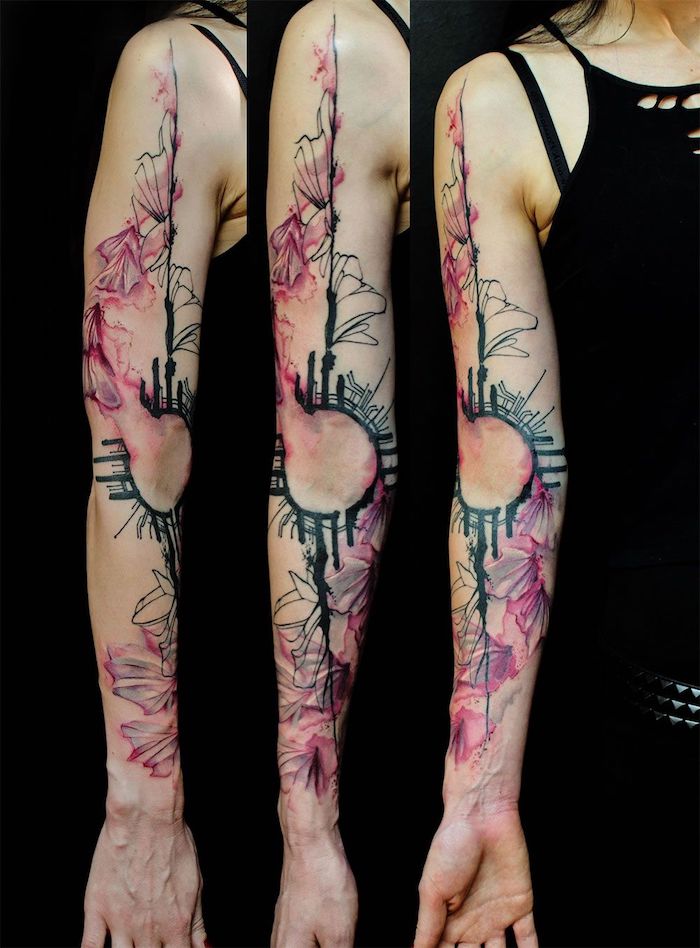 It is also worth mentioning that there are two different types of sleeve tattoos – full sleeve and half sleeve. Full sleeve is pretty self-explanatory. The half-sleeve could be either on the top part of your arm, covering your bicep, or on the forearm. Now that we've covered all of the steps you need to take in order to get the best sleeve tattoo, let's look at different ideas for some of the trendiest, most intricate tattoo designs.
Beautiful and patriotic sleeve tattoo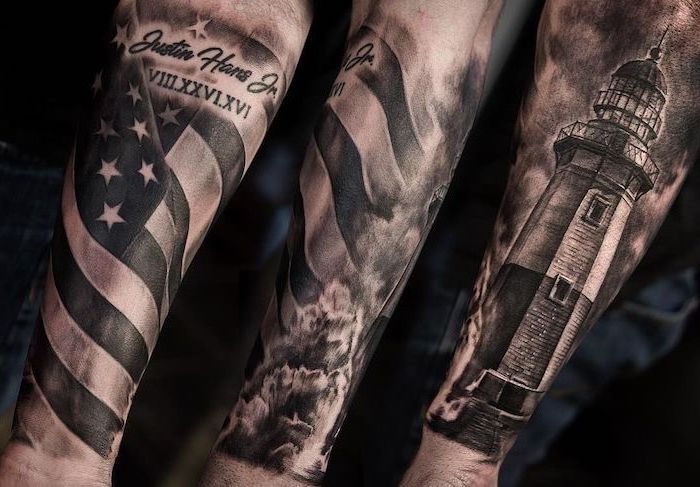 Skull sleeve tattoo
These designs come in many different shapes and forms. Whether it would be one large skull or a few smaller ones, they look super cool. The skulls usually are intertwined with roses and sometimes have crowns on them. All of the skull designs are sure to turn heads wherever you go.
Dragon sleeve tattoo
Dragons are a staple when it comes to tattoos. They are especially popular amongst sleeve tattoos because of the ability to draw the dragon as if it is crawling on your arm. This makes this type of tattoo design very interesting and beautiful.
Floral sleeve tattoo
Usually reserved for women, floral tattoos are like a fashion accessory. No matter what design or flowers you pick, these tattoos are super beautiful and classy. They will look good no matter what.
Religious sleeve tattoo
With pictures taken straight out of the bible, naturally, this tattoo design is reserved specifically for the very religious people. Whether it would be a famous verse incorporated as a quote in your design, or an actual realistic depiction of a famous moment from the bible, these tattoo designs are actually very popular.
Tribal sleeve tattoo
Tribal tattoos have been very popular lately. Their designs are very interesting and carry different meanings according to the different shapes used in the tattoo. The look especially good as a sleeve tattoo.
Perfect example of religious sleeve tattoos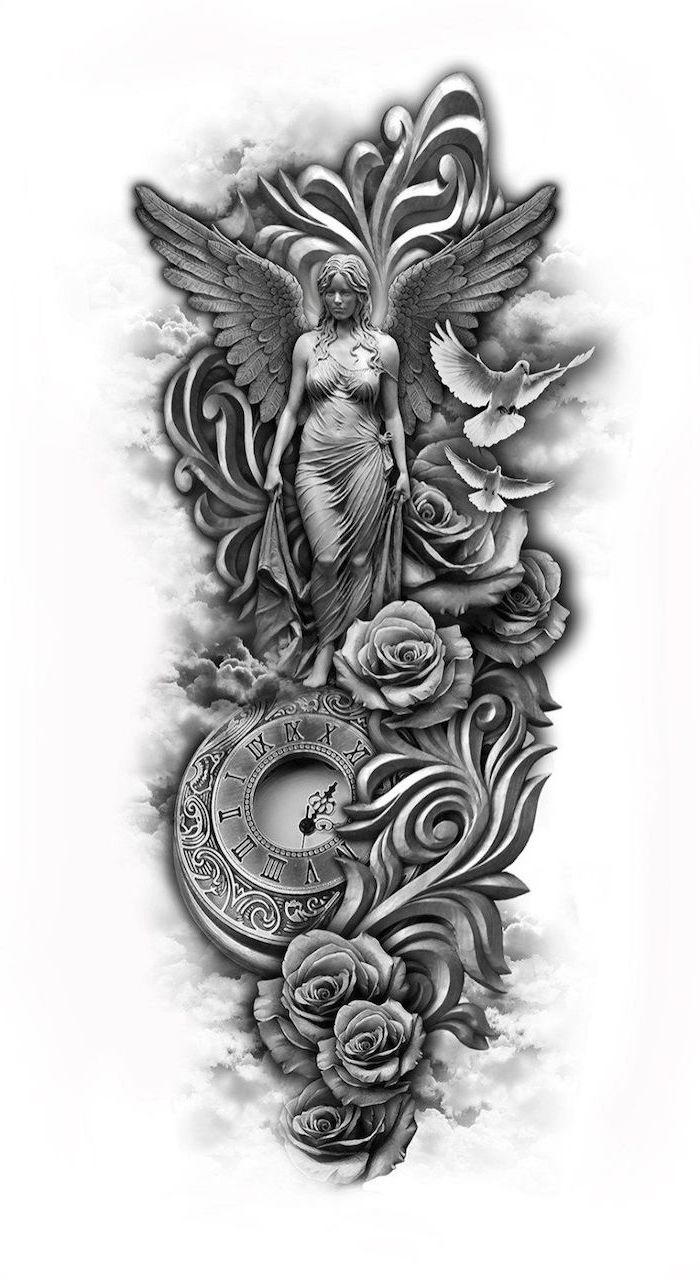 Mandala sleeve tattoo
Mandala tattoos are stunning. They are very beautiful and the different shapes carry different meanings. Their designs are very symmetrical and look beautiful.
Biomechanical sleeve tattoo
These tattoos are absolutely out of this world. Their intricate designs create the illusion of a bionic arm. They look awesome and are super popular and trendy.
Landscape sleeve tattoo
Whether you love hiking or simply want to show your appreciation for nature, natural landscapes look beautiful as tattoos. Travel adventurers go so far as to have city landscapes tattooed on them.
Animal sleeve tattoo
Lions, wolves, tigers – animals, considered to be powerful, strong and on top of the food chain are super popular for tattoos. When incorporated in a cool sleeve tattoo design, they look very cool and interesting.
Watercolour sleeve tattoo
Watercolour tattoos look amazing no matter the size. But a whole sleeve done in watercolour is absolutely breathtaking.
New school sleeve tattoo
Although these tattoos have been around since the 70s, they have gathered quite the momentum lately. New school tattoos can be recognised by their sharp lines and vivid colours. If you want a super colourful tattoo, then this is a great option.
New school sleeve tattoo with your favourite animated characters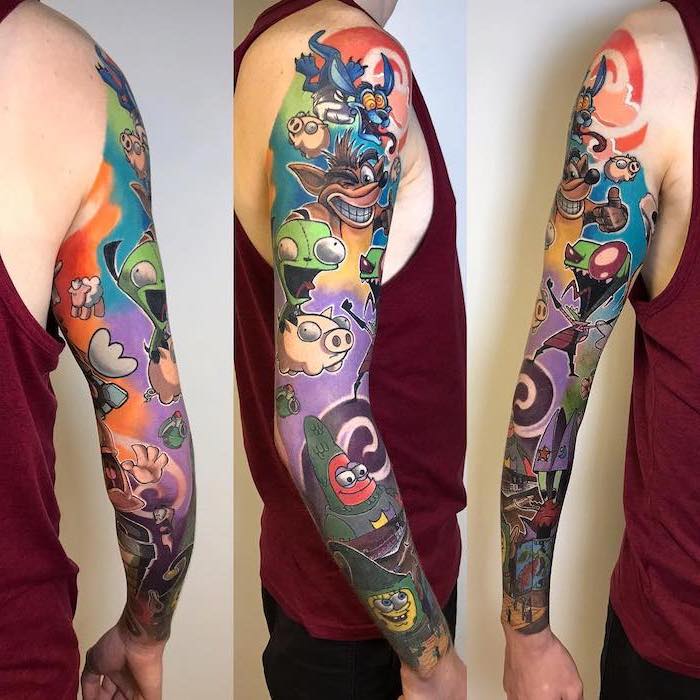 Sleeve tattoos photo gallery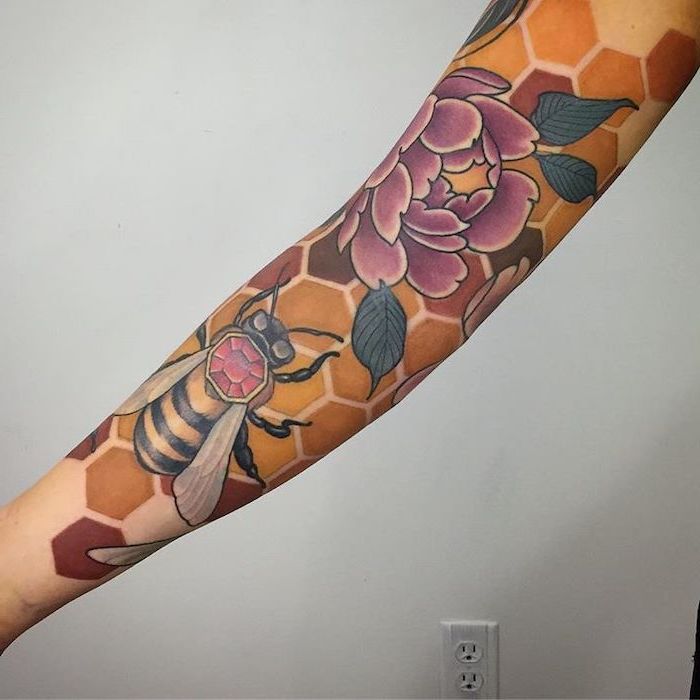 Beautiful depiction of war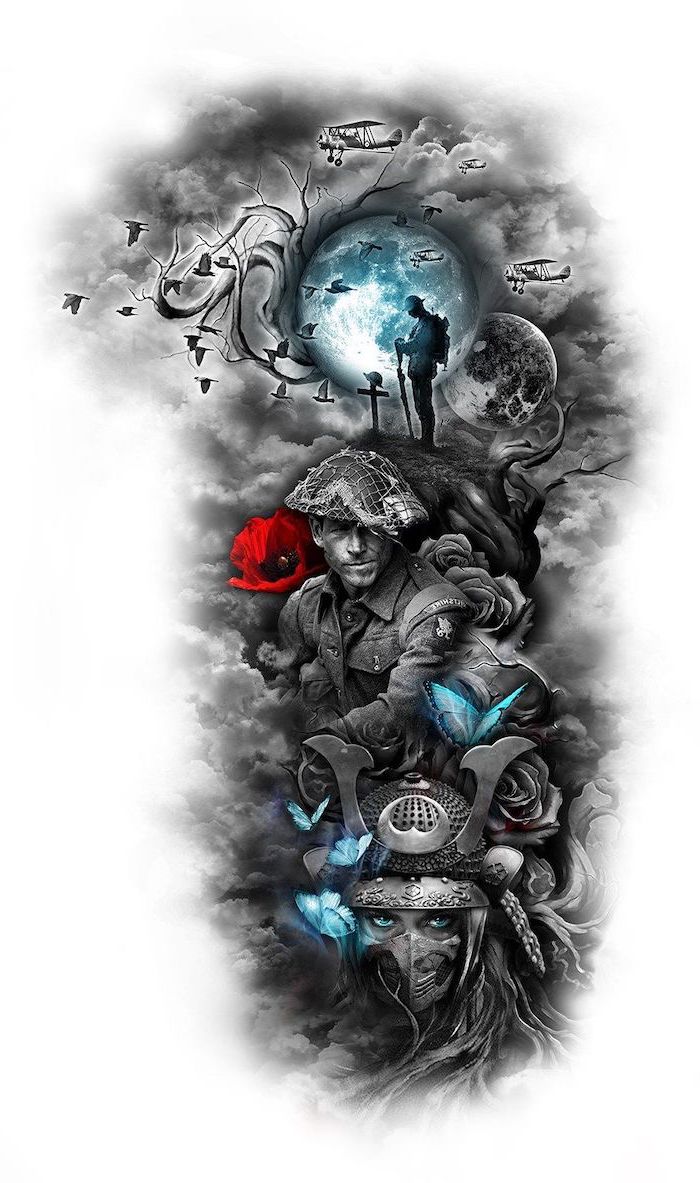 Here's a little something for the lovers of traveling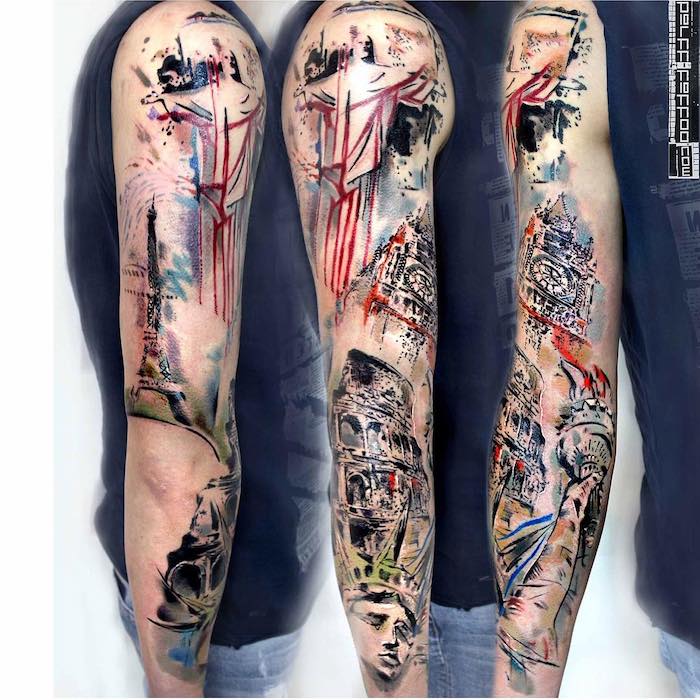 Stunning example of a biomechanical tattoo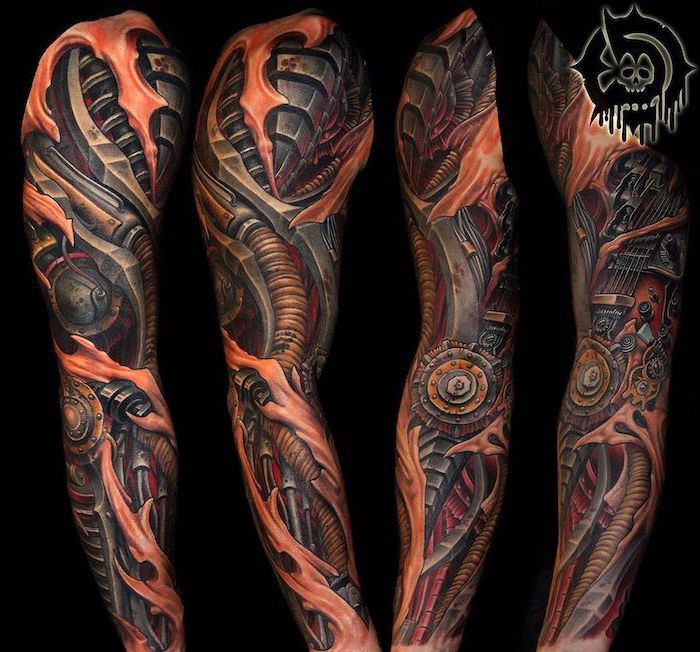 Another version of a biomechanical tattoo with different elements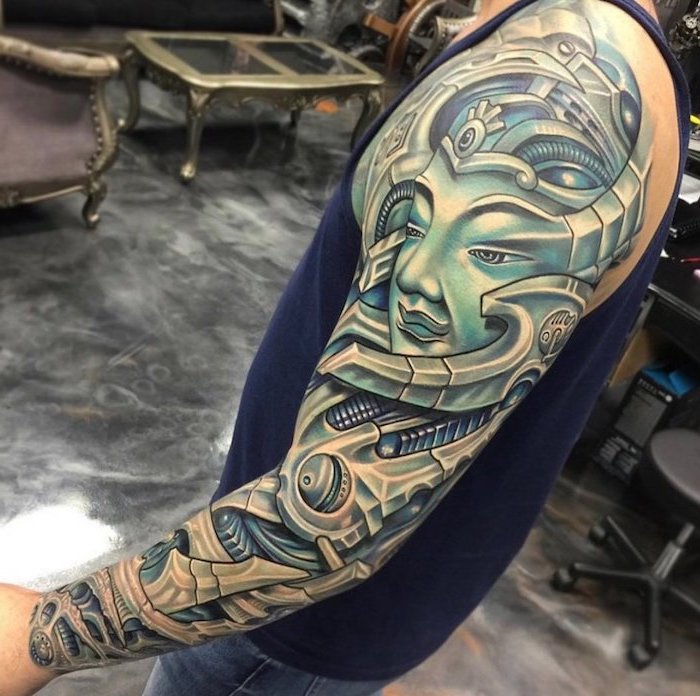 Birds are often used in religious tattoos, since they are believed to be able to communicate with God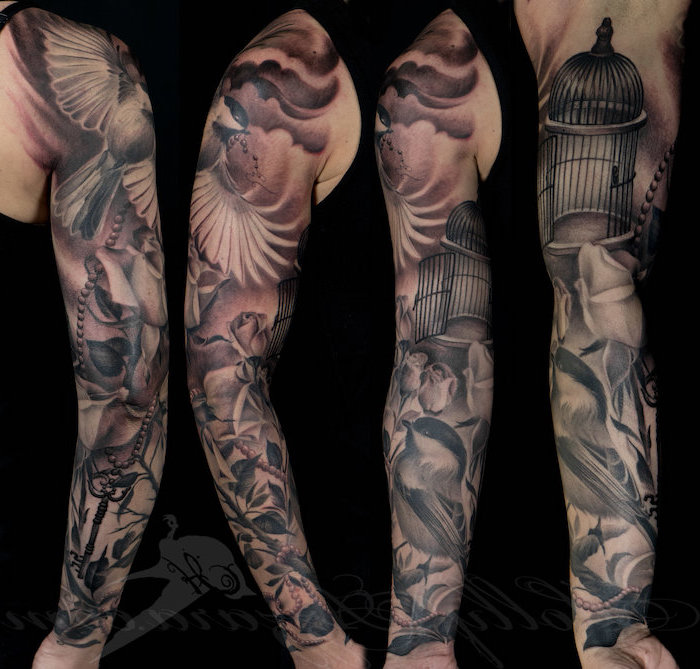 Abstract piece done in watercolour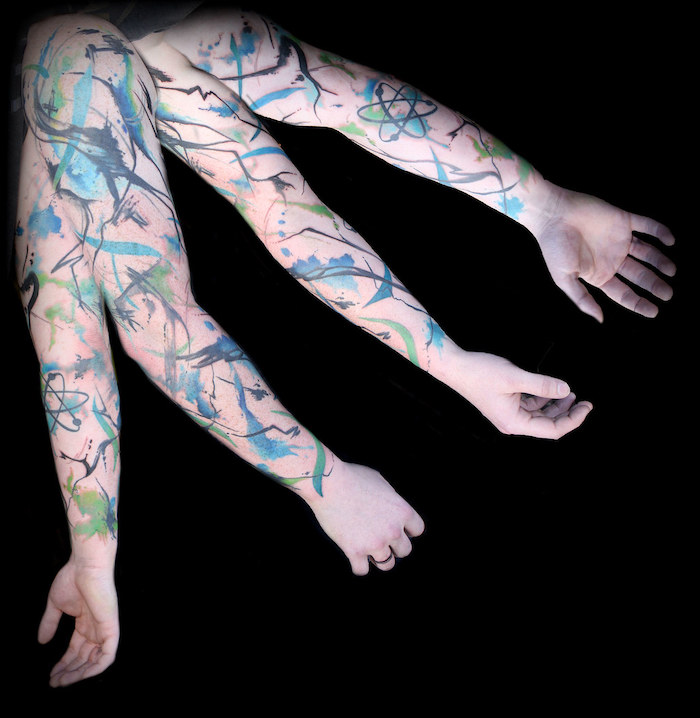 This is truly stunning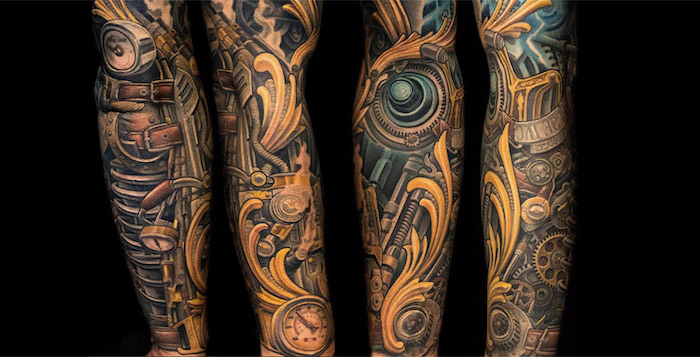 Blackout design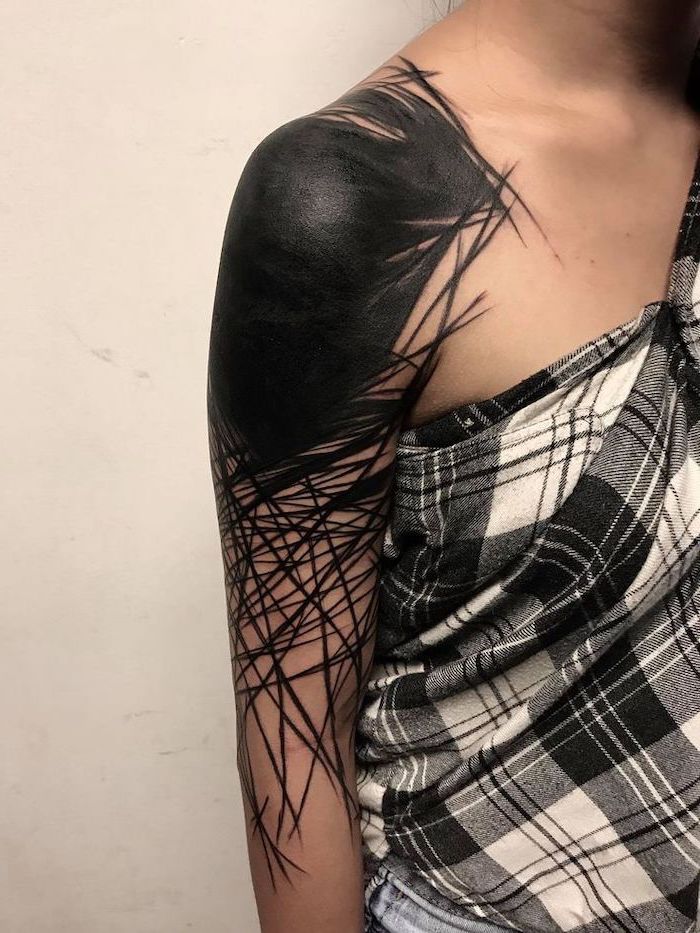 Animals and skulls
Floral + snake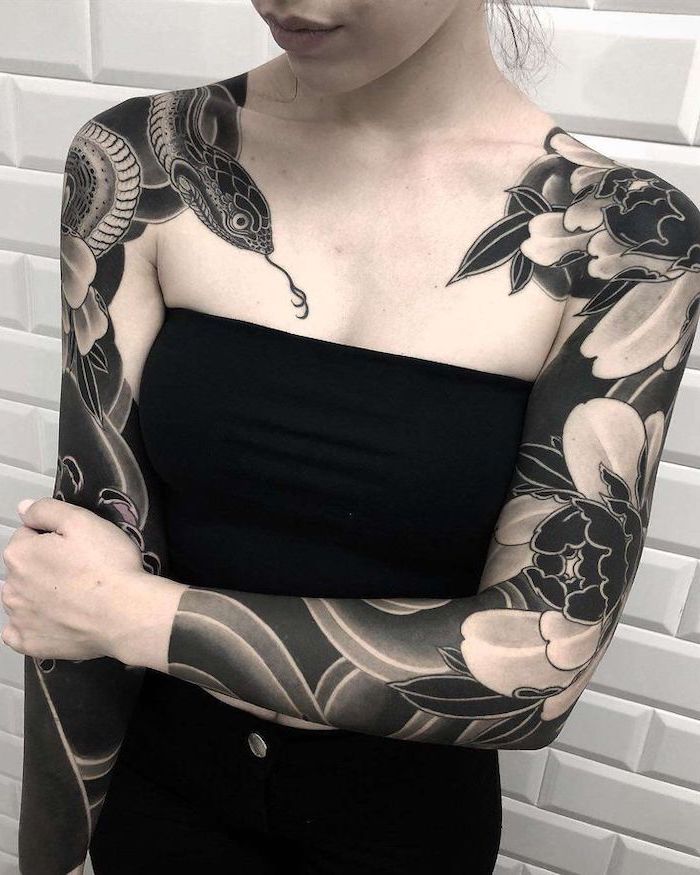 Simple, yet beautiful floral design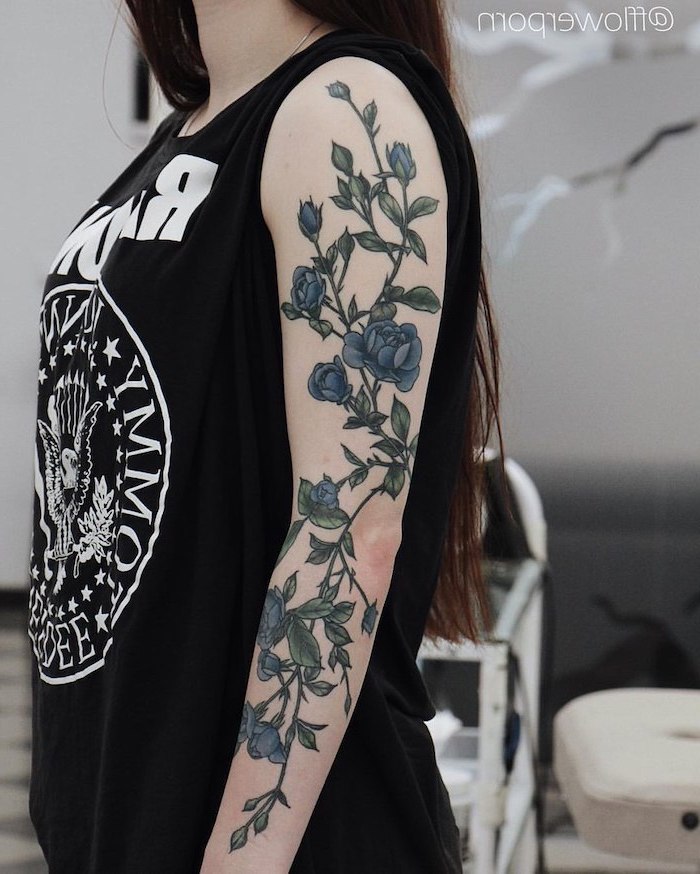 Super colourful design connecting both arms through the chest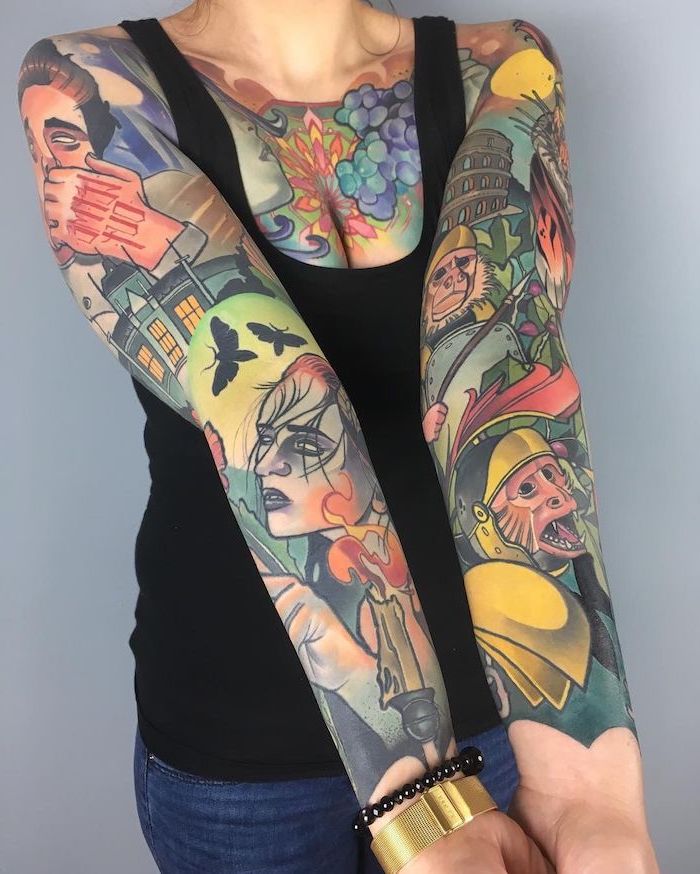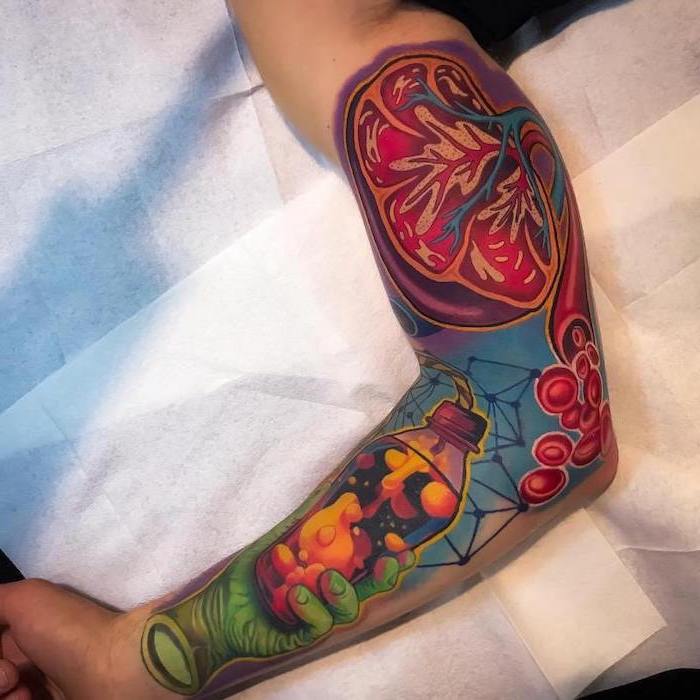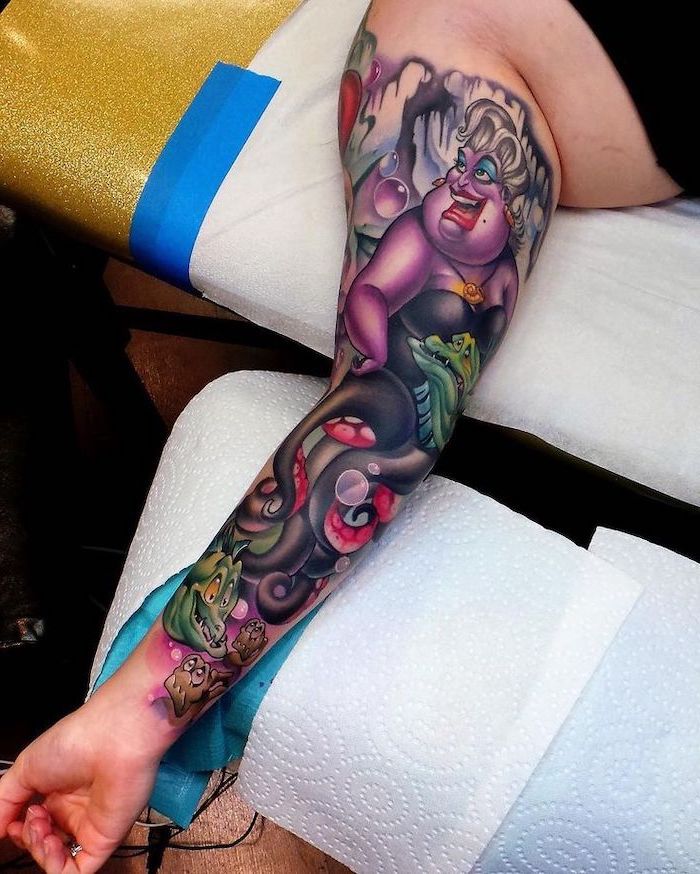 Dragon sleeve tattoo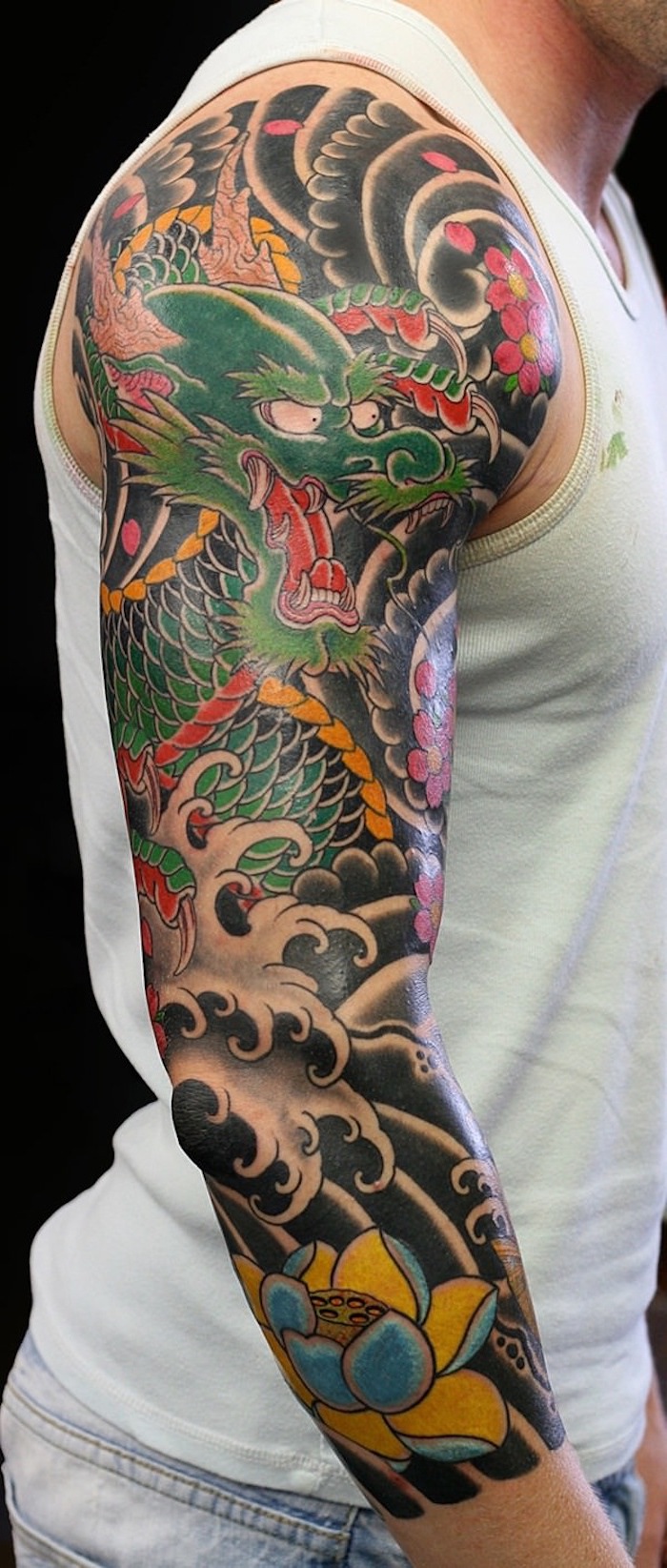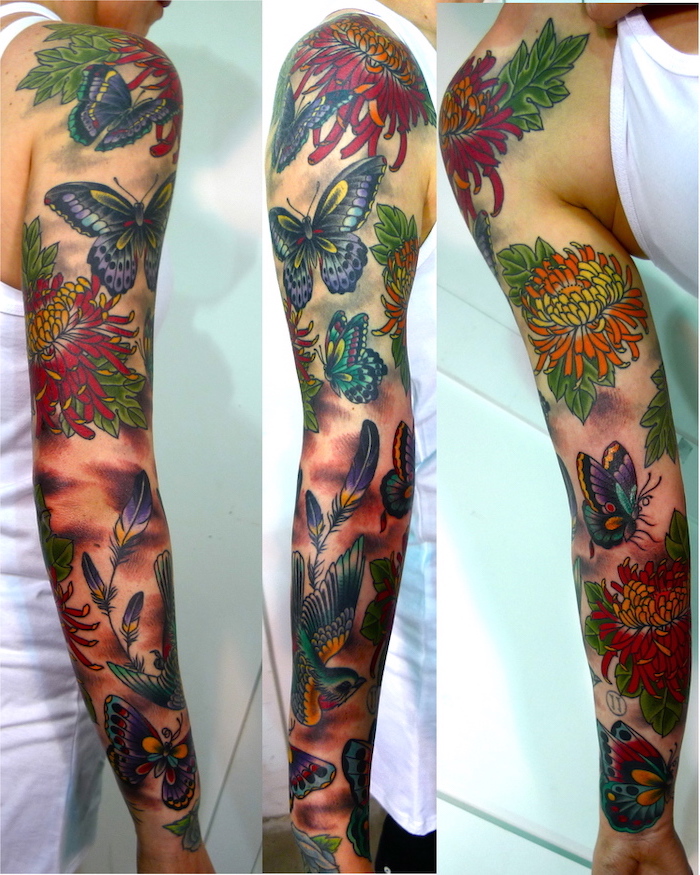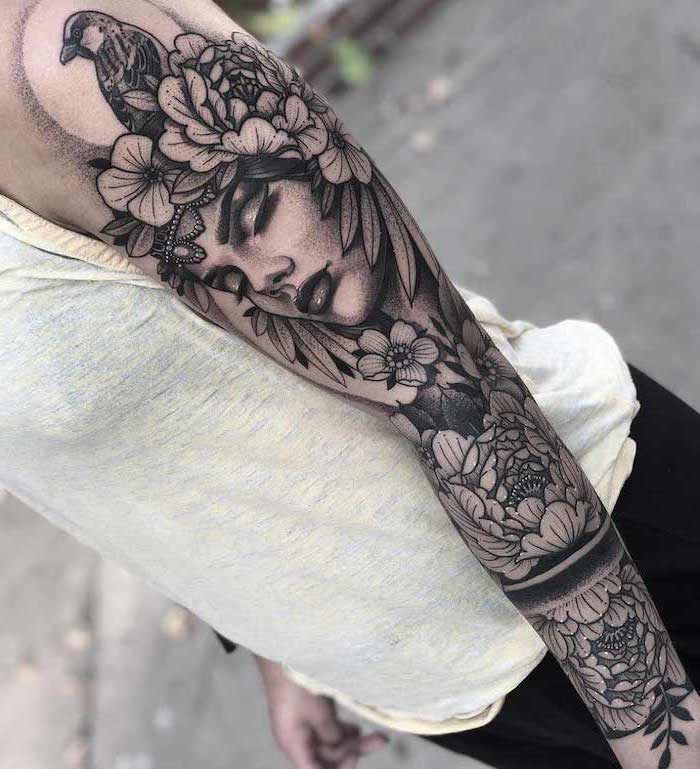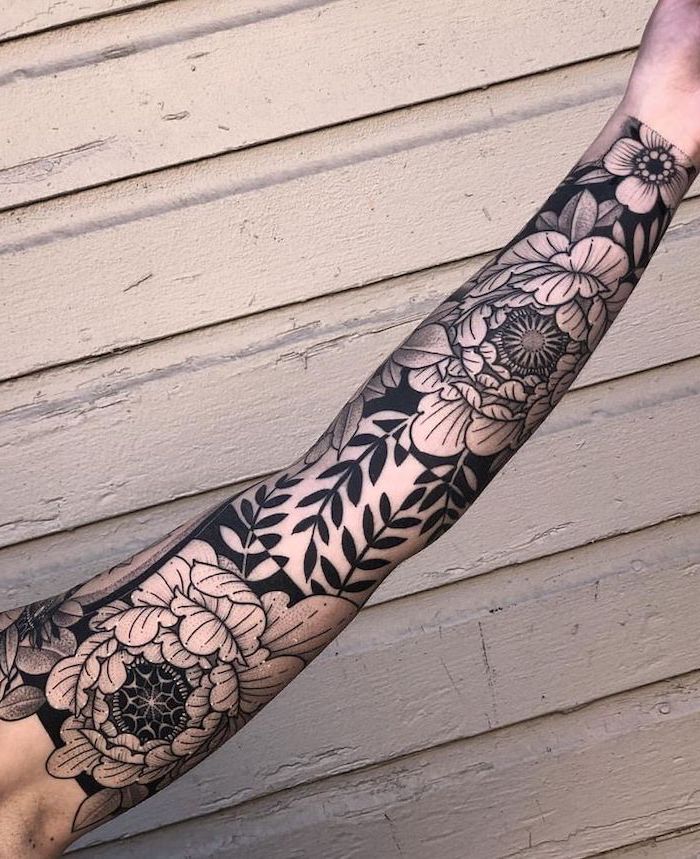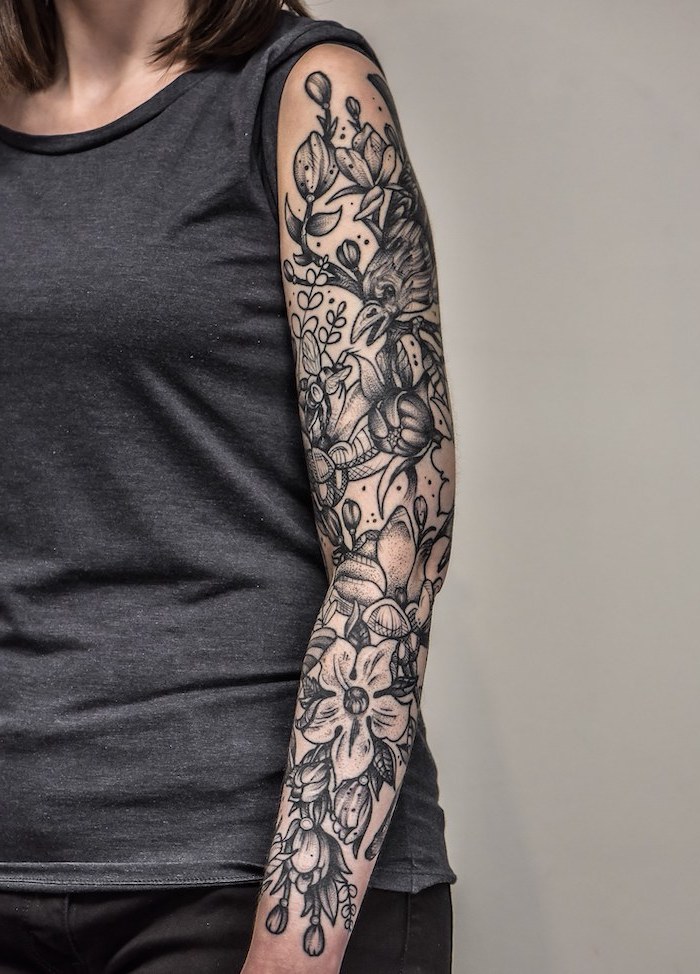 Half-sleeve tattoo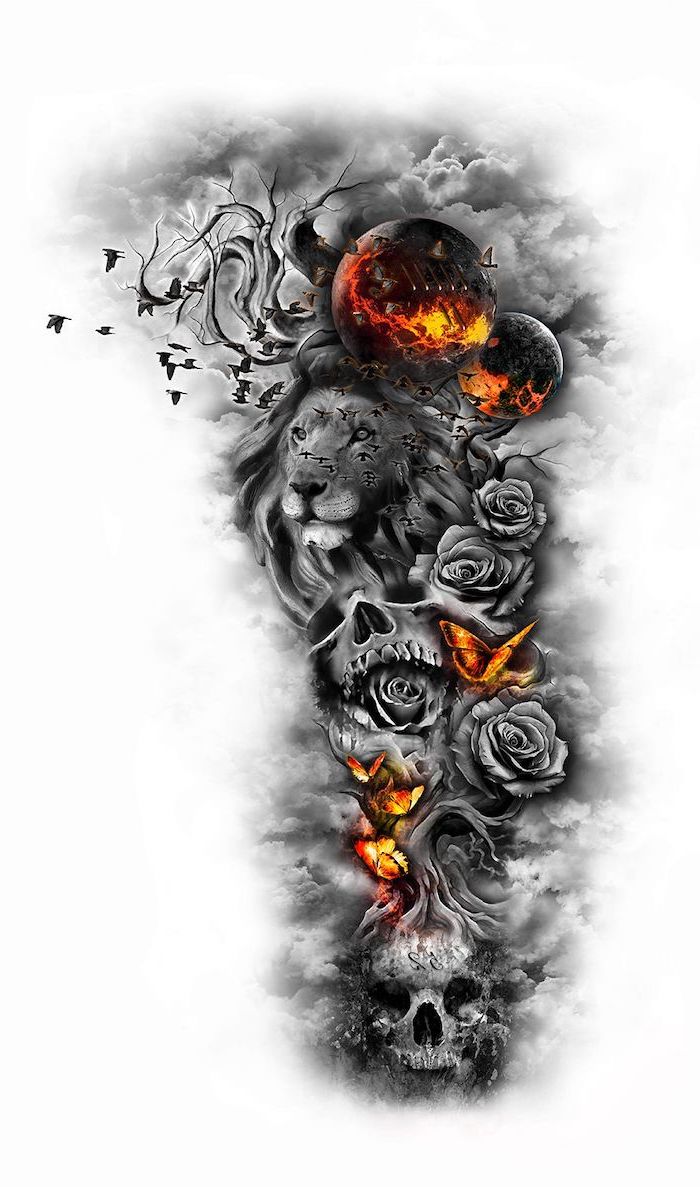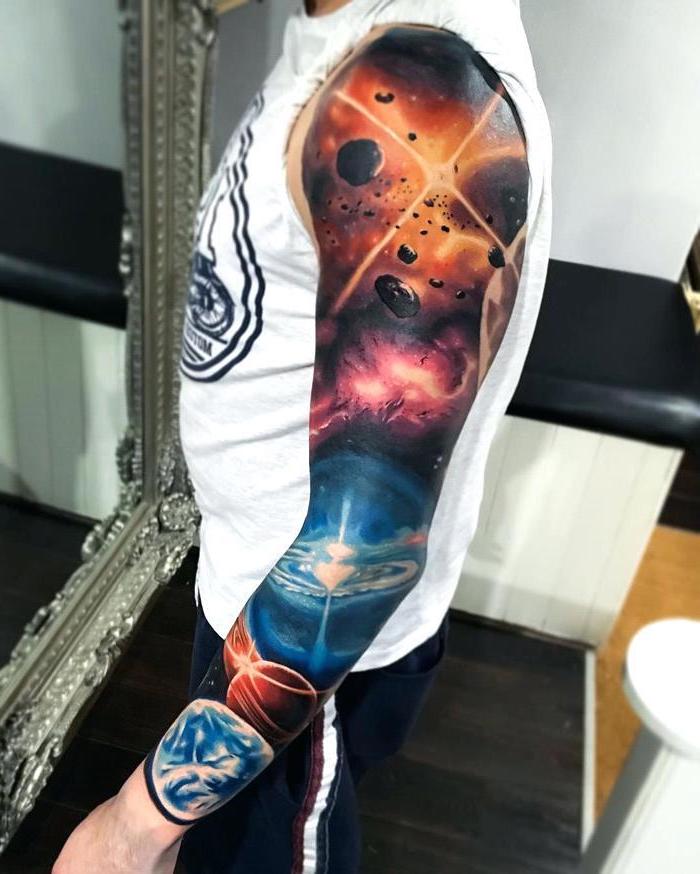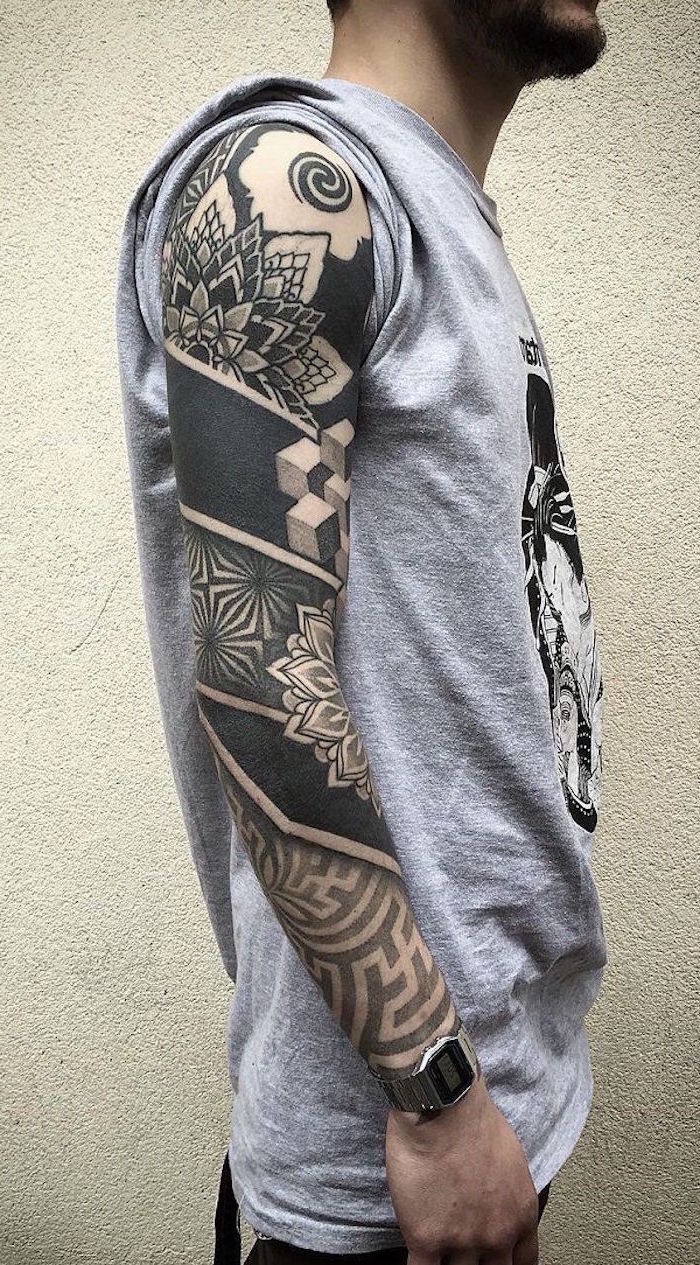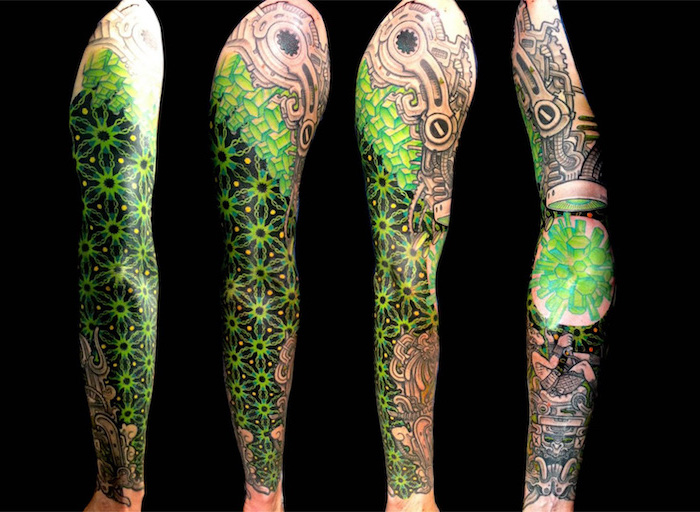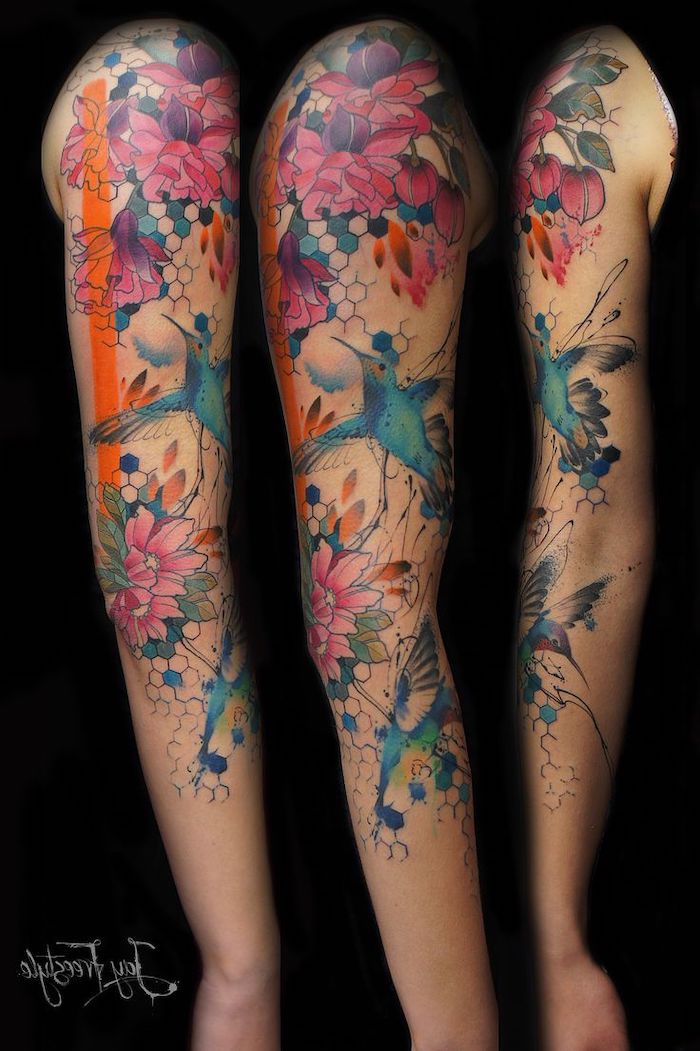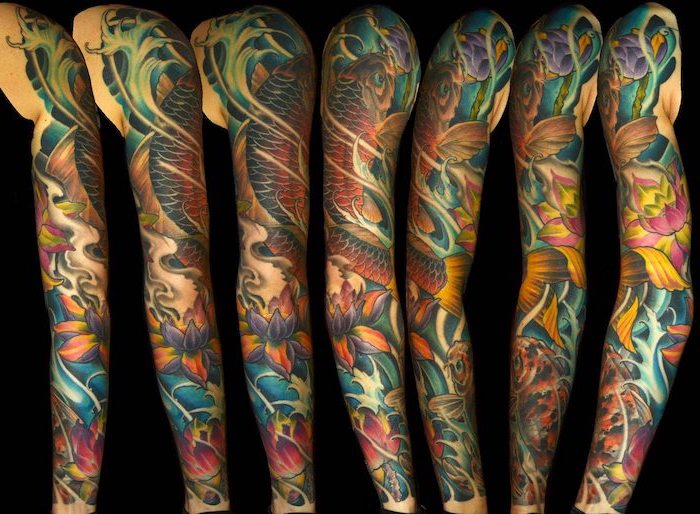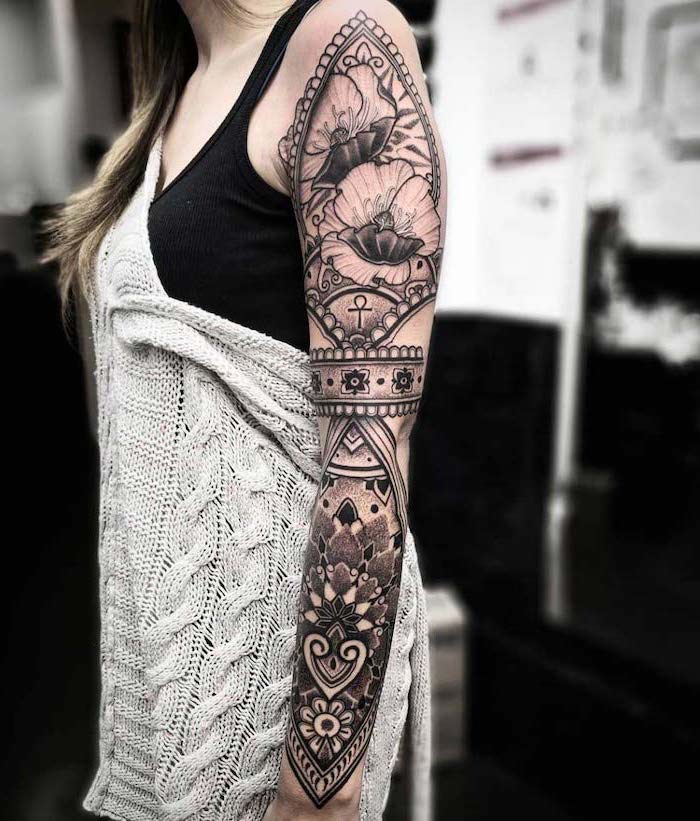 Arm tattoos for women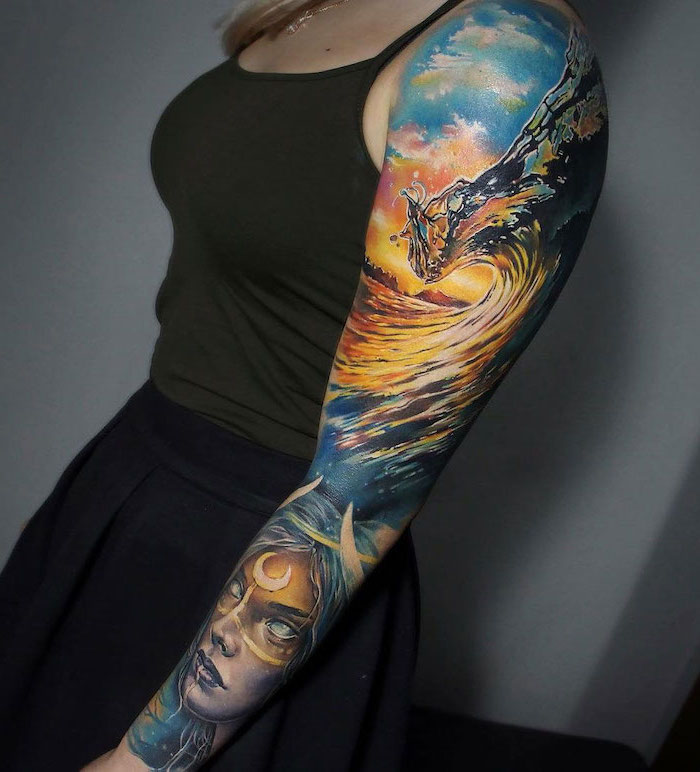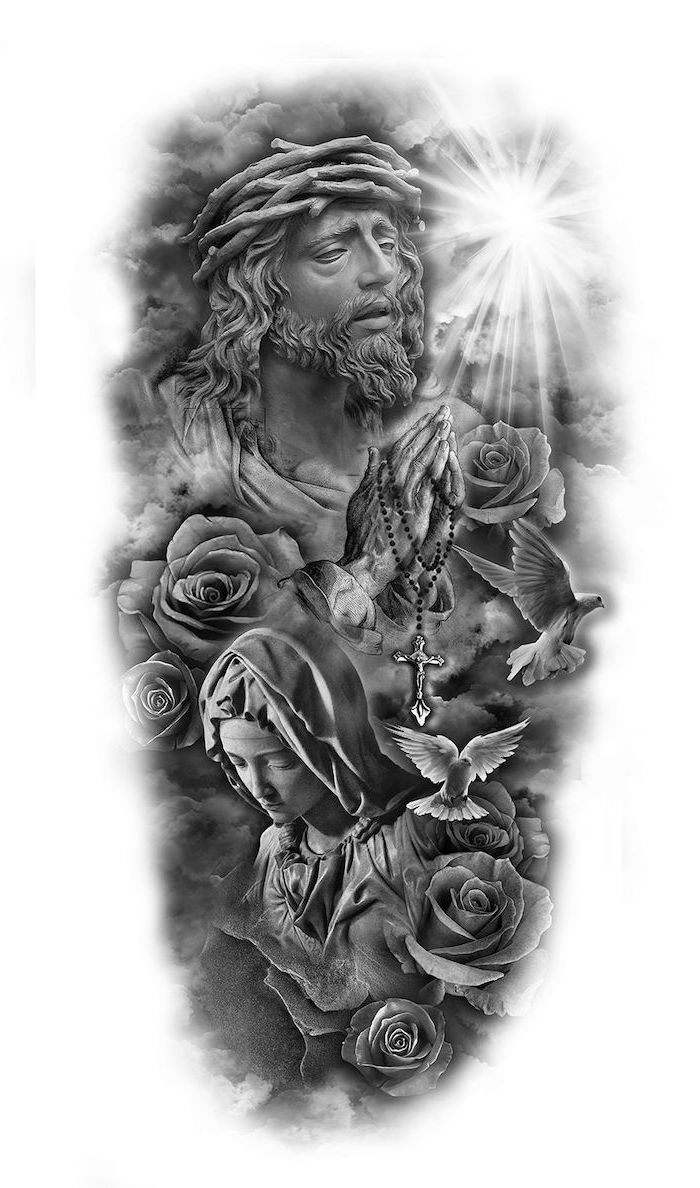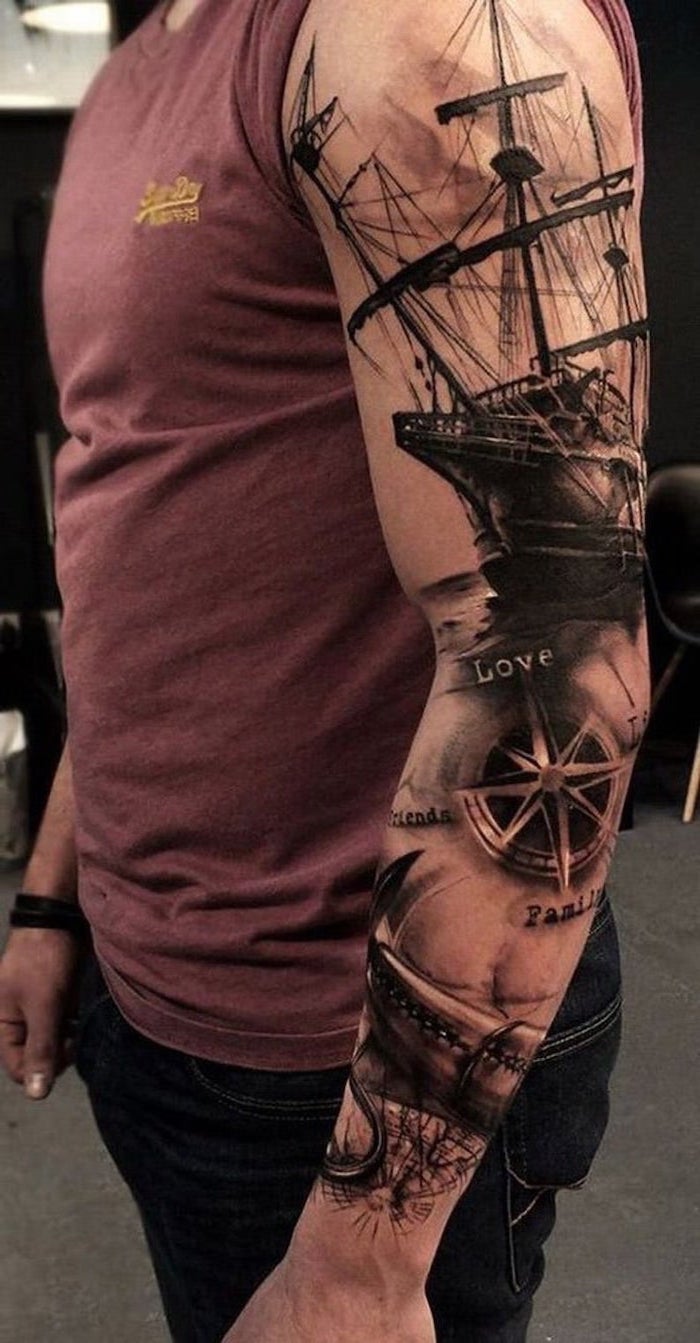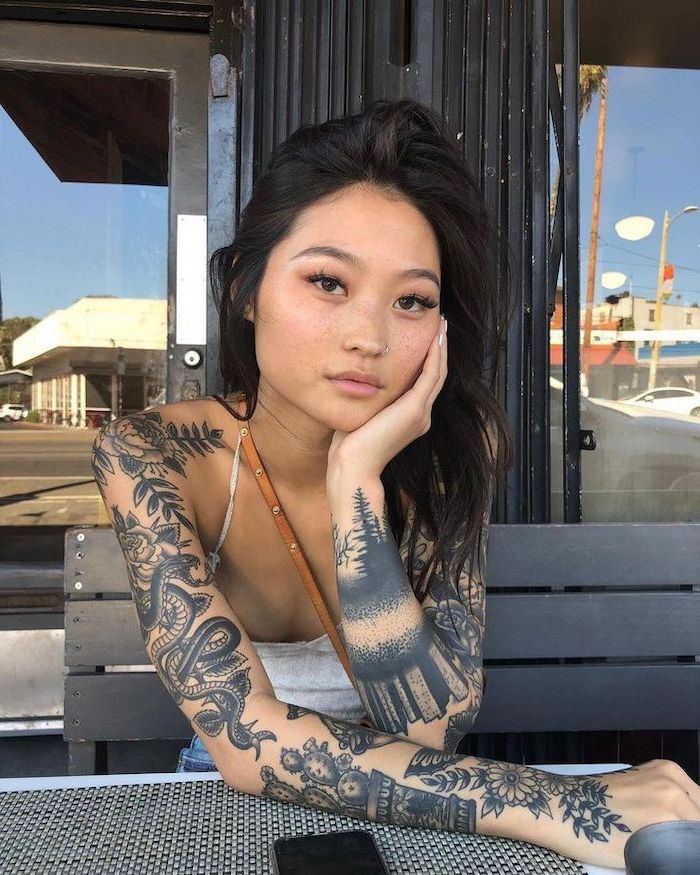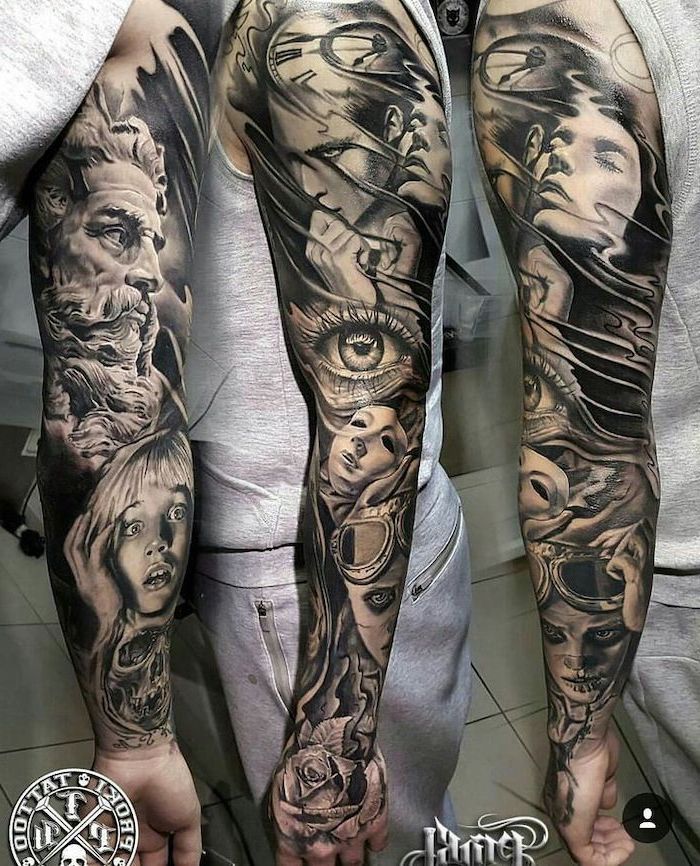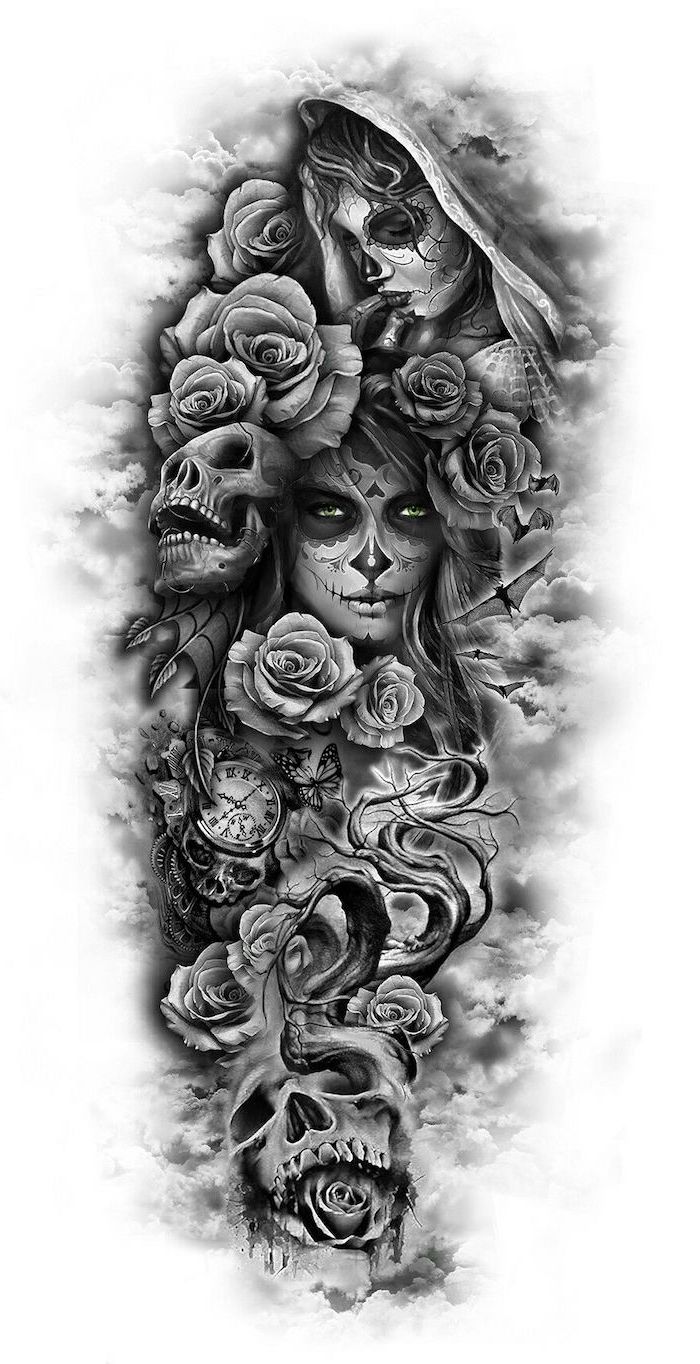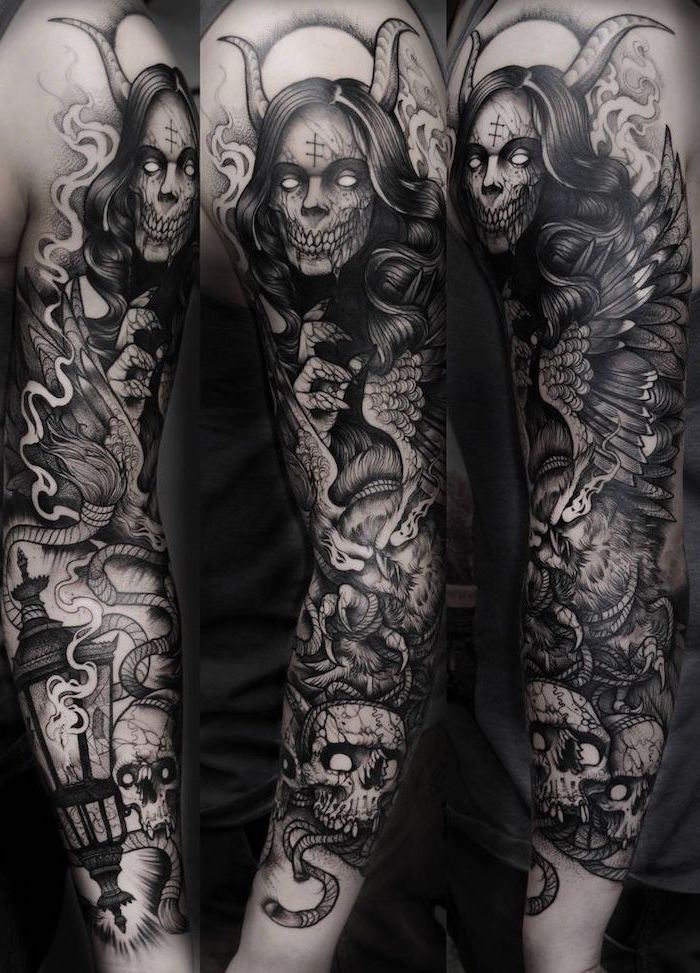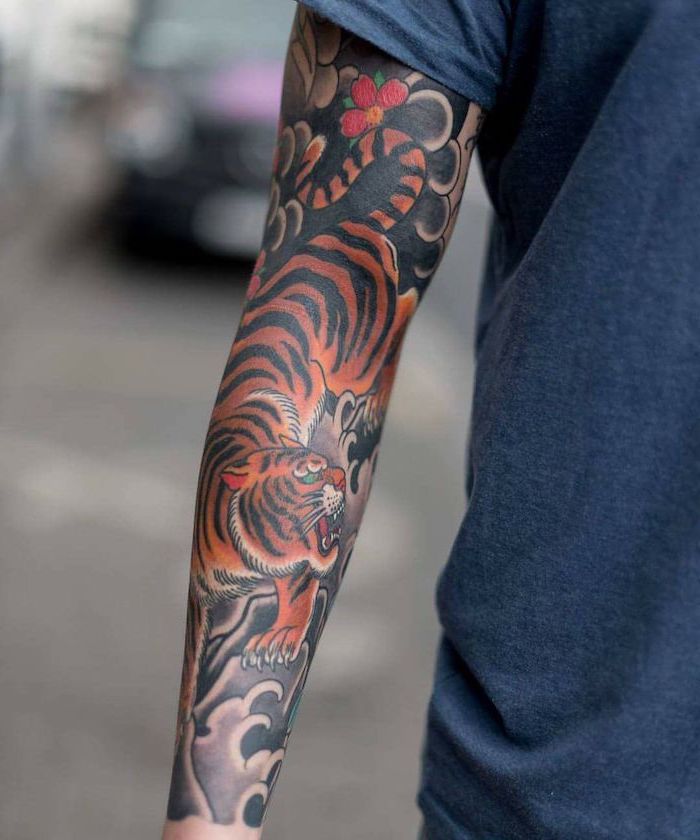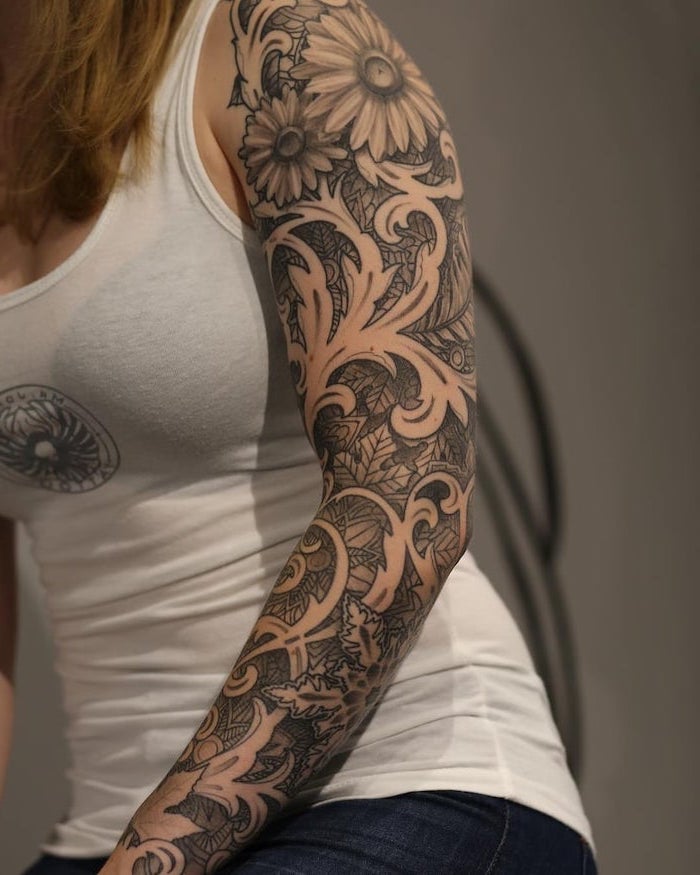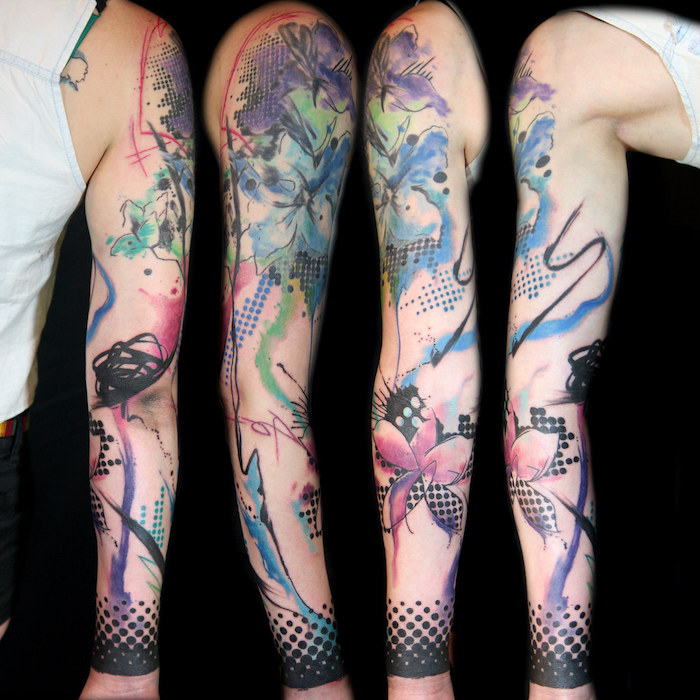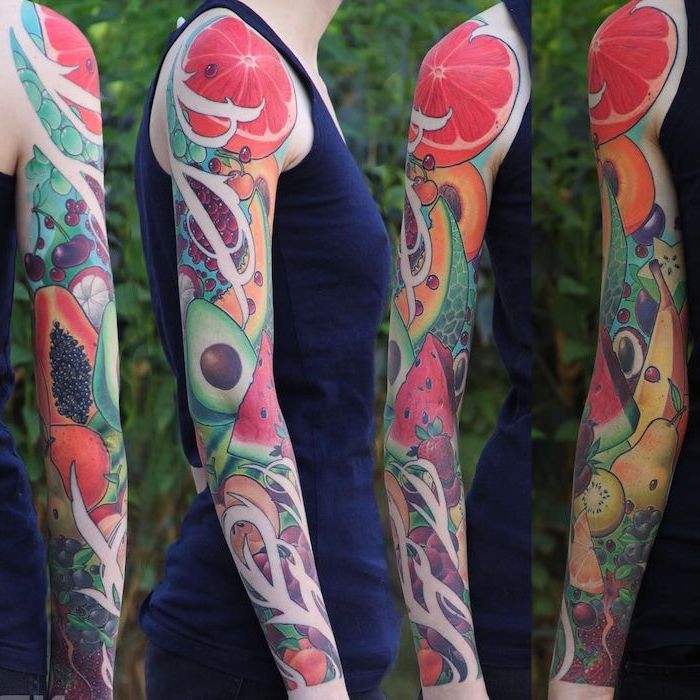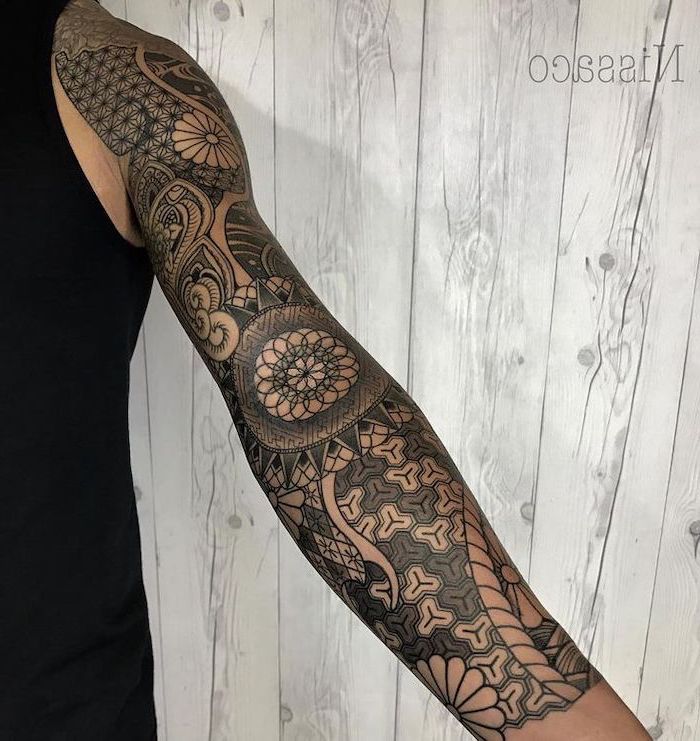 Half-sleeve tattoos for men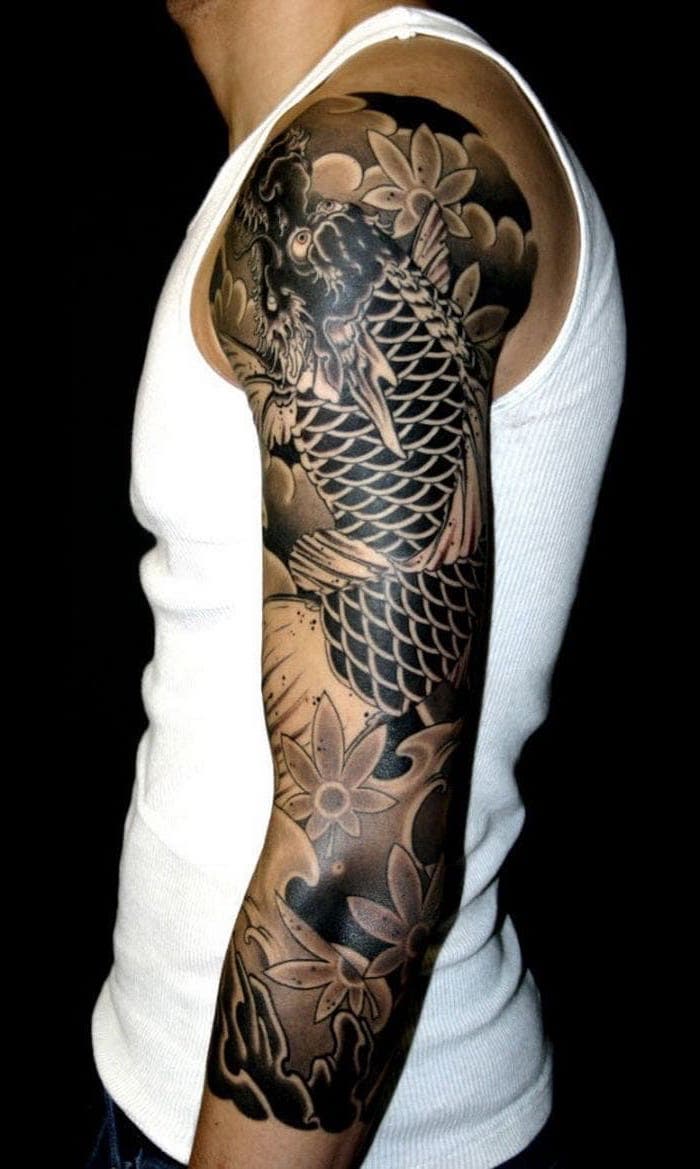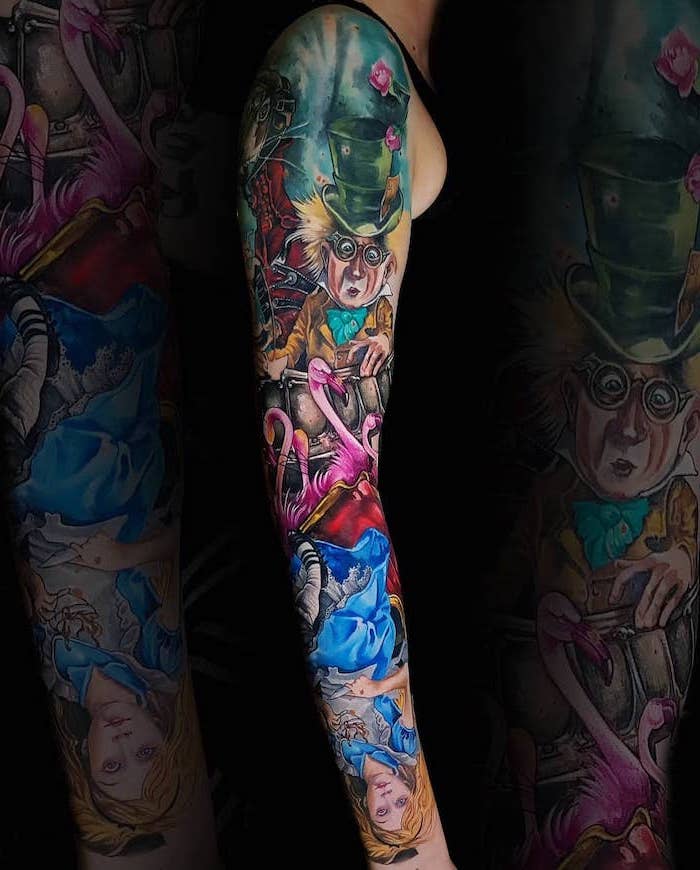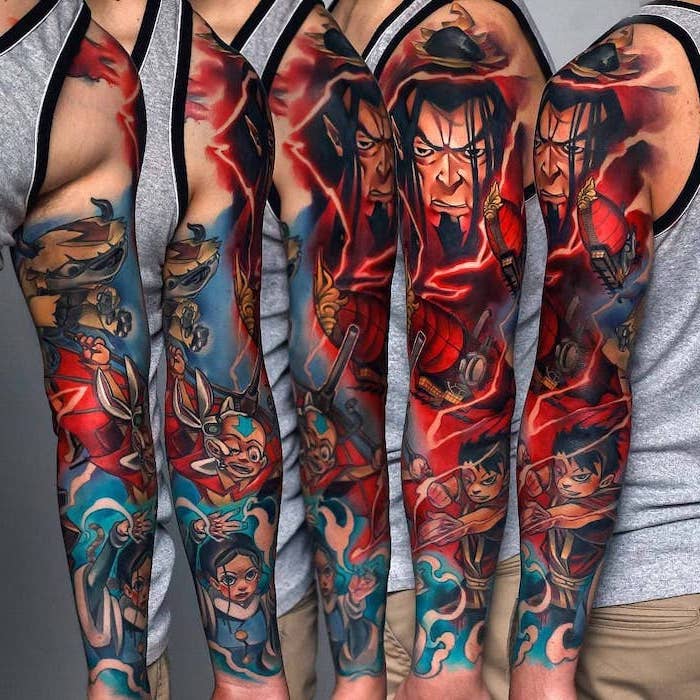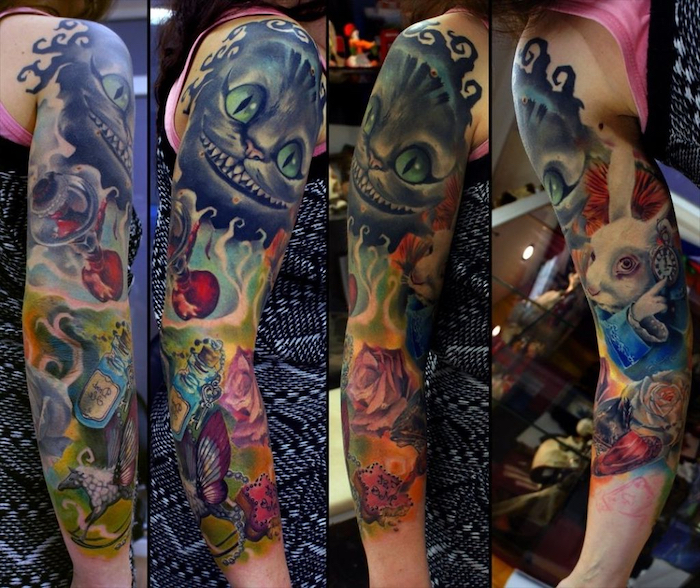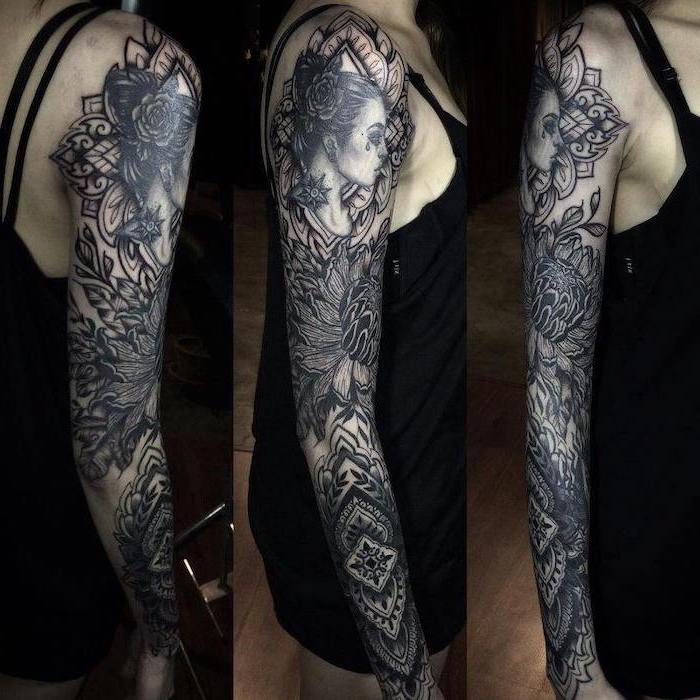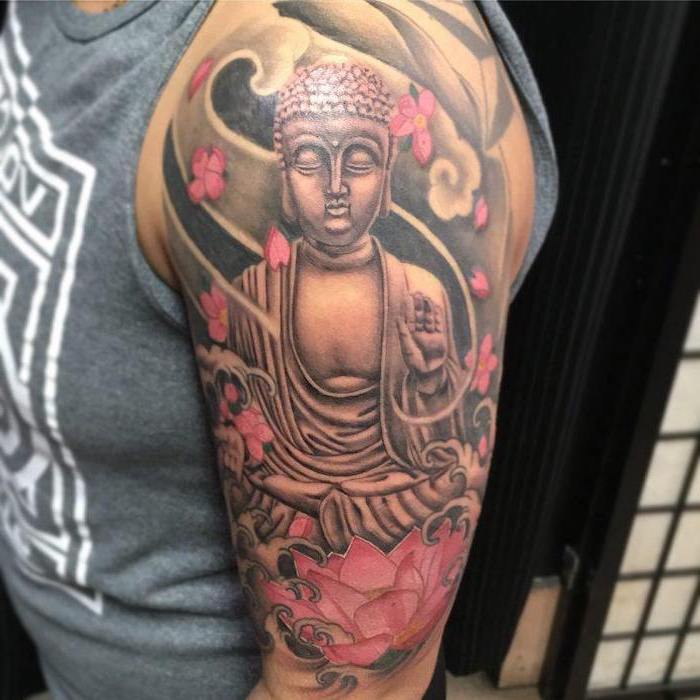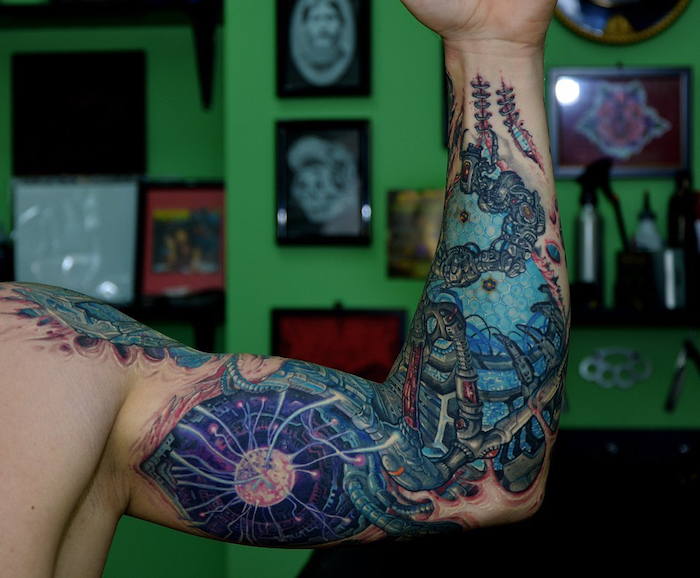 Sleeve tattoos for girls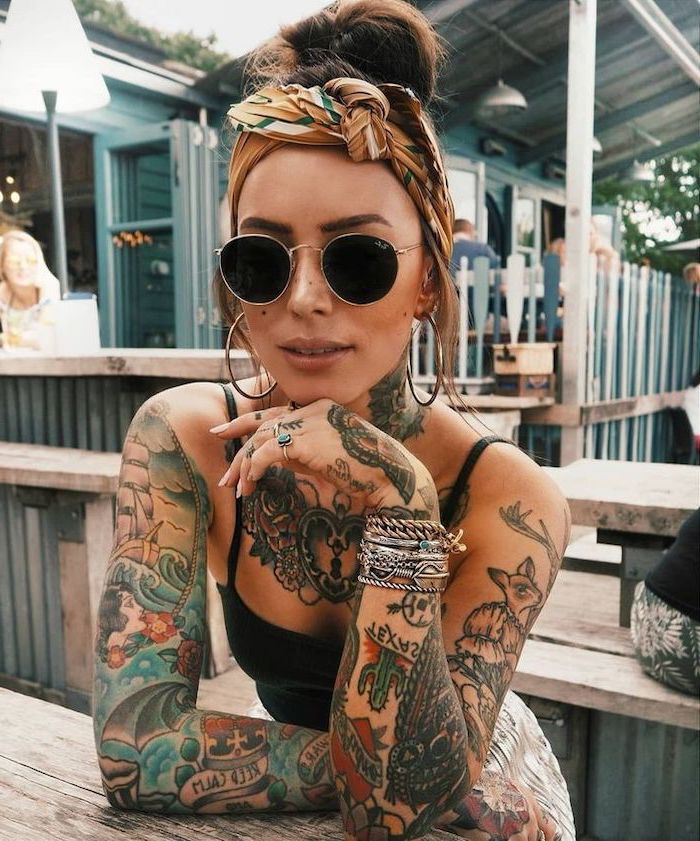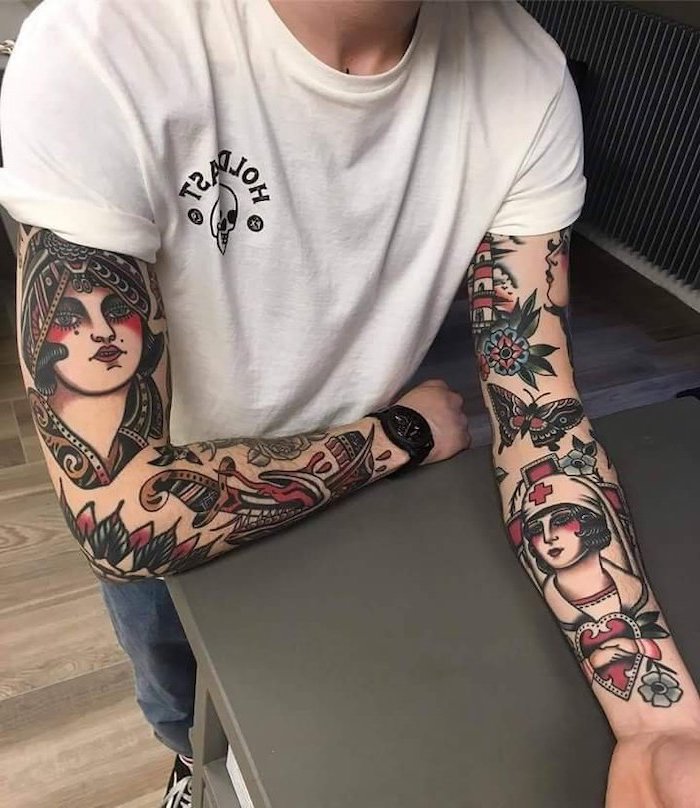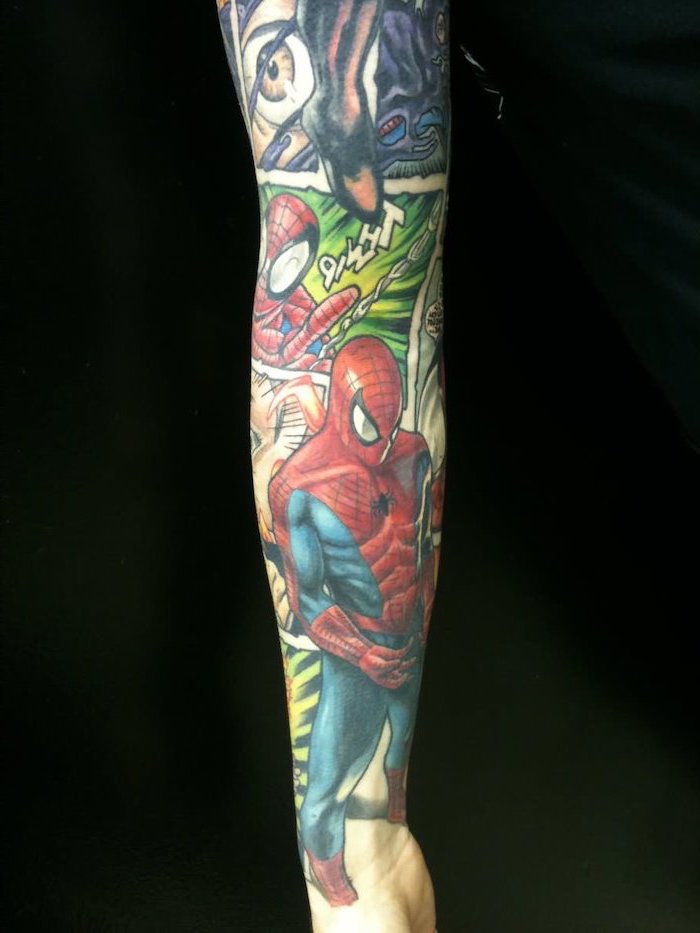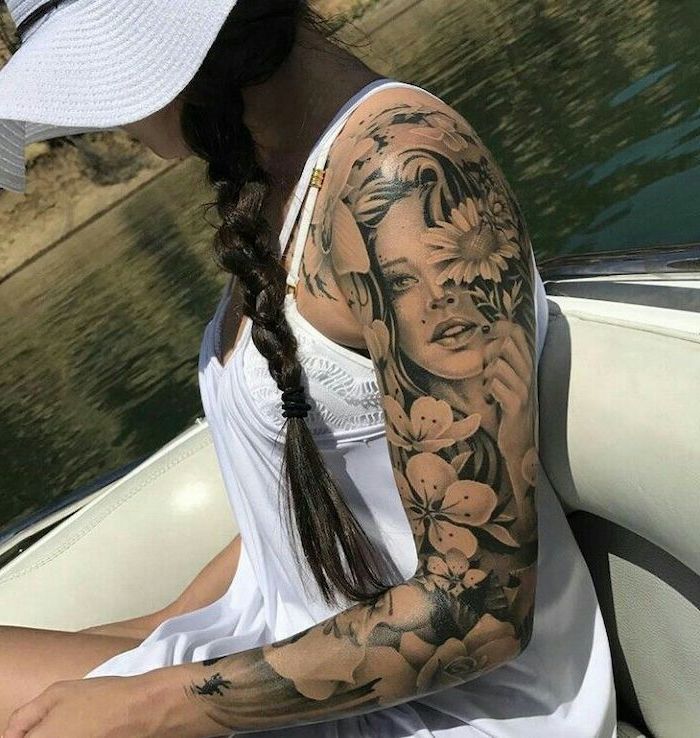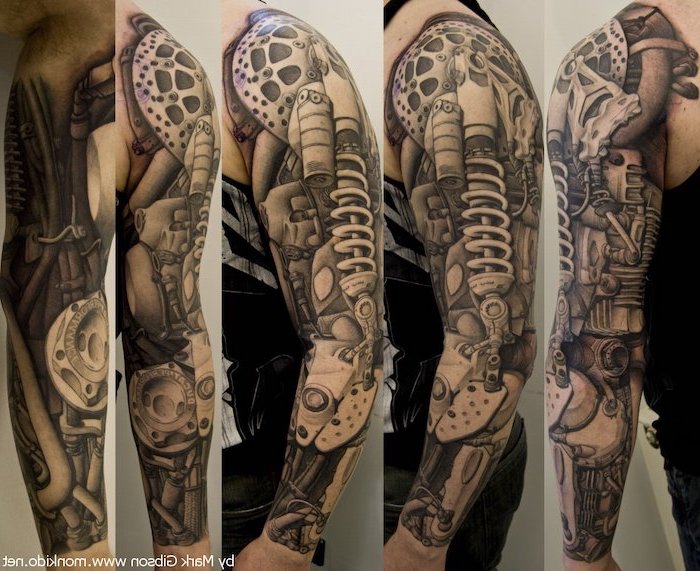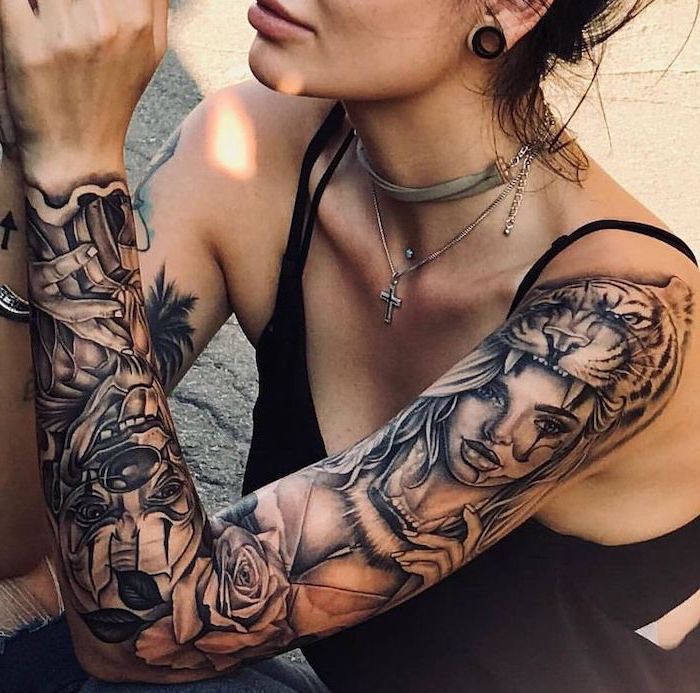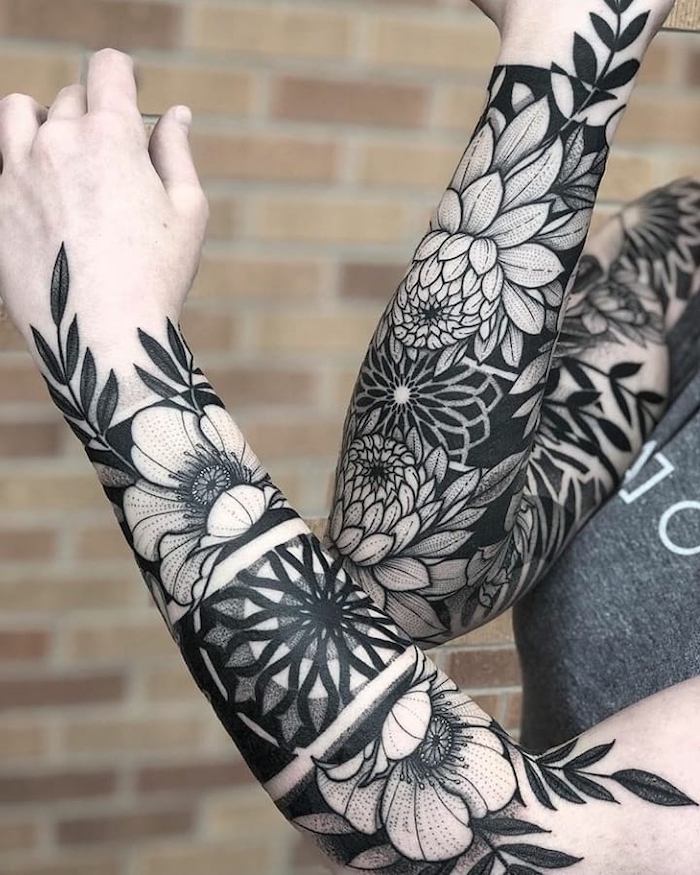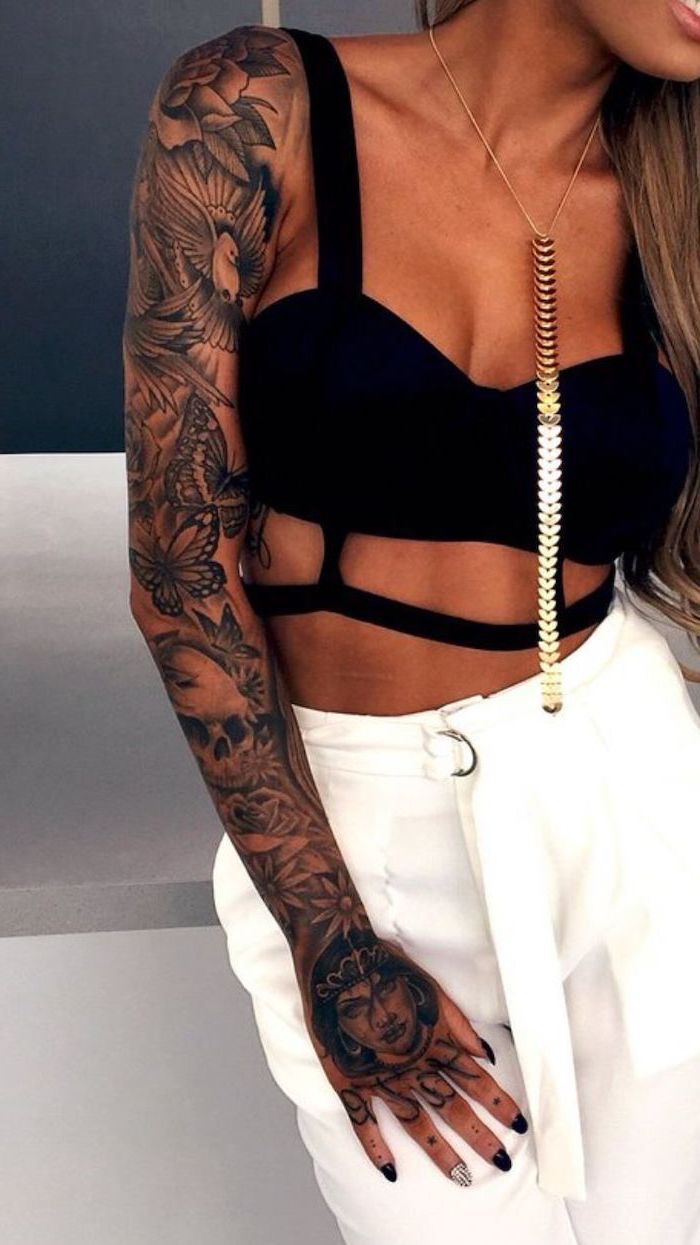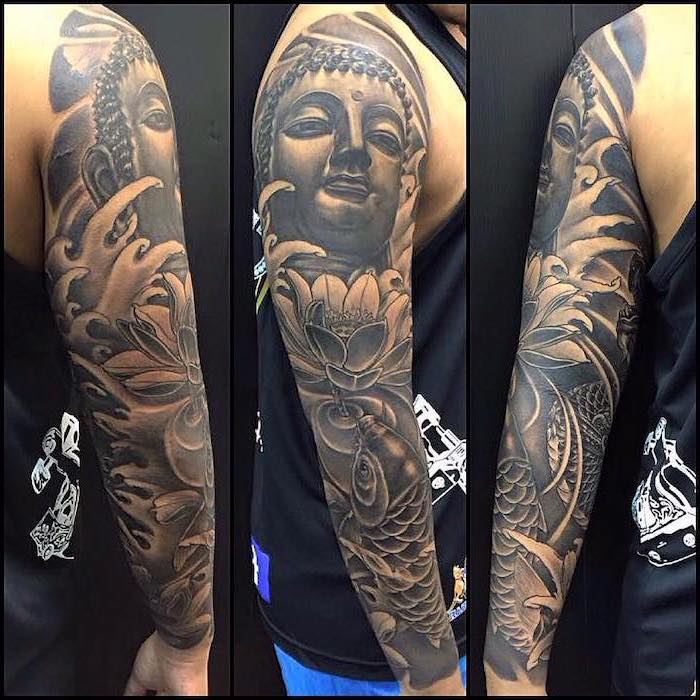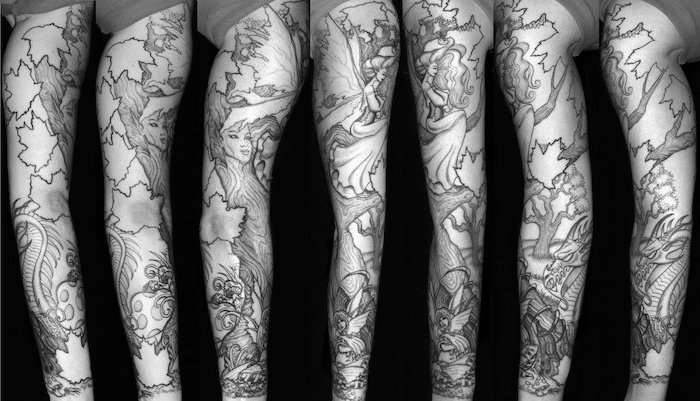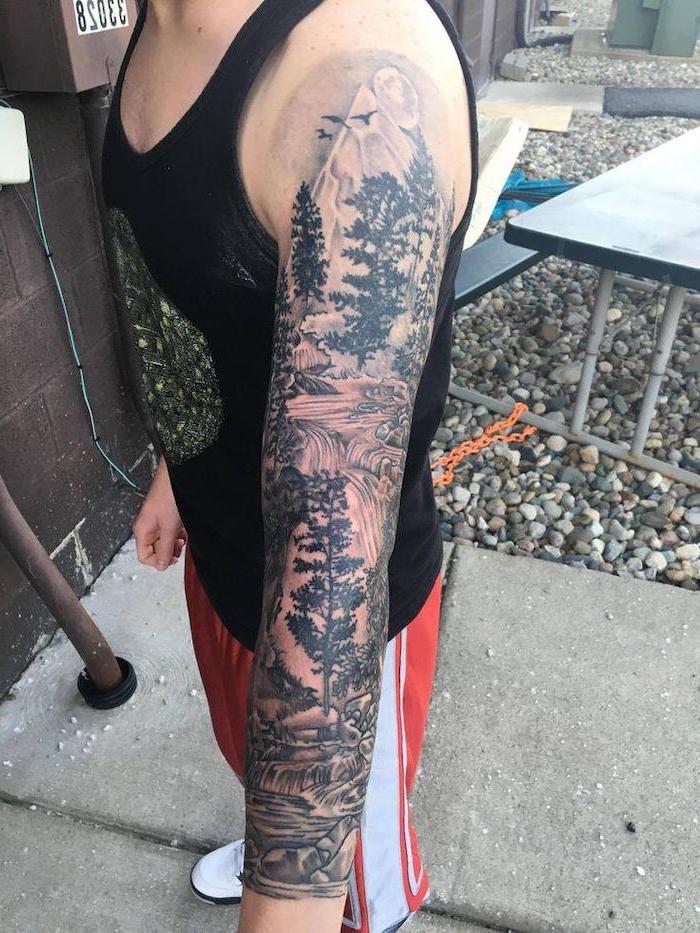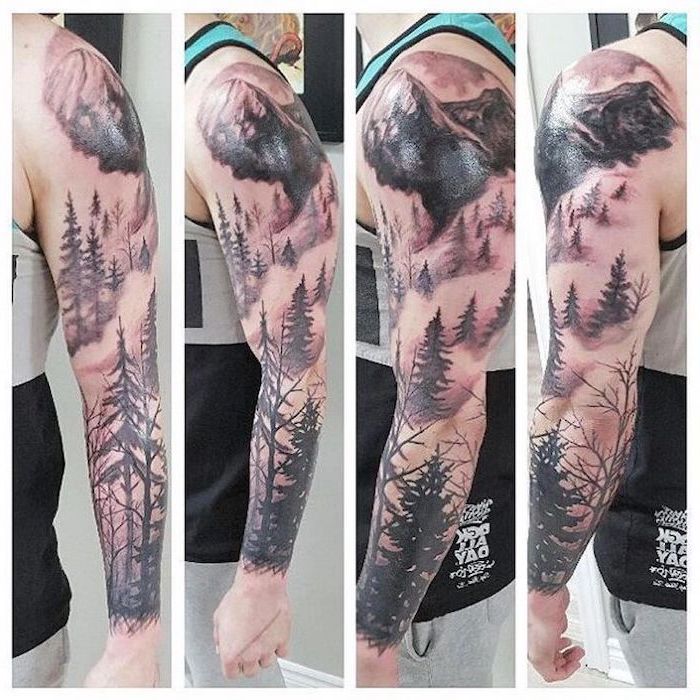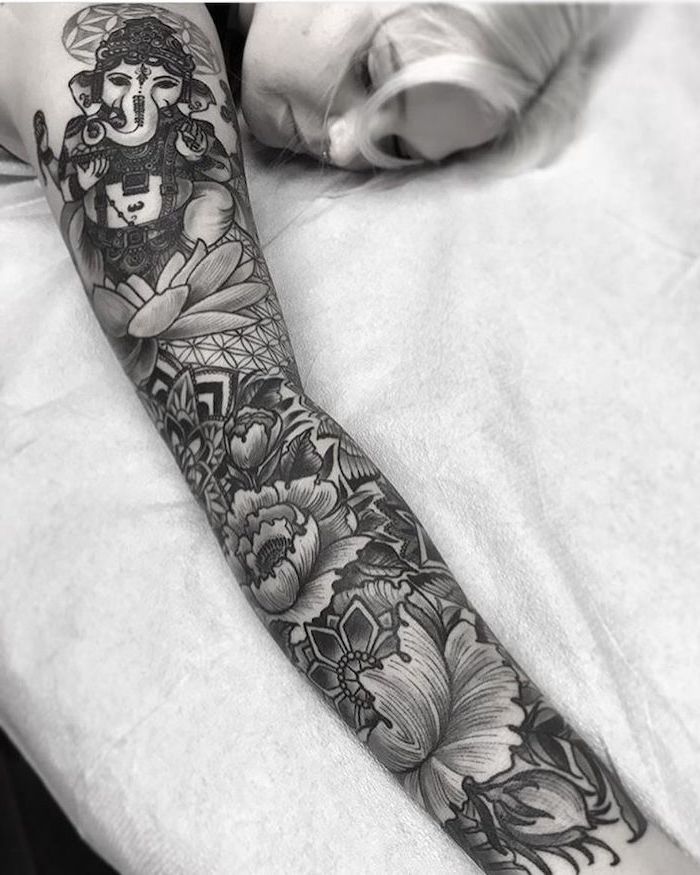 Arm tattoo ideas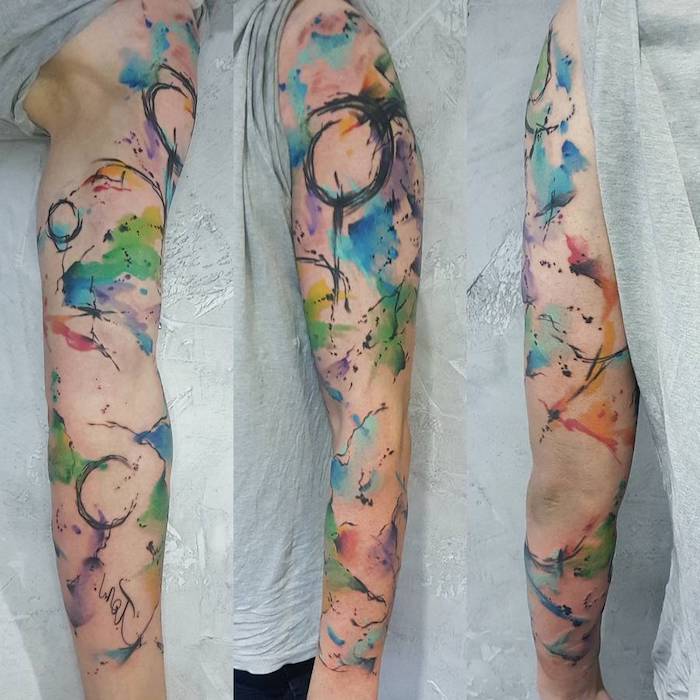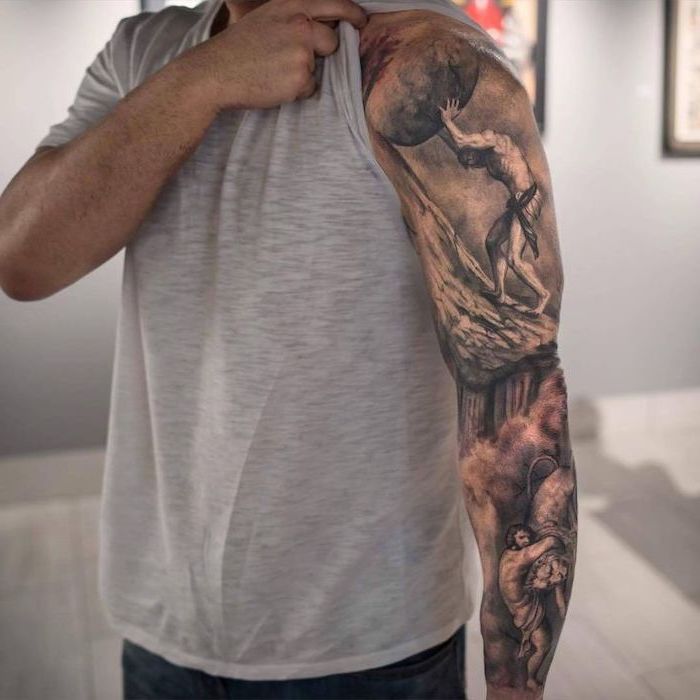 Quarter sleeve tattoo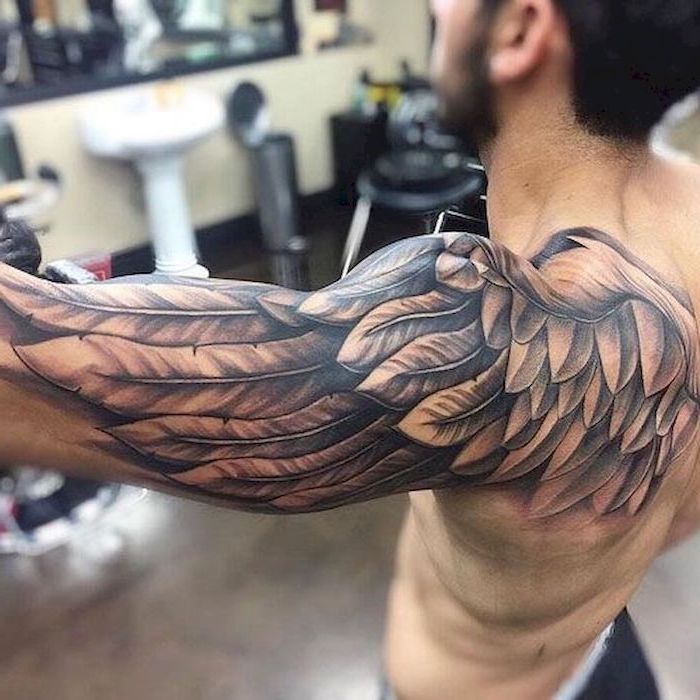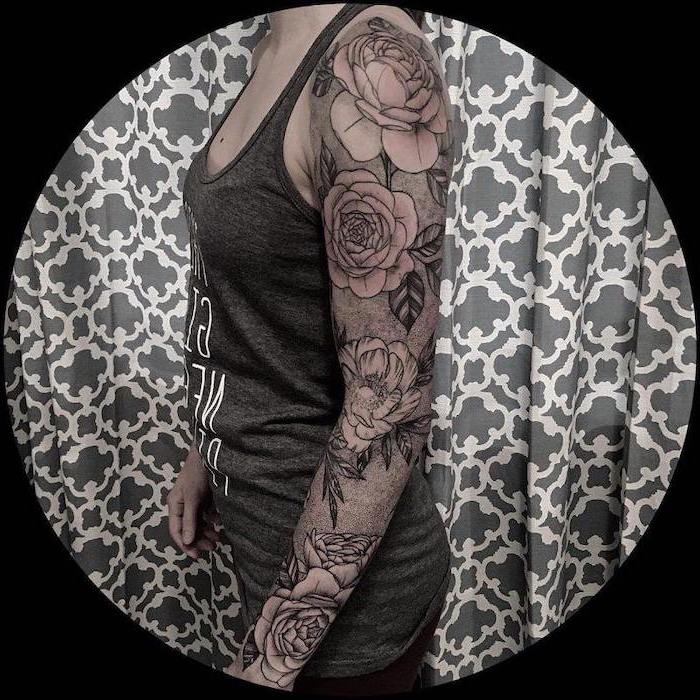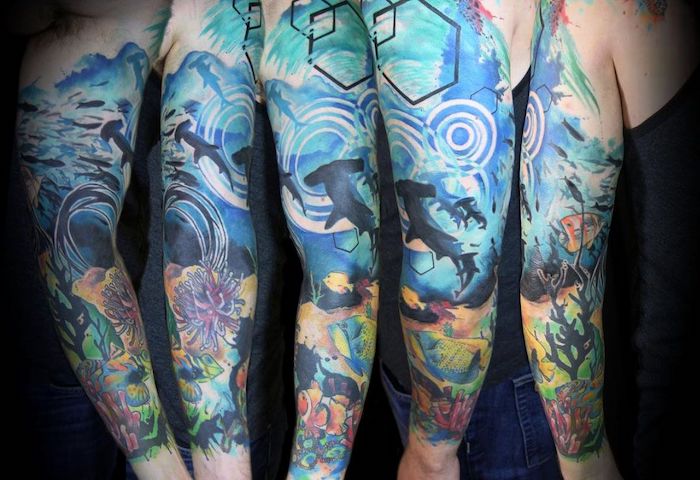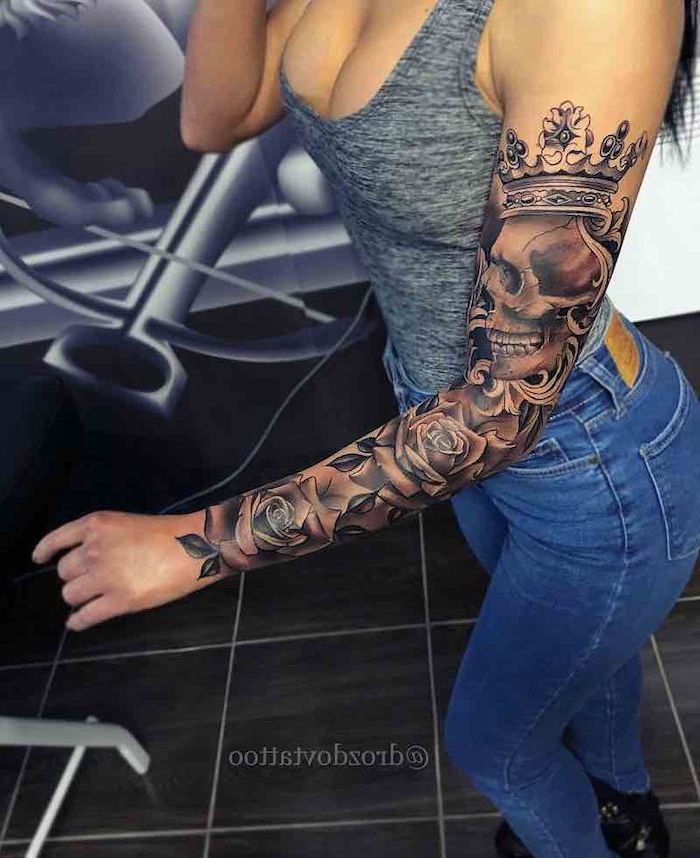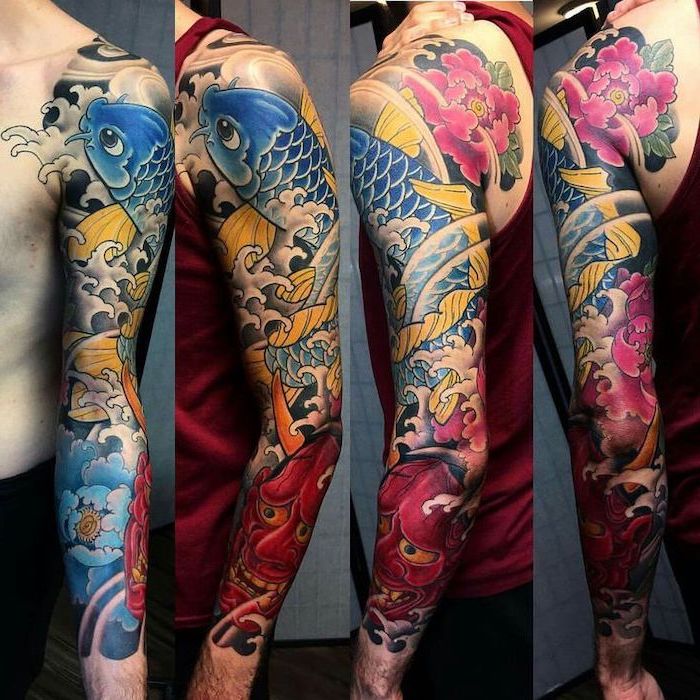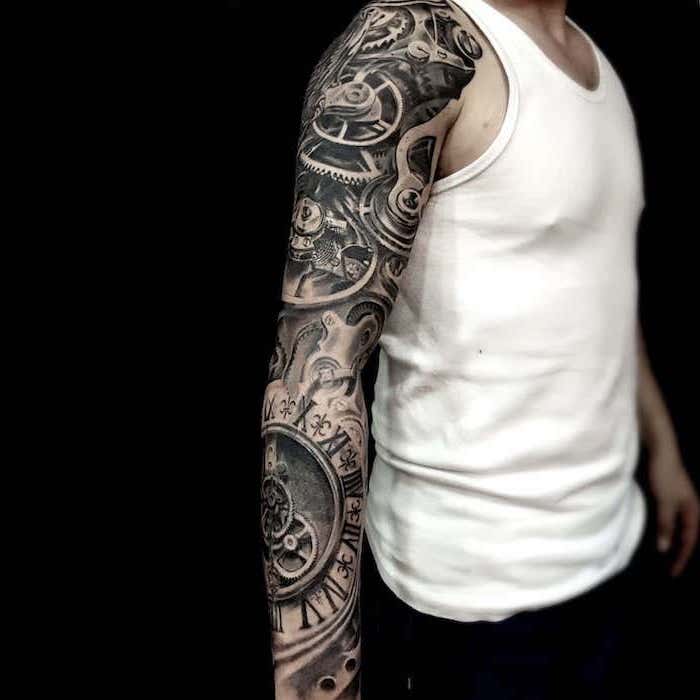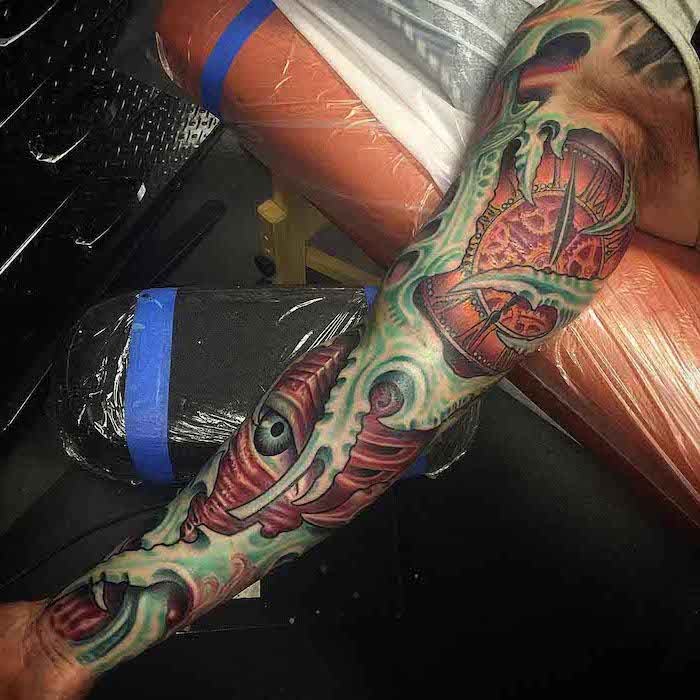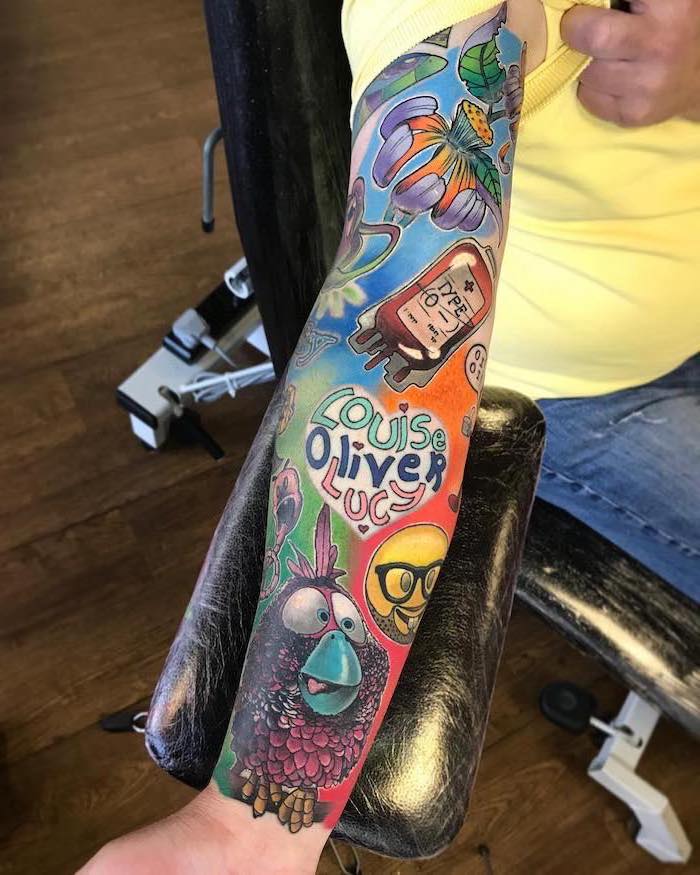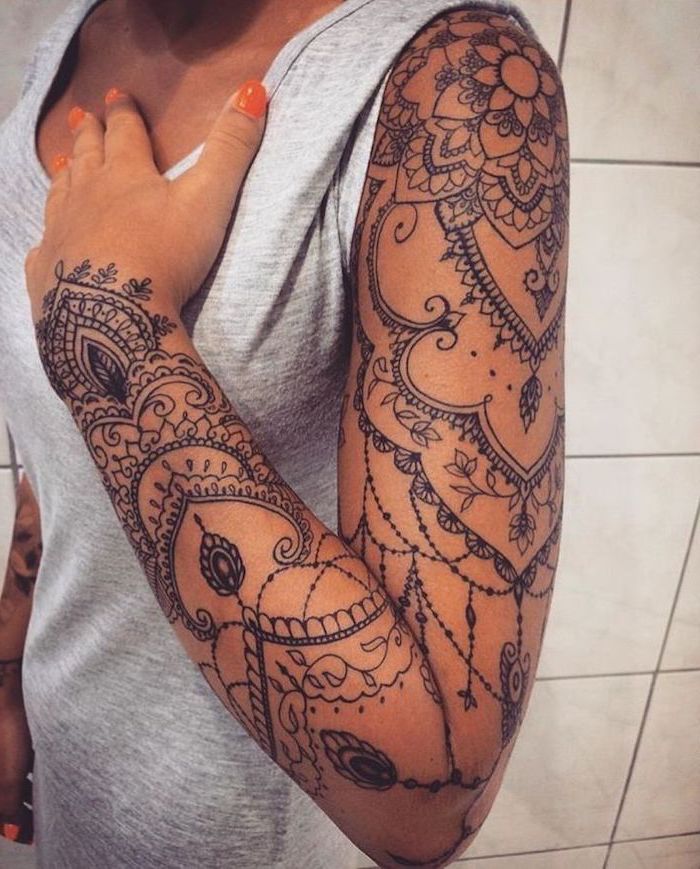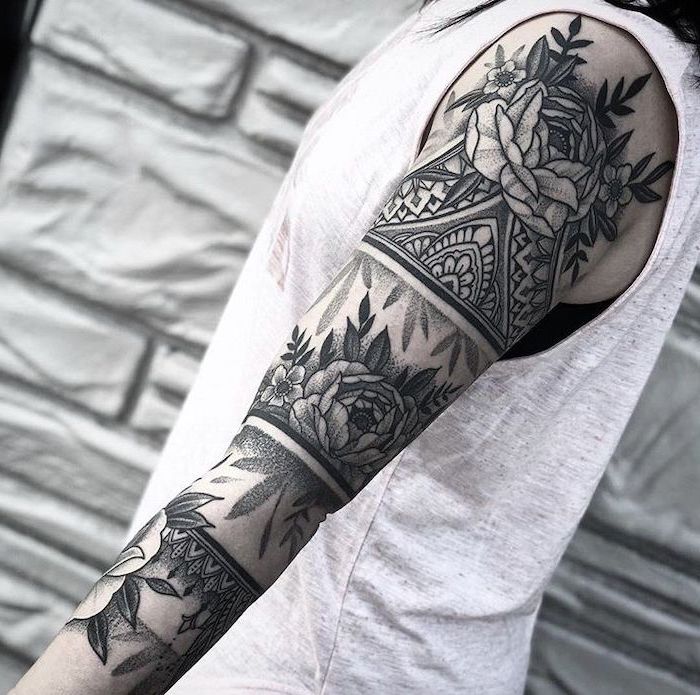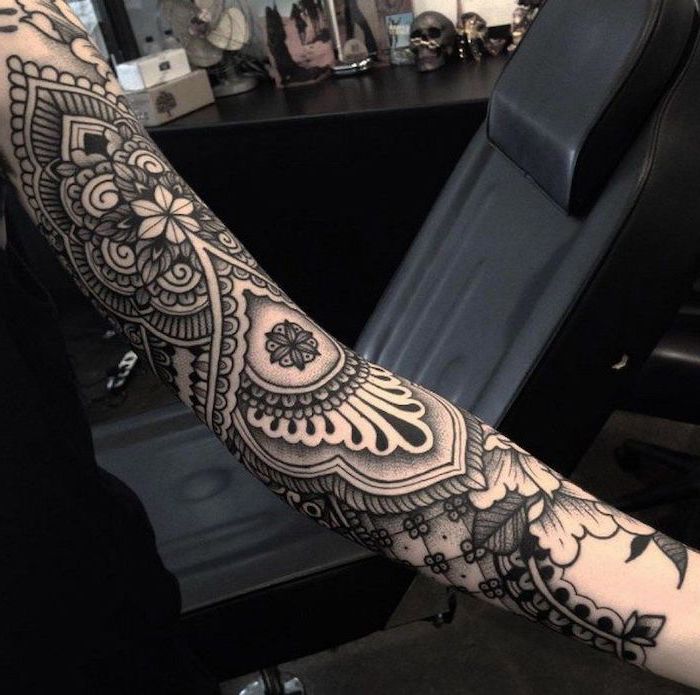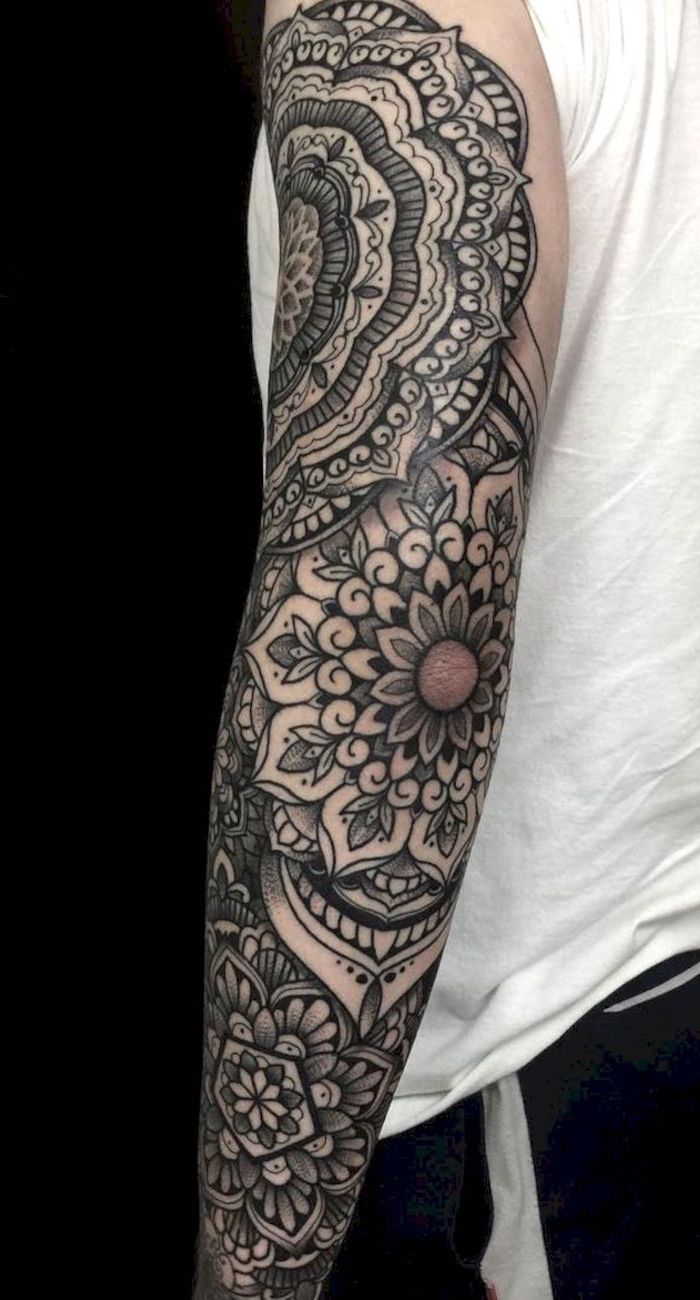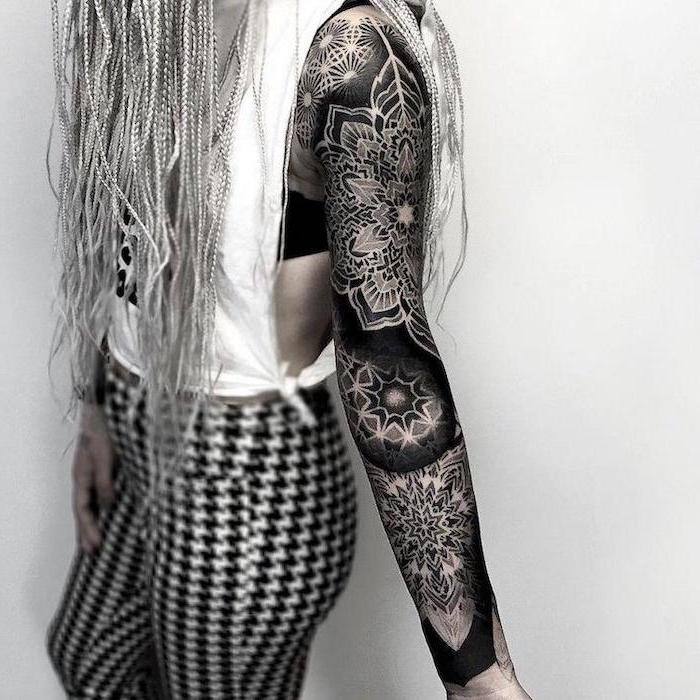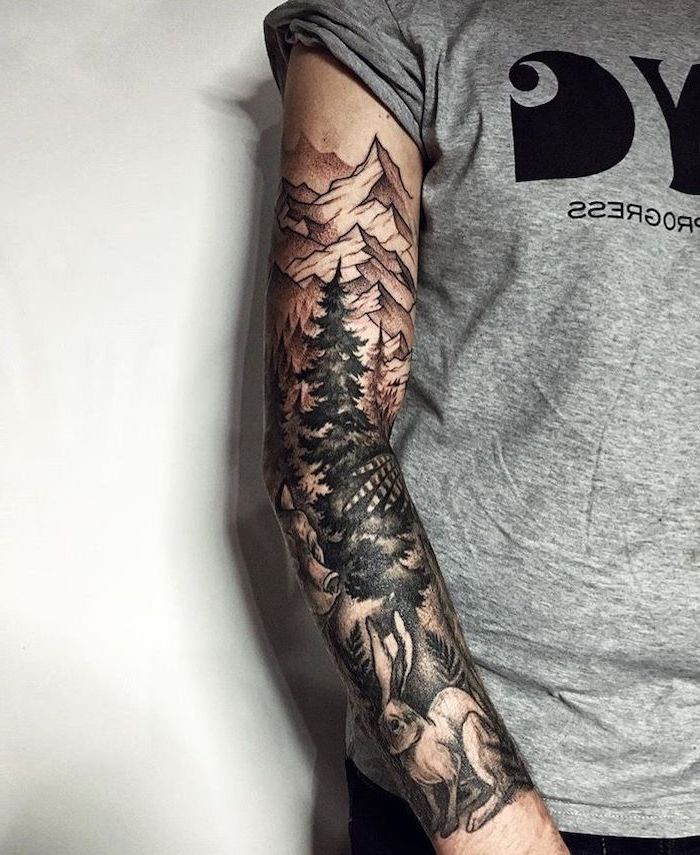 Tattoo sleeve ideas for men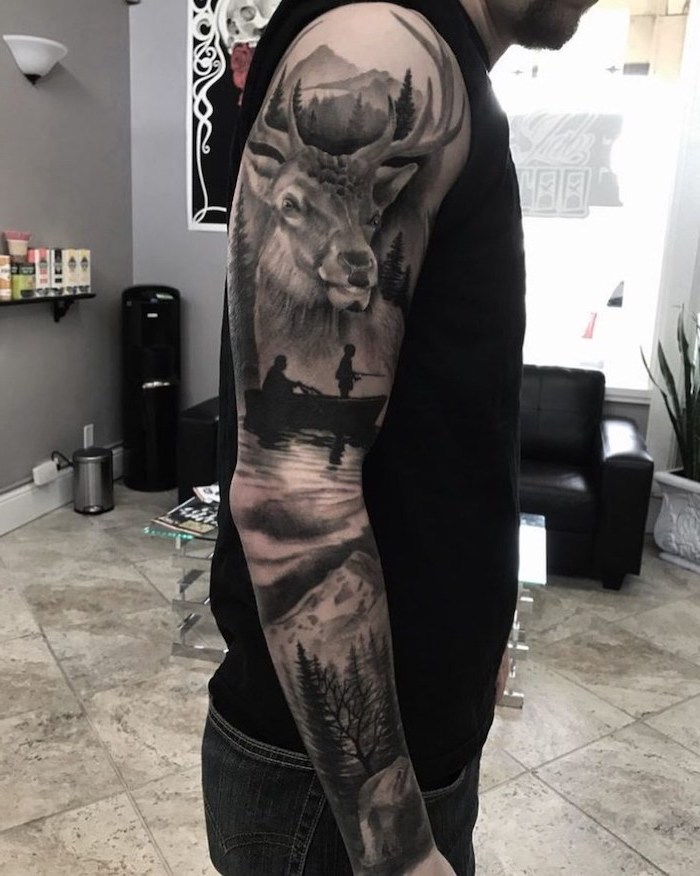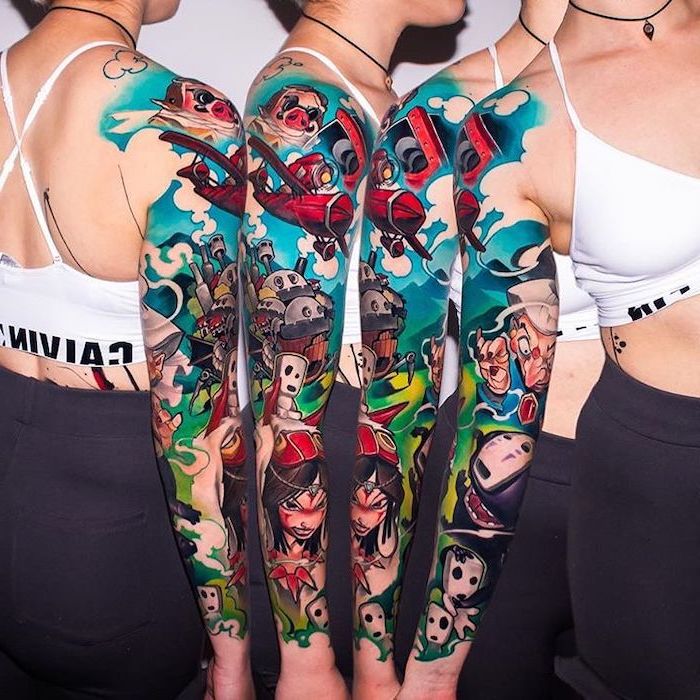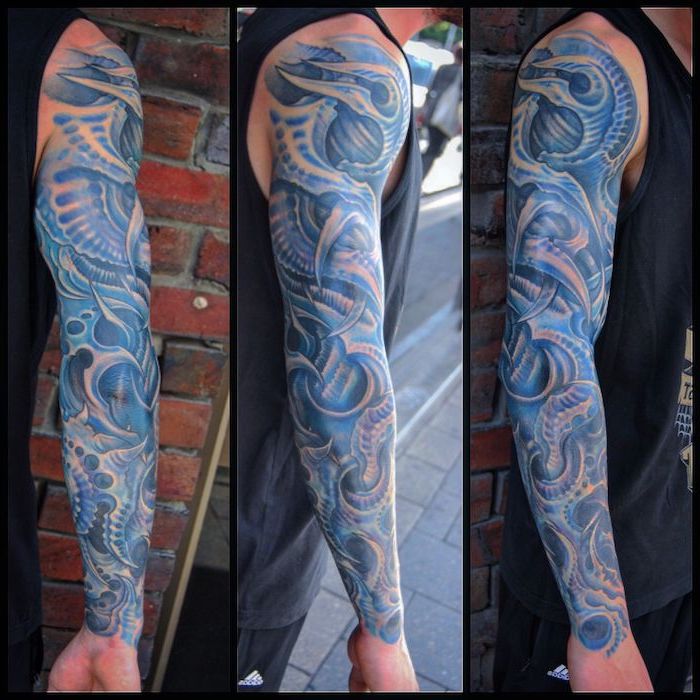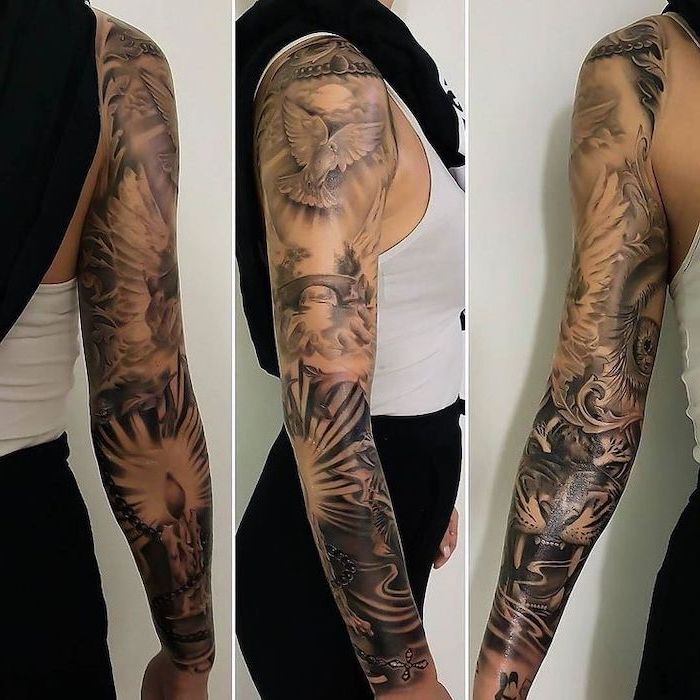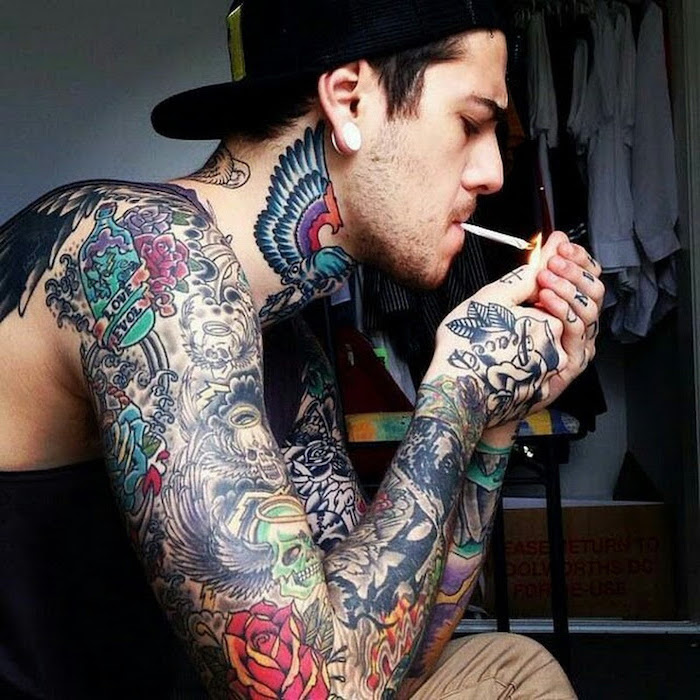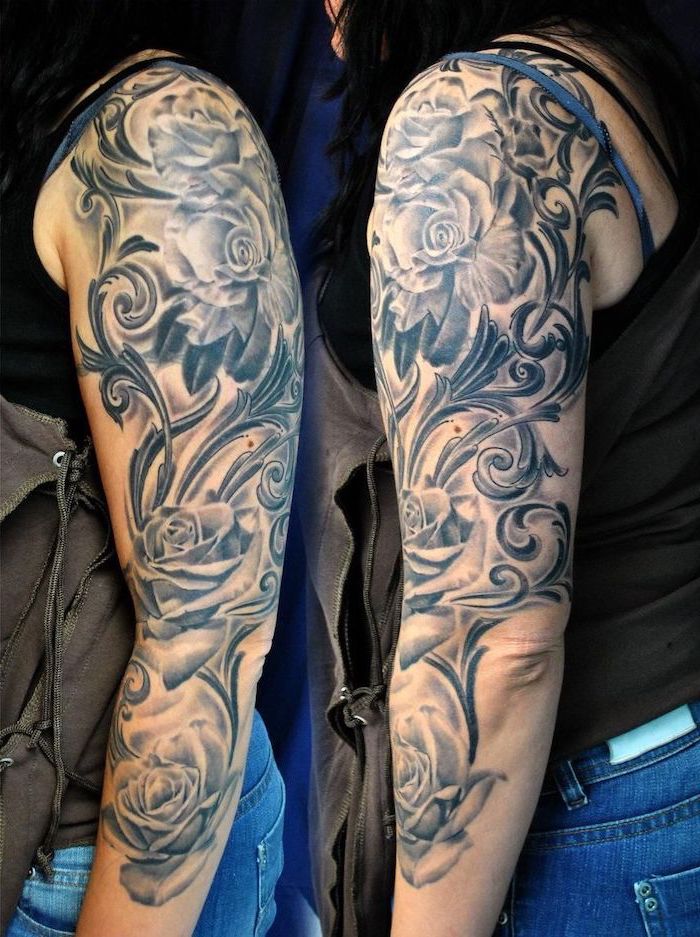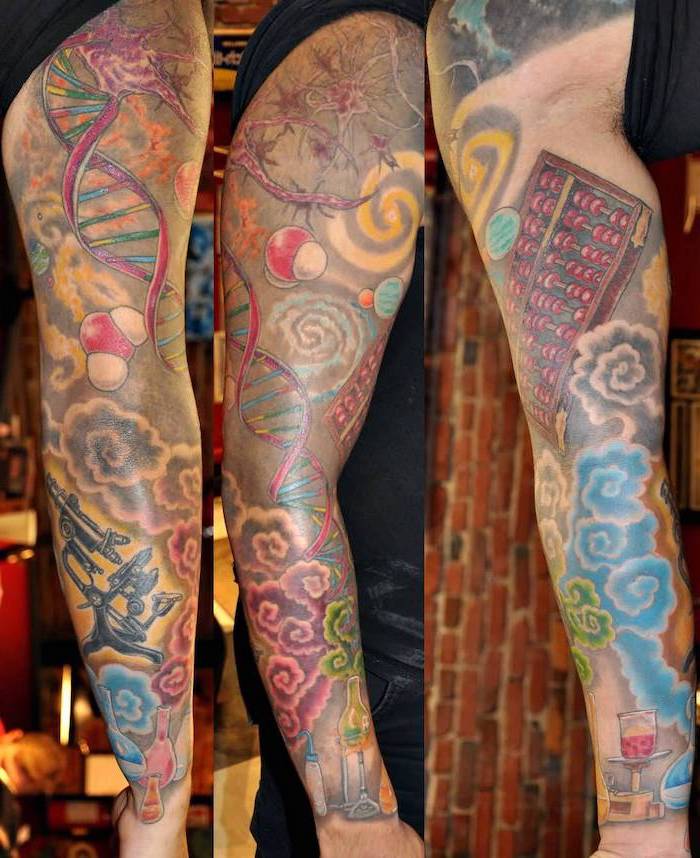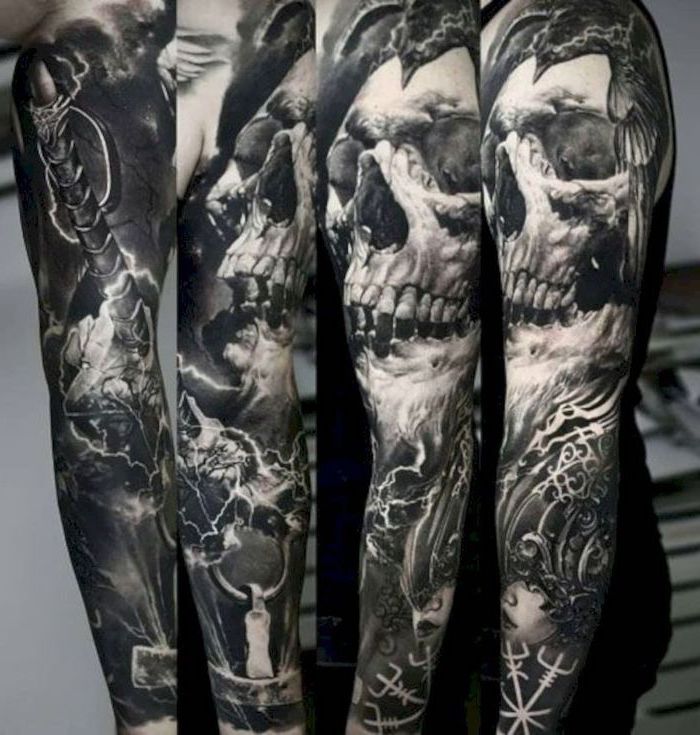 Sleeve tattoo designs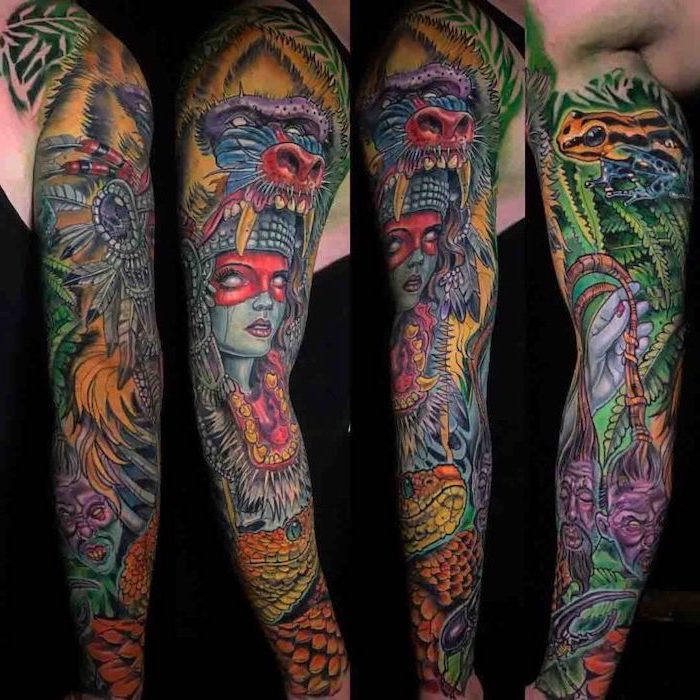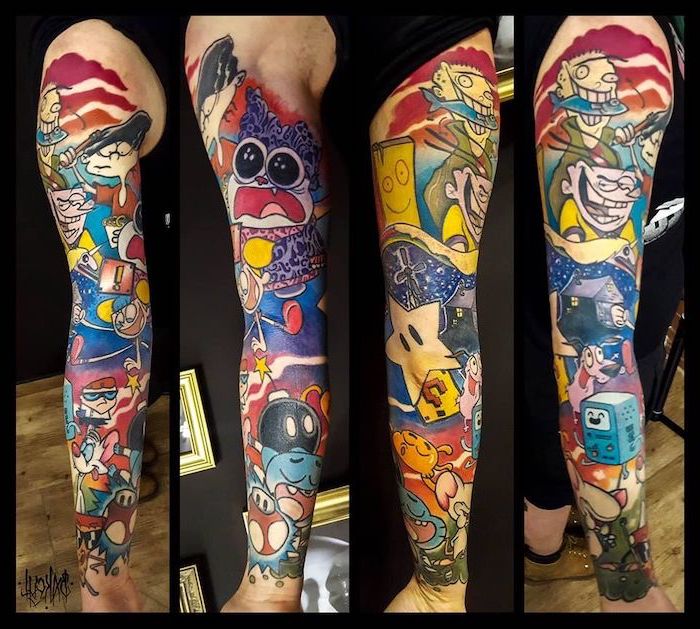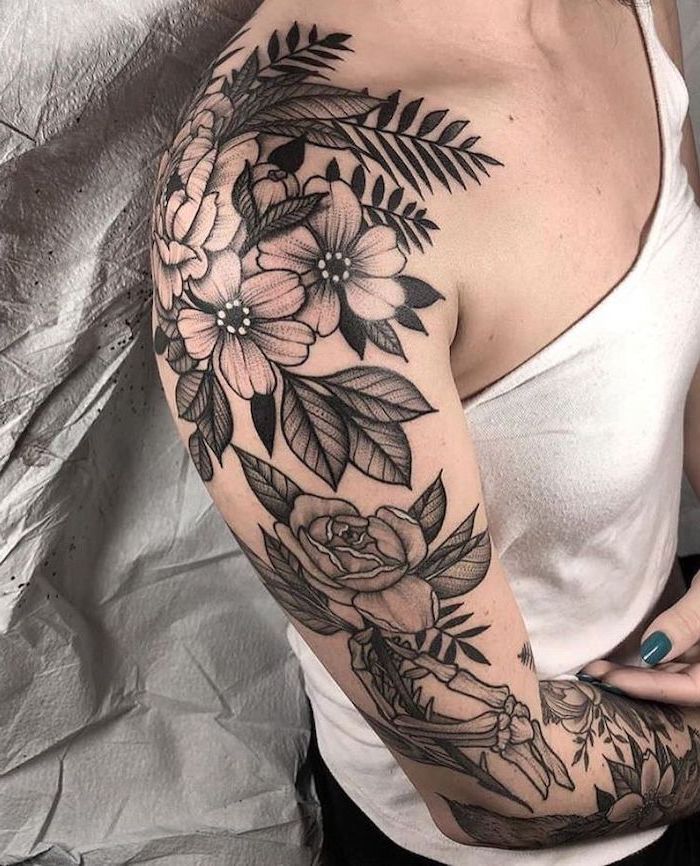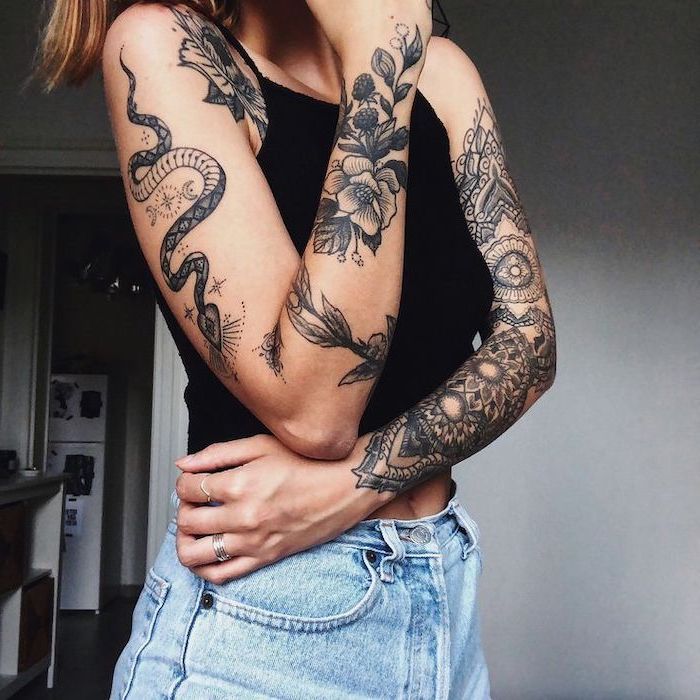 Sleeve tattoos for guys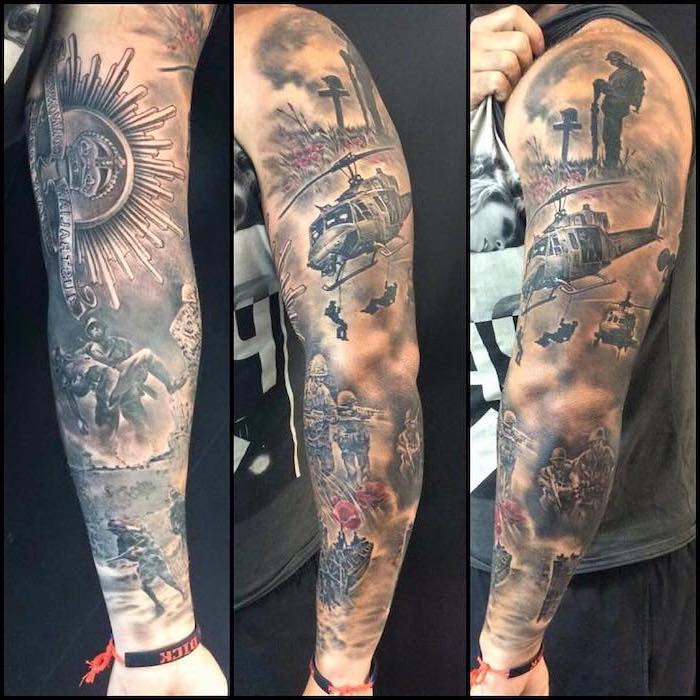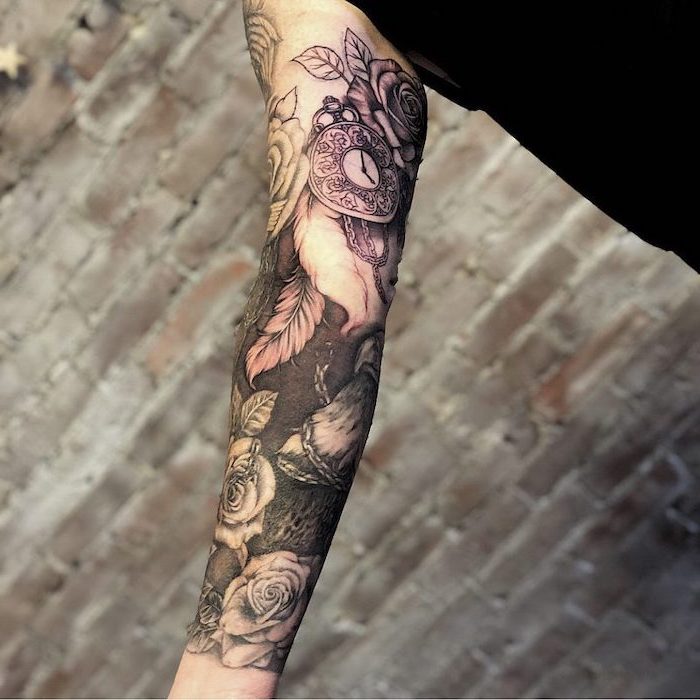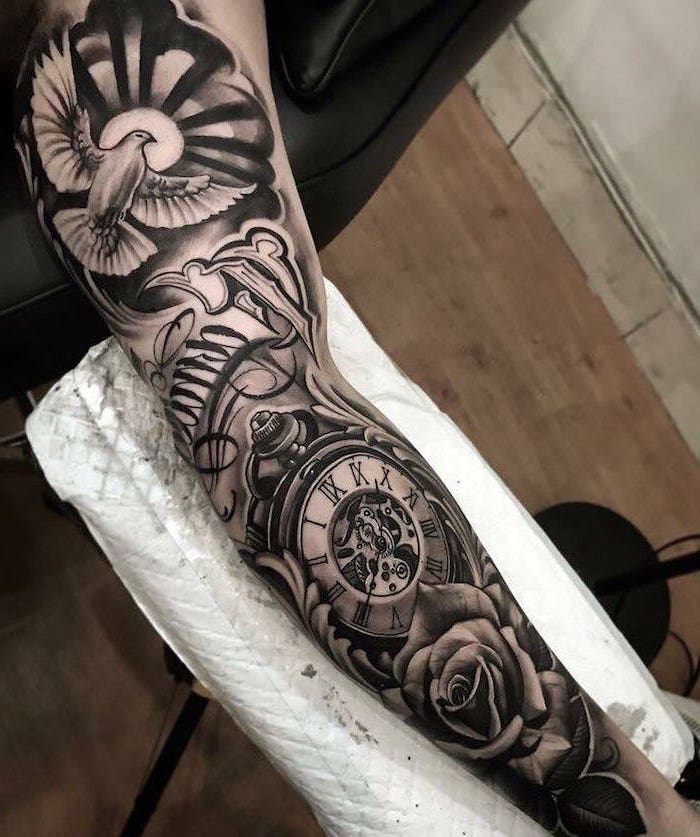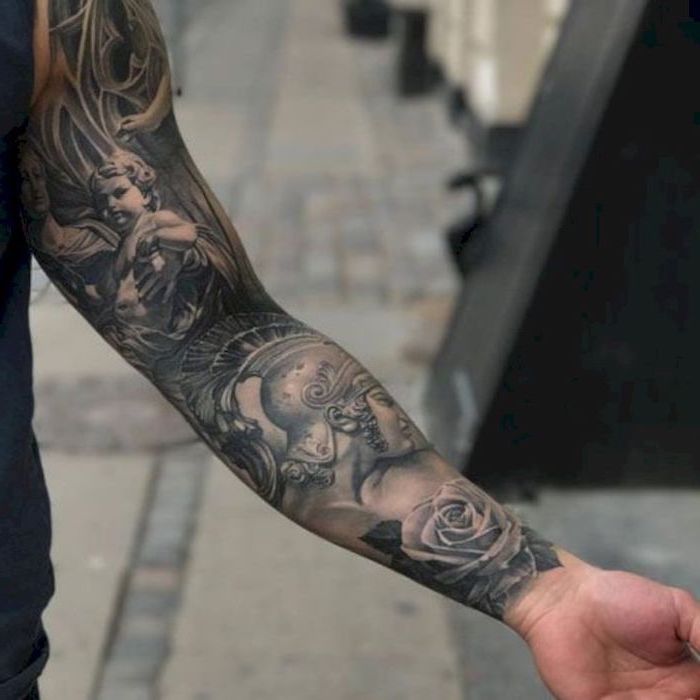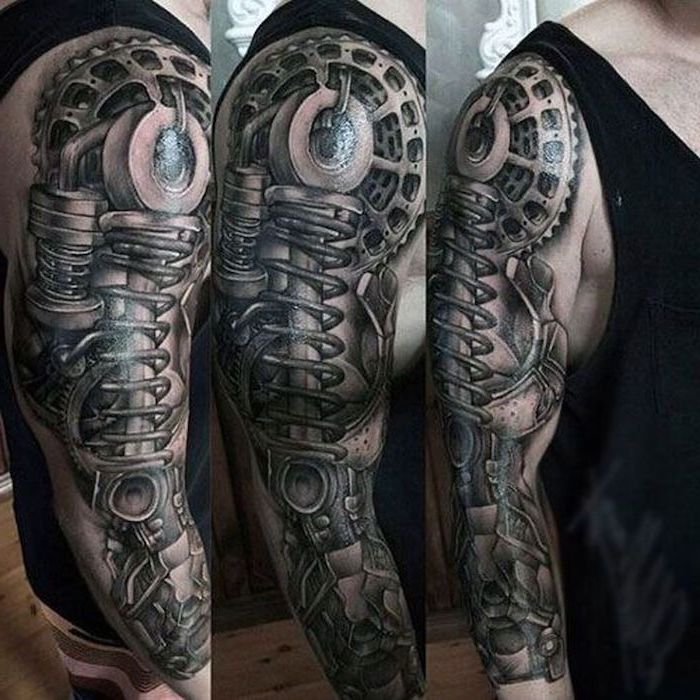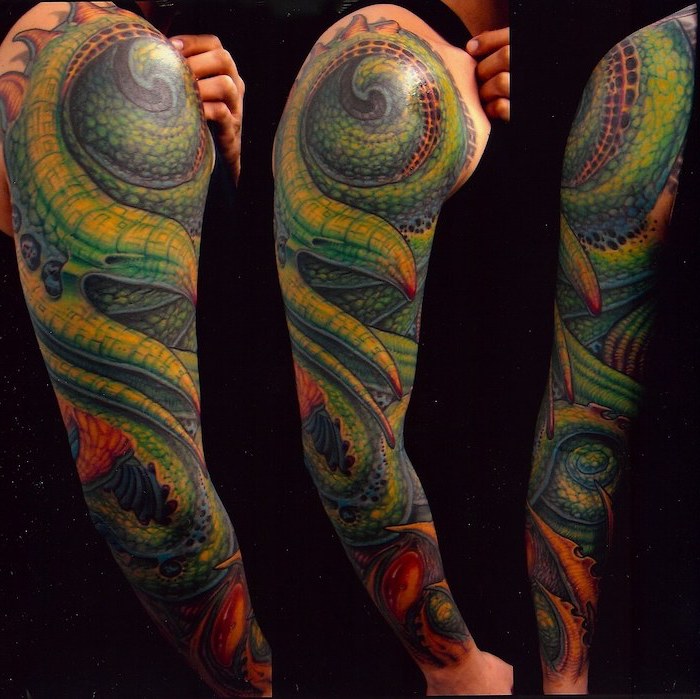 Tattoo sleeve ideas for men