Small Bathroom Storage Ideas and Hacks
You've managed to design a beautiful bathroom even though the space was small.  However now you've run into a bit of a pickle, the small space seems to keep getting smaller. It's okay, finding storage place in small bathrooms can be tricky. But a bathroom doesn't have to be big to have a great style and function. Since this is the place where you clean up, it's only fitting that you turn it into one of the tidiest rooms in the house. No more counter clutter, no more towels on the floor, or rough medicine and electronics. So, if you are looking how to achieve that zen-like tidiness, you have come to the right place. Check out our small bathroom storage ideas and hacks!
Bathroom don't have to be big to have great style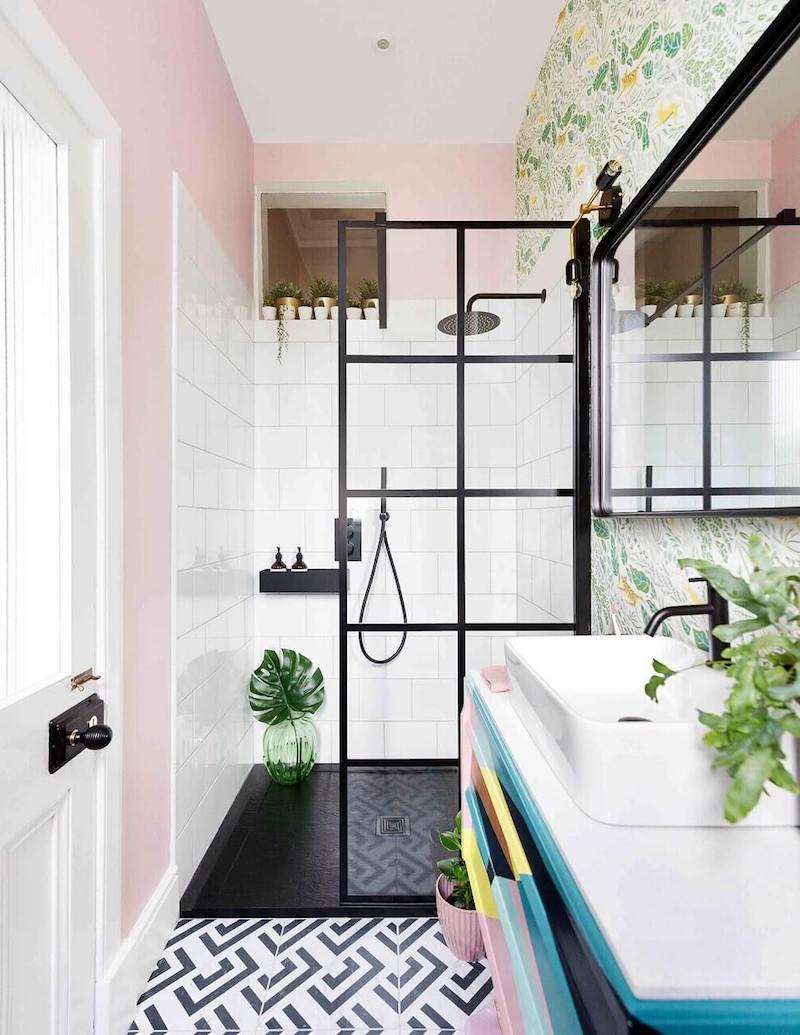 Bathrooms alongside closets and pantries seem like they never have enough storage space and new issues constantly arise. From mornings to nights, this tiny space serves many functions in quite the limited space. That's why it often starts getting cluttered with all kinds of things and space starts getting limited. When things seem to start not having a place, it's a good time for some reorganization and decluttering, together with some crafty tips and tricks. However, there are some steps to take on beforehand.
This tiny space serves many functions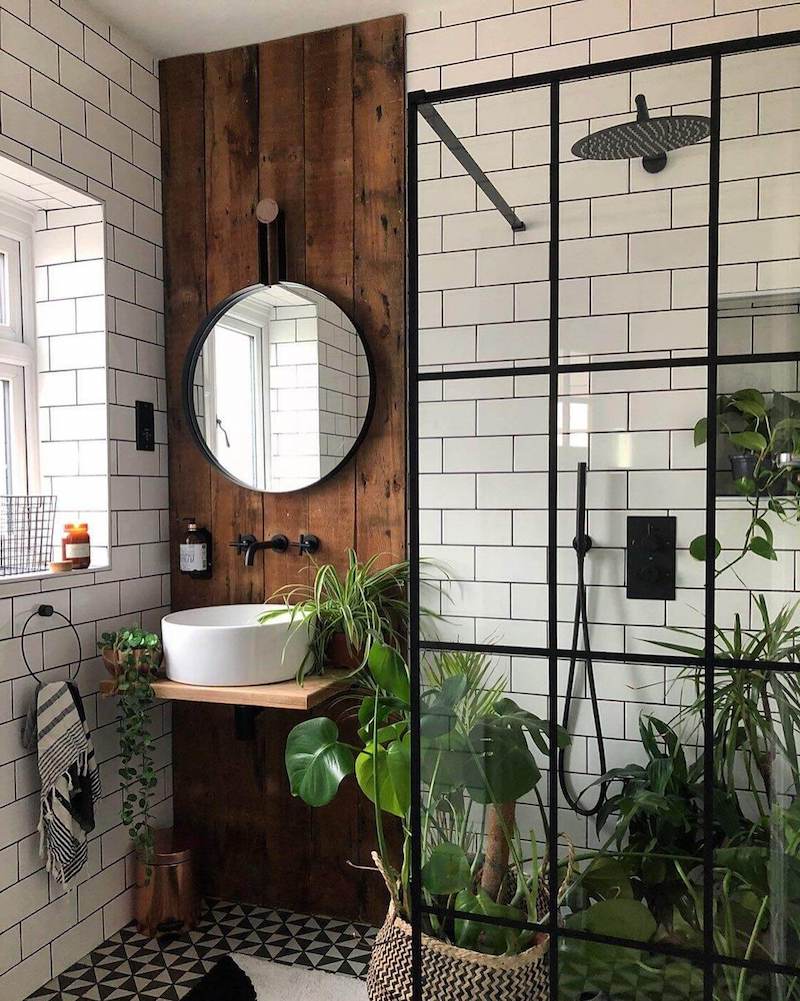 Tossing and Decluttering
Even though nobody likes to admit it, most people probably has a whole pile worth of things in the bathroom that should have been in the trash a long time ago. Think things like half empty shampoo bottles, old and torn towels, appliances that barely work and old medicine bottles that probable expired months ago. We know it happens, that's how clutter progressively build. So, the first step is to look through everything. Throw away anything that past its date, and you won't be using in the near future. When you're done with that, we can continue with the next step.
A cluttered counter creates a messy vibe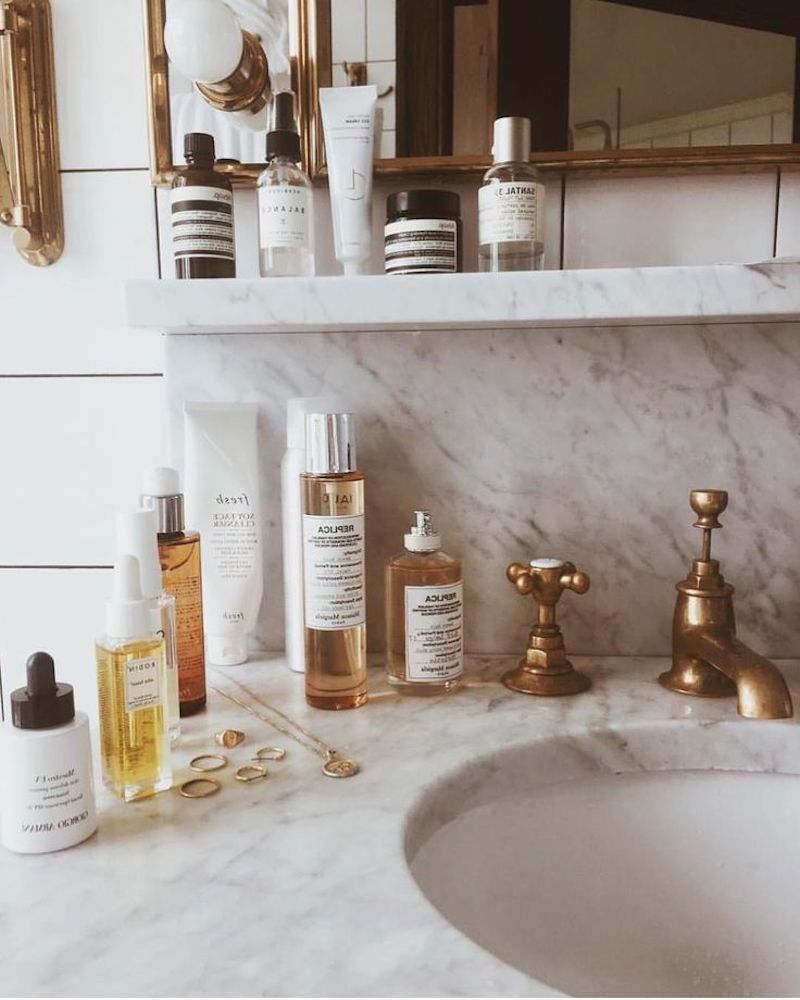 Cleaning
Okay, so we've thrown out all the unnecessary things we found. Now it's time to roll up our sleeves and clean. Take everything out of the cabinets, from the counters, by the shower, all of it. It's important to do a good cleaning of the space before taking on the task of reorganization.
It's time to roll up our sleeves and clean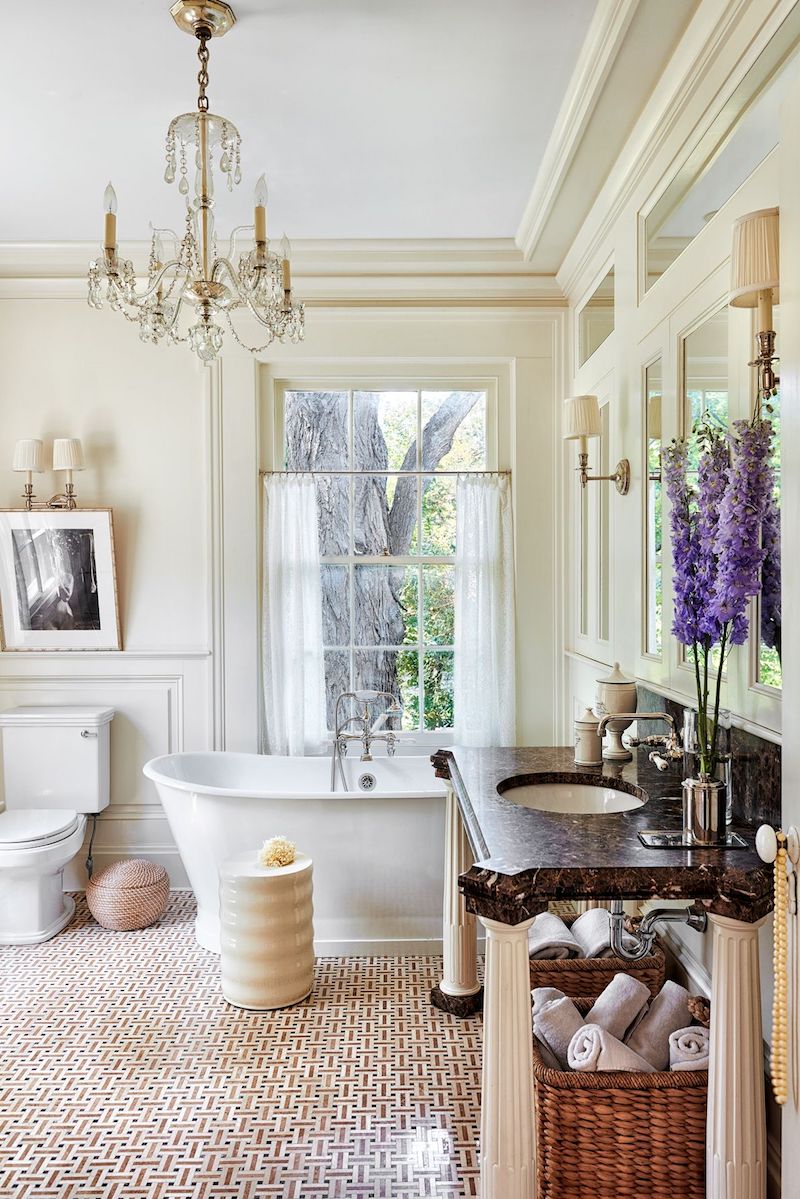 Organizing by Zones
What this essentially means is to put all similar items together and put them closest to the area they will be used most frequently. This is a functional and time effective way to organize things. Think about where you want to store things and how you want them to function. For example, where will the towels be easiest to reach, or where will the medication be out of reach from the kids?
Organizing by zones is functional and time effective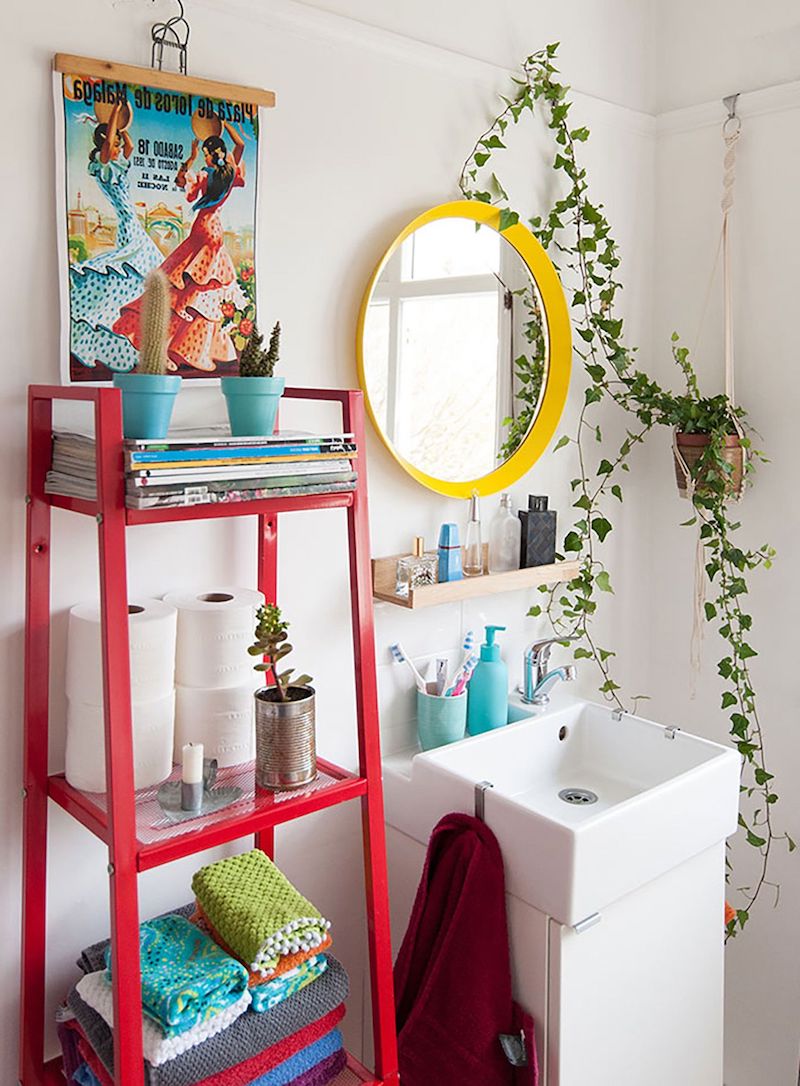 Bathroom Space Savers
So, the decluttering is done, the cleaning as well, now it's time to see where and how will we put all the things that are left. Don't worry, we've got you. All you need are some good small bathroom storage ideas to save space and some space savers. Here are some things you can do for a stylish and tidy.
Adhesive Hooks
A lot of the time, spaces such as sides of the cabinet or the inside of the door go unused. Attach hooks to such places to take advantage of the room they offer. You can attach mesh baskets or tiered organizers to take advantage of the left vertical space.
Attach hooks to take advantage of such spaces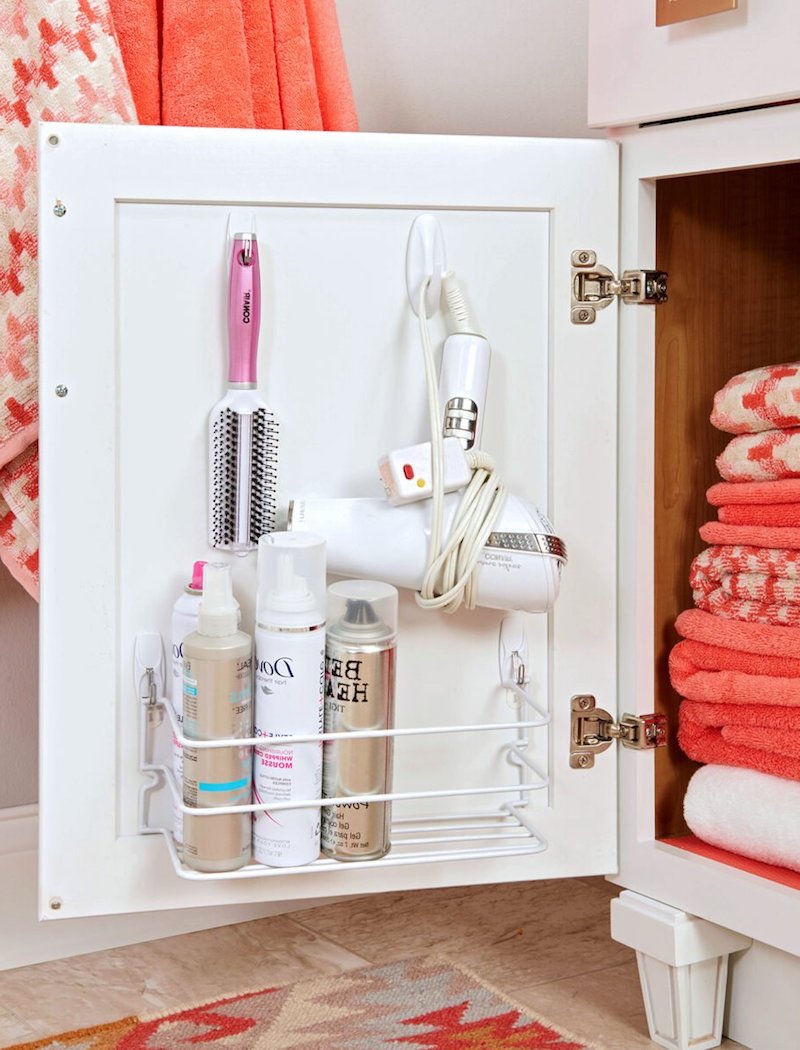 Shelves
Shelves are a small bathroom's best friend and a classic space saver. They can come in any form, big, small, for corners, hanging, shelf ladders, transportable shelves and more. The possibilities are endless, it all depends on the space you have and what you prefer. Use the wall space to elevate storage. Put them above the toilet for example to store toilet paper or some plants to liven up the room.
Shelves are a classic space saver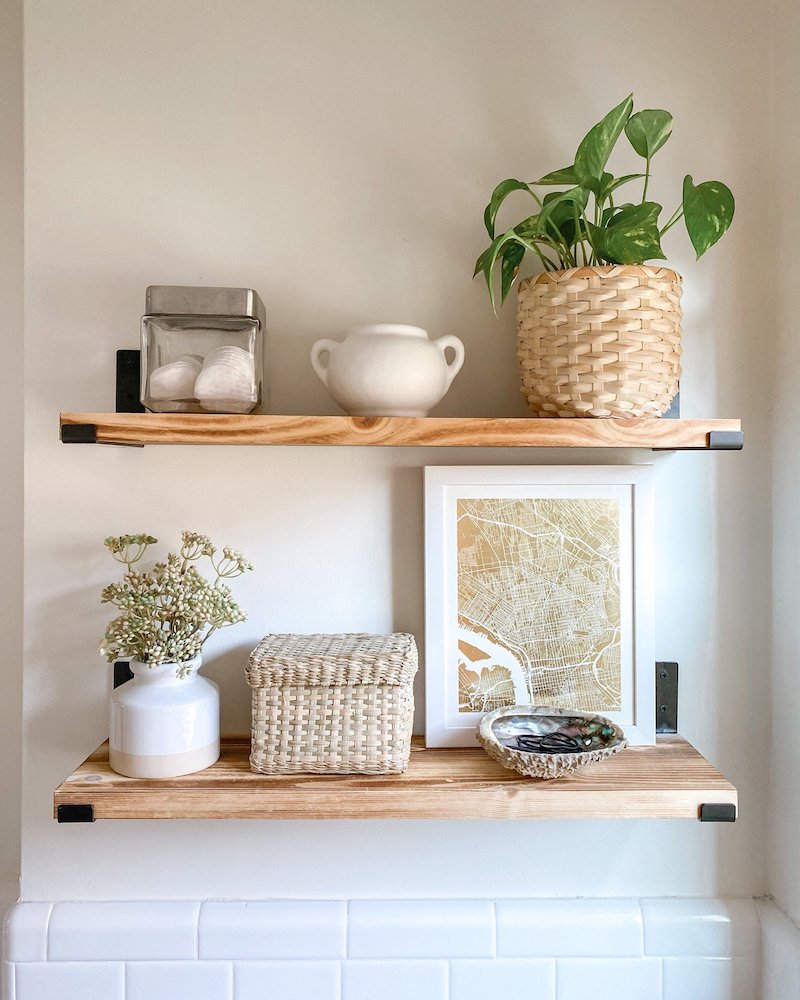 Dividers
If you have any drawers in the bathroom, dividers can be a real lifesaver. We most often see them in kitchen cabinets, however consider them for the bathroom as well. Plan what you want to put in them and buy containers accordingly. This will give a tidier feel to the drawer, nothing rolls around, and you can easily see what's where.
Dividers are great both for the kitchen and bathroom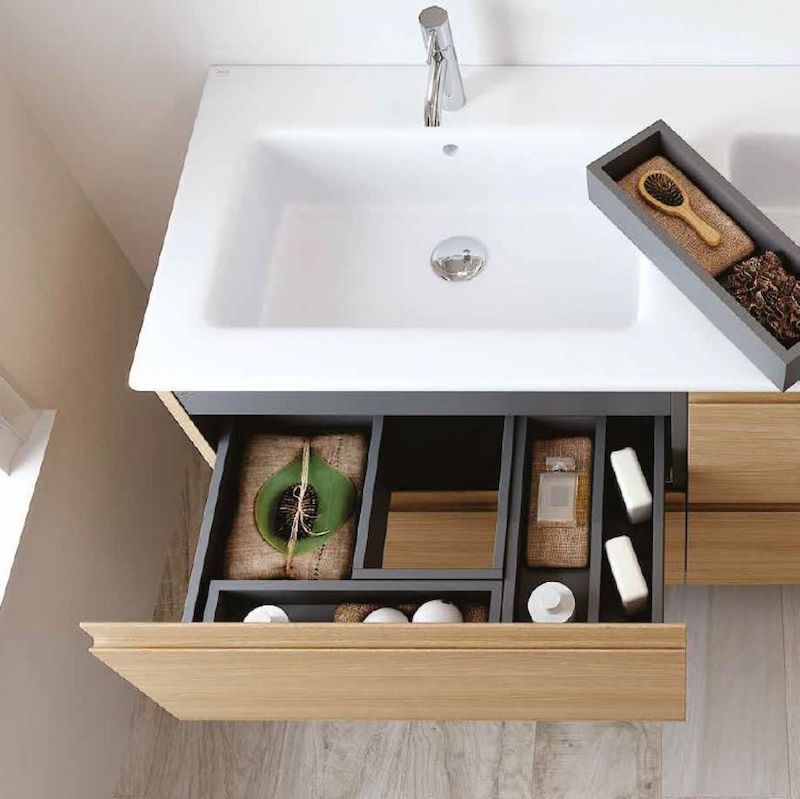 Bathroom Countertop Storage
A clean countertop gives off the vibes of a clean bathroom. It's important to keep this space as tidy as possible, as clutter quickly build up here.
Trays
Trays and baskets are a great way to achieve a tidy look for the countertop. They also add style. Find trays that fit your bathroom aesthetic, whether that be modern farmhouse or futuristic and simple. You can put anything you like in them. Depending on the size, they may be able to fit shampoo bottles, decorations, makeup and more. The best part about them is that even if you keep messy things inside, the mess will stay in the tray and not on the counter.
Trays add style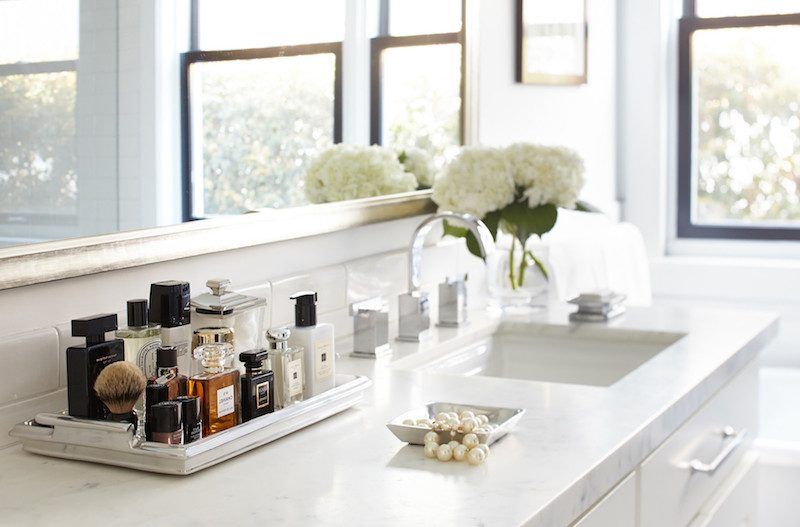 Glass Jars
Make everyday items such as Q-tips and cotton pads a part of the decor by putting them in beautiful glass jars. This way, it's also easy to see how much you have left. Jars give an organized feel to the counter and nothing can be knocked over so easily and make a mess. There are a lot of different jars on the market to find for your liking.
Make Q-tips and cotton pads a part of the decor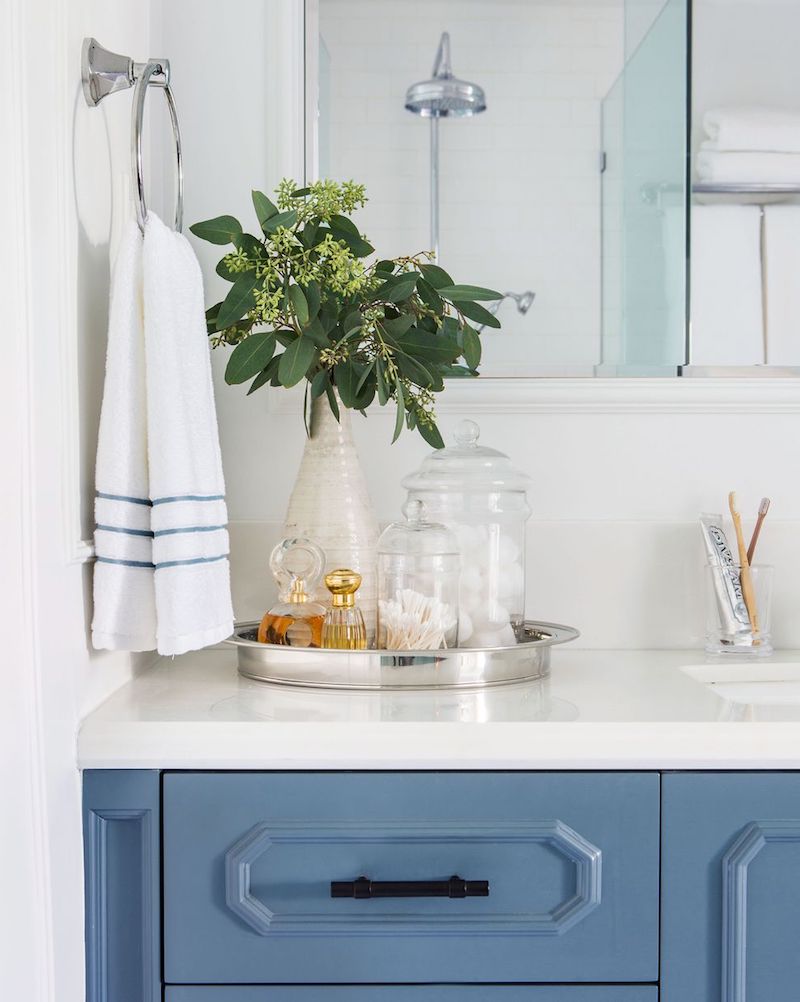 Bar Cart
If you prefer to have most of the clutter out of your counter, why not try a bar cart. It can hold all your needed essentials right next to the counter. A tiered one will give you even more space to put things. You can also easily roll it out if it's in the way.
Bar carts are original and effective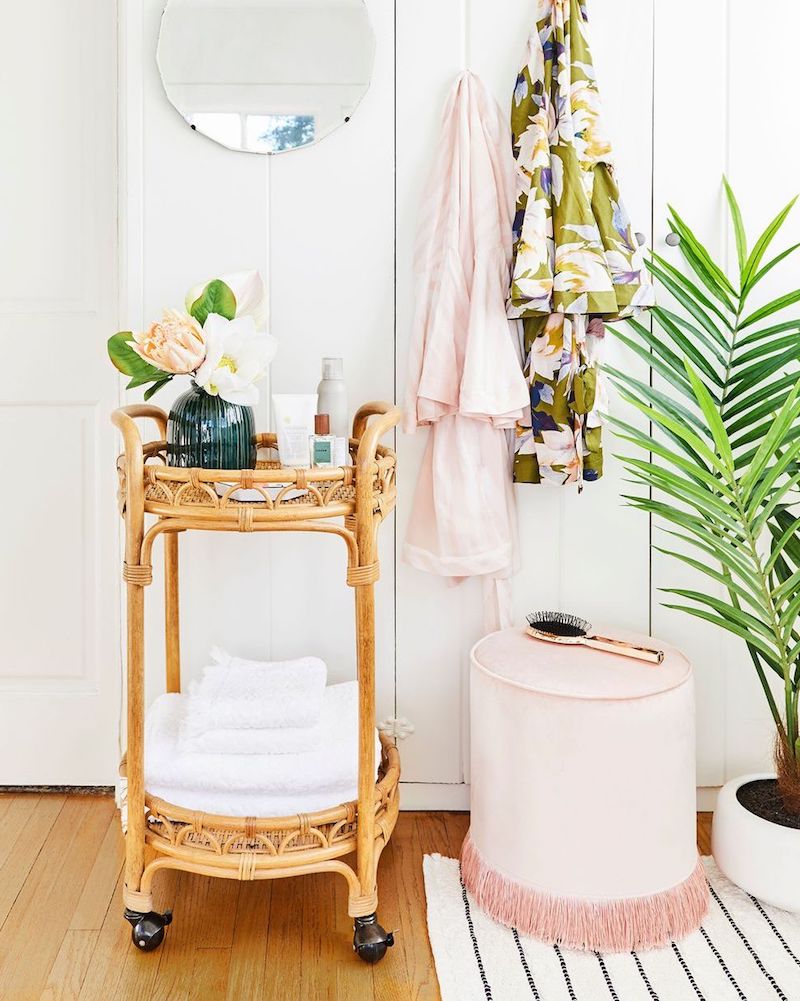 Creative Bathroom Storage Ideas
Are you looking for interesting ways to spice up your bathroom? These creative small bathroom storage ideas are the way to go. Innovative and fun, the perfect way to bring organization into the bathroom.
Magnetic Board
Who said this cabinet is only for medicine? Boost its capacity with this behind the door hack. Attach a magnetic memo board on the inside of the cabinet door. This allows you to turn the surface into a hidden storage hub for things like beauty products, grooming tools, and more. Use magnetic containers and hooks to hold the items, or attach magnets to the items. Stick them to the memo board, and you're good to go.
Stick a magnetic board onto the inside of the cabinet door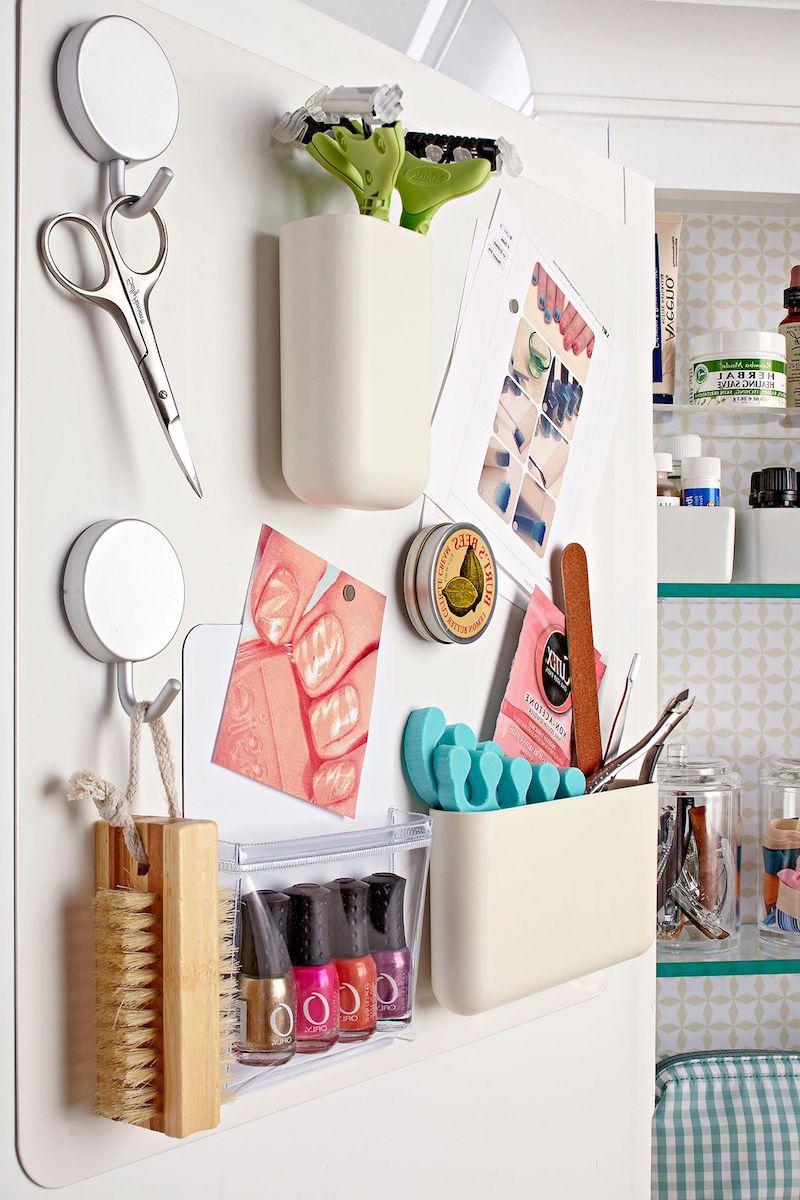 Baskets
If you have a lot of open storage and the clutter can be seen from afar, a good way to give your bathroom a tidier, more stylish feel is through baskets. Put everything in them. You can easily what should go where, and you will still be able to see everything but in a more organized, prettier manner.
Baskets are very chic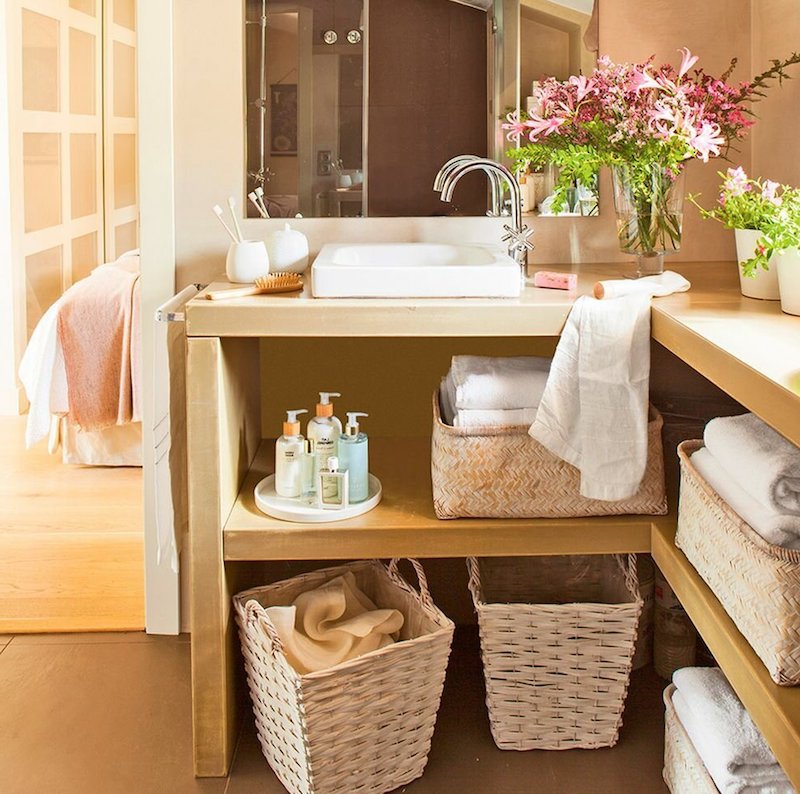 Ladders
Use ladders in your bathroom space. They don't take up much space depending on how you put them, and you can use them as a towel rack. You can also get containers with hooks. Hang them from the ladder, and you've just created a lot of free space to hold things in.
You can use ladders as a towel rack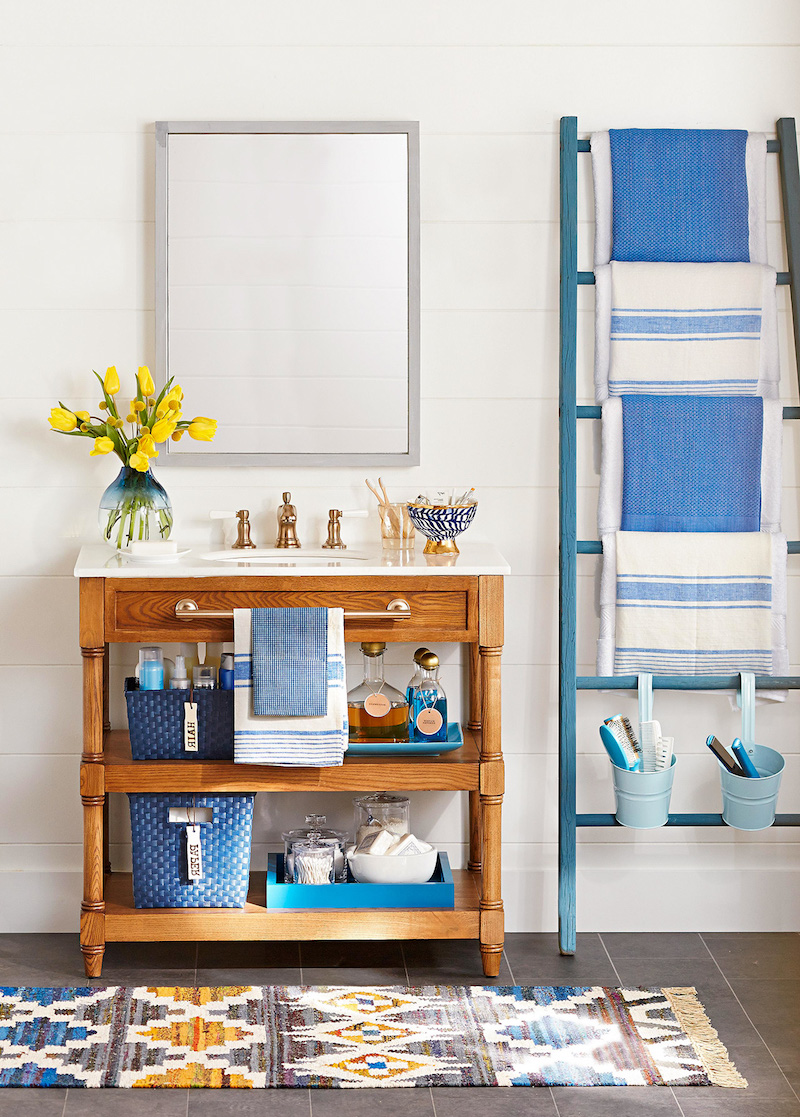 Shower Organizer Ideas
The shower tends to get cluttered with half-empty shampoo bottles and conditioners. So, what can we do to keep everything clean and in one place?
Wall Caddy
A simple hanging shower caddy does its job well. You can find them in all types of sizes, aesthetics, and tiers. Depending on how many essentials you want to hold in them, you may need a bigger or smaller one. This is an old trick in the book, but it's a storage must have.
A wall caddy is a storage must have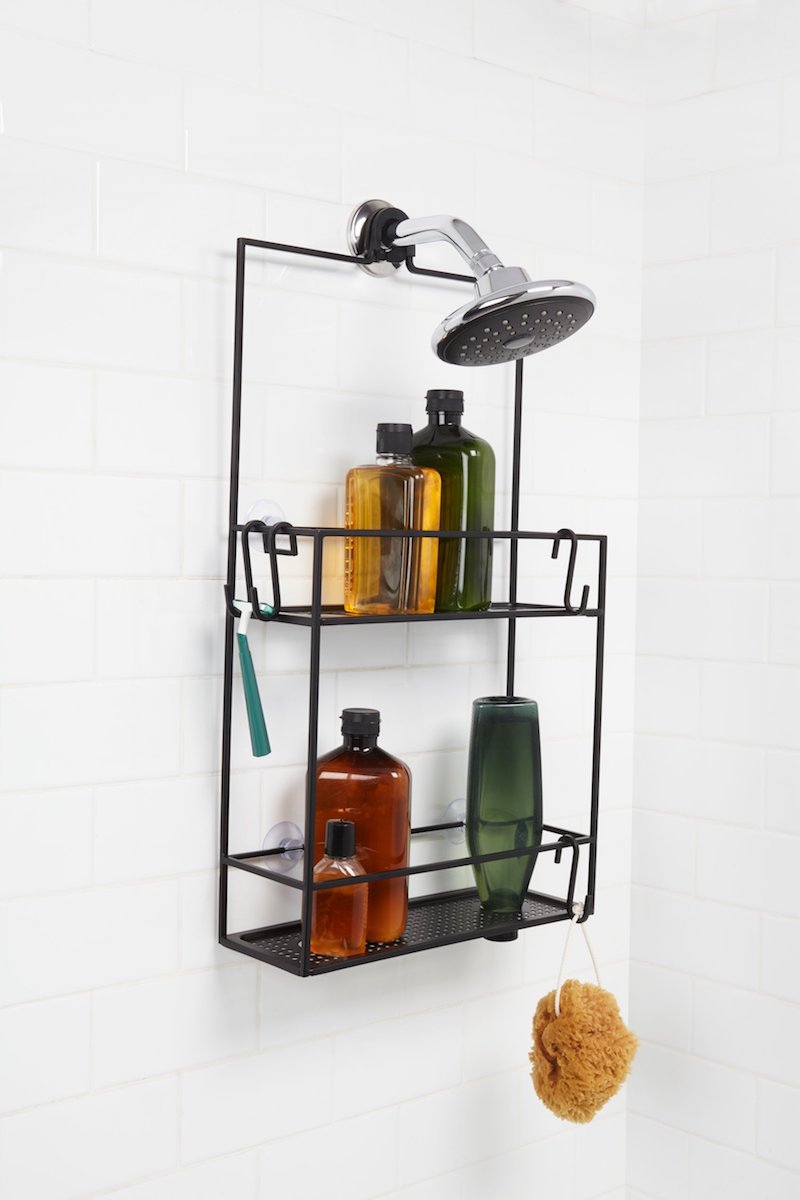 Corner Shelves
If you have a corner space in your shower that you can utilize, you should. The great thing about them is you can put quite a lot, and they won't take up that much space. There also won't be things rolling around on the floor.
Utilize the corner space in the shower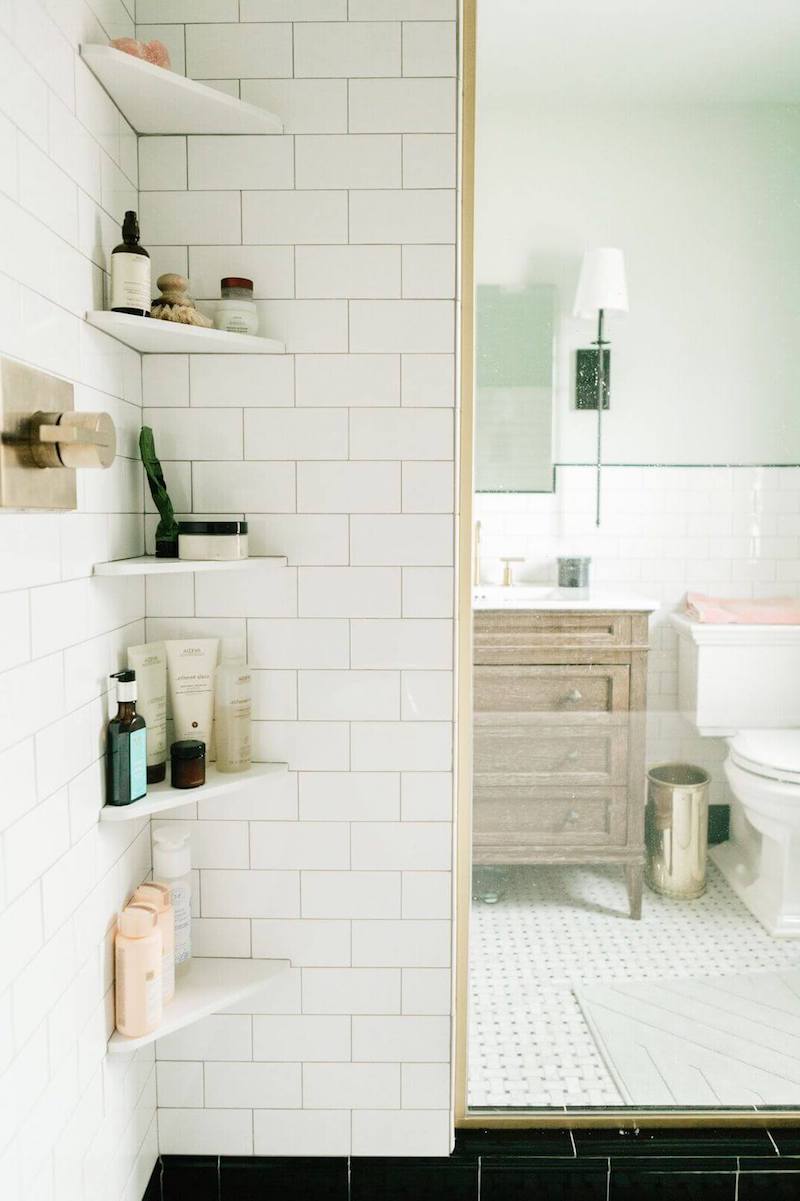 If you are not planning on buying a new house or remodeling your bathroom any time soon, these small bathroom storage ideas and hacks will definitely come in handy when it comes to functionality and space-saving. These ideas will maximize your organization and make your small space feel much larger. We hope you found them as useful as we did!
Make your small space feel larger