60+ beautiful and modern bathroom designs for small spaces
The bathroom is usually a very underestimated place in one's home. People usually want to show off their beautiful living rooms and kitchens. The bathroom, however, is just as important. It is important for you, mostly. Especially, since you will be the one who is going to be enjoying it the most. Now, picture this, long day at work, getting home, preparing dinner, getting the kids ready for bed. Consequently, after doing all of this, imagine going into the bathroom and taking a long relaxing shower. A few minutes just for yourself under the hot water. Trust me, it doesn't get any better than that. That is why, you should feel very comfortable and relaxed in your bathroom. Furthermore, if you don't have a lot of space, we have the most beautiful bathroom designs for small spaces.
First of all, just because you don't have a lot of space, that doesn't mean that you should compromise with the design. We will help you figure out the best small bathroom layout options and share a few tips to optimise your space. Believe it or not, you can still have everything you need even in a small bathroom. So, here are a few things to consider:
Floating vanities and wall-mounted toilets.
If you have a small bathroom, this is a great way to create the optical illusion of more space. Not only that, you can use the space under the vanity for a laundry bin, for example. The smaller the furniture, the more space you free up.
Stylish bathroom designs for small spaces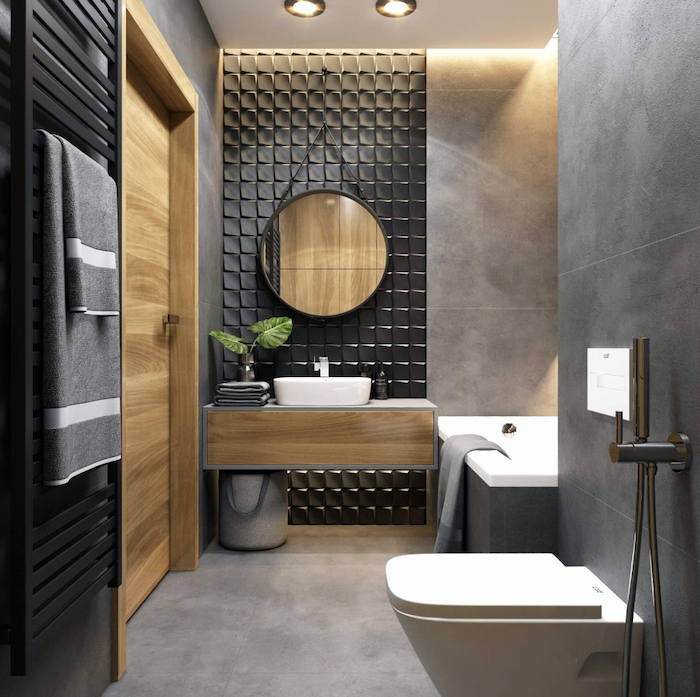 2. With or without a bathtub?
If you are not really a fan of soaking in a bathtub, then just go right ahead and lose it. Nowadays, more and more people use the raining shower heads, instead. The "rain" falling on you is an amazing feeling. Plus side is also the fact that the water goes straight down, so the shower head won't splash water all over your toilet seat. By removing the tub and the glass doors you get all of the space in your bathroom.
Beautiful rain shower head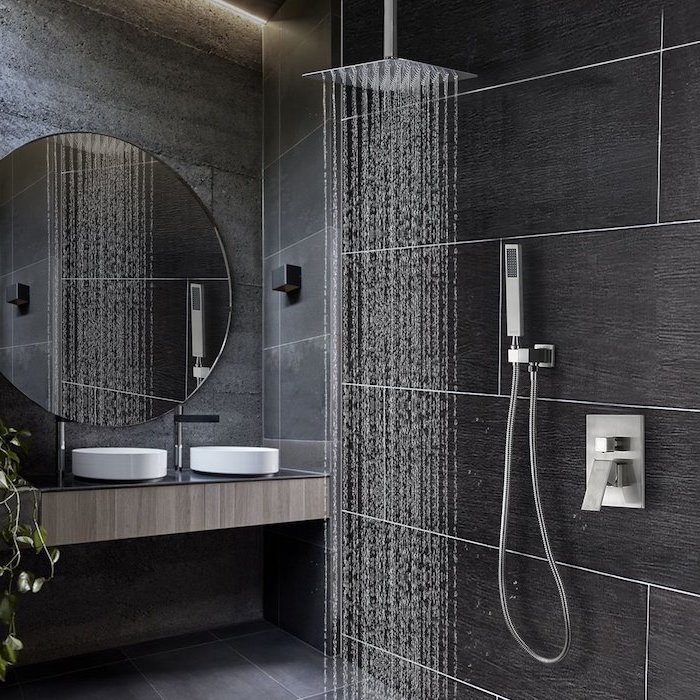 You can still separate your shower in a small square with glass doors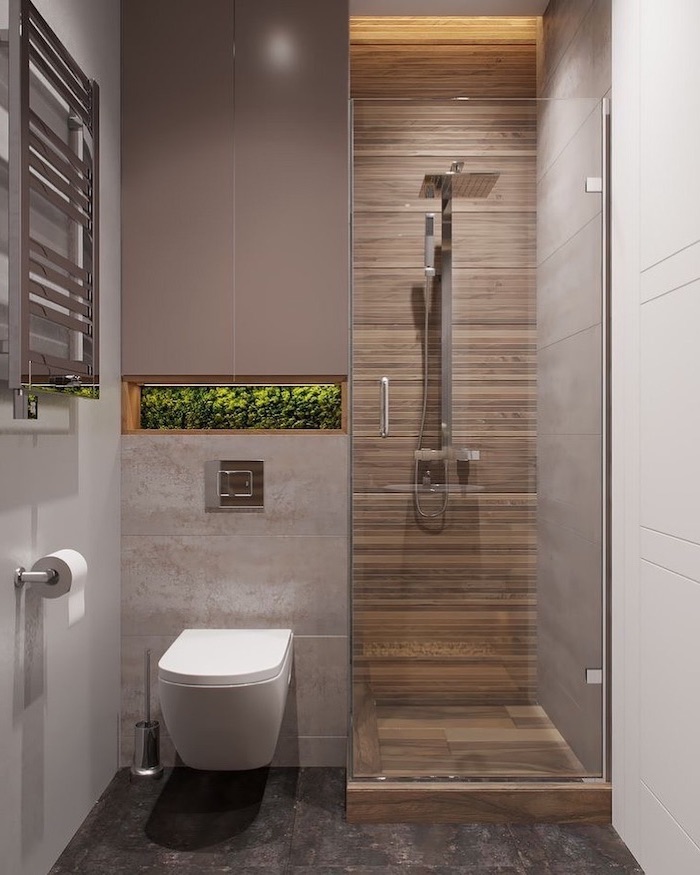 3. Sunken bathtubs.
Sunken bathtubs are a preferred method for anyone with a lower ceiling. That way, you have a bathtub and, what's more, you don't lose the space it would normally take up.
Stylish example of a sunken bathtub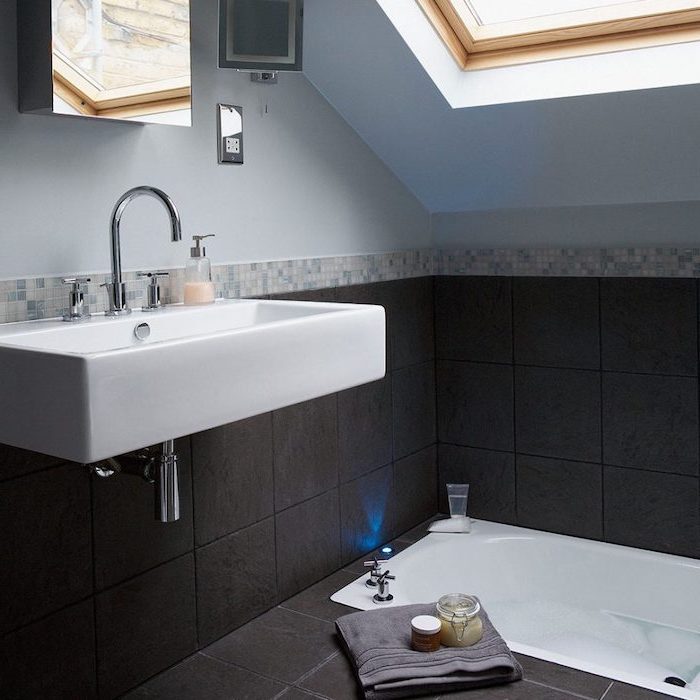 4. Continual flooring.
You can always use this optical illusion. Let the flooring go all the way into the shower panel and you crate the illusion of a larger space.
Beautiful marble continual flooring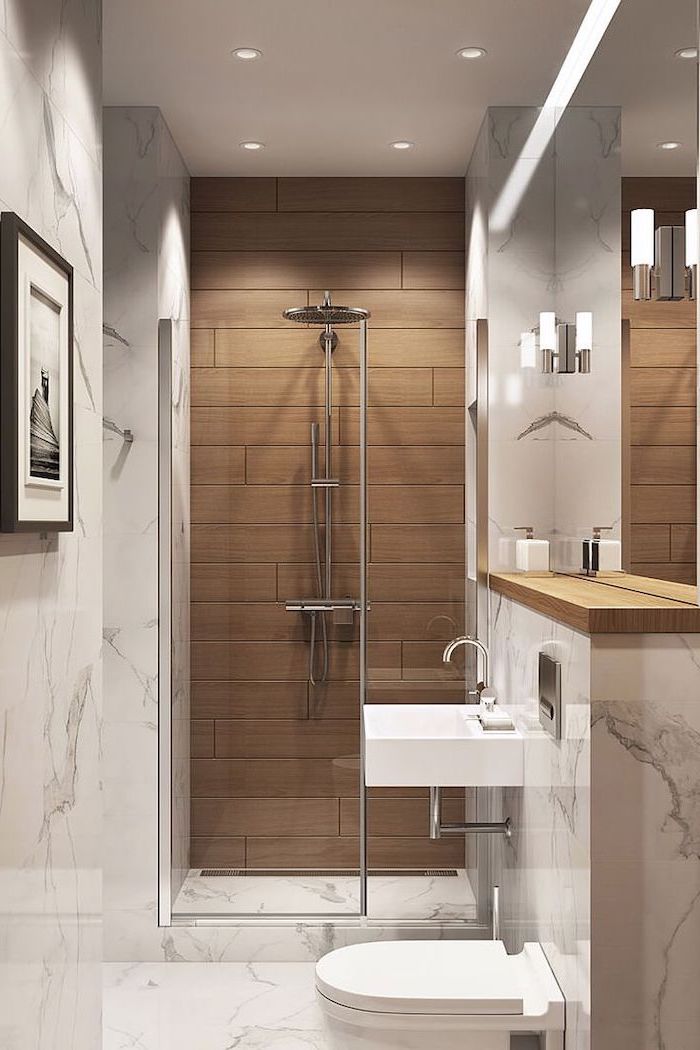 5. Large mirrors.
Mirrors make any room appear bigger. It is the oldest illusion in the book. It is also a rule that many interior designers use. For any small room, use a large mirror. It will immediately make the space feel roomier and bigger.
Mirrors create the illusion of more space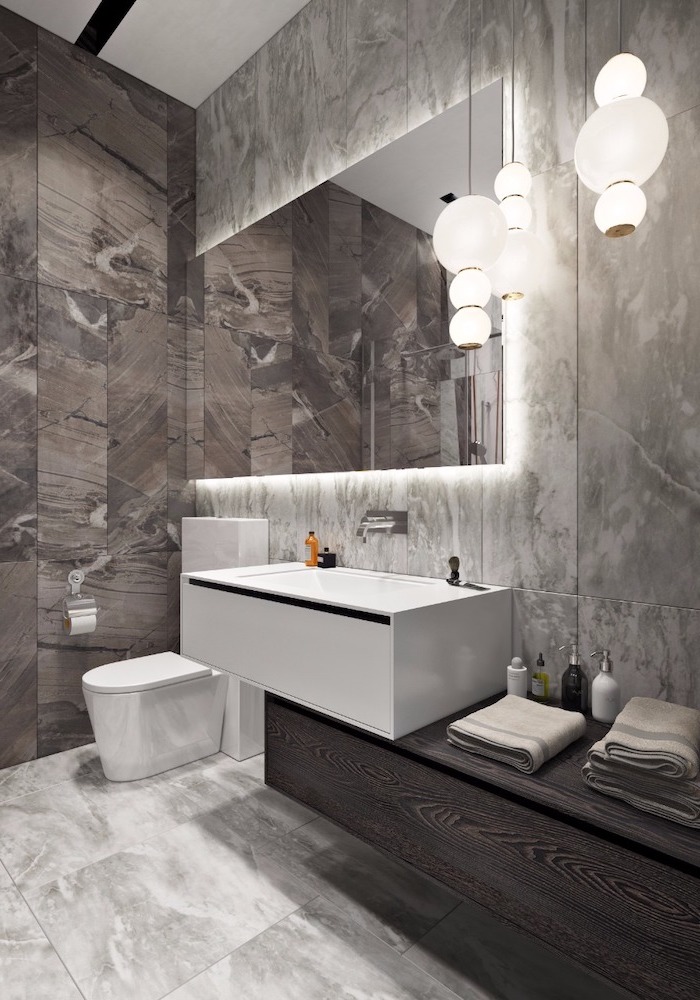 6. Round furniture.
In any smaller spaces rough edges always give out the opportunity for bruises on your legs. So, round furniture can help you with that. Especially your vanity and sink.
Minimalistic bathroom designs for small spaces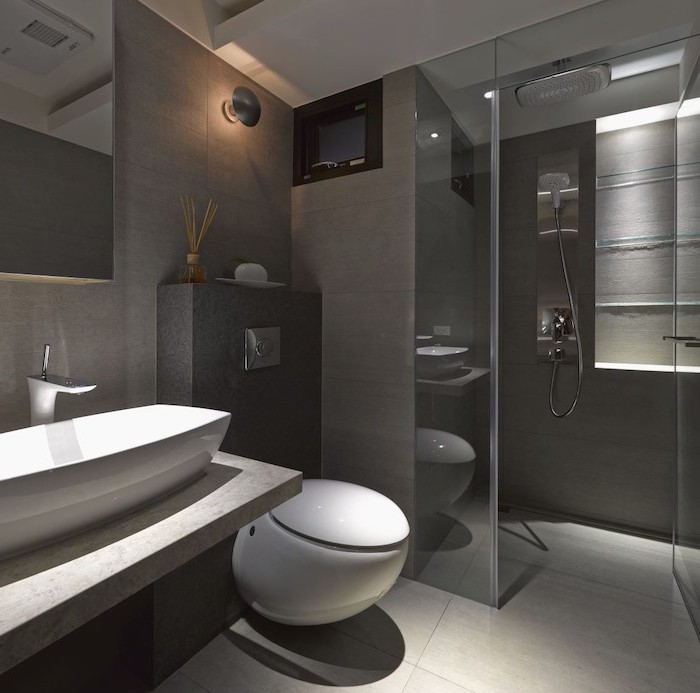 7. Built-in shelving
Another option for more space are the built-in shelves. Instead of getting cabinets, which take up space, have ones built-in. The truth is, you don't need that much storage space in your bathroom, so a few shelves are more than enough for your toiletries.
Bathroom design with wood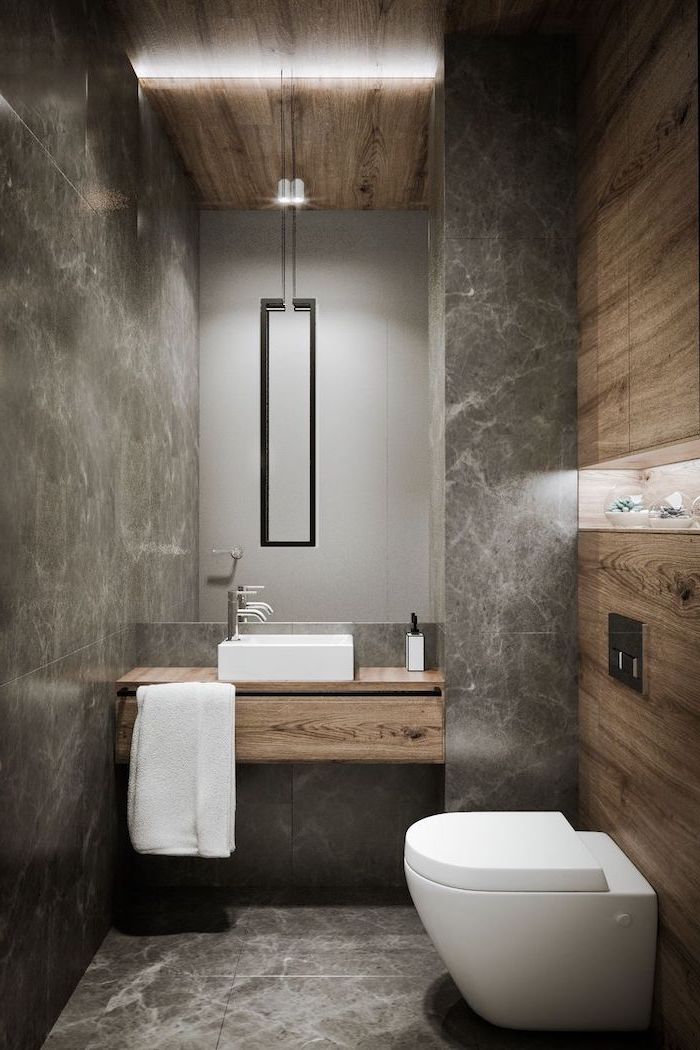 8. LED lights.
LED lights are another trick up the interior designers' sleeves. Same as mirrors, they create the optical illusion of more space. The good news is that, nowadays, builders can put in lights pretty much everywhere in the room. You can have LED lights on the ceiling, on the floor, under the floating sink, or even along the shower panel. It is up to you. Wherever you put them, though, they will create the illusion of a roomier bathroom.
Great example of strategically placed LED lights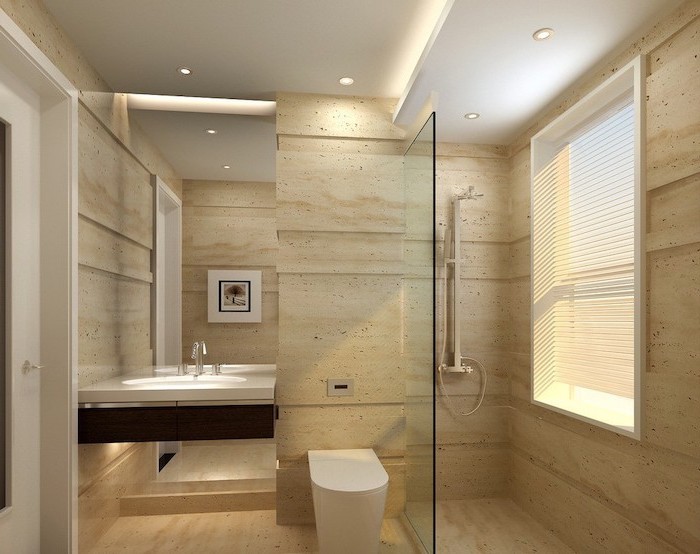 9. Create an accent wall
We all know that painting your walls in a lighter colour creates the illusion of a larger room. That, however, doesn't mean that you can't have a beautiful accent wall serve as a focal point of your beautiful bathroom.
Minimalistic bathroom wall ideas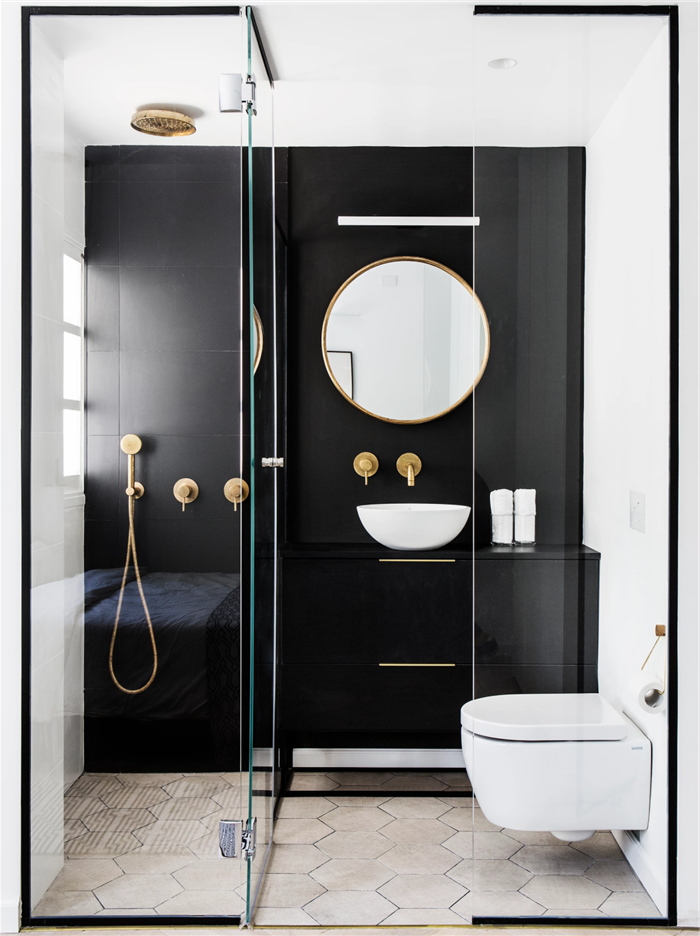 Beautiful accent wall for an everyday spa feeling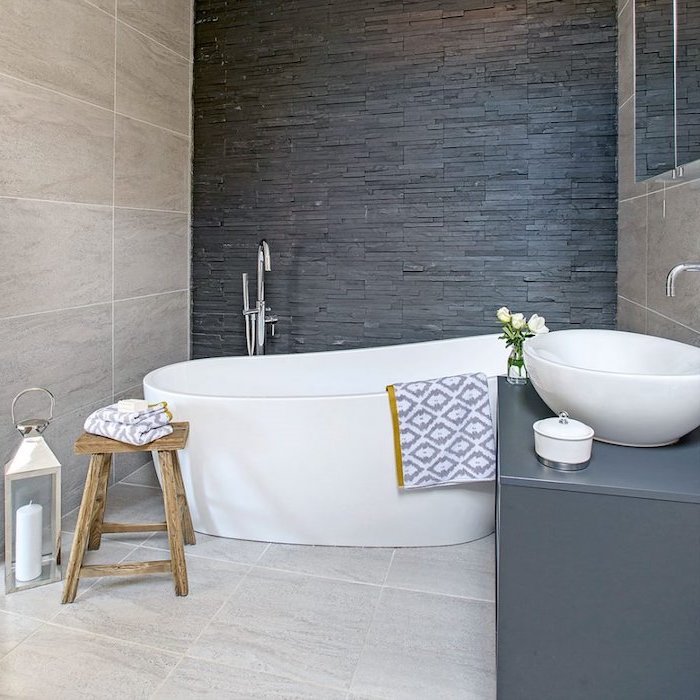 Moody hues create stylish bathroom designs for small spaces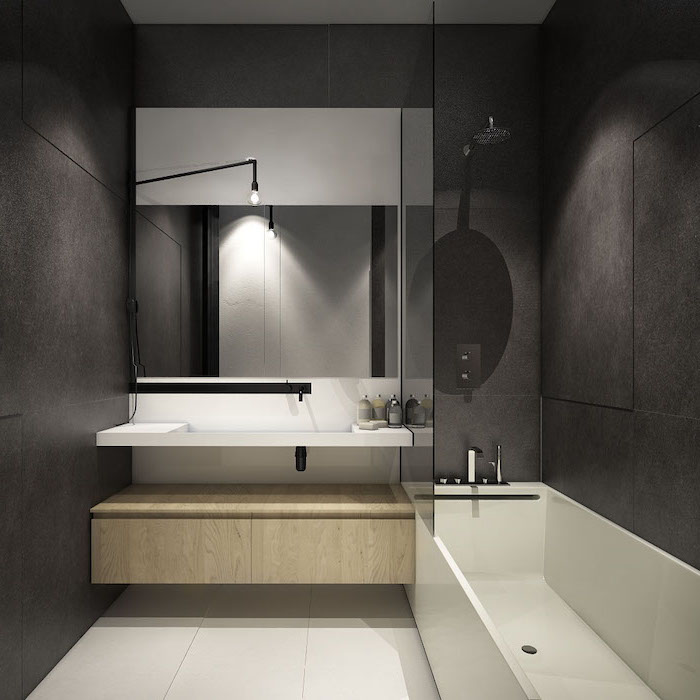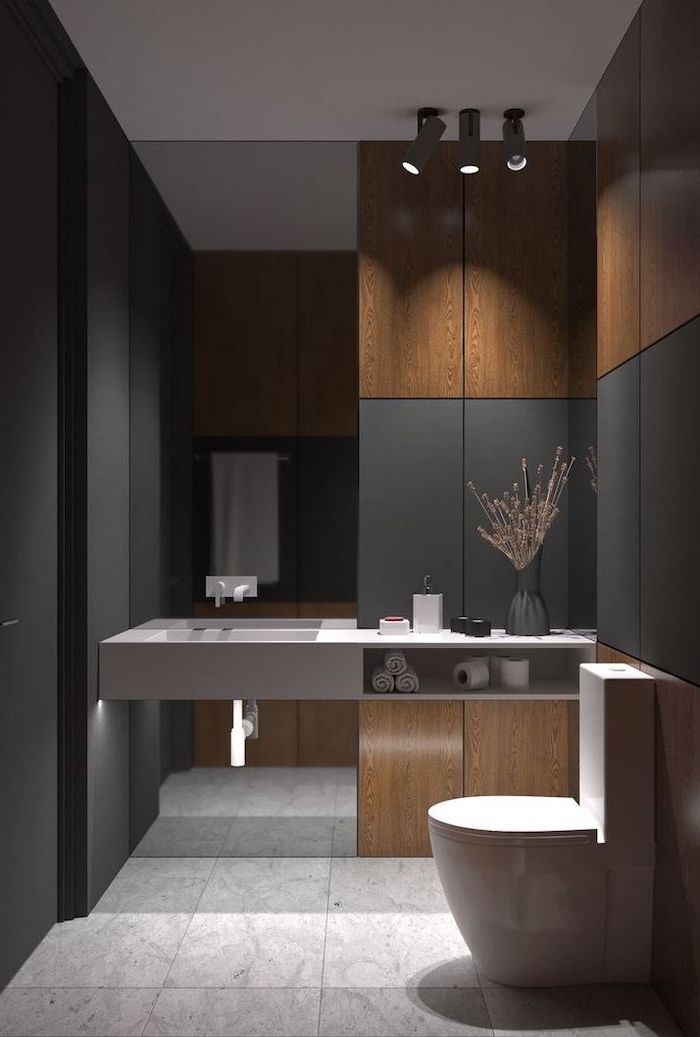 Lighter coloured walls make your bathroom look roomier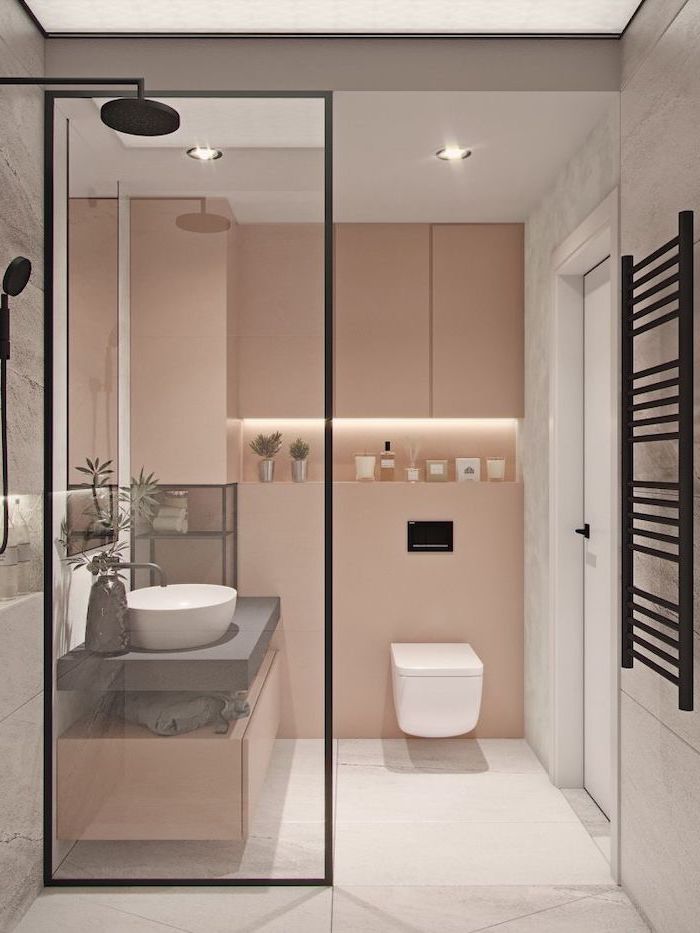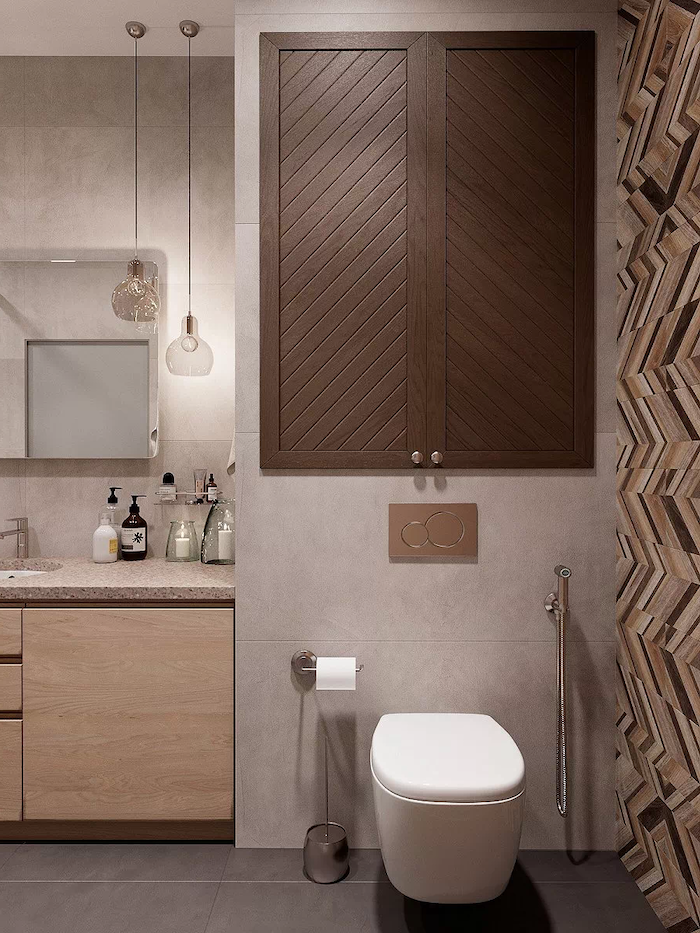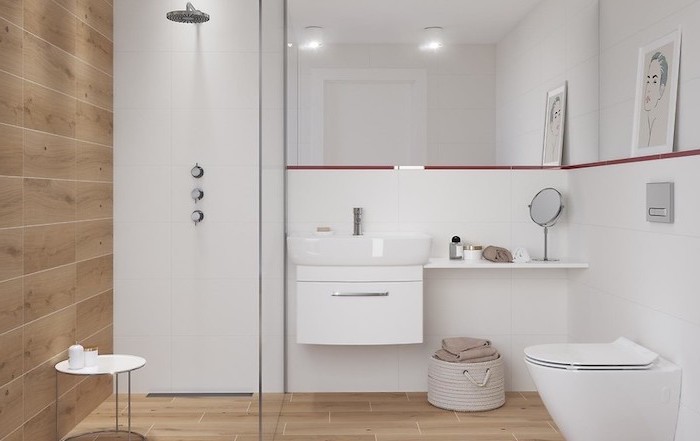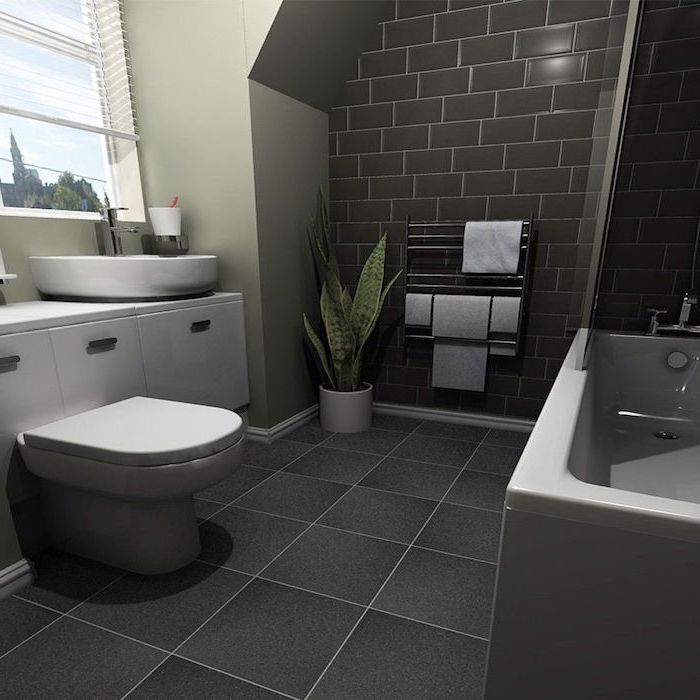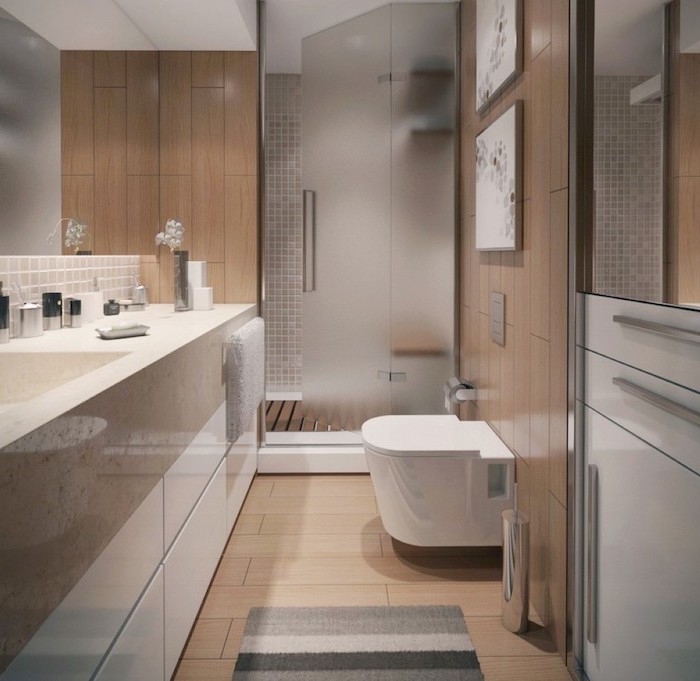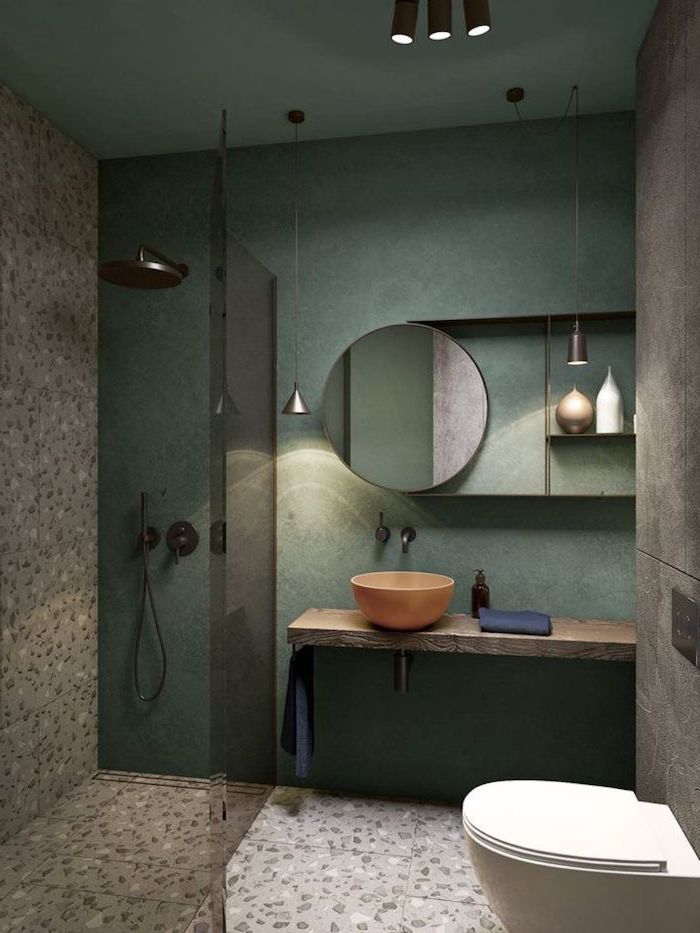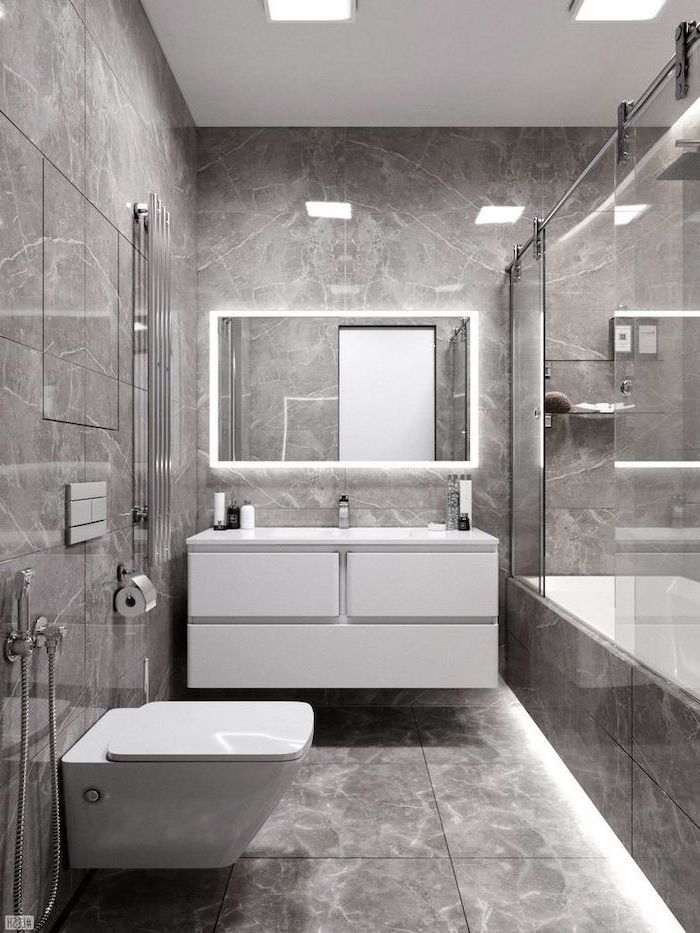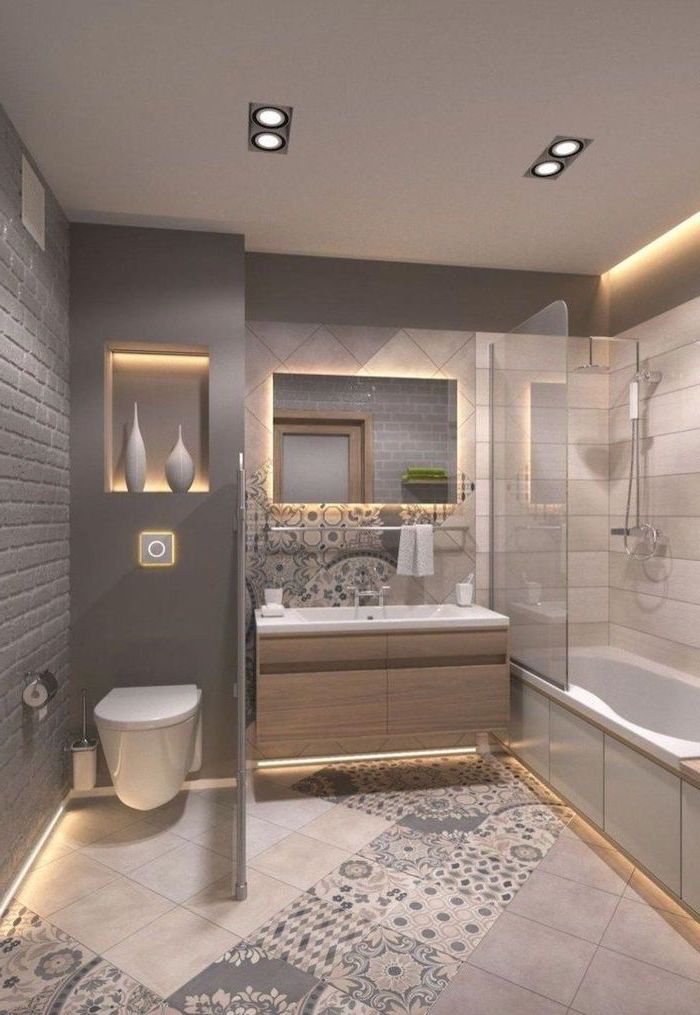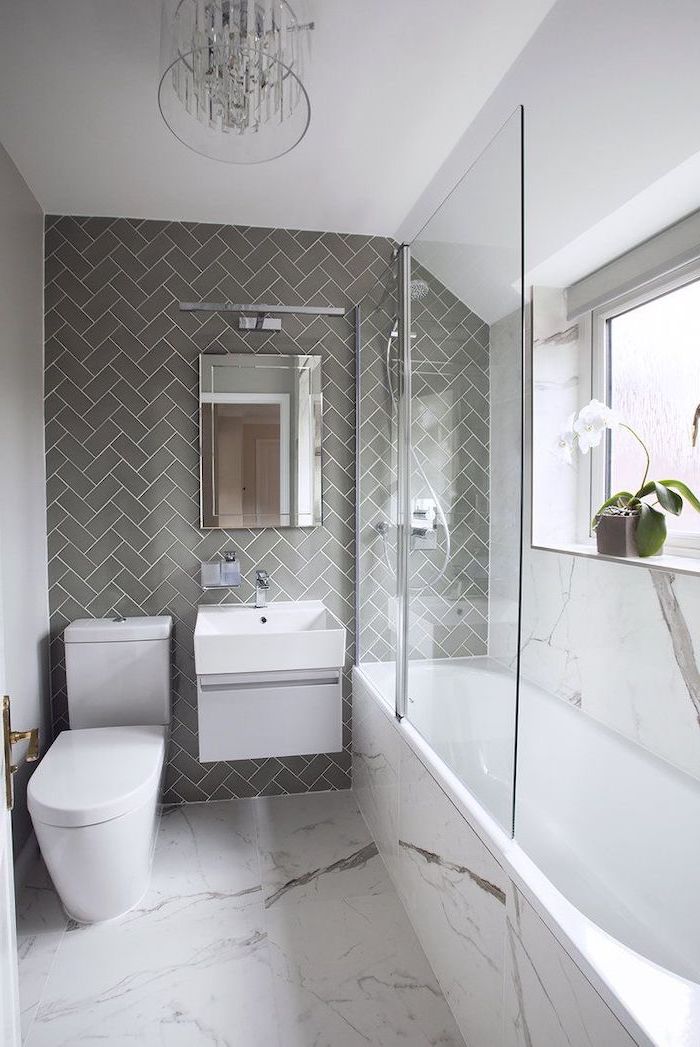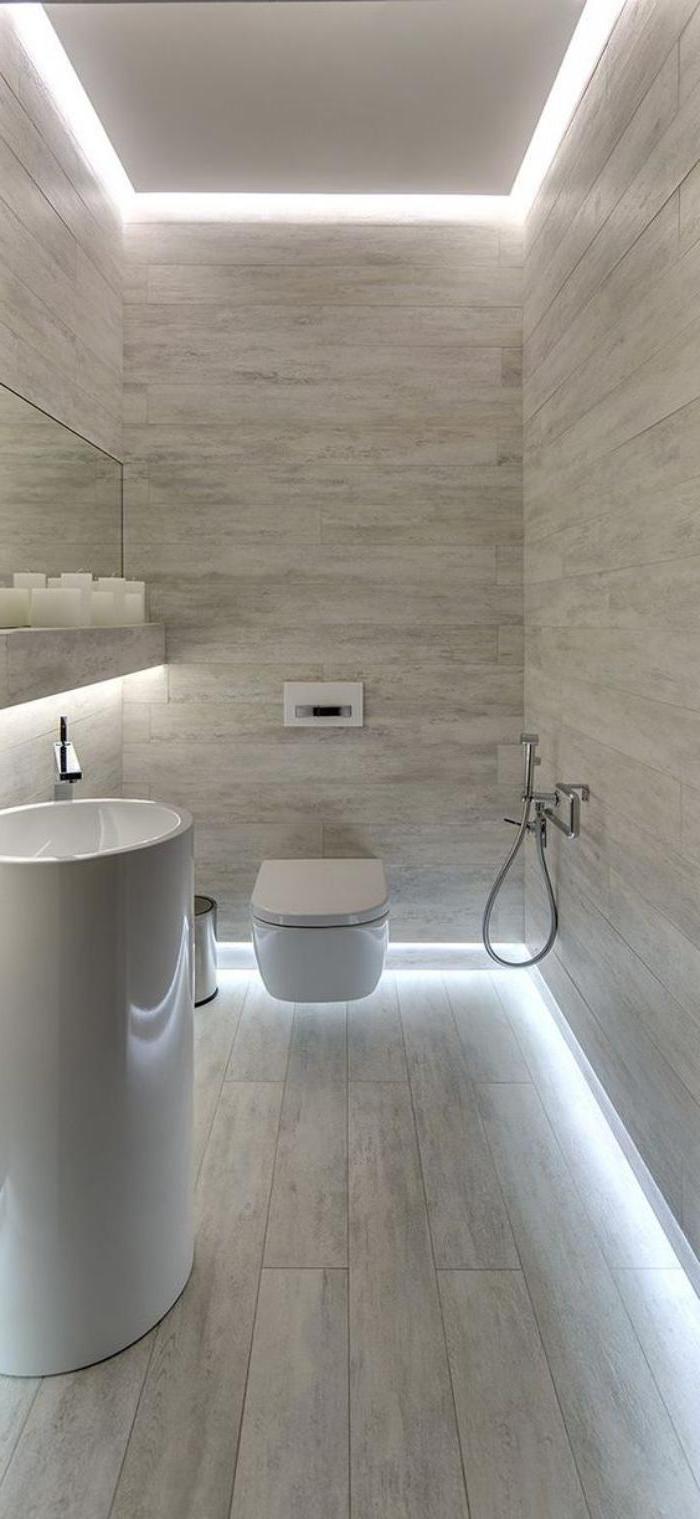 Beautiful and stylish LED panel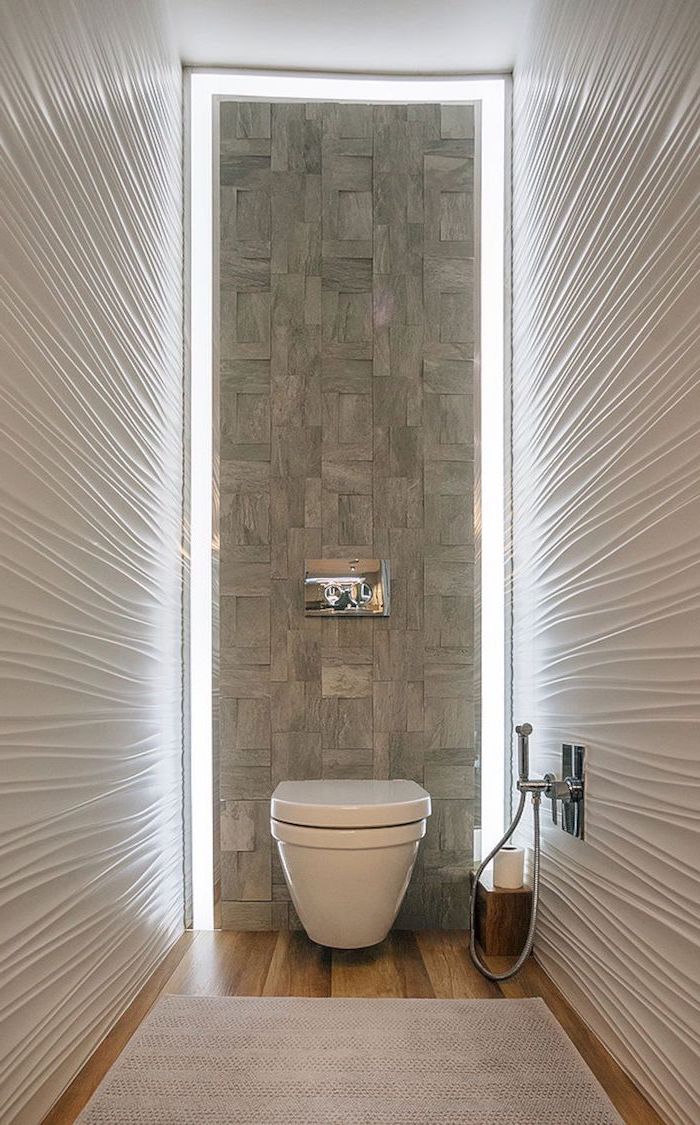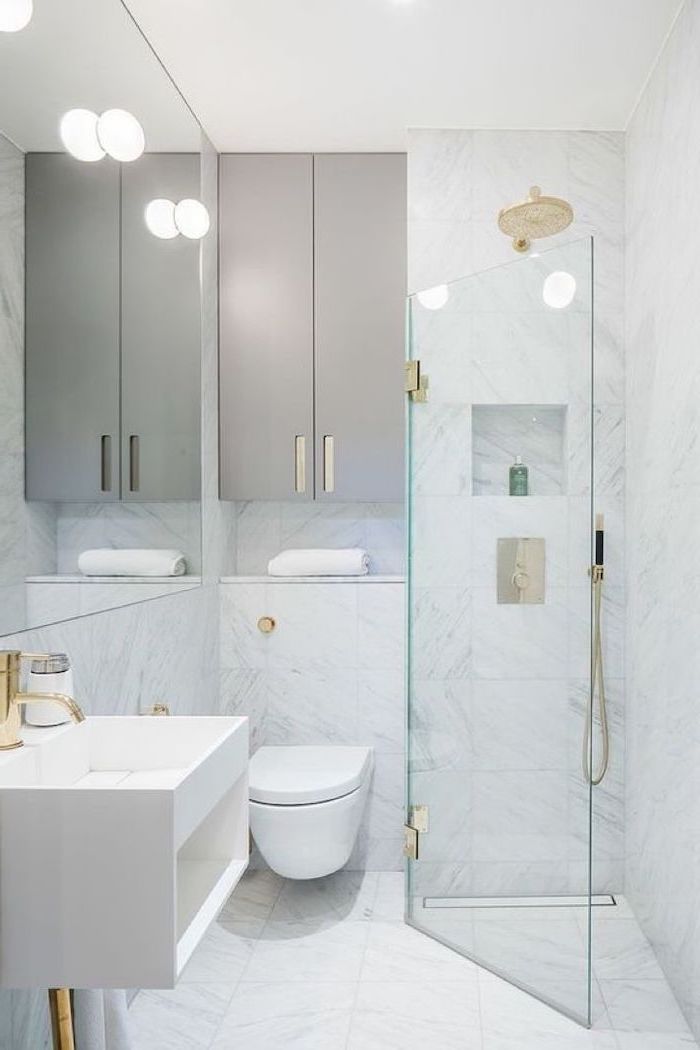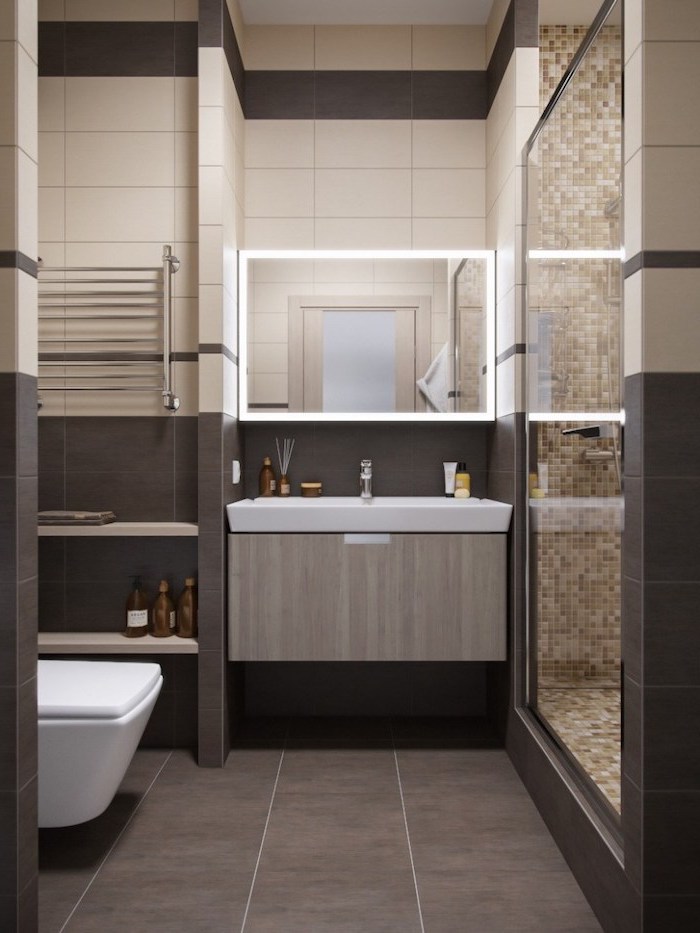 An all-white minimalistic bathroom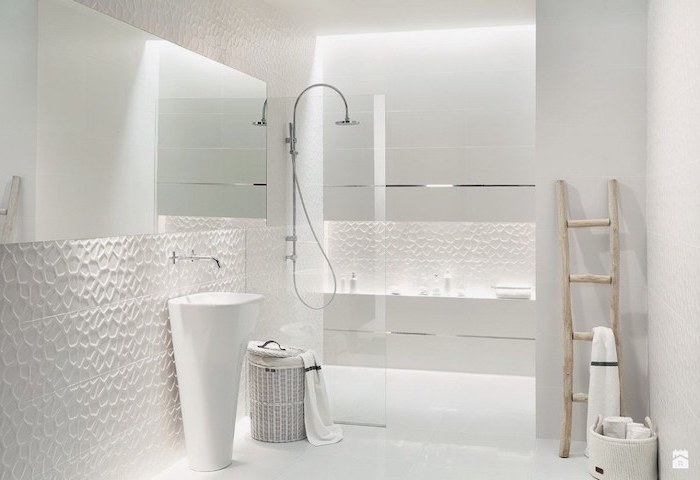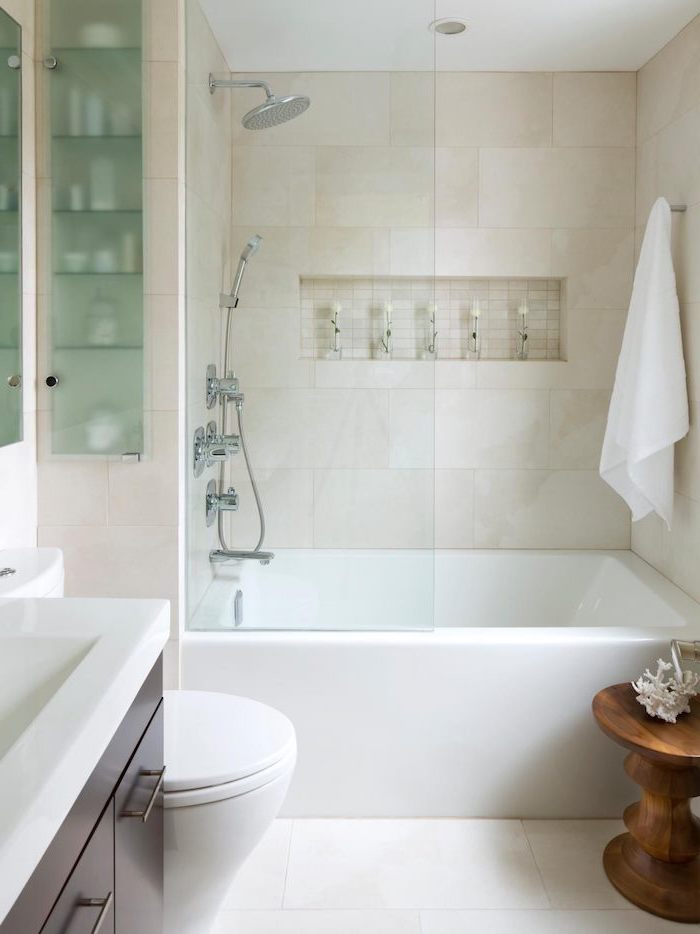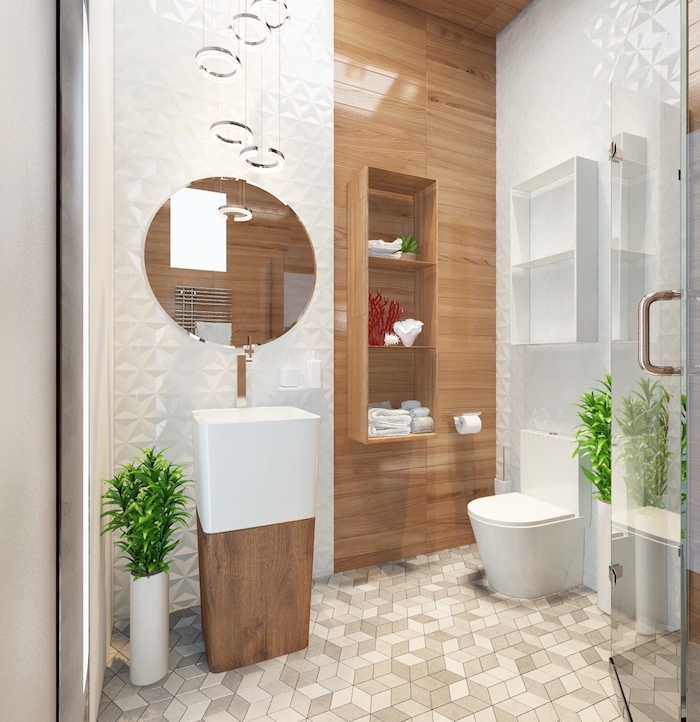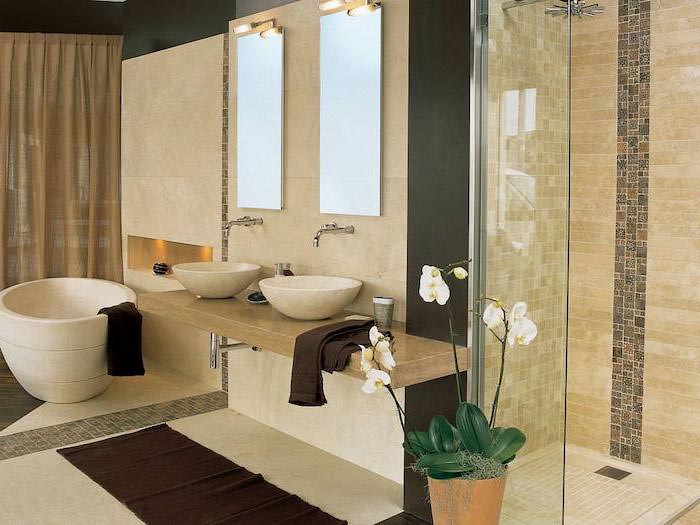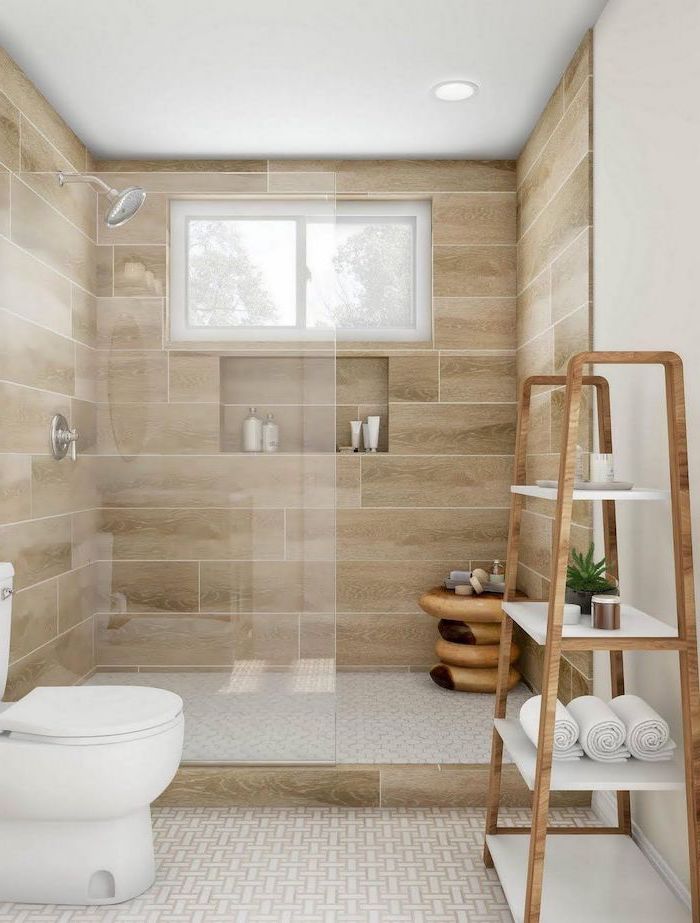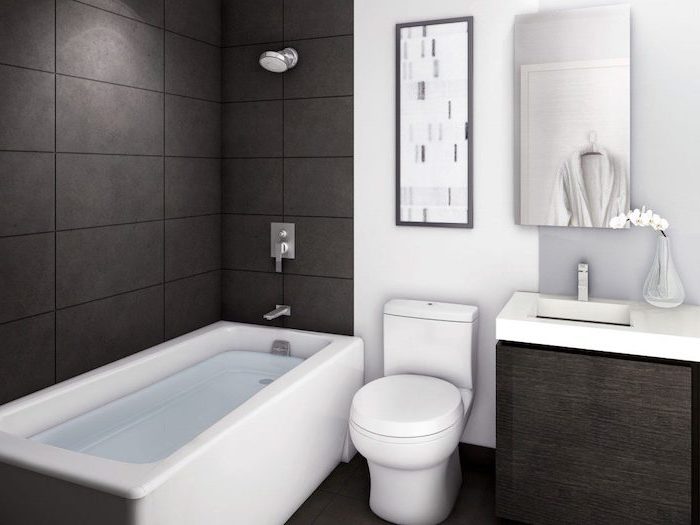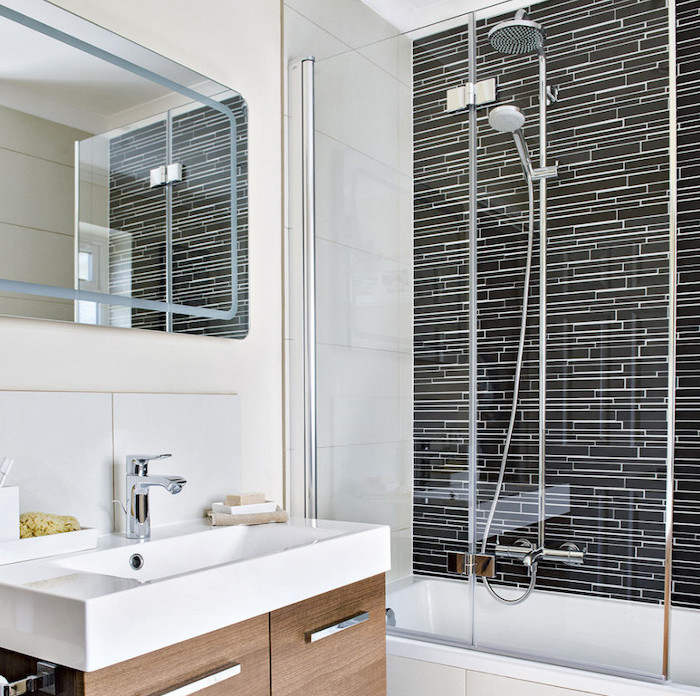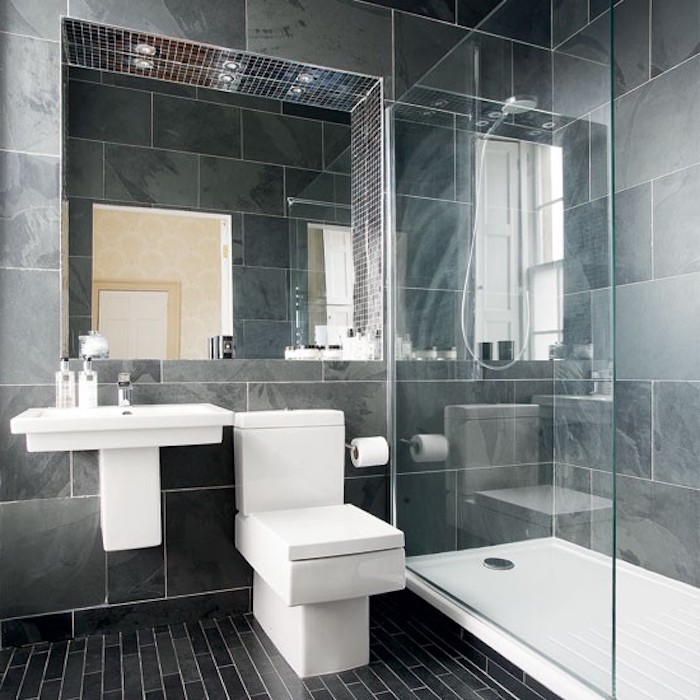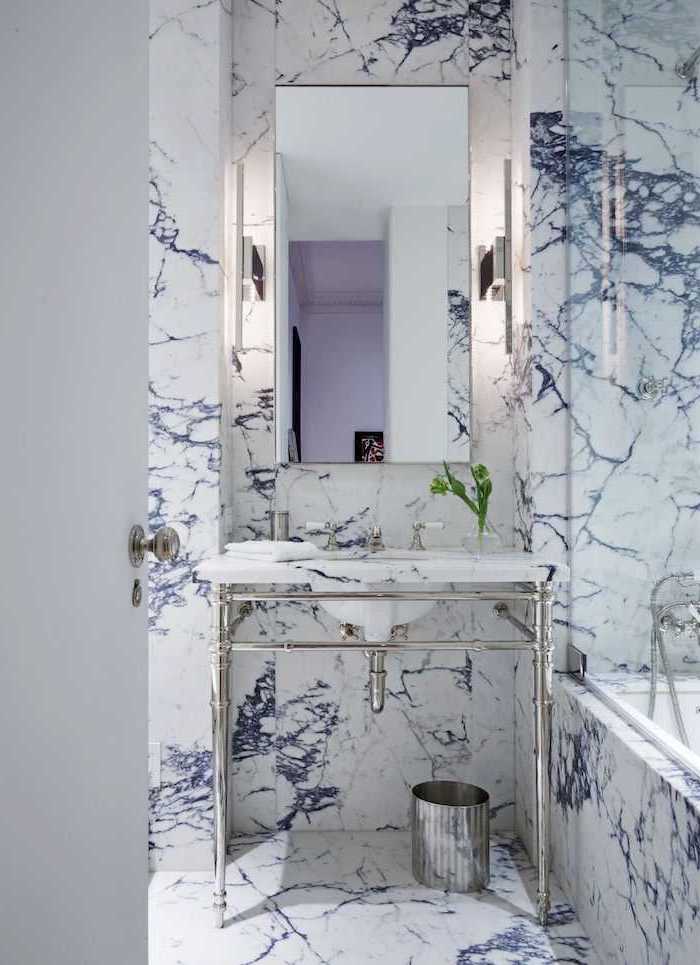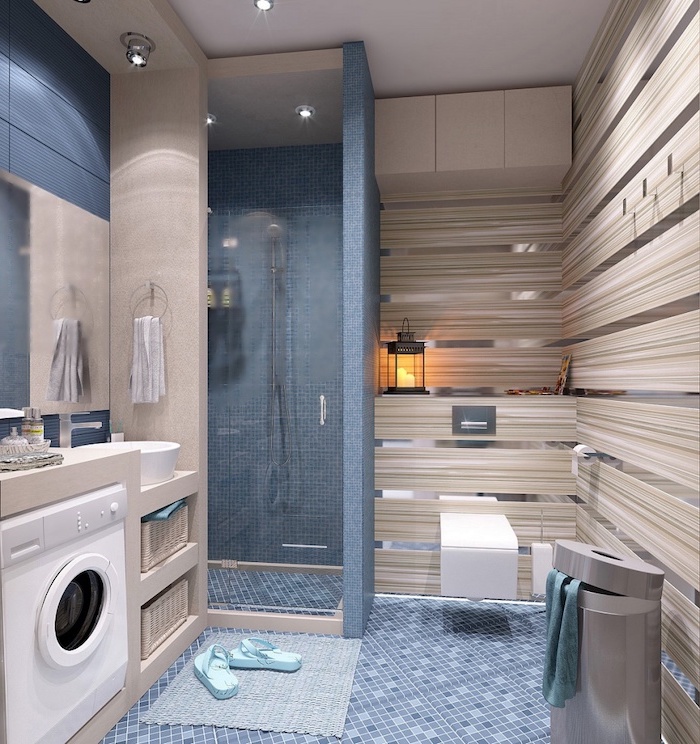 Incorporate wood in your modern bathroom design to make it cosier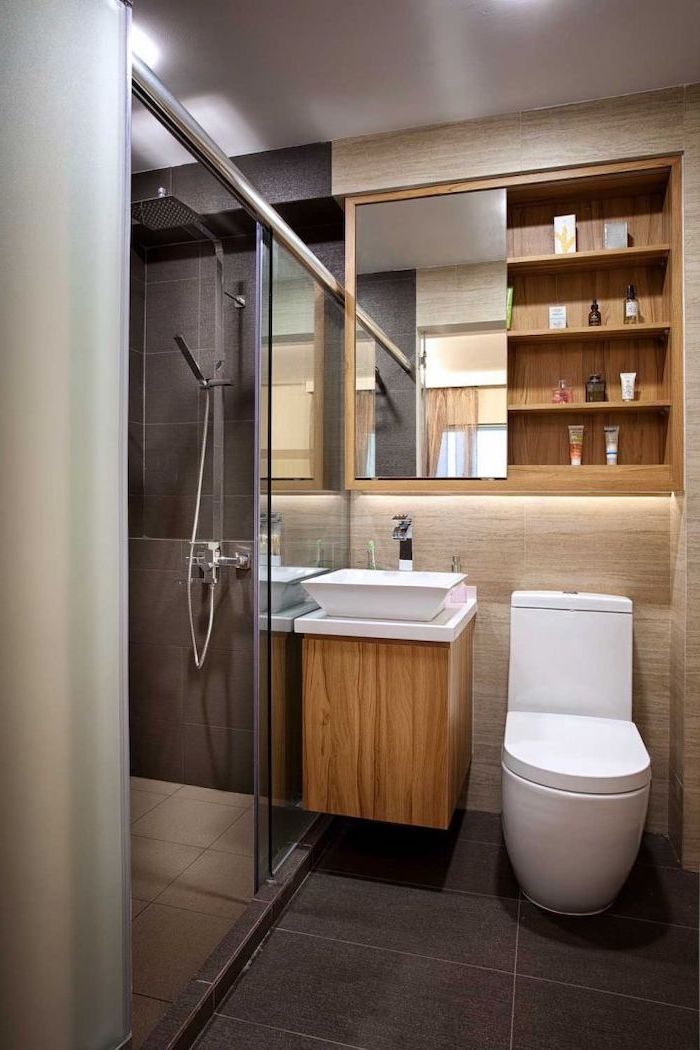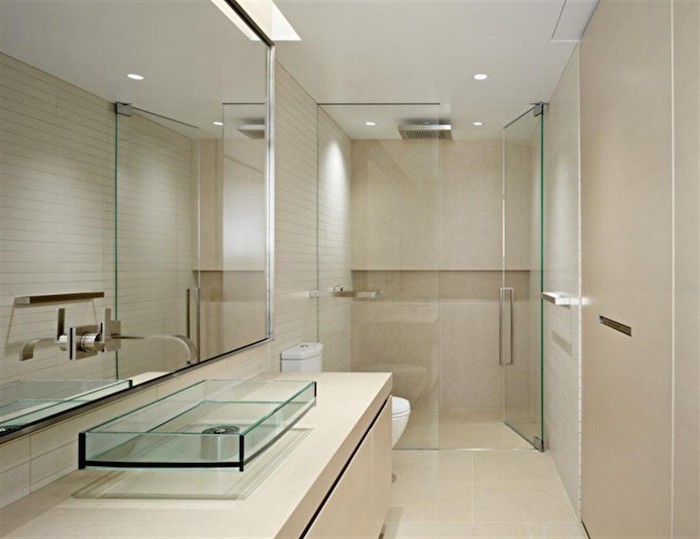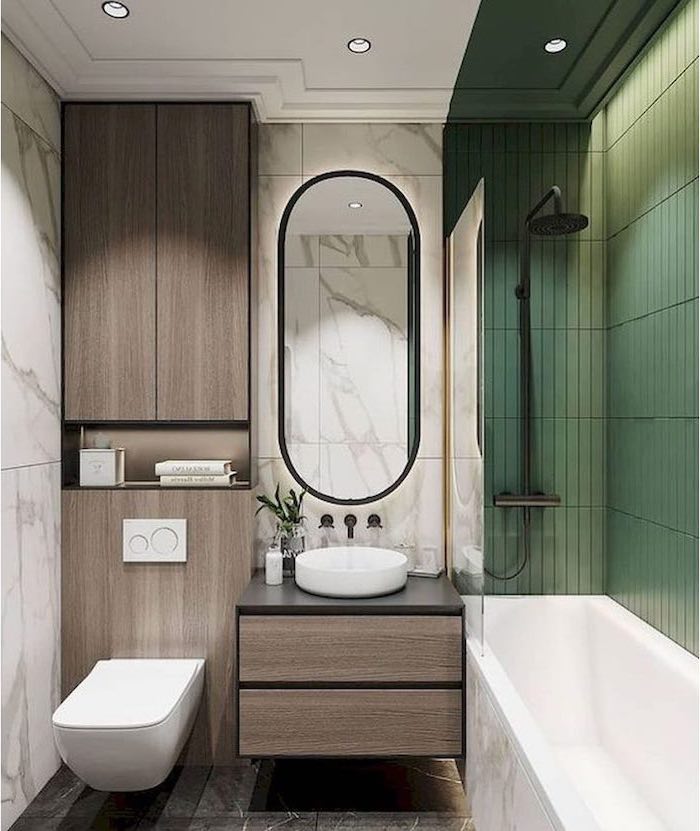 Continual flooring taken all the way to the wall and ceiling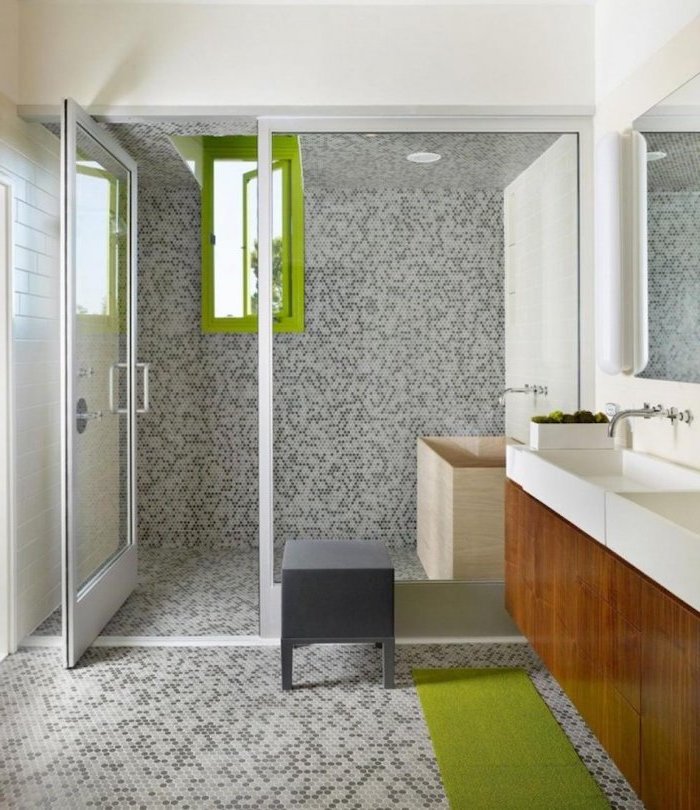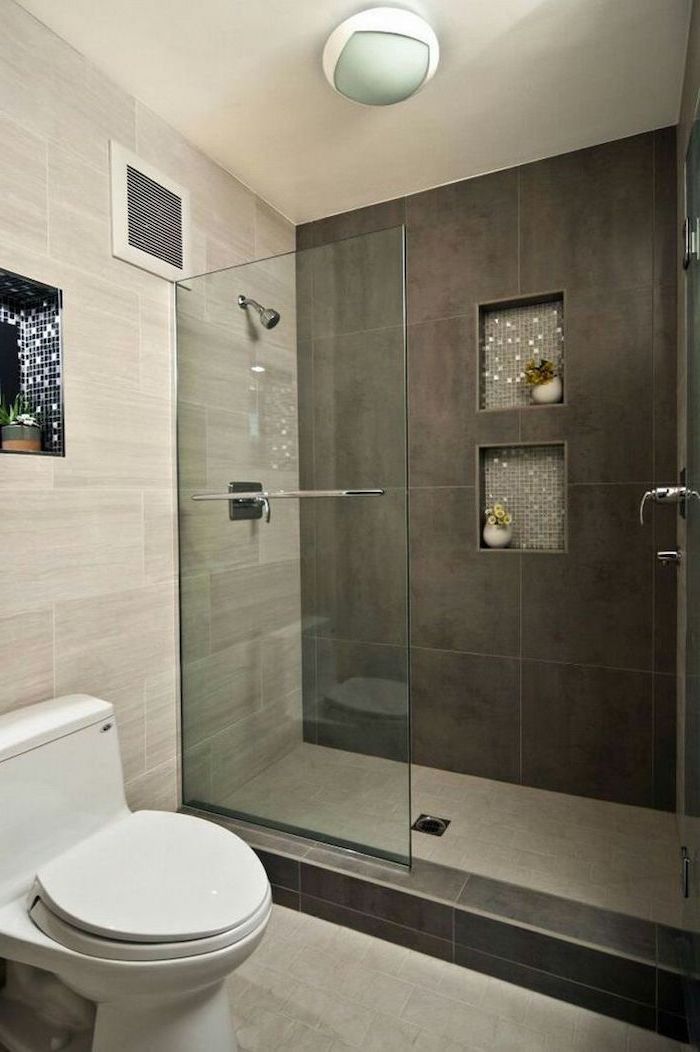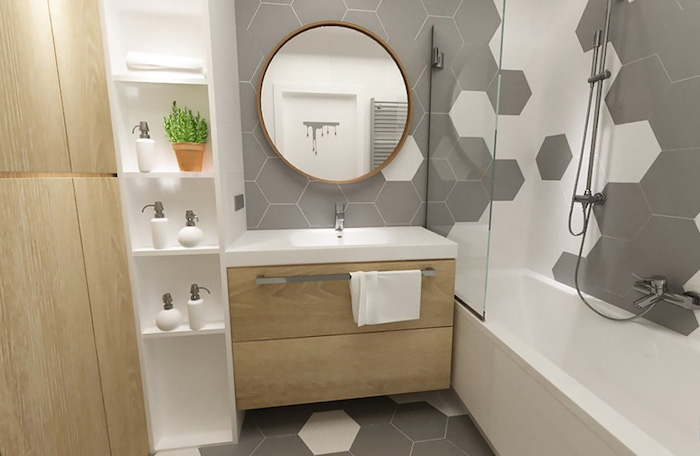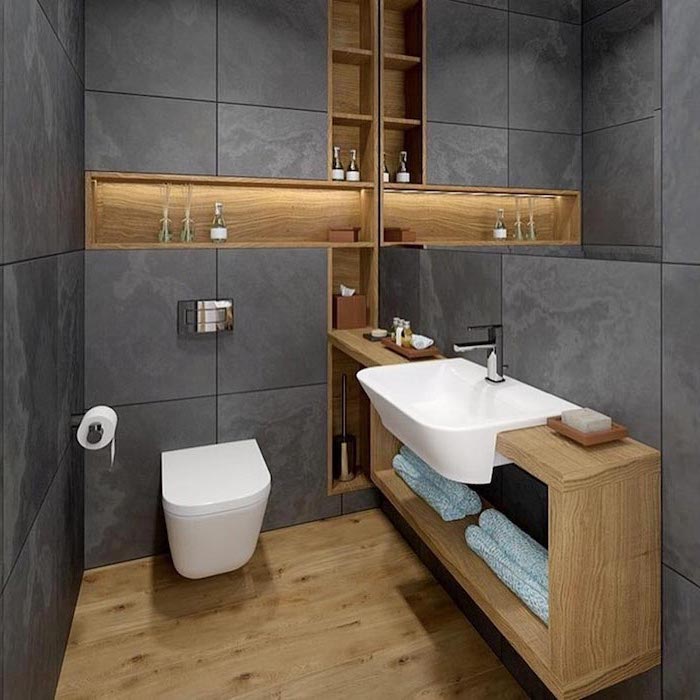 You can certainly use your corners smartly