---
For every person the buying of a new home is such a difficult task. Finding the right house, the one you would want to spend the rest of your life in, is challenging. Once you find it, however, is where the real work begins. And one of the first things you are going to have to do is choose what kind of style you want your interior to be in. Nowadays, there are so many different types of interior designs you can choose from – minimalistic, Scandinavian, industrial, rustic, etc. One of the coziest, however, might be the farmhouse decor. So, if that is the one you have chosen for you home, we are going to help you with a few ideas. In this article we have gathered modern farmhouse bathroom decor ideas you need to try if you want a stylish, yet old-timey bathroom.
Modern farmhouse bathroom decor ideas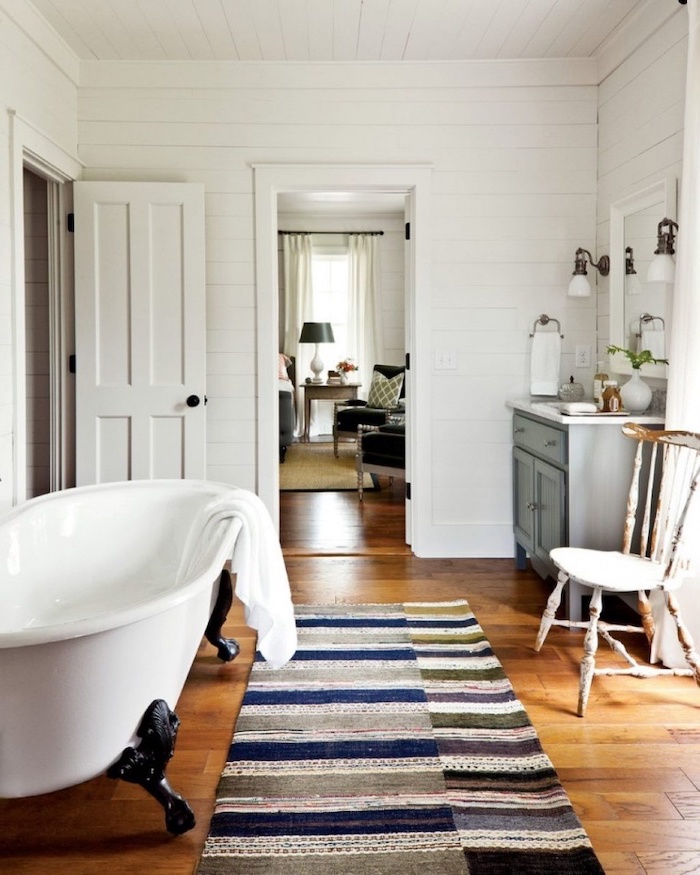 ---
What is farmhouse style decorating?
Farmhouse decor is influenced by old rural homes. It has a vintage look with modern touches. What's more, it is extremely cozy and warm. In general, every farmhouse interior has lots of wood and natural finishes. What's more, vintage farmhouse accessories are a must have if you want your decor to have a finished look. Moreover, the good news is that just because we are talking about vintage, that doesn't necessarily mean out of style. Nowadays, farmhouse decor is updated with a much more modern look, which is going to make your home look extra stylish and classy.
Modern with a touch of vintage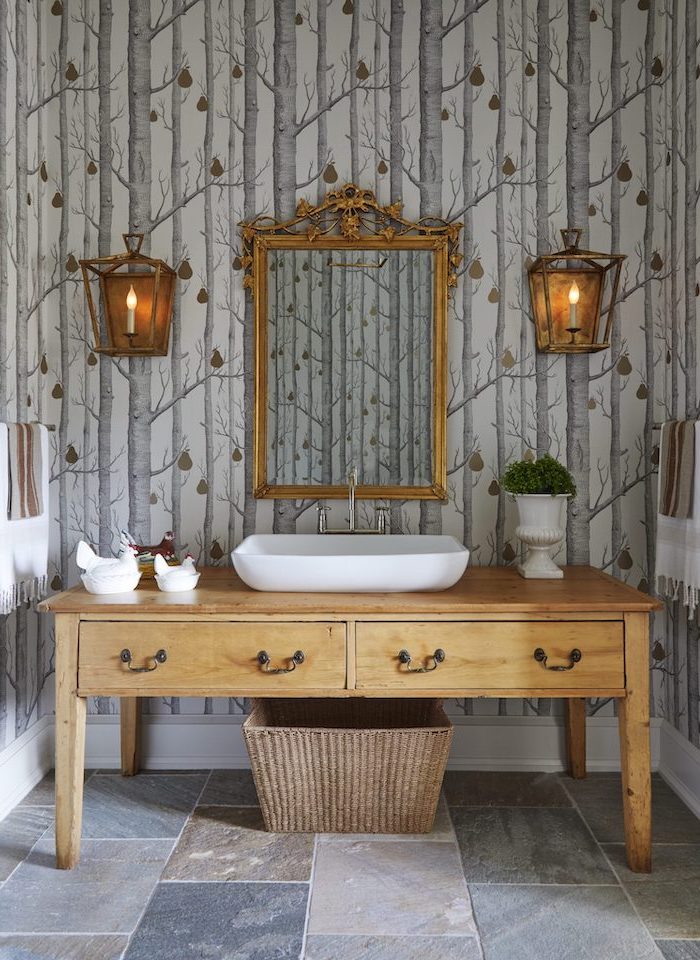 Modern farmhouse bathroom decor ideas
If you have chosen the farmhouse decor for your house then your bathroom might be the most difficult part. That is especially true if you want to recreate the modern farmhouse style. The good news is you can keep your modern pieces while adding a few farmhouse touches. Which is why, we have a few tips for you on how to accessorise your bathroom right so that it still possesses the farmhouse chic, traditional, cozy look.
Adding a few farmhouse touches to a modern bathroom will make all the difference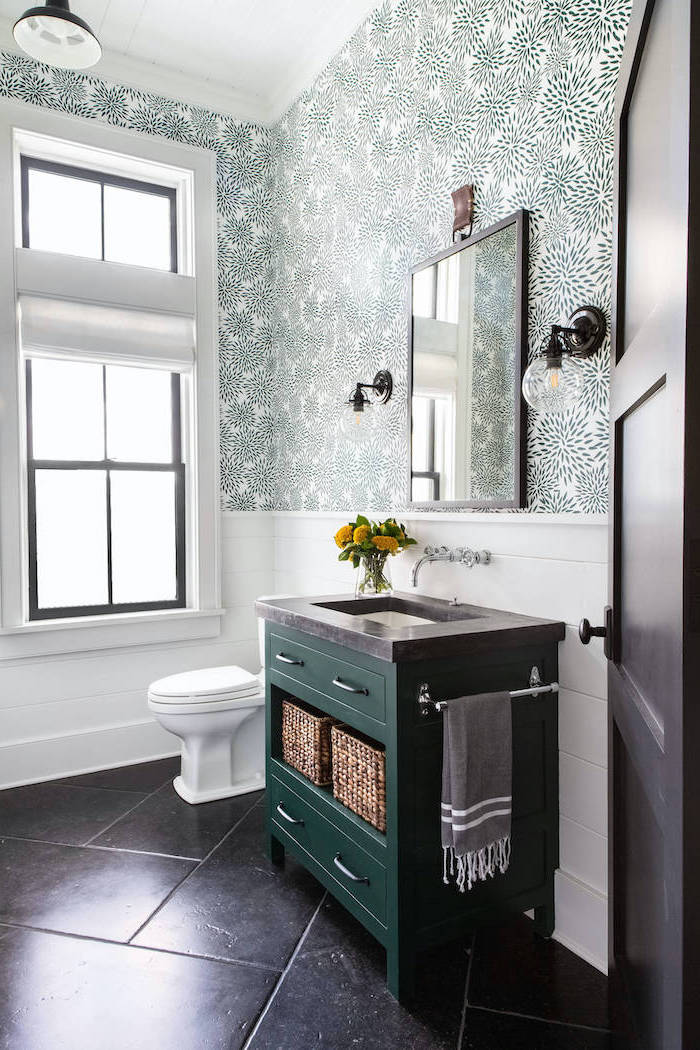 Wooden accessories and wicker baskets
This is probably one of the easiest ways to add a farmhouse touch to your bathroom. Small wooden chairs and wicker baskets are very small accessories which, however, can make all the difference. If you have a bath, you can place a small wooden chair next to it where you can keep everything you need for a relaxing bath. On the other hand if you have open shelving, wicker baskets make for great storage spaces for small towels or toilet paper, for example.
Small wooden chair in the shower to keep all of your hair products – yes, please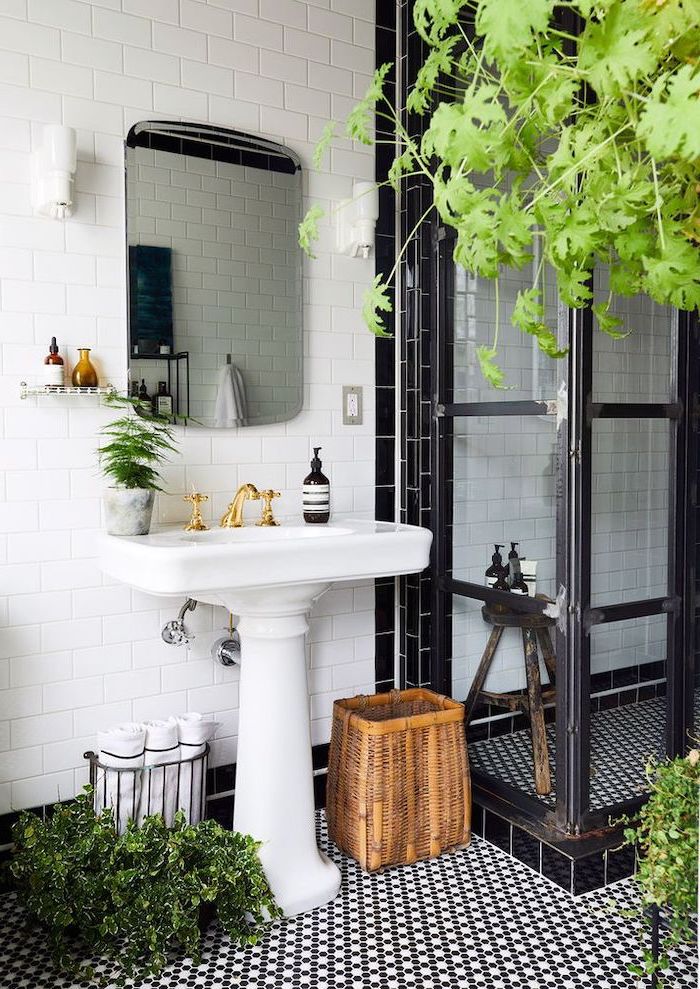 ---
Open shelving
Open shelves are definitely a characteristic of a farmhouse decor. Especially when it comes to kitchens. That, however, doesn't mean, that you can't use open shelving in the bathroom as well. Whether you choose to have open shelves under the sink or want to add a few shelves on the wall, it is still a great option for that extra space you may need. Fill the space under the sink with a few wicker baskets and your farmhouse decor is ready.
Open shelving is an important characteristic of the farmhouse decor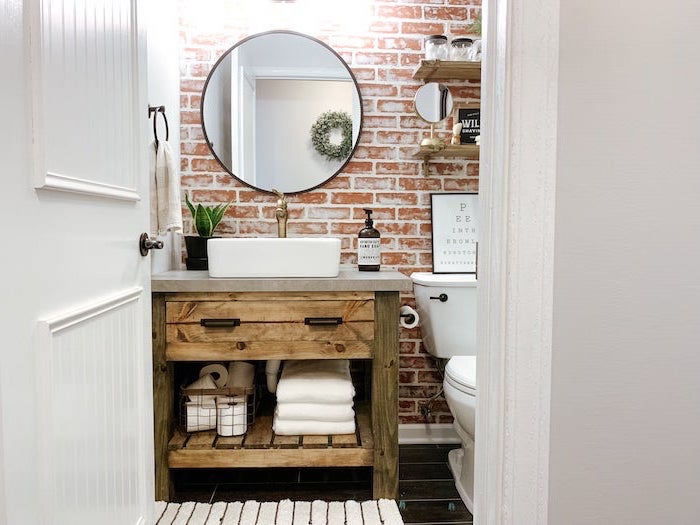 Go vintage
Choose a vintage piece which is going to be the statement of the bathroom. Whether it is the vanity, the bath or a chandelier, if you have one vintage piece, you will immediately give your bathroom a farmhouse feel.
This vintage vanity is so gorgeous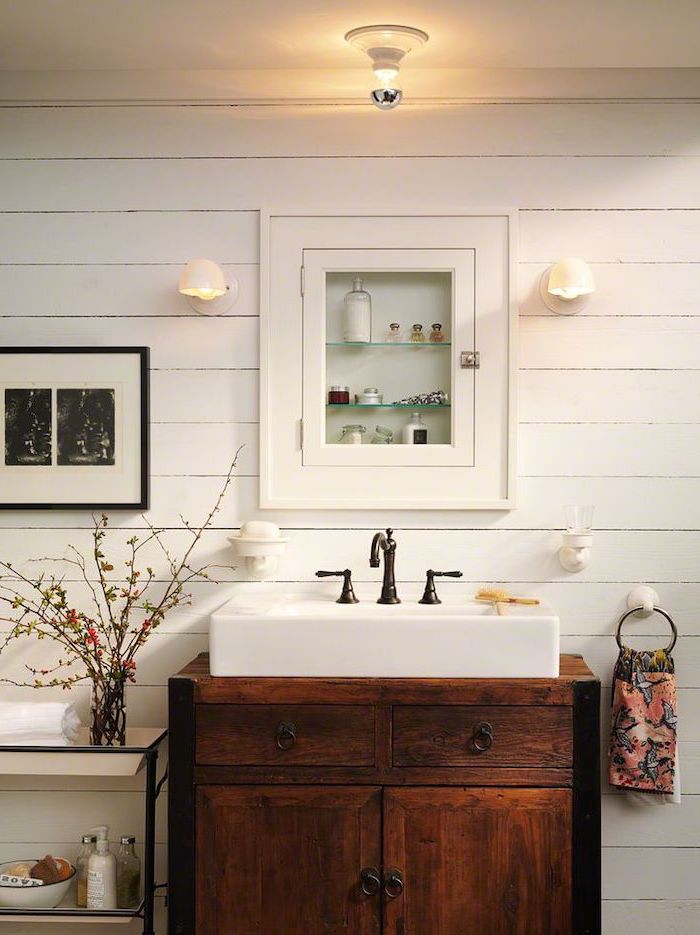 Experiment with shiplap
Back in the day shiplap was used mostly outside and it was a real experiment on the homeowner's part to use it inside. Nevertheless, it is a great statement on your walls. What's more, it is something you can use for your walls which is immediately going to give it a farmhouse feel. If you don't want to use it on every wall, it is still great for an accent one and it can be paired with subway tiles or a colorful wallpaper, for example.
Shiplap can be a great addition to your decor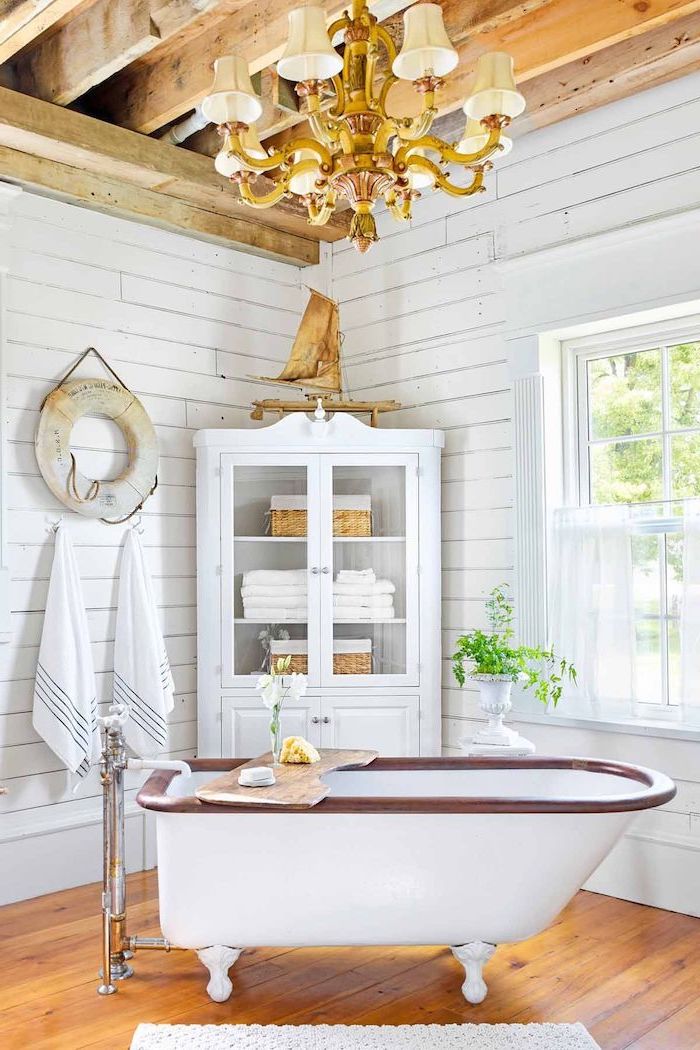 Subway tiles
It seems like subway tiles will never go out of style. And, although they are considered great for pretty much any decor style, they are perfect for the farmhouse look. Which is exactly why you should definitely use them in your bathroom. Make an accent with them by using them in the shower cabin or behind your vanity. That way you will also create a bit of separation in the room.
You can use subway tiles to separate the shower from the rest of the room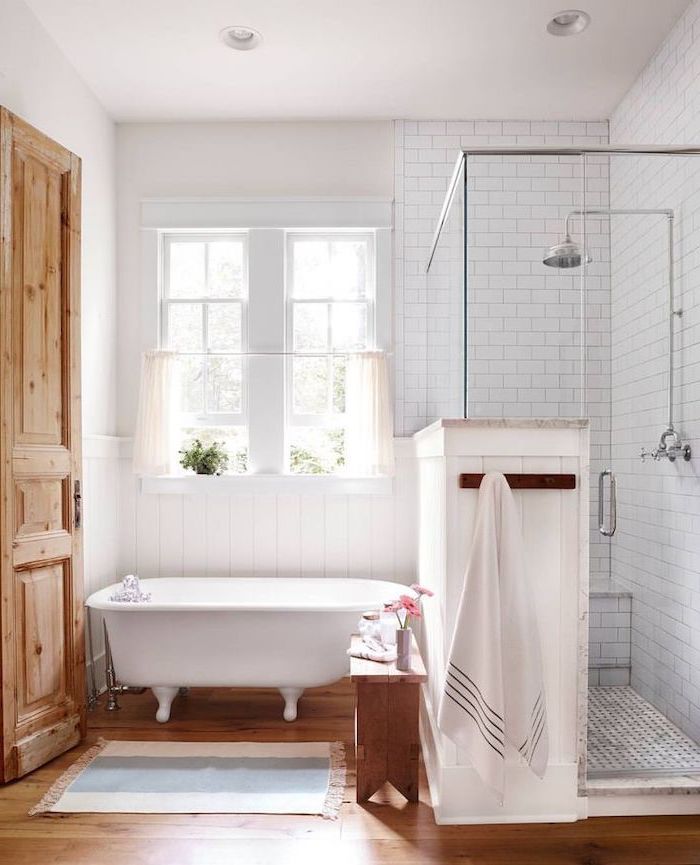 Add some metal finishes
When you think about it, there aren't that many metal things in a bathroom. But you need something metallic in order to give your bathroom a complete farmhouse look. Which is why, you need to pay special attention to your faucets, shower head and lighting fixtures. Pick a metal which is going to fit with the rest of the interior and add it to your decor. Lightning fixtures mounted on the wall next to the vanity mirror are very important. Just make sure they are chosen in accordance with the knobs on your vanity. The shower heads and faucets on the other hand need to be picked to fit with the rest of the shower area.
Pay attention to your lighting fixtures and faucets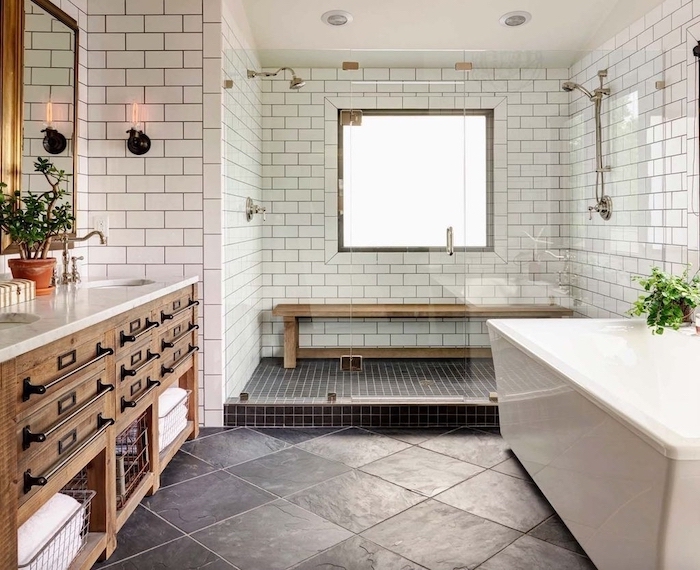 Rugs
Adding a rug to a bathroom may seem unconventional, but if you want a farmhouse look then this is a great piece to add to your overall decor. In general, the more vintage the rug, the better. You can place it in front of your vanity, bath or even your toilet, choice is yours. Not only does a rug help to create the farmhouse style, it is also a piece which adds a lot of coziness to any room.
Add a rug for extra coziness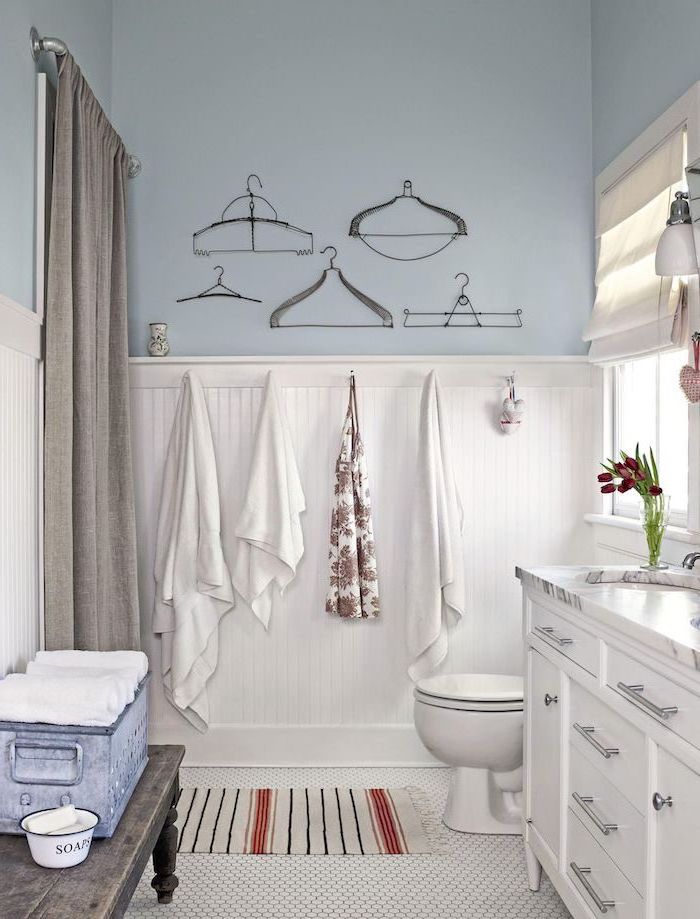 Wood, wood and more wood
In general, wood creates the coziest, most homey feeling. And farmhouse is all about coziness, which is exactly why you need to have as much wood as you possibly can. Whether you choose to add it to your floors, walls or keep exposed wood beams on the ceiling, it is always a great option. If, however, you are afraid to have wood close to water, don't be afraid to have as many wooden accessories and furniture as possible. Vanities, cupboards, shelves, chairs, the options are endless.
Wood creates a cozy environment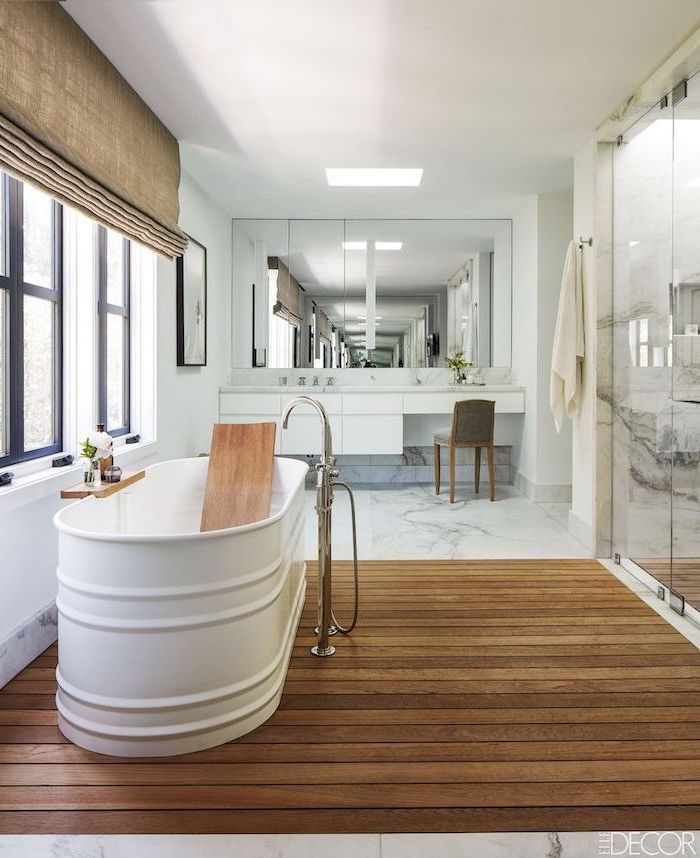 More modern farmhouse bathroom decor ideas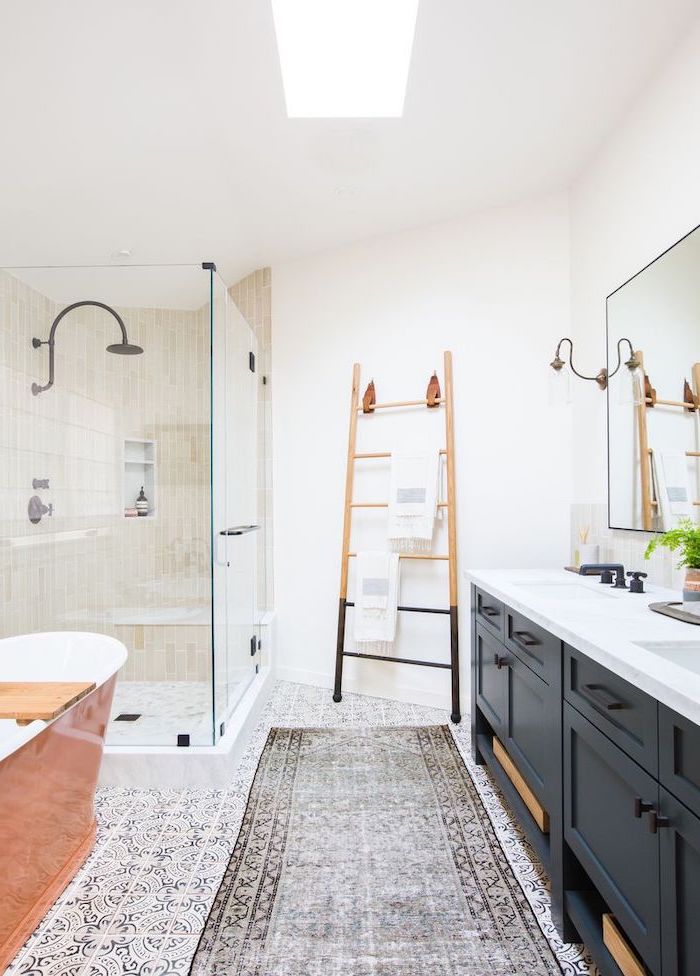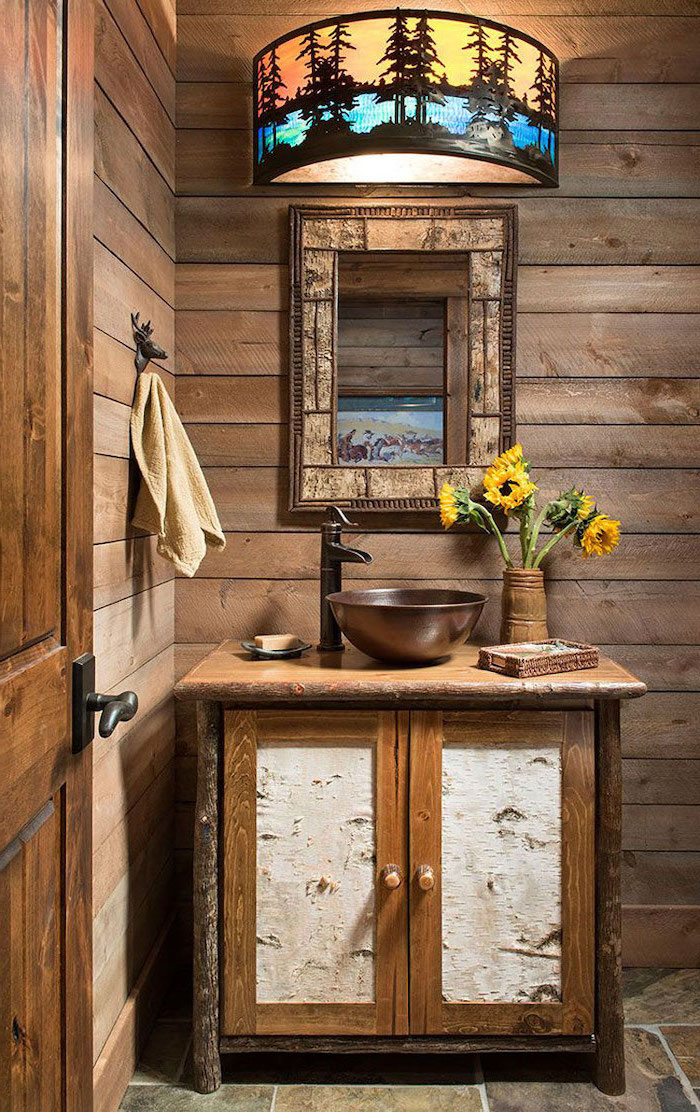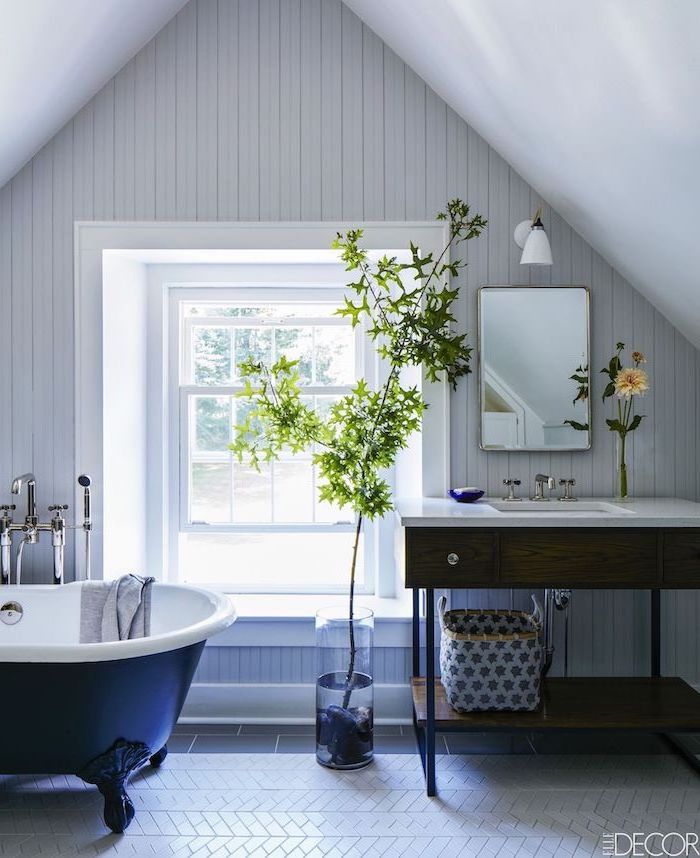 Vintage farmhouse bathroom ideas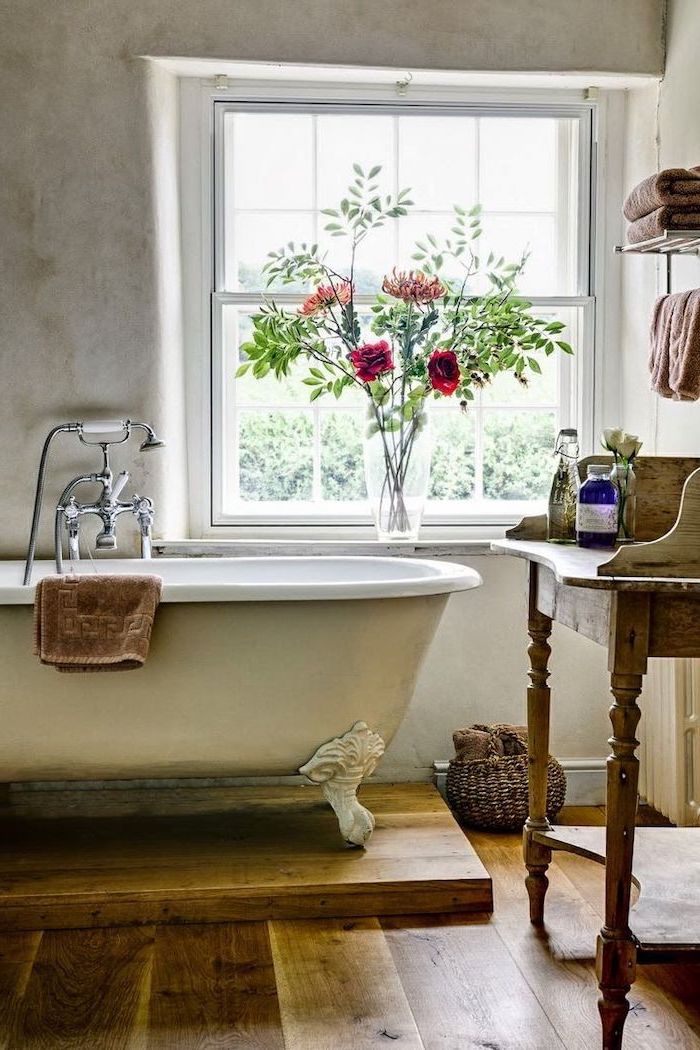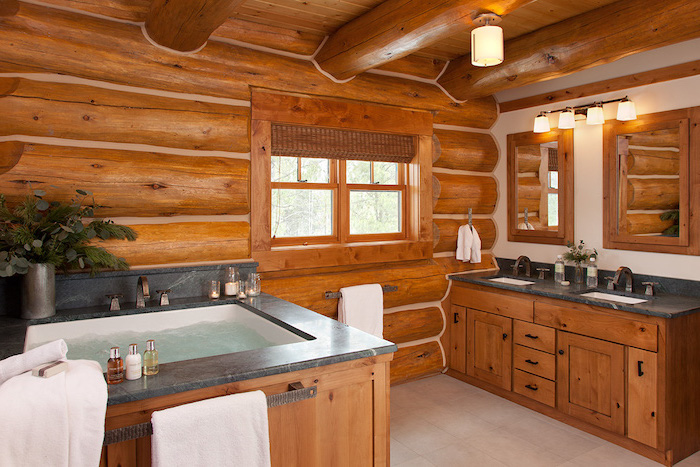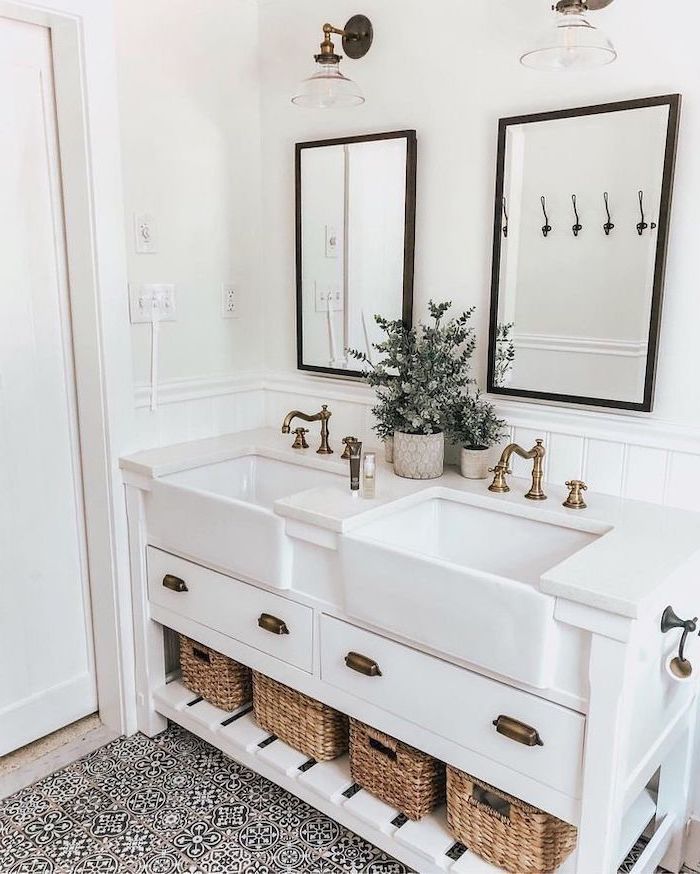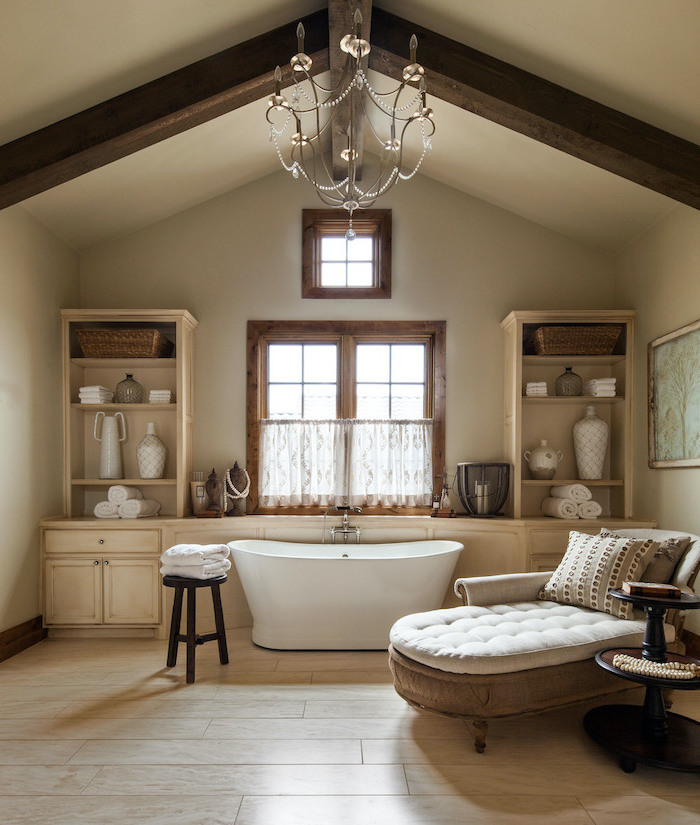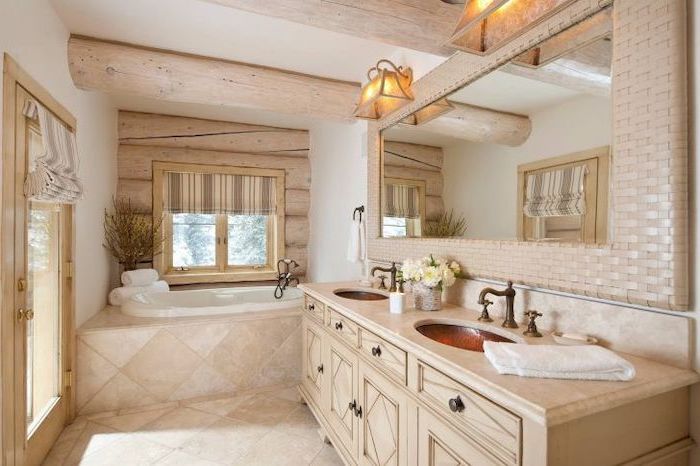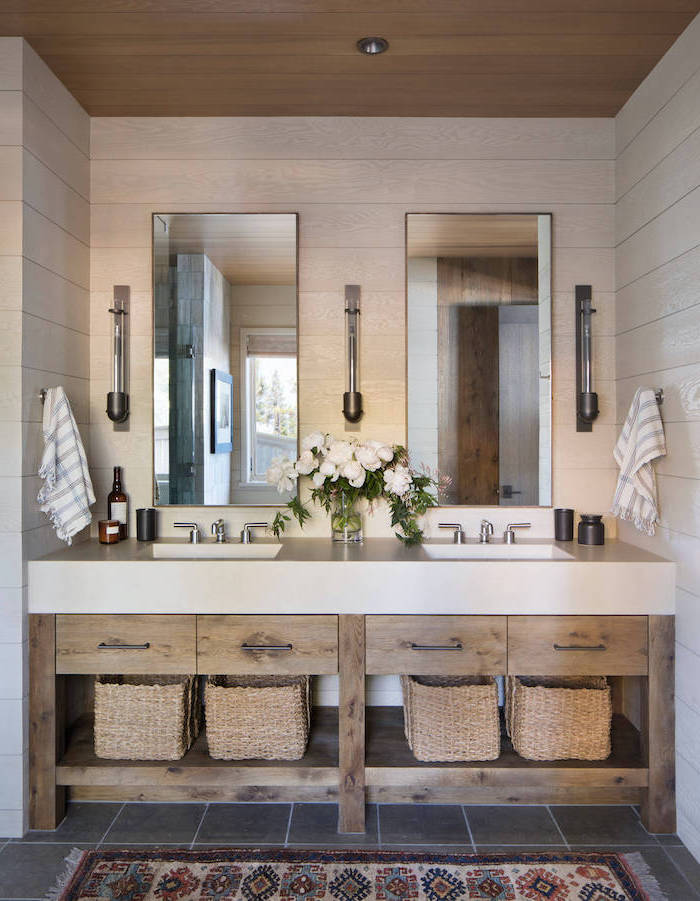 All wooden modern farmhouse bathroom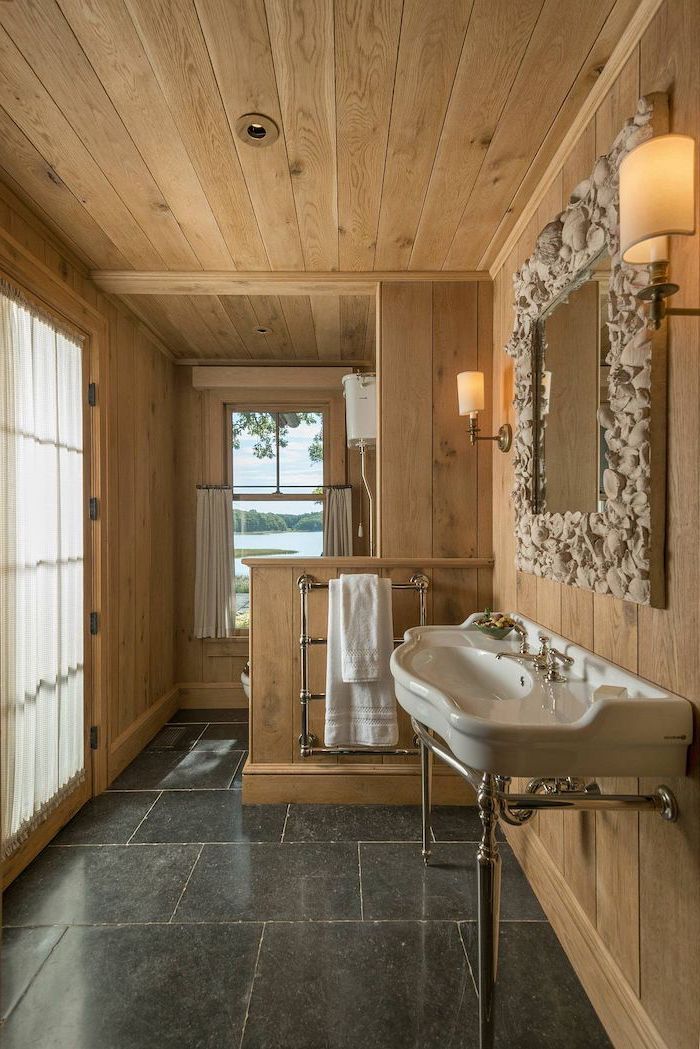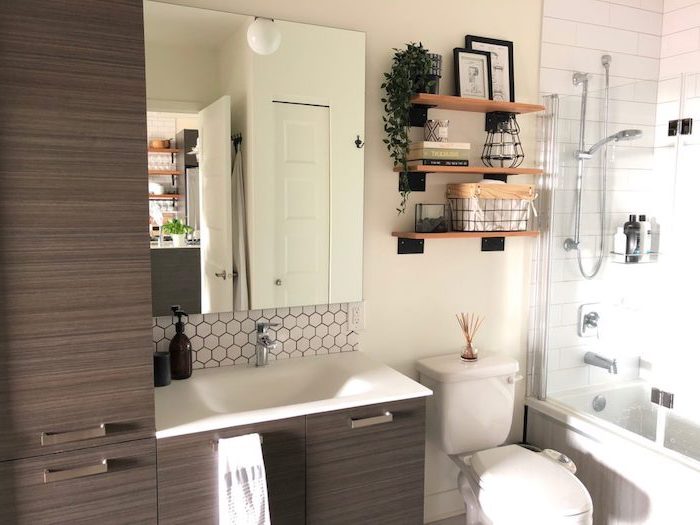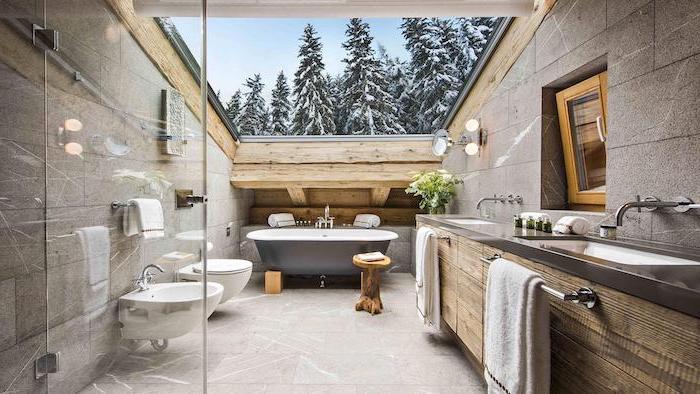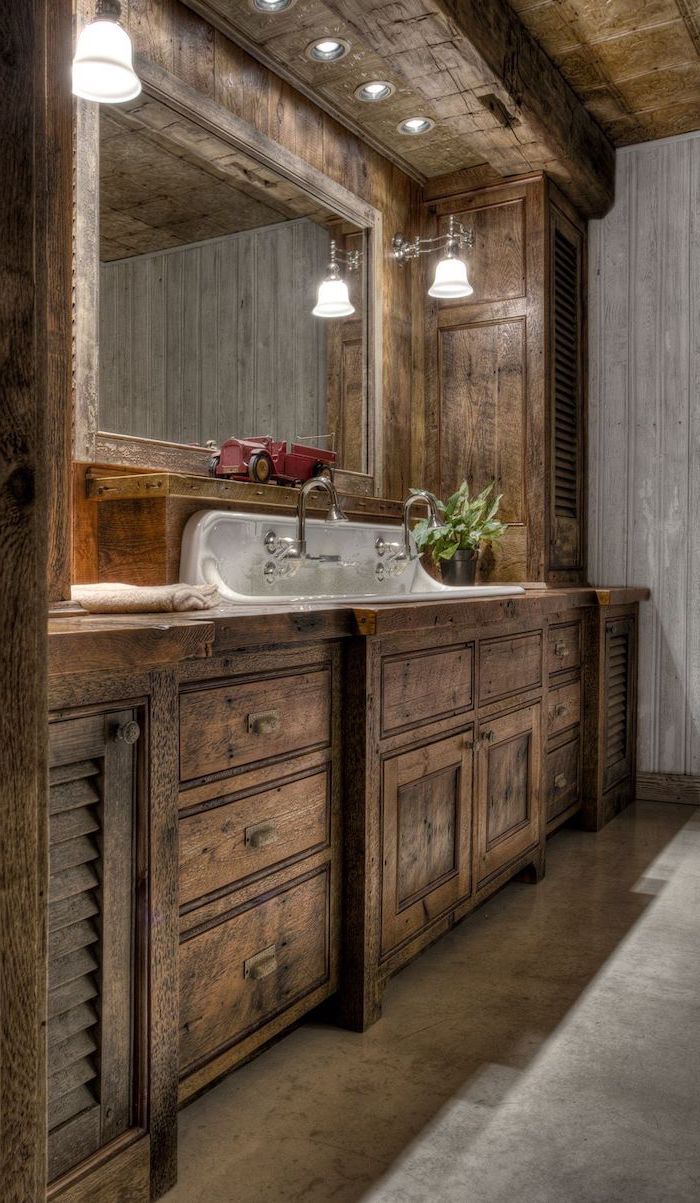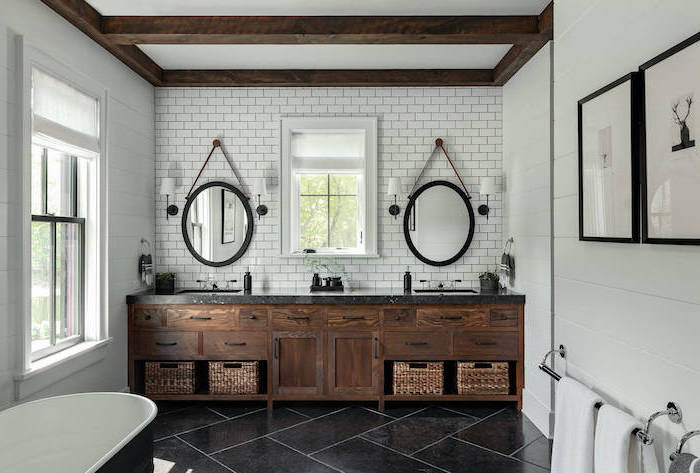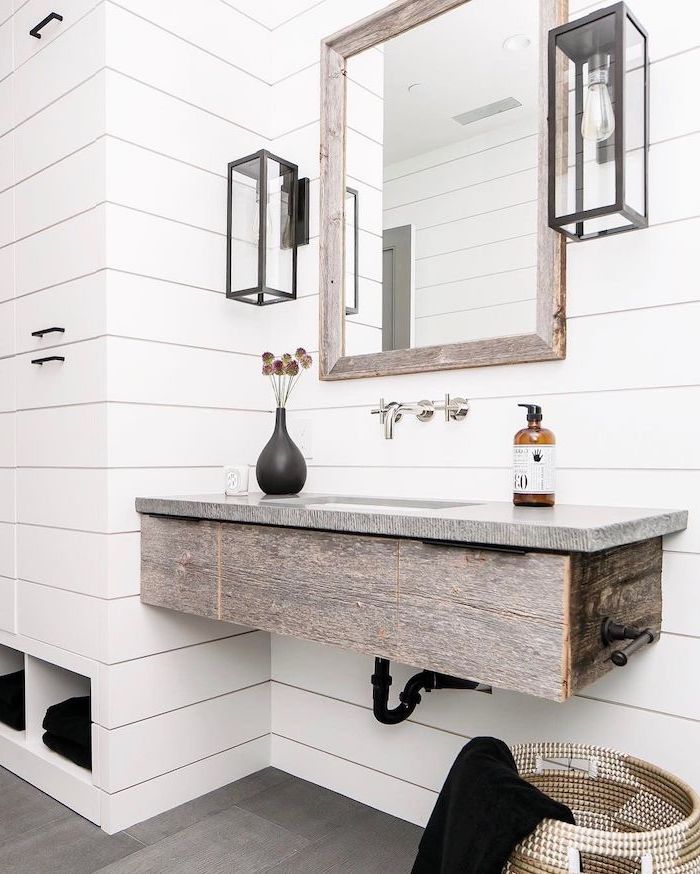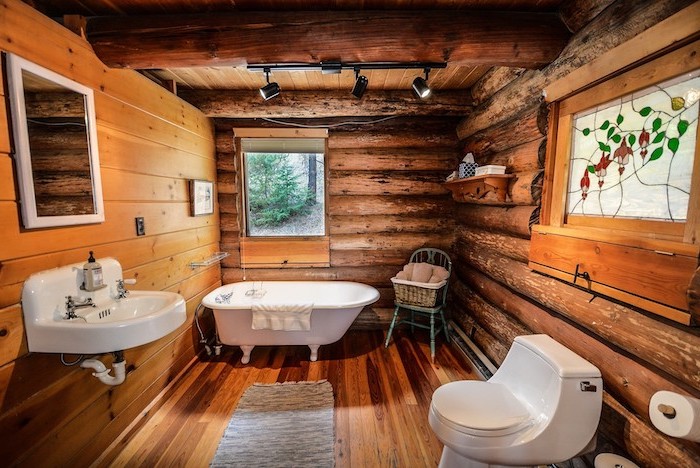 Creative farmhouse bathroom wall decor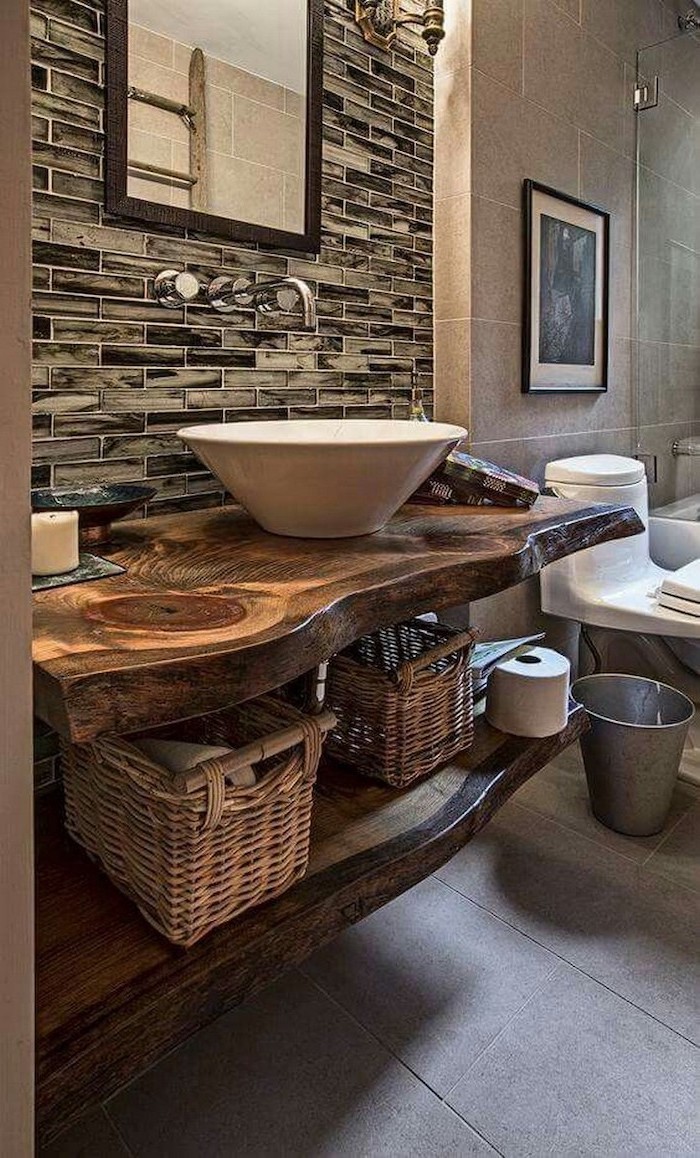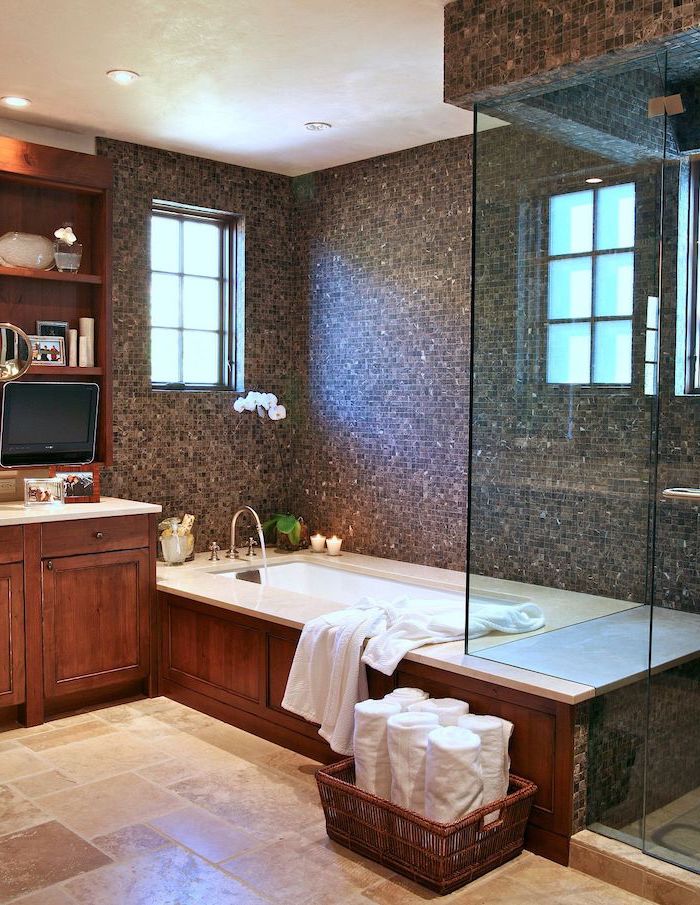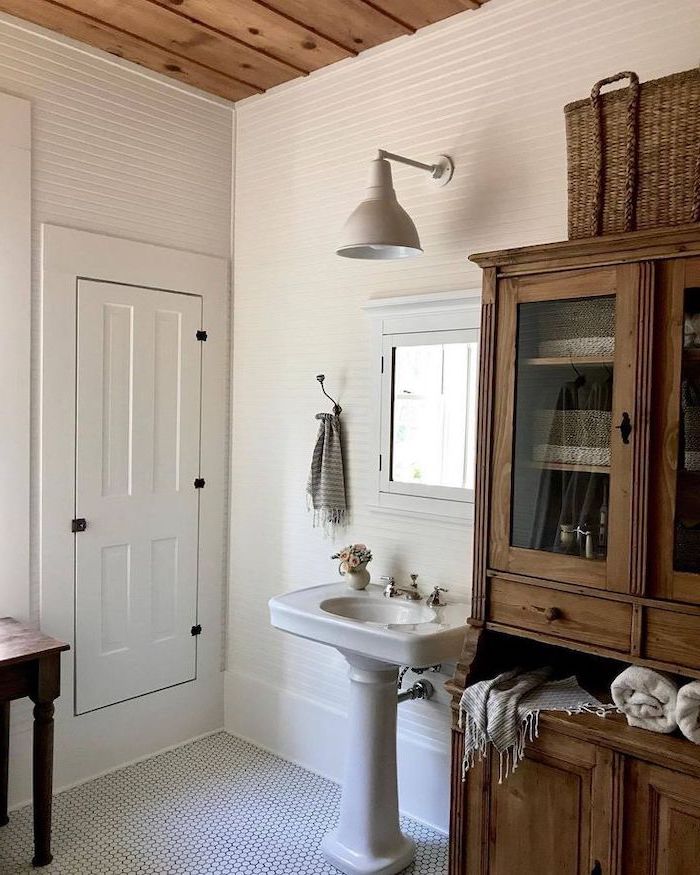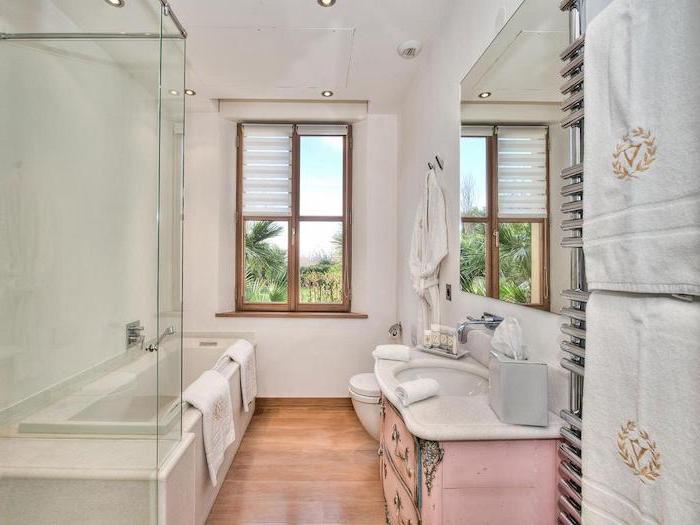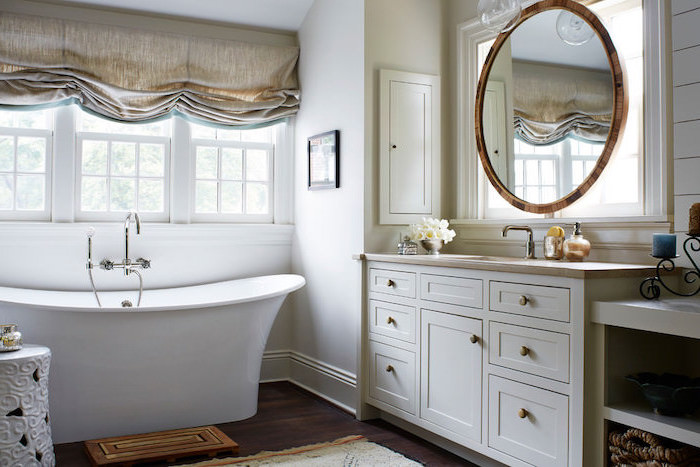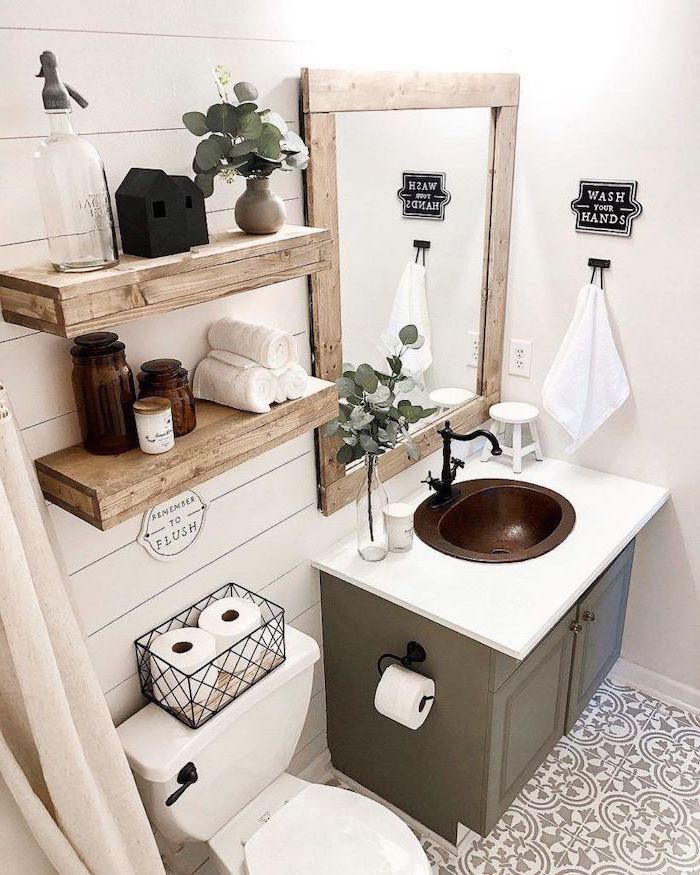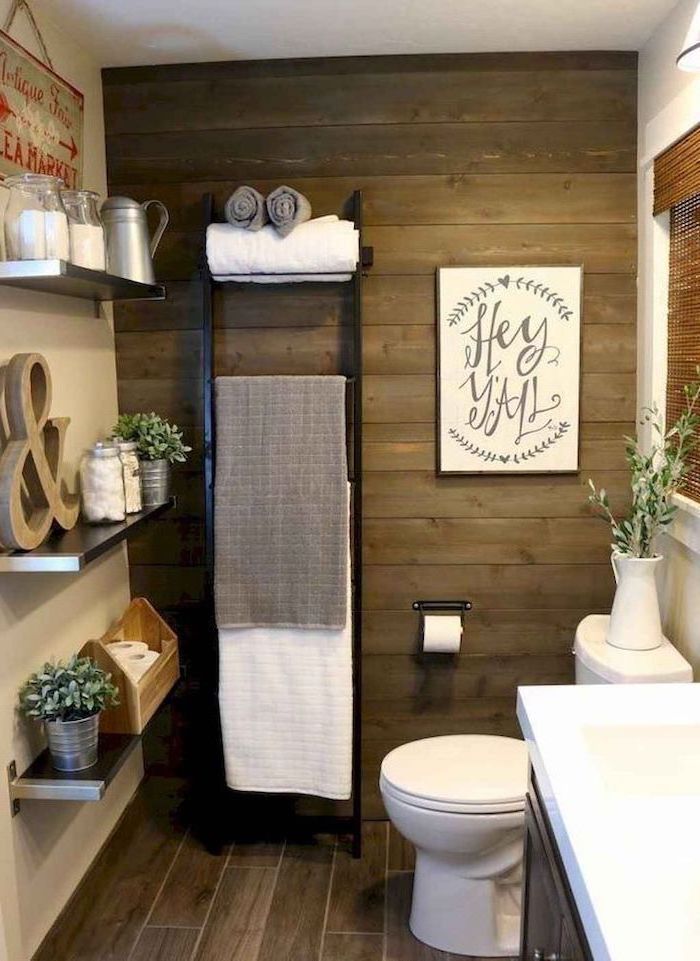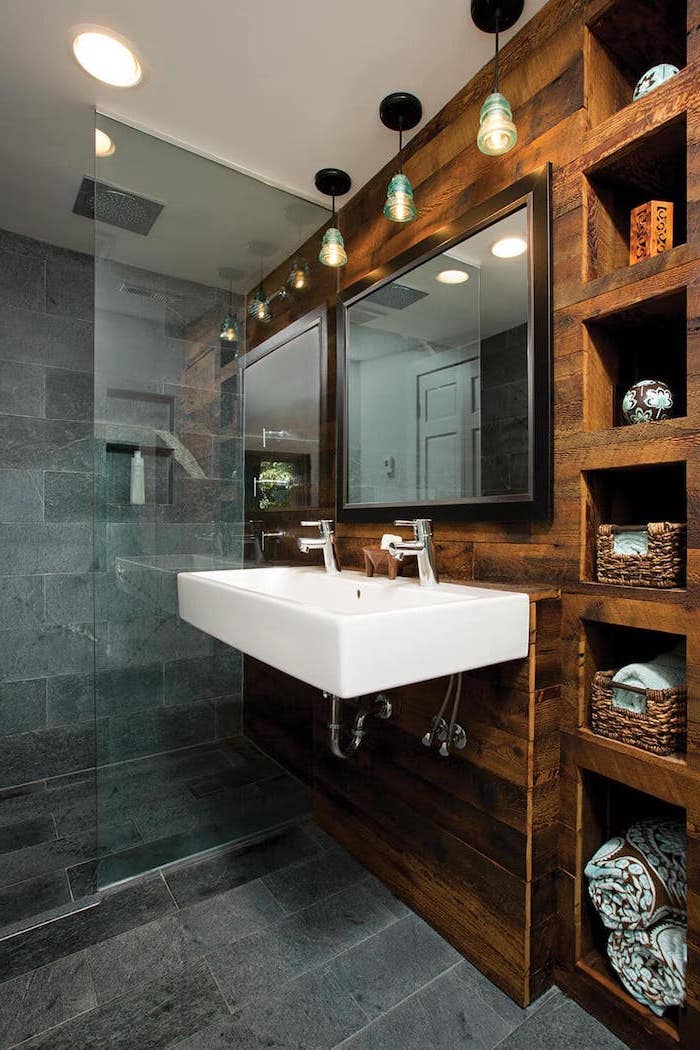 Farmhouse bathroom decor with natural stone accents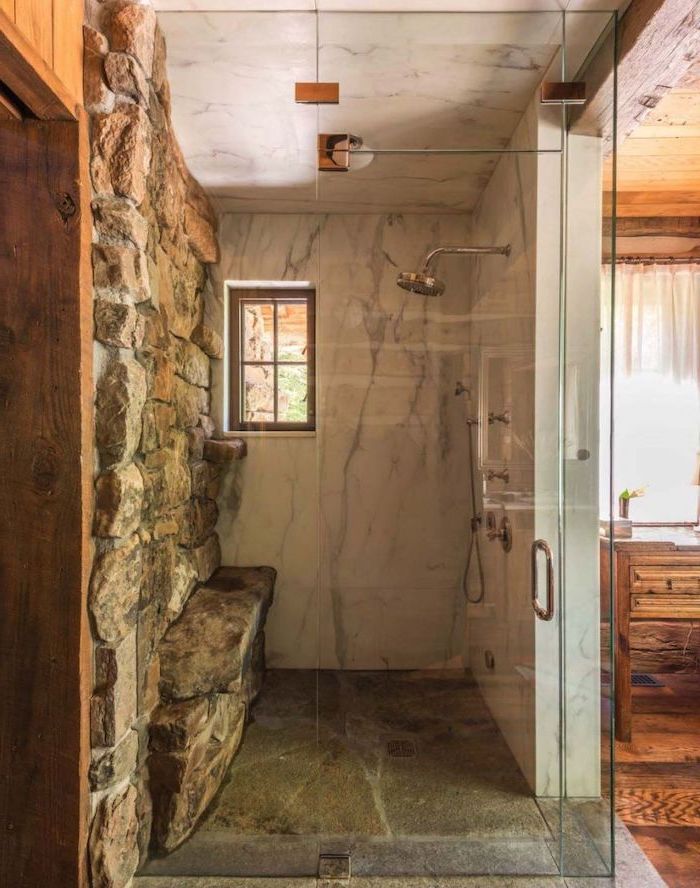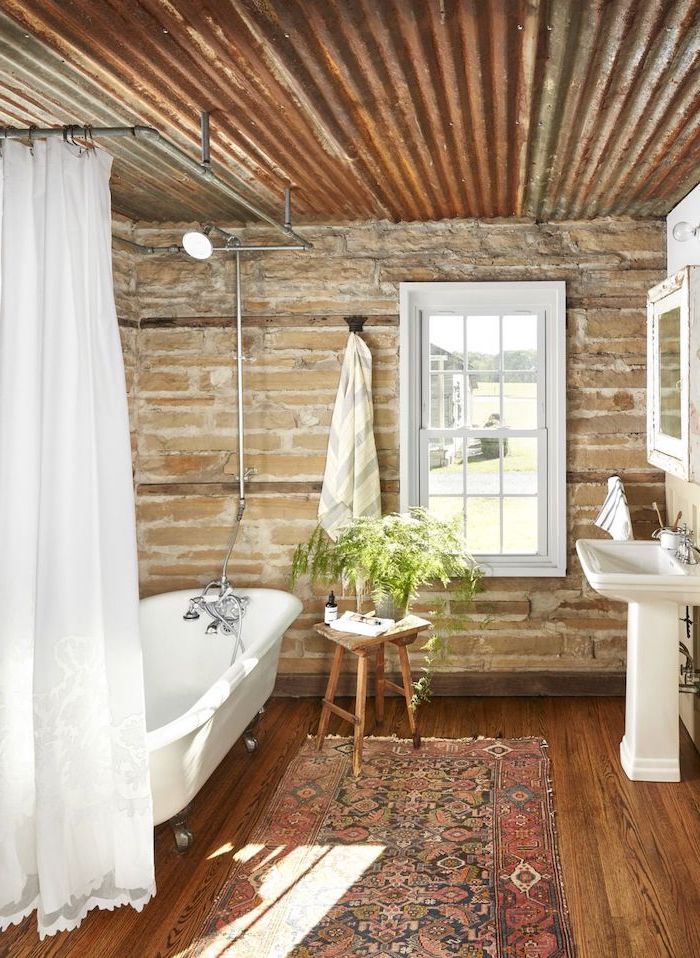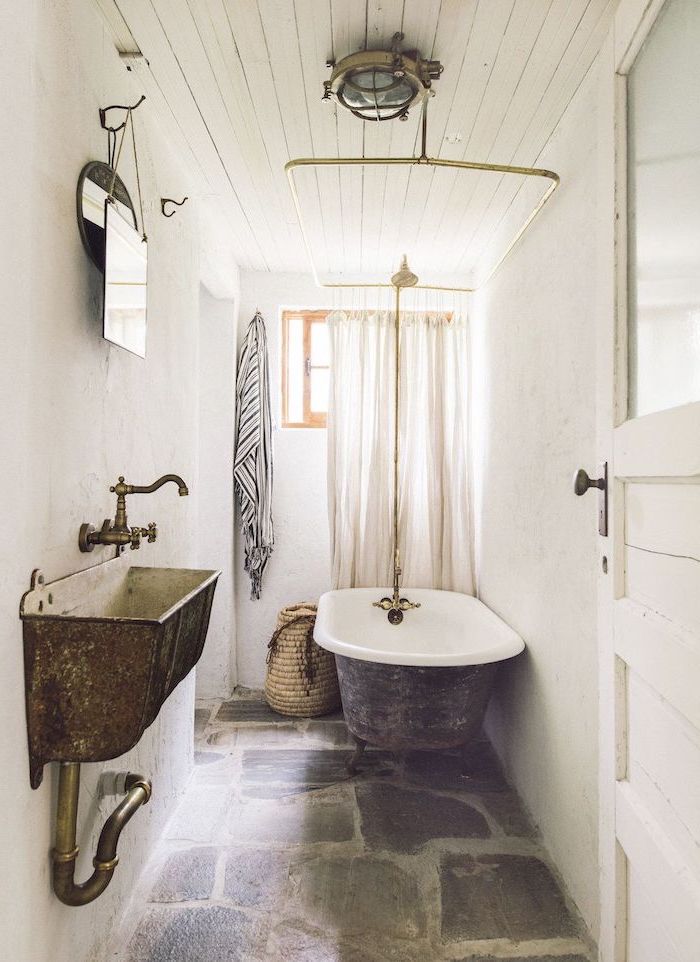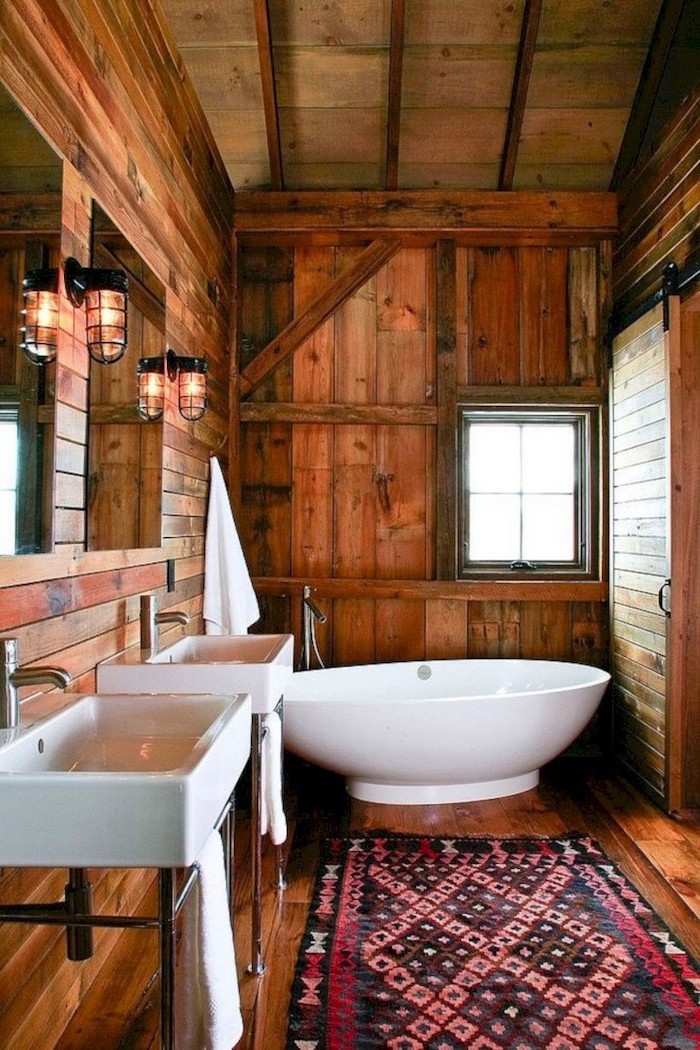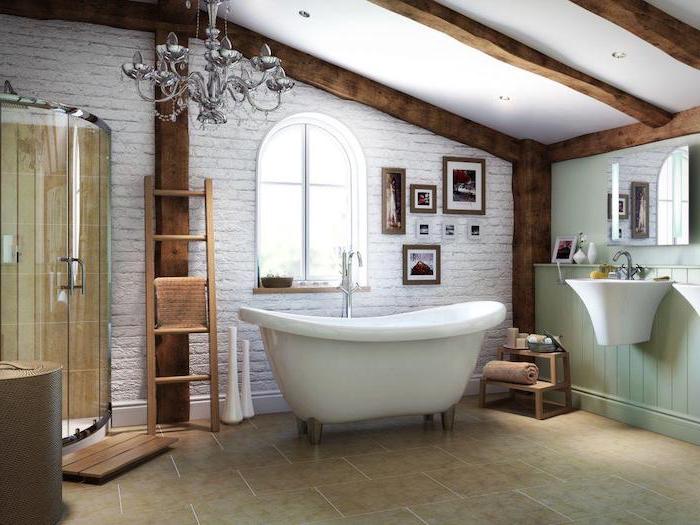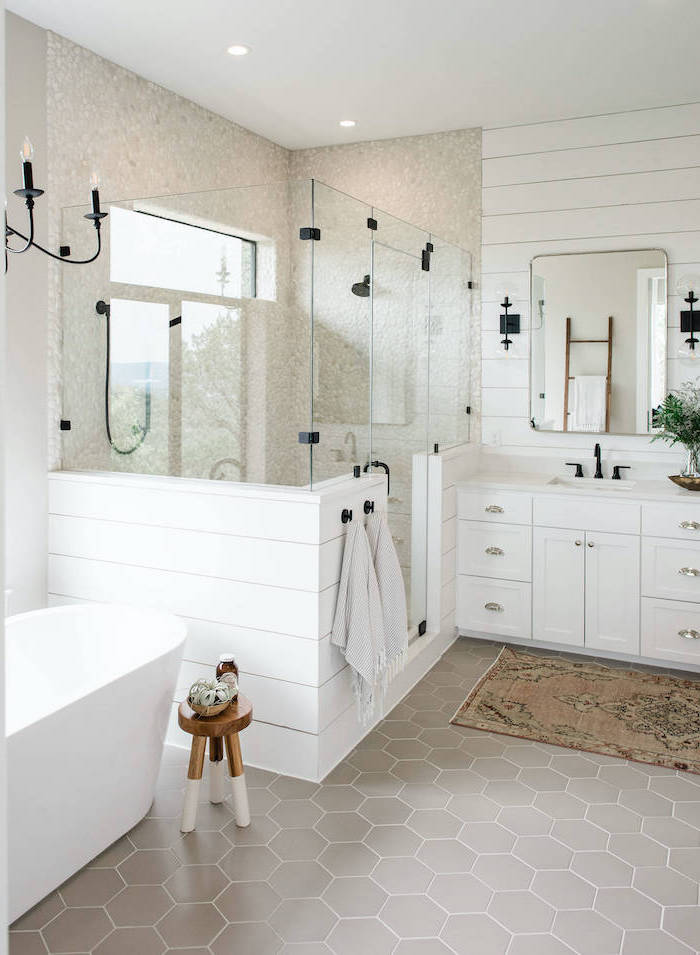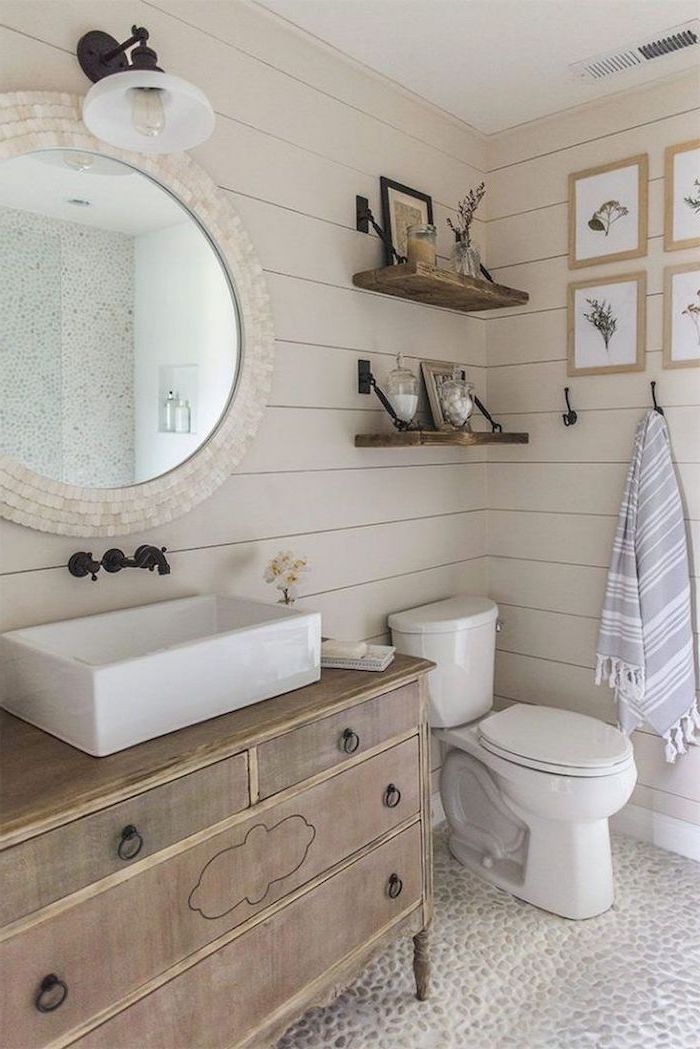 Rustic bathroom decor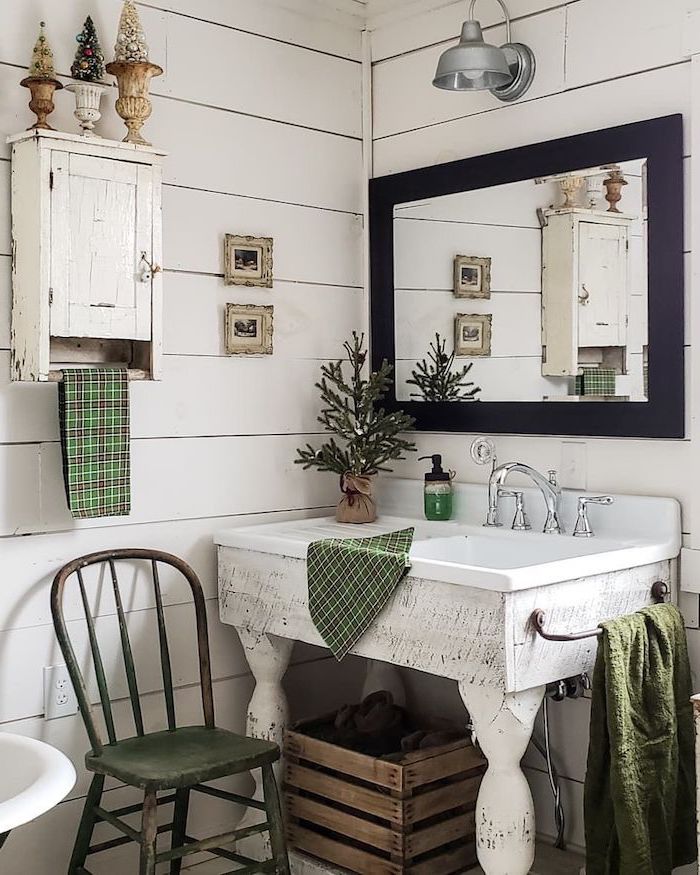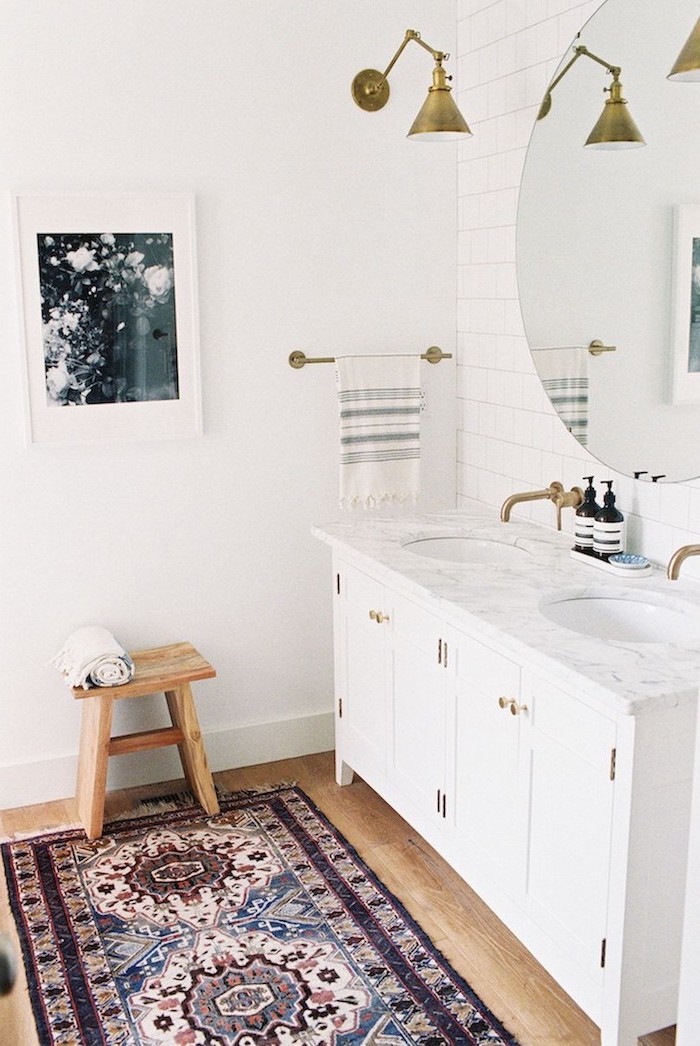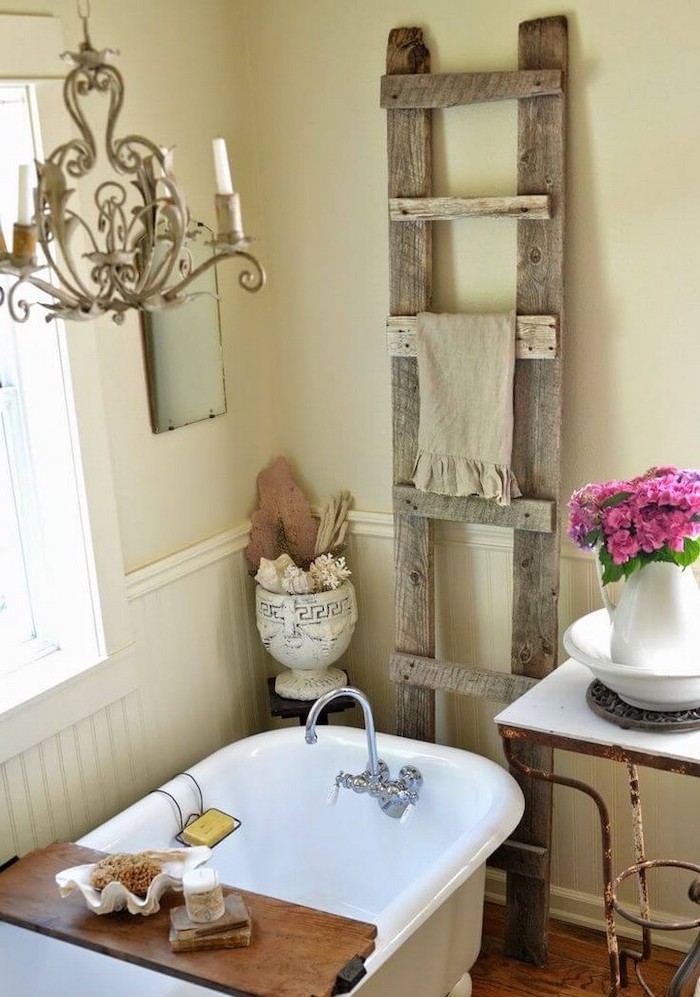 Country bathroom ideas