5 tips for your bathroom remodel you need to consider
We live in a time where new trends and technology seem to change every few months. Which is why, sometimes it might be a bit hard to keep up. Same goes for your home and interior design. Because of this, a remodel every few years is essential, if you want your home to feel timely and modern. So, today we are going to give you 5 tips for your bathroom remodel you definitely need to consider before you start upgrading.
5 tips for your bathroom remodel you need to consider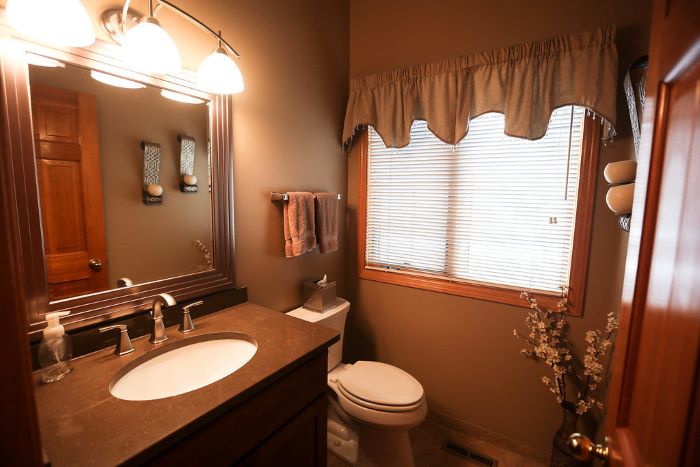 1. Set up a budget
This is probably the most important one. Bathroom remodelling can be costly. Which is why, you need to consider your budget before you even start planning. Are you going to invest in a new bathtub? Or, maybe, a larger shower cabin, it is up to you, just make sure you have something you can prioritise, just in case your budget is not sufficient. Whether you are using a professional or doing the remodelling yourself, people tend to forget about extra costs, such as shipping and delivery, for example. Furthermore, experts advise to leave 10-15% extra, in case of unexpected costs.
2. Plan everything beforehand
Planning is very important. Don't make things up as you go. Plan beforehand what your accent is going to be. Are you going to add a bathtub, or are you going to have a shower cabin? What flooring are you going to use? How much space do you have? Is it going to look cluttered? These are all things you need to consider before you begin remodelling. Just make sure you have a plan ready, especially if you are working with a contractor. More often than not, if you don't have a plan, they might start deciding for you. But if you are prepared, just hand them the plan and let them do their thing.
Gorgeous bathroom with fun and elegant accents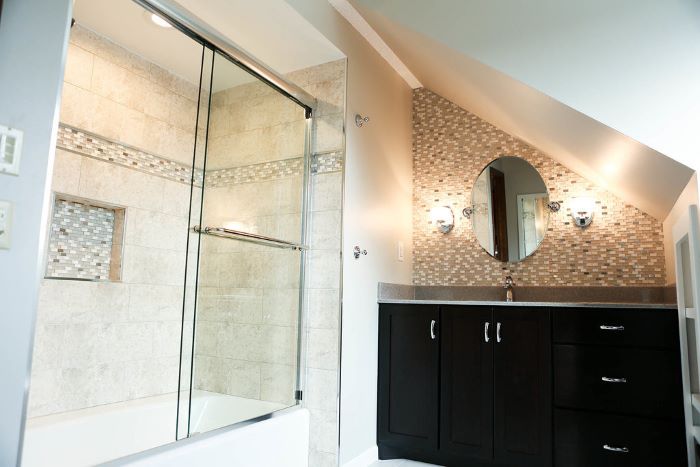 3. Maximise your space
Consider your space and make sure it is as optimised as possible. If you have a small bathroom don't clutter it with extra bathtubs, shower cabins, etc. Instead, combine the tub with the shower, for example. Make sure you have enough storage for all of your toilettries and accessories. Keep the colors of the walls light, so as to make the room feel bigger. And, probably, the best, most useful tip is a bigger mirror for a smaller bathroom. Mirrors create the illusion for more space, which makes them perfect for this kind of thing.
4. Consider lightning
Good lightning is extremely important. People often times overlook this detail. It makes all the difference, however. Hang lights above your mirror and vanity to make sure you have that great light for when you do your make up, for example. Add some warmer lights above your bathtub for those nights when you want nothing more than to relax in the tub with good music and a glass of wine.
5. Make sure you have a good ventilation system.
Good ventilation is very important for a bathroom. If you don't have a window, which you can open up freely, than consider installing ventilators. When you take a shower, all of the steam has to go somewhere. Otherwise, it will go into the walls, floors and furniture, which is not great. Especially, if you have wooden vanity and doors, since wood tends to expand when in contact with water. Of course, the most optimal solution is a window. If that is not possible, however, consider a good ventilation system. And, trust me, that is not something you want to cut costs on.
Small bathroom with good lightning and light colors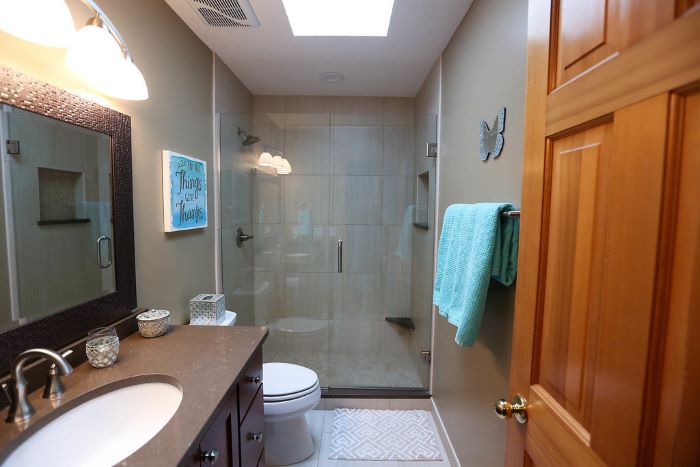 Follow our tips for your bathroom remodel to make it easier on yourself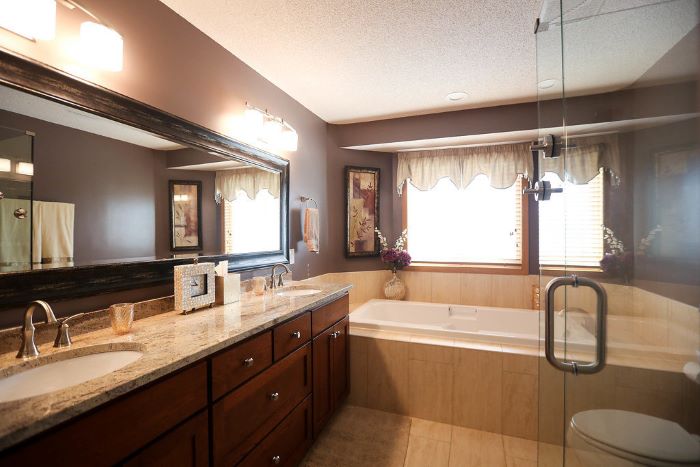 Stunning bathroom design in light colors and beautiful accents