50 Cozy And Cute Teenage Girl Bedroom Ideas For Small Rooms
Being a teenager is definitely not easy! You have to deal with so many emotions and all the new things and experiences in your life. This is precisely why teenagers need their own space now more than ever. But, as a parent, what are you supposed to do when you don't have enough space at home. Well, we are here to tell you that even the smallest room can be turned into a chic, cozy, safe haven for the teen at home. In this article you can find teenage girl bedroom ideas for small rooms. What's more, we will provide some tips on how to decorate and furnish the room so that you can fit anything a teenager may need inside.
Gorgeous colors combined to create a chic and cozy space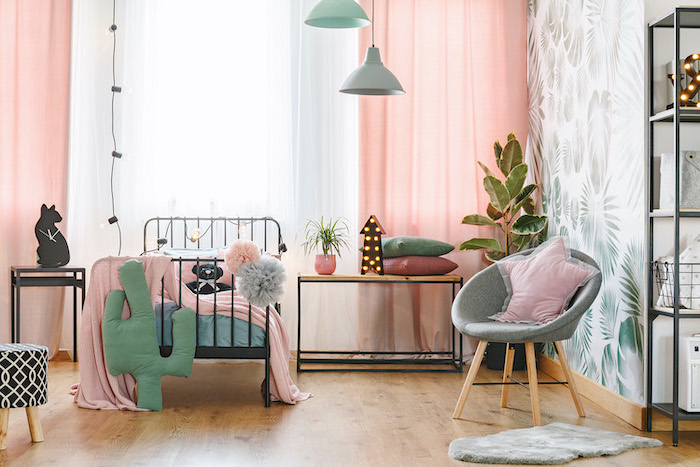 What do you need in a teenage bedroom?
Since the space is limited you need to prioritise. There are some items, however, that every teenager needs to have in their room.
Sleeping area. Naturally, a bed and a night stand are a must-have in any bedroom. If your space is extremely small, a single bed is probably a good solution. However, if you feel like you can fit a double, try it. Your teenager will definitely be grateful if you get them a bigger bed.
Study area. Focusing on your studies in high school is very important. Which is exactly why you need a study area. For limited space, a floating desk with a small chair and a few shelves mounted on the wall are just what you need to save some space and avoid clutter.
Dresser. Trust us when we say that looking flawless is one of the top priorities for any teenage girl. So, if you are looking to be the greatest parent ever in your child's eyes, get them a tall mirror along with a nice dresser, which is going to fit all of their outfits.
Storage. For any small room extra storage is super important. Shelves mounted on the walls, storage ottomans, storage beds and storage benches will be your best friends when you are decorating a small room.
Beds with extra storage are a lifesaver for any small space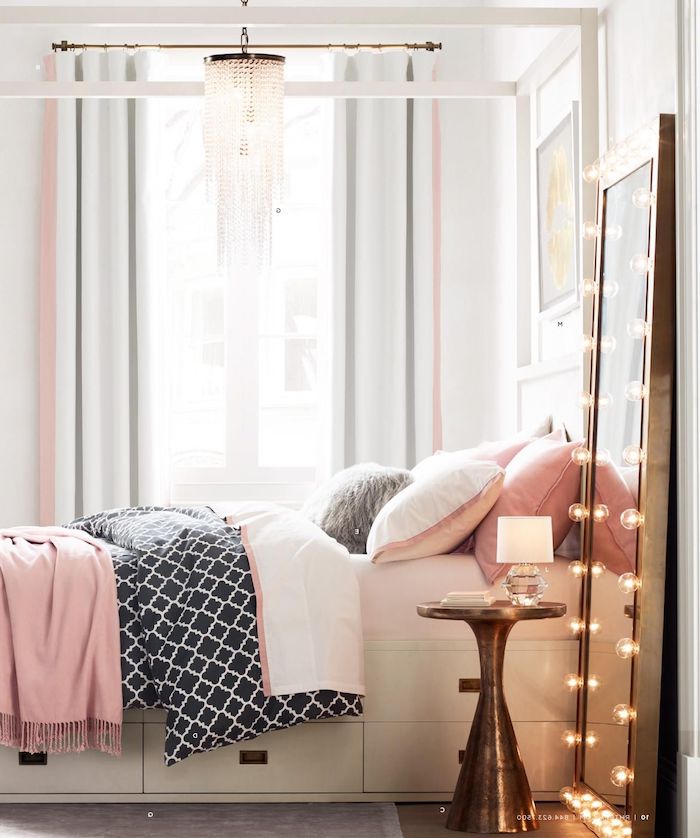 What's the best color for a teenage girl's bedroom?
Listen, we know the most obvious answer is pink, but we know that not every girl enjoys pink as much as people think they do. Furthermore, there is a plethora of colors to choose from when it comes to a teenage girl's bedroom. First of all, it is important to point out that small rooms need lighter colors to feel more airy. With that being said, however, if the room enjoys a lot of natural light, you can create an accent wall in a darker color. In general, you can use any shade you like. Right now, rose gold, lilac and mint green are colors which not only stand out, but are also extremely popular and trendy. So, don't be afraid to try them. On the other hand, if you want to stick to more natural colors for the walls, add splashes of color across the room for a more fun and modern look.
Add splashes of color to create a trendy and modern space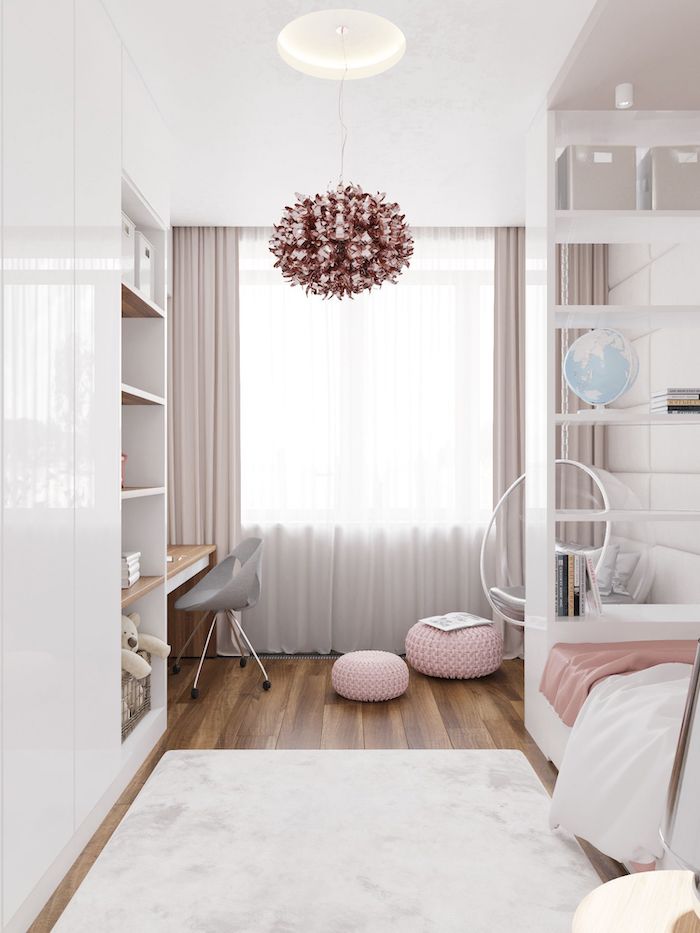 Teenage girl bedroom ideas for small rooms
Now that we've already covered the basics, it is time to add a few tips and details, which are going to make any small room extra special. After all, your child needs to feel like this room is their own safe haven where they can escape everything and everyone and have some alone time. So, if you follow our tips and tricks you will, no doubt, give them just that.
Your child deserves the best when it comes to their room decor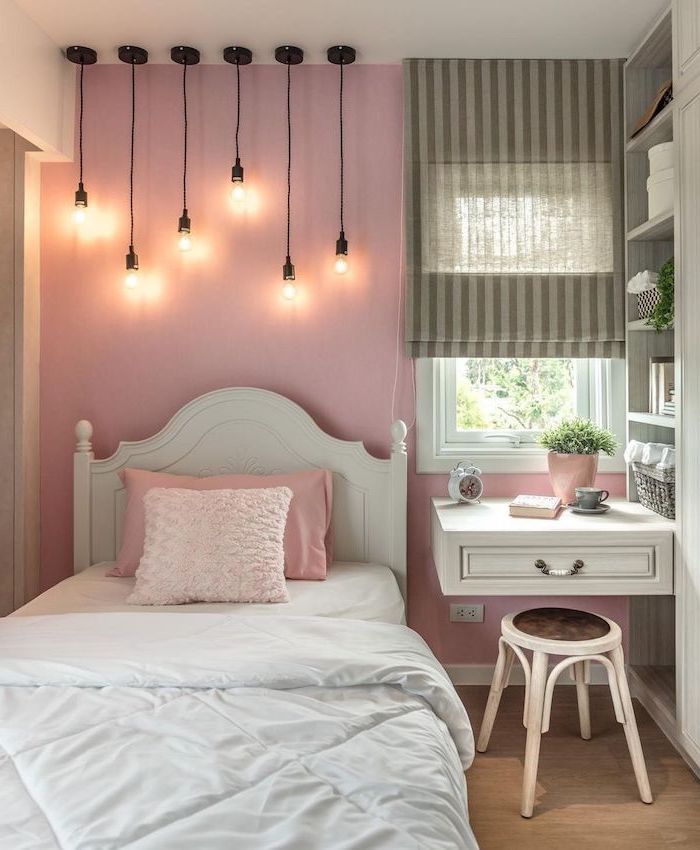 Make a statement with an accent wall
Accent walls are super trendy. The good news is that there is such a variety when it come to materials and colors to use to make a statement. Whether you choose a colorful wallpaper, a wall full of art, or even a wall with shiplap, for example, it will be a good choice. It will bring so much character to the room and every person who enters the room will definitely be impressed by the creativity.
I mean, just look at this amazing floral wallpaper and tell me you don't like it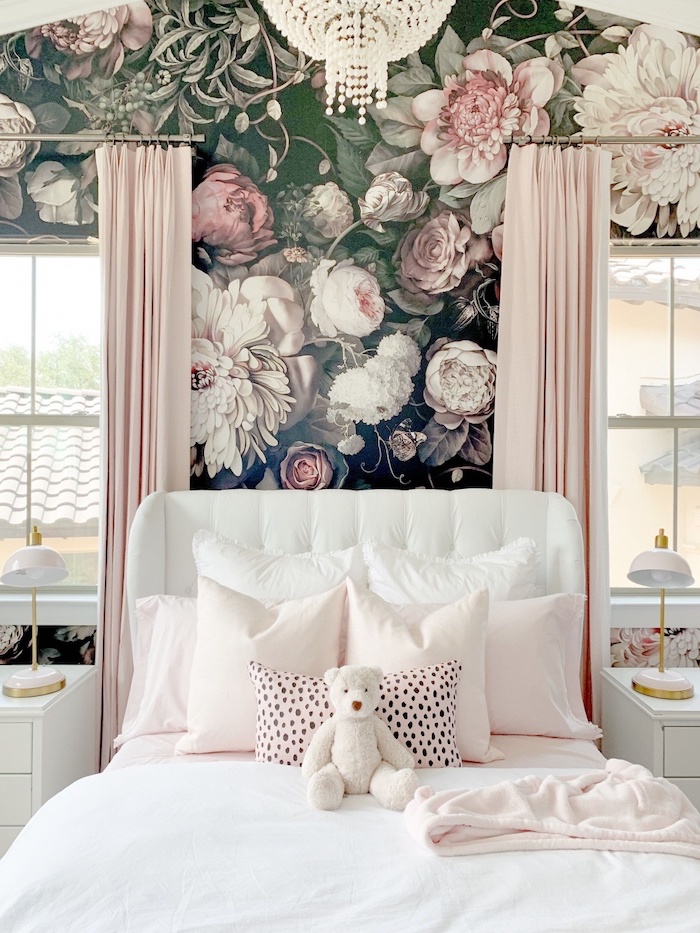 Create a boho feeling with some fairy lights
If you have browsed Pinterest or Instagram, you will definitely know that dairy lights in the bedroom are all the rage. What's more, it seems like this trend is here to stay. Not that that is a bad thing. On the contrary, fairy lights create a cozy, calm ambience. Their warm glow is perfect for the bedroom and even more so for a teenage girl's bedroom.
Fairy lights create a cozy and calm ambience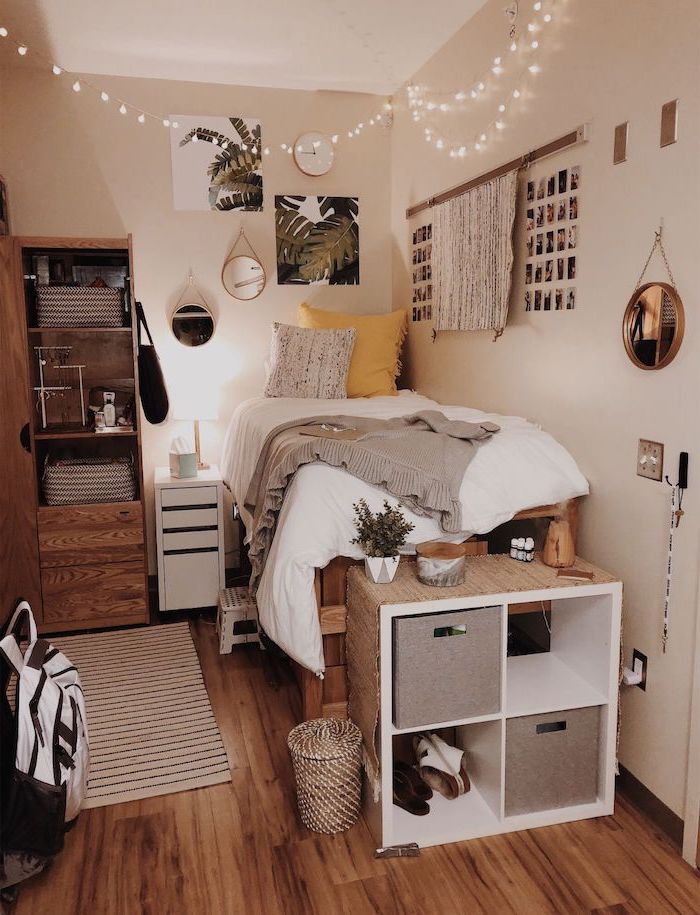 Teenage girl bedroom ideas for small rooms which are related to their interests
Everyone has different interests and if your child is particularly passionate about a certain thing, why not create a room, which is dedicated to that passion. For example, if your child loves travel and adventure, then the photographed bedroom below is the perfect example to recreate. If they enjoy music or play an instrument, make sure you include that in the room decor. To sum up, when figuring out what the decor should be include them in the decision making. That way, not only are they going to get a room they actually love, they will also get to pick what passions they want to include in said decor.
Room, dedicated to the owner's love of travel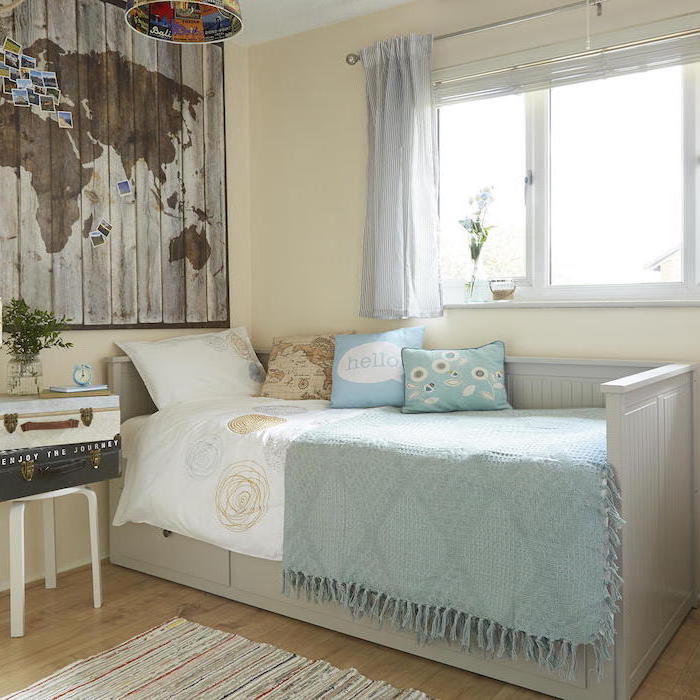 Create a memory wall with cute polaroids
Another trend which you can find all over Pinterest and Instagram. Cute polaroids hanging from strings, or fairy lights on the wall are the best way to showcase some amazing memories. Let your child pick out the photos they want on the wall, however. They might not agree with your choice of baby photos for example. Creating a wall full of memories is a great way to add character to the room and make it extra sentimental.
Memories are a great way to always keep the child inside alive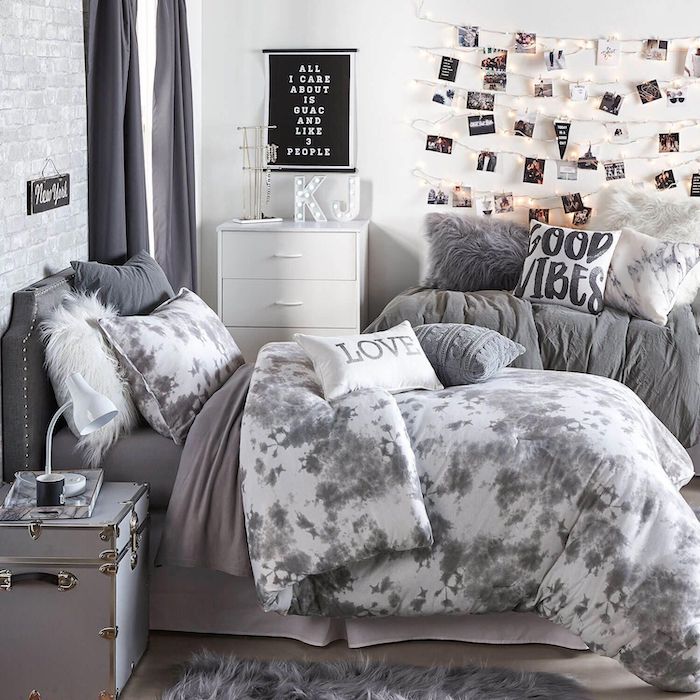 Colorful teenage girl bedroom ideas for small rooms
Bring in the fun with a colorful display. If you want that extra wow factor, then bring in as much color as you can into your kid's bedroom. Whether it is the walls, carpet or bed linen, adding color and mixing textures creates a fun and vibrant environment. What's more, a colorful room will definitely help your teenager be more cheerful and happy.
Bring in the positive vibes by adding lots of color to the room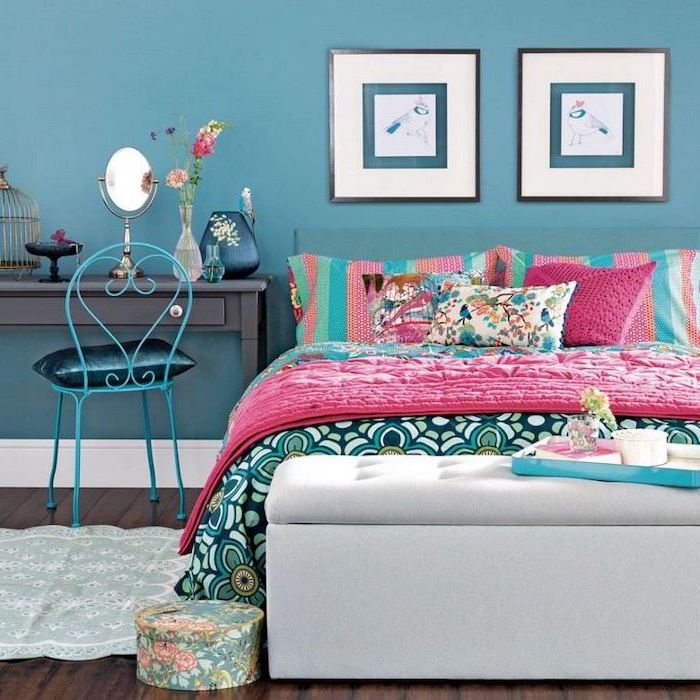 Or keep it minimalistic with splashes of color
If going colorful is not your thing, then by all means keep things minimalistic. Then just add little splashes of color here and there to give the room some depth and character. These can be little accessories such as photo frames, throw pillows or blankets. Or, you can go big and add color with a bed frame, lamp shades or curtains. Don't be afraid to try new things and experiment a little.
Add splashes of color to give the room some character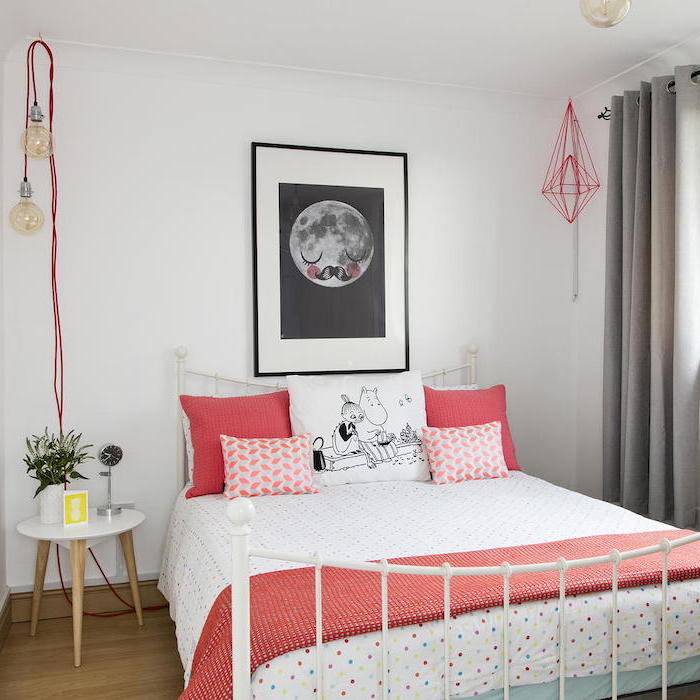 Monochromatic teenage girl bedroom ideas for small rooms
If you are a fan of the minimalistic, monochromatic look then by all means go for it. Keeping it simple and black and white can sometimes seem boring. If you add the right accessories, however, you are bound to have a chic and trendy space. Add some art, layer the colors and you are all set.
Keep things simple with a monochromatic look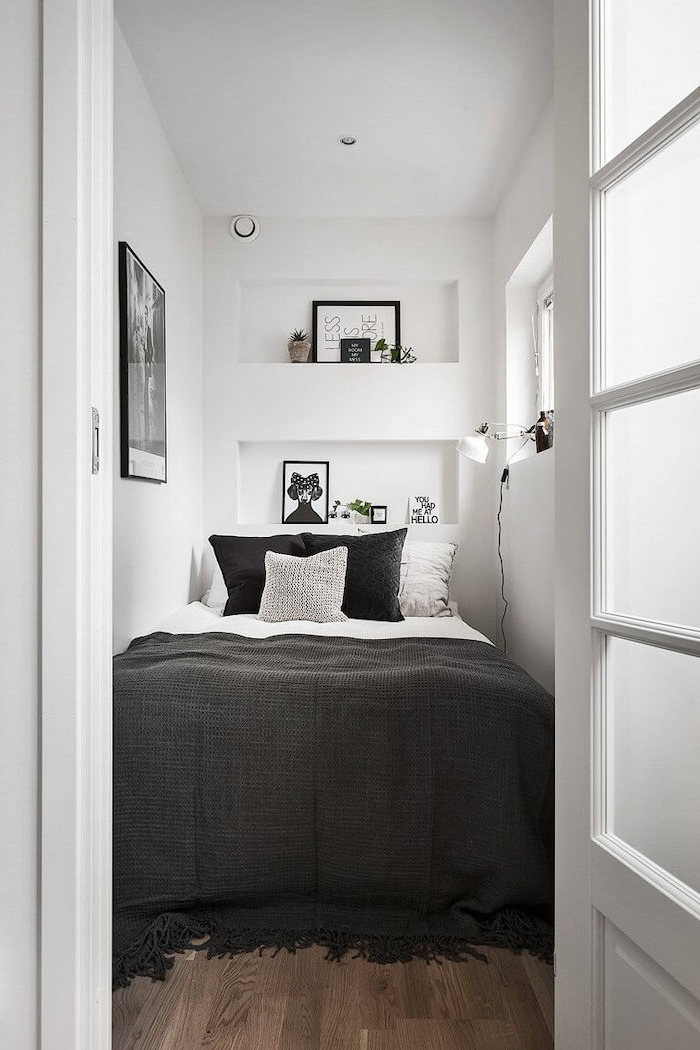 Now browse through our gallery for even more teenage girl bedroom ideas for small rooms
Such a dreamy space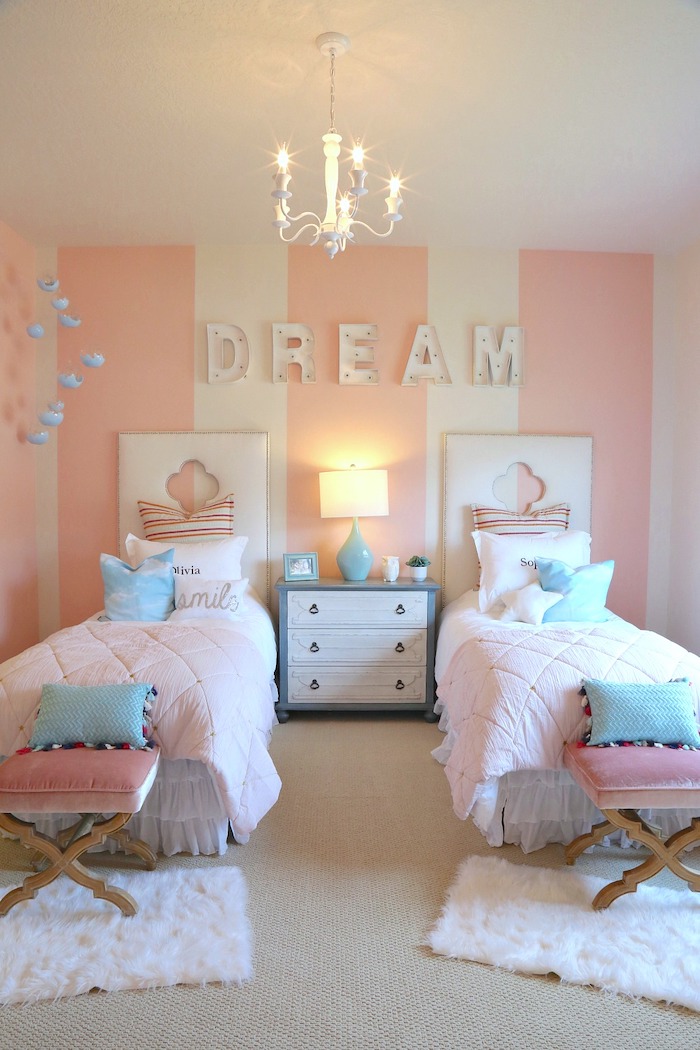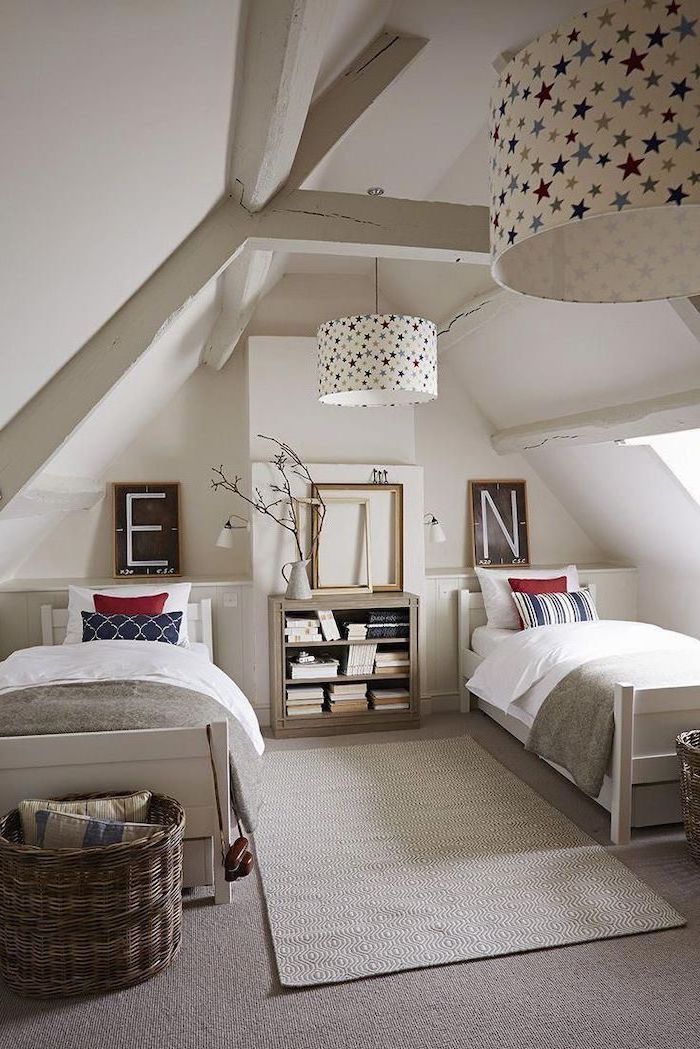 Teen girl room ideas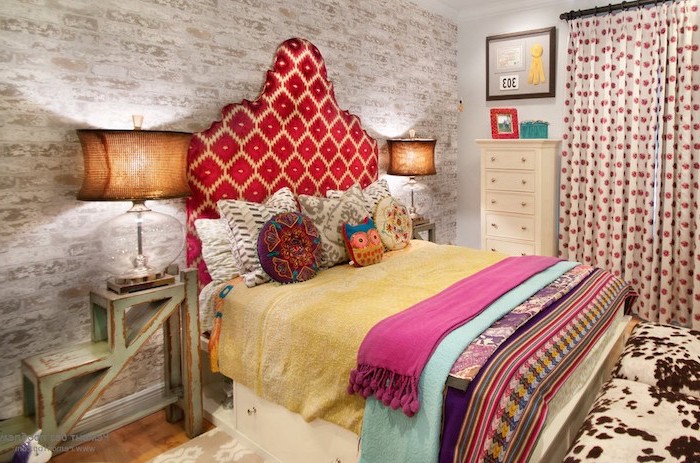 Cute room ideas for a teenage girl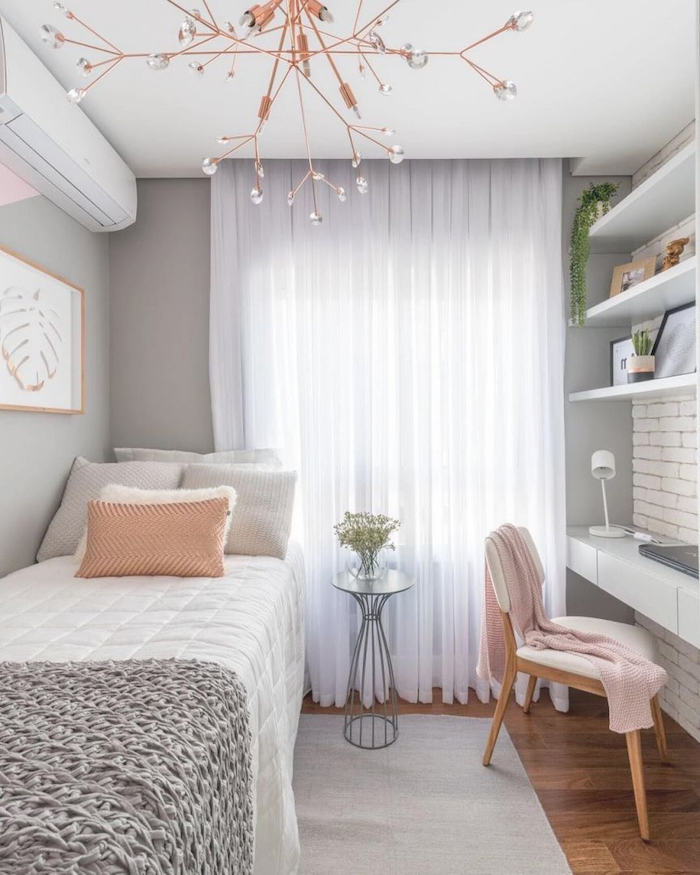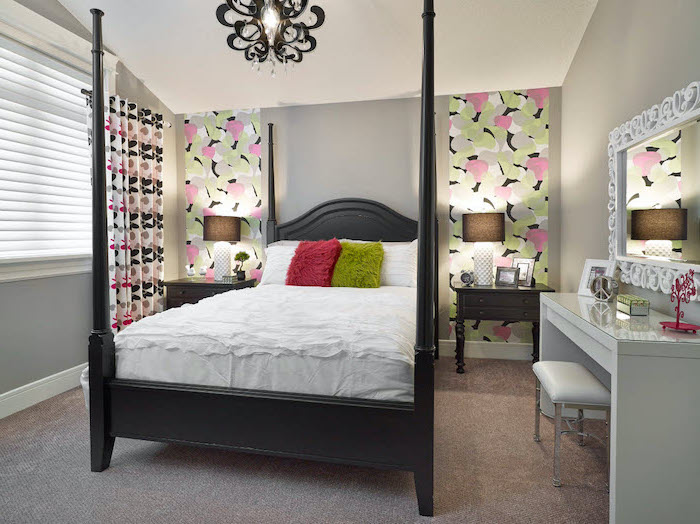 Cozy teenage girl room in Scandinavian style
Teenage girl bedroom ideas
Room decor ideas for a teenage girl
Teenage girl bedroom ideas for small rooms