80+ Spooky Halloween face paint suggestions with tutorials
In our last article, we compiled an amazing selection of Halloween costumes, aimed for the romantic souls among us. Today, we would like to offer some tips and ideas for those of you who would rather be spooky than sweet. If you are wondering how you can get a truly scary and memorable All Hallows Eve look without breaking the bank, we have a simple (and very creatve) solution for you – Halloween face paint! Not only is this a much cheaper and faster alternative to buying (or making) a costume, but it can also be a lot more effective and very creepy. Furthermore, using face paint is incredibly easy – yes, even if you are not very good at art. Don't believe us? We have collected a few amazing photo tutorials to prove it! In just a few steps you can transform yourself, your family or your friends into a spooky skeleton, a wicked witch, or a gruesome zombie.
Be the star of the party with our Halloween face paint ideas!
Halloween face paint ideas are awesome
Before we get on to the tutorials, we should mention some very important points about working with face paints. First of all, it is very important to use the correct materials. If you have some water colors or pastels laying around the house, it might be tempting to try using them, instead of forking out money for specialized face paints. However, this will just lead to best results and can even be potentially dangerous. Even if the materials in question are non-toxic, they may still contain ingrediants that can be harmful to your health. Applying them on your skin may cause irritation and rashes. Always make sure that you are using paints especially created to be used on your face and body!
Isn't this warewolf face paint amazing?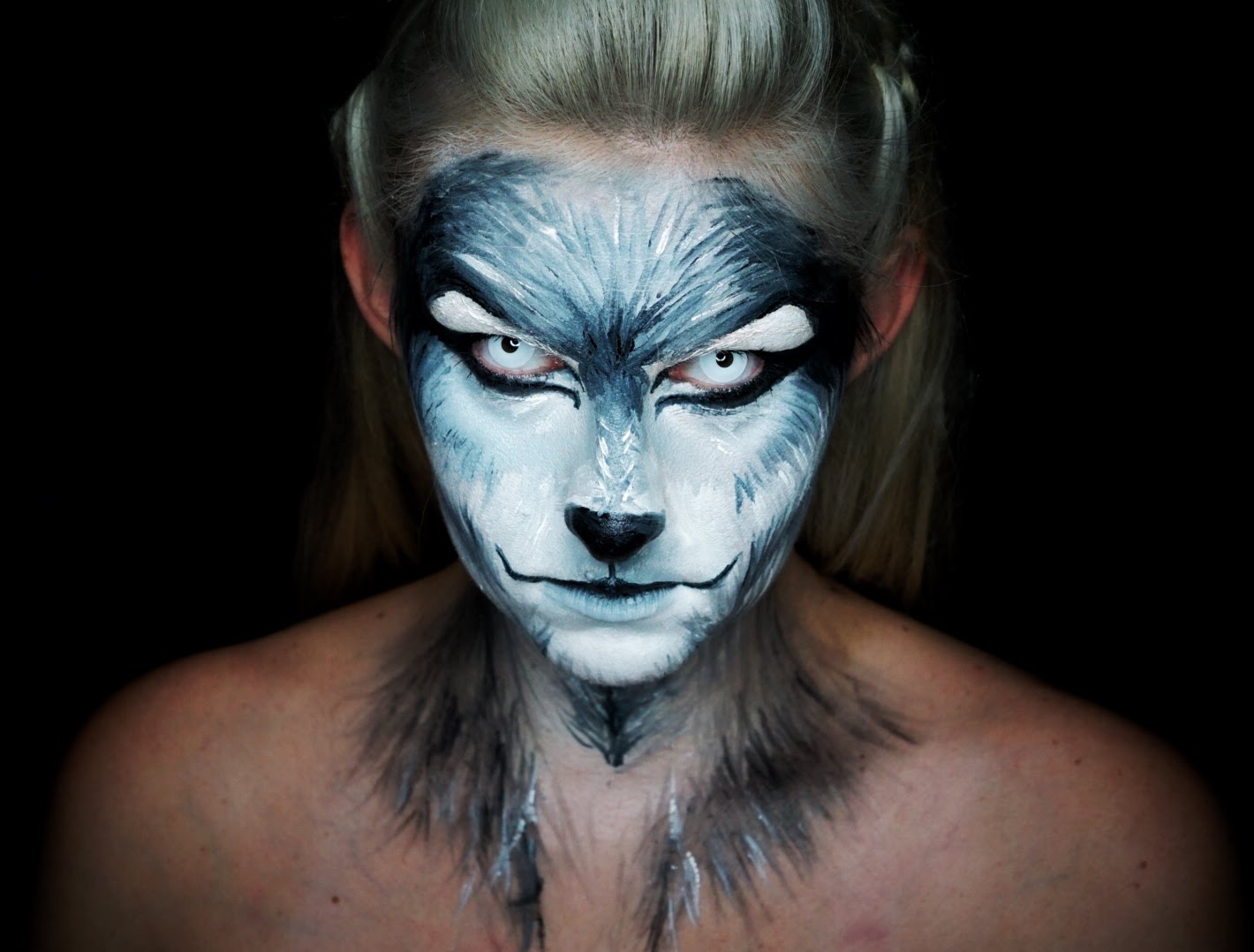 Werewolf Halloween face paint
Having the right tools is also ingredibly important. You will need face paints in different colors, of course, but also make up brushes in various sizes – a large one for applying the base color, and a few smaller ones for adding the details. In addition, you will require a glass of water for washing your brushes and a kitchen towel for drying them. If you'd like your face paint to be extra sparkly, you can also add body glitter and rhinestones.
Once you have the right face paints and tools you can start your tarnsformation. You don't need to apply any face creams or primers – just ensure that your skin is clean and dry. Arm yourself with plenty of patience – work slowly and add as much detail as possible. If you happen to need a darker hue, simply apply one layer of face paint, let it dry and then repeat the process. And finally – if you make a mistake – don't panic! Just use a damp towel to wipe it away and continue.
And now it's time for our photo tutorials! Are you ready? Let's get started!
In our first tutorial we will show you how to recreate this beautiful sugar skull face paint, inspired by Dia de los Muertos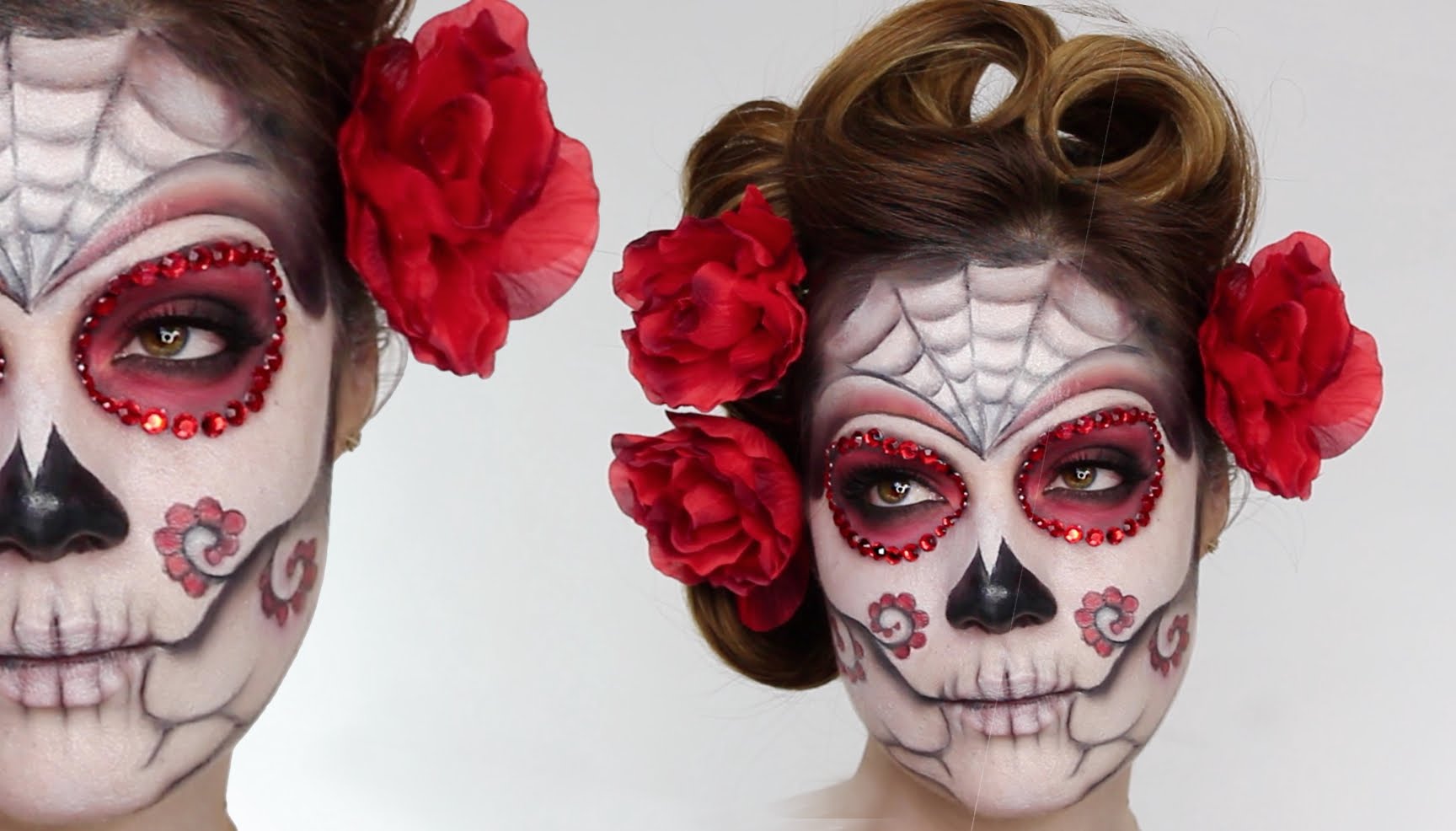 Sugar skull face paint tutorial
You will need:
White, black and red face paint
A big makeup brush or sponge
A small makeup brush
Several large red faux flowers (optional)
And here is the step by step photo tutorial:
First, apply the white base color, using the large makeup brush (sponge)
Next, outline a circle around each of your eyes, using black face paint and a small makeup brush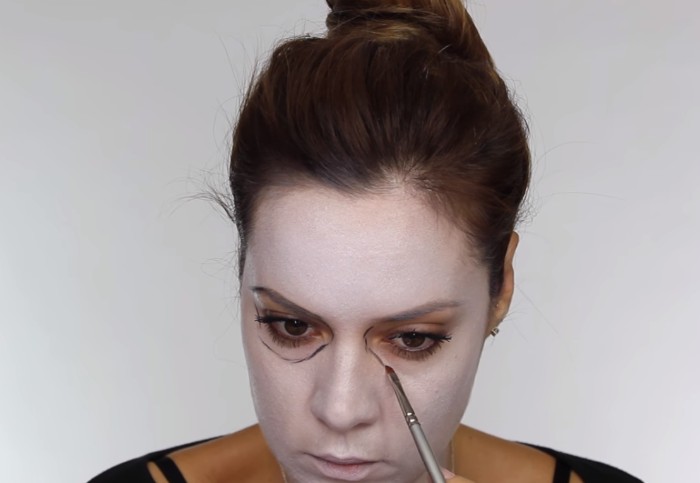 Color in the circles with red paint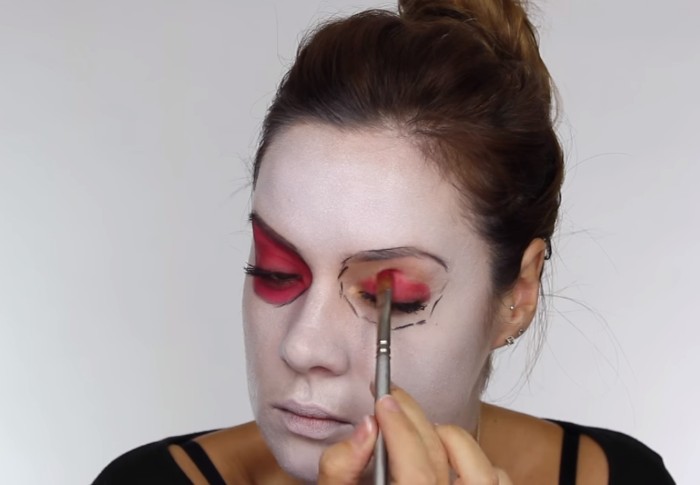 Now, start adding the details. Decorate one half of your face first, and only the start the other half. This way it will be much easier to get an even, symmetrical look. Begin with the forehead and work your way down to the cheeks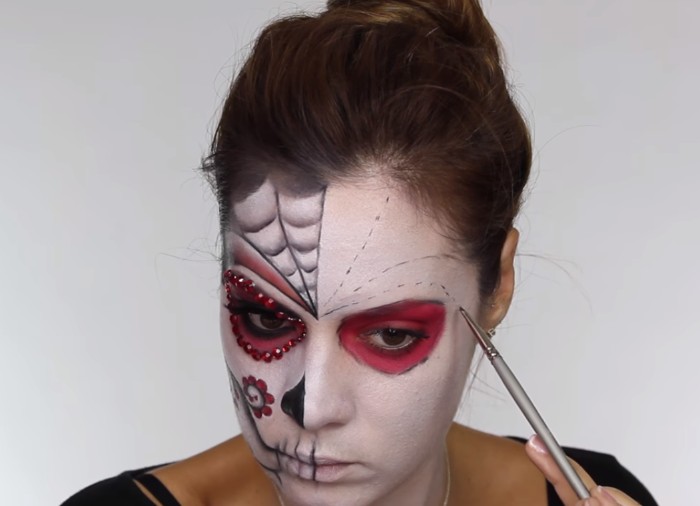 Paint the nose and mouth details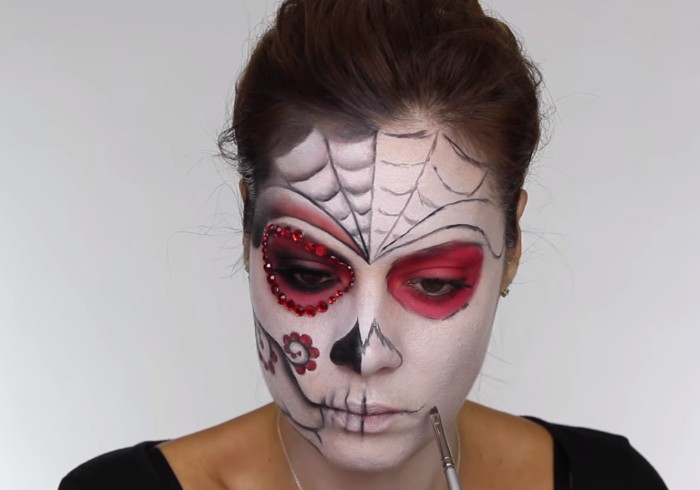 Add some shading and, if desired, stick a few red rhinestones around your eyes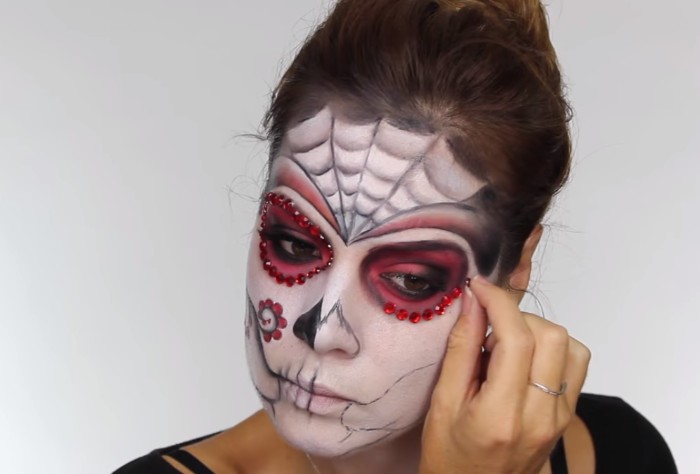 Floral motifs are essential for the suger skull look. Try to keep them symmetrical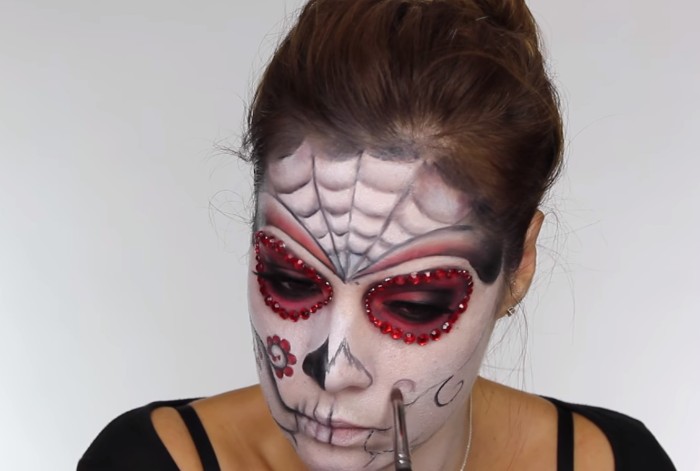 Color in the flower details using red paint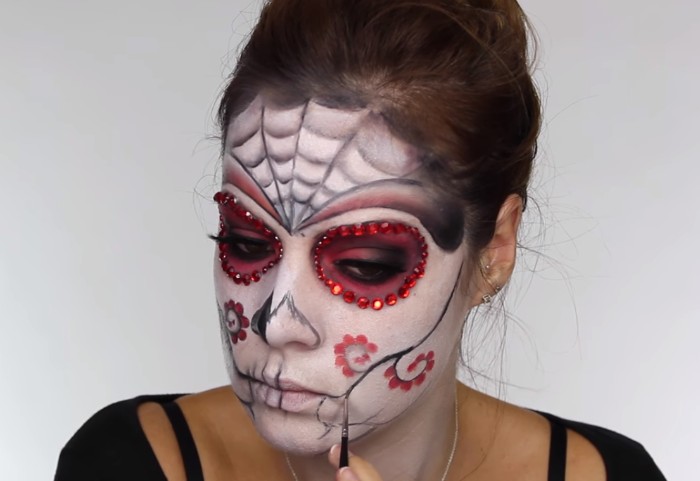 Add the finishing touches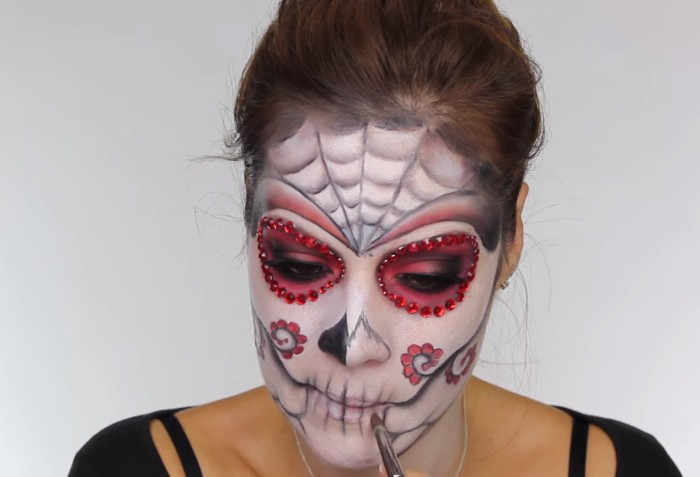 Then style your hair and decorate it with red faux flowers. Your gorgeous Halloween look is complete!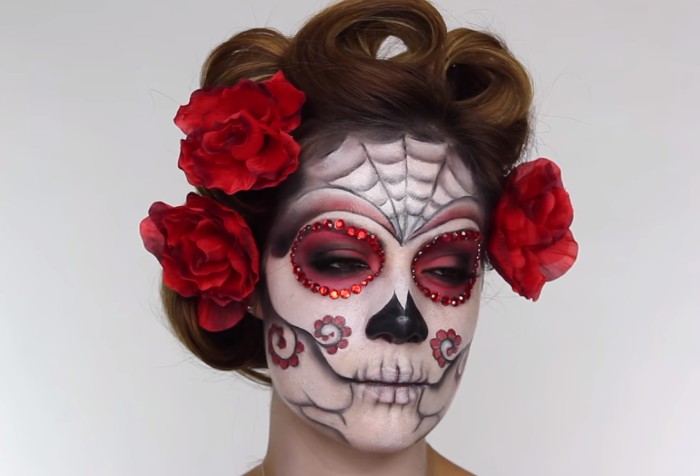 This video tutorial offers another amazing variation of the sugar skull look
Our next photo tutorial will show you how to transform yourself into a creepy zombie. It's super easy and lots of fun!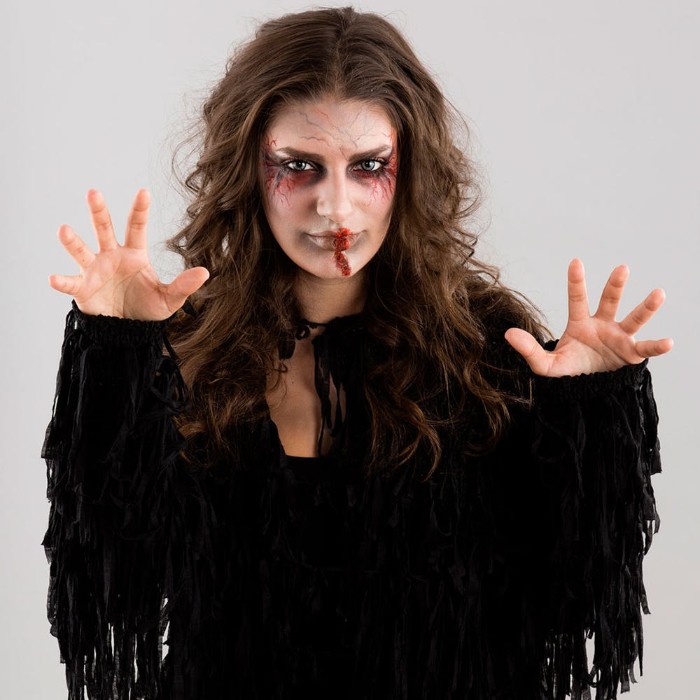 Zombie Halloween face paint tutorial
You will need:
Regular face foundation (preferrably a shade lighter than your skin color)
Smokey eye (grey) eye shadow palette
Blush
A large makeup brush
Smaller makeup brushes
Special effects (FX) makeup wax
Red and blue face paint
How to do it:
Begin by applying the foundation, using the large makeup brush. Cover your entire face, including the lips.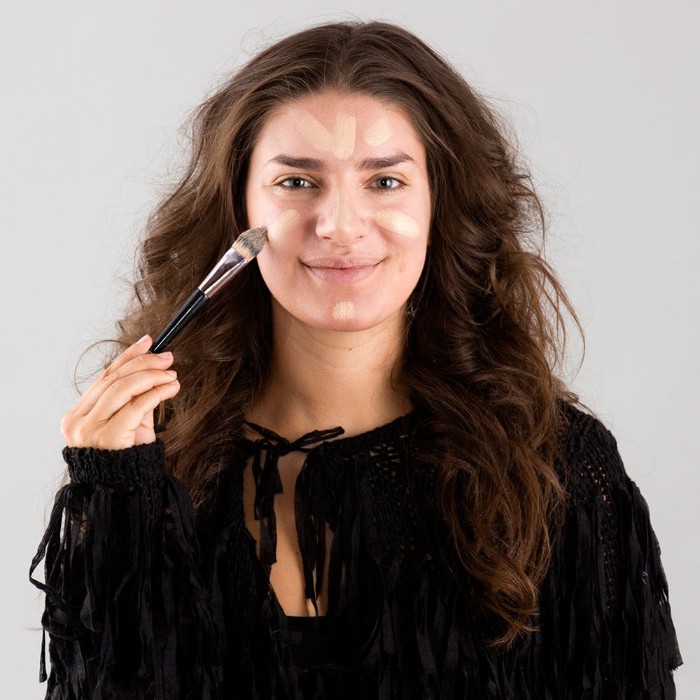 Add a generous amount of dark grey eye shadow on your eyelids, continuing past the outer corner of your eyebrows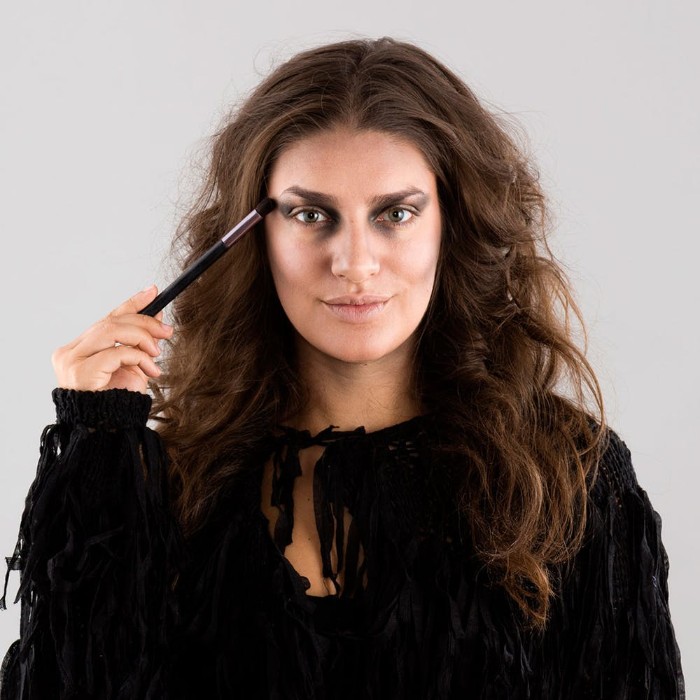 Next, apply some blush around your eyes, to make them look puffy and red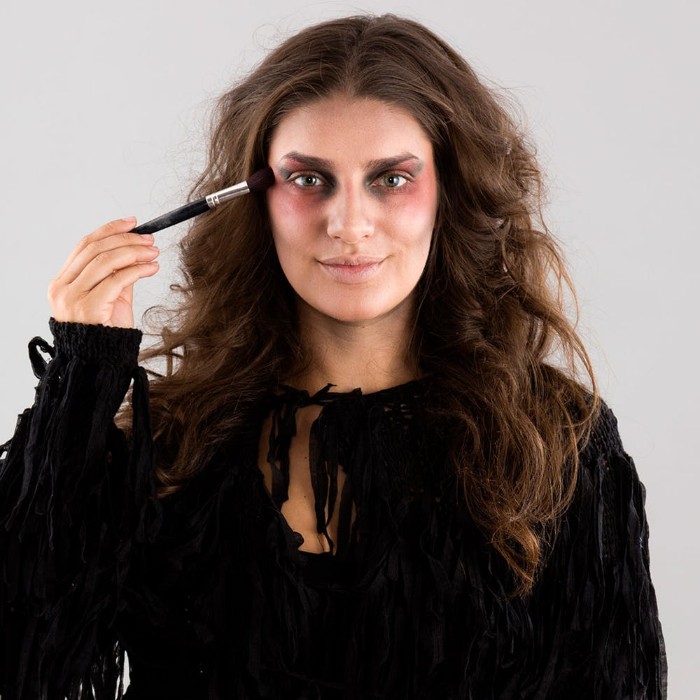 Create a sickly, pale look by adding some dark grey eyeshadow under your eyes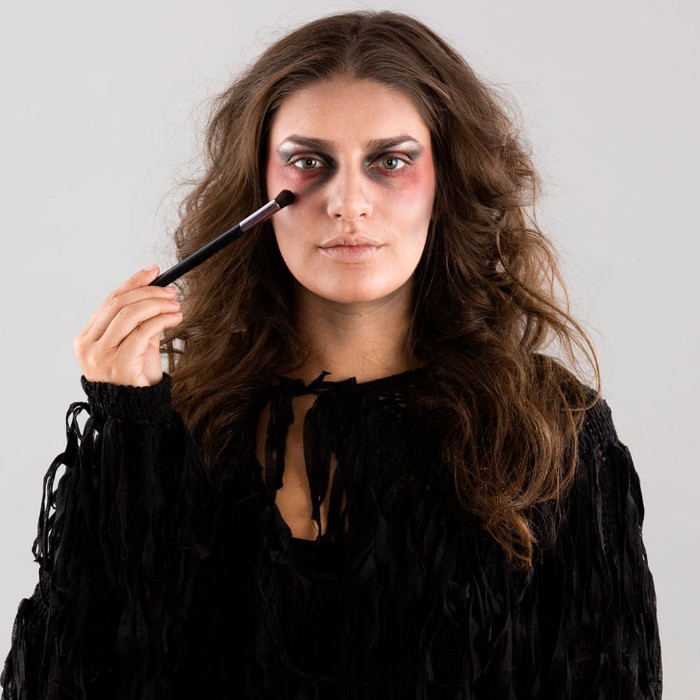 Add some pale grey eyeshadow on your cheeks, to make your face look gaunt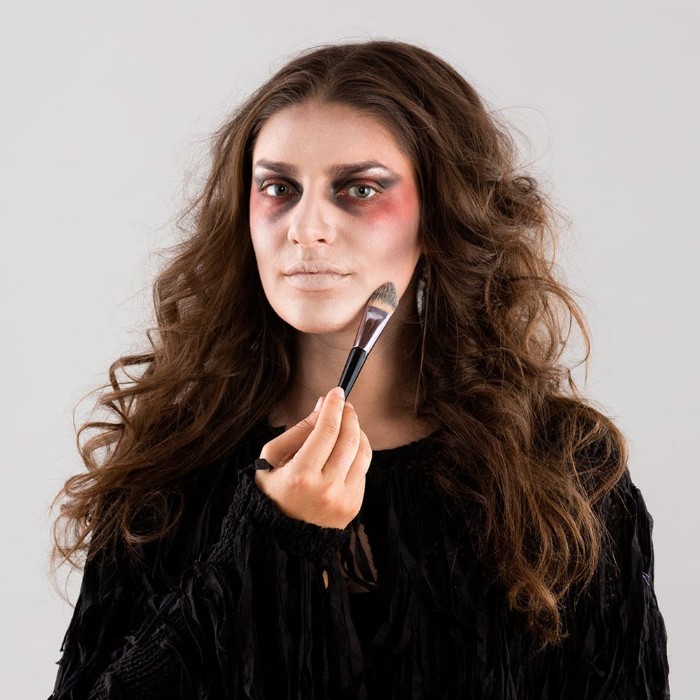 Underline your bottom lip with light grey eye shadow. This way your lips will look even paler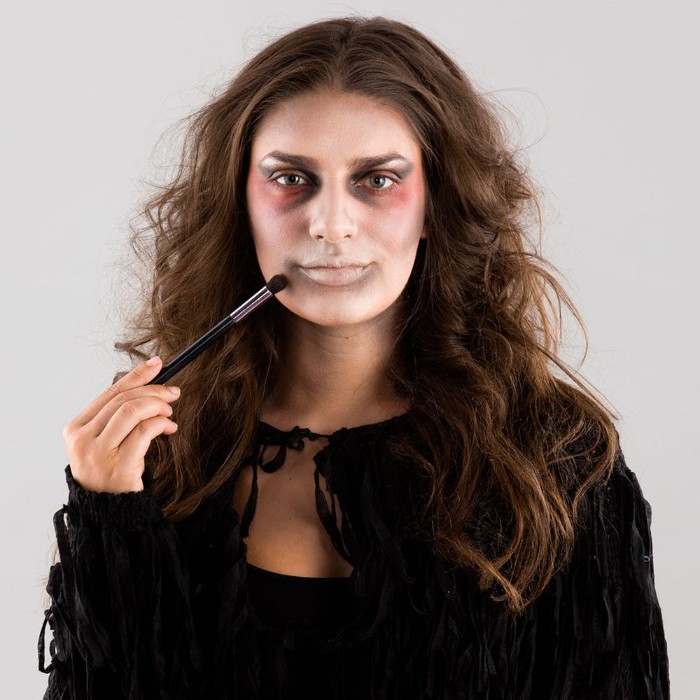 Using a clean brush, apply some special effects makeup wax on your lip.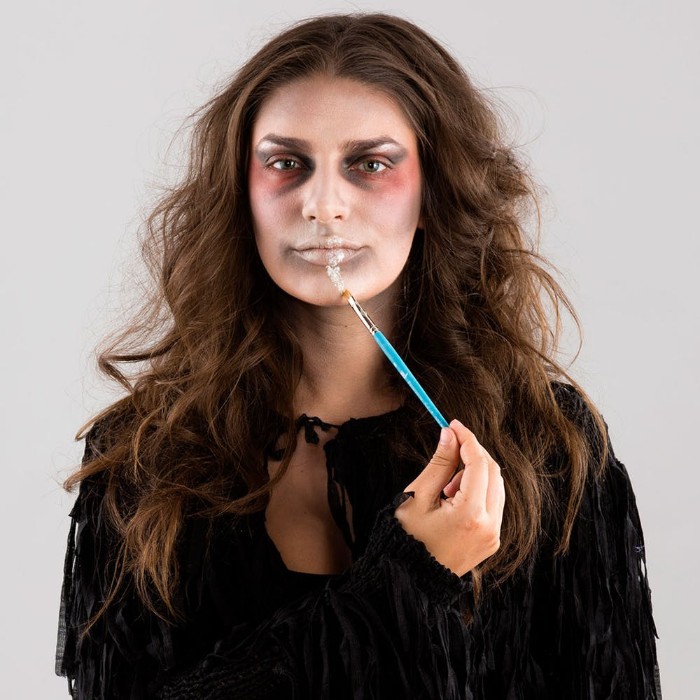 While the wax is drying, draw some thin vains on your forehead, using the blue and red face paint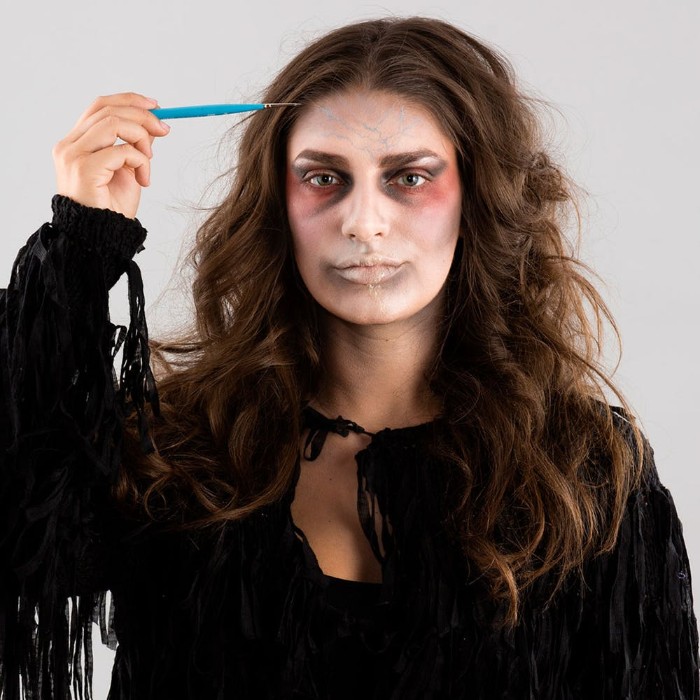 Once the FX wax has dried, paint over it with red face paint (or fake blood, if you prefer)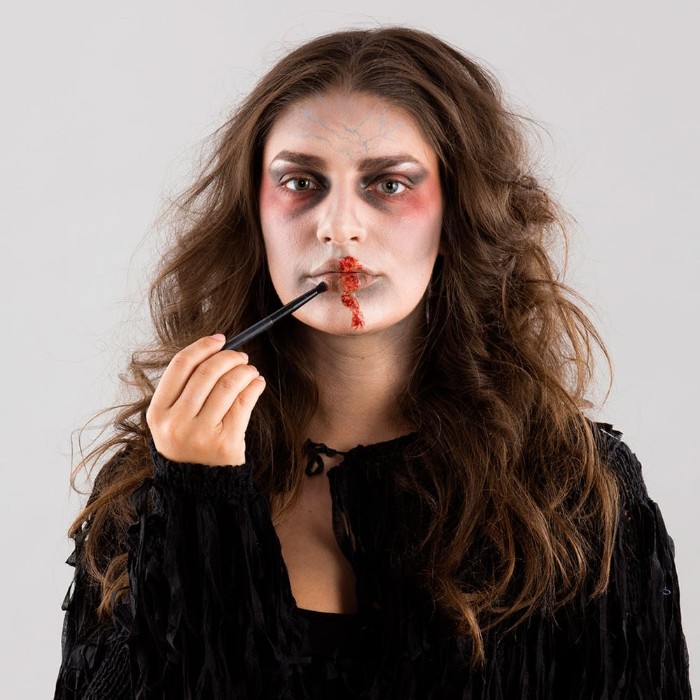 Add some FX wax below the corner of each eye and let it dry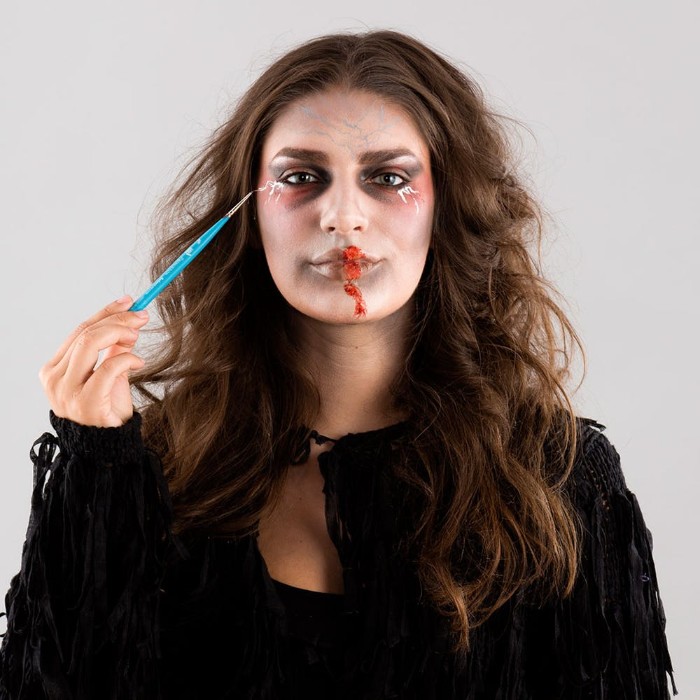 Finally, paint thin vains over the wax with red and blue face paint. You are ready for trick or treating!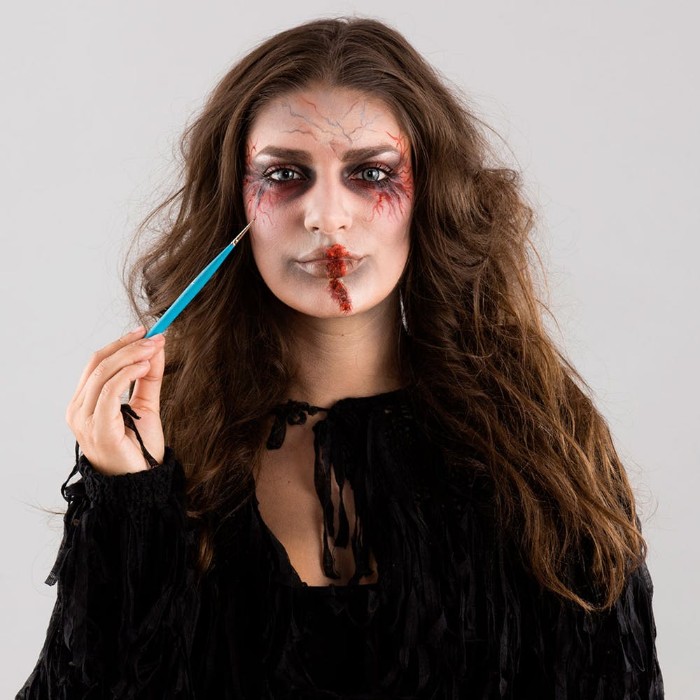 What's Halloween without witches?
Those of you who are a little bit more advanced in the art of face painting will love our next tutorial. We will show you how to create a super realistic and gruesome zombie makeup!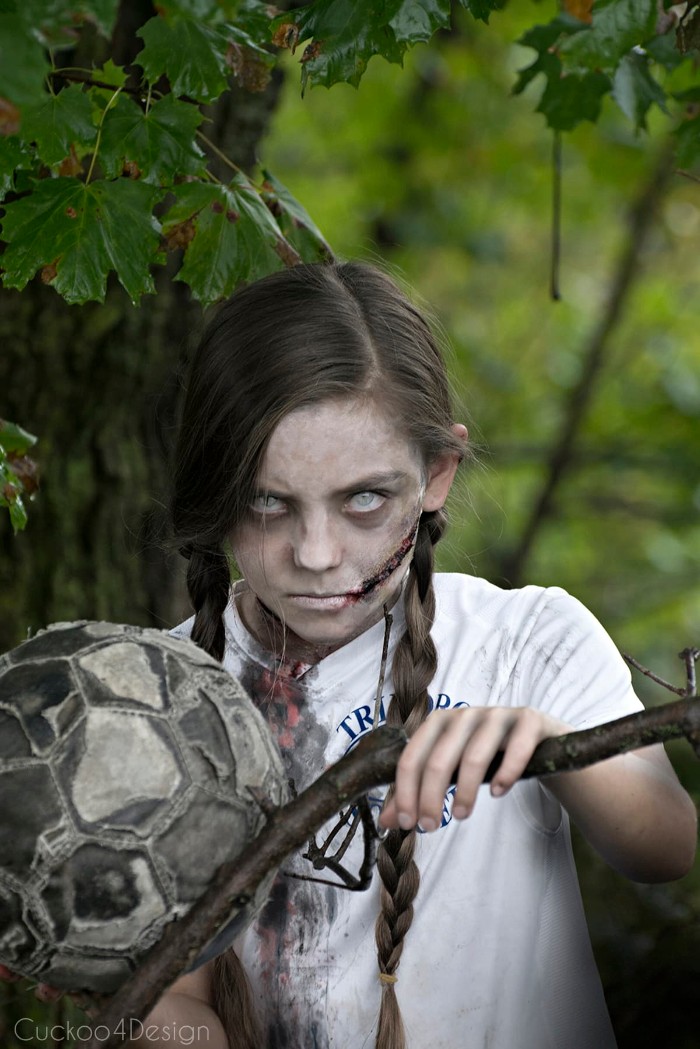 Kids' zombie face paint
What you will need:
FX makeup wax
White and grey face paint
Yellow and light green face paint (optional)
Fake blood
A pair of mall scissors
Makeup brushes in different sizes
Technique:
Begin by deciding where you want your fake scars to be, then apply generous amounts of FX makeup wax on the desired areas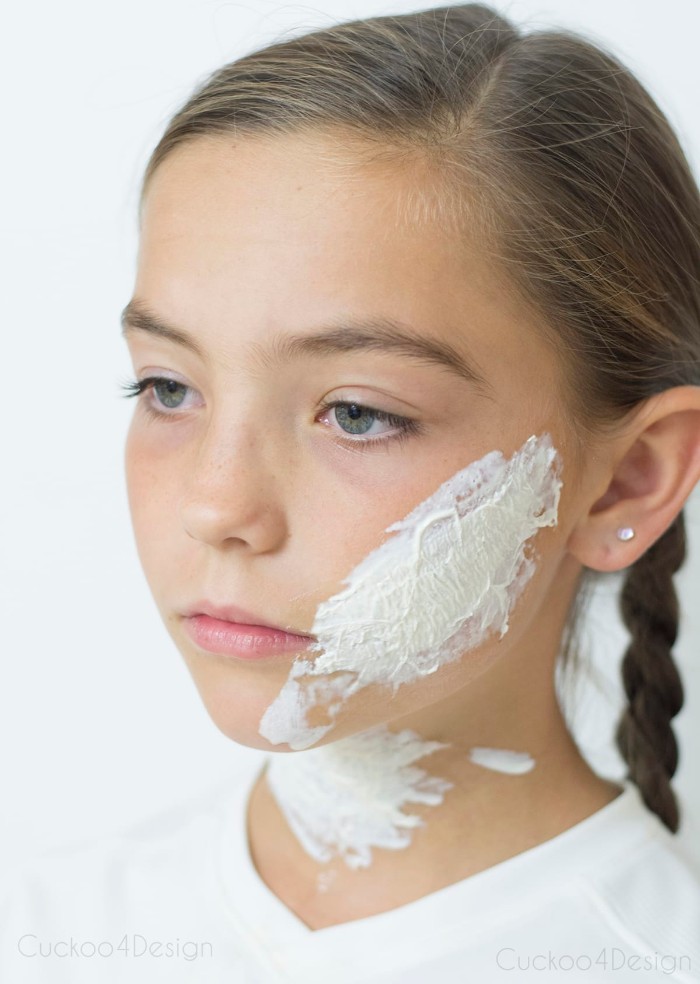 In a few moments, the wax will become crackled and dry. Using a pair of small scissors, carefully make a few incisions, to simulate gashing wounds. Make sure not to overdo it – they need to look as natural as possible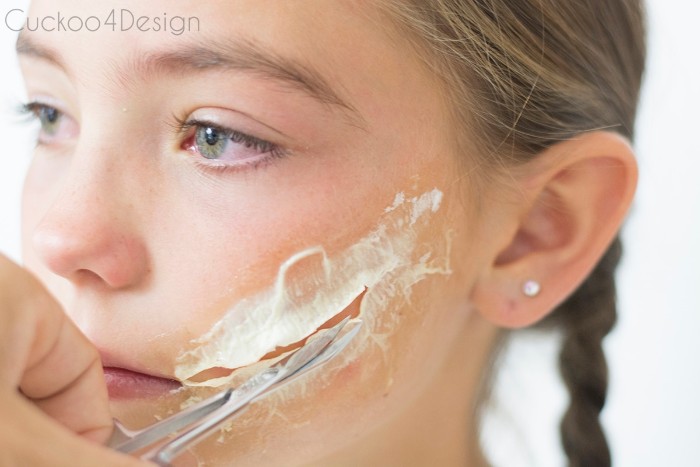 Now, begin applying white face paint, using a large makeup brush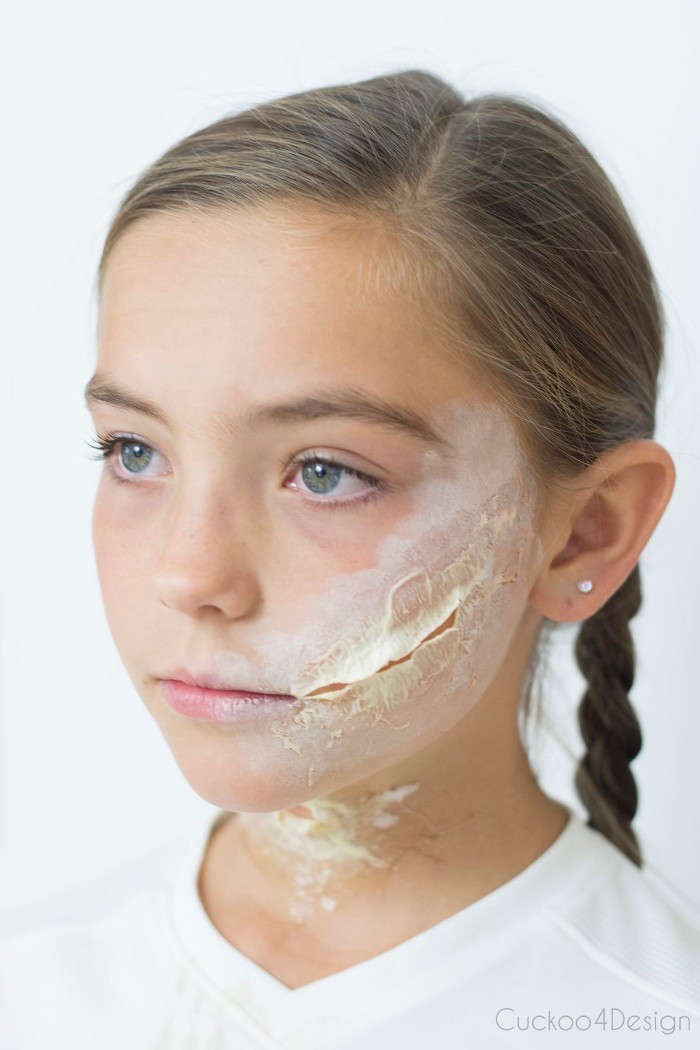 Make sure to cover the entire face, so it looks sickly and pale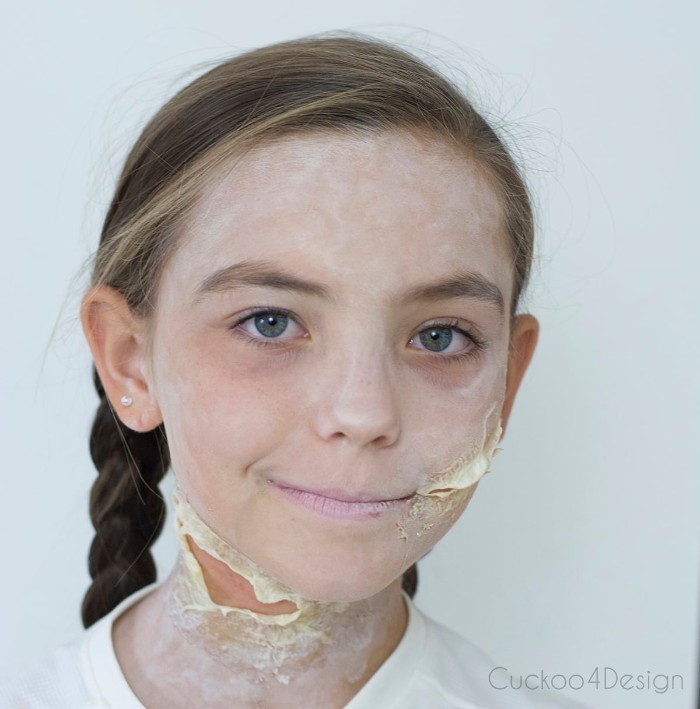 Add some dark face paint around the eyes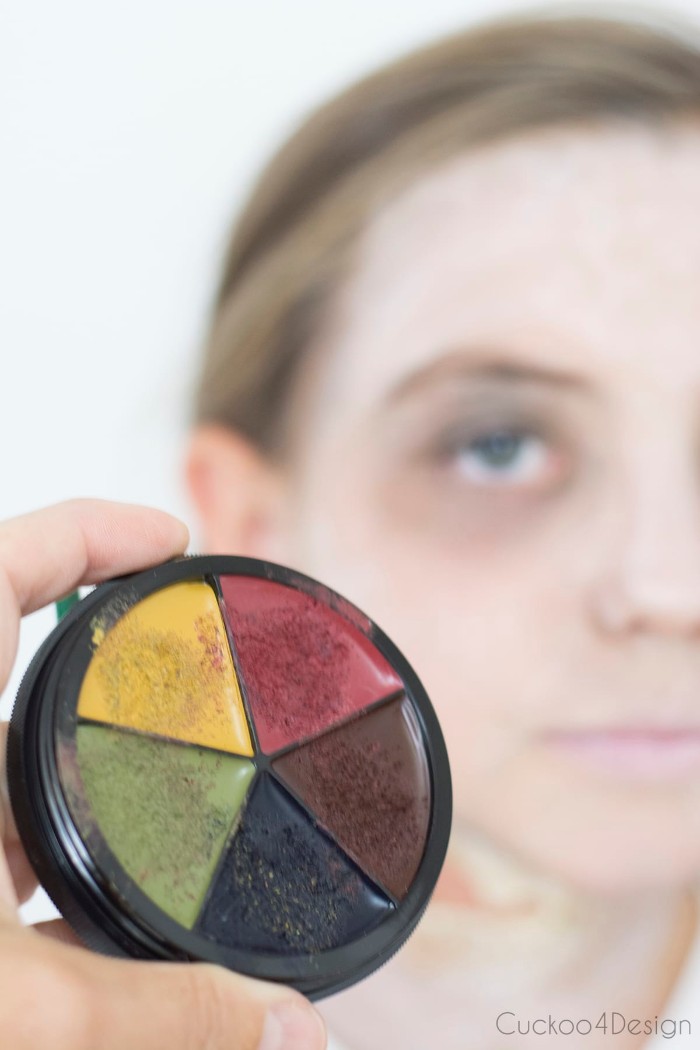 This is what the makeup should look like at this stage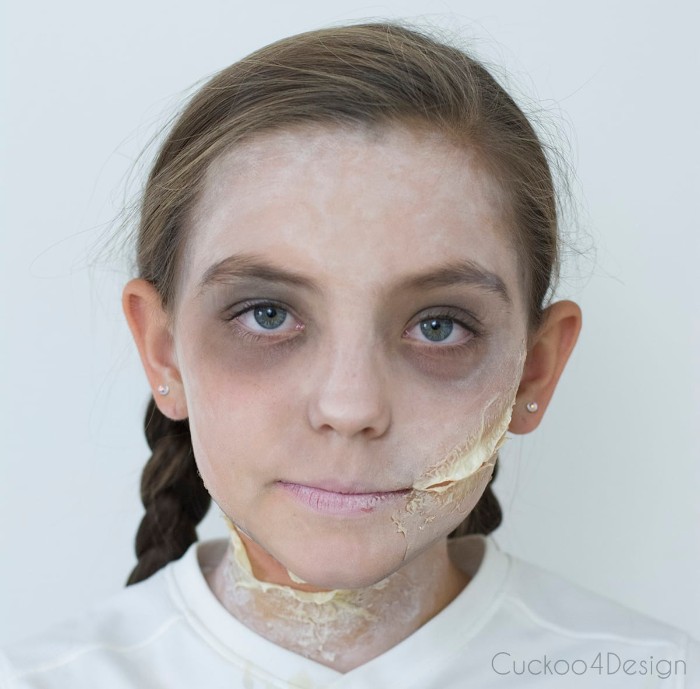 Now it's time to add the blood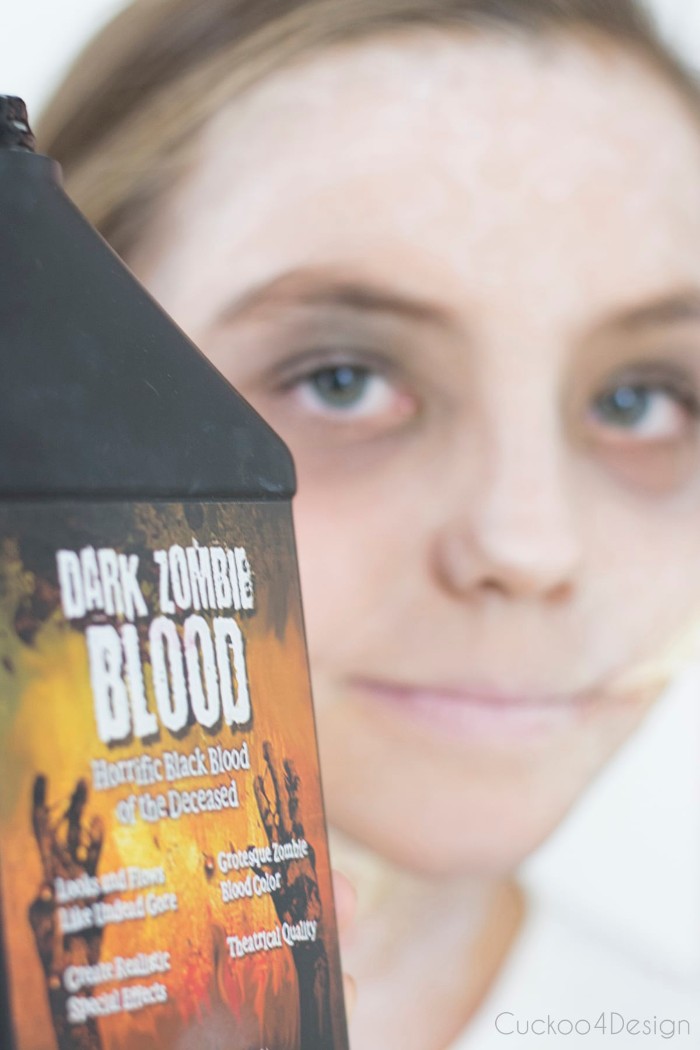 Carefully apply the fake blood over the dried FX makeup wax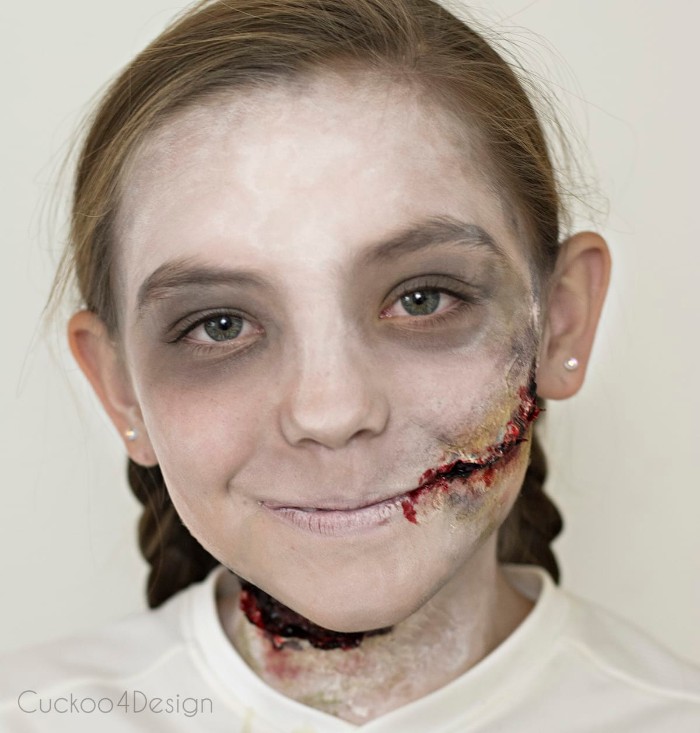 Make sure that the wound is darker in the middle, and becomes gradually lighter around its edges. You can add some yellow or light green face paint to the outer edges to make it seem more realistic and gross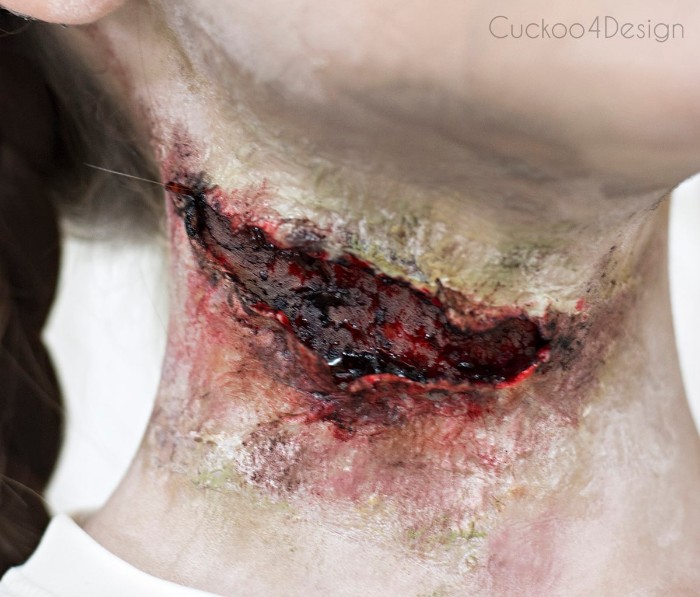 Your spooky zombie costume is ready!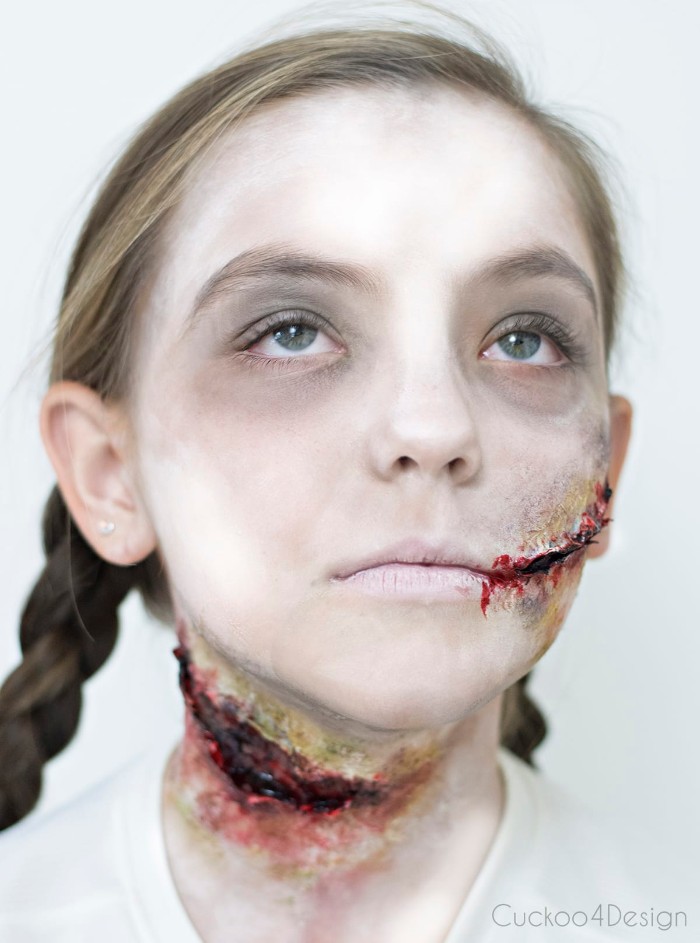 An undead child – if this doesn't spook your friends, what will?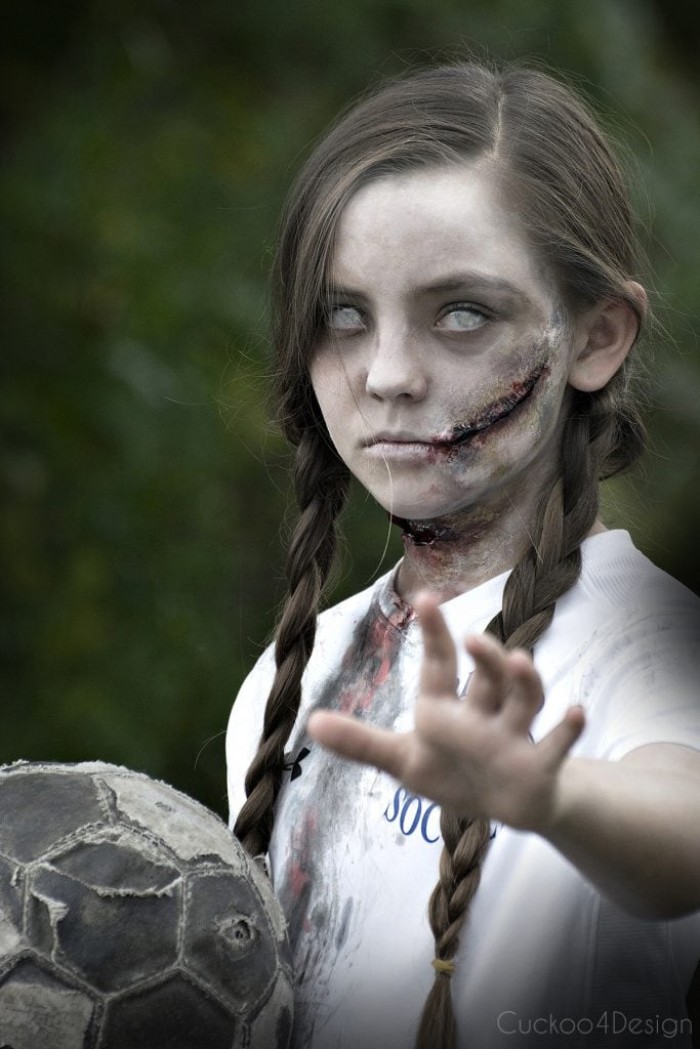 Still not scary enough for you? Then check out this horrific zombie Halloween face paint tutorial 
Skull face tutorial
And now it's time for a true Halloween classic – the good old skull face paint. It's easy, it's fast, and you only need two colors to create it. It's the perfect solution for those of you who need a last minute costume that looks professional
You will need:
White face paint
Black face paint
A large makeup brush
A smaller makeup brush
How to do it:
Begin by applying the white base color, using a large brush. Make sure that your entire face and neck are covered
Outline your eyes with black paint, starting from the top edge of your eyebrows and continuing down to the bridge of your nose. Collor them in. Repeat the process with the tip of your nose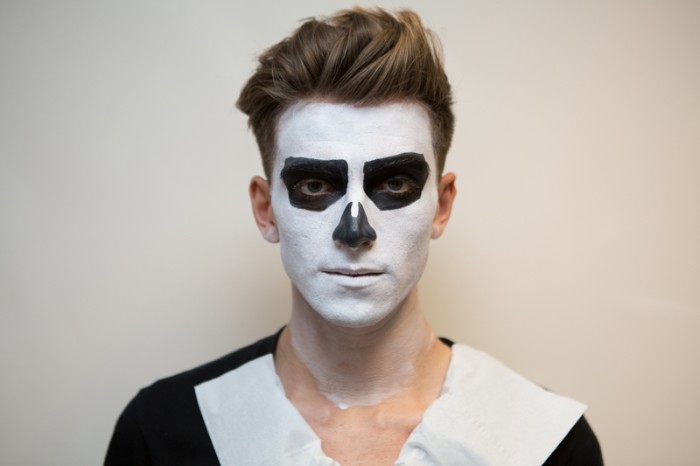 Now it's time to draw the jaw. Use light strokes of black paint and make sure to paint one side first, so it's easier to get a symmetrical look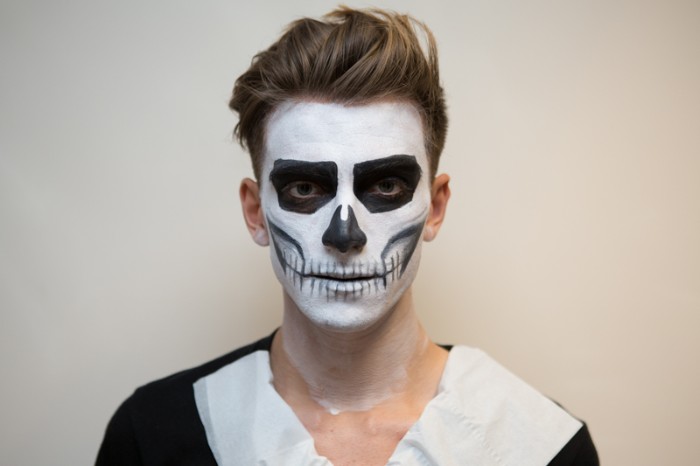 Add finishing touches around the eyes, and you're done!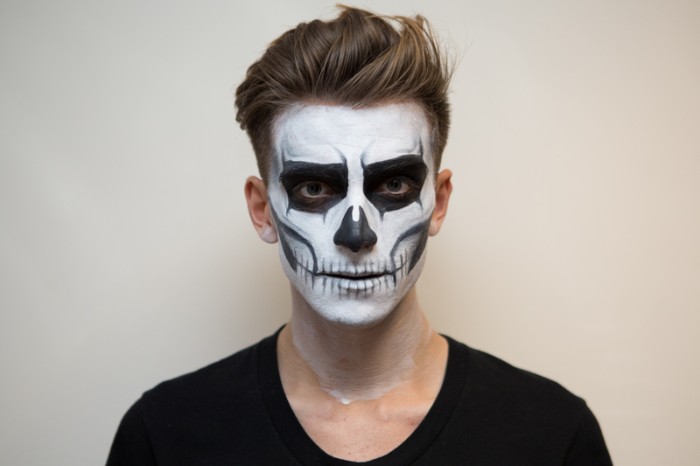 This is one scary tutorial! Watch at your own risk!
Joker – Halloween face paint ideas
If you would like to create a last minute Halloween look that is not only creepy but also inspired by popular culture, our next suggestion is the perfect choice for you. Tranform yourself into the notorious Joker from the Batman franchise in just a few steps! The process is very quick and easy, and, once again you will only need a few materials:
White face paint
Black face paint
Red lipstick
Large makeup brush
Small makeup brush
Instructions:
Once again, begin by covering your entire face in white paint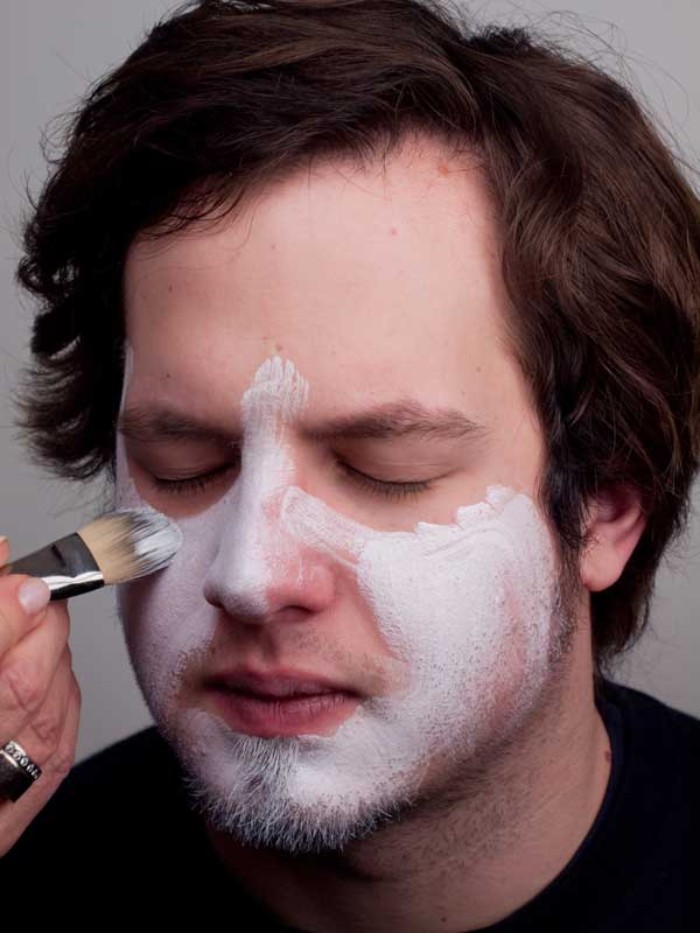 If you have facial hair – don't worry! You can paint right over it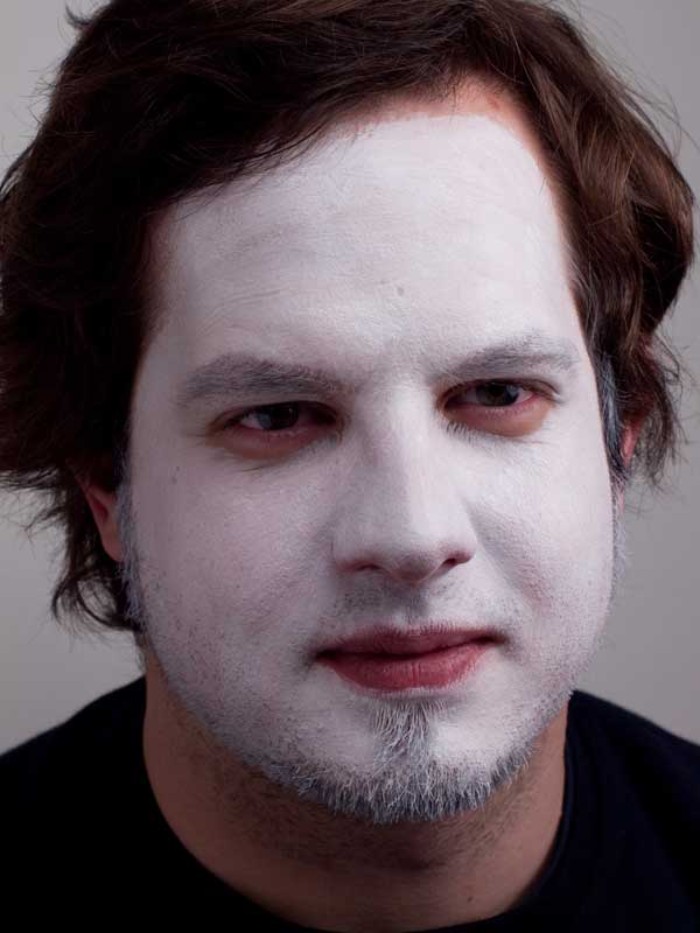 Apply black face paint on your eyelids and around your eyes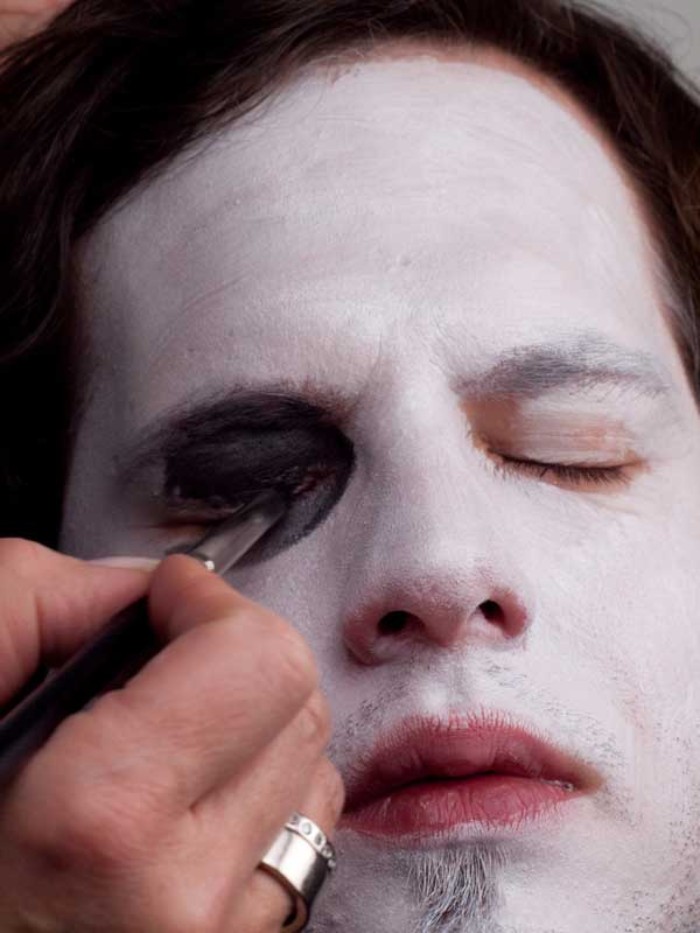 Don't worry if they are not 100% symmetrical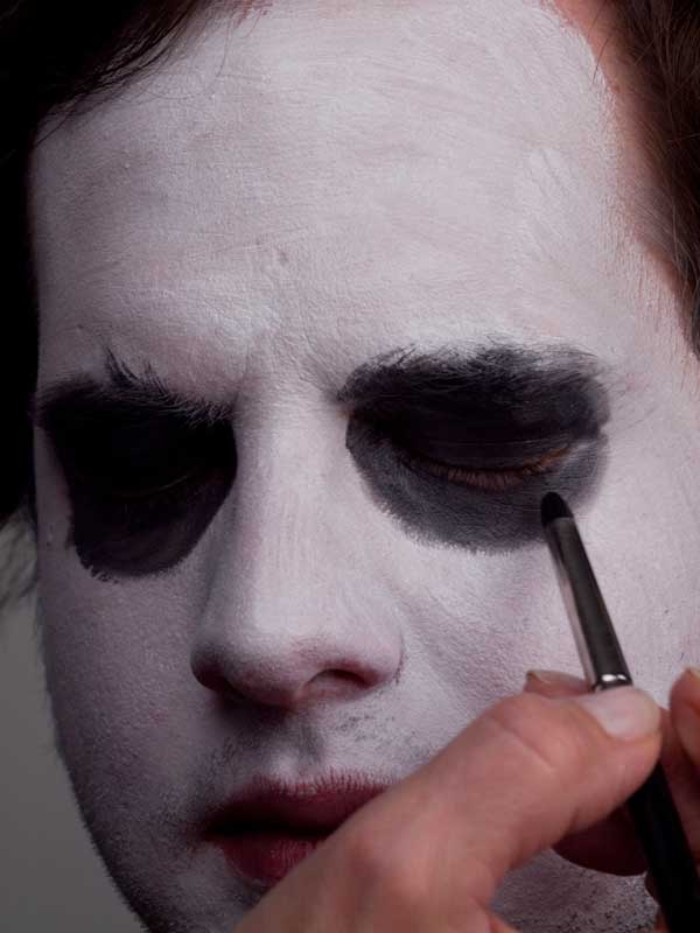 Paint your eyebrows too, giving them a bushy, dishevelled look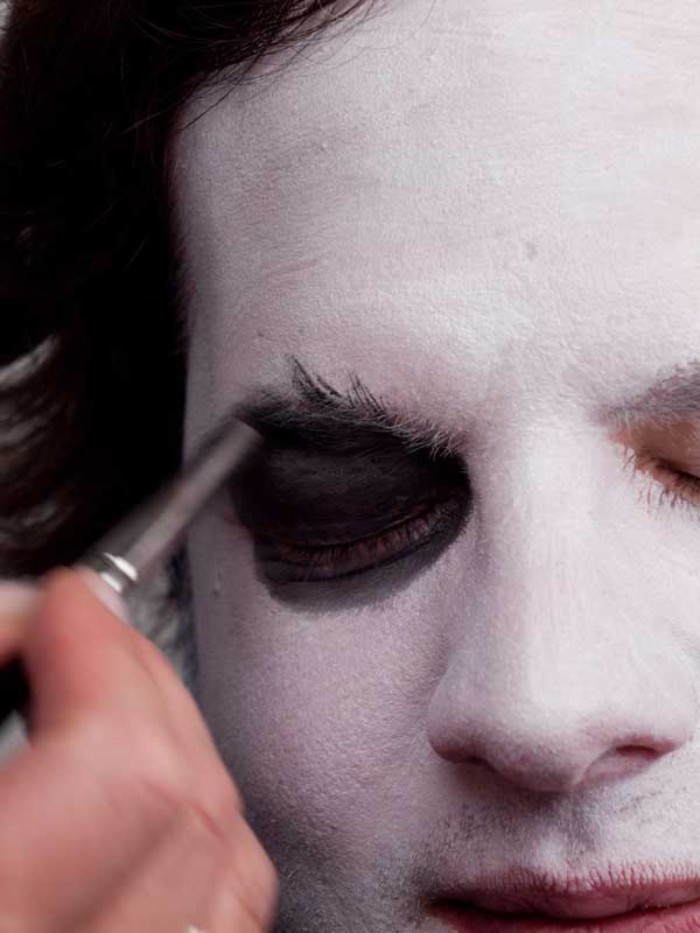 This is what your face paint should look like at this stage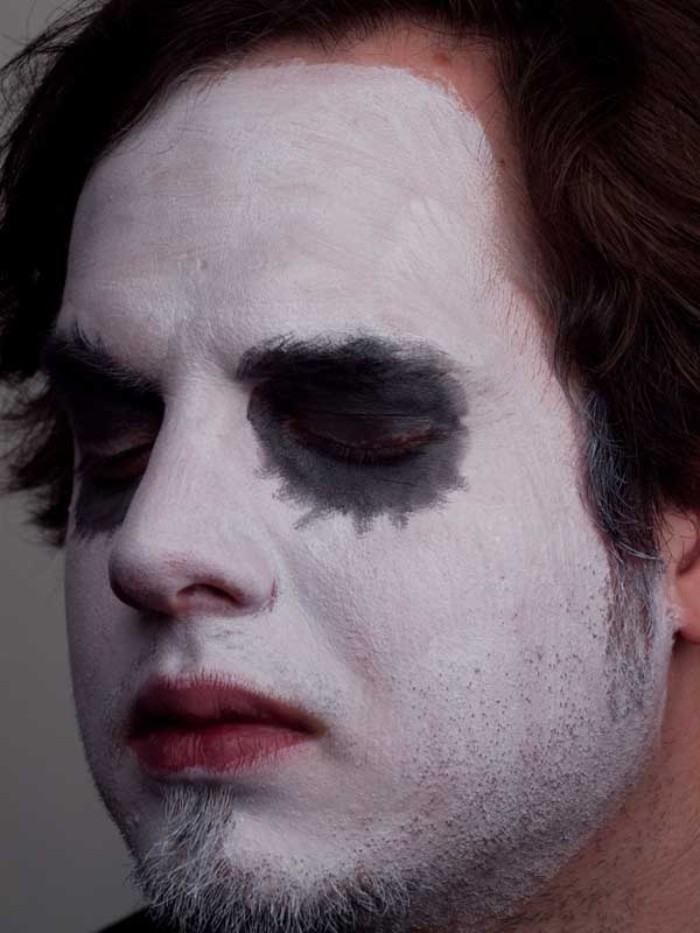 Furrow your brows, so that wrinkles become visible on your forehead. Using black face paint and a small brush, paint over the wrinkles, following their natural curves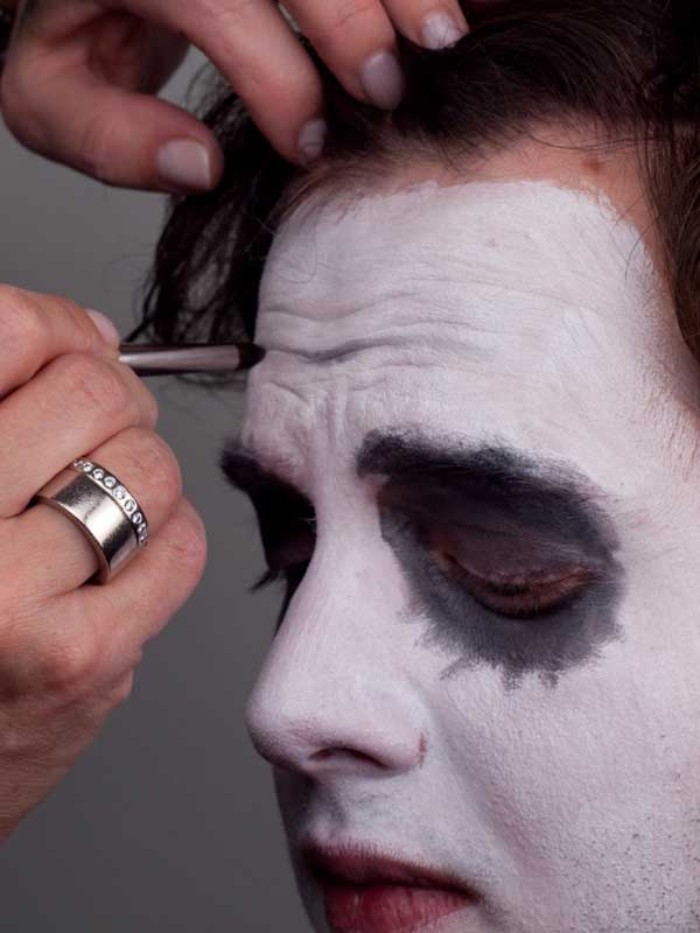 Do the same with the rest of the wrinkles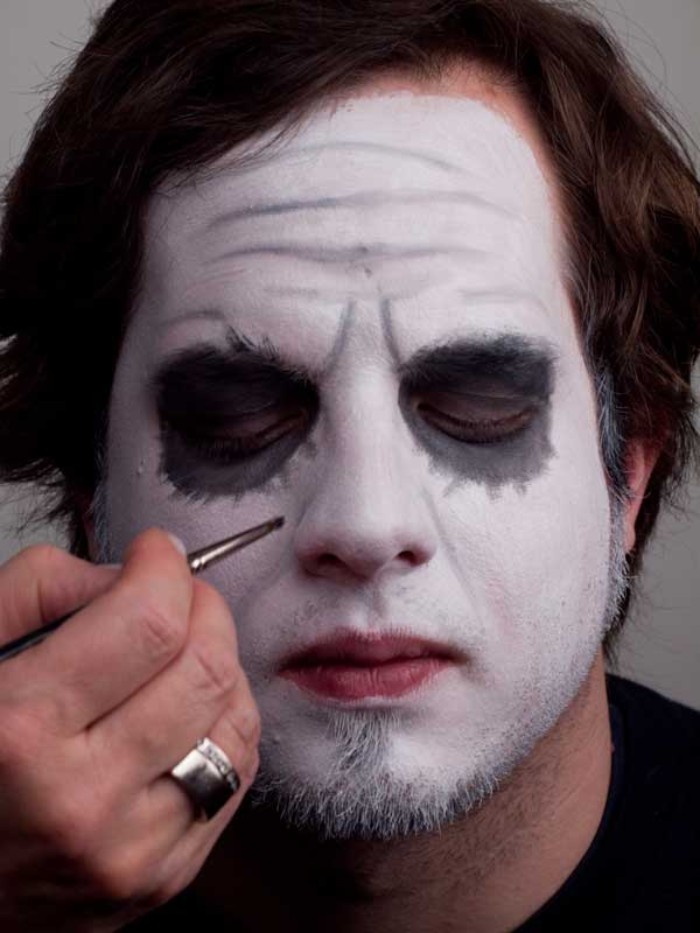 Put some red lipstick on your lips and, using a small brush, smudge it so it forms a exaggerated messy smile that reaches up to the middle of your cheeks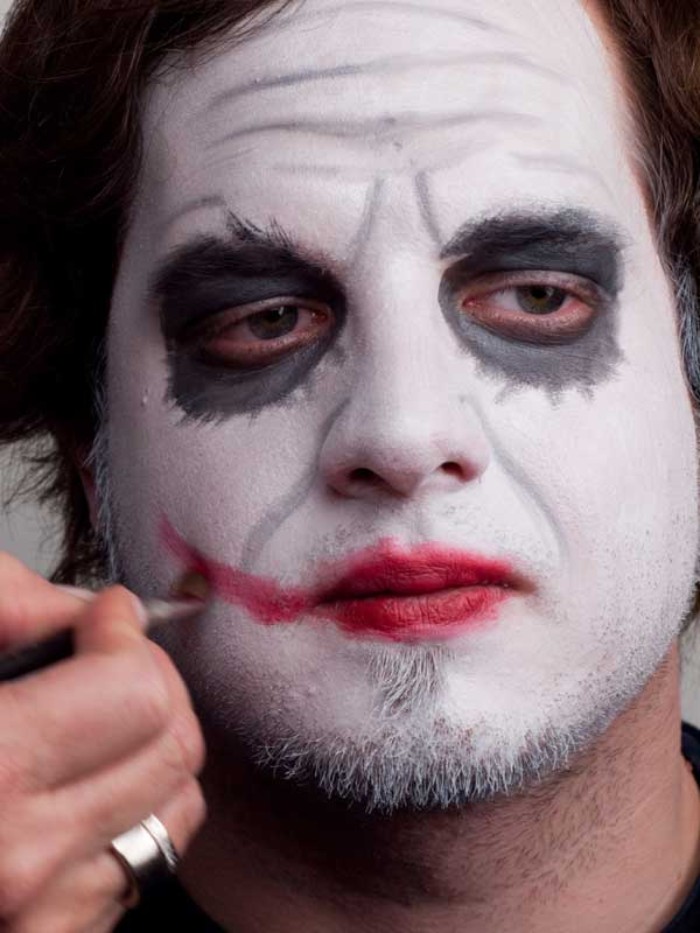 Ready!
Scare your friends with this amazing neon look!
We hope you find our tutorials useful. Now it's time to enjoy our gallery of Halloween face paint ideas! We have lots of suggestions and inspirations that are certain to make an impression!
Why choose between beautiful and scary when you can be both!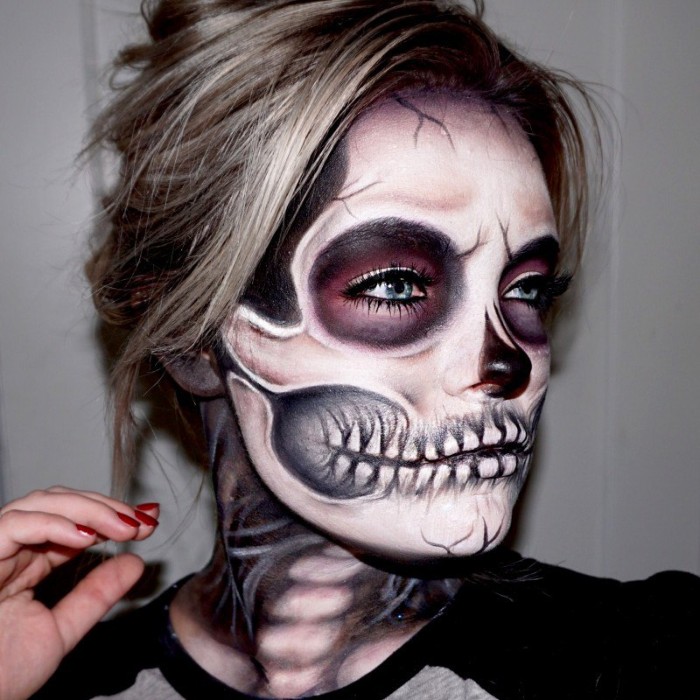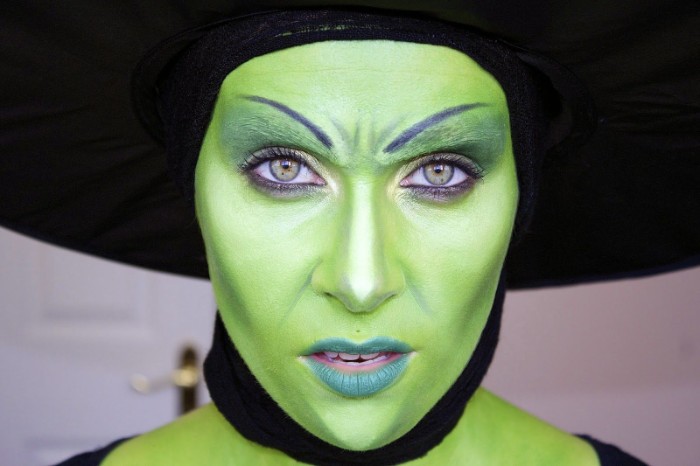 This look might just a little bit too creepy for us!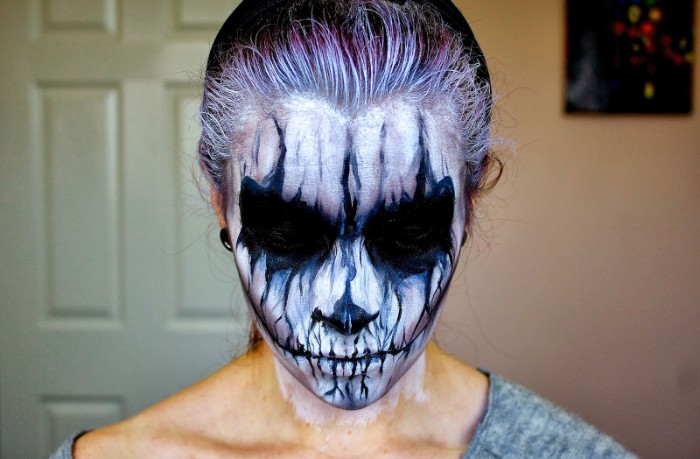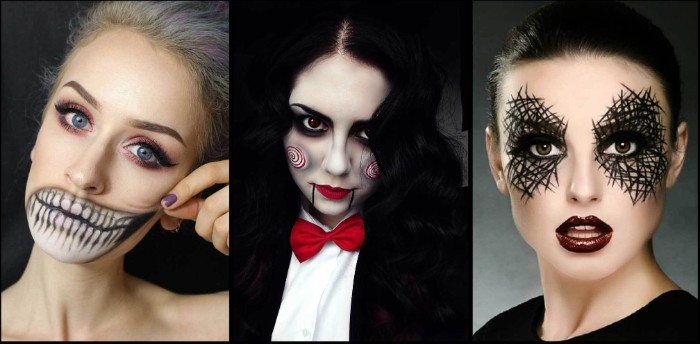 We love this glam witch Halloween face paint!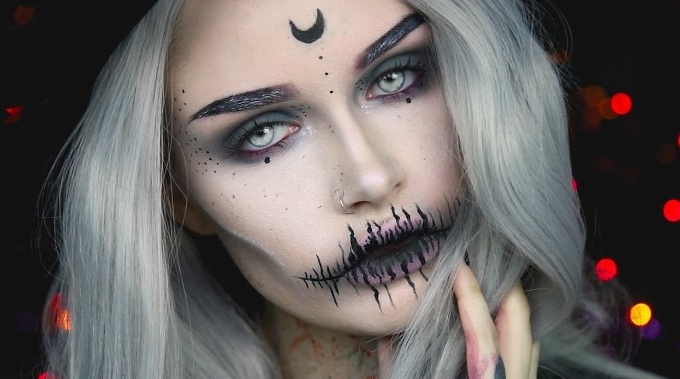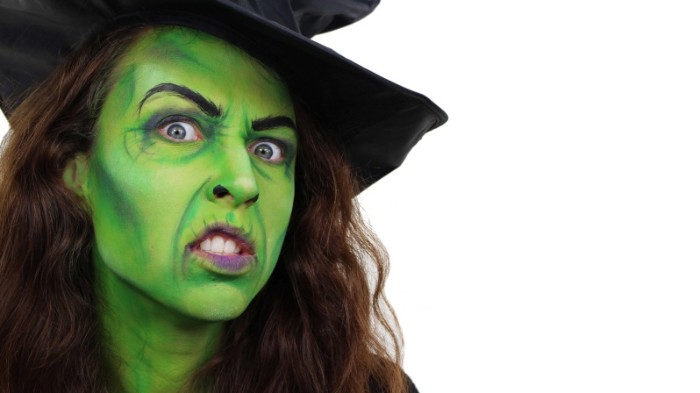 Glow in the dark sugar skull Halloween face paint. How cool is that?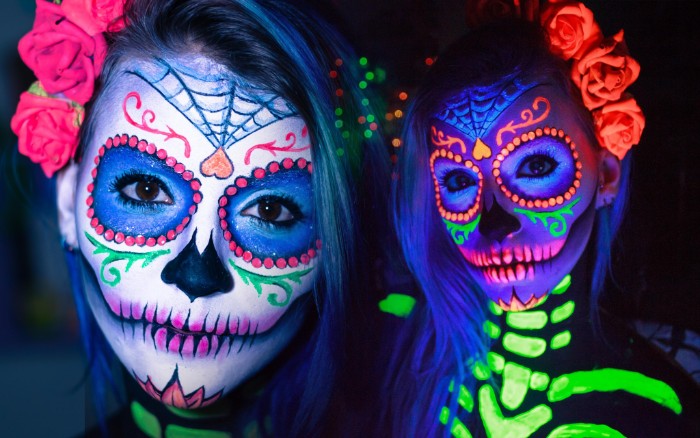 Pennywise from the film IT – so creepy!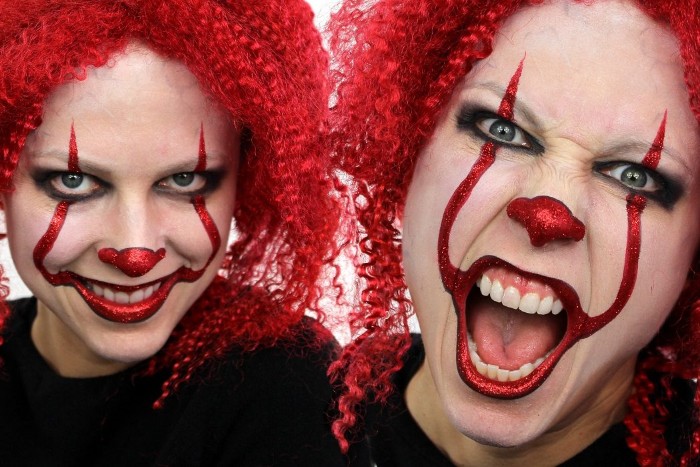 Who said Halloween face paint needs to be scary?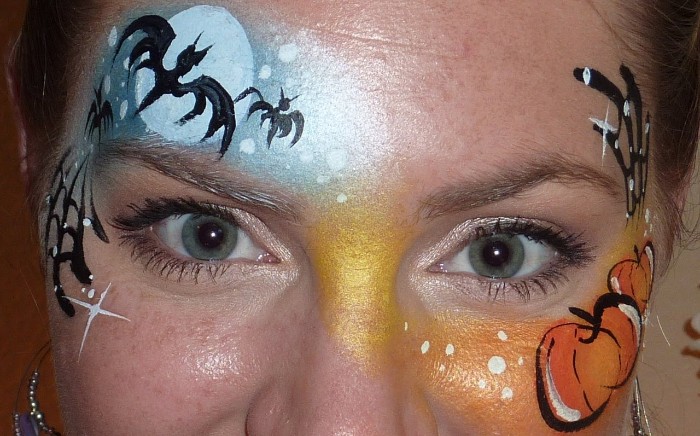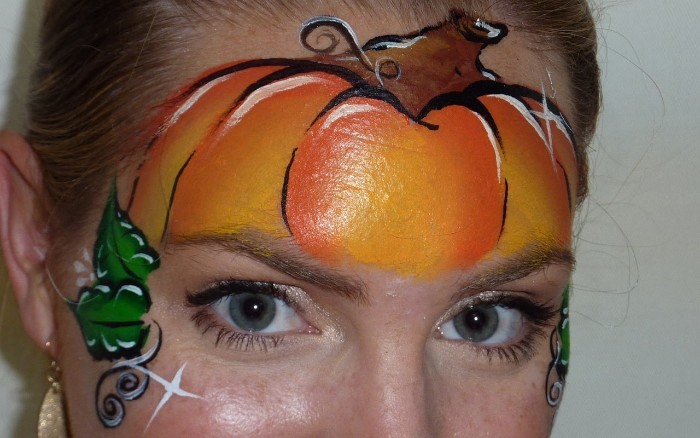 These spider drawings are too realistic for comfort…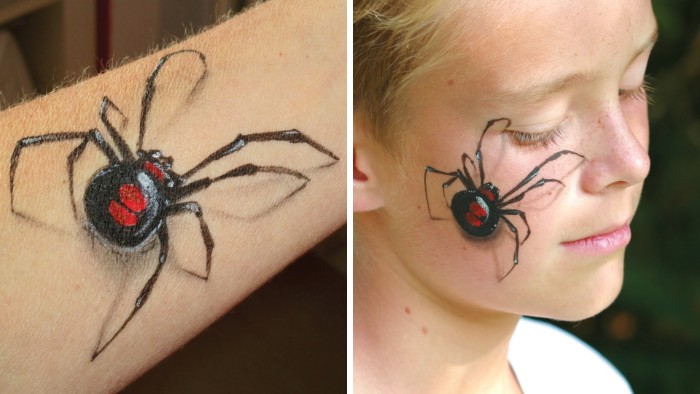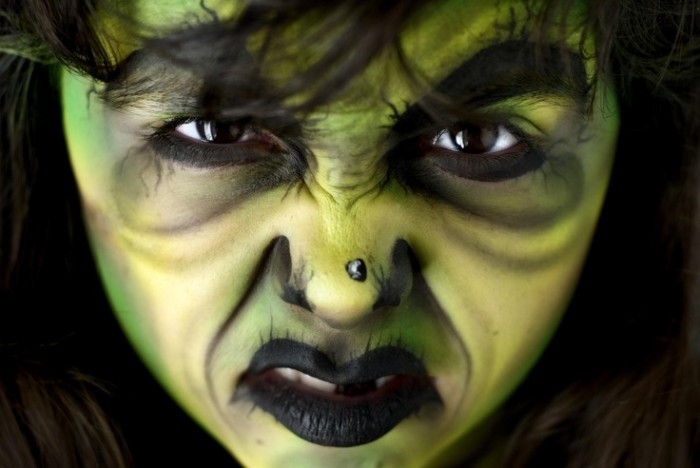 Creepy meets cute in this lovely Halloween face paint inspired by Sally from The Nightmare Before Christmas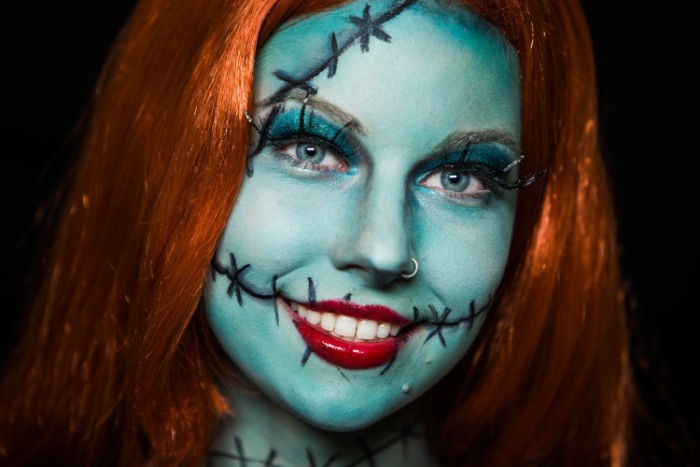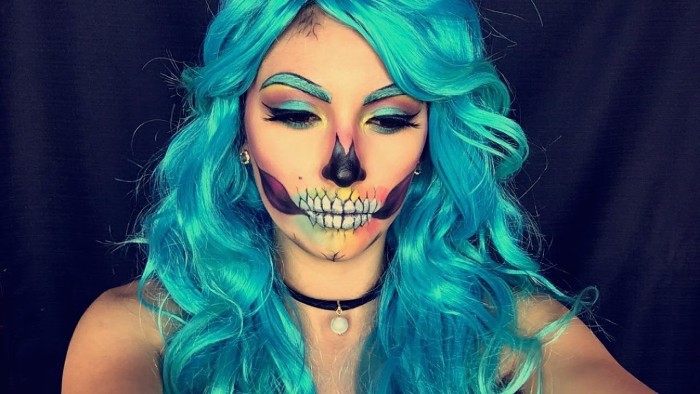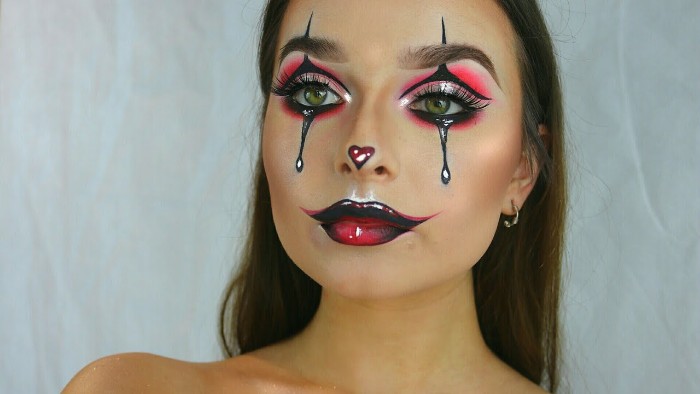 Give your mom the scare of her life with this realistic Halloween face paint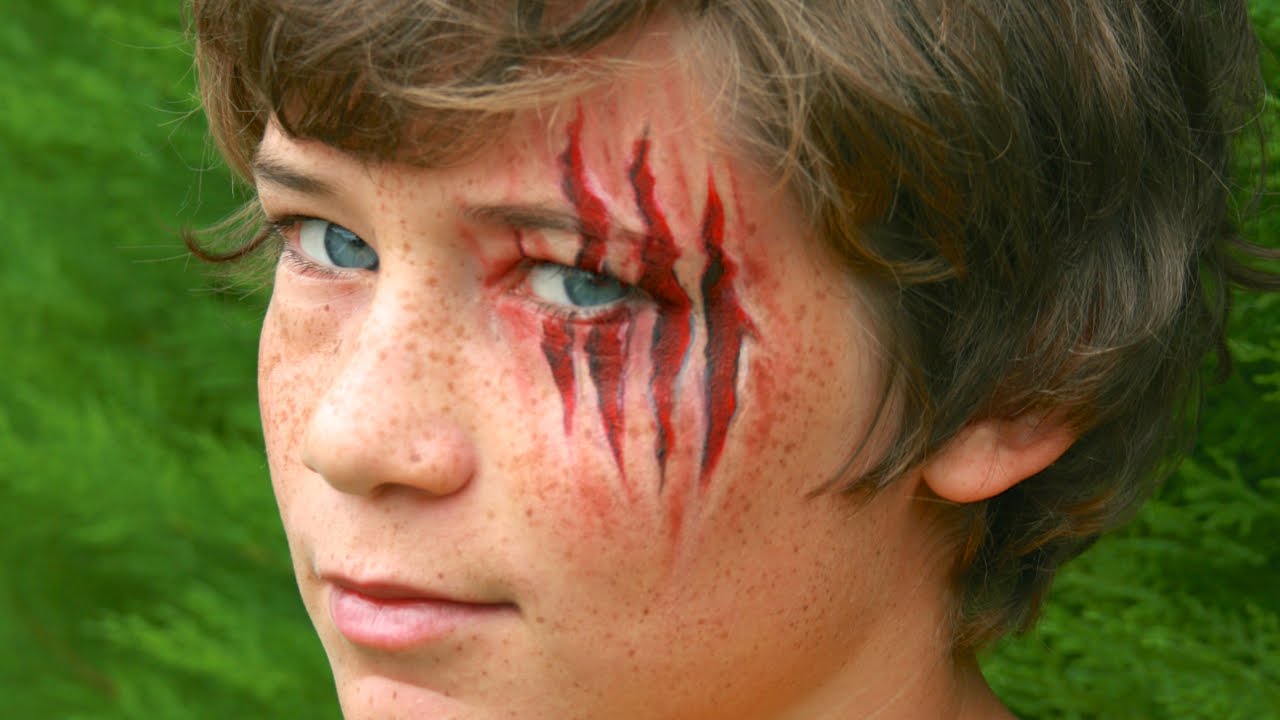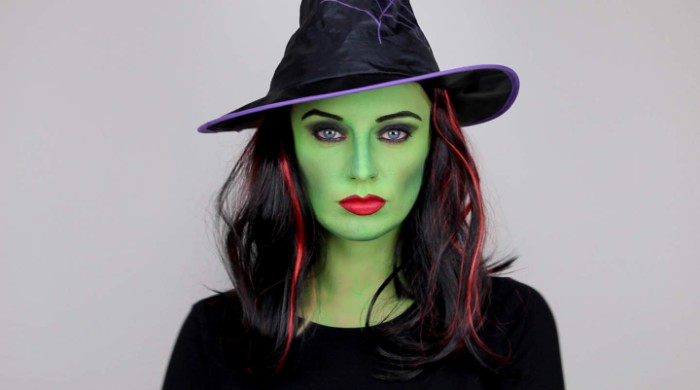 Let's not foget the smallest trick or treaters!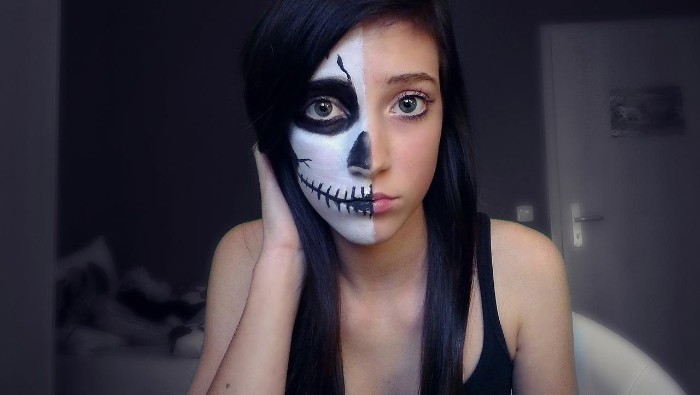 Pretty skull Halloween face paint…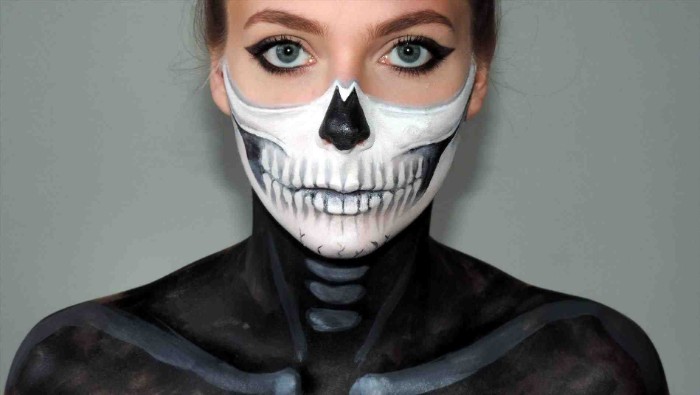 …VS. horrifying skull Halloween face paint!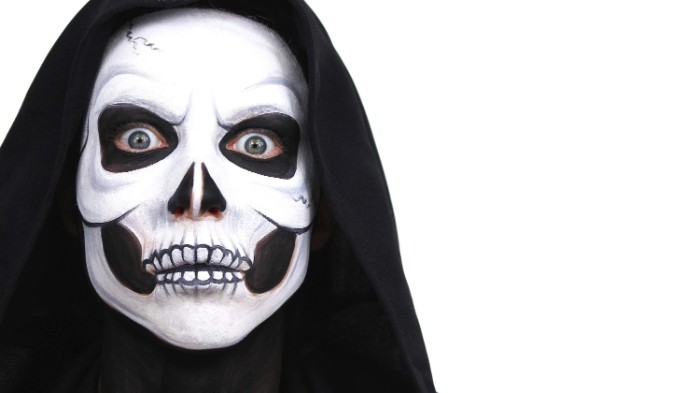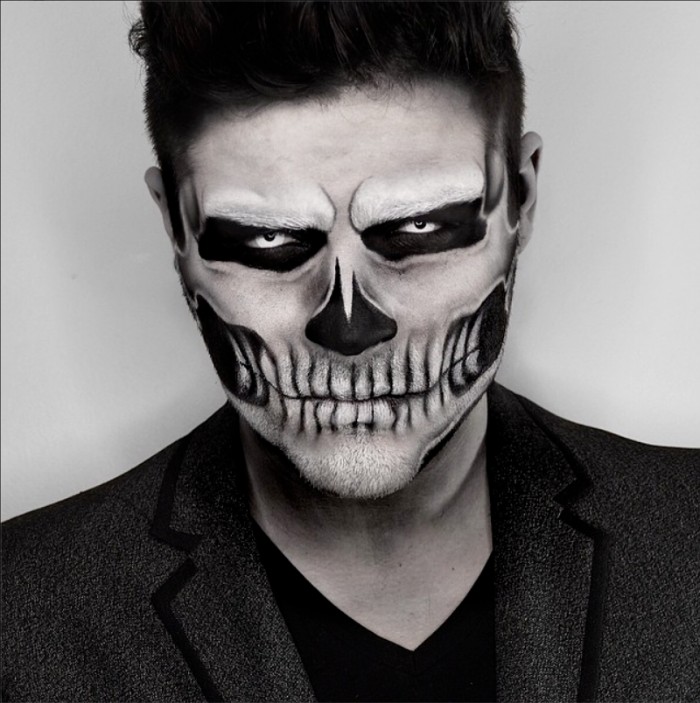 Terrifying!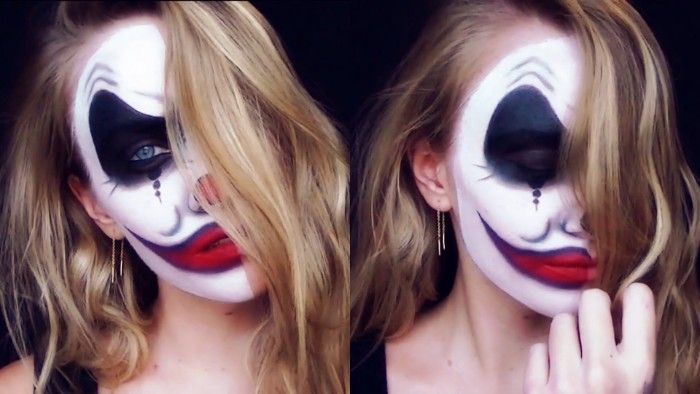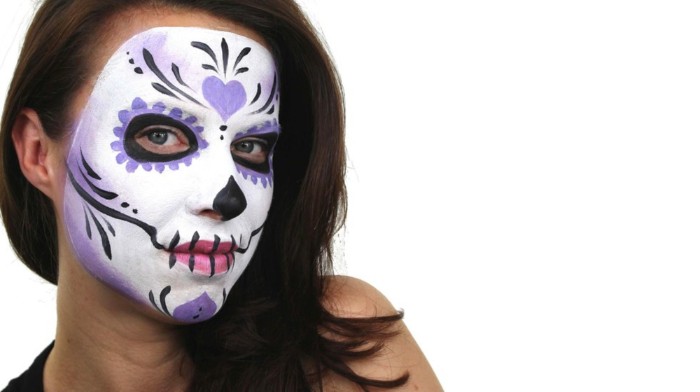 More gorgeous ideas inspired by Dia de los Muertos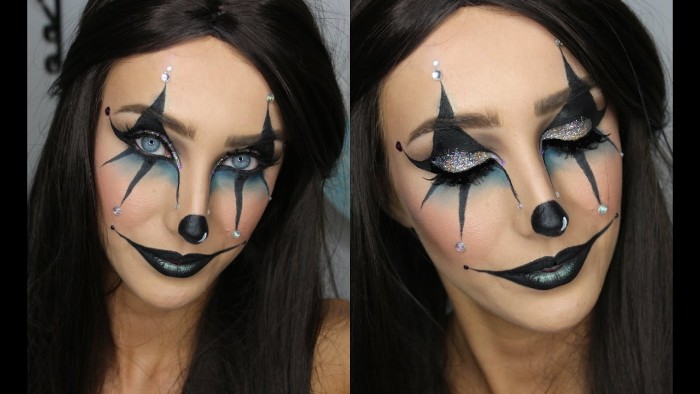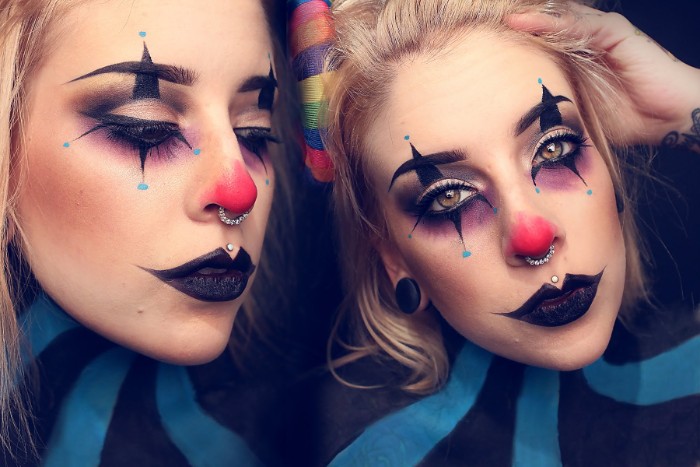 Oh God, please no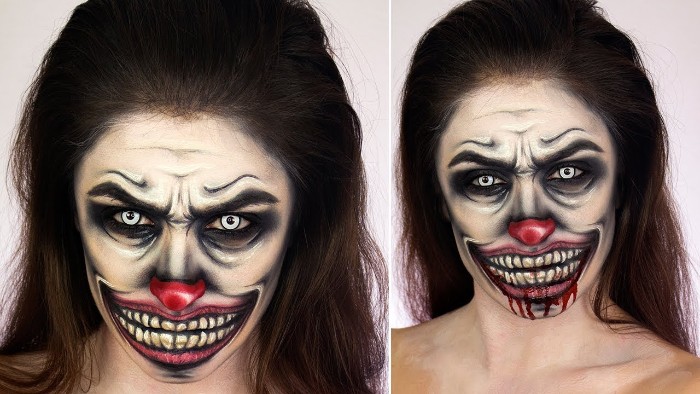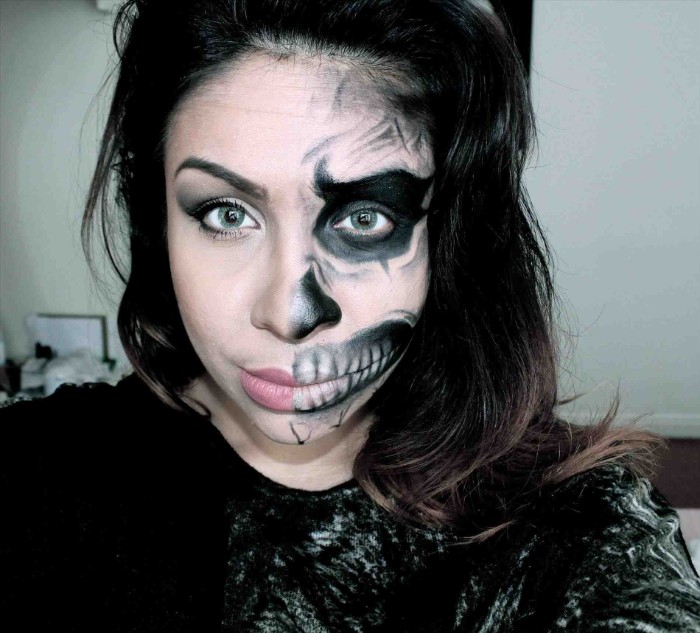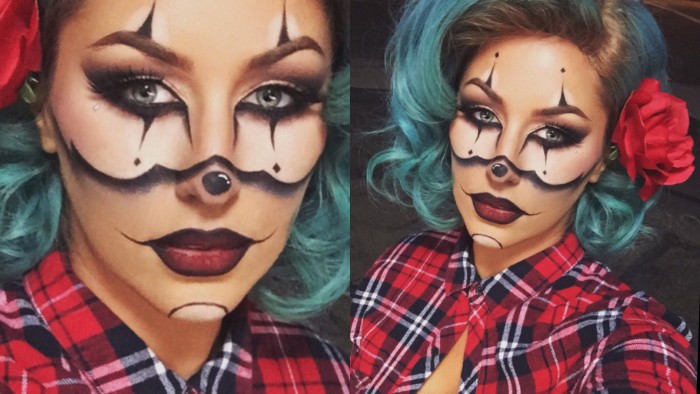 Some cool (and very handsome) Halloween face paint ideas for gents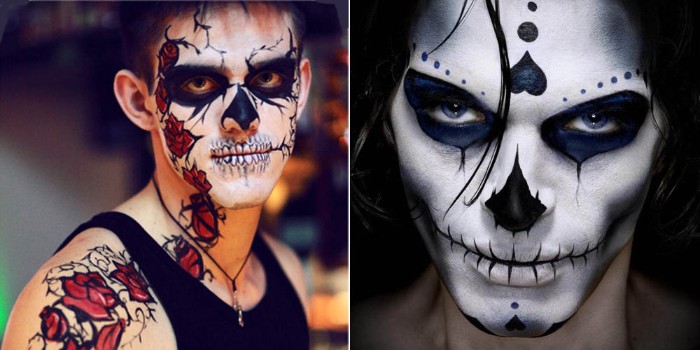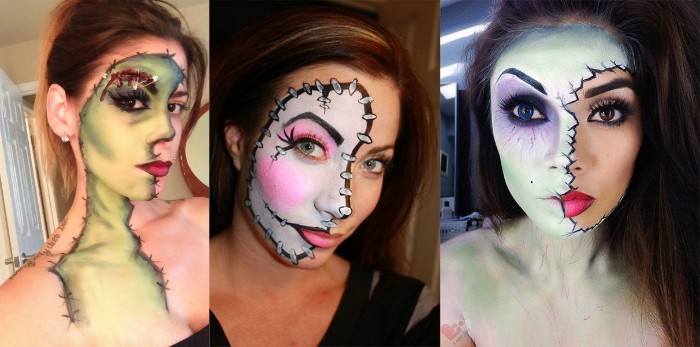 Halloween face paint can be cute too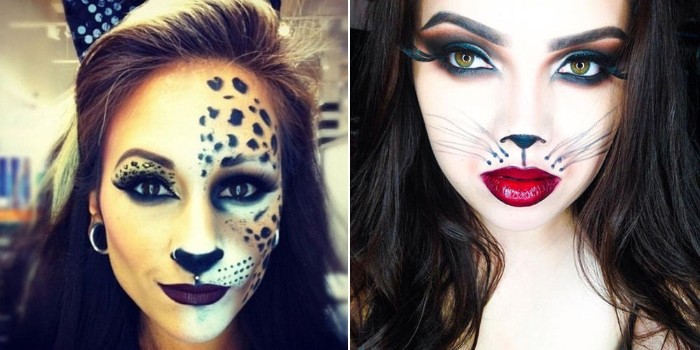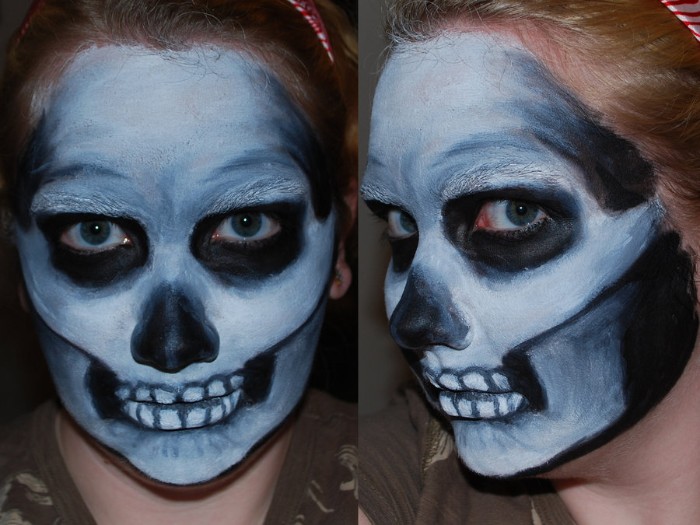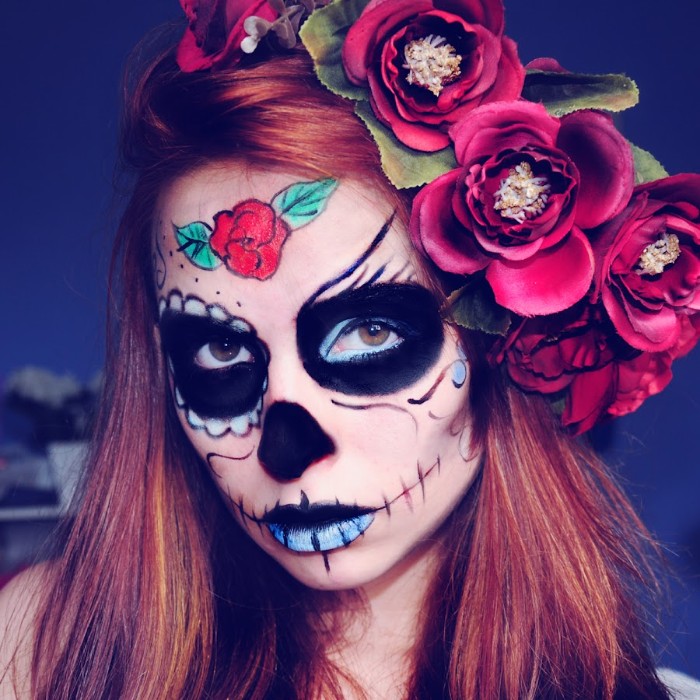 Another reinterpretation of the deeply unsettling Pennywise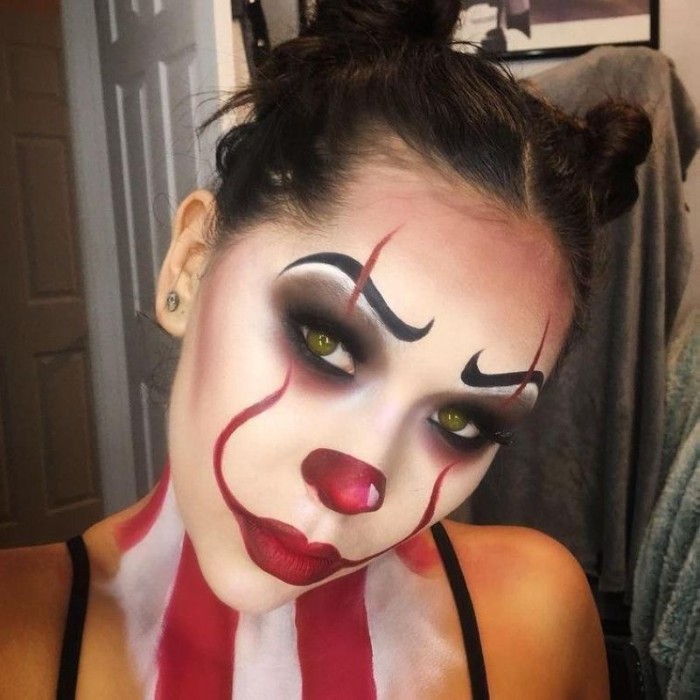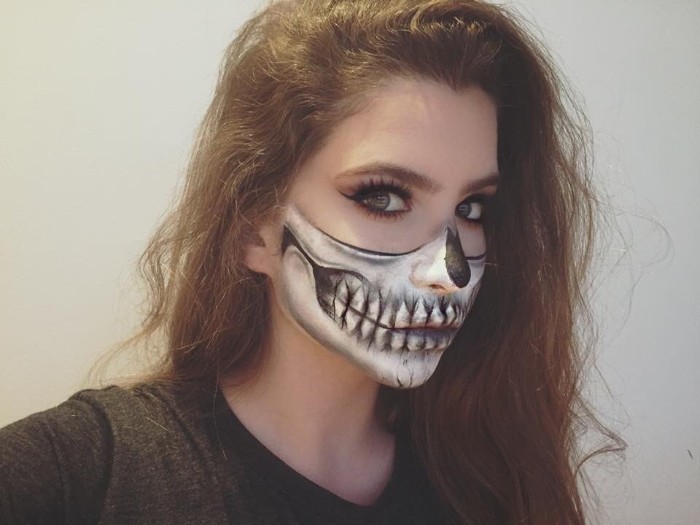 A look inspired by Roy Lichtenstein and a creepy half skull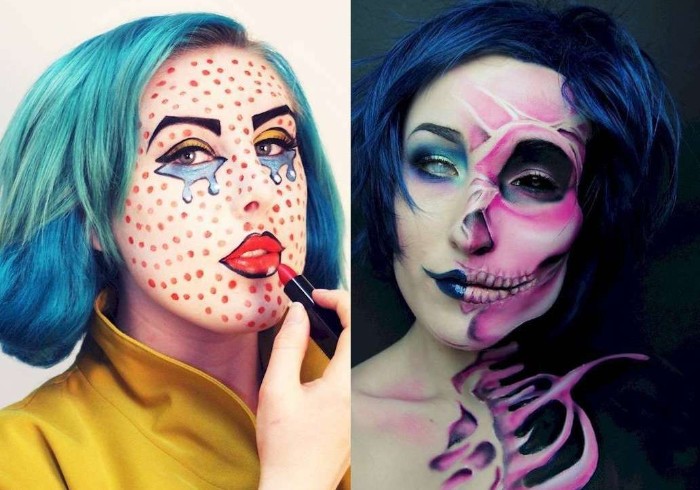 Ahhhh!!!