Lamp with retractable blade ceiling fans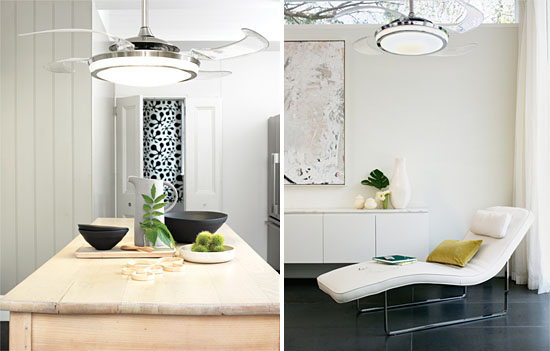 Everyone knows the benefits of having a ceiling fan during hot days, but chances are if you have it, you use it rarely and most of the time it just collects dust. Now Fanaway introduces the retractable ceiling fans.
From Fanaway:
Material and manufacturing strategies
Ceiling fans traditionally use flat sheets of wood or fibre board for blades. These are generally non-recyclable and require some sort of surface finishing such as veneer or paint. The EVO1 Prevail from Fanaway blades are injection molded from recyclable plastic that does not require surface finishes and is not limited to being flat, allowing for the complex curves required for the blades to overlap on each other when in the closed position at the same time, providing an aerodynamic cross section to provide greater air flow.
The mechanism that controls the function of the blades is designed to be static while the fan is spinning. The toothed gears only move marginally in the opening or closing process & the plastic materials selected for these parts are highly resistant to wear lasting for many thousands of operations. The blades are designed to overlap and rest on each other when not in use. This eliminates any stress on the joins reducing the risk of material fatigue or failure.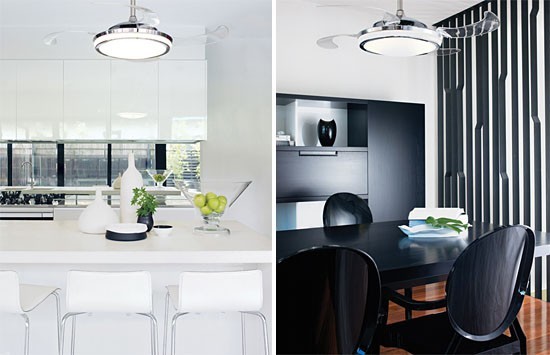 Application of sustainable resources and principles
Most of the parts in EVO1 Prevail from Fanaway are made from recyclable materials, the blades are made from plastics, the down rod, upper dome and mechanism base are made of metal and the light dome is made of glass.
The EVO1 Prevail blades are designed to use less energy to provide more airflow at a low cost. This increasingly efficient design makes EVO1 Prevail a more attractive solution to cooling a room, further reducing the need for power hungry air conditioning. The lighting unit uses the latest technology in low energy lighting. The T5 circular tube runs from an electronic ballast making it extremely efficient and bright, low power long life fluorescent tube to reduce the total power requirements.