20+ Cute winter night out outfits to keep you warm and fashionable
Winter is here! Throughout the coldest winter months the most important thing is to be warm, cozy and comfortable. That is why winter fashion should be the same. While it may be a bit more difficult to show off your outfits during the snowy, cold weather, it is not impossible. What's more, winter fashion is actually extremely trendy, because of the layers that you put on. The rule is that if you know how to layer your clothes, you are definitely going to be extremely fashionable. So, without further ado we present you today's article, in which we are going to show you 20+ cute winter night out outfits. We are also going to discuss how to layer your clothes so that you are warm and combortable yet super fashionable and trendy.
The most important thing during the coldest winter months is to be warm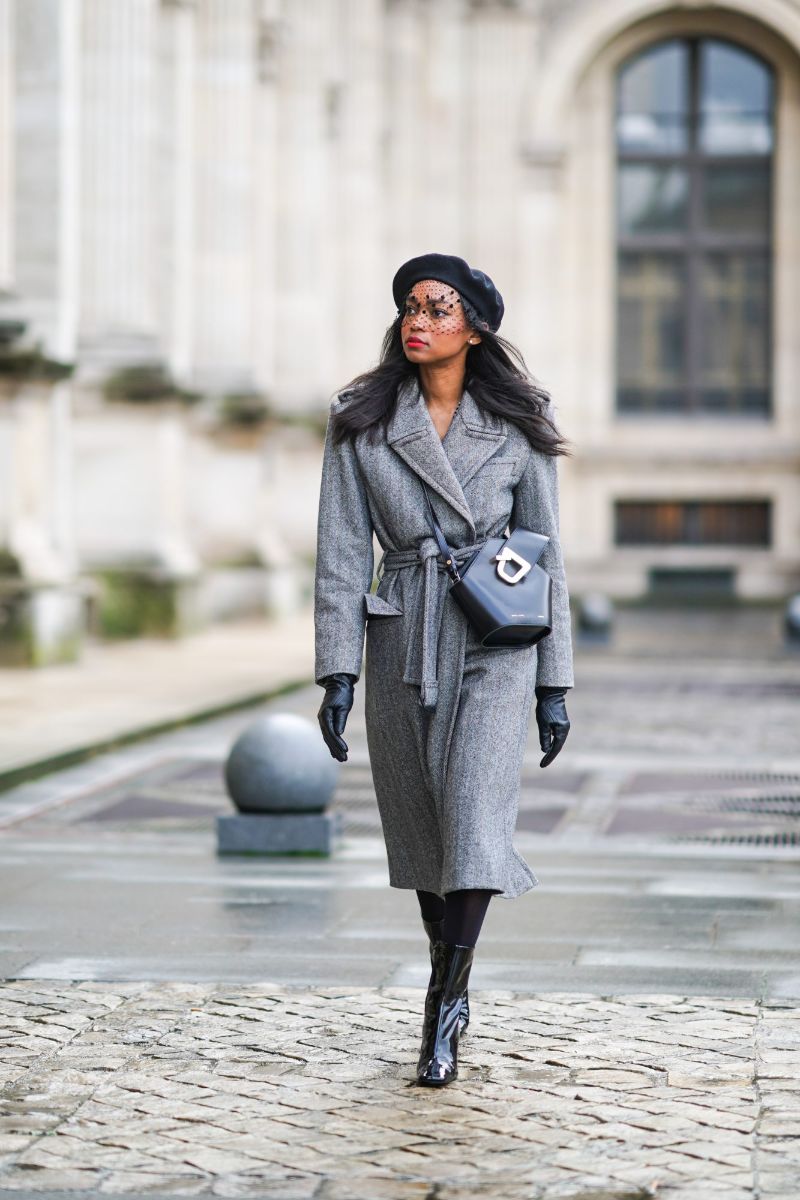 Cute winter night out outfits you absolutely have to try
When we are talking about winter outfits, naturally we are talking about warm clothes, which are going to protect you from the cold. That, however, doesn't mean that you shouldn't look trendy and modern. When it comes to winter fashion it's all about the layers. The more layers you put on, the warmer you will be. However, layering is an art itself. You definitely can not just put on any clothes on top of each other and think that you will look good. Layering is in the details and pretty much the same rules apply as to any other type of outfit. Don't mix prints, but mix and match the colors of your clothes and the different layers. Make sure that when you are layering your clothes on top of each other you are still keeping the same silhouette, which accentuates you body. And always finish off your outfit with a cute coat or puffer jacket and a nice scarf.
Knee high boots can become your new best friend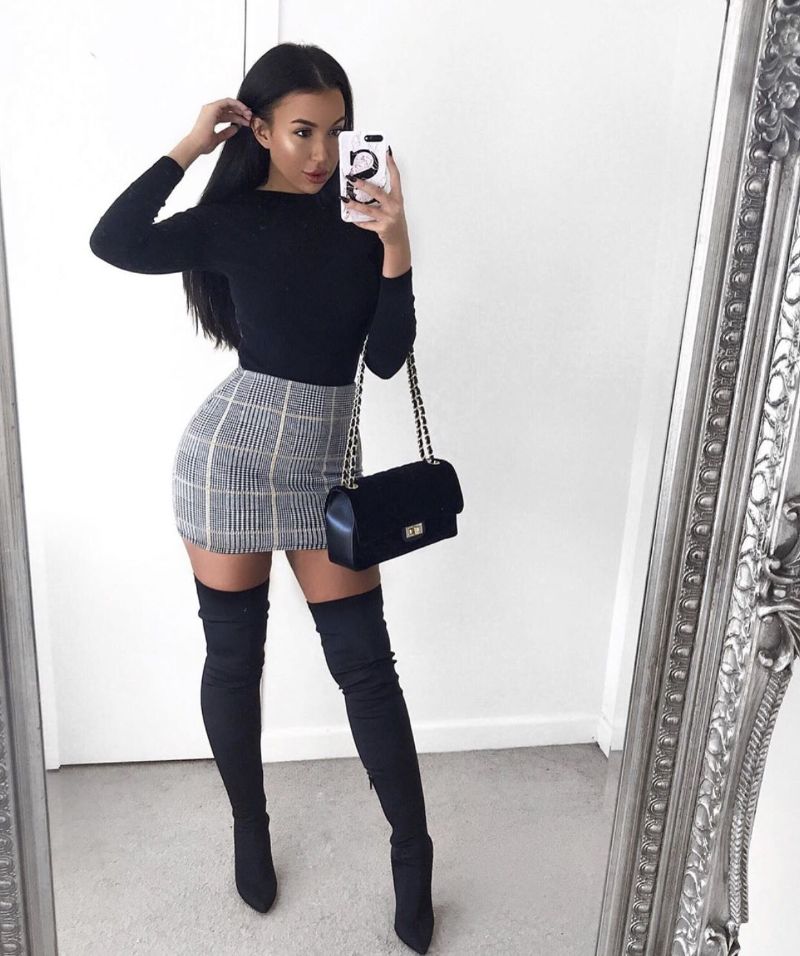 For warm, but cute winter night out outfits, try knee high boots
Trust us, knee high boots are going to be your new best friend throughout the coldest winter months. Not only are they super stylish, they also elongate your legs and provide a gorgeous silhouette. On top of all of that, they are the perfect accessory to keep you warm, but trendy. The best thing about them is that they allow you to wear a skirt or a dress without freezing when you are out and about when the temperatures are very low. They will keep your legs warm and you will still look absolutely stunning. Whether you choose ones with heels or without, either way their classic look will accentuate any winter outfit.
This is just such an elegant and classic look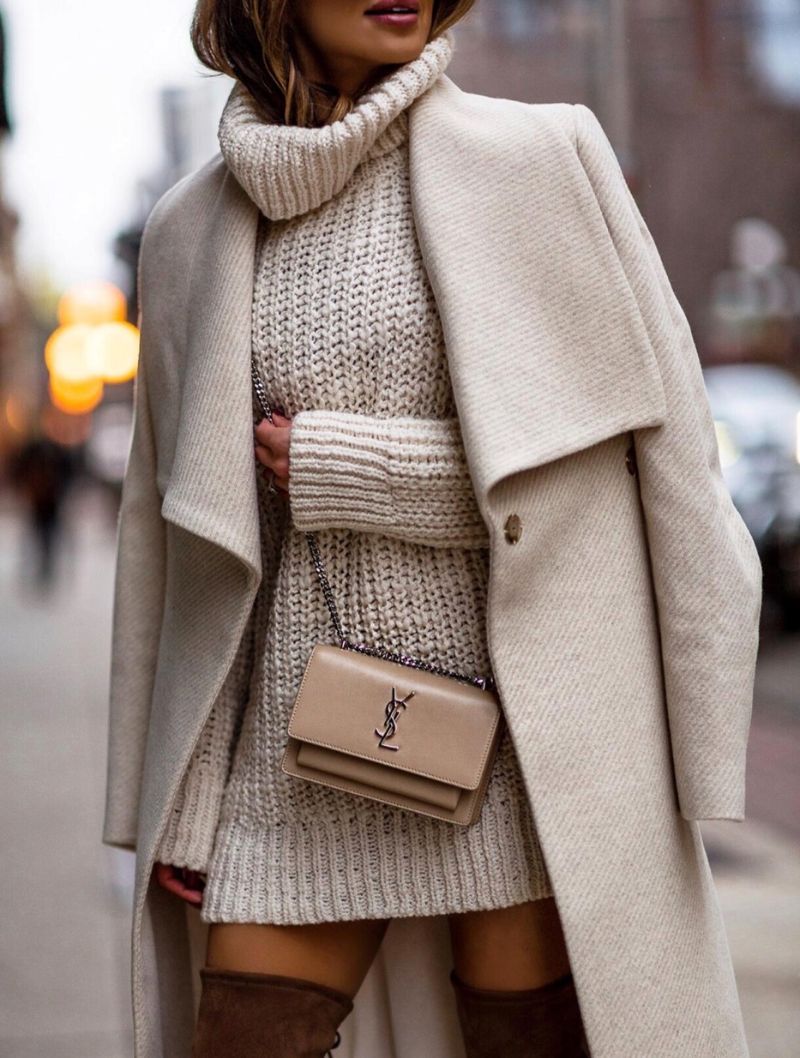 Knitted dresses are the best
A night out during the winter season isn't easy to dress for. During the warmer months things are much simpler. You are going out and want to look cute, just pick out your cutest flowy dress, put on a pair of sandals and you are ready to go. You can not put on a dress like that during the winter though. Unless you want to freeze. So, here comes the knitted dress to the rescue. It seems like knitted dresses have been trnedy just for a couple of years, but they are a life saver. They are warm, cozy and you can wear them with virtually anything. For one, the knee high boots – knitted dress combo looks absolutely stunning. However, you can also pair them with warm, leggings and a pair of boots. Just put on a long coat on top and your outfit will be ready for Instagram.
Layer your clothing for more warmth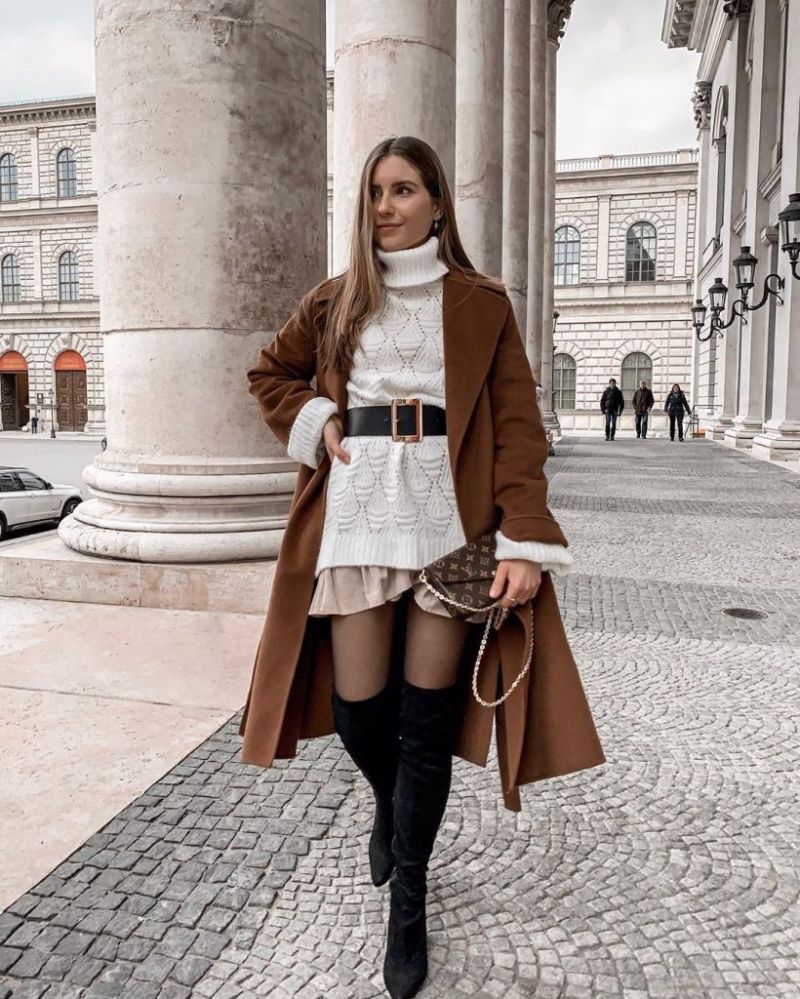 Layered cute winter night out outfits
As we have already mentioned, layering is extremely important throughout the winter months. If you want to look stylish you absolutely have to learn how to layer your clothes. Well, the first step is picking out the base. For example, choose a pair of warm leggings or tights. Then, put on a skirt or a dress and top that with a cozy knitted sweater. Finally, finish the look with a coat or a jacket and you are all set. Another option of course is to wear jeans or pants with a shirt and knitted vest or sweater combo on top. Whatever you choose to layer, just make sure that the colors match well together and you are not mixing lots of different prints.
Don't forget to accessorize to keep yourself warm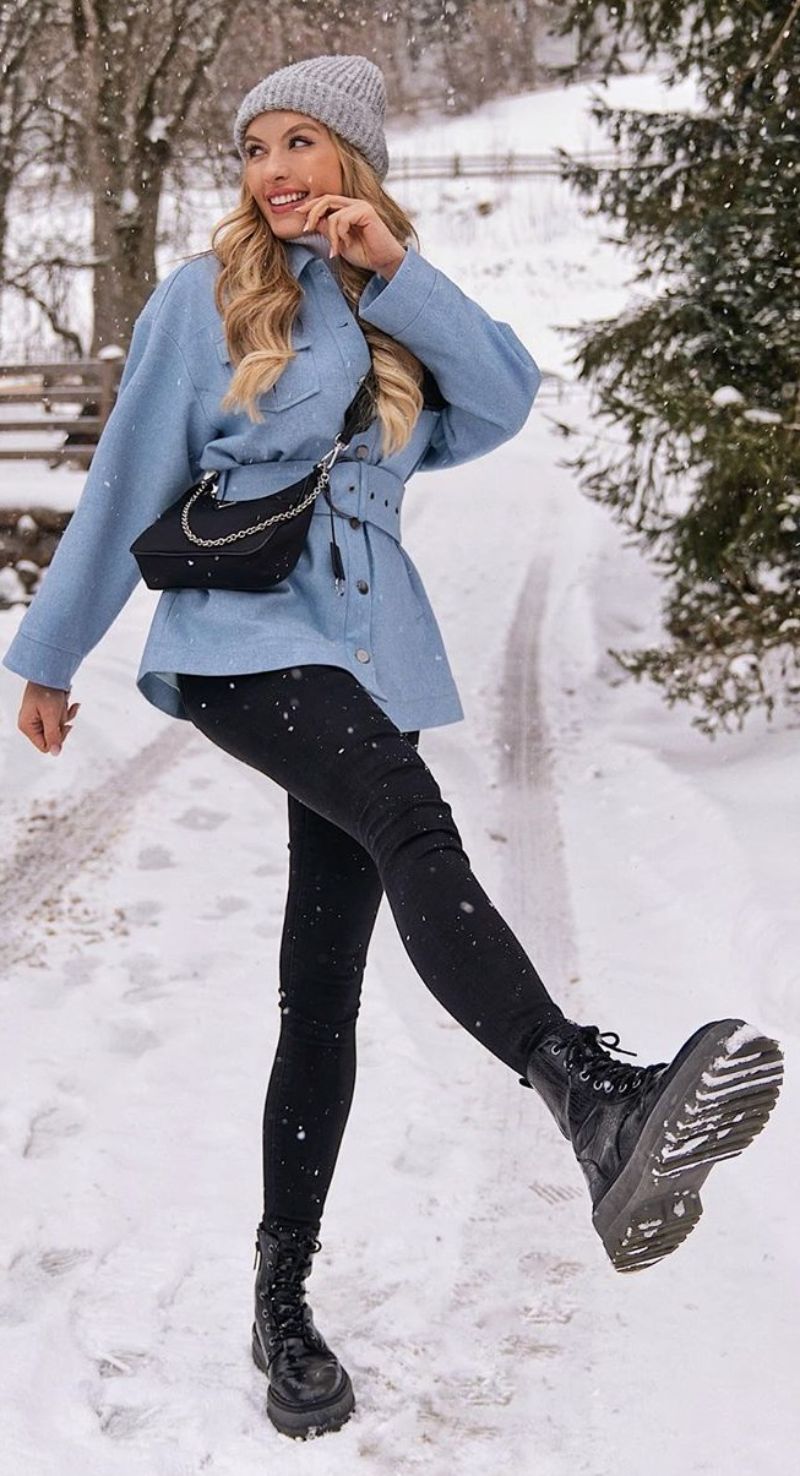 Wear combat boots
Combat boots are the newest craze. Well, technically they are a throwback craze. Although it seemed like we've left them in the past, everyone quickly realized that combat boots are actually very practical. They are warm, they won't let your feet get wet from the snow and on top of all that they can be worn with pretty much aany outfit. You can wear them with jeans and a sweter or you can even wear them with a knitted dress. Either way, these boots will be the final touch, which is going to make your outfit super stylish, modern and trendy.
Just below the knee combat boots can be worn with knitted dresses and skirts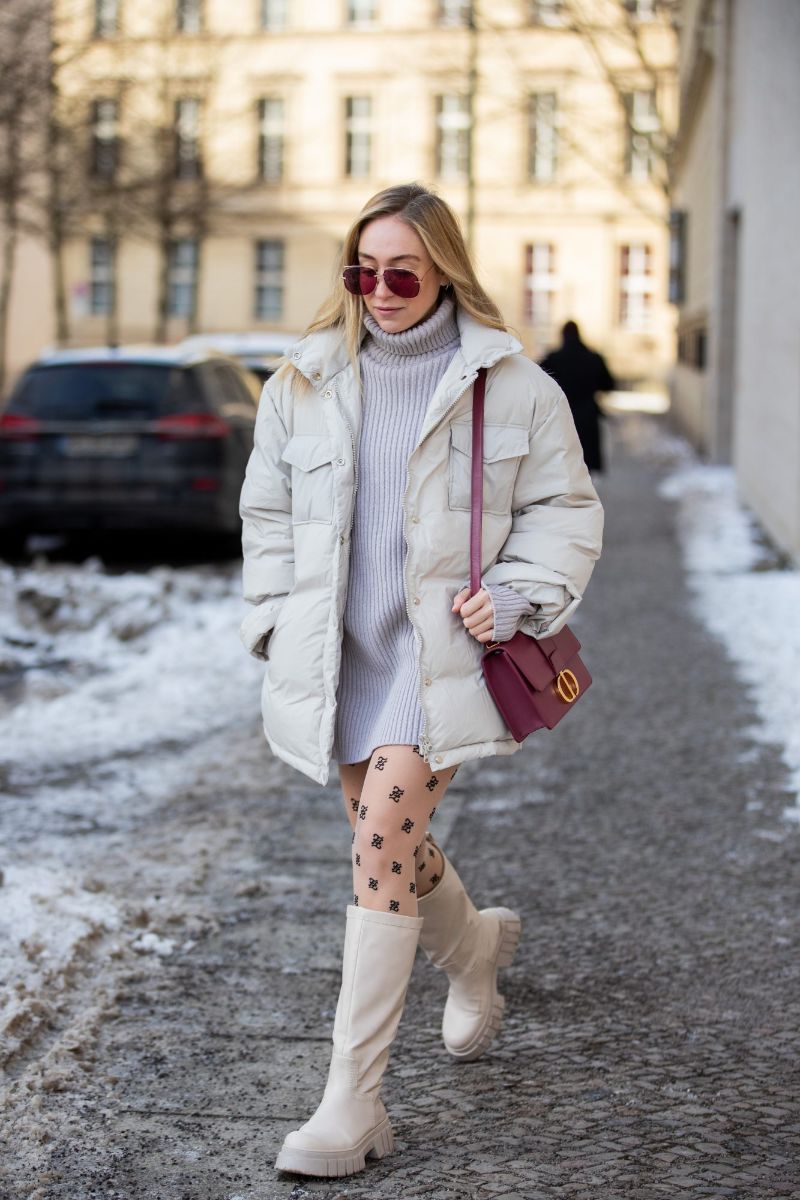 Puffer jackets and coats
Once upon a time puffer jackets were only worn by teenagers in casual settings. Nowadays, they have become a super trendy item, which every woman needs in her wardrobe. The good news is that they are extremely warm and the fact that they can be worn with anything is super helpful. In general, the rule is that for a more casual night out, you wear a puffer jacket, while for a date night, for example, it is better to wear a coat. Well, that is no longer the case. In reality, nowadays, you can wear a puffer jacket with a dress and a pair of combat boots as shown in the photo above. While you can have a very casual outfit and wear a long coat with a pair of trainers as you can see in the photo below. What matters most is what makes you feel comfortable and warm. The barrier between casual and business casual is definitely thinner than ever, which allows a lot of room for experimentation.
Nowadays long coats can be worn with jeans and sneakers, or even leggings and sneakers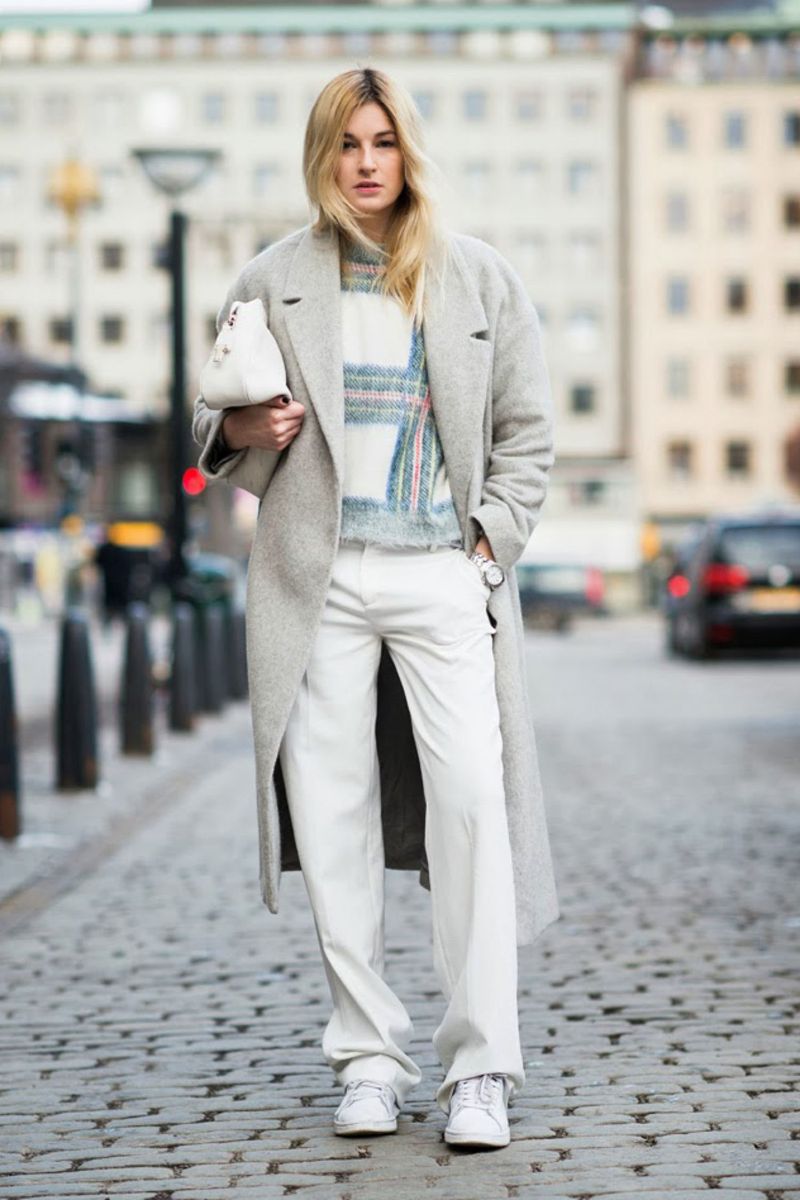 Now you can browse through our gallery and find even more gorgeous cute winter night out outfits
Knee high boots with high waisted skinny jeans is the perfect combo
Nothing beats a good Chelsea boot though
Nowadays this outfit can be both casual and the perfect date night outfit
This all white ensemble is stunning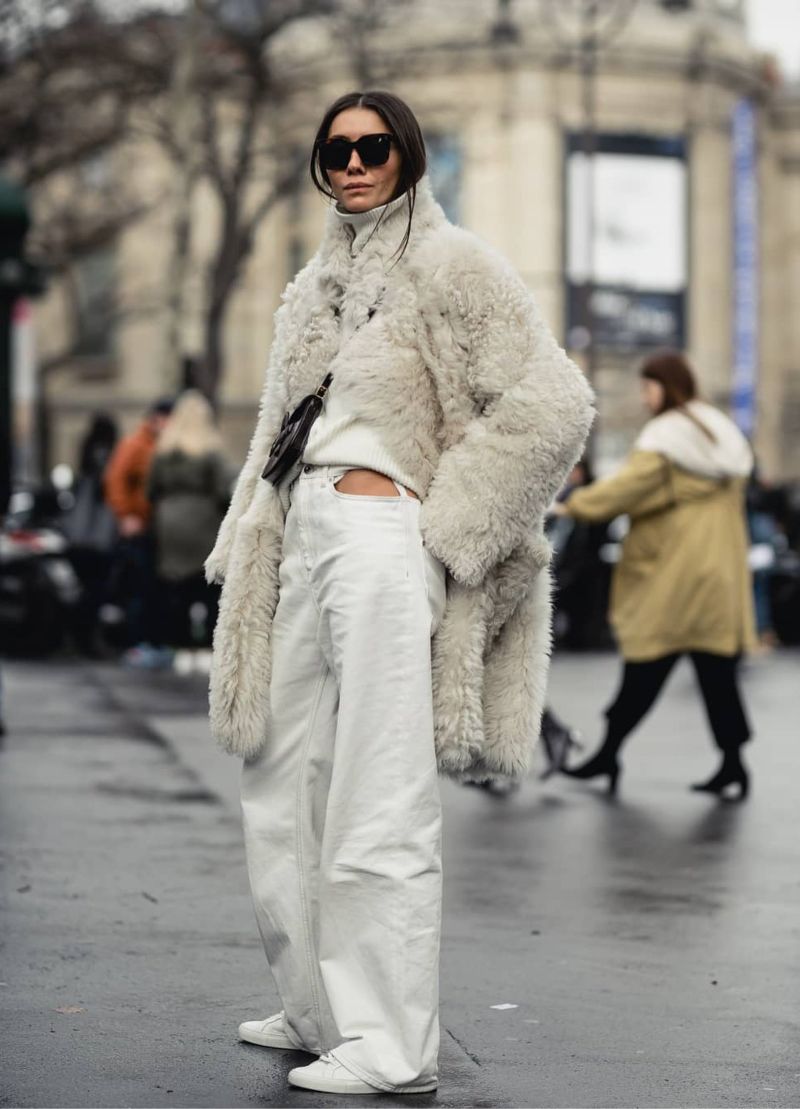 And so is this red one