Icy blue Christmas nail designs you have to try
Christmas is approaching fast. That is exactly why, now that you've gotten all the Christmas decorations up, it is time to start thinking of your own looks. After the couple of years we've had a Christmas party at home doesn't sound so bad. But just because you'll be welcoming guests at home, doesn't mean that you shouldn't look your best. Naturally, an outfit along with a trendy hairstyle is super important. However, the small details should never be overlooked. Which is exactly why today, in this article we are going to talk about your manicures. Keep reading to find 20+ icy blue Christmas nail designs, which are going to give you the chills just by looking at them.
Blue is a color that is closely associated with winter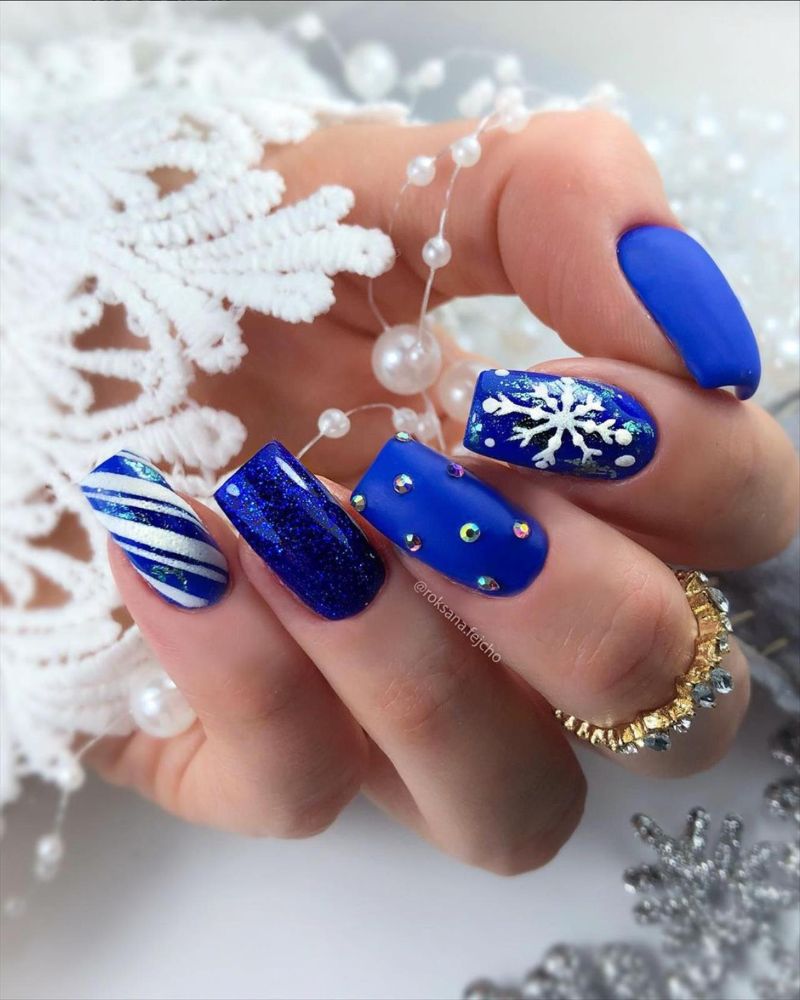 Icy blue Christmas nail designs
As we all know blue is an incredibly beautiful color. Furthermore, there are lots of shades of blue. However, there is a special reason why it is so popular during the winter. Blue is closely associated with winter first of all, because it is considered a cold color and second of all, because it is closely associated with ice. Now usually snowflakes and clean ice are white or even transperant. However, for some reason, ice gives off a blue shade, which is extremely beautiful. So, in this article, we are going to show you different ways in which you can use blue on your nails to create a gorgeous and eye catching nail design.
Light icy blue colors are super gorgeous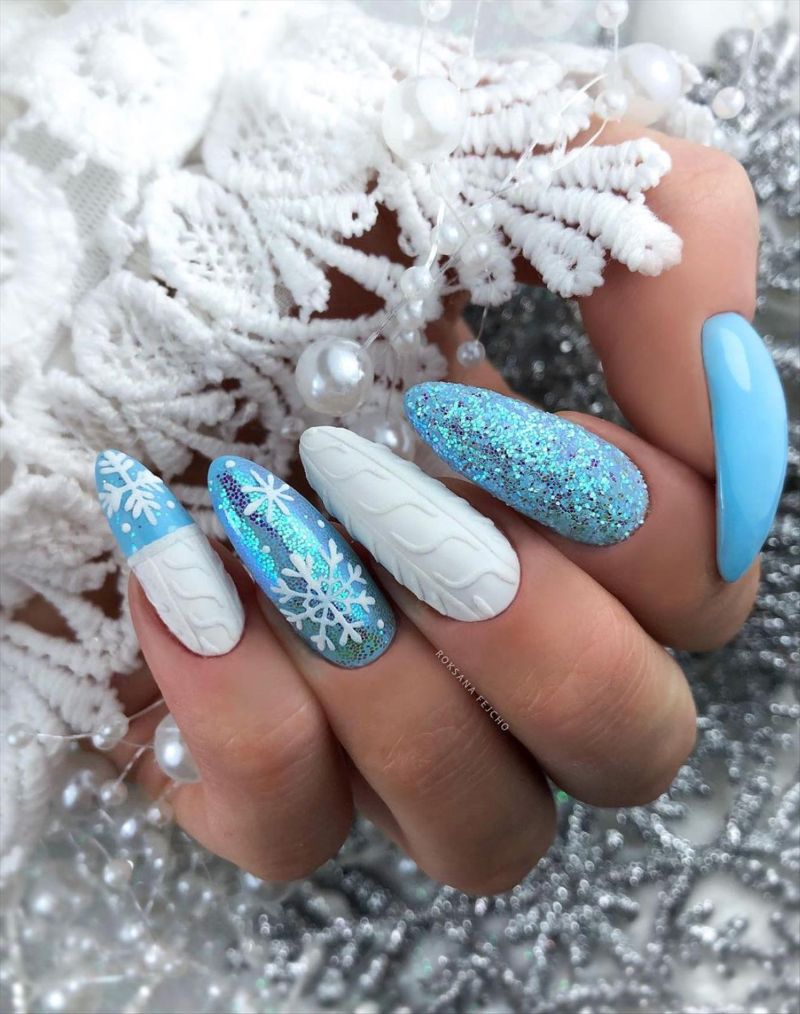 Frosty and icy nail design
Just look at the nail design in the photo above and tell us you are not getting the chills. This amazing manicure plays not only with the light, icy blue colors, but it also incorporates glitter. Now, it is no secret that ice sparkles, especially if it is sunny outside. So, naturally, this blue glitter is perfect for your icy blue Christmas nail design. Adding the snowflake decorations and the 3D knitted pattern just helps this manicure turn into a gorgeous idea not only for Christmas, but for winter as a whole as well. You can try it with just blue and white or you can add some silver details to it as well for an extra wow effect.
These nail designs are just too awesome, we want to try all of them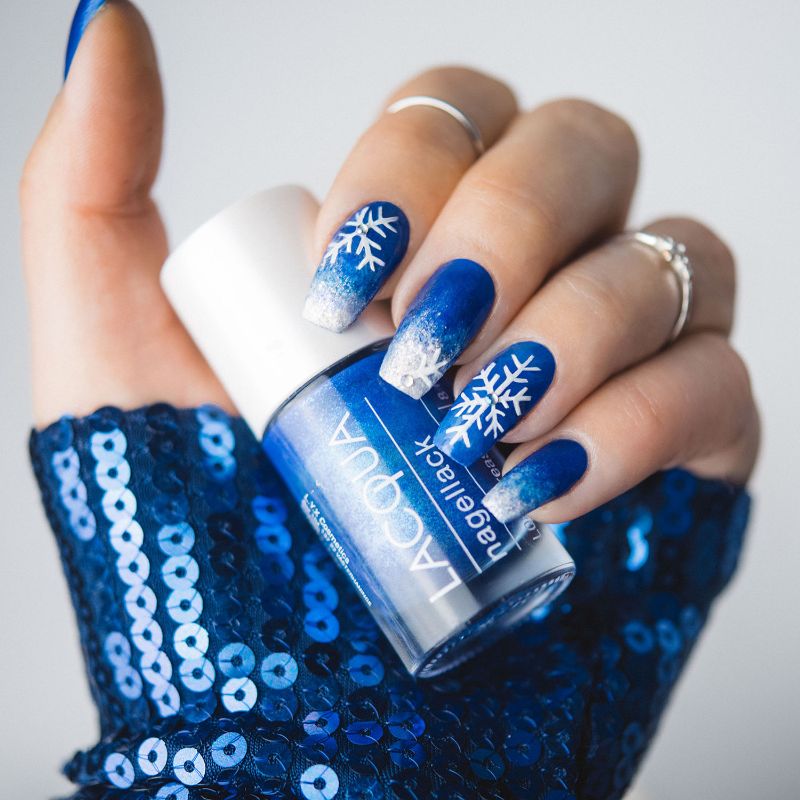 Ombre blue Christmas nail designs
Ombre nails are super popular and for a good reason. The effect just looks so stylish and allows you to seamlessly mix and match colors, which makes for an intricate and creative nail design. It is no different when it comes to blue Christmas nails. Try the ombre effect with blue and white or blue and silver. Trust us, the results are going to be gorgeous. Once again, add what is probably the best decoration for a blue manicure – the snowflakes, and your nail game will be unmatched. What's more, you can reserve the ombre and the decorations for 2 or 3 nails and have the rest only in blue or only in white. Throw in a few rhinestones in there and you might as well upload a photo of you manicure on Instagram, because you are definitely going to get all the likes.
Match your home's decor with a few Christmas decorations on your nails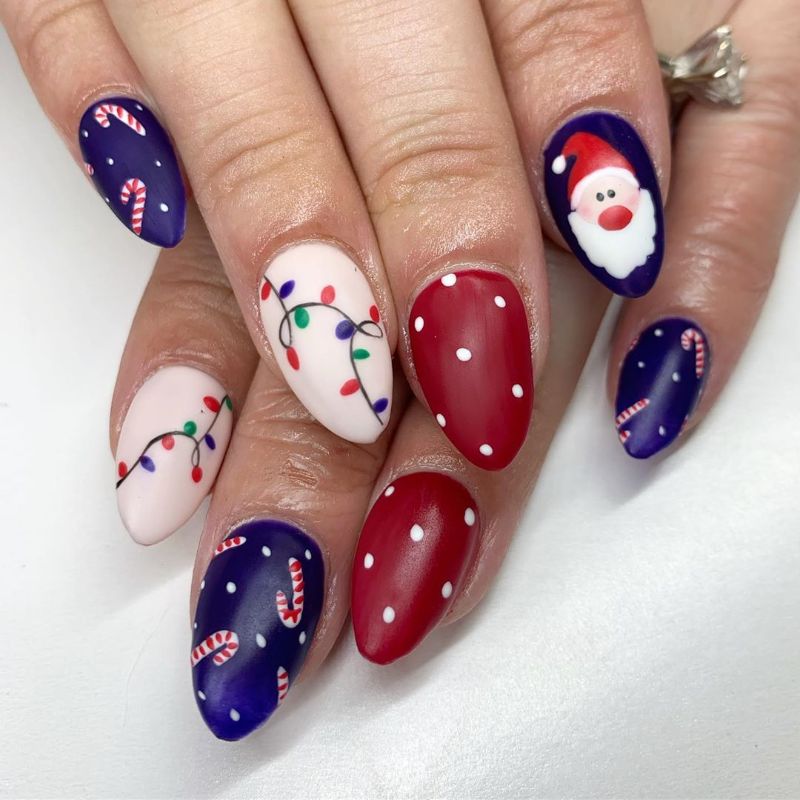 Get your nails into the festive spirit
What are the most popular colors of Christmas? Red, white and green of course. Maybe we can throw gold and silver in there as well. But, specifically red and green are super popular. And when we think about red, there is no way not to mention blue. These are two completely contrasting colors, which in some weird way go perfectly together. Use blue to add some contrast and depth to your otherwise all Christmas nail design. Blue will make for the perfect base for candy canes decorations or even Santas, as you can see in the photo above.
Yes, blue and silver are perfect together, but don't forget about gold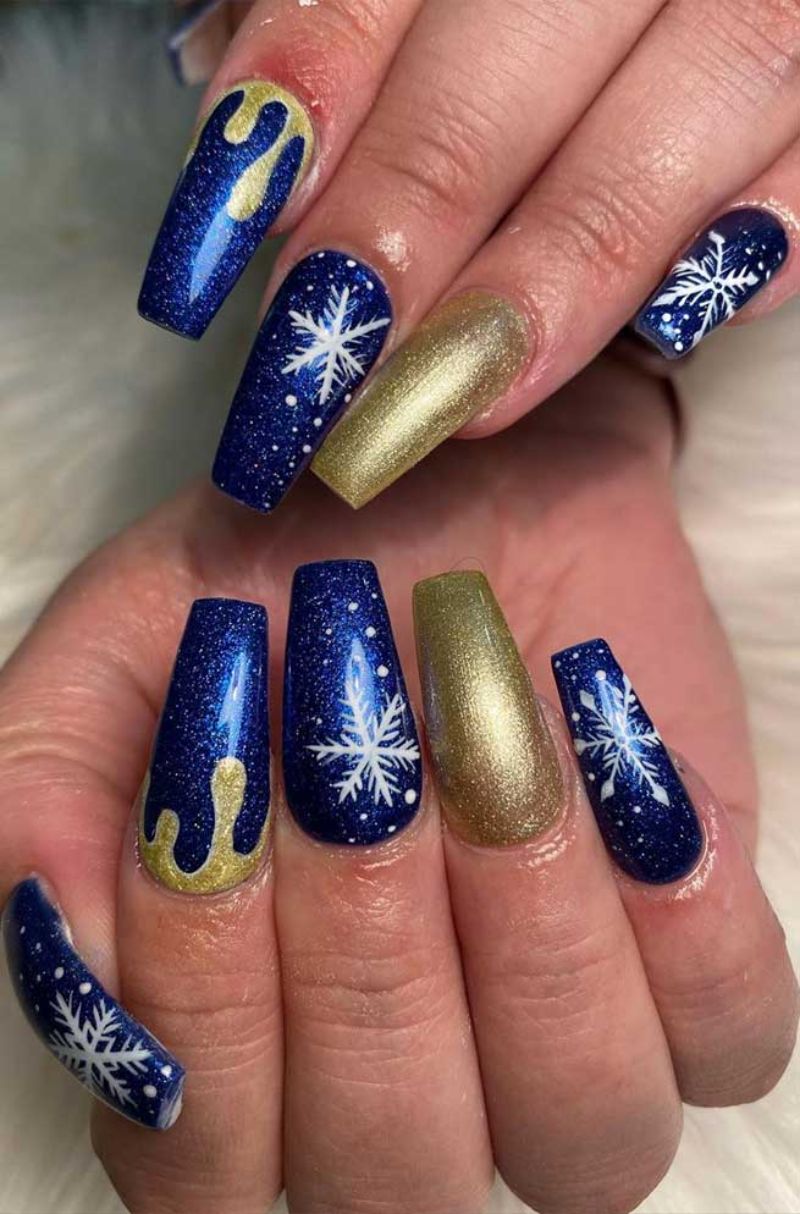 Let your blue Christmas nail designs sparkle
When we are talking about blue, we are not just talking about the regular old blue color, we also mean the absolutely stunning and gorgeous blue glitter. As we've already mentioned the sparkle of snow and ice in general can absolutely be recreated on your nails. How, you may ask? Well, the answer is simple, by using blue glitter. Mix up the blue glitter with some gold, add in a few snowflake decorations and let your nails sparkle and get everyone into the festive spirit. After all, Christmas is the perfect time to try more sparkly and glittery nails. It is the season to be jolly!
This understated look is just so beautiful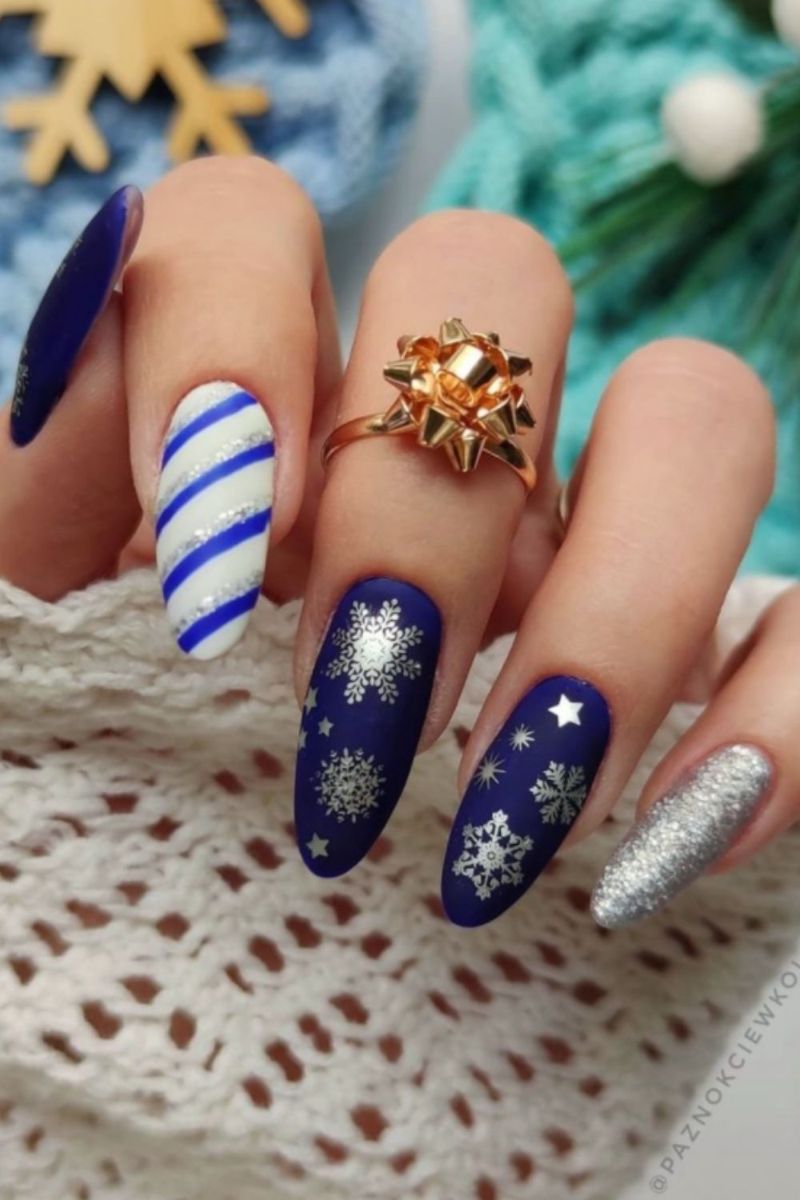 Give yourself a more understated look with a matte finish
A matte finish is all the hype right now. It just looks so understated, classy and elegant. The same can be said about your blue nails after you give them a matte finish. Let the color speak for itself. Of course, once again, don't forget your snowflake decorations. You can even add a rhinestone or two. On the other hand, if you love the matte finish, but are still looking for that extra sparkle, you can always add some glitter. Once again, the options are vast. White glitter, blue glitter, silver or gold – all of these are great options to add to a blue matte color.
This is a very understated, but incredibly beautiful nail design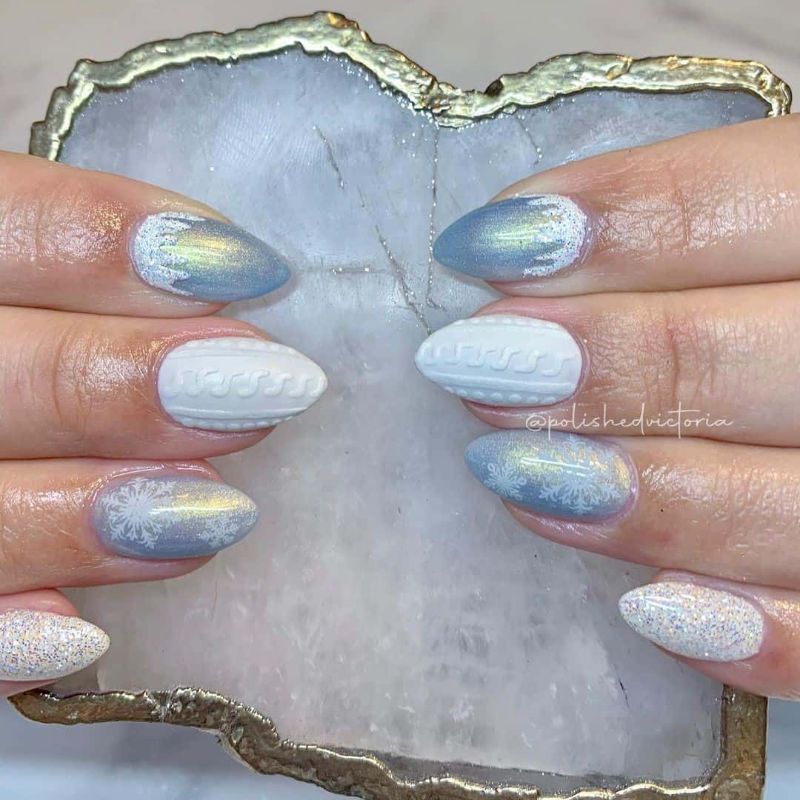 Just add light touches of blue
If you want your nails to resemble the winter season and represent it in the best way possible, then you should probably stay away from the darker shades of blue, such as navy, for example. Instead, choose a very light, icy shade of blue and only add it to a couple of your nails. For the rest you can leave the chilling white glitter. As you can see in the photo above, the icicle and snowflake decorations make your nails even chillier and represent the winter season even more. On the other hand the 3D knitted pattern allows for some coziness and can be seen as a reminder to always dress warm for the coldest season of the year.
Now you can browse our gallery where you can find even more blue Christmas nail designs
This matte ombre effect is just so beautiful
The blue gradient nail design can be perfect for the winter season