Christmas nail designs 2021 just in time for the beginning of the holidays
Believe it or not, there are 8 days left until Christmas. 2021 has come and gone just as quickly as it arrived and 2022 is upon us. And because of the difficult couple of years we've had, we deserve to treat ourselves at the end of the year and properly celebrate the festive season. After all, it is the most wonderful time of the year. But when we are talking about treating ourselves, we're not just talking about lavish decorations and proper Christmas meals. What we are talking about in this article is a gorgeous manicure. After all, don't you want to welcome Christmas in style? Well, we've prepared 20+ Christmas nail designs 2021, which are going to help you celebrate the holidays in style. What's more, you will have awesome nails, which are going to show off the season's best, most popular attributes. So, keep reading to find out what the trends are.
Christmas deserves to be celebrated in style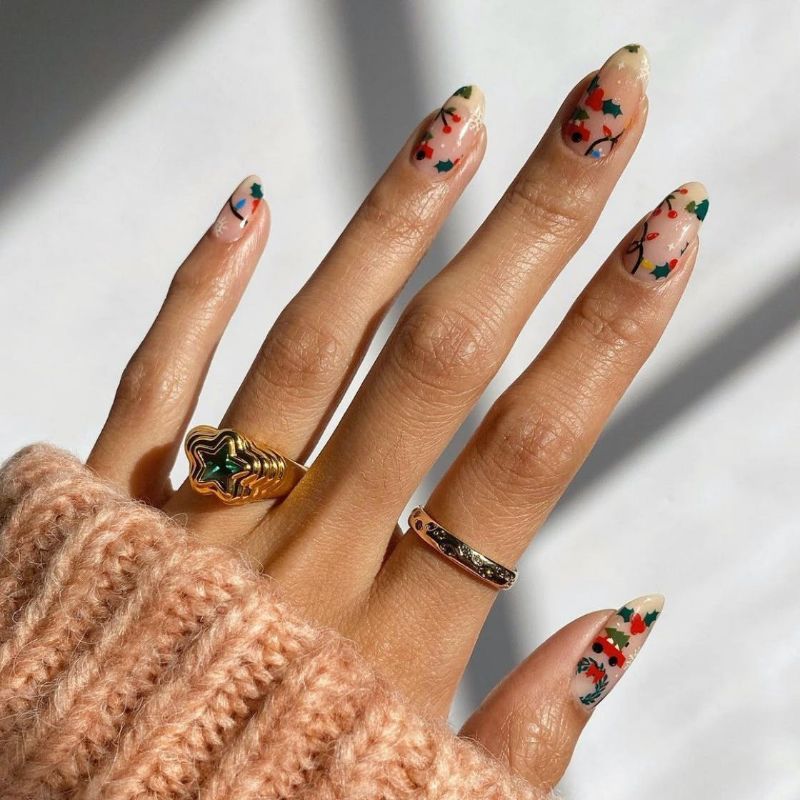 Negative space Christmas nail designs 2021
Negative space is probably the newest trend in nail designs, but it has absolutely taken the world by storm. Maybe because of its simplicity, or perhaps because of its more abstract look, negative space has become hugely popular. While the summer saw the rise of this trend, winter is also a perfect time for it. In general, winter colors include more plain and neutral colors. That, however isn't the case when we are talking about Christmas nails. So, when you combine the two elements together, you can have gorgeous Christmas nails, just like the ones in the photo above. Whether you choose mistletoe decorations or any other holiday related one, your manicure will be trendy and on theme.
These have to be the cutest nails we've ever seen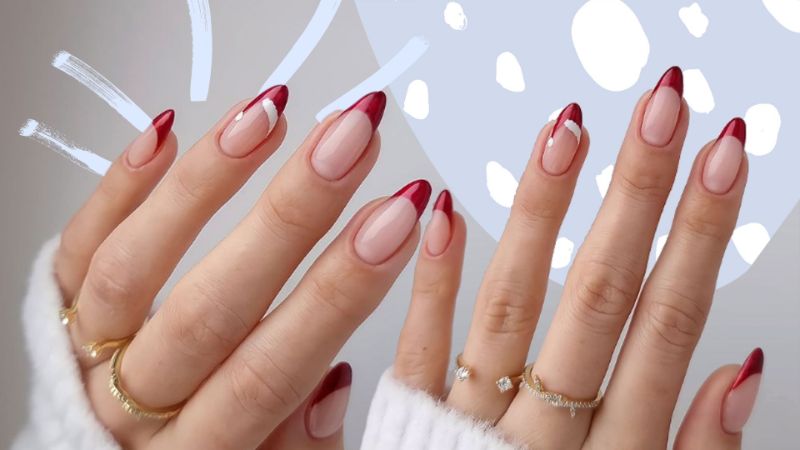 Put a Christmas spin on the classic French manicure
French manicure is yet another trend that took over the world this past year. However, it isn't a new one, it acually made a comeback and for a good reason. French manicure might be simple and minimalistic, but it is also very classy and elegant. So, why not use that to your advantage? Put a little Christmas spin on an old classic nail design as shown in the photo above. These cute nails with a Santa's hat French manicure are absolutely gorgeous, super fun and incredibly cute. So, if you are looking for something more simple, but just as effective, you should deffinitely try them out.
And these nails are absolutely stunning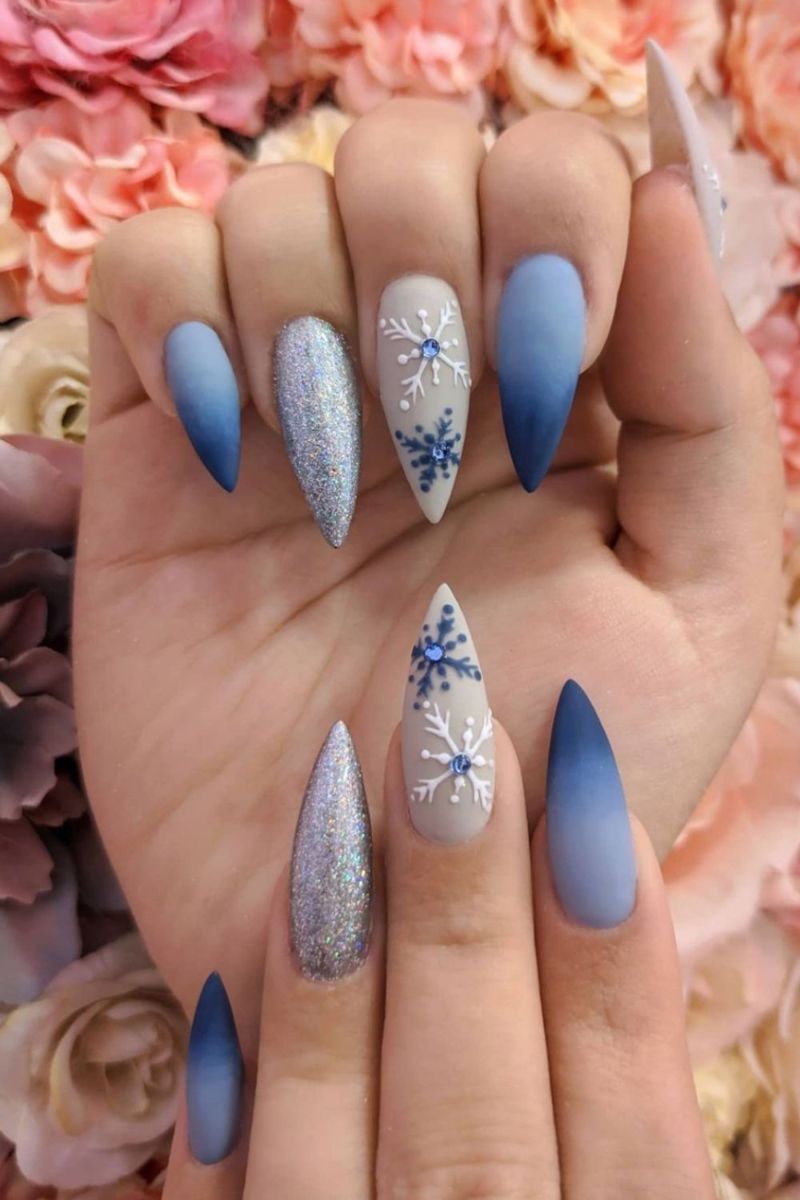 Use winter colors for your manicure
We all know what the winter colors are. However, we are not just talking about the neutral shades, we are also talking about the actual colors of winter. Which ones pop into your mind when we say that? Blue, of course, has to be first, white as well. But also silver. For some reason when we are thinking about snow and ice, these are the first colors that come to mind. That is exactly why, you can use the combination of all three of them to create incredible nail designs. Add in a few snowflake decorations and you are all set.
If you want to get a little artsy, this nail deisgn idea is just for you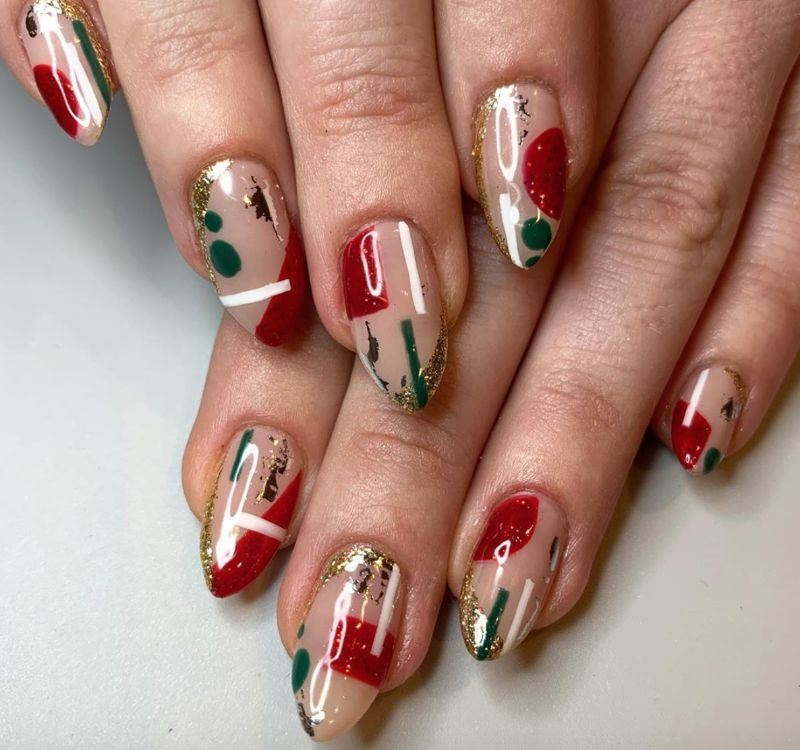 Abstract Christmas nail designs 2021
Yet another trend that saw its stock rise throughout this past year. It almost seems like less is more according to the trends we've followed in 2021. And while less is more is certainly true for this trend, it's artistic nature makes your nails everything but boring. In order to put a Christmas spin on it, all you have to is just use more Christmas colors. Do we need to remind you what the Christmas colors are? Green, red and gold, of course. Create a few abstract lines and shapes in these colors and not only do you get a thematic manicure, you also get a super artsy and beautiful one.
Oh my, these are super cute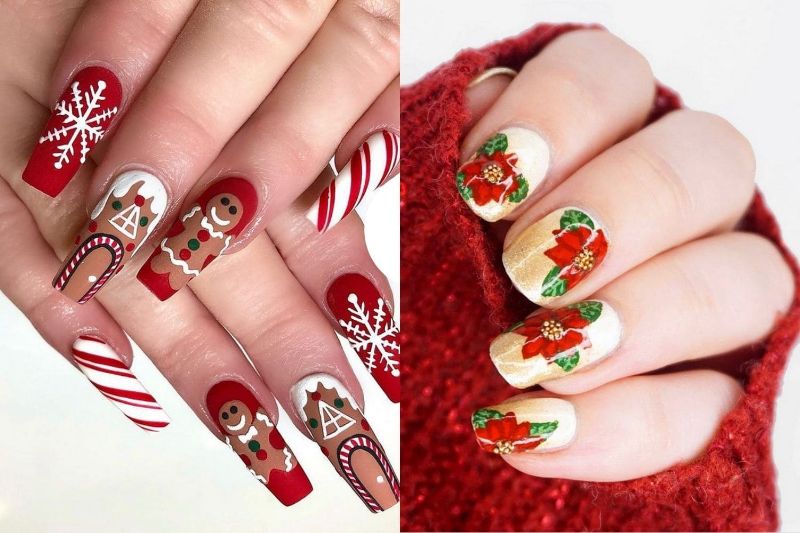 Follow the Christmas theme
When we are talking about manicures, color isn't all that matters. Decorations matter too. And it's great that nowadays, more and more people are open to trying lavish decorations on their nails. When it comes to Christmas that is especially true. After all, your Christmas nail designs 2021 need to be in tune with the cheerful vibe of the holiday. What's more, you have so many iconic things to choose from. Christmas trees, baubles, gingerbread men, mistletoe, wrapped presents, you name it. The amount of things that can be drawn onto your nails which directly co-relate to the holiday are endless.
Add some glitter to an otherwise neutral nail design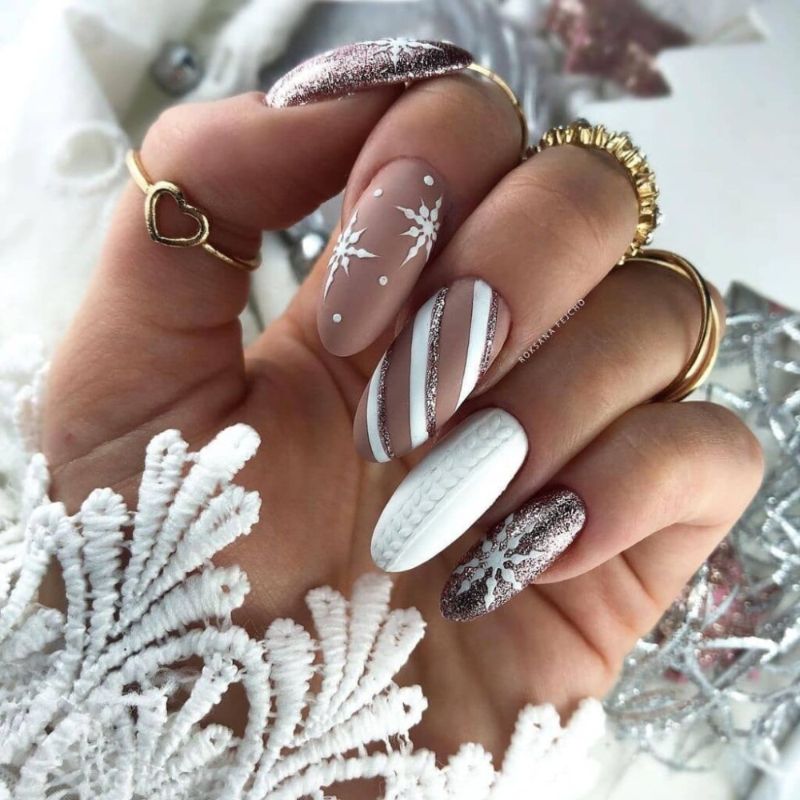 Keep it neutral
Neutral colors are super popular for the winter and not just for clothes, for nail designs too. And if you don't want to go all out with a Christmas manicure, we get it. Just remember, neutral colors can be just as effective when done right.  So, whether you choose nude shades, beige or white, for example, your nails will still have a holiday vibe. How you may ask? Well, by just adding a touch of glitter. You have two options: you can either paint a few nails in glitter nail polish or you can choose a couple of nails which are going to have a glitter detail on them. Another option is to keep it extremely neutral with a nude shade, decorated with white snoflakes. Either way, your nails will still have that winter vibe.
Red, white, green and gold are all super popular Christmas colors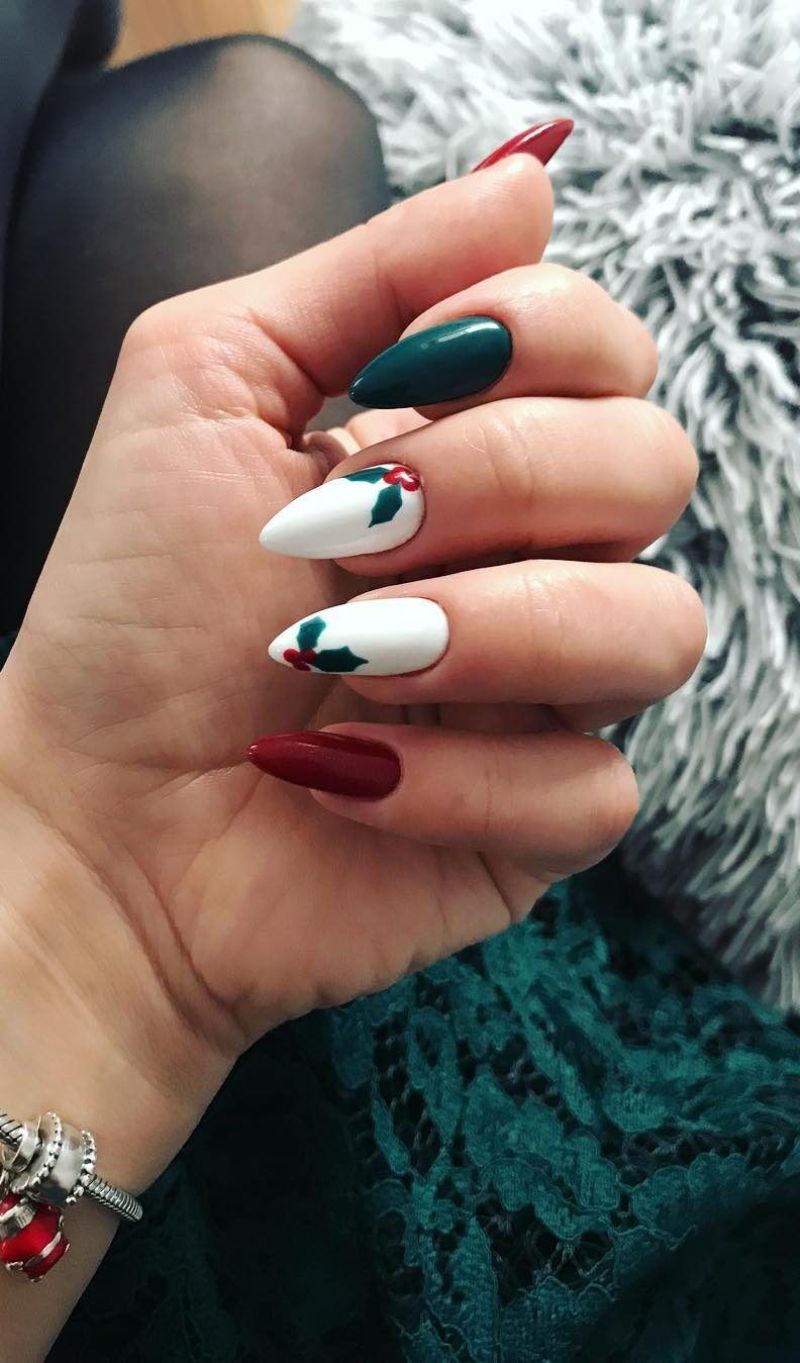 Keep it simple with Christmas colors
When we are talking about Christmas nail designs 2021 we aren't just talkig about lavish decorations with drawings that remind us of Christmas. Your manicure can still be super simple, but Christmas related. All you have to do is use Christmas colors. And we all know that the most popular colors of the holiday are red, green, white and gold. Just combine these colors on your nails and you don't even have to have decorations on them. However, you can always add a decoration or two here and there for a bit of added effect. Either way, we are a hundred percent certain your nails will look awesome.
Now you can browse through our gallery and find even more nail design ideas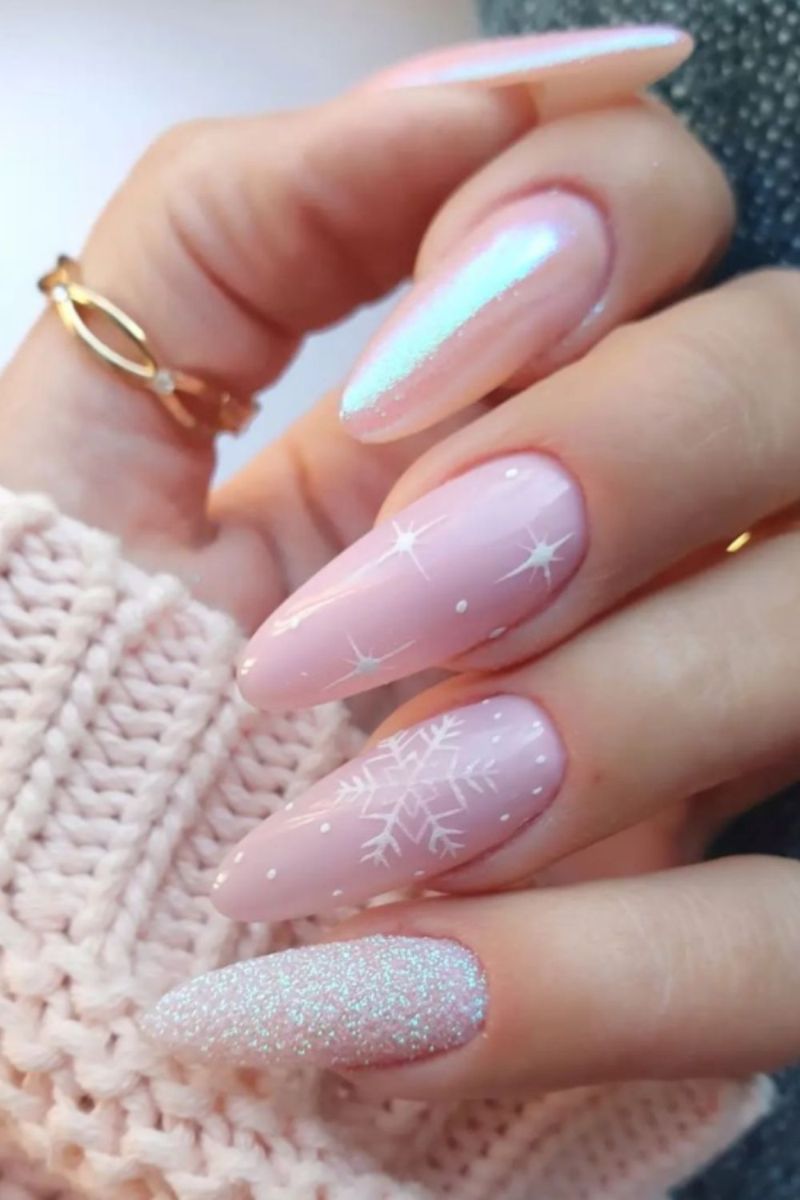 The Coca Cola Christmas ads are the most popular ads in the world and everyone looks forward to seeing them on TV
Of course, you can always honor the Grinch and its disdain for the holidays
Pick one color, give it a matte finish and add some glitter and voila – you have a stunning manicure
Use the most popular Christmas colors