8+ DIY Fidget Toys Crafts and Ideas
While fidgeting used to be frowned upon in the past, we now understand that humans just aren't made to sit completely still for hours on end. Constructive fidgeting has actually been proven to help many people focus. And as life is becoming quite stressful and demanding for kids and adults alike, creating fidgets for some tension relief is a great thing. Unlike slime, which can create a lot of mess, these toys are tidy, safe to use and entertaining. They also make great inexpensive gifts! Of course, you can always buy fidget gadgets, but it's much more fun and rewarding to make your own. Keep your kids, or yourself, double busy by sitting down and crafting these little fun toys with materials easily found at home and craft stores. So, why not try out these 8+ DIY fidget toys crafts and ideas?
Constructive fidgeting has actually been proven to help many people focus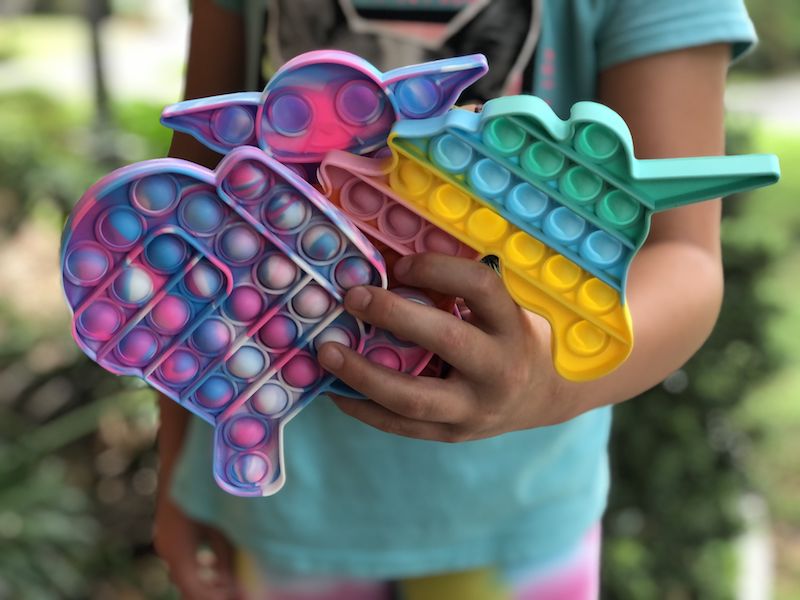 Fidget toys come under many forms, colors, textures and sizes, however their purpose is always the same. Fidgeting can be a default behavior that is best dealt with by focused redirection. Popular among fidgeters of all ages, these little gadgets do exactly that. They help to relieve tension, make you feel less stressed wherever you happen to be and satisfy that need for movement and touch. They help enhance the persons' ability to remain calm, attentive and focused. These toys provide something that redirects energy in a less distracting and more socially appropriate way, while still letting the individual focus with the task at hand. For example, while listening to an hour-long lecture, which requires a person to sit still, they can have some DIY fidget toys in hand to help them focus. Nobody else will be distracted by it, while they will have their needs met.
Fidget toys provide a redirection of energy in a less distracting and more appropriate way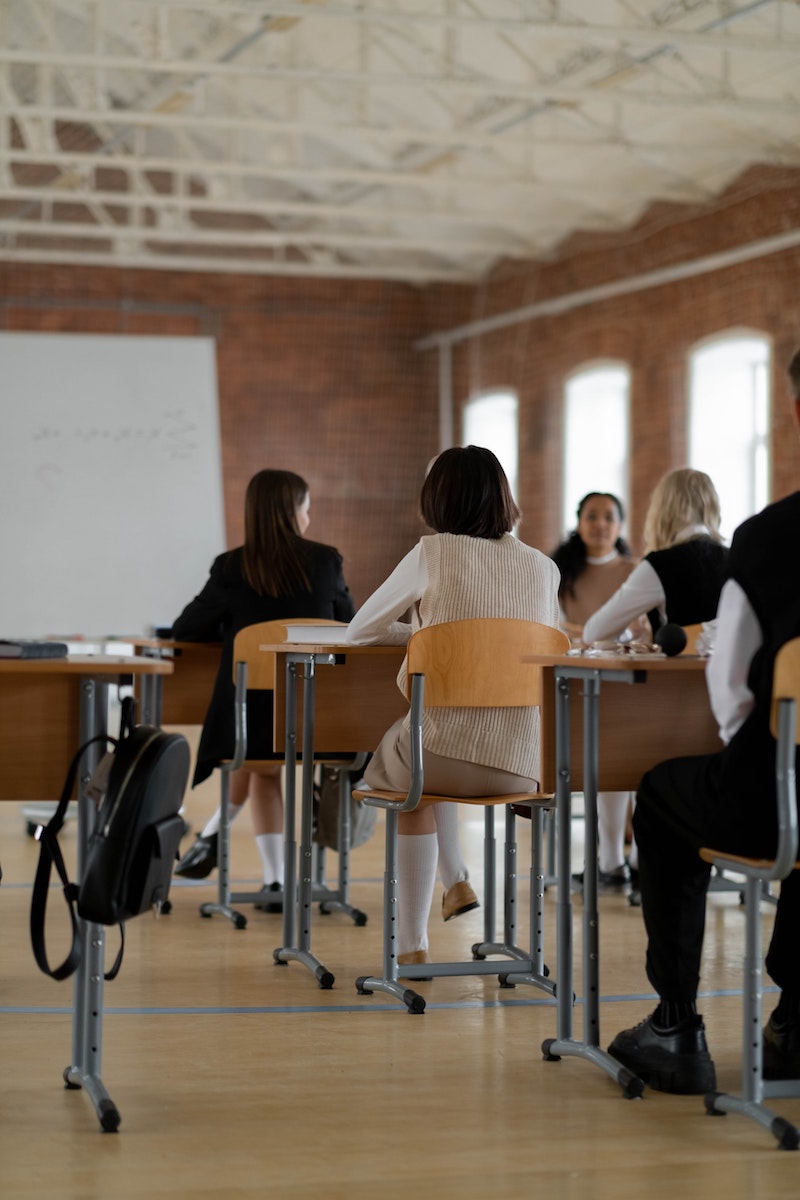 How To Make Fidget Toys?
You can find a huge variety of fidget toys on the market, however you can also make them easily at home. If you want to make some for your kids, make sure to involve them in the process. They will love personalizing their own toys, and you'll have something to keep them busy while making the gadget. Fidget toys don't have to be made from complex materials. Things like balloons filled with some flour can be as stimulating, fun and entertaining as any other store-bought toy. So, if you want to learn how to make your own, you've come to the right place. We have collected some of the most popular ideas and crafts for DIY fidget toys that you can make easily at home. So, roll up your sleeves and let's get started!
Have fun creating your very own DIY fidget toys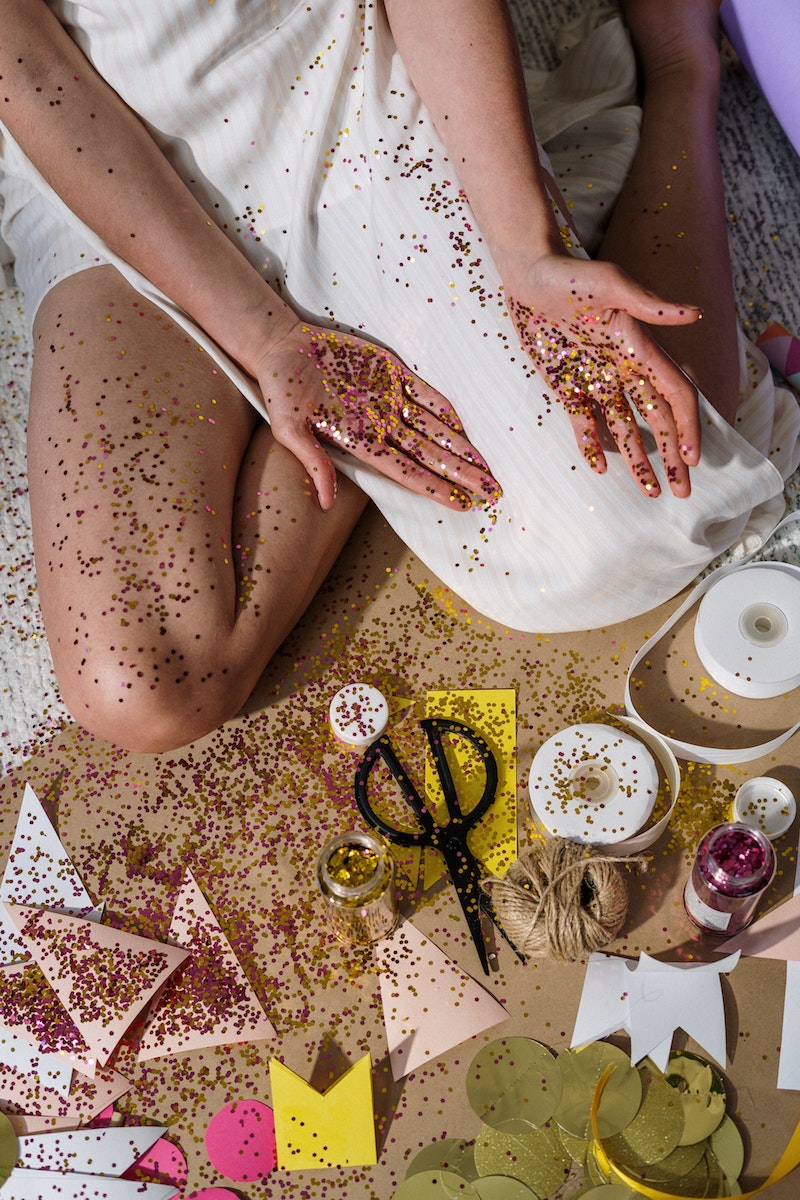 DIY Fidget Board
This is the king of all fidget toys. A fidget board is exactly what the name suggests. It's a board filled with different bits and bops you can fidget with. The great thing about making this on your own is that you can customize it however you wish. You don't need anything too fancy, just use your imagination. Here is a great, easy example of a fidget board you can do.
A great and easy DIY for a fidget board
DIY Pop It
Pop it toys have seen a huge rise in popularity over the last year. You can find multiple colors, shapes, and sizes on the market, but it just isn't the same as making your own. Here is an easy and cute DIY that can be made in 30 minutes. You can also turn this into a keychain if you wish and make it into a present for someone.
Items:
Craft Foam
Scicorss
Hot Glue Gun
Cardboard
Scrapbook Paper
Paint
Glitter
Ribbon
Instructions: 
Cut a circle from a piece of craft foam.
Cut a slit in the foam and fold it in to create a wide cone shape.
Using a hot glue gun, stick the foam back together.
Flip it over to the back and cut off any excess foam on the other side.
Measure the diameter of the foam popping mechanism.
Take a cardboard piece and cut two identical pieces into any shape you like. Just keep in mind to leave space to cut out a circle in the middle of it.
Cut out circles in the middle, just a little smaller than the size of the popping mechanism.
Decorate the cardboard however you like – with paint, scrapbook paper, etc.
Time to assemble. Flip one of the cardboard pieces to the back. Put a ring of hot glue around the middle.
Put in the foam piece.
Pop the foam piece so that the bump is facing up. Add another ring of hot glue around it and put the second piece of cardboard.
Add glue around the edges so they stick well.
Take some ribbon and disguise the edges with it and a bit of glue.
 A beautiful homemade "pop it" keychain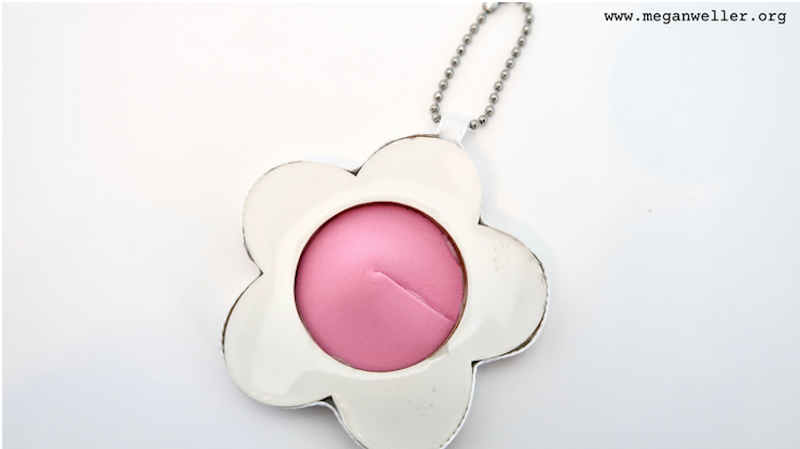 @MeganWeller
Infinity Cube Fidget
Infinity cubes can be very stimulating and interesting, however they also can come at a higher price than most fidget toys. So, if you've got some extra time on your hands, why not try to recreate it at home?
Infinity cubes have been gaining a lot of popularity 
DIY Sensory Toys
Kids in particular need much more sensory stimulation than adults, that's why having some toys that can help with that is great! Create your own sensory gadgets and DIY fidget toys, that don't make a lot of mess but still give your child the full experience.
Kids need sensory stimulating toys to help develop their basic motor skills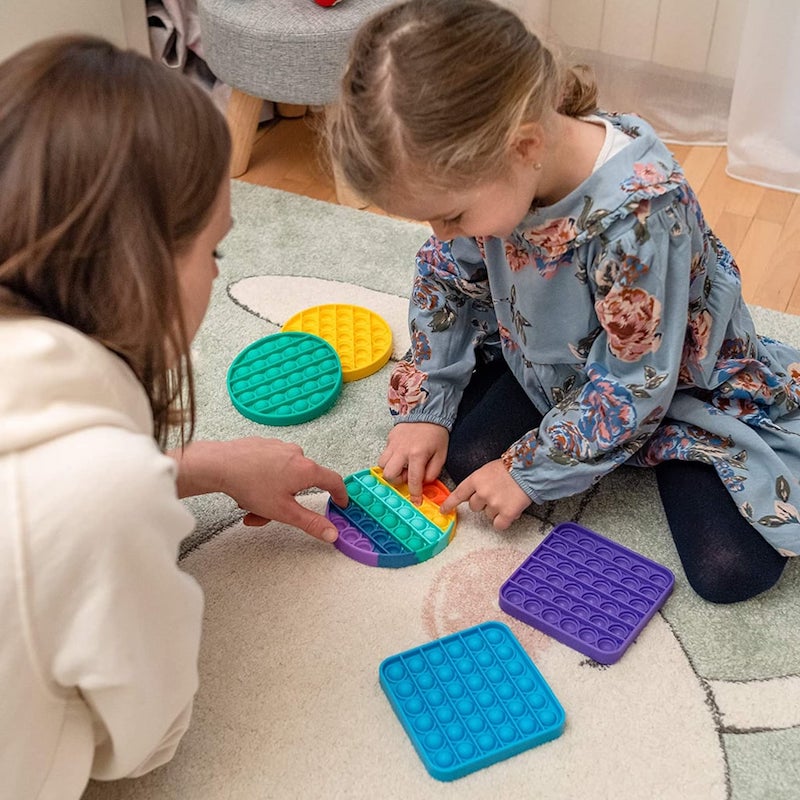 Filled Ziploc Bags
Sensory Ziploc bags are super easy to create, versatile, don't requite clean up and are very beneficial for your little one's development. Here are some ideas you can do.
Items:
Ziploc Bag
Tape
Liquids (Optional)
Gels (Optional)
Goos (Optional)
Paints (Optional)
Glitter (Optional)
Small Toys (Optional)
Instructions:
Open your bag and fill it with whatever you have chosen. This can be only paints, or some slime with toys and glitter. You can put a gel with leaves and confetti. It's really all up to you.
Make sure to securely close the bag. Use tape for an extra measure.
A simple example of a sensory Ziploc bag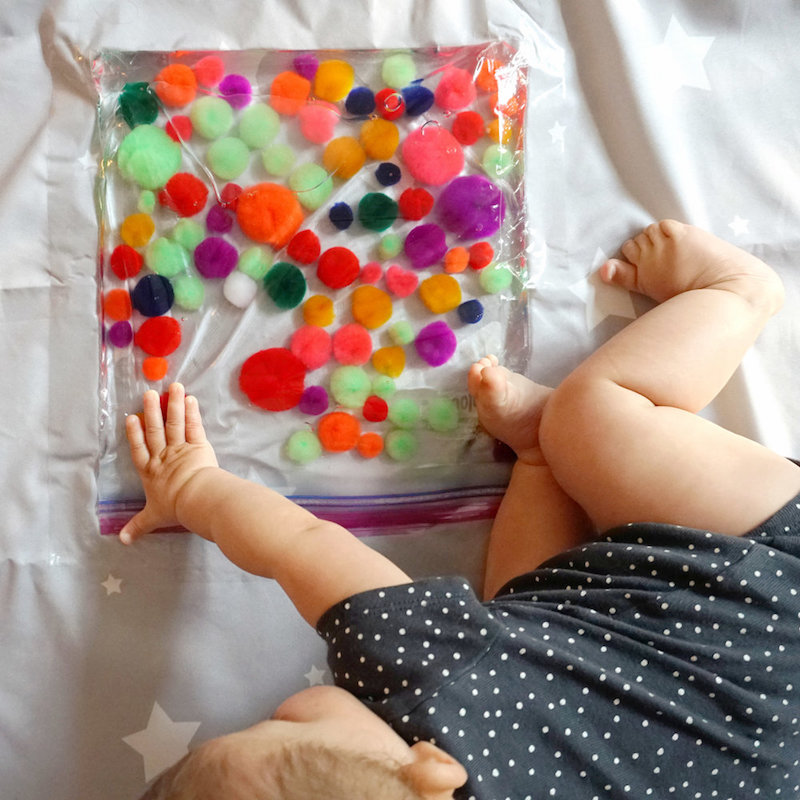 Nuts and Bolts
Make a sensory bin filled with common items such as nuts and bolts. After all who said they were only for home improvements and decor? Keep in mind this activity is for children who no longer are in the phase of putting everything in their mouths.
Items:
Instructions: 
Fill the bin with various amounts of the items.
Introduce the child to the items.
Demonstrate how the nuts can be placed onto the bolts.
Find whatever nuts and bolts you have lying around the house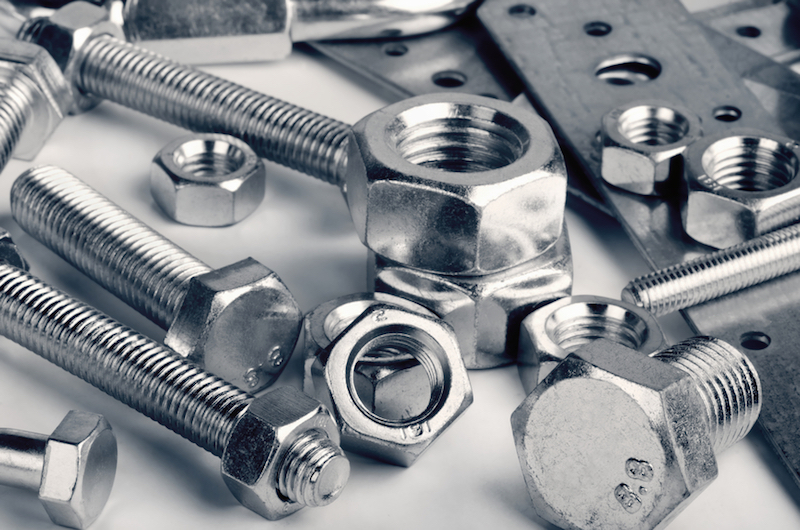 Paper Fidget
You can also make fidget gadgets with just paper. Here are is a perfect example of a great DIY fidget toy made with only some paper, regular, craft, or even wrapping, as well as other easily accessible household items.
Even cats seem to enjoy these fun fidget spinners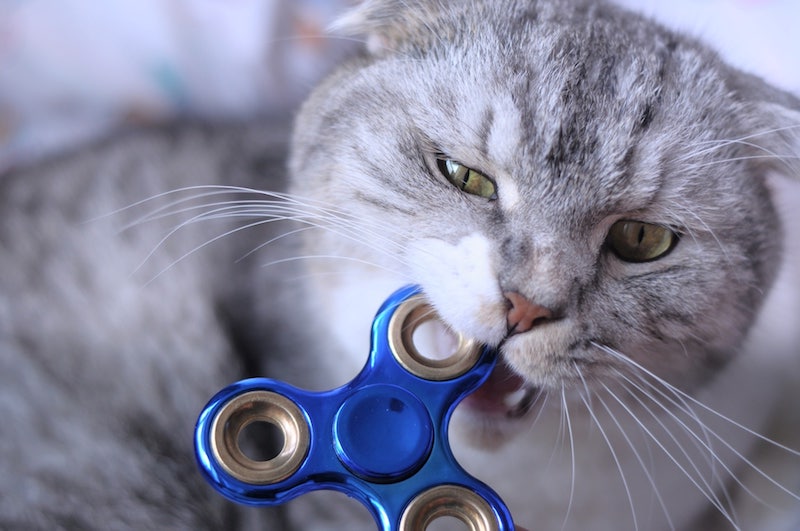 Fidget Spinner
There are many ways to make an at home fidget spinners. You can use caps, hot glue, silicone, crayons, and many other items to make this toy. However, one of the easiest and the one that takes the least items to make is the origami paper fidget spinner. Here is a cool tutorial on how to make this ninja star spinner.
A super cool ninja star spinner 
DIY Stress Toys
As we mentioned, one of the fidget toy's main purposes is stress relieve. So, here are some simple, easy crafts for inconspicuous gadgets you can always have on you.
A fidget cube is a great example of a convenient toy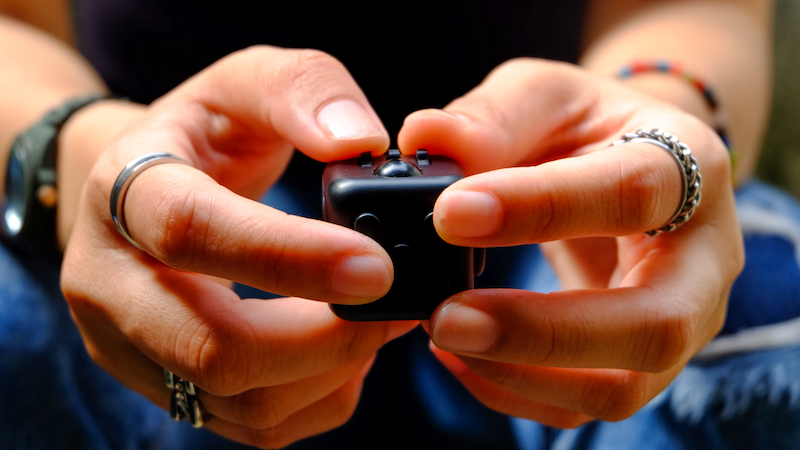 Zipper Bracelet
Want something cute, stylish and convenient to fidget with? Try out this easy DIY for zipper bracelets.
Items:
Colorful Zippers
Fabric Scissors
Embroidery Floss
Embroidery Needle
Clear Nail Polish
Instructions:
Trim any excess cloth from the zippers if needed.
If it has frayed, finish it on the outside with some clean nail polish.
Measure how big the bracelet needs to be and keep in mind it slips over the wrist.
Sew each end together. Start by threading a needle with embroidery floss. Insert it in the spot you require it in on one side, in the center where the sides of the zipper connect.
Join the two sides together and stick your needle through the other side. They should overlap.
Wind your string around both sides until you feel it is secure enough. When you are ready to finish it, thread it back through and tie a knot to secure in place.
Make sure it's secure enough before trimming the zipper.
You can also get store-bought zipper bracelets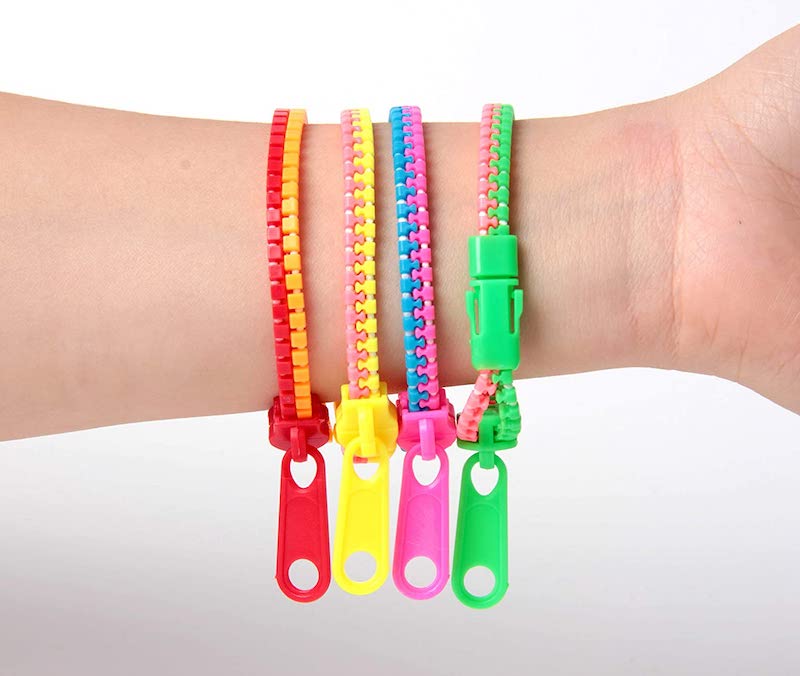 Stress Ball
This is perhaps one of the easiest DIY stress toys you can make. They are great to fidget with, and they are super simple.
Items:
2 Balloons
1 cup Cornstarch
Funnel
Instructions: 
Blow up the balloon beforehand and then deflate it. This will stretch it which will make it easier to fill it up.
Pull the ends of the balloon up over the end of a funnel.
Pour the cornstarch into the funnel. Shake and tap the funnel to make sure all the cornstarch has gone in. You can always add more if you wish.
Remove the funnel and tie a knot in the balloon.
Cut the neck off of the second balloon and stretch it over the first one to hide the knot.
The easiest DIY fidget and stress relieve toy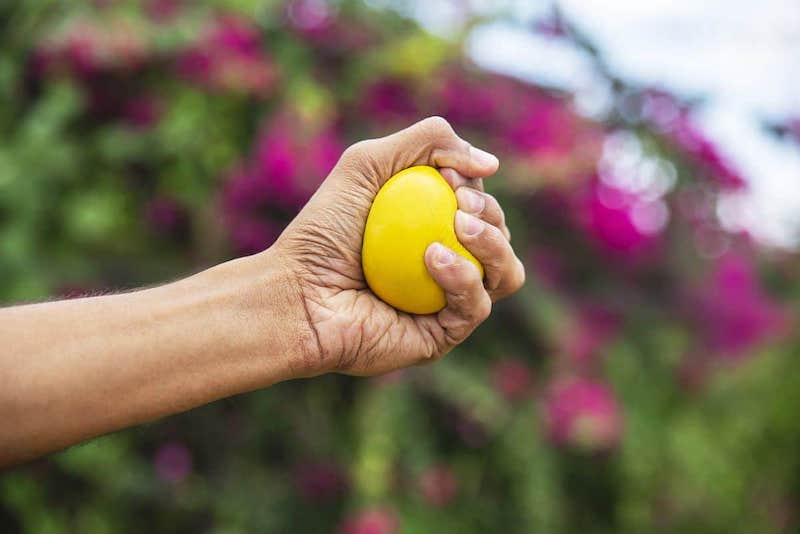 Paper Clip Bead Fidget Toy
If you want a tiny, very cheap and easy to make fidget toy this one is for you. It takes only to materials and 5 minutes. You can easily slip it into your pocket and fidget throughout the day.
Items:
Instructions:
Select from 6 to 10 beads. It all depends on how big the clip is.
Slip the beads onto the paper clip.
So tiny, you can keep it in your pockets at all times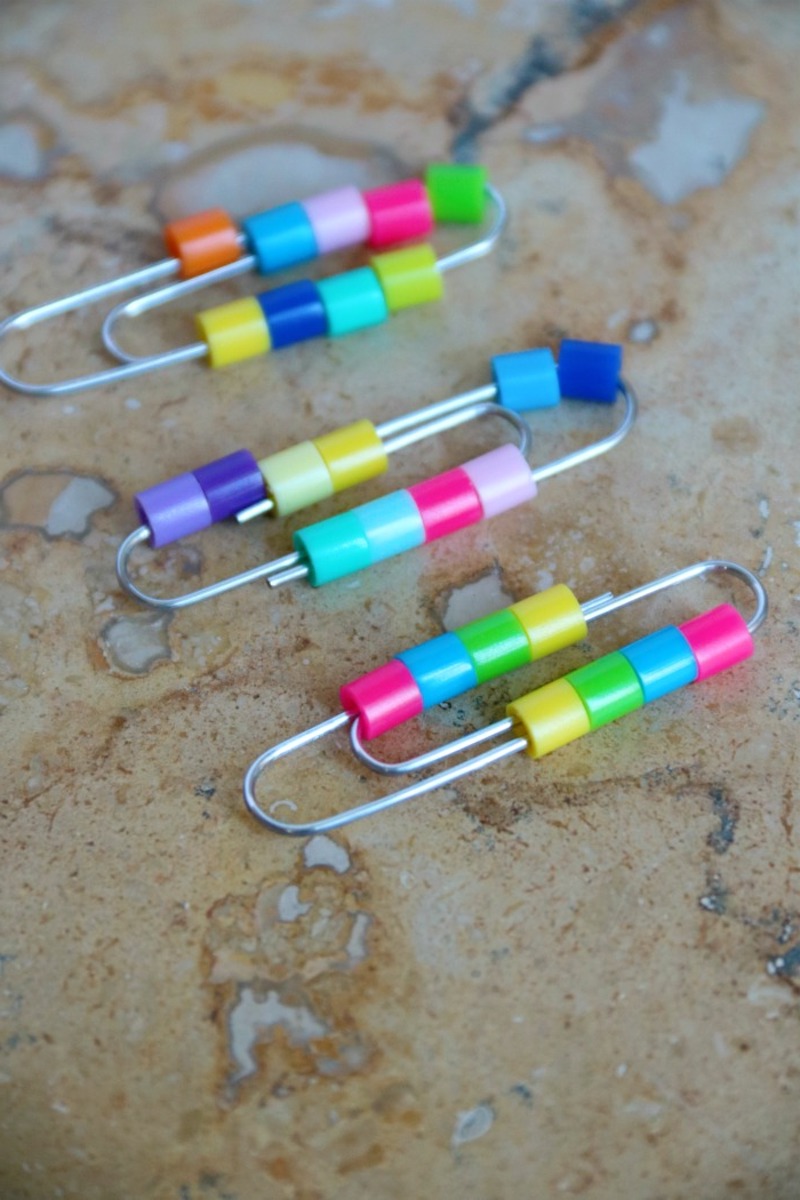 We hope you had fun making these DIY fidget toys! Now you have your very own fidget gadgets to enjoy and use as stress relief when you may need them. Or gift them to a friend!
Get a fidget toy for the long work and school days!