The Best DIY Bath Bombs: Herbal combinations for every mood & need
Have you been feeling kind of tired lately? There is nothing quite like a relaxing bath during a stressful work week. Even better if you are using an organic bath bomb infused with soothing essential oils and aromas. In this article, we will show you how to make the best bath bombs at home! We will discuss how you can make bath bombs to specifically fit your mood and needs. For example, a bath bomb with a citrus aroma will energize you, while one with lavender will soothe you before bed. These are the best bath bombs you will ever make at home! So, without further ado, let's get into these herbal combinations for every vibe and purpose:
With these herbal combinations, you will make the best homemade bath bombs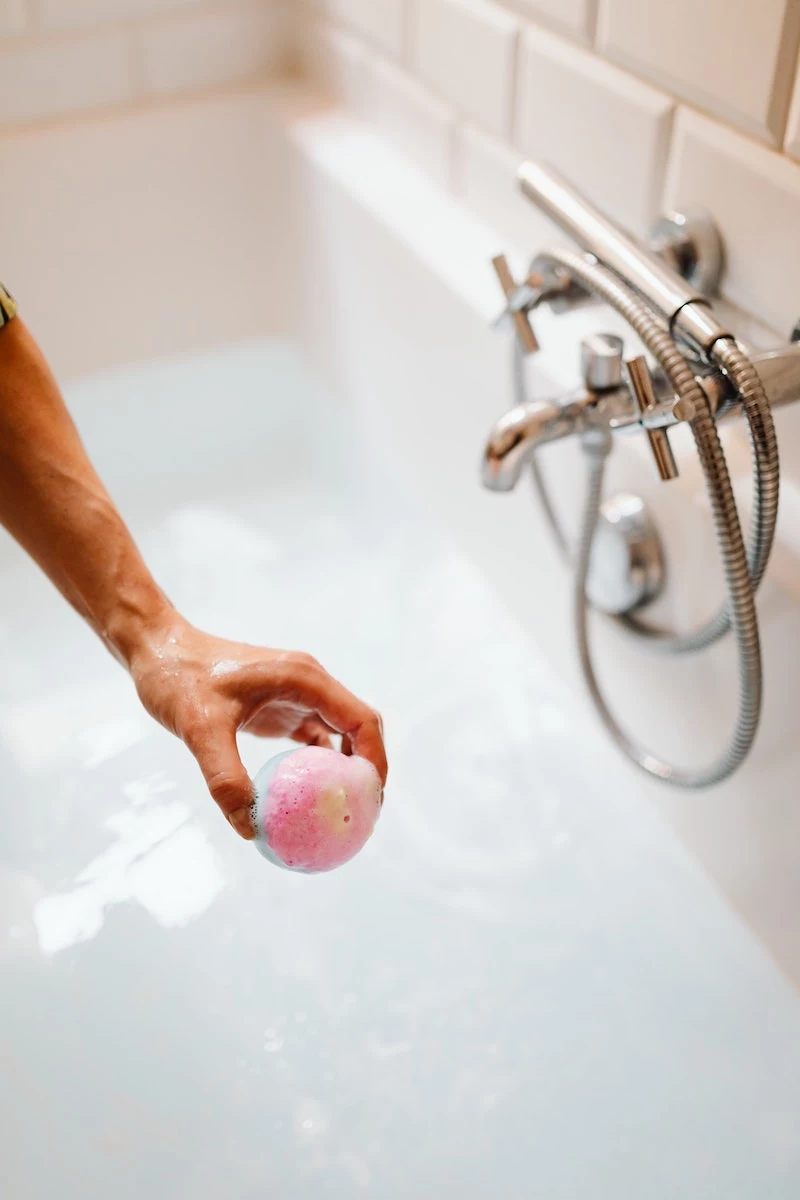 Making bath bombs at home is a lot better than buying them. Why? For starters, bath bombs are expensive, and if you love relaxing baths they can really affect your budget. Homemade bath bombs are super easy to make and affordable. If you have sensitive skin, you can make bath bombs with ingredients that won't irritate your skin. What's more, you can make homemade bath bombs as a gift for your family or friends! If you want to learn how to make bath bombs in the comfort of your home, make sure to check our organic bath bombs guide. There you will find everything you need to know about the process and ingredients!
Making your own bath bombs makes the process extremely customizable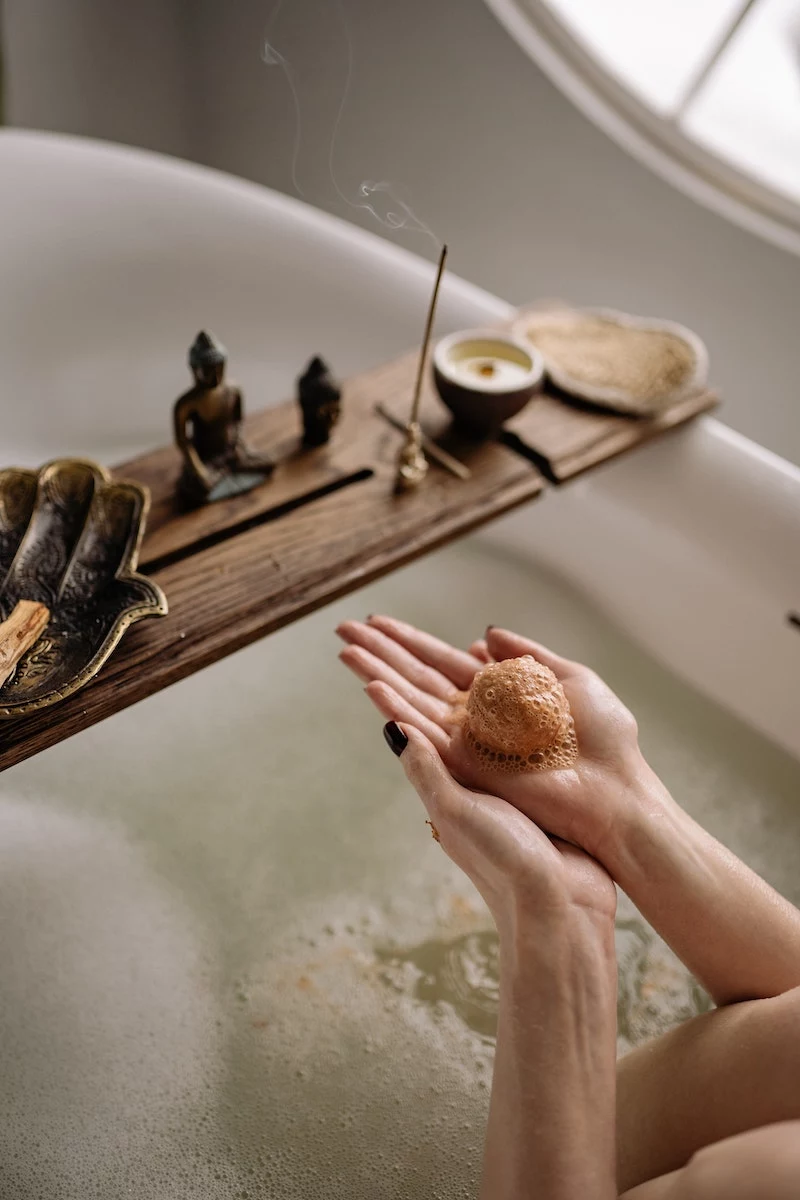 Herbal combinations for organic bath bombs
All herbs have different energetic effects. For example, citrus scents energize us and lift our mood, while scents like rose and lavender are calming. And, plants like calendula are ideal for soothing skin problems. Essential oils can be really great, but they can also be potential skin irritants. Rubbing herbal oils on your joints is one thing, but when you use bath bombs with herbs in them, you will expose all of your tissues to these plants. So, you have to choose wisely. Yes, cayenne oil can be great for arthritis pain relief, but do you really want to take a bath with it? Probably no. Remember to avoid anything that is too warming, spicy, or irritating.
Tip: Did you know that essential oils can also be used for your hair? These are the best essential oils for faster hair growth!
Learning the properties of essential oils will help you make the best bath bombs ever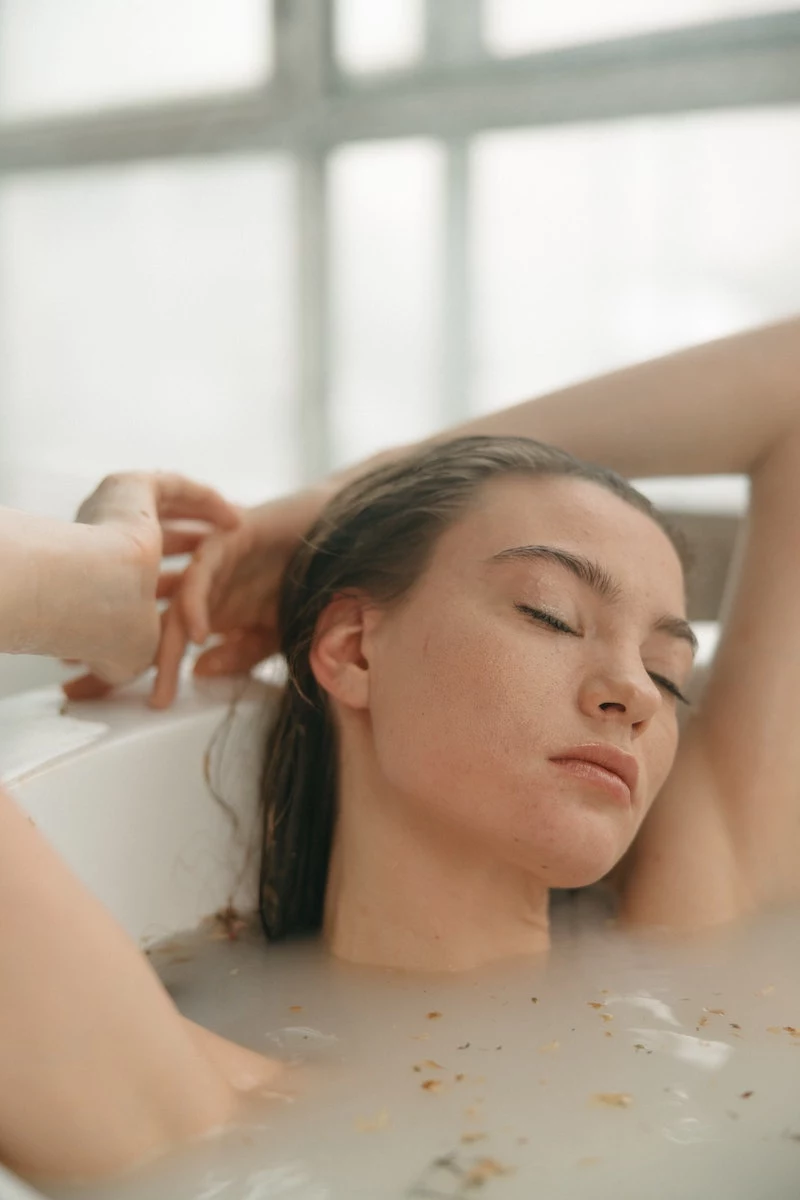 Once you get the hang of the process, you can create so many combinations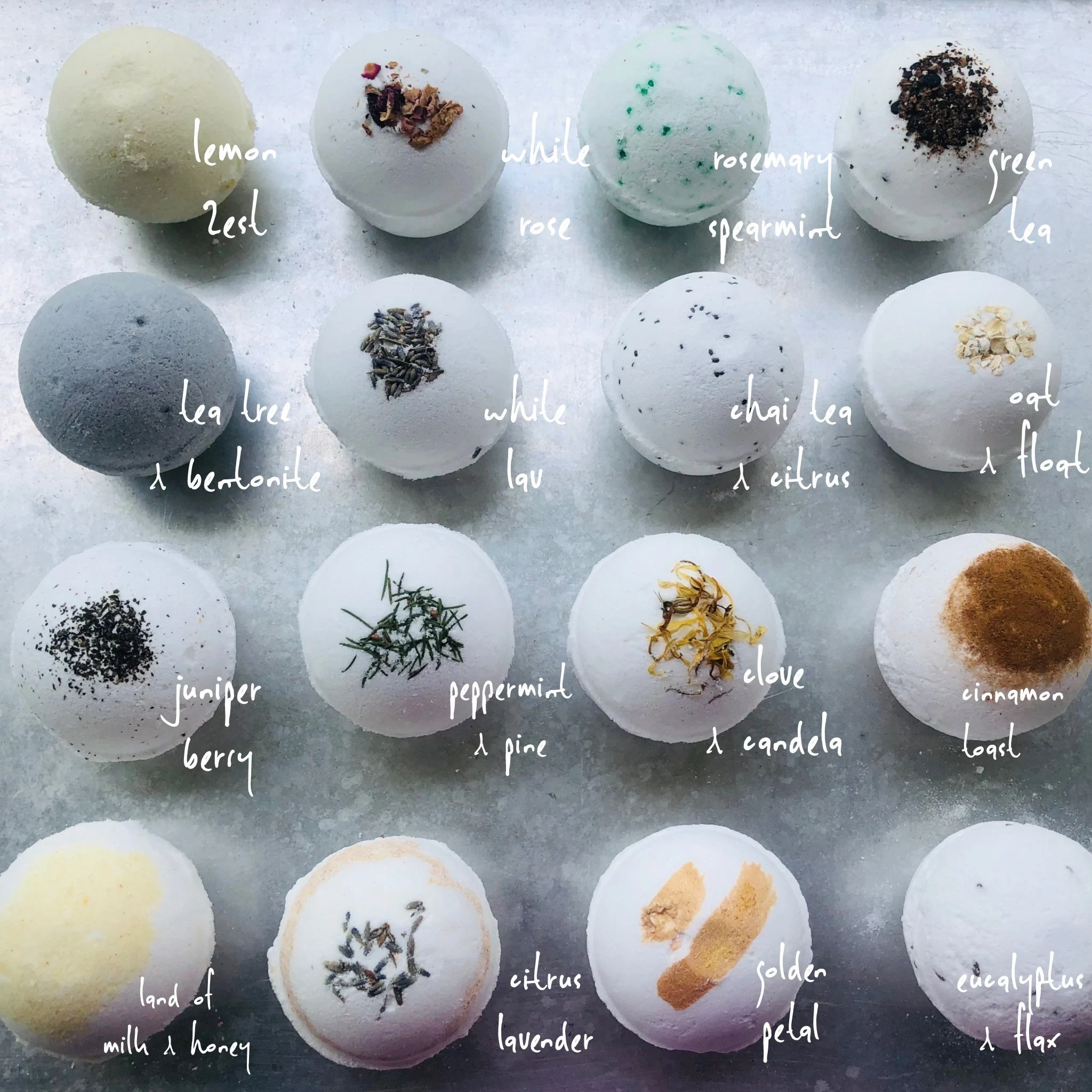 Herbs and oils to lift your mood
These herbs and scents are perfect for lifting your mood if you've been feeling low. They promote good energy and positive vibes. Our suggestion is to use these bath bomb combinations in a relaxing morning bath before a long day. They will give you energy, while also relaxing you!
Sage essential oil (essential oil)
Bergamot (dried herb or essential oil)
Tangerine (grated peel or essential oil)
Orange essential oil
Lemon balm leaves
Vetiver essential oil
Rose petals, or rose oil
Borage petals
Grapefruit essential oil
St. John's wort oil
Citrus oils and peels are energizing and uplifting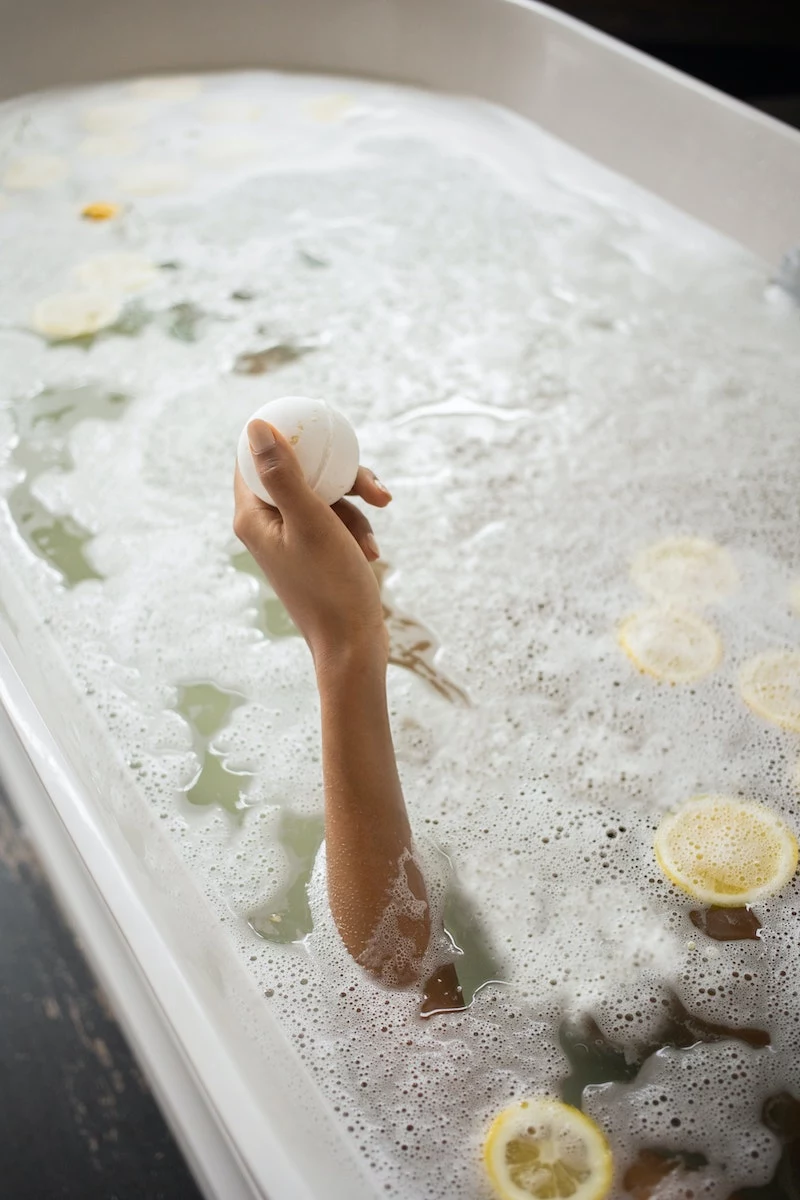 See how you can make this uplifting orange dreamsicle bath bomb:
Organic bath bombs for soothing and good sleep
These herbs are great for calming your nerves. If you are dealing with anxiety or stress and need to calm down after a tough day, then these are the herbal combinations you need to try. If you are having trouble sleeping, we suggest adding a few air-purifying plants in your bedroom and enjoying a relaxing bath bomb before sleep. Here are the best ingredients for a soothing bath bomb:
Cedarwood (essential oil)
Valerian (dried herb)
Sweet Orange (essential oil)
Chamomile (dried flowers)
Passionflower (dried leaves and flowers)
Vetiver (essential oil)
Sandalwood (essential oil)
Muscat sage (essential oil)
Lavender (dried flowers, or essential oil)
Lime (dried grated bark, or essential oil)
Bergamot (dried herb, or essential oil)
Lavender and chamomile promote a sweet sleep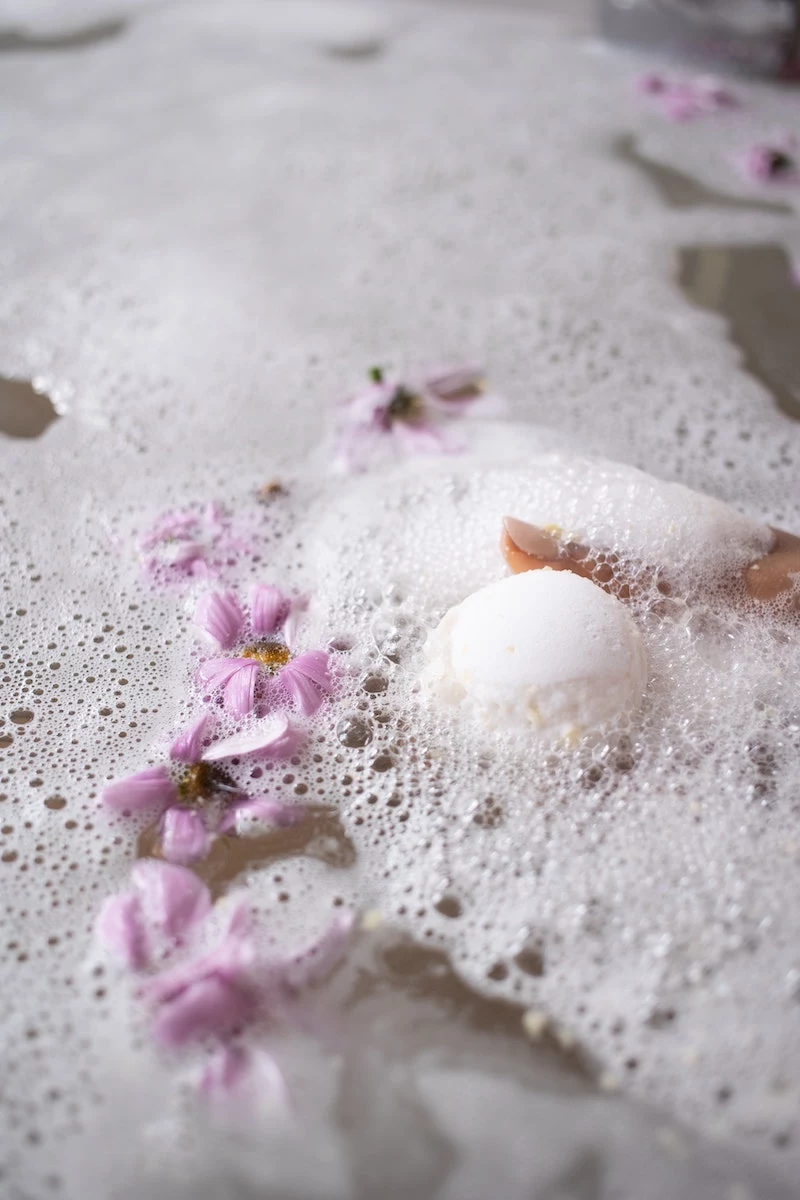 This lavender & vanilla bath bomb is perfect for a good night's sleep:
Organic bath bombs for the respiratory system
Herbal bath bombs, just like bath salts, are used for more than just relaxing. For example, if you feel your lungs are congested, and you are coughing, a hot, steamy bath filled with healing herbs can help you breathe easier. The following oils and herbs are good for improving breathing:
Eucalyptus essential oil
Rosemary (dried, or essential oil)
Dried peppermint (or essential oil)
Dried thyme
Pine essential oil
Drink a cup of hot tea and let this healing bath bomb do its job
Combine this pink Himalayan sea salt bath bomb with the essential oils:
Homemade bath bombs for pain relief
If you suffer from body aches, a long hot bath can give you relief. Adding certain herbs to the bath can ease the tension and discomfort of joint pain, fibromyalgia, arthritis, menstrual cramps, and more. If you are struggling with a bad migraine that even a relaxing bath can't fix, take a look at these home remedies for getting rid of a headache.
Oregano (infused oil)
Yarrow (dried leaves, infused oil)
Roman Chamomile (dried flowers or essential oil)
Daisies (dried petals)
Rosemary (dried herb or essential oil)
Sage essential oil
White willow bark (dried herb)
Cypress essential oil
Lavender (dried flower buds or essential oil)
Arnica (dried herb)
Make this pain relief bath bomb for when you feel tension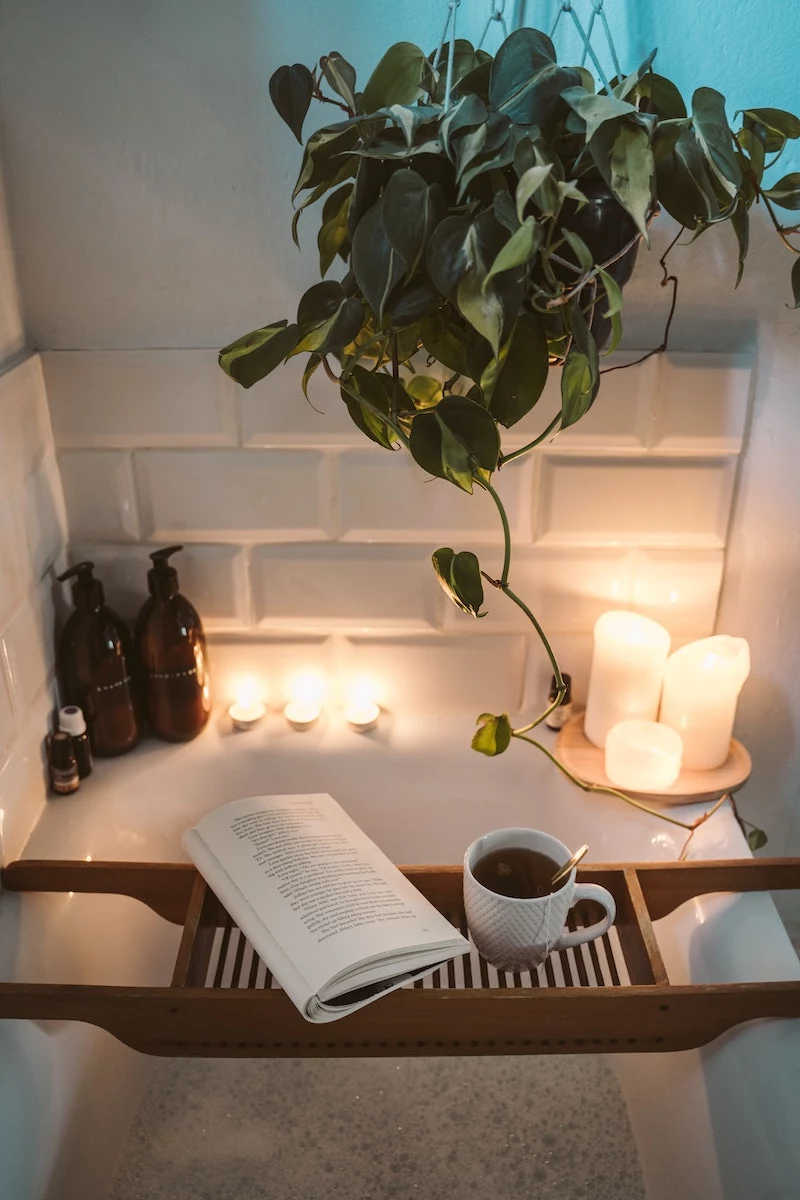 This natural muscle ache bath bomb is a must-try:
Bath bomb mixtures for a sensual vibe
Here we have listed some of the best bath bombs to try with your significant other. These blends of scents and herbs promote blood flow and are great for promoting feelings of body positivity and lifting your self-esteem.
Jasmine (dried flower petals)
Sandalwood (essential oil)
Ylang-Ylang (essential oil)
Orange essential oil
Rose (dried petals)
Honeysuckle (dried flower petals)
Sweet Almond (essential oil)
Cedarwood (essential oil)
Tip: If you want to spice up things with your other half, take a look at these aphrodisiac foods that will naturally boost your libido!
A sensual bath bomb and a glass of wine can promote self-love like no other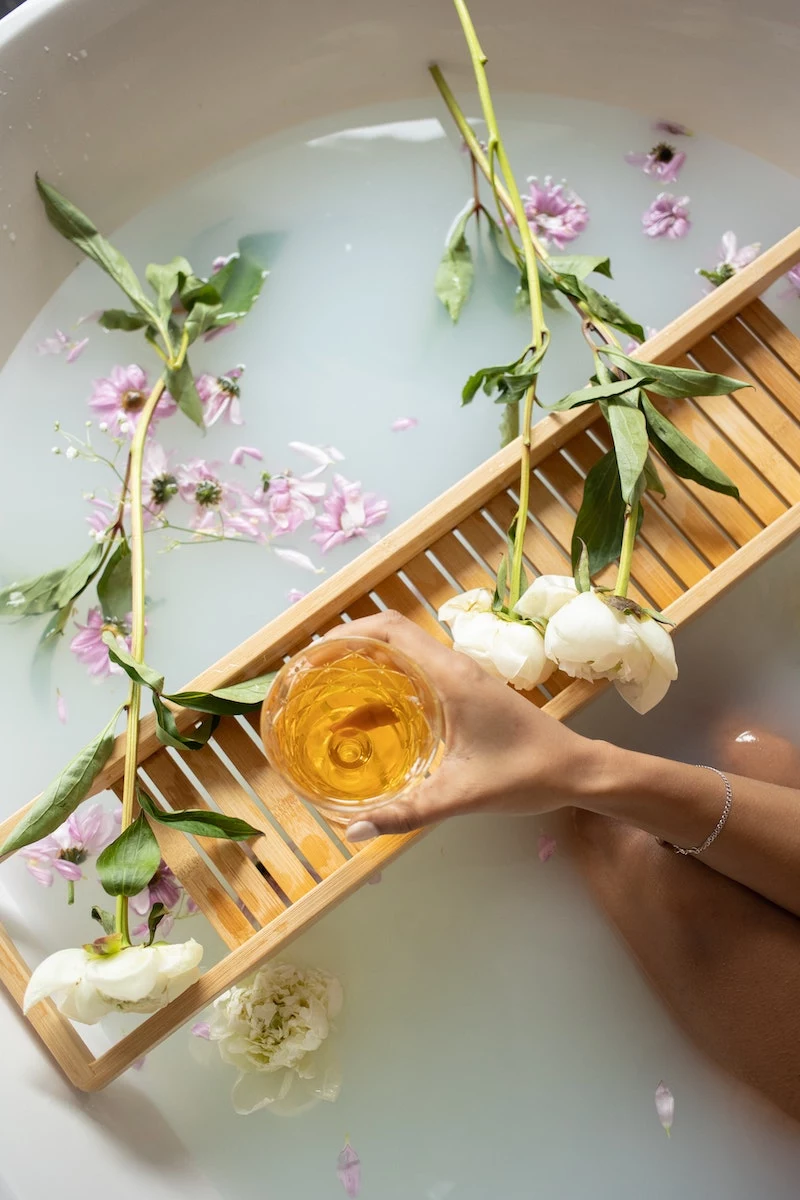 Choose the fragrances you like most
Keep in mind that many aromatic and medicinal herbs have strong odors that are not always compatible when mixing them. Members of the mint family have a tendency to get along great. As a result, if you prefer lavender, you may combine it with other herbs such as thyme, peppermint, and lemon balm without fear of the flavors clashing. Delicate plants, such as roses, should, on the other hand, be the center of attention or be complemented by citrus or other delicate flowers.
Dry flower petals and herbs are your best ally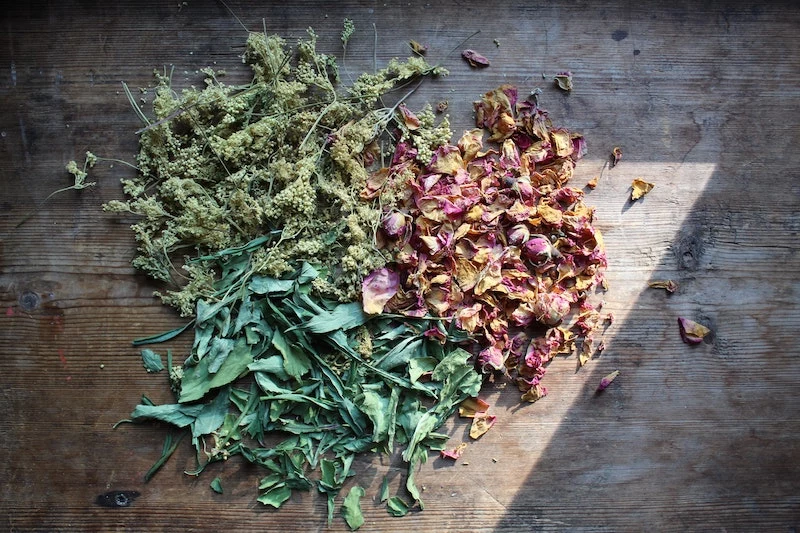 Use them as decoration for your bath bombs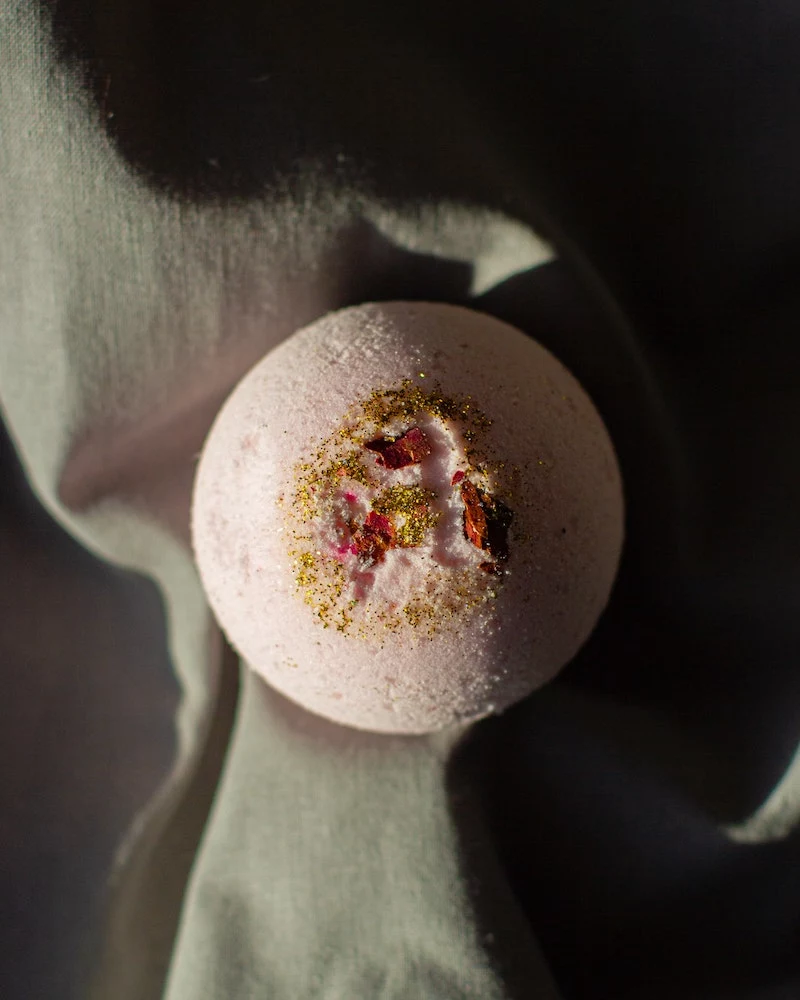 Consider categorizing your organic bath bombs by color
This may seem obvious, but coloring your bath bombs is a great way to keep track of the smell you're using. If you want a relaxing, soothing feel before bed, for example, you might be disappointed if you choose an energizing, high-energy scent instead. Use yellow or orange for energizing aromas, orange for pain relief scents, green for respiratory support, purple, or blue for soothing or sleep-inducing scents, and pink for sensuous combinations. You'll be able to tell which one you're grasping at a look, and you won't have to sniff a number of them to figure out which is which.
Use natural colorants if you are after this fun and bright effect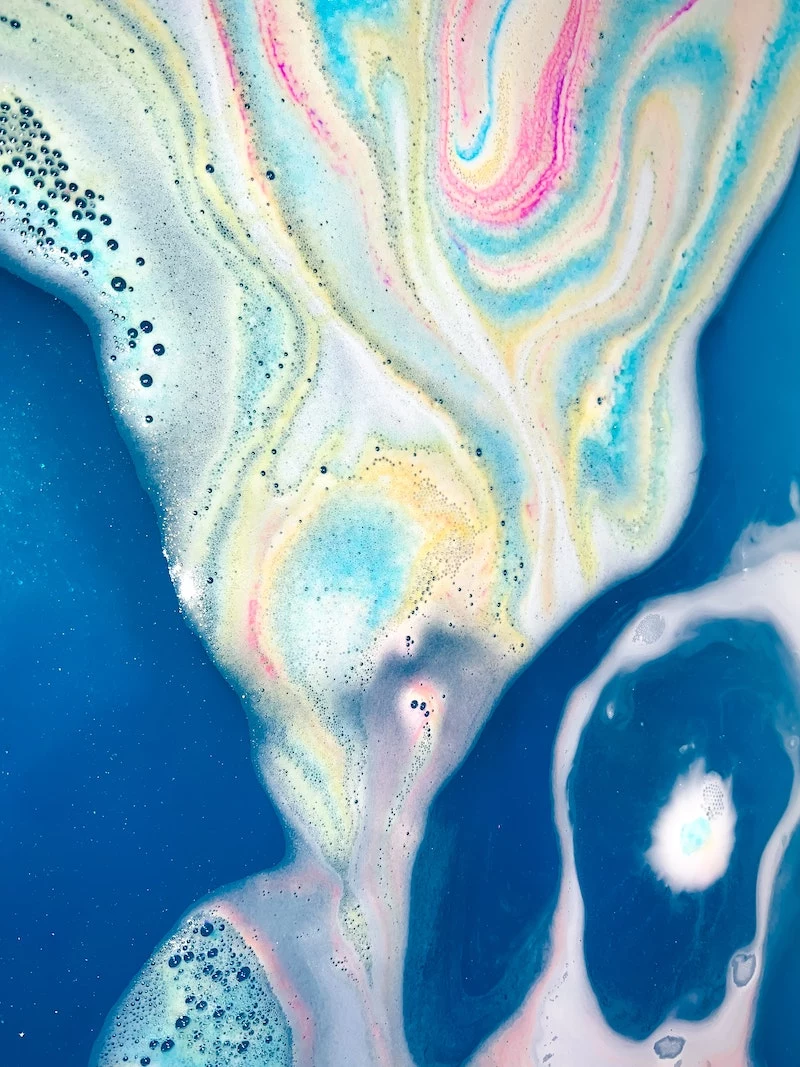 Important tip: In the tub, be smart and use a sifter. The herb pieces in the bath bombs will stick to your skin if you don't use a sieve or some form of strainer when you dissolve them. They will also clog your drain as well. Putting the bath bombs in a nylon sock or stocking and tying it is the easiest way. Then, as soon as your tub is filled with hot water, drop the bomb. The fragments will not fall down the drain as a result of this.
No one wants to leave their bath a mess after a bath bomb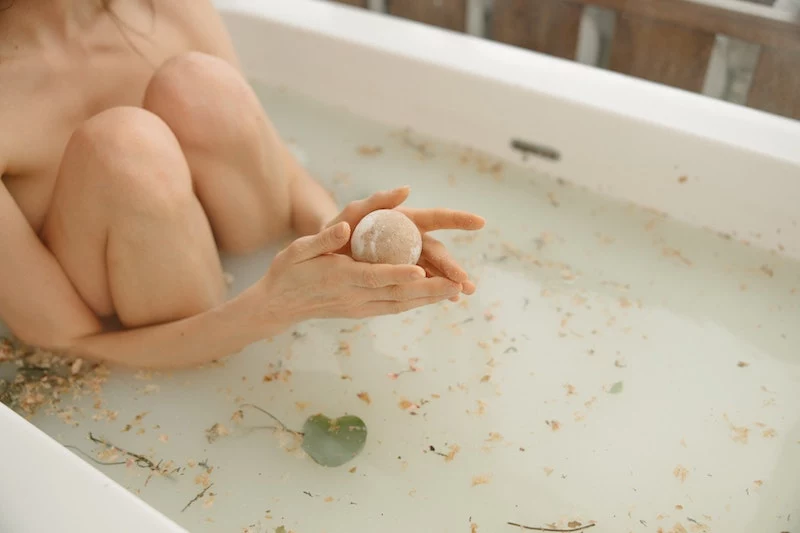 Organic Bath Bombs: Frequently Asked Questions
Can I make bath bombs at home?
You can easily make bath bombs at home. For this, you need acid (citric), soda, Epsom salt, starch, herbs, and flavors of your choice. These bath bombs are perfect for a relaxing self-care Sunday at home!
Nothing compares to a self-care Sunday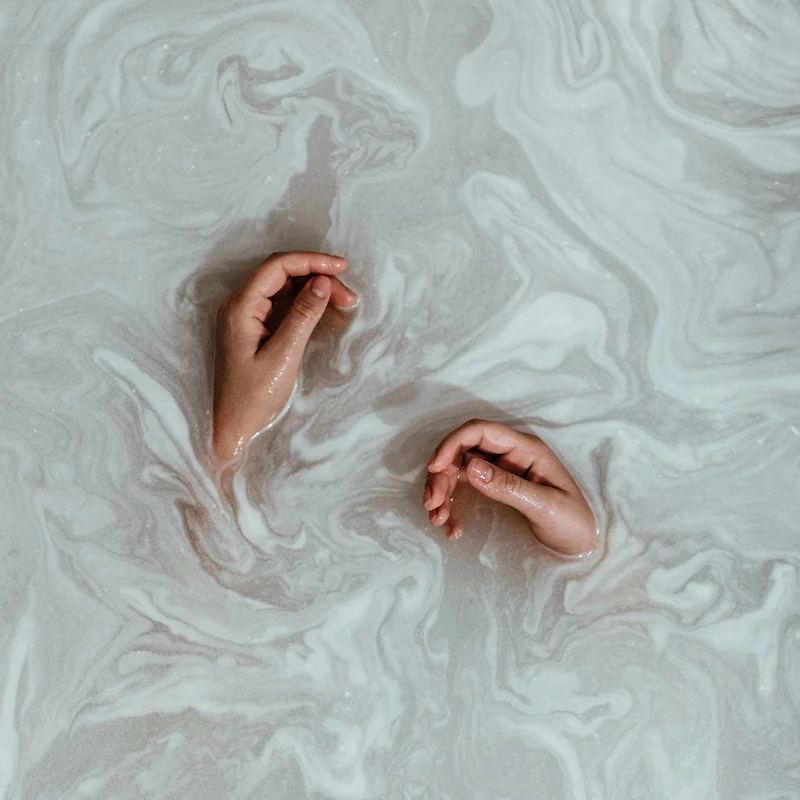 Can I have an allergic reaction to a homemade bath bomb?
Some of the ingredients can cause allergies. For this, always before handling, check on your hand if you are allergic to the specified ingredient.
Making your own all-natural bath bombs is good for sensitive skin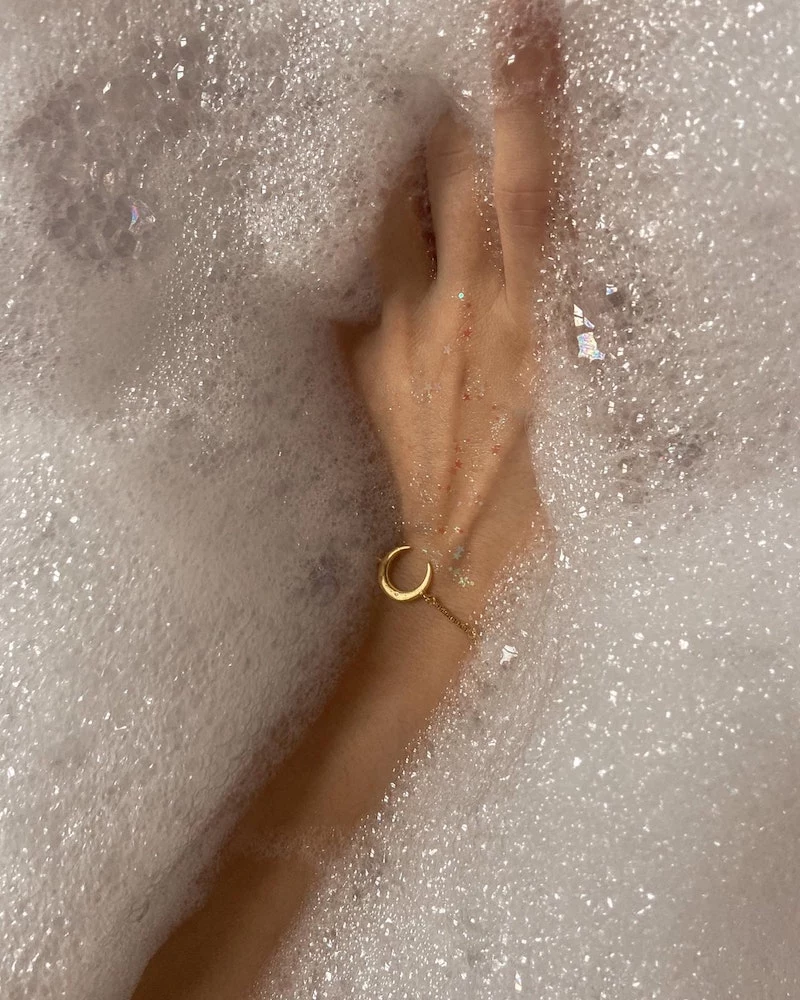 Take a look at these common bath bomb mistakes before making yours: