Making Organic Bath Bombs at Home: Everything you need to know
If you are a bath lover too, the opportunity to learn how to make homemade herbal bath bombs is a great way to indulge your addiction without straining the budget. What's more, the best part of making your own bath bomb at home is that you can experiment with all different kinds of scents. You can choose whether to aim for an invigorating, a more sensual experience, calming energy, or a sleep-inducing effect, depending on the vibe you are feeling. In this article, we will show you how to make homemade organic bath bombs to spice up your daily routine.
Let's make some homemade organic bath bombs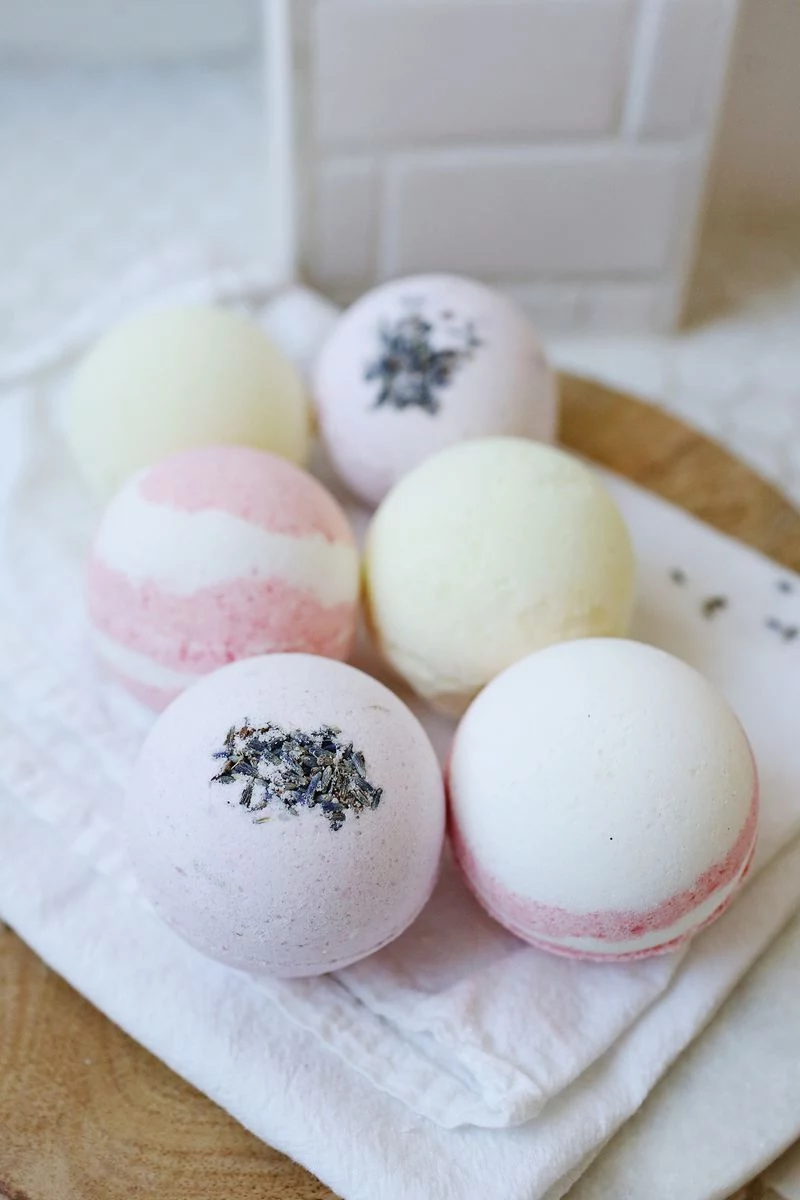 With bath bombs like these, who needs a shower?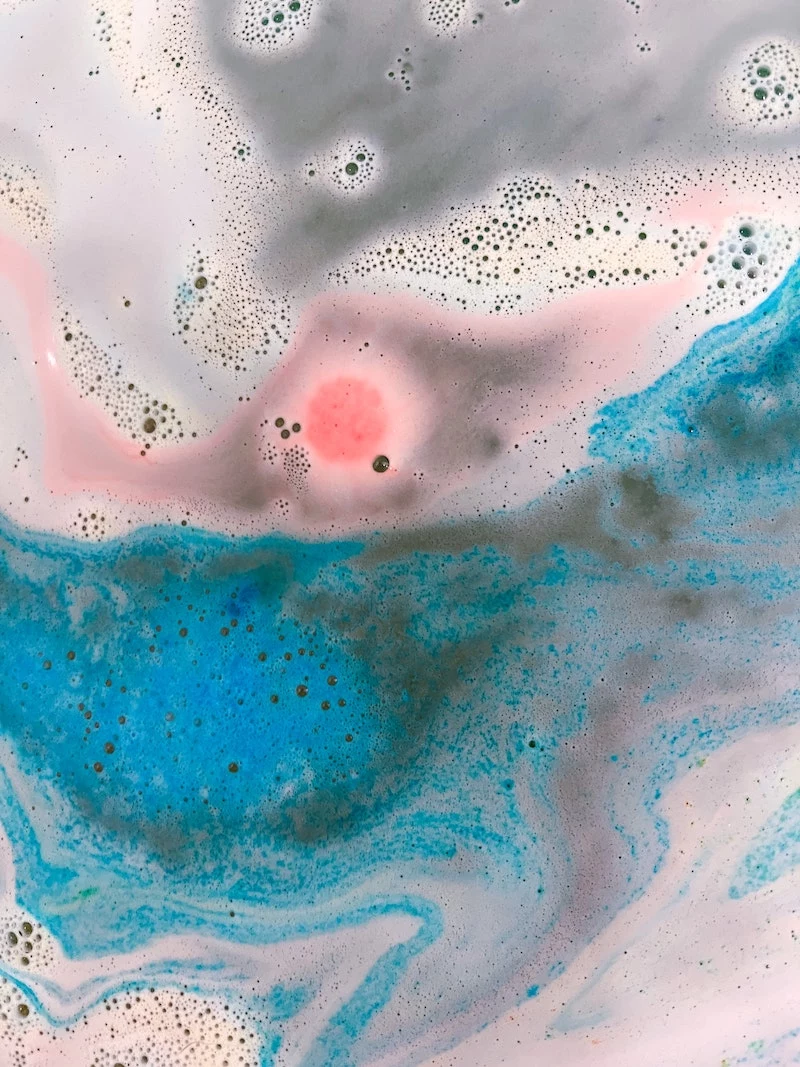 To make your own bath bombs, you will need some supplies and materials. It is advisable to use plastic or glass bowls, spoons, and stirrers to avoid the smell of the essential oils.
Organic bath bombs rely on essential oils for the awesome aroma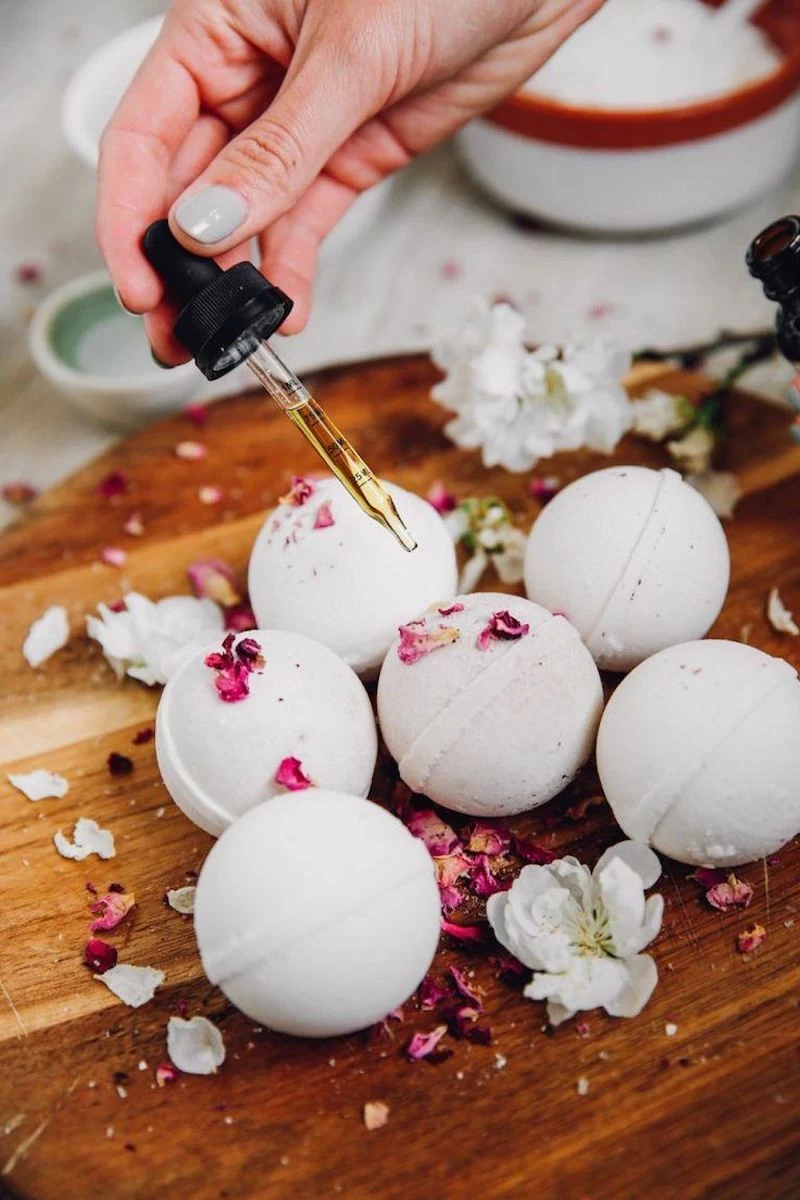 Materials Needed
Kitchen scales
Gloves
Mixing bowls
Spatula
Stirrer
Sieve
Spoon
Shapes for shaping like muffin tins, and ice cube trays
an air-tight container
You can find different-sized bath bomb molds commercially, but they also make perfect ice molds, for example.
Store your bath bombs in an airtight container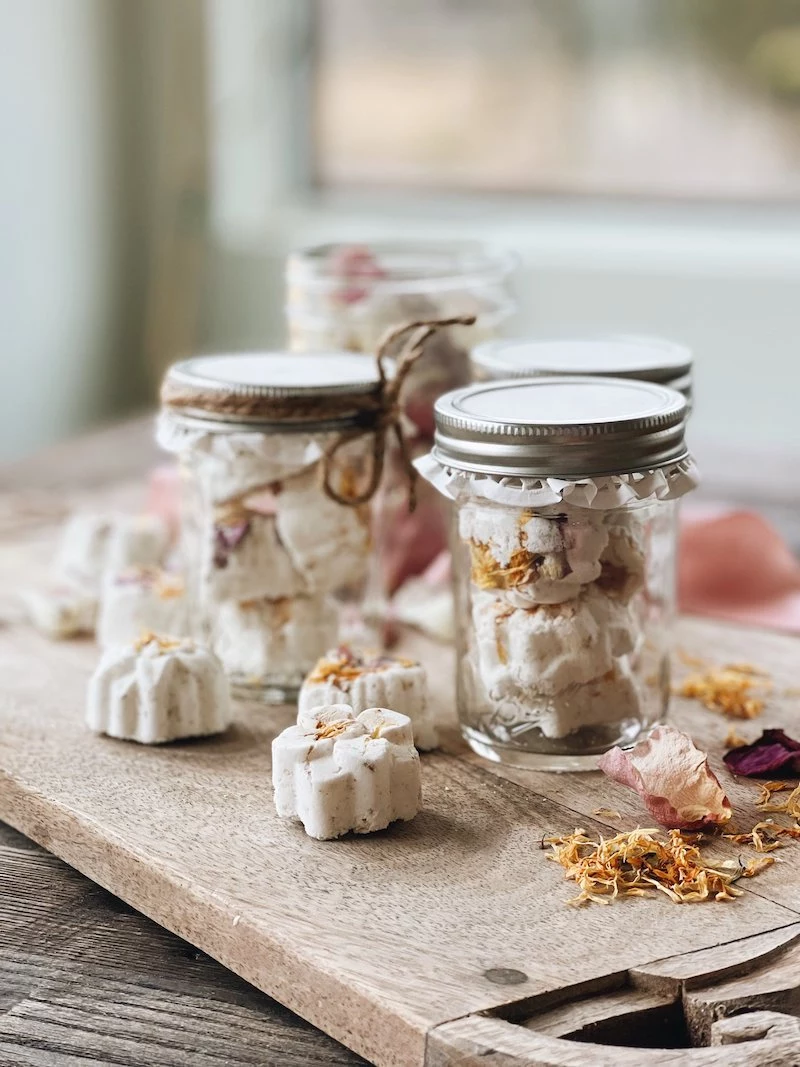 Ingredients
Bicarbonate of soda – 560 g. (See the ultimate list of baking soda hacks for more cool ways to use it!)
Citric acid – 280 g.
Corn starch – 40 g.
Coconut oil/almond oil/apricot kernel oil/sweet almond oil – 100 g.
Dried herbs (never fresh)
Essential oils of your choice – 10/12 drops
Baking soda is the most versatile ingredient in your household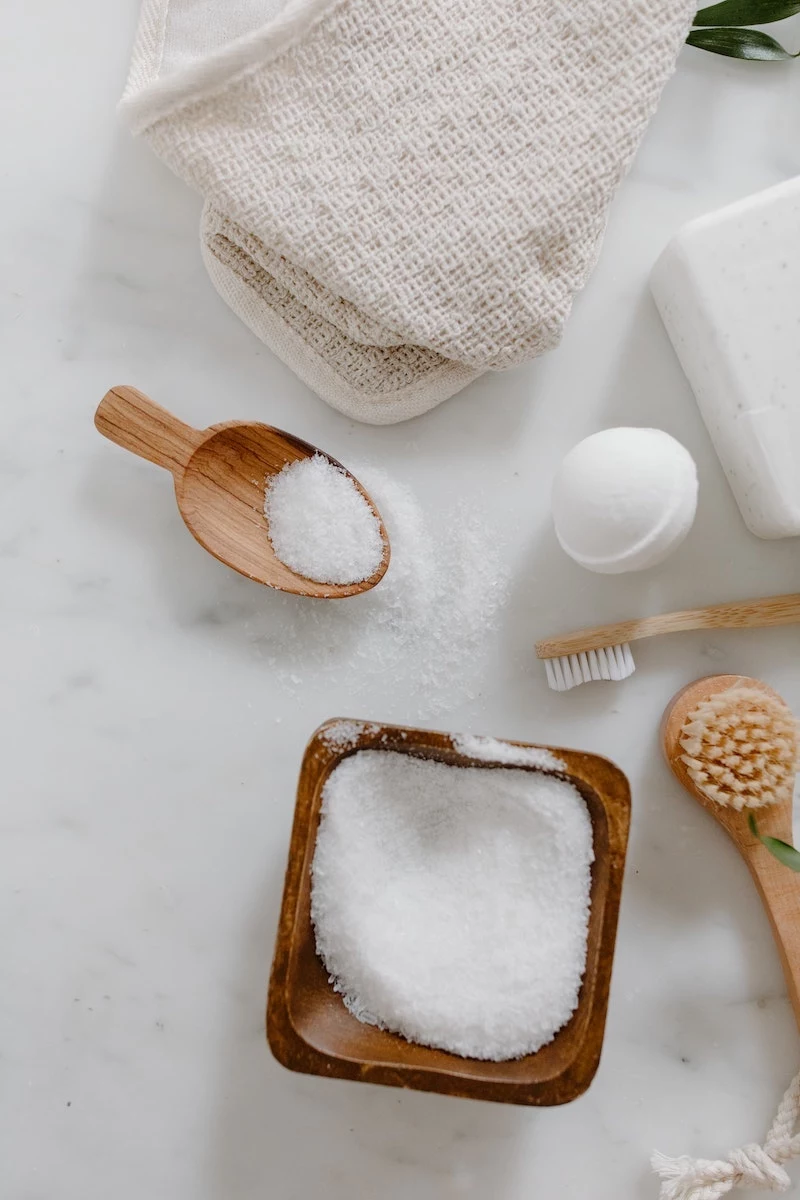 Note: Use the scales for proper weighing of materials. If you use cups or teaspoons as measurements to make your bath bombs, you may get discrepancies, but grams don't lie. If you choose, you can add more originality to your bath bombs by coloring them with food coloring.
You can use cups for measurements, but grams never lie!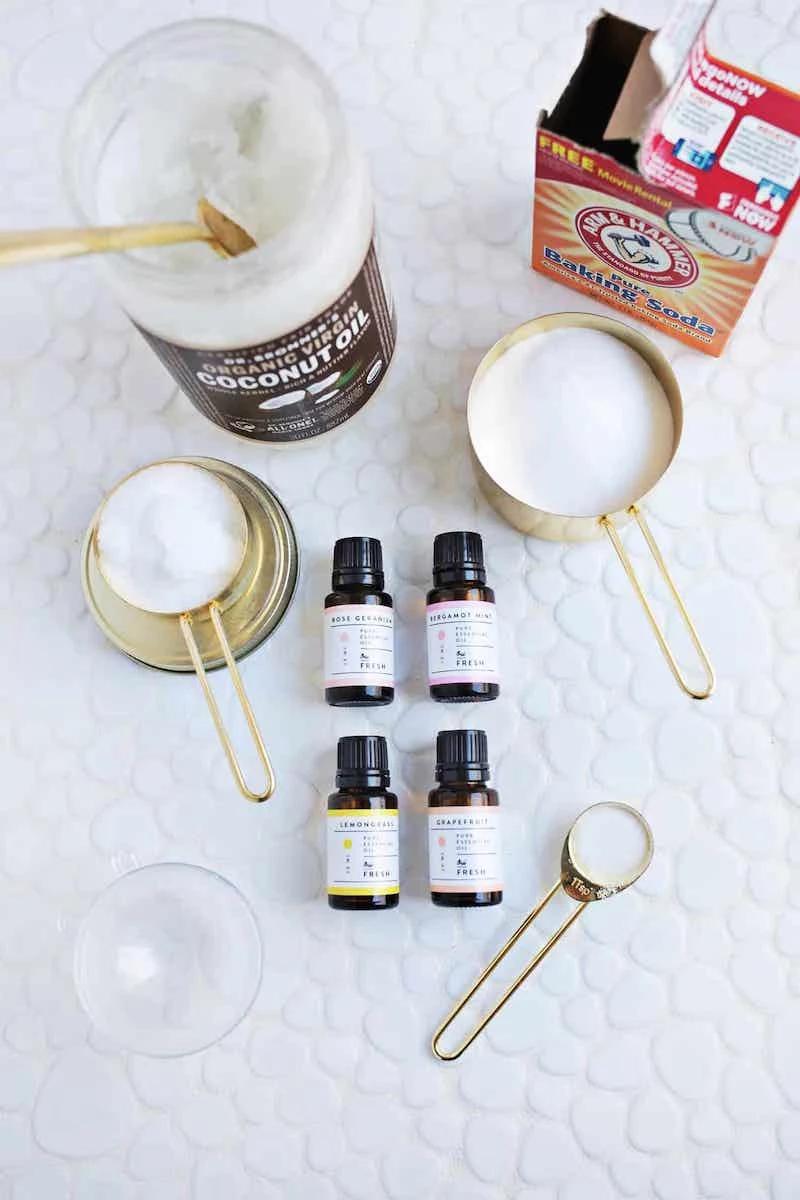 Tip: Use only dried herbs, not fresh, because fresh herbs still have moisture in them, and moisture will interfere with the shaping of your bath bombs.
Dried herbs and flowers are the perfect organic bath bomb ingredient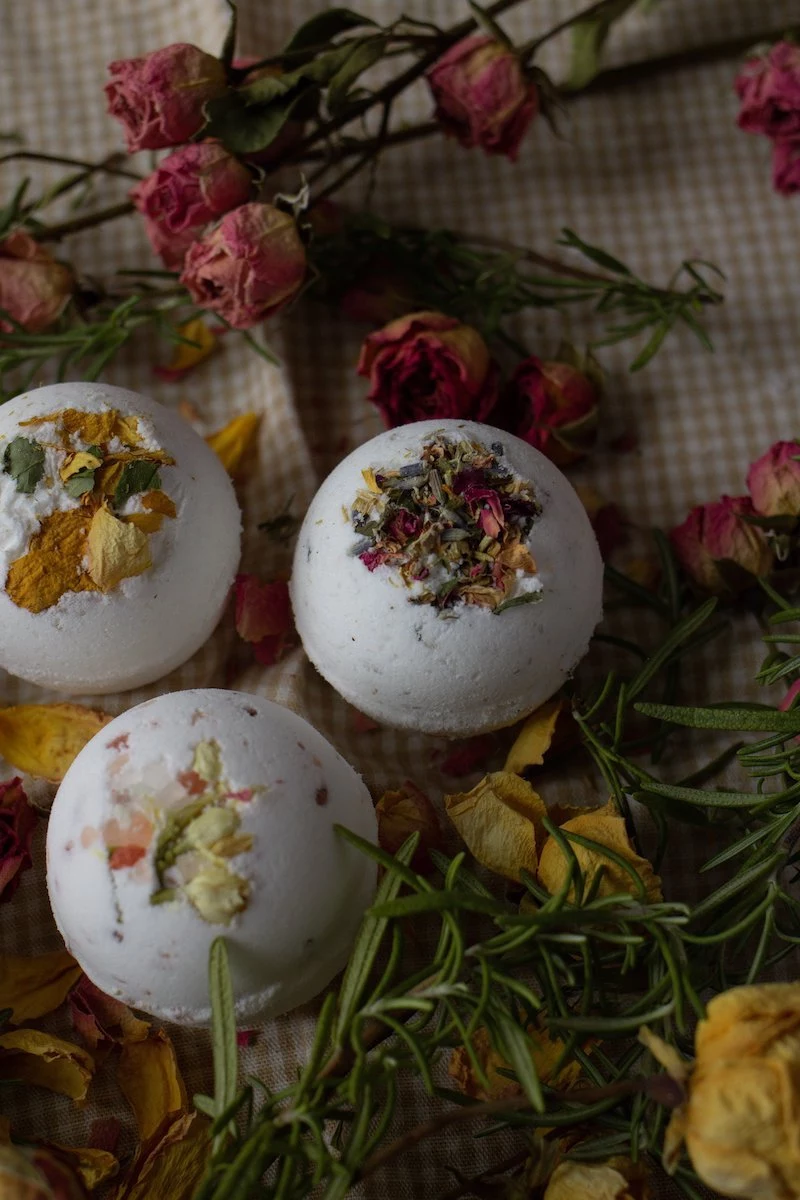 Tip: Essential oils are not only good for making organic bath bombs, but also for your hair! See how to make your hair grow faster with essential oils.
Essential oils make homemade bath bombs smell divine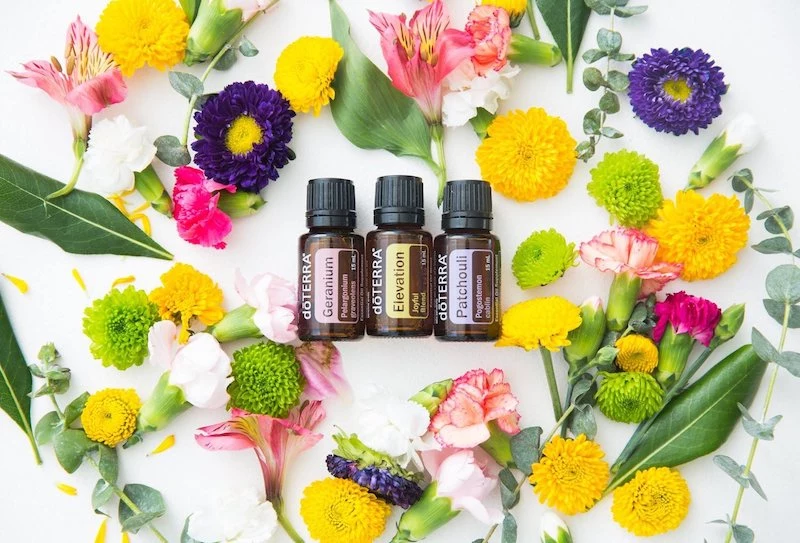 Homemade bath bombs: Step-by-step instructions
Making bath bombs at home is not complicated as long as you follow the steps.
First, weigh out all the dry ingredients except the food coloring and sift them into a bowl.
Then do the same with the oils in another bowl.
After that, add your essential oils with the base oil you have chosen and mix well. If you are adding dried herbs to the mix, you can add about half a teaspoon here.
After that, mix the dry and liquid ingredients carefully. The texture you are aiming for is like wet sand. If you are adding coloring, now is the time to do it.
Mix and then pour the mixture into the chosen mould and press well, but not too much.
Then fill both halves well and press them together. It works best if you add from the blank spoon by spoon, pressing gently.
Once you have formed your homemade bath bombs into a tight ball or whatever shape you are doing, tap the top with the back of a spoon and open it carefully.
Finally, set them aside on a newspaper, or paper towel to dry for 36 hours. You can speed up the process by putting them in the oven at 50 degrees for 4/5 hours. And, voilà!
Start by sprinkling some dried rose petals on the molds for a pretty decoration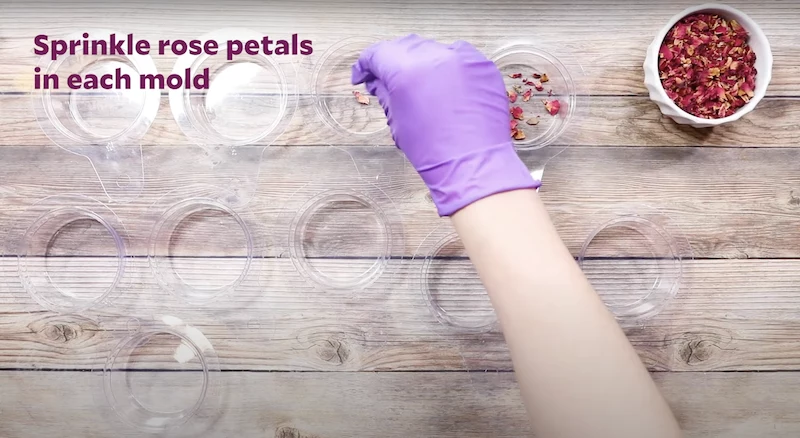 After that, add the baking soda through a sifter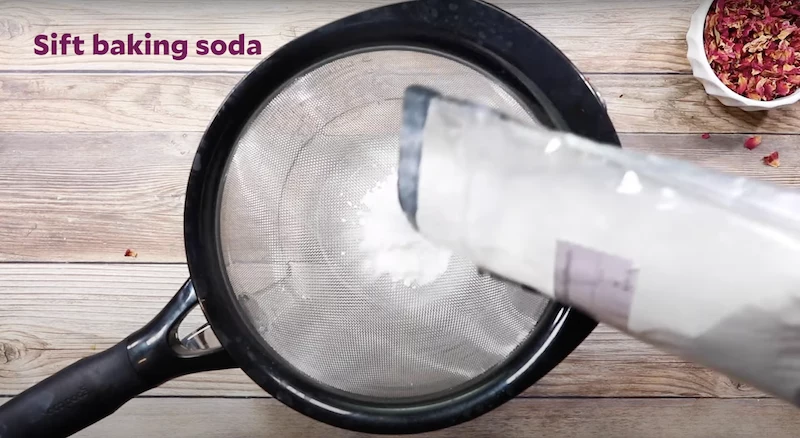 And then continue with all of the dry ingredients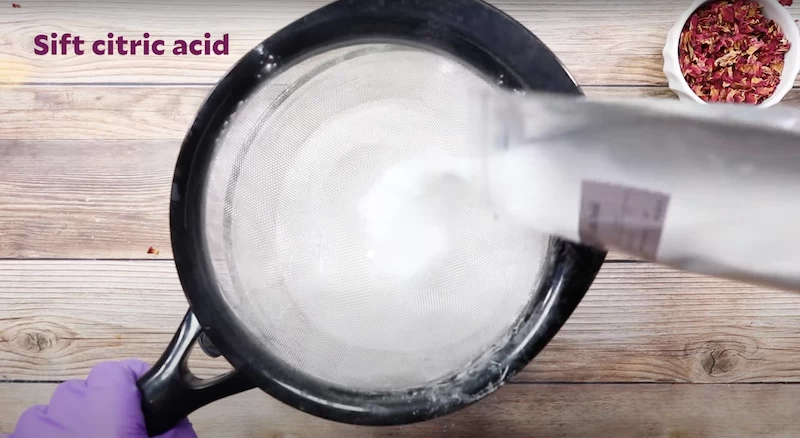 You can use cornstarch or Himalayan pink sea salt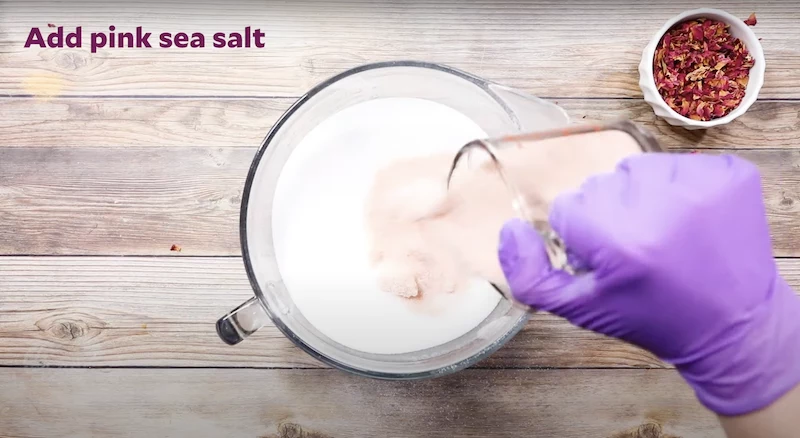 Then mix all of your wet ingredients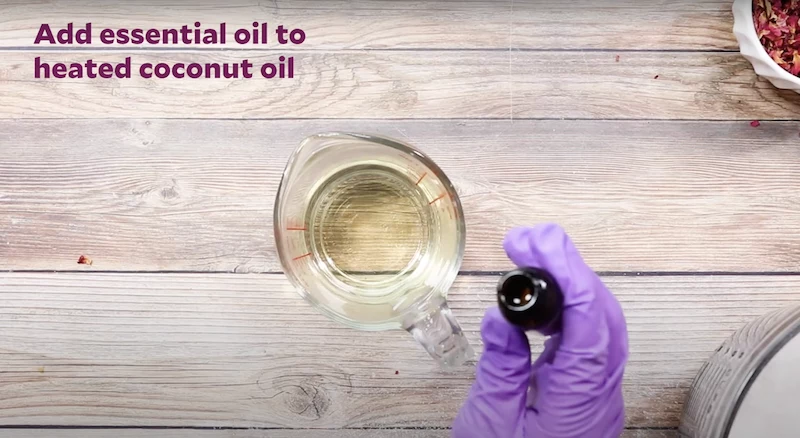 After that, combine the dry and wet ingredients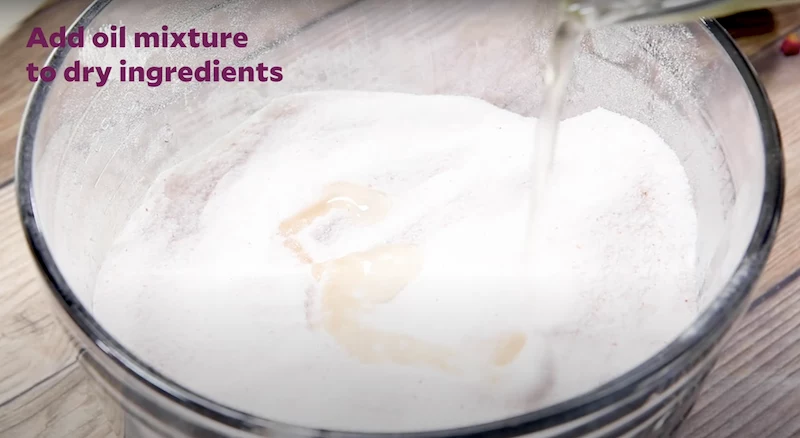 Then mix everything well with your hands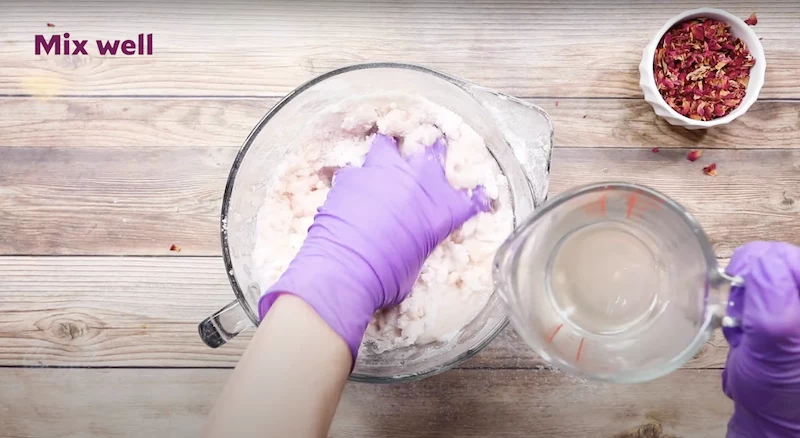 Now it is time to pack the mixture into the molds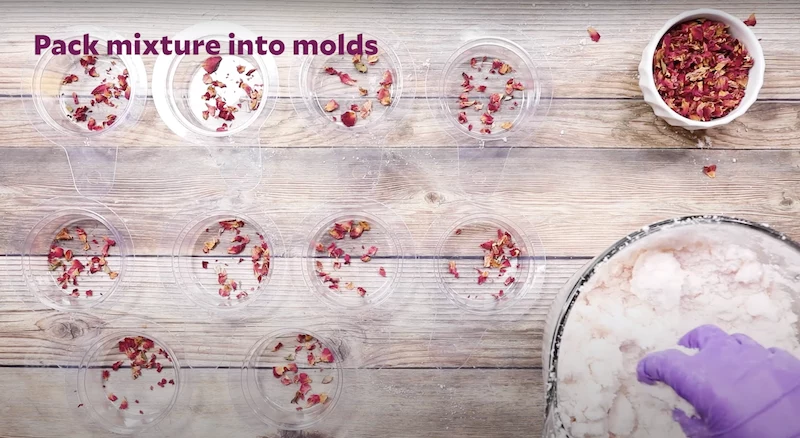 Finally, unmold your organic bath bombs carefully, and you are done!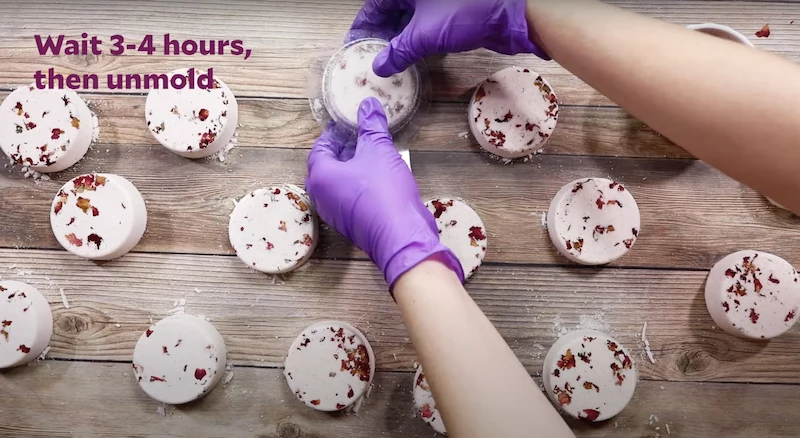 Experiment with different dried flowers and mold shapes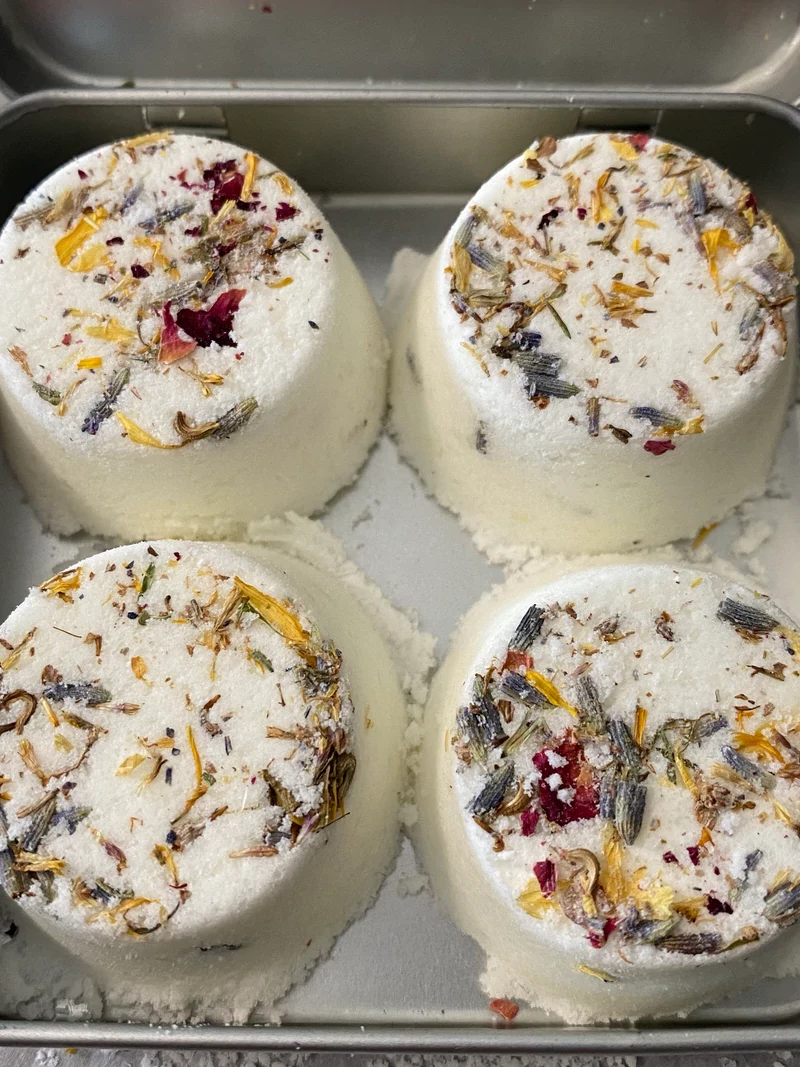 Important: Store your bath bombs in an airtight container and in a location other than your bathroom. They will disintegrate if exposed to water, and this includes steam or mist from your shower.
Tip: Make sure to take a look at our bath bomb herbal combinations to find the perfect aroma for every mood and purpose. If you want to experiment with colors, take a look at these colorful bath time treats!
Watch this video for visual instructions for making these bath bombs:
Now make some organic bath bombs and enjoy a relaxing bath!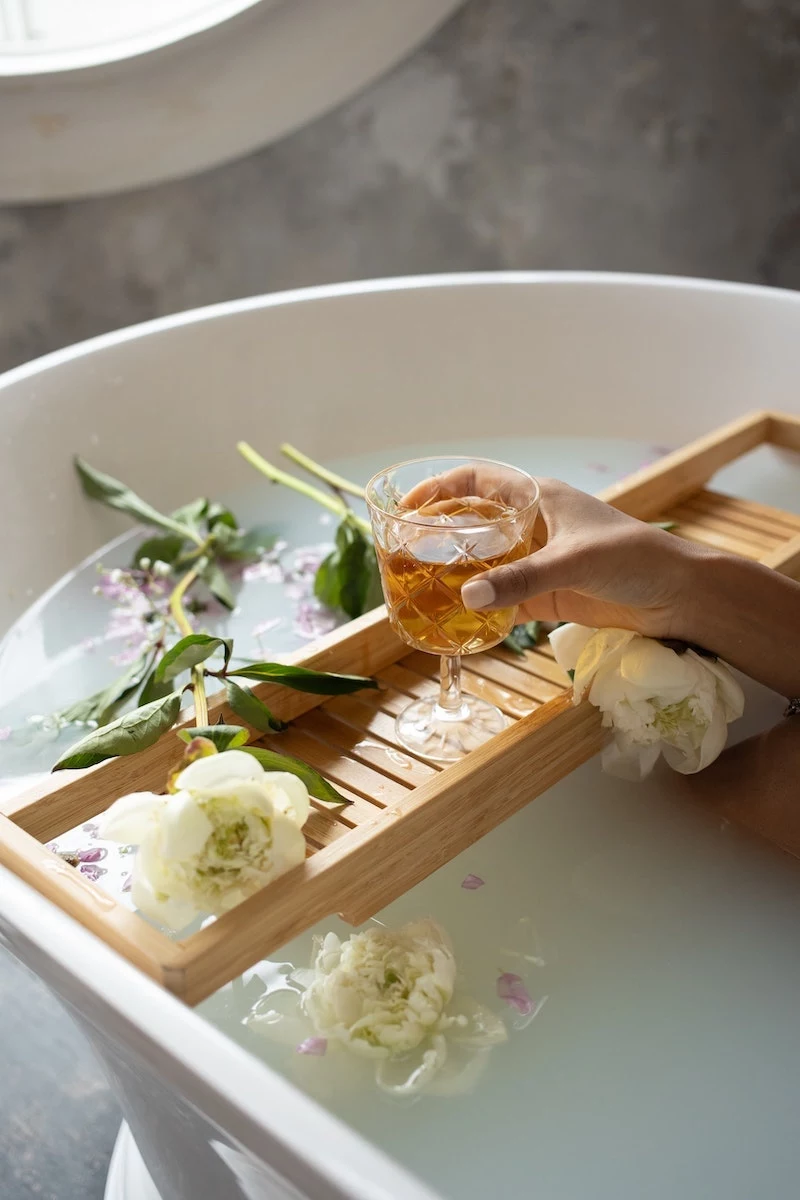 And finally, make sure to check out our Sunday self-care guide for more amazing ideas to help you relax and unwind after a hard day.