Inked Together – 80 Charming Matching Tattoos for Couples, Siblings, and Friends
There are certain people in our lives with whom we share special, deep, and unshakable connections. Be it a parent, a sibling, a close friend or a partner, they are always by our side and make each day just a little bit brighter. And while the bond that connects us might be invisible, it is one of the most powerful forces in the world – it remains with us throughout our lifetime and gives us strength in times of need. If you wish to commemorate your own special connection with a kindred spirit, there is hardly anything better than getting matching tattoos. It will be a beautiful, livelong reminder of the special bond that links you.
But how do you choose a tattoo right for you and your special person? In order to answer this question, you must first consider several important points. Are both of you a minimalists or do you prefer lavish, elaborate designs? Would you be happy to look at your tattoo every day, or would you rather have it at a place where it's not visible to you (e.g. on your back)? Do you want everyone to see it, or do you prefer an option that can be covered with clothes or accessories? And, above all, is there a special memory you share that can potentially be translated into a tattoo? For example, if your met your significant other at the beach, you might want to commemorate your relationship by getting a design featuring waves or shells.
She's the brain and he's the heart – lovely matching tattoos for a couple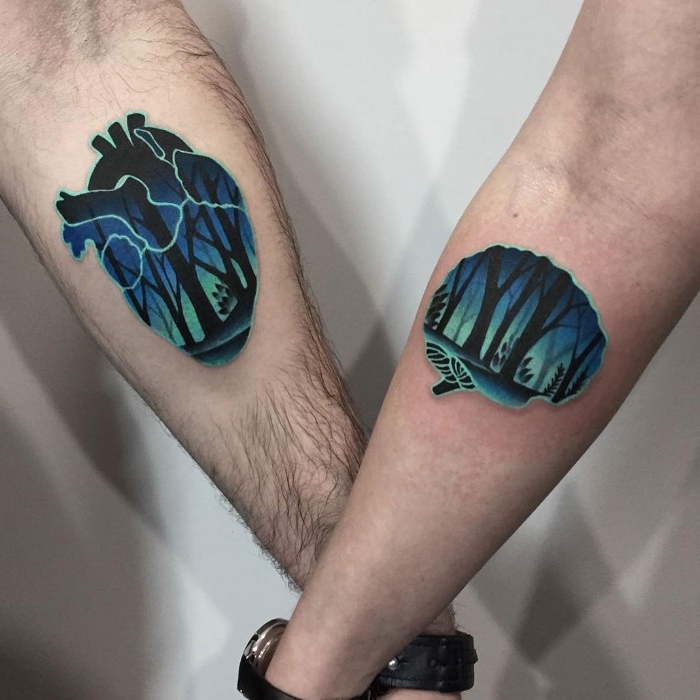 In this article, we have selected over 80 beautiful and unique designs, to help you find the matching tattoos right for you and your special someone. To make things easier, we have divided our gallery into four segments – tattoos for couples, tattoos for best friends, tattoos for siblings and other family members, and miscellaneous matching tattoos.
Let's get started by looking at the many options available for couples, and discuss the symbolism behind some of the most popular images.
Hearts may look like a clichéd motif to some, but they have remained popular through the ages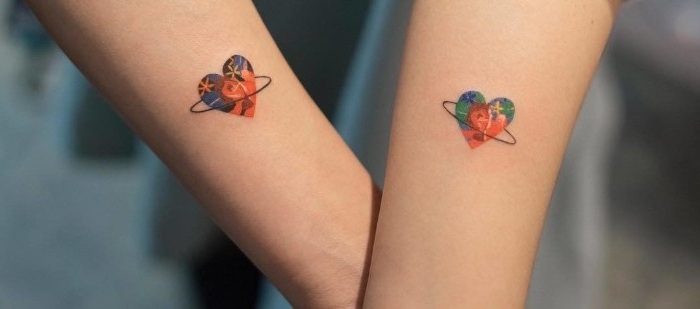 Anchors
More and more people in love opt for anchor tattoos. There are several reasons for this. Firstly, nautical elements are quite fashionable at the moment. They fit in very well with the increasing demand for vintage-inspired "sailor-style" tattoos. Secondly, and perhaps more importantly, anchors convey stability and security. They are perfect for couples who keep each other safe and grounded.
Key and lock 
"He who holds the key can unlock my heart"- you have probably seen an inscription along those lines on vintage heart-shaped lockets or other jewelry, intended for couples. Nowadays, this romantic idea has been translated into the world of tattoos. The design alludes to the idea of one true love, underlining the notion that each of us has a fated, special someone. It's perfect for hopeless romantics and gentle, idealistic souls.
Puzzle pieces
Similarly to the key and lock, tattoos featuring puzzle pieces suggest that you and your partner were made for each other. You are a match made in heaven, and perfectly complement one another in every way. This option is very suitable for couples who not only love each other deeply, but are also best friends.
If you want even more cool ideas, scroll down and enjoy our selection of matching tattoos for couples! And don't forget to check out our Lifestyle section for more great tattoo and body art tips and suggestions!
Anchor matching tattoos – perfect for couples who keep each other safe and grounded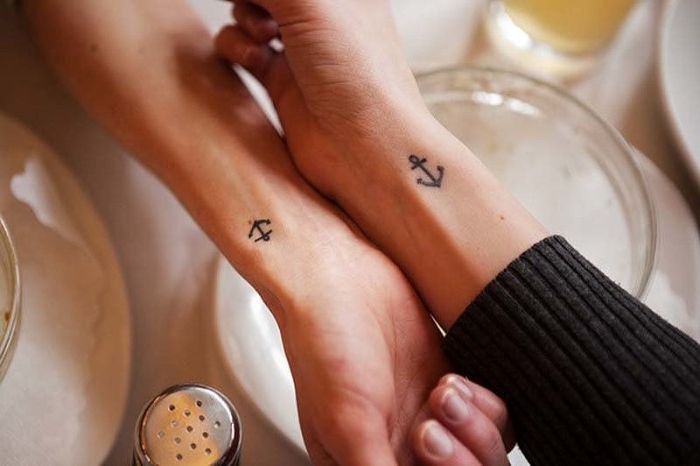 An arty and elaborate interpretation of the old key and lock motif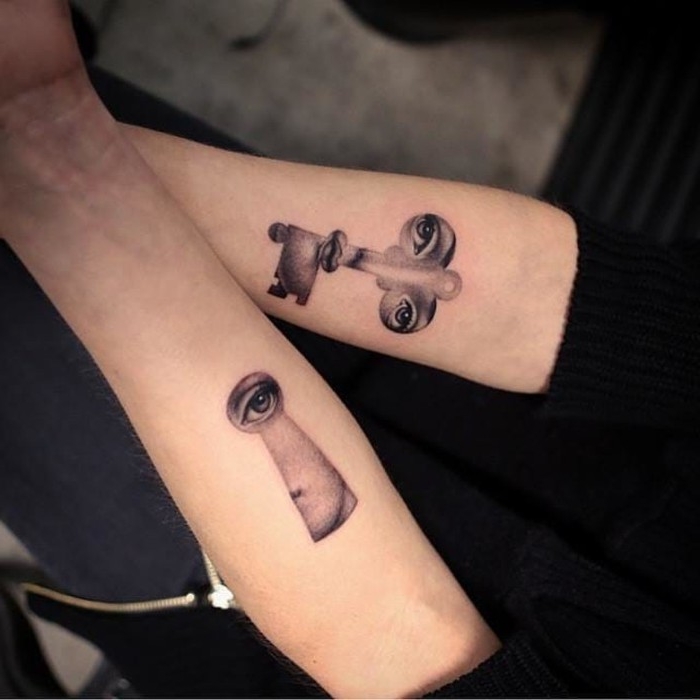 Puzzle pieces tattoos are quirky and cute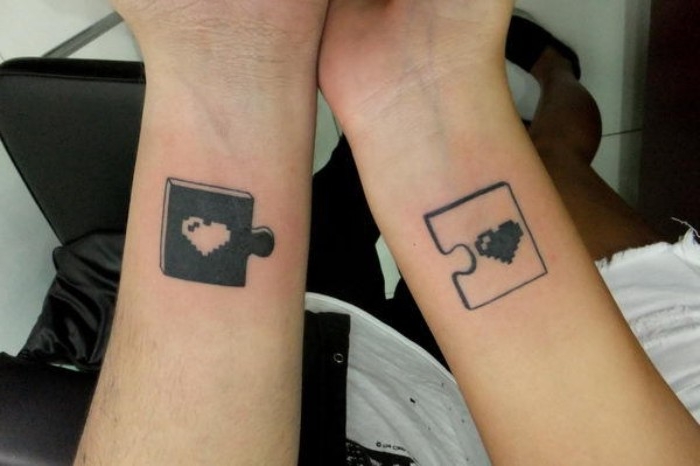 "If you love somebody, let them go, for if they return, they were always yours."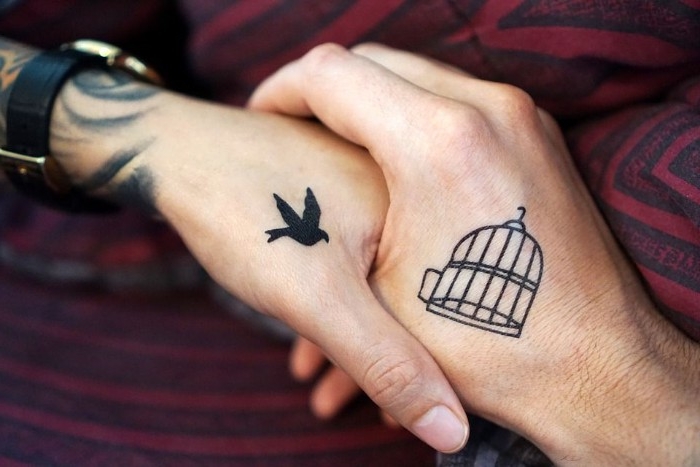 A cool video compilation with matching tattoo ideas for couples
Another version of the key and lock design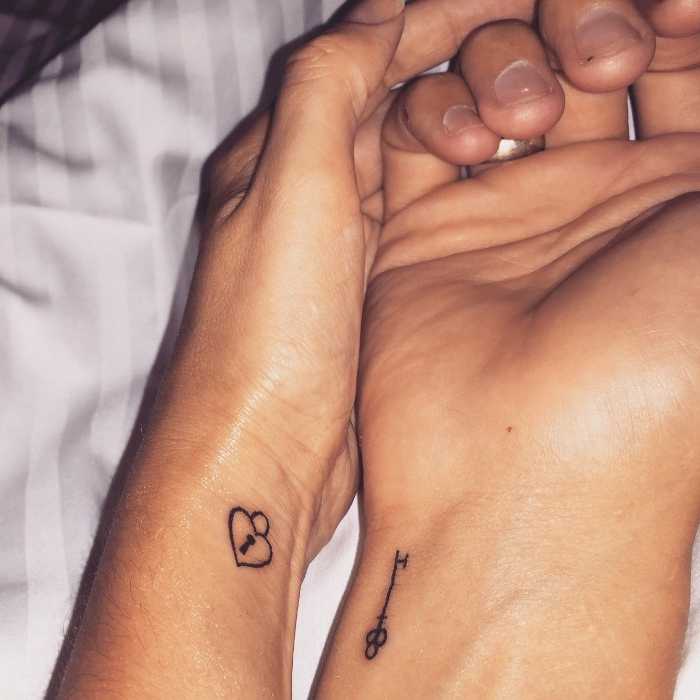 For couples who love animals: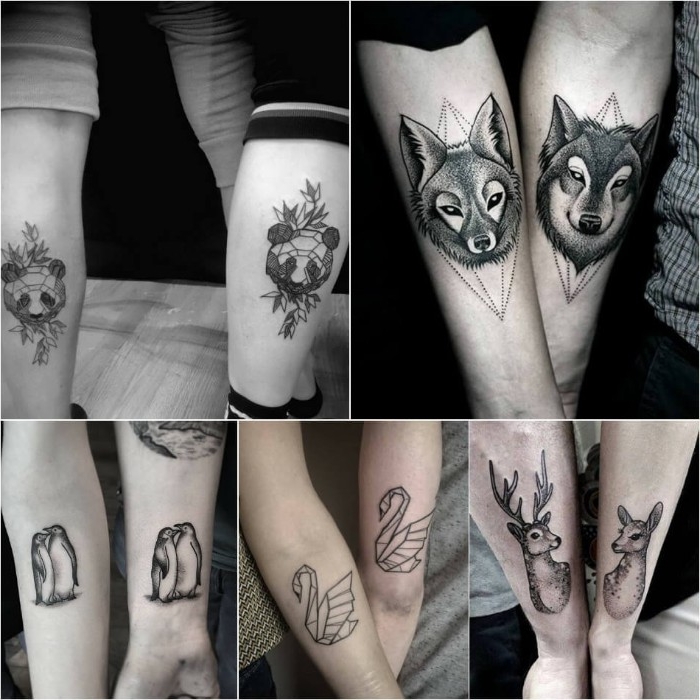 Matching compass tattoos – perfect for explorers and people in long-distance relationships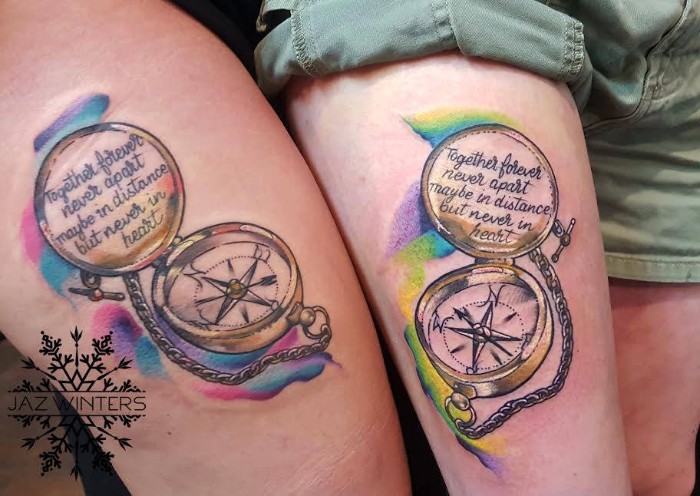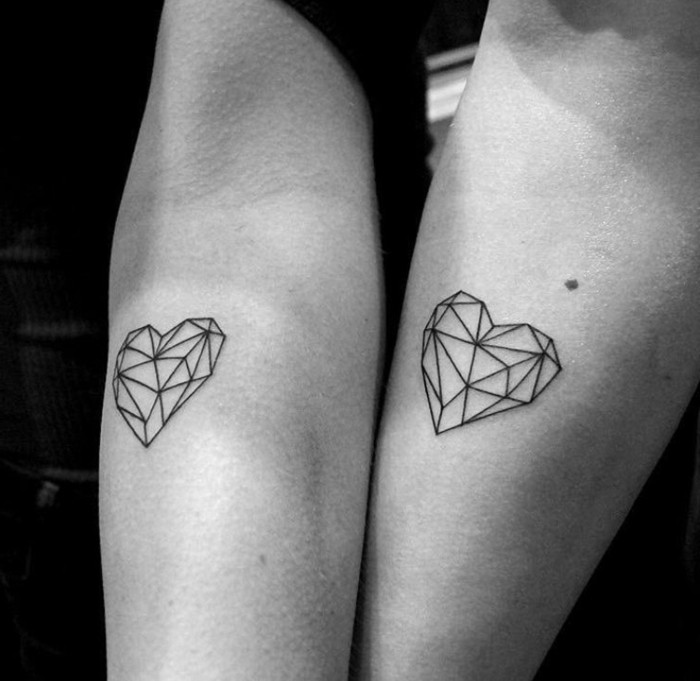 Why not celebrate your wedding by getting matching tattoos?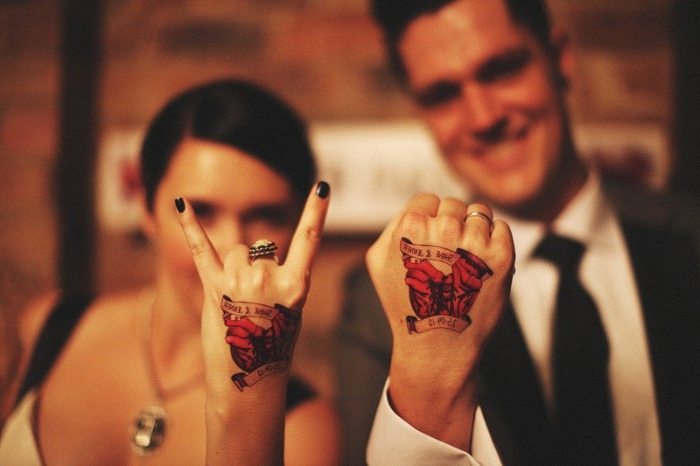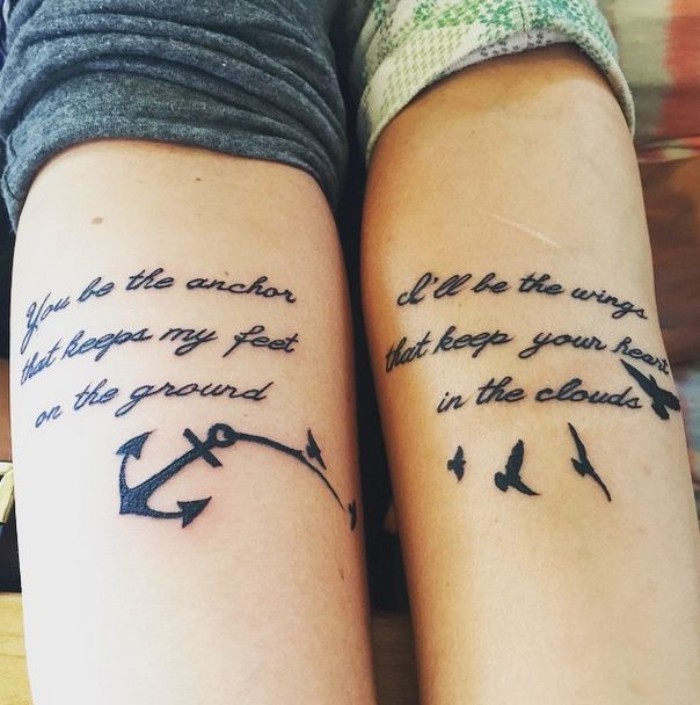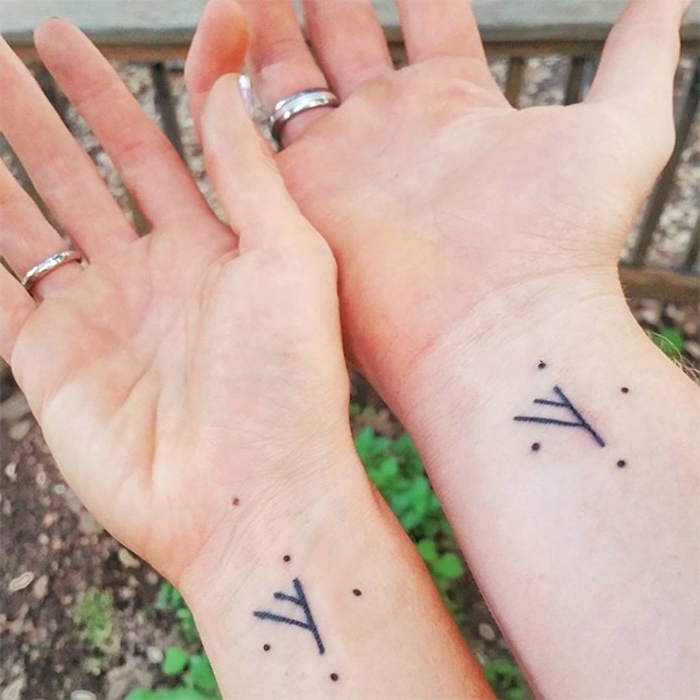 Greatest catch – a humorous and original tattoo for couples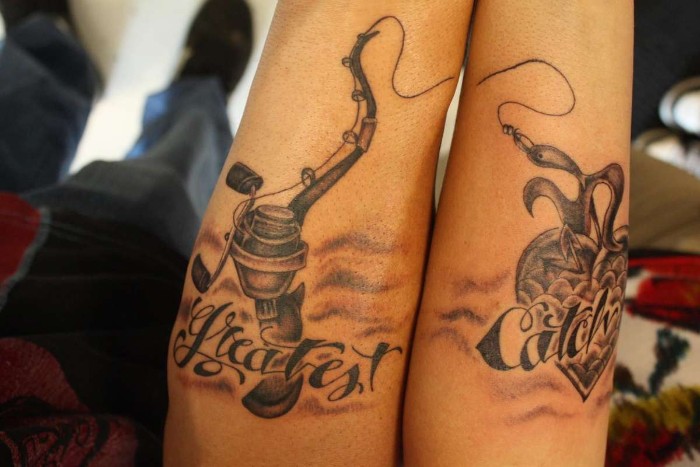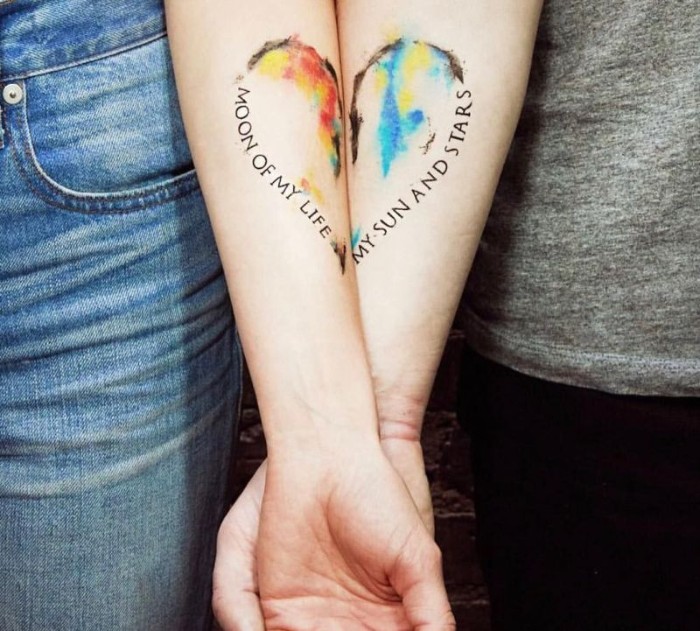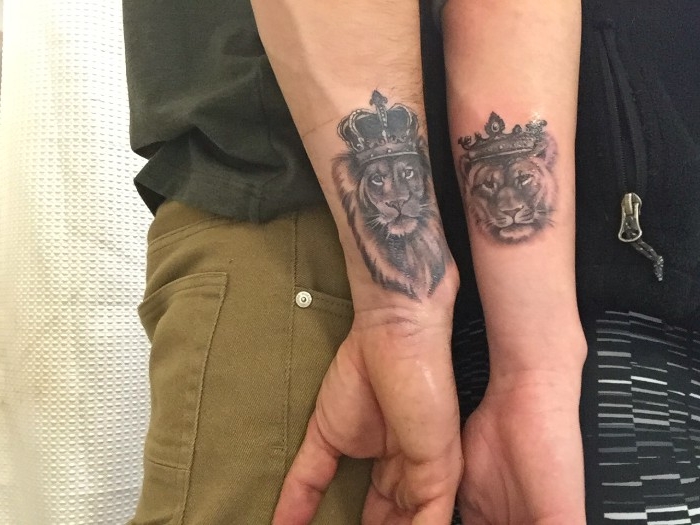 We love this charming, minimalistic space design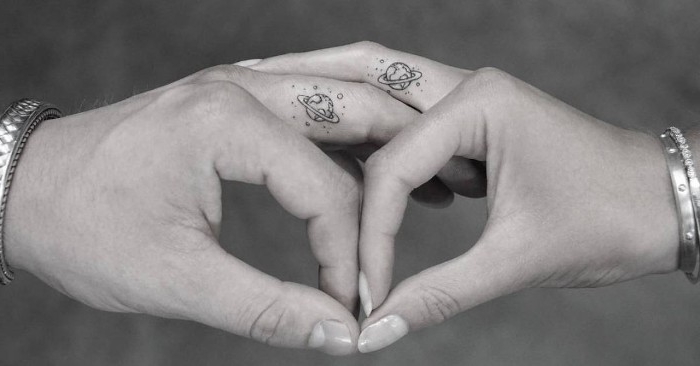 For video game lovers: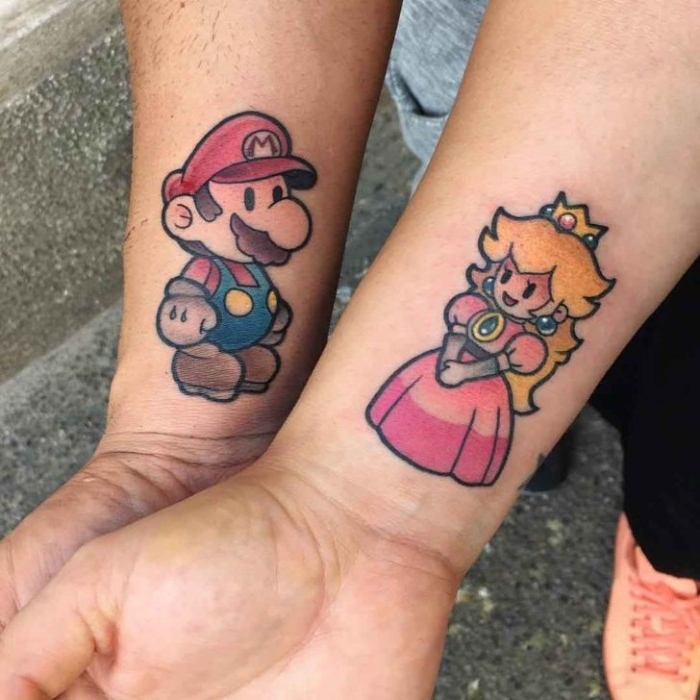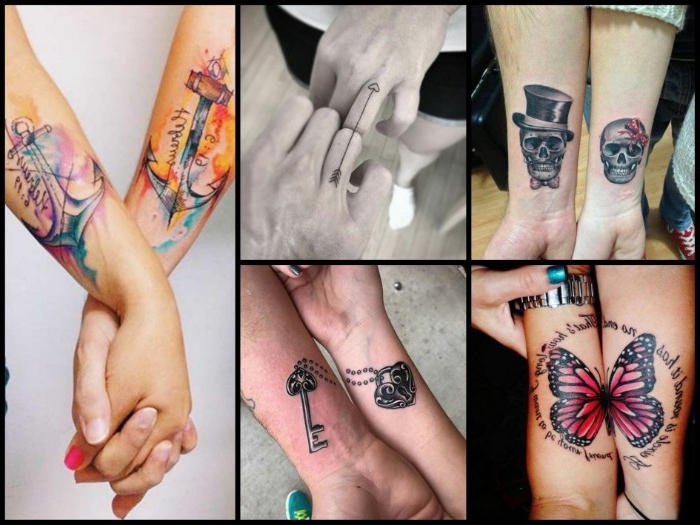 Matching tattoos fit for royals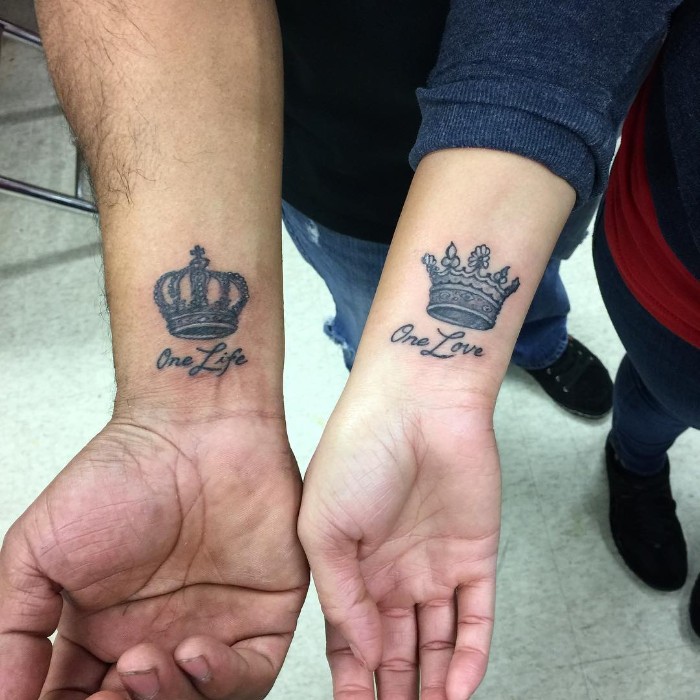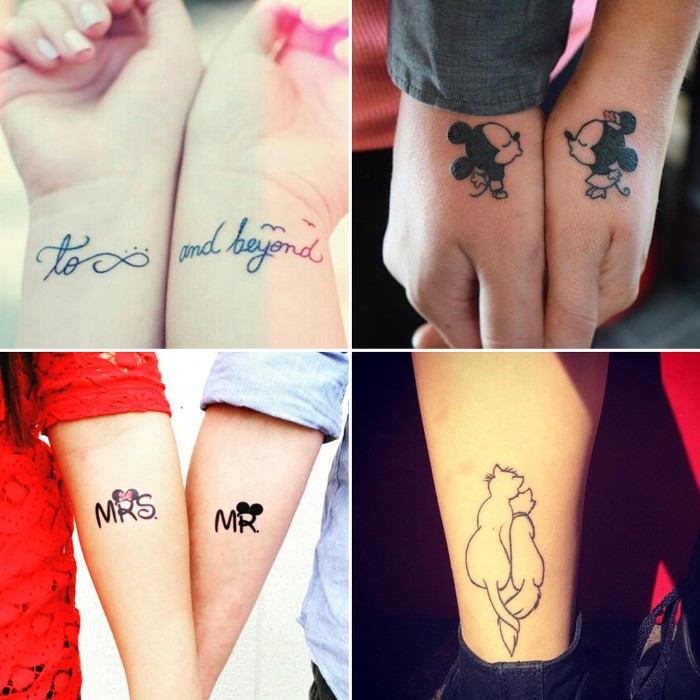 A wise man once said that couples who slay together stay together…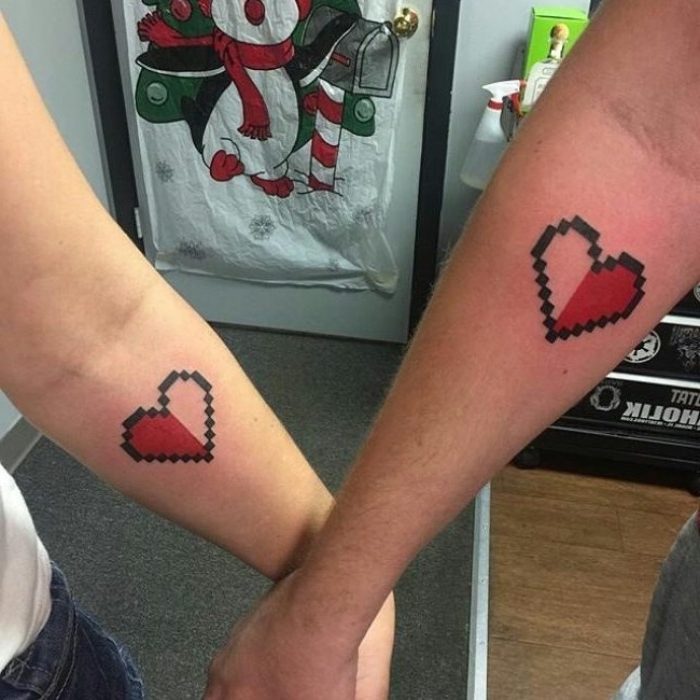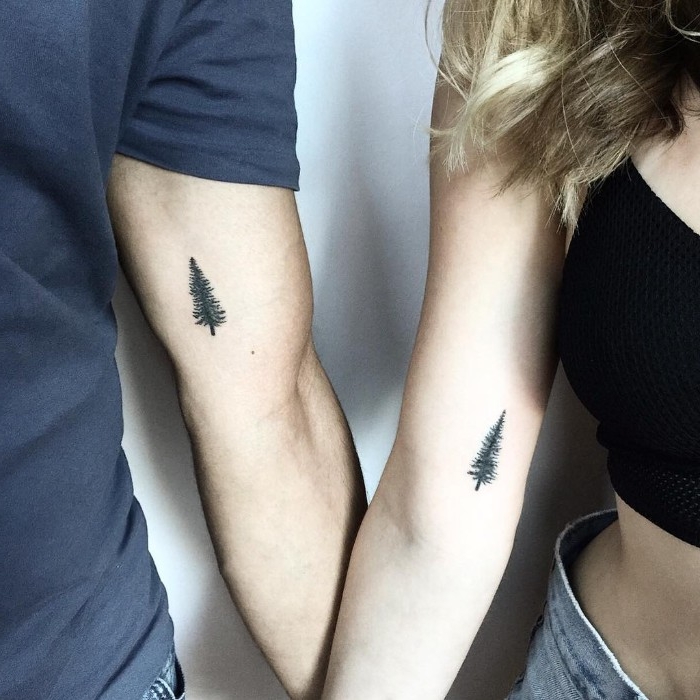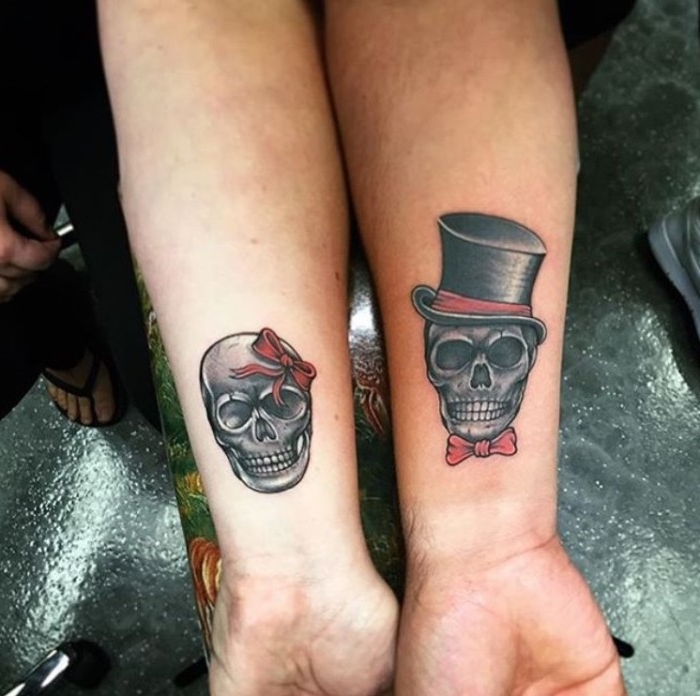 How cute are these retro Tetris tattoos?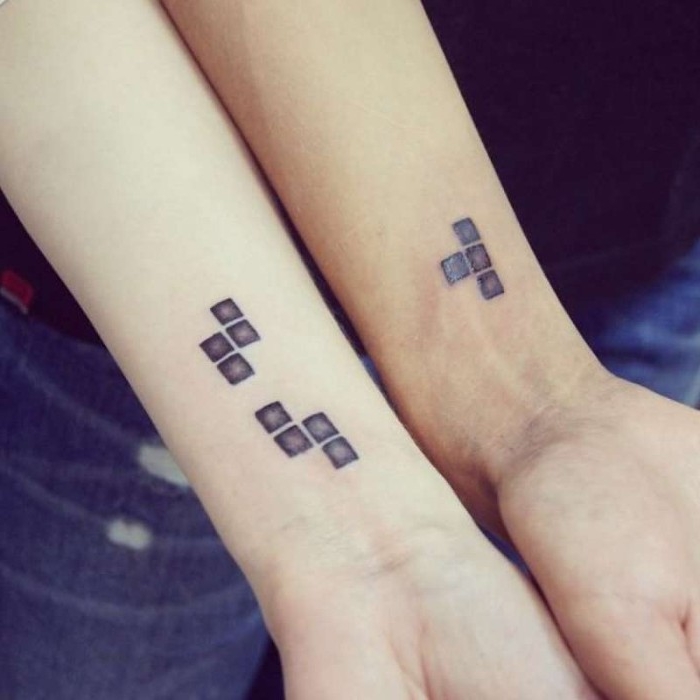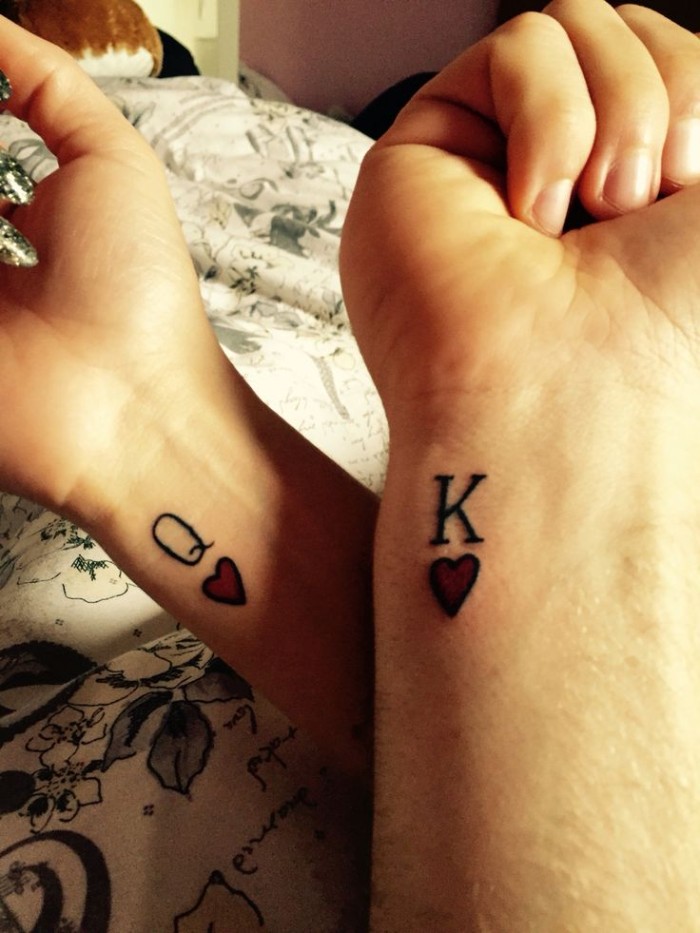 For the ultimate Star Wars fans: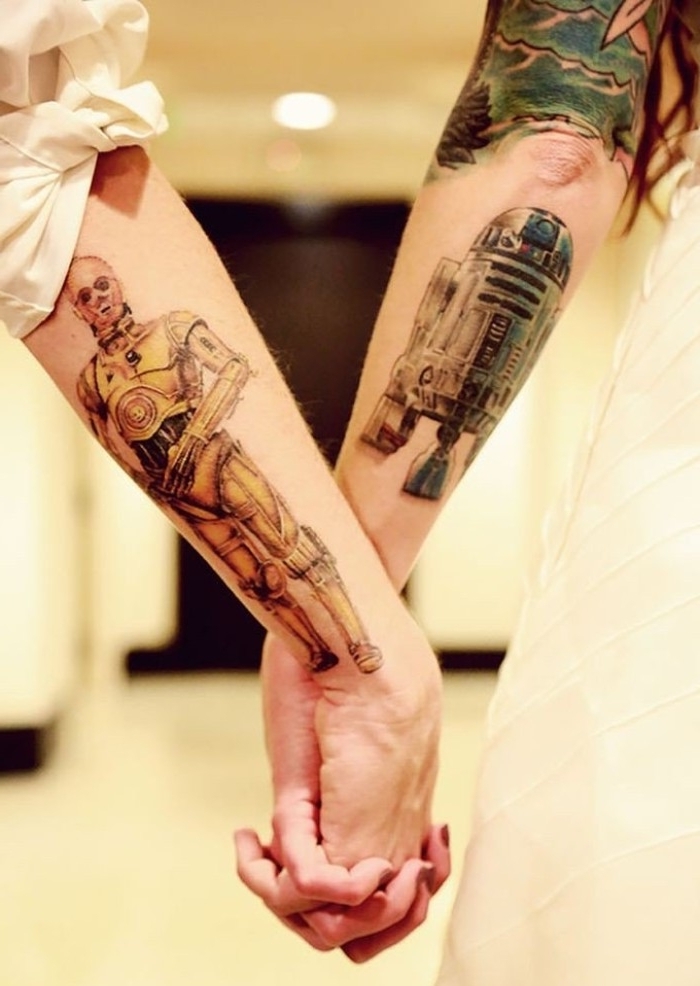 And now let us look at some tattoo ideas for best friends. Here, the possibilities are limited only by your imagination! Why not get a matching design, featuring your favorite musician, cartoon or book? Alternatively, you can opt for cute and funny matching tattoos, reminding each other to stay weird and never stop having fun. If you're having trouble deciding, check out our gallery – we have tons of original, quirky and cute suggestions!
Identical Maneki-neko tattoos – perfect for friends who love Japanese culture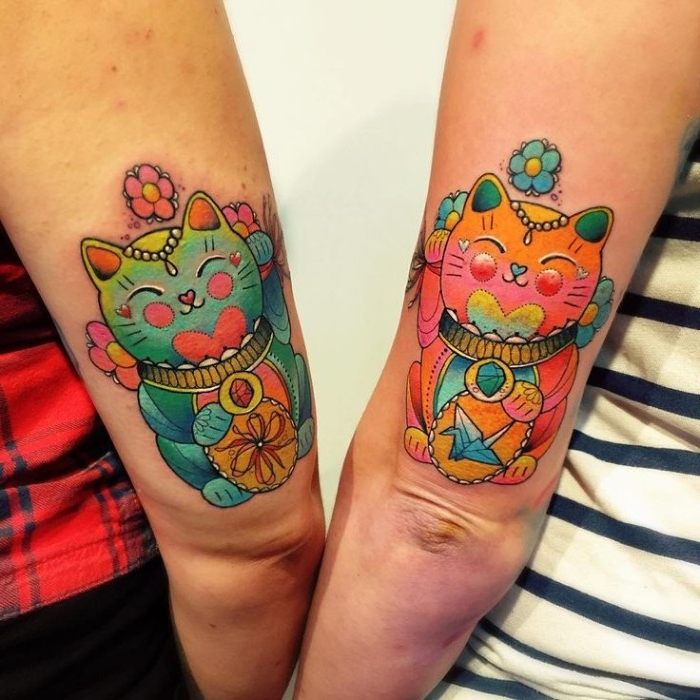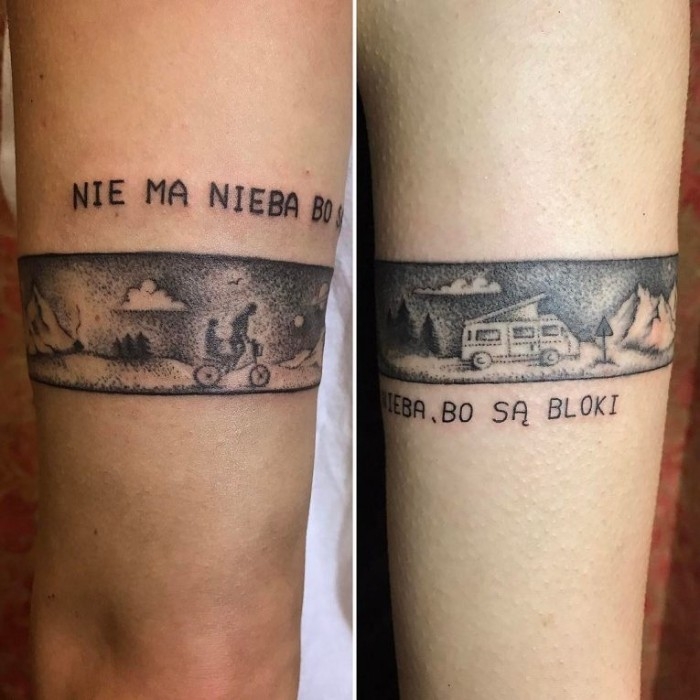 Commemorate your shared appreciation for David Bowie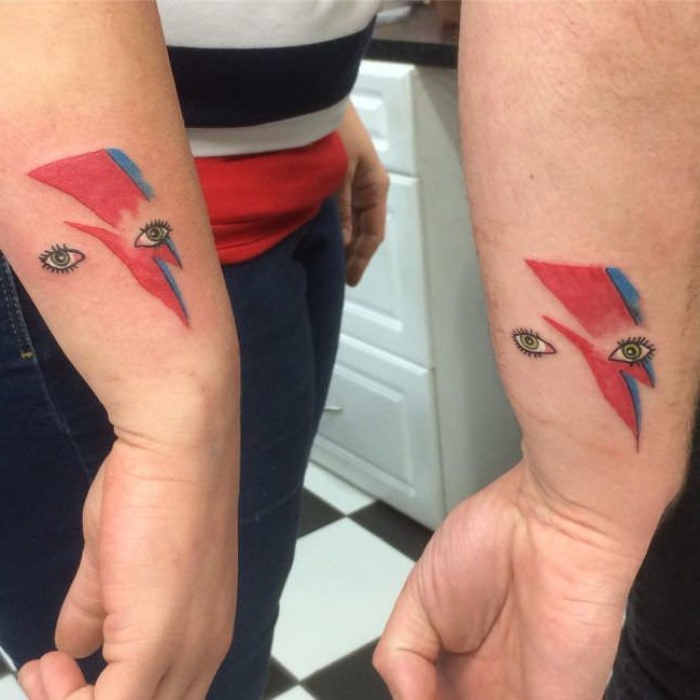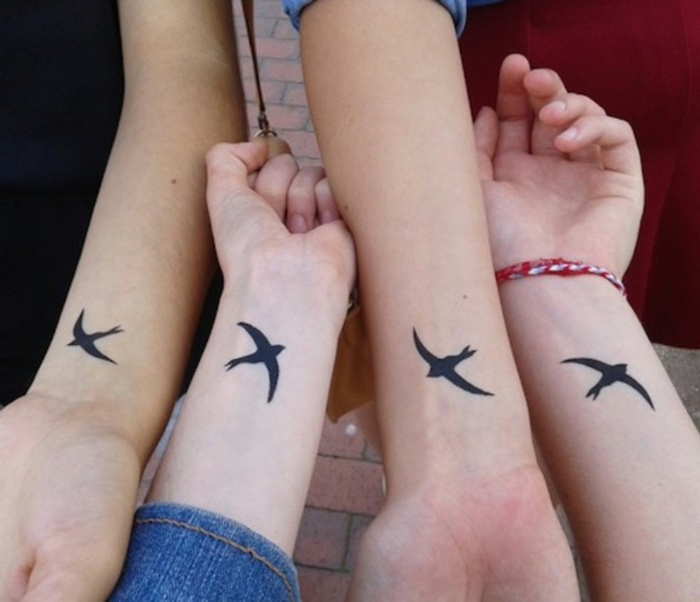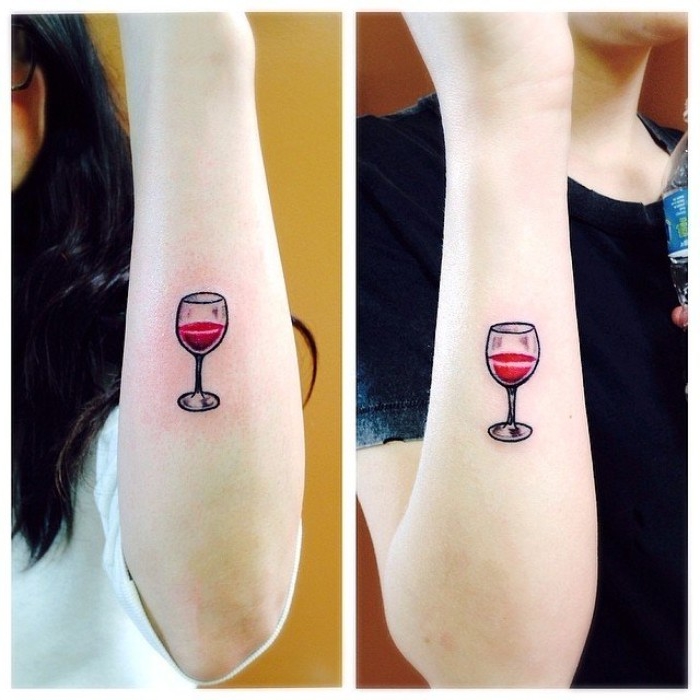 It's hard not to love these cool, vintage style tattoos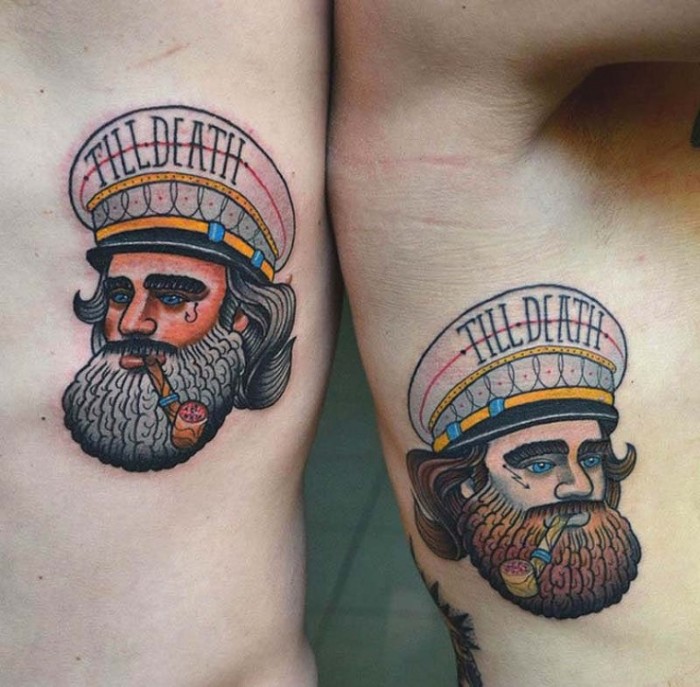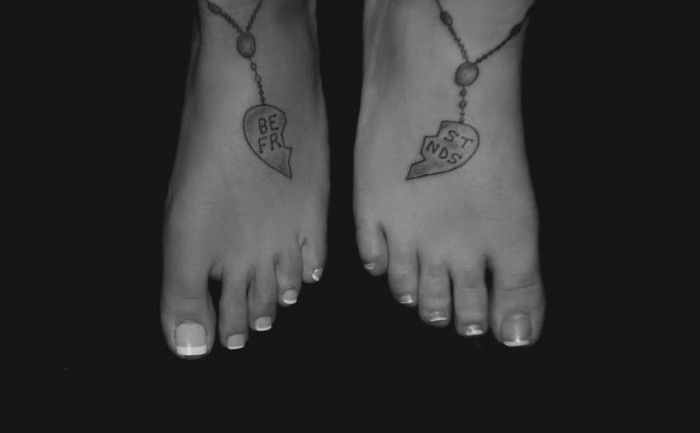 "Best friends don't let you do silly things…on your own!"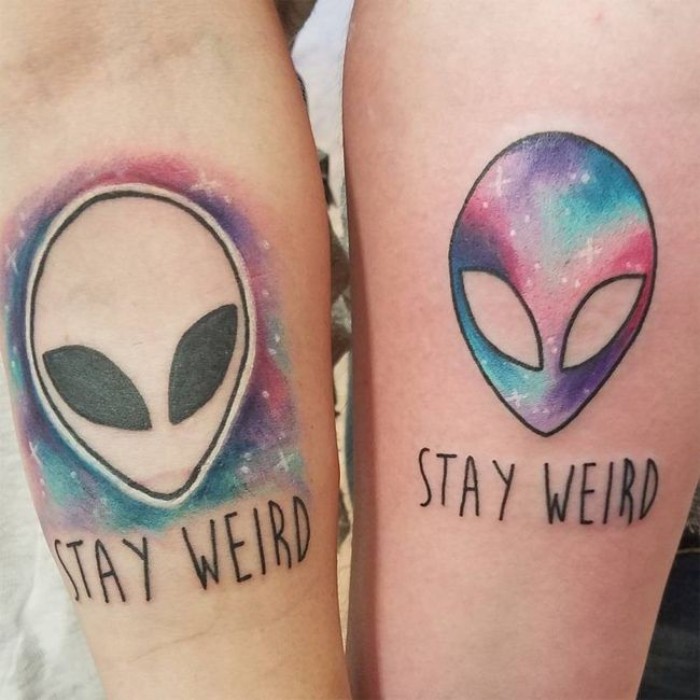 Harry Potter fans will love this cute, minimalistic design!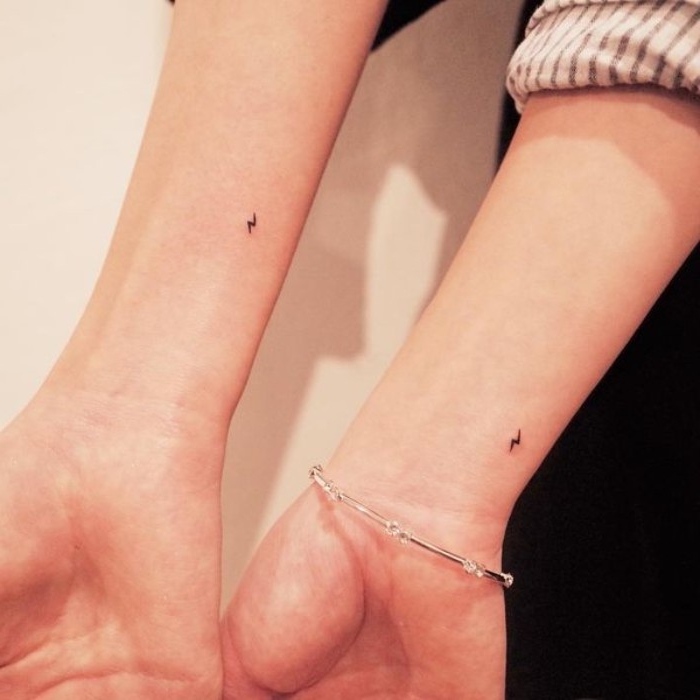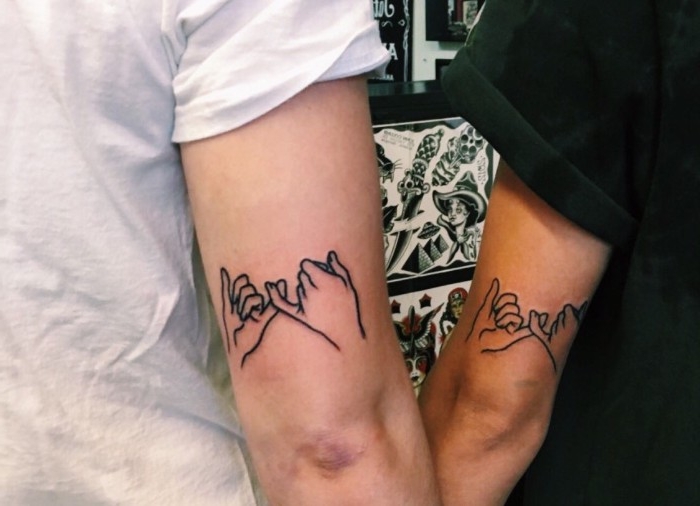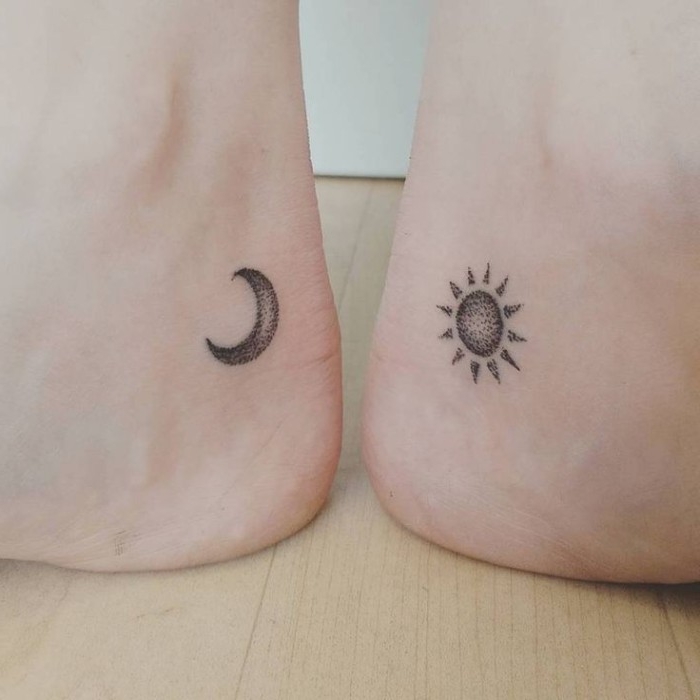 Pinky swear!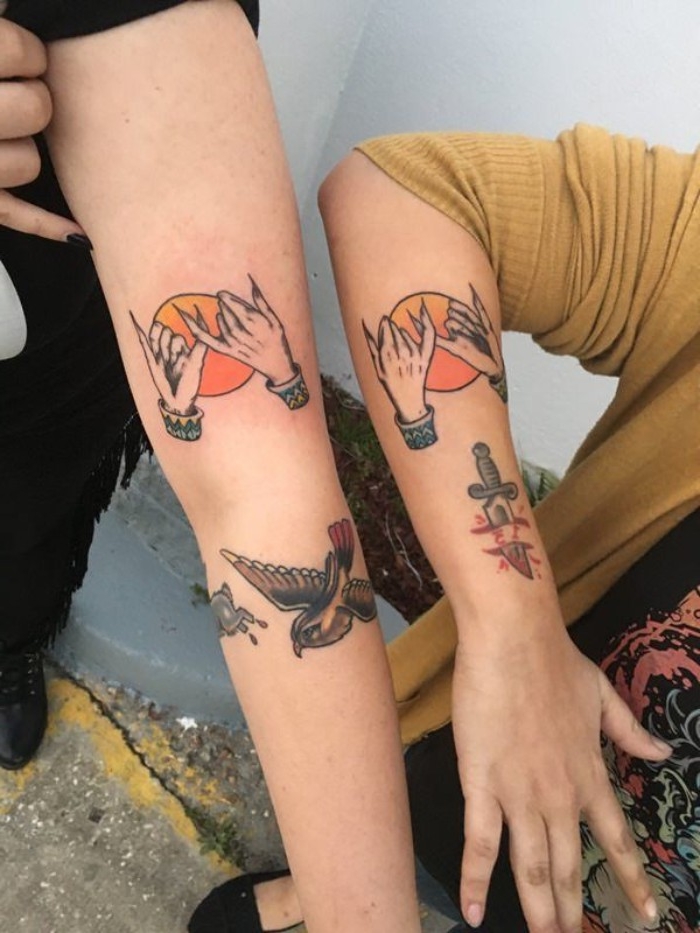 That tattoo sure looks tempting…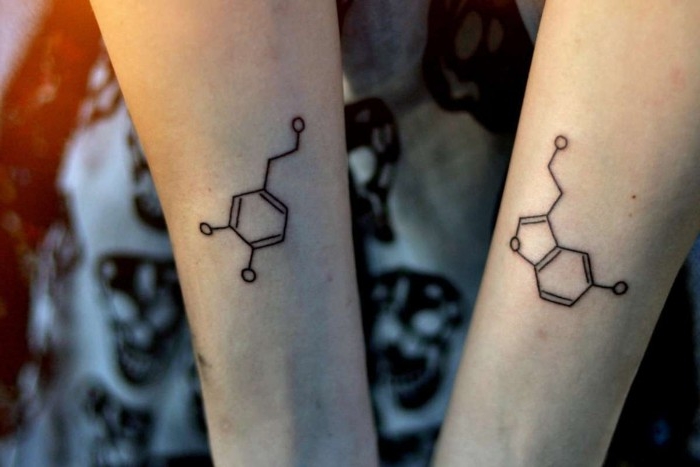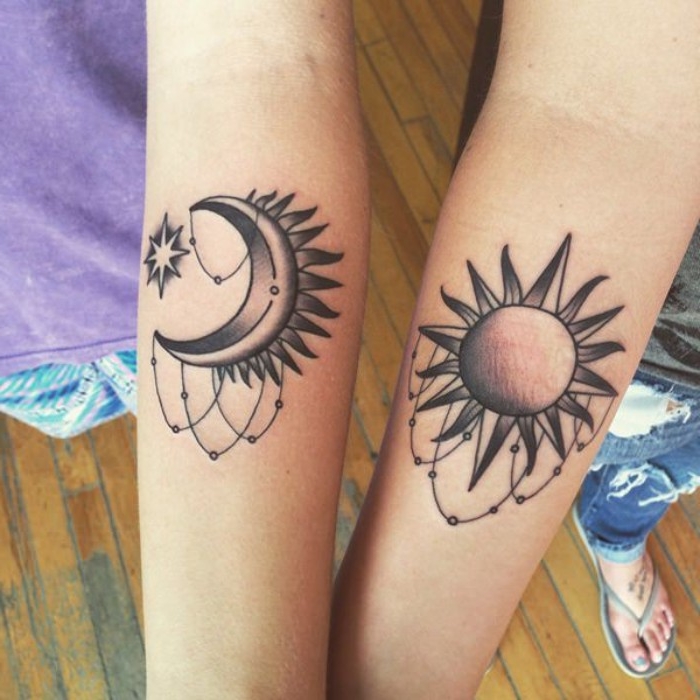 Colorful and cute!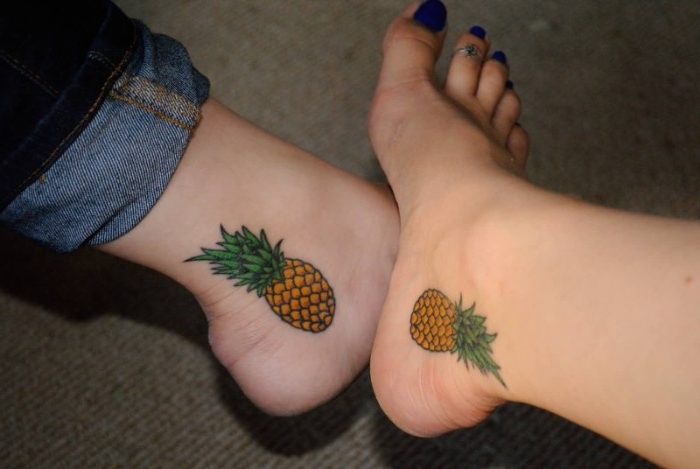 Last but definitely not least, it's time to look at matching tattoos for siblings and other family members. Although there are, once again, many variations to choose from, the most popular ones are the simple, minimalistic designs, especially those featuring a single word (sister, family, etc.) combined with a birth date.
Sisters share a special bond. Celebrate it by getting cute matching tattoos!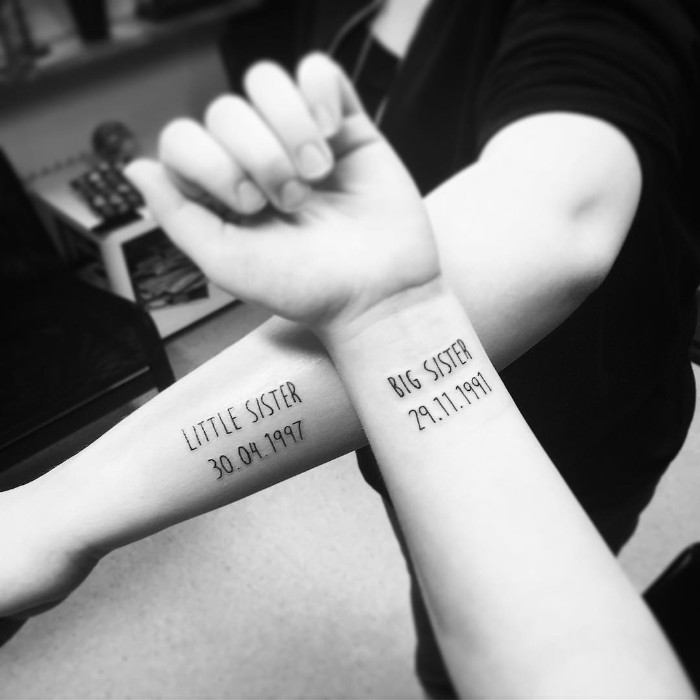 "Ohana means family, and family means no one is left behind or forgotten."
Very cute matching tattoos for a mom and daughter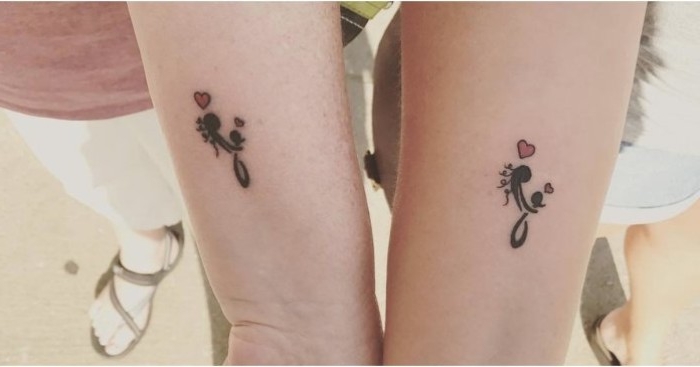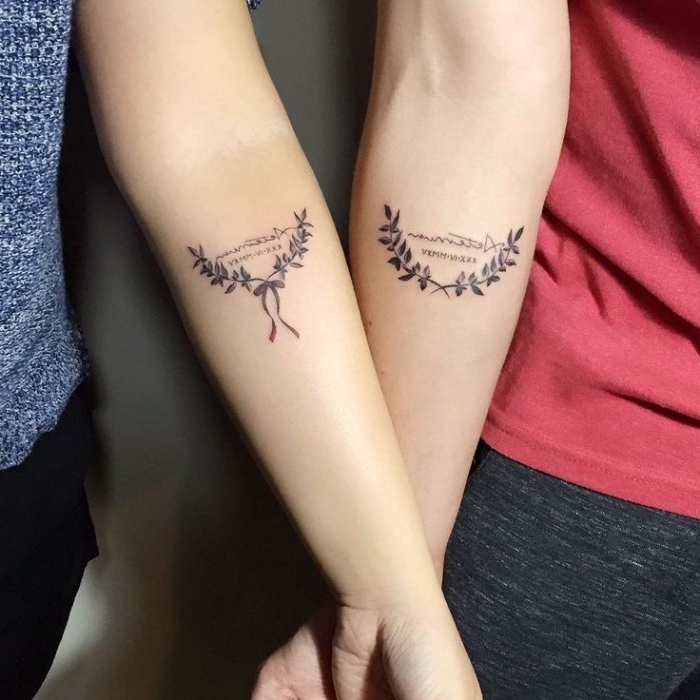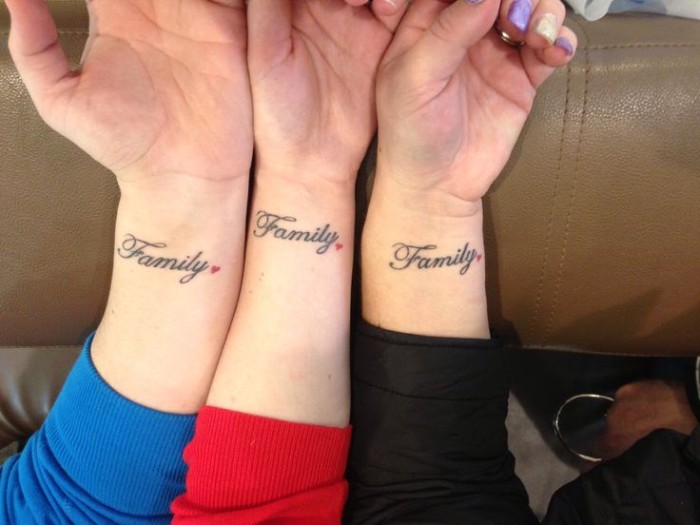 Big sis and little sister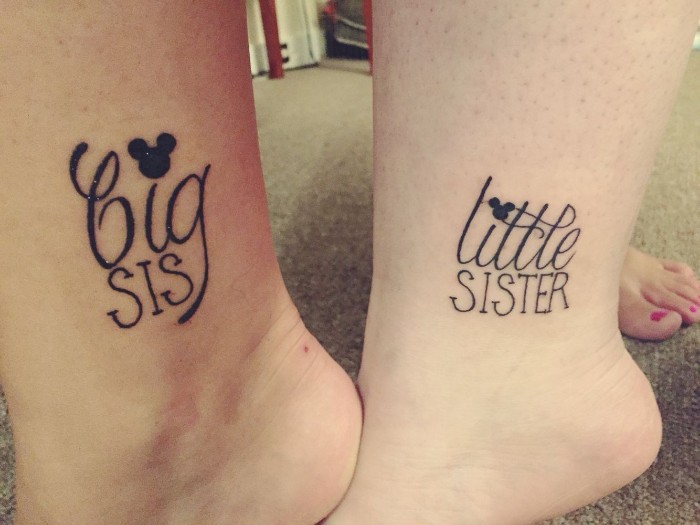 And here are some more great matching tattoo suggestions: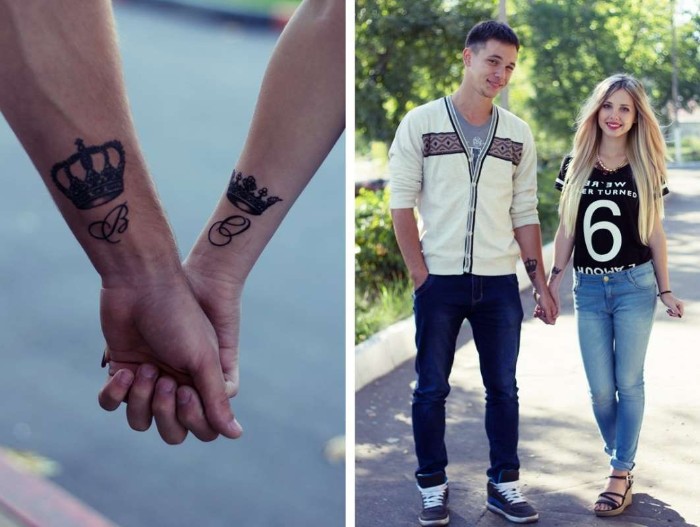 How about getting tattoos of the constellations, corresponding to your horoscope signs?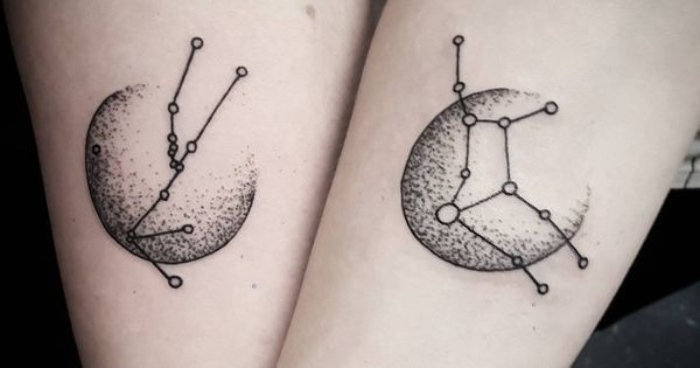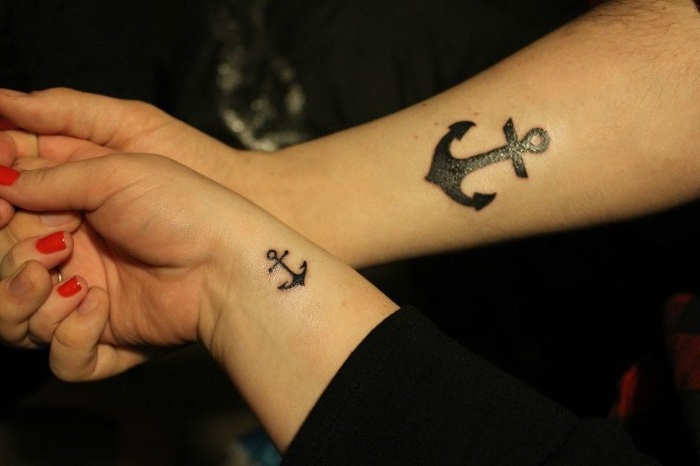 Young Carl and Ellie from Pixar's Up. I'm not crying, you're crying!!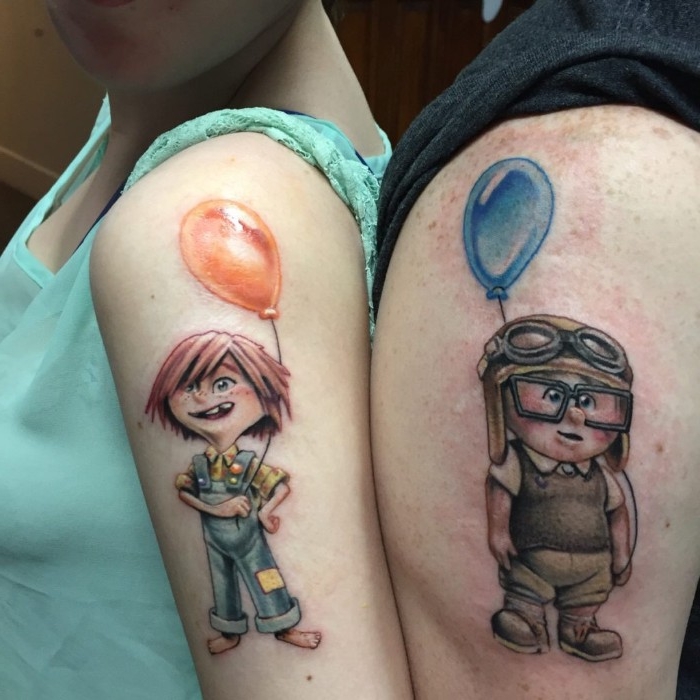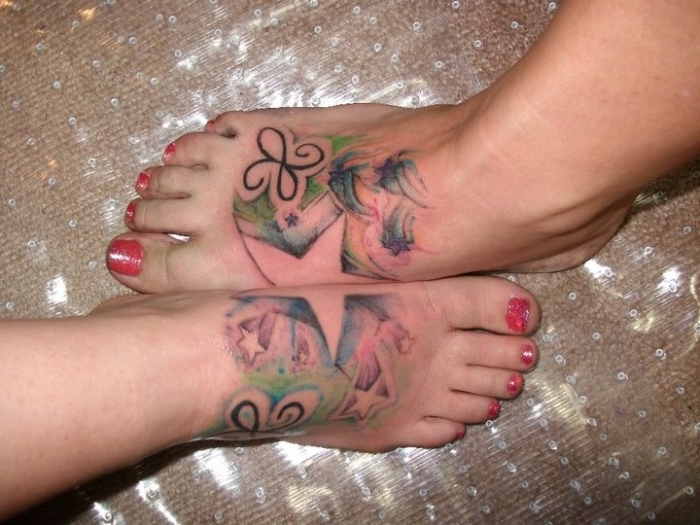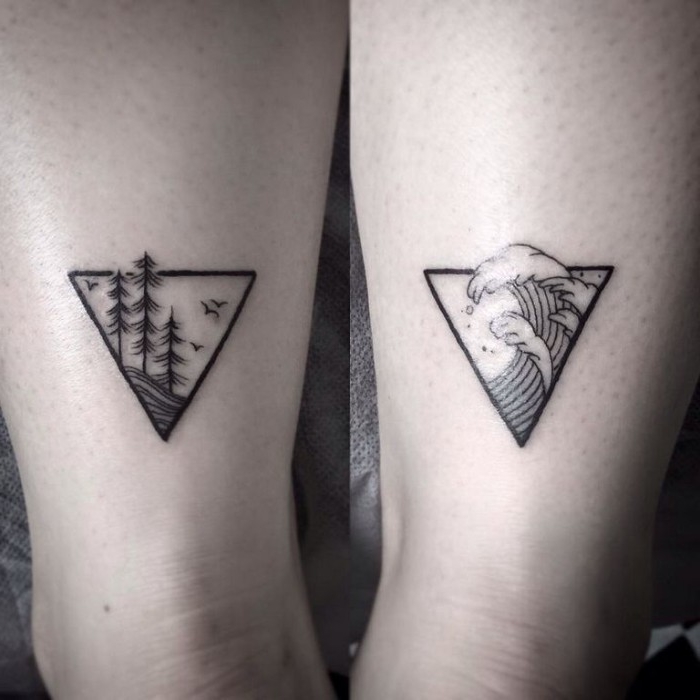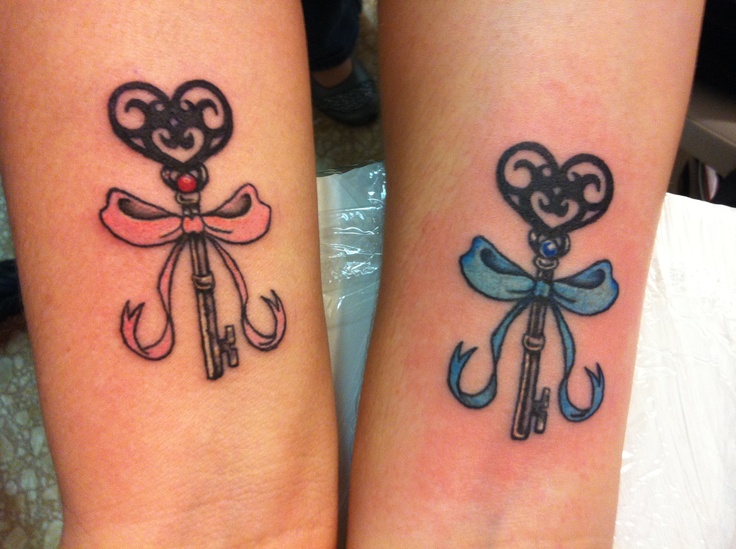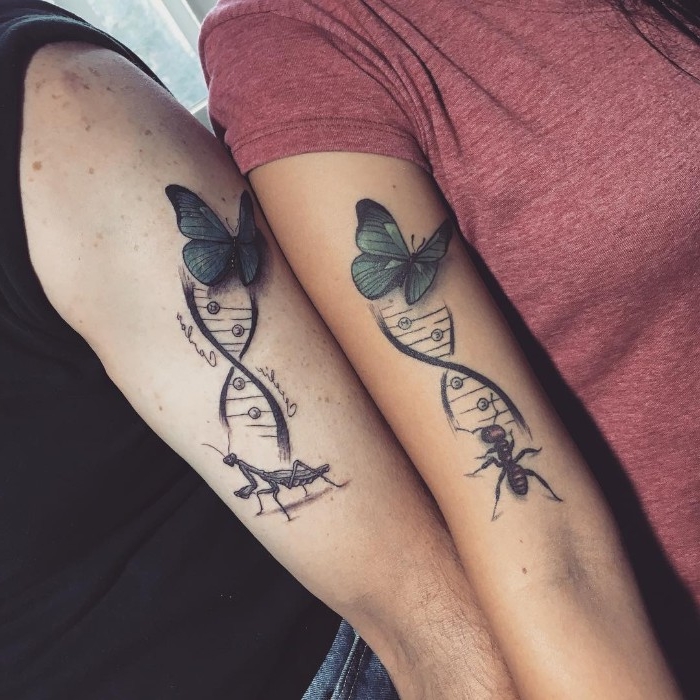 When you complete each other's sentences: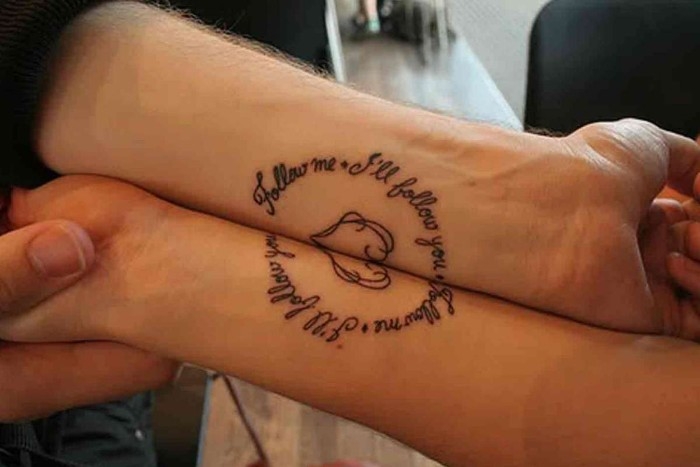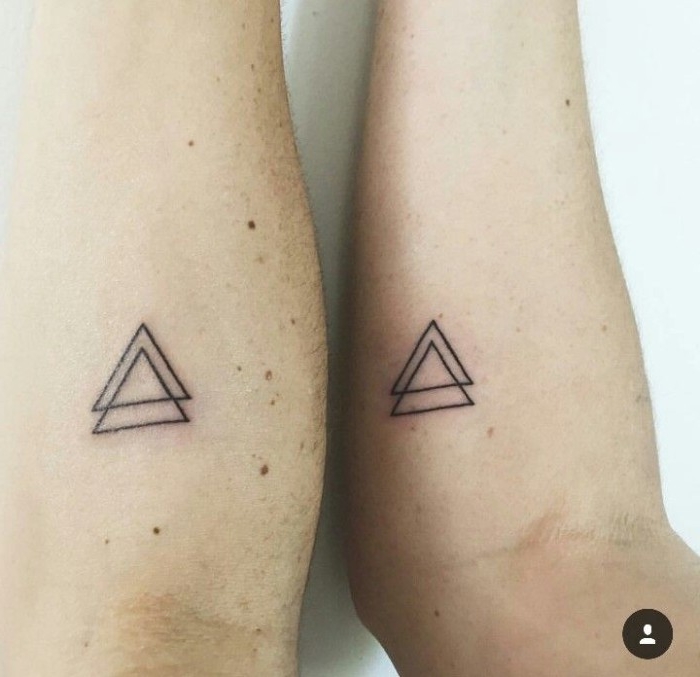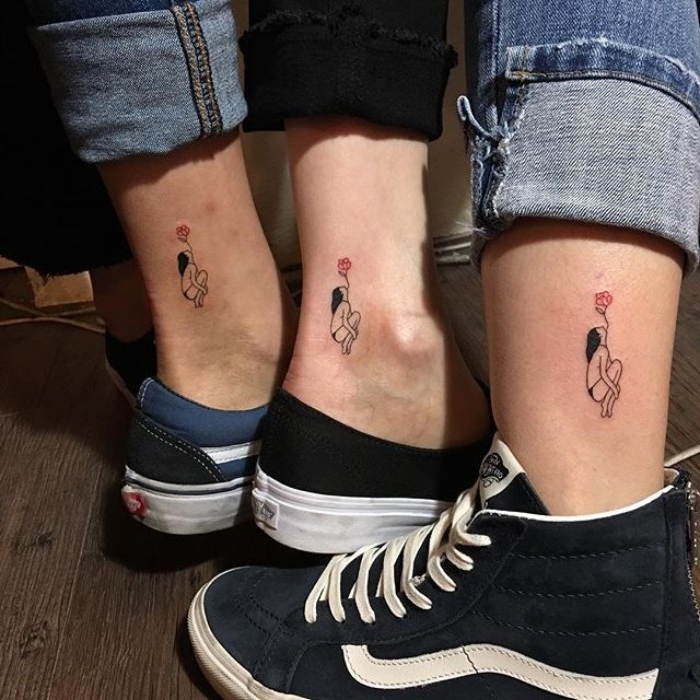 Tattoos for you and your otter half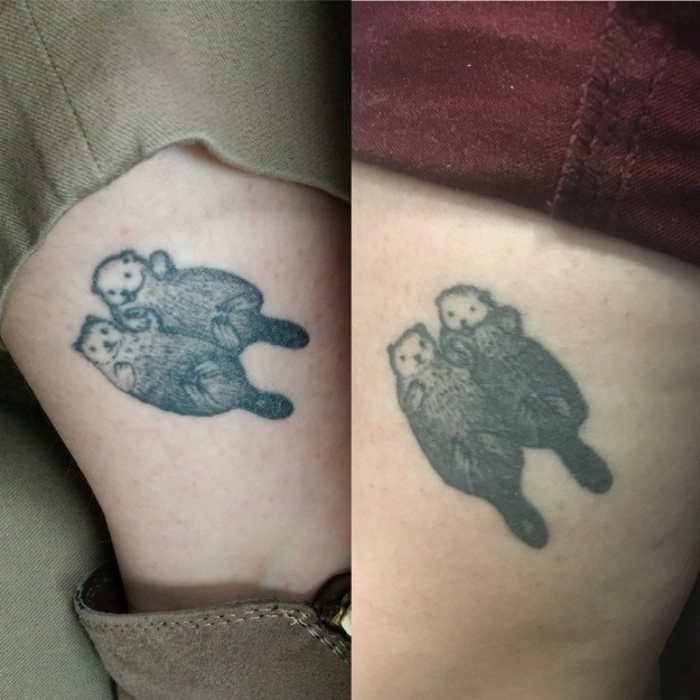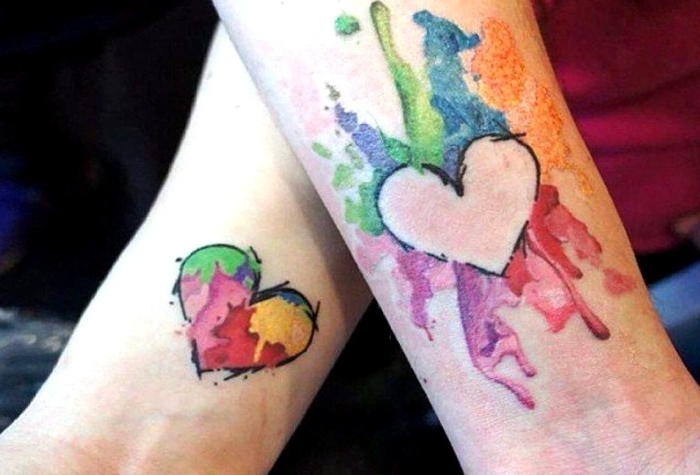 Another cool compass design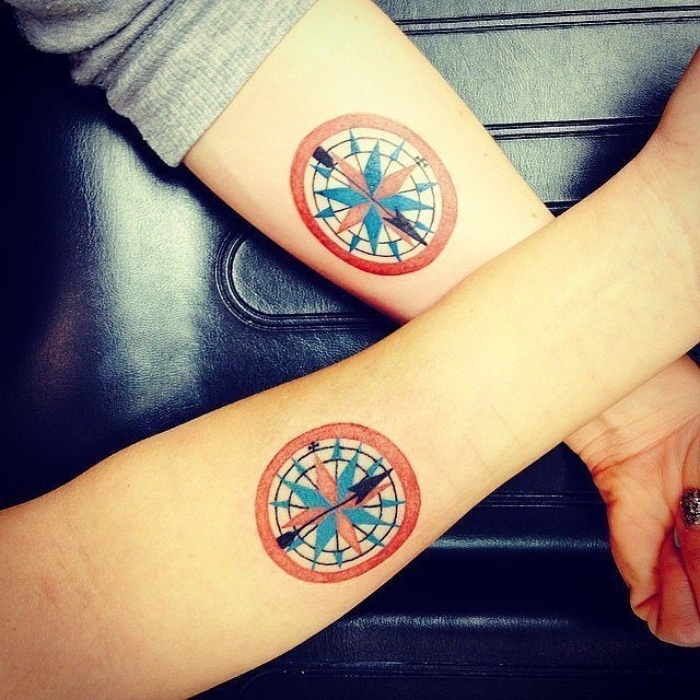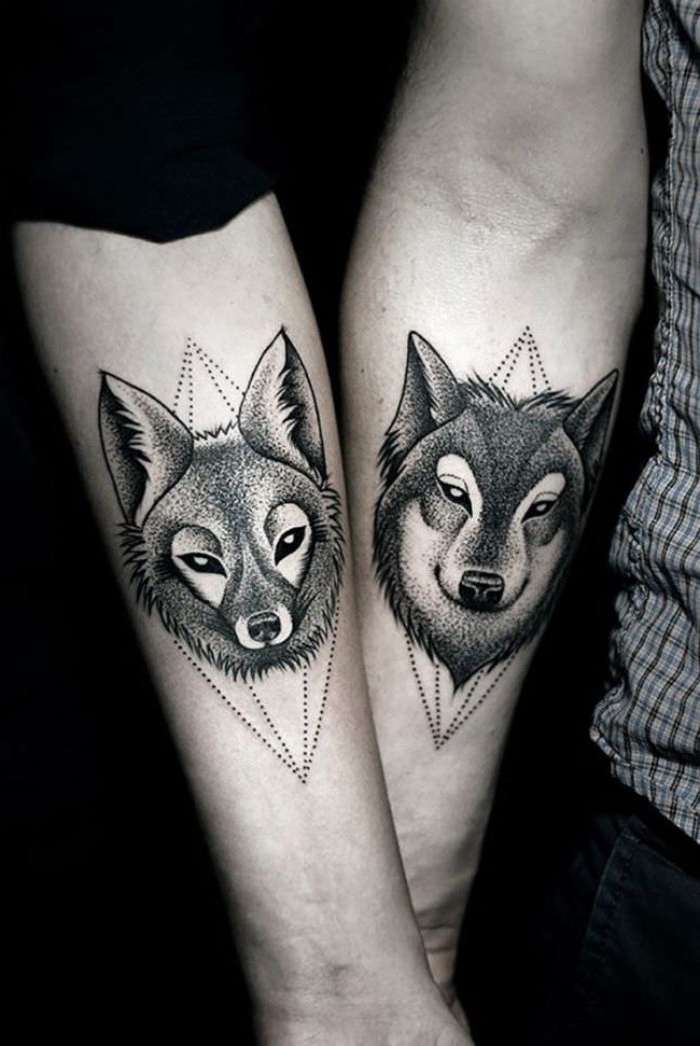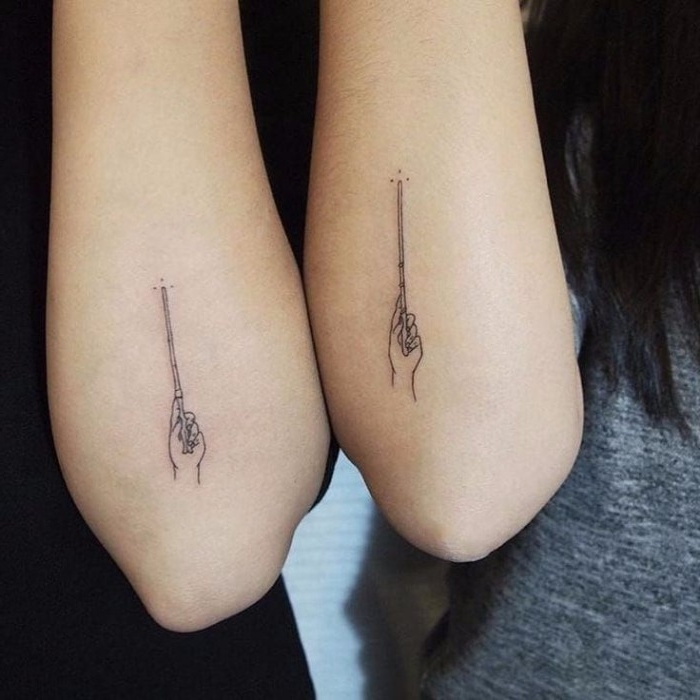 For tequila lovers: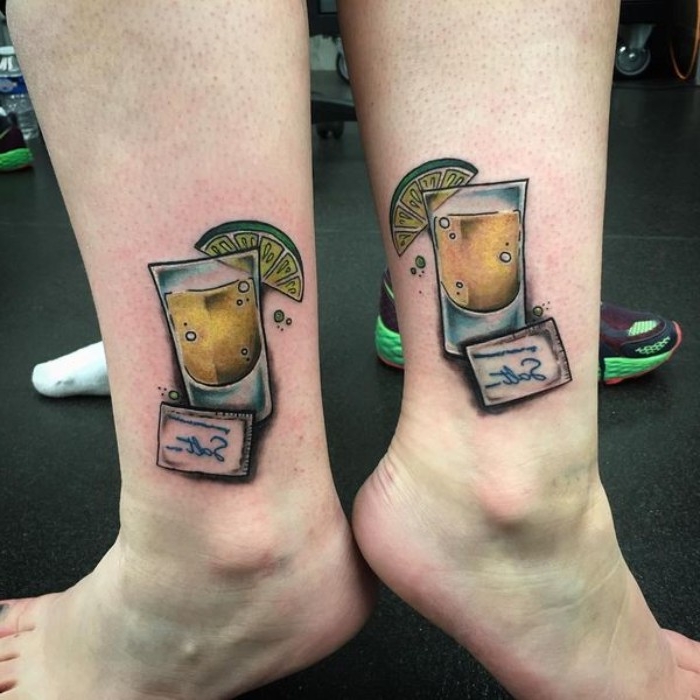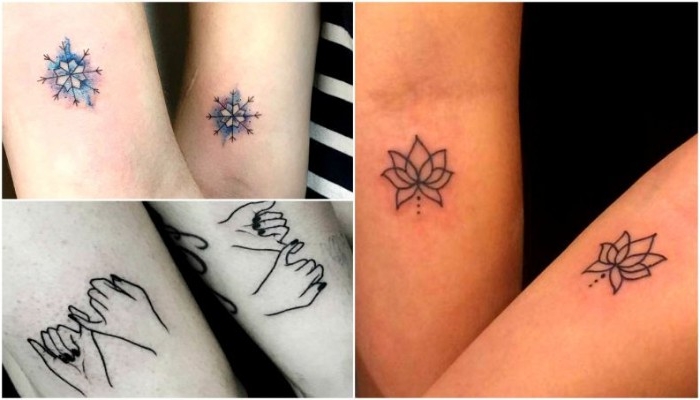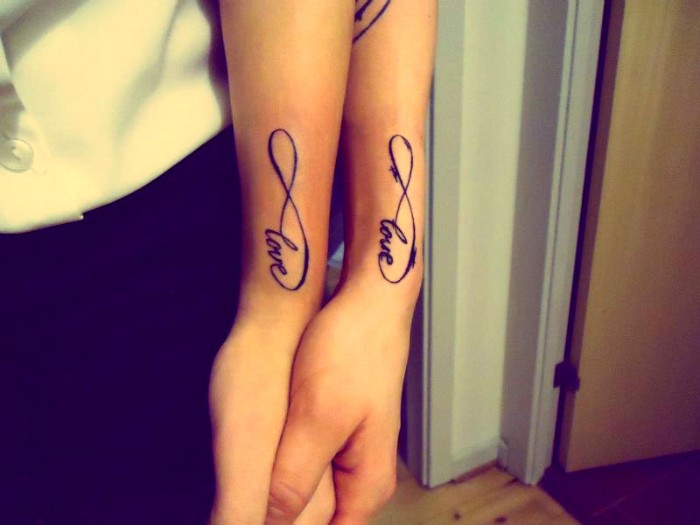 "In the end we will always have each other" – great tattoo idea for sisters or best friends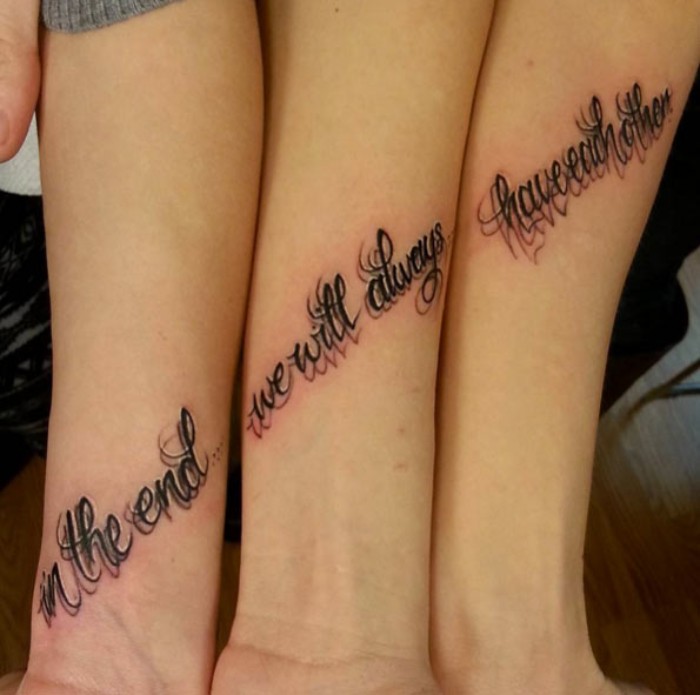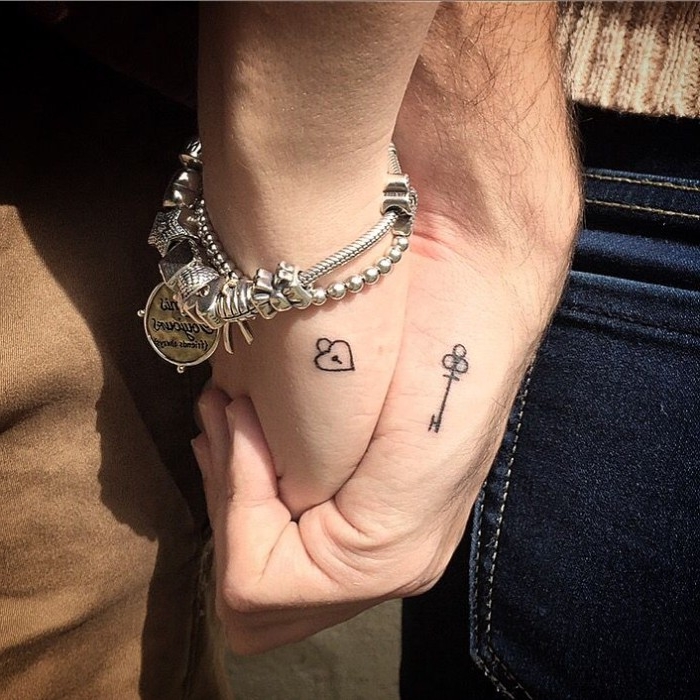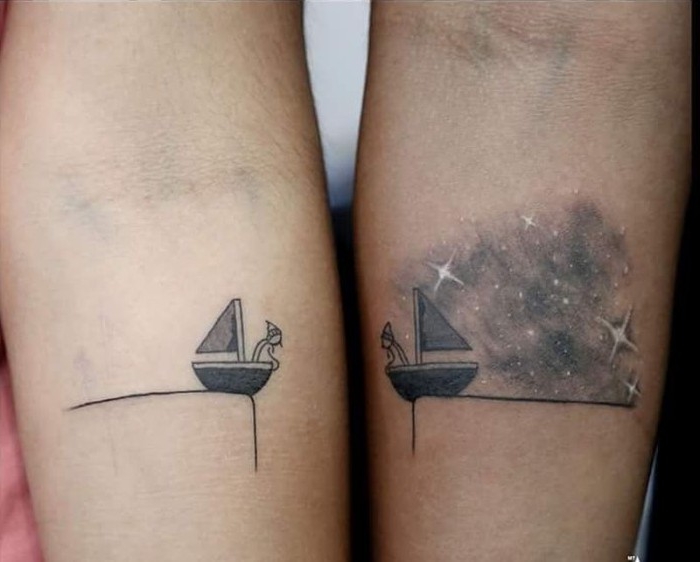 Tattoos for brides and grooms: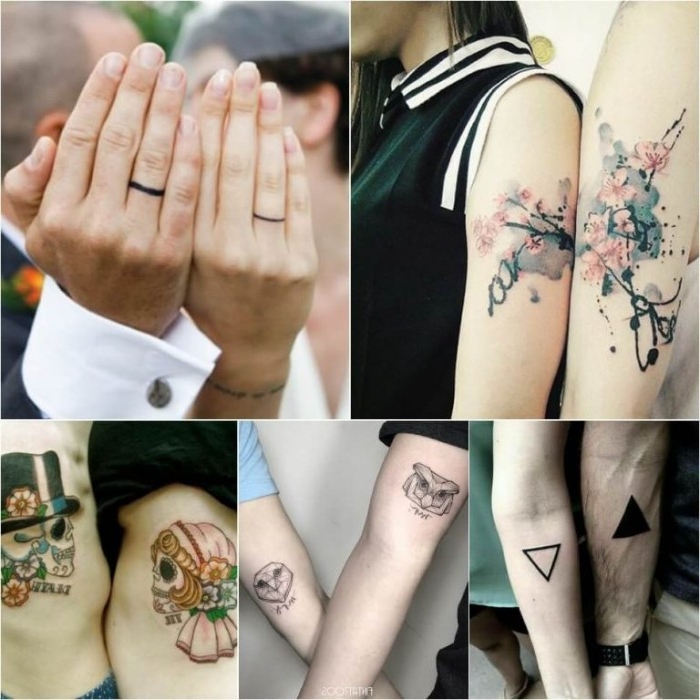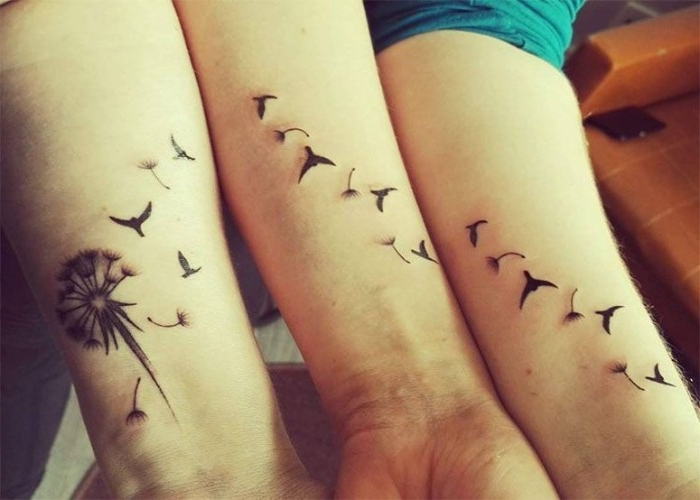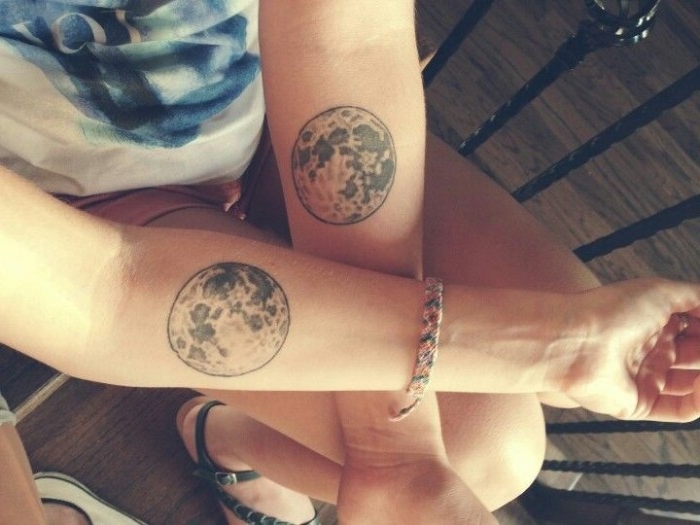 "No matter where, no matter what"