80 Easy and Healthy Breakfast Ideas for a Better (and Tastier) Start of The Day
According to many dietologists, breakfast is the most important meal  of the day. Not only dies it give us the fuel that helps our body wake up, but also helps us prepare for the challenges of the day ahead. It is therefore incredibly important to carefully choose the food we consume in the morning. Grabbing  a croissant, sandwich or donut might sound easy and tempting, but in the long run, these choices will have a negative effect on your energy levels, concentration and overall health. Unfortunately, in our buys day and age, not all of us have the time to prepare elaborate morning meals. If you are one of the many busy and hardworking people out there – fear not! We have selected 80 great healthy breakfast ideas that are incredibly easy to make. We have even included the recipes for our favorite morning dishes, which we are sure you'll enjoy!
Basil pesto with avocado recipe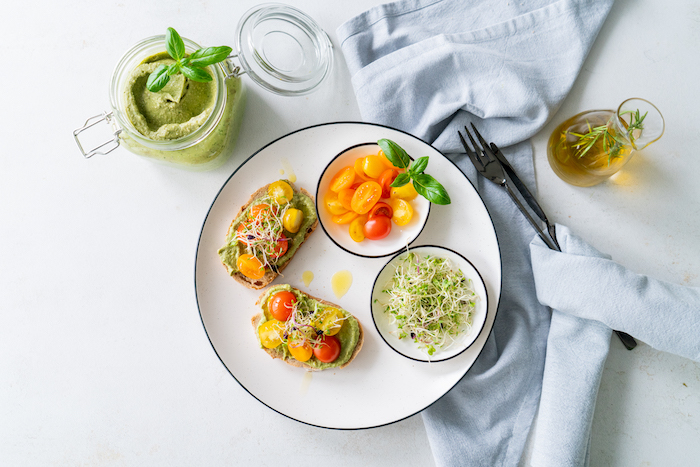 Ingredients:
2 avocados
juice from 1/2 lemon
1 cup fresh basil
70 gr raw cashew
3 garlic cloves
1/2 tbsp cumin
50 ml olive oil
The ingredients are quite simple for this easy recipe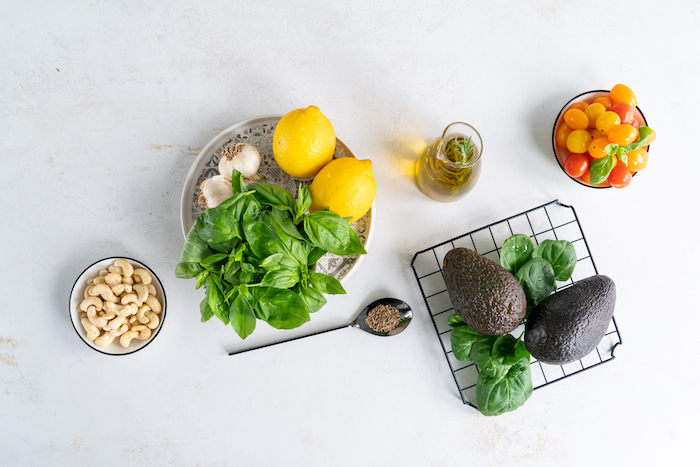 Chop the avocado into cubes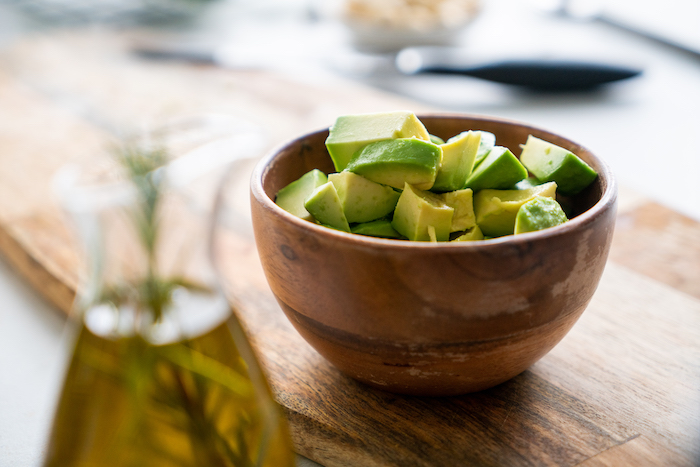 Squeeze the juice from half a lemon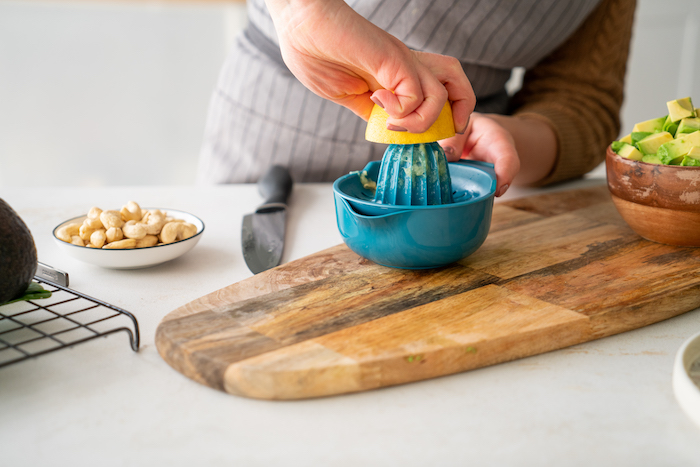 Blend all the ingredients together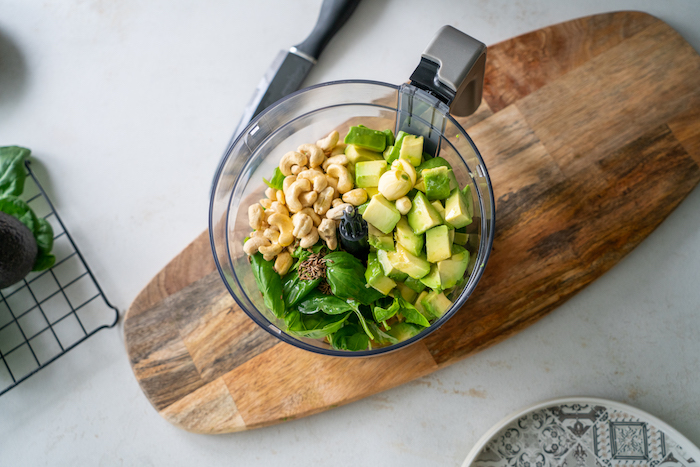 Now you have a delicious and healthy spread for your breakfast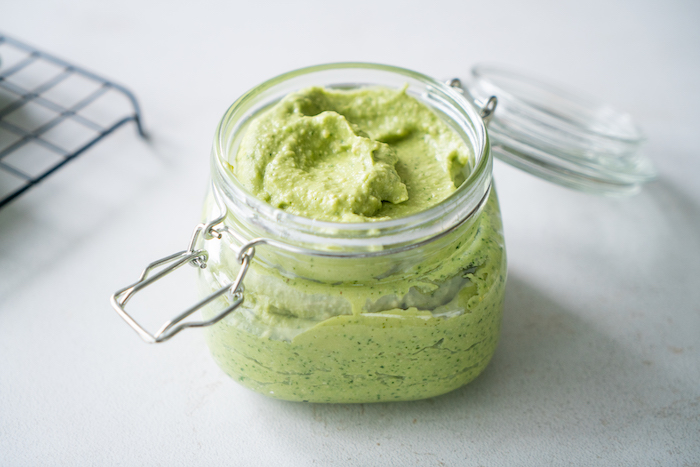 Spread it onto the bread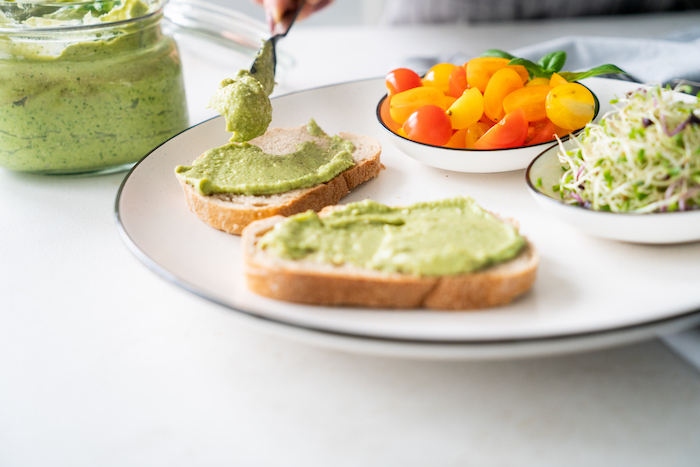 Garnish with halved cherry tomatoes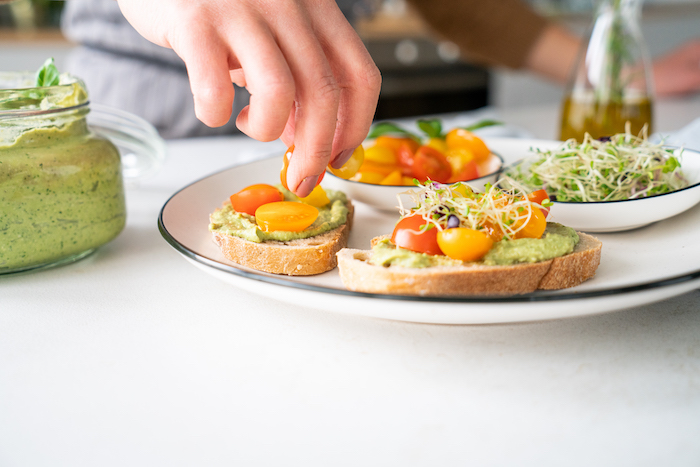 And anything else that you love to eat really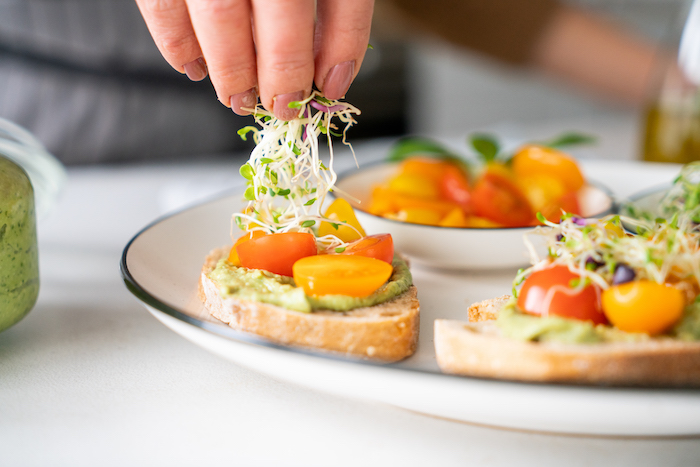 Here is a super quick and easy breakfast for those mornings when you are in a rush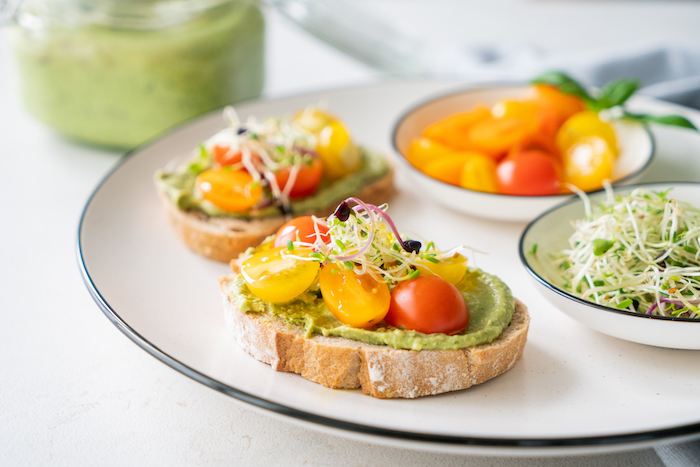 Net pancakes recipe – gluten free Roti Jala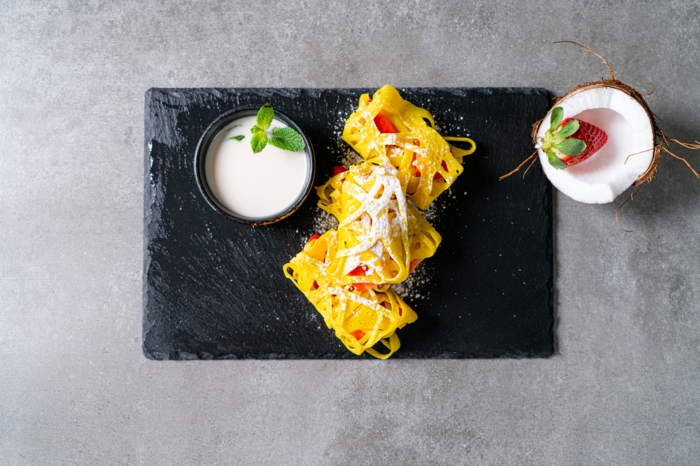 Ingredients:
100gr rice flour
100gr cornstarch
1 tsp turmeric
2 eggs
2 tbsp oil
200ml coconut milk
200ml water
strawberries
powdered sugar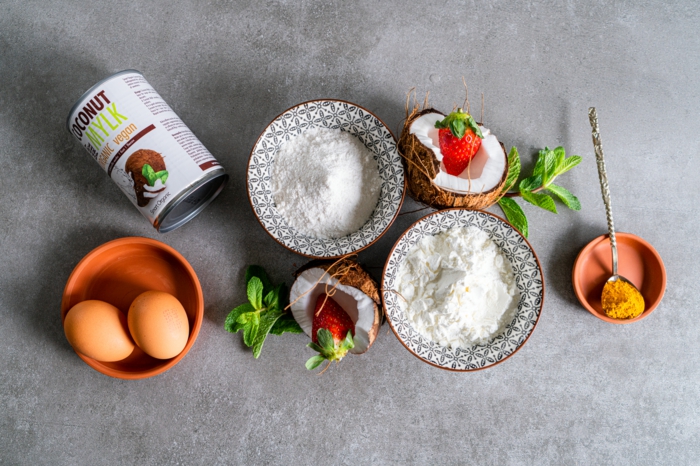 In a bowl, mix the flour, cornstarch and turmeric, add the eggs and oil and whisk together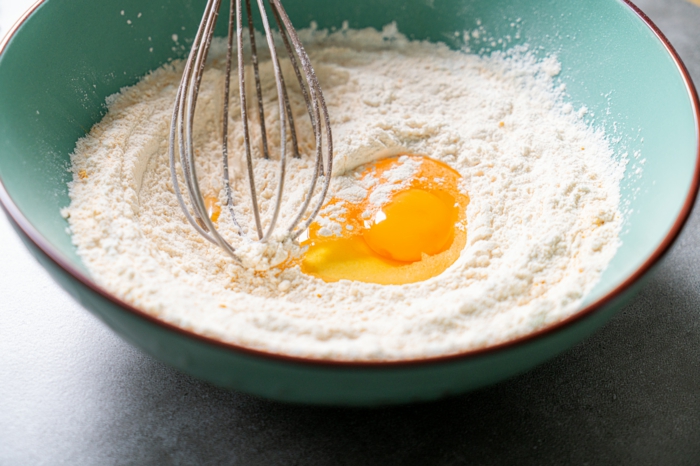 Add the milk and water and stir until fully incorporated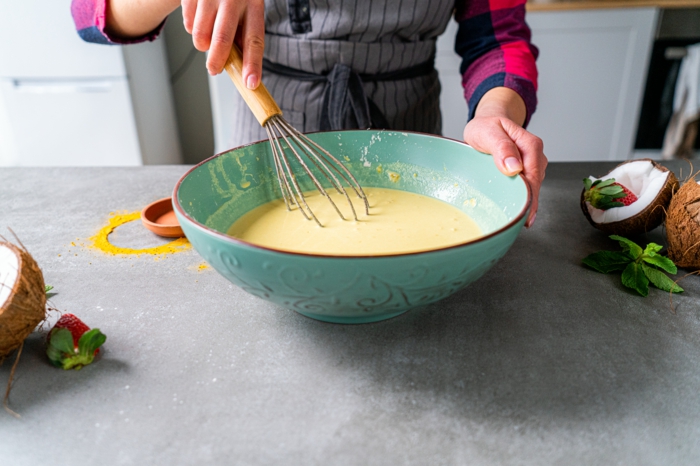 Transfer to a piping bag or bottle and pour into the pan as shown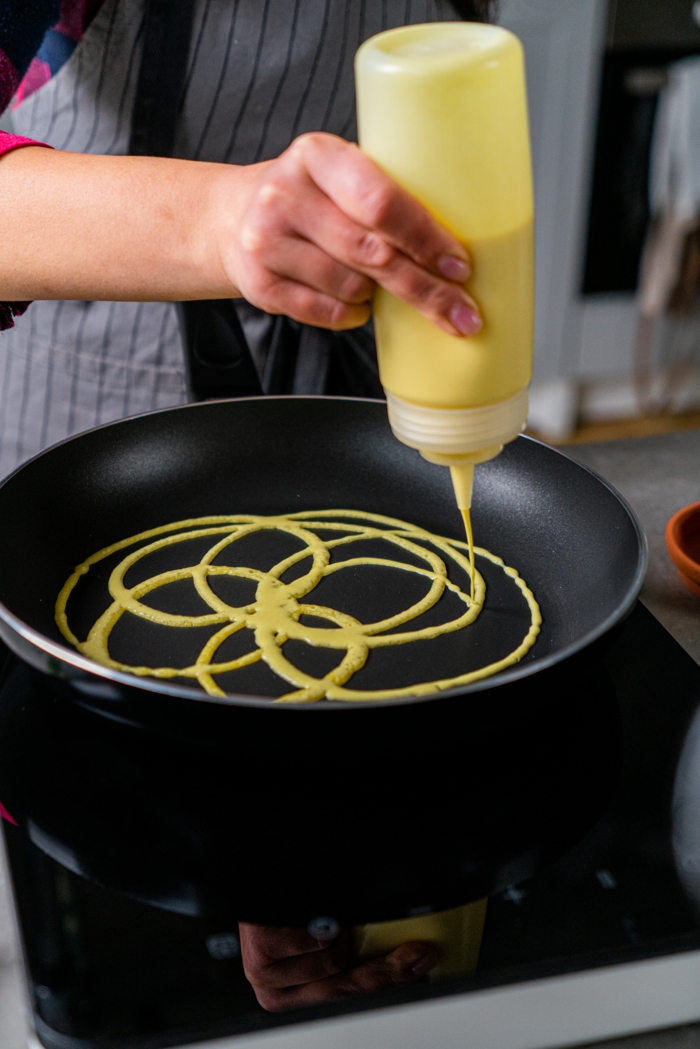 Cook for 3-4 minutes on one side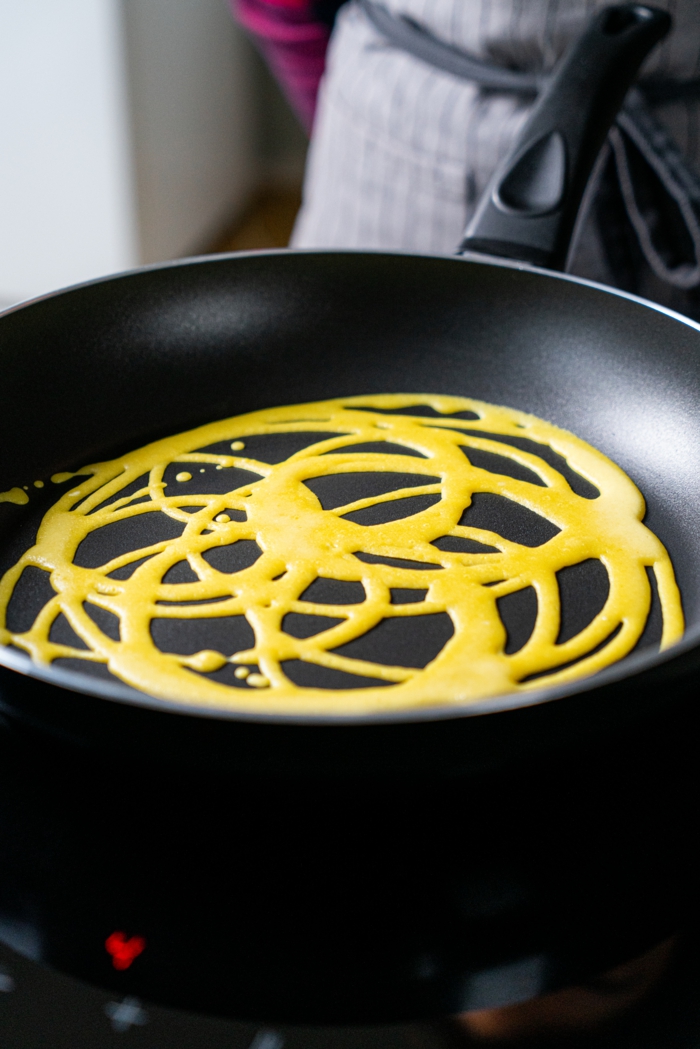 Roll in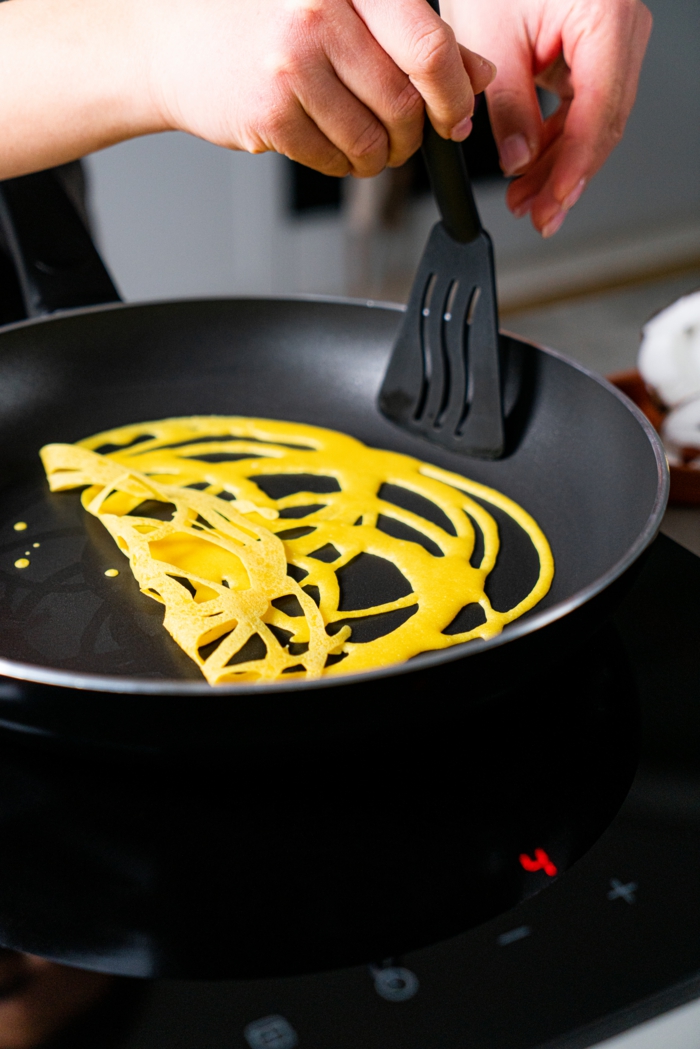 Roll them with strawberries in the middle and dust with powdered sugar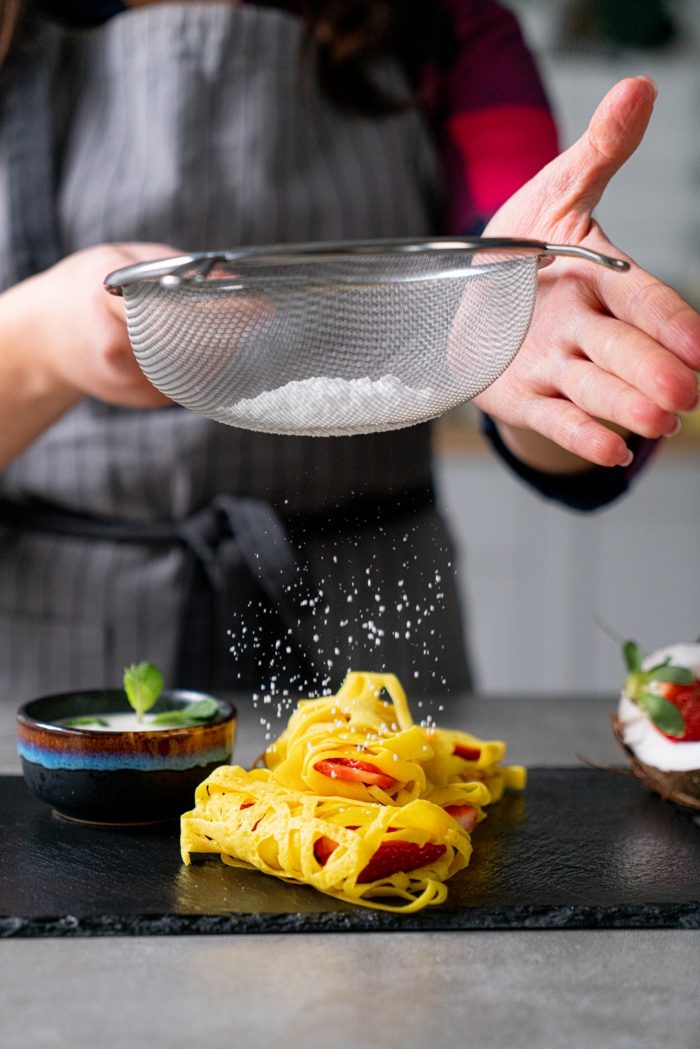 Delicious and easy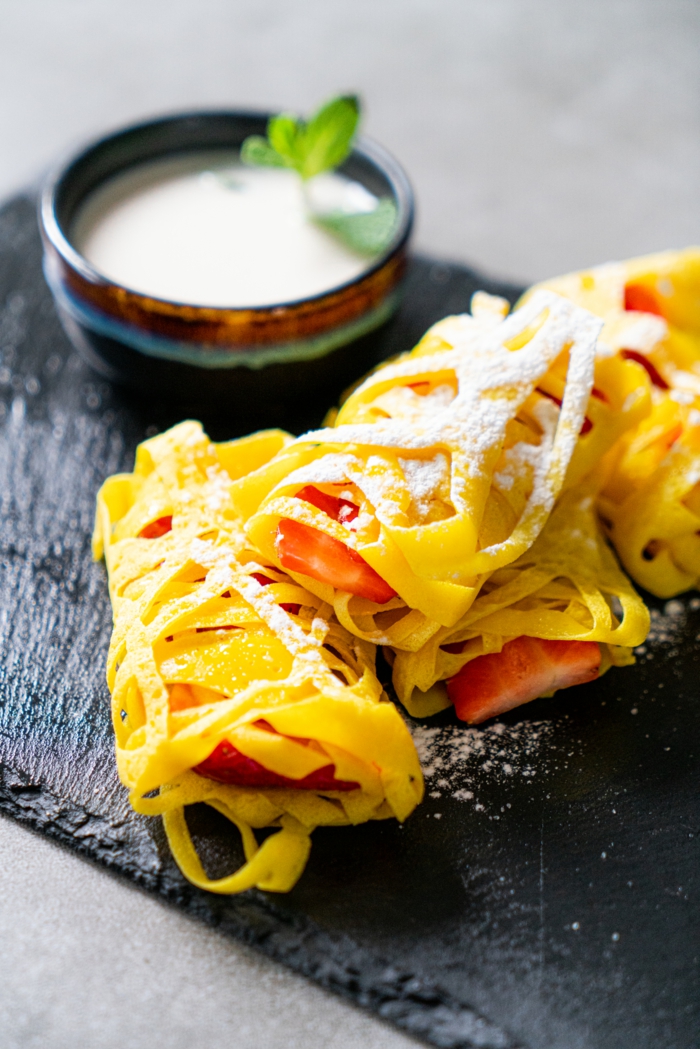 You can't have healthy breakfast ideas without lots and lots of fruit!

Cereals are usually a great breakfast choice, but you should always carefully check their labels before buying, as some brands include loads of sugar and harmful additives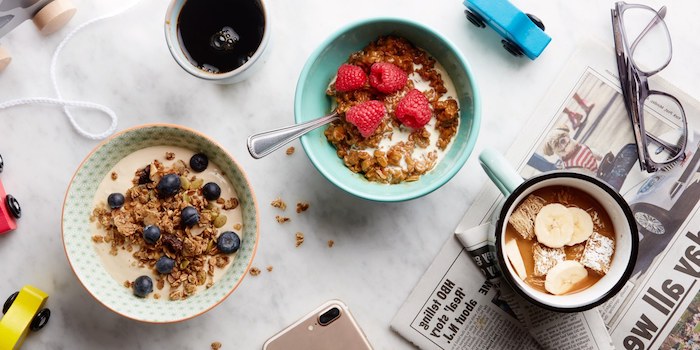 This is what a healthy start of the day looks like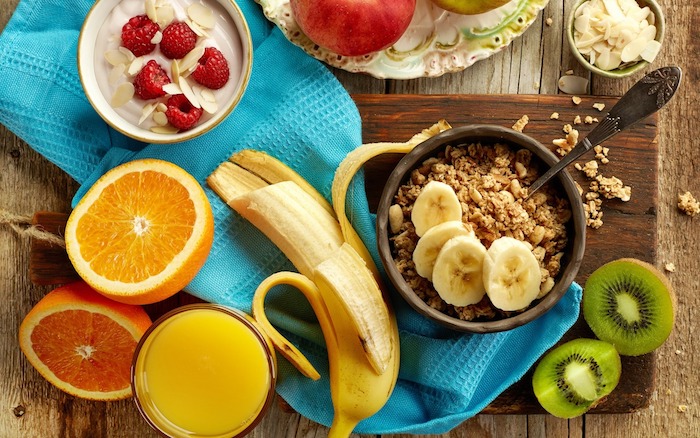 And now on to our first recipe – green energy boosting smoothie!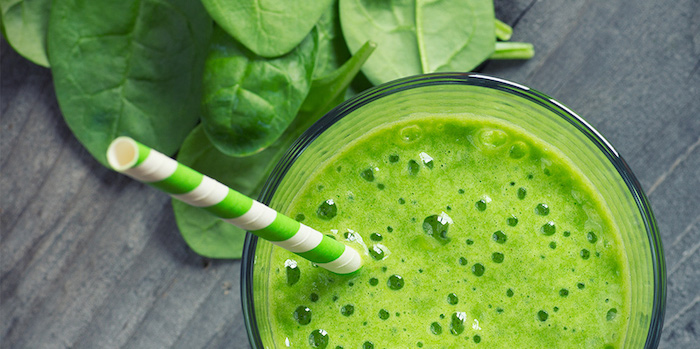 Ingredients:
A handful of fresh spinach
3 kiwis
1 cucumber
1 apple
1/2 lime
If desired:
1-2 celery sticks
a few blades of parsley or mint
seeds or nuts of your choice
Instructions:
Juice the apple and 1/2 lime and pour them into your blender
Add the chopped cucumber, kiwi, and spinach
If desired, sprinkle seeds or nuts of your choice, or throw in some celery sticks/mint/parsley, depending on your preference
Blend everything well
Enjoy your fresh and healthy smoothie! For more awesome smoothie ideas and recipes, check out our special article.
Smoothies are a great choice for busy mornings – just throw the ingredients in the blender and enjoy a fresh vitamin boost!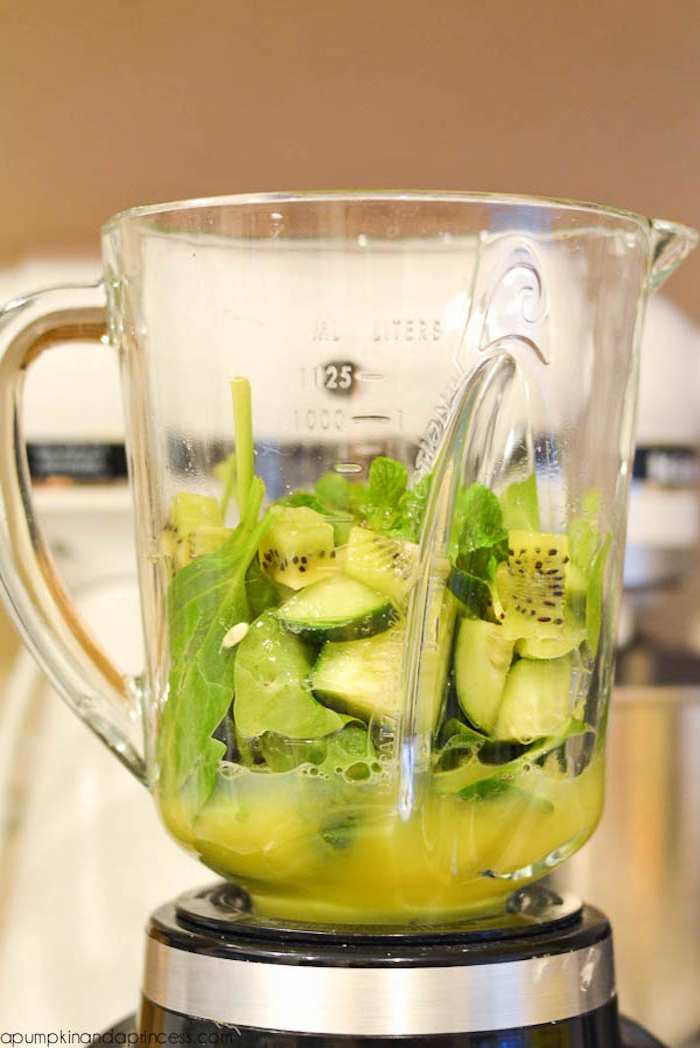 Fresh, quick, yummy!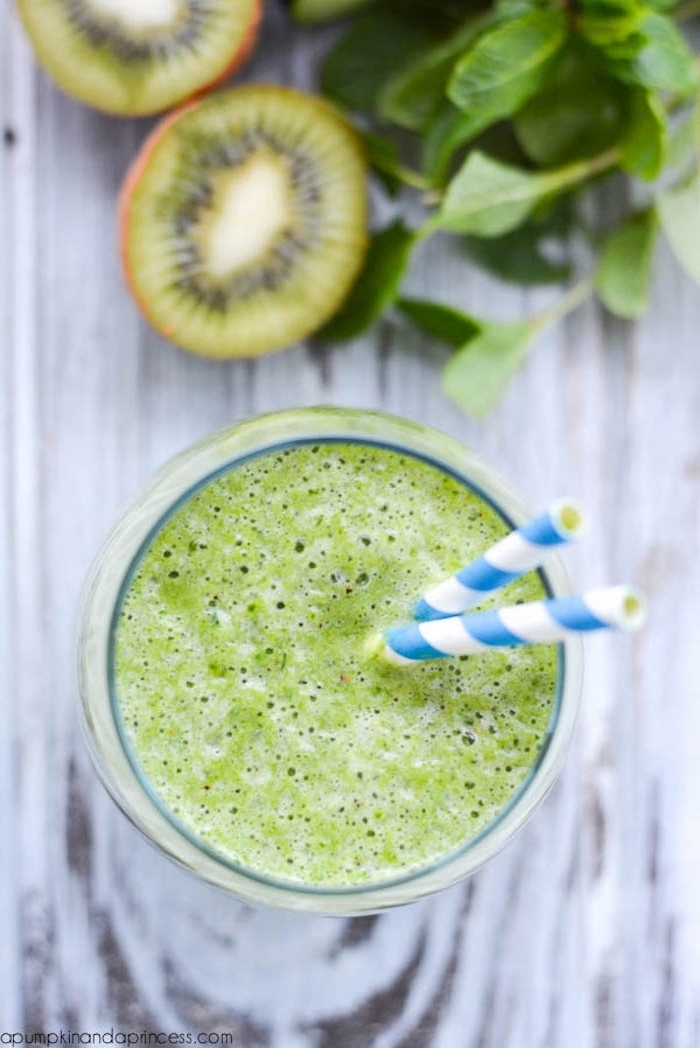 You can add any toppings of your choice – seeds, parsley or even mint leaves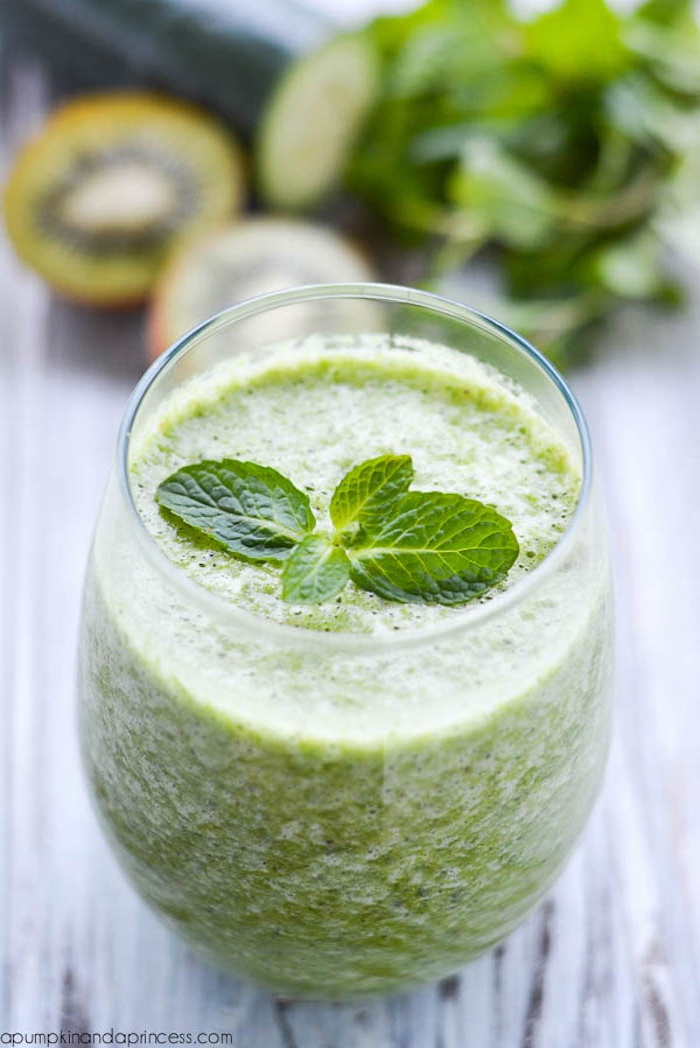 This cool video has five great green smoothie recipes: 
Our next recipe is both super easy and simply scrumptious – buckwheat mush with cranberry sauce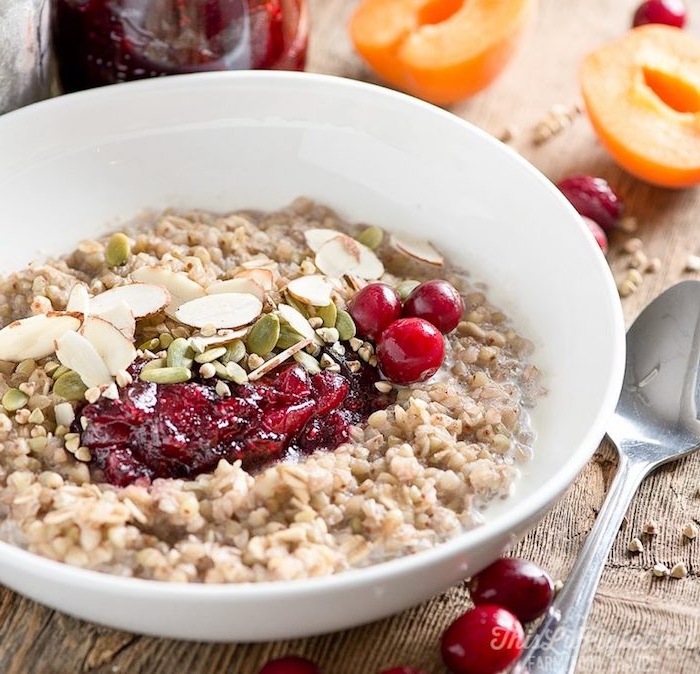 Ingredients:
1/2 cup of buckwheat
1 cup of milk (you can use either plain or almond milk)
some sugar
a pinch of salt
1 cup of fresh cranberries
toppings of your choice (pumpkin seeds or filed almonds, for example)
Instructions:
Rinse the buckwheat well, and soak it in a dish of water overnight
In the morning, pour the cranberries in a pan, and add 1/4 cup of water, along with 1/4 cup of brown sugar.
Bring the pot to a boil and cook for several minutes until your cranberries are nice and soft, and the texture is gooey and jam-like
Now, drain the buckwheat and put it into a pan, sprinkling a pinch of salt on top
Add the milk, along with 1 1/2 tablespoons of sugar, and then bring the mix to a boil
Stir constantly and cook until most of the liquid has been absorbed
Serve in a plate or bowl, with a spoonful of cranberry sauce and toppings of your choice.
Cranberries are a great antioxidant food that is sadly very underrated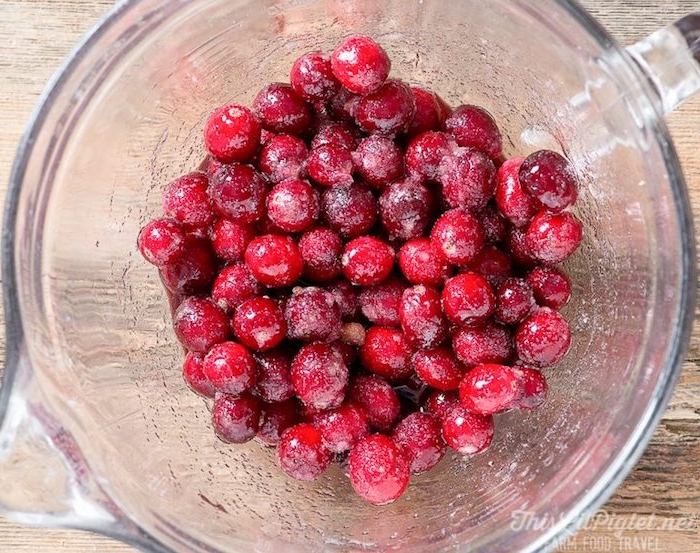 Doesn't this look absolutely delectable?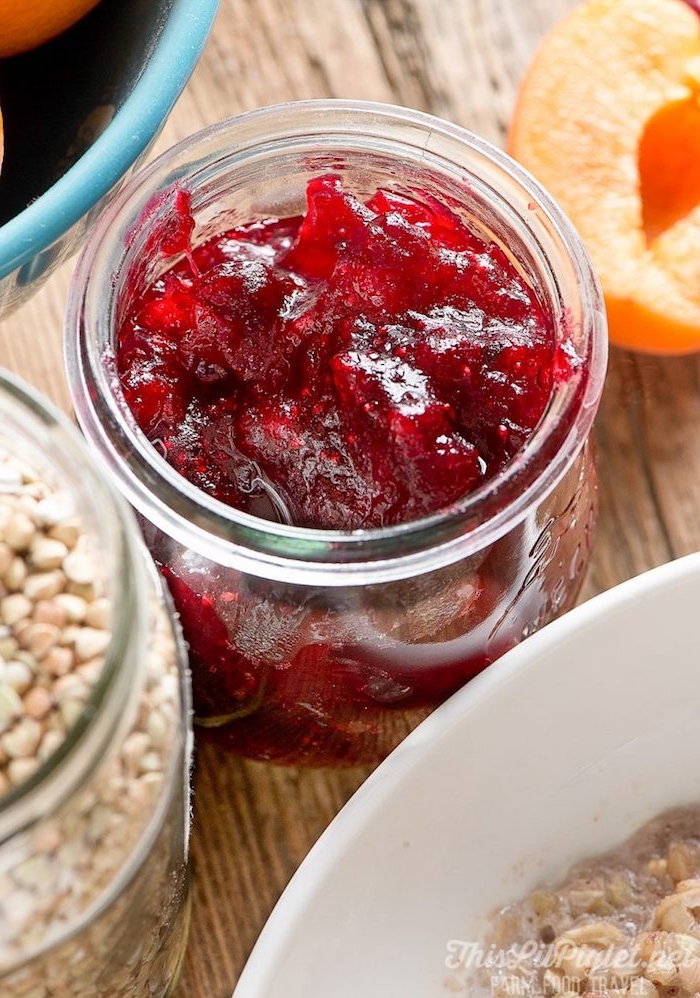 Healthy breakfast ideas – delicious buckwheat much with cranberries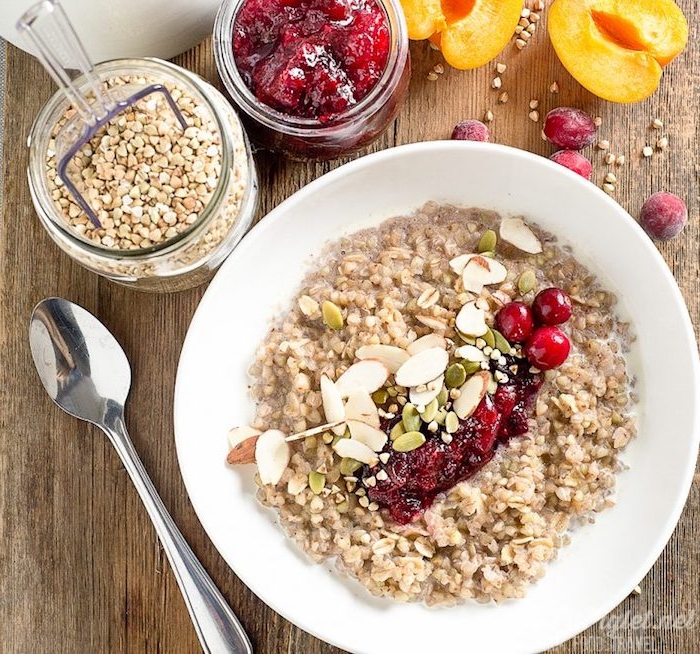 Overnight oats are yummy and very good for you! learn how to make them in the video bellow
And now a little something for those of you who prefer savory foods – pouched egg with avocado and cherry tomatoes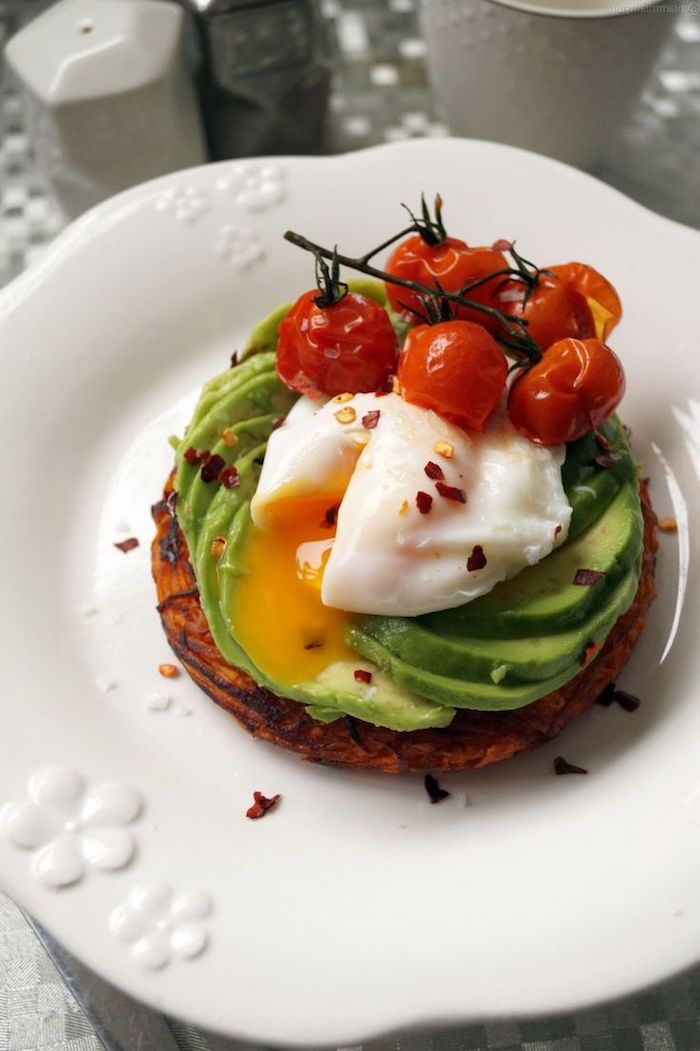 Ingredients:
1 medium size avocado
1 large egg
a few cherry tomatoes on the vine
bread of your choice (if desired)
condiments of your choice (salt, black pepper, chili flakes, a dash of lemon juice, etc)
Instructions:
This is perhaps the simplest of all of today's recipes. The only trick is getting the poached egg just right!
Take a cooking pan and half fill it with water, then add a pinch of salt, and bring to a light boil
Prepare the egg by cracking it into a dish, and only then pour it into the boiling water
It should take about 2-3 minutes for the egg to cook well but depending on your preference, you can wait a minute less or more
While the egg is boiling, peel your avocado, slice it into thin pieces, and arrange them on a plate. If desired, you can place them on a piece of bread.
Once the egg is done, carefully take it out of the pan and drain the excess water
Serve the egg on top of the avocado slices, and sprinkle with condiments of your choice.
Enjoy!
If you need some professional egg pouching tips – Jamie is here to help!
The avocado is a superfood with loads of  great health benefits!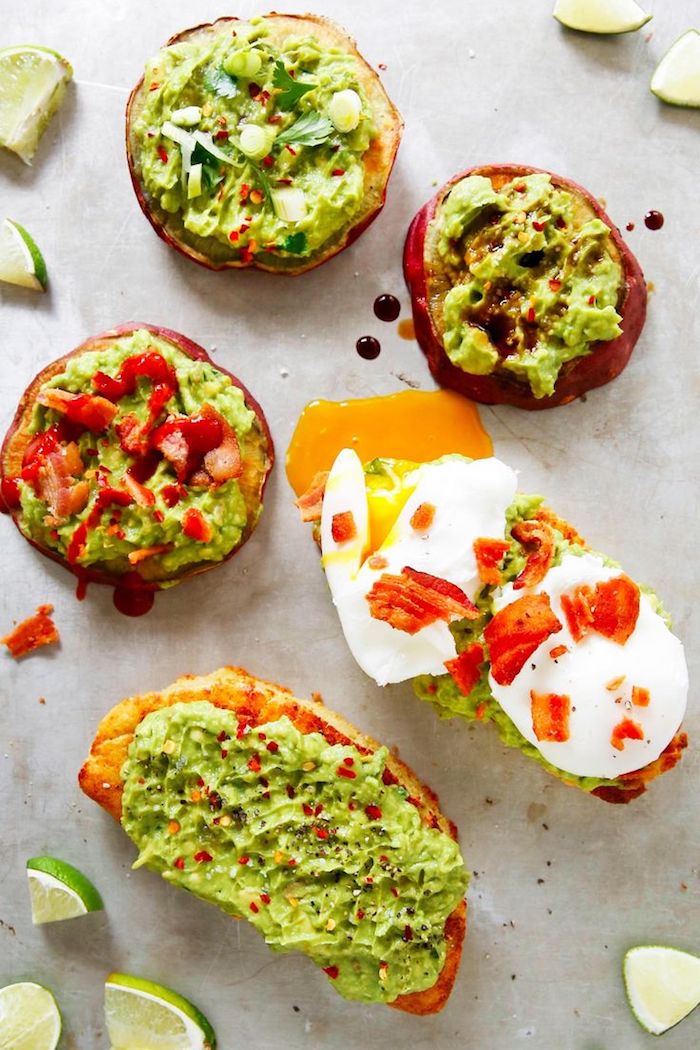 Sometimes simple is best!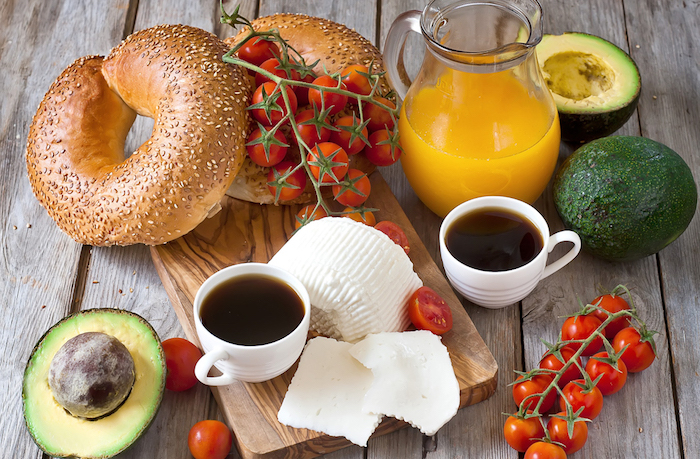 And now enjoy some of our great healthy breakfast ideas!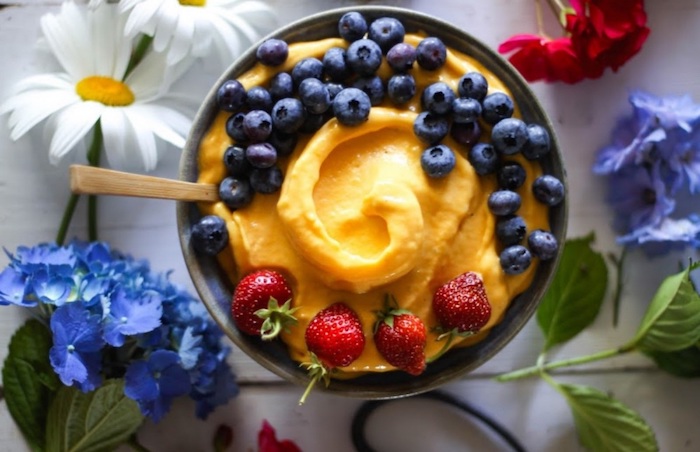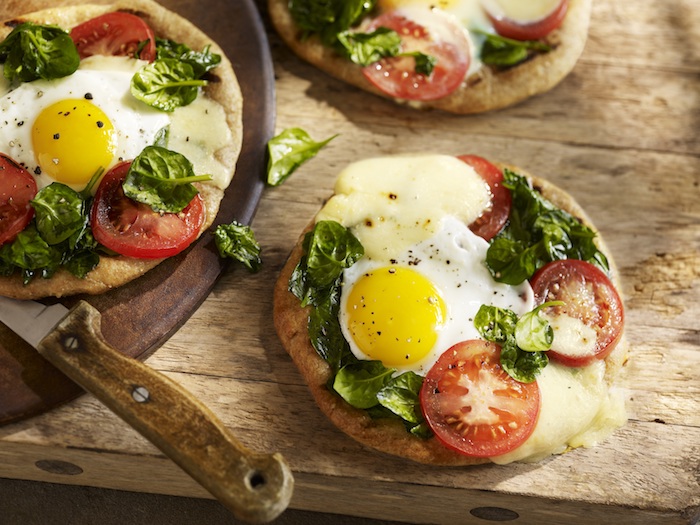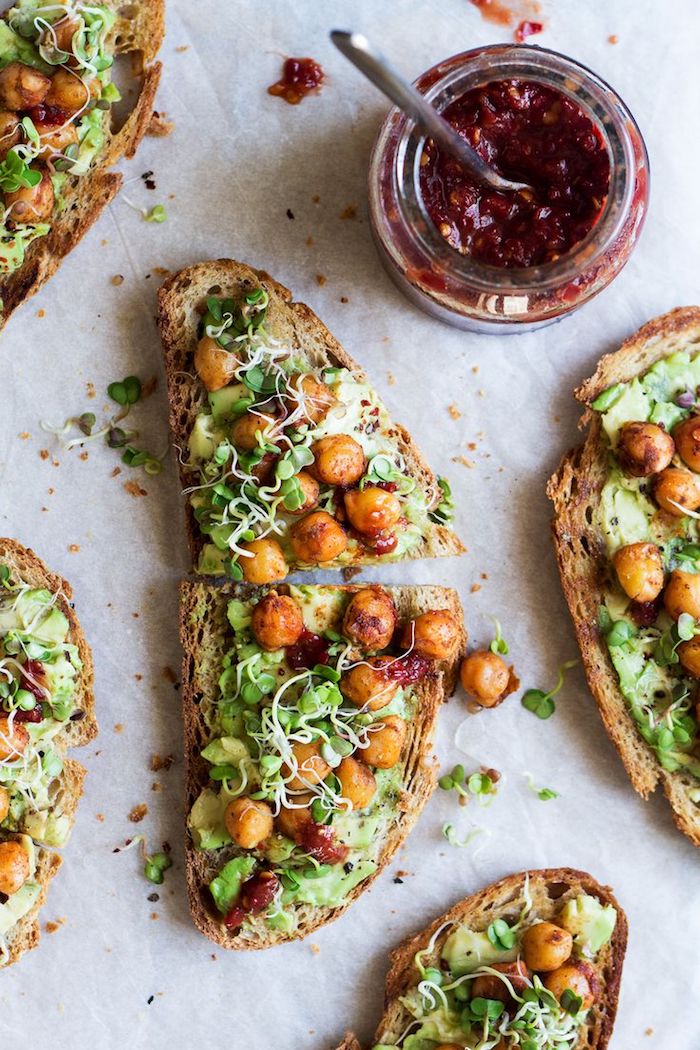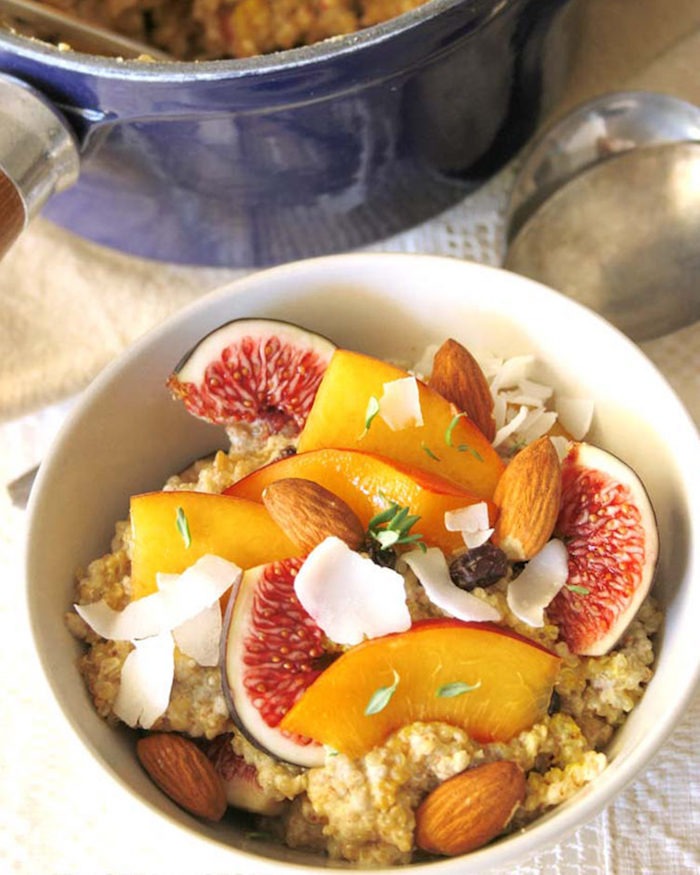 Who said healthy food can't be indulgent? We are in love with this yummy pumpkin parfait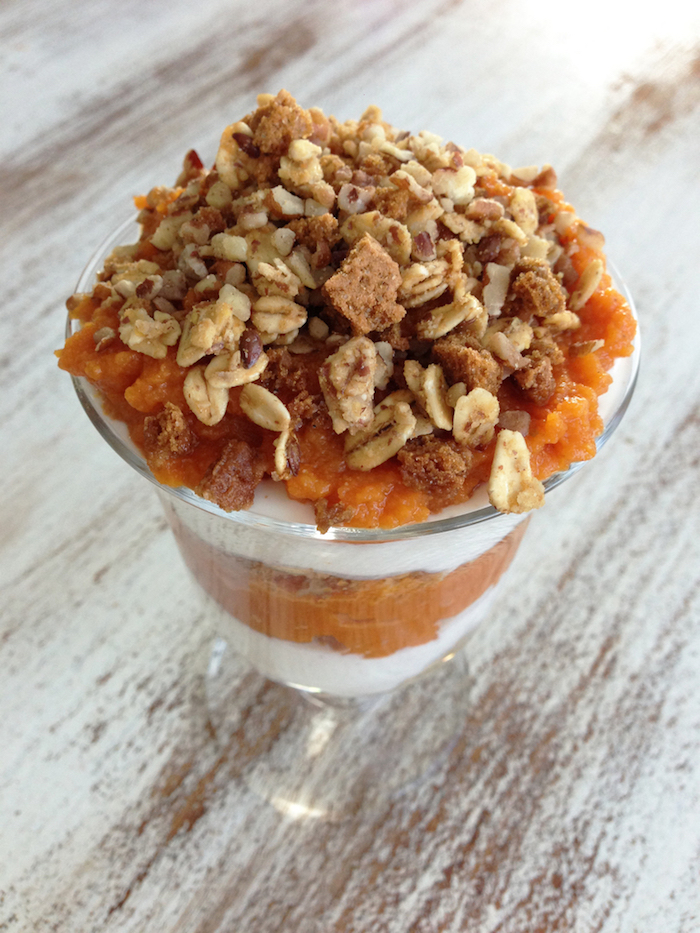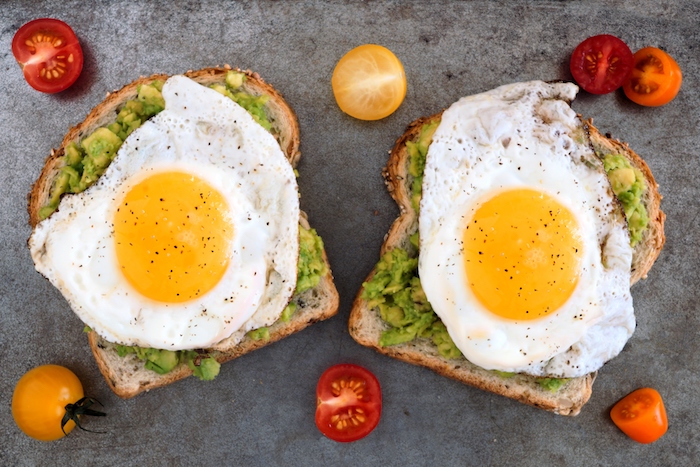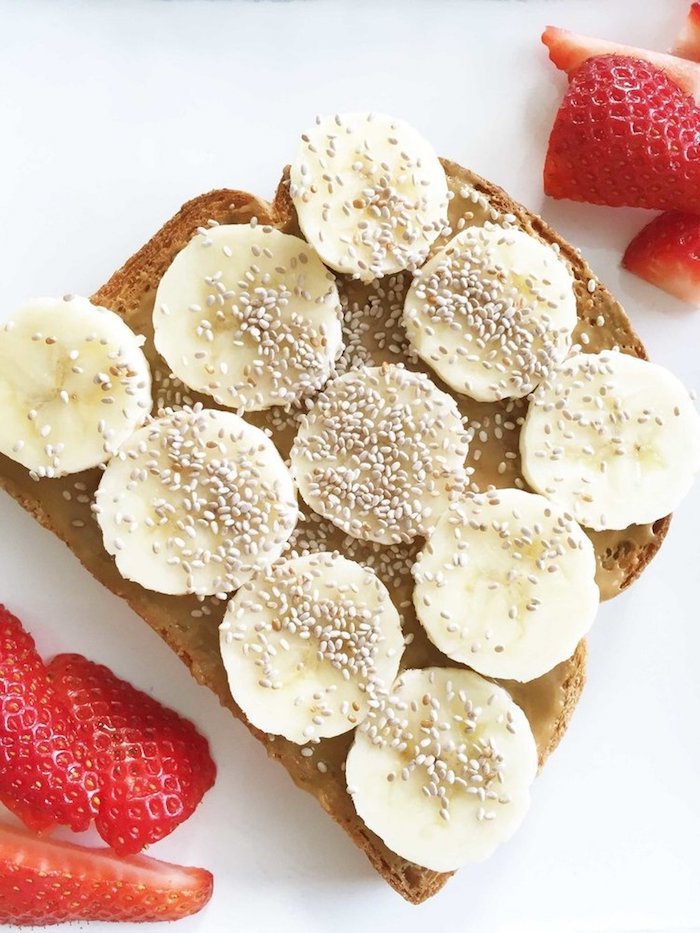 A beautiful Mediterranean breakfast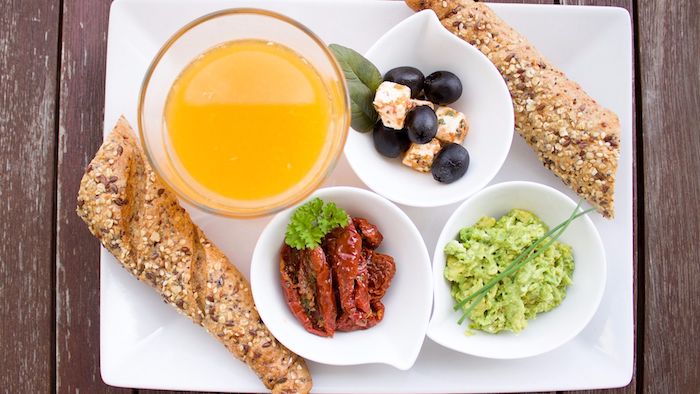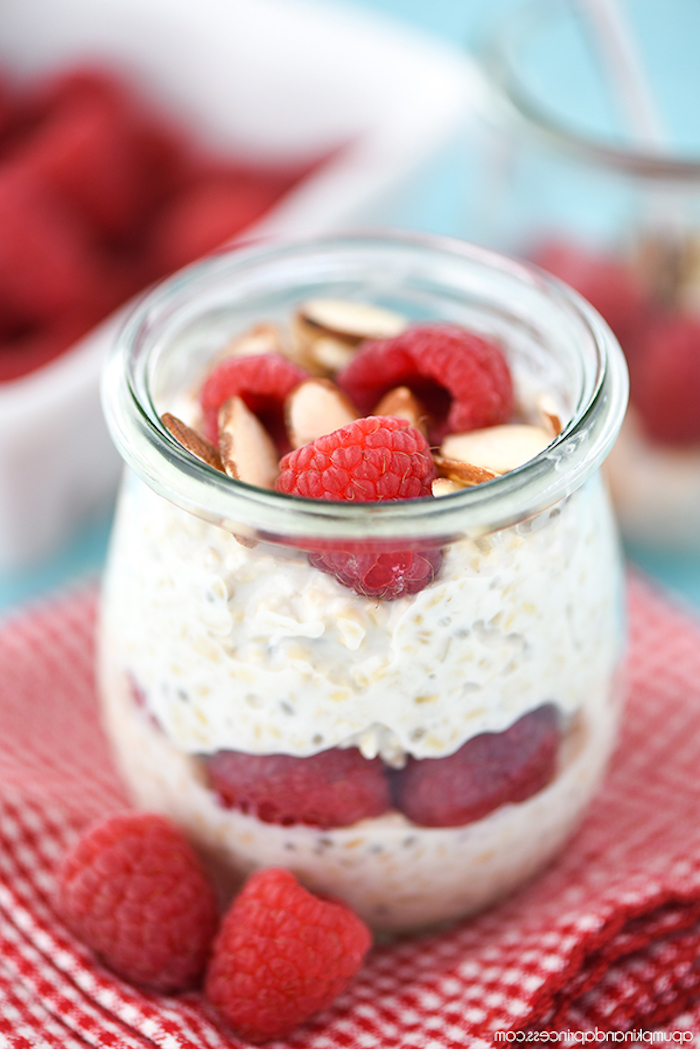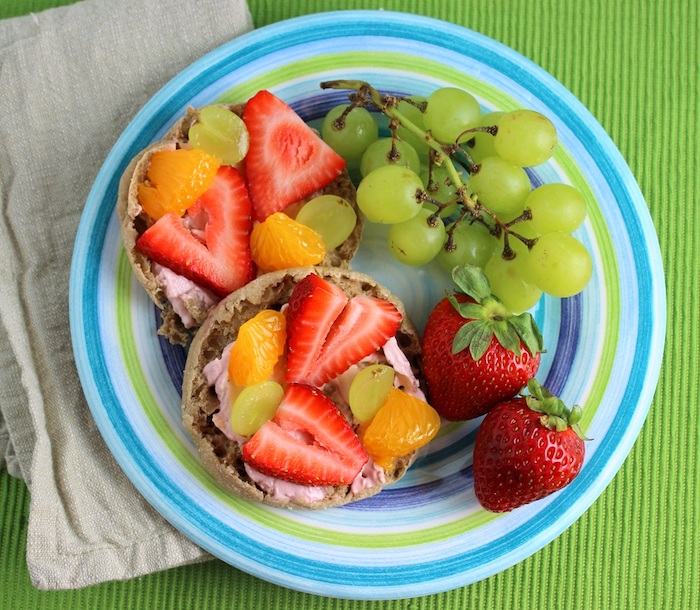 Guacamole toast can be combined with so many different flavors and toppings!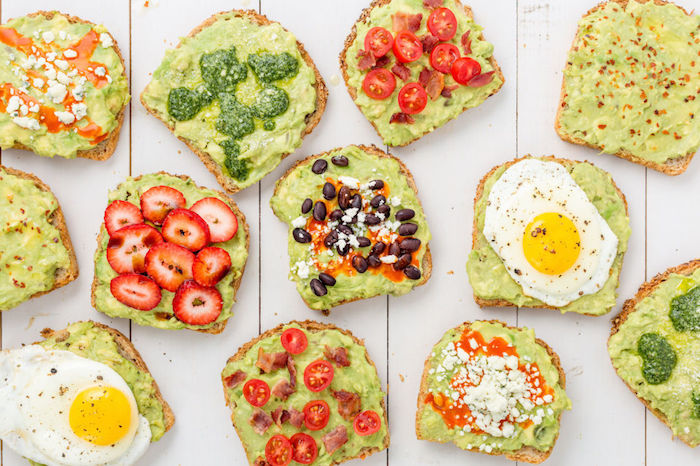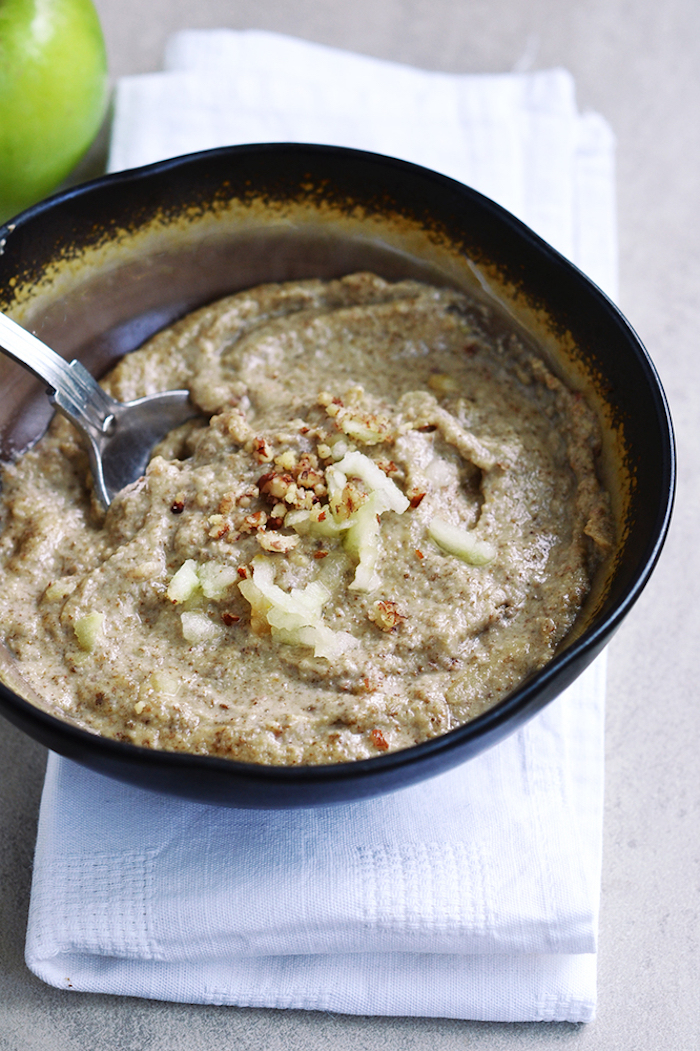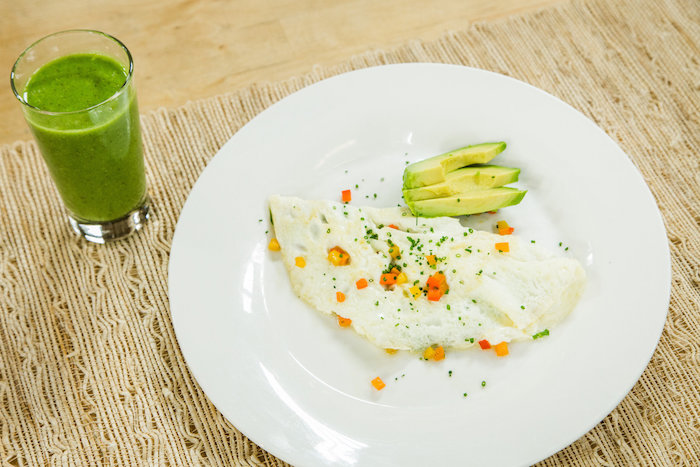 Peanut butter and banana toast with a hearty dash of cinnamon, and some frozen raspberries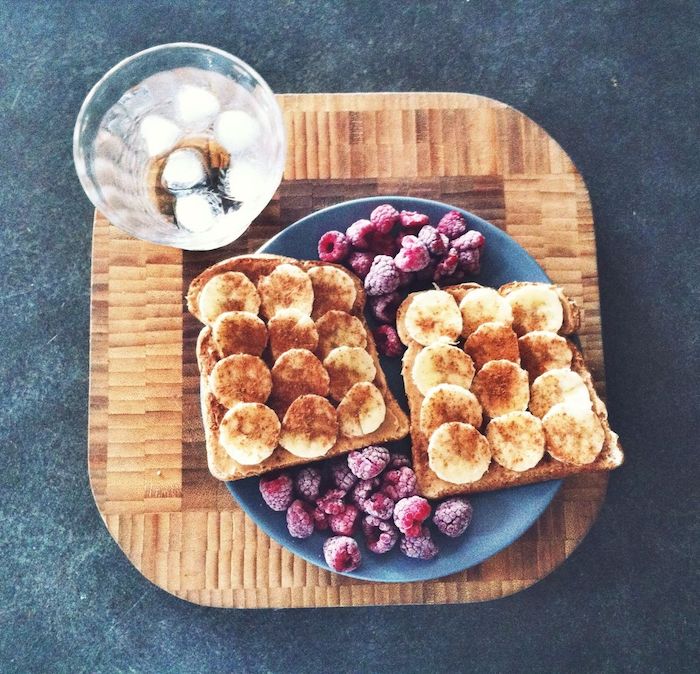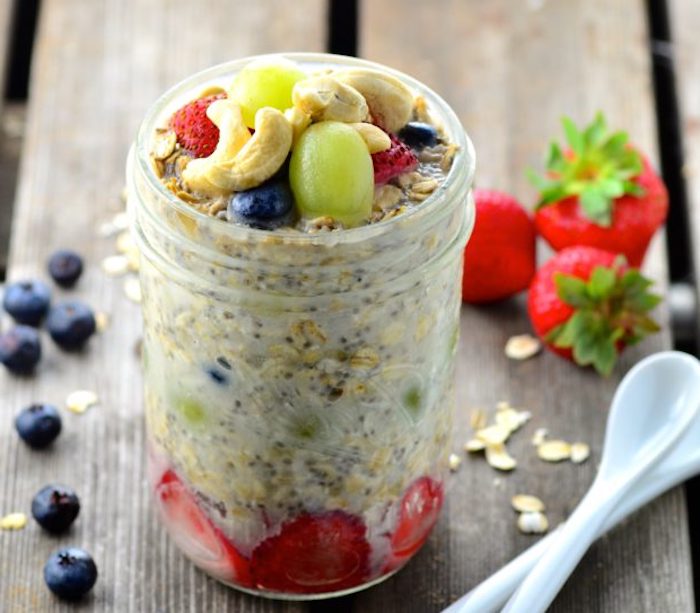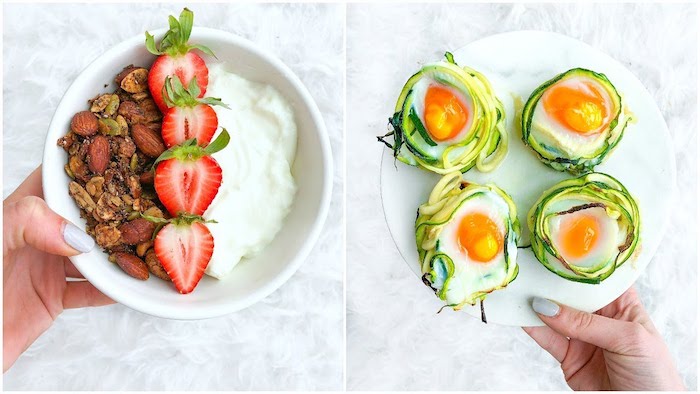 Yoghurt with muesli, a selection of seeds and fresh blueberries – a true breakfast classic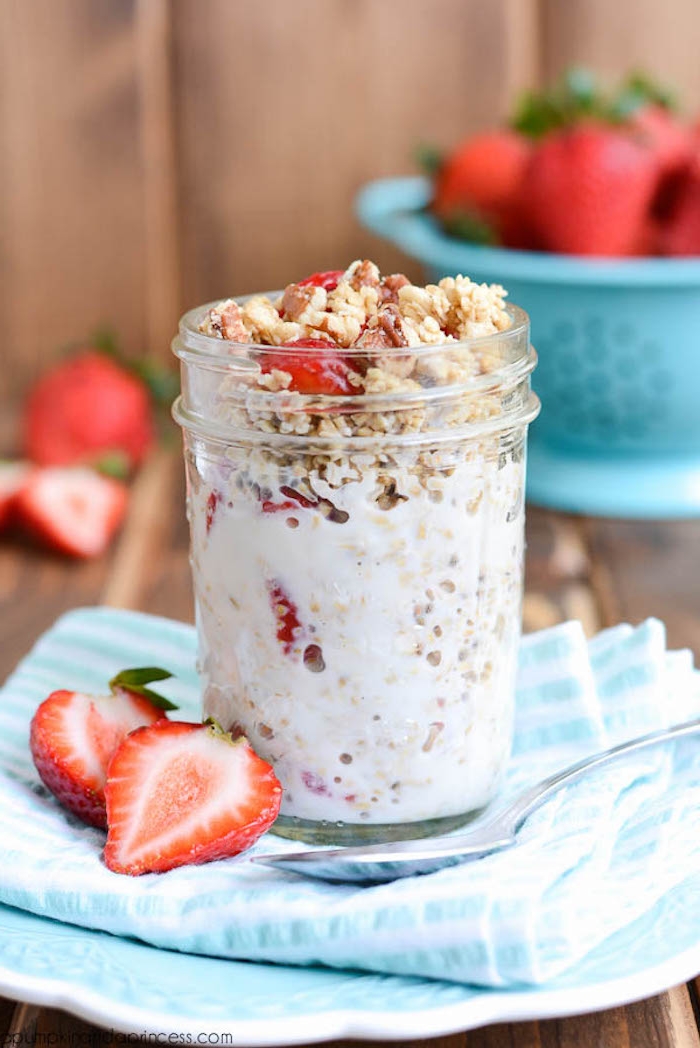 Doesn't this raspberry and banana porridge look just irresistible?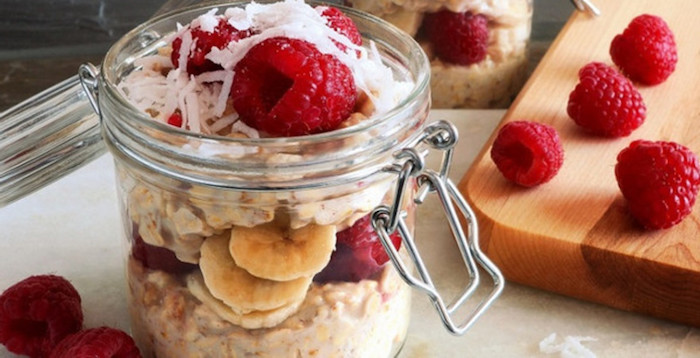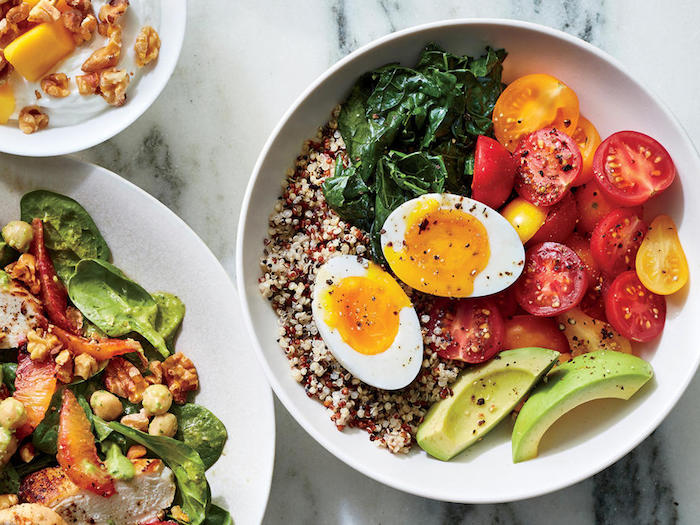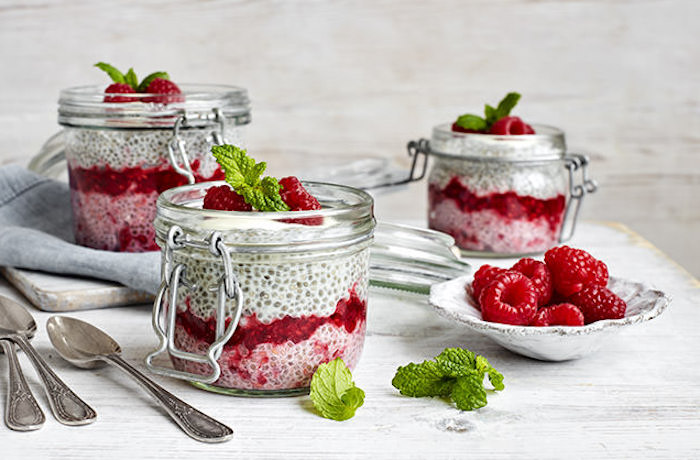 Omelettes are one of our favorite healthy breakfast ideas – as long as you substitute fatty meats and cheeses with fresh veg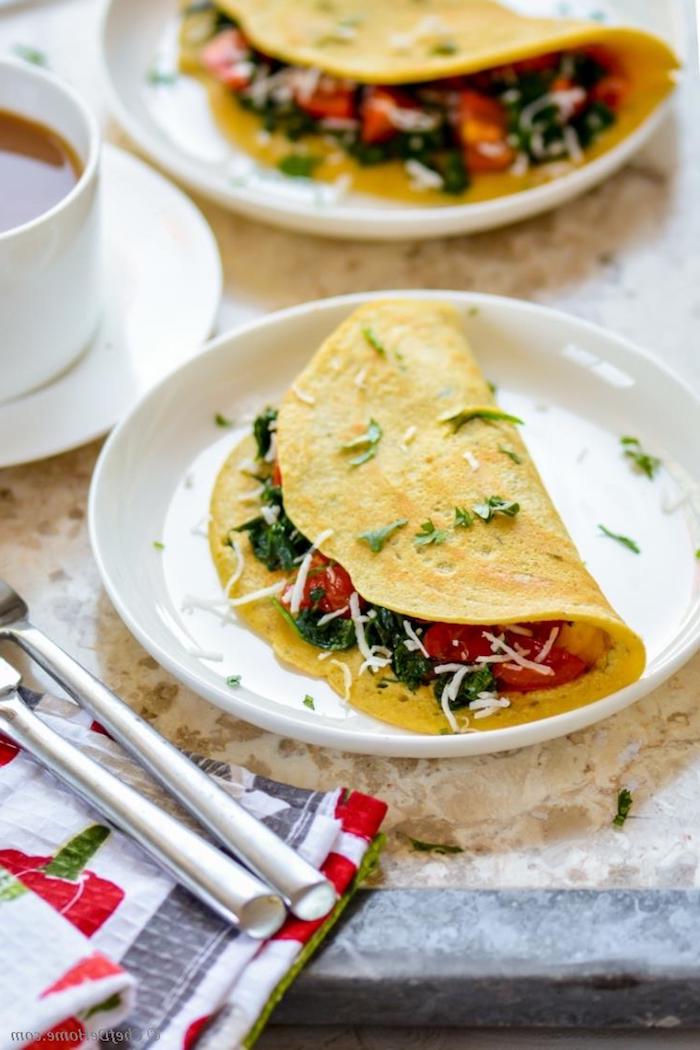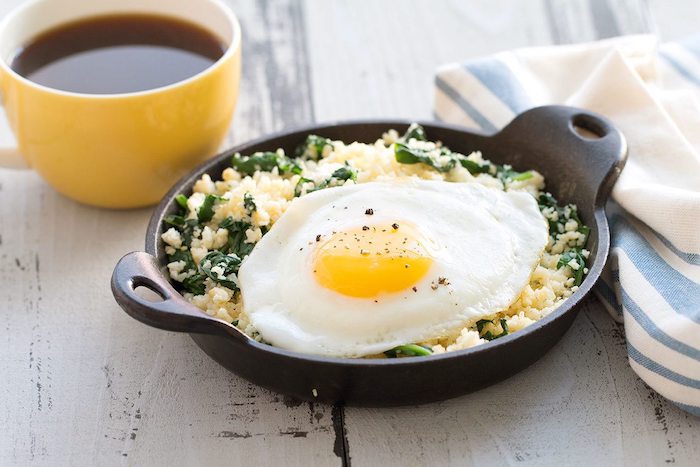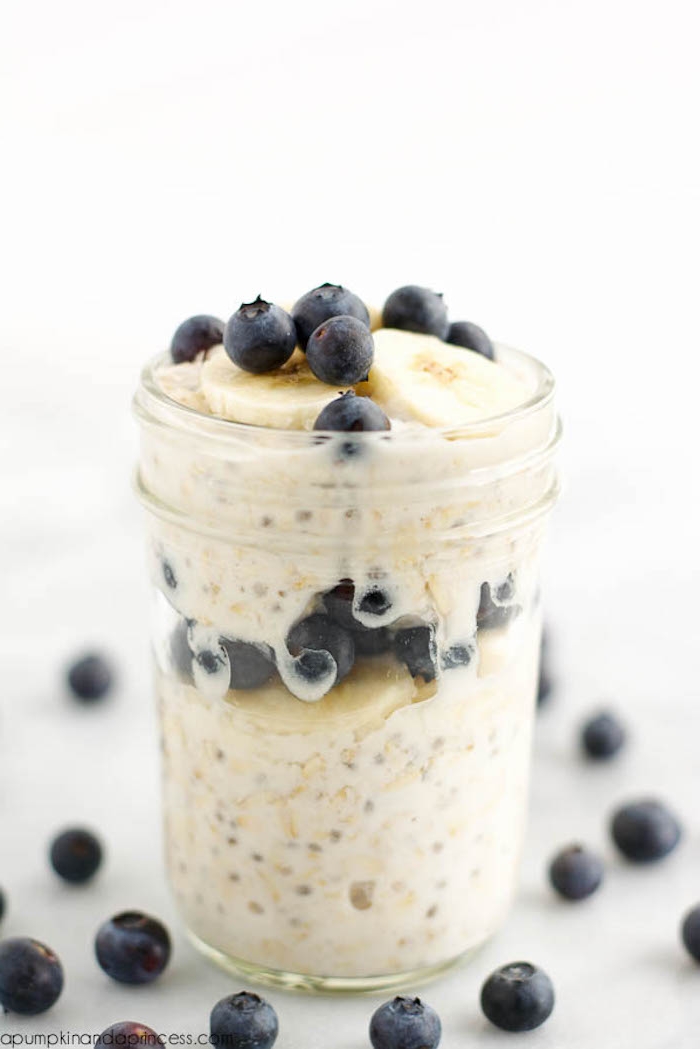 Even waffles can be ok for breakfast, as long a you stay off the jam and chocolate, and opt for fruit instead!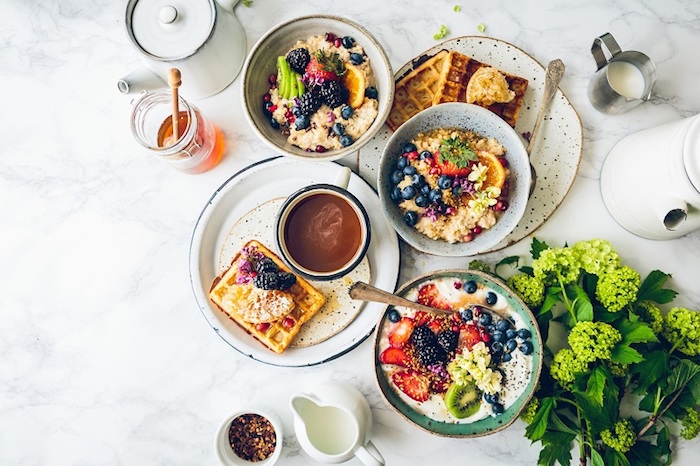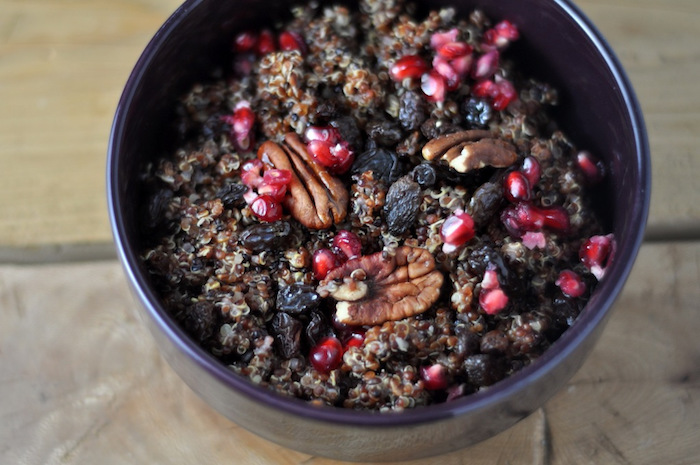 Are your little ones fussy eaters? Make breakfast more fun with these cute ideas: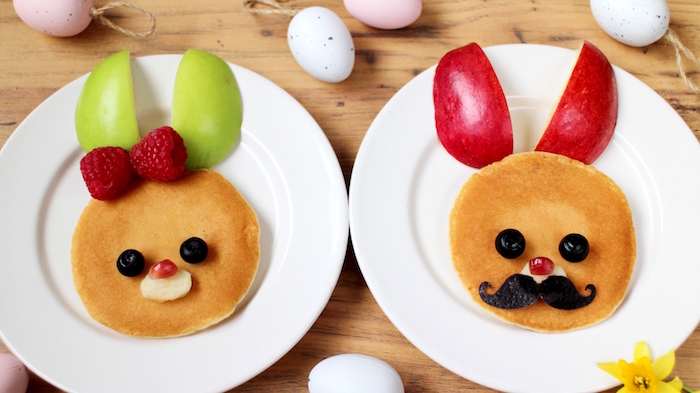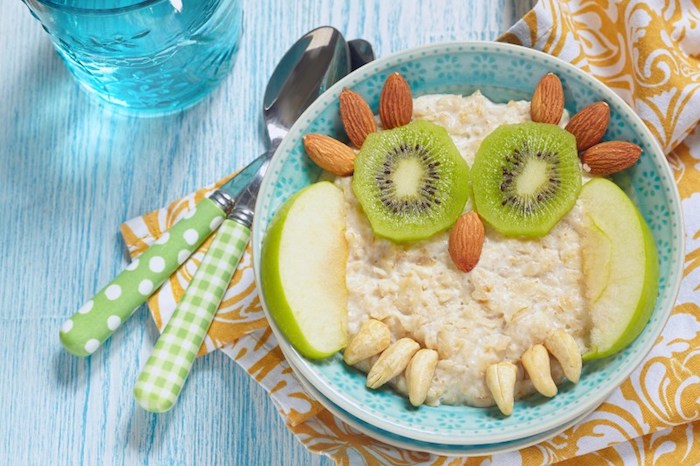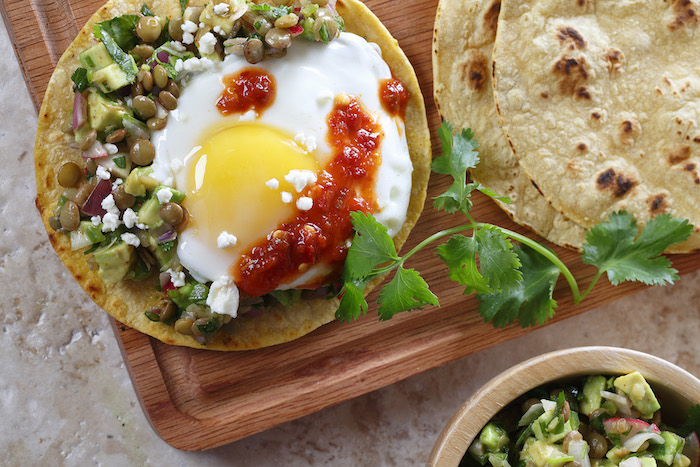 Pumpkin spice overnight oats – yes, please!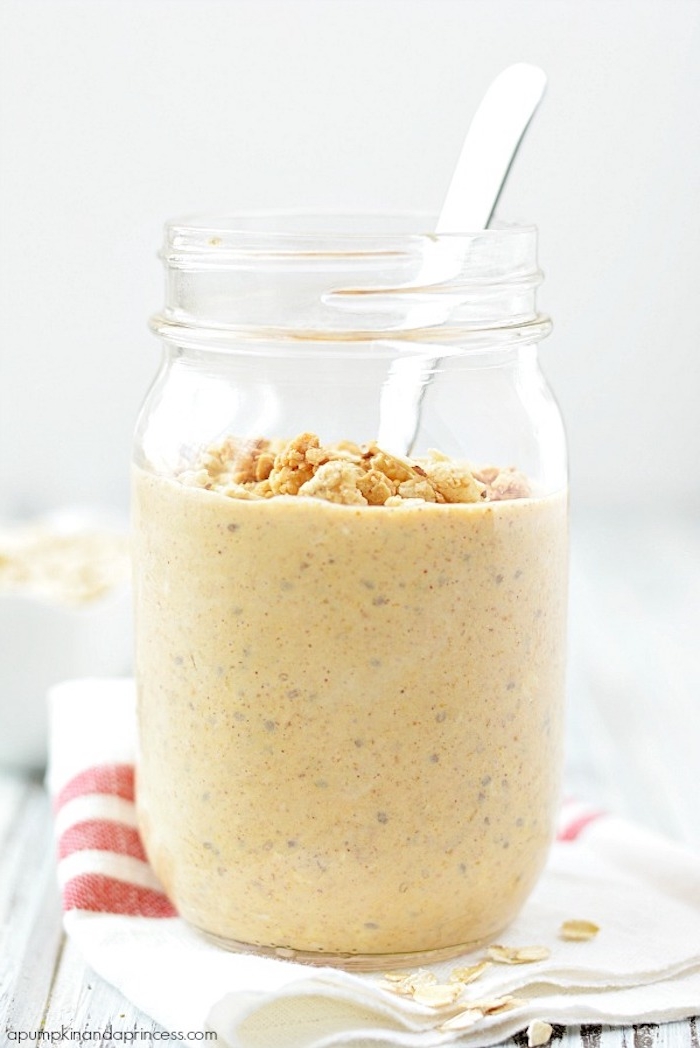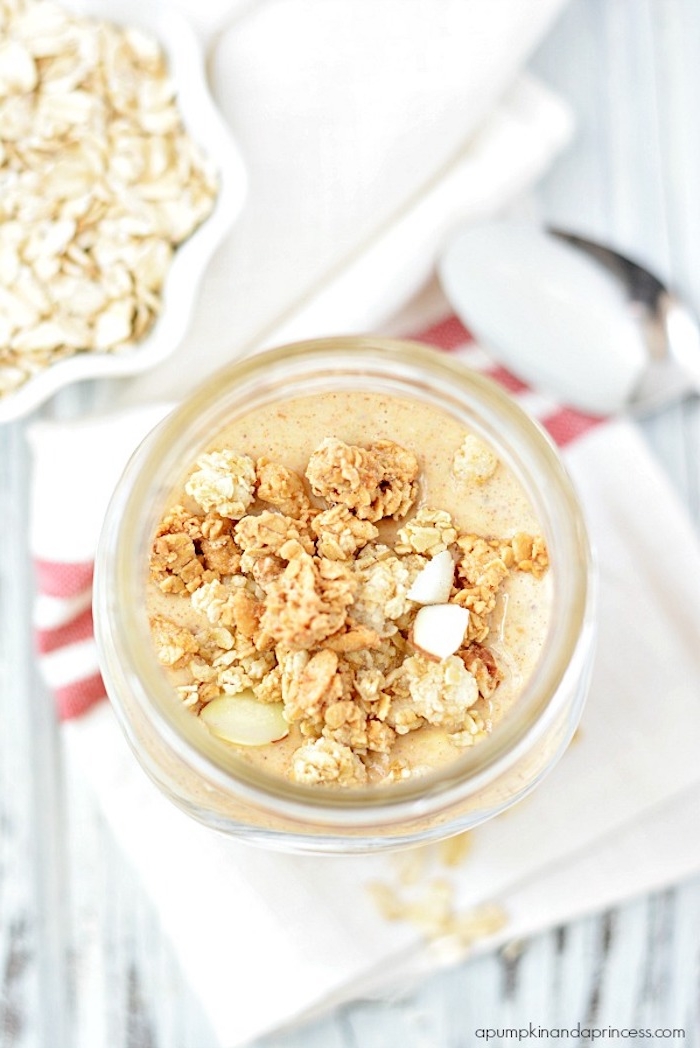 So many (healthy) options to choose from…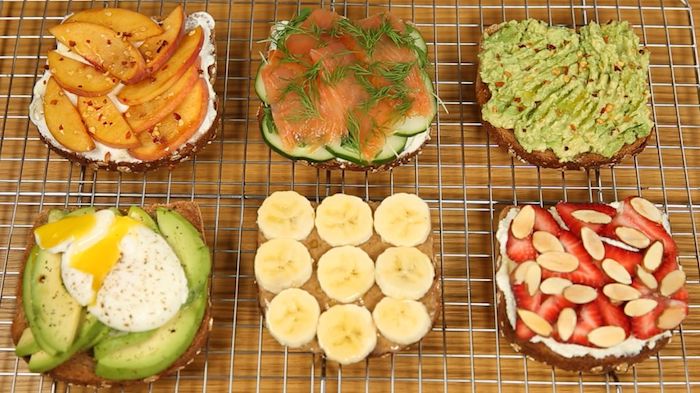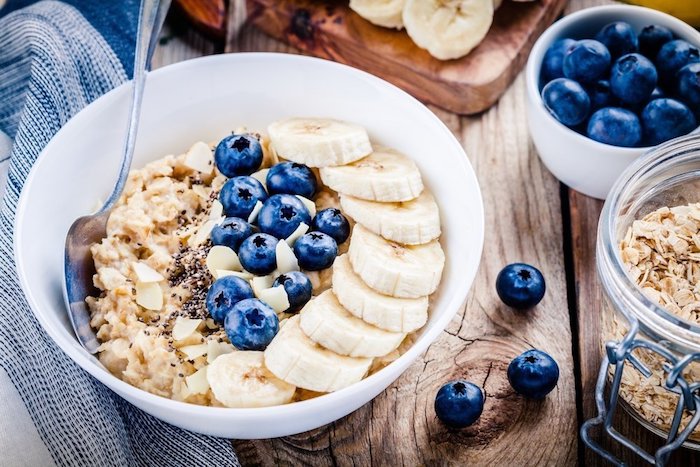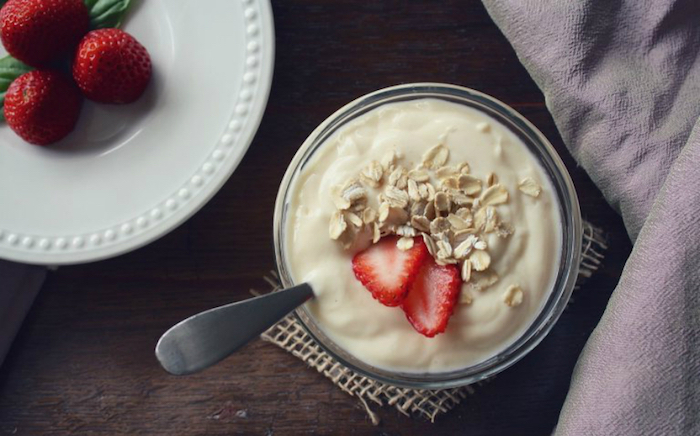 Baked apple with walnuts and honey – YUM!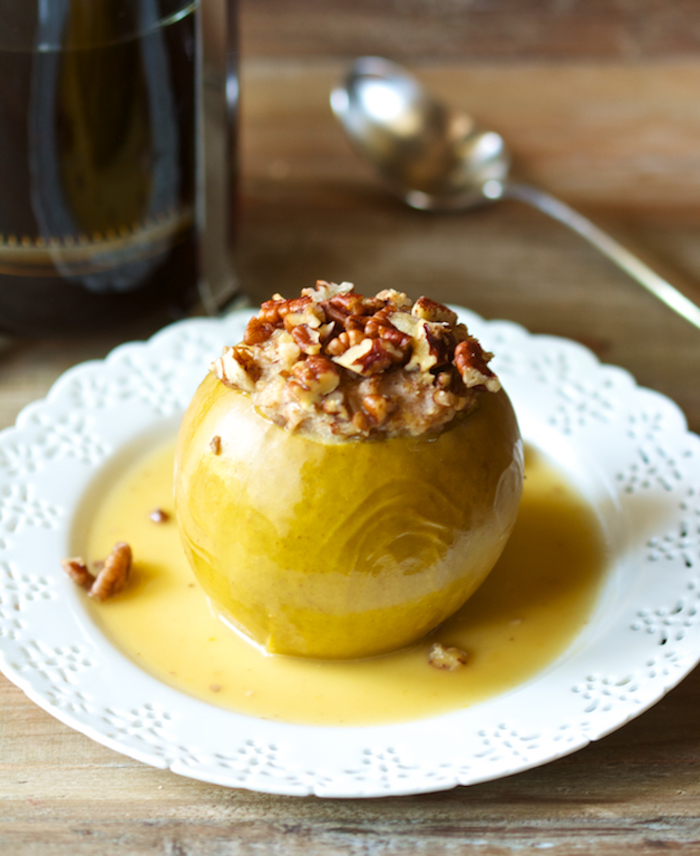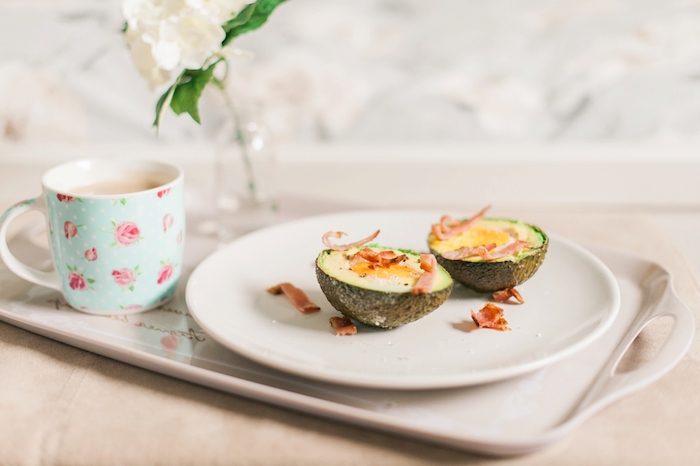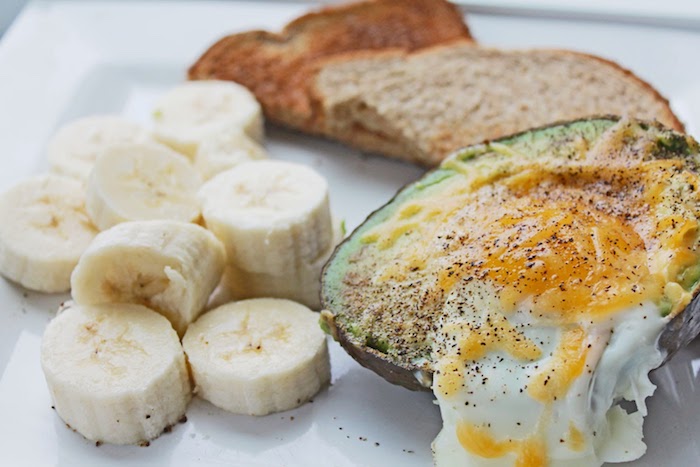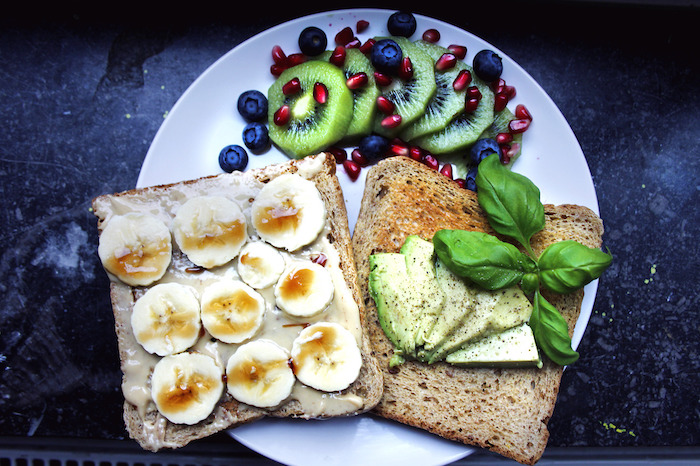 Another irresistible poached egg suggestions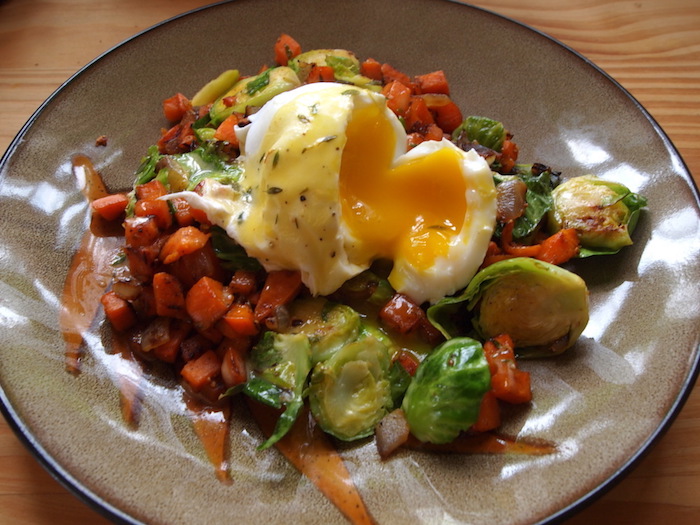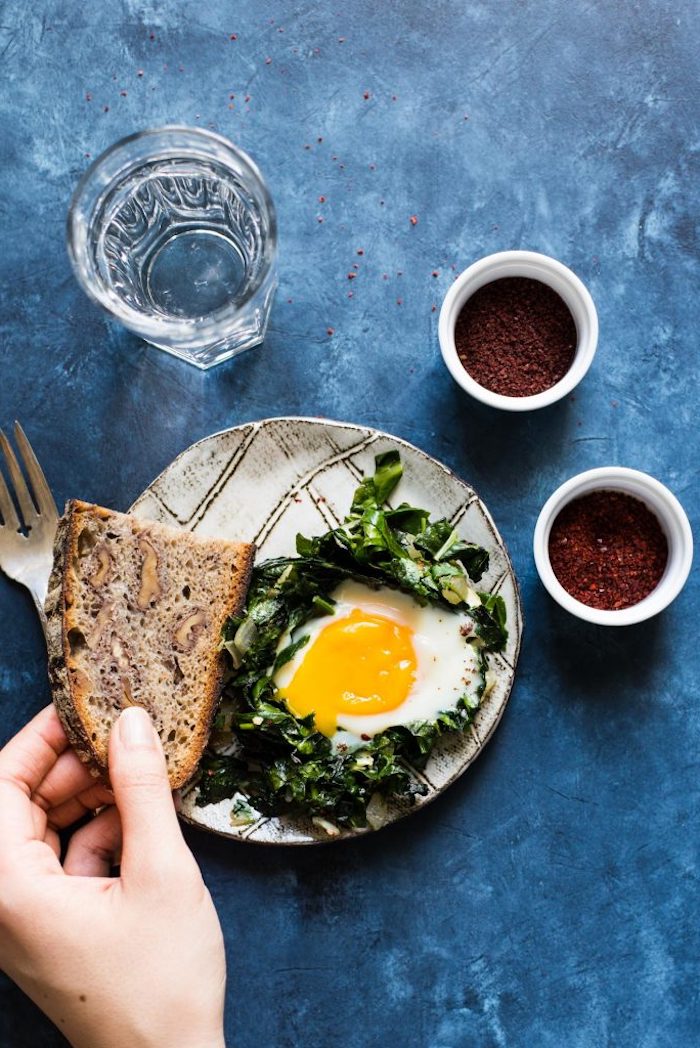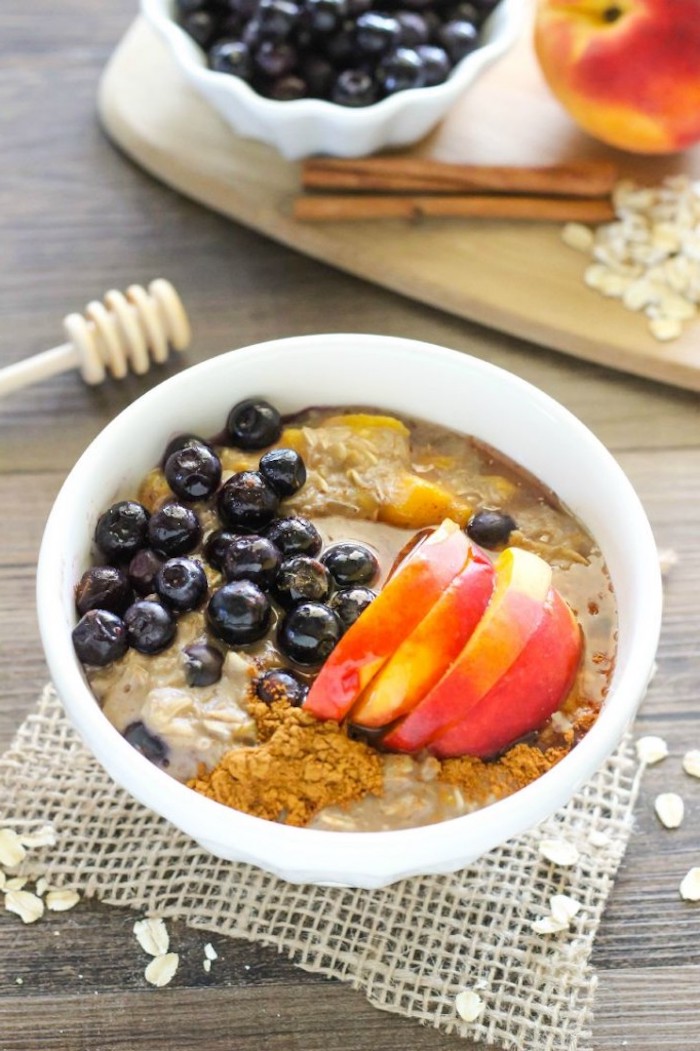 Fruit salad with muesli and yoghurt on the side – one of the easiest and most nutritious healthy breakfast ideas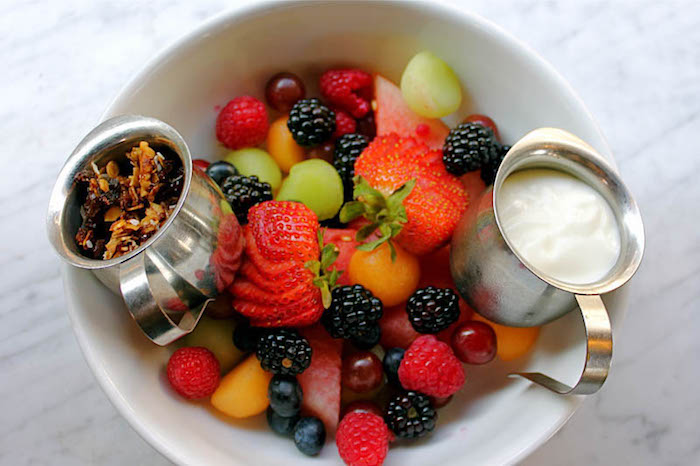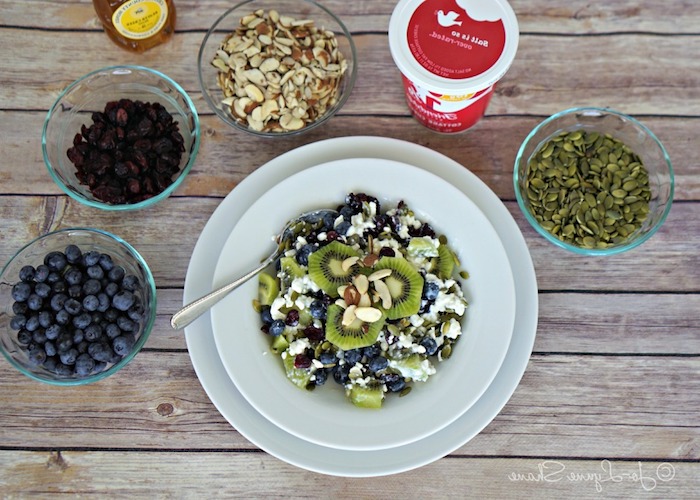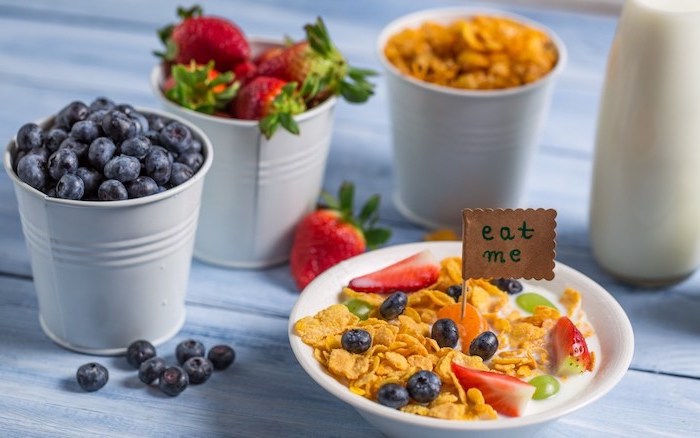 If you simply can't resist having chocolate every now and then, make sure to choose a brand that uses healthy coconut butter, as opposed to palm oil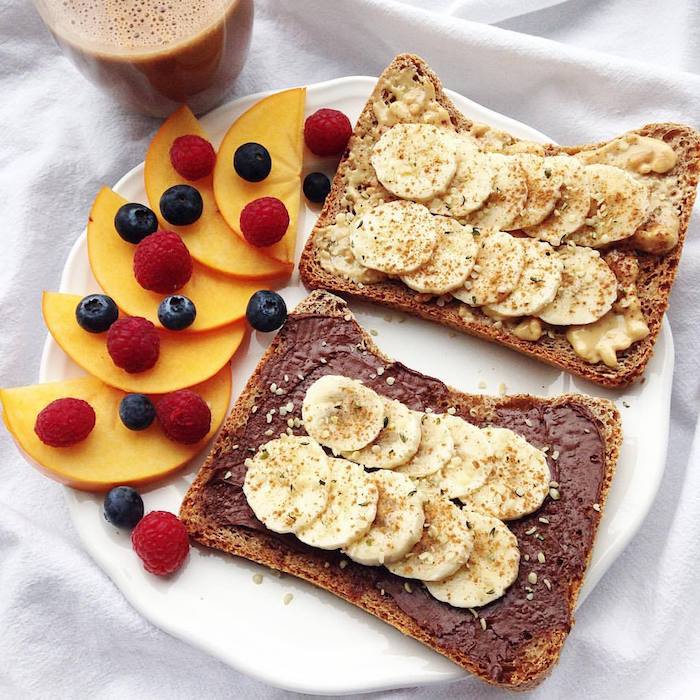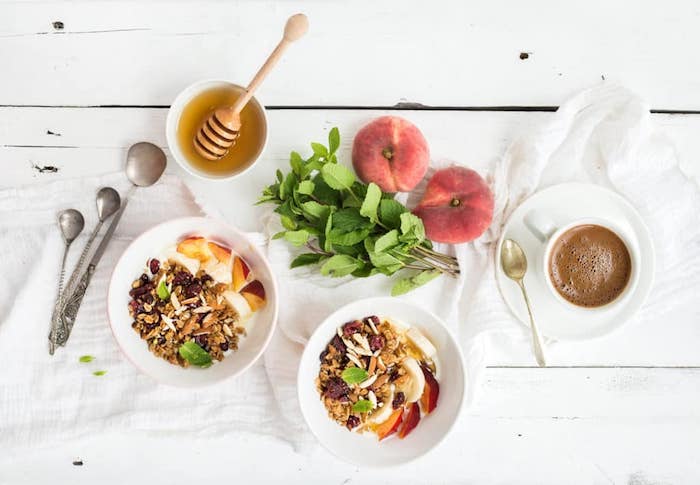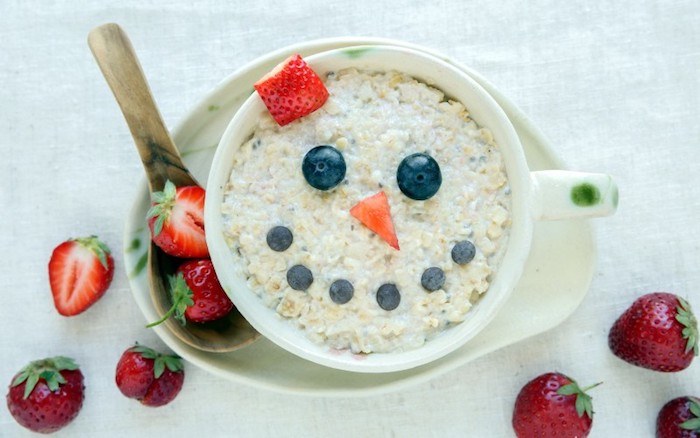 A good breakfast should keep you full until lunch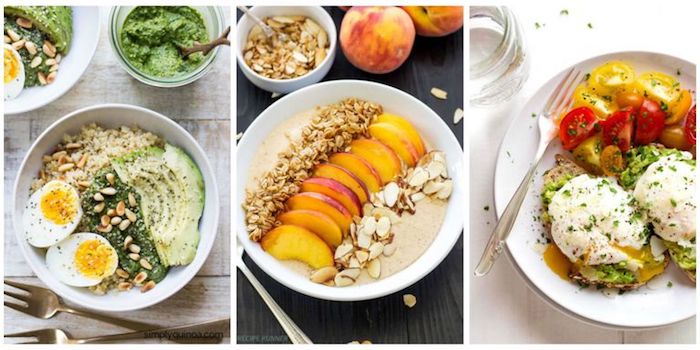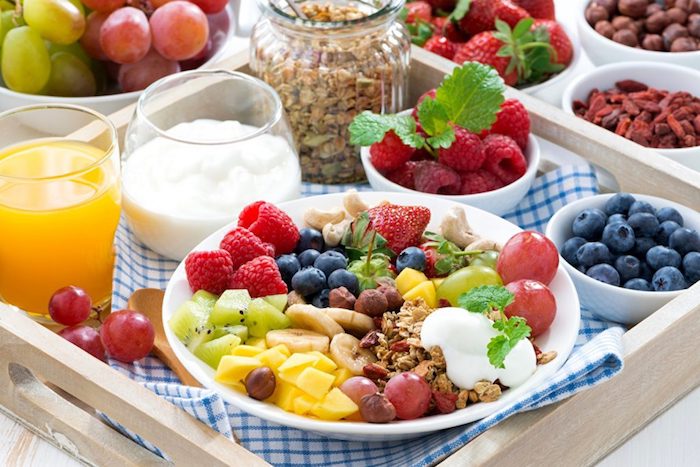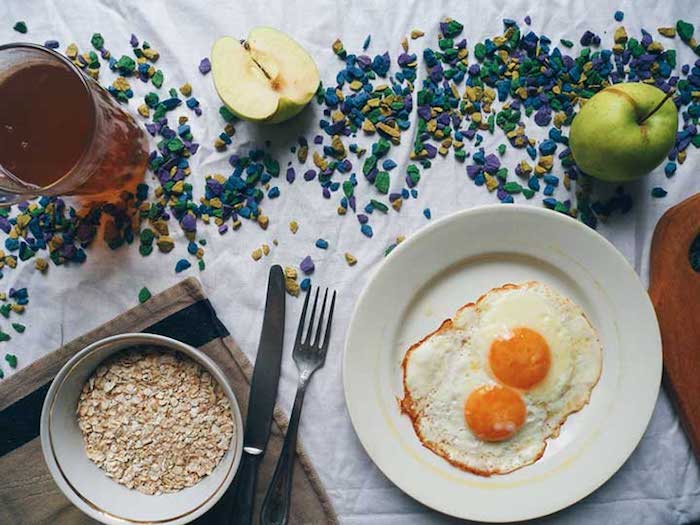 Whole grain bread with a spinach spread and boiled eggs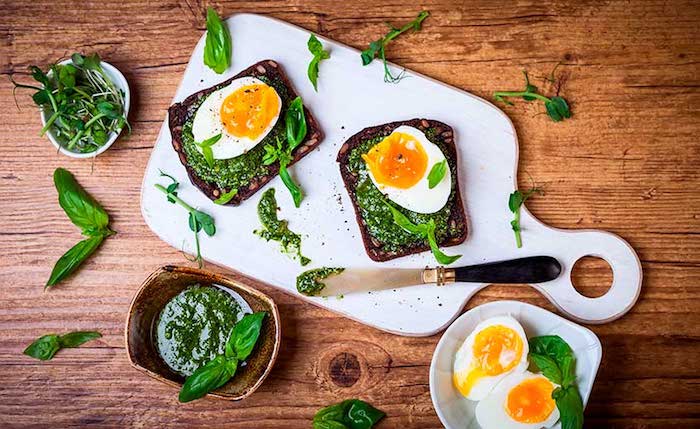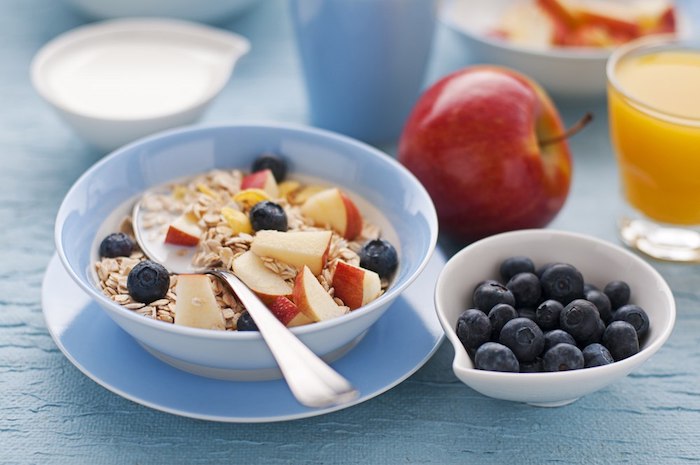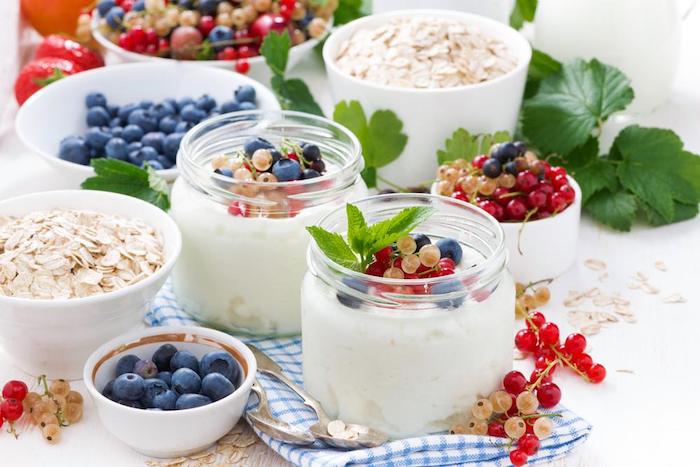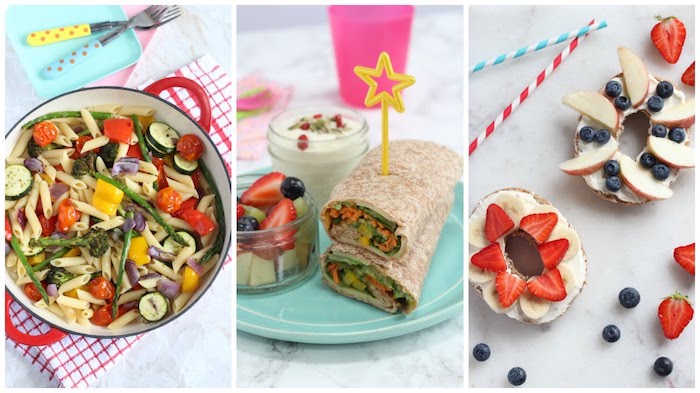 How cool is this apple sandwich with peanut butter and assorted seeds?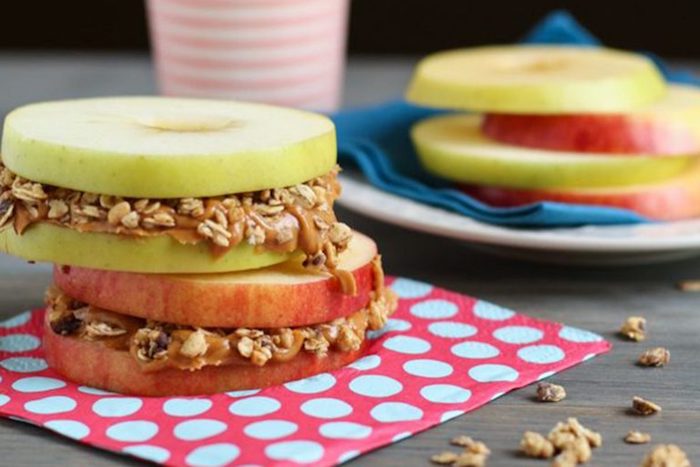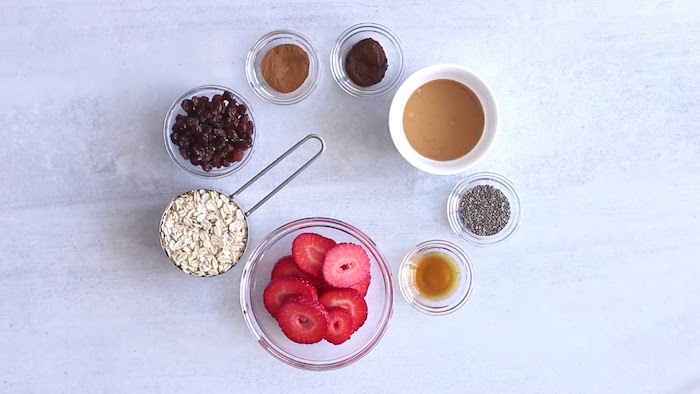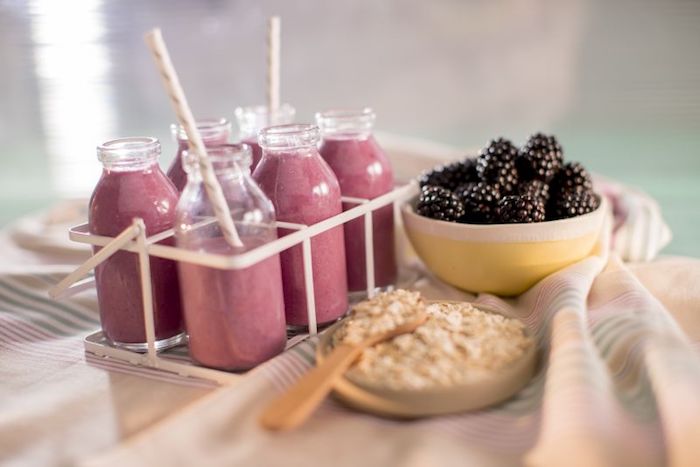 Pancakes with yoghurt, honey and fresh fruit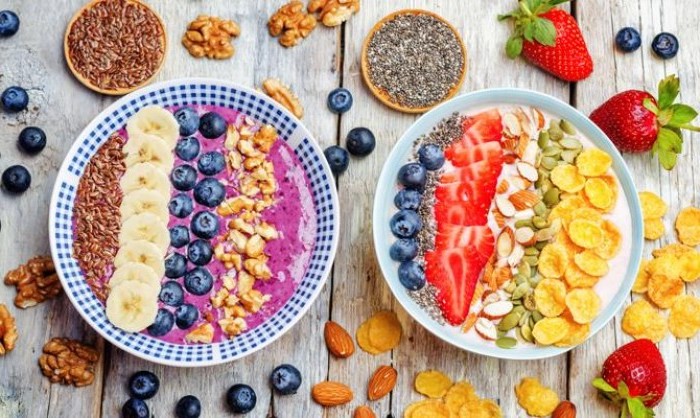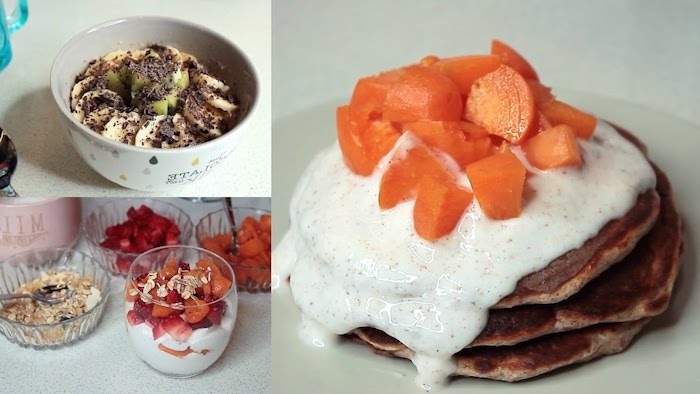 We hope you've enjoyed our ideas! Stay healthy!