Inspirational Ideas for Choosing Unique and Beautiful Bathroom Paint Colors
In the past, bathrooms used to be dominated by somewhat bland, neutral hues, such as grey, beige and white. Luckily, this trend is fading away in favor of more colorful and original solutions. Today, people are no longer limited to a few boring options – they have the whole rainbow at their disposal, and can choose among hundreds of beautiful bathroom paint colors and wall decors.
If you are planning to remodel your bathroom, but still feel unsure what hue to go for – we are here to help! Today's article is devoted to the myriad of color choices available, and includes plenty of visual inspiration. Regardless of whether you are looking for master bathroom ideas, or suggestions for small toilets, we have something for you in our gallery.
Cerulean blue is one of the most popular bathroom paint colors at the moment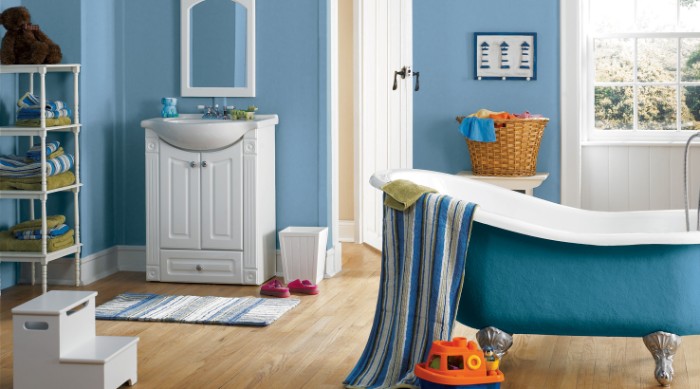 You probably know the old rule – if your bathroom is quite small, it's best to avoid dark hues, as they will make it seem even tinier. While this is definitely true, it doesn't necessarily mean you are stuck with plain white walls forever! One way to include color in a small bathroom's palette without optically shrinking it, is by opting for lighter hues, combined with an accent wall in a bright, vivid shade. Including white wooden paneling is another great solution, as it will create a bright, balanced look. If you prefer, you can replace paneling with tiles in light colors.
A gorgeous example of a small bathroom with intense blue walls, balanced out by the inclusion of white subway tiles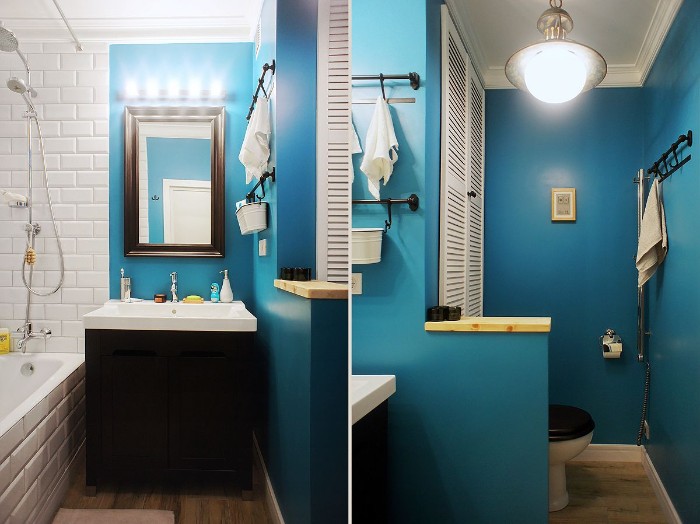 If your bathroom is bigger, or has windows that supply enough natural lighting during the day, you can experiment with deeper and darker colors. Navy, red and even black have become increasingly popular in recent years. They are excellent choices and will add a lot of character to your bathroom, but it is advisable to combine them with furniture in lighter colors, in order to avoid oversaturation.
For those of you who are planning to paint your bathroom on your own, this video has some great tips:
And now it's time to enjoy our gallery! We have selected over 60 amazing ideas for unique bathroom paint colors that will transform even the most boring and bland room into a chic and stylish space. Let us know which one is your favorite and don't forget to check out our Bath Section for more ideas and inspiration.
We love this edgy design!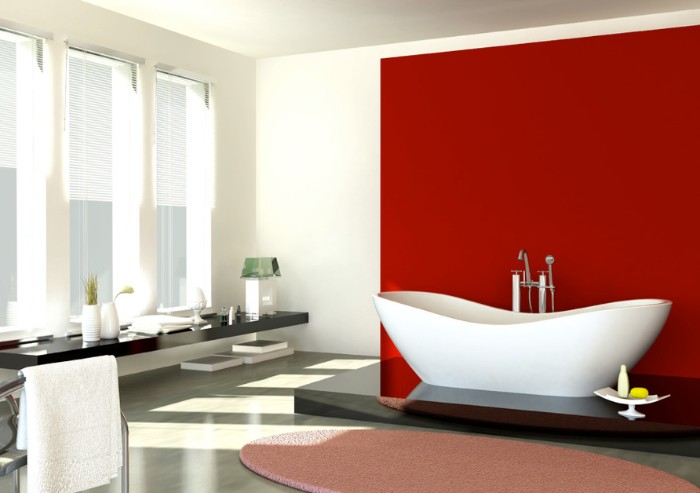 The white wooden paneling nicely complements the dark blue walls of this lovely and bright bathroom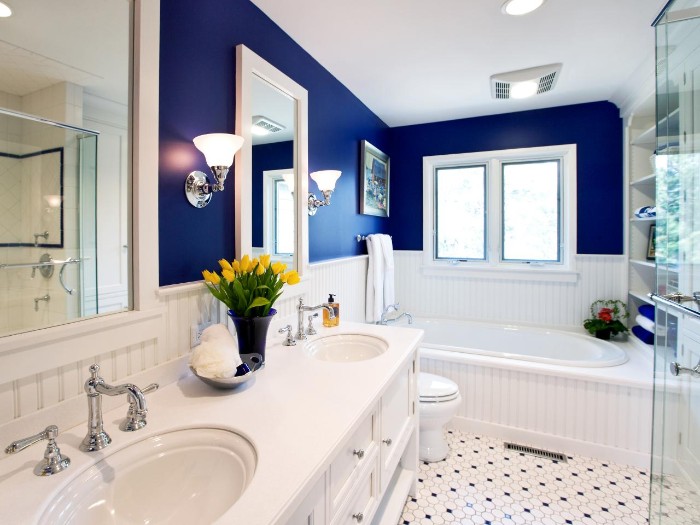 Duck's egg blue wooden paneling and white walls – a heavenly combination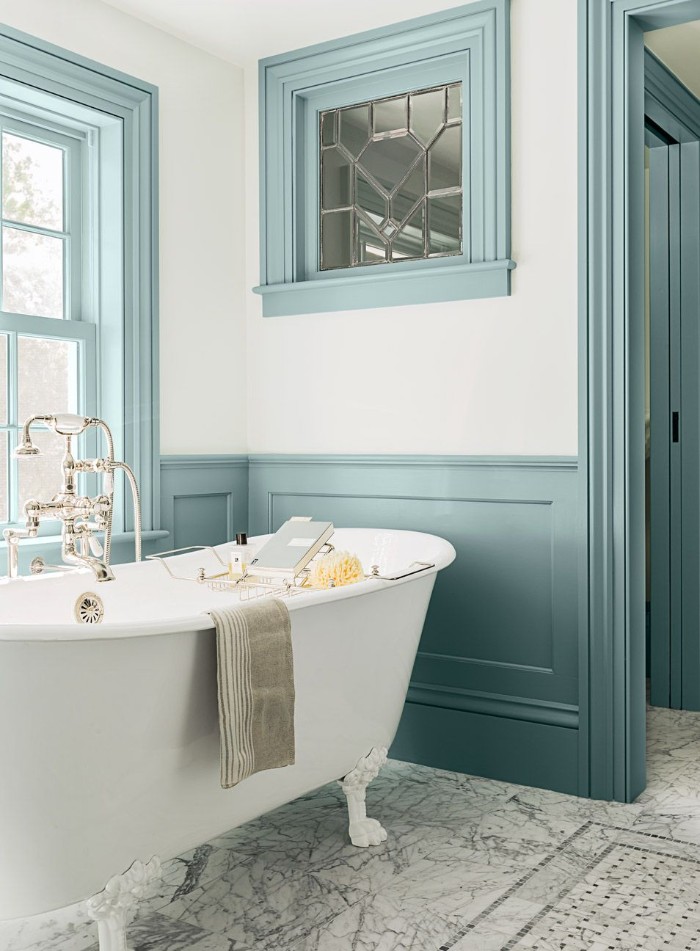 Here, the dark brown wooden panels are balanced out by a large window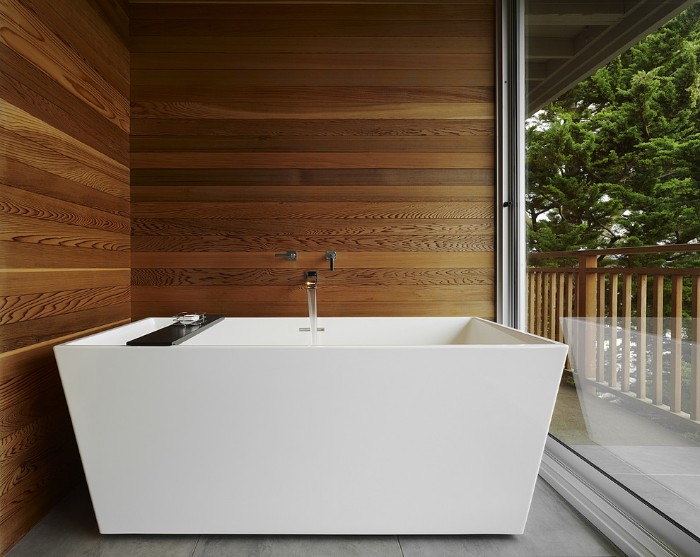 A lovely and unique design, combining beehive-style tiles, and bathroom paint colors in gentle shades of blue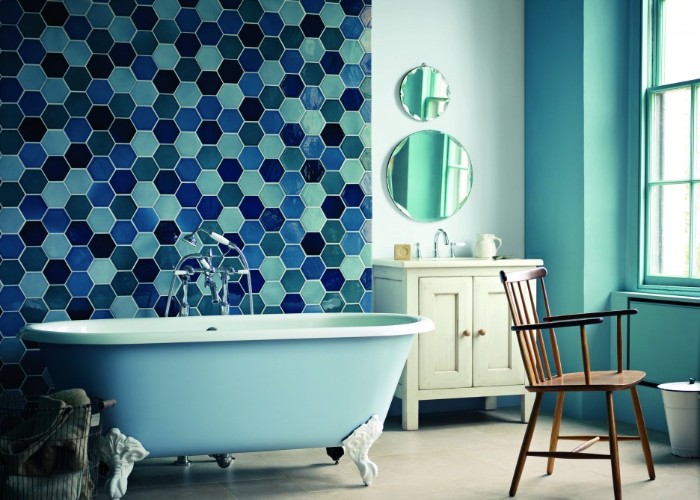 Playful green bathroom with cute and quirky decor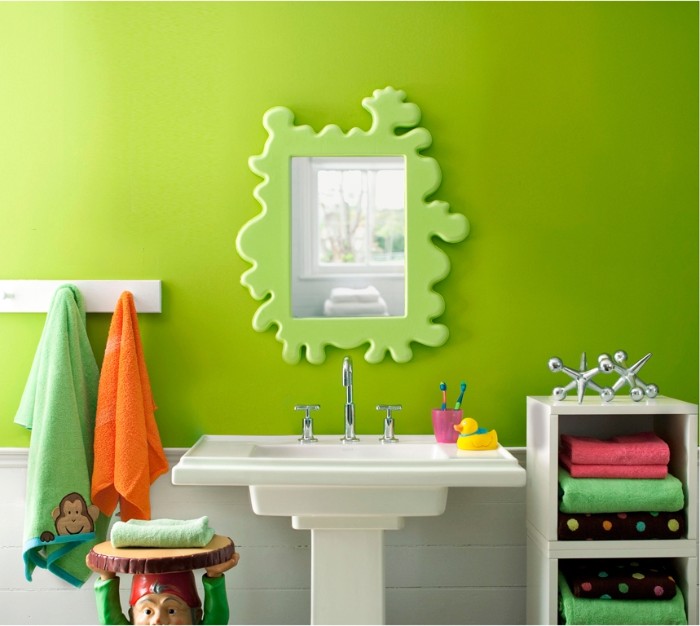 What do you think of this striped white and yellow wall design?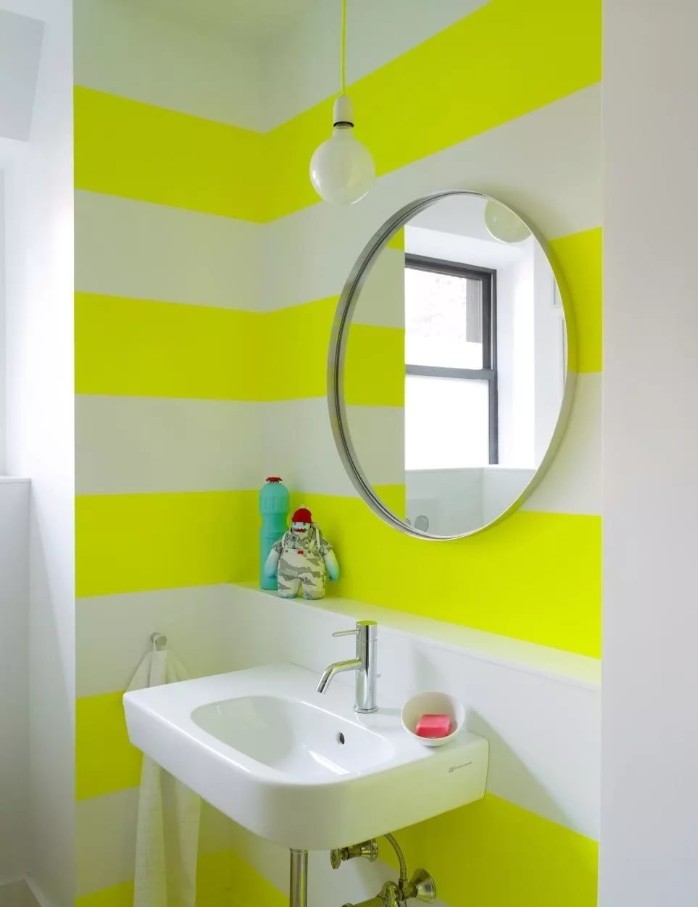 Sunny and warm canary yellow bathroom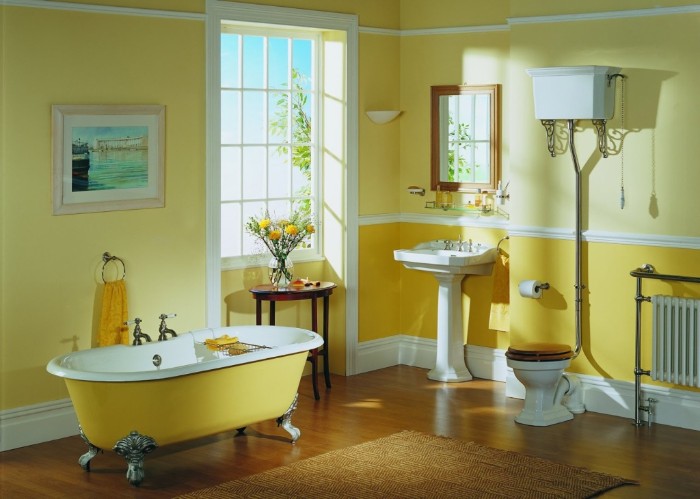 Orange is also an excellent choice, especially when combined with white tiles and furniture!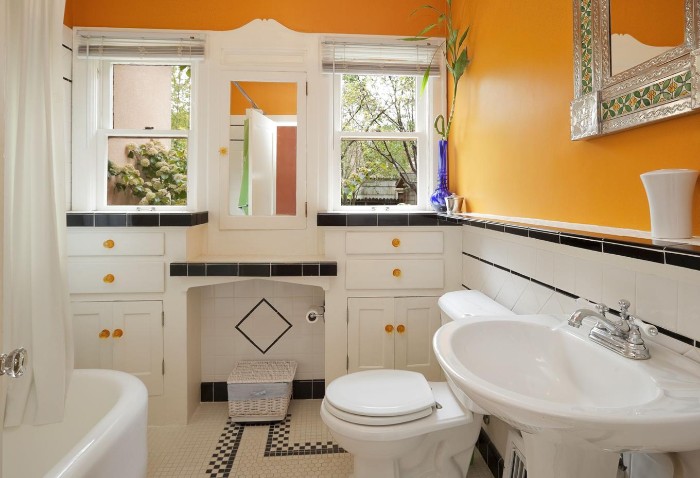 A bold reddish-orange design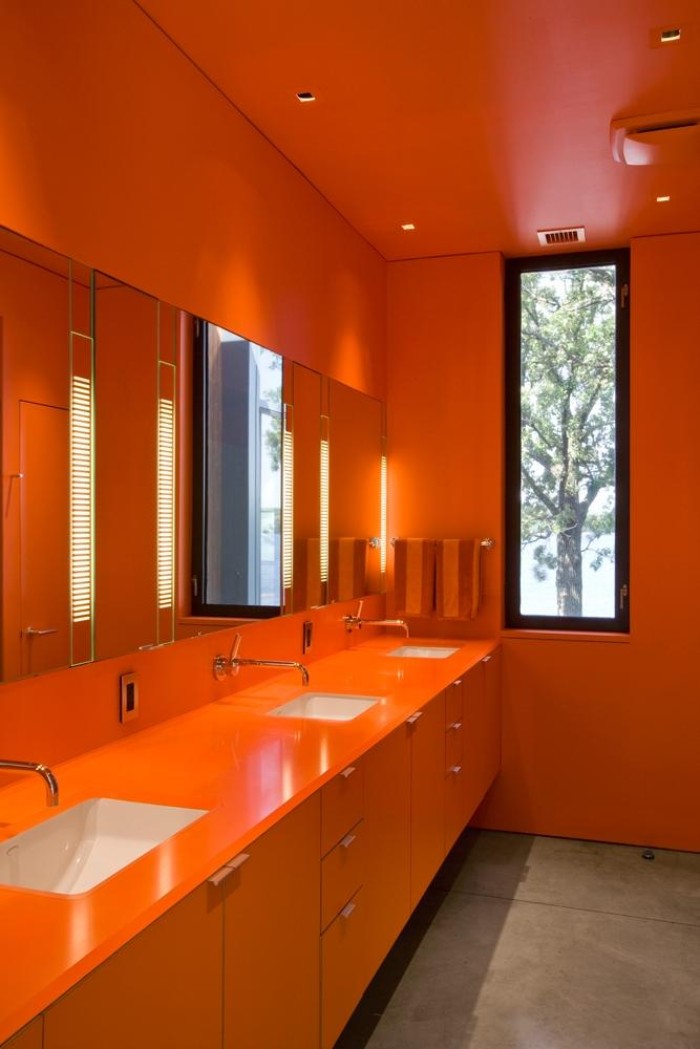 The red mosaic tiles add a lot of character to this bright and airy, modern bathroom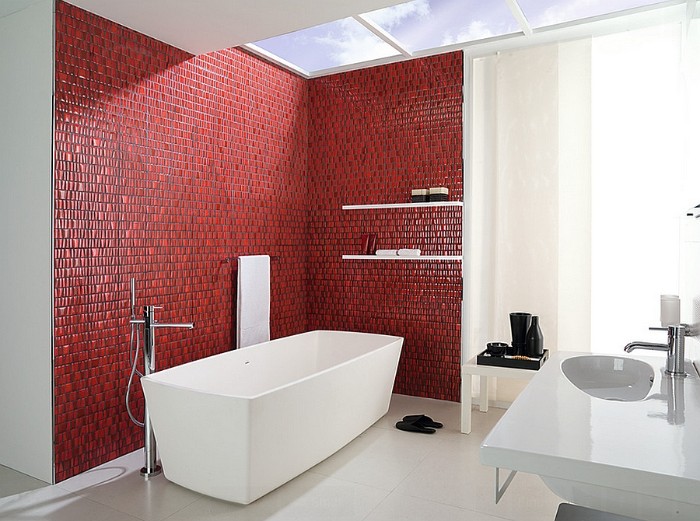 Isn't this fuchsia pink and white room just dreamy?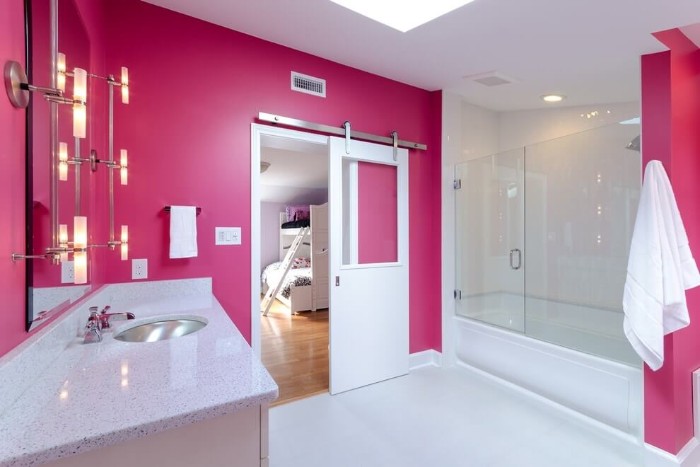 We can't take our eyes off these gentle lavender hues
Discover a whole rainbow of bathroom paint colors!

A stylish solution in dark grey and white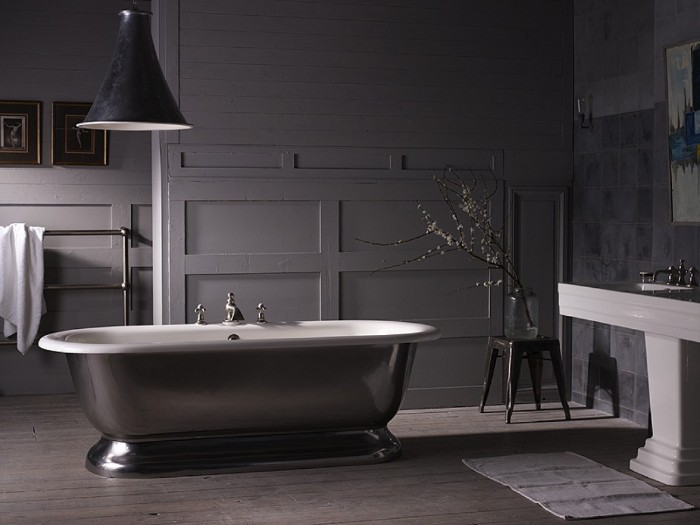 Pretty in pink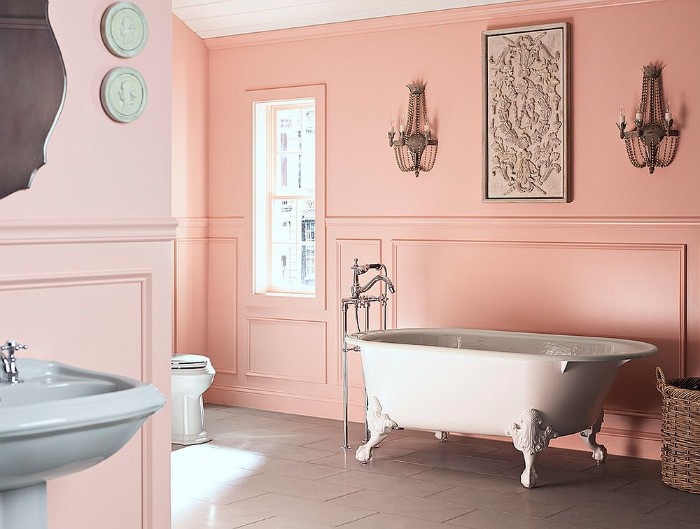 Another divine bathroom in duck's egg blue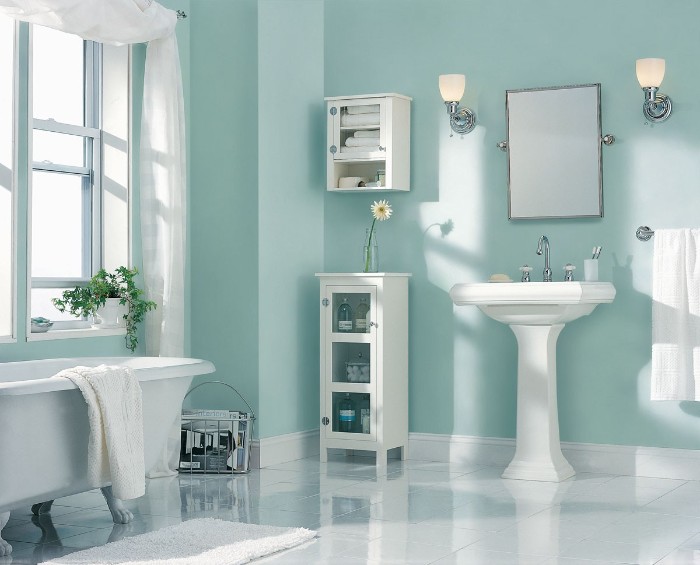 Beige can be beautiful when it's done right!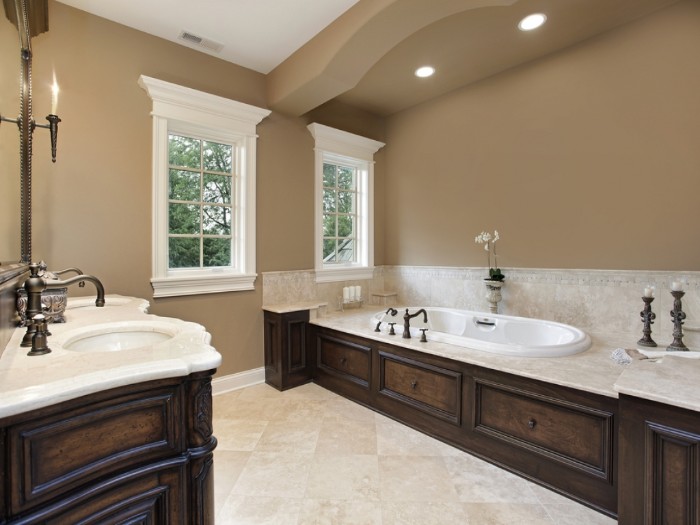 Stone blue walls, combined with a stylish marble floor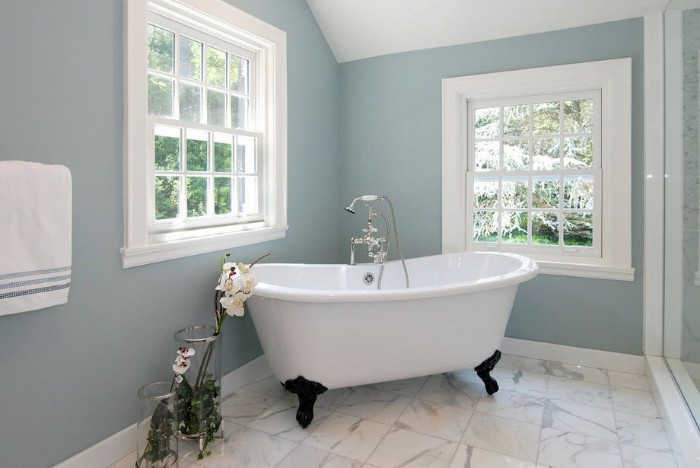 How adorable is this pumpkin orange color?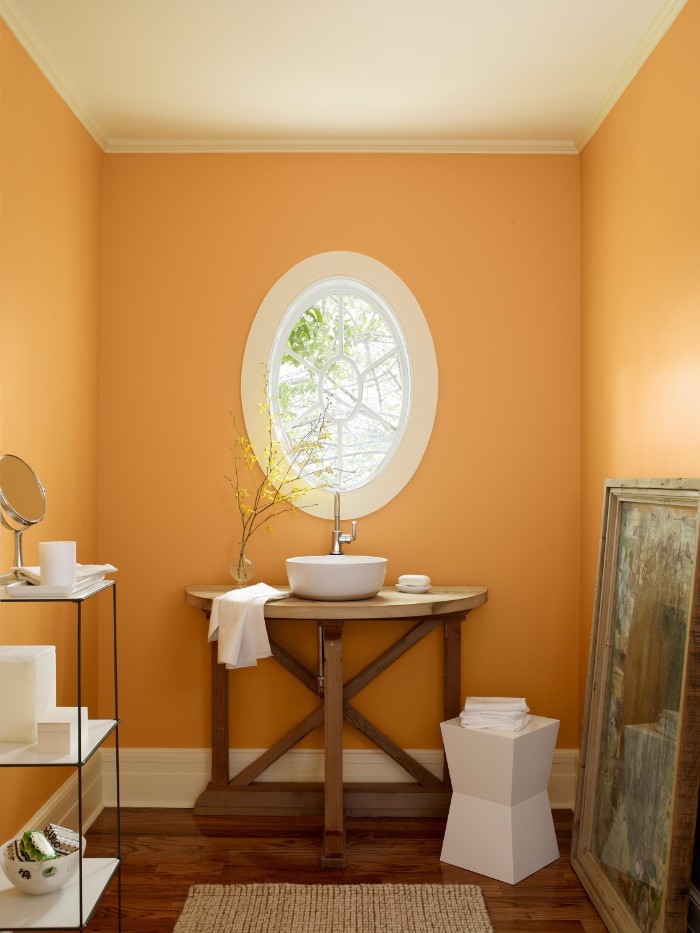 A classic mink grey bathroom with white wooden paneling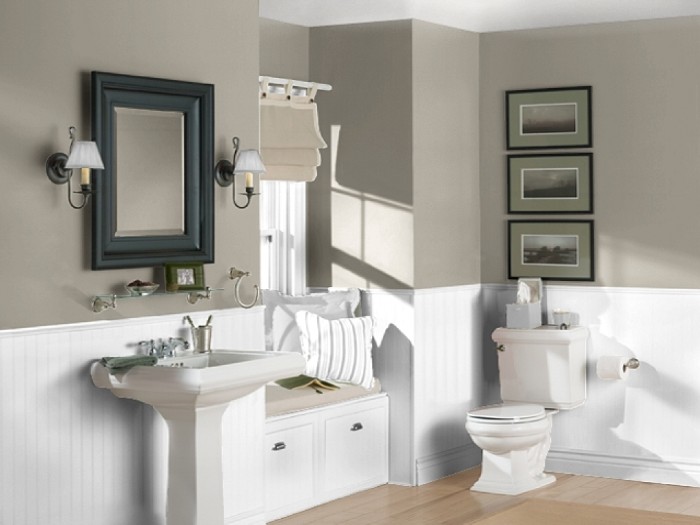 This retro design featuring white subway tiles, has been spiced up with a lovely pale green color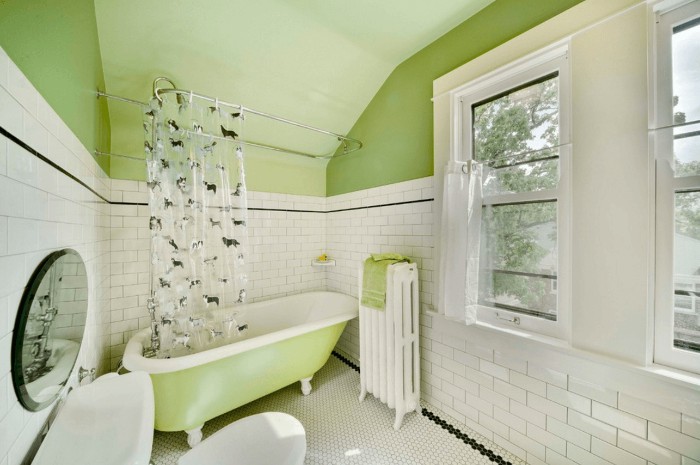 If you insist on grey walls, opt for decorations in warm brown tones, or include a lush indoor plant – this will make the room seem less cold and more inviting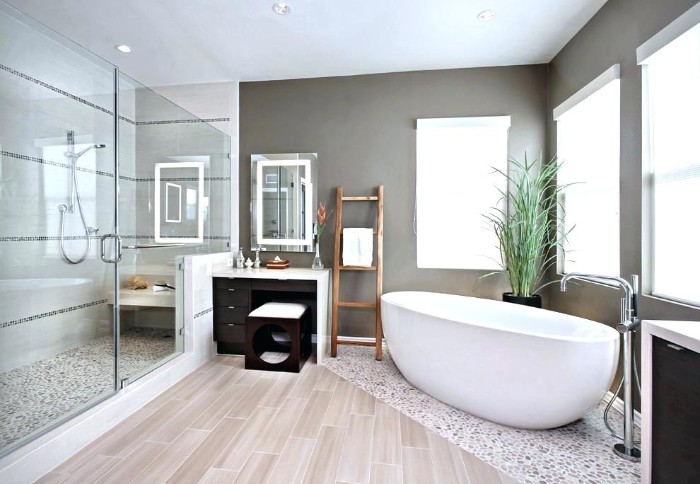 So many gorgeous shades of green to choose from!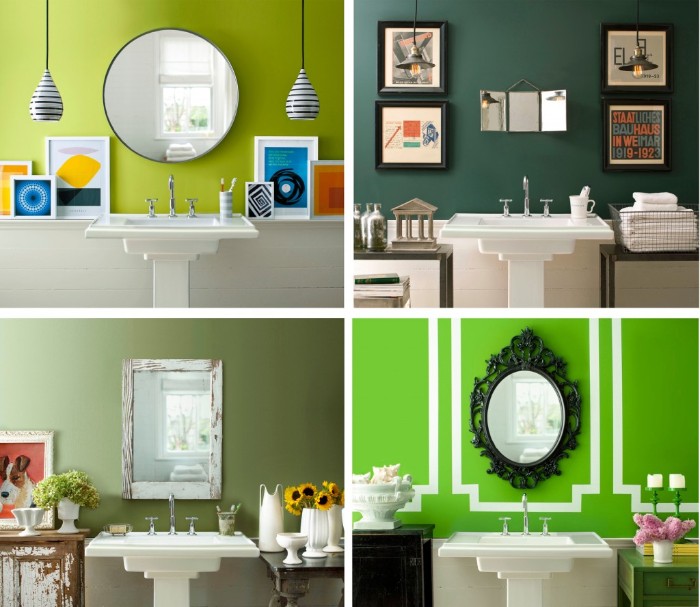 Stylish, modern and edgy – a lovely design in green and grey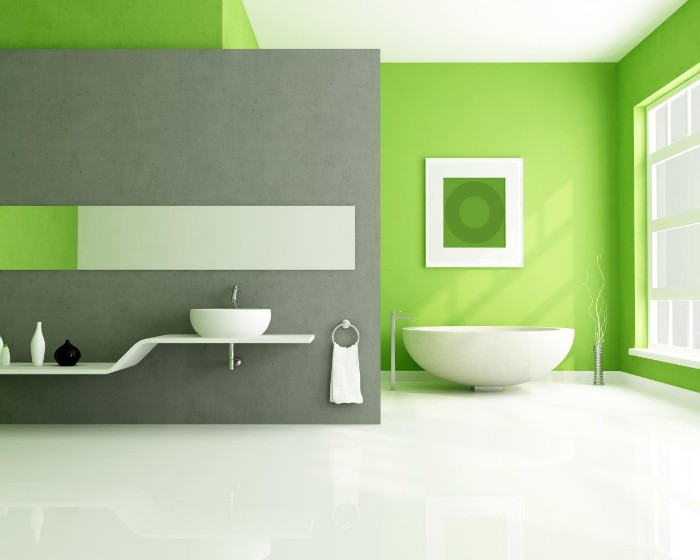 This sky blue bathroom is just breathtaking!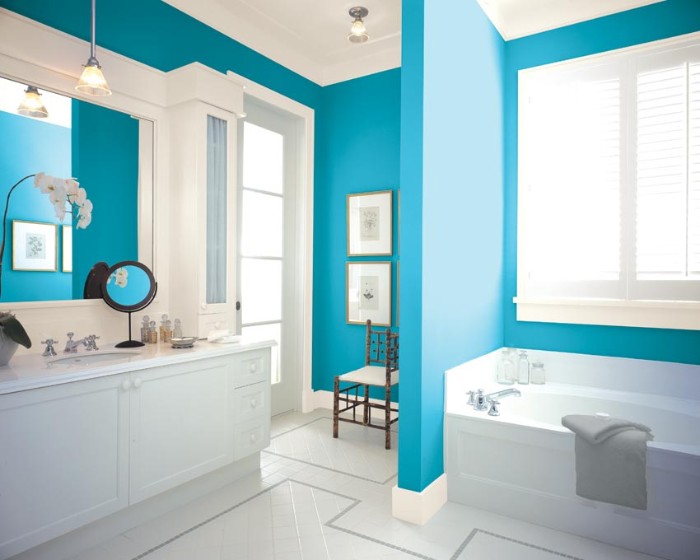 Sunny and cheerful room in canary yellow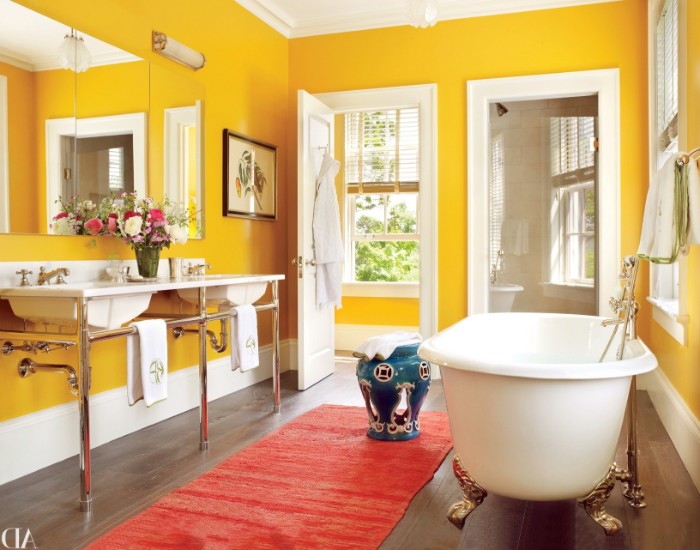 Stunning, spa-like bathroom in turquoise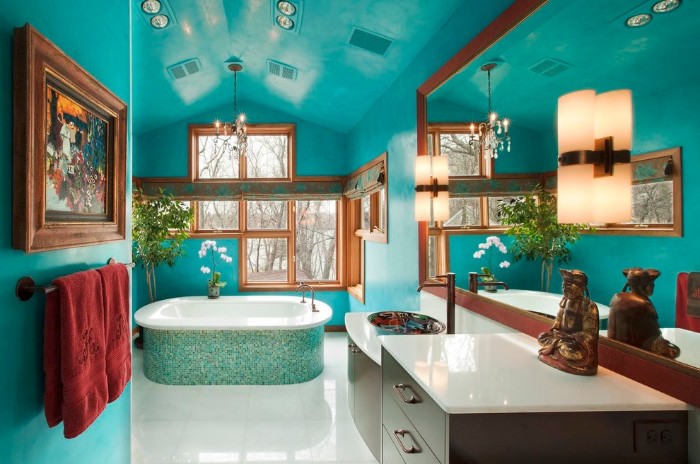 Why choose only one color…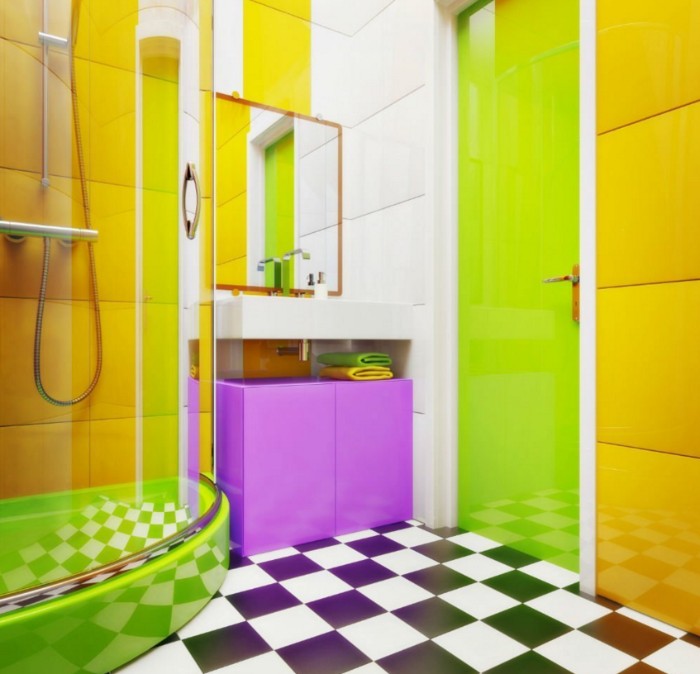 …when you can have them all?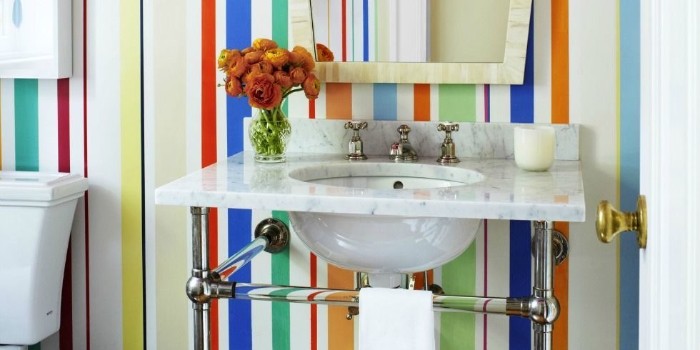 Lush green paradise!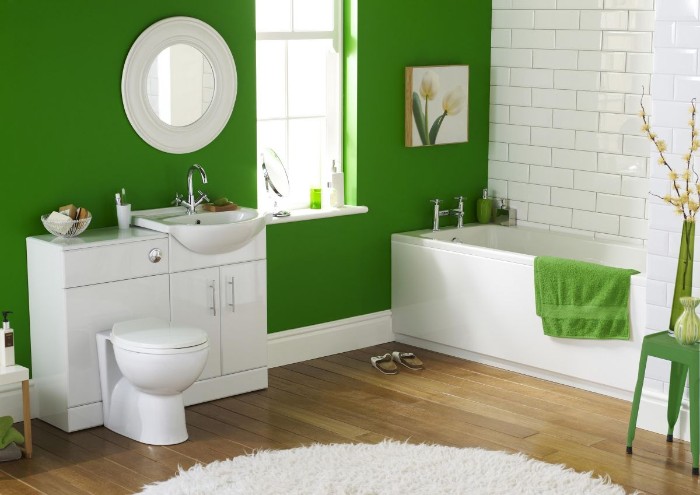 Black and white chic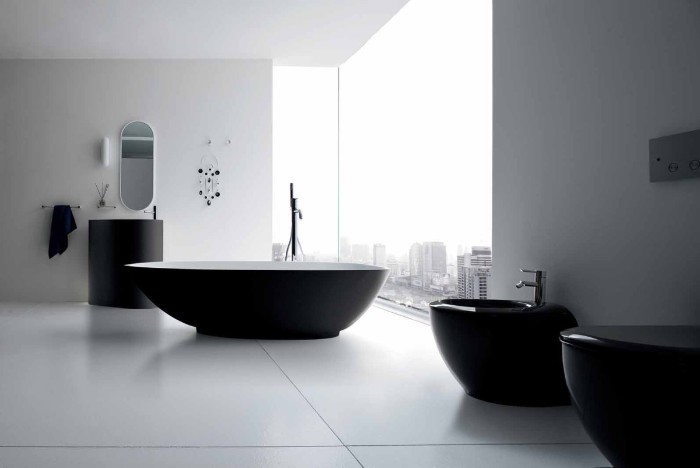 Peach pink perfection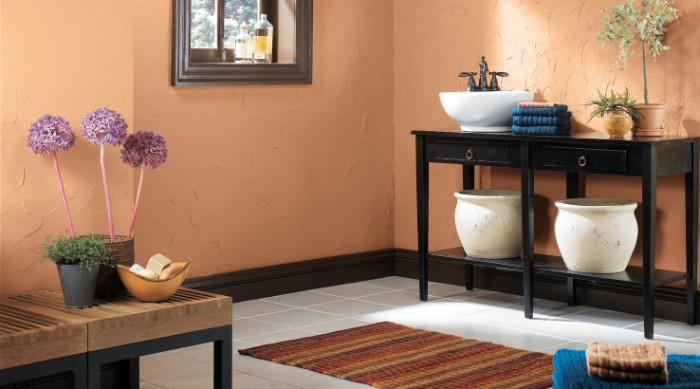 A bright toilet in green and white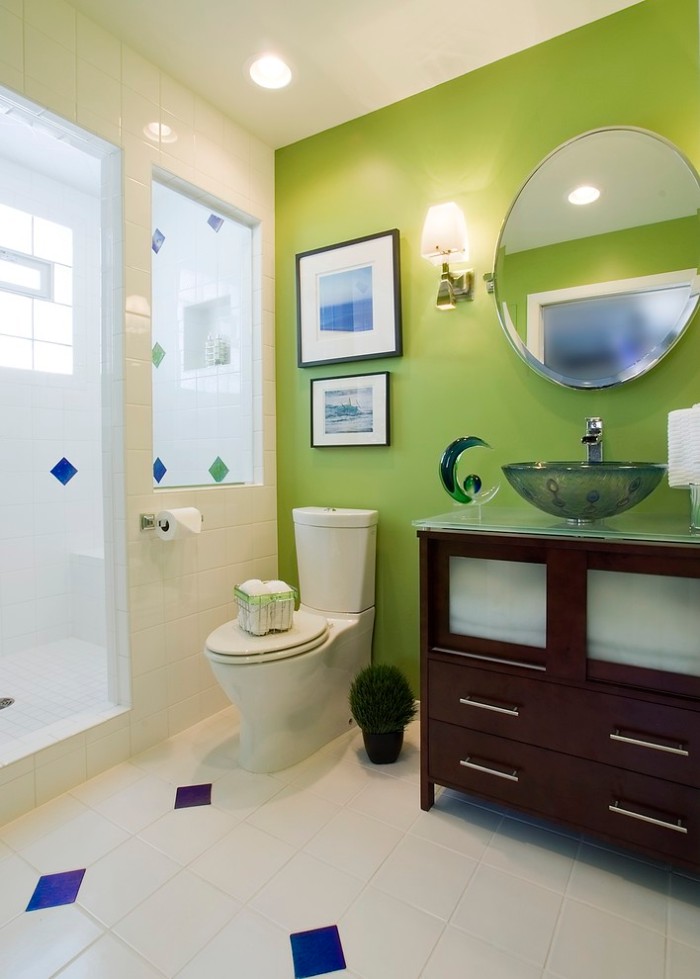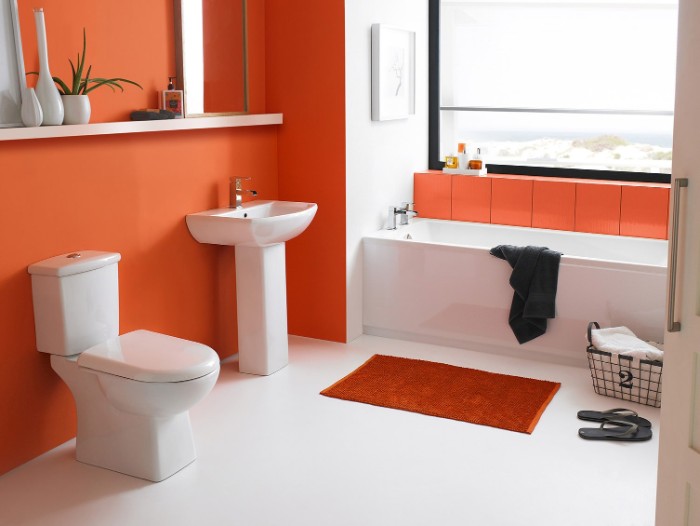 A refreshing design with white and mustard yellow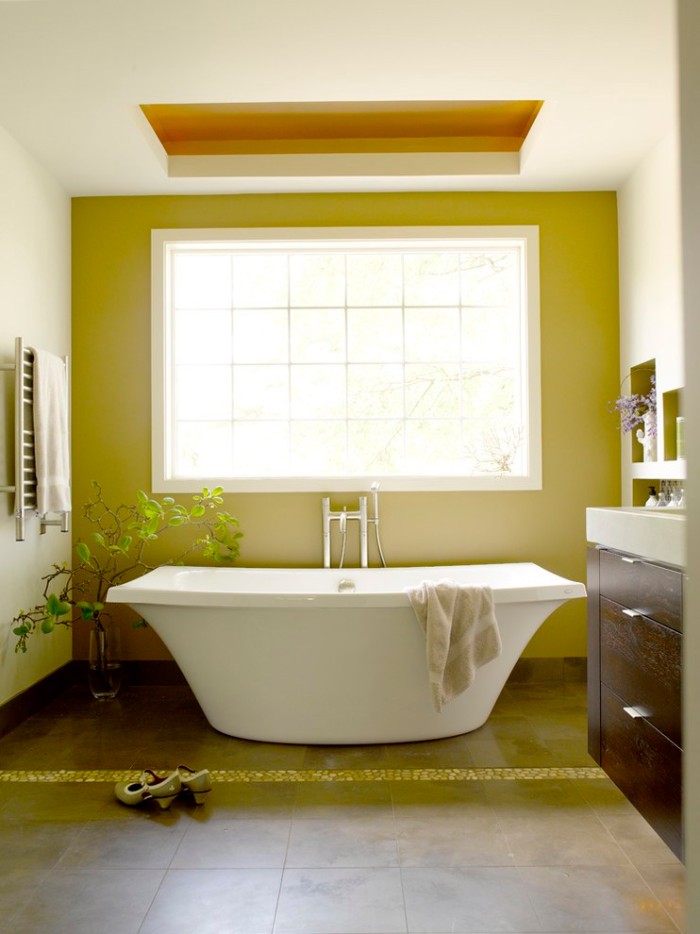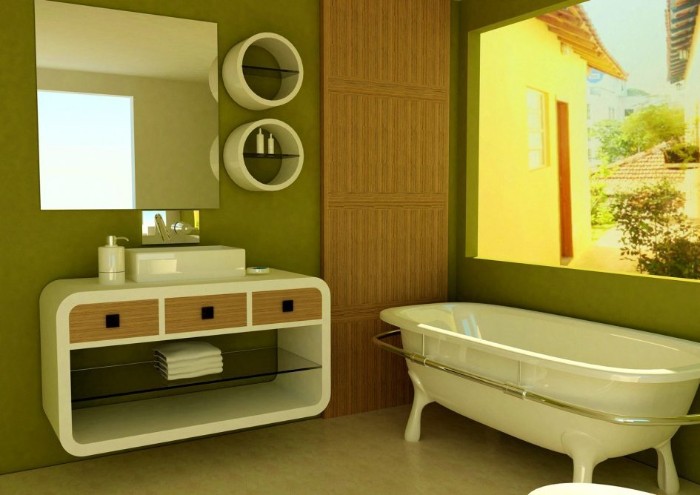 How cozy does this bathroom look?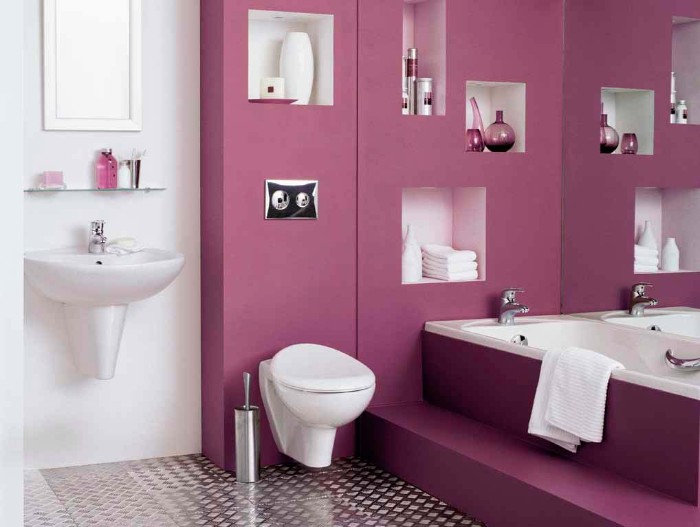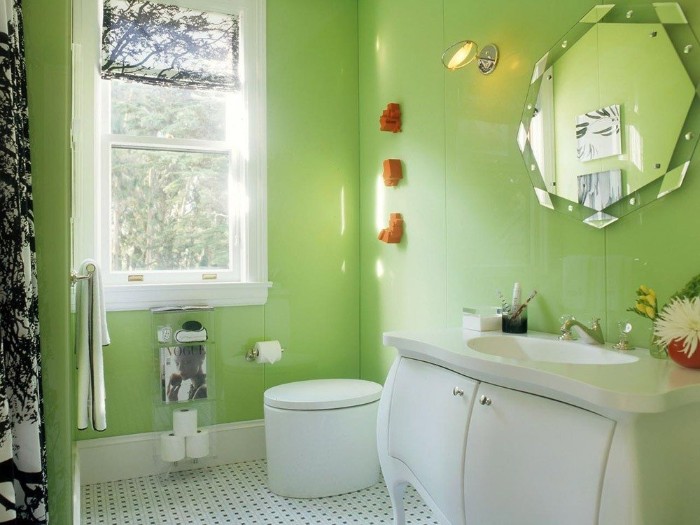 And here are some amazing suggestions for blue bathroom walls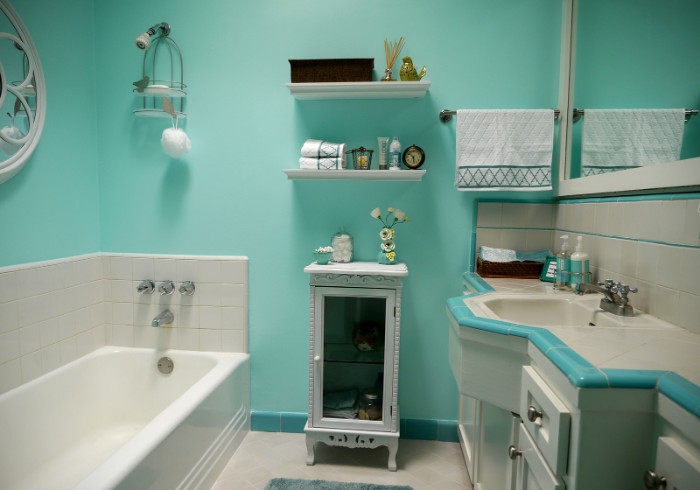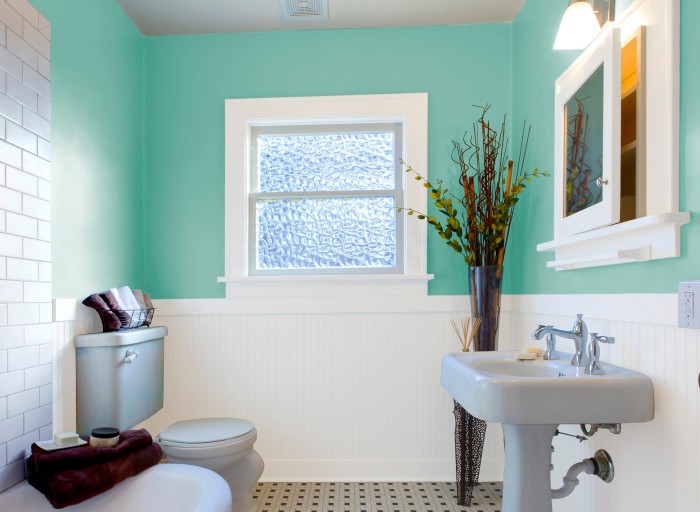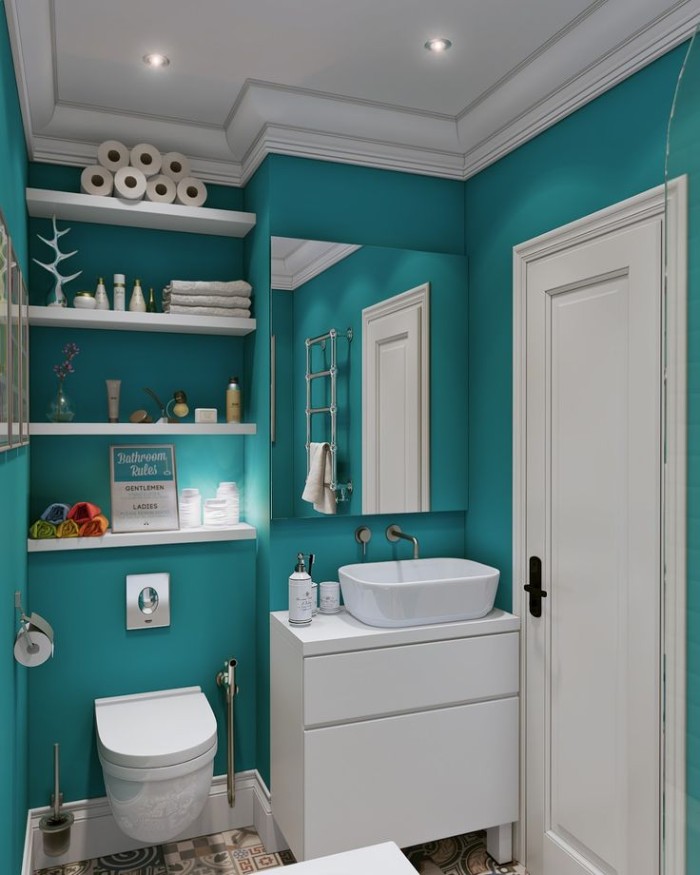 A lovely combination of ocean and terracotta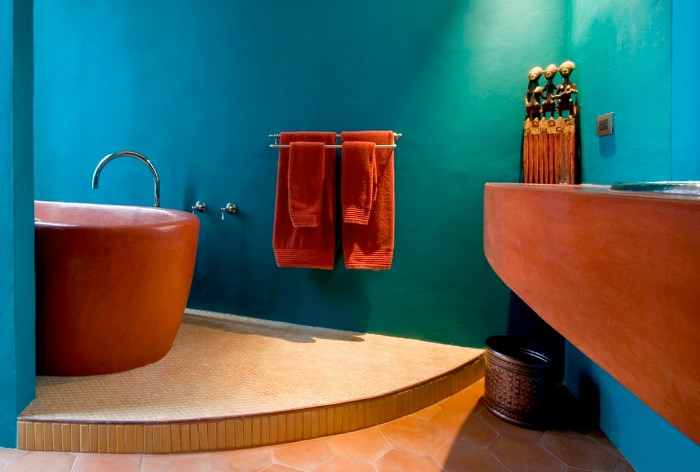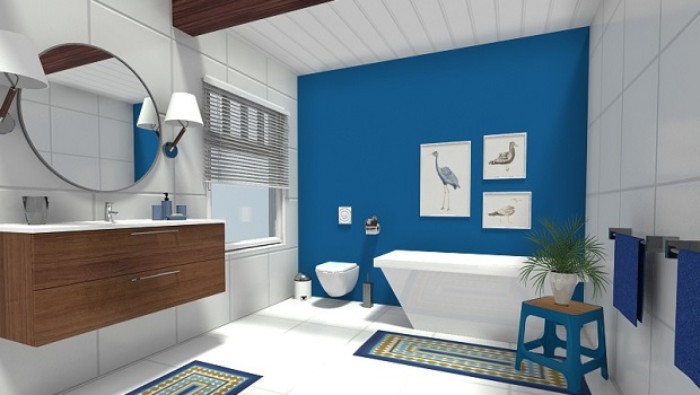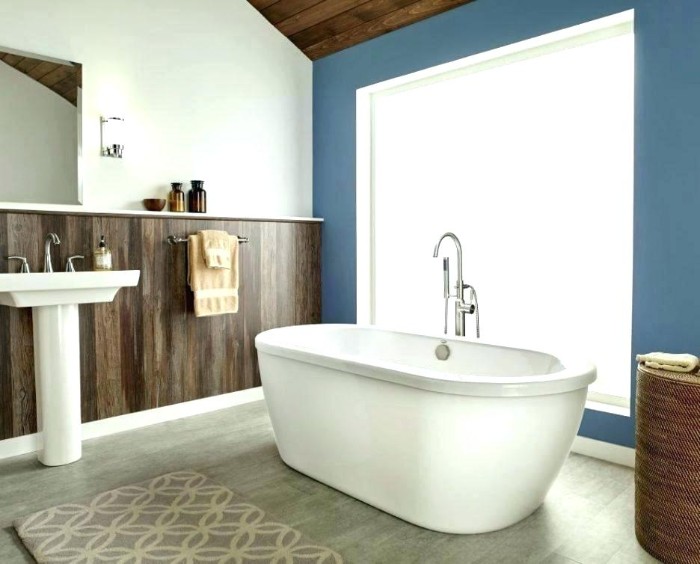 Spacious bathroom in blue and grey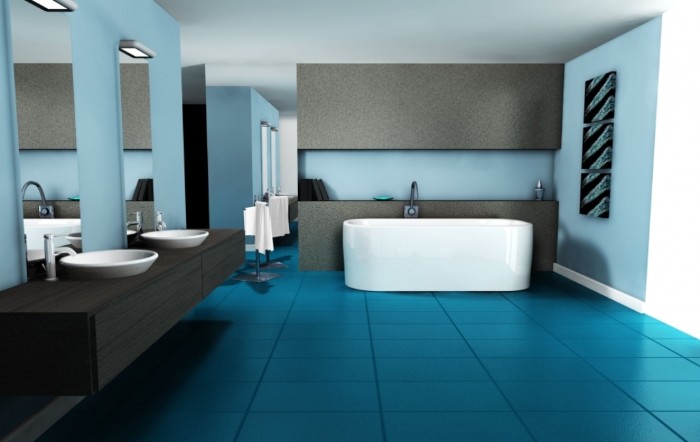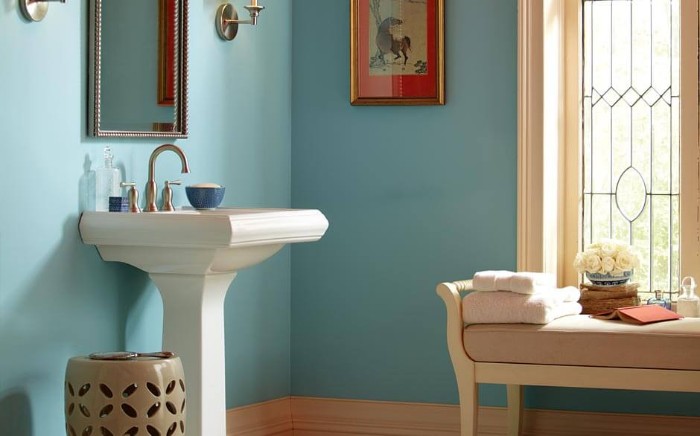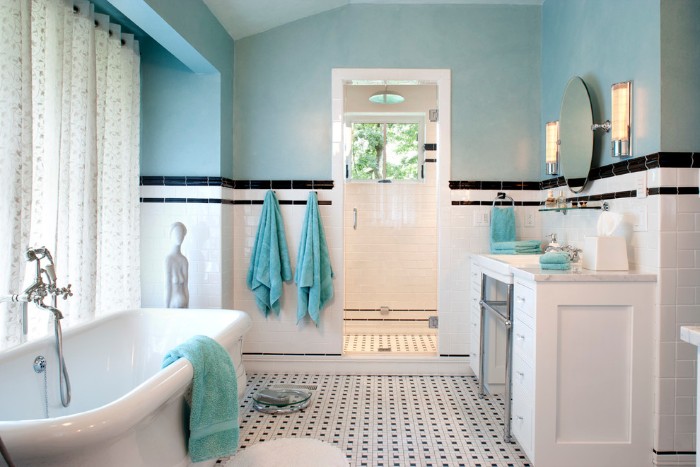 Beautiful blue stripes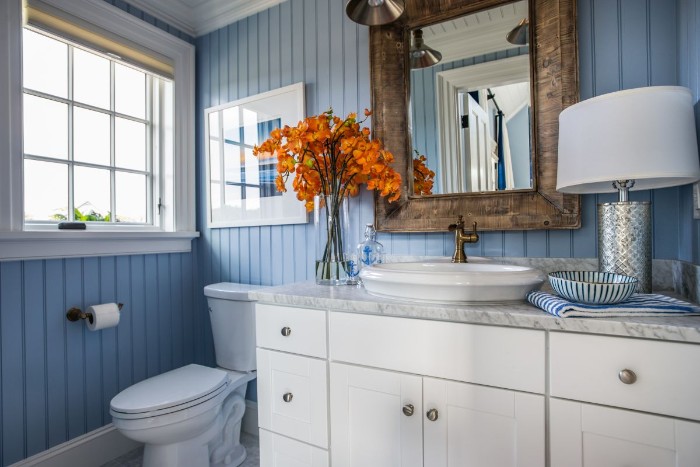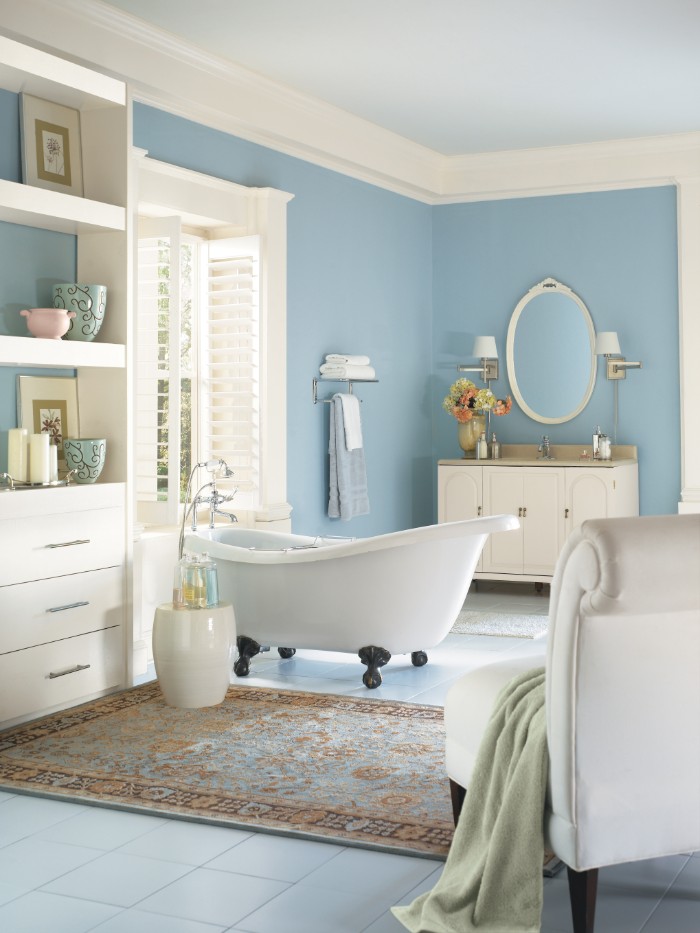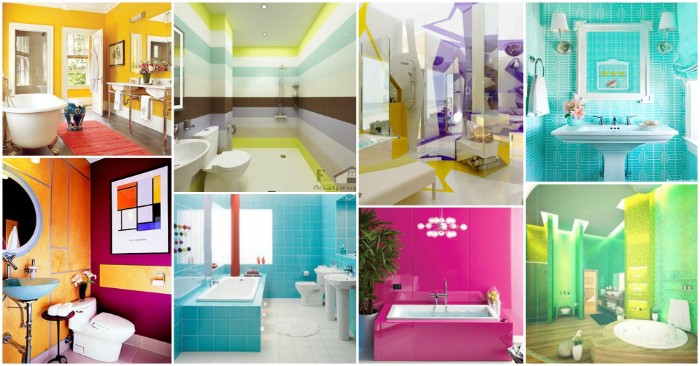 How lush is this green bathroom?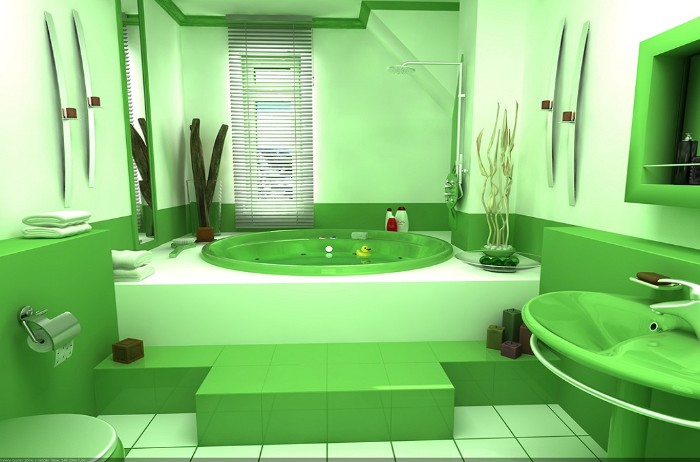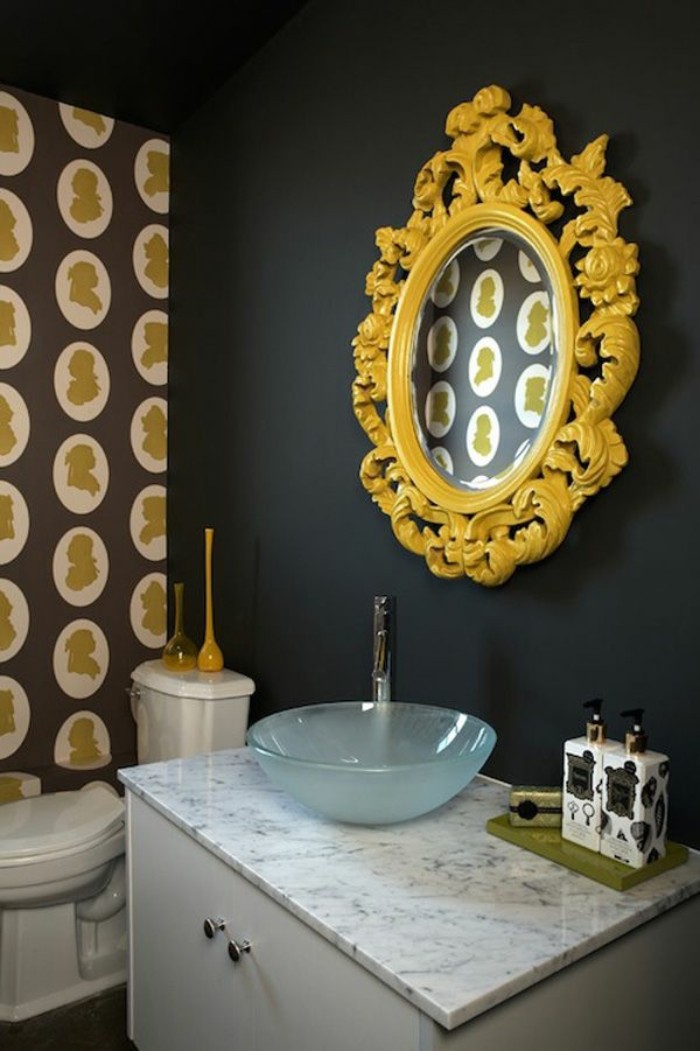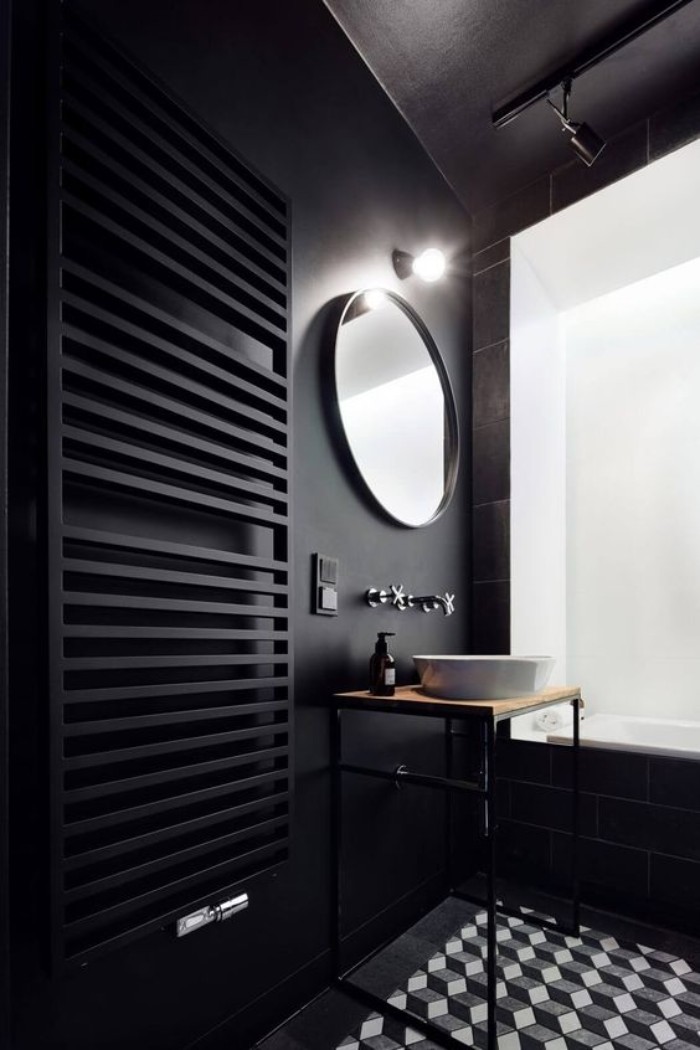 Black and beige perfection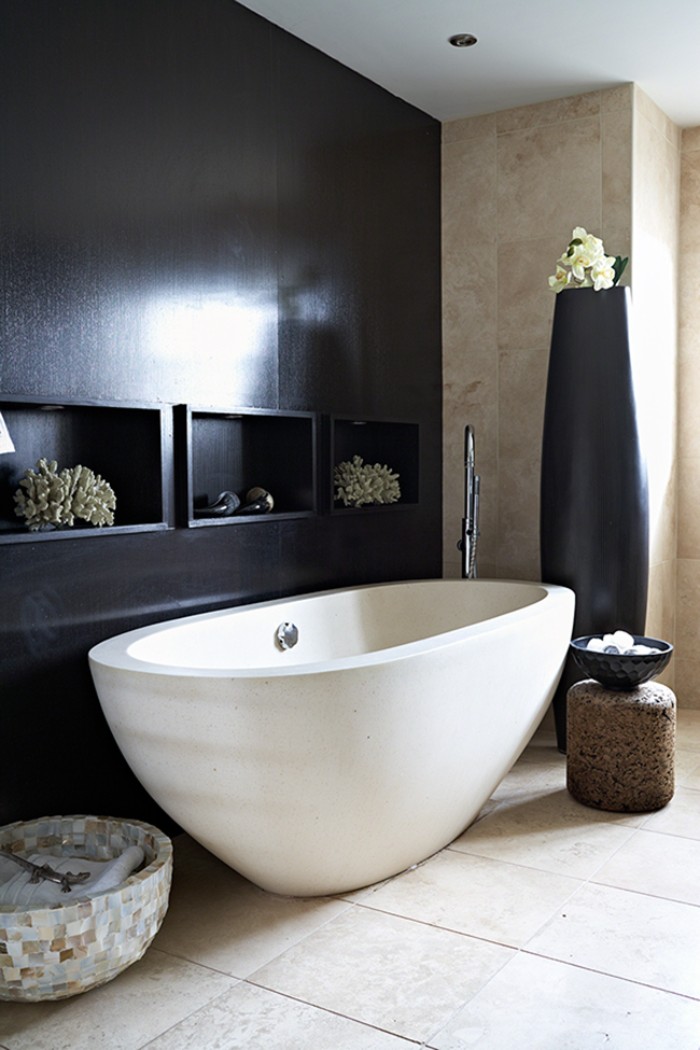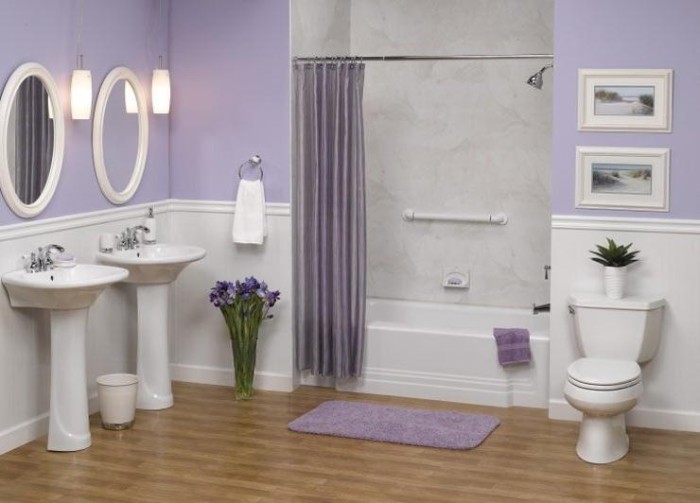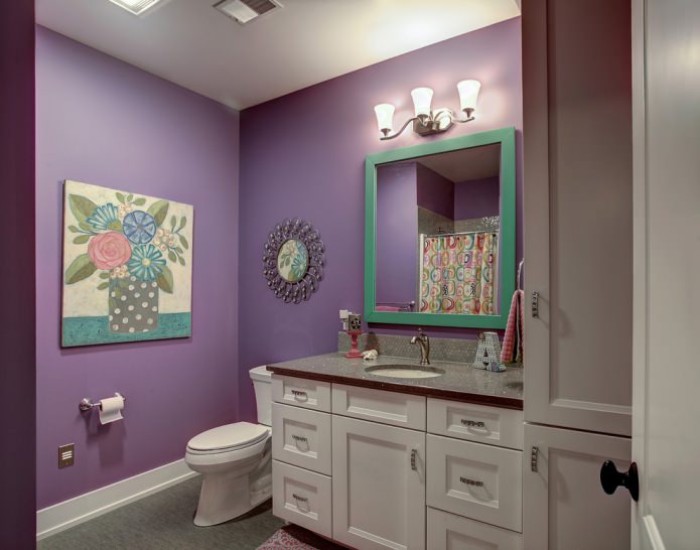 We are smitten with this contrasting purple bathtub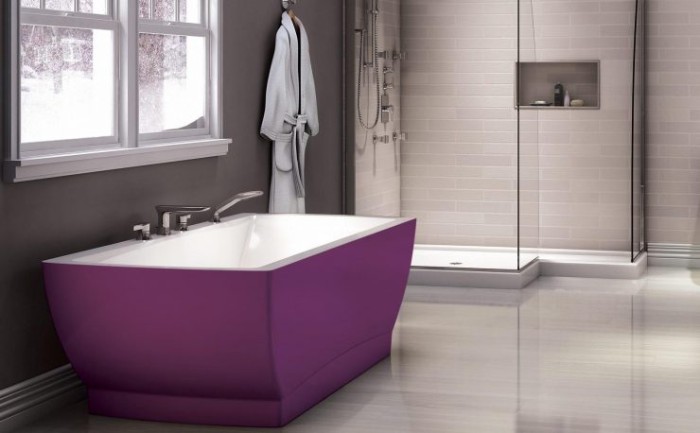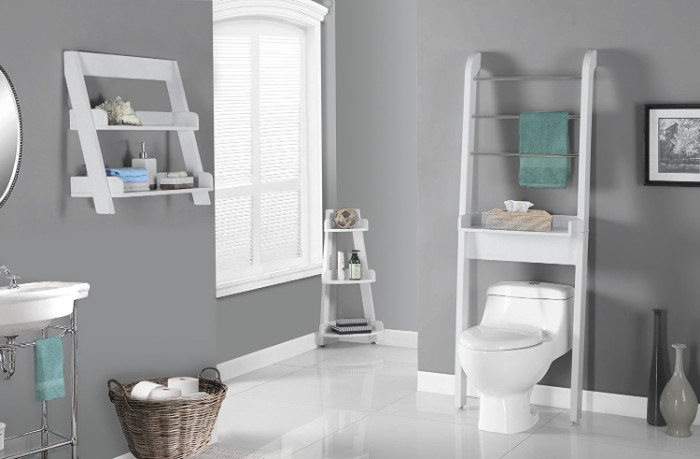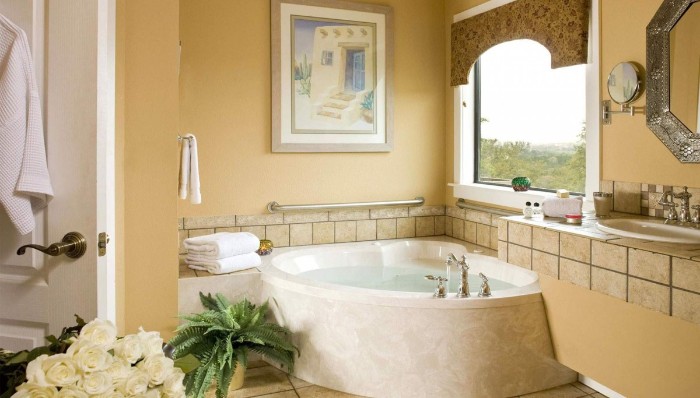 We hope you've enjoyed our selection!