Pryor Residence by Bates Masi Architects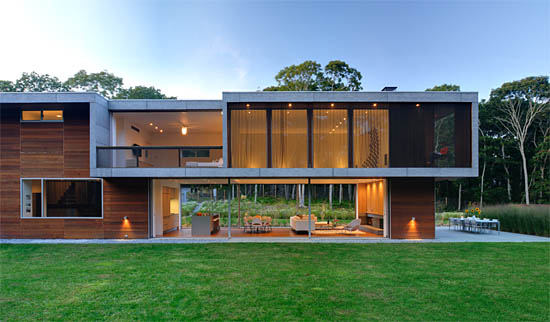 The Pryor Residence acts as a home away from home, where the family of four can enjoy the outdoor life and nature rather then stay in the city.
From Bates Masi Architects:
The house occupies a hill in Montauk with a distant view of ocean, a site that the owners, a couple with two young boys, spent years to find. It is the couple's reprieve from their home in the city, to share the outdoor lifestyle with their family and to remember their teenage years together in Montauk. The house design prompts the owners to interact with the surrounding environment, evoking experiences of camping.
The house is entered trough multiple areas for different guests and occasions: large glass doors slide open to the living area for a large gathering, a front door for a guest opens to the entry hall with a view of the ocean, and a sequence of auxiliary spaces – beach equipment area, outdoor shower, sand and mudroom – create a seamless ritual from the daily outdoor excursions for the family. In all living areas and bedrooms, glass doors and insect screens slide in and out from pocket walls, transforming rooms to screened porches or spaces completely open to the landscape. The living area, a double height space with kitchen, dining and living area, has thirty-six feet wide glass doors that pocket into southern and northern walls. When open, the dining room becomes a picnic area and the living room fireplace becomes a campfire. Layers of bronzed metal fabrics at clerestory windows in the living area fold and unfold to adjust sunlight for optimal brightness & temperature of the space. These operable architectural elements use the natural environment to create suitable living conditions.
The house is environmentally friendly in its overall construction and planning with such specifics as geo-thermal heating and venting system, solar panels, organic finishes and materials. The house is assembled, rather than built, with prefabricated foundations, panel siding and cabinetry minimizing construction debris or toxins such as concrete foundation for the site. Built-in cabinetries in the house minimize furniture space and free up activity space allowing a broad building program to be realized in 3000 square feet (280 square meters). The idea of "less constructions, better environment" roots in the construction method and the house planning preserving the site as close to its original state as possible for the best "camping" experience.