More of Large Home Tree By Ignatov Architects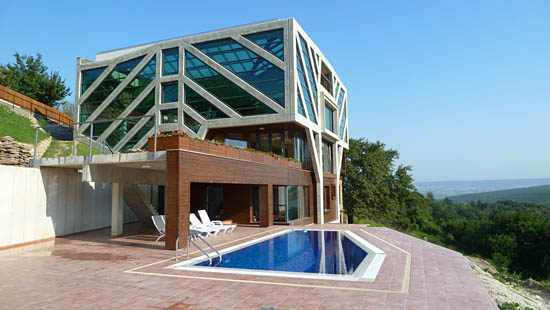 Today Ignatov Architects sent us a great deal of photos and info of the Large Tree House in Zvezditsa and as promised we will share them with you. Enjoy.
From Ignatov Architects:
Commissioned by the well-known art supporter and successful businessman George Bonin and developed by the New York based firm Ignatov Architects, the Home Tree concept is an attempt for defining contemporary, adaptable rural architecture. Its strategy is based on learning from existing trees on site recognizing their natural optimization for the given location and climate. The aim is to align architecture with nature and deliver site-conscious, clean, energy-independent and feasible buildings. In opposition to the Treehouse typology, which presents parasitic dwellings burdening existing trees, the Home Tree concept focuses on developing free-standing, tree-inspired architecture. Besides the usual residential program, each Home Tree house consists of three integral parts that parallel actual trees:
– productive interior garden (crown)
– central cantilevered structure (trunk and branches)
– geothermal energy exchanger (roots).
Subparts and systems also work in line with the natural prototype: glazed facades and solar panels utilize sunlight, reversed roof channels rainwater for irrigation, rough multilayered veneers provide insulation and moisture barrier, multifunctional vertical core distributes communications and utilities.
Each Home Tree project follows these five principles of design:
1.     Adaptability: the building shall adapt to site, not modify it.
2.     Integrity: architecture, structure and all utility systems shall work together and emerge from each other functionally and aesthetically.
3.     Efficiency: construction and maintenance shall require minimal material and energy.
4.     Independence: building shall be self-sustaining through usage of renewable energy systems and waste recycling.
5.     Feasibility: employed green strategies shall pay back within 10 years of use.
The Home Tree concept has been applied in real life in two instances – Large Home Tree (main house) and Small Home Tree (guest house). Thanks to this rare opportunity the idea has been explored all the way from theory to realization to feedback in two different scales and configurations. The collected data and achieved results in energy performance and quality of habitation have proved the feasibility of the effort.
LARGE HOME TREE HIGHLIGHTS
Location: Rural
Site: Steep, eastward sloping, former sand quarry.
Vistas: Forest to the East and South (main), distant lake views to the North (secondary), West blocked by slope.
Purpose: Single family house.
Functional scheme: Three levels with central stair and accessible elevator. Dining, kitchen, three bedrooms, three bathrooms, support spaces on lower level; living, library, office, master bedroom, master bathroom, support spaces on middle level; interior garden, bathroom, support spaces on upper level.
Structure: Cast in place reinforced concrete comprising stem-like central elevator core and facade load-bearing frames without intermediate columns. Diagonals, verticals and horizontals on the South and East facades follow the stress lines derived from the structural analysis of the building mass. Structure becomes major architectural feature, providing efficient load bearing and maximum transparency and flexibility in planning.
Sustainable performance: Large glazed interior garden (tree crown) planted with a variety of grasses, herbs and spices produces oxygen and useful biomass. It balances the climate and improves the air quality of the entire house.  In summer natural cross-ventilation combined with evaporation from interior water fountain and rapid growth of plants dissipates solar heat gain and provides cooling effect to the residential spaces below. In winter the garden works as an insulating hat for the house by catching sun and tempering the air via its liquid-heated floor. All additional energy needed for heating and cooling the house in extreme conditions is supplied by heat exchange from the ground via six 100-meter deep closed loop geothermal probes (roots). In spring and autumn extracted from the ground temperature is sufficient to cover the occupational needs. In summer and winter the energy is further transformed by a highly efficient liquid-liquid heat pump and distributed to all levels via radiant floors. Solar vacuum tubes supply domestic hot water further reducing building's CO2 emissions. Inversed roof funnels rainwater to a collection tank for irrigation of the garden. Residential spaces are accommodated under the interior garden and benefit from the winter garden's super insulation. All domestic wastewater is recycled on site through a 3-stage purification station producing bio-compost and gray water for the exterior landscaping. Sustainable performance of the building is complemented with energy efficient appliances and lighting.
Materiality: Experimental nature of the project mandated strict cost management. Locally available inexpensive materials like concrete, stone and pine wood were specified in order to afford other important performance systems like insulated glass envelope, geothermal heat exchanger and radiant floors. All construction work was performed with local labor minimizing cost and pollution from transportation.
Interiors: Furniture and lighting are integral to architecture and built locally, except for seating.
Landscaping: All existing trees are preserved and site surface is restored to its original condition. No alien species are introduced in order to allow re-growth and healing of local ecosystem facilitated by fertilization with bio-compost from a local farm. Purposeful avoidance of cultivation preserves local microclimate, greatly reduces water and energy consumption and eliminates capital and maintenance costs of landscaping.
Site area: 26 000 m2 (260 000 sf)
Building footprint: 260 m2 (2600 sf) (equals to 1% of site)
Total building area: 780 m2 (780 sf)
The formulation of the Home Tree concept and its realization indicate the need and show the possibility of building sensible contemporary architecture using local forces and means. We believe that the idea of developing nature-tolerant architecture will gain more and more supporters among both architects and investors with the current development of affordable 'green' technologies.