Korora house by Daniel Marshall Architects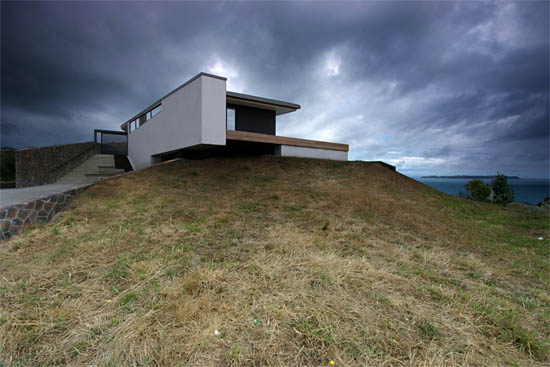 The idea of the Korora house was to minimize the visual impact on the landscape concealing it from a far.
From Daniel Marshall Architects:
A ridge stretching between the Hauraki Gulf and the pastoral landscape of Waiheke Island provided a stunning, and challenging, context in which to design a home.  Our approach was to work within the contour of the ridge, as an attempt to minimise the impact on the landscape.  The plan form of the house is spaced between two courtyards, which are bridged by a gabled roof stretched across the long axis. The courtyards provide the opportunity to shelter from either of the two dominant winds.The materiality of the house draws on two architectural conditions of Waiheke, the masonry forms were inspired by the gun emplacements of Stoney Batter. The use of cedar and plywood reflect precarious weekenders of the island's past.