Hill End Ecohouse by Riddel Architecture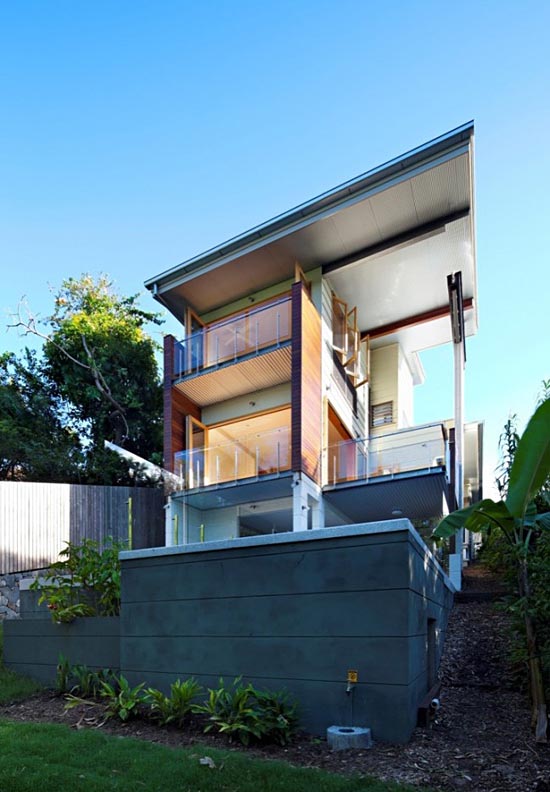 The Hill End Ecohouse is named appropriately, it is so eco that it uses almost 80% recycled materials from the 1930s house that originally occupied its narrow riverfront site.
Riddel Architecture – David Gole and Emma Scragg worked with Robert Peagram Builders and have produced an amazing house that is based entirely on environmental friendliness. The recycled materials from the original structure were carefully chosen and used throughout the house. The house has openings maximised to capture cool breezes, sun and daylight from Australia's subtropical climate.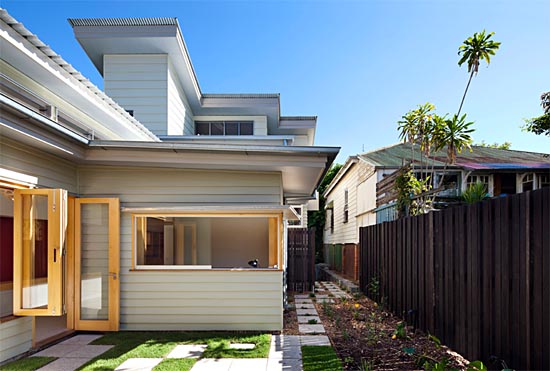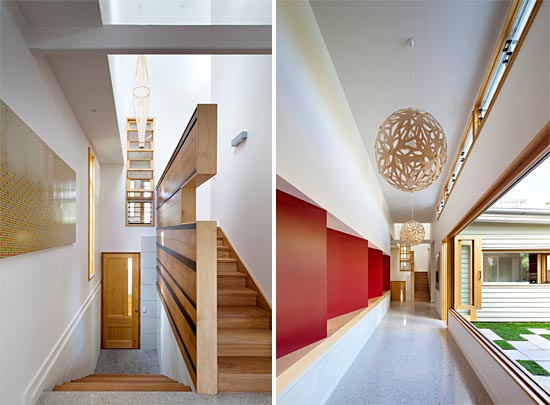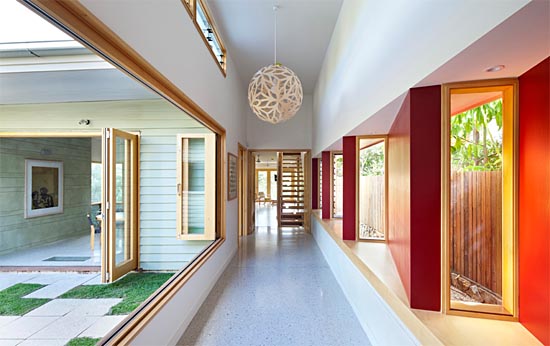 The house is actually divided in two structures connected with Gallery breezeway, which acts as a funnel for fresh air. Natural light is used wherever possible to reduce electricity usage.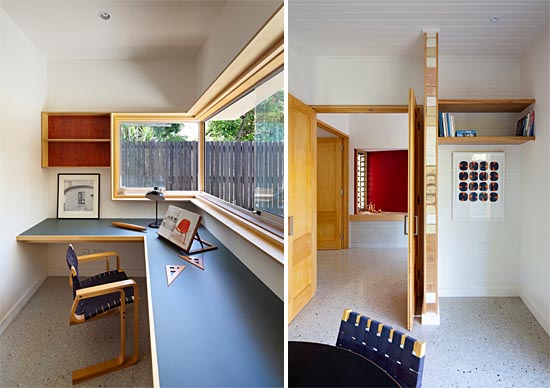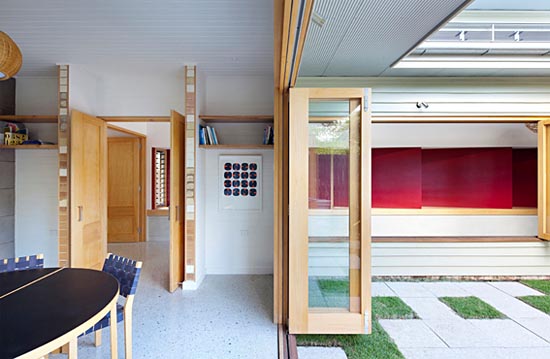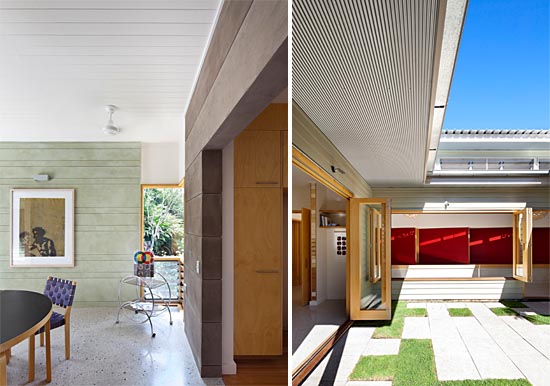 The Hill End Ecohouse is off-the-grid in both water and electricity and has a measuring system for electricity, water, gas, humidity and temperature of the house. The north-facing roof has 3kW photovoltaic panels which generate 15kWh/day, ample energy for household requirements.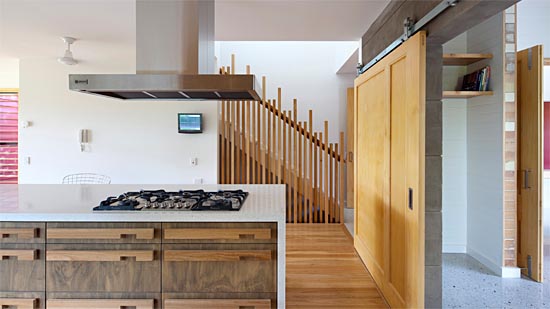 To reduce heat transfer, they have recycled polyester bulk insulation and timber frame. The power of the sun is captured by the polished concrete floors and well-insulated walls and is used for heating in winter. Where solar heating isn't possible, a gas fire is responsible for keeping the temperature  normal.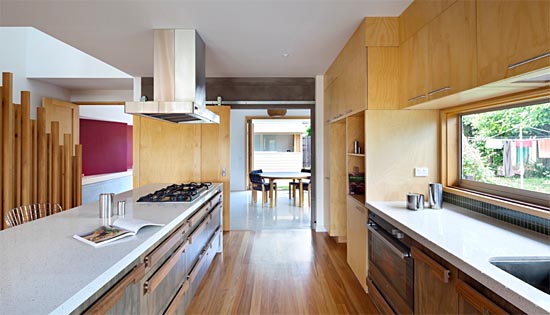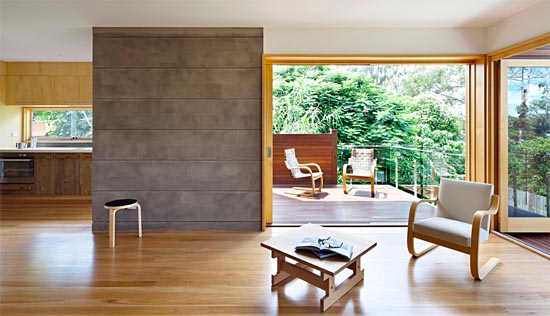 60,000L of rainwater storage supplies the whole house and garden. House rainwater is pre-filtered, heated by solar panels and stored in a well-insulated tank. To reduce water waste, a hot water recirculation unit reheats cold water and greywater is treated and recycled on site.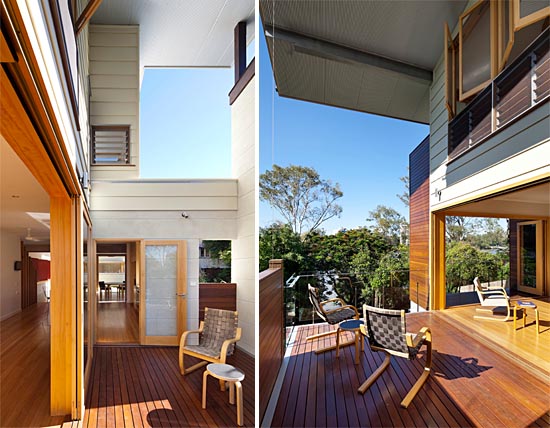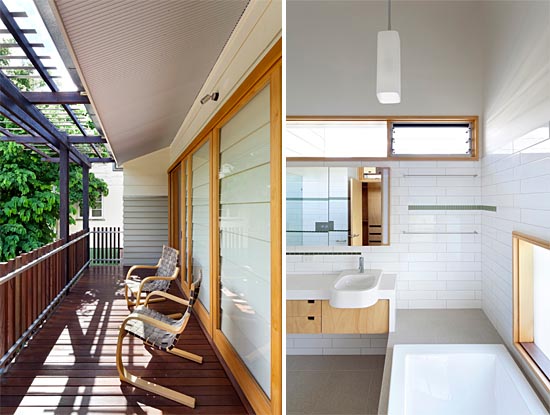 The walls and windows have light colored finishes that help to reflect daylight and awnings provide protection from the sun and rain. The bedroom and living area are opened to the outdoors, while the north street-facing balcony is hidden by a vegetated trellis made using recycled timber from the original site.