Bambu House at European Solar Decathlon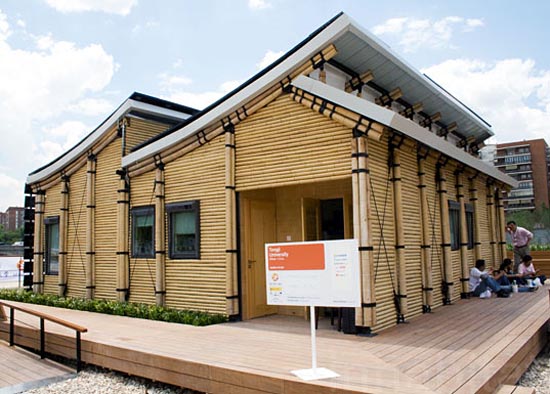 The solar array on the roof generates 9 kilowatts of electricity which powers the whole house. The building is almost entirely made out from bamboo.
Via Inhabitat:
Tonji University's team has 20 members and is composed of doctors, postgraduates, and undergraduate students who range across many disciplines — from architecture and urban planning to energy development. They hope that their solar-powered house can help promote their forward-thinking ideas about renewable energy use in residential urban areas. The team has spent six months designing and constructing the house from scratch and they are hoping their hard work will pay off. Structurally, the house is strongly influenced by traditional Chinese architecture but with a tinge of the efficient look of contemporary architecture.
Read more: Sun-Powered Bambu House Sprouts at Solar Decathlon Europe | Inhabitat – Green Design Will Save the World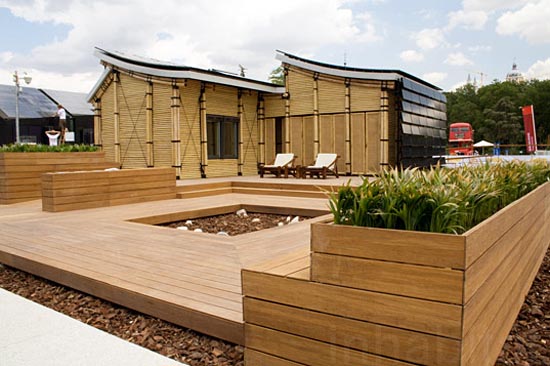 From Tonji University in Shanghai:
Two curve roofs, built by bamboo, run only by solar power, the bamboo house can generate 9 kilowatt electricity, one bedroom and one living room with whole set of facilities. This solar power bamboo house was built by a team of our students from various departments for about half a year, which was just completed and was going to be shipped to Madrid, Spain, for the local 2010 Europe Decathlon Competition this June.
During the one week period for judgment, the energy generated by the solar power system must sustain the daily life for 3 to 6 students in the competition and afford an indoor party with dinner for 8 competitors from other countries. The juries will give total scores considered by the architectural design, engineering and structure, solar power system, balance of power energy, industrial prospects, innovation, sustainability, and other 10 indexes. This international competition aims to spread the application of renewable energy and to promote the industrialization of solar power construction. Our university was invited to enter this competition in September 2009, and built a team in October composed by supervisors, postgraduate and undergraduate students from various departments of architectural design, architectural environment and plant engineering, electronic and information engineering, engineering management, etc, to conceive and design this project. The solar power bamboo house was started to build in Zhangwu Road campus on February 2, 2010.
It is learned that the solar power bamboo house will be shipped to Madrid after being dismantled. The competition team will go to Madrid in early June to rebuild the solar bamboo house at the competition spot.